As heavenly and blissful as they may appear in meticulously filtered Instagram posts, beach picnics have their perils. Sand is inevitable and will find its way into your food. Seagulls are also inevitable. They will crowd around you and will caw for food scraps. But don't let those environmental hazards stop you! Meals at the beach are easier to accomplish than you think, and they're so worth it. If you want to have an Instagram-worthy beach picnic that will also be relatively simple to put together, read on.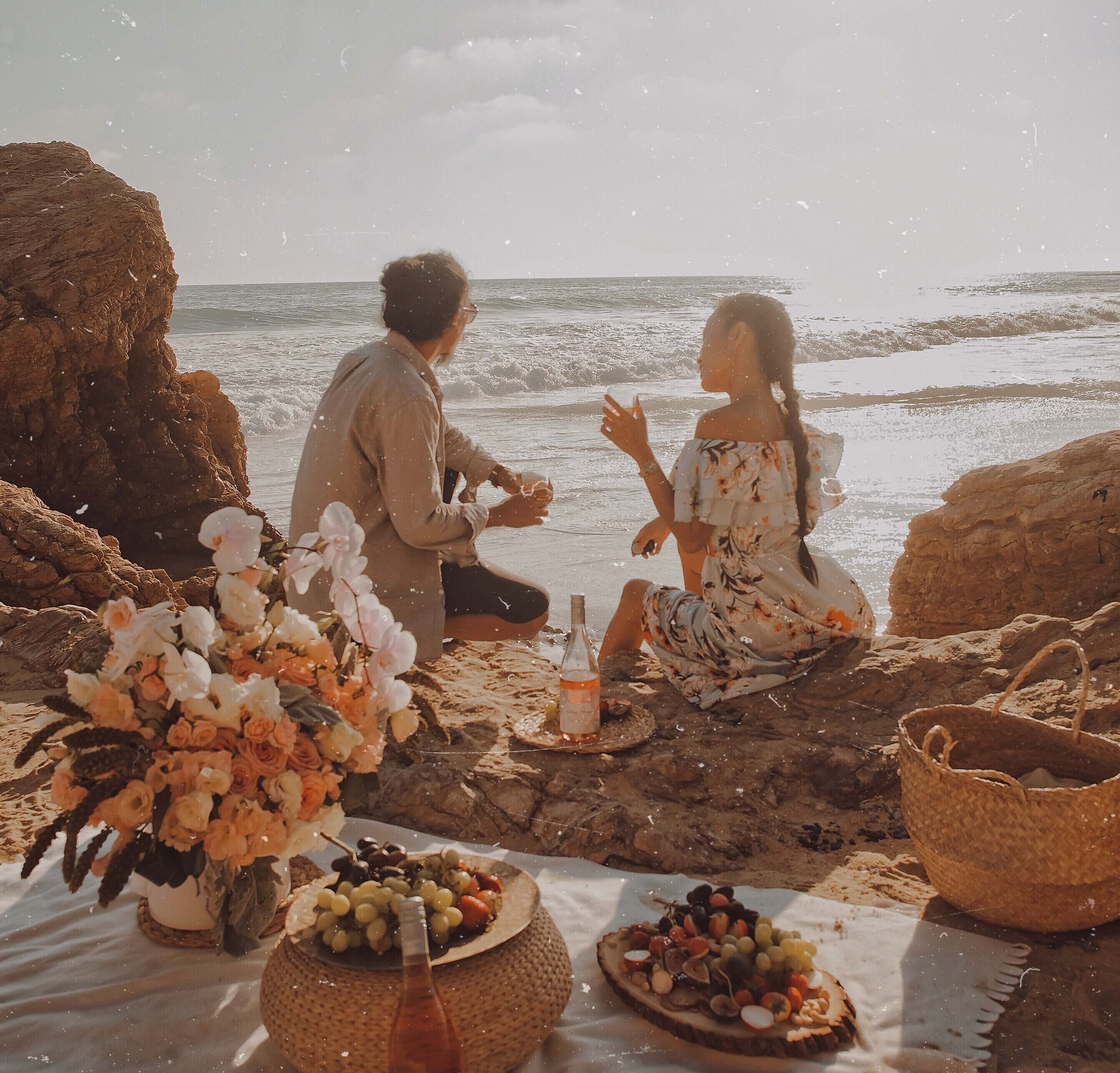 1. Setting: 
You already have the most wonderful location: the beach with its blue waves and yellow sand. However, you also want that magical sunset in the background. Planning a beach picnic in the morning can be crowded and  in the early afternoon can be very hot; so for me the perfect timing is around sunset. Get to the beach 1-2 hours before sunset; getting ready is about half an hour, and when the sun begins to set you will be ready for that perfect picture.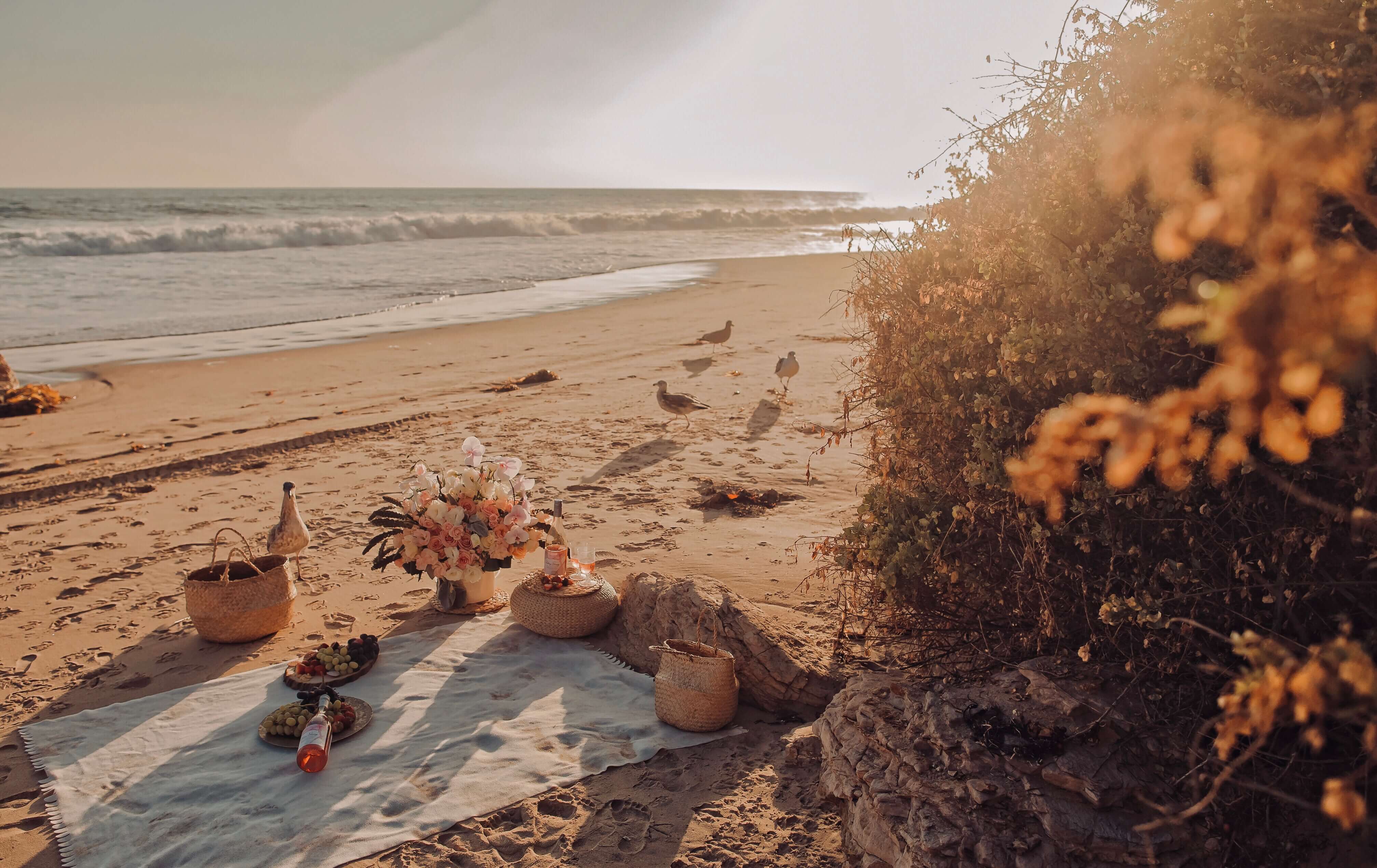 Sunset is at its most elegance when the sun is coming down, glimmering colorful rays in the blue sky. That's the only time you can get a rainbow of colors (purple, orange, yellow, pink,…) in your picture. So timing is very important!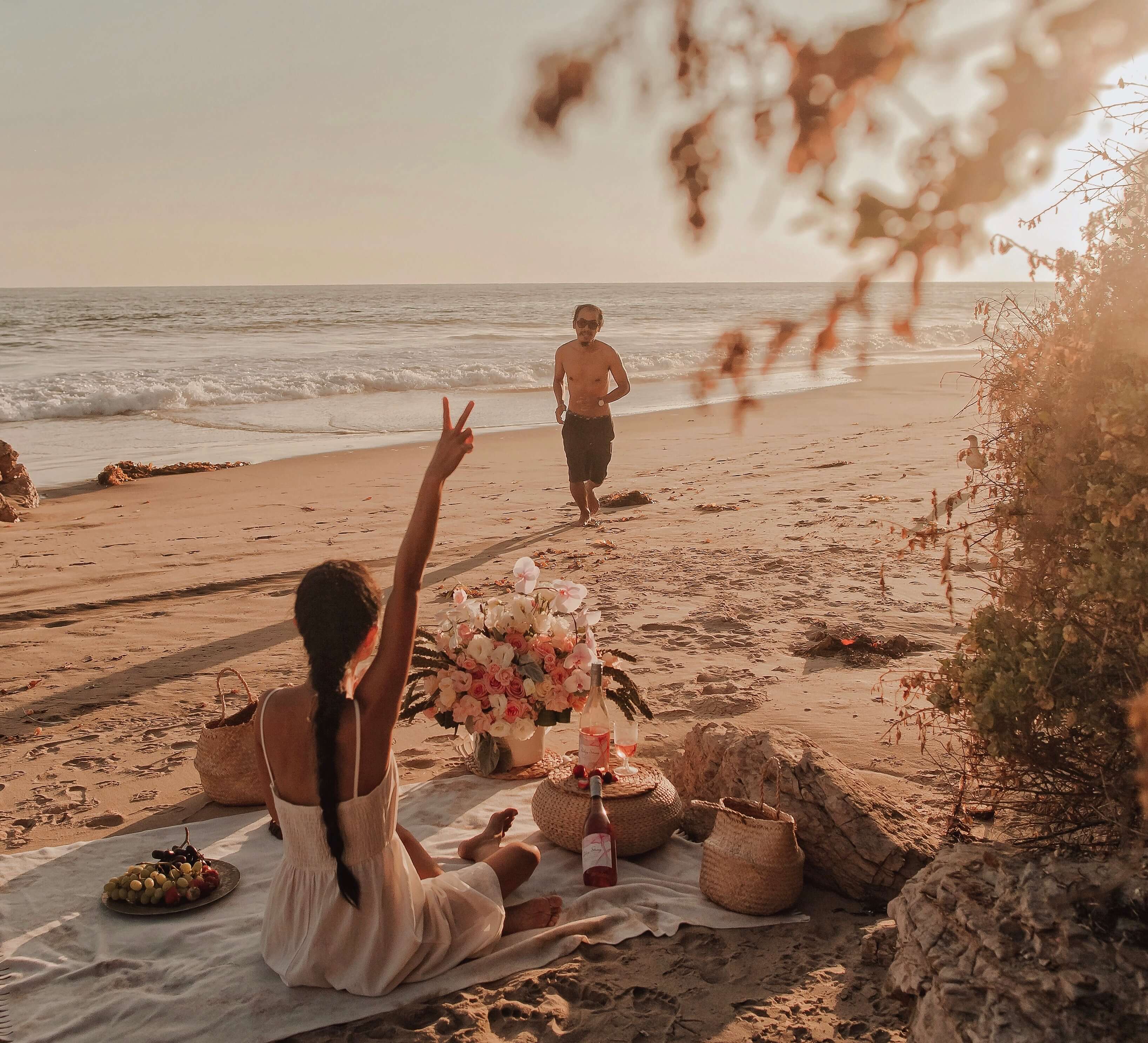 2. Decoration:
Some may think that since the event is outdoors, there is no need for decorating – but I think decorating is a must no matter the occasion or location and capturing these beautiful moments on camera would be so fulfilling to look at later. So be sure you don't neglect the opportunity to decorate the pretty outdoor space you'll be using. By simply adding a splash of colors and vibrant textures you are able to give your picnic party that "Martha Steward" stylish look.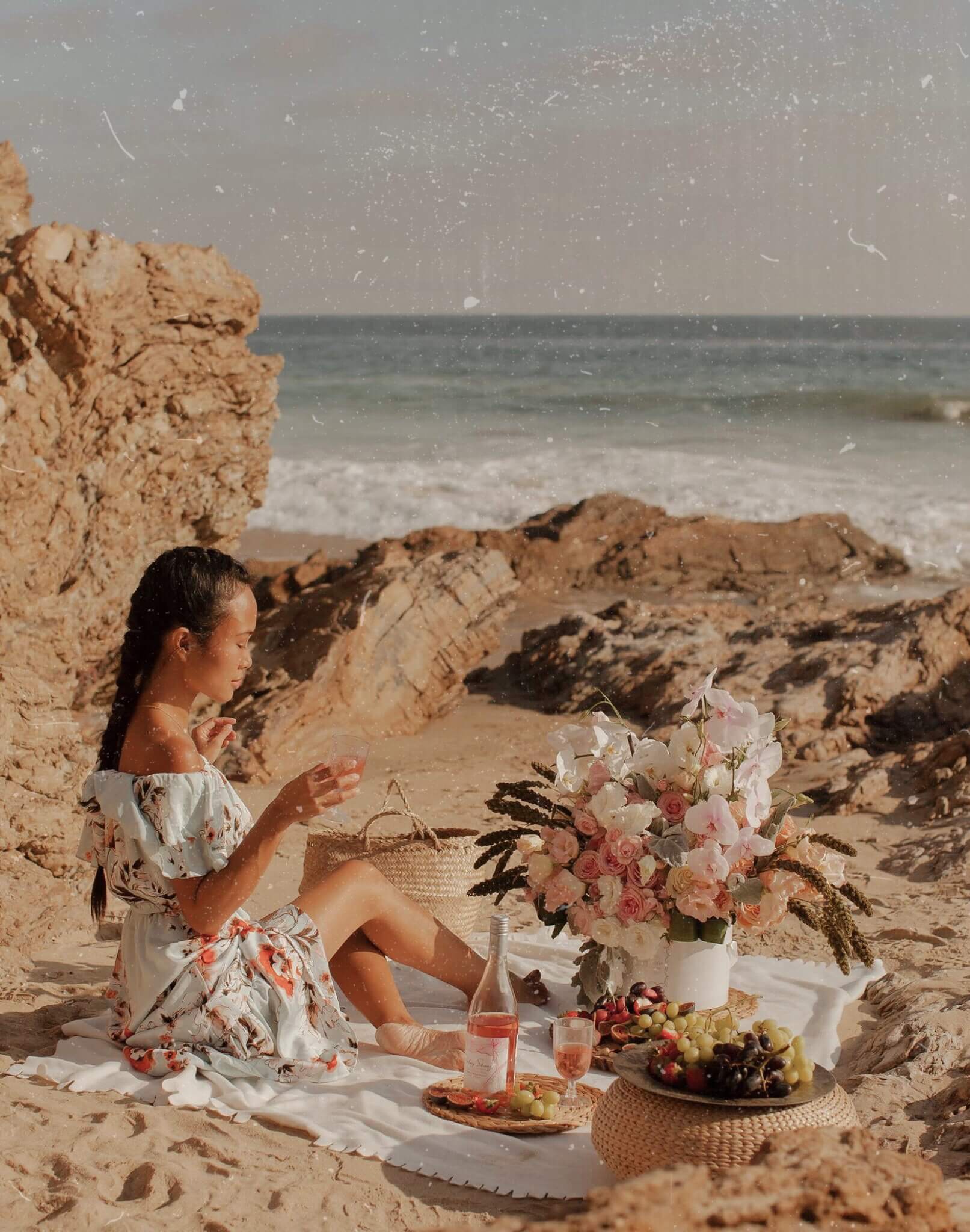 Pulling off a romantic picnic is all about setting the scene to create the perfect atmosphere. A bouquet featuring romantic flowers like roses will certainly set the scene for an intimate picnic. Chocolato Events prepared for my picnic a beautiful pastel rose arrangement. This unique floral box is brimming with beautiful pinks, soft yellows, and green foliage that is sure to delight.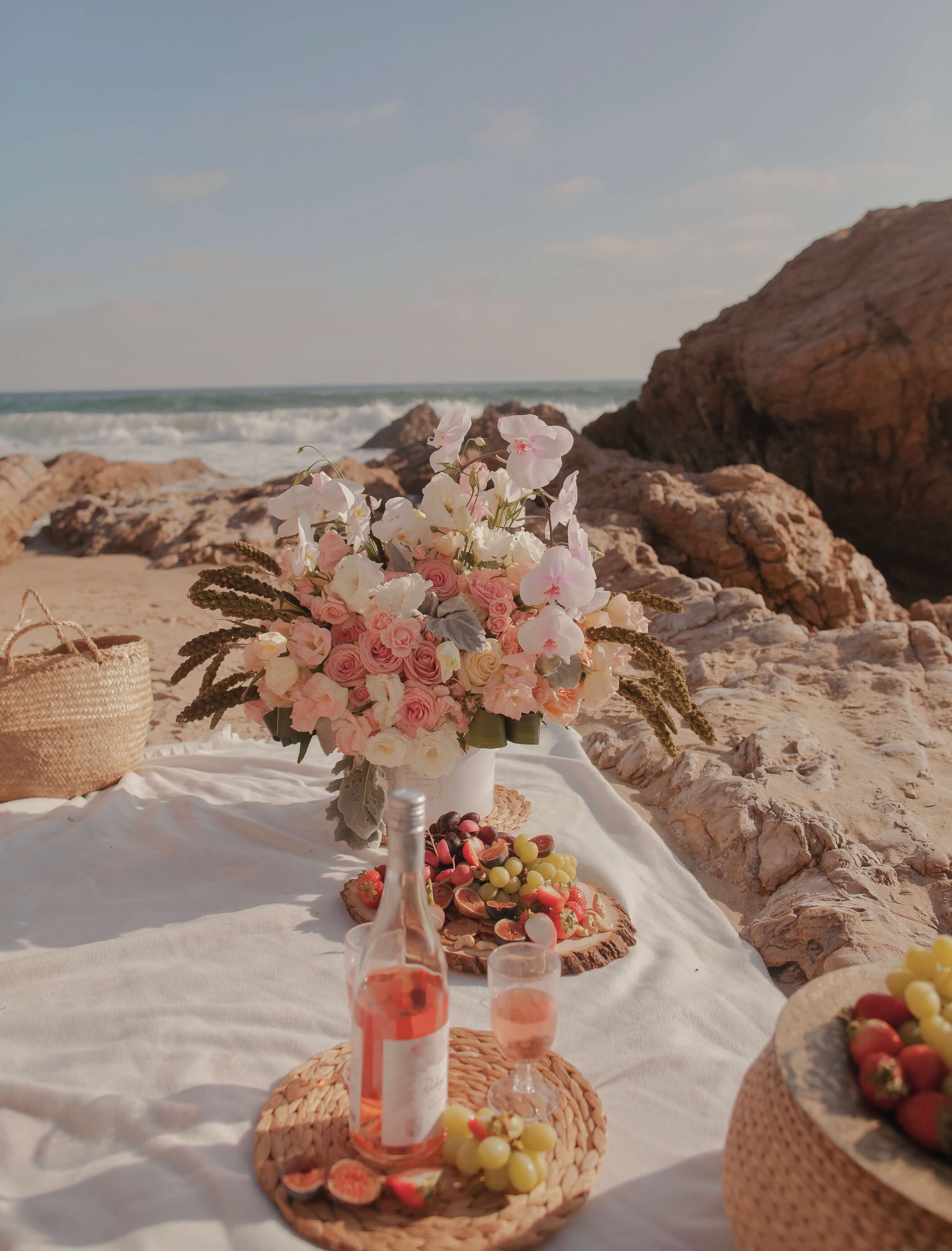 3. Food: Taste the Rainbow
Put out wooden boards with a wide selection of finger food like cheese and bread. Keep the food and drink selections simple. Hors d'oeuvres, finger food, berries, fruits, bread sticks, cheese plates,..are all easy to carry and also very tasty to enjoy at the beach.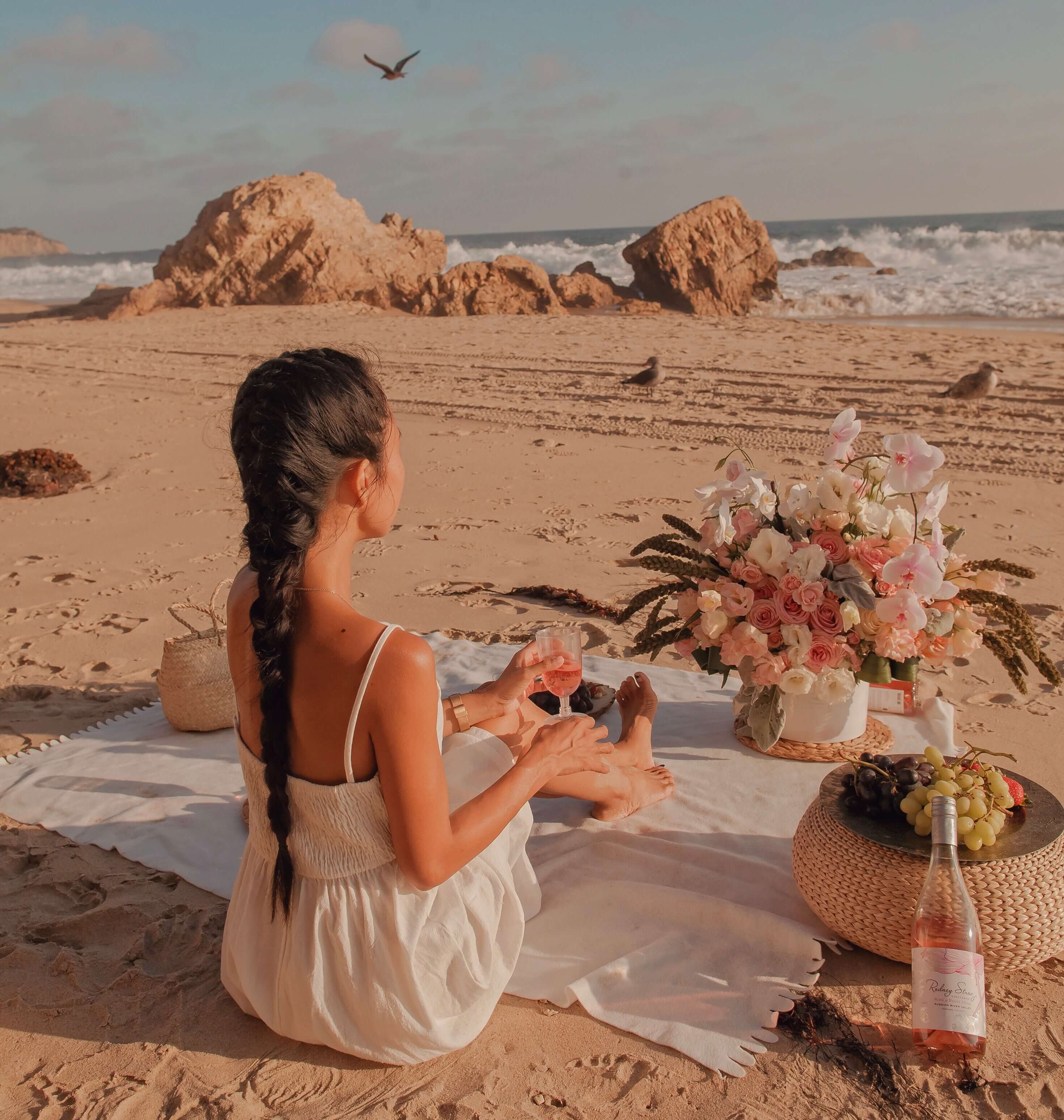 I used lots of fruits to give it a touch of color and layered it all together. The more colors and flavors you can introduce the better. Layers and different textures are key to create a visually appealing food arrangement. It tickles the senses!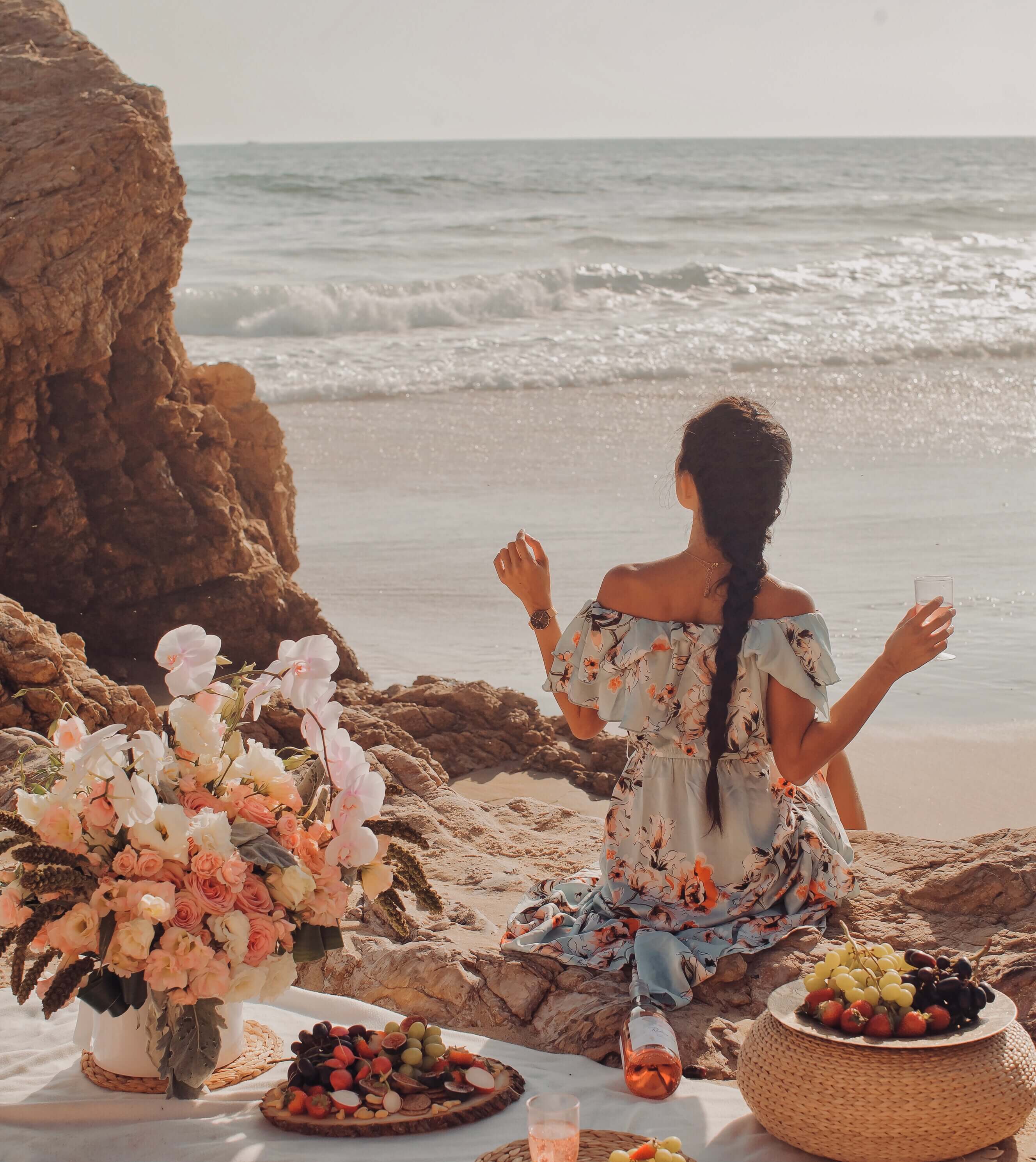 4. Rosé, Rosé, Rosé!
Bringing the right bottle of wine not only enhances the taste of picnic foods, it adds a pinch of European sophistication to outdoor eating. But choose well! Whether you are packing the picnic basket yourself or bringing along a picnic addition, make sure you choose a wine that elevates the event.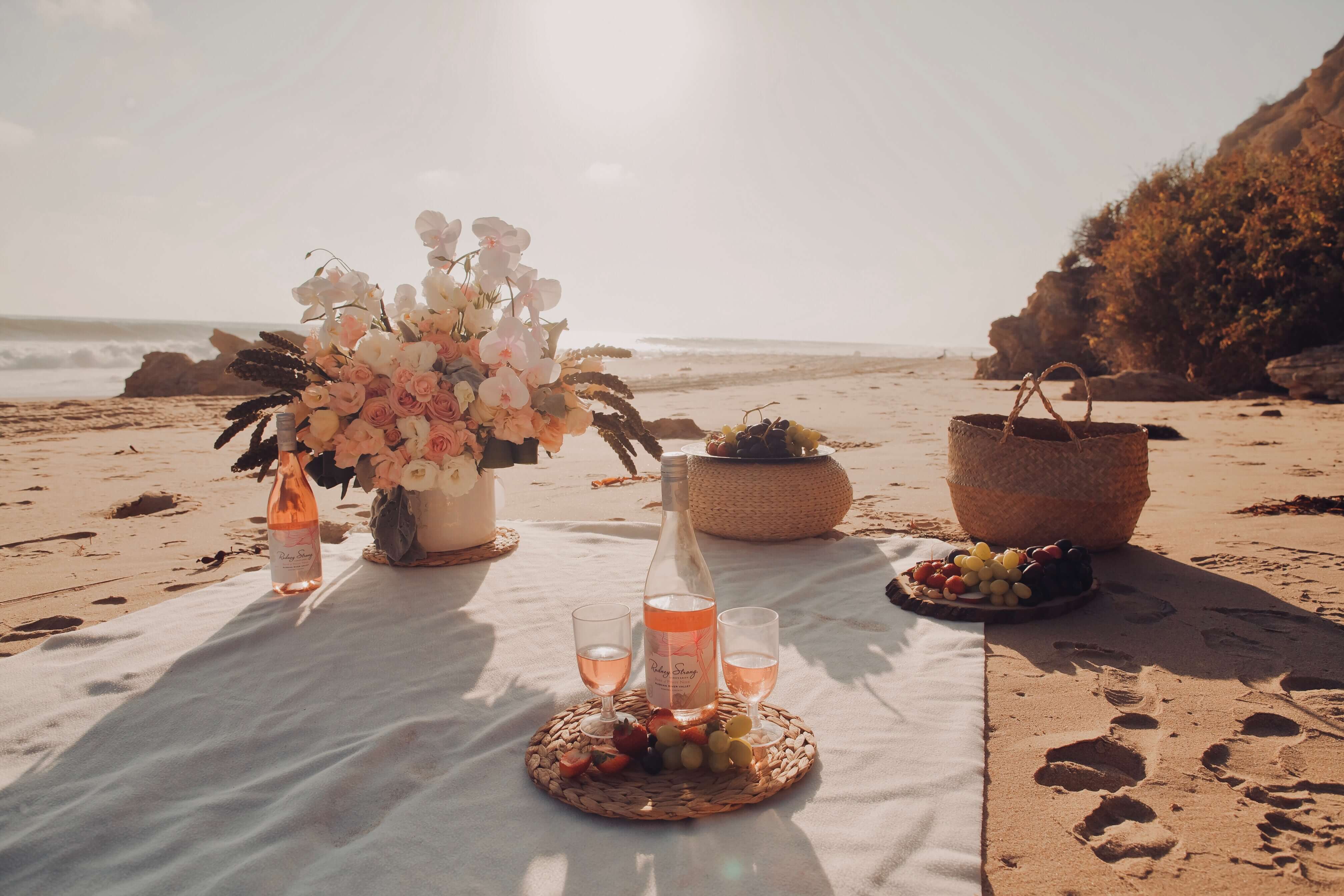 Rosé wines are among my all-time favorite drinks for picnics because they are the perfect color, injecting a note of warm floral pink to enhance my picnic setting. I am in love with Rodney Strong Vineyards' 2017 Rosé of Pinot Noir. This fine wine is whimsically packaged with a screw cap and a floral label and has a pretty pink color. Light in body, it has aromas and flavors of strawberry, white peach orange, and jasmine.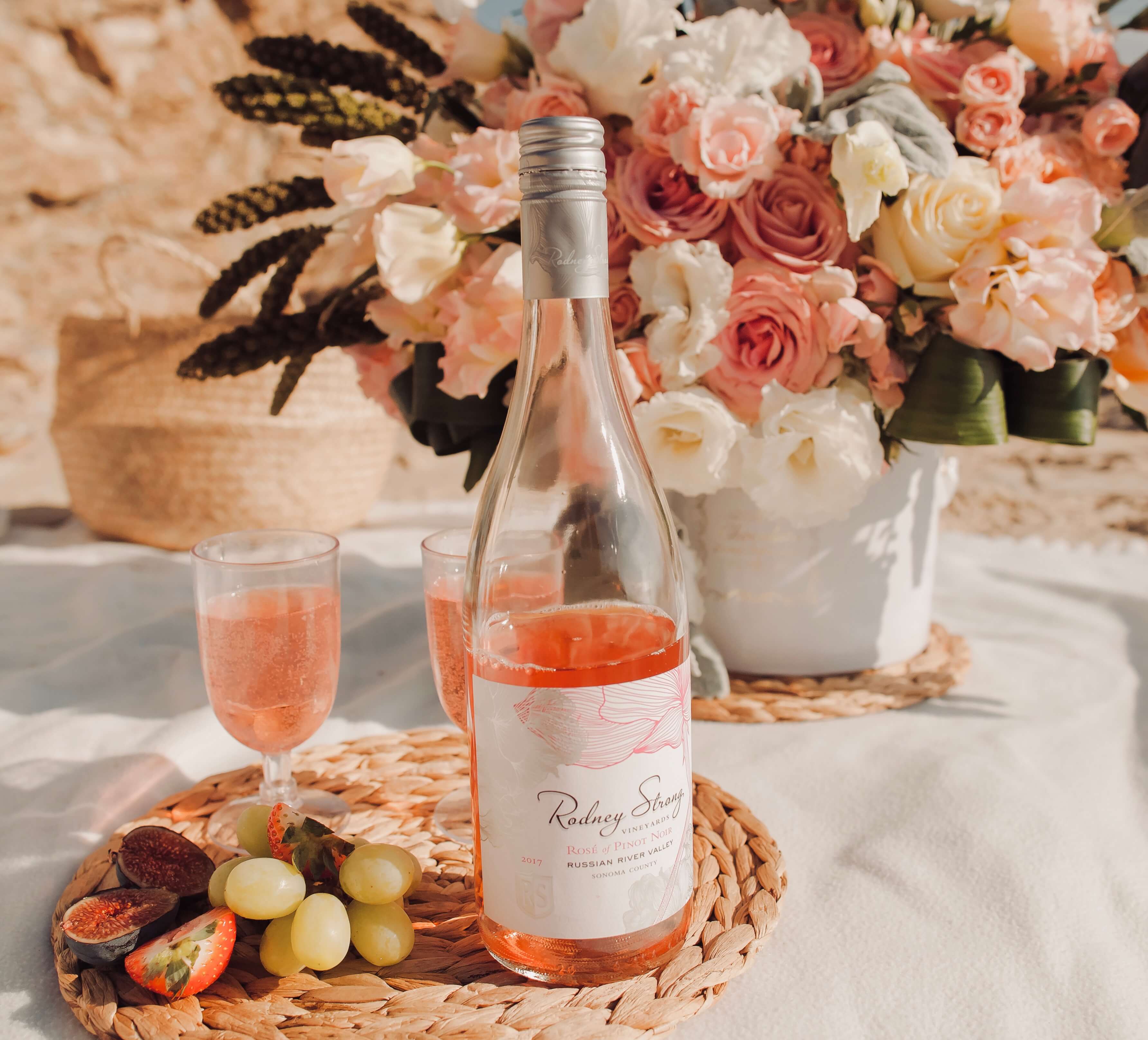 4. Beach Picnic Outfits 
To have that picture-perfect moment for your Instagram, how you dress is also important!!! Outfit to the beach doesn't have to be tank tops or bikinis. My favorite outfit for beach picnic is white dress or floral long dress. It just gives you the feeling of carefree and "wanderlust"!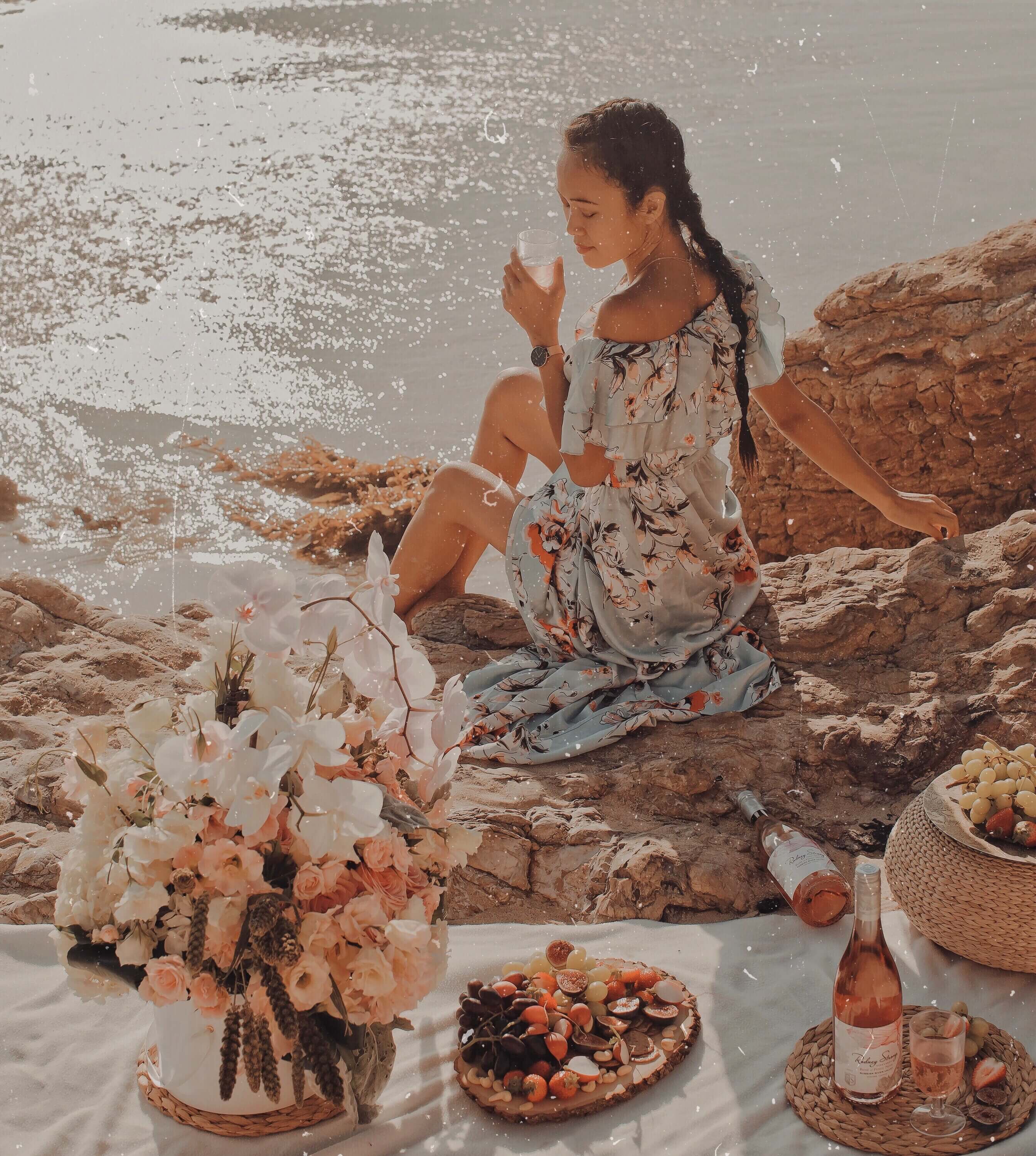 I hope these tips will help you plan your beach picnics a tiny bit less daunting!
***Thank you to Rodney Strong Vineyards and Chocolato Events for kindly sponsoring this post. All opinions are 100% honest & completely my own.