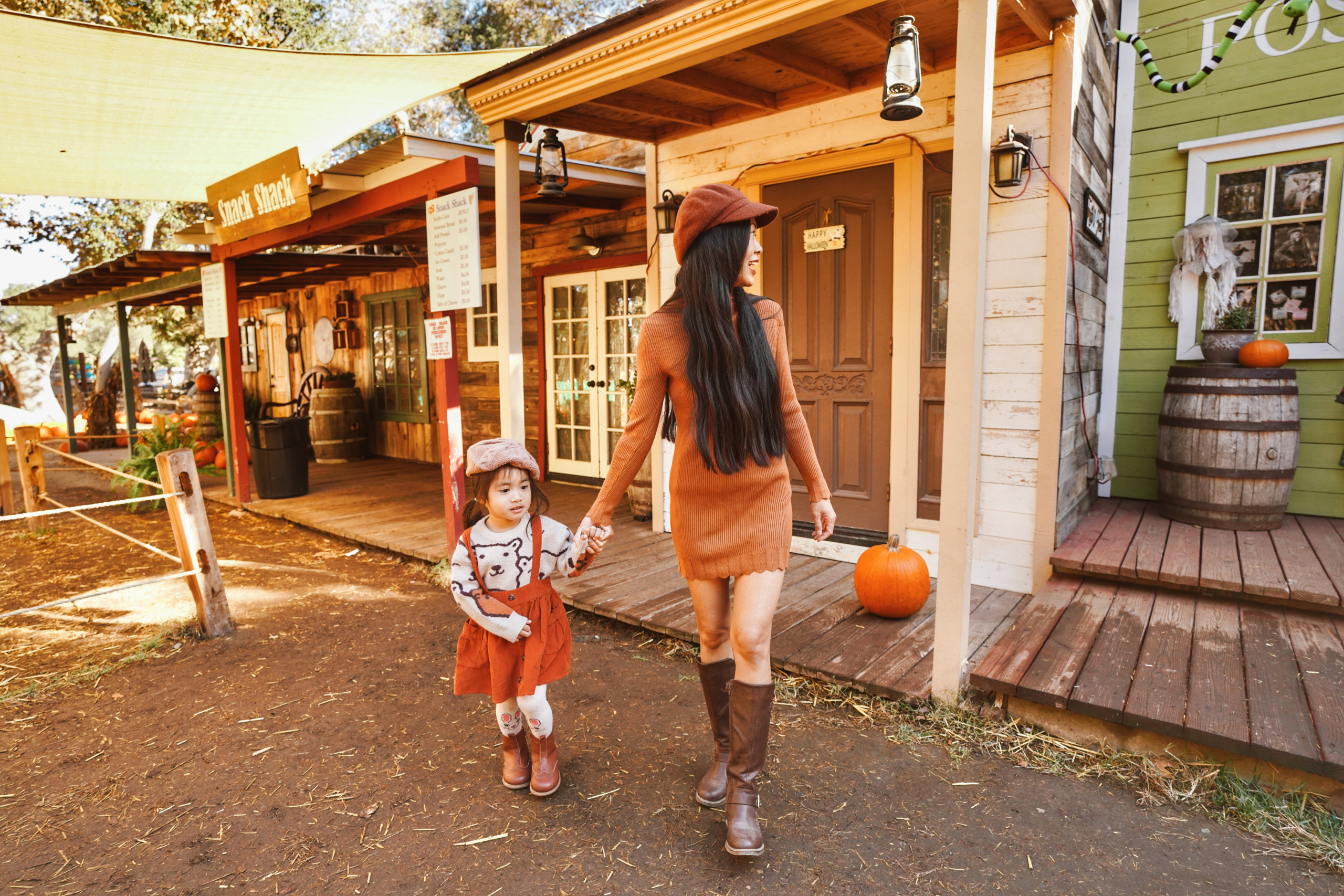 9 Fun Things To Do with Kids in and around Orange County
Visiting Orange County, California usually means a trip to Disneyland or going to the beach. But there's more to this part of California than roller coasters and Mickey. You just might be surprised by all the fun things to do in Orange County with kids from U-pick farms, historical railroad park, to botanical gardens.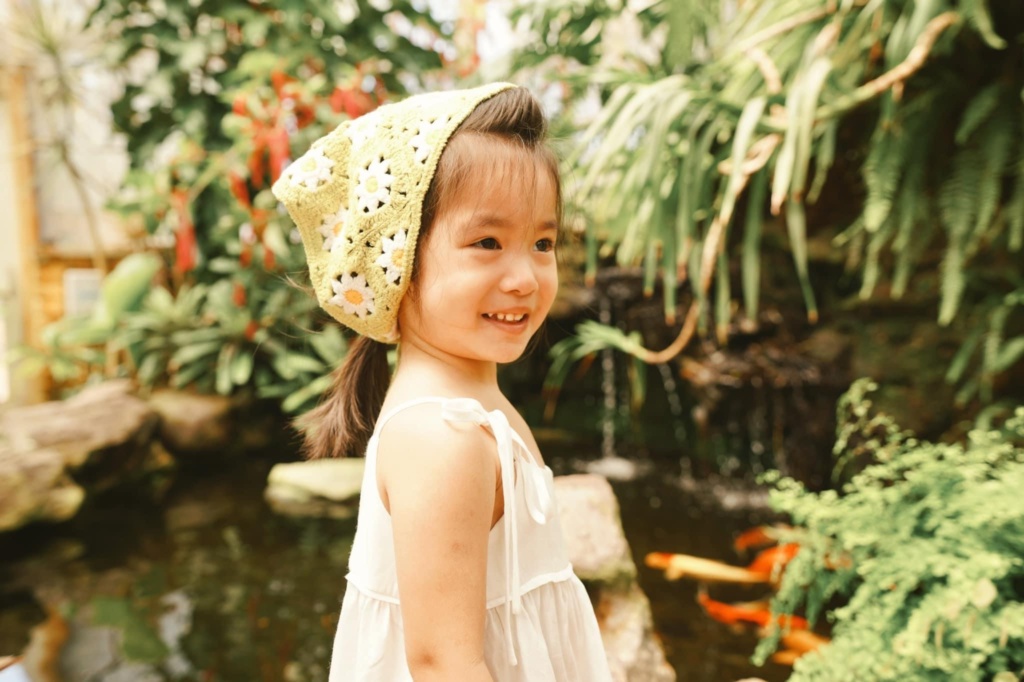 Whether you're looking for things to do outside the themed parks on your next Disneyland vacation, or planning a trip that doesn't include Mickey at all, here are 9 fun things to do in and around Orange County with kids.
1. Wander Among Plants and Flowers at Sherman Library and Gardens
A visit to the Sherman Library and Gardens in Corona del Mar is like taking a trip around the world. From a Japanese garden to a desert collection, the botanical garden offers a colorful variety of flowers, trees, and plants.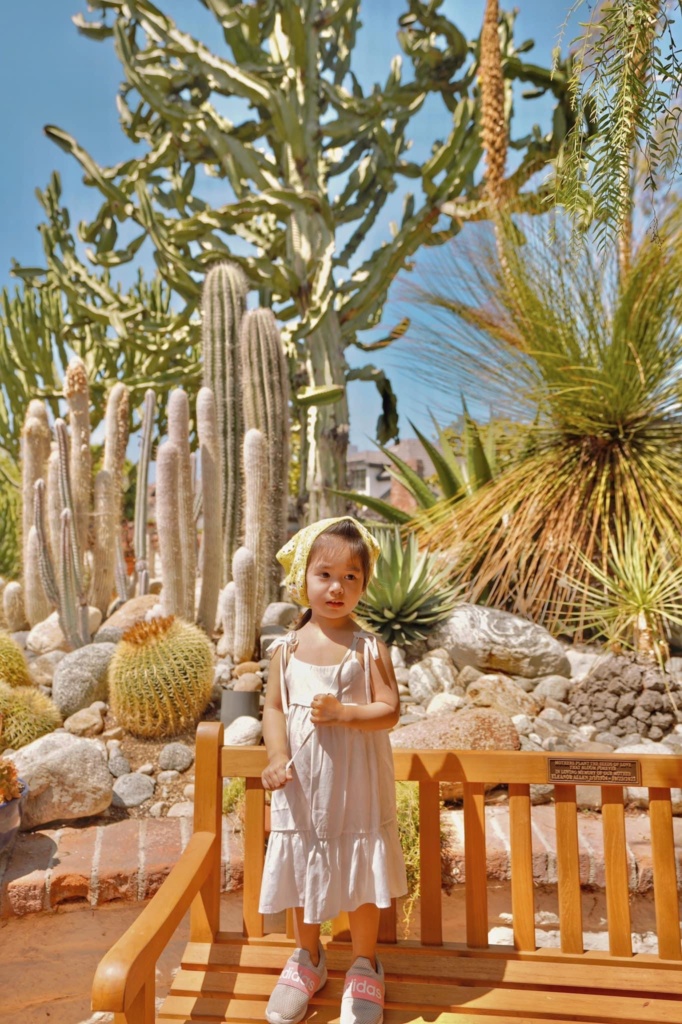 With floral and plant covered overhangs and walls, the two-acre botanic garden is sure to wow every member of your family. Sherman Library and Gardens is also home to a conservatory and greenhouse. Kids will love visiting the Koi pond during feeding time.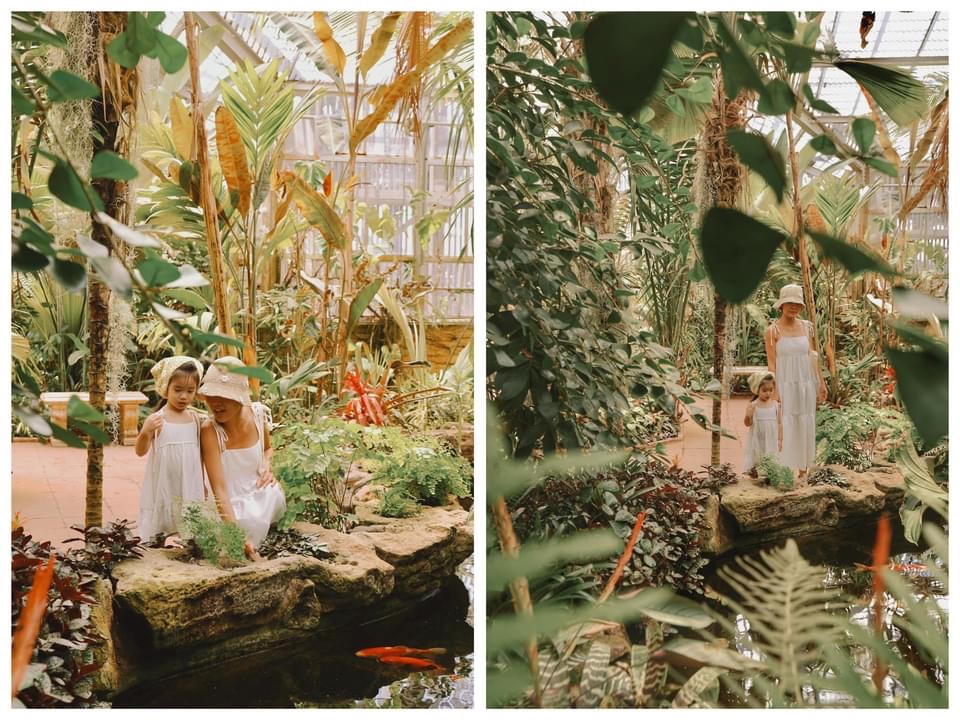 Their Discovery Garden is a highlight for kids to smell and touch plants. This one is better for school age kids rather than toddlers. If you have older kids who love taking photos — it's paradise!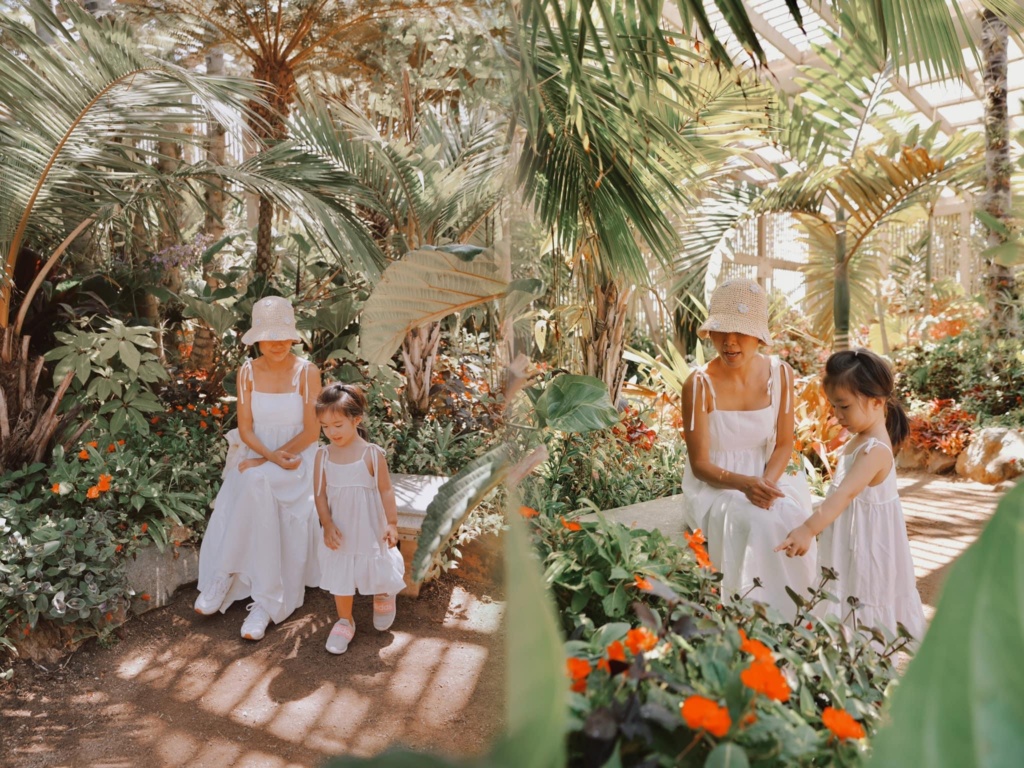 Sherman Library and Gardens offer a variety of arts and garden based educational opportunities for children of all ages. Their gardens are a living laboratory of exploration and creative inspiration. It's a place for children to come, explore, learn and have fun!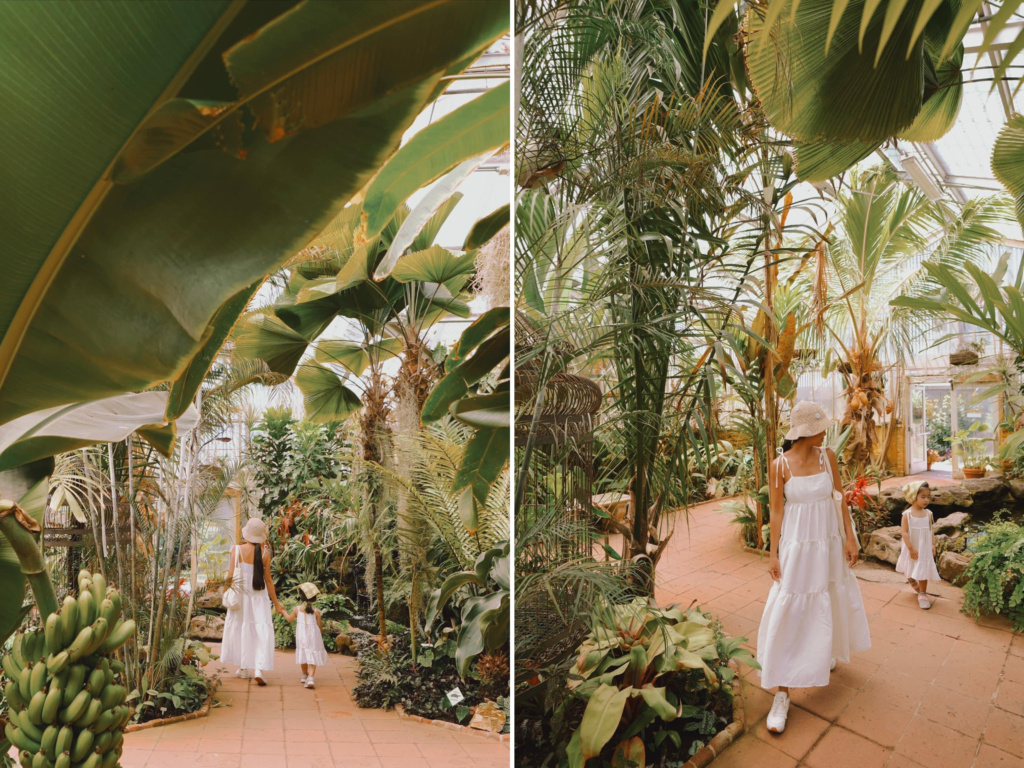 They also host an extensive Children's Garden Program including scavenger hunts, family tours, and plant shows.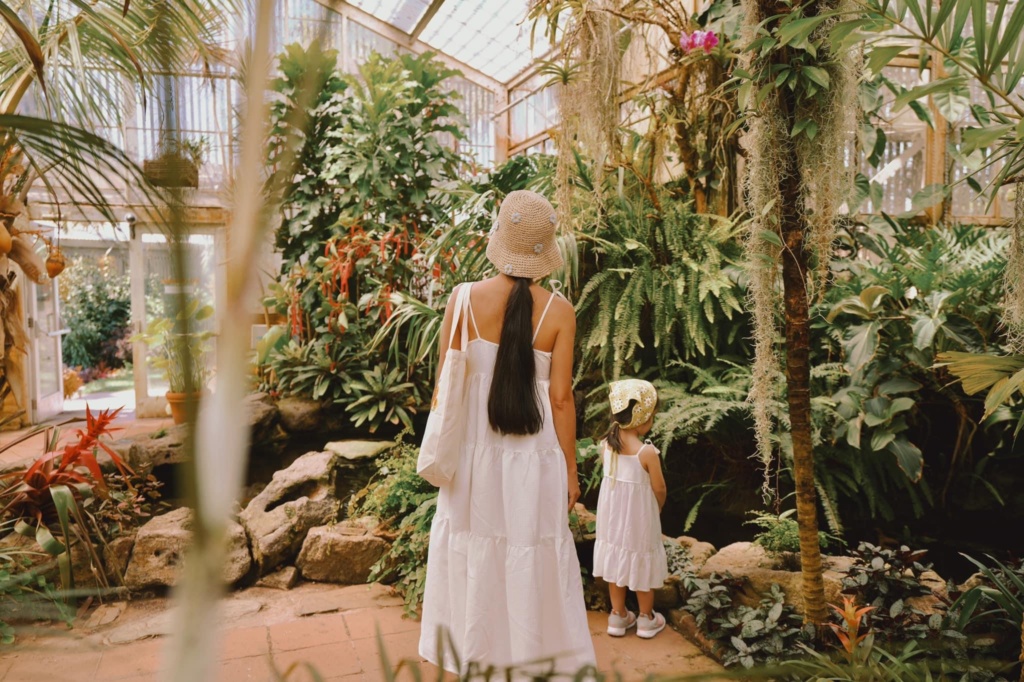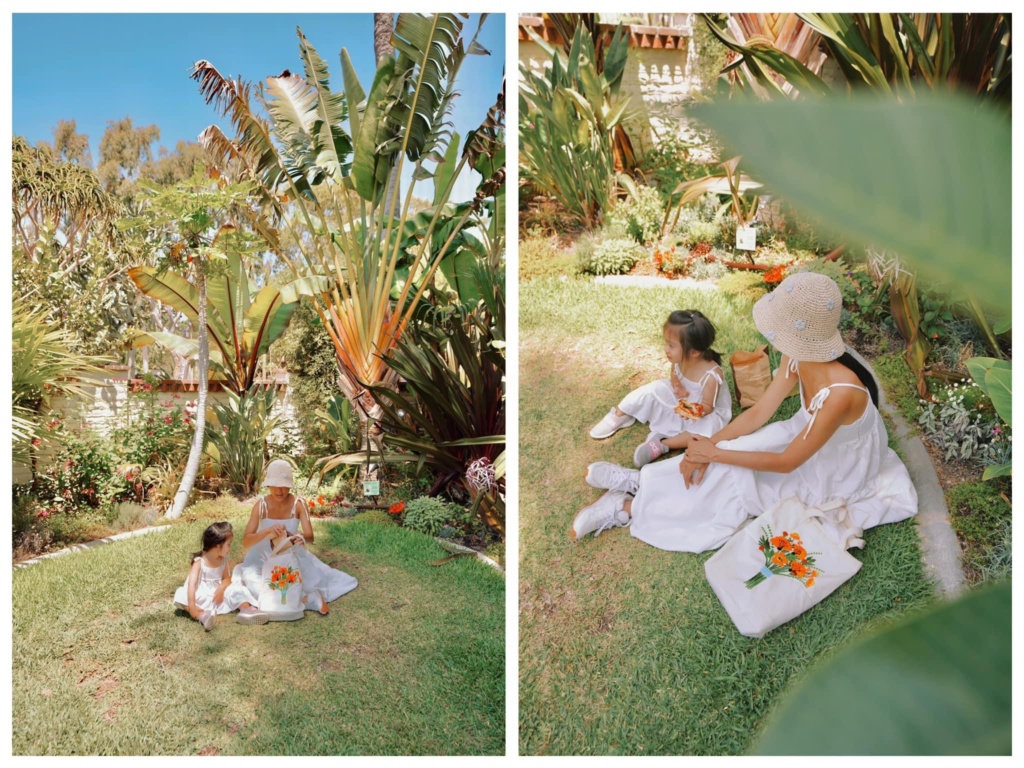 2. Have a Real Afternoon Tea at the Morning Lavender
If you're looking for a place to have a mommy-daughter tea time (also shopping time), this spot is perfect. It's never too early to teach your daughter to love the experience of eating tiny sandwiches and receiving her own pot of tea! This love of high tea at such a young age will definitely carry over to adulthood.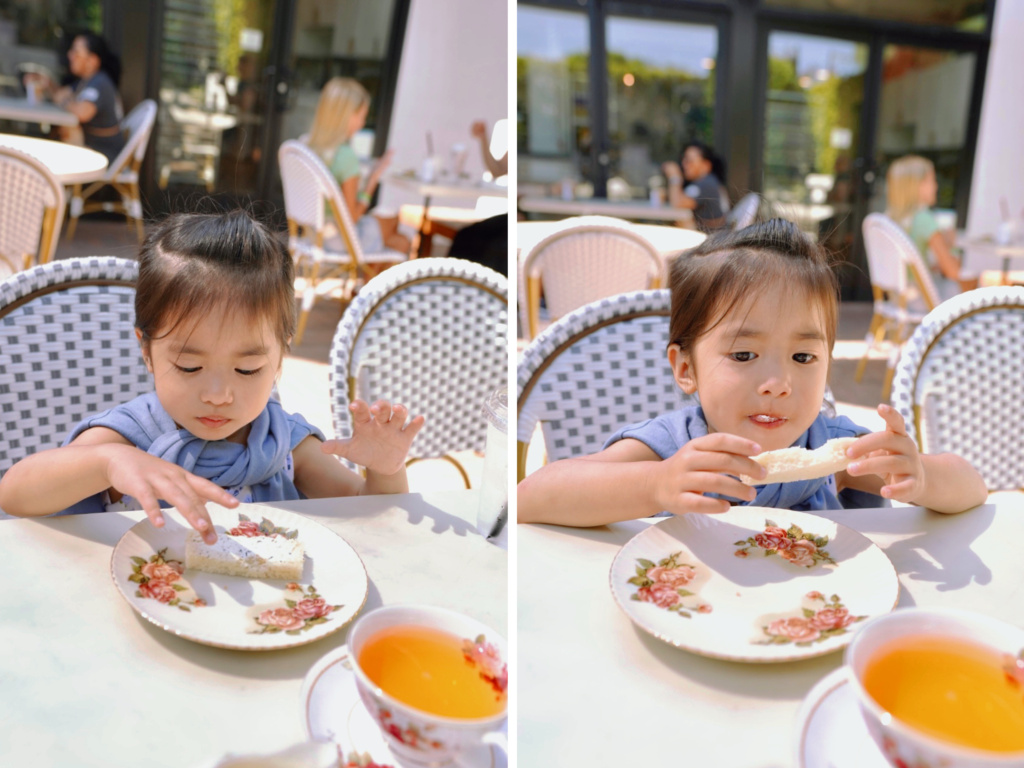 "There are few hours in life more agreeable than the hour dedicated to the ceremony known as afternoon tea."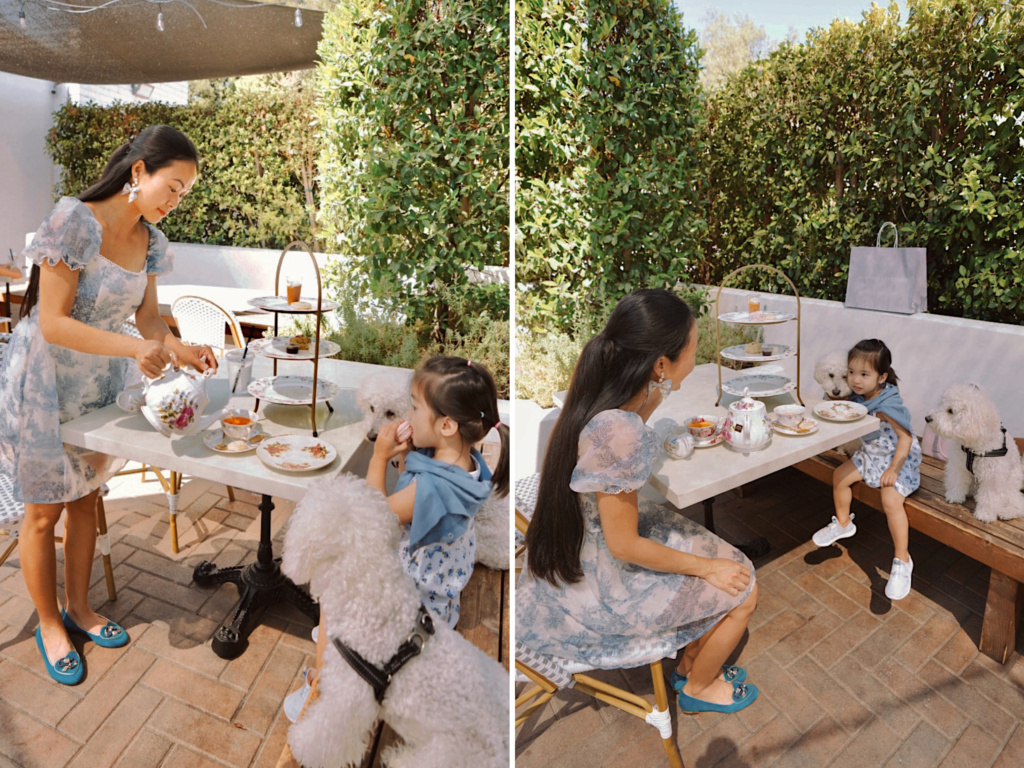 The owners decided to open a cafe to go along with its boutique and it worked out perfectly! Half of the building is the cafe and the other half is the clothing boutique. Perfect for a fun shopping and tea day for moms and daughters.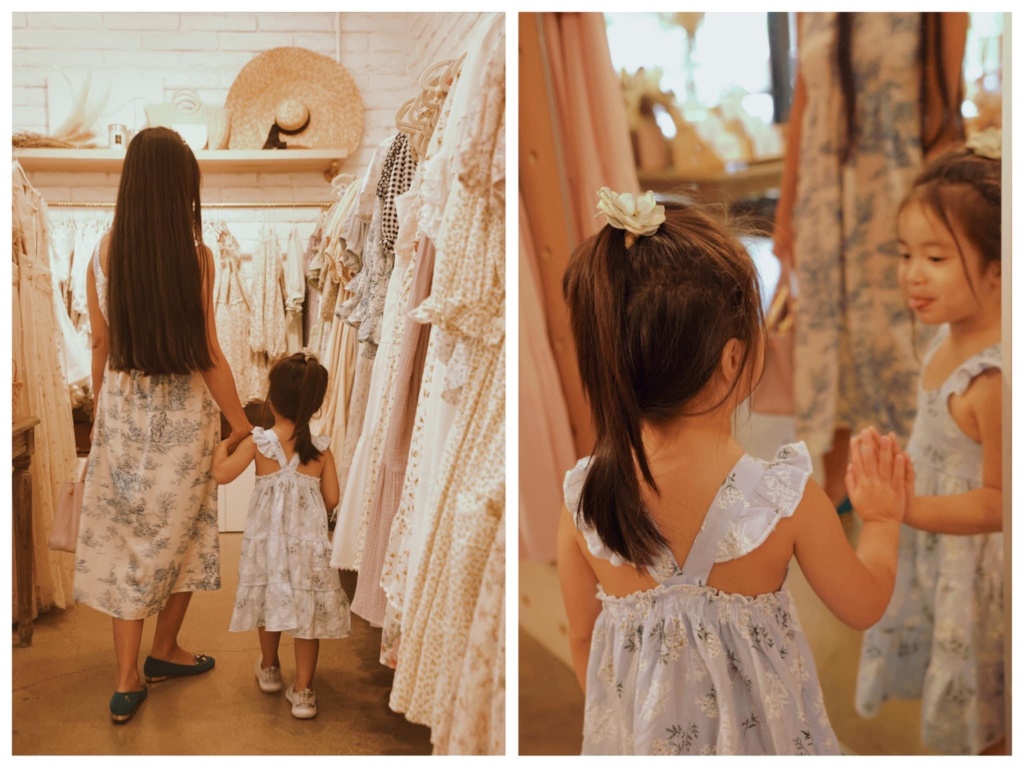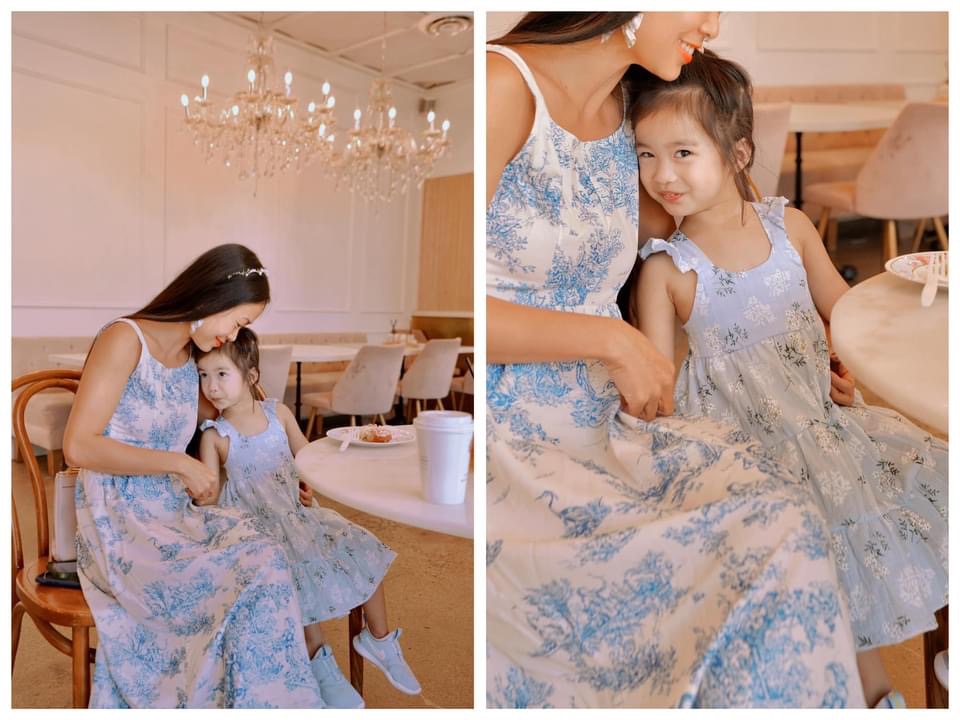 The indoor cafe looked great on Instagram, but it was even better in person! Pristine white marble countertops, fresh lavender in dainty vases, a flower wall….It's a girly heaven with chic and trendy vibes.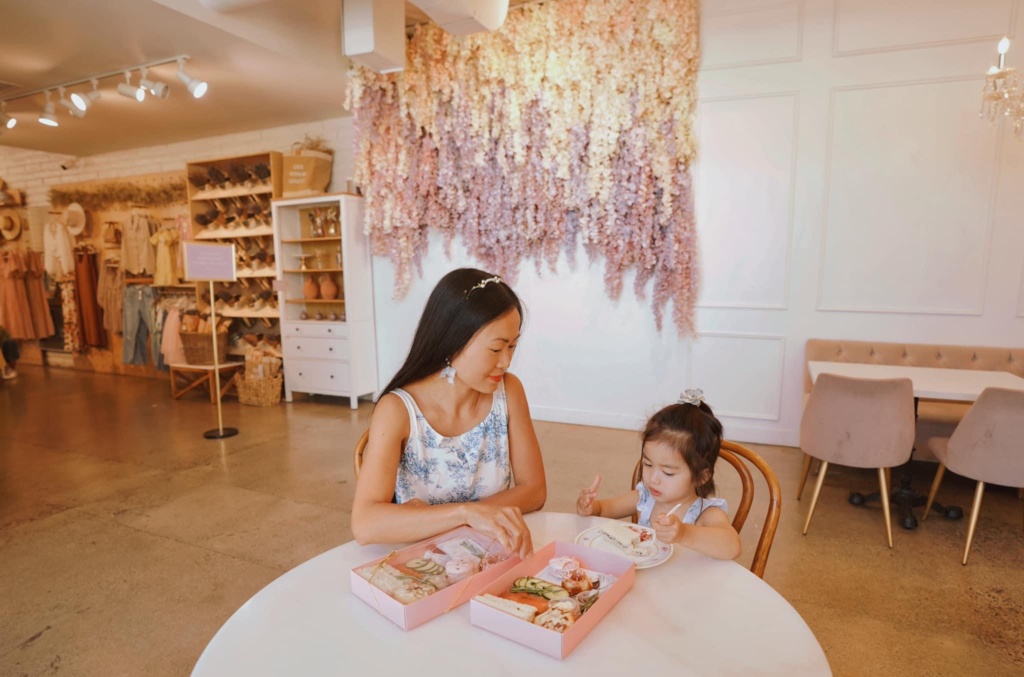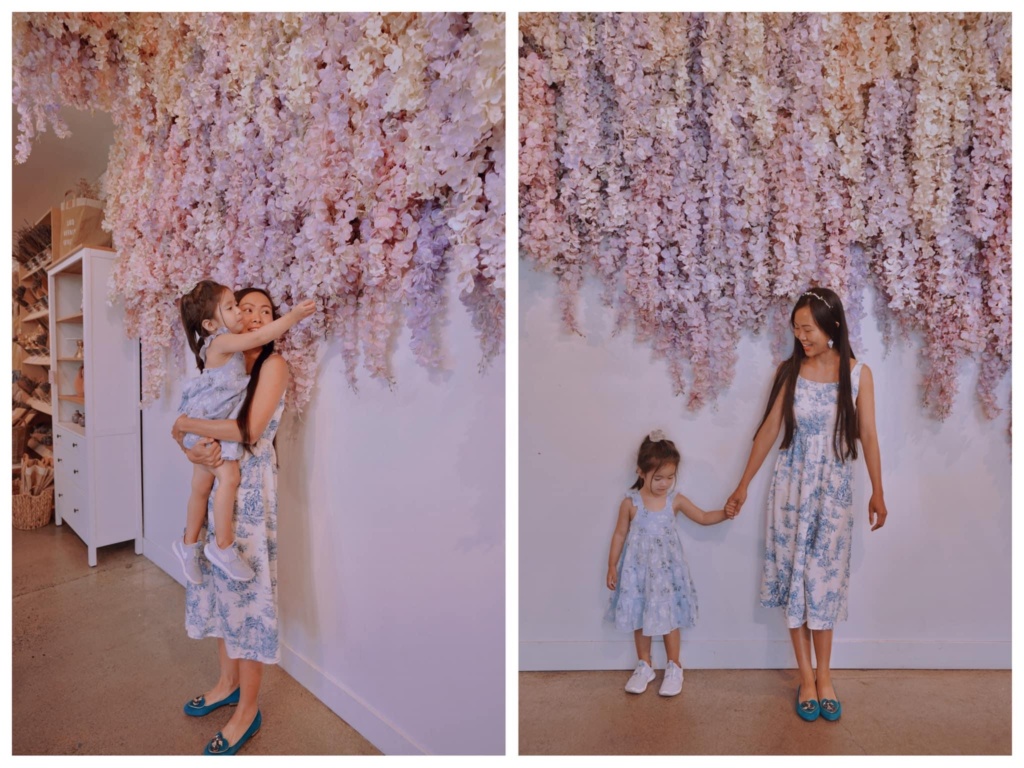 They also have an outdoor seating area that's amazing and would be lovely on a warmer day. A perfect place to enjoy afternoon tea with your toddlers as well as your fur babies.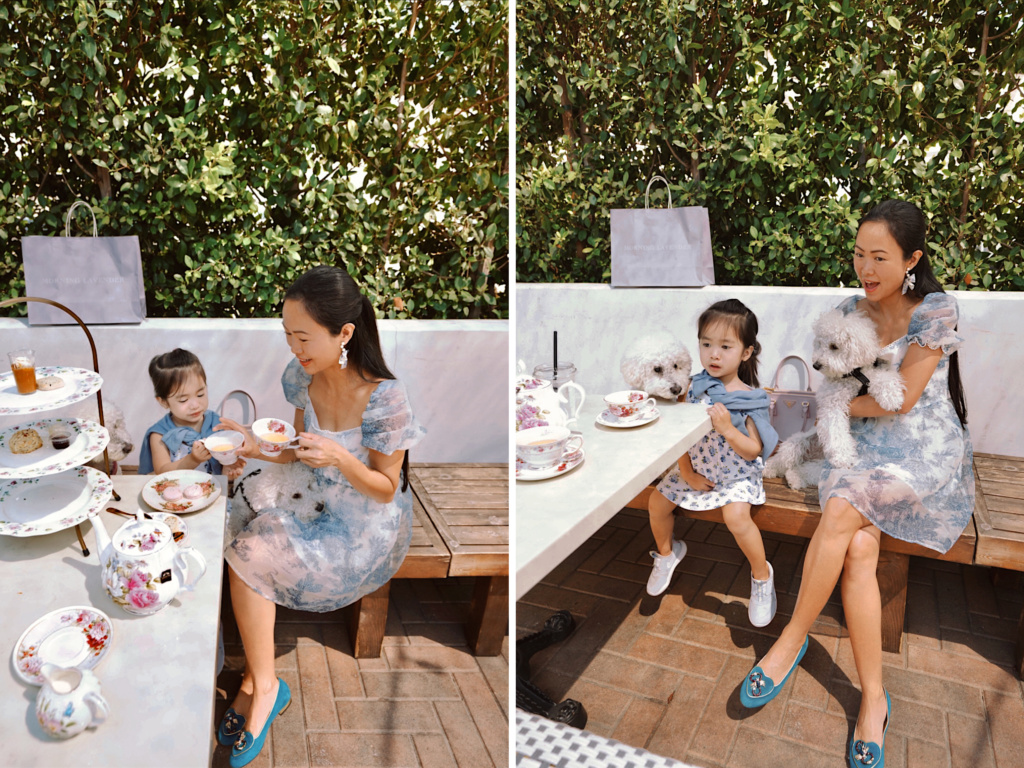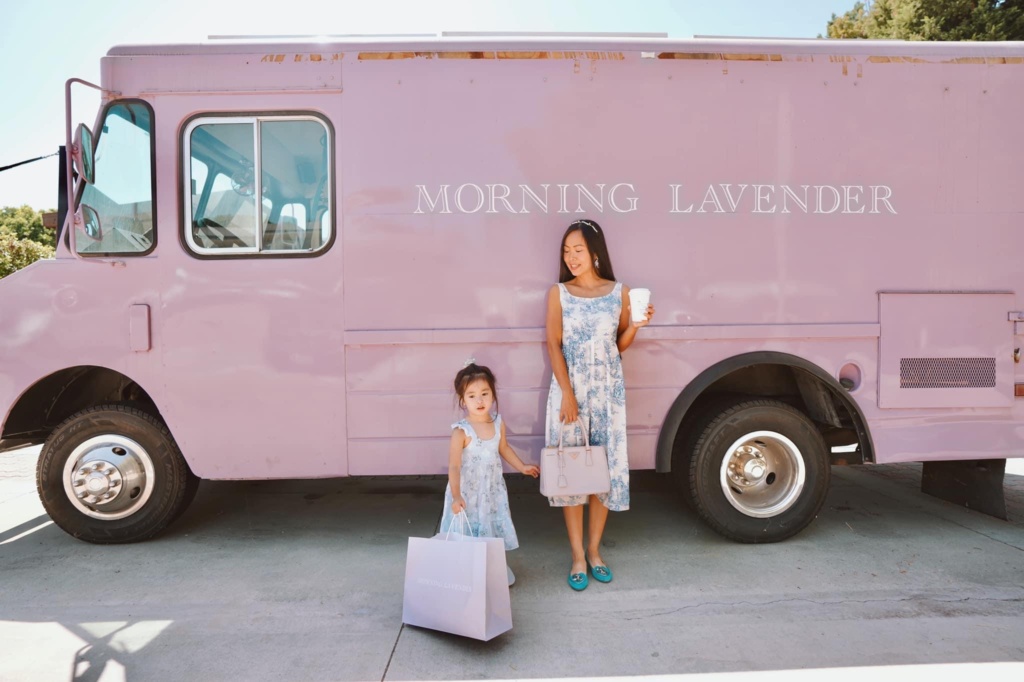 3. Pack a Picnic Basket and Enjoy the Day at Huntington Central Park
Here you will find a lush 350-acre oasis. The peaceful setting of open grass fields and extensive tree and flower plantings is used for various activities such as picnics, biking, playing, and walking along the paved paths.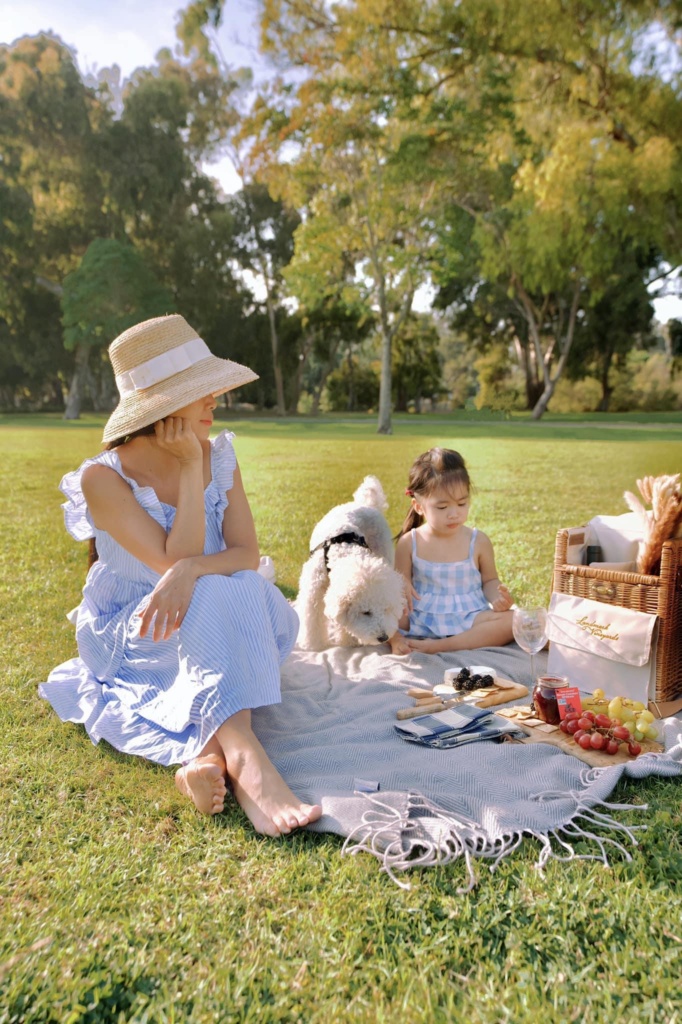 It's the perfect spot for your kids to soak up every bit of nature, open fields, trees, flowers, birds, lakes and a butterfly haven.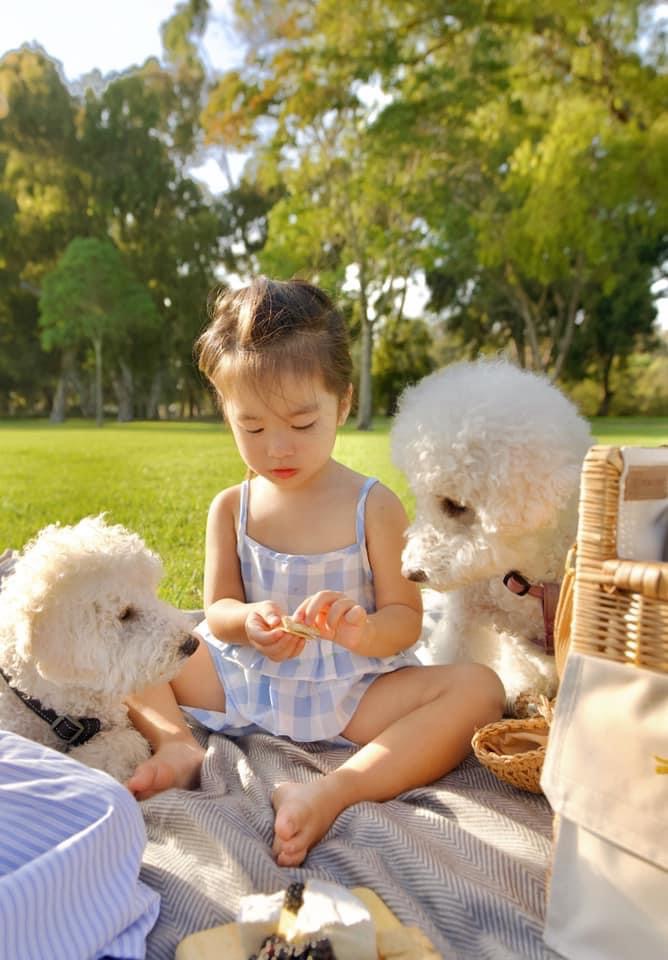 This park is serene, beautiful, and perfect for family picnic time. After picnic, you should take your kids to explore the meandering trails and all attractions that this wonderful park offers.
4. Get Picking at Tanaka Farms 
A great U-Pick farm to explore is Tanaka Farms. They harvest strawberries, watermelons and pumpkins. Pickable crops change by the season—strawberries typically can be found from March to June, while melon are available June to September and pumpkins and other fall veggies are popular in November and December.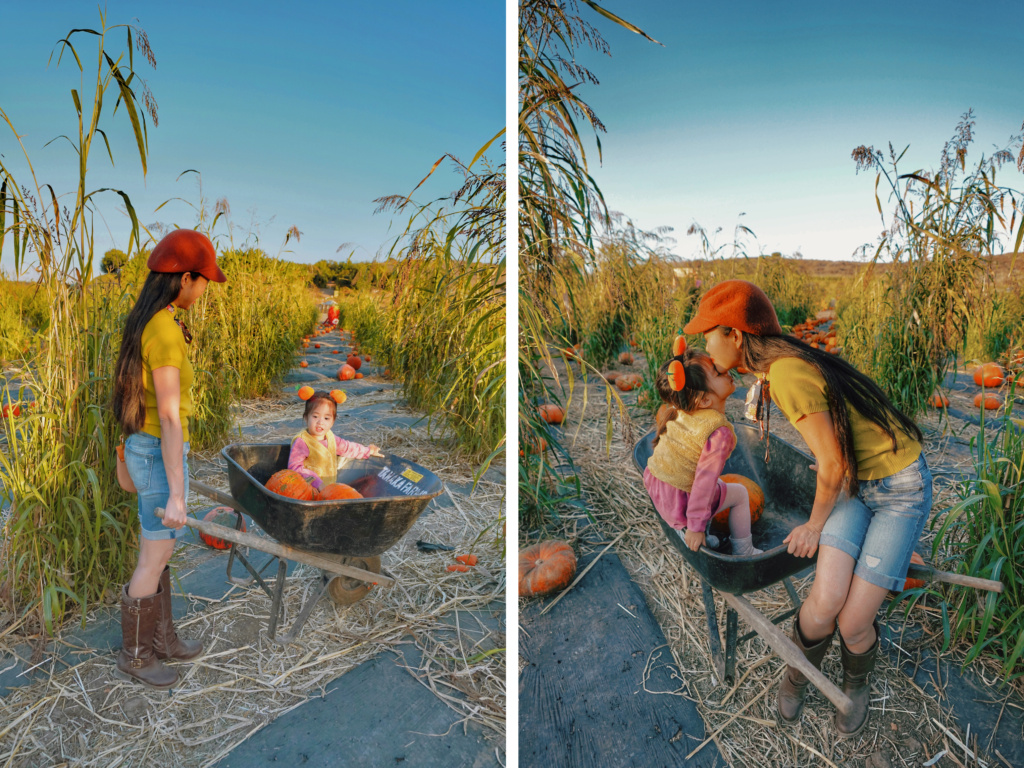 Tanaka Farms offers families the chance to pick their own fruit, visit barnyard animals, learn about life on the farm, take farm-to-table cooking classes and cookout tours, sit in on educational workshops, go on a hayride, and plant their own sunflowers to take home.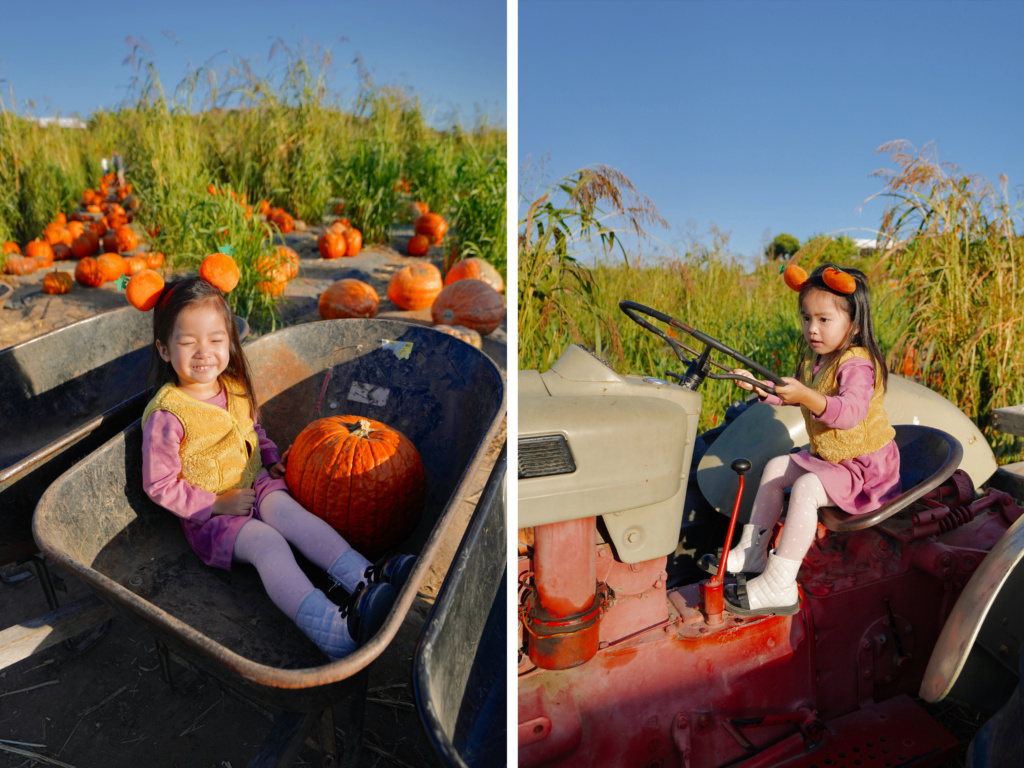 We especially love visiting Tanaka Farms during pumpkin picking season. Possibly OC's most popular u-pick pumpkin patch with acres of farm fun, Tanaka Farms grows plump pumpkins on-site. Nothing beats being in a real farm, going on a wagon, exploring a giant maze, and looking at scarecrows.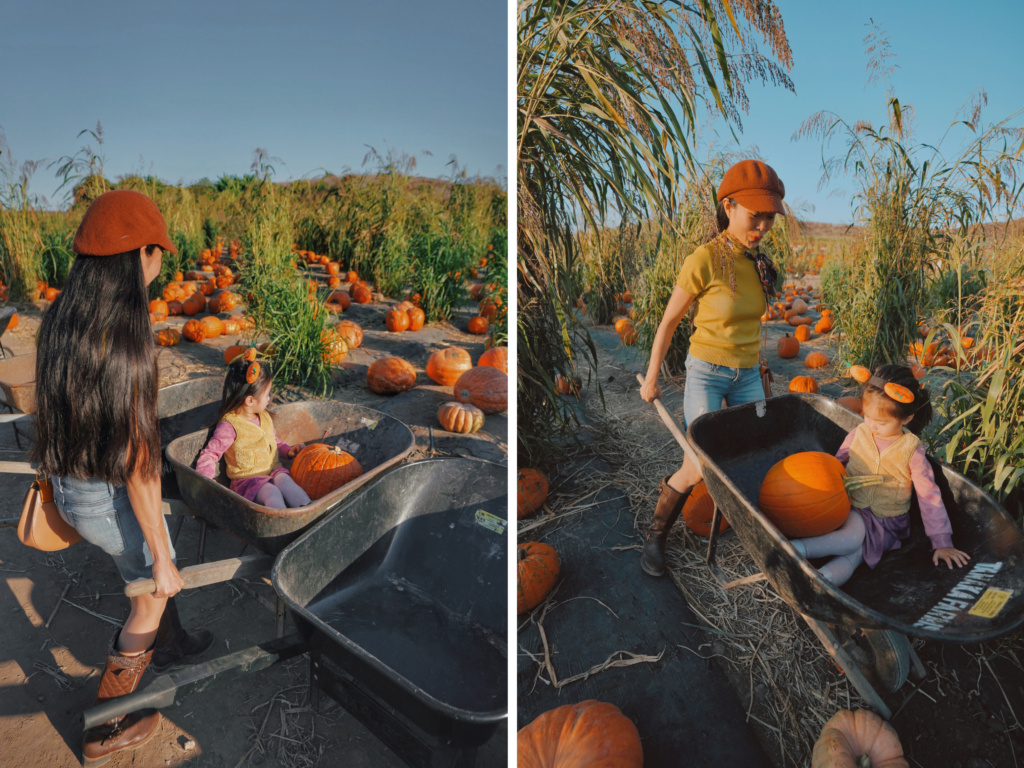 No matter which season you decide to visit this farm is a fun place to make memories and introduce kids to sustainable farming and the taste of freshly picked fruits and vegetables. (You can read more about our pumpkin picking trip at Tanaka Farms here!)
5. Ride a Train on the Irvine Park Railroad
Pay a visit to scenic Irvine Regional Park and hop aboard the train around the park at the Irvine Park Railroad.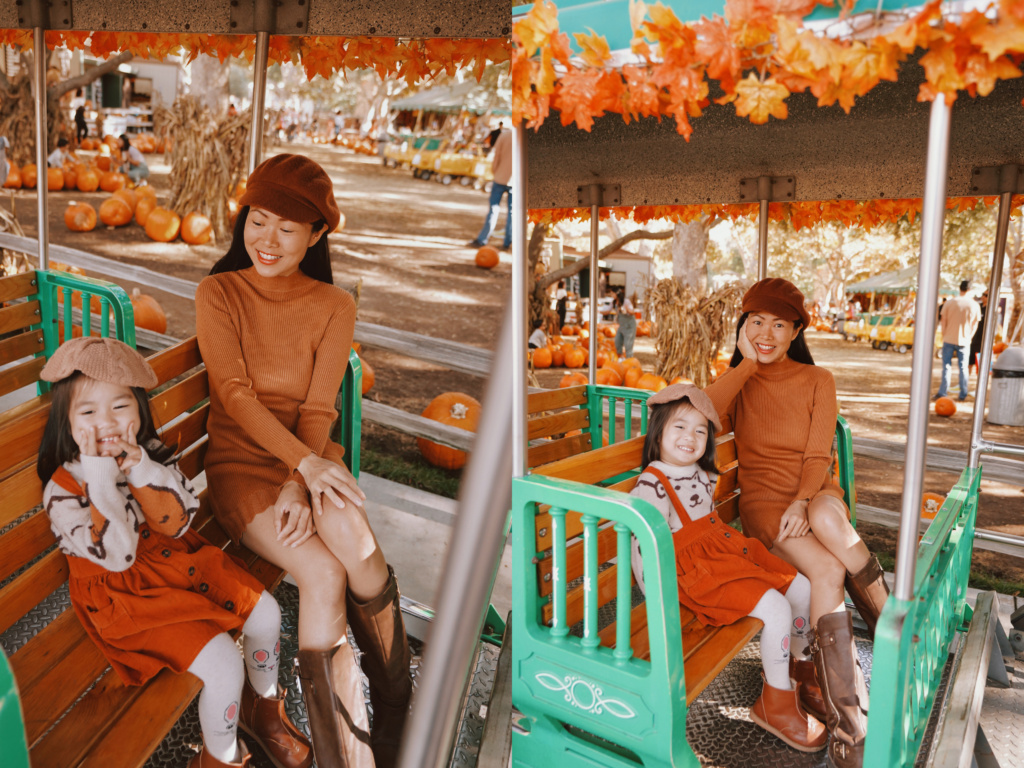 The Irvine Park Railroad is the oldest in Orange County, and well-known for its railroad, small zoo, multiple playgrounds, and horse rides.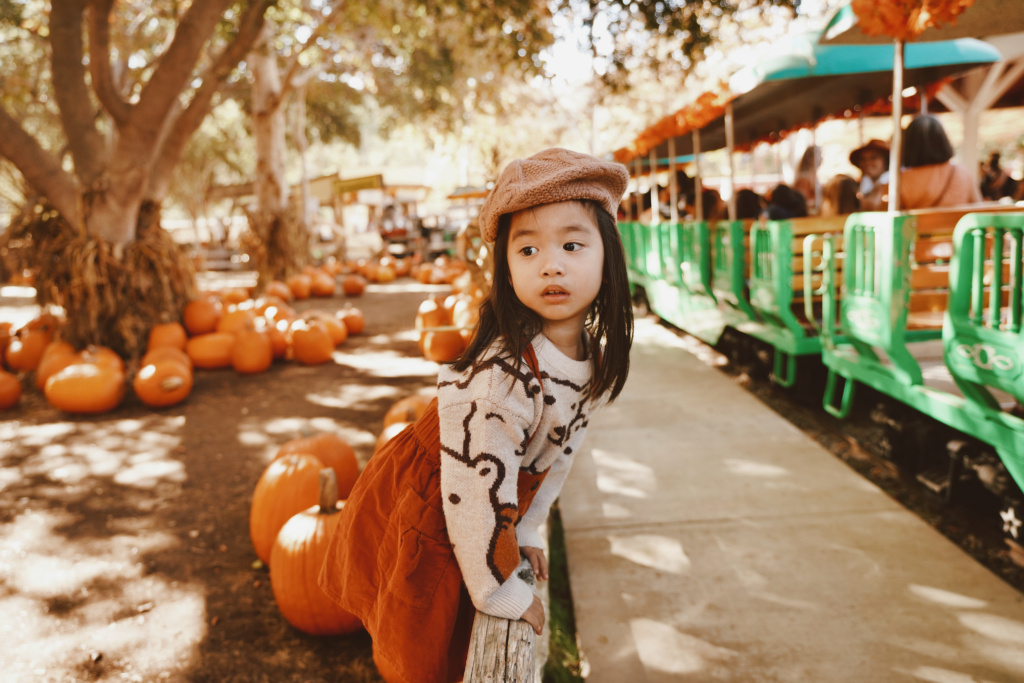 Not only the Irvine Park is gorgeous year long, but for fall season this park transforms into a magical fantasyland with carnival games, face painting booths, cookie decorating, panning for gold, bounce houses, and plenty of pumpkins.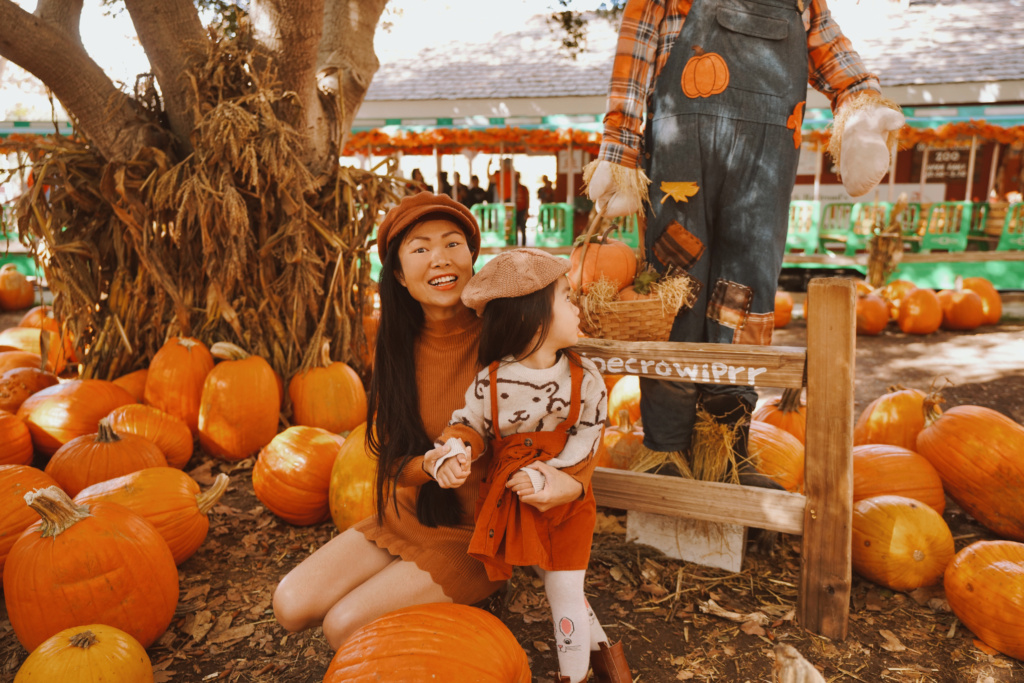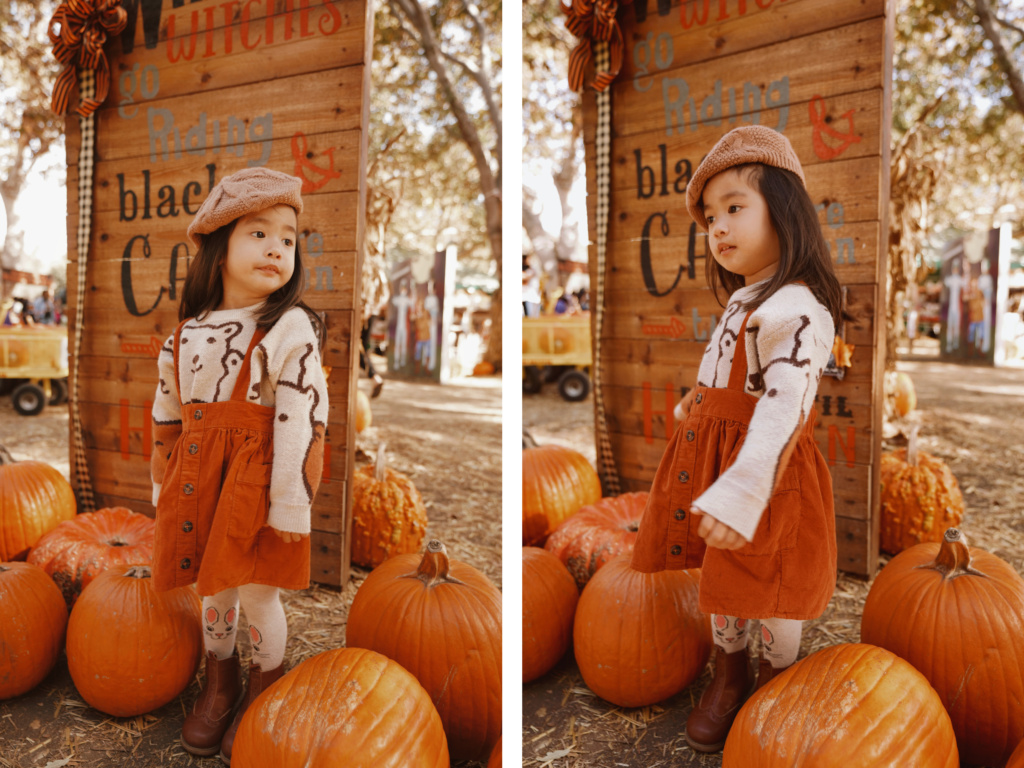 During fall season families will enjoy the the scenic railroad rides in the vintage train cars (which no kid can resist) around pumpkin patches as well as hay rides and pony rides.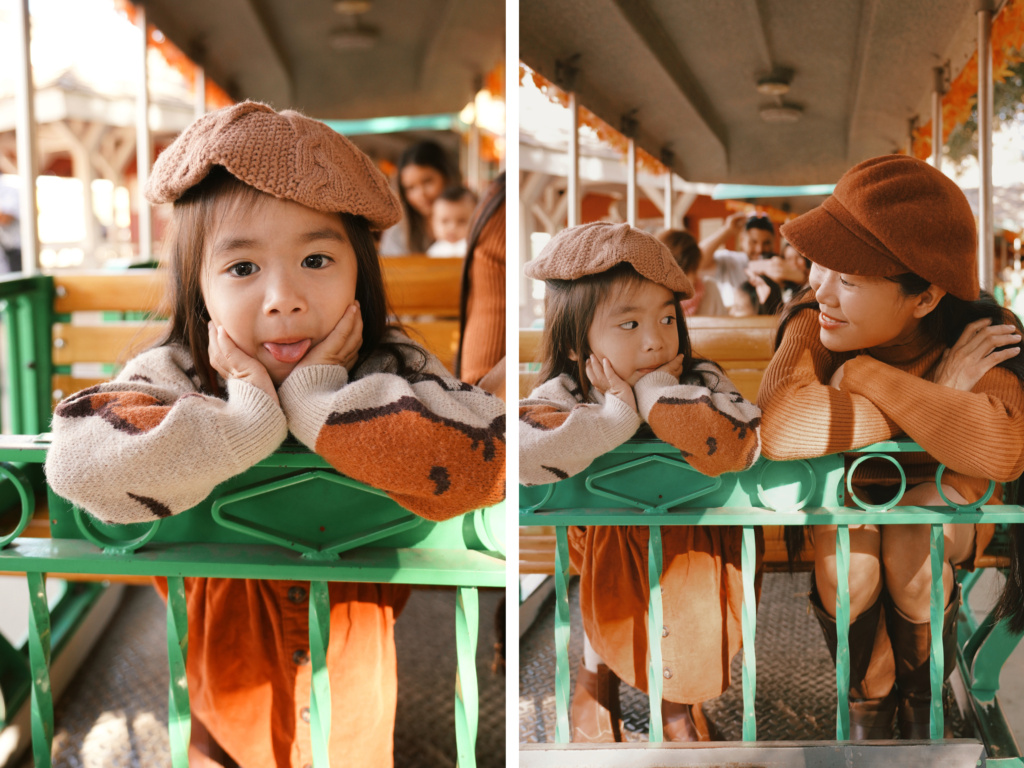 6. Indulge your Little Ones with Yummy Noodles and Boba Drinks at Anaheim Packing District
If you're looking for something different to do on your trip to Disneyland with your kids, consider leaving the parks and all that fast food options (burgers, hot dogs, pizzas,…) and venturing over to Anaheim's hot spot – the Anaheim Packing District. Opened in May 2014, the area is a food lover's paradise.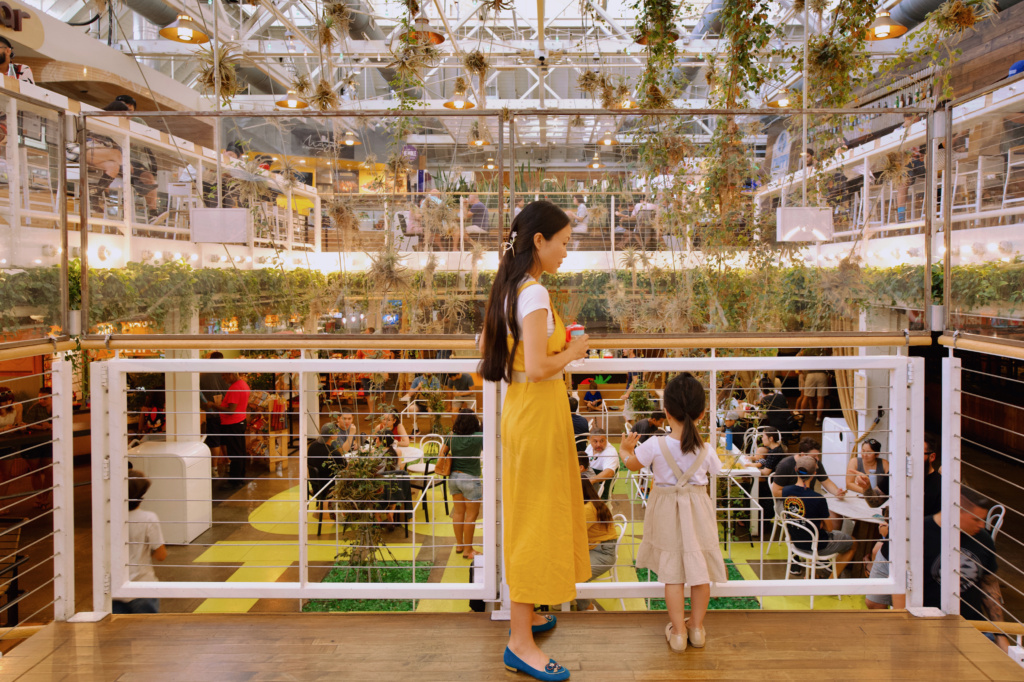 The Packing District is part of a few historic landmarks on the block. It was once a working citrus packing warehouse in the early 1900s and has been converted nicely into the two-story food hall that it is today. This place is filled with natural light that beams down from the top of the atrium, making this large, market-style space warm and inviting.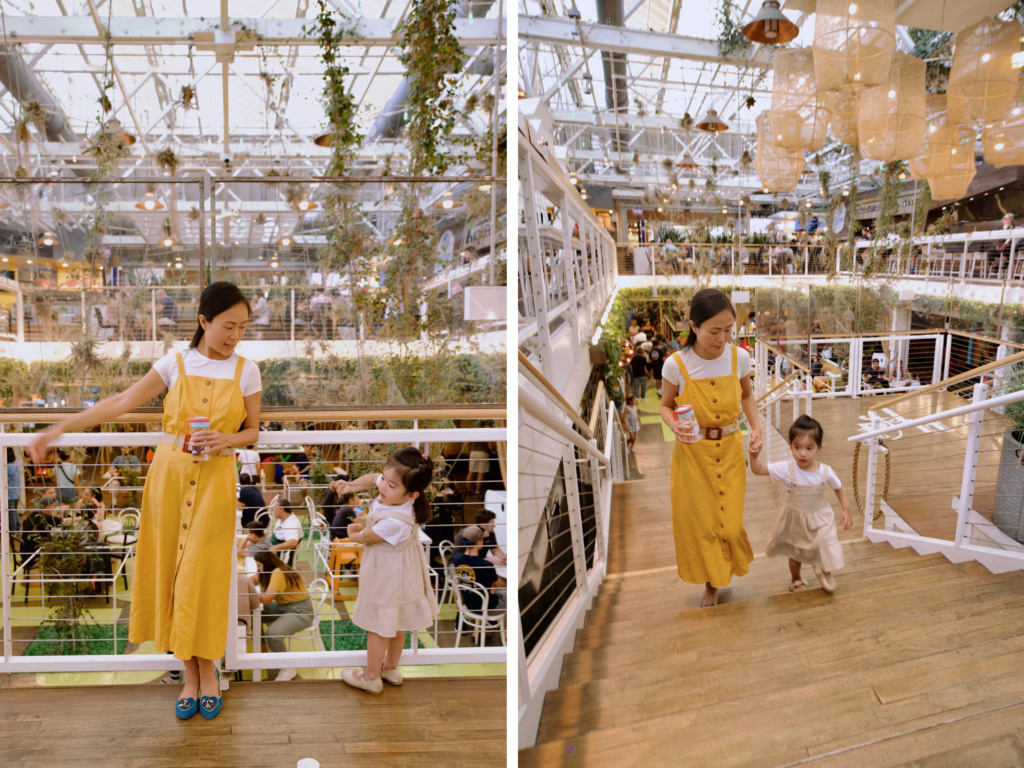 The first thing to do here that is sure to wow your kids is to visit the 206 BCE and order their signature Ani-Gravity Noodles. These are the coolest noodles we've seen! I won't spoil the magic, but the anti-gravity noodles literally stand up.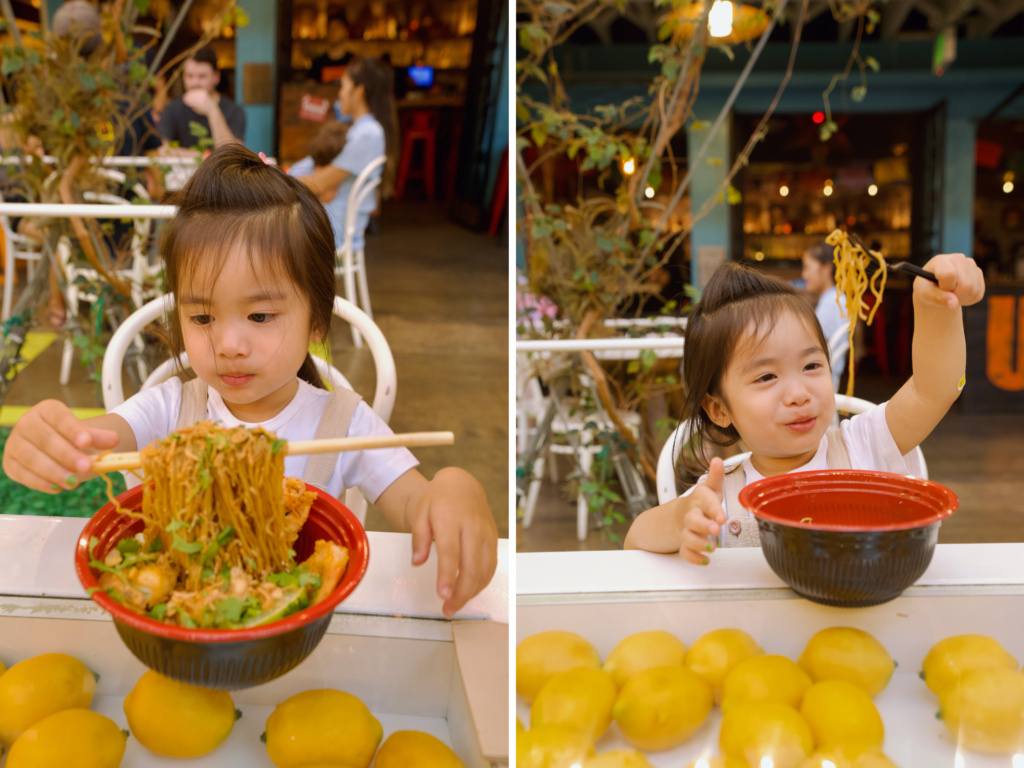 This bowl might look like an instagrammable dish that won't taste good, but this dish was actually really tasty! The ample egg noodles were bathed in a delicious garlicky soy butter that was impactful and aromatic. There was plenty of seafood hidden underneath.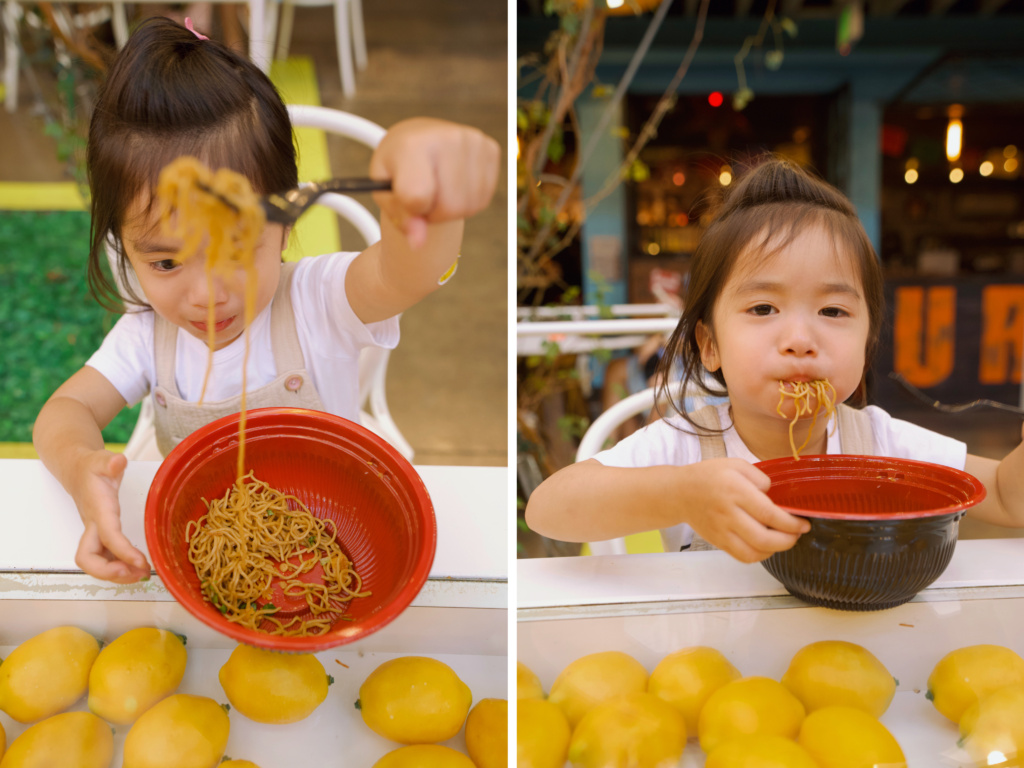 The next stop that your kids would love is the Mini Monster. Located on the top floor, this drink vendor offers iced coffees, lemonade, fruit, milk and chai teas for $4 to $5.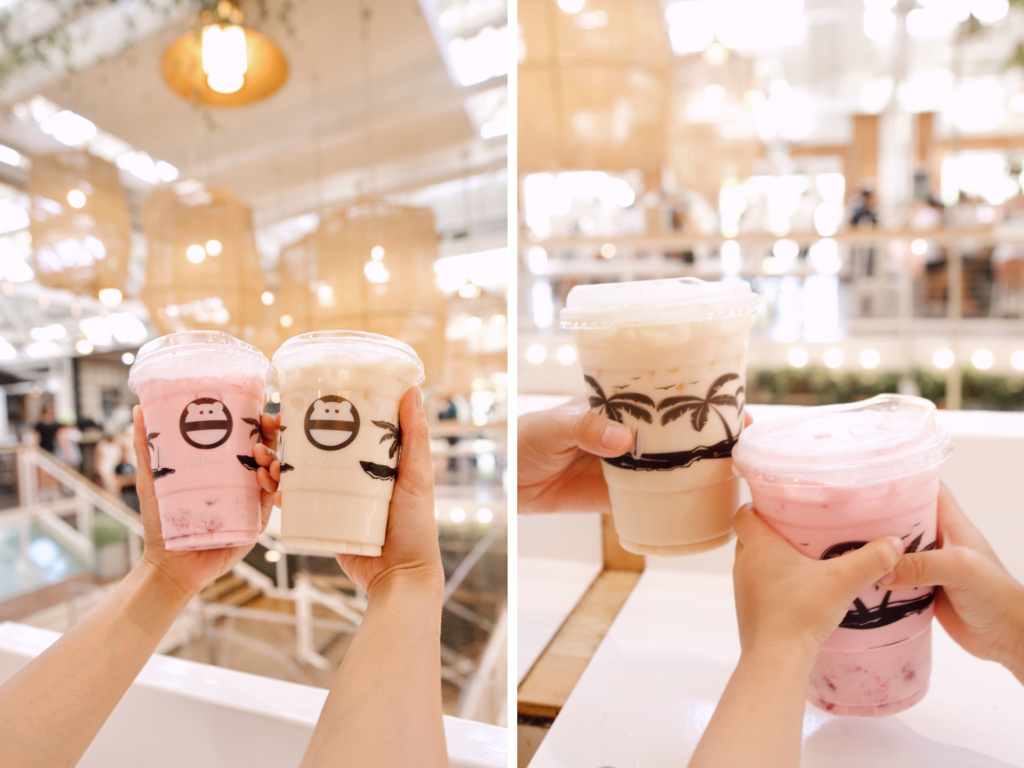 This was a top-tier vendor because it resides next to the bar stools that overlook the central quad. These stools are tall, but there are cable wires for those on the shorter side to rest their feet on comfortably while feeling tall watching the scenery below.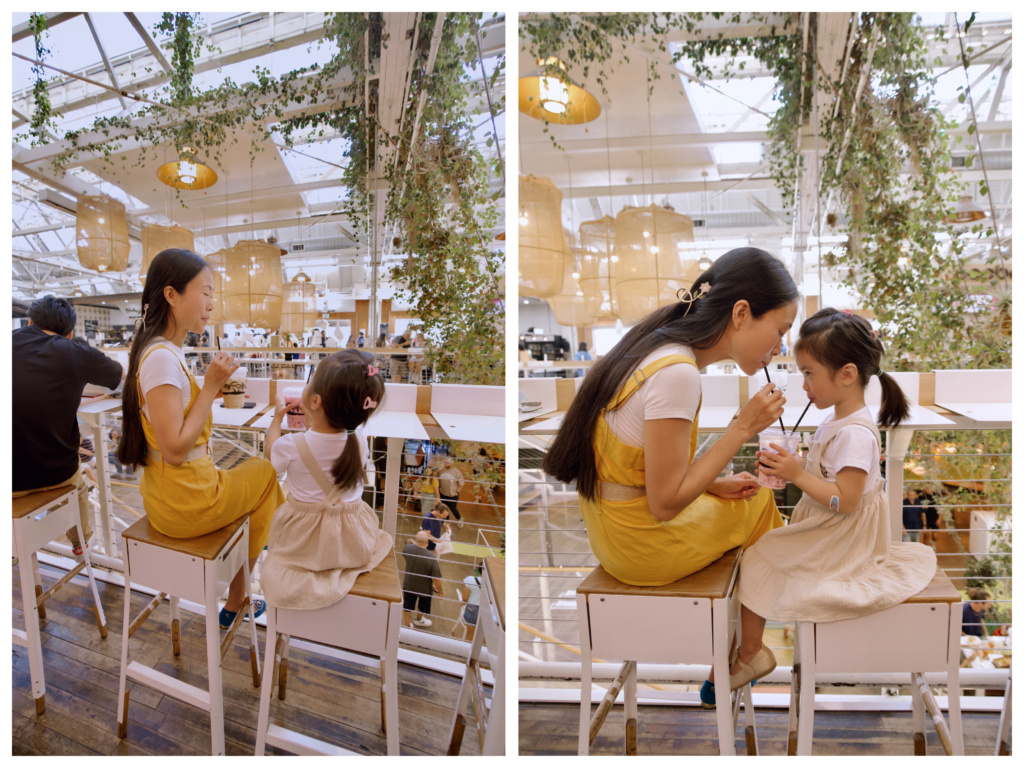 7. Take a Leisure Walk around Lido Marina Village
The curated village of Newport Beach is a must-see for anyone who loves shopping, dining outdoors, and exploring the beauty of a southern California seaside village.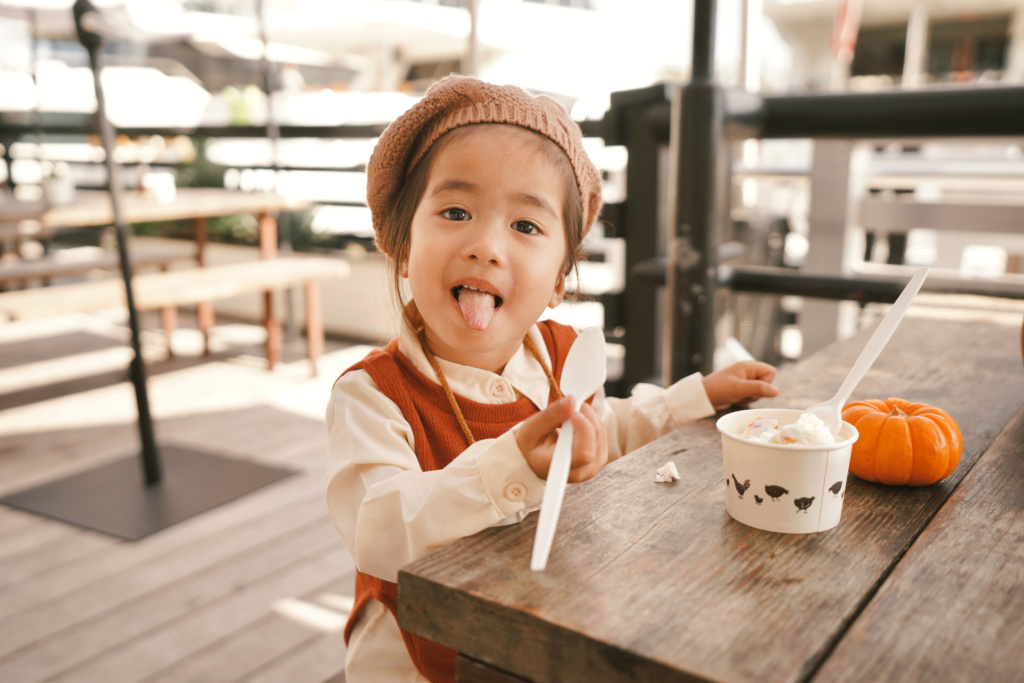 Lido has all the quaintness of a small town paired with the right mix of boutique shops, restaurants & coffee with a view of the harbor, making it the spot for you and your kids to explore.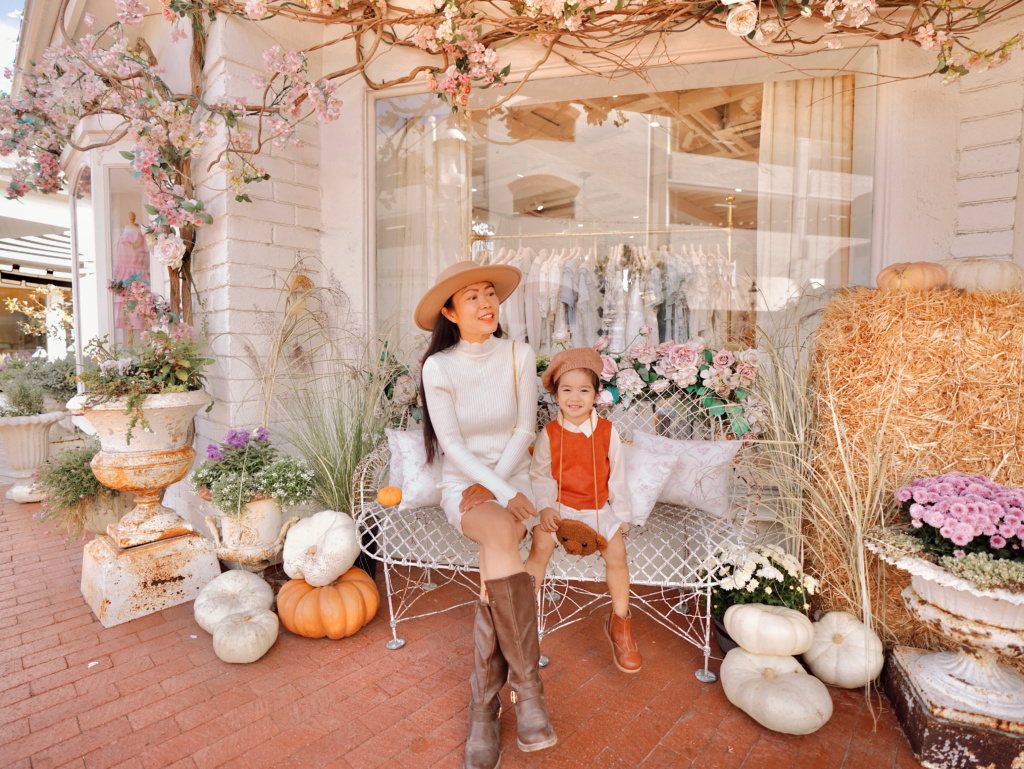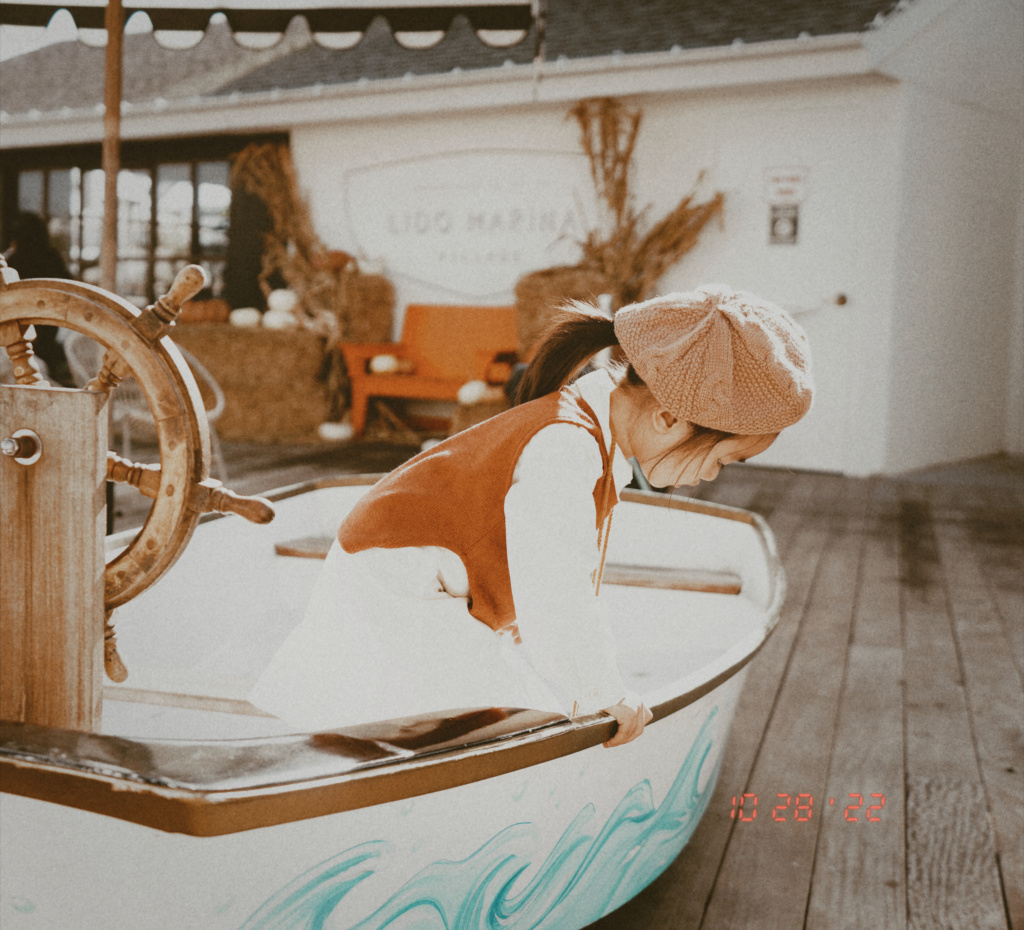 Lido Marina Village is a great spot to visit for shopping, grabbing a bite to eat, and many cute fall photo ops with your kids.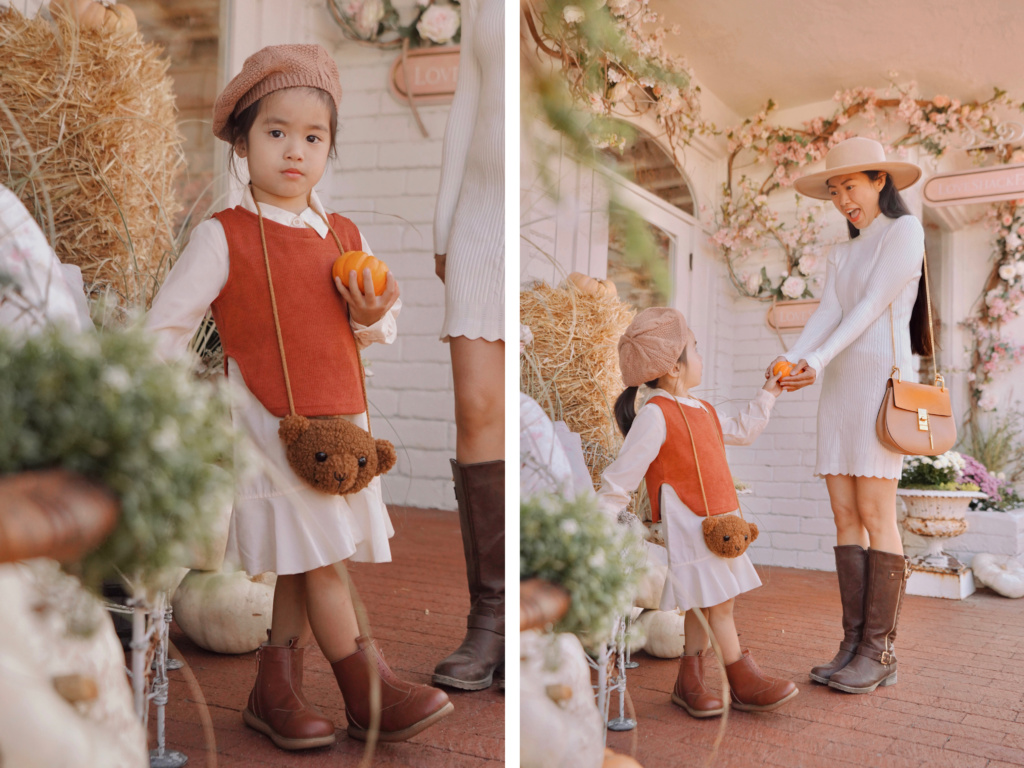 8. Apple Picking and Cider Pressing in Oak Glen
About an hour away from Orange County, Oak Glen is an apple haven that sits up in a higher elevation near the San Bernadino mountains. It's the perfect family day trip to explore orchards, hand pick your own fruit, and indulge in some fun activities.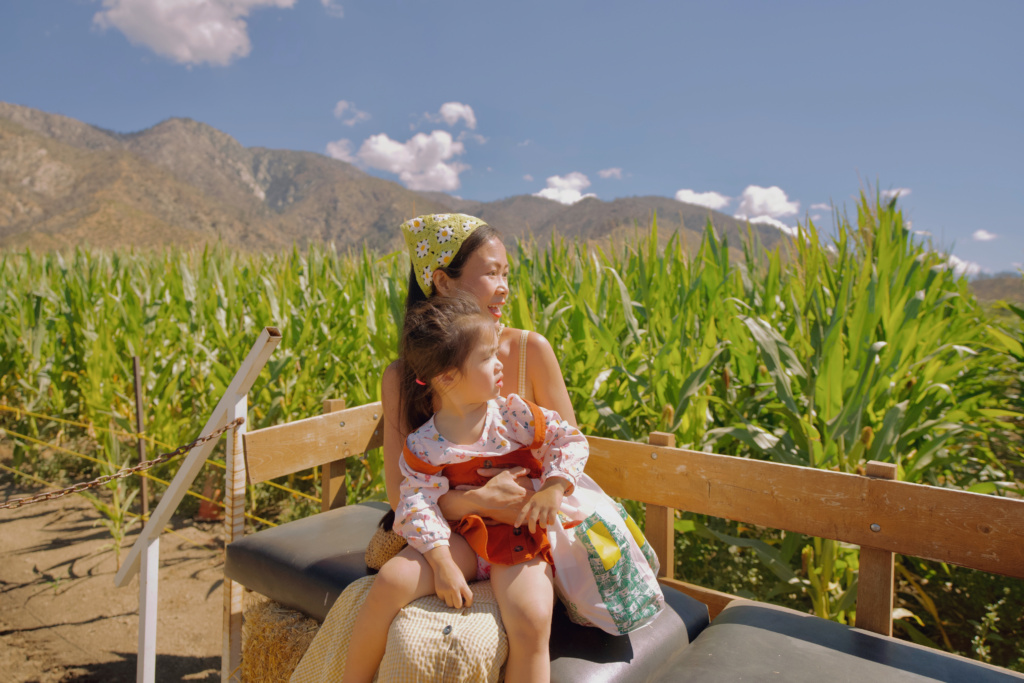 Just a short drive from Orange County and you are transformed into another world! As you get to Oak Glen and head up into the hills, the roads begin to wind and you see many orchards and ranches along this beautiful drive, full of trees, hiking trails, stores and mountains.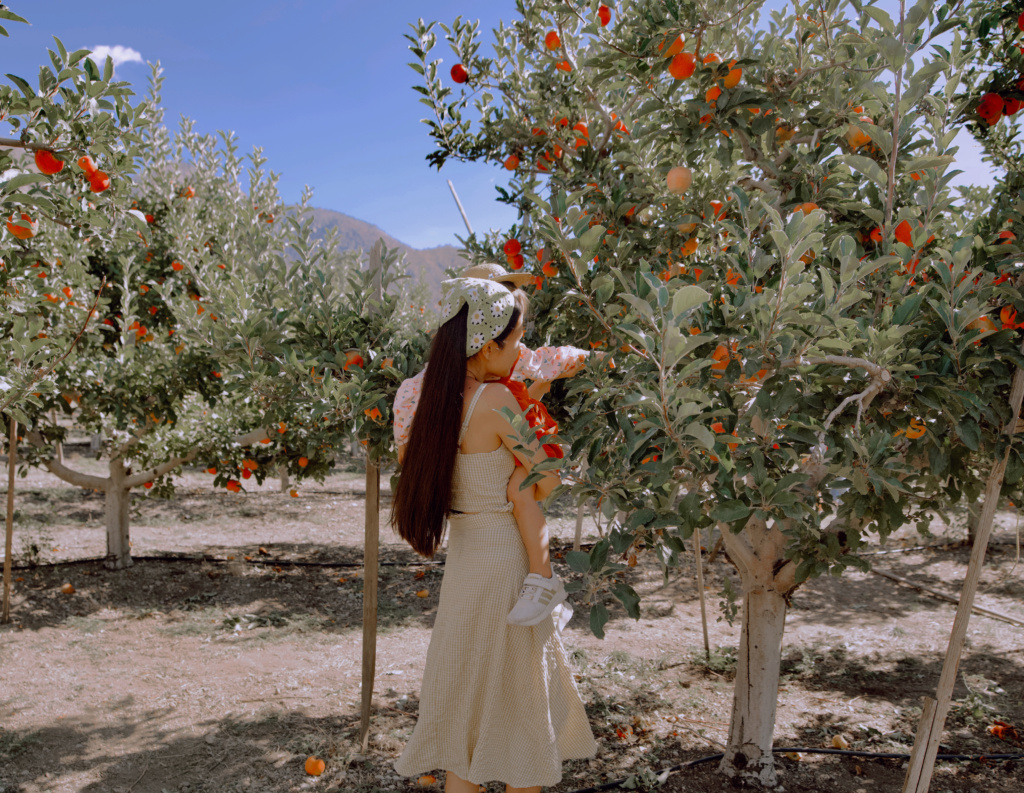 This historical little town even has some orchards that date back into the 1800's! They are all wonderful and each farm offers something different to the guests from apple/berry picking, farm fair, petting zoos, cider pressing to live music, arts and crafts.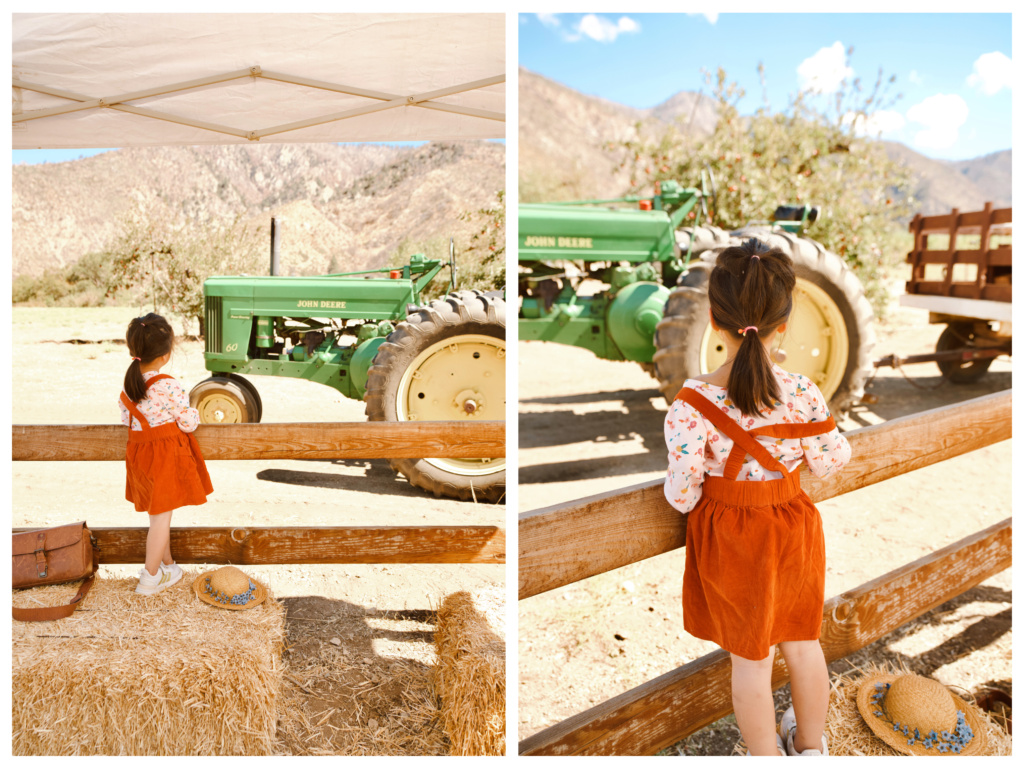 The crisp, delicious apple varieties ripen between August and October every year. Our favorite apple orchard here is the Riley's Los Rios Rancho. They have a large assortment of apples, with over 30 varieties; some of their trees are over a hundred years old, planted by the original Oak Glen family.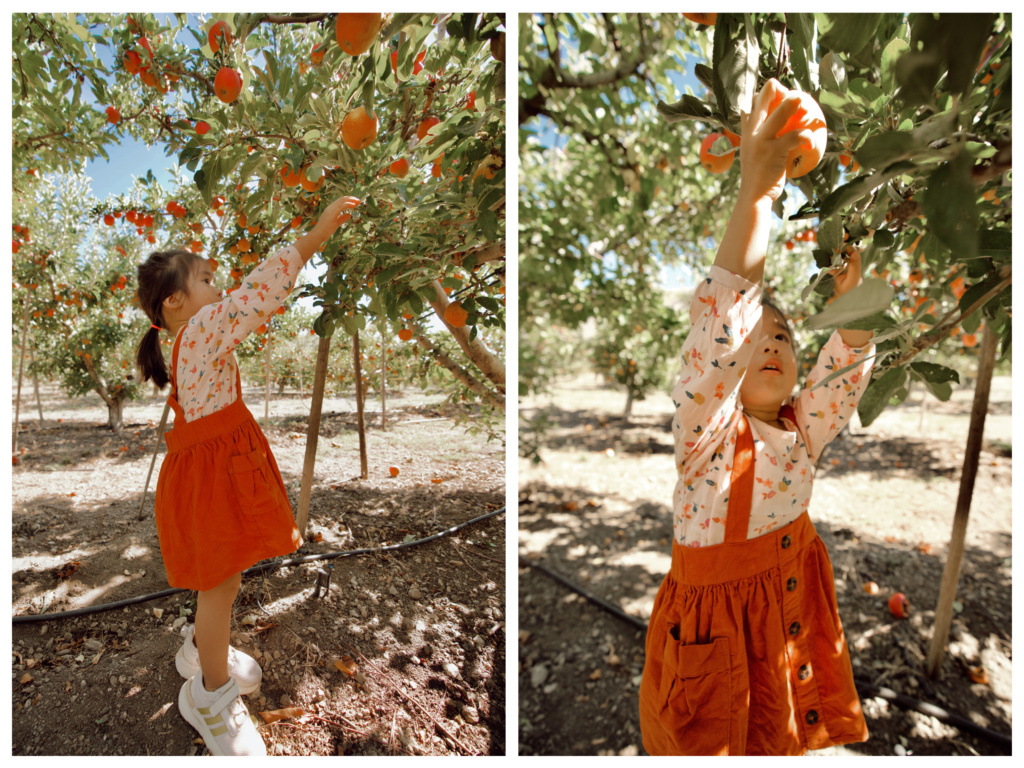 We spent time wandering the grounds picking the freshest apples. We strolled amidst the trees for shade, and stopped for photos along the way with uniform rows of trees, blue skies, and fresh apples as the backdrop.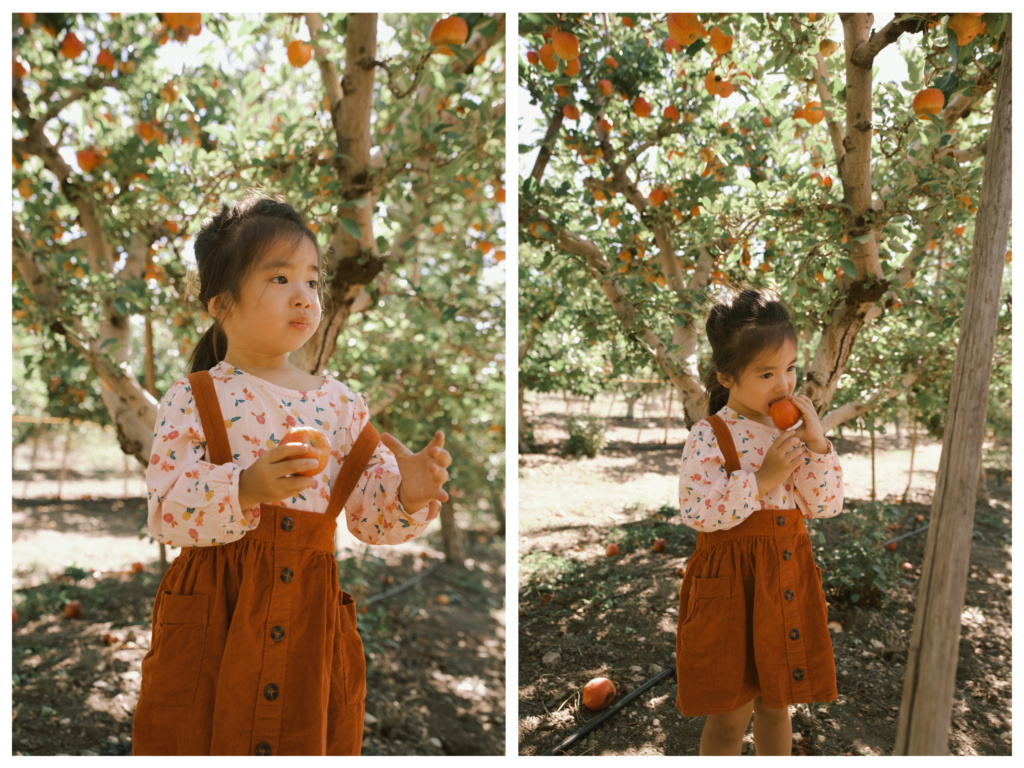 But the fun doesn't stop there! This is also a great place to learn about the history of working farms in California. It's like stepping back in time to the Colonial days! On the weekends visiting families will find historic entertainment in their farm fair like candle dipping, toy making, blacksmith work, throwing tomahawks, corn maze, petting zoo, wagon rides and hayrides.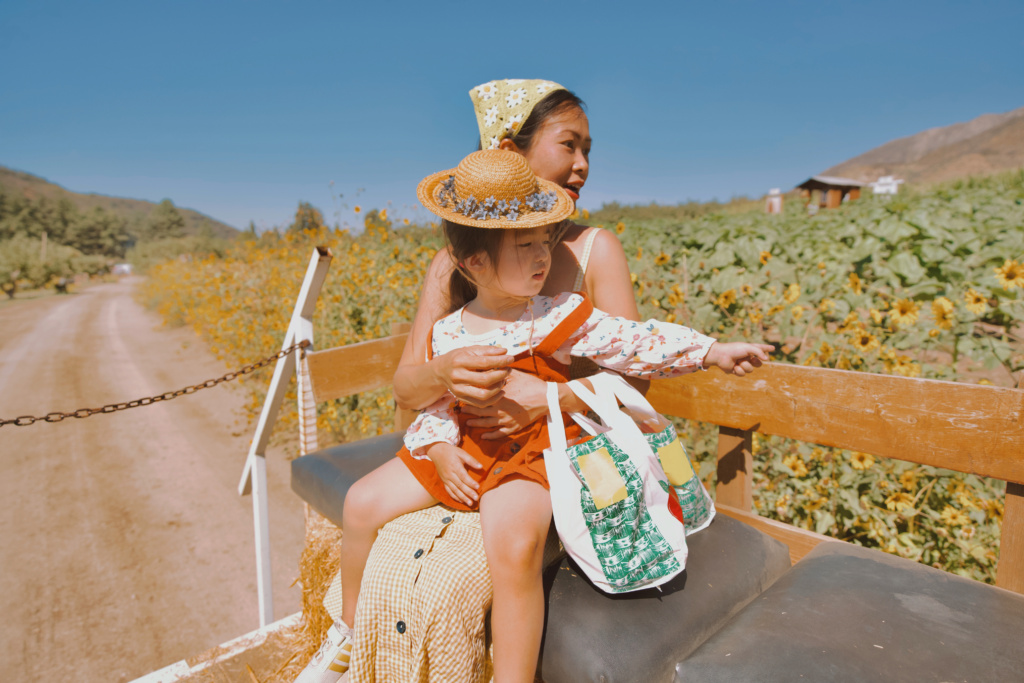 You need to purchase tickets to partake in these farm fair activities and learn about what the pioneers did for fun back in the 1800's. One of the highlights of our trip was being able to press our own gallon of cider on the 1930's replica hand press.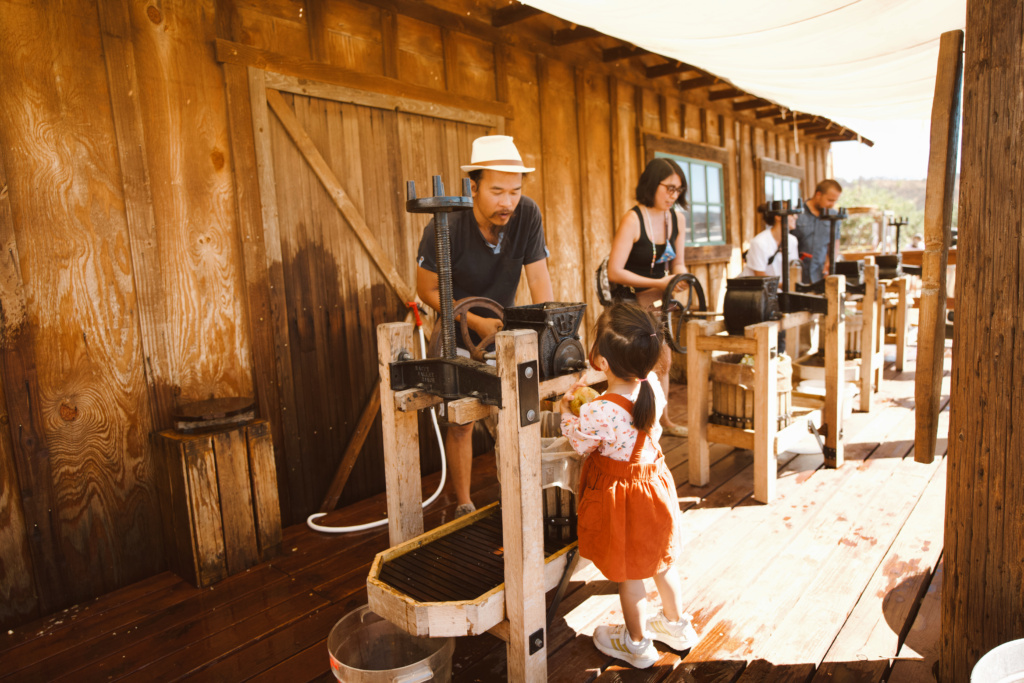 Pressing our own cider was an experience we'll never forget. It really made us appreciate all the hard work that goes into a gallon of cider! This is the best apple cider we have ever tasted. Nothing beats enjoying the fruits of your own labor. Don't miss this activity when you visit!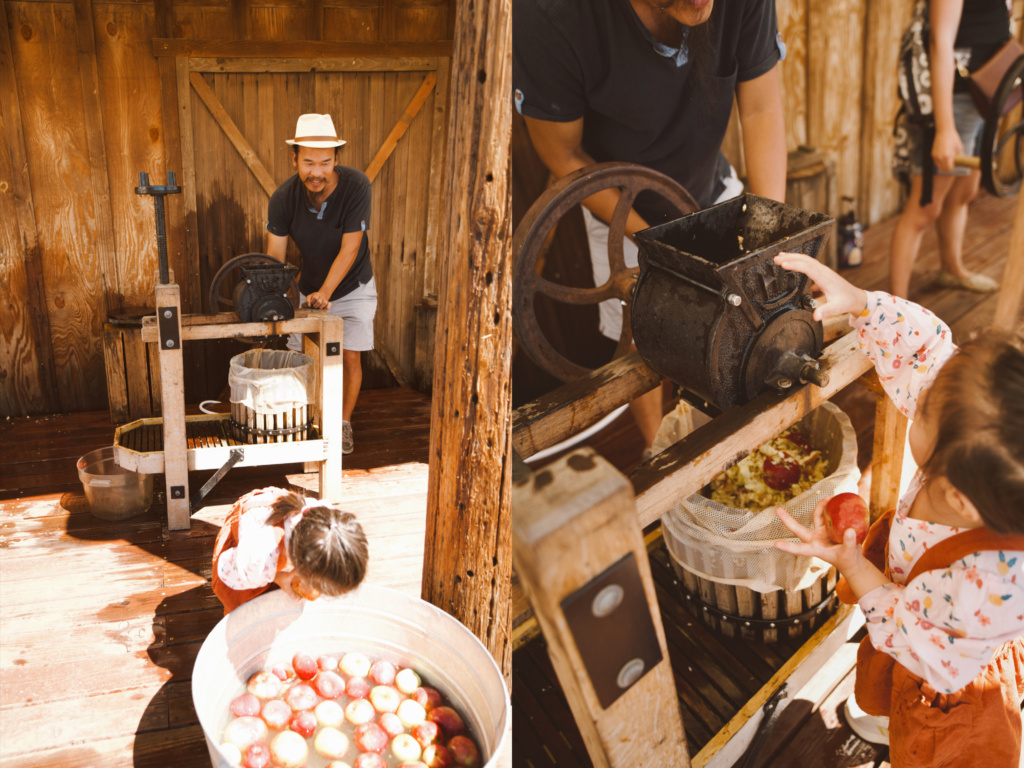 You can read more about our apple picking trip in Oak Glen here.
9. Cherries/Pumpkin Picking at the Carlsbad Strawberries Company
Just an hour drive from Orange County is the lovely beach community of Carlsbad. Strawberry picking with kids may not be on the top of your list of things to do during a visit to Carlsbad (which is more famous for fun-packed days riding roller coasters and kiddie rides at LEGOLAND). But let's face it, U-pick strawberries/pumpkins are a lot more fun for the whole family.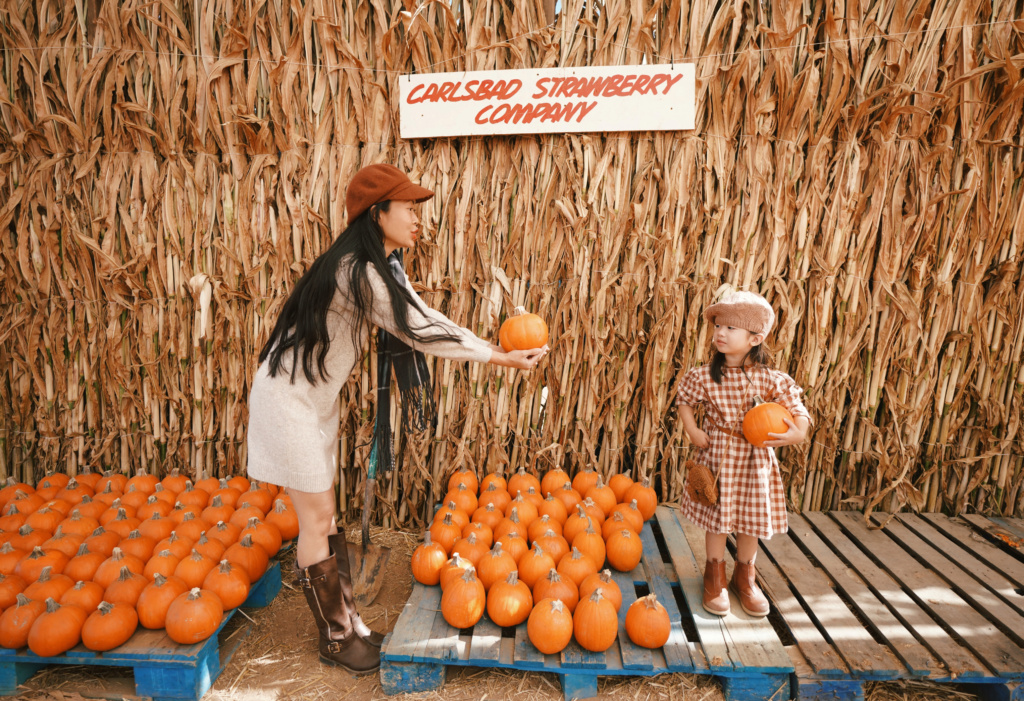 The Carlsbad Strawberry Company is a local family-owned business and has been growing strawberries for generations. Here, you can find things to do during your favorite season! From Sunflower Maze and Strawberry U-Pick in Spring and Summer time to Pumpkin Patch and Corn Maze during Fall.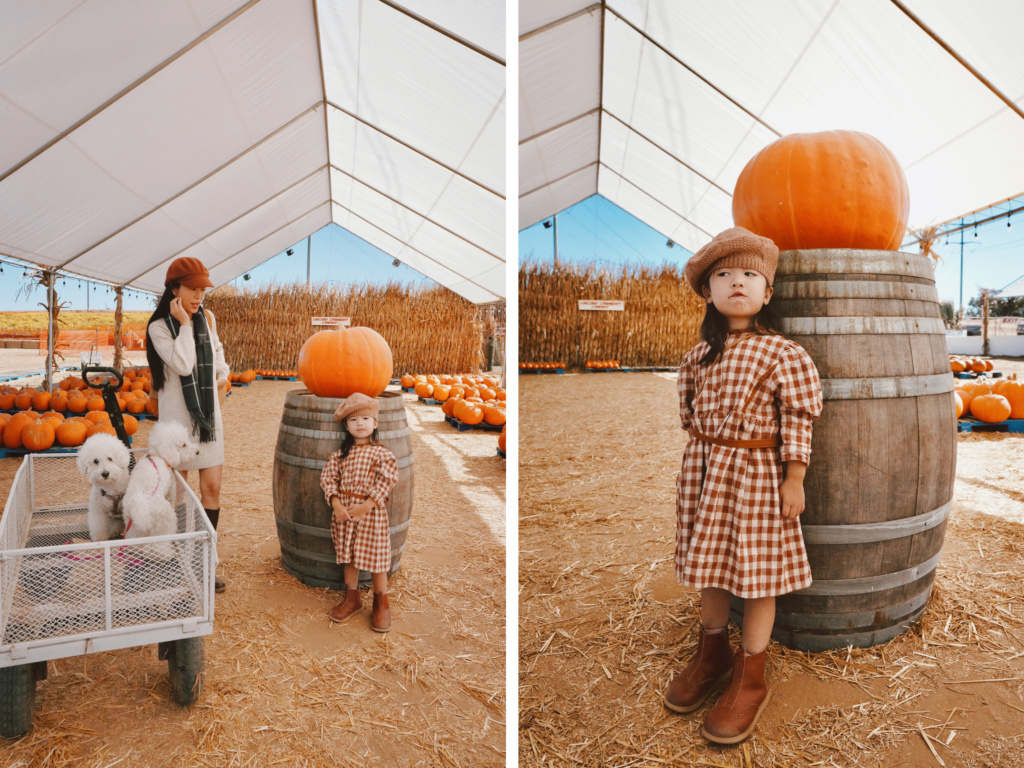 We visited the Carlsbad Strawberry Company during pumpkin picking season and this was such a great place to get into the spirit of fall! On the weekends, the Pumpkin Patch offers games and food so that you can make it a full day activity for the whole crew. Kids will love the pony rides, face painting, and tractor rides. There is plenty to do and more than enough time to do it!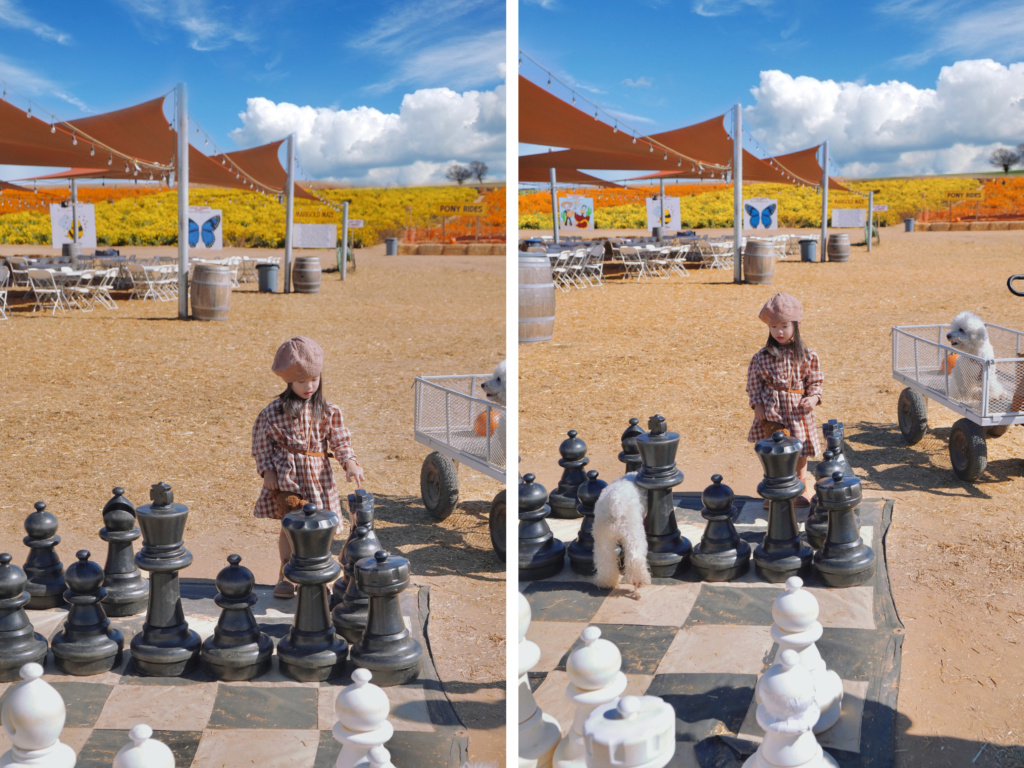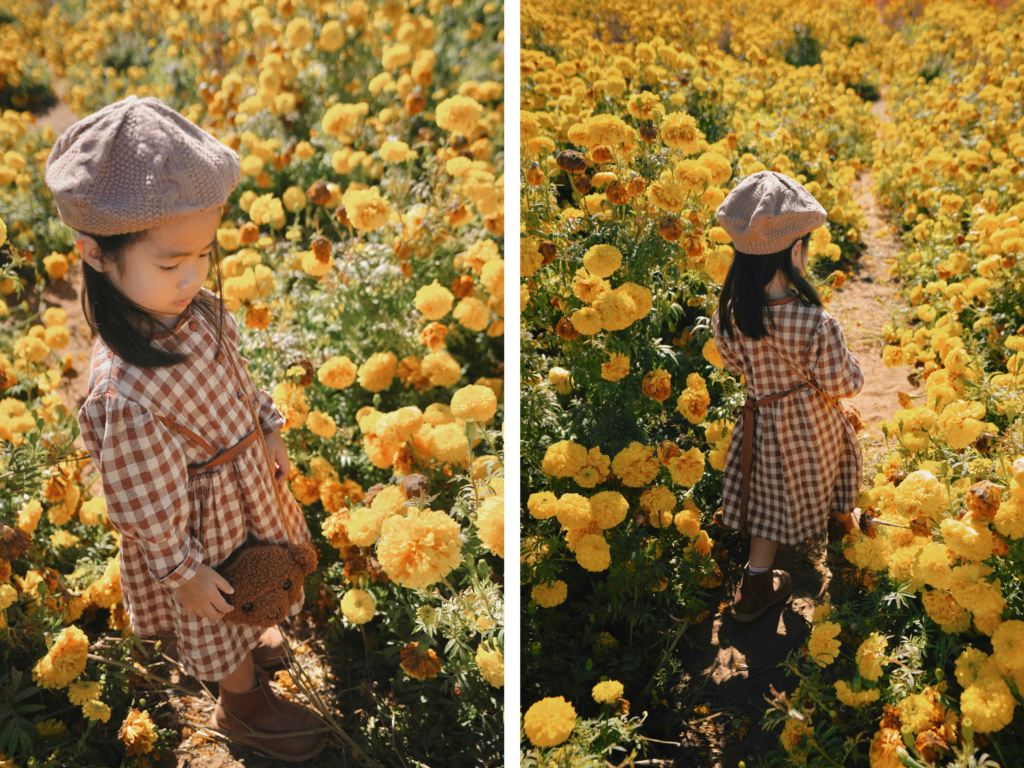 Which of these things to do in Orange County would your family like most? Let us know in the comments below!