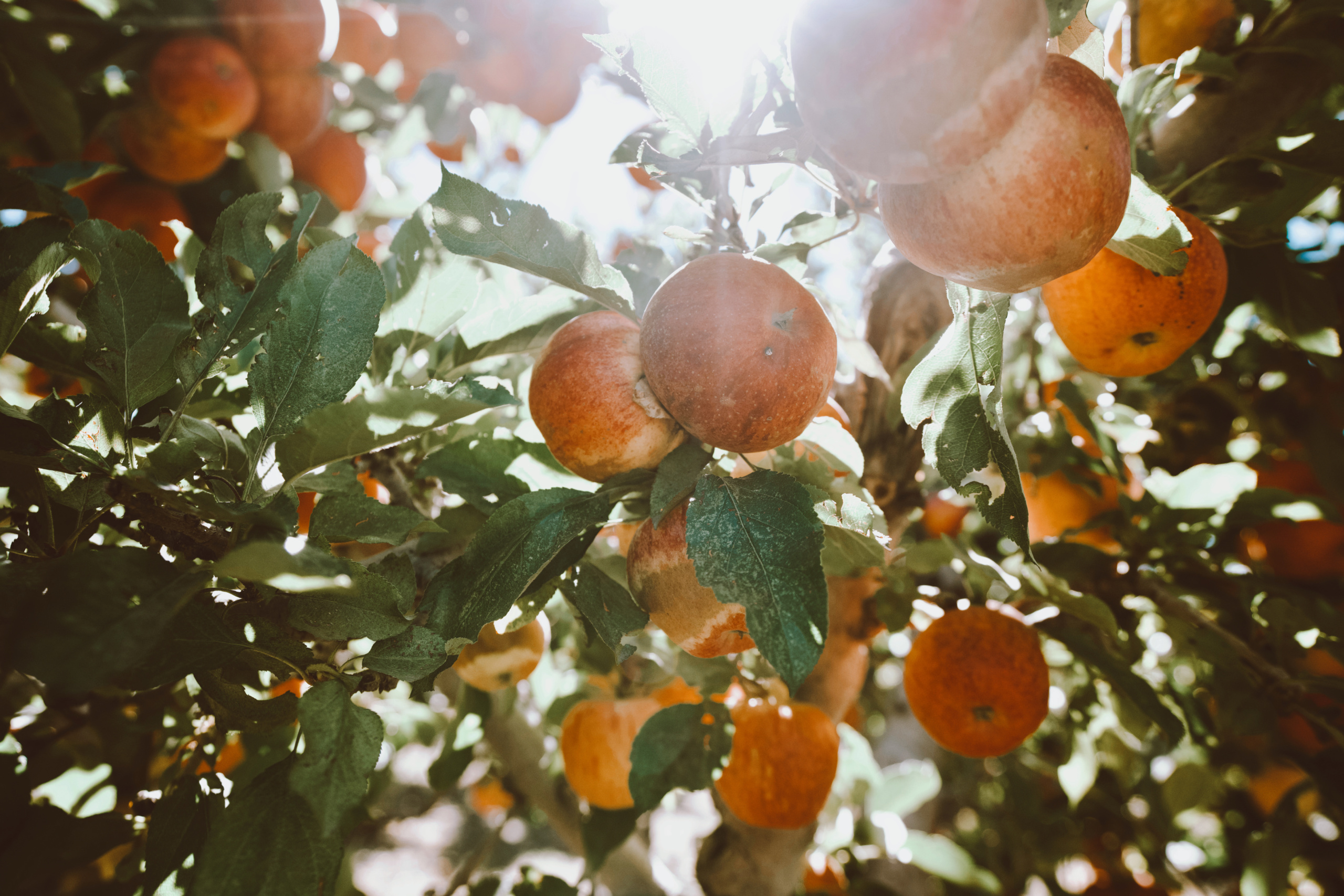 Apple Picking in Southern California: Los Rios Rancho in Oak Glen
Fall is in the air and what better way to celebrate than to pick some of our very own apples? And this year I was super excited to introduce this perfect fall activity to my niece (Ny Ny). While the other side of the country welcomes the season with fall foliage, warm sweaters, and the smell of fireplace, Southern Californians (with sunny 85 degree weather) just have to create extra fall vibes if we want them. Just a short drive to Oak Glen in the San Bernardino Mountains, you are transformed into another world! The city of Oak Glen has a five mile loop of apple orchards and hosts scenery like that of New England. It's the perfect family day trip to explore orchards, hand pick your own fruit, and indulge in some fun fall activities.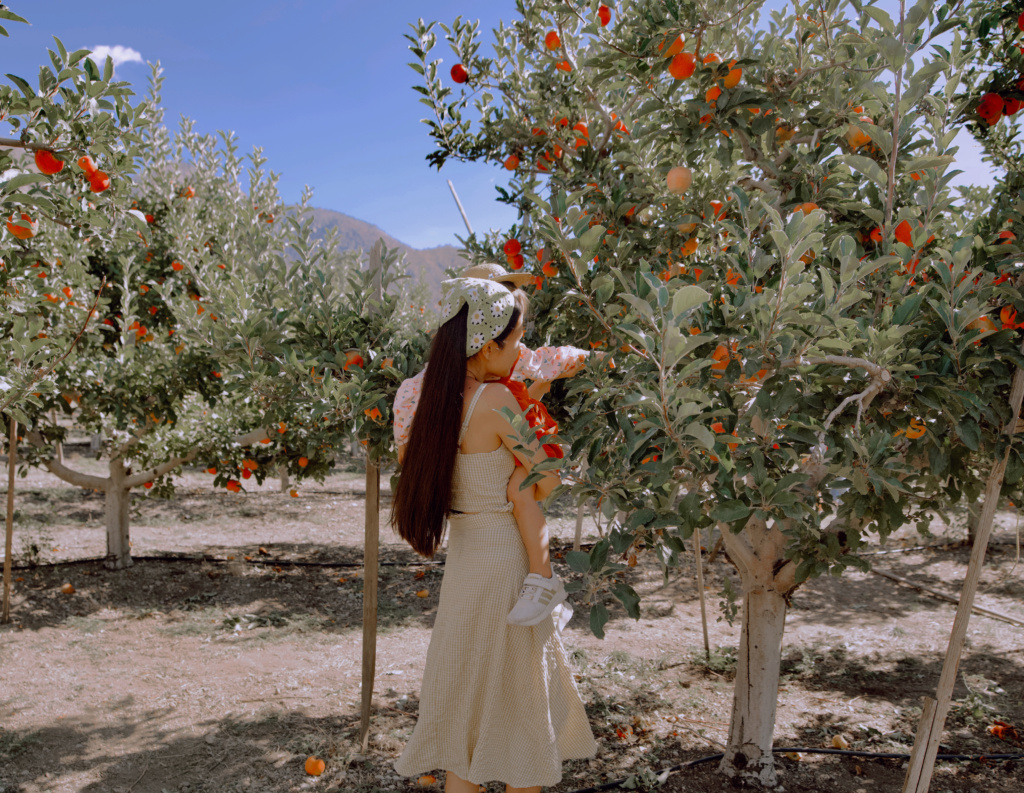 This year (2022) we visited Los Rios Rancho in Oak Glen. We got up early on Sunday morning, had the check list of all the things we had to do and this lovely family farm far exceeded our family's expectations. If you're in Southern California trying to find some fun fall activities and you didn't realize that you could go apple picking in your area, let's start talking about where you can go to find plenty of fall favorites.
Apple Season
The crisp, delicious apple varieties ripen between August and October every year, but check with each farm to be sure of their schedule before you go.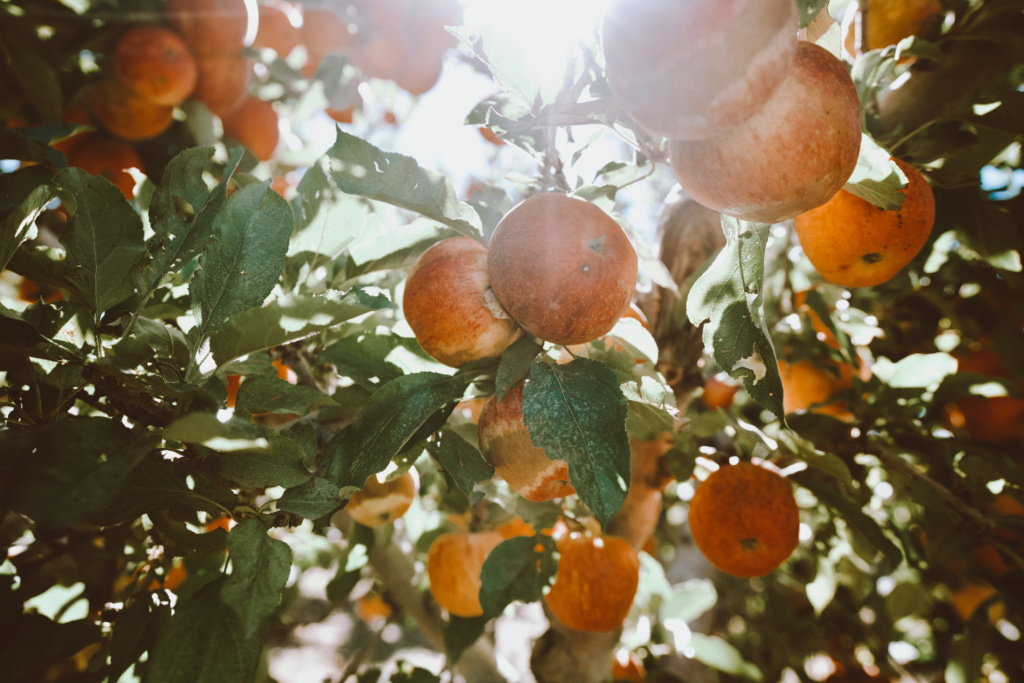 Where to go Apple Picking in Southern California
From Orange County, we prefer Oak Glen for apple picking. Julian is your other option in Southern California, but it's twice as far for us. About an hour away from both LA and Orange County, Oak Glen is an apple haven that sits up in a higher elevation near the San Bernadino mountains. The mile-high climate of Oak Glen provides a beautiful change of season where it's usually 10-15 degrees cooler than it is in the valleys.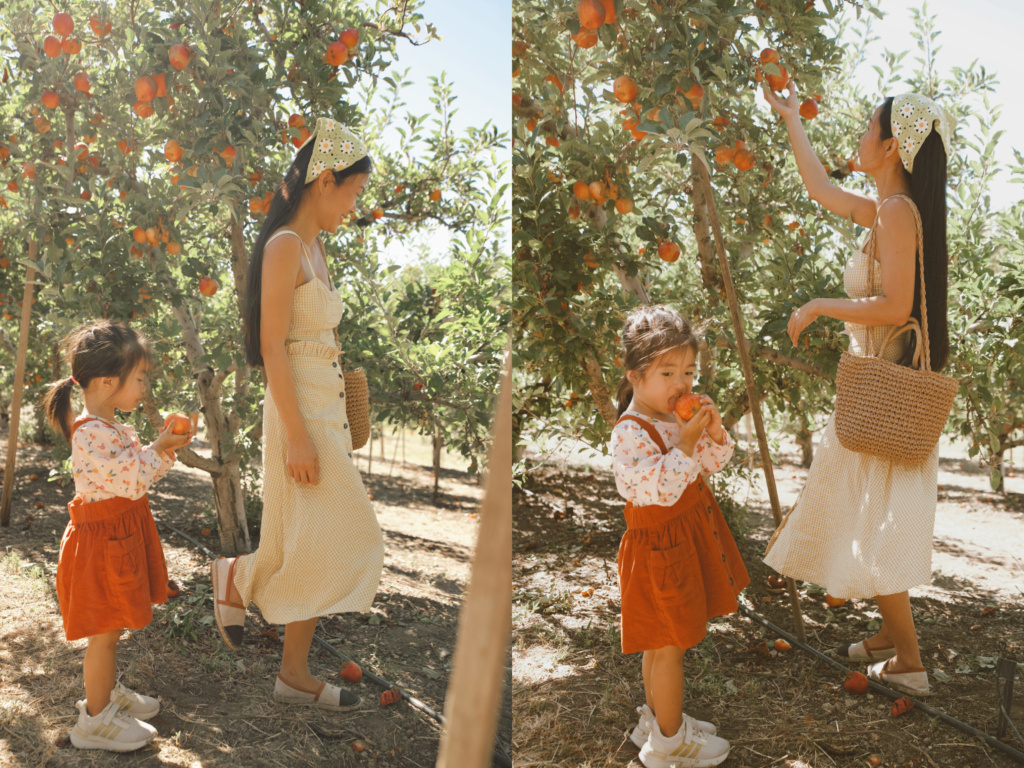 As you get to Oak Glen and head up into the hills, the roads begin to wind and you see many apple orchards and ranches along this beautiful drive, full of trees, hiking trails, stores and mountains. This historical little town even has some orchards that date back into the 1800's! They are all wonderful and each farm offers something different to the guests from apple/berry picking, farm fair, petting zoos, cider pressing to live music, arts and crafts.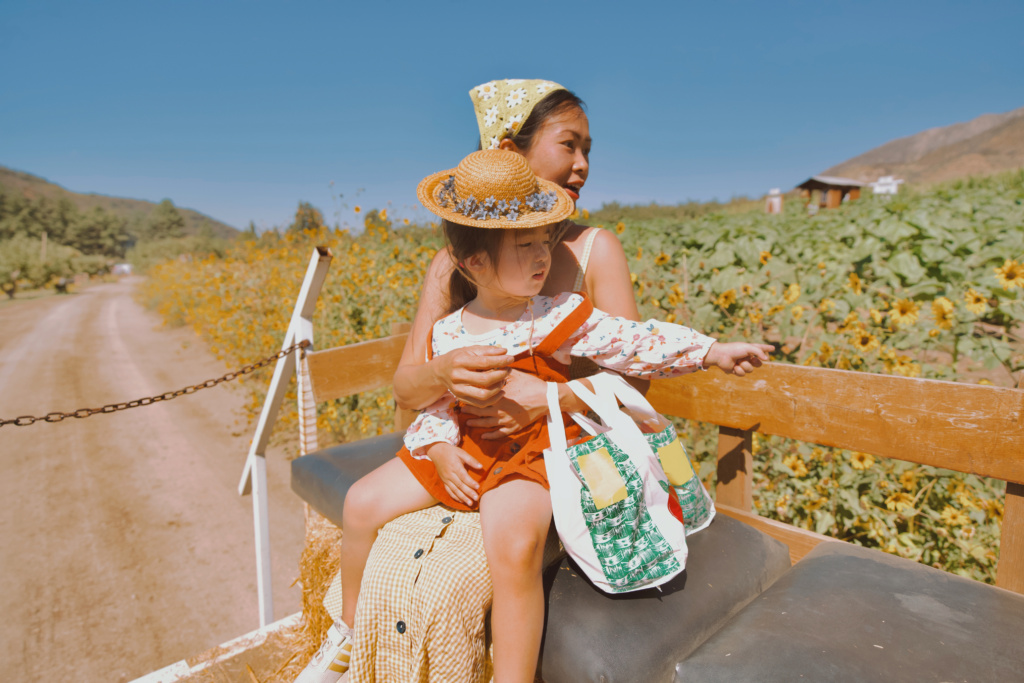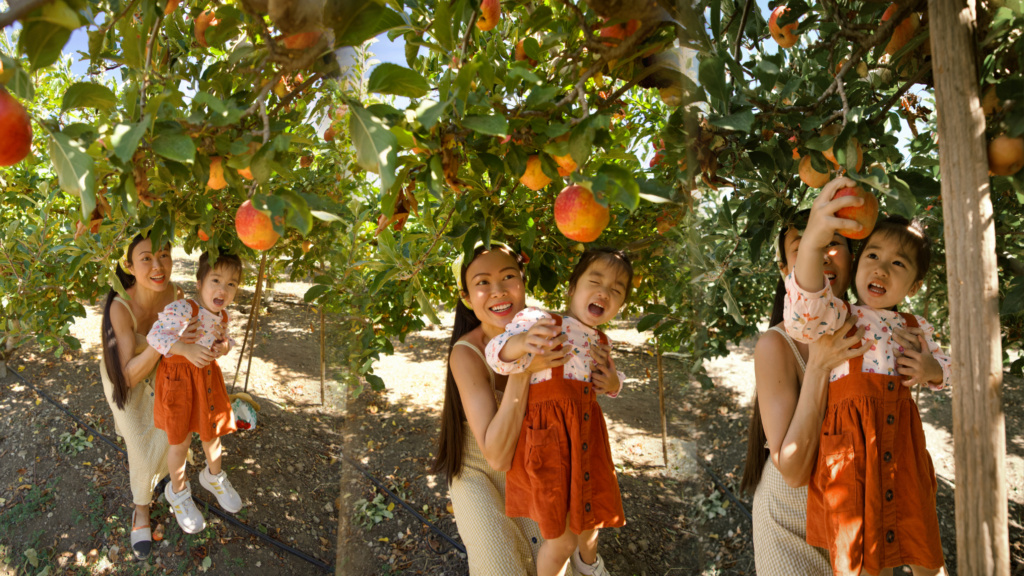 Riley's Los Rios Rancho
Since 1906, Los Rios Rancho has been Southern California's largest apple farm in operation with over 8,000 apple trees! They have a large assortment of apples, with over 30 varieties; some of their trees are over a hundred years old, planted by the original Oak Glen family.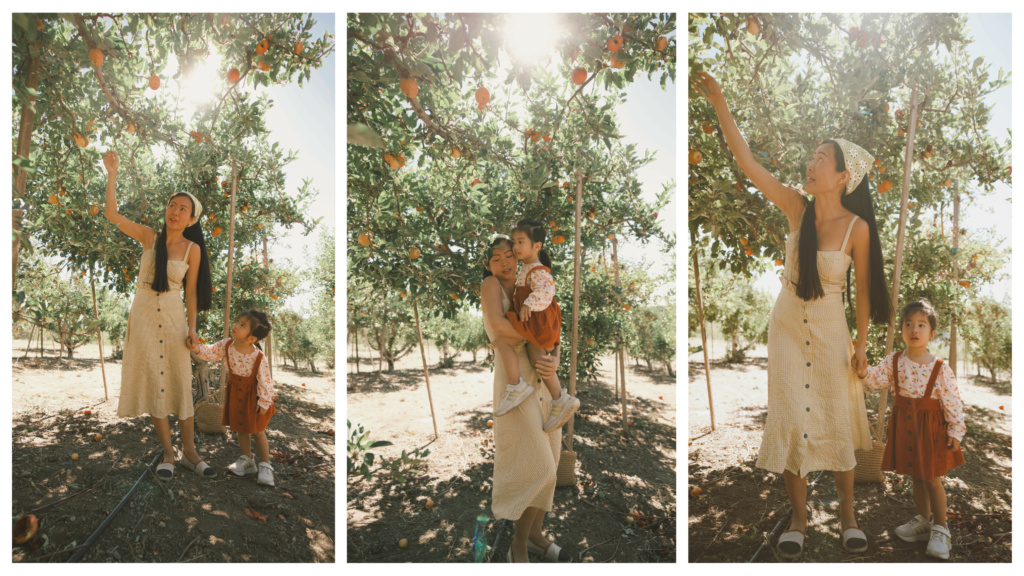 We went to Los Rios Rancho Farm right at 9 am and started picking some gala apples. I highly suggest getting there first thing in the morning to beat the crowds (gates are open at 8:30). They do not require reservations to visit the ranch and there is NO Parking Fee or Admission Fee. Also, they have ample parking with 6 different convenient parking locations on the farm and additional parking at Wilshire's Apple Shed (11925 Oak Glen Rd), which is likely because they're the most popular apple farm in Oak Glen.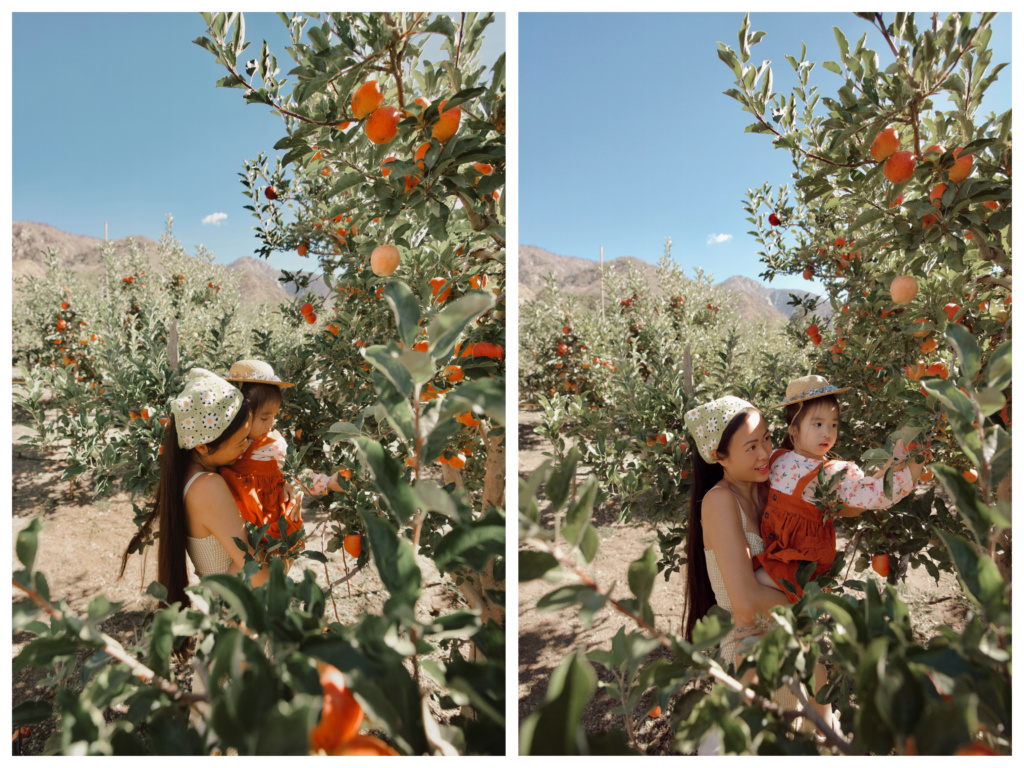 When you arrive, you start by heading to the check in tent (on the north side of the farm). There you can choose between a small bag or large bag for apple picking and a small or medium size container for the strawberry and raspberry picking. You can not bring your own bags or boxes for picking. They charge for the apples by the lb – approx $3-$6 per lb. Some of the apple varieties available for u-pick include Macintosh, Pearmain, Spartan, & Gala.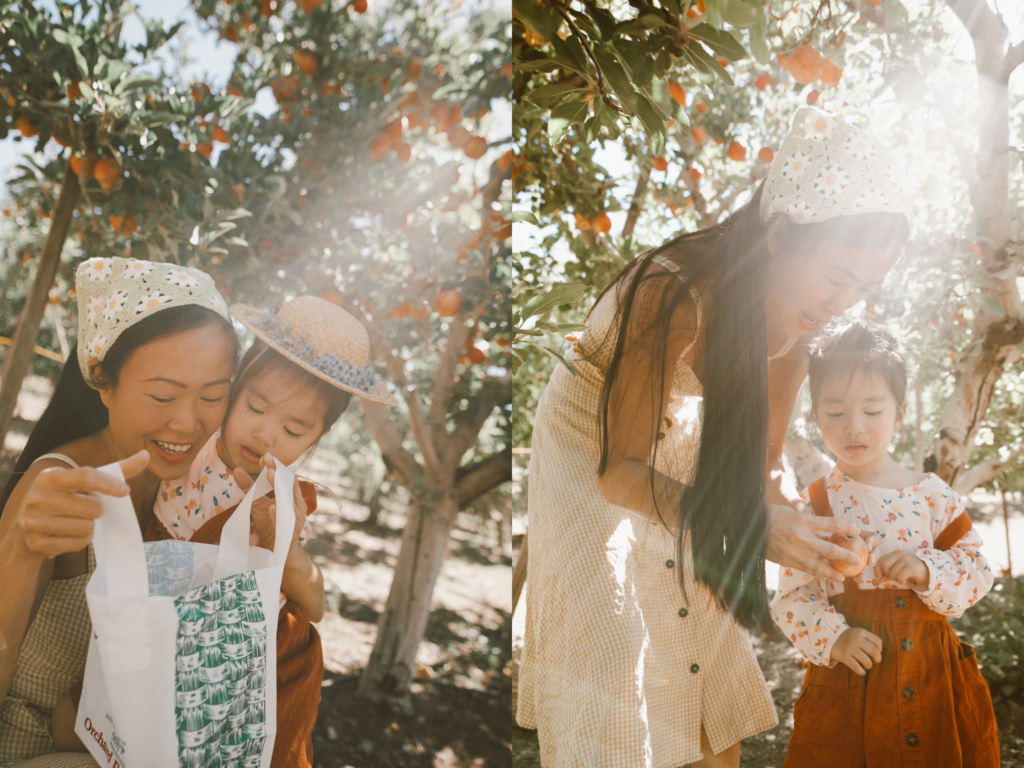 As the farm uses natural methods to grow their fruit, you will often need to prepare for a bit more time to find that perfect bite. Many of their apple trees are more than 80 years old. Careful care and attention is given to each one to ensure their longevity. Be mindful of this as you enter the orchard.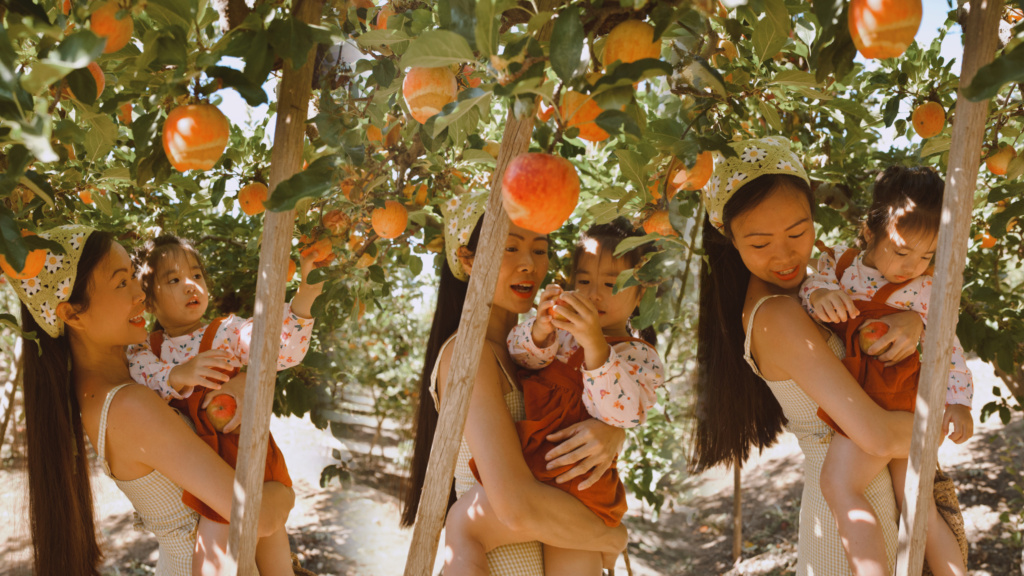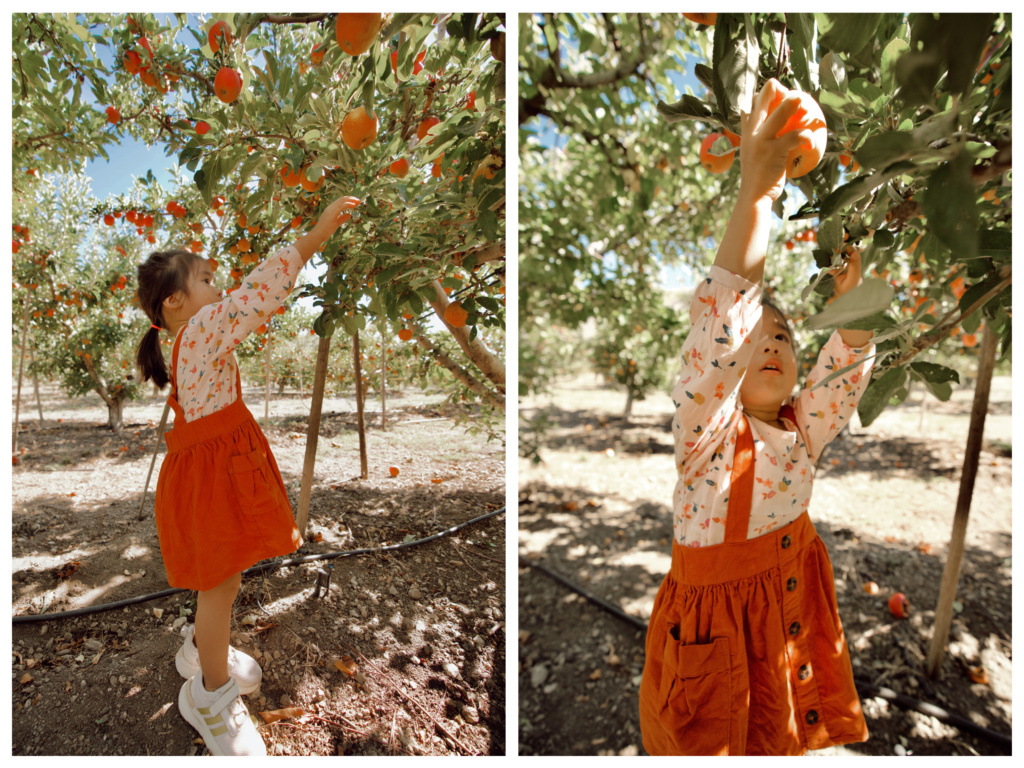 Tips for Apple Picking
PICK FROM THE OUTSIDE-IN. Because the apples on the outside of the tree ripen first, you want to pick from the outside and work your way in as the season progresses. Once you pick the apple, the ripening process will stop!
DON'T SHAKE THE TREE! Shaking the tree can lead to wasted fruit as well as bruising on the apples. Instead, gently twist the fruit off the tree. If it is ripe, it should come off easily-don't force it!
BE GENTLE WITH YOUR APPLES. Throwing your fruit into a container can bruise them leading to rotten apples. Always collect your fruit and place them in your container carefully.
We spent time wandering the grounds picking the freshest apples. We strolled amidst the trees for shade, and stopped for photos along the way with uniform rows of trees, blue skies, and fresh apples as the backdrop.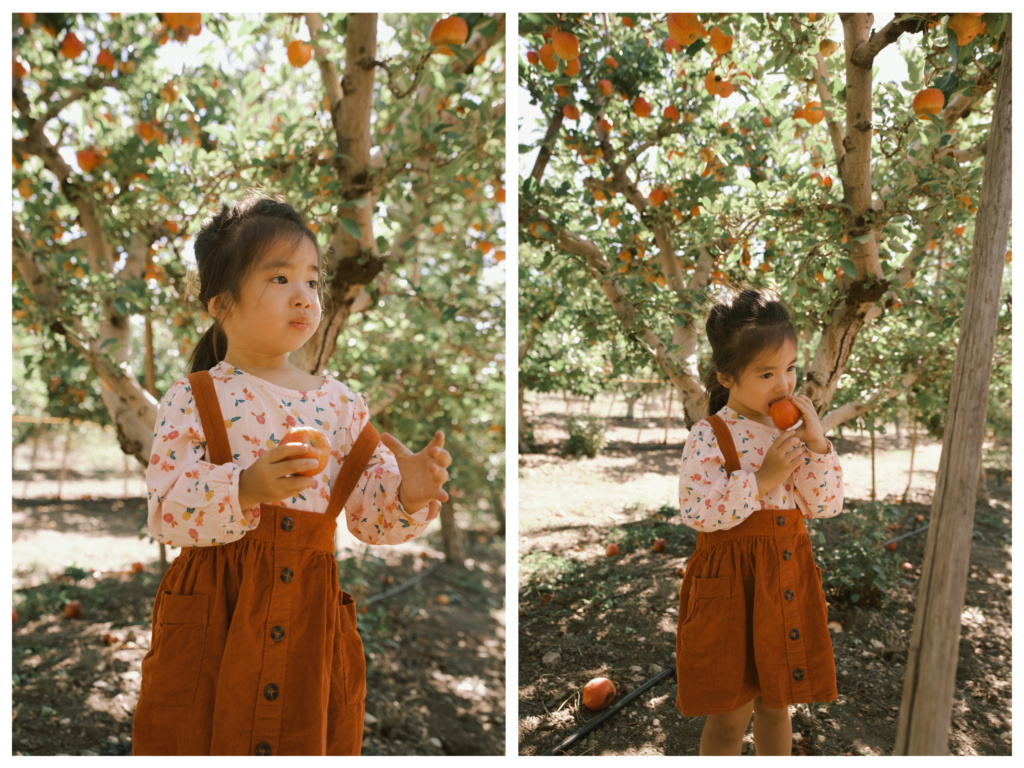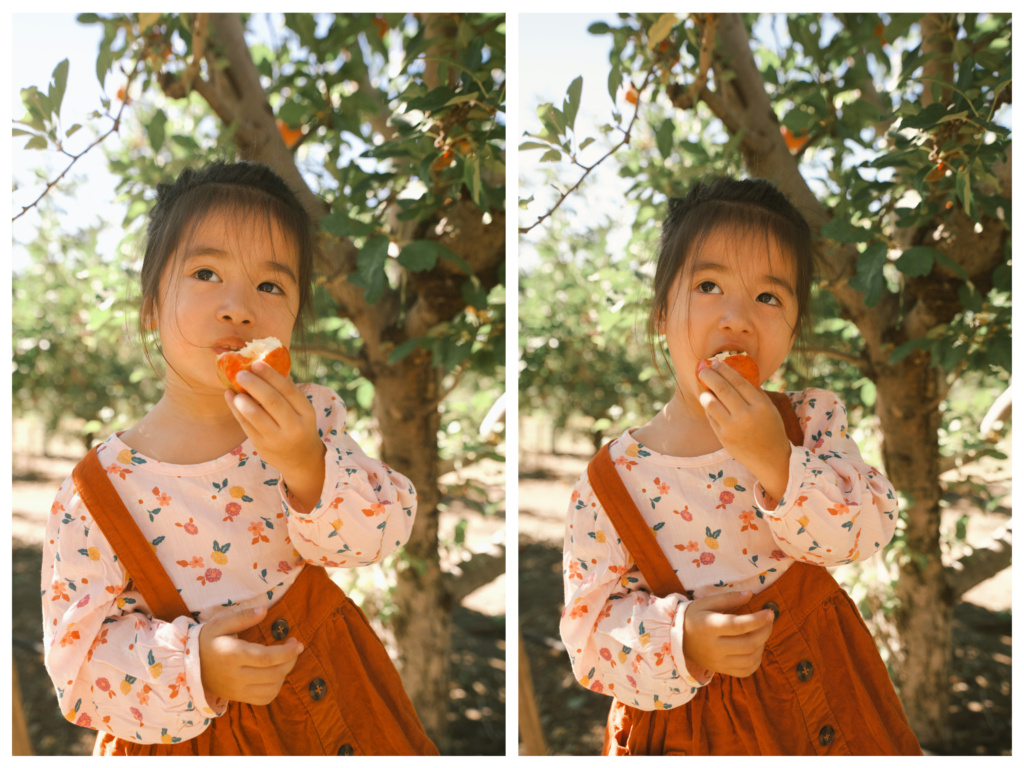 But the fun doesn't stop there! This is also a great place to learn about the history of working farms in California. It's like stepping back in time to the Colonial days! On the weekends visiting families will find historic entertainment in their farm fair like candle dipping, toy making, blacksmith work, throwing tomahawks, corn maze, petting zoo, wagon rides and hayrides.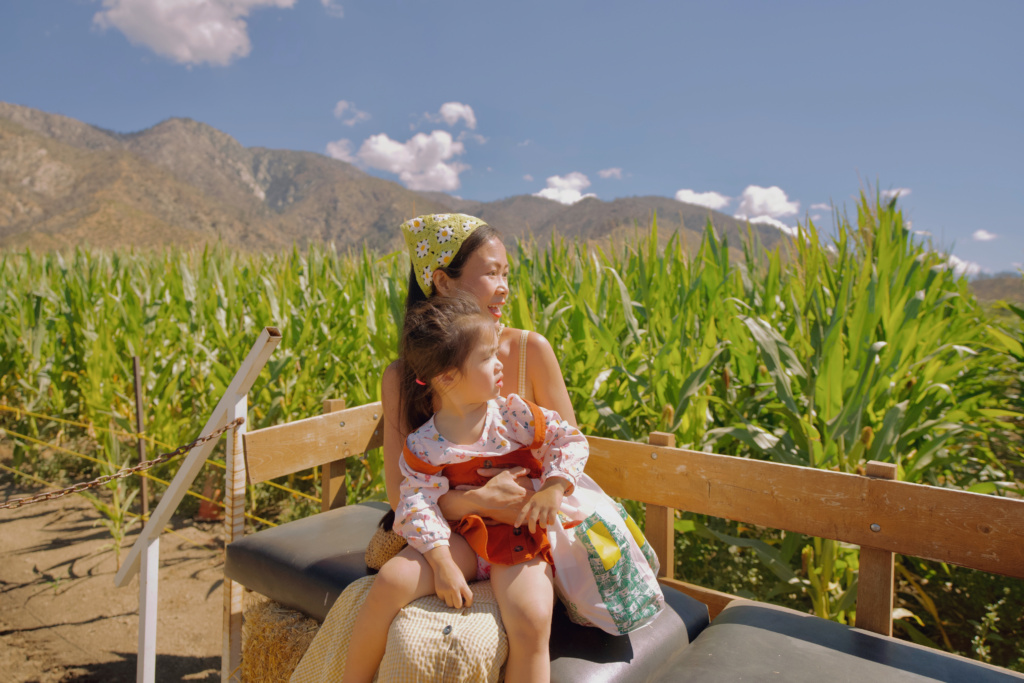 You need to purchase tickets to partake in these farm fair activities and learn about what the pioneers did for fun back in the 1800's. The ticket packs's pricing are as of the following: $10 for 10 tickets, $30 for 32 tickets, and $50 for 60 tickets. Each activity requires about 3-10 tickets (except for the U-press Cider which cost 32 tickets or $32 per gallon). One of the highlights of our trip was being able to press our own gallon of cider on the 1930's replica hand press.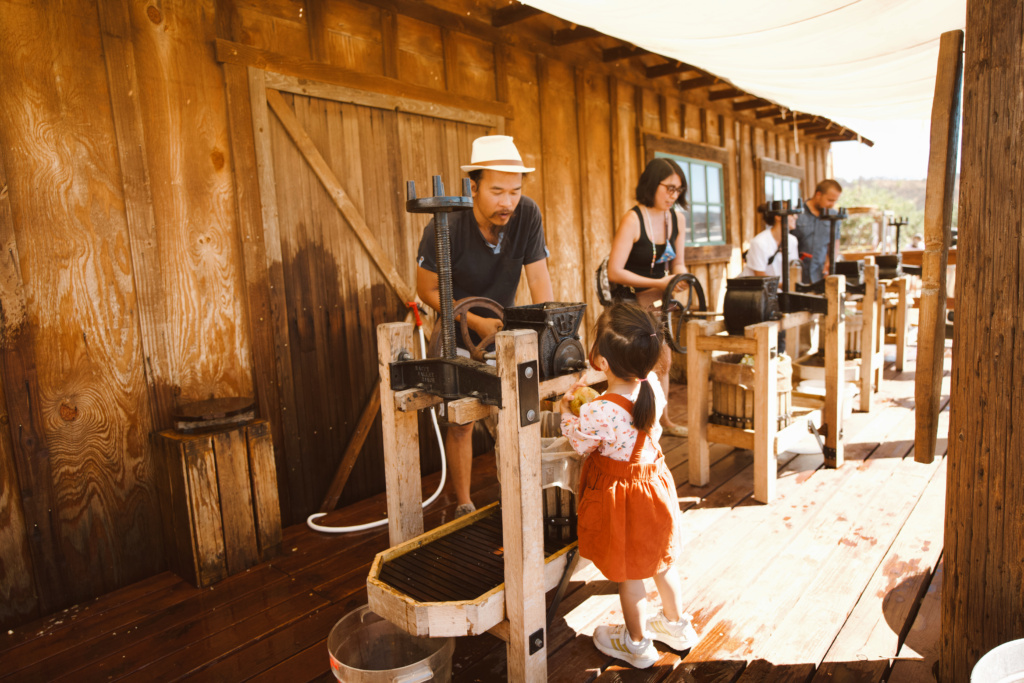 First, you get to fill up a 5-gallon bucket with apples and then wash them.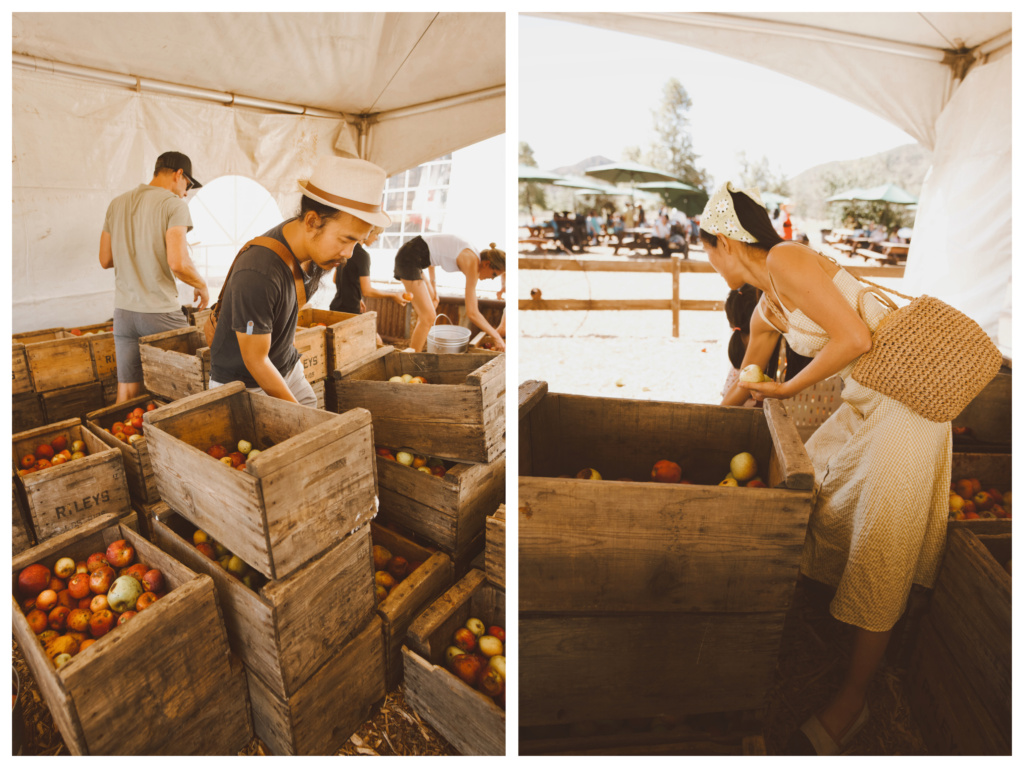 Once the apples are clean, they get fed into the apple cider press.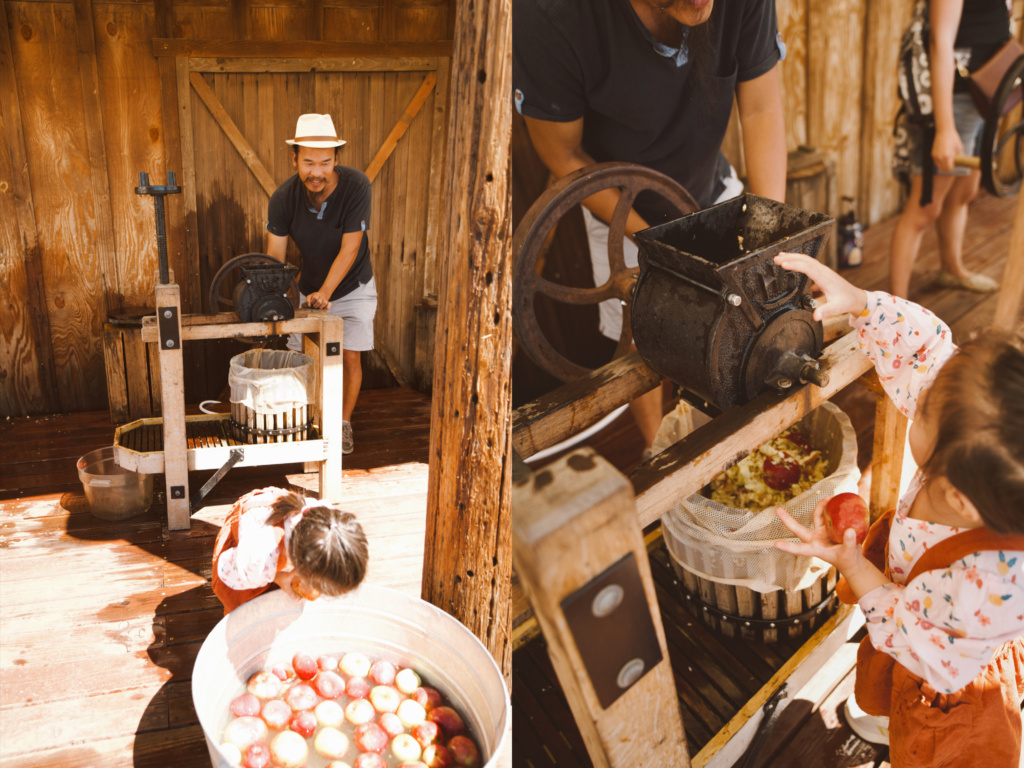 Once they are all crushed, it's time to press the cider. The crank gets tightened and rotated until all the juice is pressed out of the apple chunks.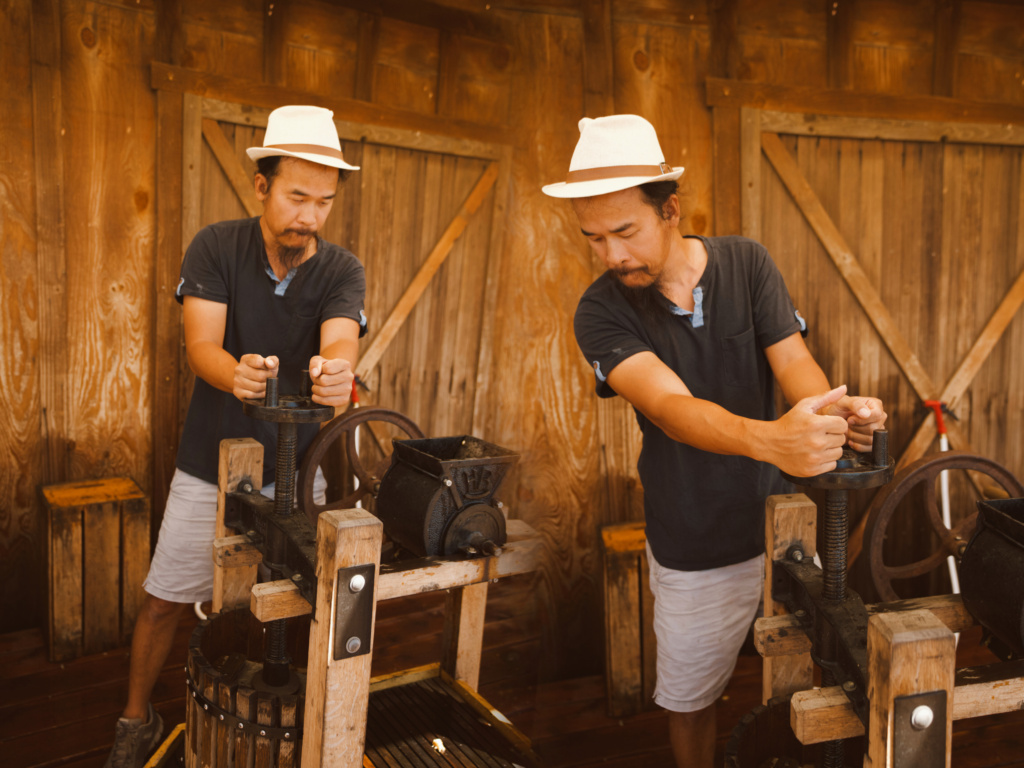 Then the juice is strained and poured into a gallon jug…READY TO DRINK!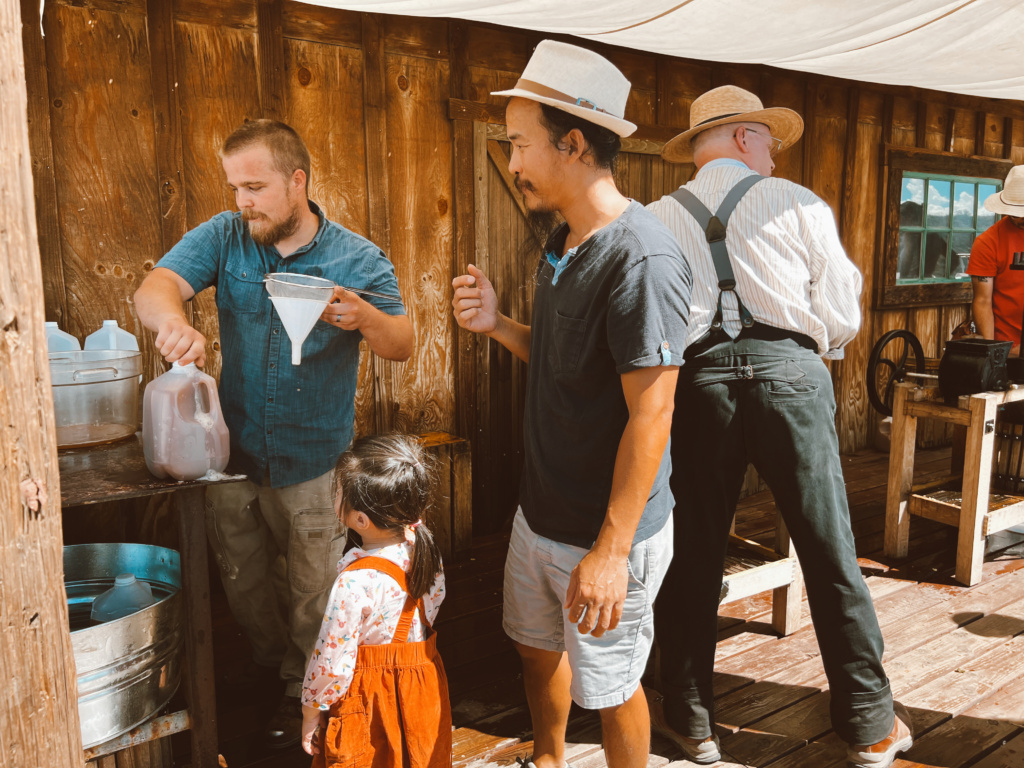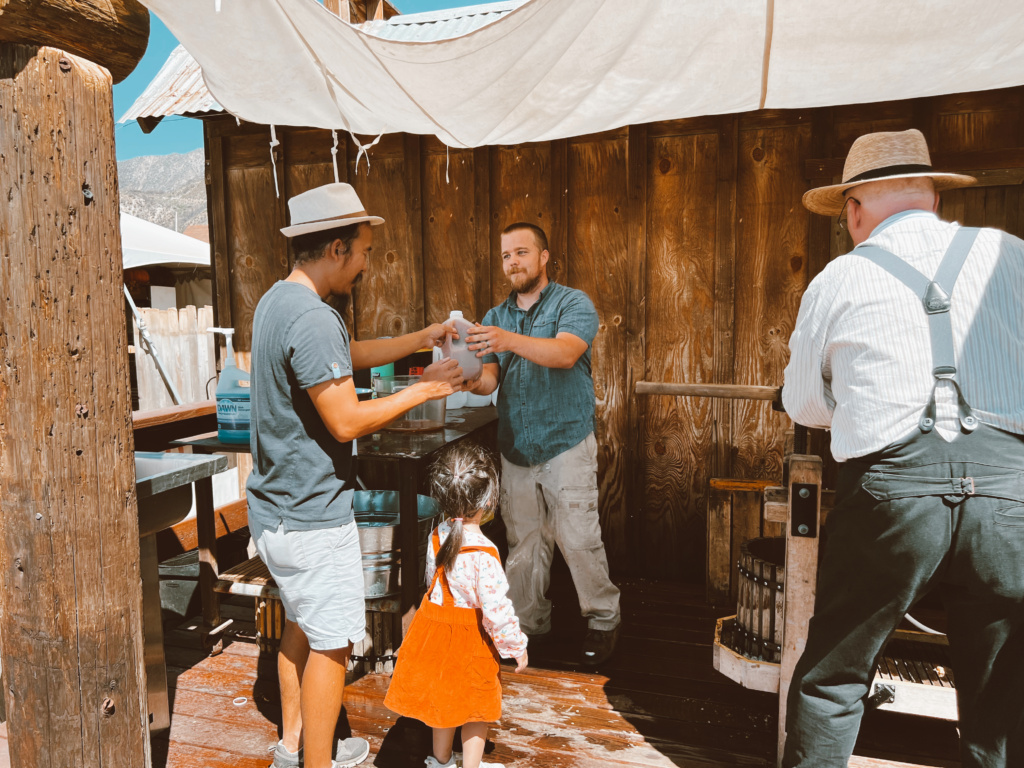 Pressing our own cider was an experience we'll never forget. It really made us appreciate all the hard work that goes into a gallon of cider! This is the best apple cider we have ever tasted. Nothing beats enjoying the fruits of your own labor. Don't miss this activity when you visit!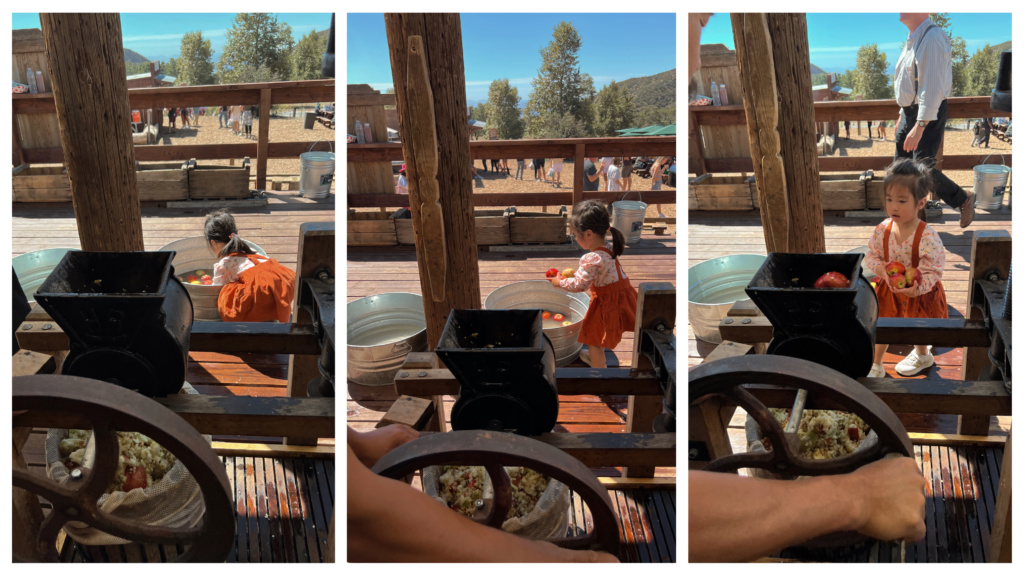 There is an onsite café and a country store. In their country store you will find an assortment of farm goodies including home made jams and jellies, local honey, and amazingly delicious apple pies.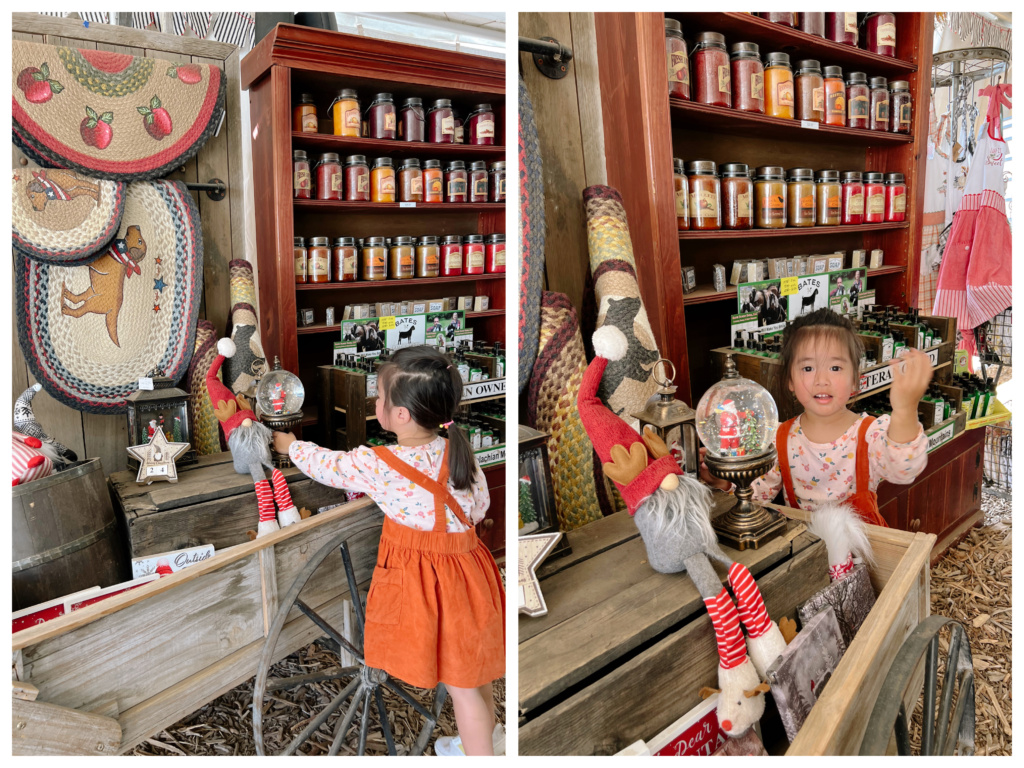 Their Farm Kitchen offers fresh baked treats, cold glasses of cider, slow cooked meats, and roasted corns. Not sold yet? They got tractor rides, nature trails, botanical gardens, horsedrawn wagons, and live music.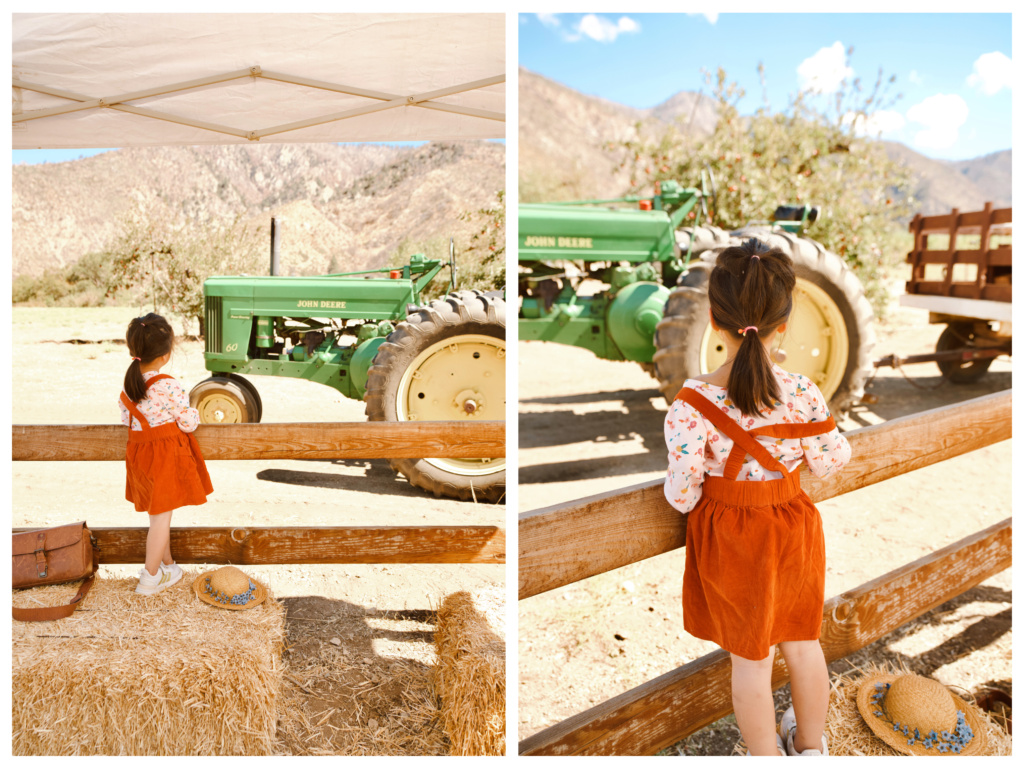 This is an amazing complete experience that should not be missed out on. Even if you don't want to pick very many apples, there are so many things to do here that you can spend the whole day having fun and learning about the ranch.
Happy Fall and Happy APPLE PICKING to you all!
Pin this post for your fall apple picking in Southern California!