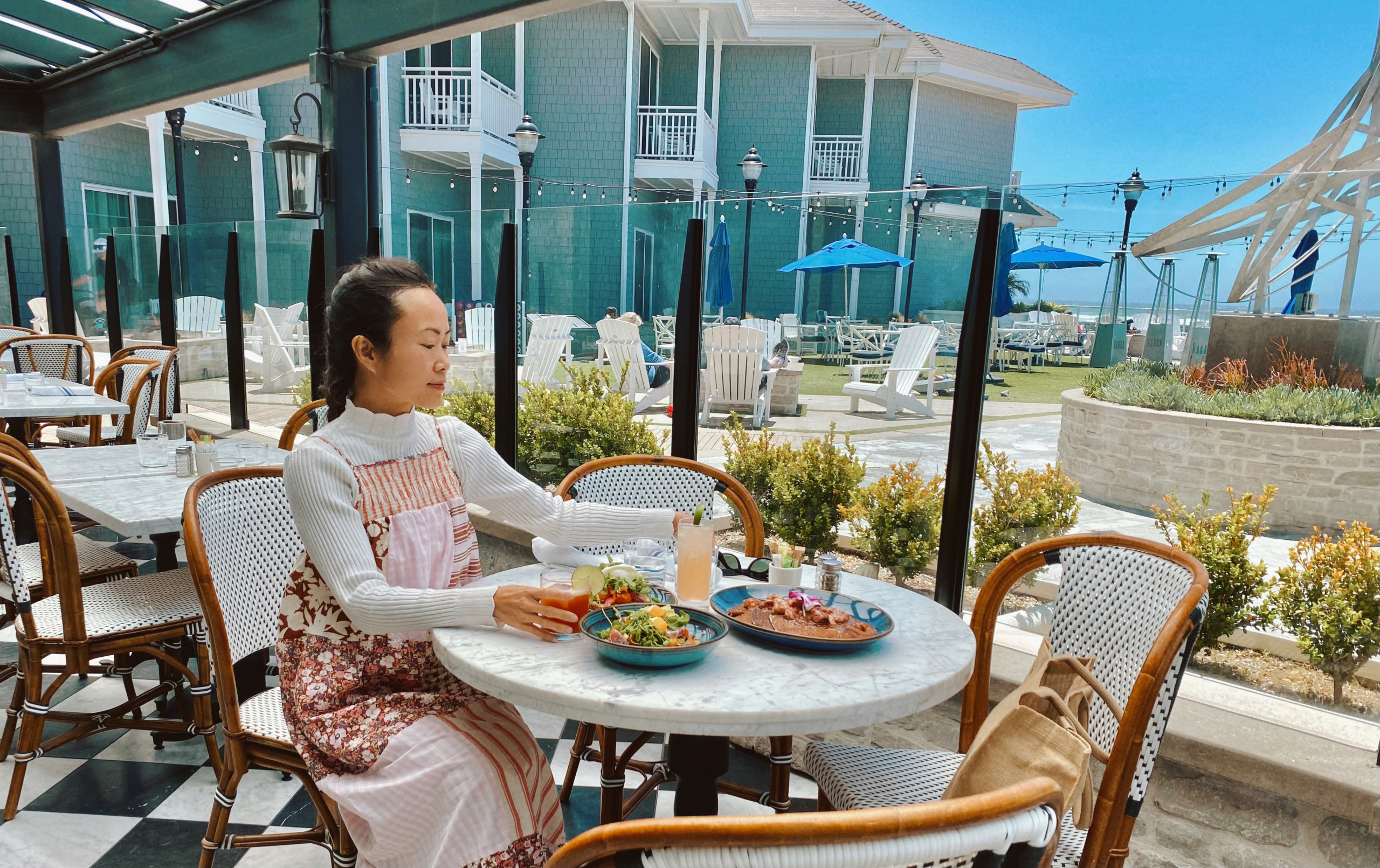 Review: Somerset Grill at Vespera Resort
Looking for places to eat in Pismo Beach was never easy! Not only there are plenty of things to do in Pismo Beach, but for such a small town, the food in Pismo Beach is top-quality, and offered on every corner. So where should you start? You should definitely start with Somerset Grill at Vespera Resort! During our stay at the Vespera we had all our meals (breakfast, lunch, dinner, and weekend brunch) at Somerset and it was one of the highlights of our vacation in Pismo. Daily dining at Somerset made our vacation feel like an escape from the every day, yet feel like home. By the end of our stay we missed everything about the restaurant: the friendly staff who greeted us every day, the table from which we enjoyed our meals while looking out the ocean, and the familiar taste of Chef Frank Barajas' signature dishes. The impeccable service and the mouthwatering dishes at Somerset compelled me to write a detailed review of this ocean front restaurant. If you are familiar with my blog, you know that I rarely write restaurant reviews (my blog is always more about a destination or an experience). But Somerset Grill deserves a single post on my blog!
Somerset Grill restaurant at Vespera is truly an elevated California coastal cuisine dining with panoramic ocean views, breezy patio seating, and coastal heritage-inspired menu featuring the most pristine ingredients available along the Central coast.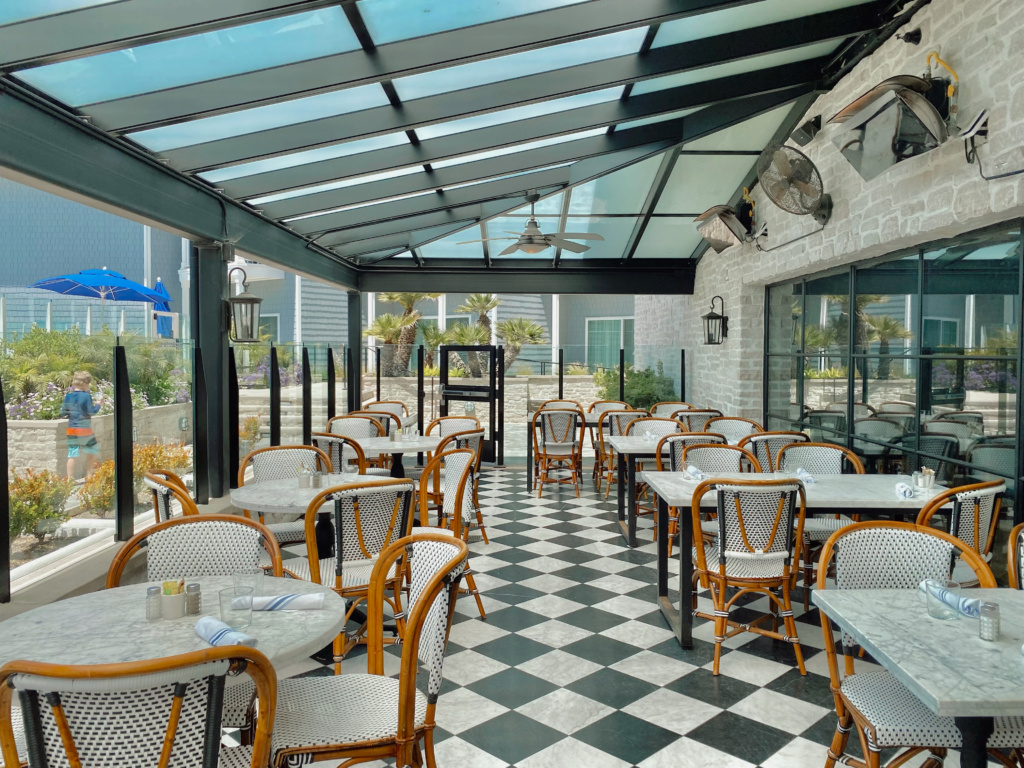 Somerset Grill evokes the charms of old-world craftsmanship and Chef Frank Barajas' menu features creative dishes that showcase the quality and flavor of the products he uses. Chef Frank is a celebrity in Pismo Beach after winning the Top Chef competition at the 16th Annual Taste of Pismo Beach. He is a culinary artist who crafts coastal dishes with regional and seasonal ingredients.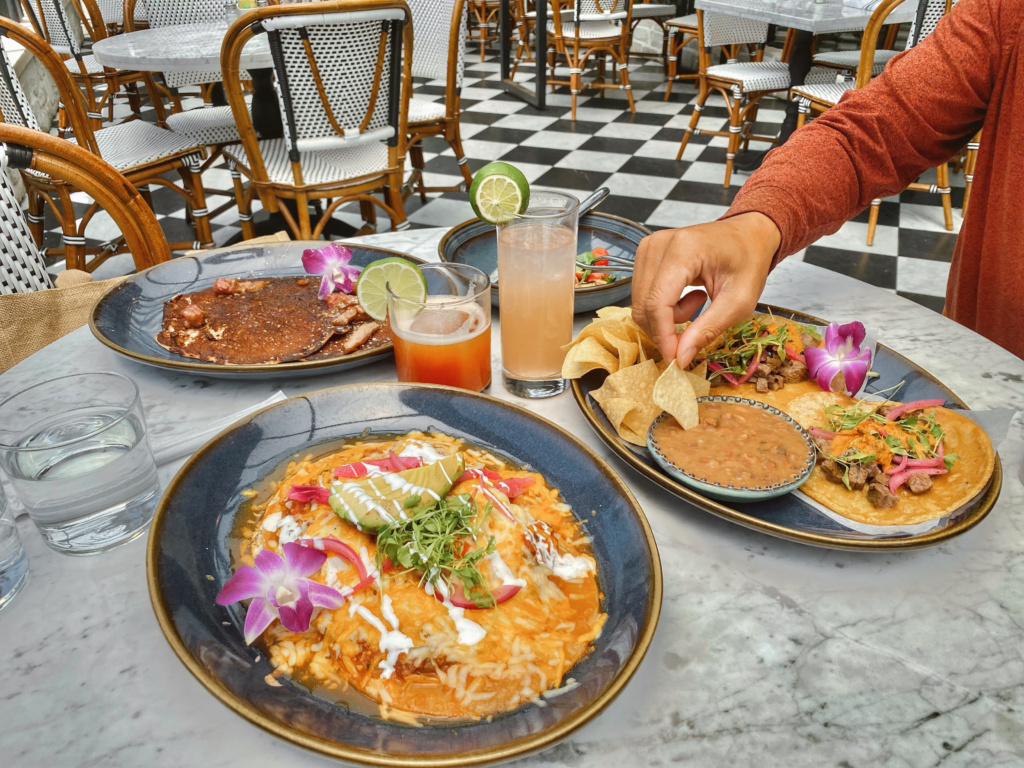 On our first day of our stay at the Vespera, we were super excited for our dinner reservation at the Somerset Grill and the dining experience totally exceeded our expectations. When we arrived at the restaurant, we can feel the fresh sea breeze drifting across the patio and the dining room was aglow with the golden sunset. We started with some crisp local wines as we waited for our food.
When our food arrived, we were in awe with the artistic presentation. For starters, we ordered the Seaside Chowder, the Baja Shrimp Cocktail, and the Salmon Cake.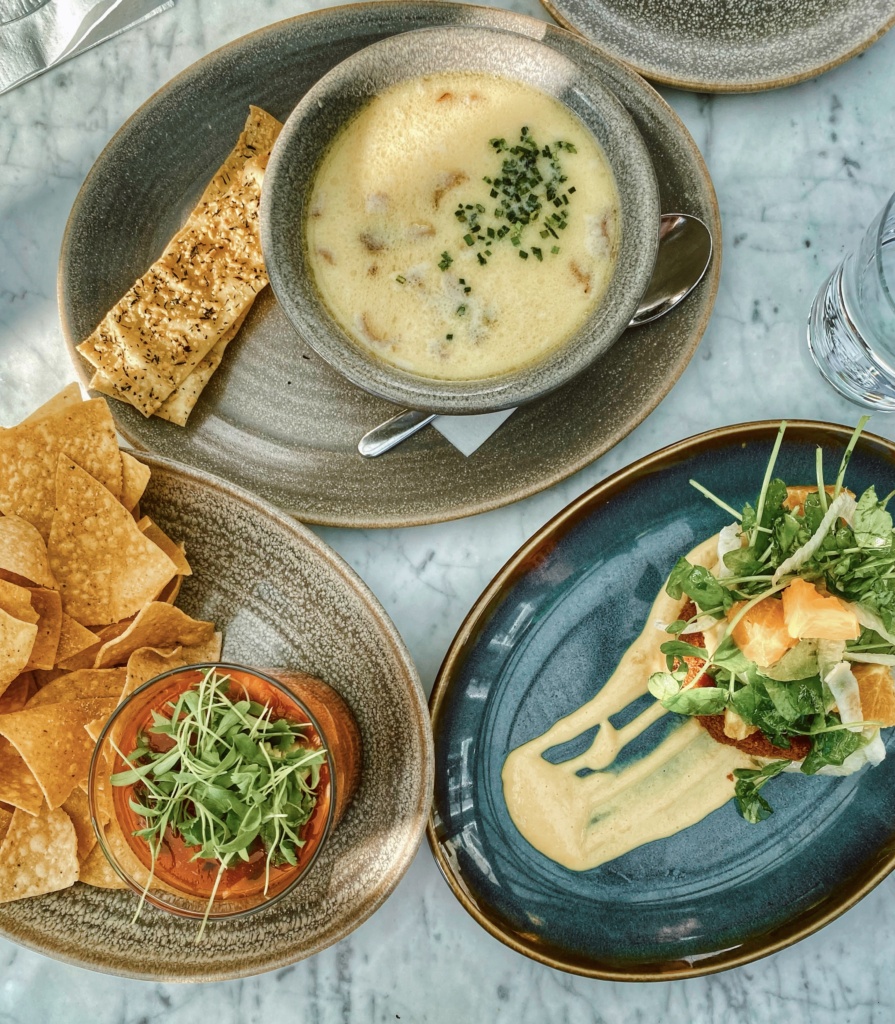 Chef Frank Barajas makes a Seaside Chowder filled with warm baby clams, bay shrimp, white fish and applewood smoked bacon. And the Baja Shrimp Cocktail was bursting with spicy flavors and filled with octopus, clam, crab, and shrimp. The tomato clam sauce, cucumber, jalapeno, and avocado made this dish a very refreshing spring/summer appetizer.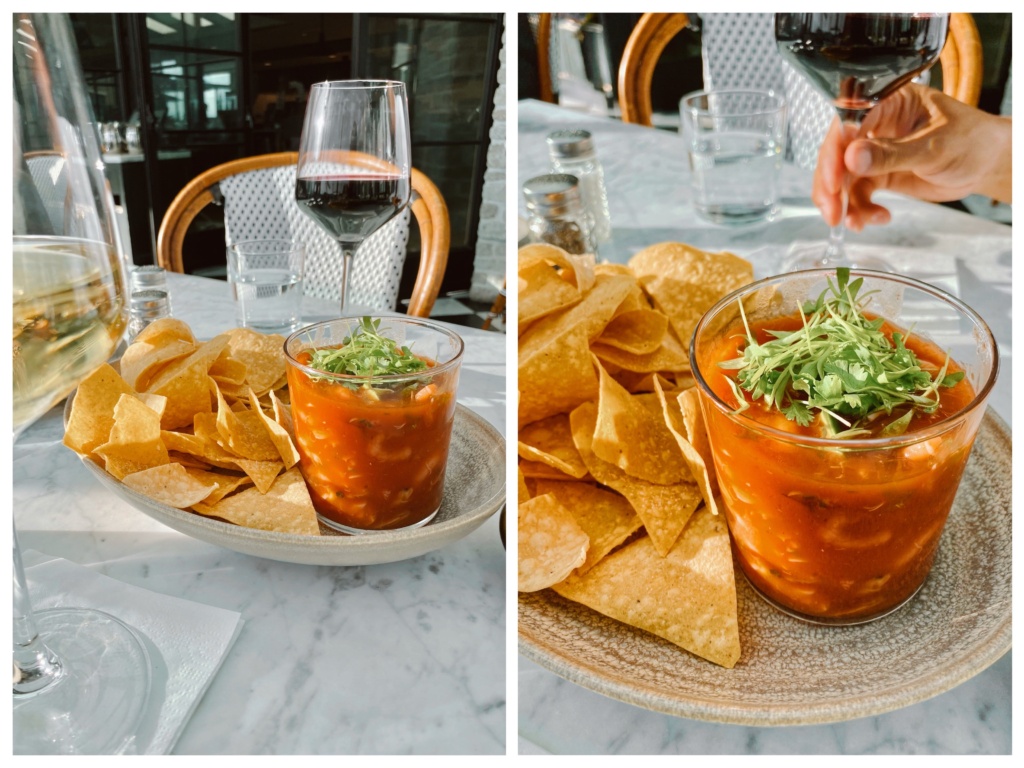 With a crisp breaded exterior, the salmon cakes are crunchy on the outside and buttery melted on the inside. The chef made the salmon patties with onions, parsley, mustard, lemon and hot sauce. The result is bursting with flavor in each bite.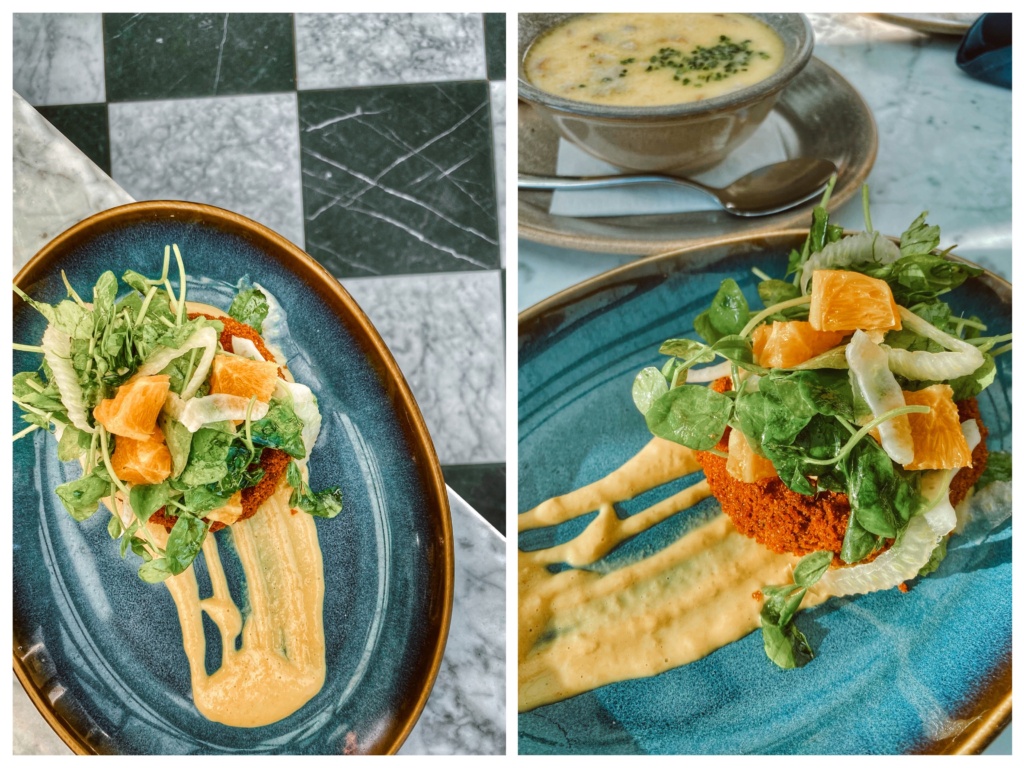 There's electricity in the air at Somerset Grill as Chef Frank and his team craft every dish to highlight the freshness of ingredients. Each item on the menu, from savory starters to entrees, delighted our senses. Their Grilled Halibut is something we dream of, made with butternut squash, mustard greens, and jalapeno coconut sauce.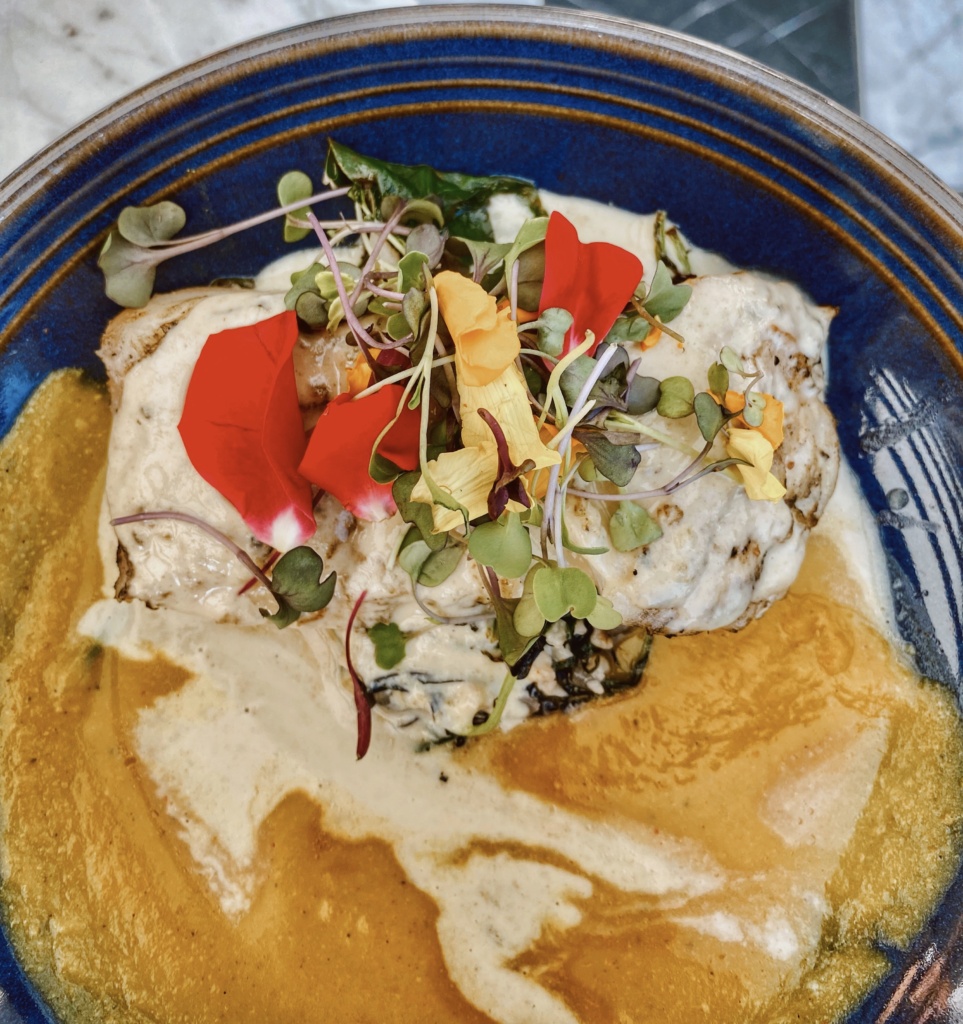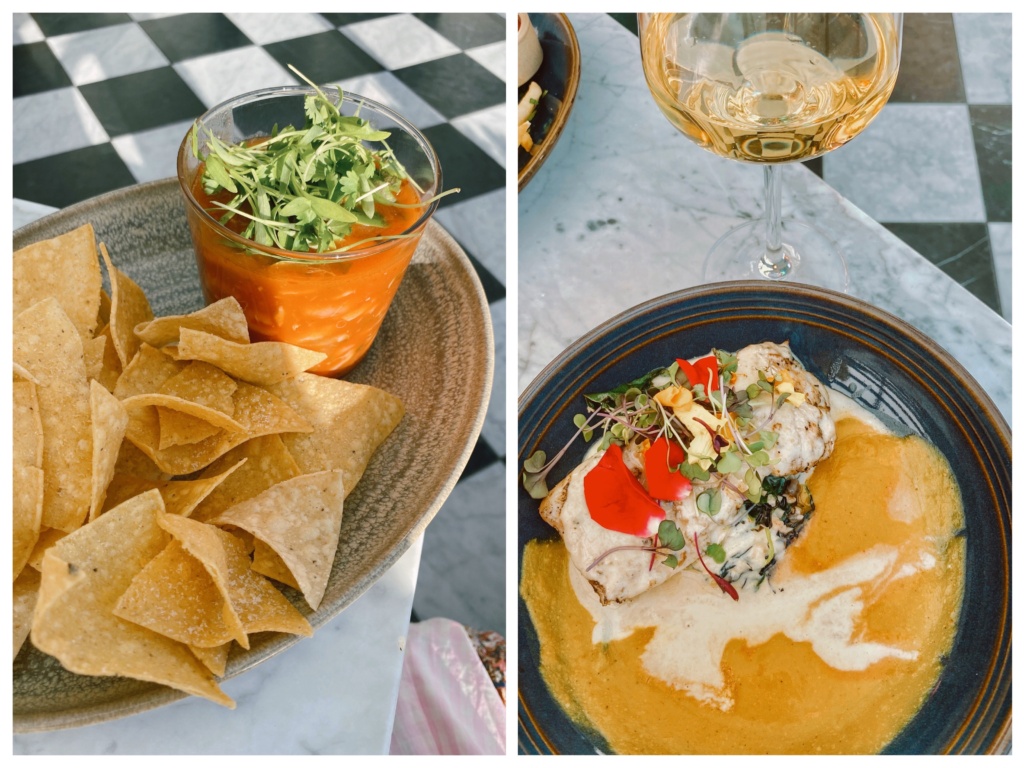 For desserts we ordered the Blueberry Lemon Tart and the Salted Caramel Affogato. For the affogato, the chef used handcrafted, premium salted caramel ice cream from Doc Burnstein's Ice Cream Lab. As I poured steamy hot espresso over the creamy gelato, I was transported to a happy place. The desserts were such a delightful touch to end our first evening in Pismo.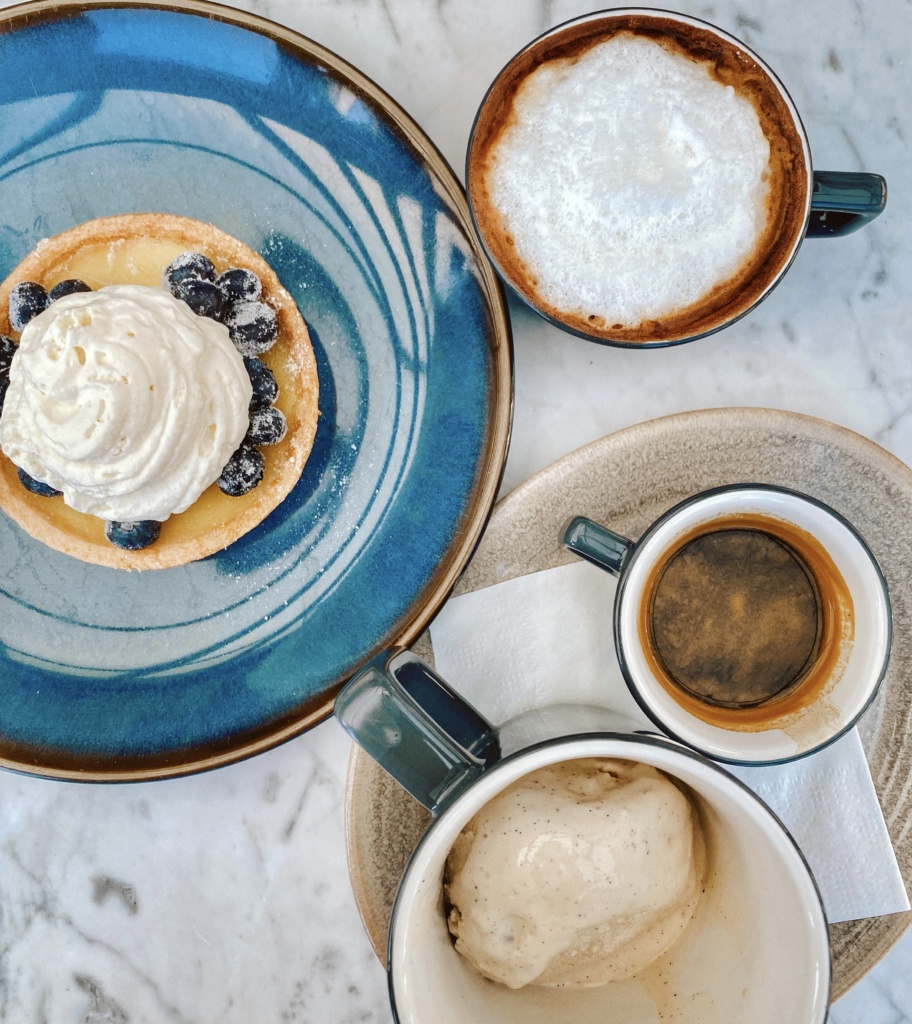 The next morning we woke up all refreshed in our spacious ocean view suite. As we breathed in the fresh ocean air and sunbathed in early morning sunshine, we were starving and so ready for our breakfast. Since we were staying over the weekend, instead of the restaurant's usual breakfast menu we got to enjoy their thoughtfully crafted weekend brunch.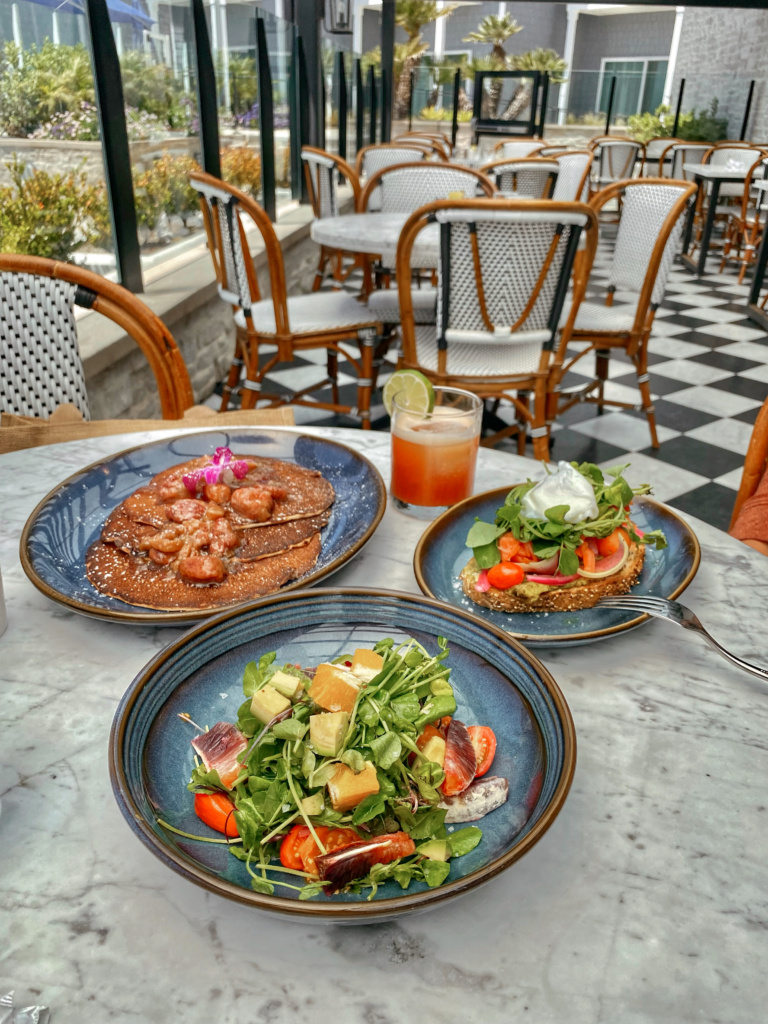 Whether weekend brunch serves as your reward after tackling a long hike in Pismo Beach or just a chill way to ease into a lazy Sunday, the new extensive a la carte Weekend Brunch Menu at Somerset Grill got you covered! From pancakes to eggs benedict there is something for all brunch lovers here.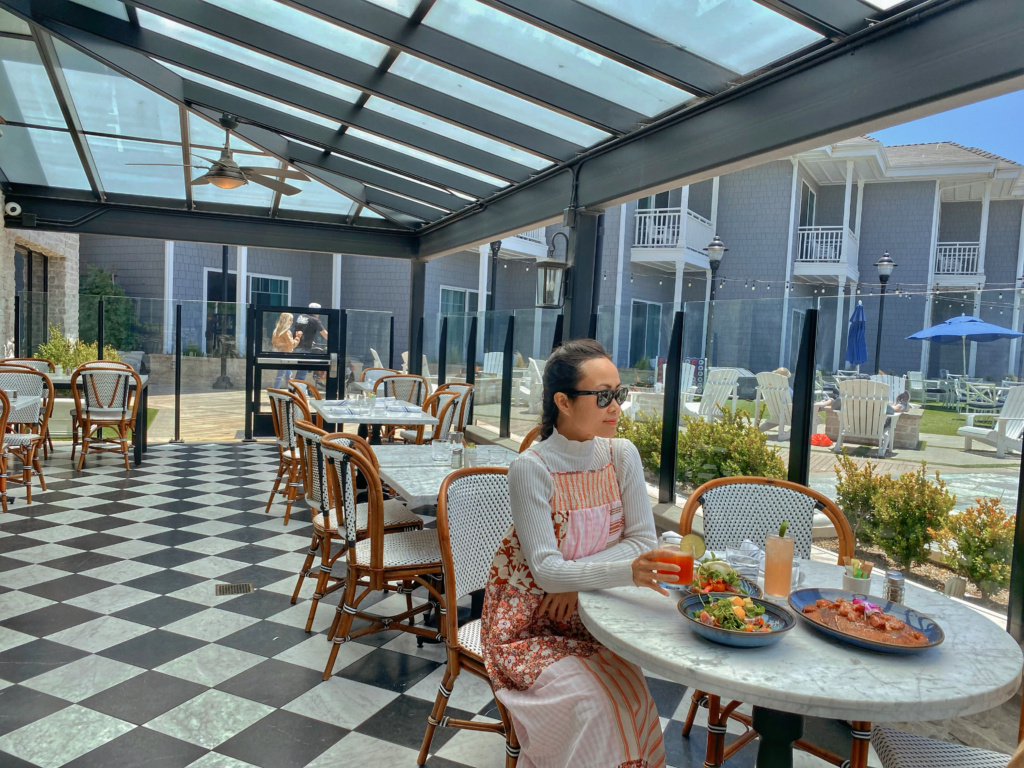 Although most people come here to enjoy their stellar dinner menu, their brunch is nothing to sleep on. Brunch is offered Saturday and Sunday every weekend al fresco on Somerset Grill's patio or in the chic, seaside indoor dining room. Their brunch menu is served daily until 3:00 p.m so you have more than enough time to down your fair share of appetizers, eggs benny, and pancakes.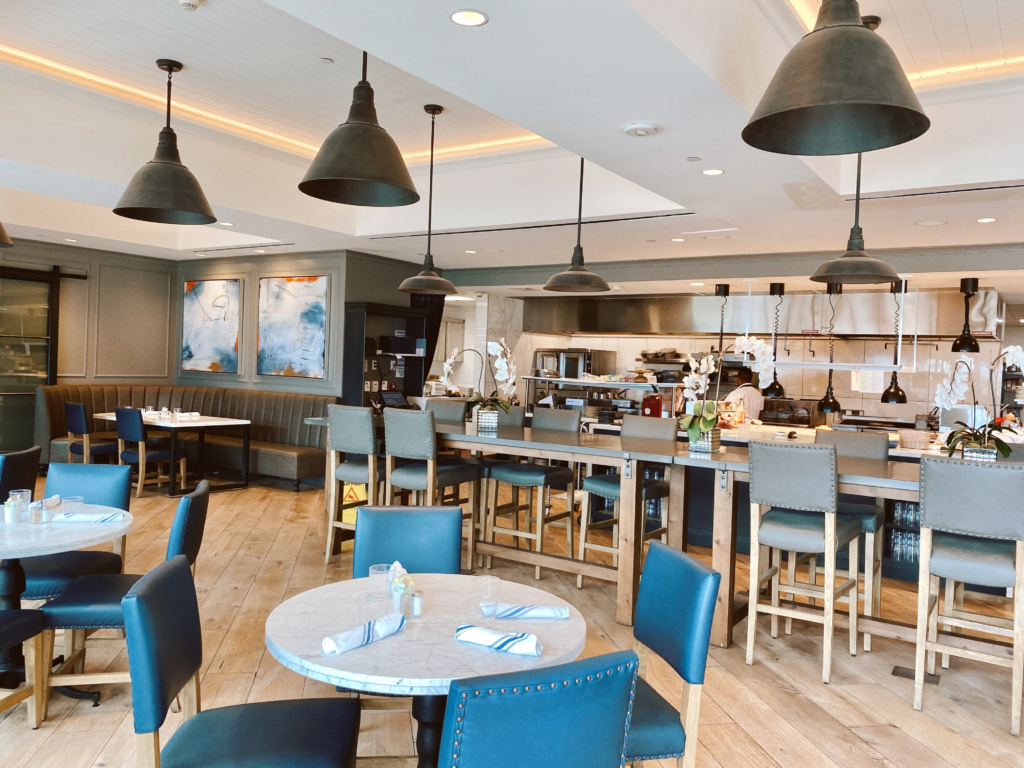 The perfect cozy and laid back beach living environment, warm and friendly service, and (above all) fantastic food that will leave you satisfied and beyond. Start with one of their hand crafted cocktails and order the huevos rancheros, the eggs benni, or the pancakes. We were head over heels for their Paloma made with Tequila, Lime Juice, Grapefruit Juice, Agave, and Grapefruit Sparkling Water. We also recommend their Slo Life made with Goslings Dark Rum, Campari, Lime Juice, Demerara Syrup, and Pineapple Juice.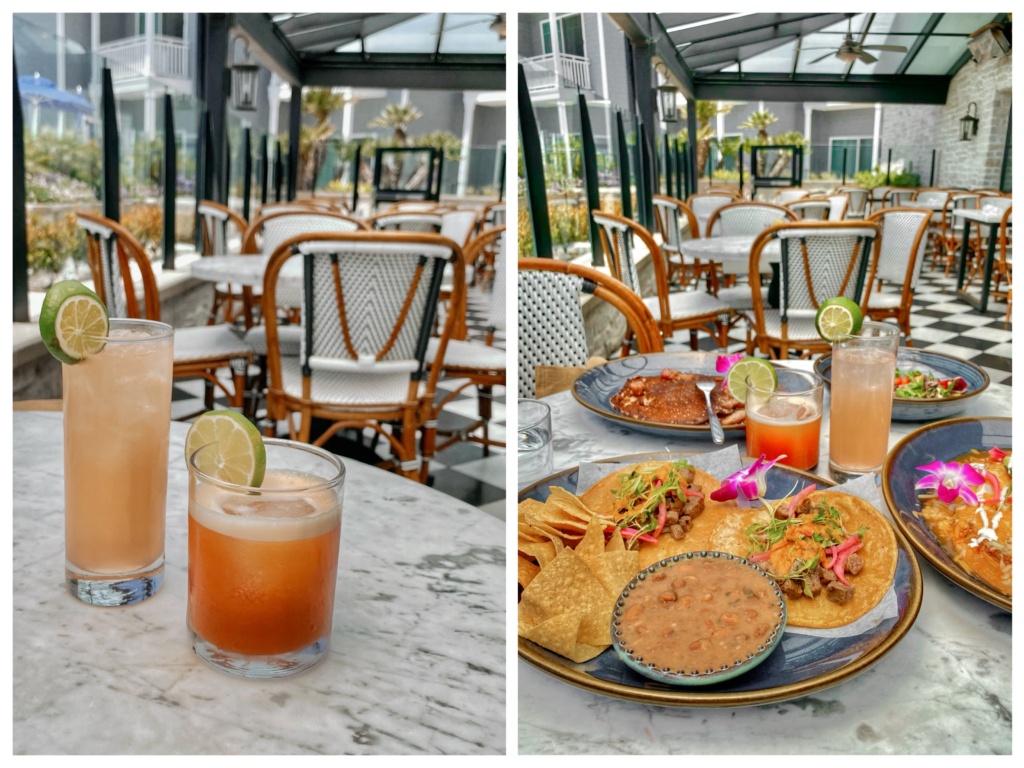 You really can't make a wrong move ordering anything on their brunch menu but we're partial to their Cinnamon Pancakes. The made-from-scratch pancakes are the absolute star of the show and served with a house-made caramelized milk syrup that is so good you could drink it.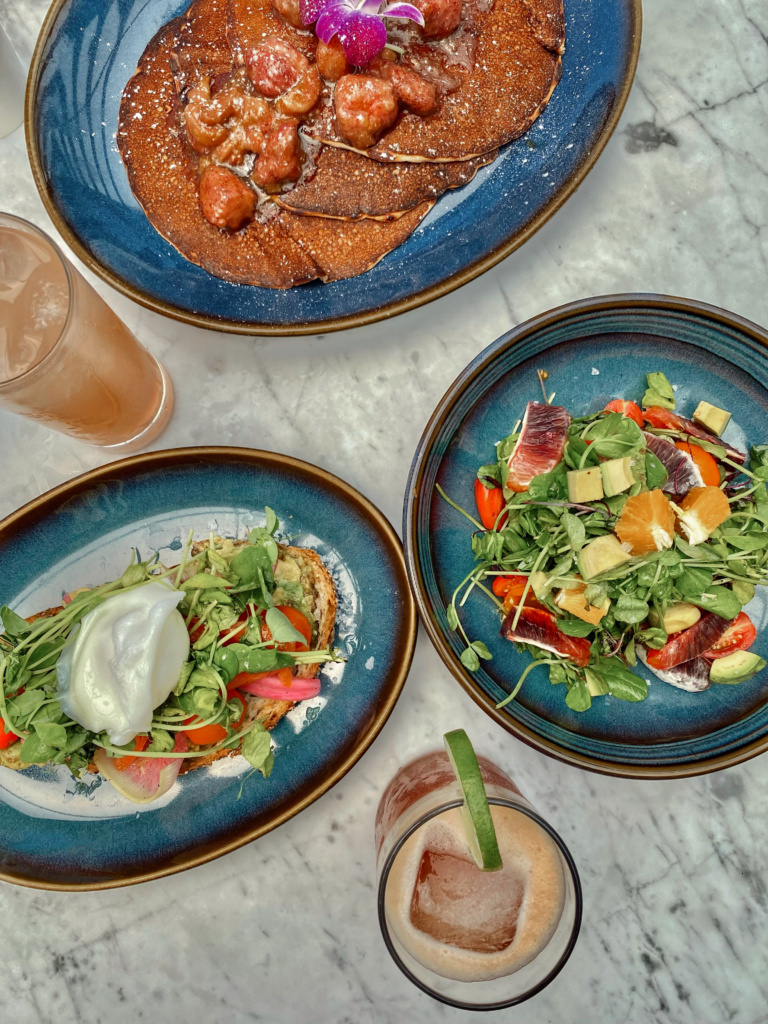 Their avocado toast is one of the best avocado toasts you will ever consume. The toast was a delightful balance of avocado smash, pea shoot, watermelon radish, and poached egg.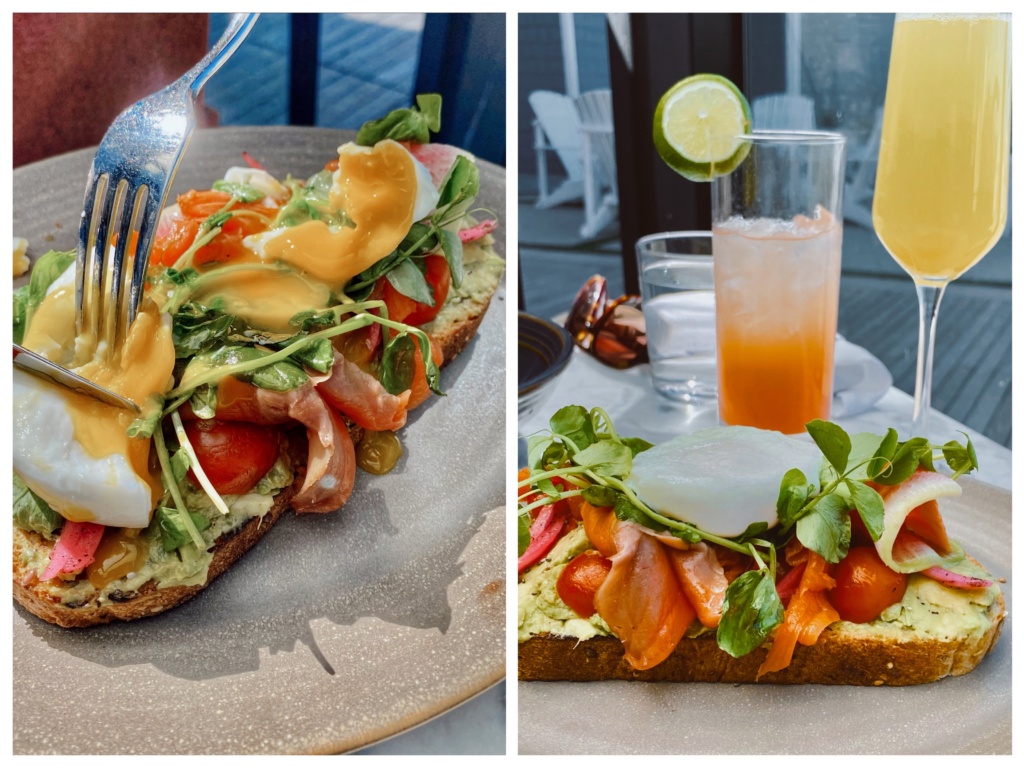 We also recommend the tri tip or pollo asado tacos with house marinated tri tip/ chicken, salsa, pickled onion, and cilantro. These brunch tacos are refreshingly simple, cooked on the spot, and are always delicious– just the way we like it. A mountain of goodness that leaves you feeling full and energized!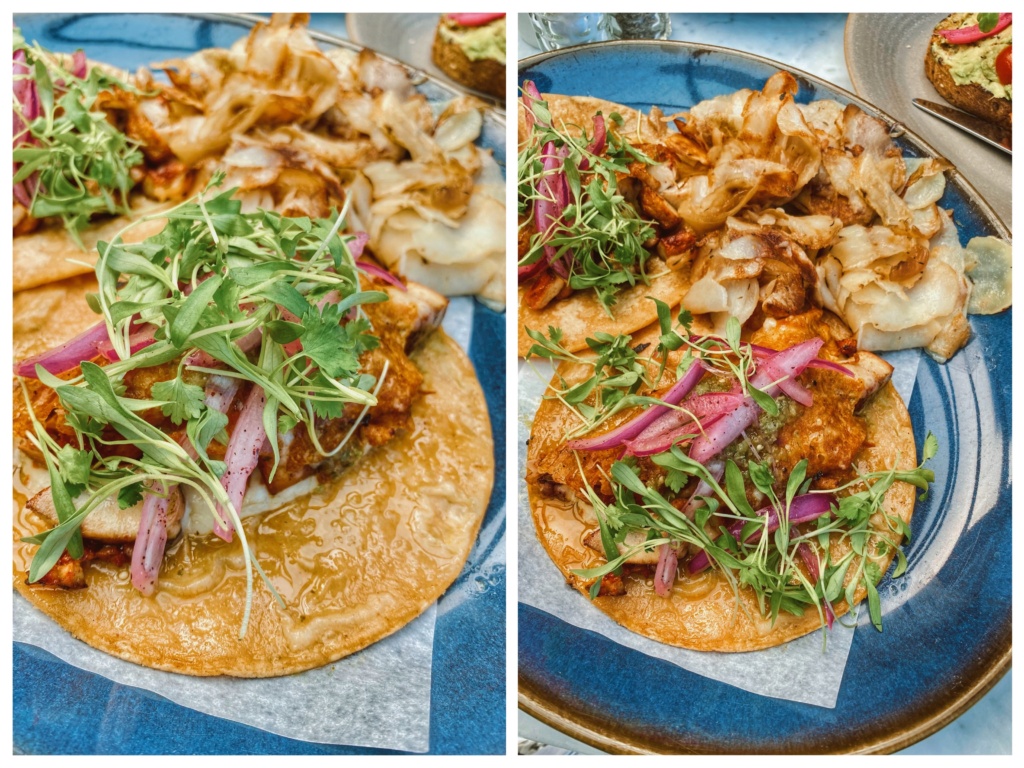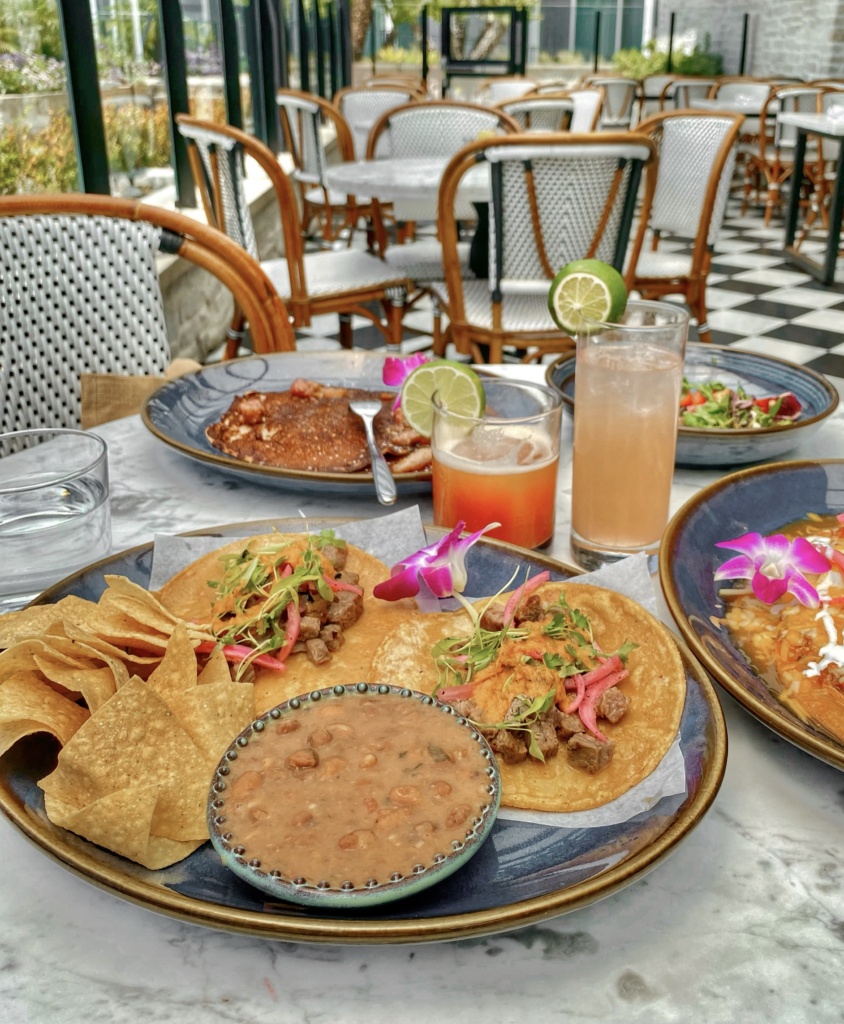 The signature Huevos Rancheros was our favorite order here, made with pinto bean, fried egg, salsa ranchera, avocado, cilantro, and pickled onion. It's well rounded, rich, savory and has amazing depth of flavor.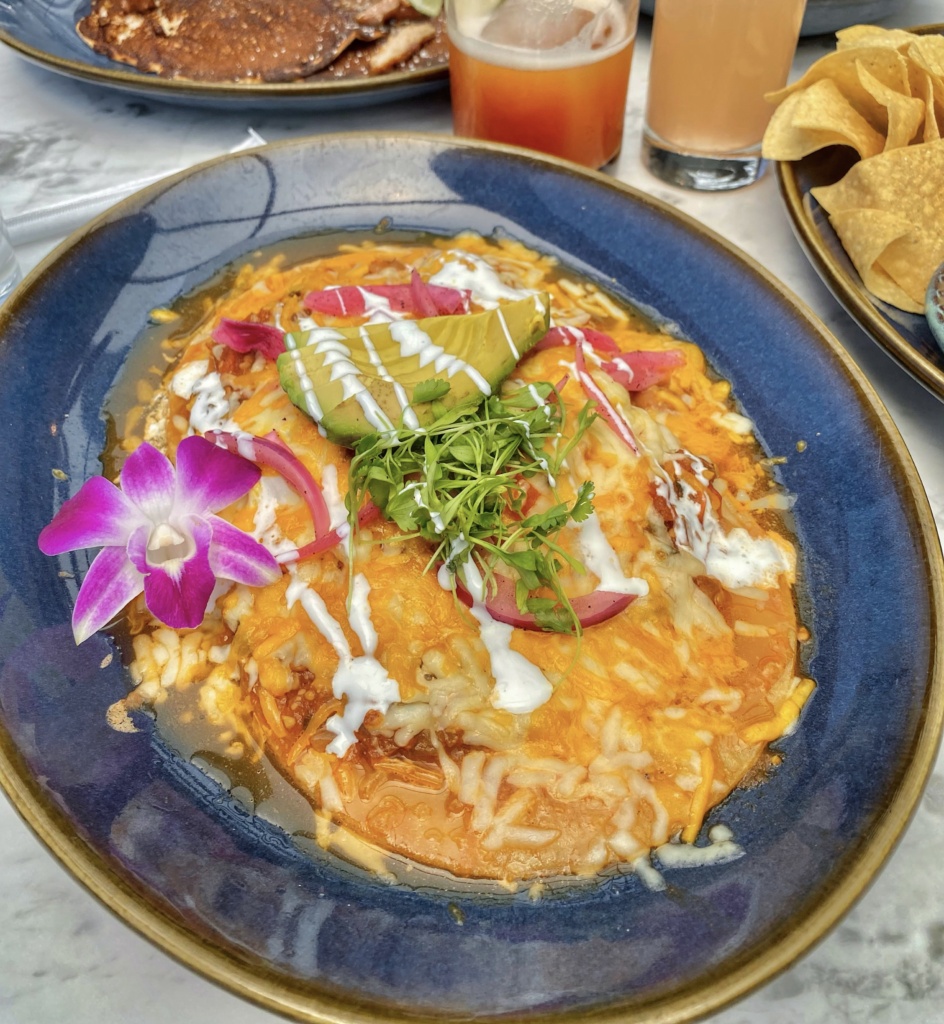 We also recommend their Avocado Citrus Salad for your daily dose of Vitamin C. It's refreshingly delicious with blood orange, avocado, watercress, heirloom tomato and citrus vinaigrette.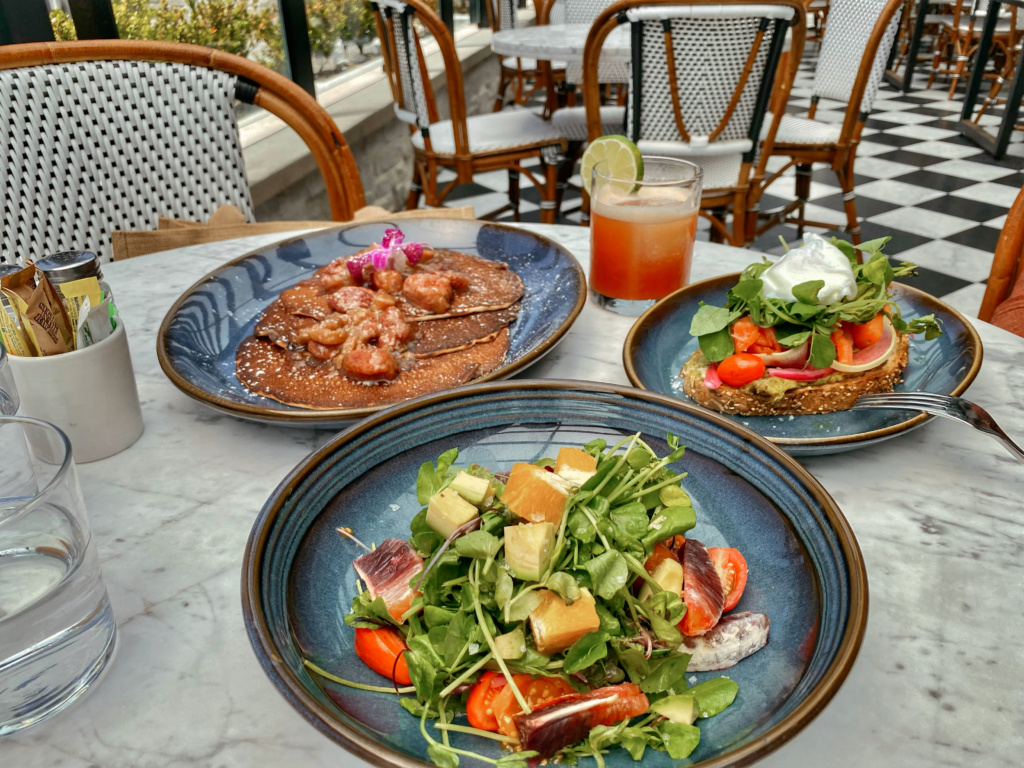 Market-fresh and regionally-inspired, every dish here is packed with classic seaside flavor and that can't-get-enough-of-this factor, which is exactly why we can never eat here too many time. Somerset Grill at Vespera Resort is truly oceanfront dining at its best!
***Thank you to Vespera Resort Pismo Beach for kindly sponsoring this post. All opinions are 100% honest & completely my own.