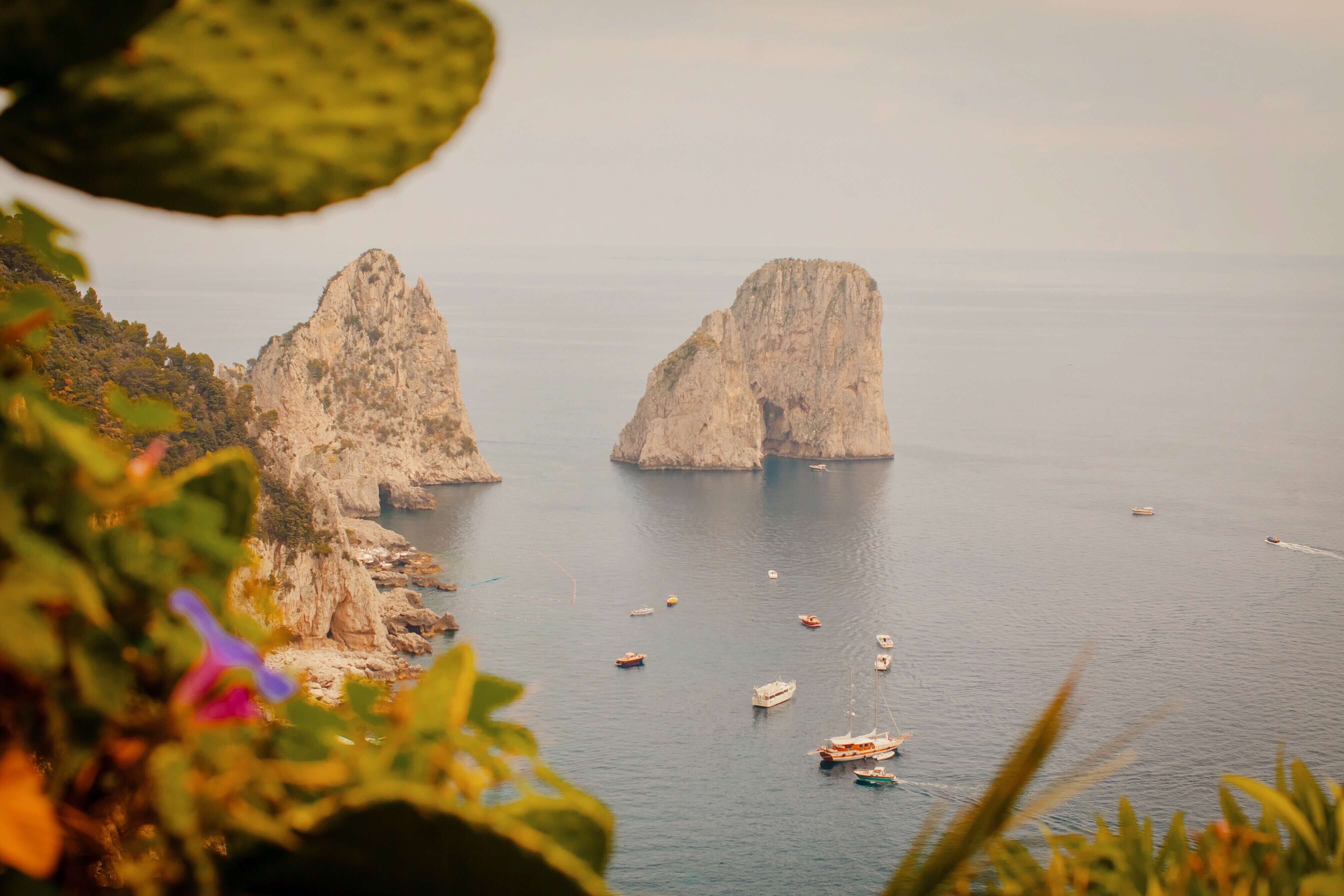 The island of Capri is famous for a reason. Capri's beauty has made it a dream destination with jaw-dropping views, amazing cuisine, world-class shopping, and an amazing vibe. At Capri, you'll find a mixture of island simplicity, stunning natural scenery, and a hint of dolce vita from the 1940s and '50s that never seemed to fade. This island is reminiscent of the times when classic movie stars with oversized sunglasses and scarves around their neck strolling through the Piazzetta or stylishly tanning on a yacht. Capri still has an effortless glam that can't be found anywhere else.
Capri is an island that has it all: scenic vistas, culinary delights, high end shopping, upscale hotels,…But there's something extra here: a magical quality you won't find just anywhere, and certainly won't find in a day. Trust me when I say you need more time. Most tourists stop here for just a quick day trip, but I urge you to stay overnight to appreciate all that this island has to offer. Today, I'm sharing my Capri travel guide that will help you navigate the island whether you're going just for a day trip or for an Italian getaway.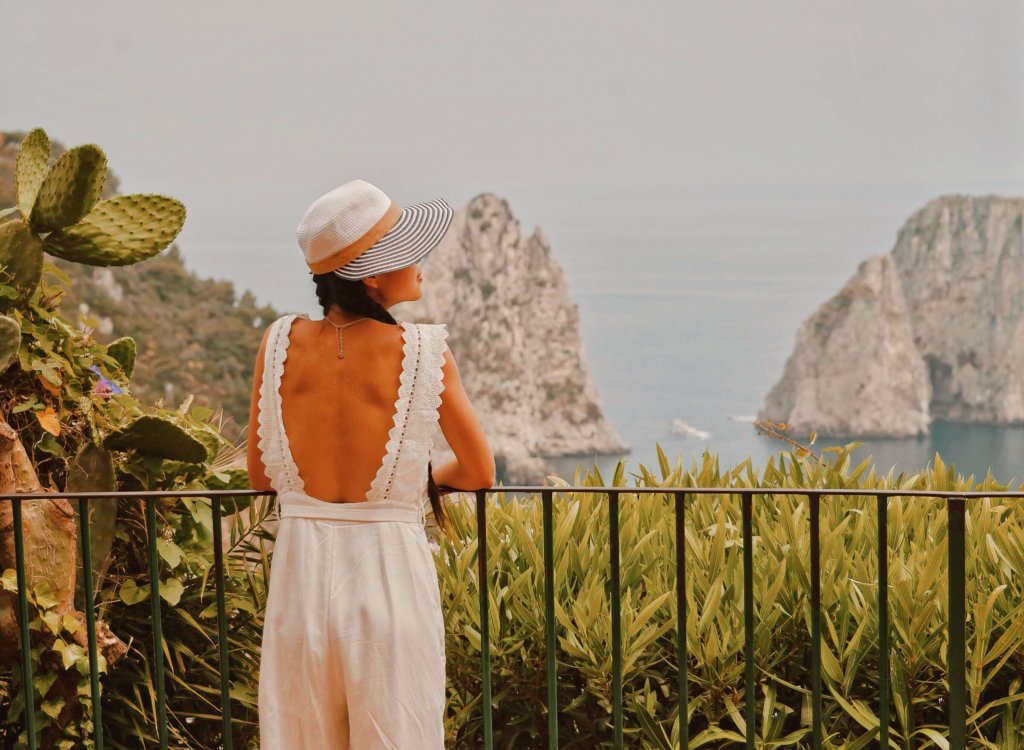 WHEN TO GO?
Capri is actually a year-round paradise. During the spring, temperatures sit between the 50 and 70 degrees Fahrenheit – a perfect temperature to go boating, hiking, or simply walking around the island. Capri is simply beautiful and temperate all the way from late spring until fall. Early fall is in the lows of 60 degrees and highs in the mid-80s. The weather starts to cool off a bit in October with a greater chance of rain. Late fall and winter make up Capri's off-season, and many restaurants and hotels won't be open during that time.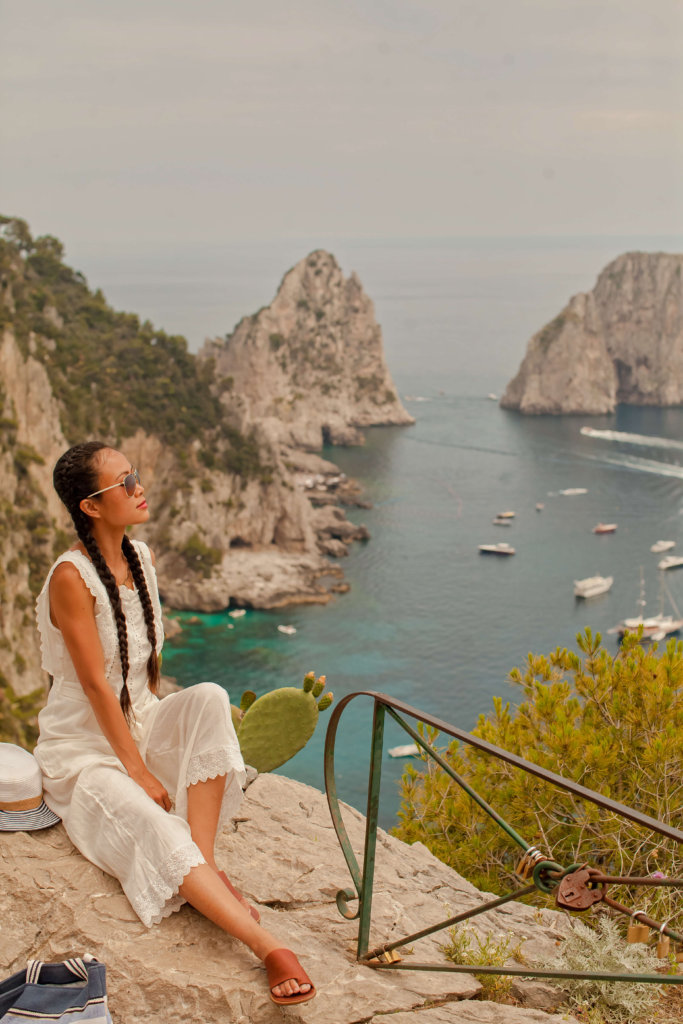 HOW DO YOU GET THERE?
The only way to reach Capri is by sea. Ferries depart from Naples and Sorrento; in the summer, there are also routes from Positano, Amalfi, Salerno, and Ischia. We took the hydrofoil from Sorrento to Capri as we had stayed in Sorrento for 2 days. The departure point for our ferry was Marina Piccola in Sorrento. You don't have to book the tickets online if you are uncertain about your schedule. We bought the tickets on the day of our departure and it was fairly quick and easy. However, many travelers advise that it is best to reserve your ferry tickets ahead of time, especially in the summer months (a.k.a. high season). Online, you can view the timetables and reserve tickets at www.ok-ferry.com.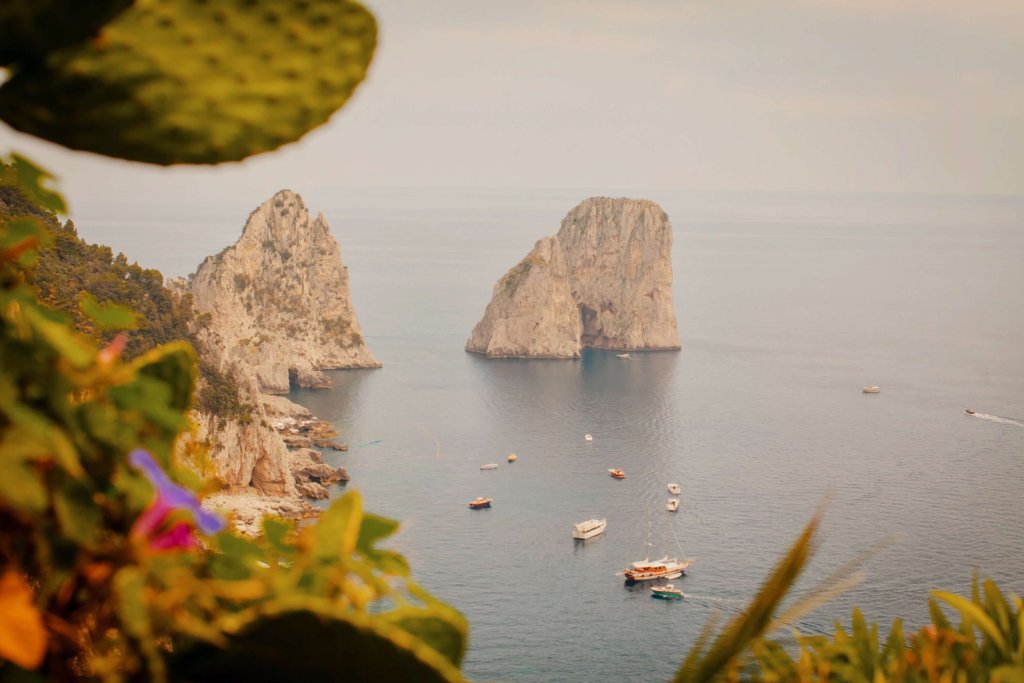 On the day of our departure, the ferries and port were so crowded during the morning hours as tourists head off to Capri for a day trip. The ticket office for the ferries in Sorrento was very chaotic, and there was an air of confusion over the place. But as soon as we situated on the outside deck of the ferry, everything was worth it! We could tell that we were in for a scenic ride. The ferry ride took about 40 minutes to an hour and costs approximately 20 Euro. If you're staying on Capri and have luggage, there is a €2 charge for each bag you carry on the ferry.
If you plan on visiting Capri for a day trip, then keep in mind that the departure times for the last outbound ferries from Capri vary depending on the destination. So upon arrival in Capri, be sure to check the time of the last outbound ferry for that day and plan your return trip accordingly. If you are traveling off-peak, from September to May, contact the Capri tourism office as ferries will be less frequent.
HOW DO YOU GET AROUND?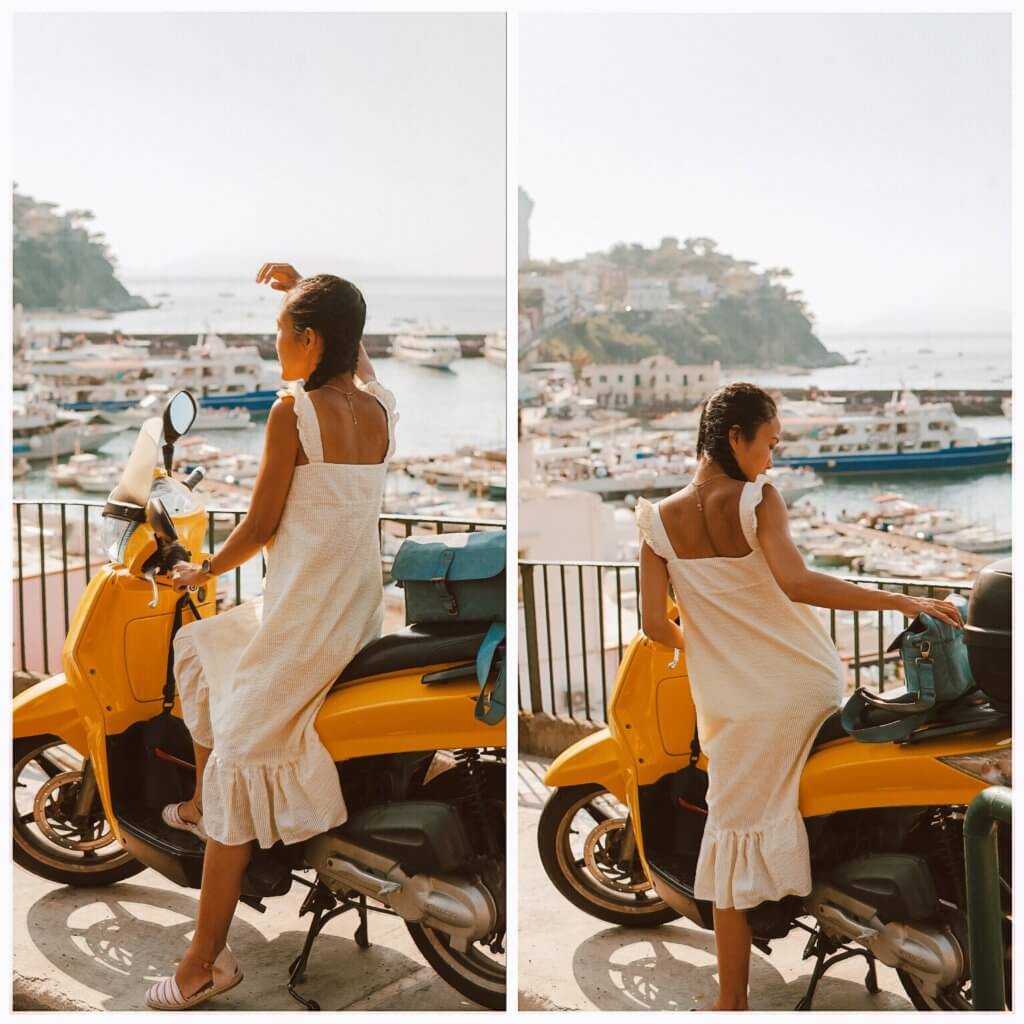 Arrival at Marina Grande, Capri
All ferries arriving at Capri dock at the Marina Grande of Capri. I should note that upon your arrival in Capri, you must get a taxi (fairly expensive, around $20-$30 to Capri town or Anacapri) or take a bus to get to your hotel – walking with your luggage is nearly impossible, and you don't want to get to your hotel all exhausted and stressed! There is also a funicular that runs between Marina Grande and Piazza Umberto (the main Piazza of Capri). The lines at the bus stop and the funicular stop near Marina Grande tend to be quite long. However, both the bus and the funicular services are reliable and economical. The cost of a one-way ticket is $2, and can be used for the bus and funicular. There are taxis off the main square or your hotel can help arrange.
Bus
No doubt the most popular and least expensive way to travel around the island like a local is by bus. Be aware that, in summer, lines for both buses and the funicular are long! Ticket cost: €2 per person, €2.50 when purchased onboard; €2 for each large piece of luggage.
Funicular
From Marina Grande the easiest and cheapest way to get to the center of Capri town is the funicular, a cable car that goes straight up the hill to town from the marina. You'll see the entrance easily near the marina. The furnicular leaves every couple of minutes from 6:30am until 11:00pm. The ride up the steep hill takes less than 5 minutes and is a fun way to get your visit started. Again like the bus, the line for the furnicular can be very long during high season. Ticket Cost: €2 per person one way
***If you don't want to worry about having enough tickets, there is also a day pass (UNICO Capri costs €8.60) that gives you unlimited bus rides and two trips on the funicular.
Taxi
If you don't like waiting for a bus or funicular, look around for a taxi. They usually hang out near the bus stop waiting for those not wanting to wait in the bus line. Many taxis are open-air and can seat up to 6 persons. If you're here for a quick day trip, you can hire a taxi in the Marina Grande to take you to Anacapri for around €25, the Blue Grotto or the Punta Carena Lighthouse for €40. Taxi drivers in Capri are polite and courteous.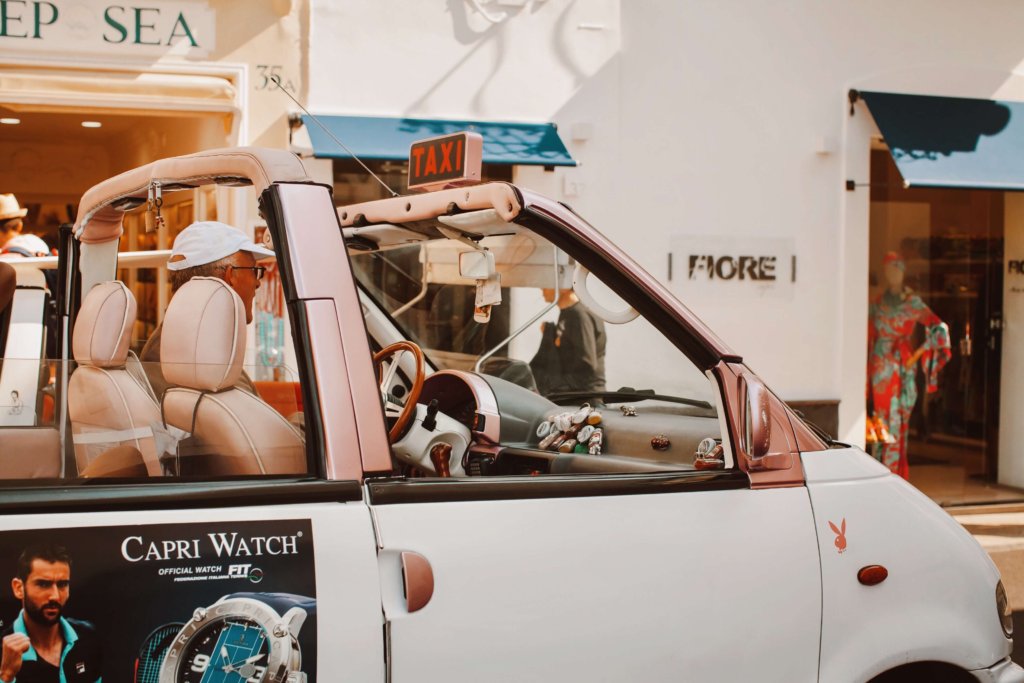 Walk
Like most destinations on the Amalfi coast, riddled with hills and one-way streets, your best bet will be going around on foot. There are places that get fairly steep going up, for example from the Marina Grande to Capri town is a steep uphill walk and takes about 30 minutes without luggage. There are also guided walking tours if you want to maximize your time walking on a day trip.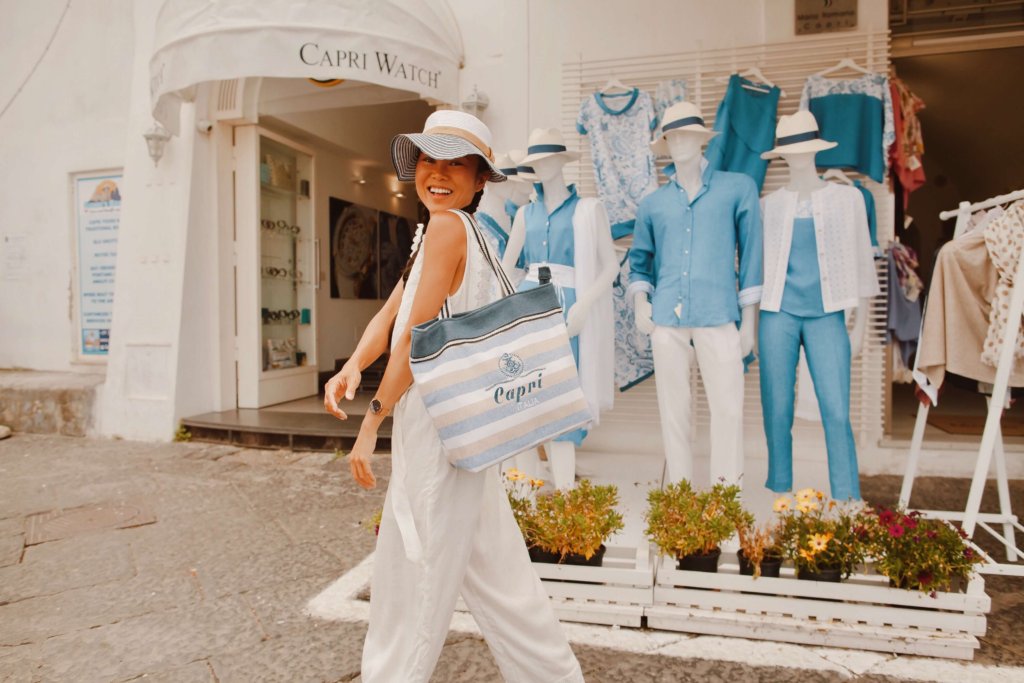 Car Rental
Tourists don't need a car on Capri. For most of the year, motor vehicles are forbidden on Capri: non-resident vehicles can be embarked for the island only for the months between November and Easter. Regardless, there isn't much use for vehicles on Capri since there is only one road on the island, and there is excellent public transport.
Scooter Rental
Renting a scooter can be the perfect solution for visitors to the island who have little time to see all there is to see on Capri and want to be able to move around the island in complete freedom. At Marina Grande, just a few meters from where the high speed ferries and ships dock, there are a number of scooter rental companies, which provide helmets, a full tank of gas, a map, and all the locations of parking lots.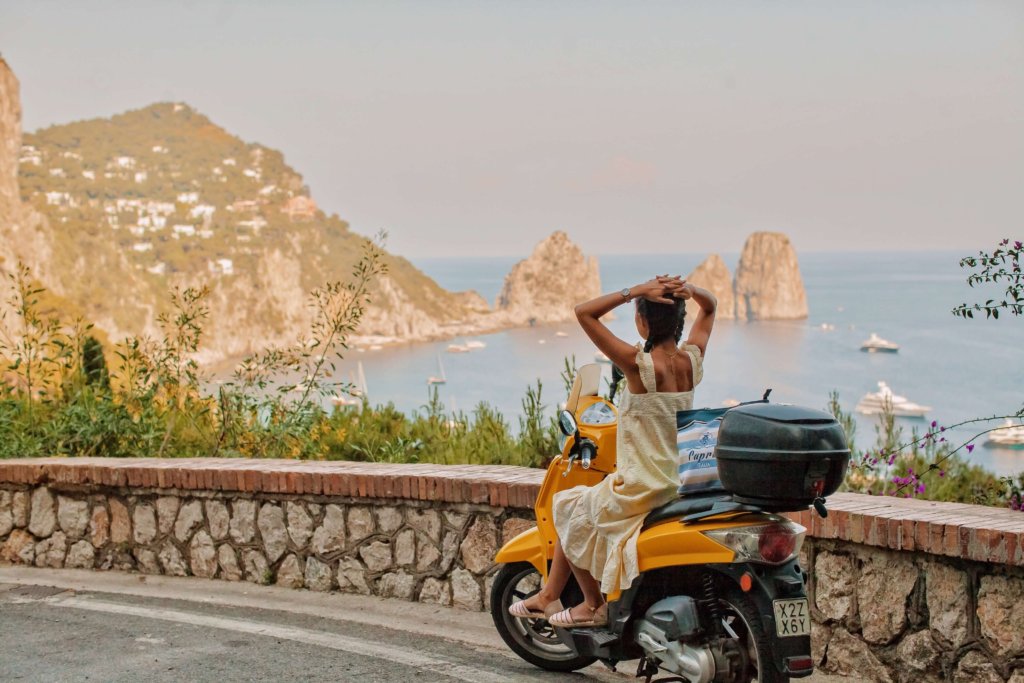 WHAT TO DO IN CAPRI
Explore the area around La Piazzetta (Piazza Umberto)
La Piazzetta (Piazza Umberto) is the main square of Capri town. The official name of this world famous public square is Piazza Umberto 1. Piazza Umberto is dotted with restaurants, trendy boutiques, souvenir shops, bright bougainvillea and inviting cafes.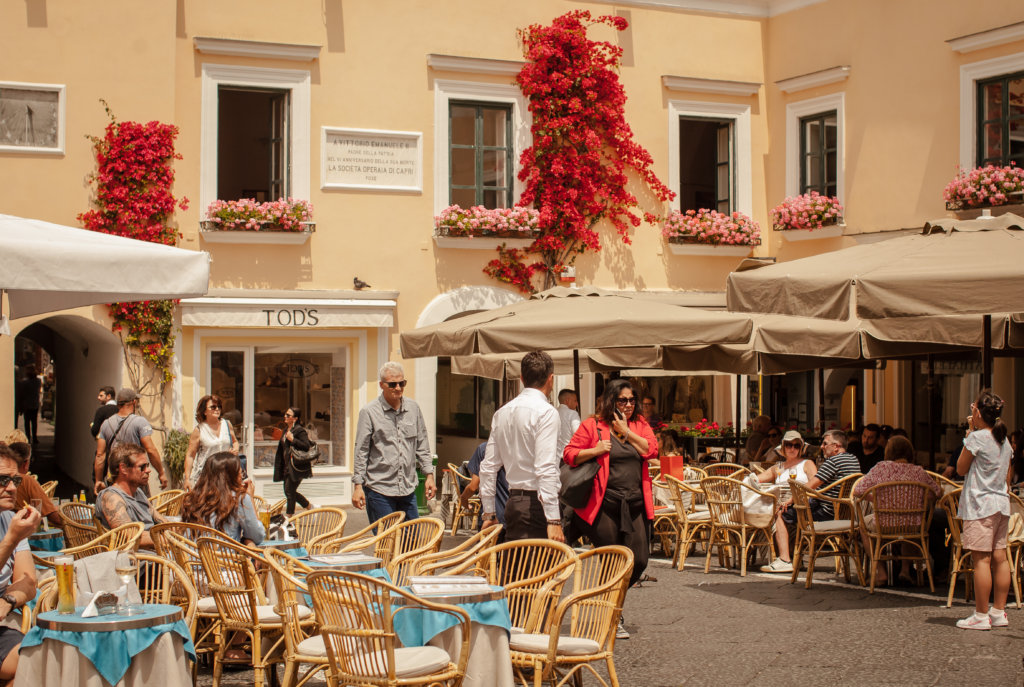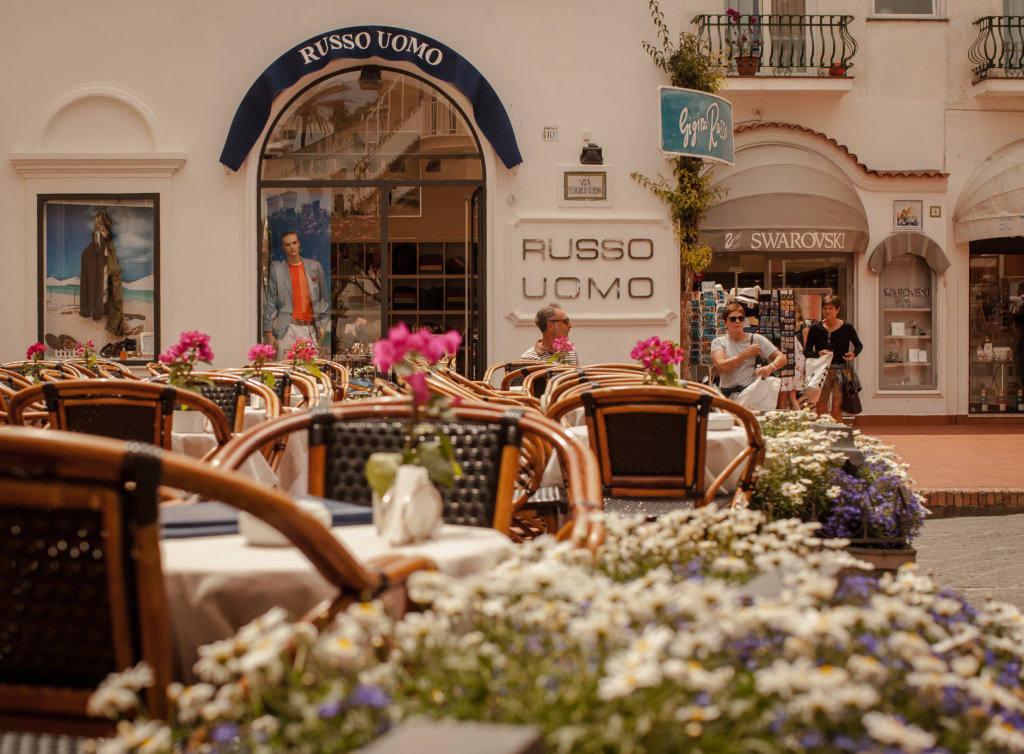 The Piazzetta has been described as the "drawing room of the world" and is a magnet for writers, actors, artists, politicians and the international jet-set community. This main square is always buzzing with activity. Here, weary tourists relax after a day shopping in the designer boutiques.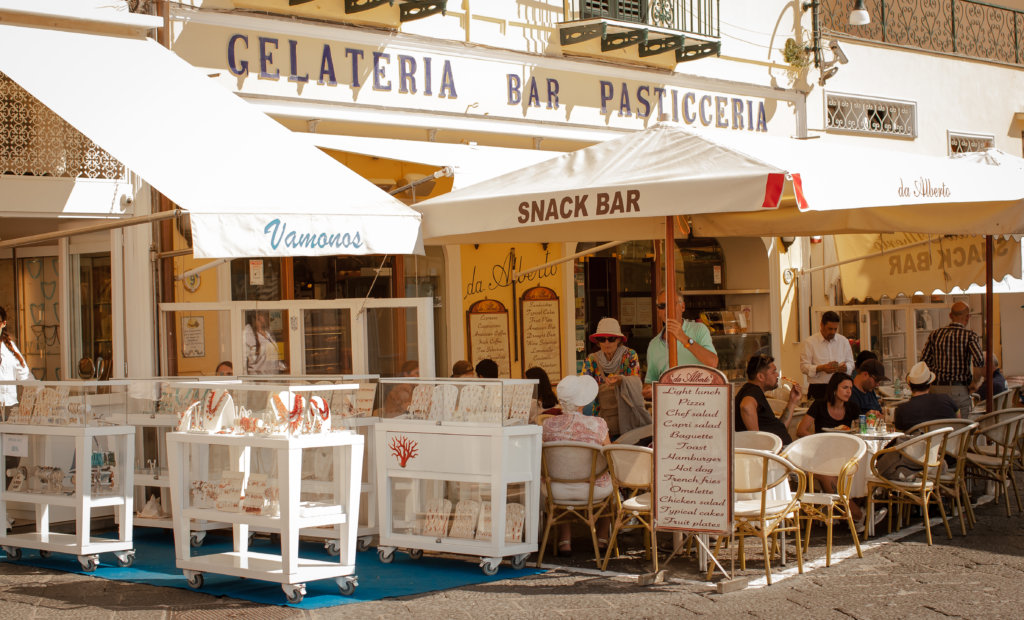 Make sure to take your time to enjoy a cup of coffee and the view, especially in the mornings or evenings when most of the tourists have returned to the mainland after their day trips.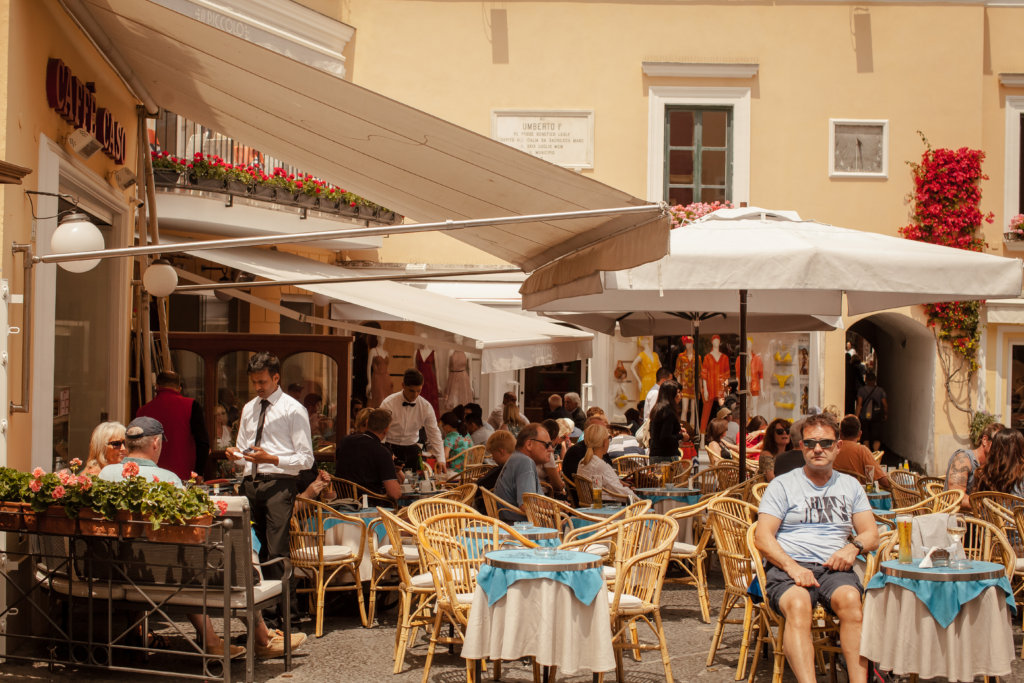 Enjoy a leisure walk through Giardini di Augusto (Gardens of Augustus)
From the Piazzetta, it's a short walk through the winding cobbled streets to the Gardens of Augustus on the far side of the island. The terraced gardens bloom with local flowers for a peaceful retreat. When you are in need of some rest after an entire day walking the island, there could probably be no better place than the Gardens of Augustus.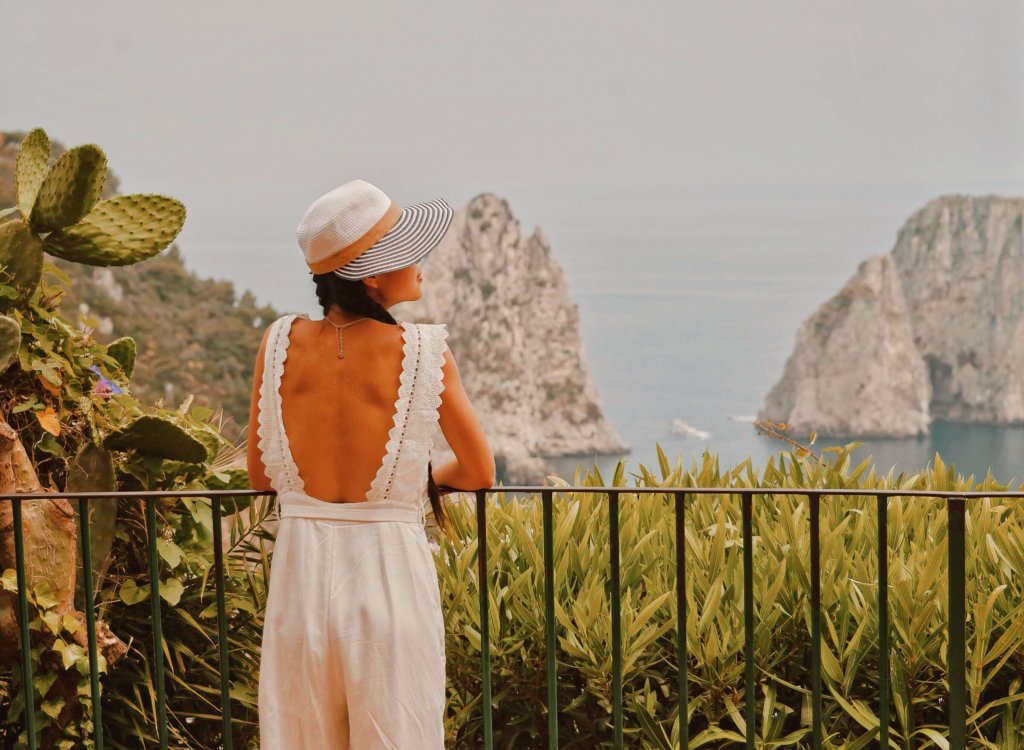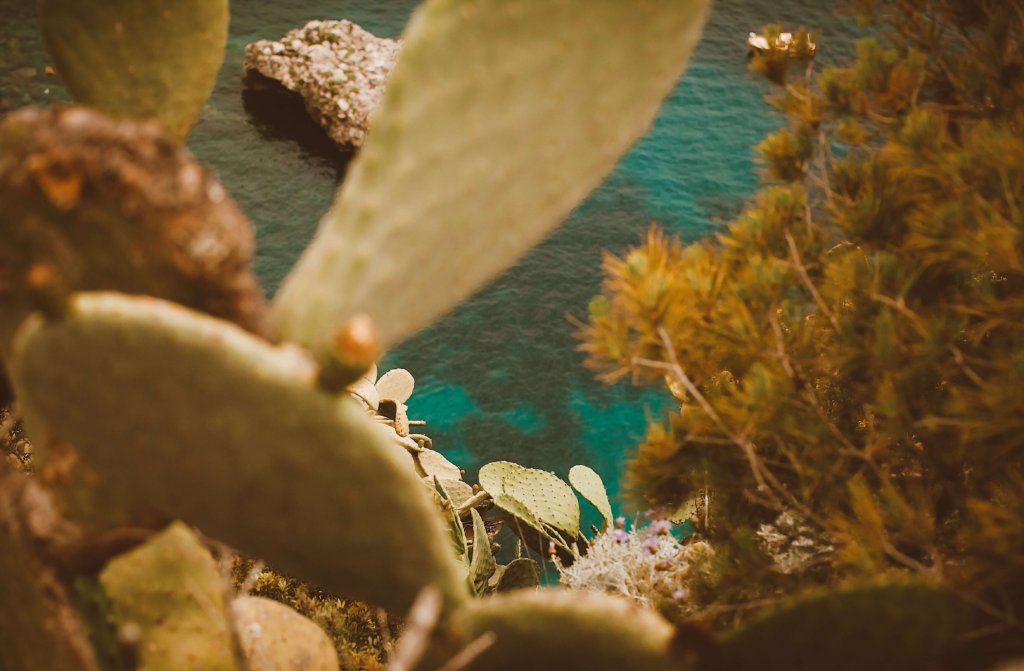 With flowers in full bloom and a panoramic view of Monte Solaro and the Faraglioni (three towering rock formations) in the distance, this garden is such a pleasant retreat.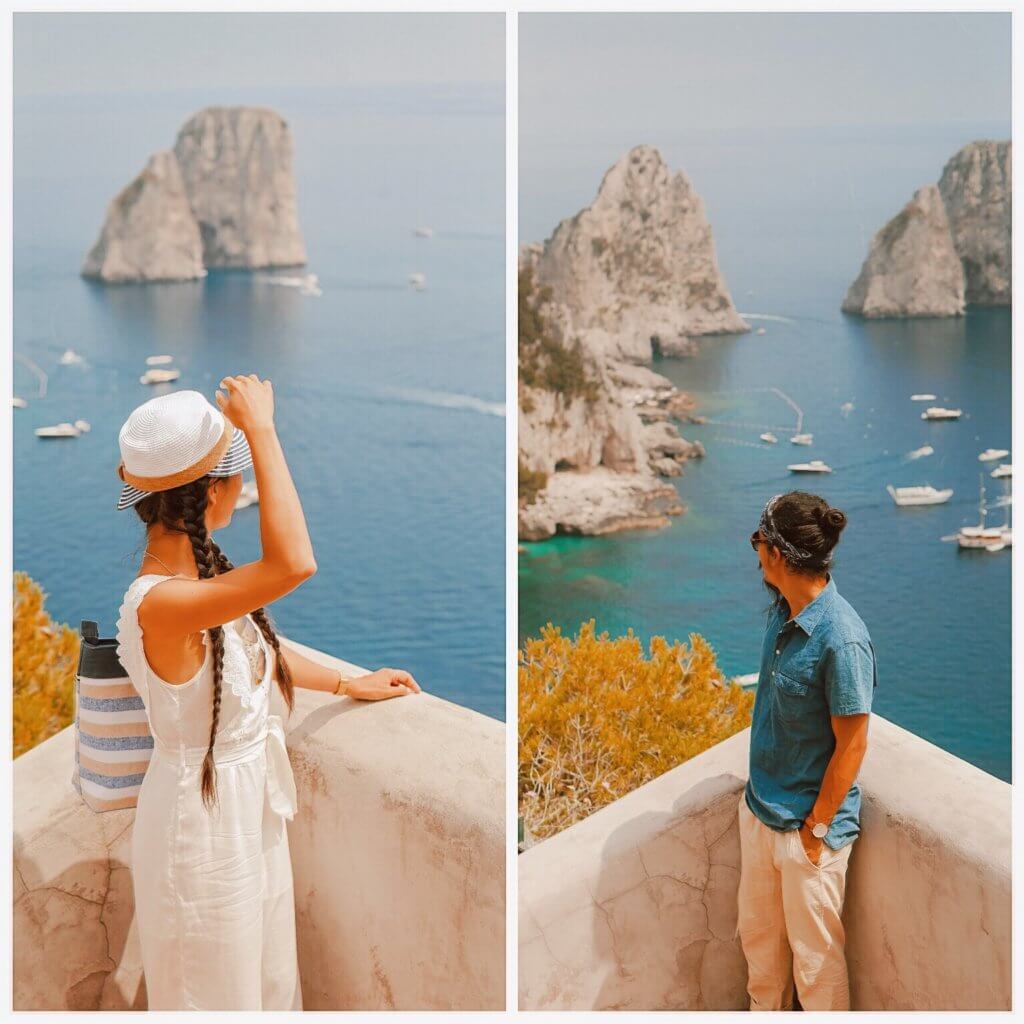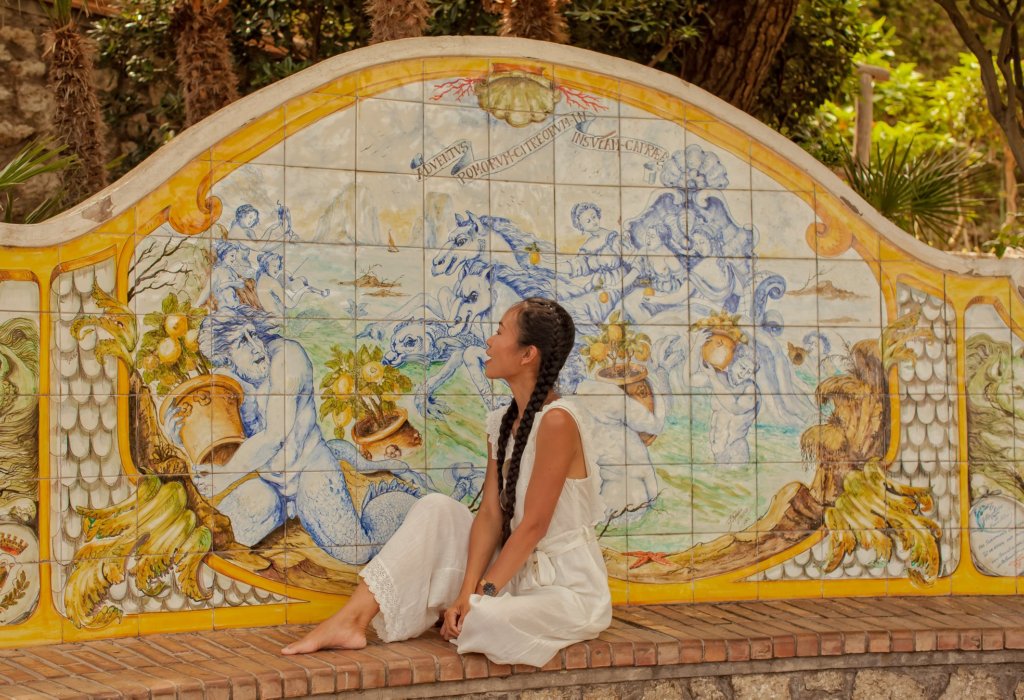 After the garden, we grabbed a limoncello at this lemon stand on our way out (near the ticket entrance to the garden) and it was delicious!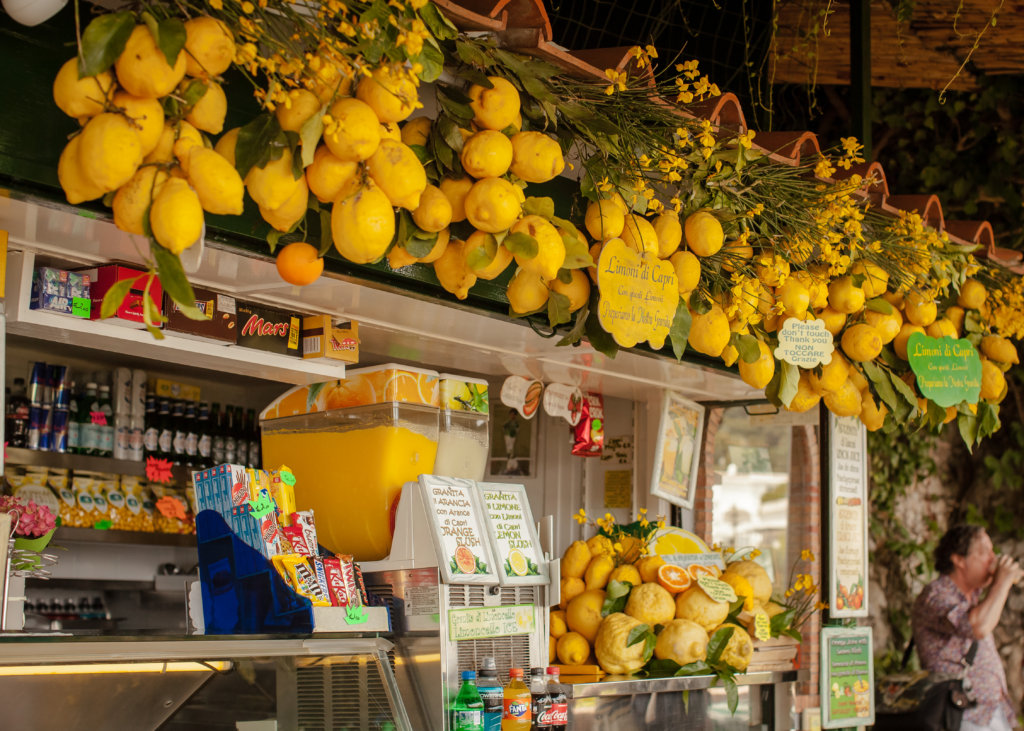 Spend Time at One of Capri's Many Beaches
One of the best thing about Capri is its picturesque beaches found across the island. That's why you need to set aside some time to be at the beach.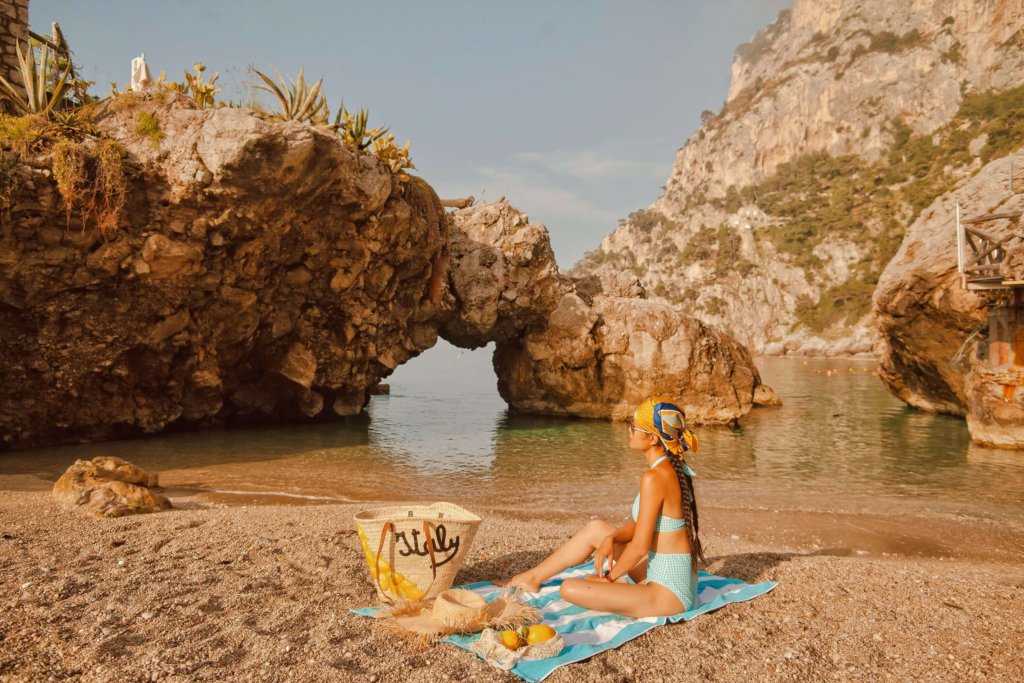 Capri is home to many different types of beaches most of which are either public or private. The one not to be missed is Marina Piccola. This beach provides clear views to the Faraglioni and are known for their tranquil and almost clear waters.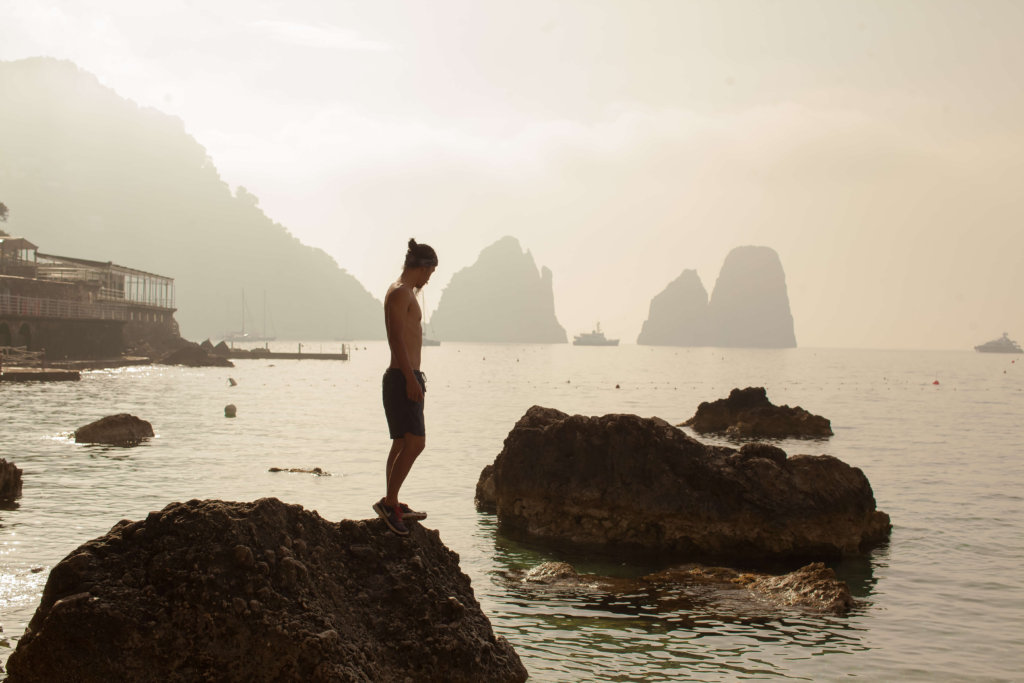 On our last day in Capri Derek and I made our way to Marina Piccola for a sunrise swim. We just packed a swimsuit and change of clothes and decided to just visit this beach for 2 hours top. To get to Marina Piccola you can take bus from Capri town or get a taxi. We decided to walk through Via Krupp which is a winding pathway connecting Capri to this section from the Gardens of Augustus. We were there around 7am and no one was here but us. We got the whole beach to ourselves. We even got a glimpse of fishermen who went out to the sea on their little boats for their earliest freshest catch.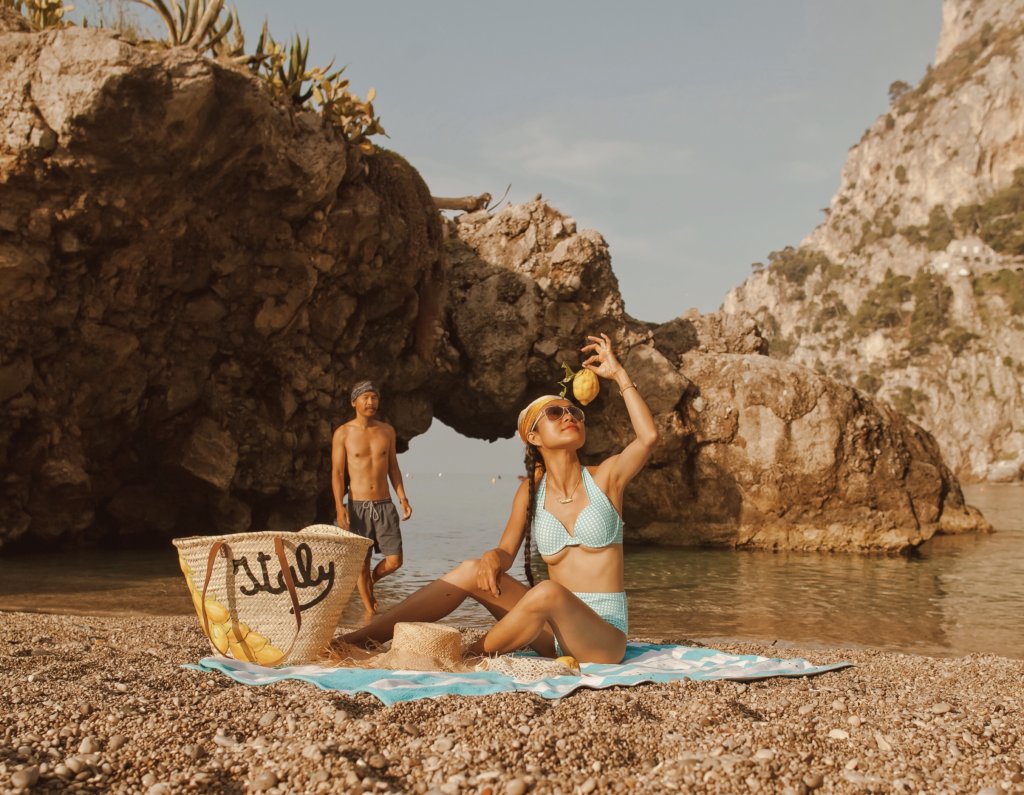 This beach is the ultimate European summer dream where you can spend lazy and dreamy days by the sea, racking up a glowing tan, and cooling off in the crystal clear waters.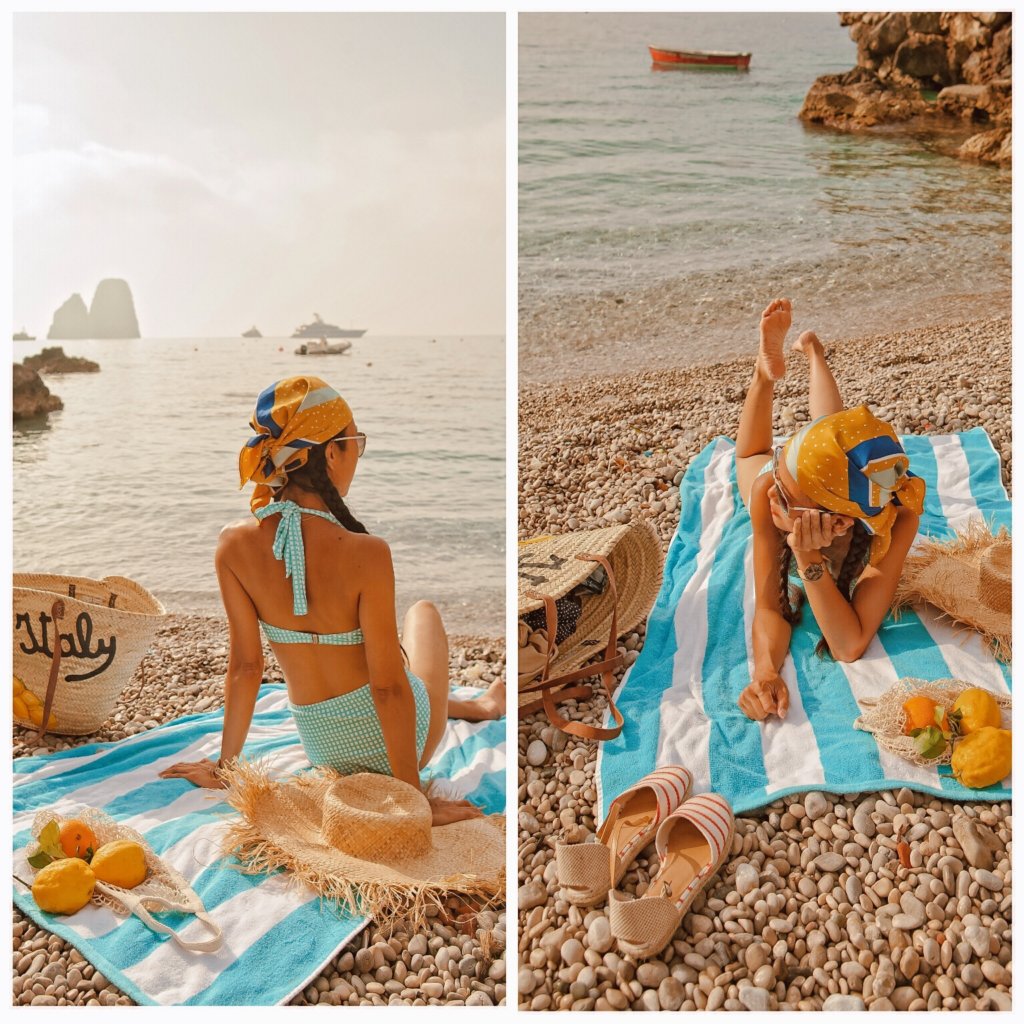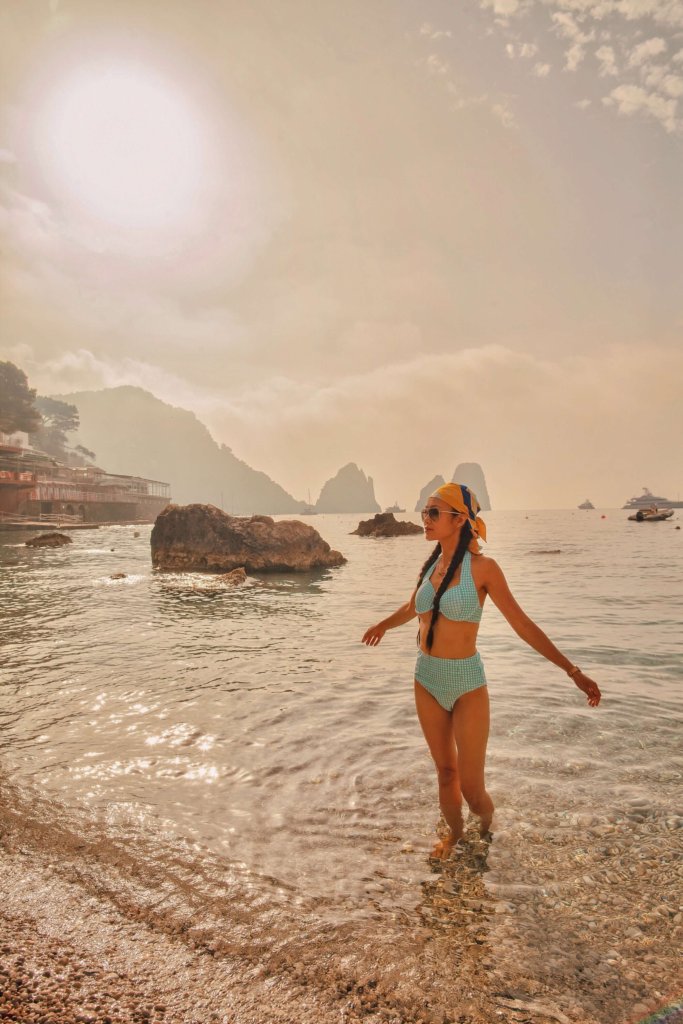 Stroll along the luxury shopping street of Capri
Shopping on Capri is a dream if you love a little retail therapy. Shopping along Via Camerelle is like shopping along Rodeo Drive. There are so many luxury boutique stores lining up this shopping street that it can be a shopping paradise for those wishing to indulge in some high-end shopping.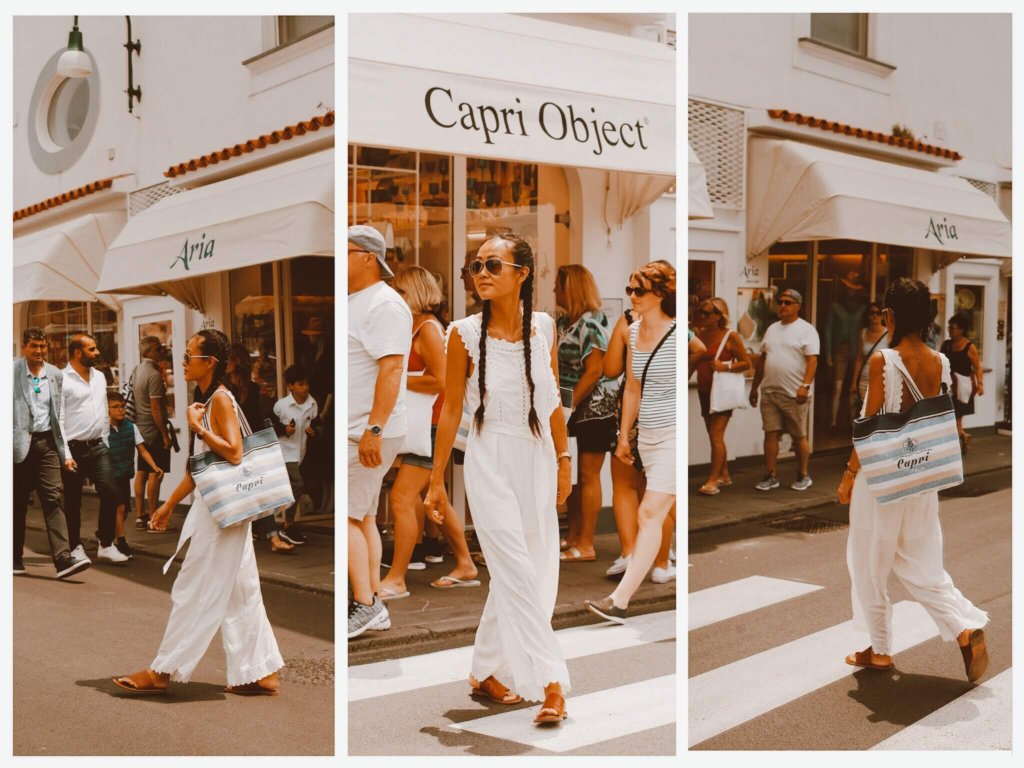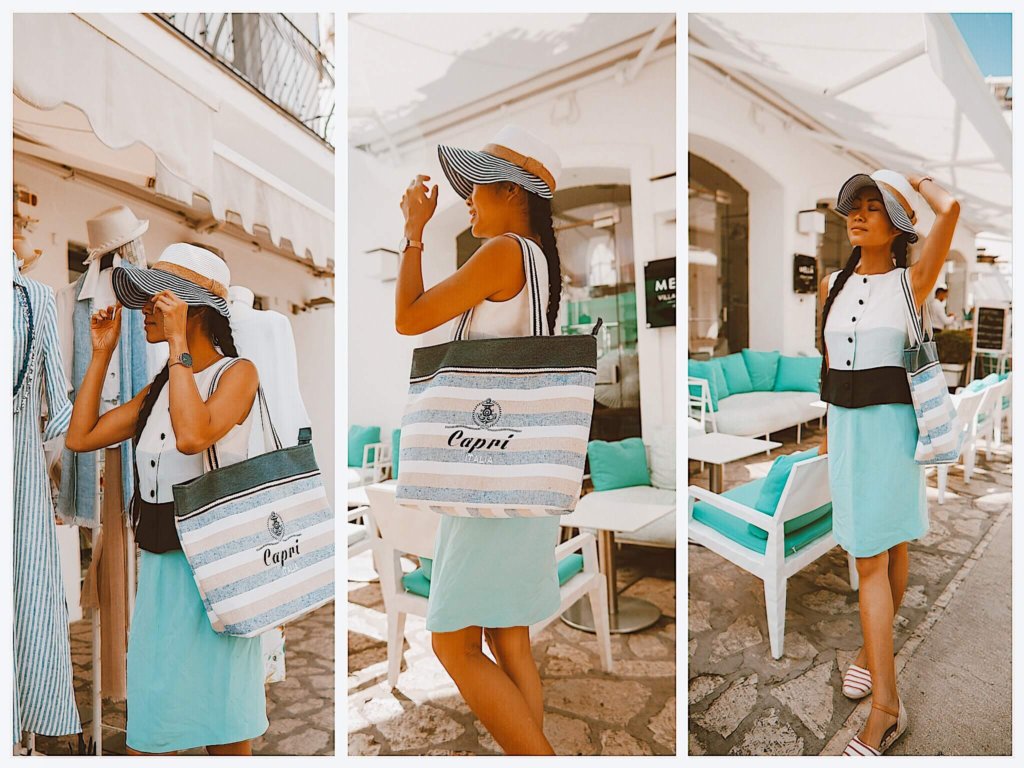 You'll also find many small and local shops around which sell unique products you can buy, like handcrafted clutches and leather shoes.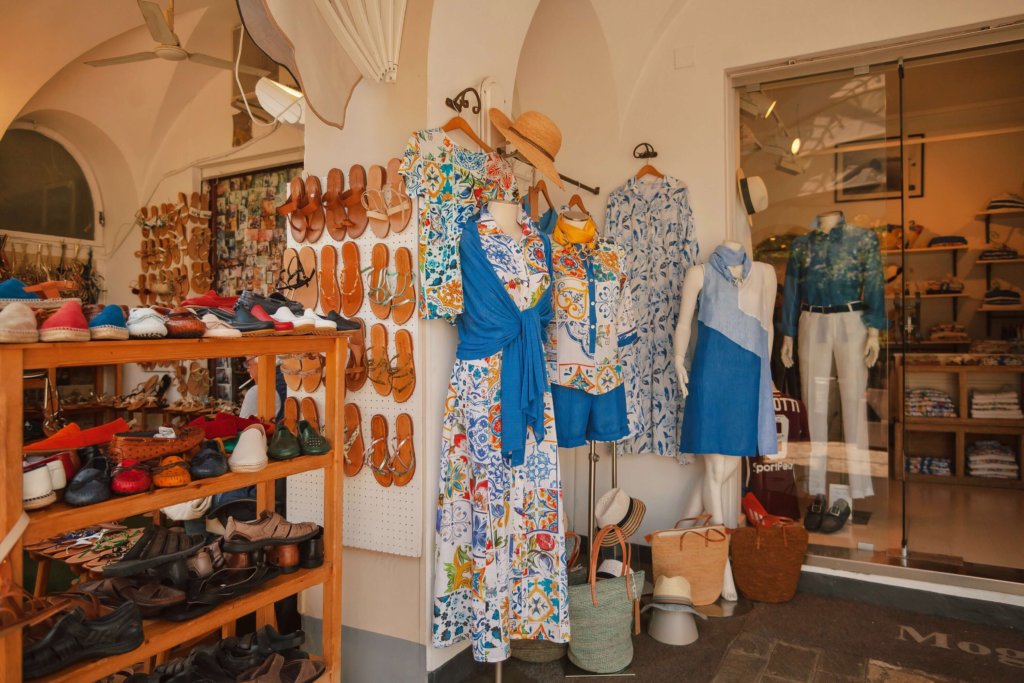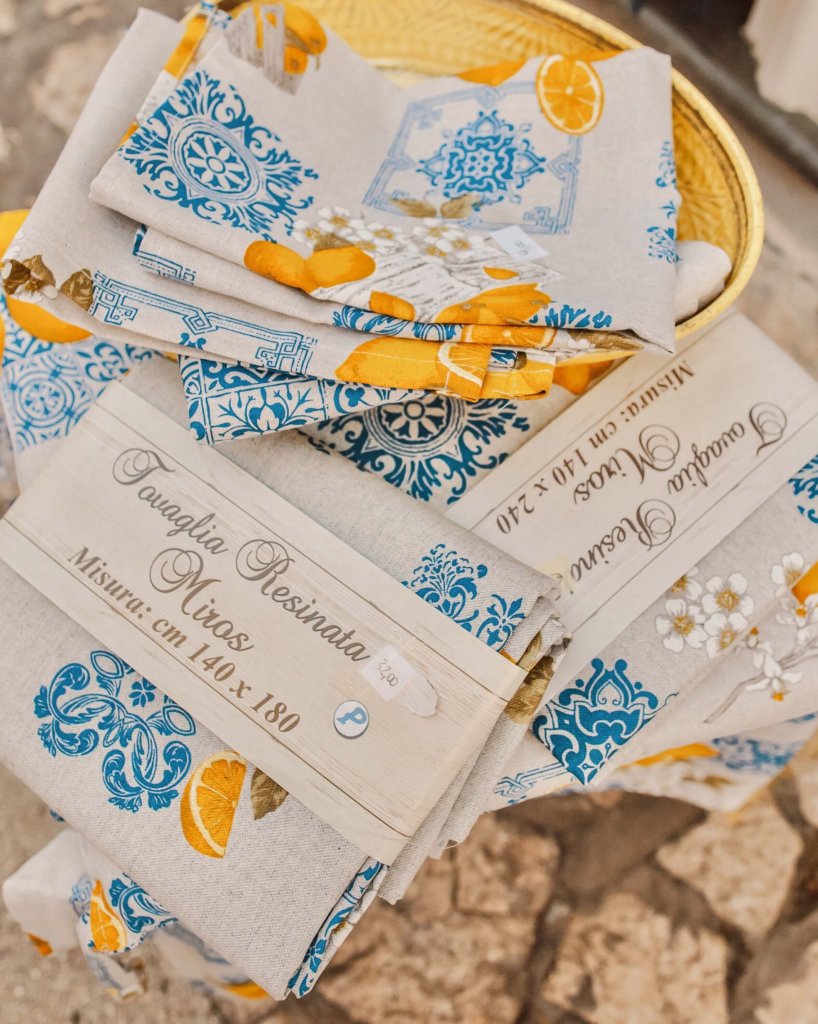 The shops are nicely displayed with unique merchandise you won't find everywhere in Italy. While I was not particularly interested in the shopping aspect, there was so much fun in just wandering around the streets. A walk along this beautiful and romantic street is a joy in itself.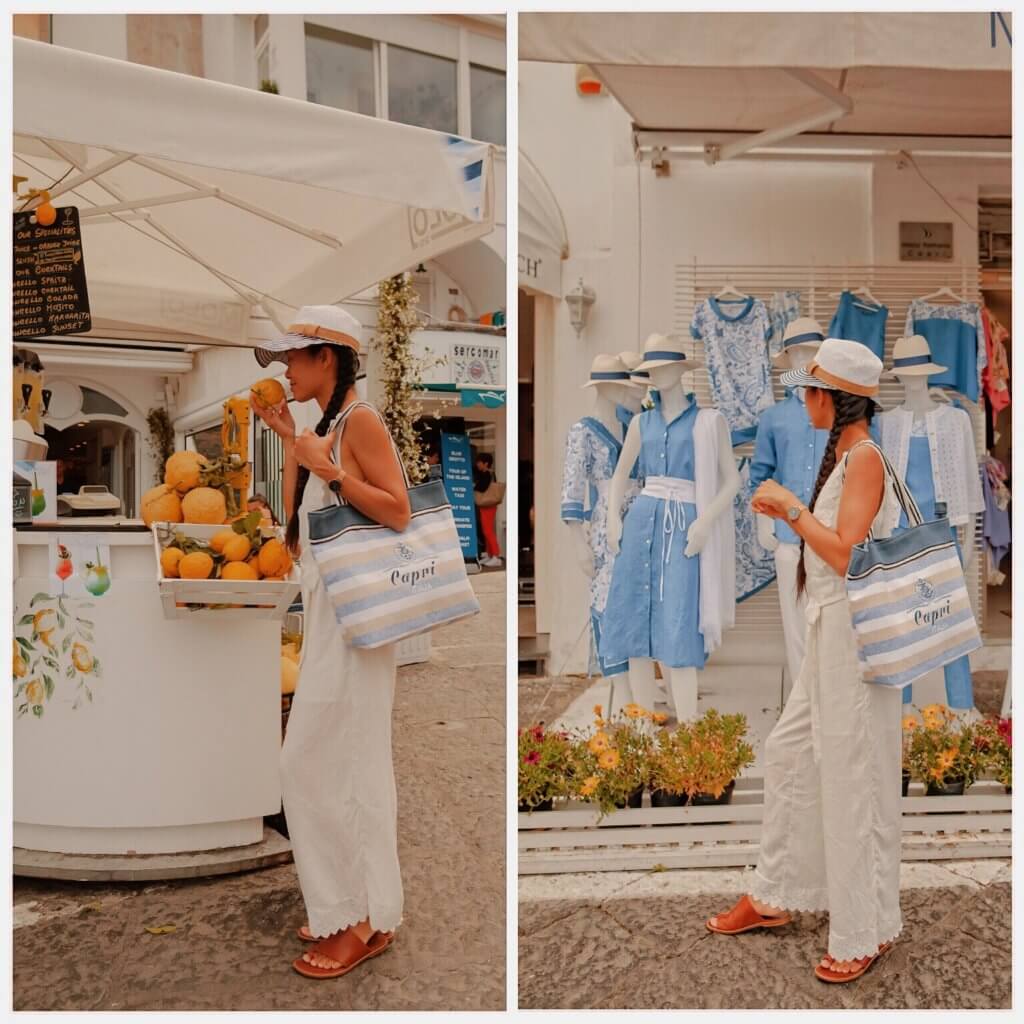 Explore Anacapri – the less touristy town on the Isle of Capri
Did you know that there are two separate towns on the island of Capri? Most visitors only visit Capri town with its well known attractions. There is another world a short bus or taxi ride away on the other side of the island -Anacapri.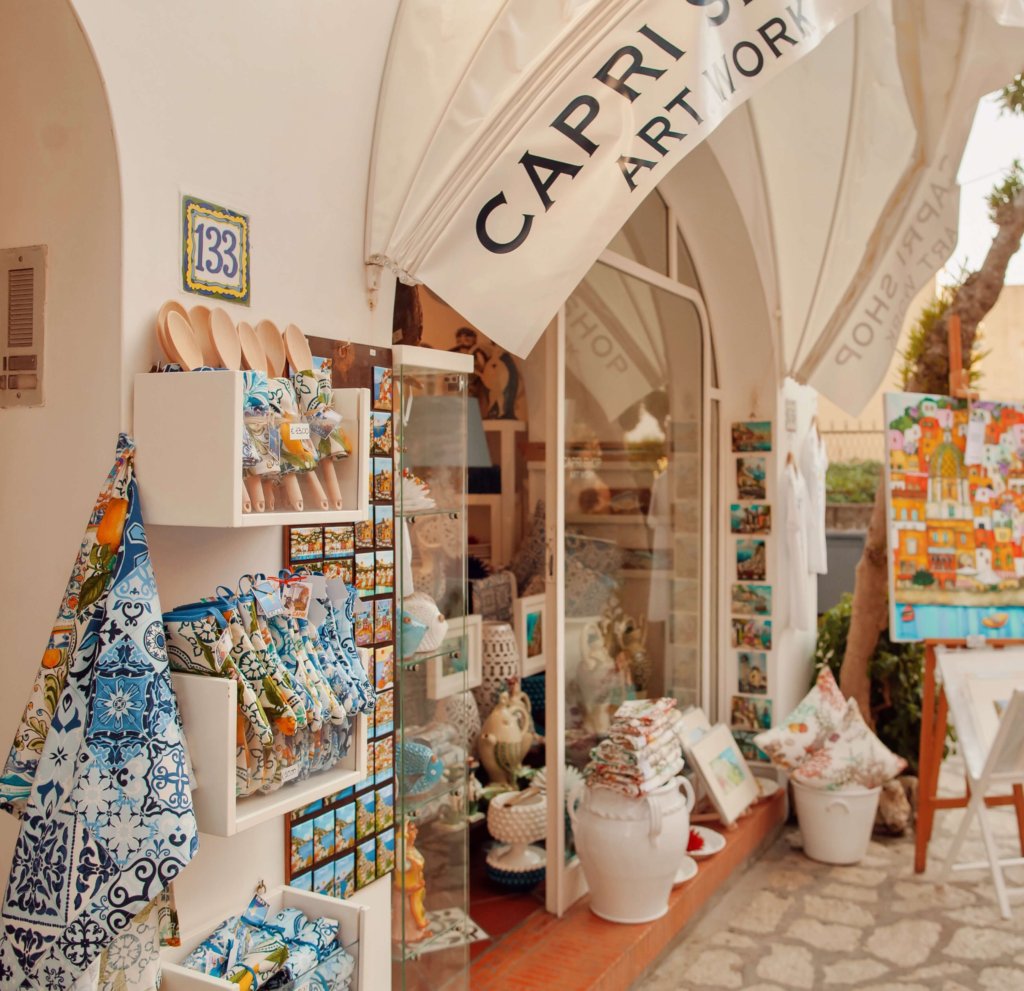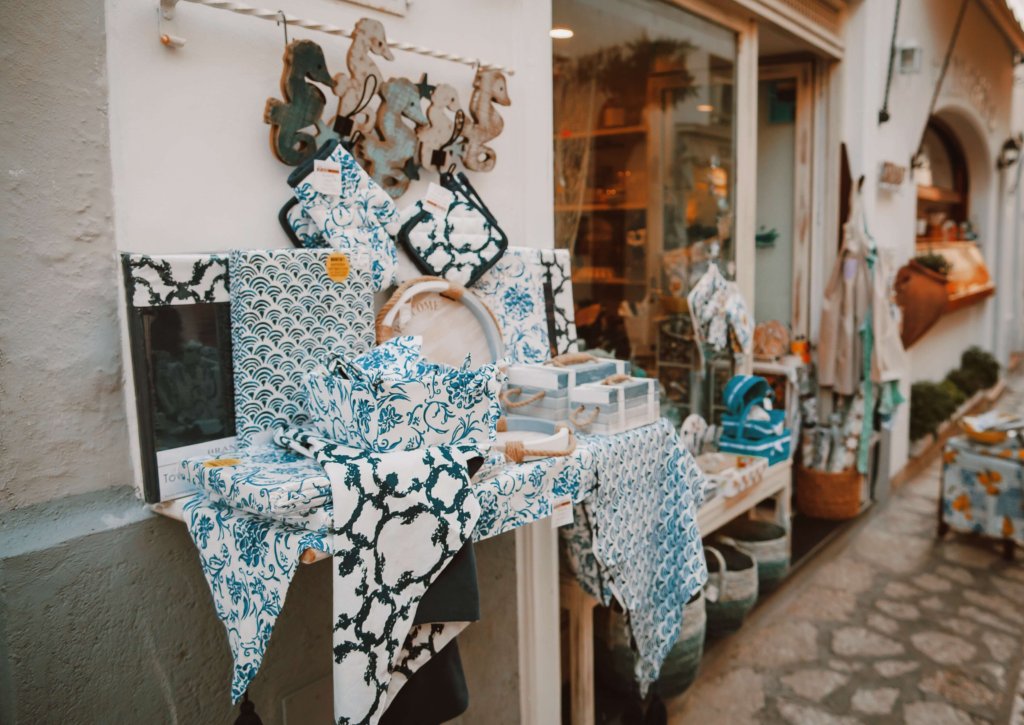 To experience the Capri beyond the tourists, it's best to stay in Anacapri, or at least spend a little time exploring there. The two towns are only 3 km (less than 2 miles) apart and a 10 minute bus ride, making it easy to visit Anacapri for the day. Less crowded than Capri, the atmosphere here is also more laid-back, with a more authentic character. The shops are more artisanal than designer.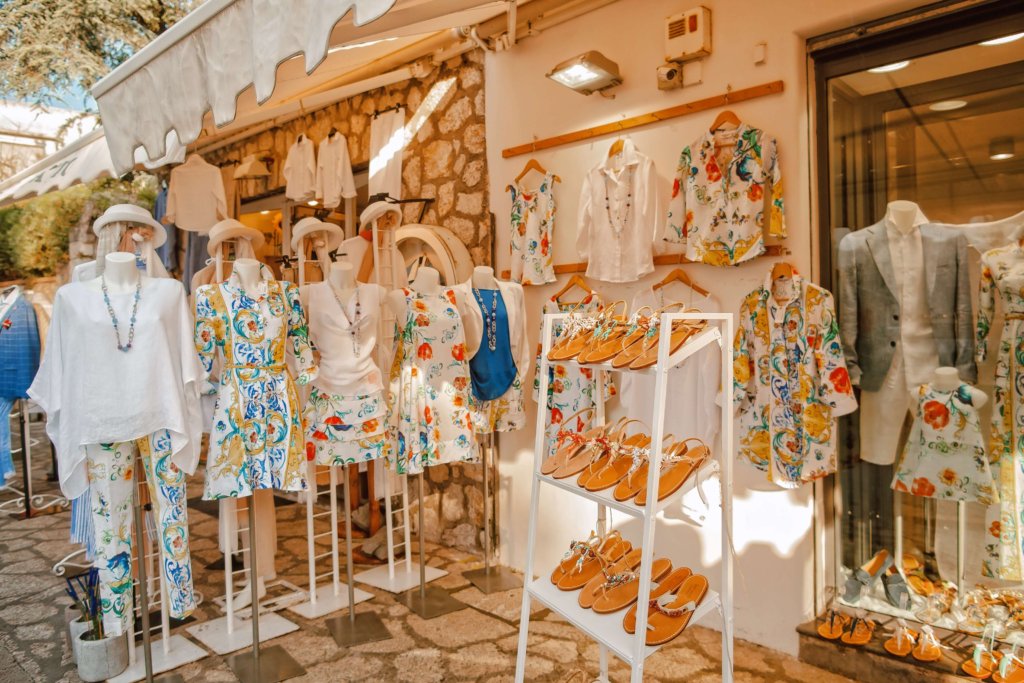 Anacapri are home to tons of small boutiques. Anacapri has much more affordable souvenirs compared to Capri town and it's worth a visit just for shopping! Handmade leather sandals are incredible quality, unlike anything you can find back home. I ended up taking home a few charming straw hats, purses, and beachy sundresses!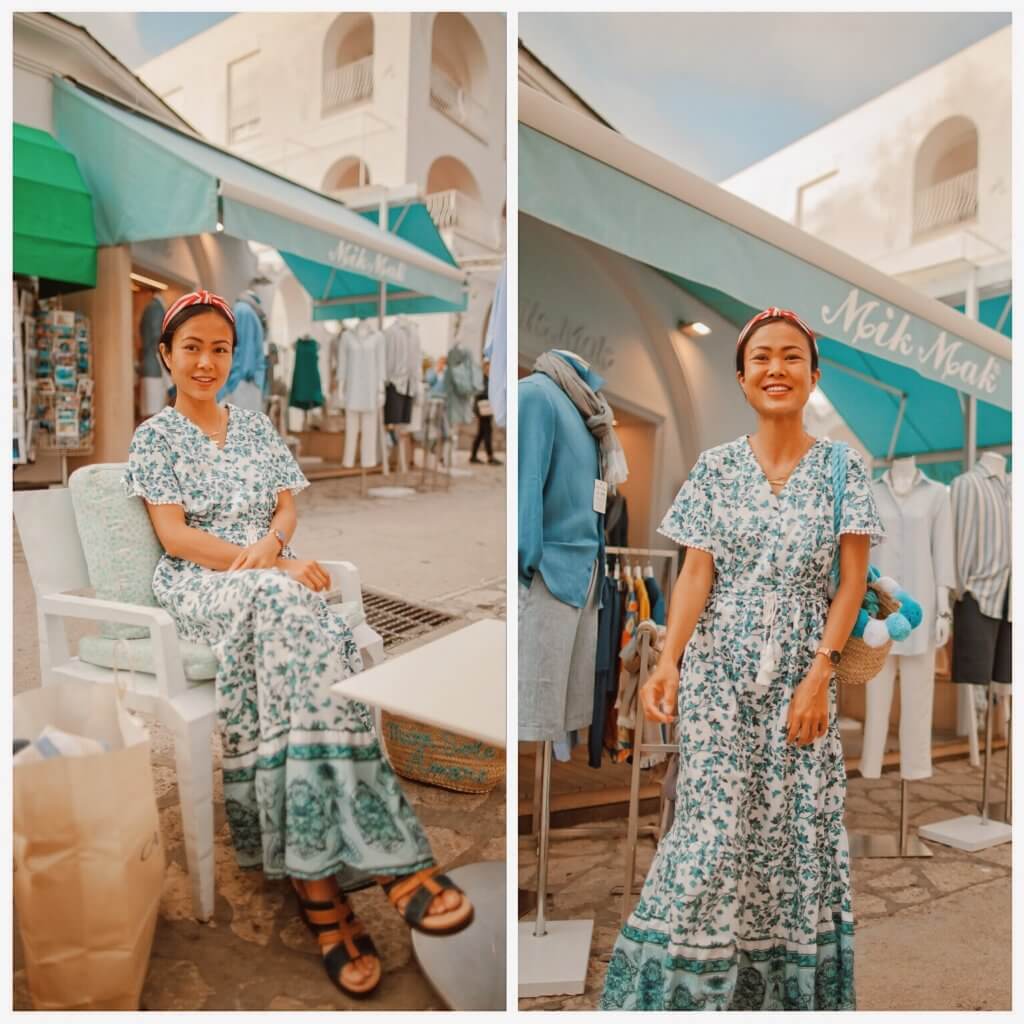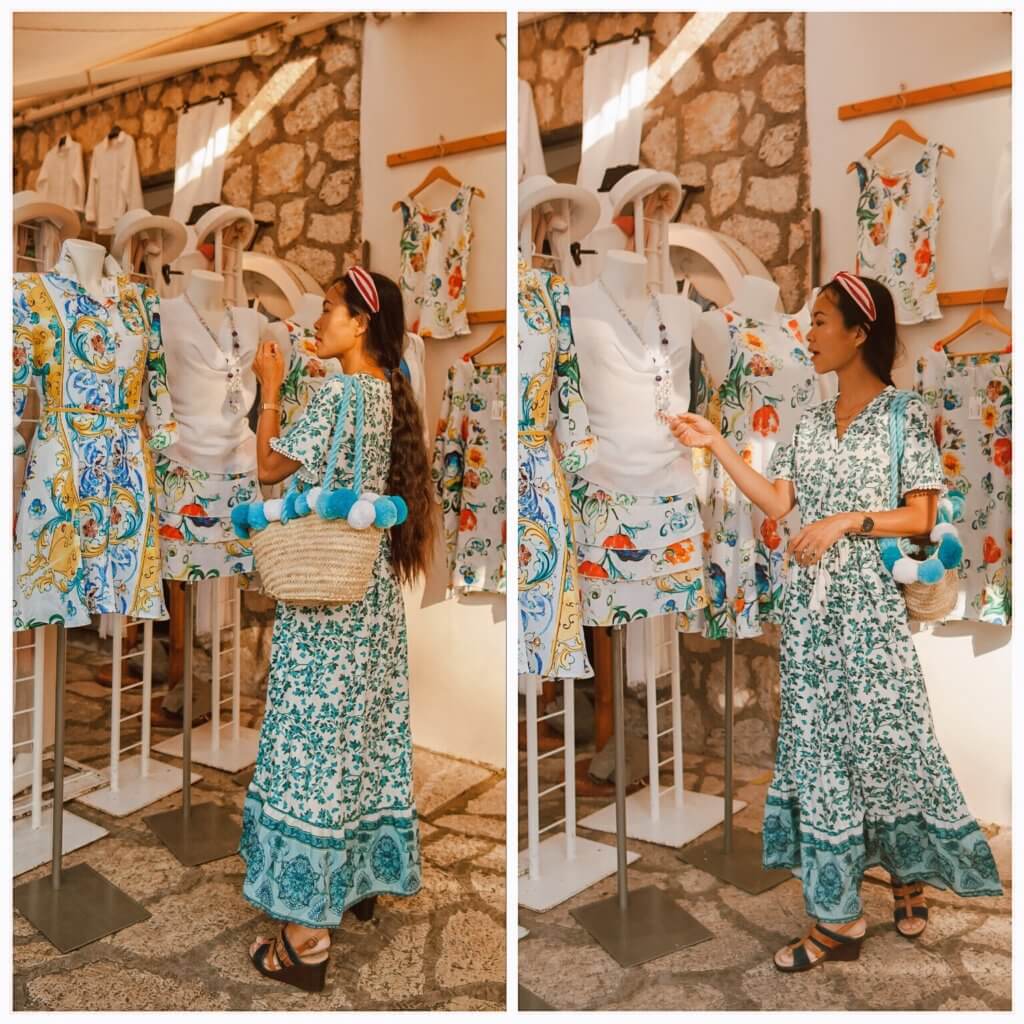 Stroll the Marina Grande
All boats dock and depart Capri via the Marina Grande. In the Marina you will find multiple people asking if you need a private boat, taxi service, and dining options so it is a little overwhelming at first.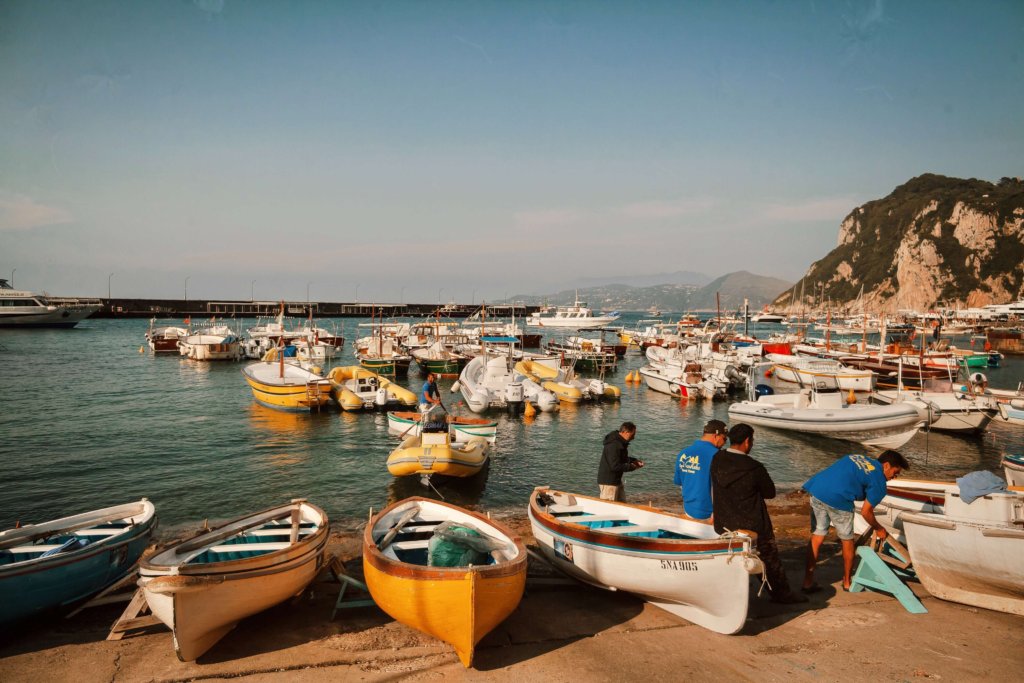 The mountains and hillside of colorful buildings play backdrop to rows of colorful small fishing boats, private yachts and commercial boats. It's as picturesque as a postcard.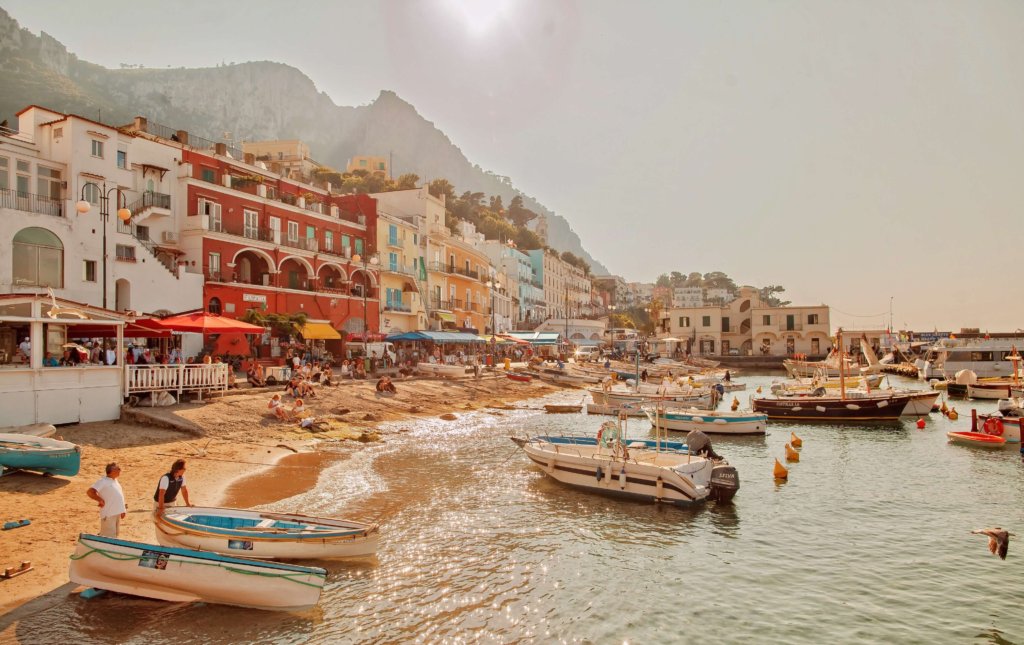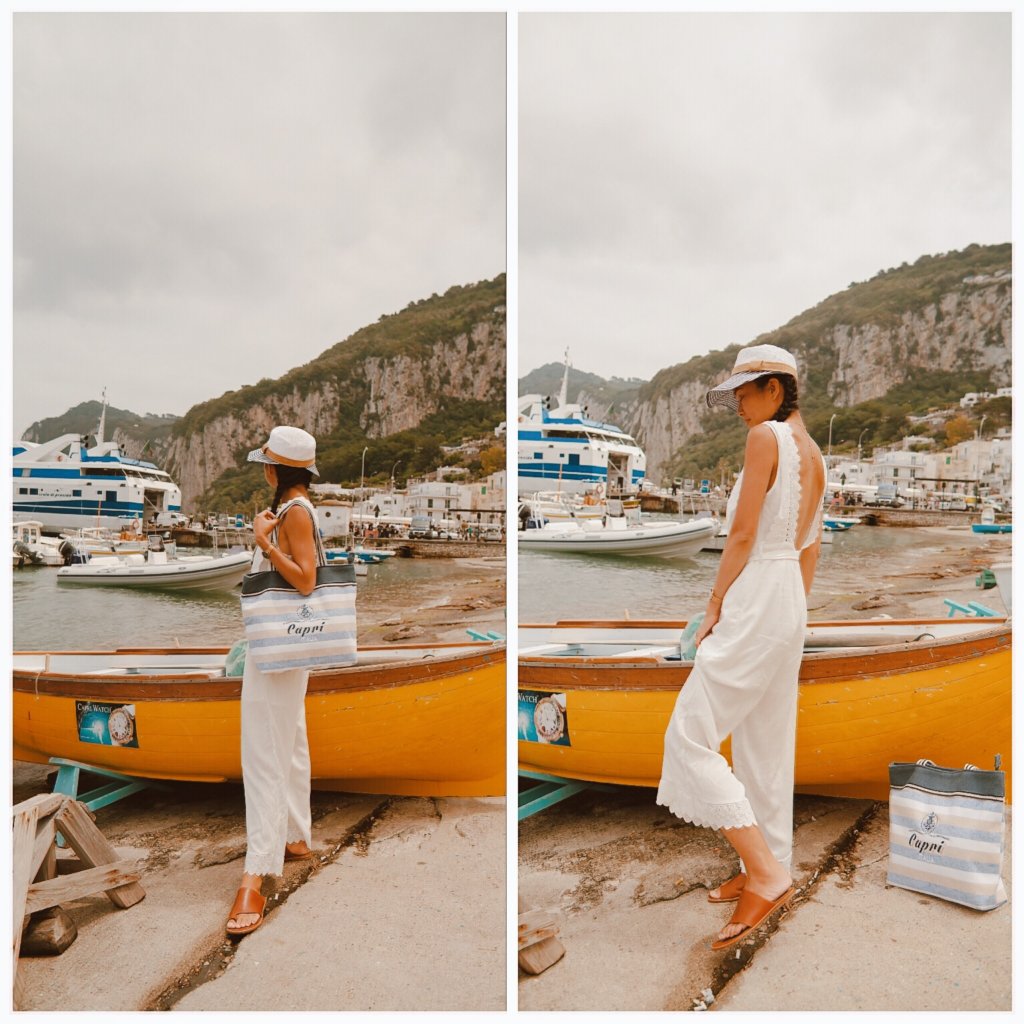 There are small shops, cafes, restaurants. Get sandwiches, the drink of your choice and find a prime spot for people watching. It's a perfect spot to relax while waiting for your ferries departing Capri. In fact we almost missed out ferry to Naples because the marina is so big and we couldn't find the dock.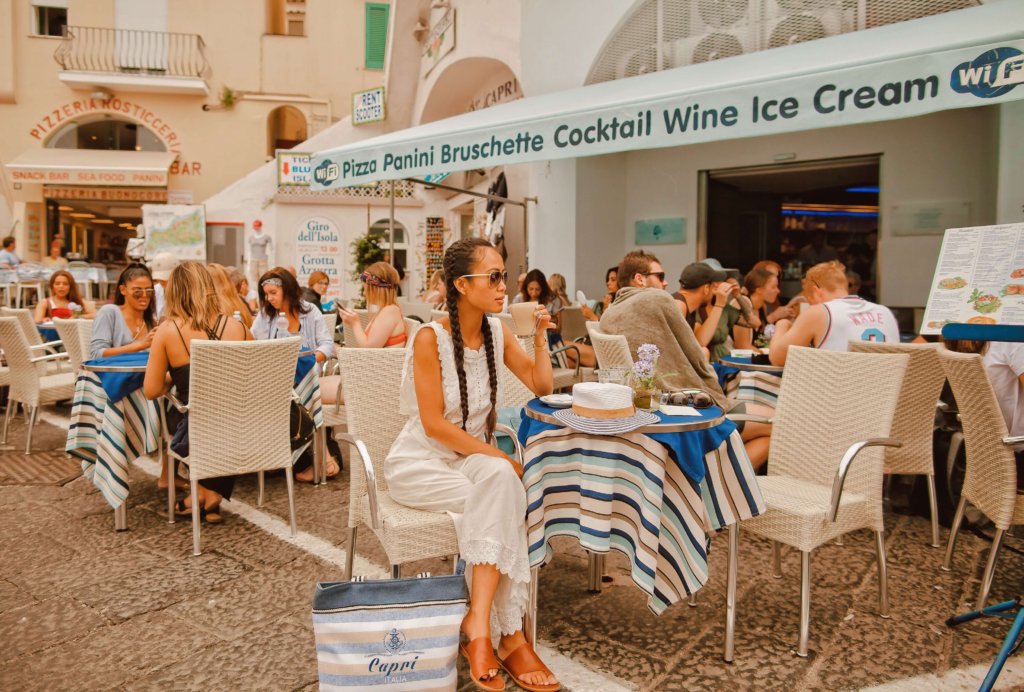 Capri is a dazzling Italian island that offers a little bit of everything. Capri looks just like a postcard and is even more beautiful in person. The water is the most vibrant blue and the island is lush green and full of tropical flowers. Beautiful grottos and natural rock formations can be found all around the island. In the summer, the coast line is surrounded by yachts and cruise ships. You'll find tranquil beaches to relax, luxurious shopping areas, stunning gardens to wander through, and mouthwatering dishes to please your palate. This relatively small island captured our hearts, and I hope that this travel guide will help make your trip to the Isola di Capri as magical as ours!
Have you been to Capri? What are your favorite places to see and eat? Let us know in the comments below!