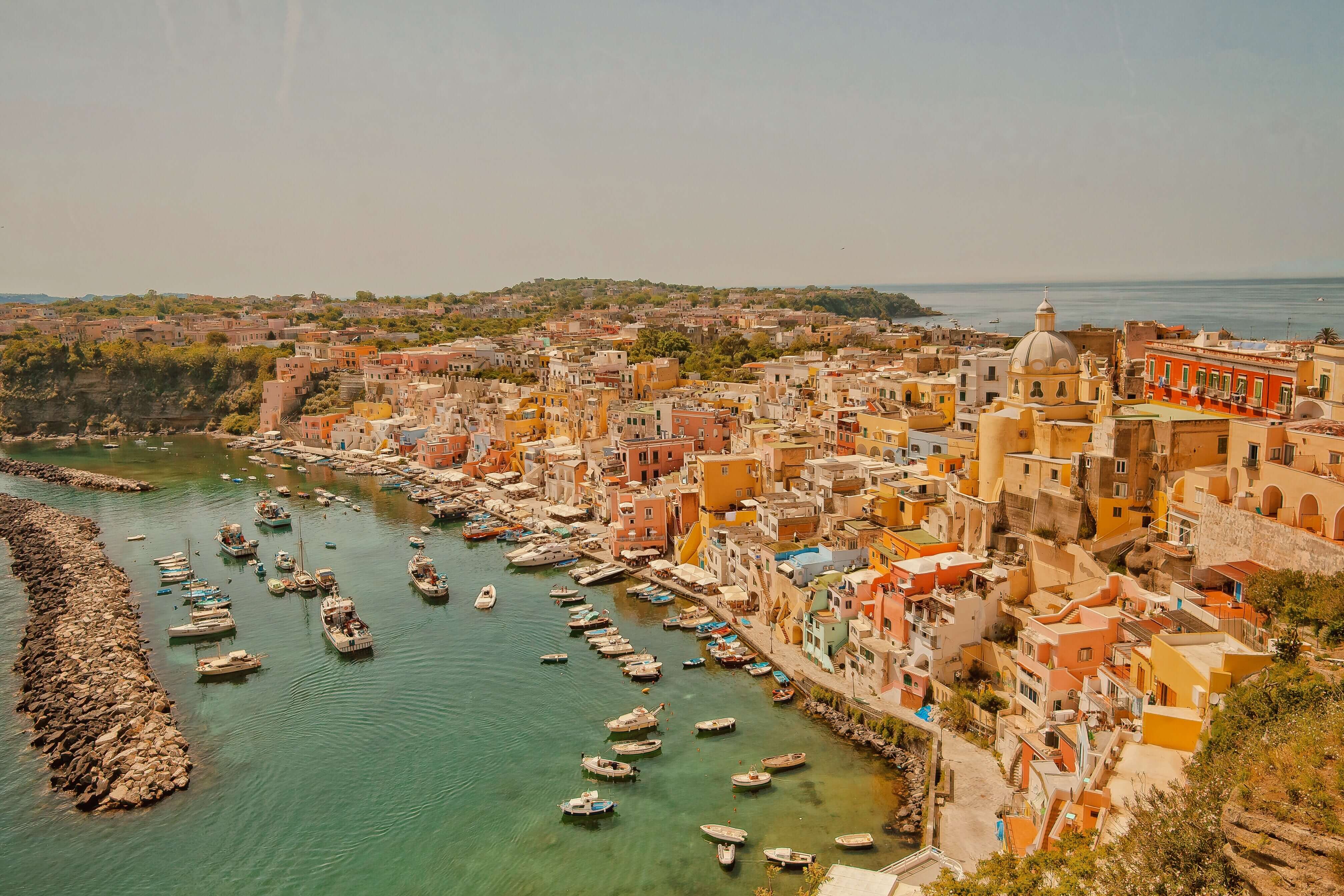 I fell for Procida as soon as I saw the view from the Terra Murata on my Instagram feed. It's not the first time I visit a place influenced by this social network. And I'm glad that Procida surpassed my Instagram's expectations. Procida is the smallest island in the Bay of Naples and despite its location (just a 40 minute hydrofoil ride from Naples) it's not as well known compared to its sister islands – Capri and Ischia. In an article for National Geographic, the author made a good comparison:
"Capri is a king's daugther of dazzling beauty, elegant, rich, proud and flirtatious. Ischia is like a princess – stylish, tasteful in monuments, and Procida is like a Cinderella – modest, unpretentious and at the same time beautiful in her simplicity."
So why the Cinderella and why is it not as popular as the other two ladies? The island doesn't have many particular sights of interest or attractions! Forget luxurious hotels, Michelin-star restaurants and designer clothing stores. This can be frustrating for travellers who would be better advised to come here for the island's picturesque charm rather than to seek out cultural attractions. Procida seems to want to keep its secret to itself and has managed to retain its own unique character and genuine lived-in feel of the past century authentic fishing village. It's the perfect place for a day trip from Naples.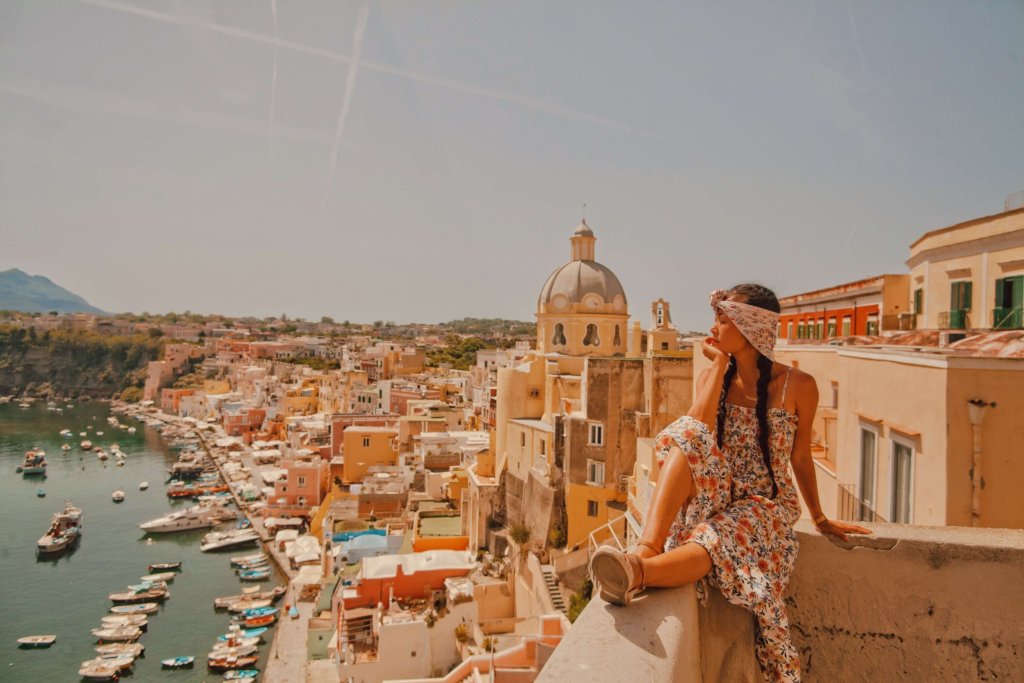 How to get to Procida from Naples
Ferries from Naples to Procida leave from two piers: Molo Beverello and Porta di Massa. We travelled independently but you can also book a day trip to Procida from Naples, including lunch here. There are two types of public boat that sail to Procida: ferries and hydrofoils. The ferries are for cars and foot passengers while the hydrofoils are for foot passengers only with a shorter journey time. There are several crossings a day – up to 28 times each week with sailing durations from around 40 minutes. Naples Procida sailing durations and frequency may vary from season to season so you should always do a live check to get the most up to date information. The crossing by hydrofoil isn't cheap; our tickets were around £14 each return.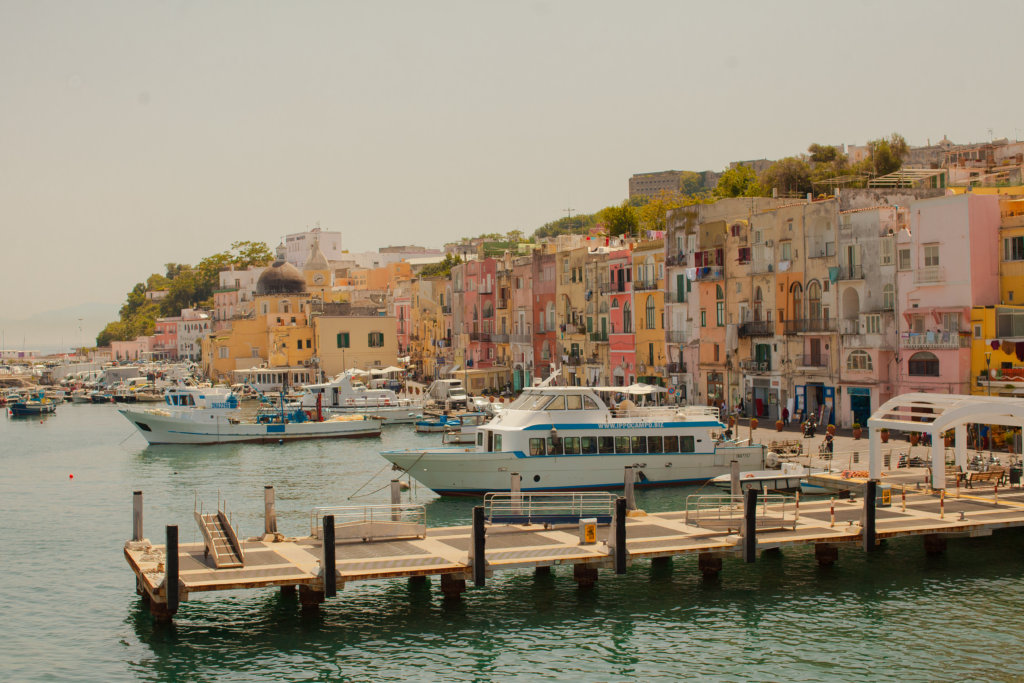 Places to visit in Procida
Once you arrive, Procida offers a stunning view of pastel-colored houses rising almost straight from the sea, lush gardens with lemon groves, narrow streets, old Vespas, and colorful fishing boats. It's like to go back in time about 30 years to the land of fishermen living where life goes on in unchanged rhythm.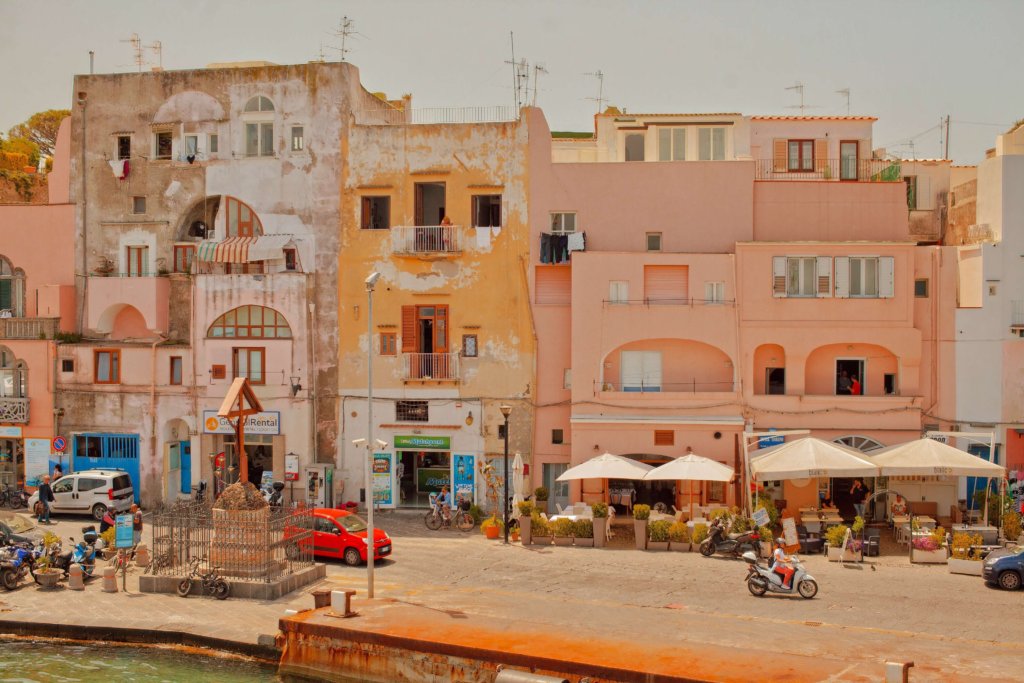 We planned our day trip to Procida with a specific agenda: leisure walk and lunch. The tiny island is only 4 square kilometres so it is small enough that you could walk most of the distances on the island. We just wanted a relaxing day so we didn't plan to explore the whole island. Fortunately, we didn't need to. The area around the port and the village of Corricella ticked all the boxes for us. Here's what we did:
WALK FROM MARINA GRANDE TO CORRICELLA
The economic hub of Procida is Marina Grande, the main port where all ferries and boat tours arrive and small buses and taxis depart to take you around the island. Stepping off the hydrofoil at Marina Grande felt like entering an earlier decade. Facades of different shades of yellow, pink and blue stretch throughout the port. There you will find several bars, shops and restaurants.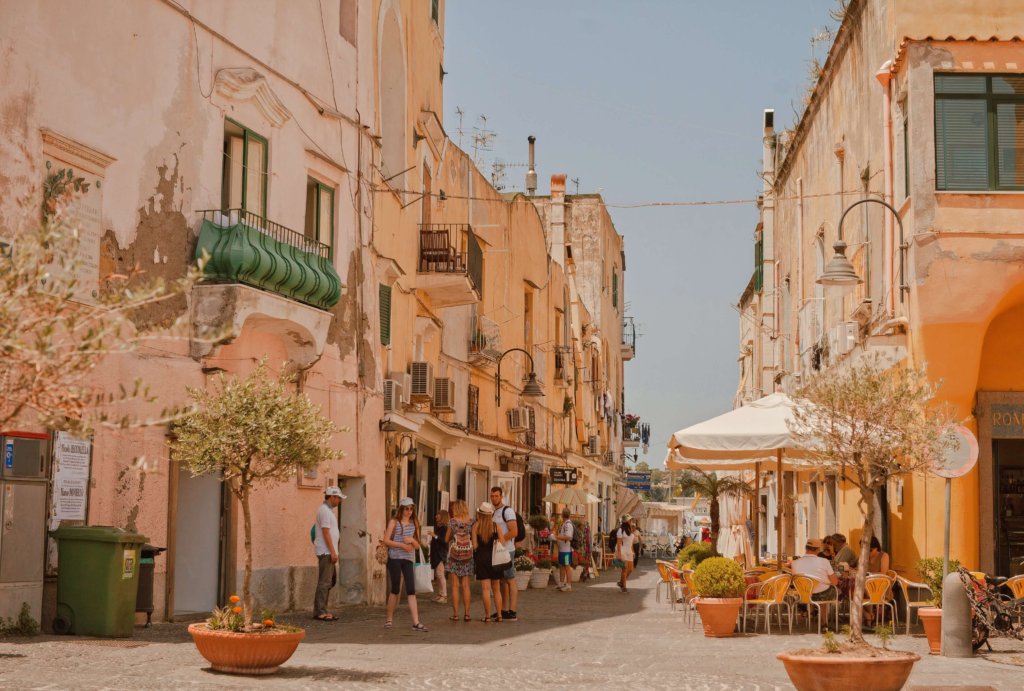 Our plan was to head straight to the fishing village of Corricella which is about 15 minutes walk from the harbor. So we took the path uphill from the lovely lemon-toned church of Santa Maria della Pieta. The roads are narrow, no pavements, and hardly any traffic apart from the occasional small car or scooter.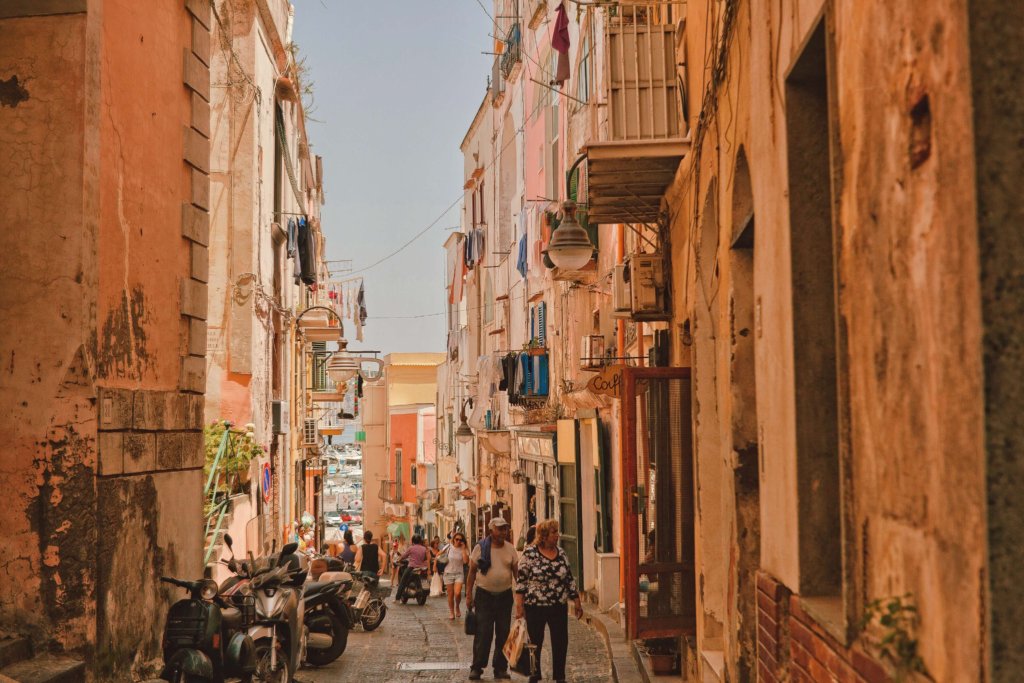 The scenery along the way from Marina Grande to Marina Coricella is so charming: faded paintwork, crumbling buildings, ancient rustic doors, narrow alleys, clothes hanging out to dry along tiny roads,….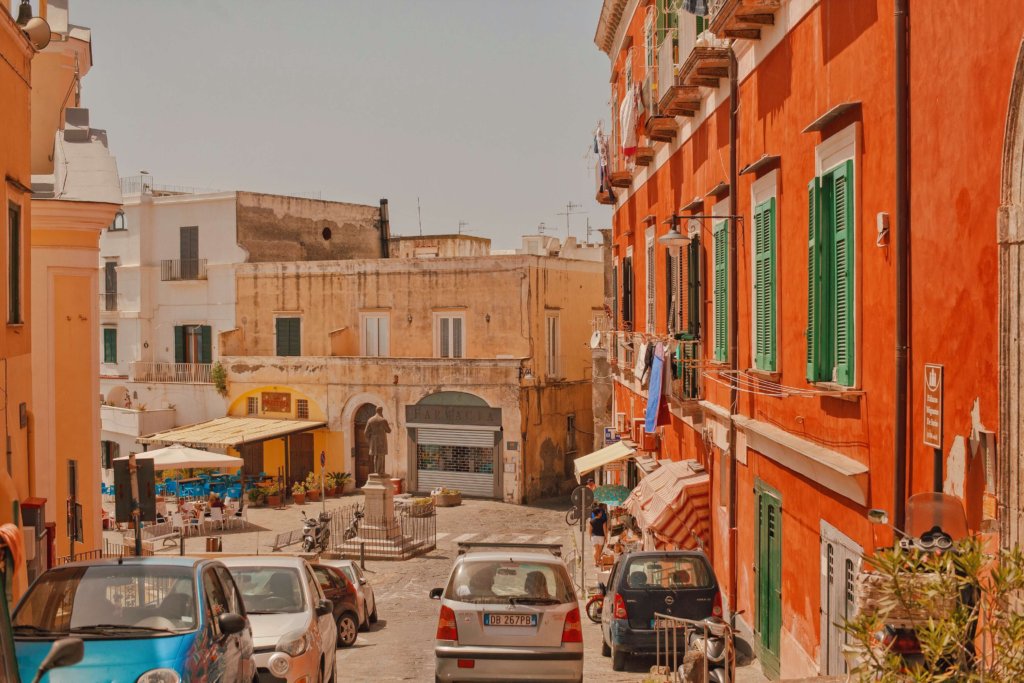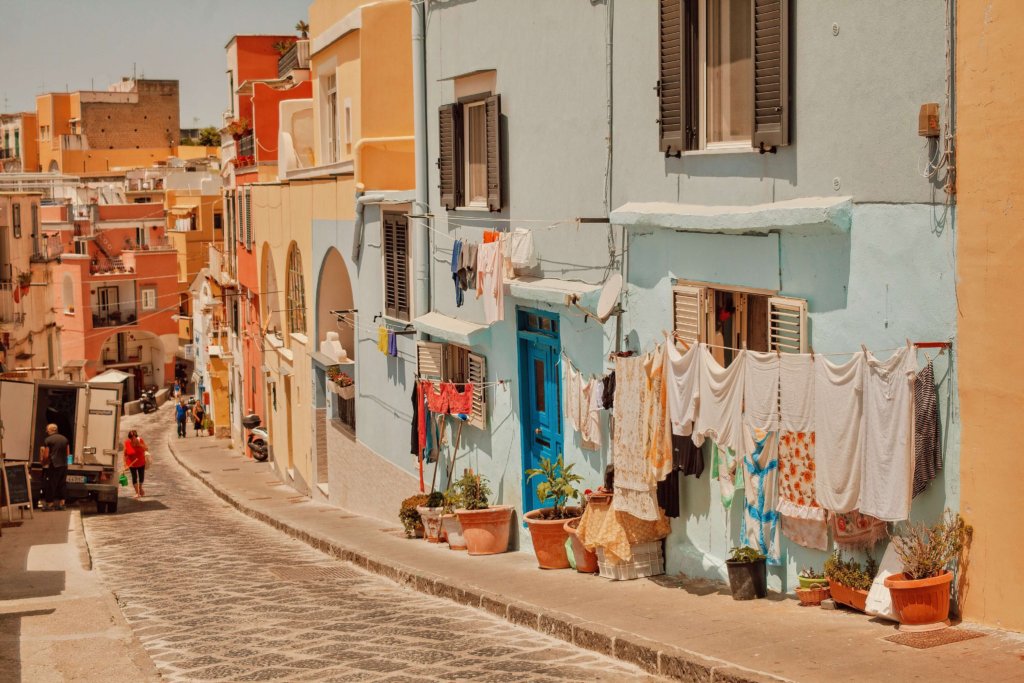 It just seems that the island and its inhabitants are completely unconcerned with the passage of time and trends.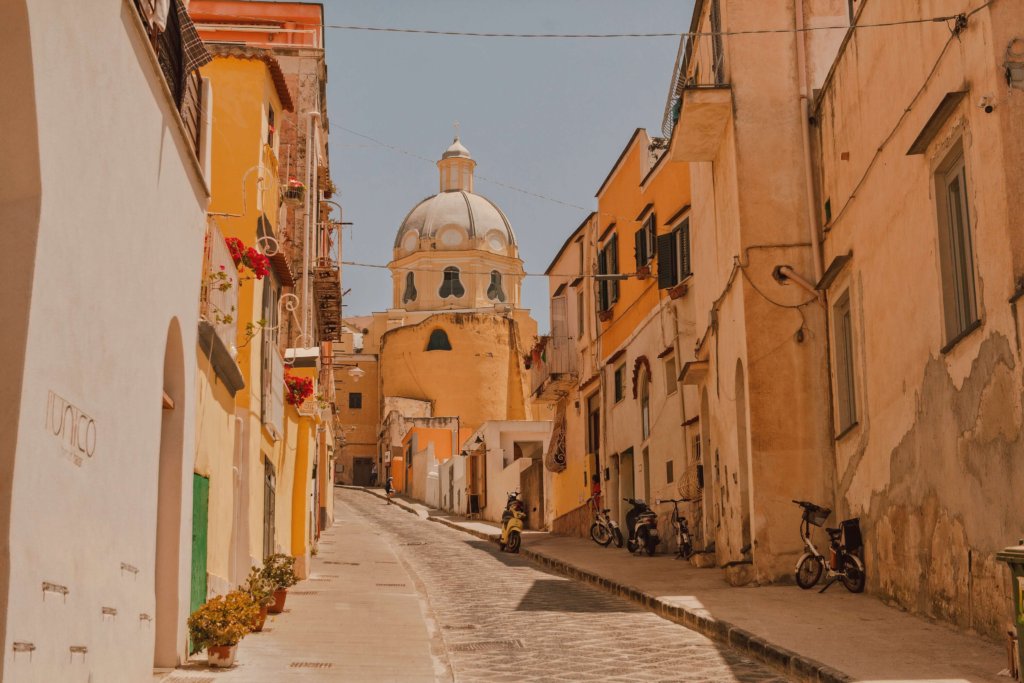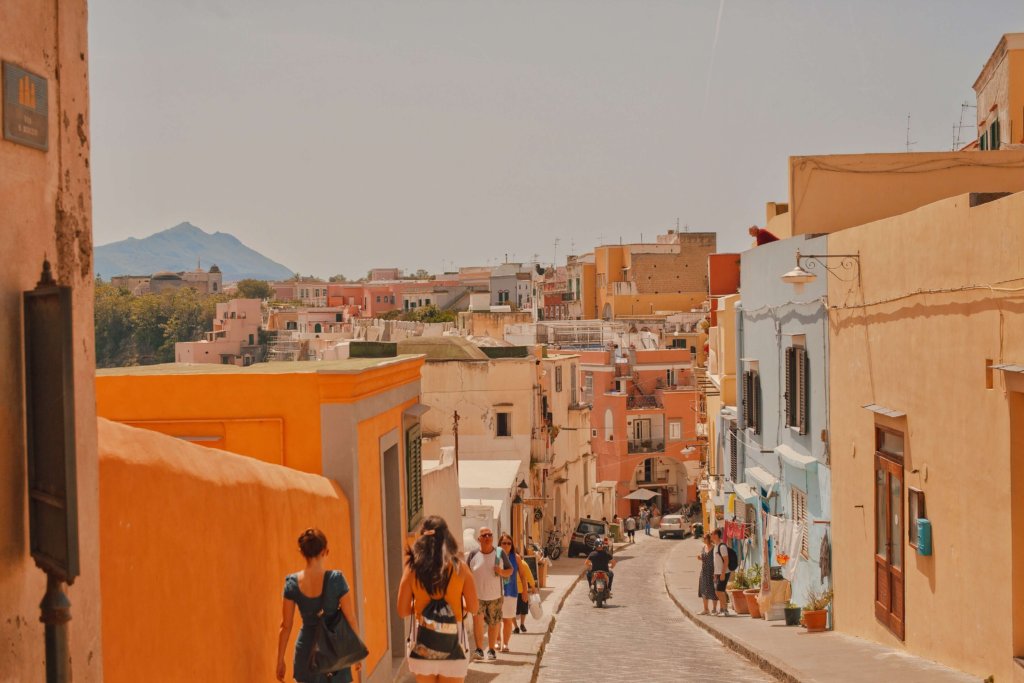 HAVING LUNCH AT MARINA CORRICELLA
The most picturesque and charming spot on the island of Procida is Marina Corricella. This area served as set of various movies, including The Talented Mr. Ripley and Oscar-winning Il Postino. This colorful fishing village was built into the rock leading to the sea. The 17th century settlement is traffic-free and can only be reached by stairs in passageways through the houses.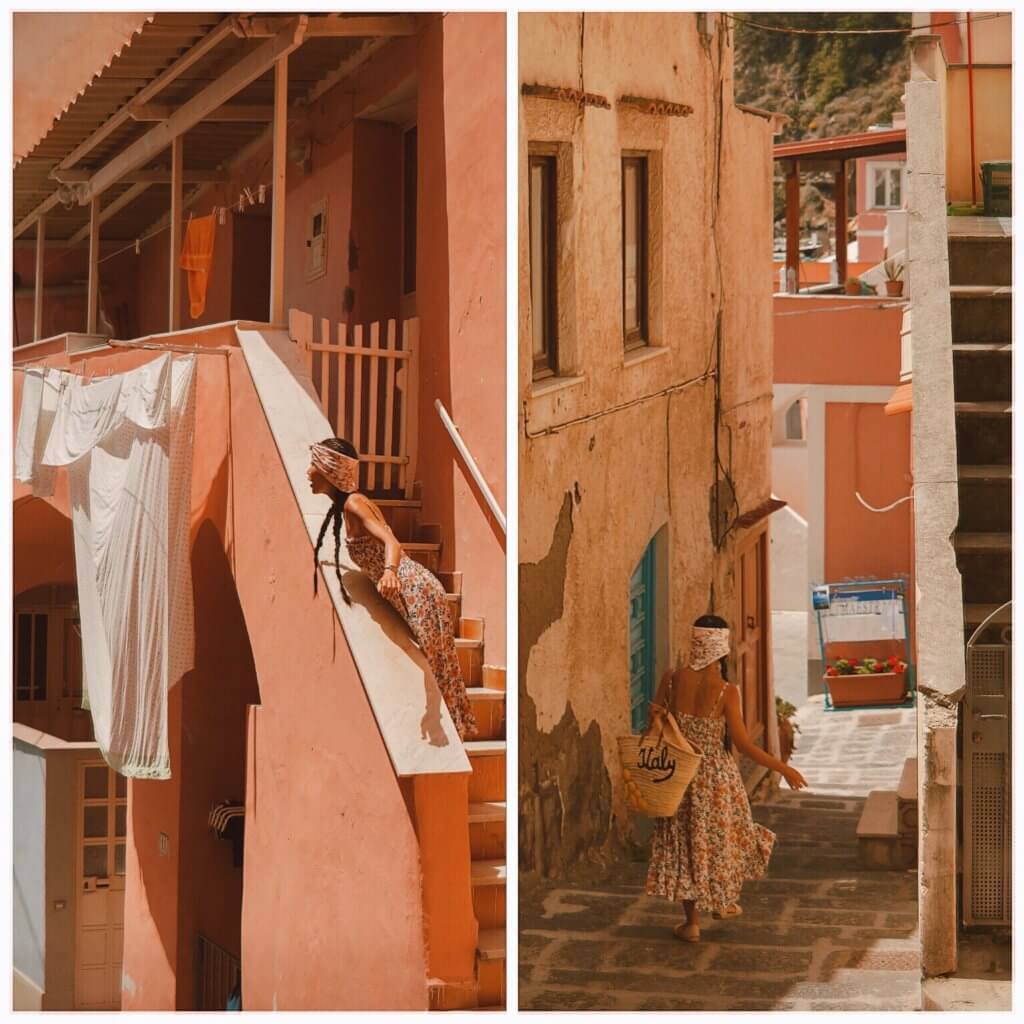 Behind a long fishing harbor, houses were built on and into the rock in a kind of pretty vertical muddle.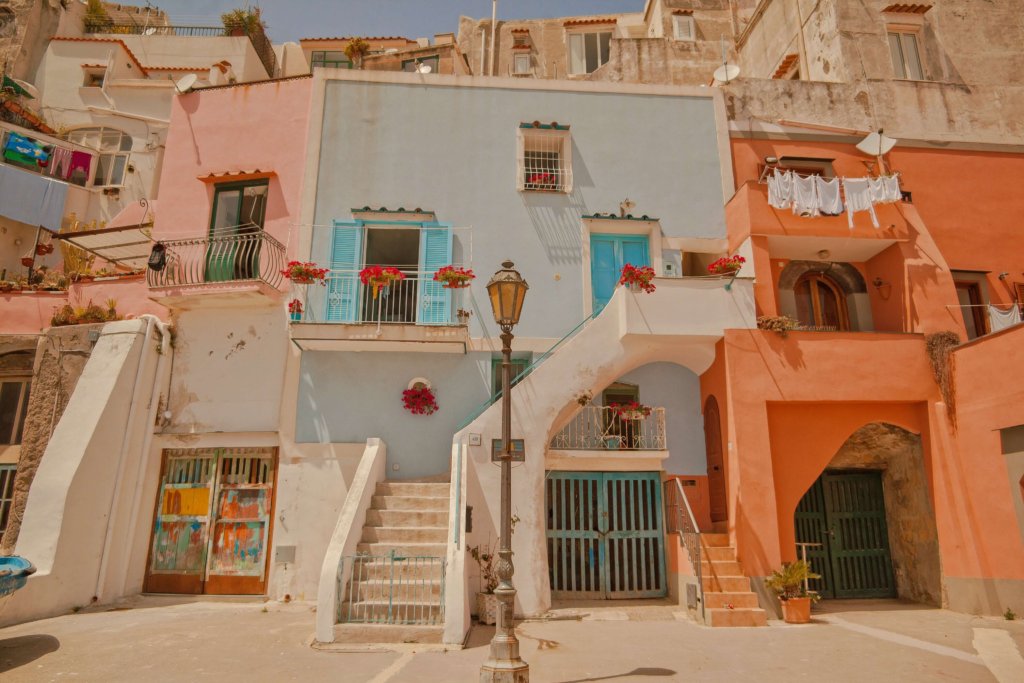 There are several bars and restaurants in Corricella, with tables attractively scattered along the waterfront where you can enjoy your meal with the pretty view of piles of fishing nets and bobbing fishing boats.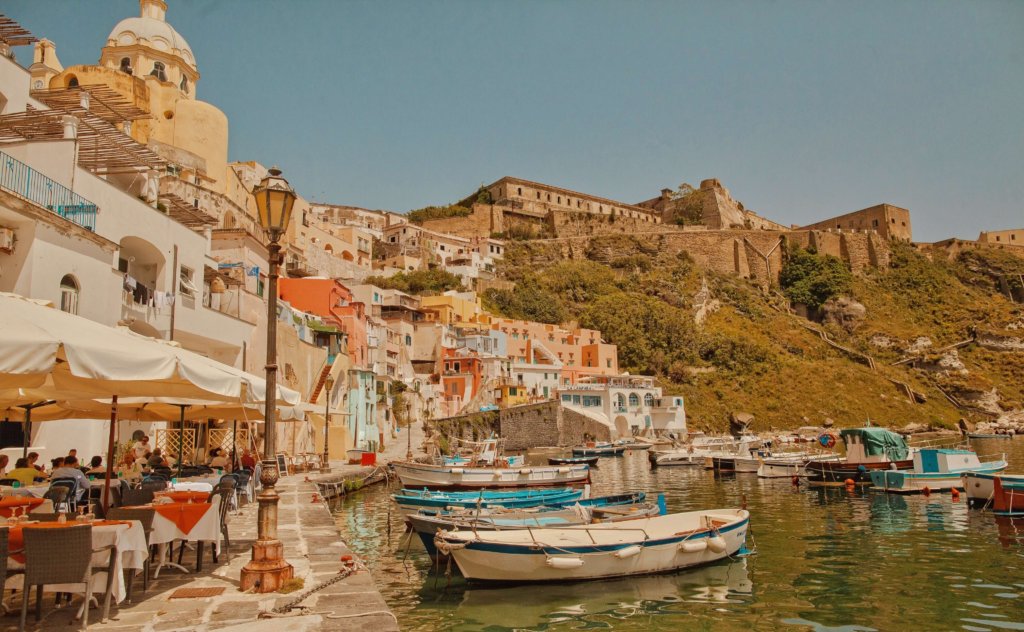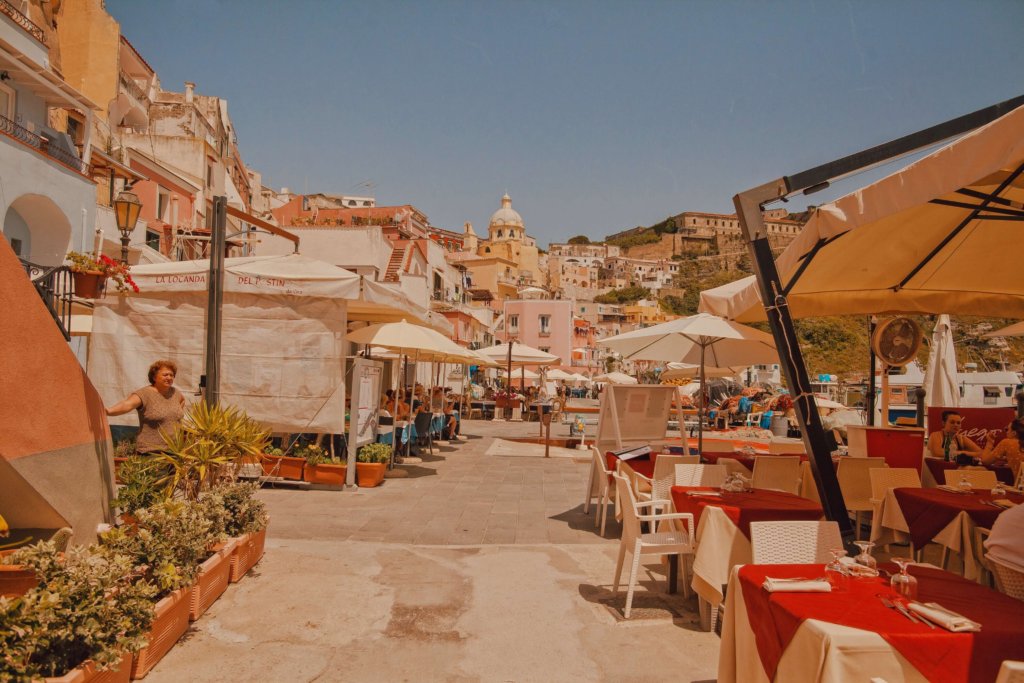 This is a wonderful spot for a lazy lunch or a romantic evening meal with the water lapping nearby.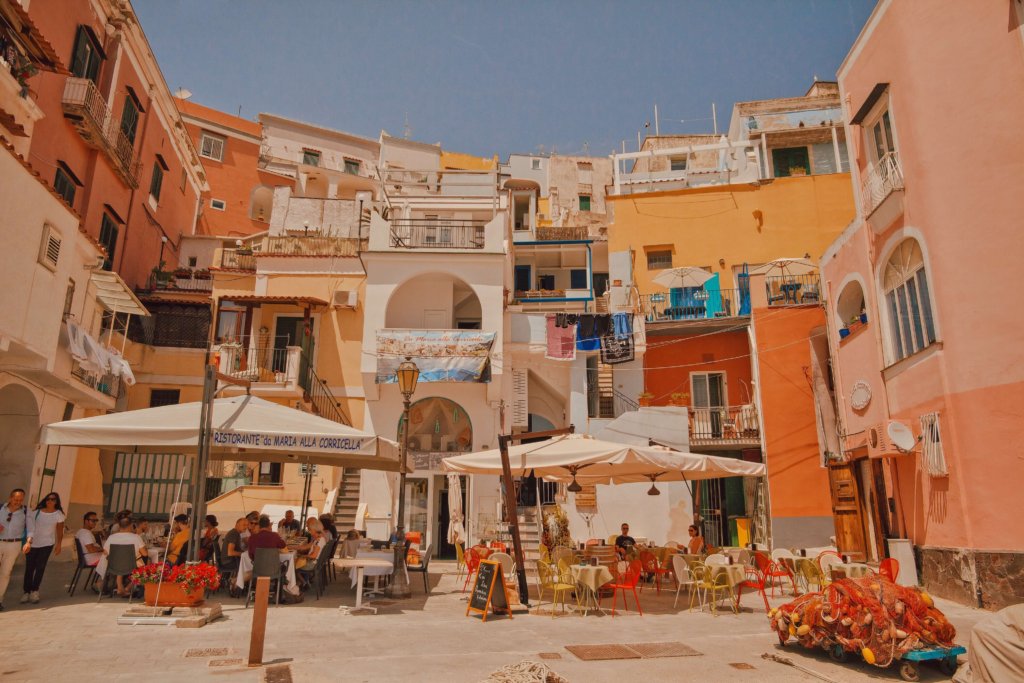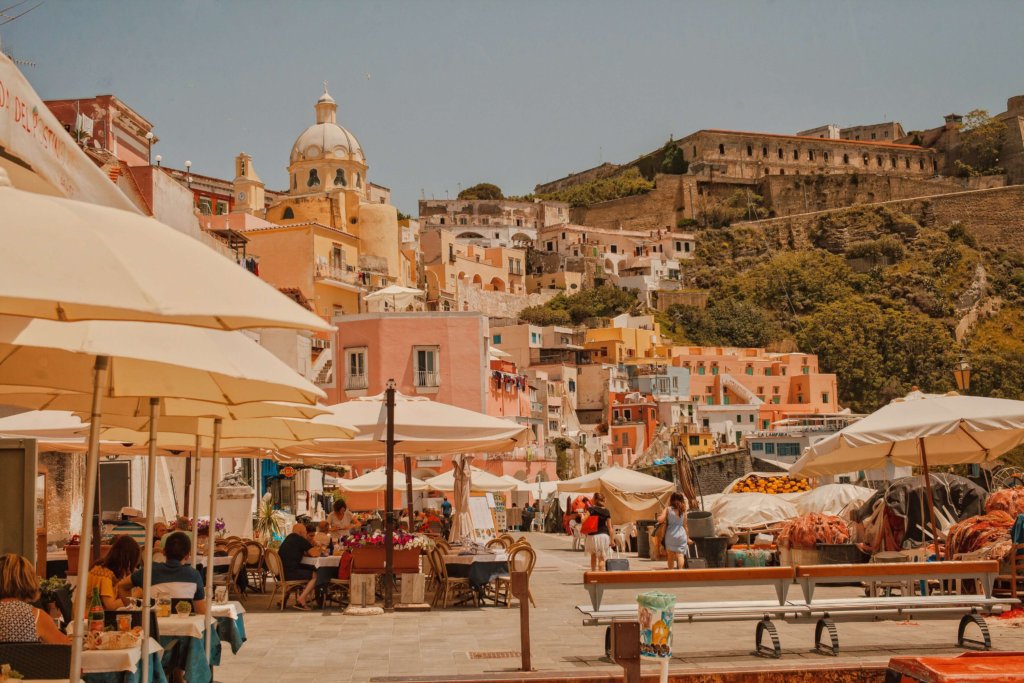 The restaurants here specialize in seafood delicacies, which, given the fishing traditions of the locals, is natural. The seafood dishes are prepared with the freshest ingredients caught earlier that day. This is your chance to enjoy a range of Mediterranean specialities, including fresh fish and local dishes such as spaghetti with sea urchins or lemon salad.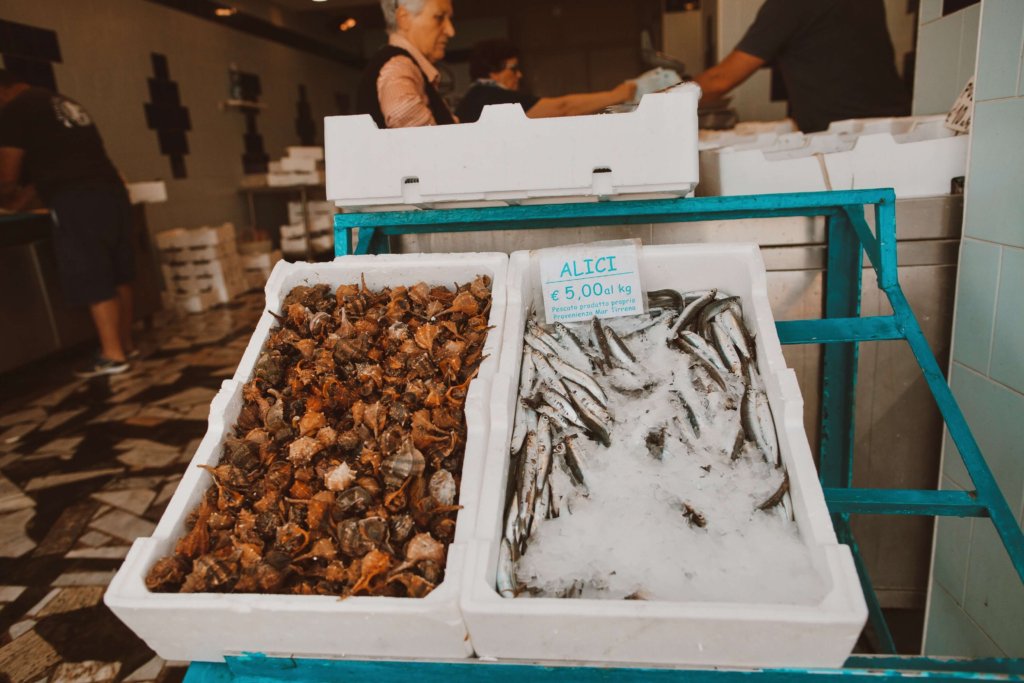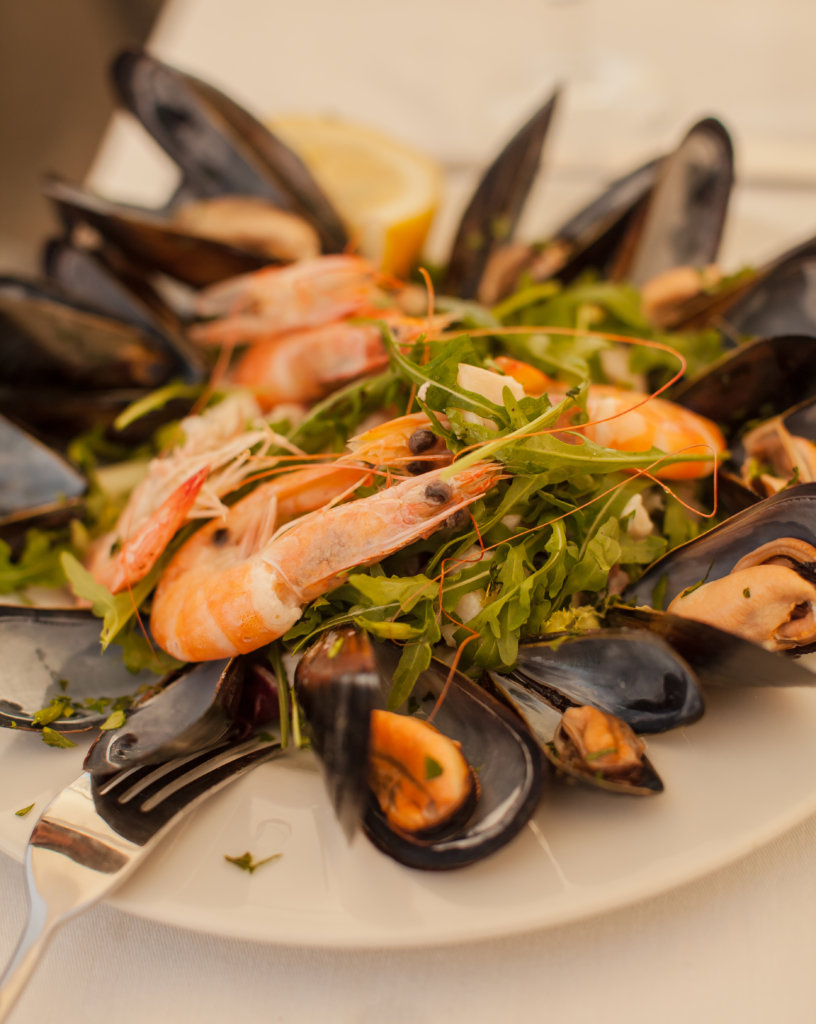 ENJOYING THE VIEW FROM TERRA MURATA
Terra Murata, meaning "walled land", is the highest point on the island (90 meters) and the oldest village. The fortress walls were built as protection from invaders in the 15th century.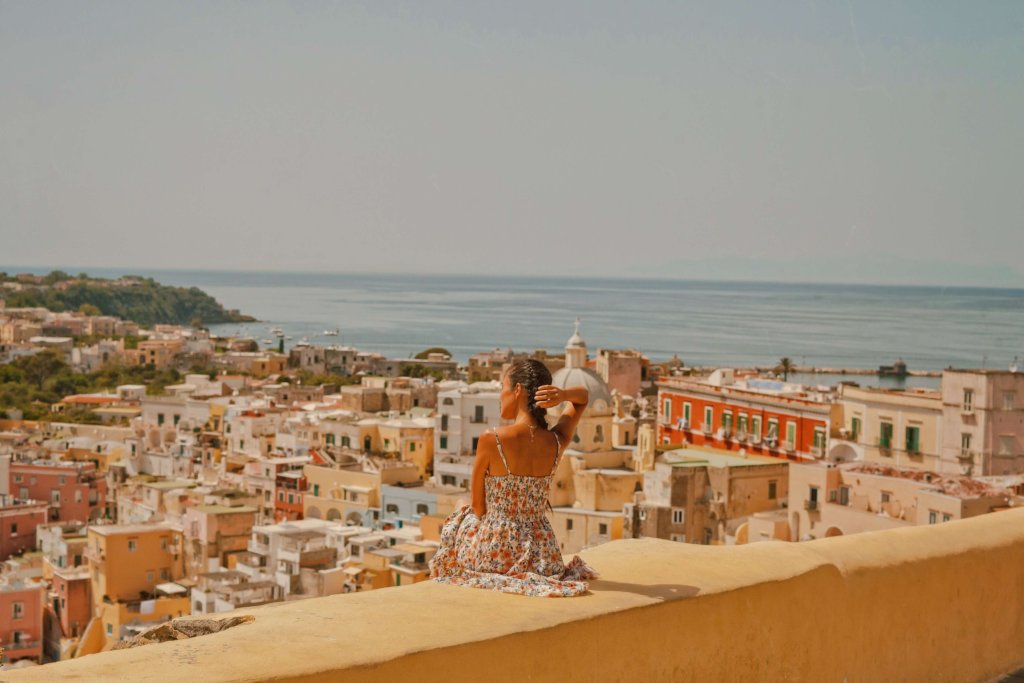 There are superb views from the road leading up to the walls. On the way to Terra Murata, you can find different viewpoints that offer stunning view of the harbor.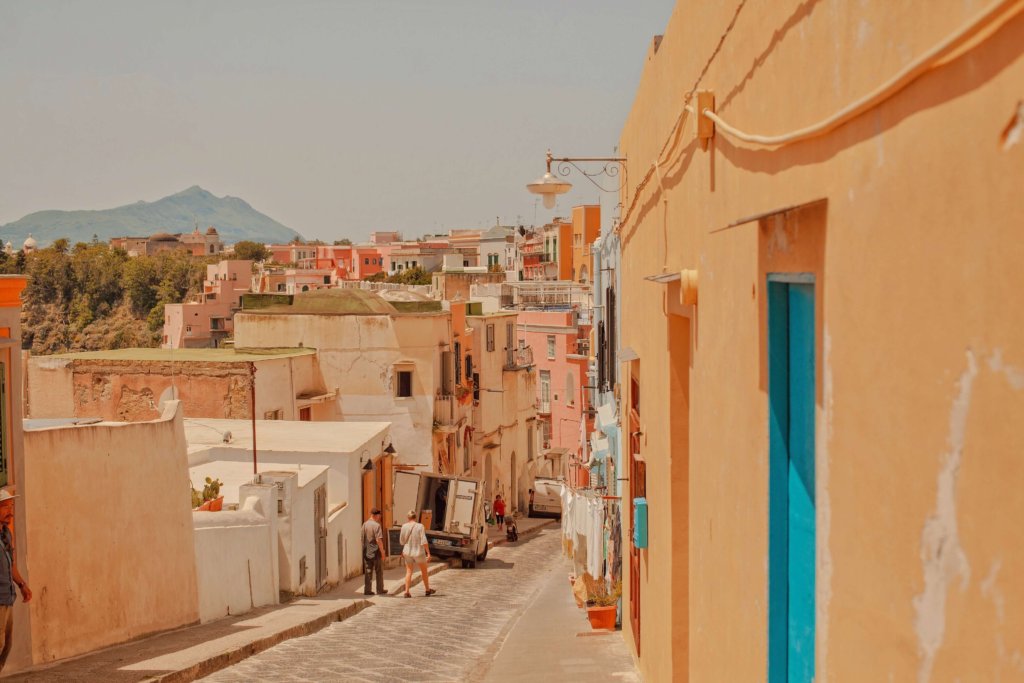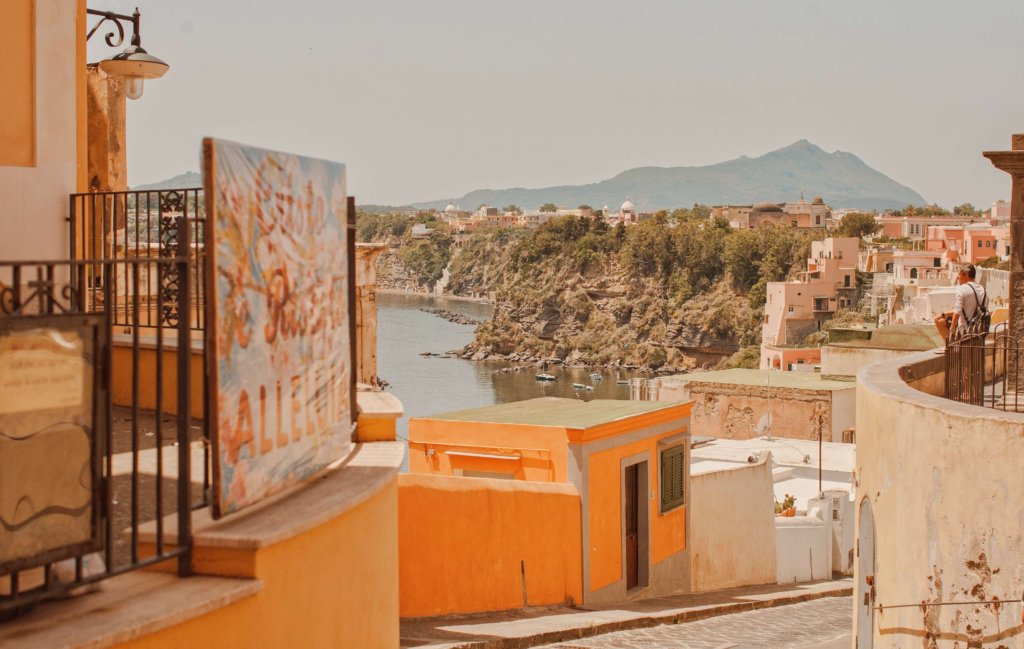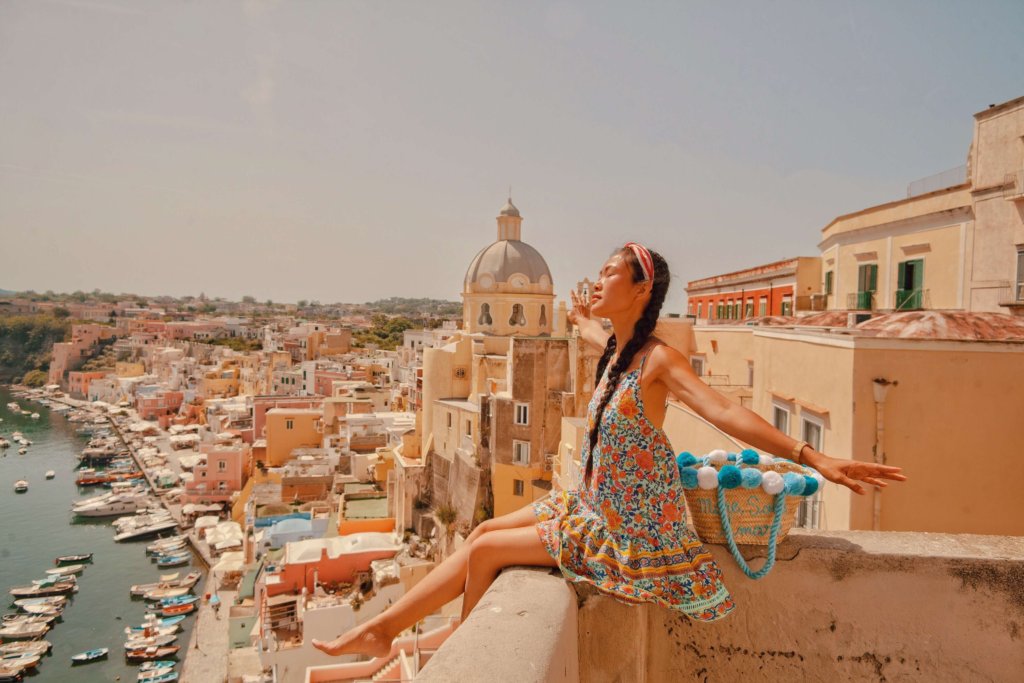 It's a bit of an uphill slog but it is also the place to catch the first glimpses of pretty Corricella, glimmering silver under the sun. If you don't fancy walking uphill through the town, you can catch bus C2 or taxi from the port to the outer walls of the headland. For us, we wandered the medieval streets and stopped by every terrace on the way looking for different panoramic viewpoints of the Bay of Naples.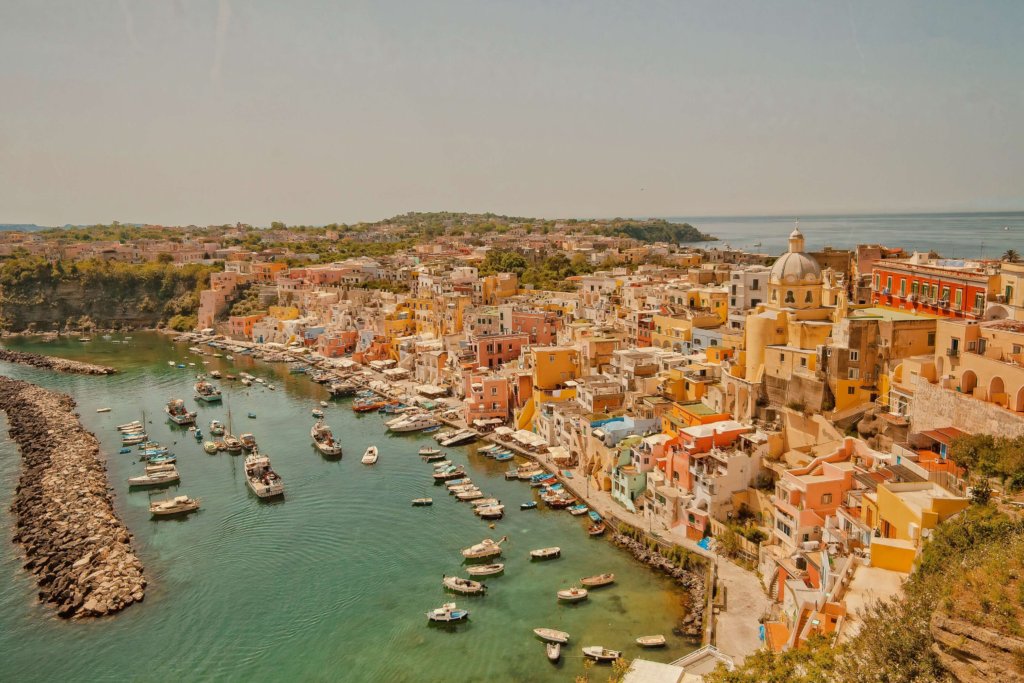 I could never forget this beautiful image of Procida: a tangle of houses painted in pink, yellow, blue and green, the sun lighting up the sky in a blaze of orange and pink, small fishing boats dotted in the water,…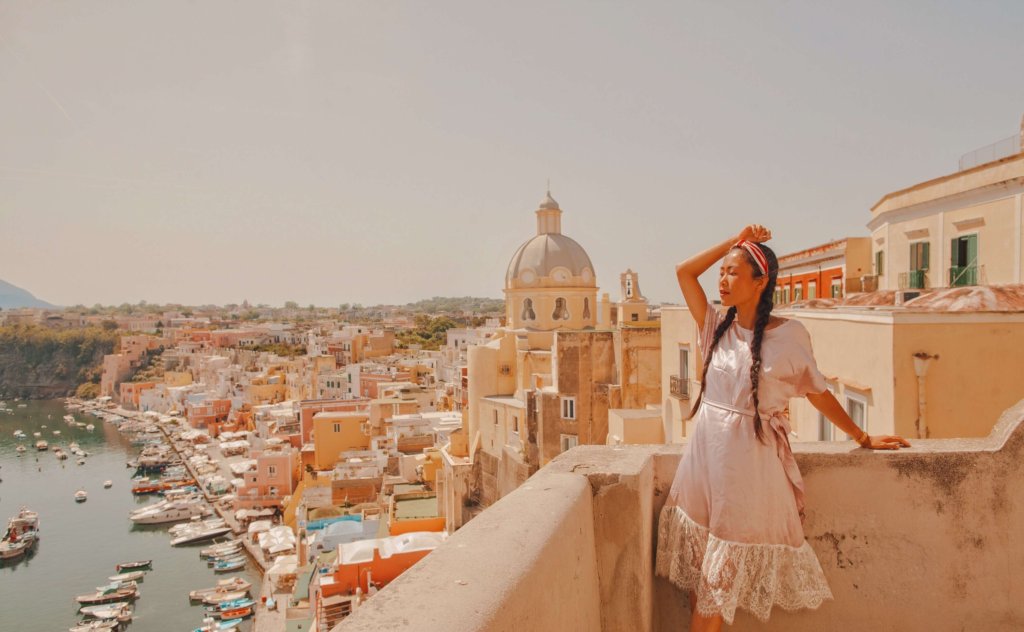 Procida can be visited as a day trip, allowing enough time to see the prettiest views and enjoy a fine harbourside meal. I think Procida is best explored by foot, with something to discover around every corner, but you can also move around using local buses.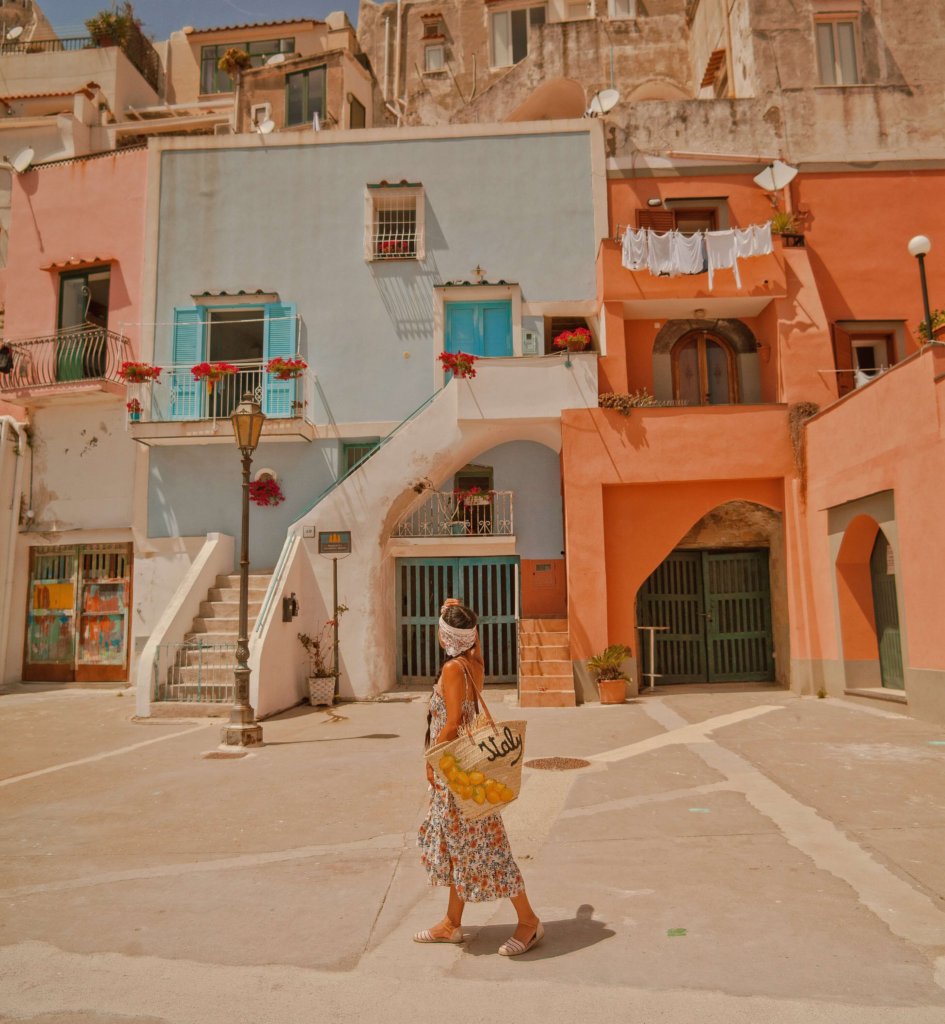 If you wish to have a refreshing change from visiting some of the known islands (like Capri or Ischia) and wish to explore some of the lesser-known islands you will surely have a great time and enjoy the natural surroundings of Procida. Picture yourself enjoying a lazy lunch of freshly caught fish along the waterfront, with the warm sun on your face and the view of tiny fishing boats floating in the sea and old fishermen chatting and mending their nets! This experience is surely unique and different from the others.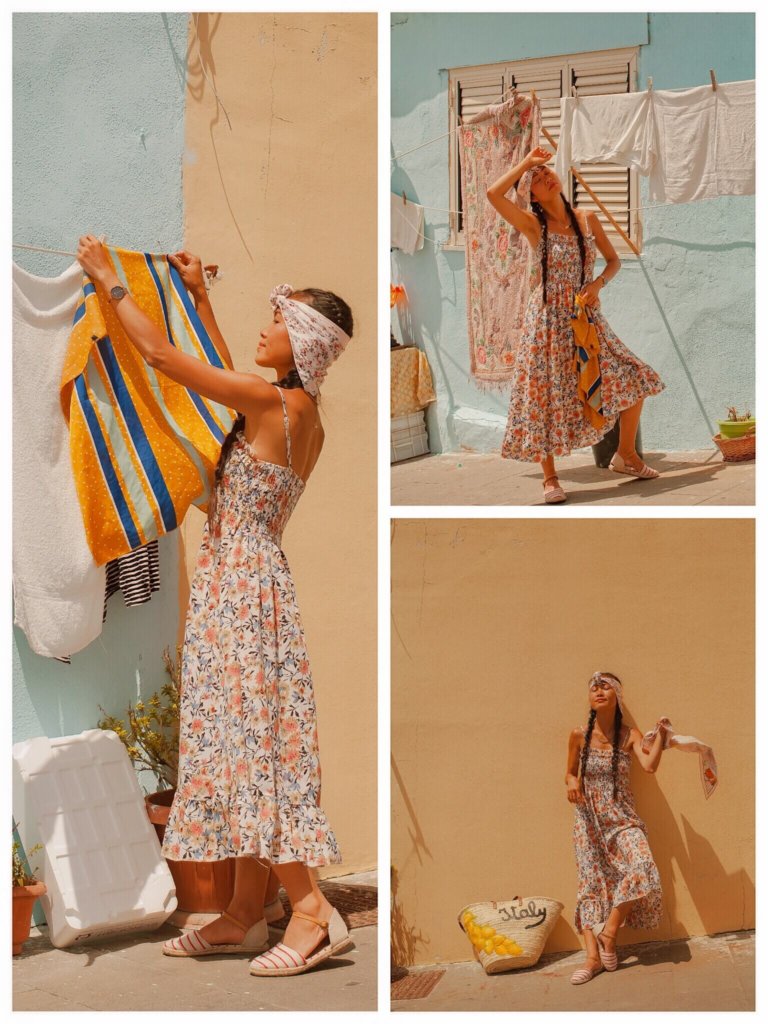 Will you include Procida in your next itinerary in Italy?