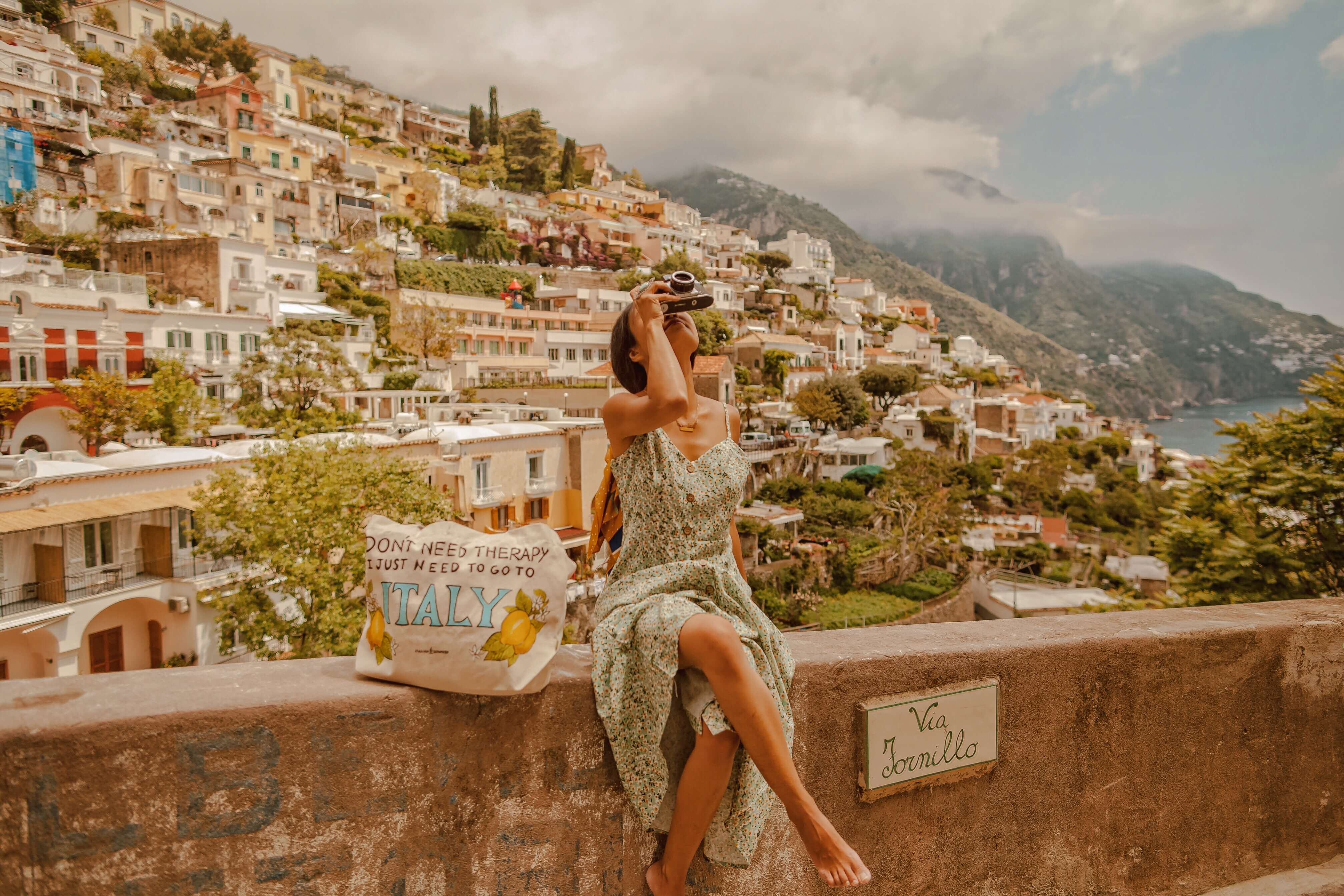 Road Tripping Along the Amalfi Coast
Jaw-dropping coastline? Check. Postcard-perfect seaside towns? Check. Fresh, handmade pasta and creamy gelato? Check. Located in southern Italy, the Amalfi Coast is one of those places that was seemingly plucked straight out of a summer postcard. The area is connected by the 25 mile-long Strada Satale 163 with 1000 curly bends around the iconic coastline, passing through deep gorges, along high cliffs, and between lemon groves. Thirteen municipalities are located on the Amalfi Coast and each of the region's 100 beaches is bordered by colorful umbrellas and locals/tourists working on their tans. Away from the hustle and bustle of metropolitan affairs, the culture here is rustic, old-school, charming, and quaint.
The Amalfi Coast was always super high on my Italy bucket list. I had lusted after the picture-perfect views of pastel houses stacked on high cliffs rising from the oceans overlooking perfect beaches. So when the opportunity arose, I put together the 7-day Amalfi Coast road trip itinerary for our summer vacay. This road trip was absolutely a highlight of our summer to be able to visit this stretch of coastal paradise. If Amalfi is on your bucket list, then this guide will cover everything you need to know when you plan your trip to Amalfi Coast.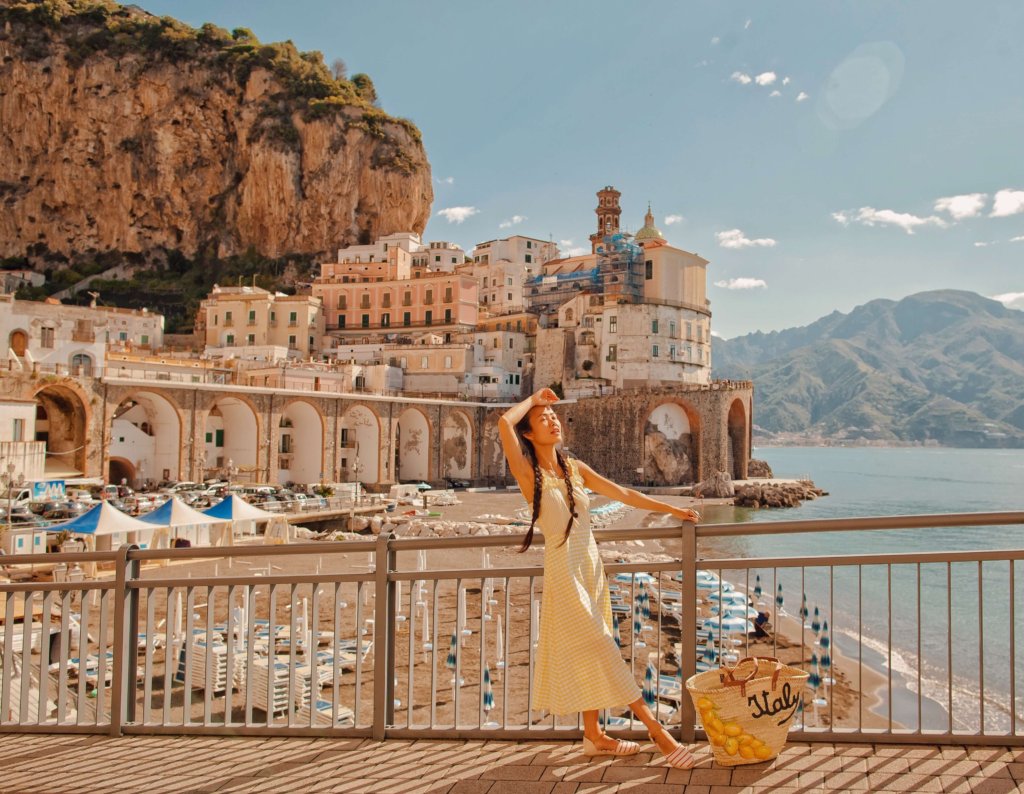 When is the best time to visit the Amalfi Coast?
The best time to see the Amalfi Coast is from April to June, when the spring flowers are in bloom, the weather is just warm enough, and the temperature of the Mediterranean allows for the first dips of the season.
You can also avoid the tourist crush and the oppressive temperatures (often above 30°C) of July and August. The month of September is also an excellent time to visit the Amalfi Coast while the temperatures are still mild and the lion's share of tourists have left.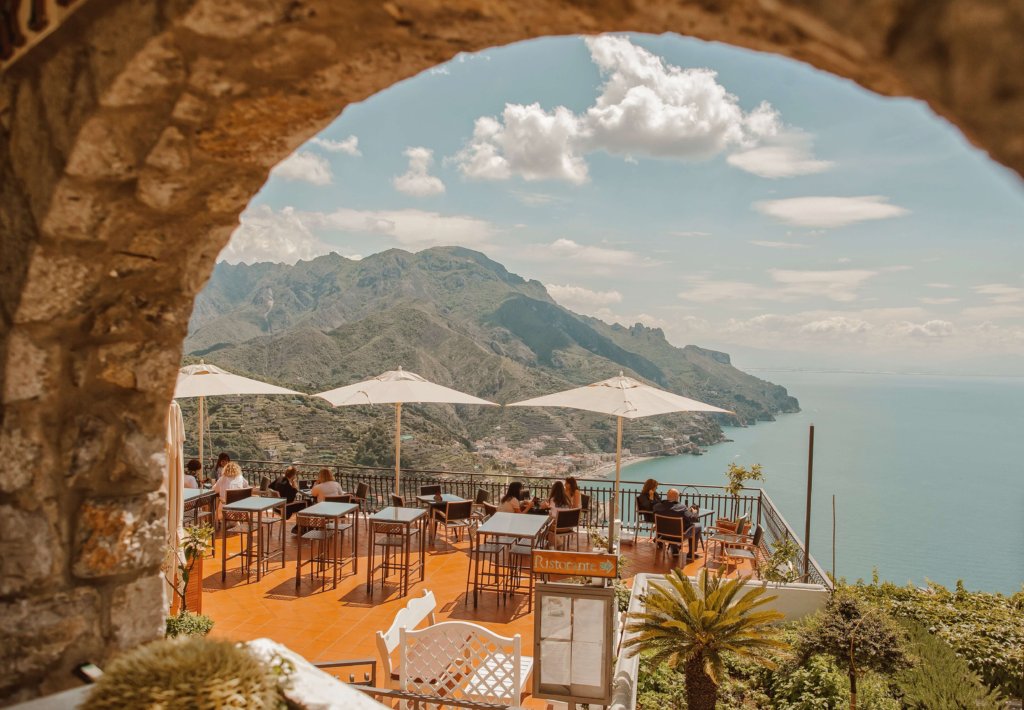 Hikers favor spring or autumn since trails are lined with orchids and herbs in spring, with temperatures around 16°C in March and 24°C in May. The streets are almost empty in Oct-Nov, and mild at 17-20°C. In winter many hotels and ferry services are closed.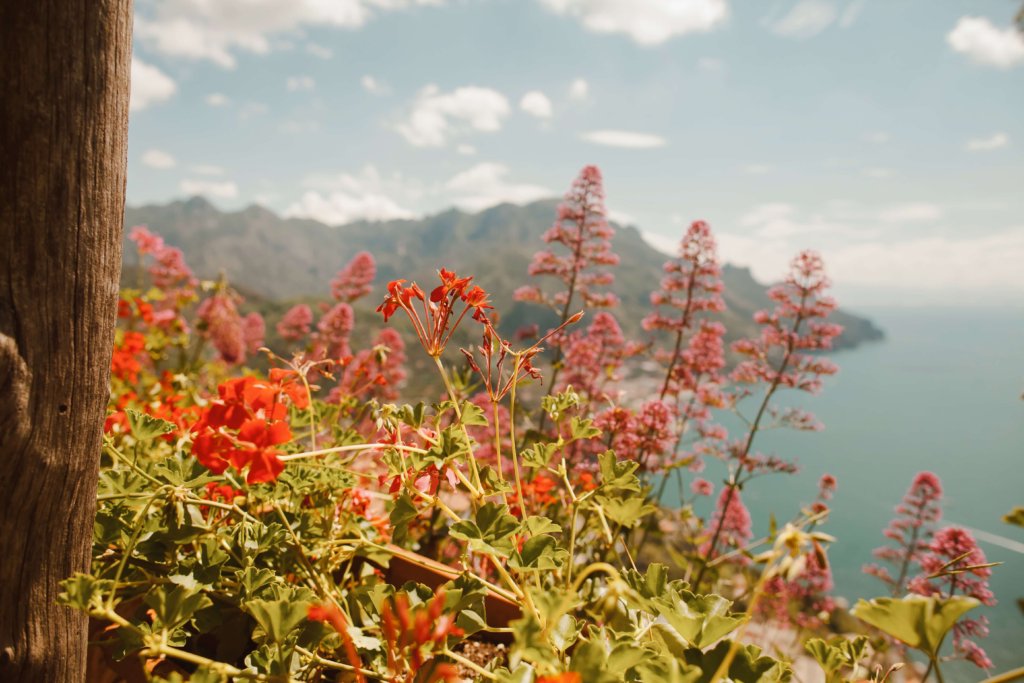 How to get to The Amalfi Coast
While navigation and transportation in Europe is typically quite a breeze getting down to this little slice of postcard heaven requires a bit more planning. The main hubs of travel to the coast are via Rome and Naples. Both cities offer several travel options including buses, trains and even ferries. Naples is essentially the gateway to the Amalfi Coast, so whether you fly directly there, or train in from Rome or somewhere else in Italy, this will be your "hub" so to speak.
Depending on the time of year you're visiting, it's possible to take a ferry from Napoli to the main port of Amalfi. The journey takes 2-3 hours with stops in places like Sorrento and Capri. Or you can take Freccia Rossa train from the Napoli Centrale station to Sorrento; it is an inexpensive and comfortable alternative. It cost about 15euro a person and it took about an hour. Or you can hire a private driver which will cost around 100-120euro to get from Naples to Amalfi.
Since we always prefer the ultimate flexibility, we chose renting a car. Once we landed in Naples, we went straight to the car rental counter, got us a nice little Fiat, and drove straight to Amalfi town where our hotel was. Little did we know how crazy it was to drive in this area. My husband would, over the next few days, maneuver that Fiat through the chaos of Southern Italian highways and a labyrinth of narrow village roads. I would grip whatever was in easy reach: the seat cushion beneath me, the door handle, the dashboard.,….and did my best not to get frantic. Once you get to the coast, those twisty and incredibly narrow roads are not for the faint of heart.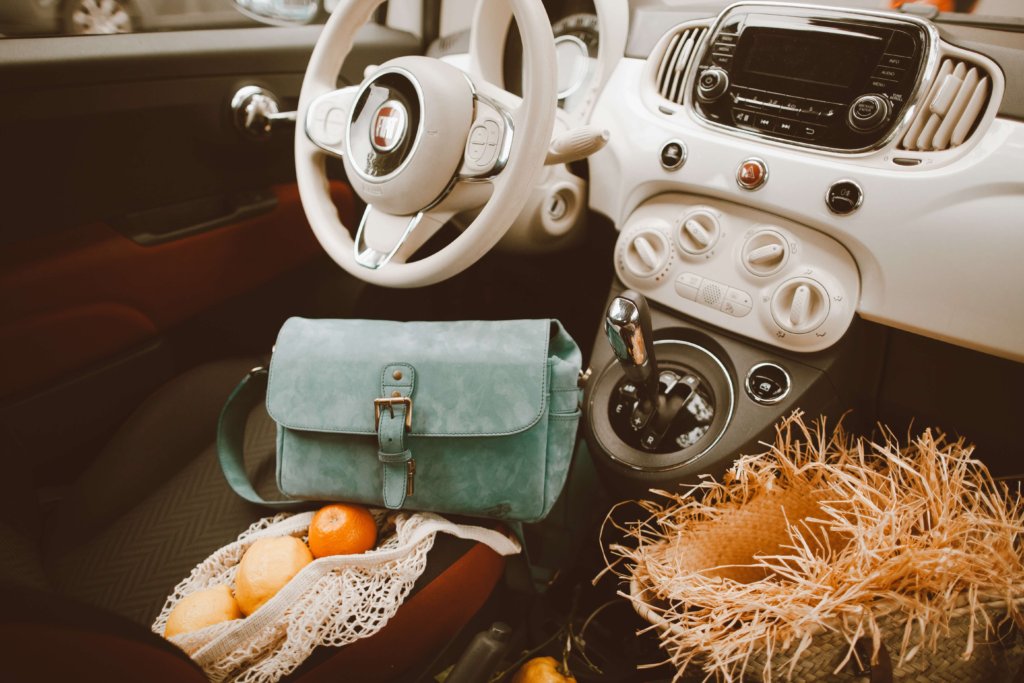 If you are into challenging, epic driving experience, then driving the coast of Amalfi is for you. But I highly recommend hiring a local driver if you want to have that full concentration on those glorious sceneries. Taking a bus could also be an option which is a good value for money. There are buses that run up and down the coast and you can catch a bus to pretty much any destination on the Amalfi Coast. No matter which means of transportation you choose, you are in for a scenic journey as you make your way from one gorgeous corner of the coast to another.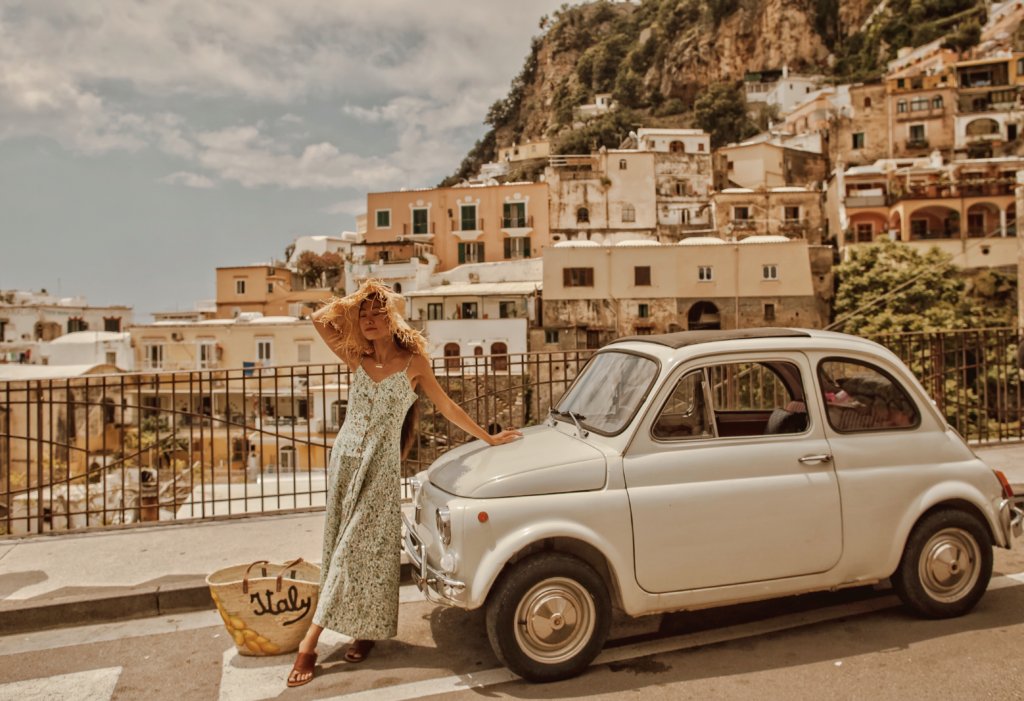 How to get around the Amalfi Coast
Renting a car is still our preferred choice to explore this region. First, it provides us with plenty of flexibility to visit where we please and when we please. It's also great for stopping whenever you see a beautiful view you want to photograph.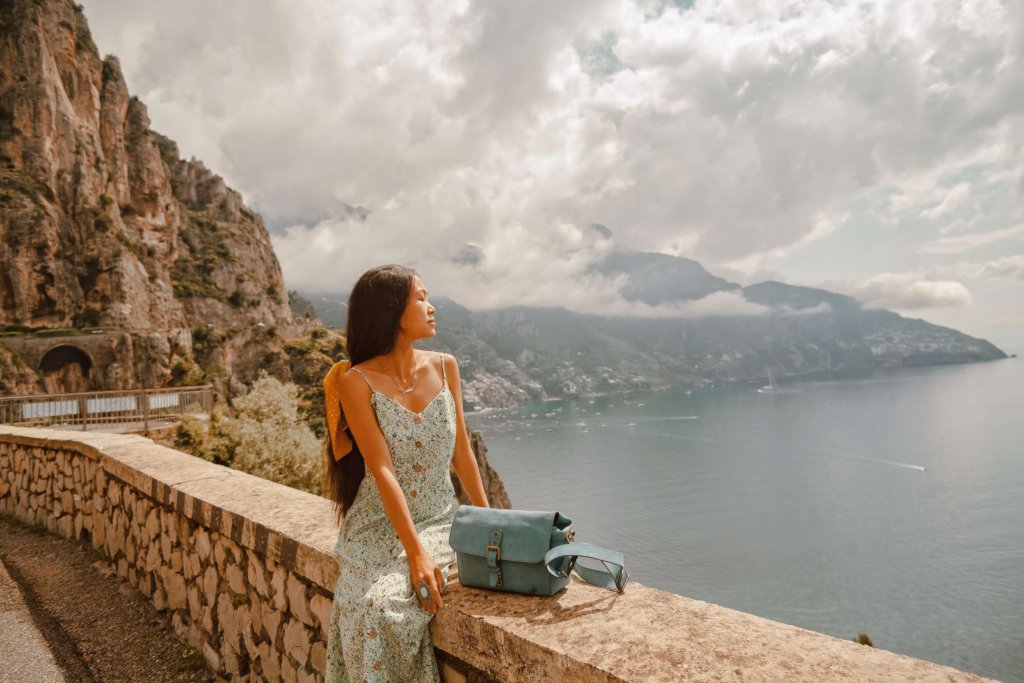 For me, I loved stopping along the highway to visit many cute fruit stands to buy fresh lemons and cherries.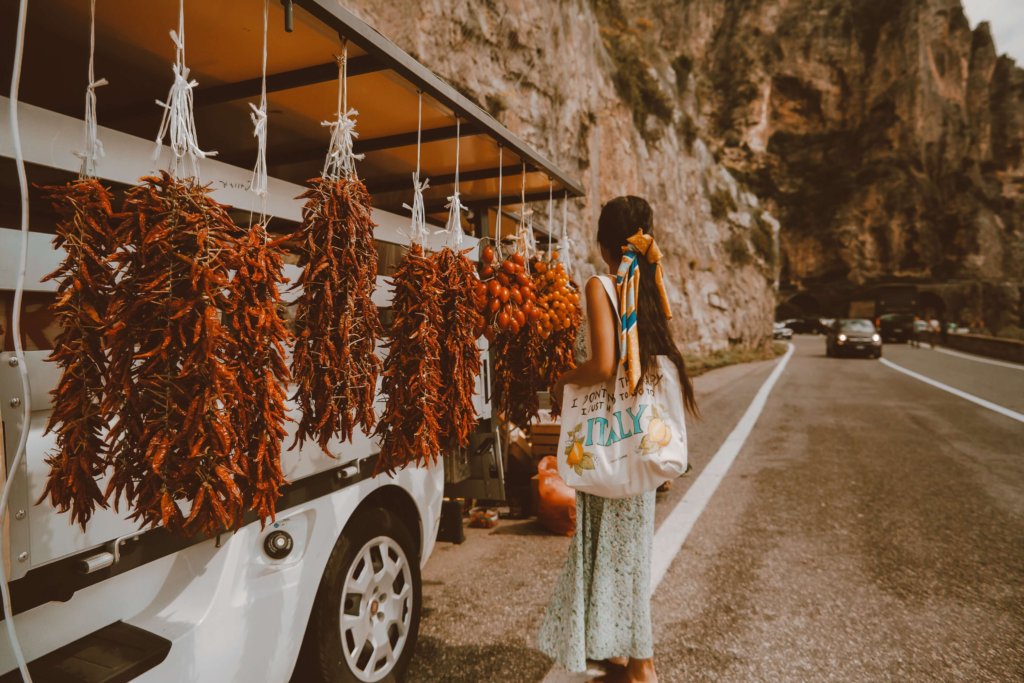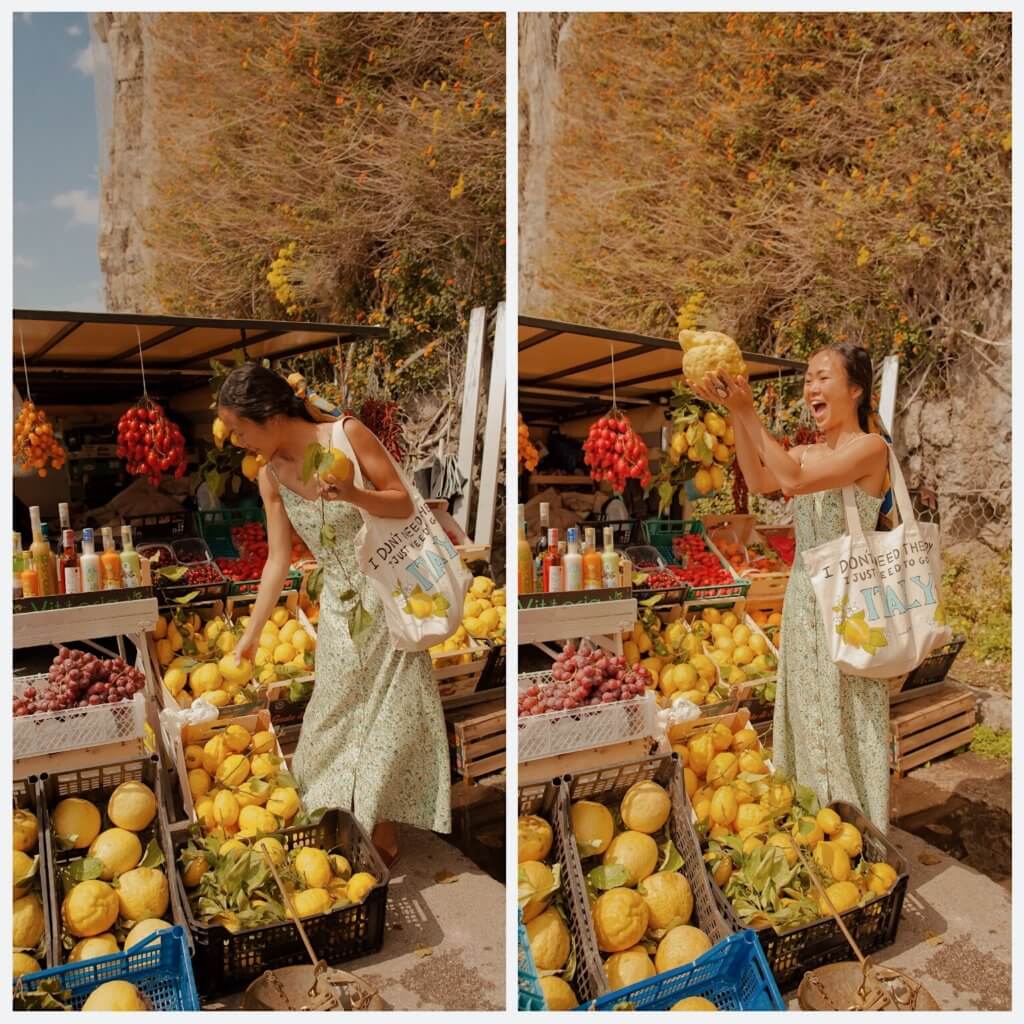 However, car parking can be expensive, sometimes as much as €5/hour. There are car parks in all the main towns along the coast and I didn't have any problem finding spaces in late May. However, if you are visiting in July/August, you may struggle to get parked at all. The other option is to take organized day trips so you don't have to worry about parking a car or joining long queues for public transport. To make it easier for you to decide whether to rent a car or not, here's my list of pros and cons:
Pros:
***An experience that you can talk about for the rest of your life.
*** Iconic sweeping views of the emerald-blue sea and pastel colored villages and lemon groves.
*** The car offers more flexibility than the bus! You are not bound by schedules and timetables!You stop along the way where you like, when you like

Cons:
***Twisty, windy road, barely wide enough and cars illegally parking on both sides of the road.
***Full-sized tour buses bearing down on tiny cars without a care in the world
* Parking is extremely limited and/or at a premium (3-5euros per hour)
* Renting a car is more expensive than the bus
Where to Stay on the Amalfi Coast
The Amalfi Coast is made up of a handful of small towns along the Italian shore, and each has their own charm. So where to stay in Amalfi Coast to make the most of your trip?
If you're traveling on a budget, don't stay in Positano. It's a beautiful town, but the prices aren't worth it. It's much better to stay closer to Sorrento, Amalfi, or Ravello, and drive to Positano, which is only 20-30 minutes away. We were glad that we decided to stay in Amalfi town over Positano.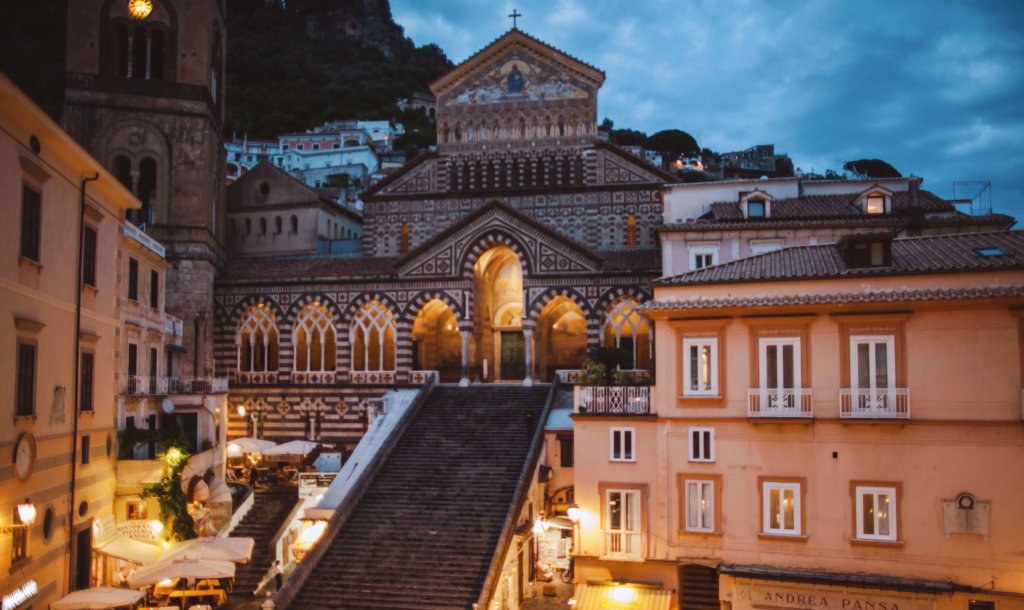 Our hotel in Amalfi town was Hotel Centrale; it overlooks the grand Piazza del Duomo and the imposing Cathedral of Sant'Andrea which is Amalfi's centerpiece and the heart of the town and the hotel is just seconds from the beach!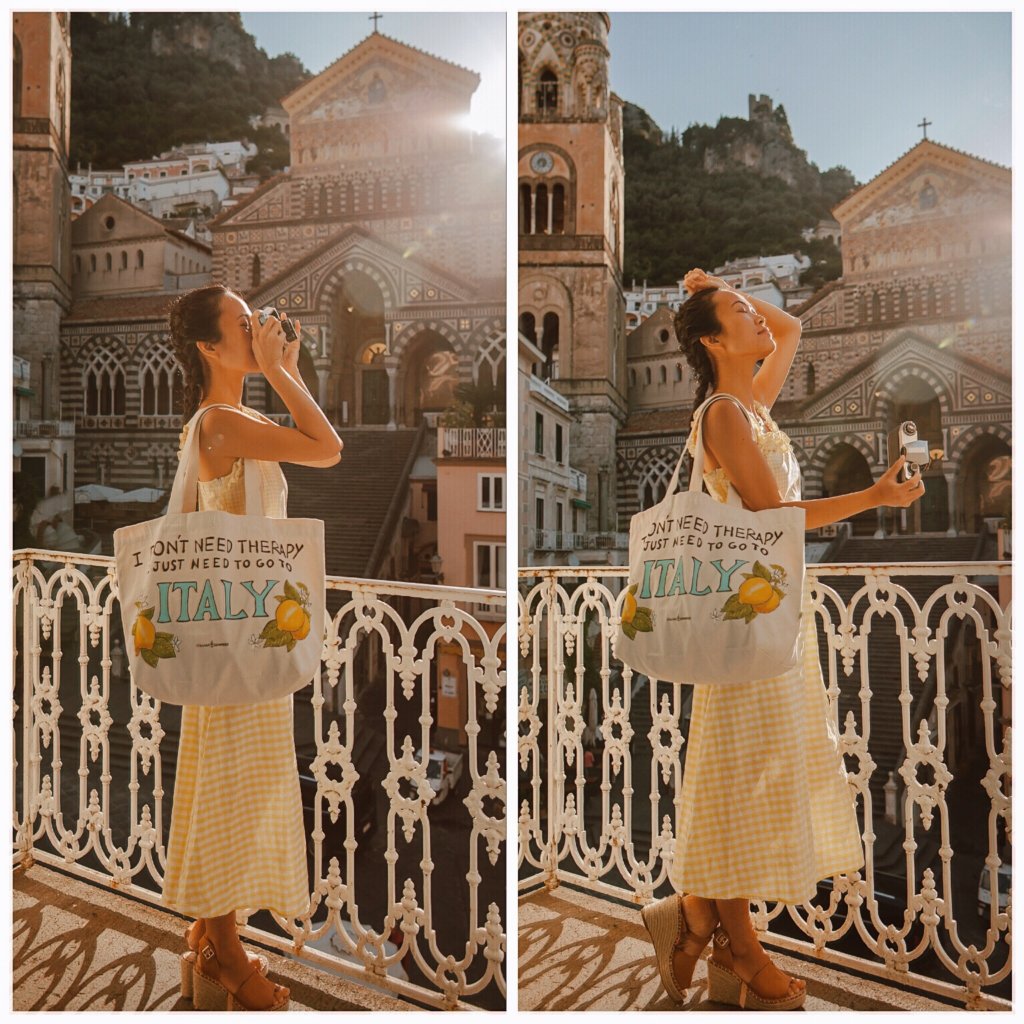 You can sit in the main square opposite the church and enjoy a coffee or gelato as you watch tourists take pictures on the stairs or admire the fountain at the center of the town square. There are also plenty of shops selling ceramics, souvenirs, and their very own limoncello, a popular liquor mainly produced in Amalfi Coast.
It's more convenient to move from one town to another if you base in Amalfi because Amalfi is a main bus hub (Positano is not). It also has a large ferry area as well. Amalfi is closer to Ravello and you can easily get a hop-on, hop-off bus to take you up there. From Amalfi you can actually walk to Atrani, the next town over, which is just over a mile away.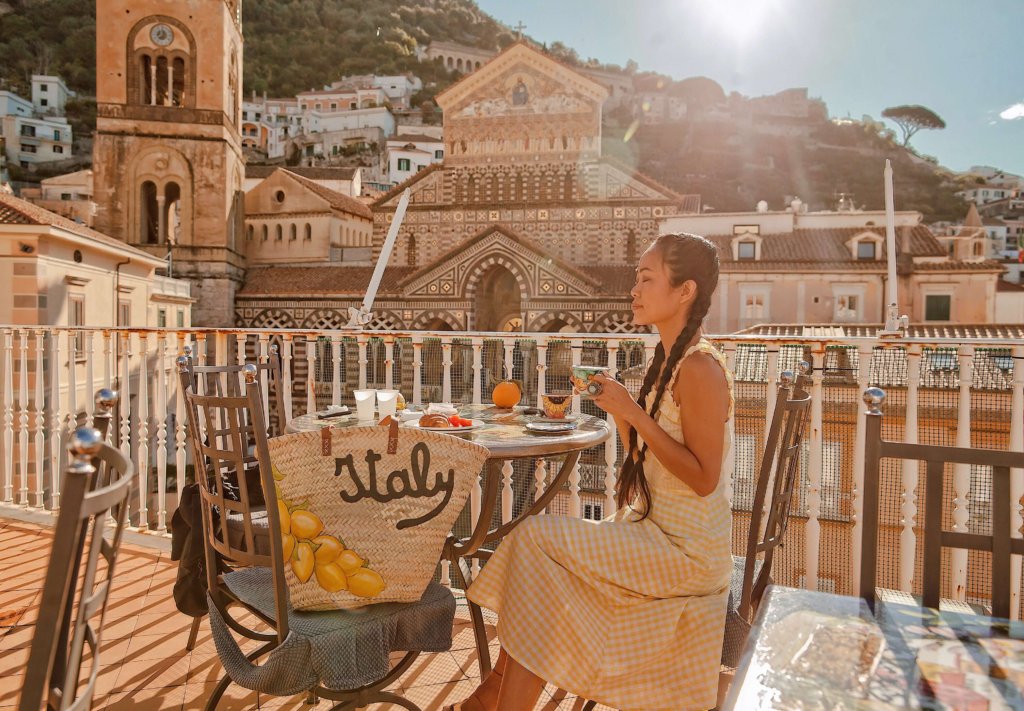 What to see/do
lItaly's Amalfi coast has everything: mouth-watering pizza, delectable home-made pasta, and dramatic views of the tiered white houses perched on the cliffs overlooking the sparkling blue sea. To see these coastal gems at their finest, all it takes is some strategic planning.
Atrani Beach
Since our hotel was in Amalfi town, it's super easy to walk to Atrani Beach – only 15 min walk away. If you arrive here by car, you can park in the car park which serves both Amalfi and Atrani Beach since they are right next to each other.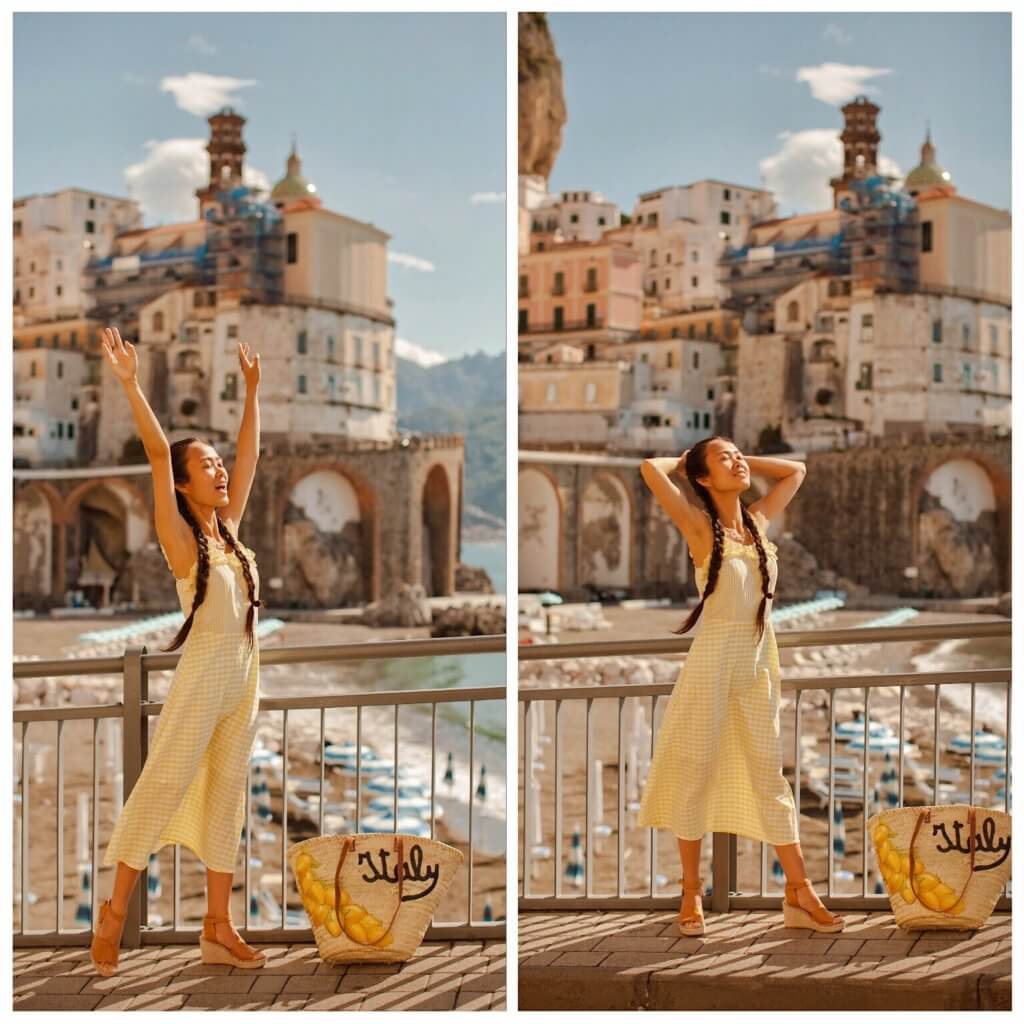 Even though Atrani is just a short walk away from Amalfi – the main hub and bustling hotspot, it remains unspoiled by mass tourism and is one of Italy's best-kept secrets. Atrani is a coastal fishing village with a population of less than one thousand. It nestles in the divide of two steep cliffs on the shore of the Tyrrhenian Sea. We were pleasantly surprised to discover Atrani Beach was even more beautiful than Amalfi's Spiaggia Grande. I felt like we'd hit the jackpot.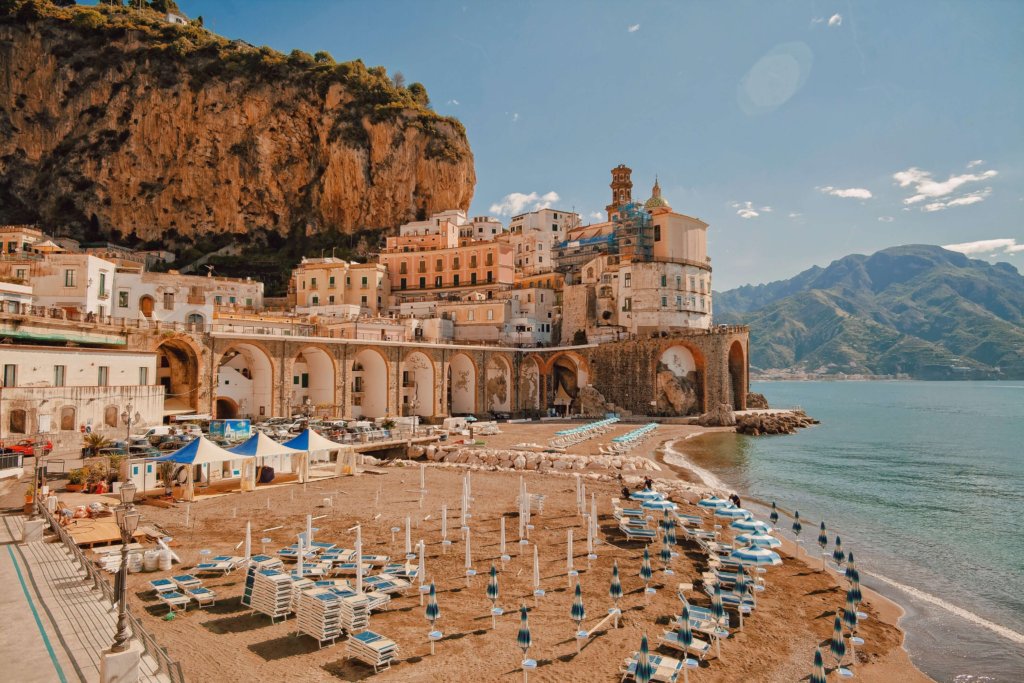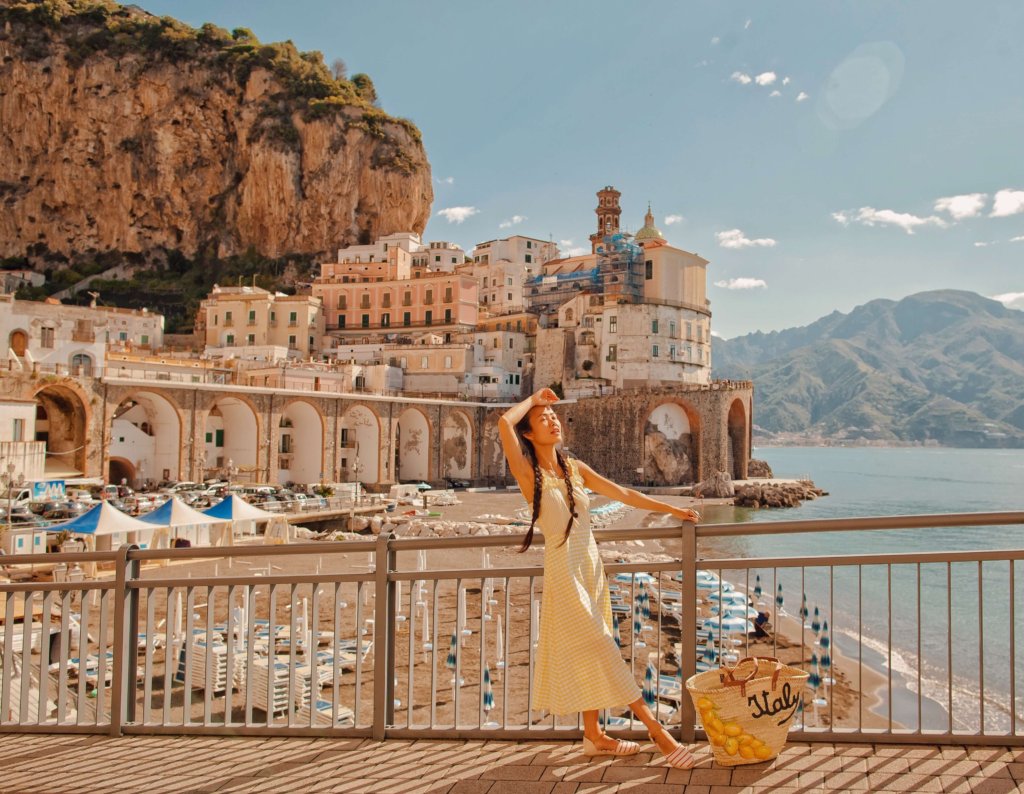 Ravello
Ravello is situated on the top of the coast, high above sea level. The view from up there is truly spectacular.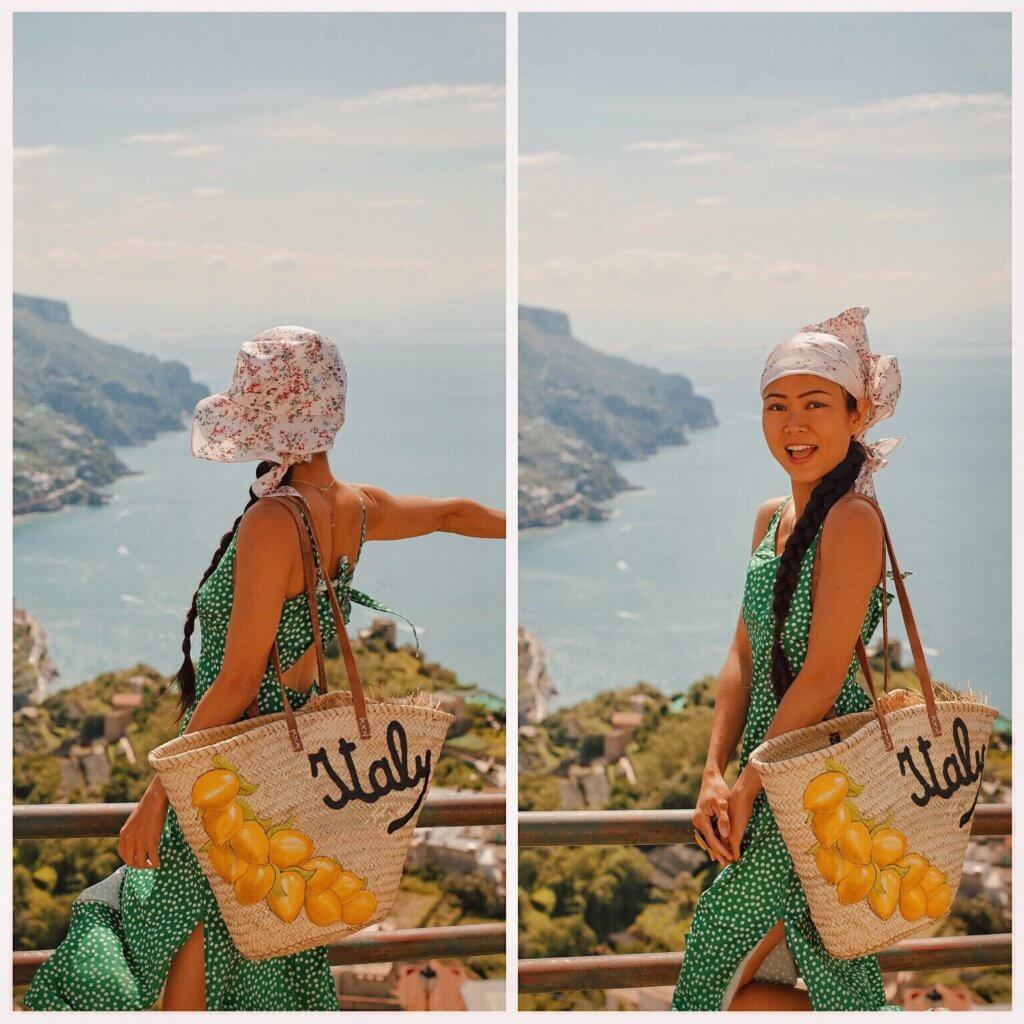 There are two famous gardens that most tourists visit in Ravello, Villa Rufolo and Villa Cimbrone.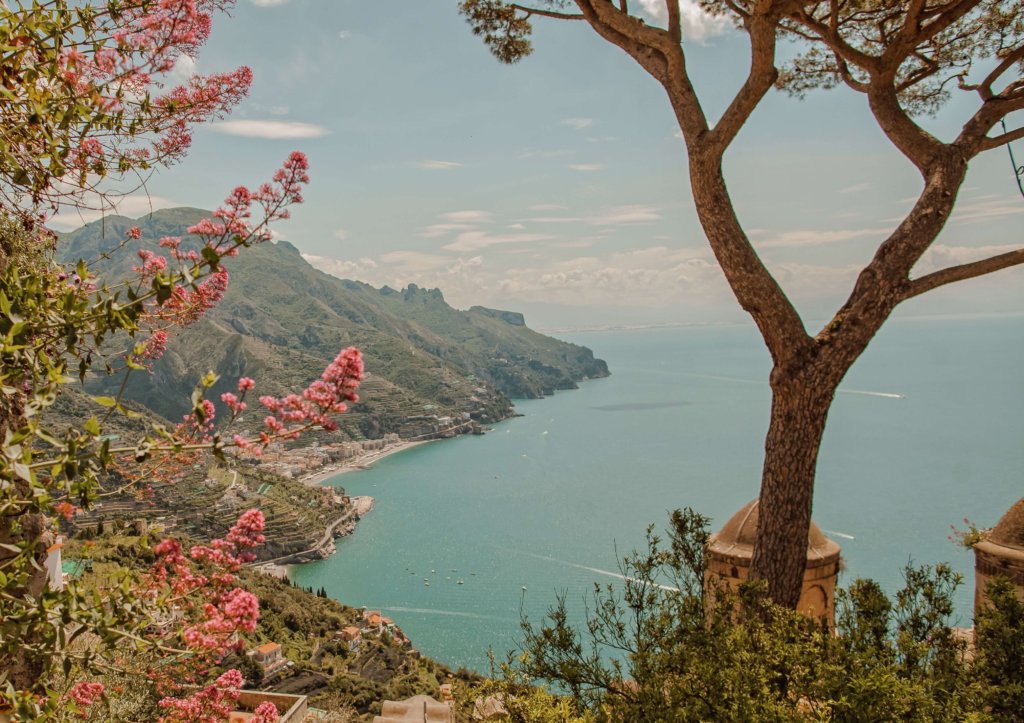 The gardens of Villa Rufolo and Villa Cimbrone are equally as beautiful, yet the two are very different! Villa Rufolo is bursting with color — it's vibrant and lush!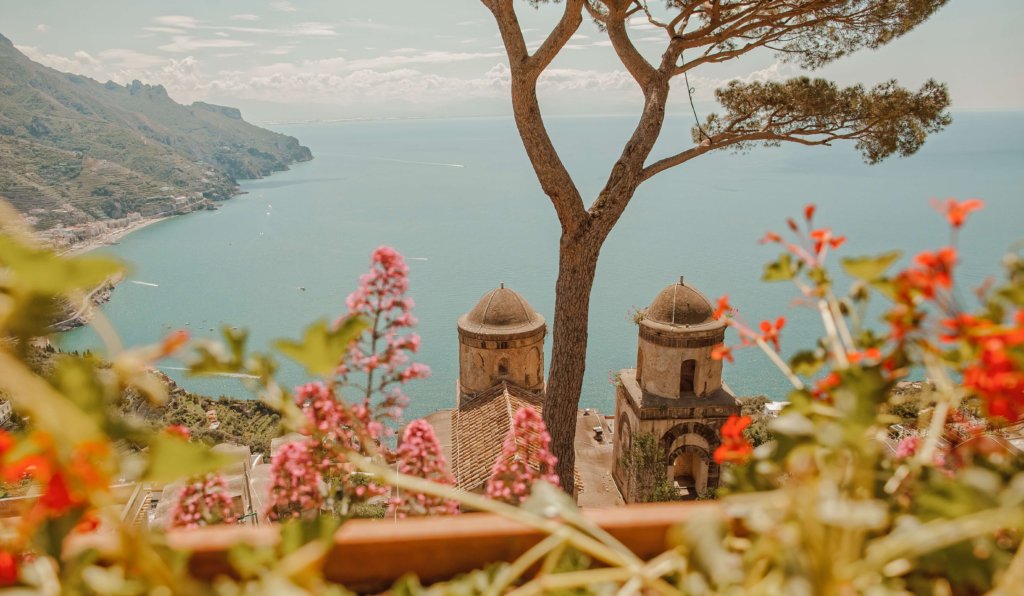 The entrance to Villa Rufolo is just off the main town square, Piazza Vescovado. Perhaps the best thing to do in Ravello is simply hanging out in Piazza Vescovado. The large historic center of town is the perfect place to relax over a pastry and espresso. Or when you're ready to do some walking, stop in the many clothing boutiques (filled with linen dresses, leather shoes and lots of pastels).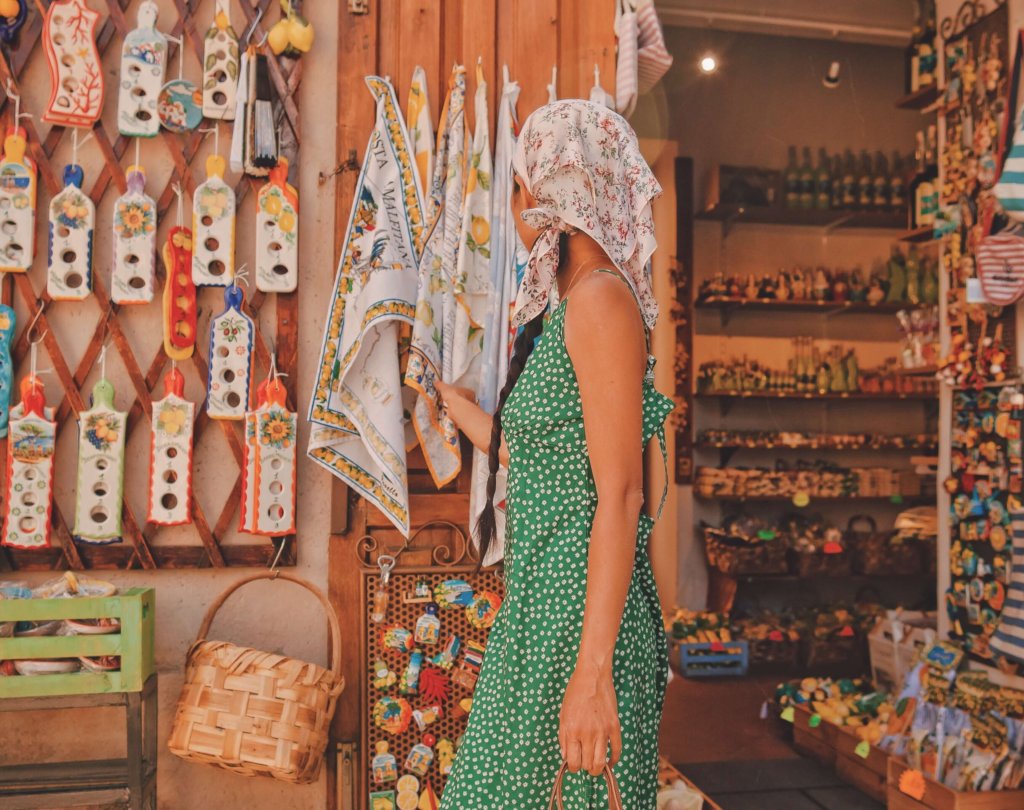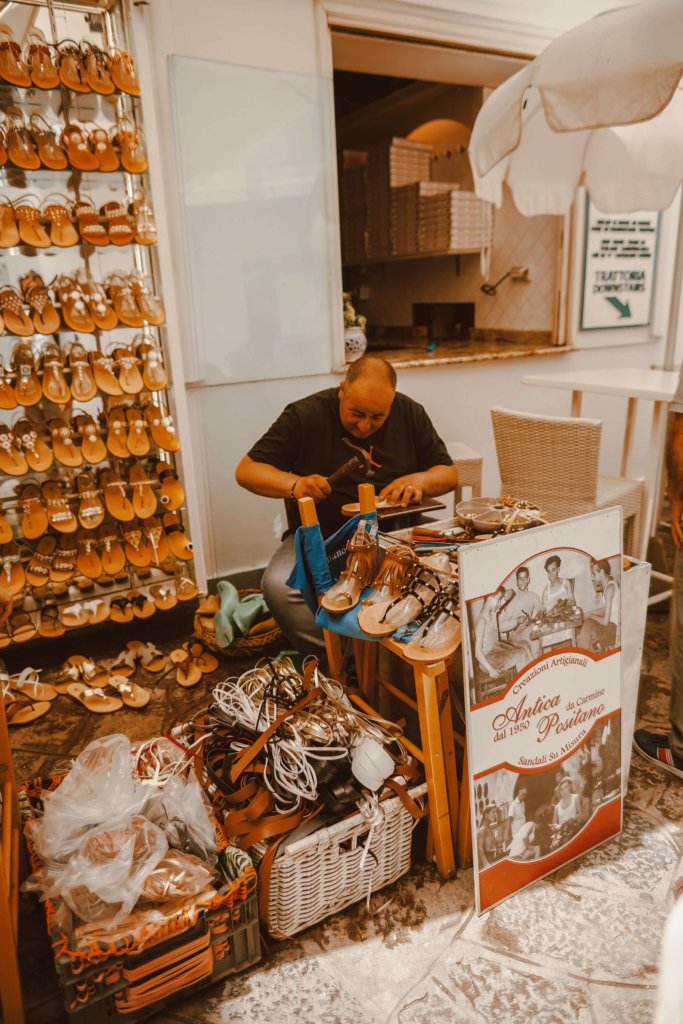 Ravello is famous for colorful ceramics. Buy a few ceramic pieces as souvenirs and taste fresh Italian olive oil and balsamic vinaigrette from a local shop just off the main square.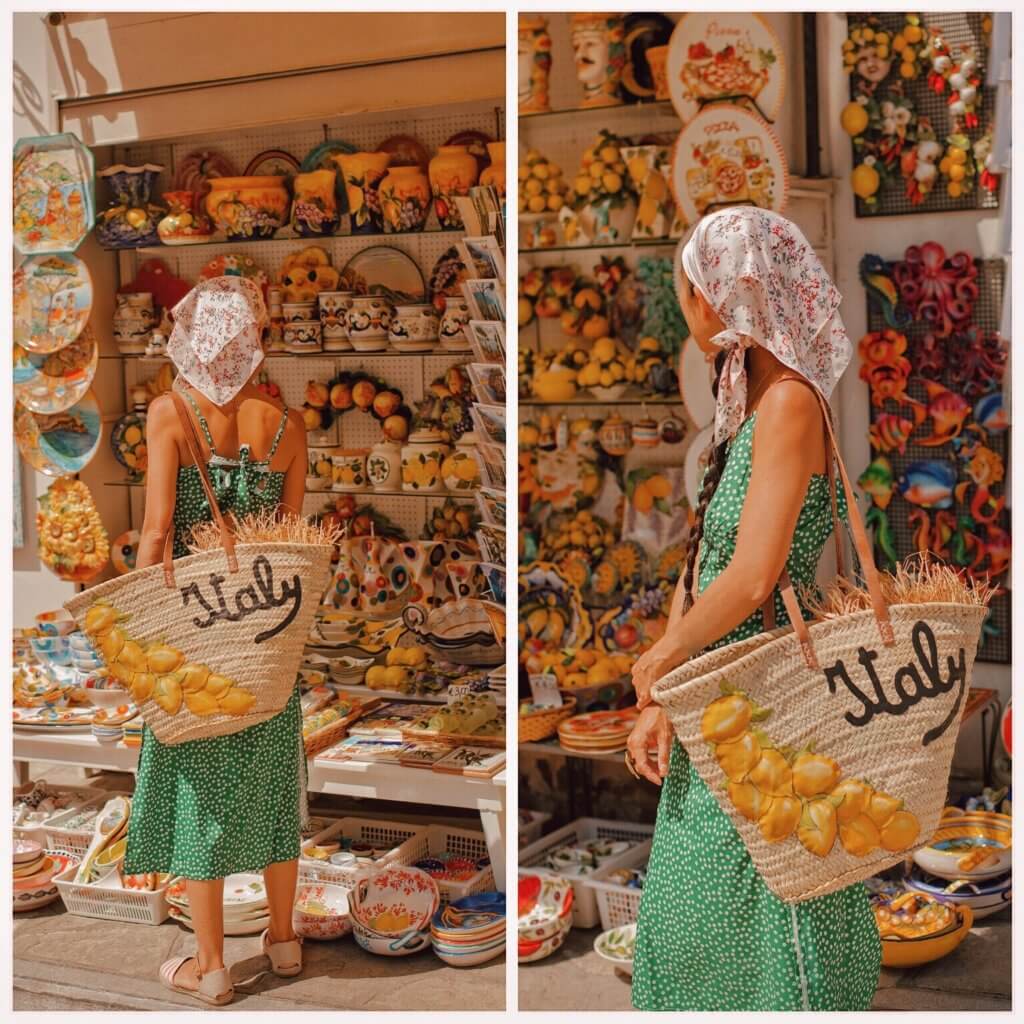 Furore
Furore is a small town in the Amalfi Coast, known as "il paese che non c'è" (the town that does not exist) because of its size and how incredibly difficult it is to find its entrance. Even those who seek it can lose it. As we were looking really hard for it, we still passed by this town twice without knowing it was there.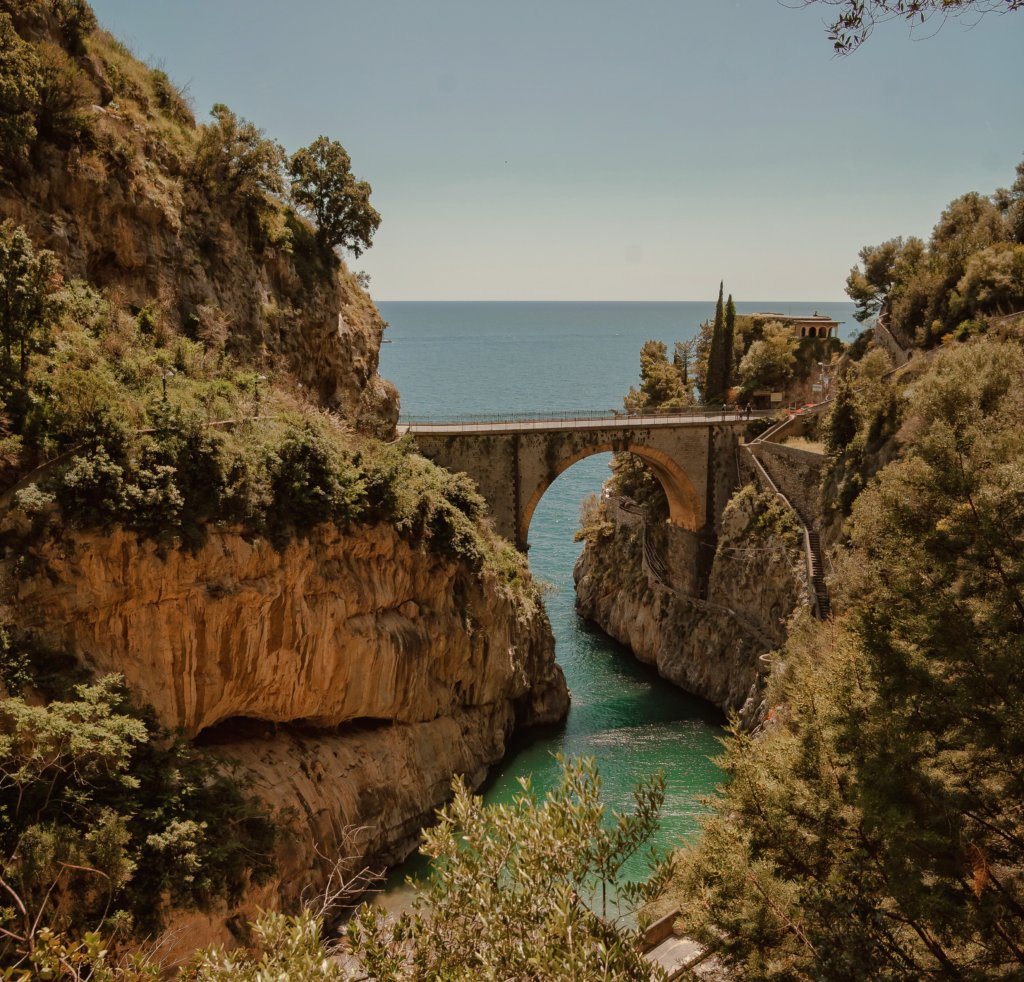 At this hidden beach, you'll find spectacular scenery and a bridge that awards you with magnificent ocean views. Unfortunately when we were there, the beach was closed. All the passages down to the beach were shut off by brick walls. It looks like they have been closed for a long time due to rock fall. Some people were climbing around the walls but it's a steep drop if you decide to risk it. But from the bridge, we were still able to take some steps down and stop to take photos on the way down. The halfway point is a great place to get photos of the whole bridge and turquoise water below.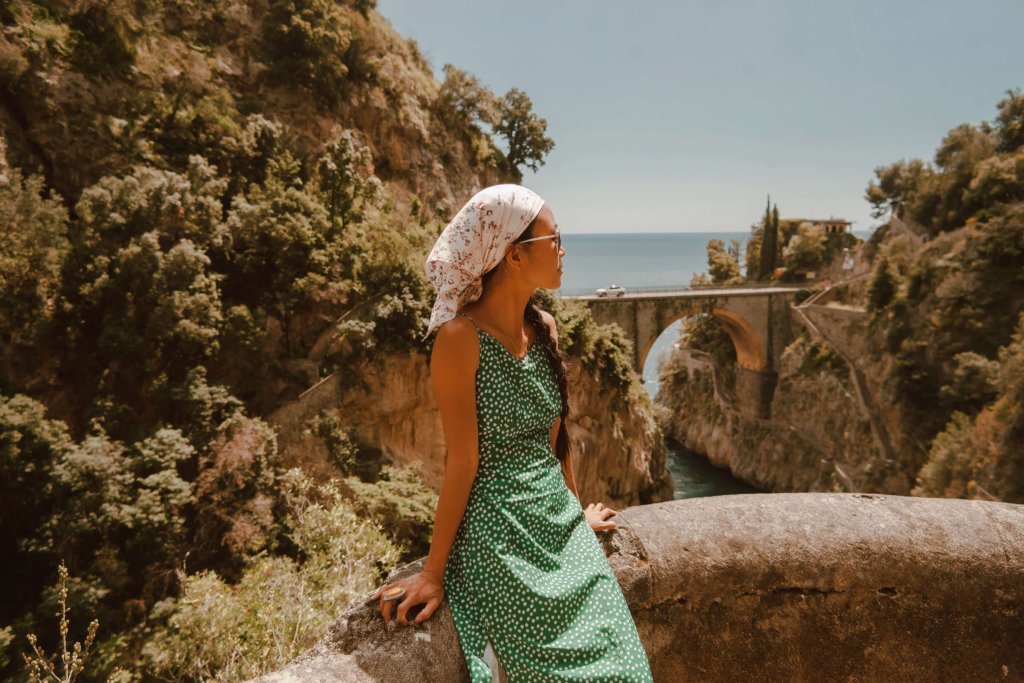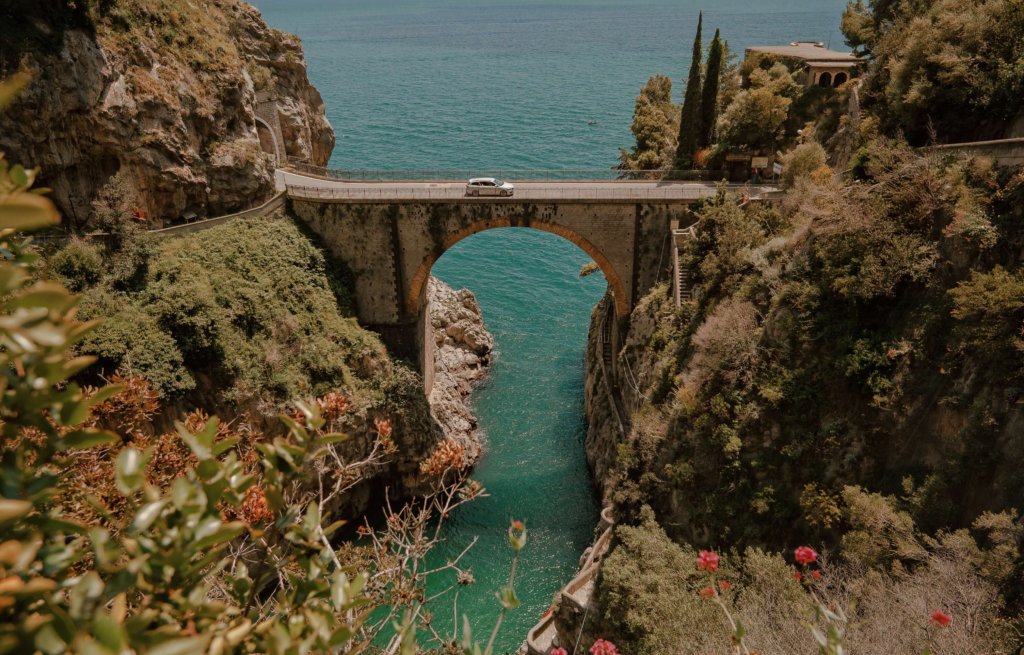 I strongly recommend getting here by bus and not risking driving here since there's nowhere to park. It's an extremely narrow road. You can risk it and park on the side of the road (if it's low season) and run up and snap a few pics. What we did was that we drove past the bridge where the Fiordo is located, and through the tunnel at the opposite end there is a beautiful restaurant Euroconca where we had lunch and walked back to the bridge after lunch.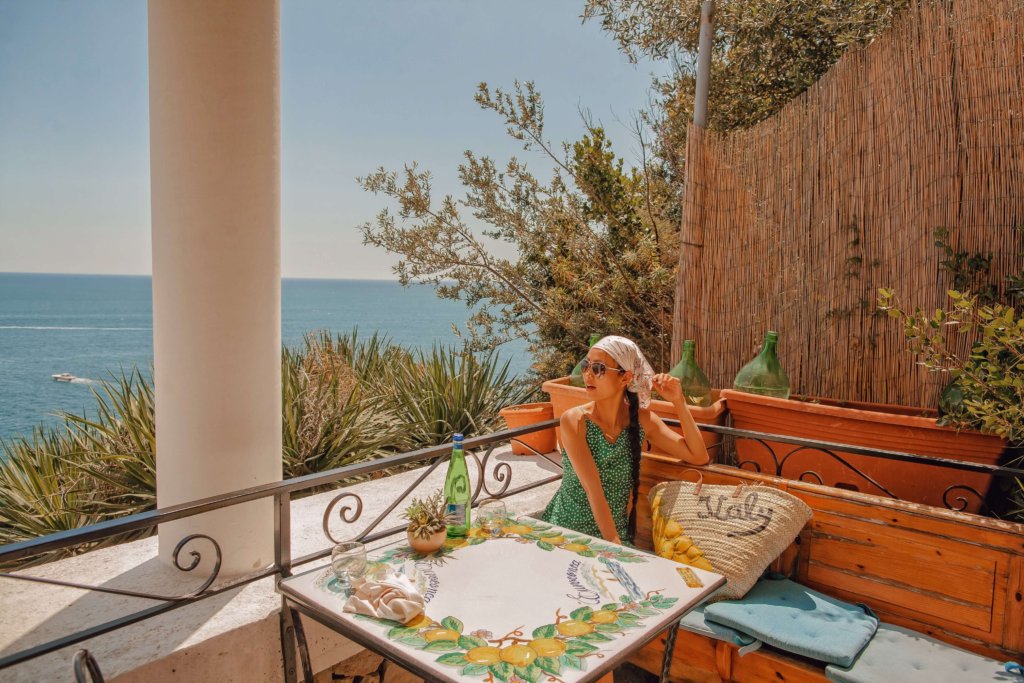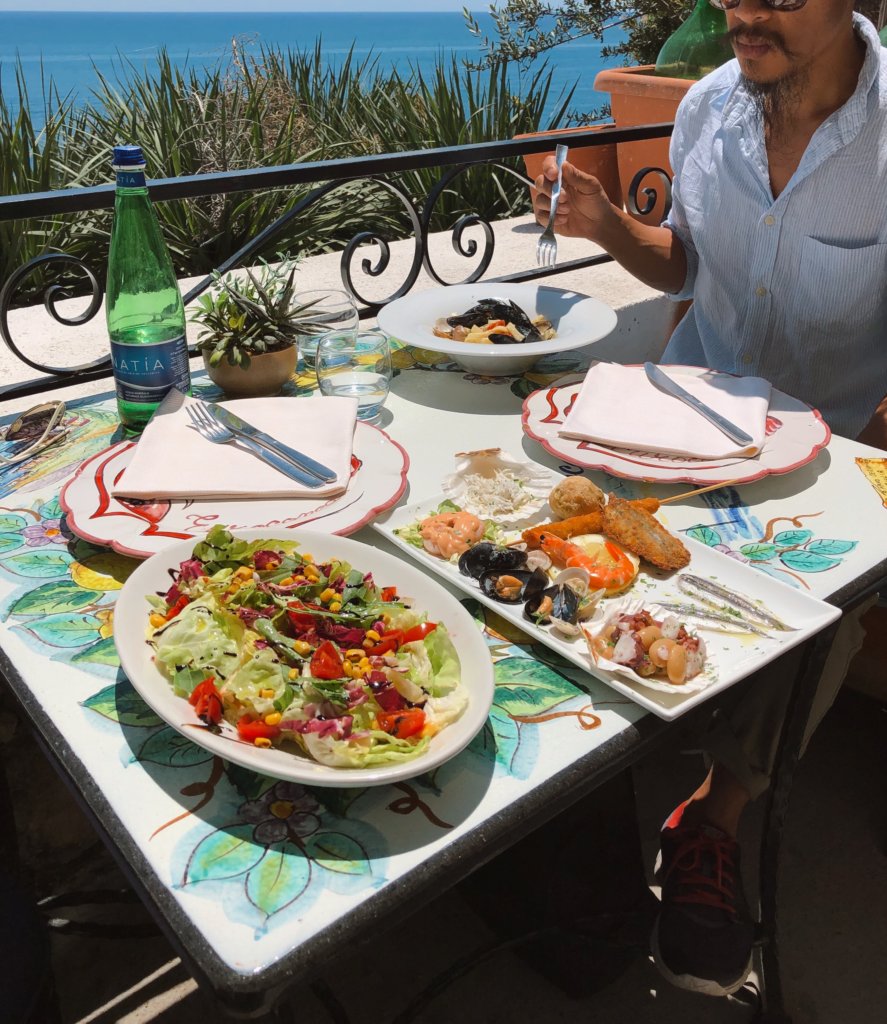 Positano
It's nice to get lost in Positano. To fully embrace the beauty of the town it's probably better to walk without a precise destination. You will be able to enjoy the streets, the little shops, the restaurants, the monuments, the churches, the beaches.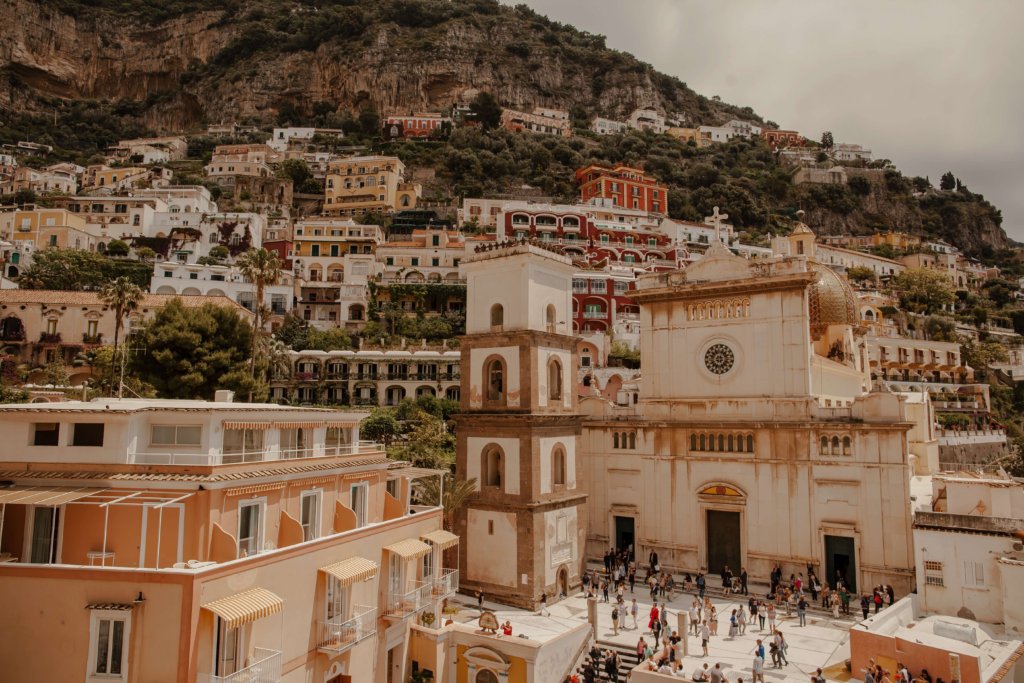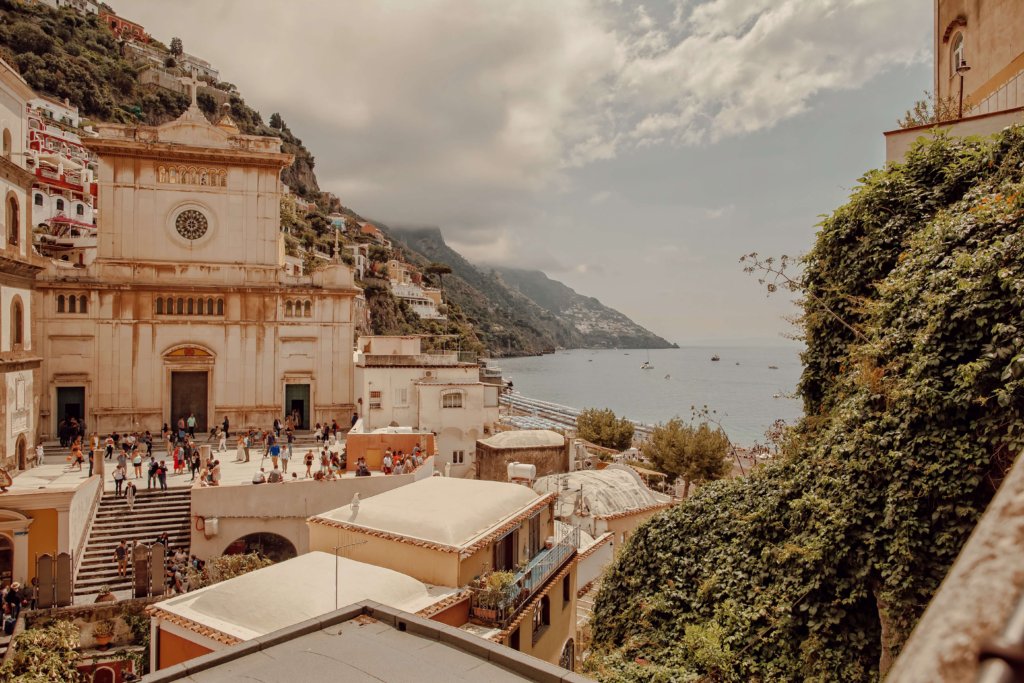 There's no doubt you've come across photos from Positano's charming beaches at some point in your life. Positano's most famous and lively beach is Marina Grande Beach (Spiaggia). The main beach is very easy to find, as it is Positano's "hub" that the village is built up and around. Rows of colorful umbrellas stretch across this beach.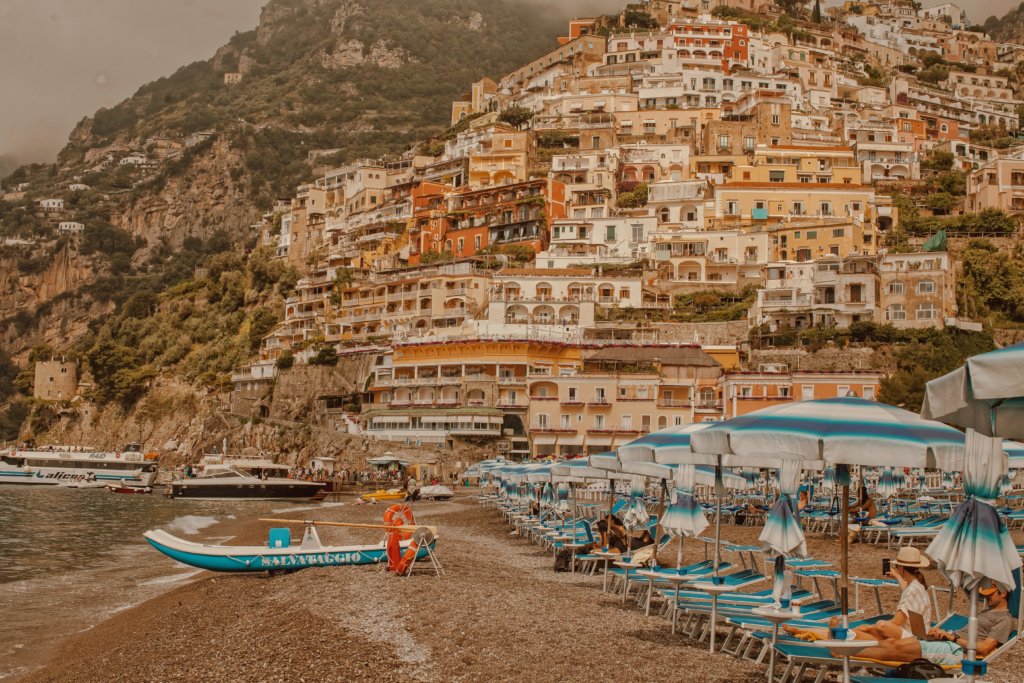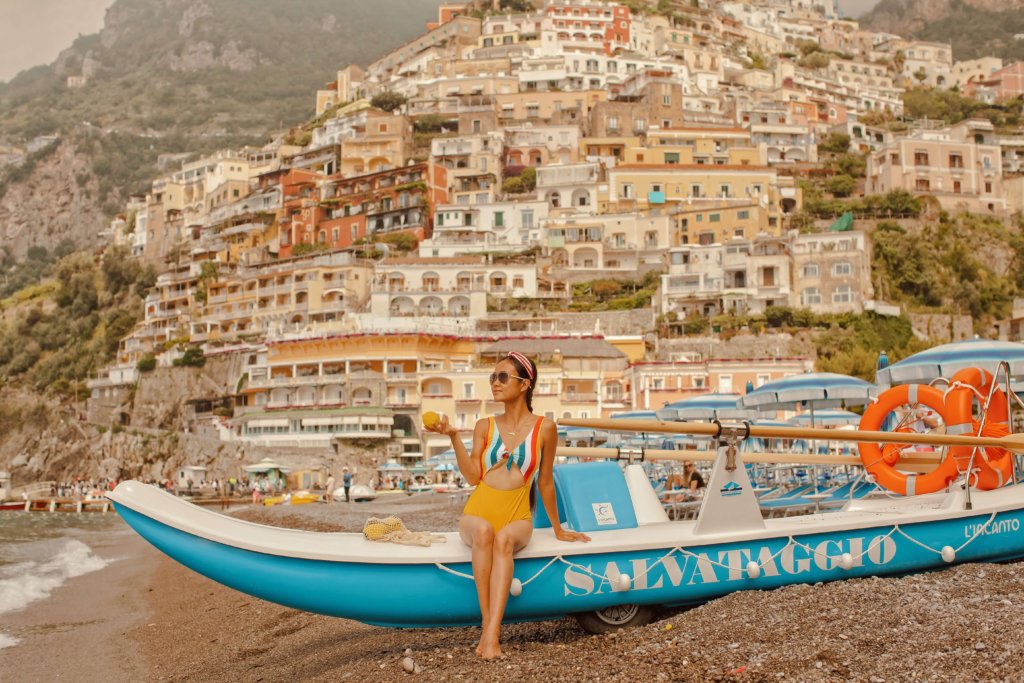 Part of the beach is managed by a lido called L'Incanto, which rents (pricey) sun beds and umbrellas and provides change rooms and a shower. We rented 2 sunbeds, each cost 25euro.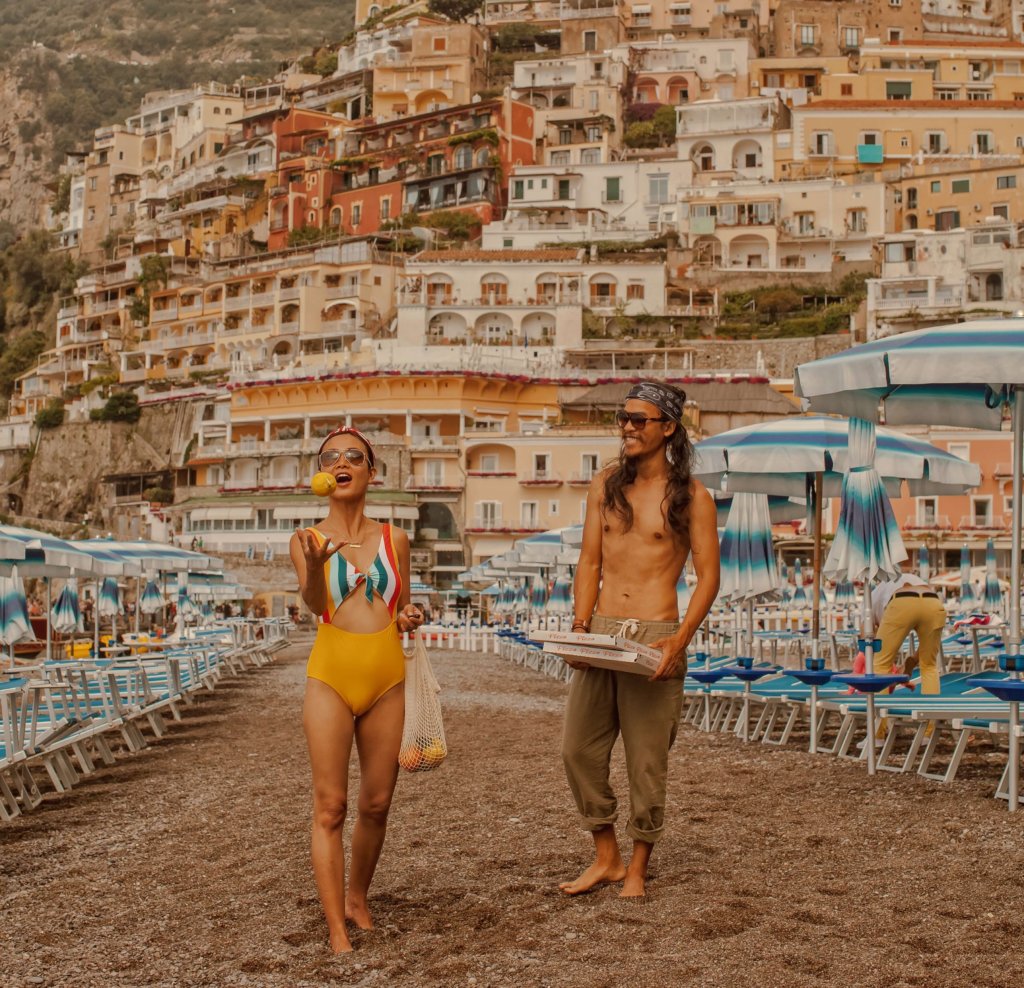 If you don't want to pay the rental fees? In the middle of the beach, there is an area known as "spiaggia libera" (free beach), where you will see people tossing down their beach towel without having to pay rental feels. There are busy restaurants and bars line the walkway, offering incredible views with your favorite pasta dish. Chez Black is my favorite.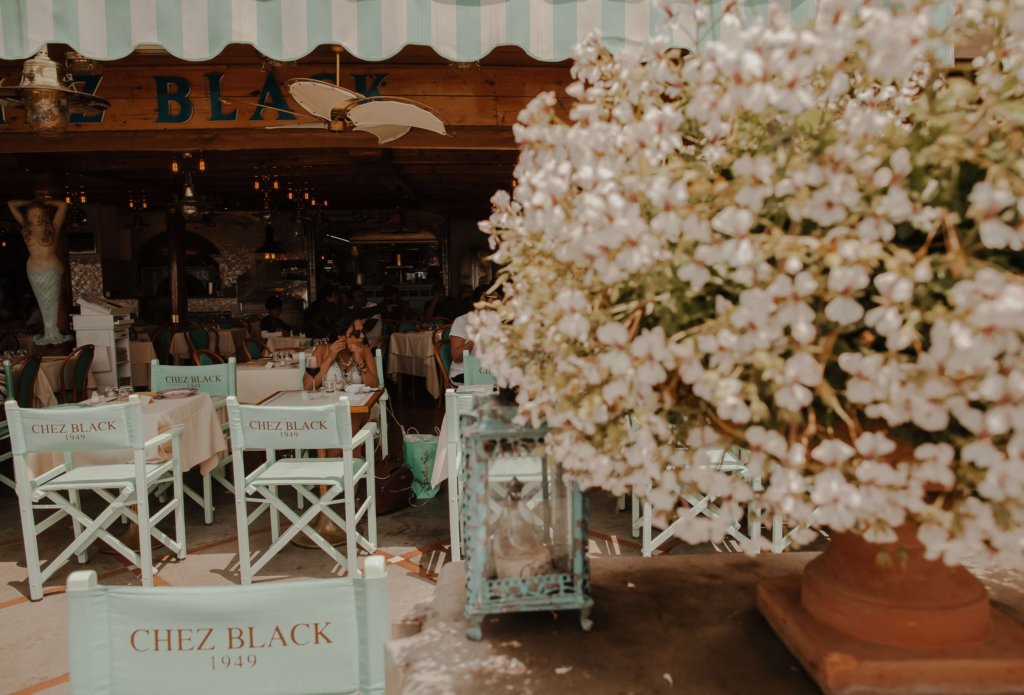 One of my main reasons for going to Positano was just to take photos of the gorgeous landscape. I spent a lot of time walking around trying to find different angles and gazing at various beautiful viewpoints.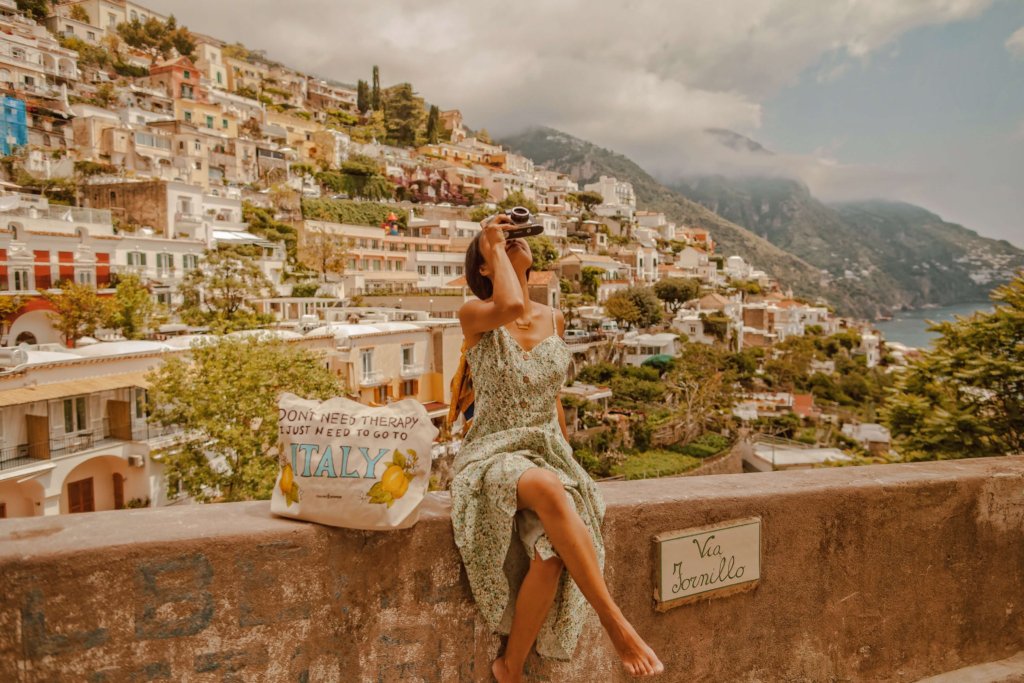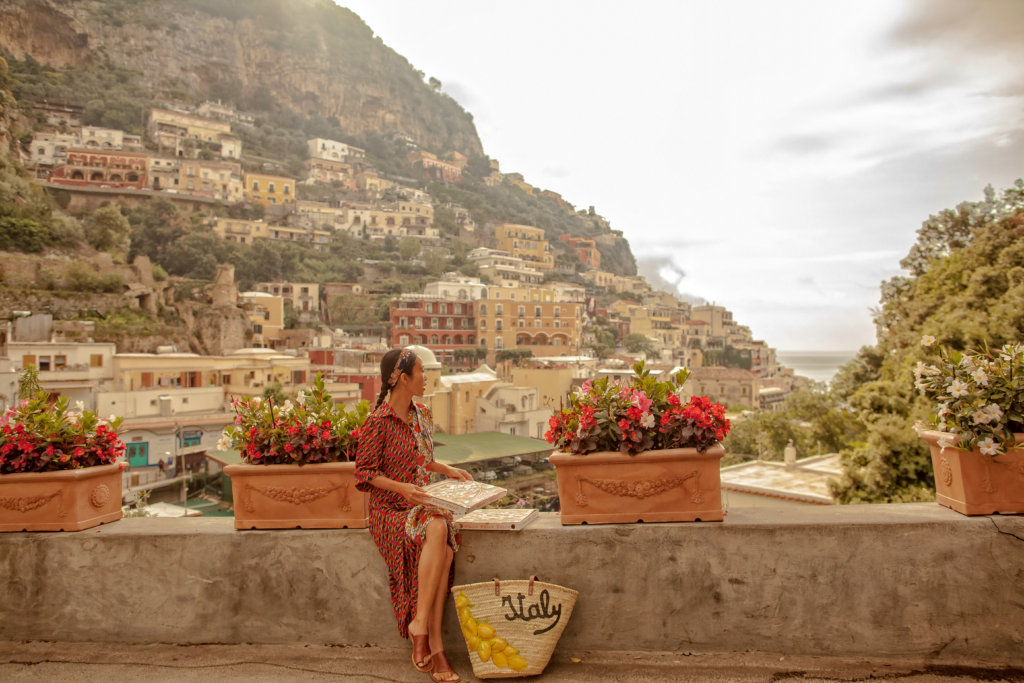 My pursuit of the perfect angle led me to the locations which I believe are the best vantage point to take photos of the town without having to visiting those fancy upscale hotels that are usually mentioned in other Instagrammers' blog.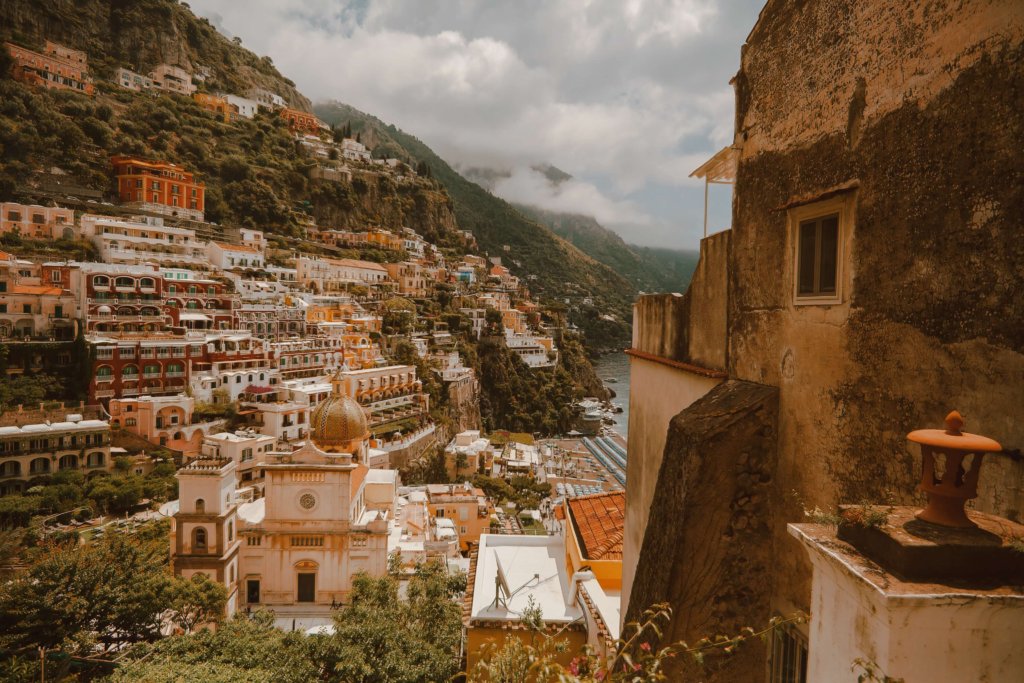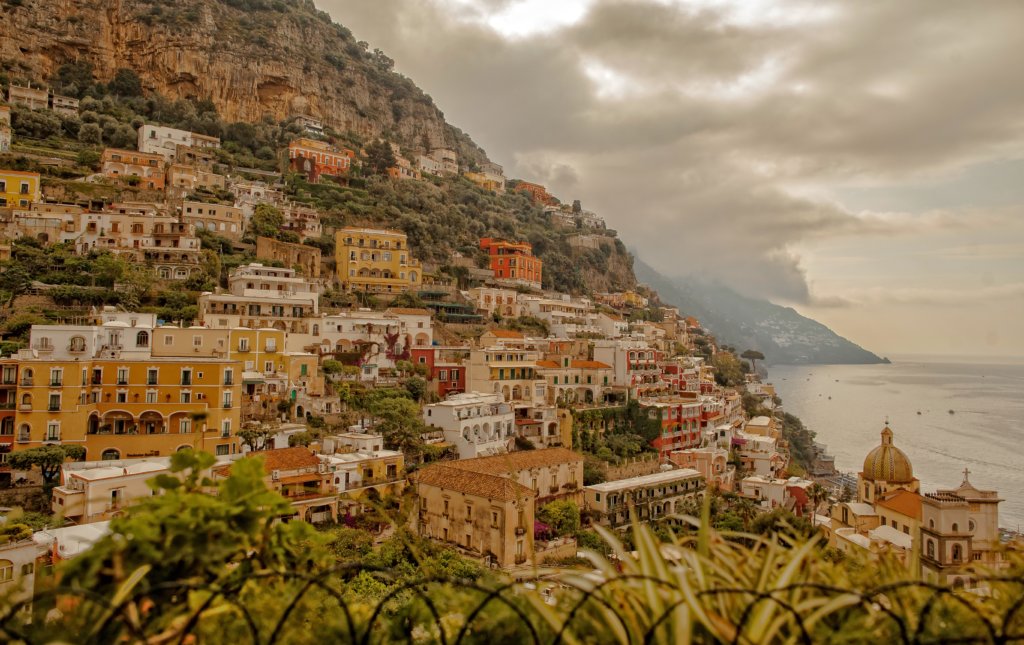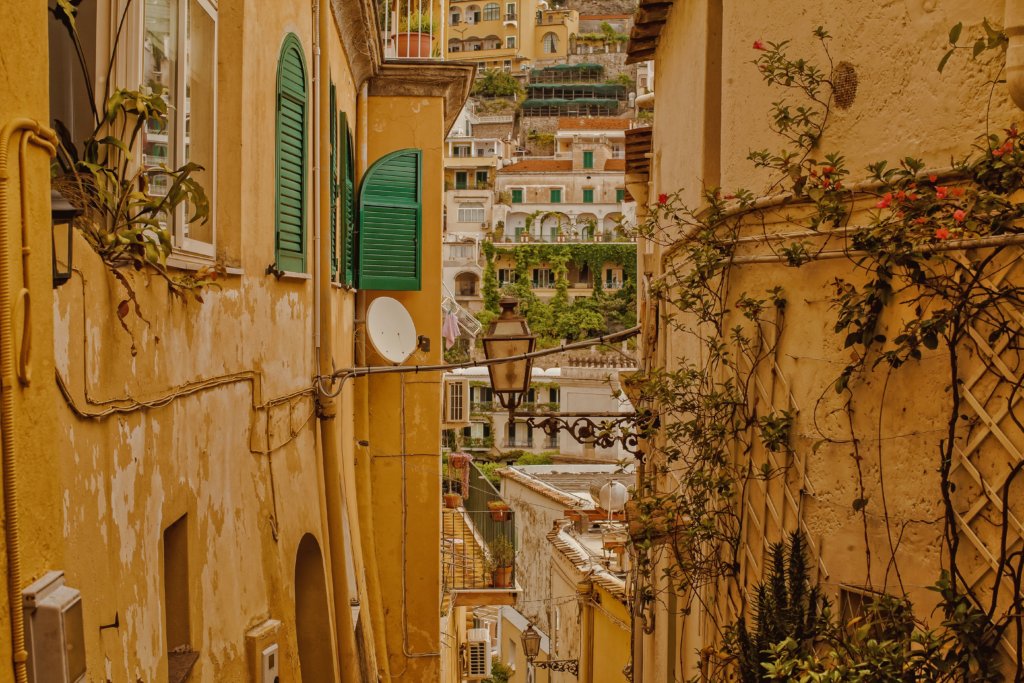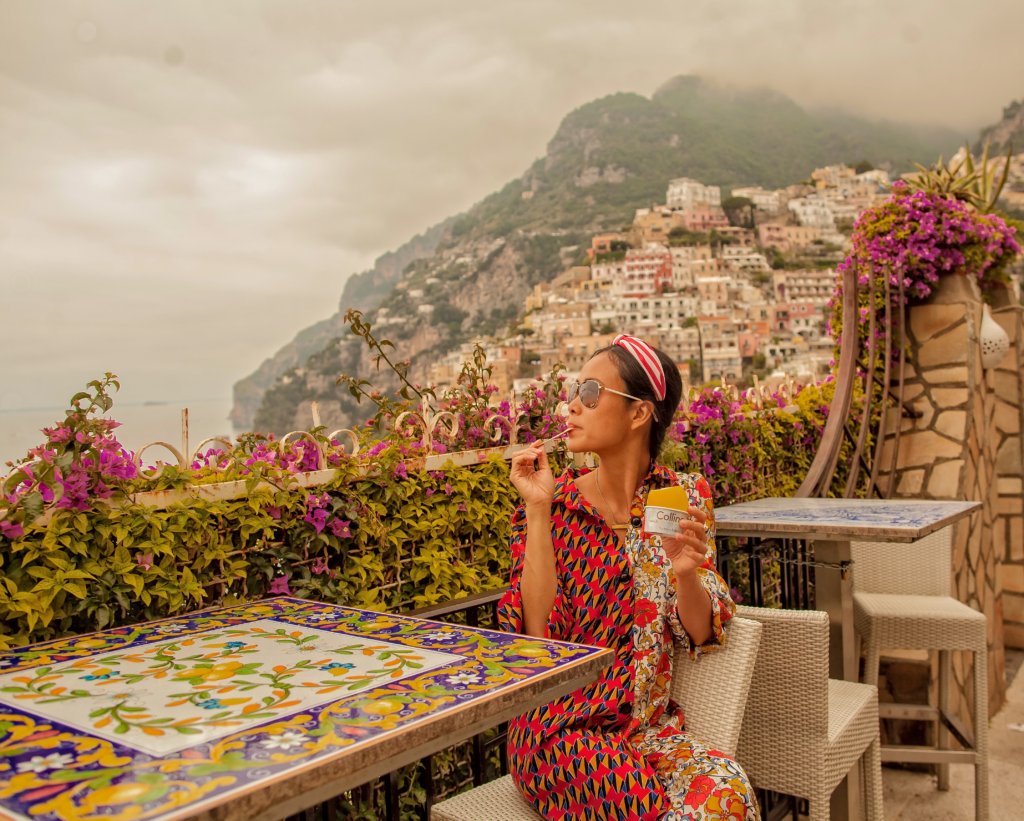 In the village center, there are plenty of options if you're looking to browse for cute clothing boutiques, ceramic shops, art galleries, and souvenir stores.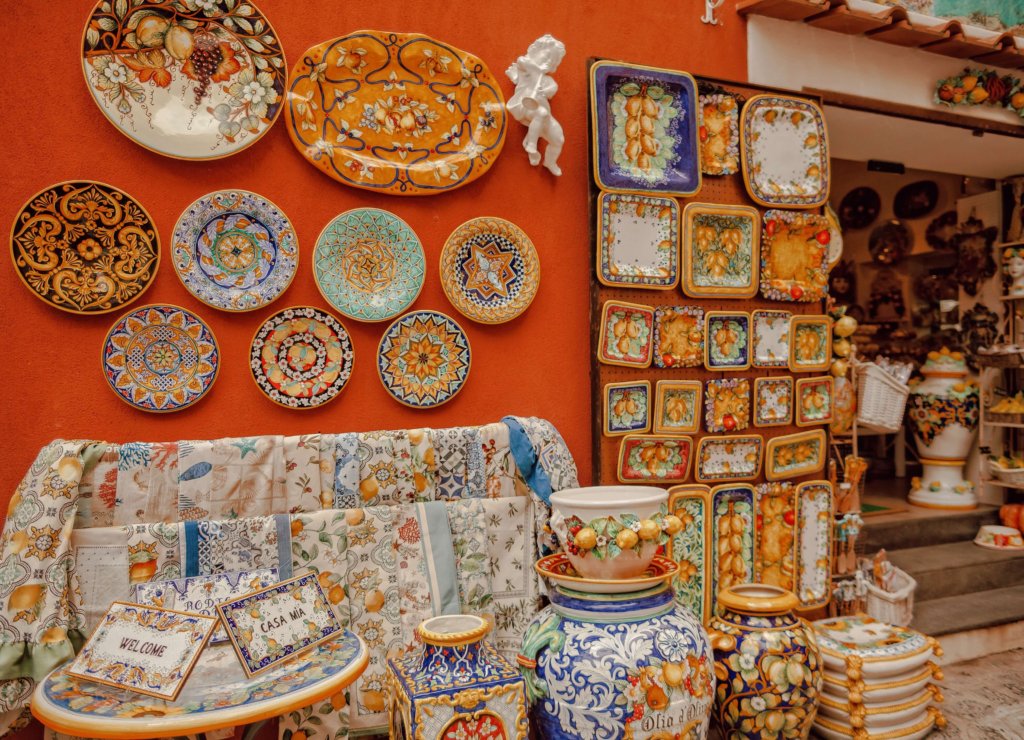 The thing to look for here are really beautiful crochet and linen dresses, tops, skirts and pants, as well as lemon-print clothing in eye-popping colors.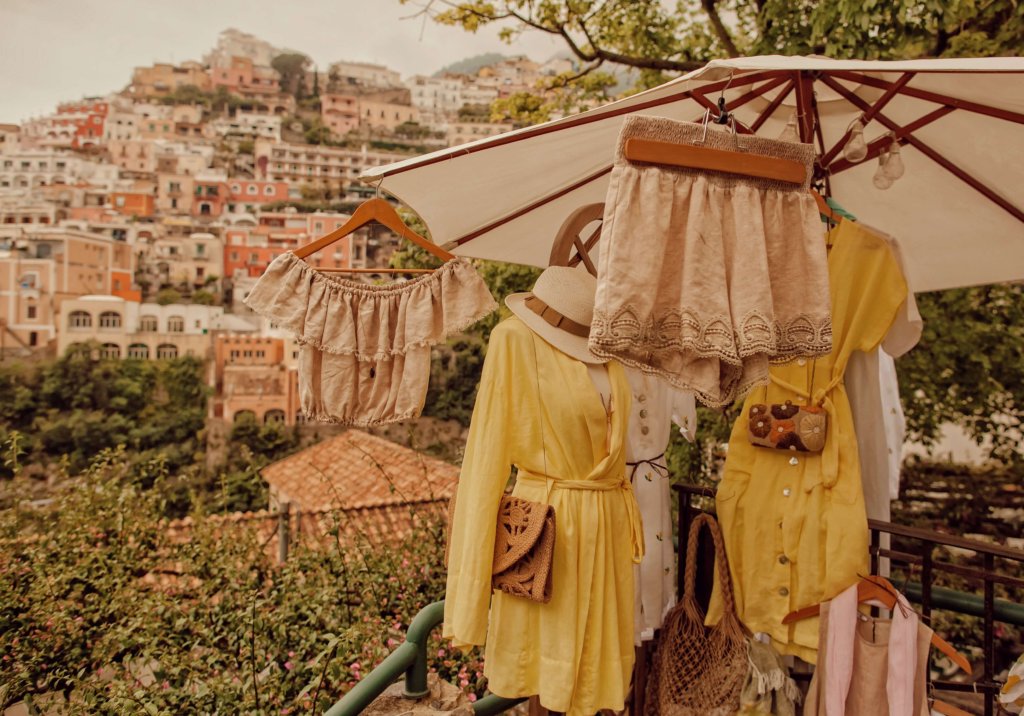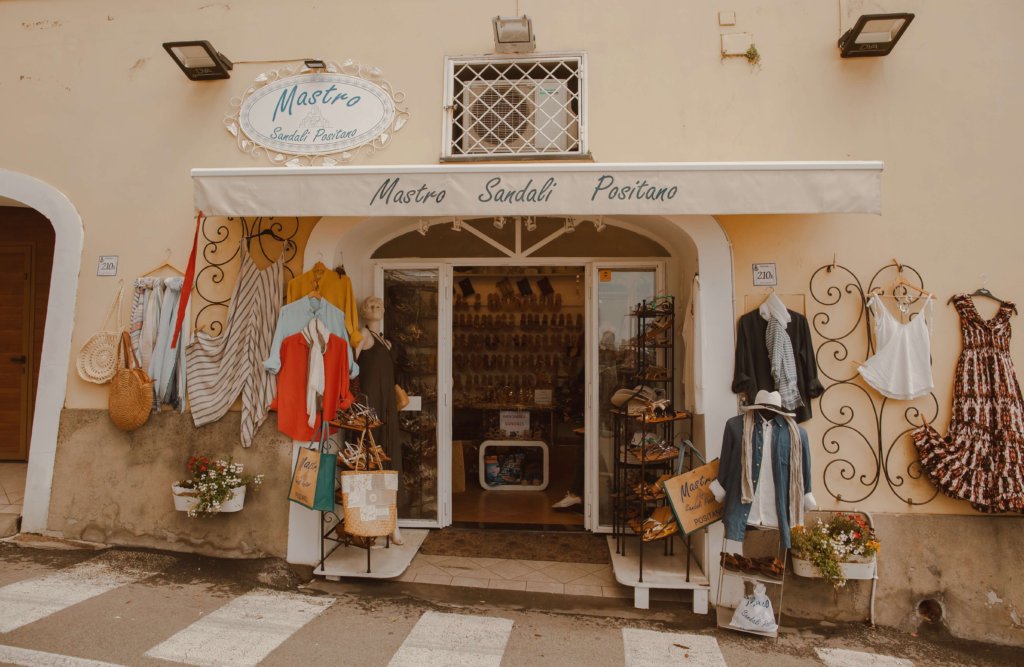 Praiano
As we went from Positano to Praiano, we ran into one of the most instagrammble classic fruit stands stocked with piles of bright lemons, oranges, and other local produce that I have seen a lot on my Instagram feed. I recognized this stand right away!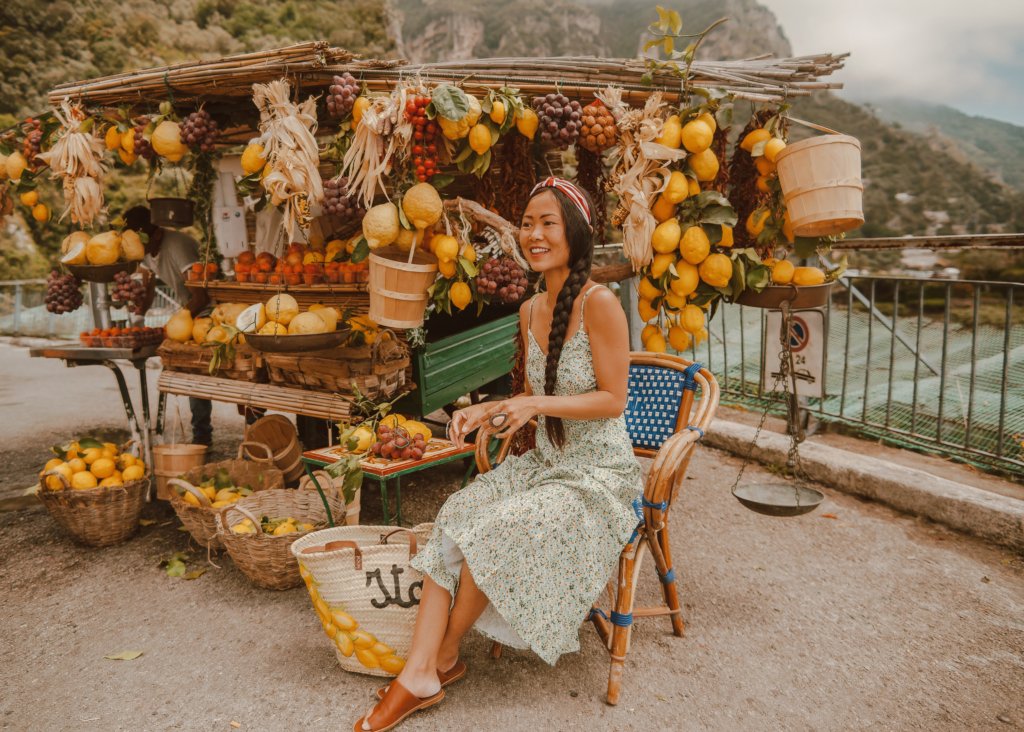 This famous fruit stand belongs to Salvatore. He's the sweetest man on earth. If you ask for a photo with his fruit stand he will let you stay and take as many photos as you'd like. His fruit stand is the most photogenic on the Amalfi Coast with vibrant colors and a local Italian flair – perfect for a colorful shot of the Amalfi Coast's famed citrus. And it's very easy to pull over and park at his fruit stand. Make sure you're polite to the owner and make a purchase. We bought a lot of fruits and his freshly squeezed lemon juice (no added sugar/water) was delicious.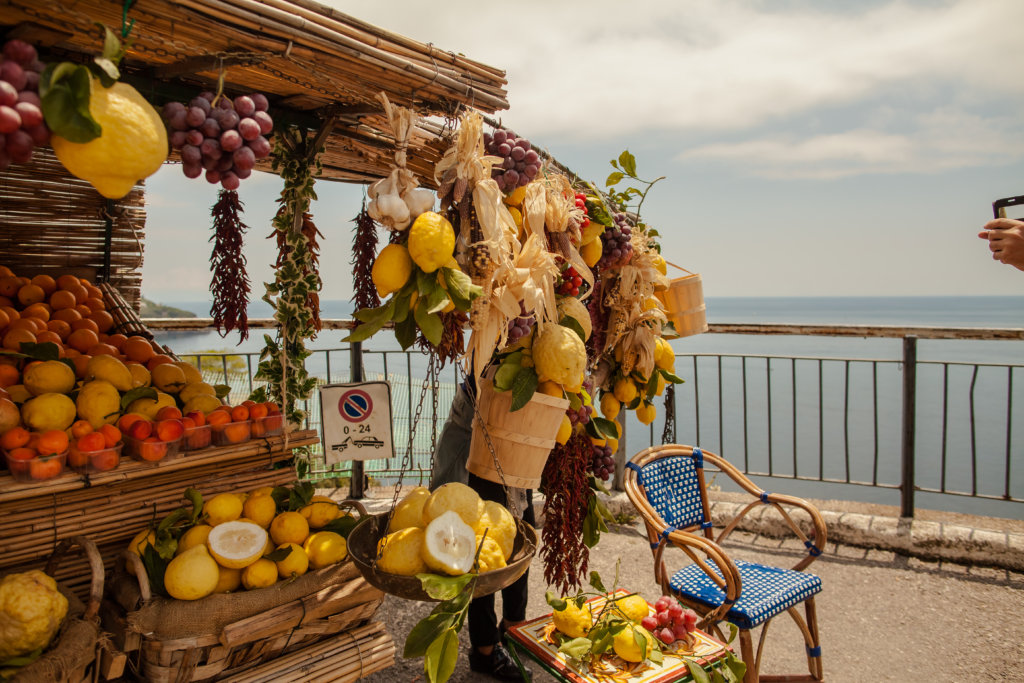 While Positano and Amalfi are the most famous towns on the Amalfi Coast, prices in these towns have plummeted during summer months (July-August). Instead of Positano, lots of budget-friendly travelers stay in the beautiful and under the radar town of Praiano, a lovely fisherman village halfway between Positano and Amalfi.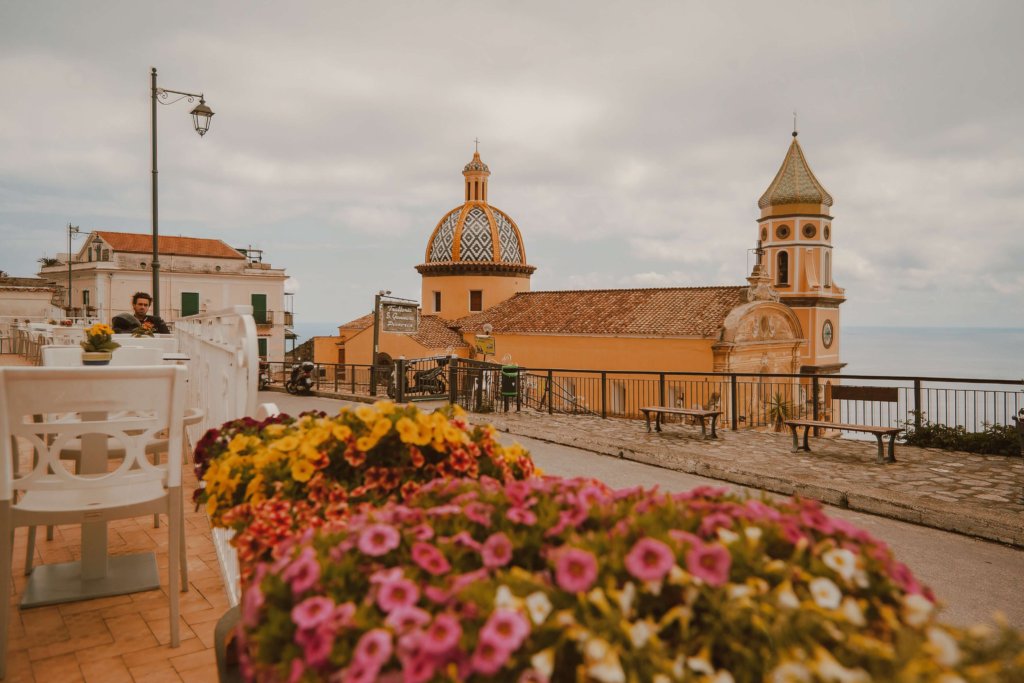 Praiano is the place to stay in to stay away from the hustle and bustle of the Amalfi Coast while being just a 20-minute drive from Positano and Amalfi.
Hope this guide will help you plan the perfect road trip to the Amalfi Coast!