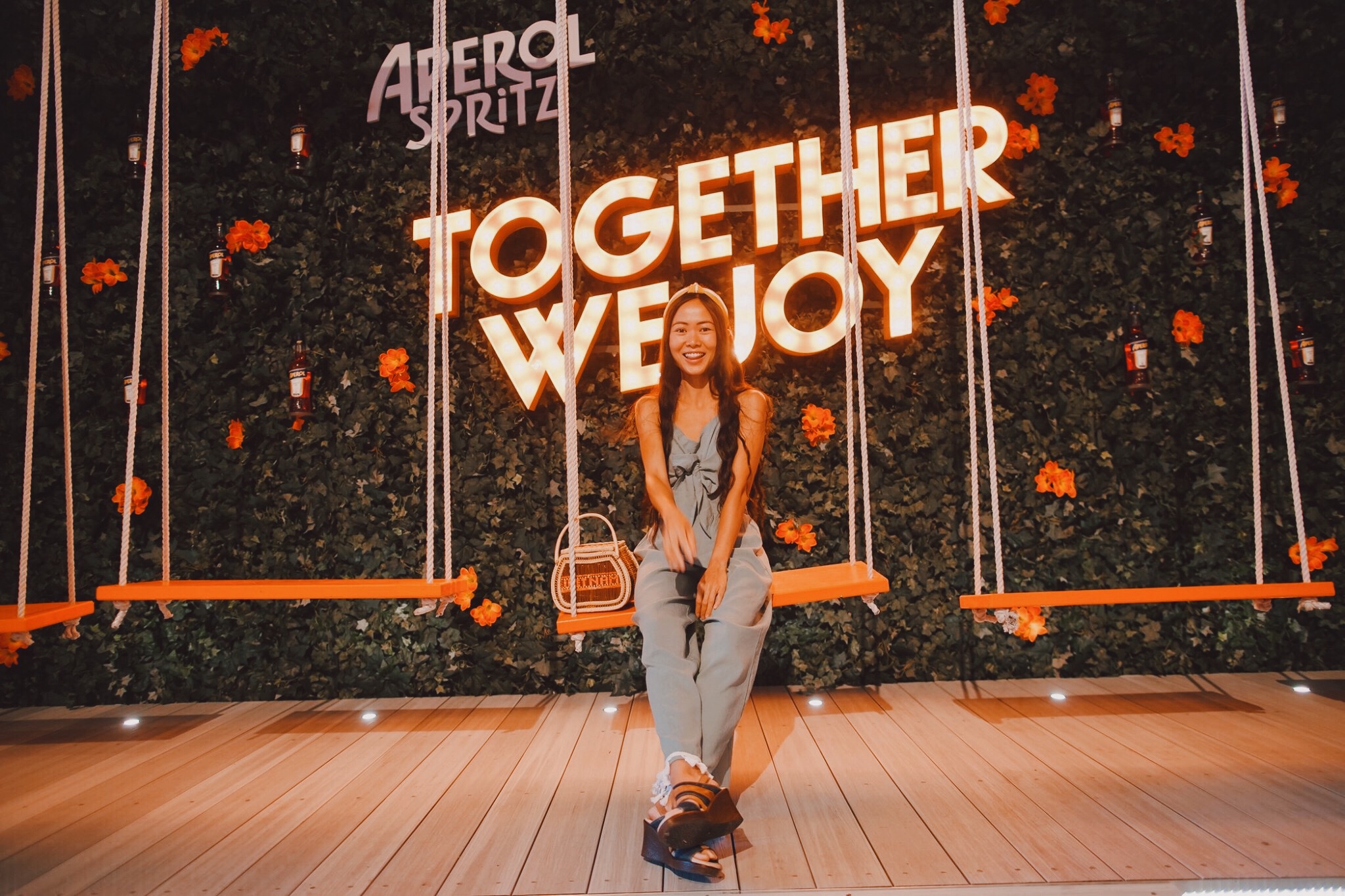 My Top 10 Picks at Los Angeles Food & Wine Festival 2019
Showcasing Los Angeles as an amazing food destination, the Los Angeles Food & Wine Festival is a spectacular event where guests enjoy delicious cuisine from over 100 celebrity and world-class chefs, and 75+ wines curated from prestigious wineries. It was such a great honor to be invited by the Wonderful Company to attend the LA's Faves and Craves hosted by LA's own Jet Tila. You can find the full schedule here, but to help you navigate through these events this year (or prepare for next year), I've put together a list of some of my favorite participating restaurants/wineries at this festival.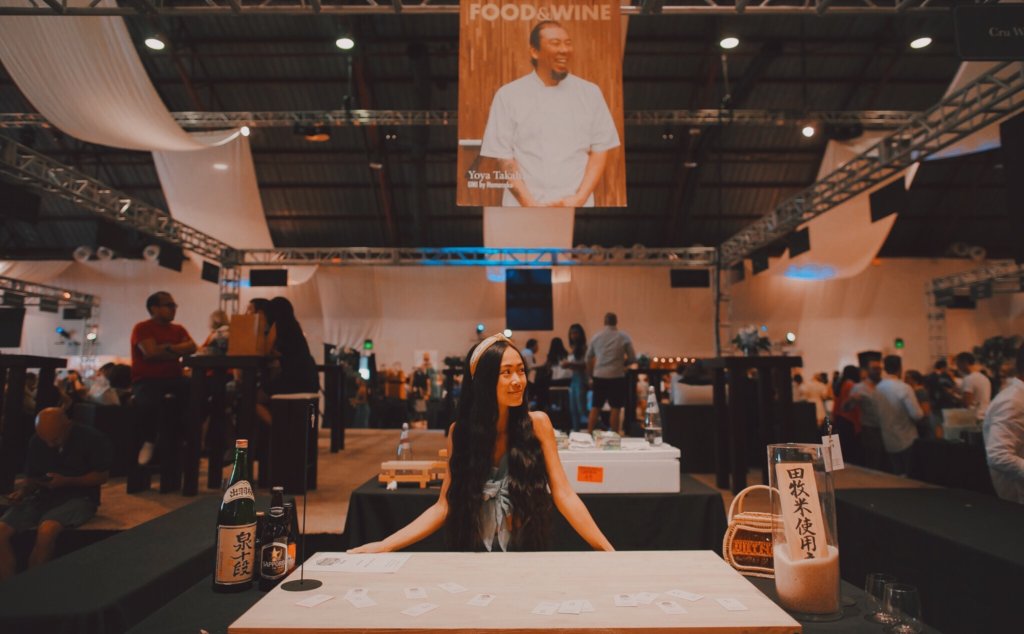 For the food-inclined, the Los Angeles Food & Wine Festival can feel a lot like Christmas: this event comes once a year, gifting guests culinary presents for every palate. Starting Thursday and running through Sunday (August 22-25, 2019), a string of tasting events can be found at the historic Barker Hangar (Santa Monica Airport), one of LA's premier event spaces!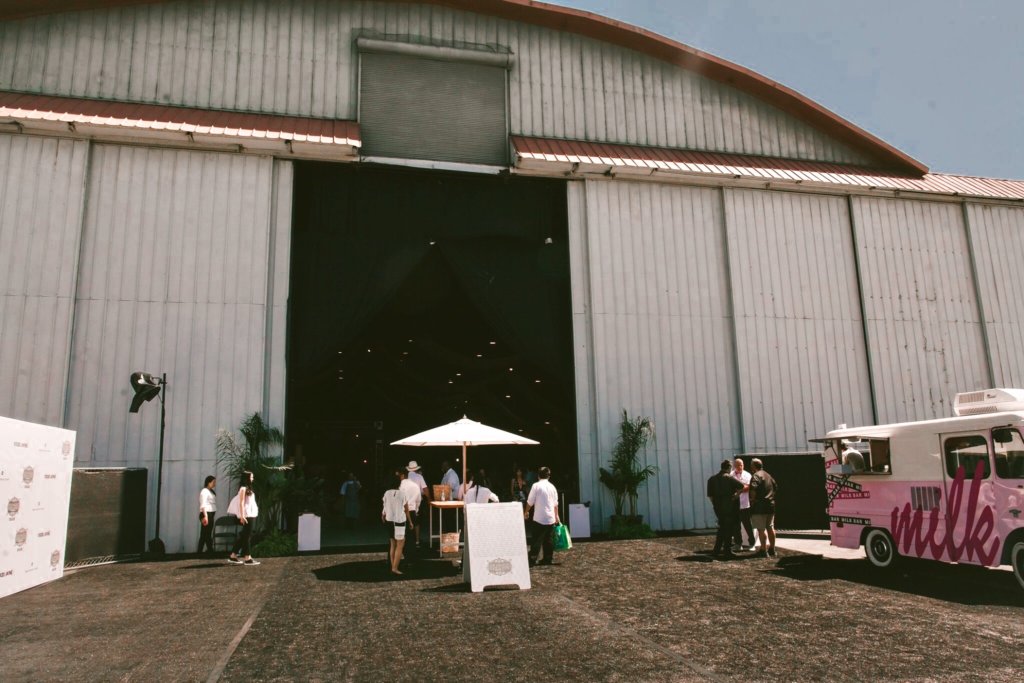 The event is pricy, but it is a chance to experience plenty of incredible food (and booze) in one place. There will be several large tasting events, similar to any major food fest.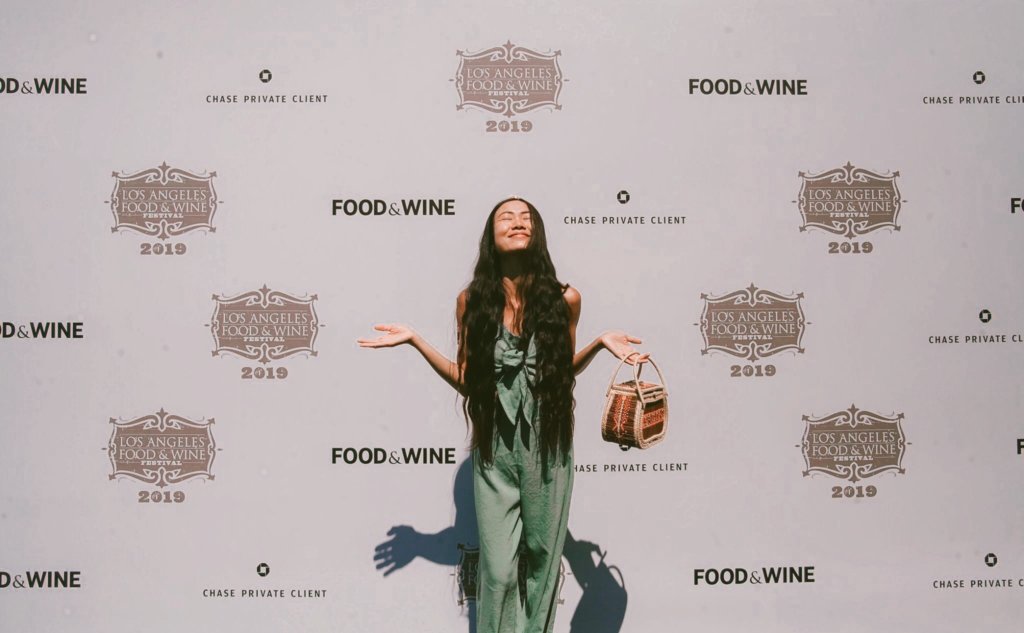 Culinary talent is complemented by mixologists, sommeliers, beverage directors, and music artists. Imagine this, 25 chefs showed off their most crave-worthy dishes that have proven their worth to the local. Isn't that awesome?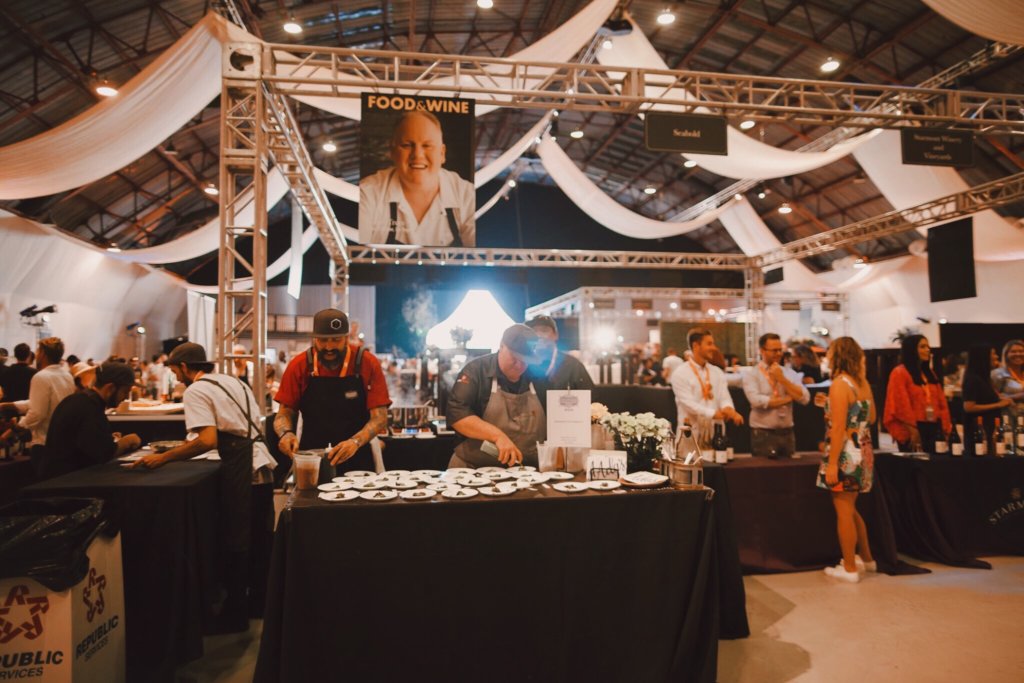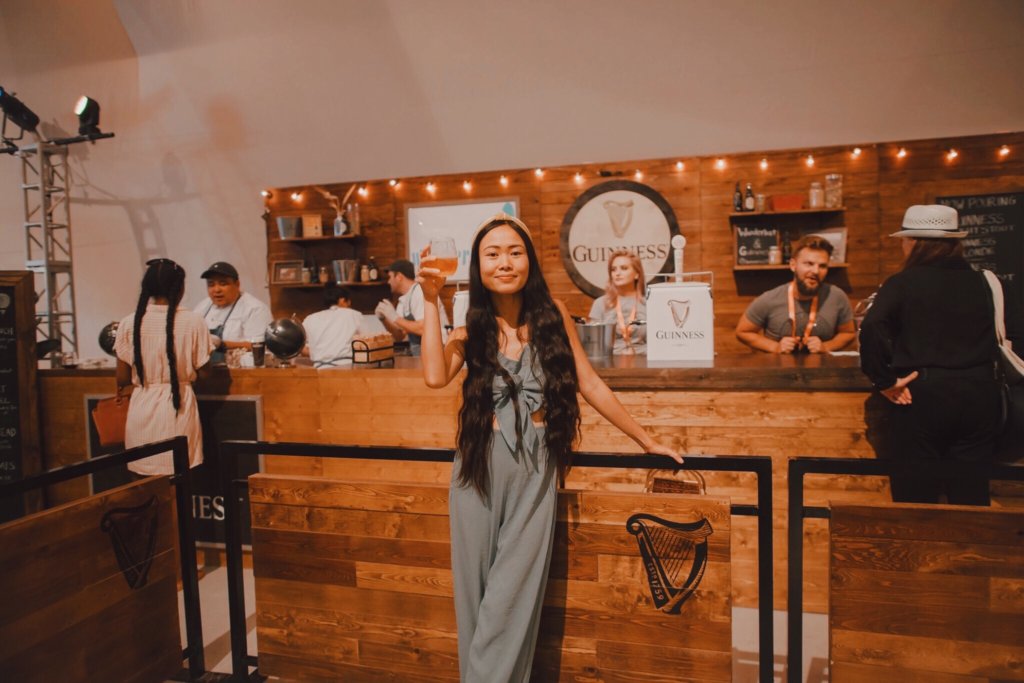 We had such a wonderful time watching celebrity chefs prepare the dishes, and sampling hors d'oeuvres. The festival also showcased wines from across California and the world.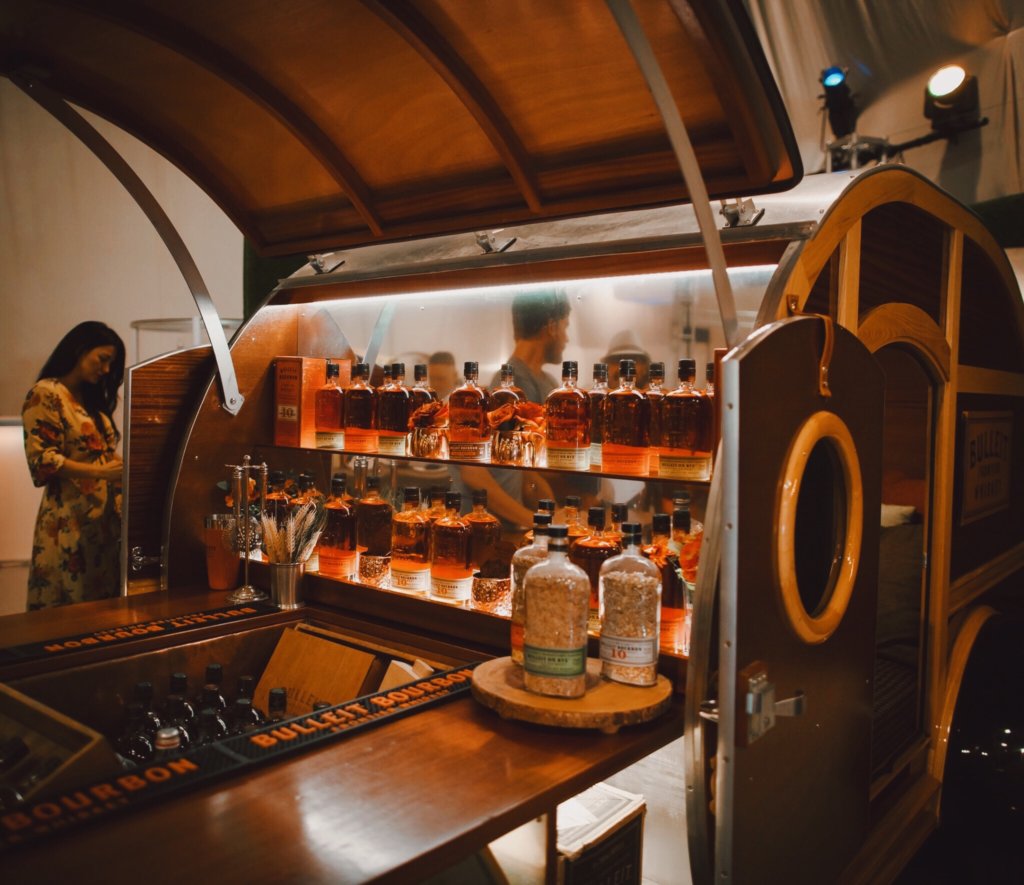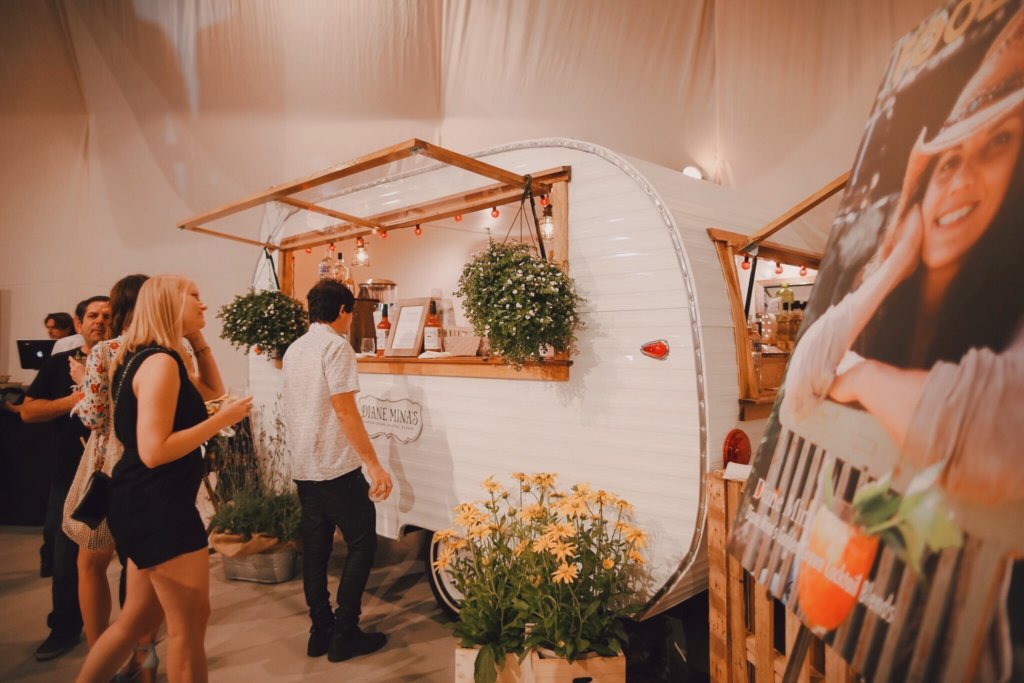 To help get you a general picture of LAFW, here's the list of my 10 favorite participating vendors.
Chef Jet Tila
From opening Encore Hotel in Las Vegas and guiding Anthony Bourdain through many food destinations, Chef Jet Tila is internationally celebrated for his culinary expertise. He grew up in the first family of Thai food and then later attending both French and Japanese culinary school.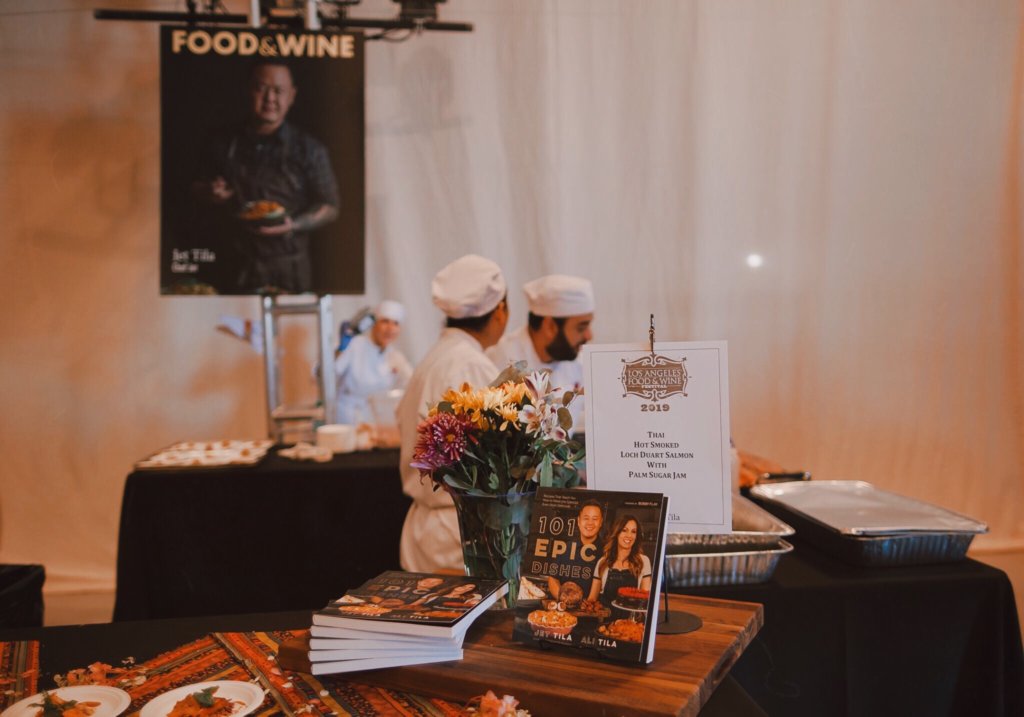 Chef Jet's culinary operations includes his Dragon Tiger Noodle Co in Las Vegas and global partnerships with Compass Group, Schwan's & NBC/Universal/DreamWorks. His food reaches millions of people a year and
he holds six culinary Guinness World Records. And here at LAFW we got to enjoy a plate of Jet's satisfying food: Thai Hot Smoked Loch Duart Salmon with Palm Sugar Jam.
Hot smoked with alderwood and hickory, beautiful Loch Duart salmon, aromatic Thai slaw, petite herbs and flowers, and palm sugar jam,… this plate was sent from heaven!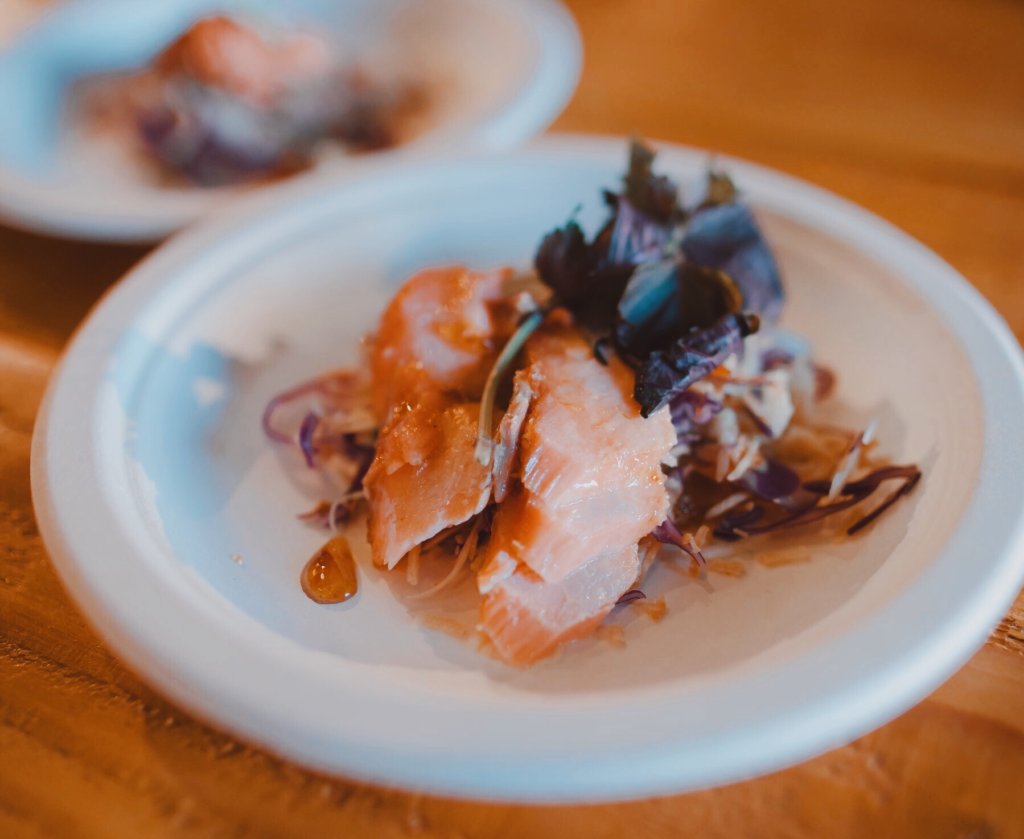 JNSQ Rosé
JNSQ Rosé is California-born with a French accent. This is the most beautiful rosé bottle I have ever seen: the elegant curves and resealable glass stoppers topped with their signature. They partner with top French glass designers to craft such a gorgeous masterpiece.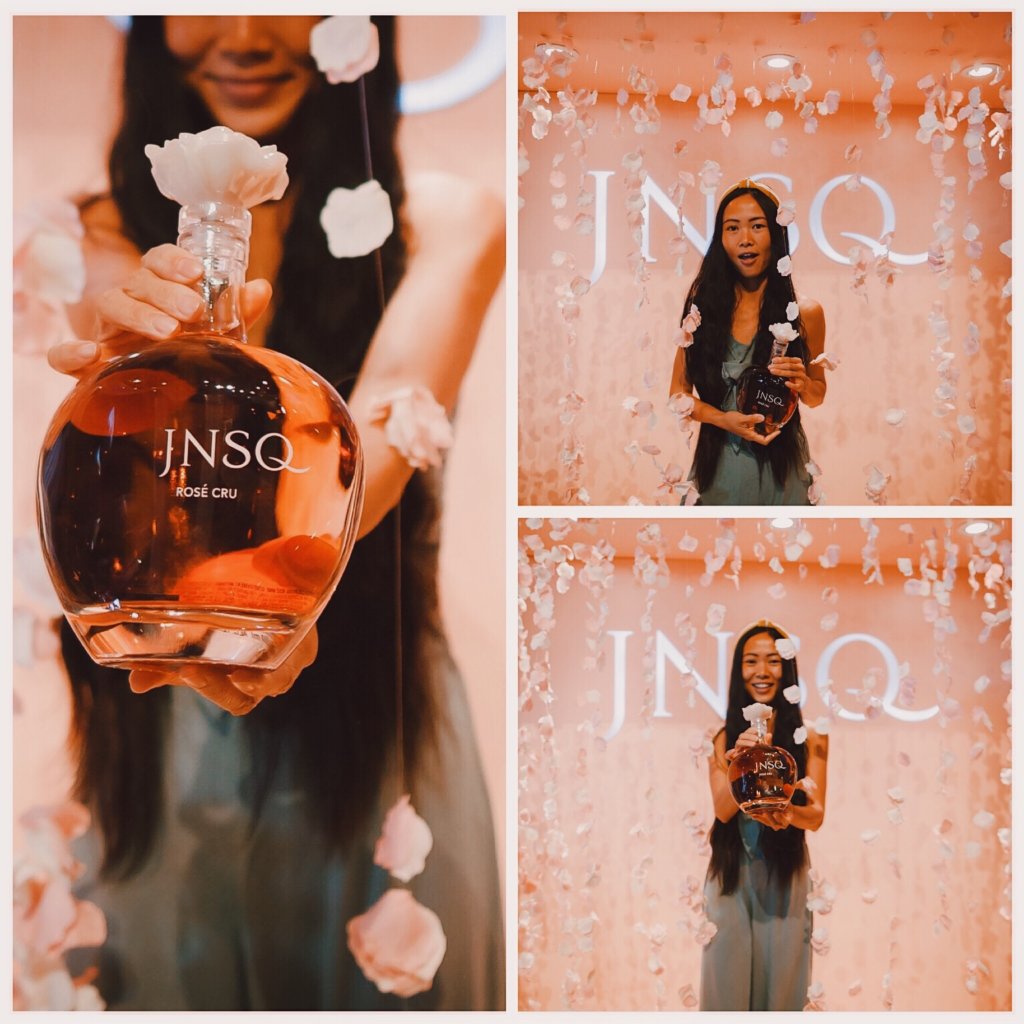 Not too sweet, but never bitter, this Rosé is clean, bright, crisp and refreshing. It's aromatic with a touch of strawberry and hints of Bing cherry. The dynamic flavors are accented with savory herbal and white floral notes that make it crisp and elegant, perfect for a girl's night in, a Sunday brunch, or sipping by the pool.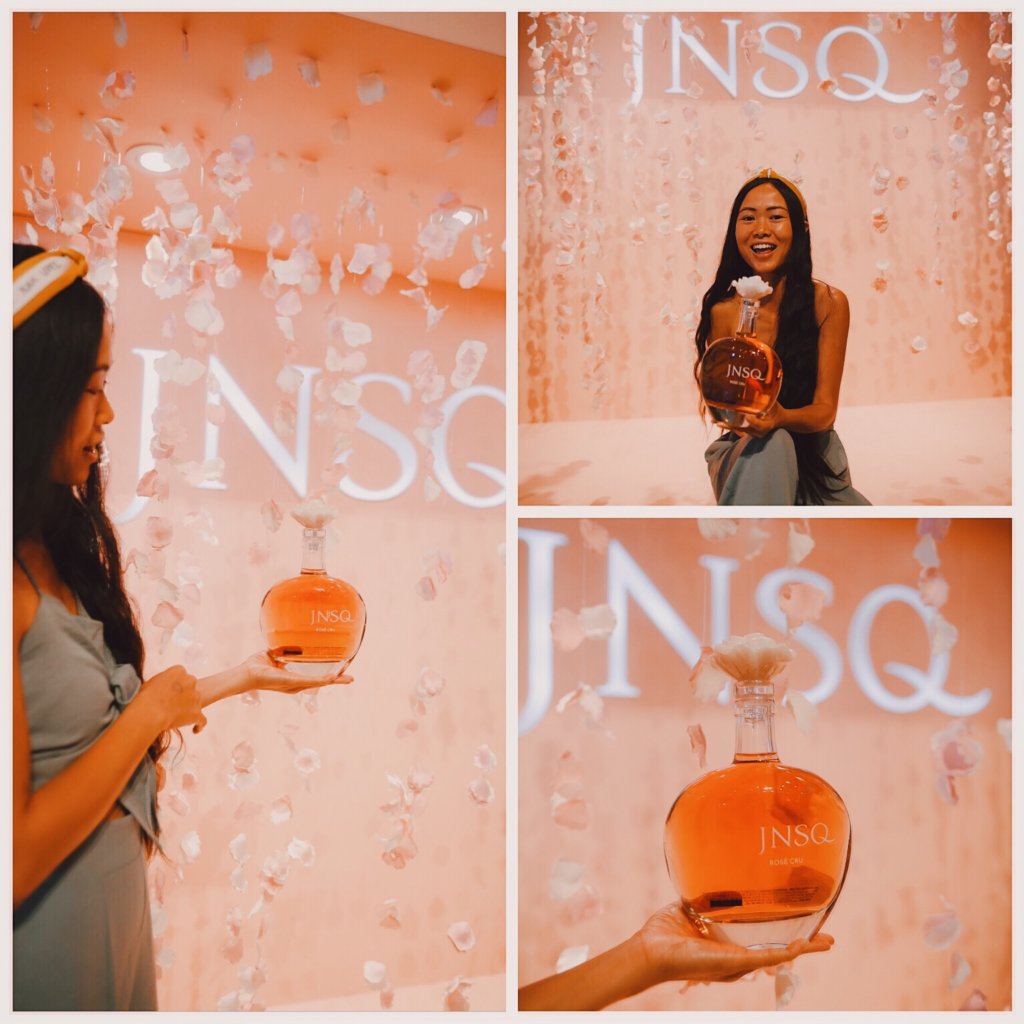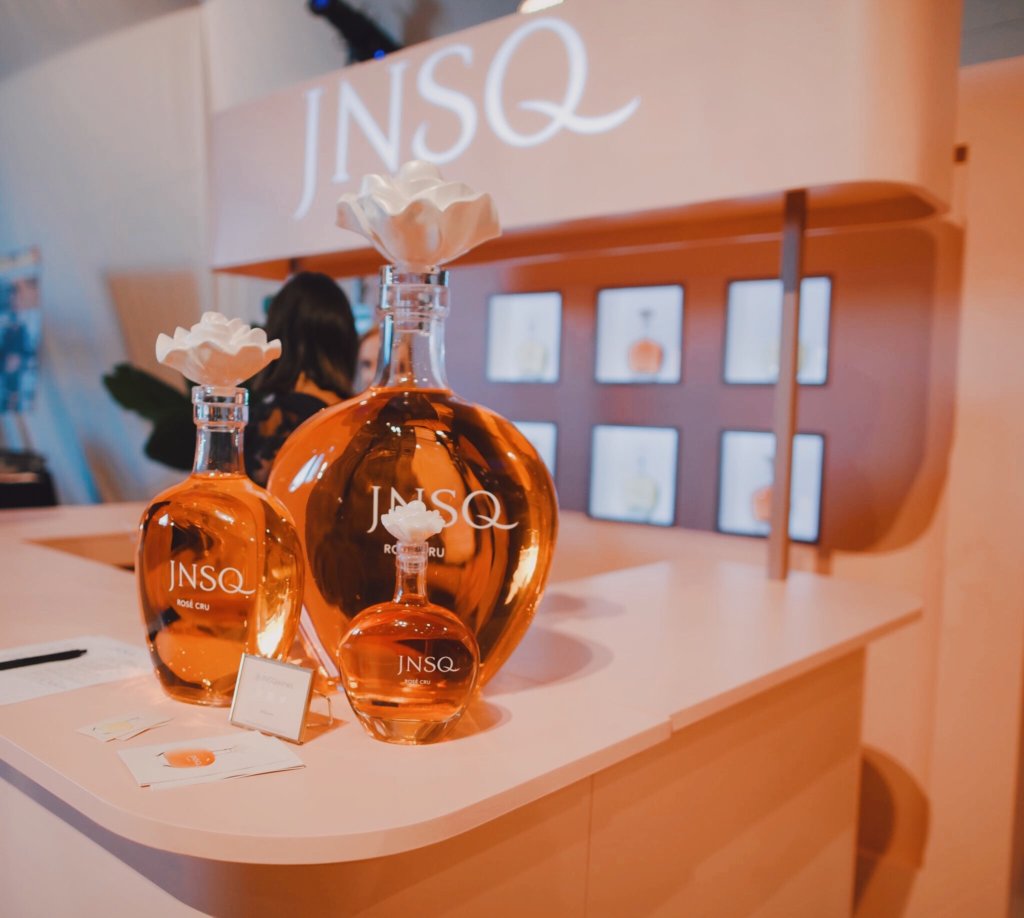 Chef Yoya Takahasi
Takahashi is a staple on the West LA sushi scene, having run the strip mall spot Hamasaku for a while now. The place has been long frequented by moneyed locals and casual celebrities. He takes his work seriously, showcasing the unique style he has spent years cultivating – a mixture of classical Japanese techniques and modern ones. As Executive Sushi Chef at Hamasaku, he continues to create beautiful and whimsical sushi dishes using the freshest and highest quality ingredients he can source.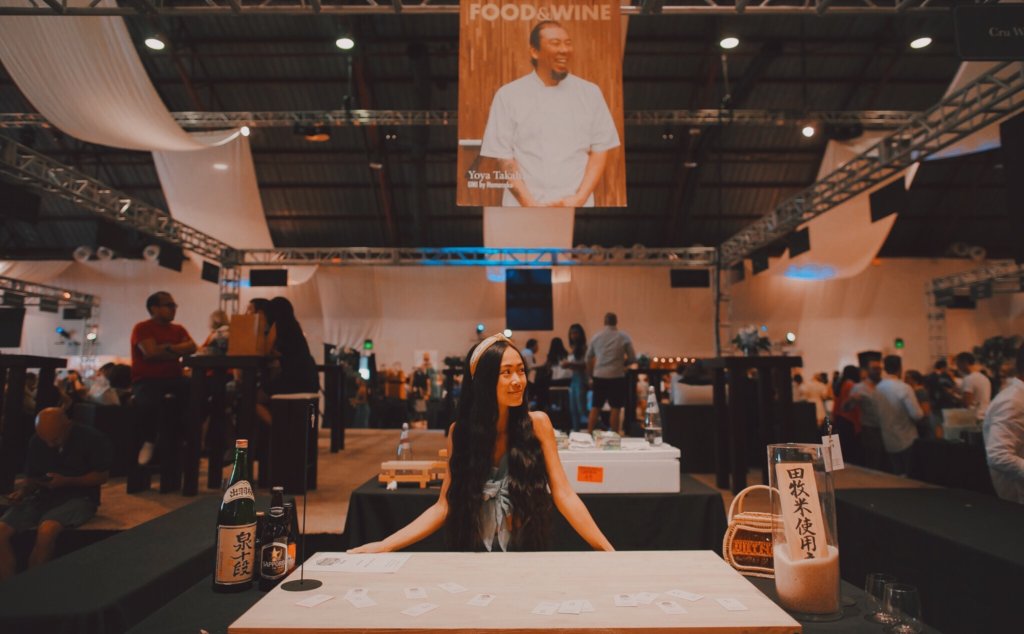 He brought to this festival one of his whimsical plates: Sasa Sushi. In Japanese, "sasa" is a bamboo leaf, and sasasushi is sushi consisting of rice and toppings wrapped in a bamboo leaf. Toppings include a wide range of wild vegetables such as mugwort and bamboo shoots, walnuts, mushrooms, miso, and shredded salmon.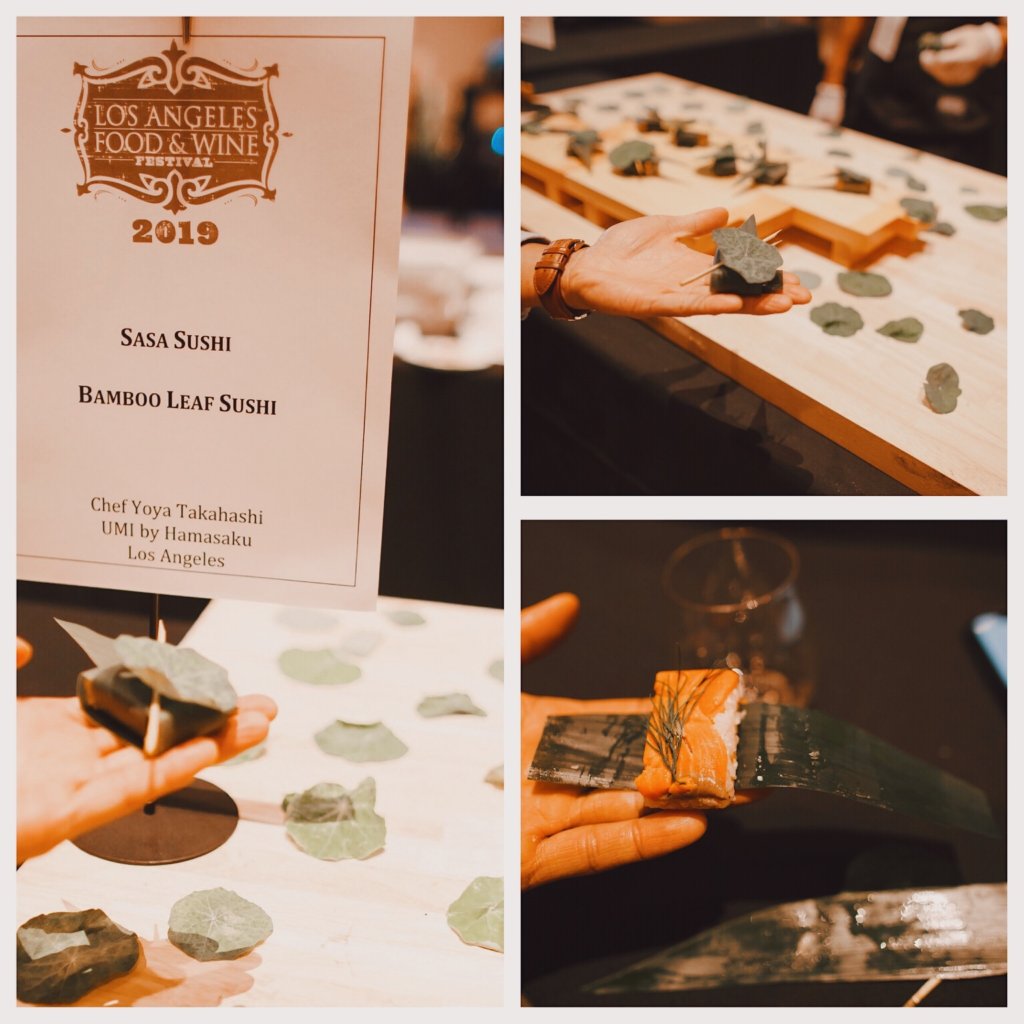 Apero Spritz
This vendor set up the most instagrammble backdrop for their station. And their Apero Spritz is so yummy and refreshing.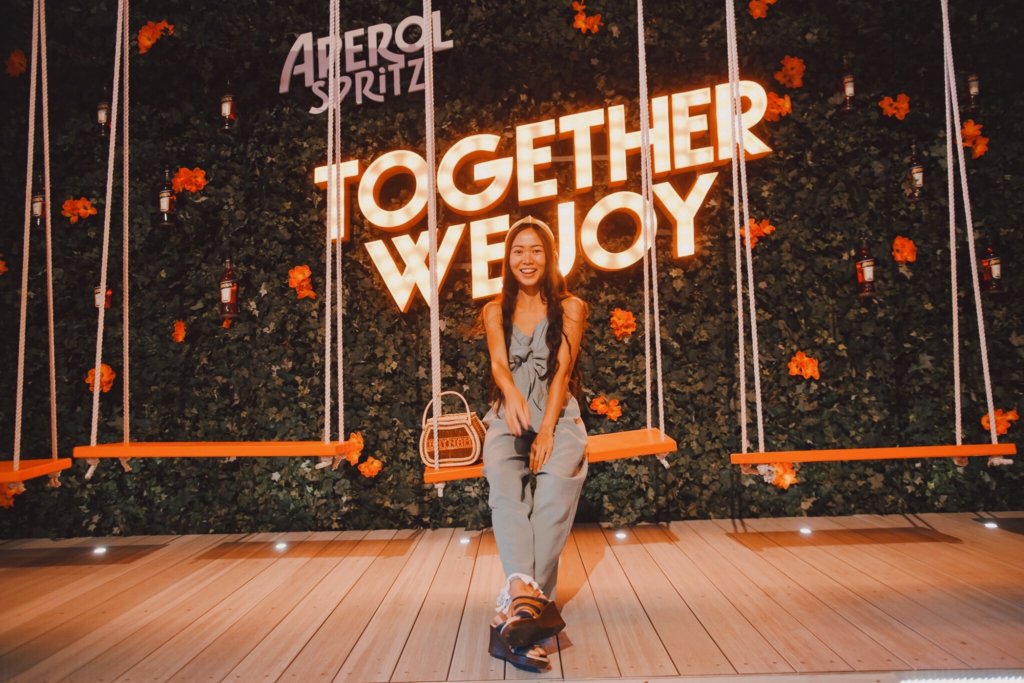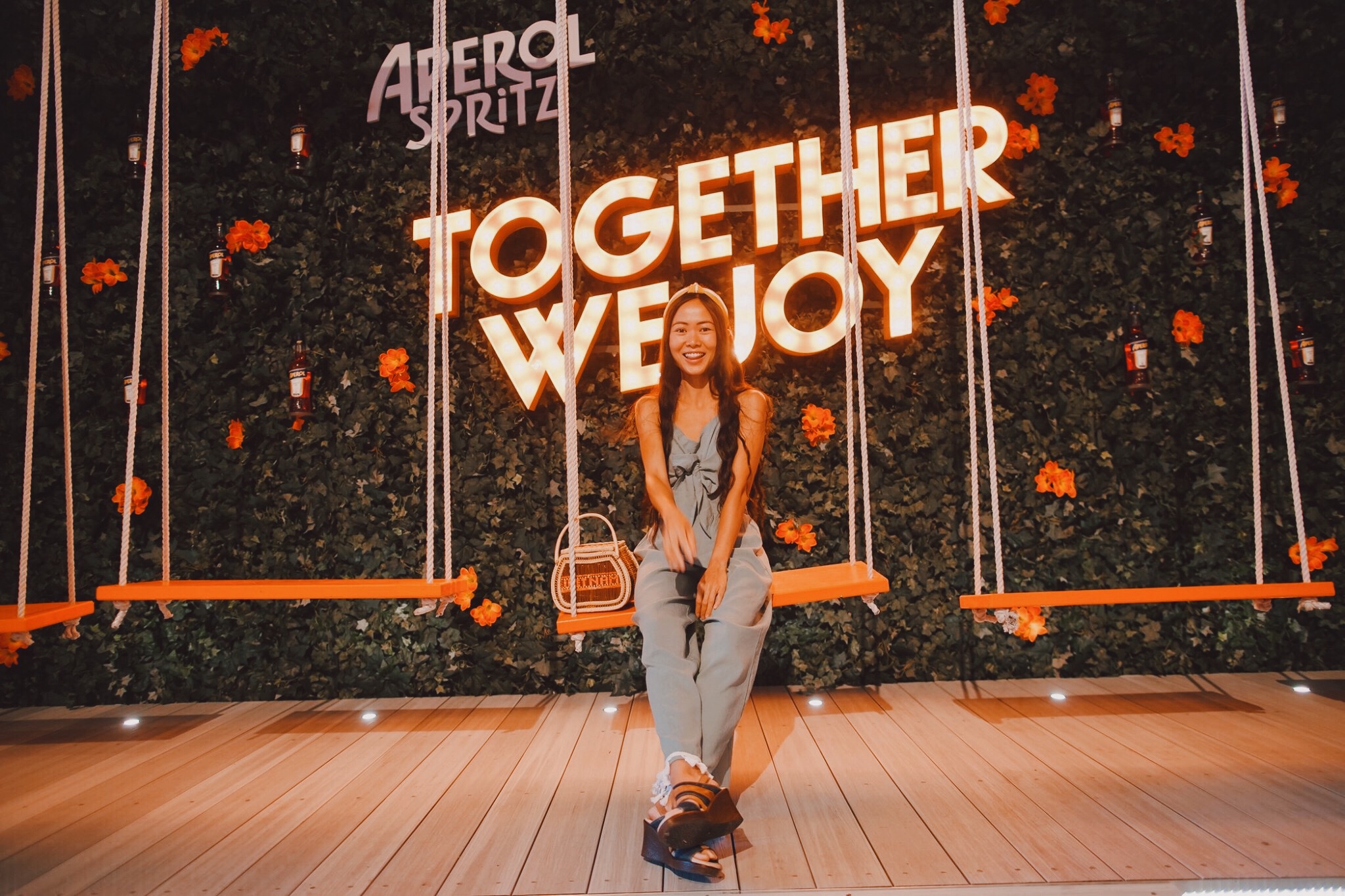 Aperol Spritz is an easy 3-2-1 mix of three parts prosecco, two parts Aperol, and one splash of soda water. Pour all the ingredients into a wine glass filled with ice, garnish it with an orange slice, and there you have it: Italy's most popular mixer.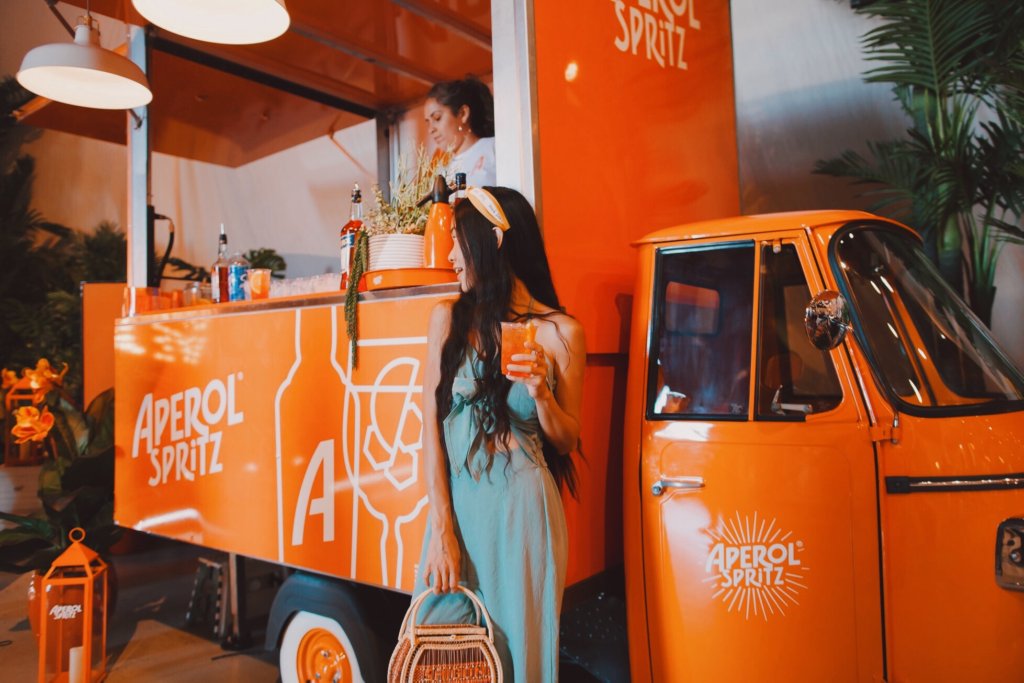 Aperol has an unmistakable vibrant orange color, giving the Spritz a cheerful glow, but also a pleasant bittersweet taste.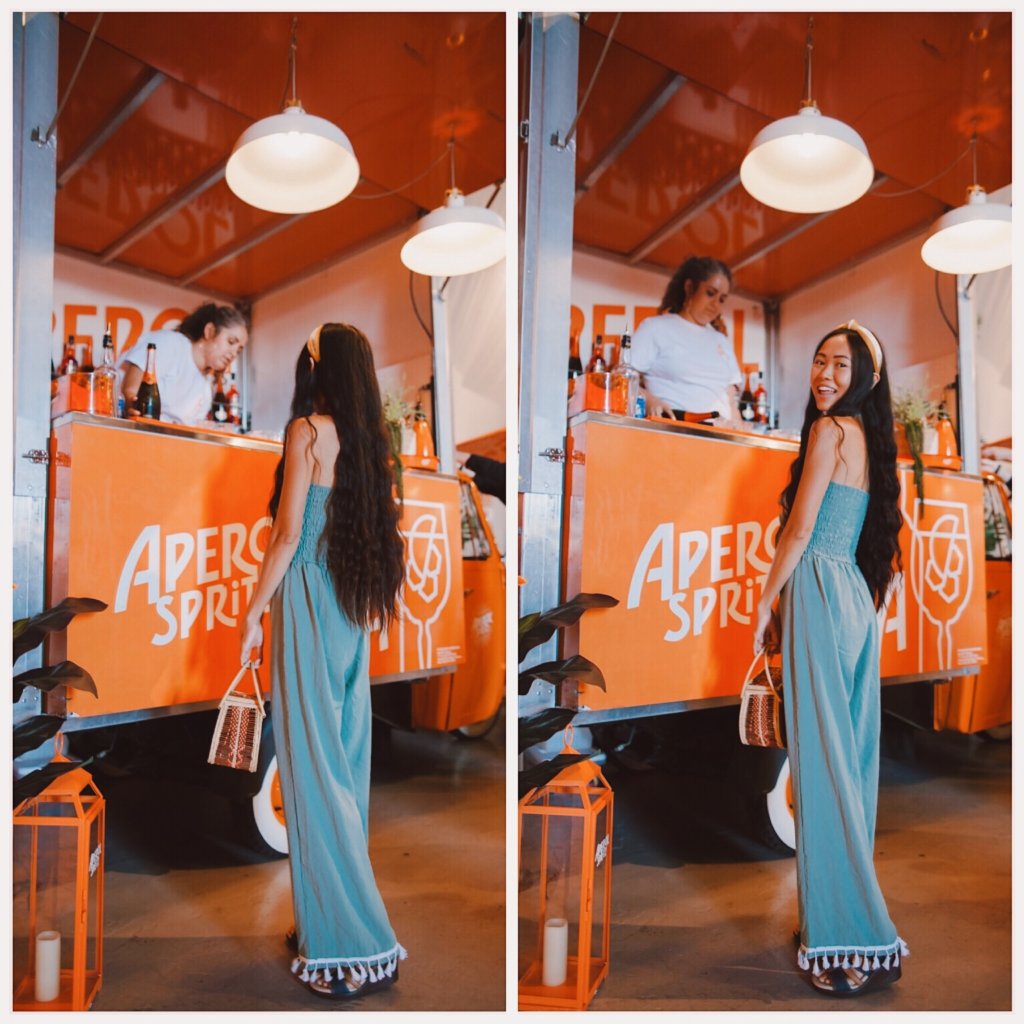 andSons Chocolatiers – Beverly Hills
andSons Chocolatiers is a 2nd-generation chocolatier based in Beverly Hill by two brothers. Kriss Harvey, former pastry chef at the Bazaar by José Andrés, is leading the charge at andSons Chocolatiers, specializing in sparkly melt-in-your mouth bonbons. The formula for theobromine (the chemical compound found in chocolate) is tattooed on Kriss' right arm.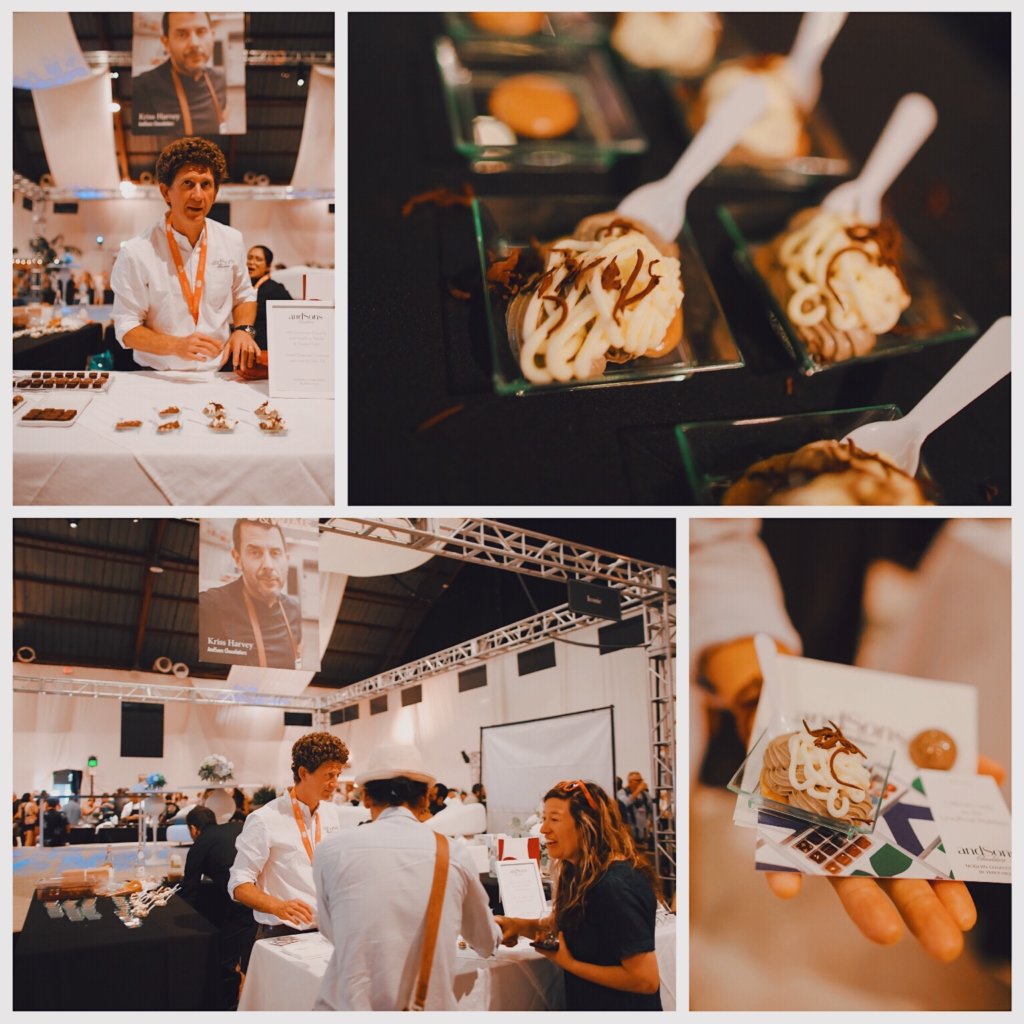 Chef Timothy Hollingsworth
Timothy Hollingsworth is an award-winning chef and restaurateur in Los Angeles. In 2015, he opened Otium, an ambitious all-day restaurant next to The Broad. His menu features eclectic, vibrant, and seasonal flavors. It's super fun to catch him whipping up one of his own personal classics: : Pâté en croûte. It's a pâté that is baked in pastry (generally savory). The pastry ranges from shortcrust to puff, which results in a very crispy texture.
His take on the Pâté en croûte exercise both the perfect chew and a silken melt-in-your mouth quality.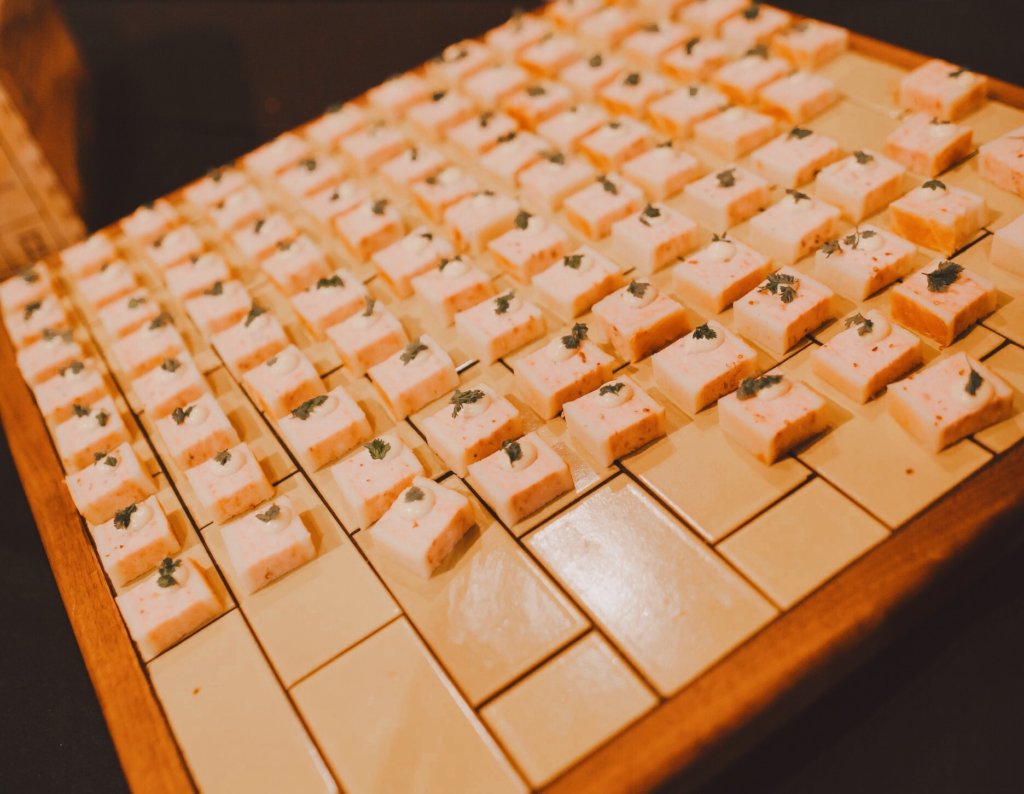 Chef Travis Swikard
Travis Swikard is returning to his San Diego roots. After more than a decade in NYC, in 2019 Swikard made the move home – now with a family of his own – to begin work on his first solo restaurant -Callie, a Mediterranean-inspired, California-inflected restaurant. He brought to LAFW one of his popular dishes: Smoked Eggplant Tartare Spicy Tahini with Summer Pickles and Soft Herbs.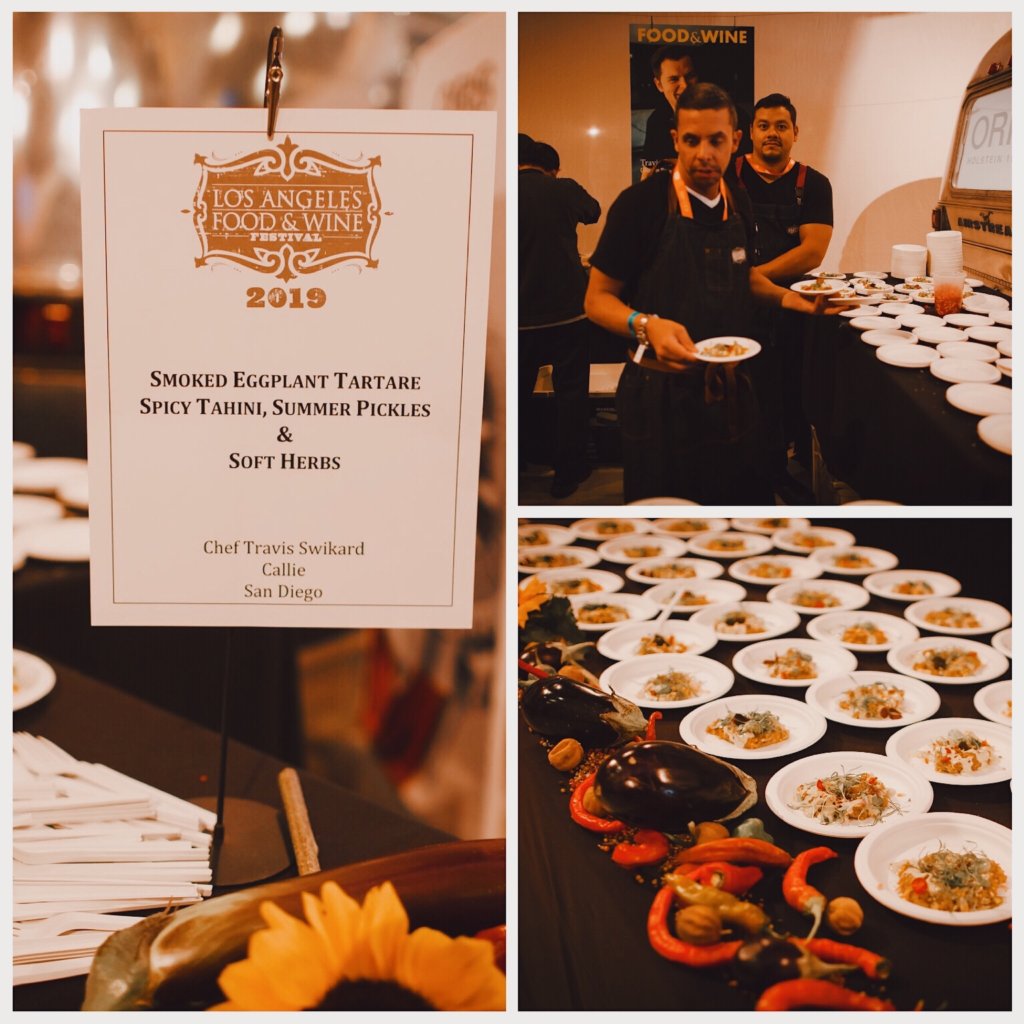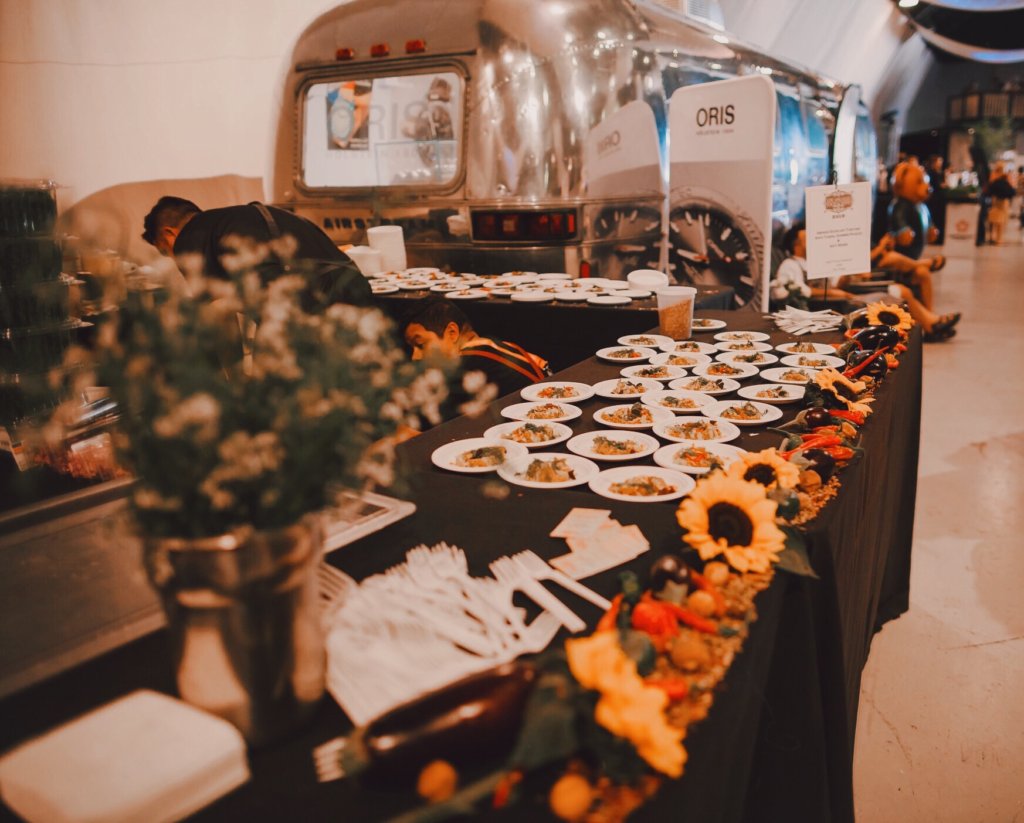 Chef Chris Robbins
Robbins has been surrounded by the world of food since his early teen years. He began by washing dishes around the age of 17 and later developed enough skills in the kitchen to become an Executive Chef. Affectionately named after his love for science and all things modern, LN2 pizza shoppe (located on Melrose Avenue in the heart of LA) is the newest creation from Chef Chris Robbins. He brought to LAFW his favorite dish that really speaks volume about his cooking style: innovative, playful approach to comfort food for West Hollywood. I was absolutely in love with his Crispy Chicken Sandwich with Wasabi Dynamite Sauce, Pickles, and Cabbage Slaw.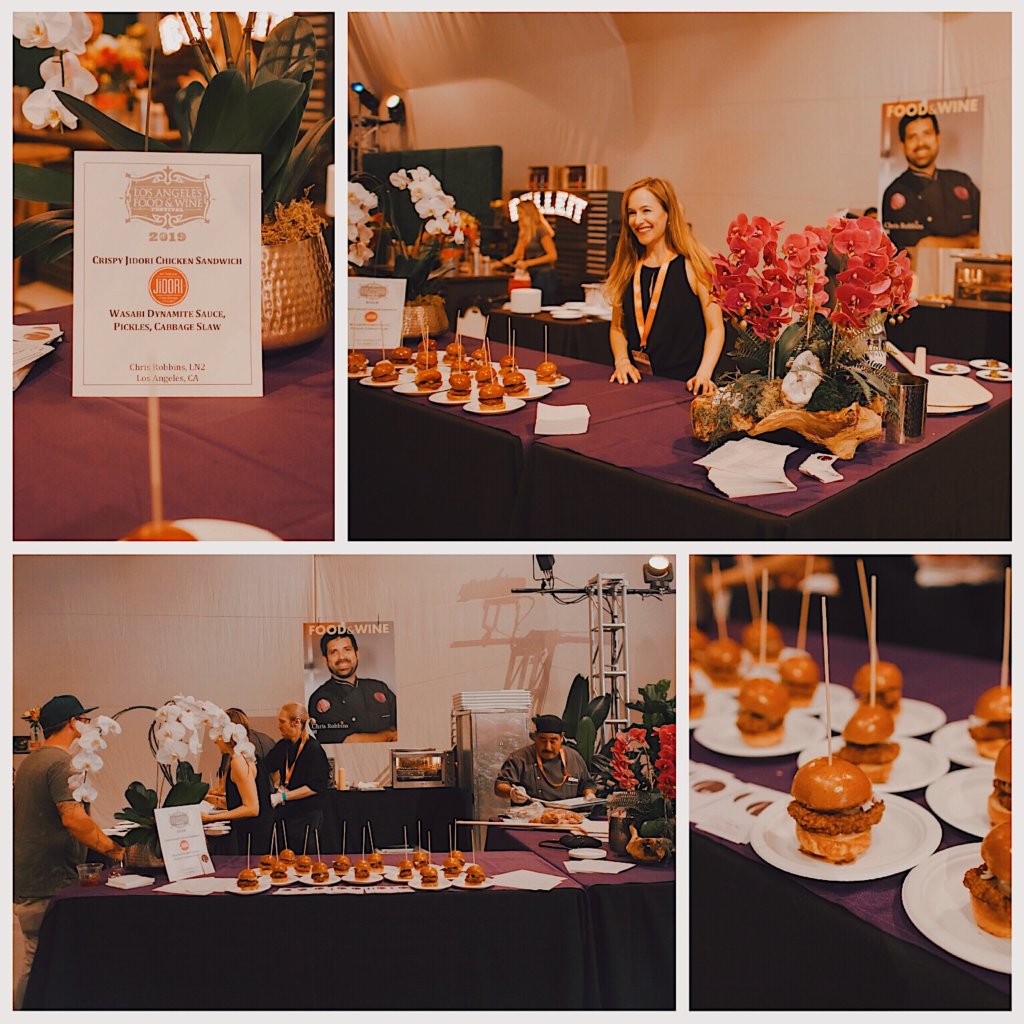 Le Grand Courtâge
American Tawnya Falkner took the leap, gave up her career in San Francisco, and moved to Nuits-Saint-Georges in Burgundy, France to create sparkling wines which embody the French spirit of joie de vivre (joy of life). Le Grand Courtage, meaning 'the great courtship', is the culmination of her journey. Their Brut Rosé is deliciously seductive while smooth and versatile. A perfect balance of freshness, fruit, acidity, and sweetness.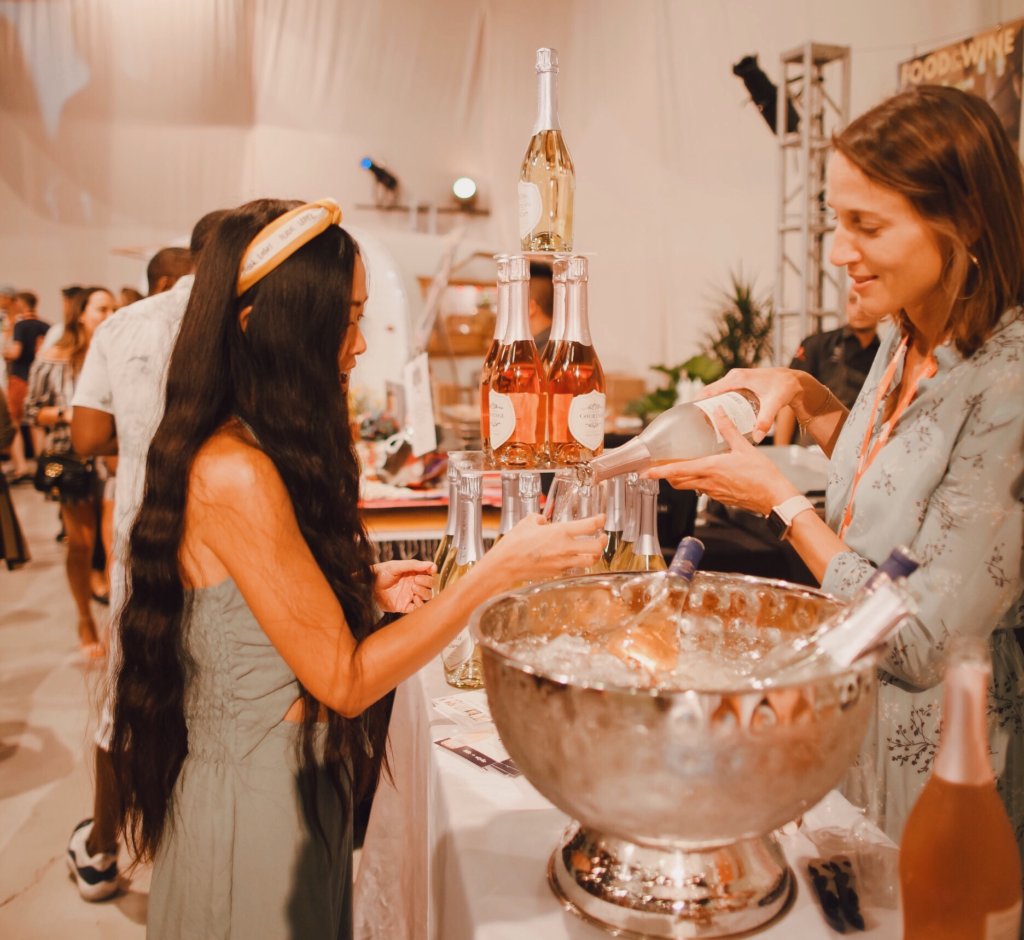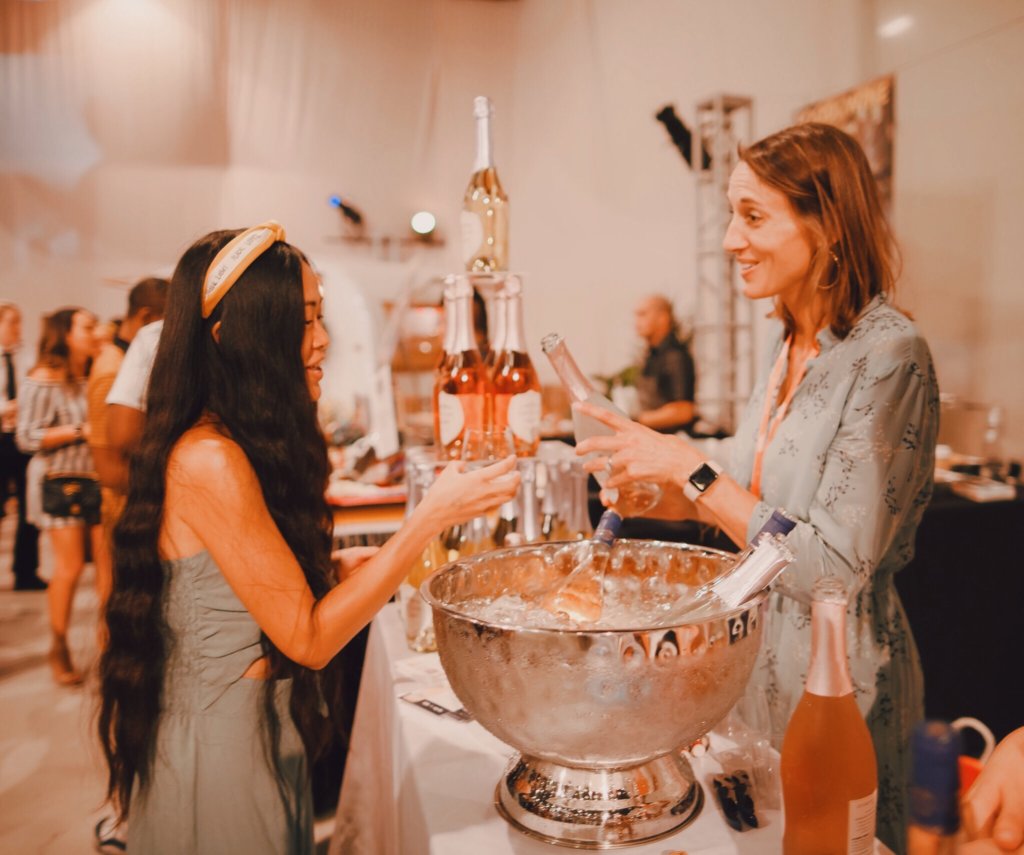 The Scallop Ceviche Station
This was one of our favorite stations at LAFW; unfortunately I didn't document the name of the participating vendor. This is one of the best scallop ceviche that I have ever tried: scallops were made by marinating ingredients in lime juice for a few hours before serving. Onions, cilantro, jalapeño and tomatoes were added to enhance flavor, texture and added nutrition.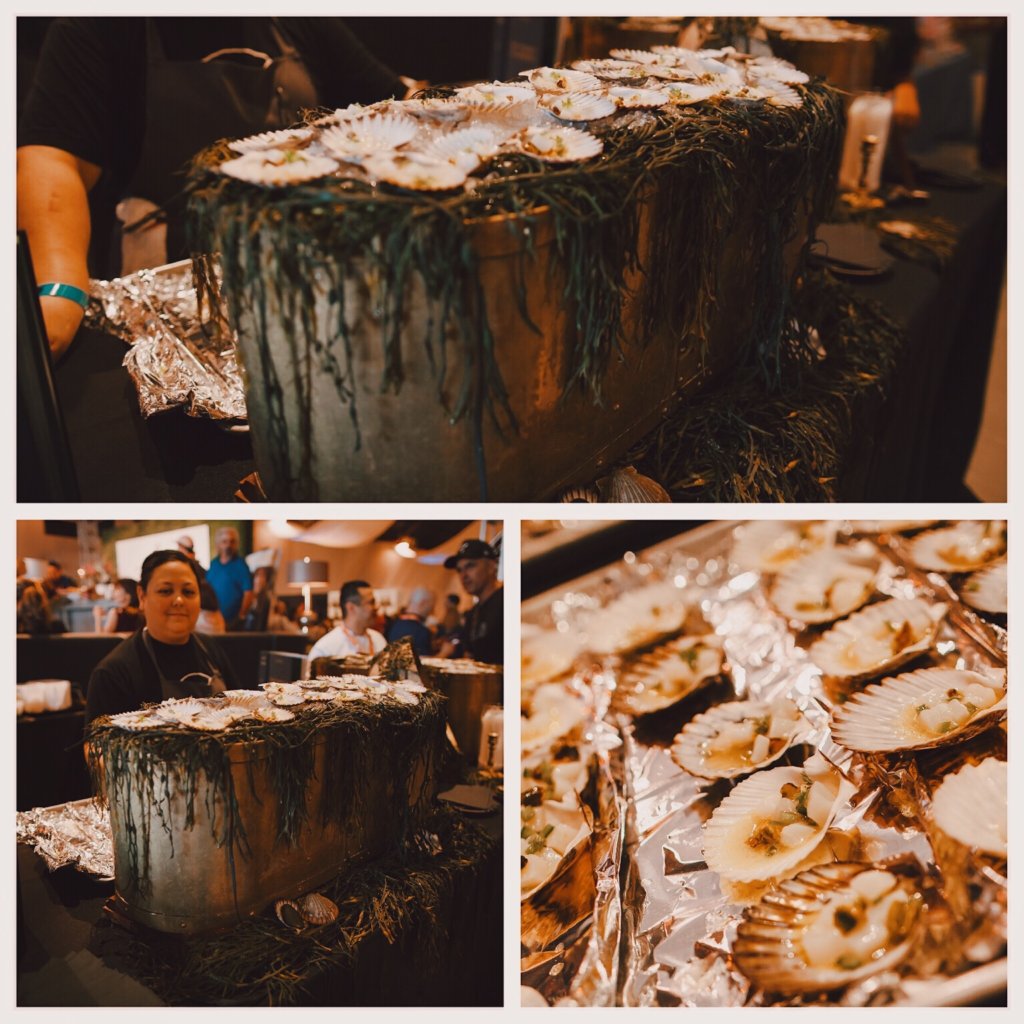 Summary
LAFW is such an awesome way to showcase that the city of Los Angeles is one of the most prominent destinations to celebrate the gastronomic talents and the biggest names in culinary history.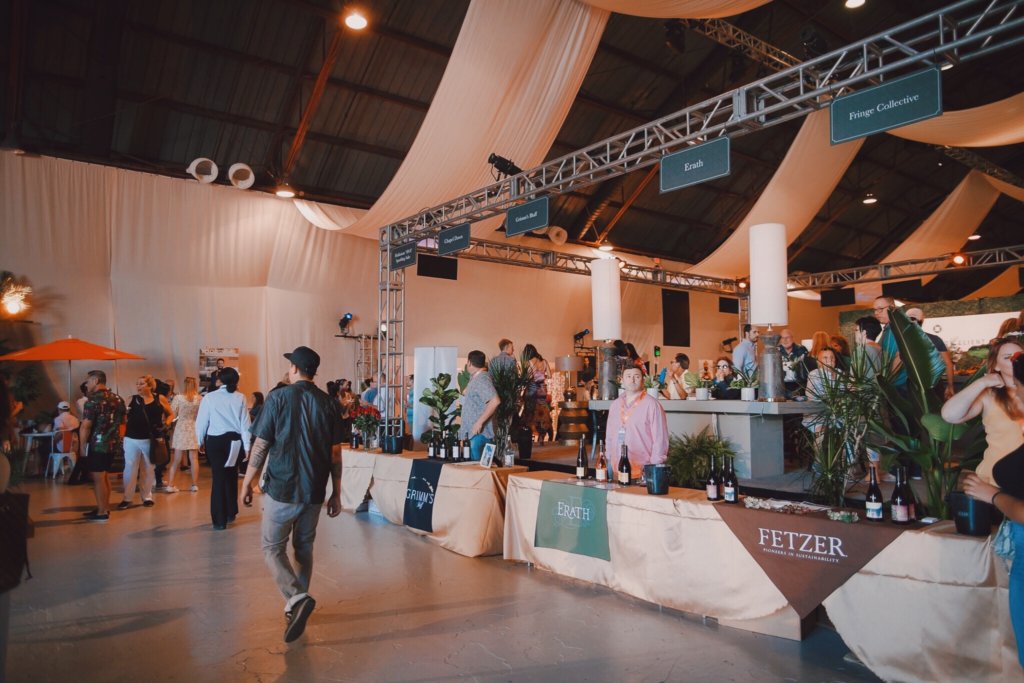 Price of entry (ranging from $150 to $250) includes unlimited samples of food, wine, custom cocktails, and beer. And the amuse-bouche-size portions make it possible to cover a lot of savor dishes from the city's top restaurants at special tastings.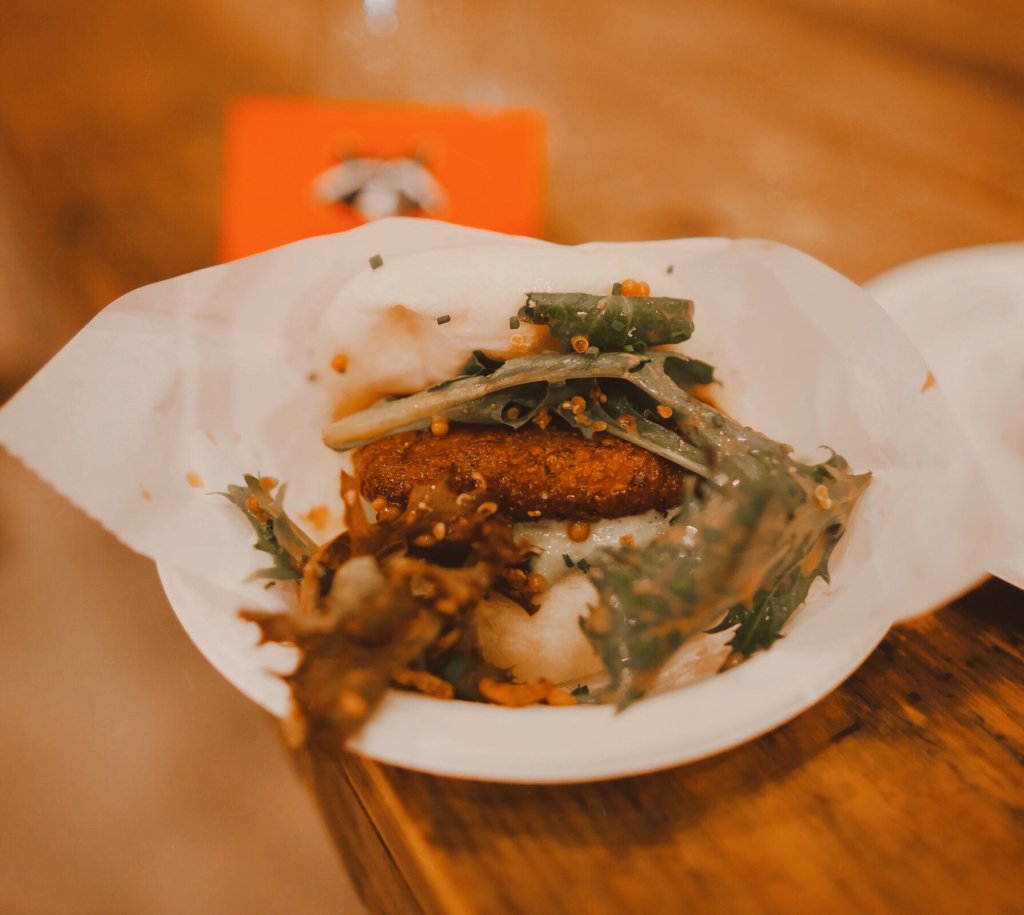 And with all that comes the Oscars-red-carpet vibes— celebrity chefs, DJs, bustling photographers, and everyone dressed to the nines. It all makes the festival a truly one-of-a-kind, very L.A. experience.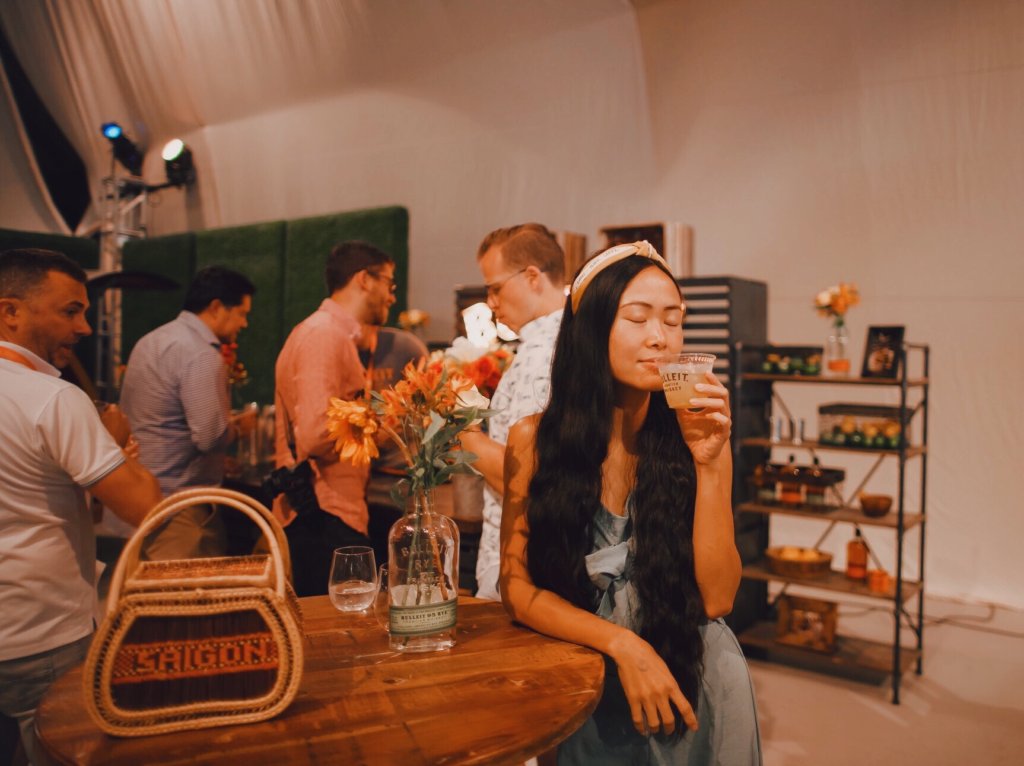 The number one rule of LAFW? Come with a raging appetite.
***Thank you to The Wonderful Company for kindly sponsoring this post. All opinions are 100% honest & completely my own.