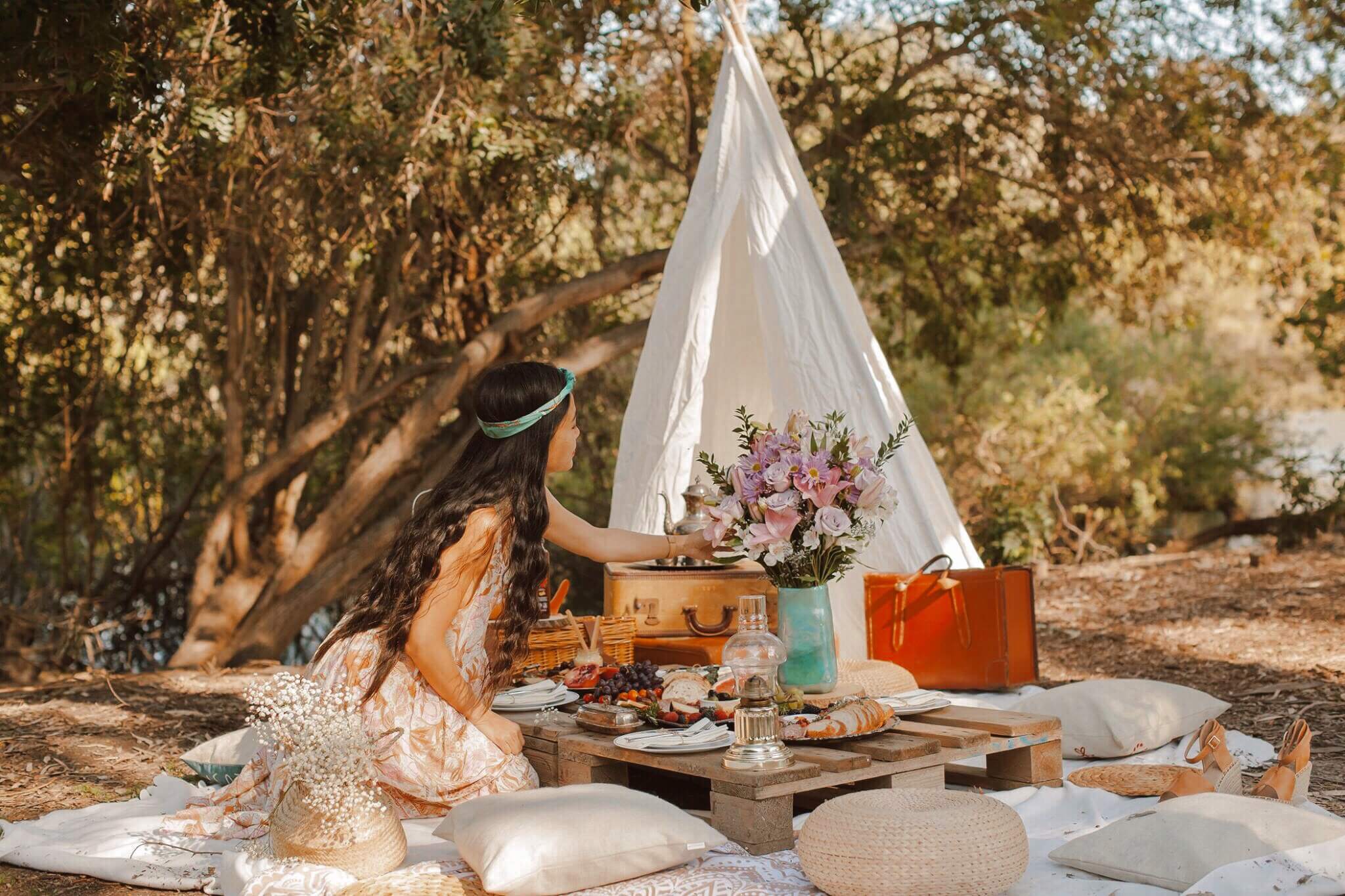 How to Throw the Best Outdoor Rustic Boho Mother's Day Brunch
There's no doubt about it—moms are special. They love us every day, and they never stop worrying about us, no matter how old we get. When we think about all our moms have done for us, devoting just one day a year to show them our appreciation seems insufficient. So the least we can do is create a one-of-a-kind thoughtful day that celebrates how truly incredible they are.
While you can always give her flowers and a cute card or find some chocolate to help celebrate the day, it's fun to mix things up a bit. Since Mother's Day is on a Sunday, brunch is a great and simple idea that can really show your mom how much you care. All moms like nothing better than spending time with their family! So this Mother's Day, skip going out for an overpriced meal on this busy day, and instead host a fabulous brunch at home, the park, or another special location. In this blog I've teamed up with some of my favorite vendors to bring you some great ideas for Mother's Day that will sure impress mom and your guests!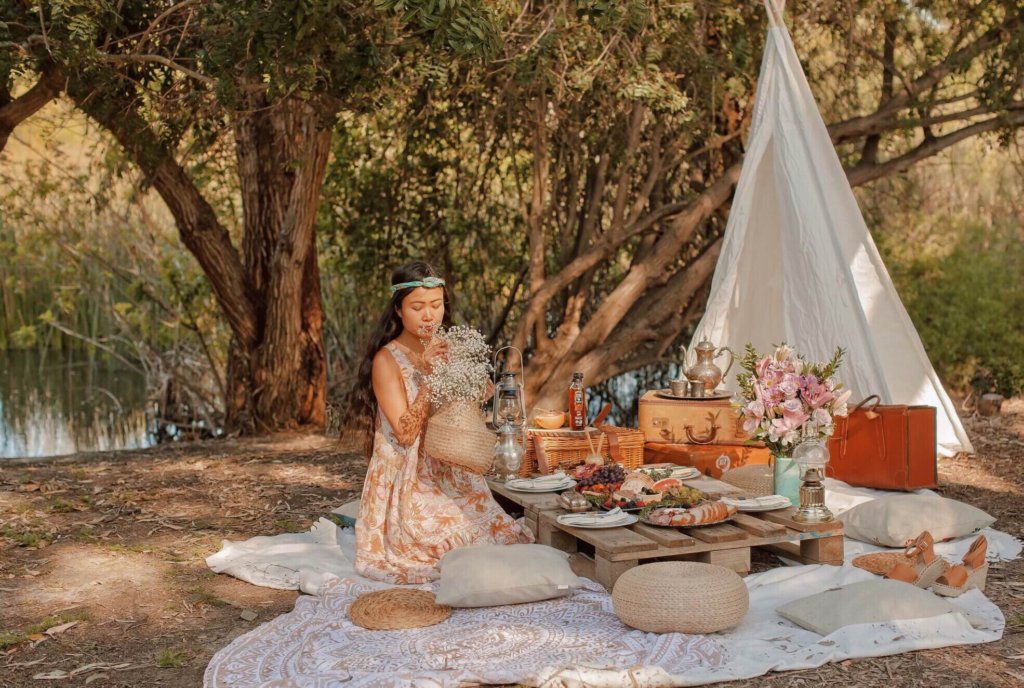 Theme
Crafting a special brunch isn't just about the food and drink. The decor and table setting are just as important. Every detail matters! Focus your theme around your mom and decorating will be easy! When it comes to decor, it's really all about Mom. Consider what she likes and try to offer her that. What's your mom's style? Is she fun-loving and into the retro scene? Does she prefer the classic elegance of formal entertaining? Maybe your mom is more the Mother Earth type. Since my mom is more outdoorsy, I decided to go for a rustic Boho feel!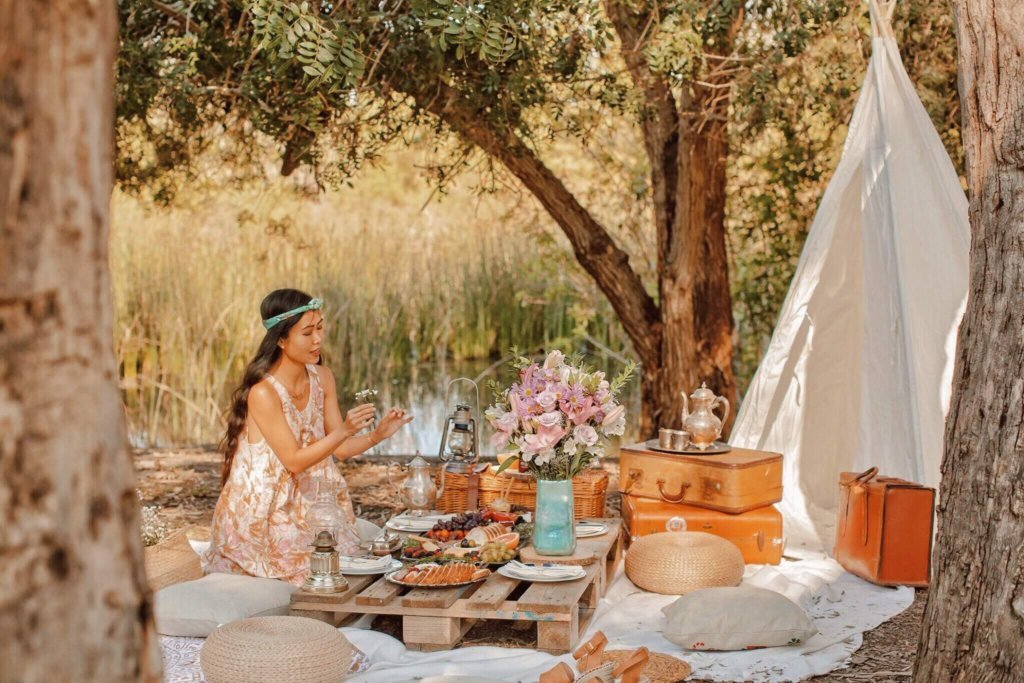 The idea of a casual stylish boho brunch is something I am loving lately. These effortlessly beautiful ideas, which incorporate elements of nature along with a certain romanticism and individuality, become a lovely trend for spring/summer!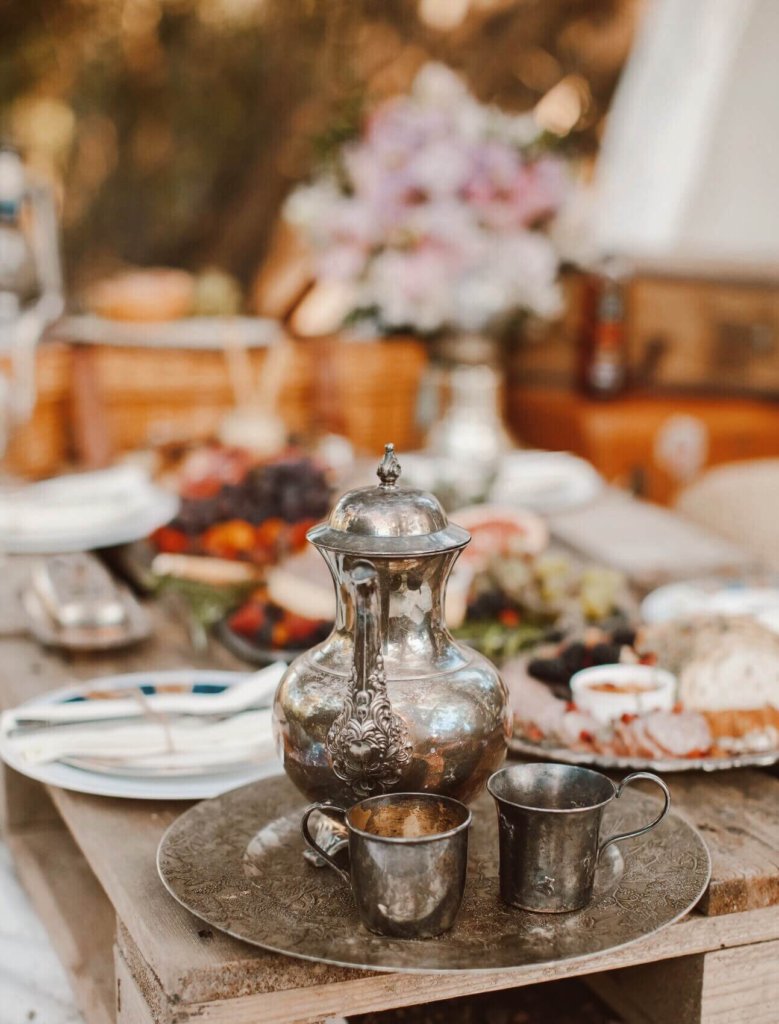 This boho brunch style can be easily created with a vintage vibe, a layer of whimsical, and just a few simple touches here and there! The great thing about the boho theme is that you can put as much or little effort into it as you want! For example, low tables make for a casual and relaxed vibe and you can literally make one! You can use an assortment of coffee tables, kids tables, or plywood cut to size to create a low outdoor dining place. For my Mother's Day brunch, our Home Depot palette works like a charm! Simply add throw pillows to make a cozy and relaxed atmosphere. Add a few rugs for extra comfort too!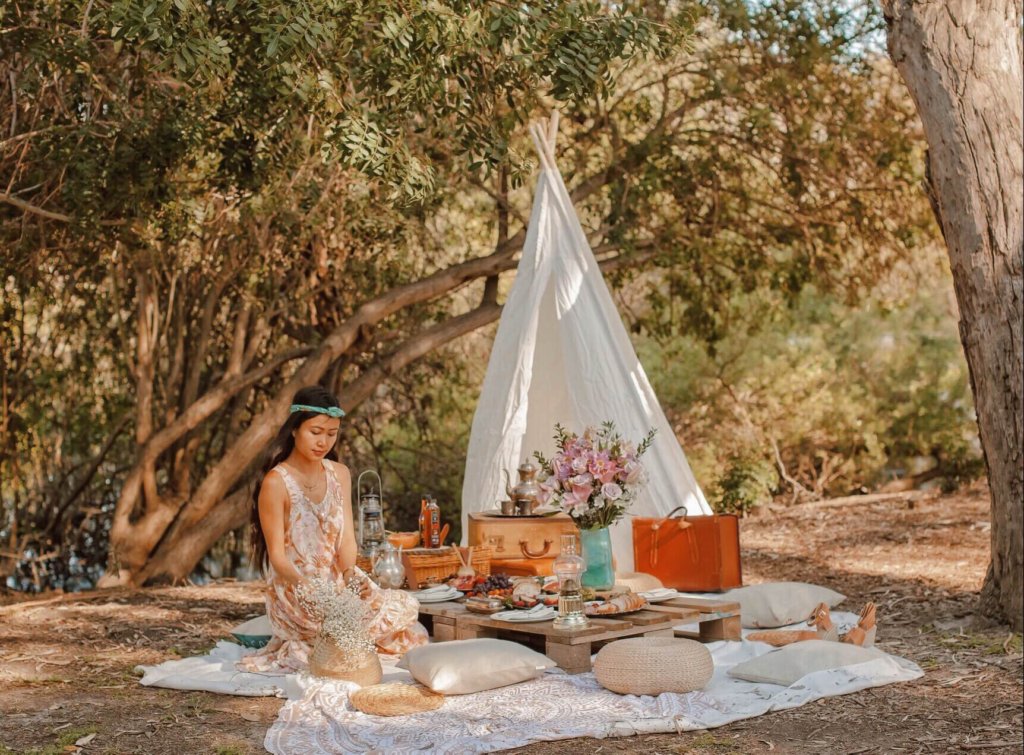 I created lovely boho details with vintage suitcases, Moroccan tea set, and teepee that I know my mom will adore. Not only are these additions useful and perfect for tying my Boho theme together, they will also show my mom the time and attention that went into making her day great.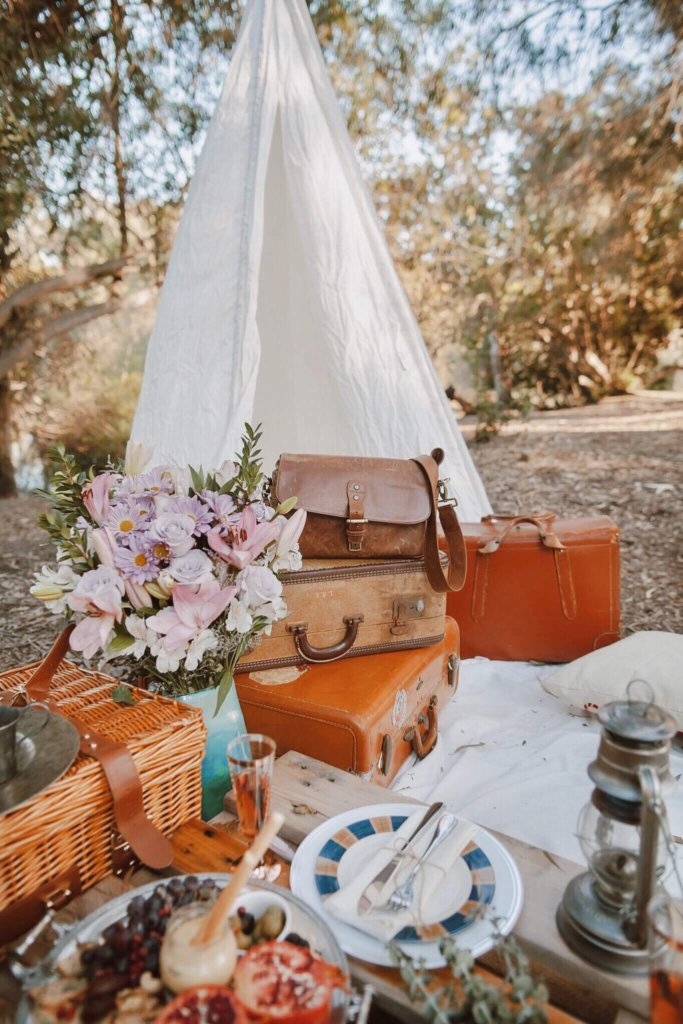 Decorating for a Mother's Day brunch allows you to get as creative and detailed as you want. I know your mom will love and appreciate your efforts, no matter which route you take.
Flowers
Fresh flowers are the easiest and prettiest way to add a special and festive feeling to your Mother's Day brunch. You can brighten your mom's day with a fresh bouquet, just like she brightens so many of your days! For my Mother's Day brunch, I incorporated Teleflora's Art Glass Treasure Bouquet as my centerpiece. This beautiful bouquet of lush lavender roses and pink lilies is carefully arranged in a high-fashion, hand-blown art glass vase with swirling iridescent finish.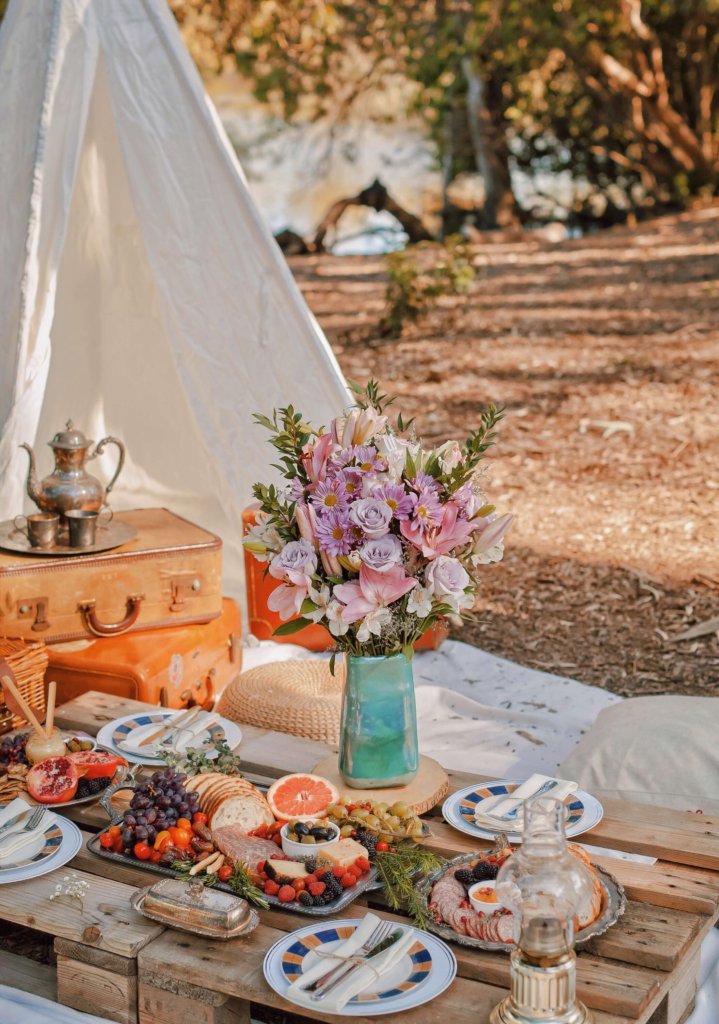 Teleflora has lots of arrangements to cater to your Mom's taste. With bouquets ranging from shabby chic to wildflower styles, you're sure to find something that's just right for your Mom. Teleflora's local florists always create the freshest bouquets with seasonal flowers, so your Mother's Day flowers arrive on time, always hand-arranged. These adorable arrangements will last long after Mother's Day brunch and enjoy a place of honor in your mom's home.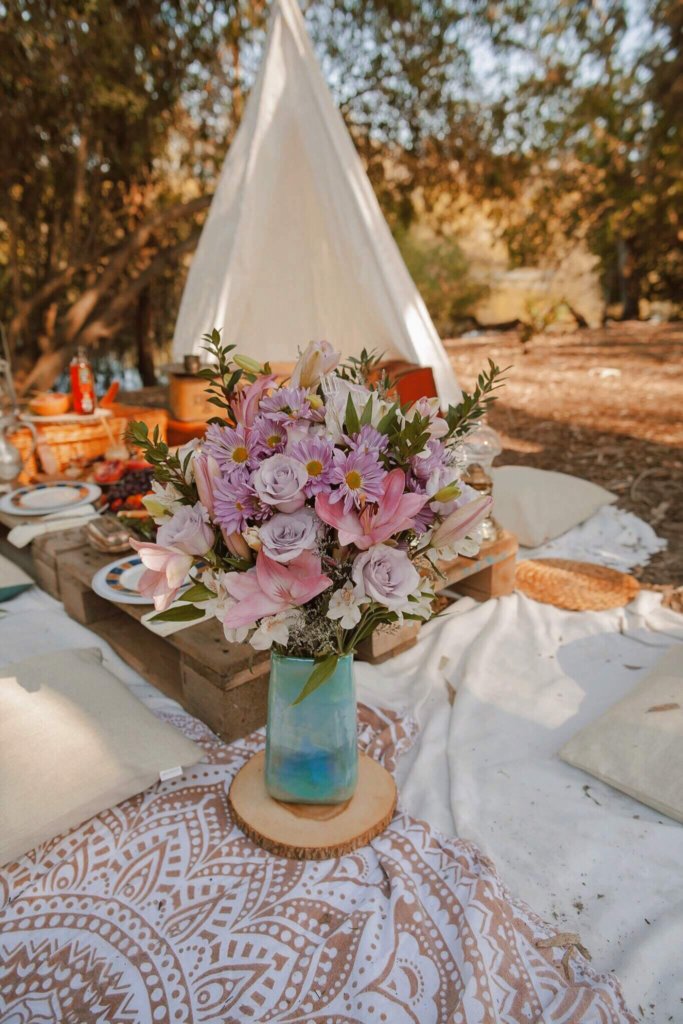 Brunch Food
Finger foods are great options for Mother's Day brunch, as well as dishes that can be made ahead of time and either warmed up or served chilled.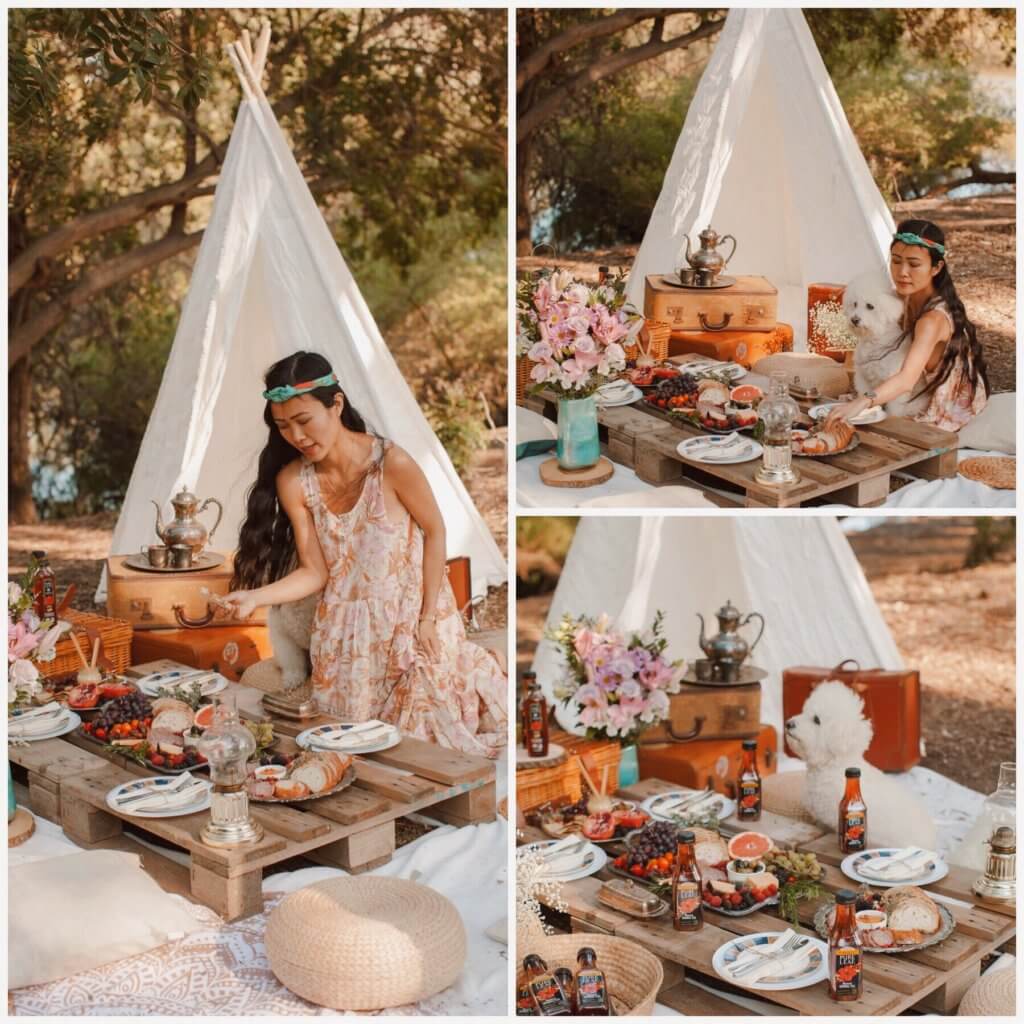 Put out trays with a wide selection of finger food like cheese and bread. Finger foods and small bites are ideal for this sort of outdoor event. I used lots of fruits to give it a touch of color, and layered it all together. The more colors and flavors you can introduce the better. Layers and different textures are key to create a visually appealing food arrangement. It tickles the senses!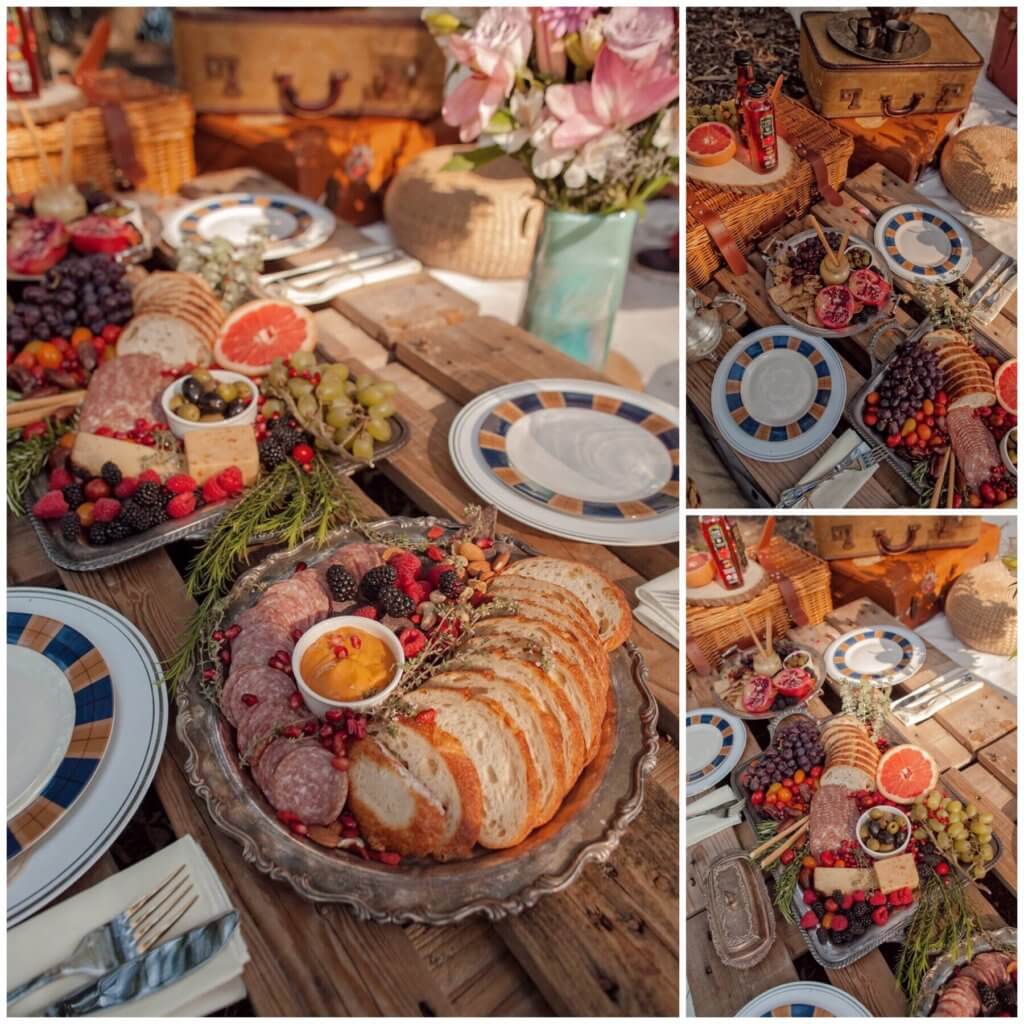 Brunch Drinks
Including some really nice drinks and music can turn an average brunch gathering into a special event. Keep the music soft but upbeat, and don't forget to add your mom's favorites to the playlist. Also creating a signature drink in honor of your mom will really show that you have put some thought into the day. A rosé is always a great brunch choice, or iced herbal tea for those who don't drink.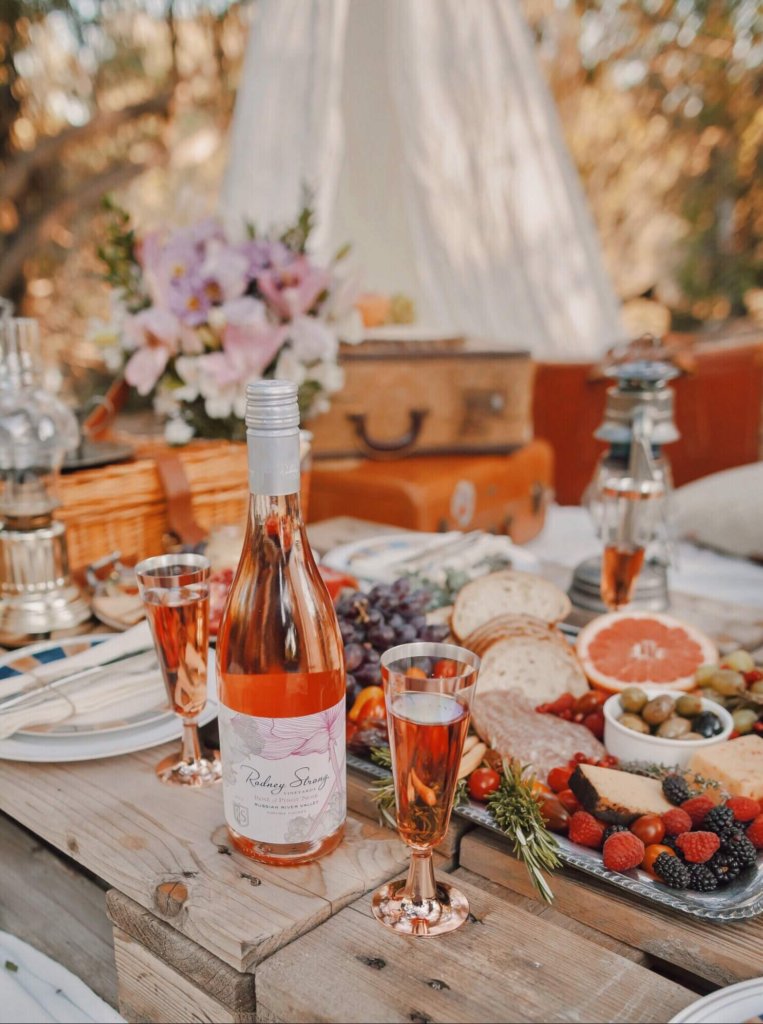 Choosing the right bottle of wine not only enhances the taste of brunch foods, it adds a pinch of European sophistication to outdoor eating. But choose well! Rosé wines are among my all-time favorite drinks for outdoor brunches because they are the perfect color, injecting a note of warm floral pink to enhance my picnic setting. I am in love with Rodney Strong Vineyards' 2017 Rosé of Pinot Noir. This fine wine is whimsically packaged with a screw cap and a floral label and has a pretty pink color. Light in body, it has aromas and flavors of strawberry, white peach orange, and jasmine.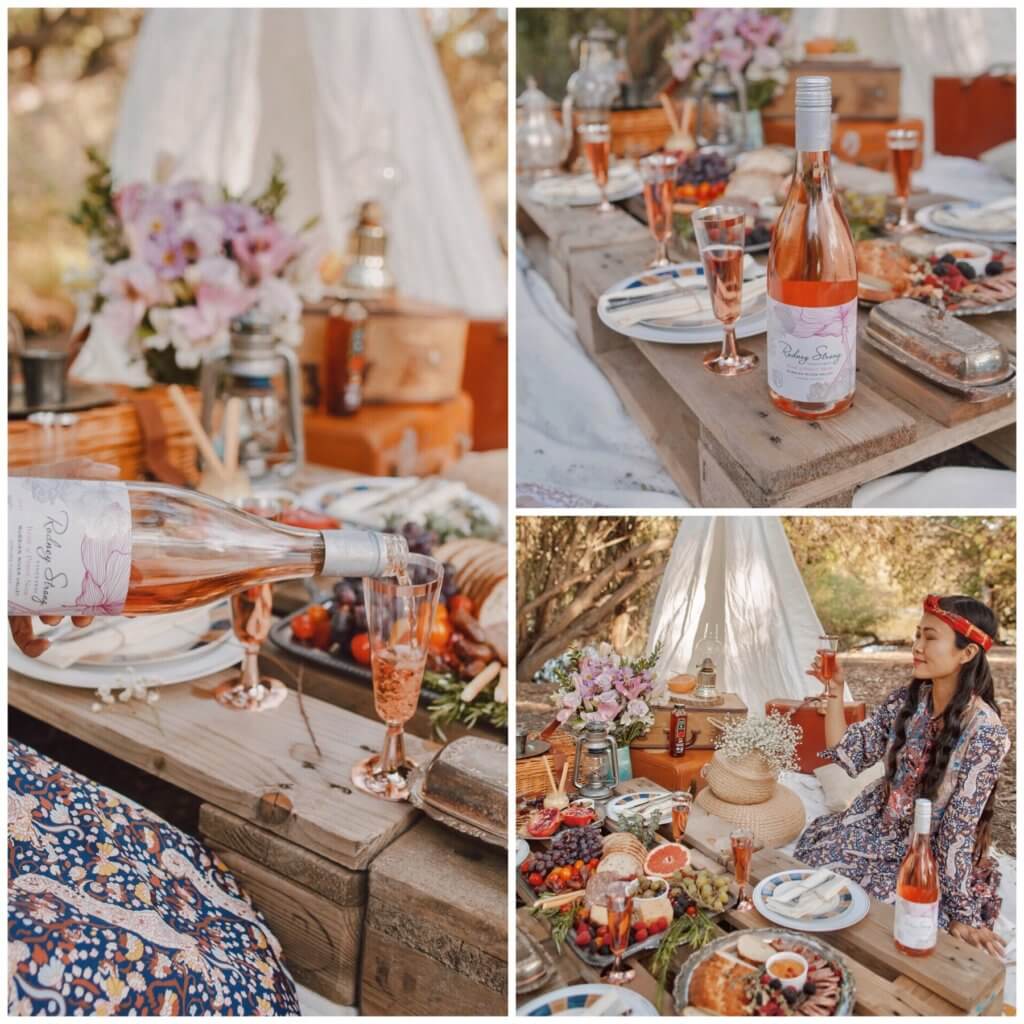 If your mom doesn't like alcohol beverages, iced tea is a good way to go. Growing up, iced tea was a staple in my family. It was one of our family's favorite drinks. It is a beverage that the whole family can enjoy.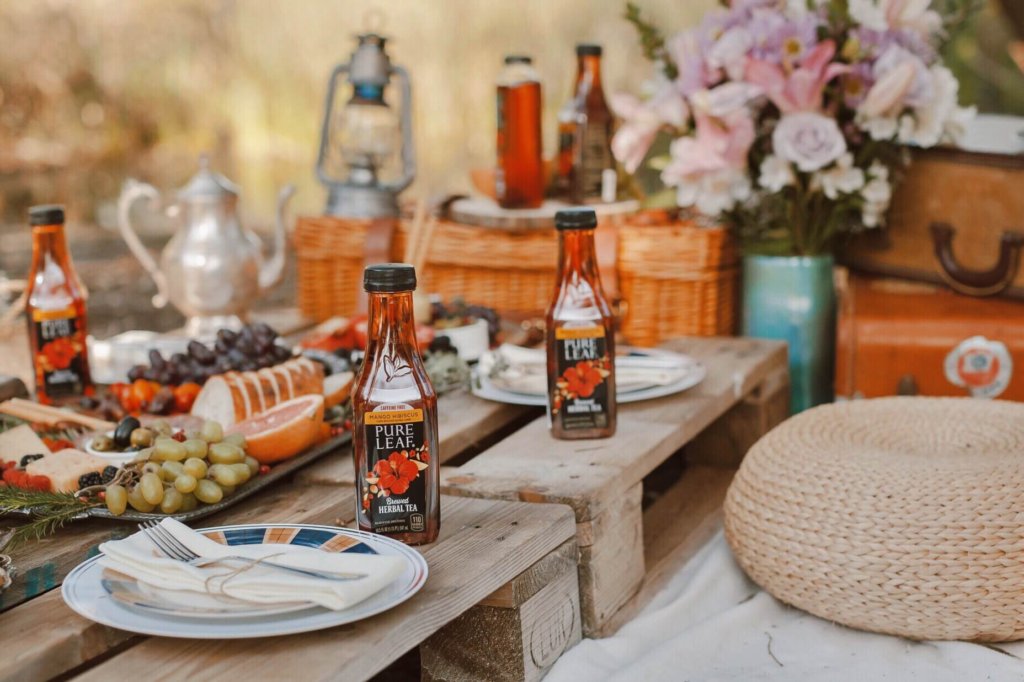 Pure Leaf herbal iced tea is one of my favorite drinks during the warmer months, and it is perfect for a springtime Mother's Day celebration. Pure Leaf creates a beautiful light pink color. Perfect for a Mother's Day brunch spread.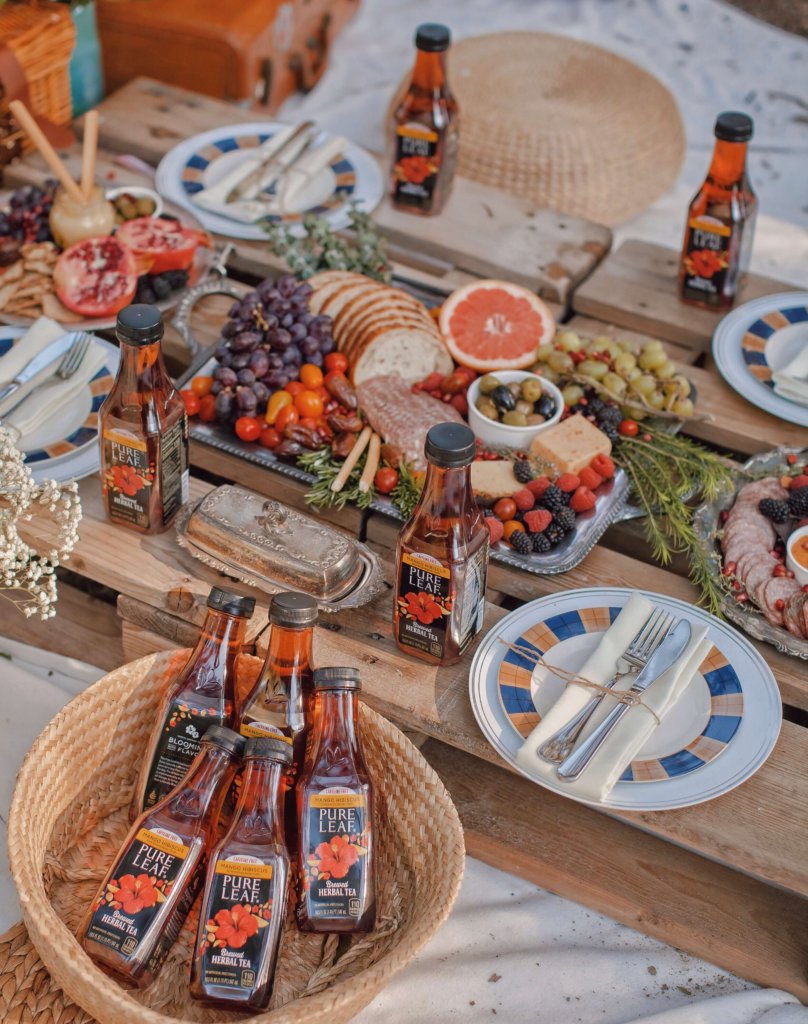 These cool crisp floral spins on classic herbal teas will have Mom feeling all refreshed and happy on her big day. Plus, it's caffeine-free so it can be enjoyed any time of day.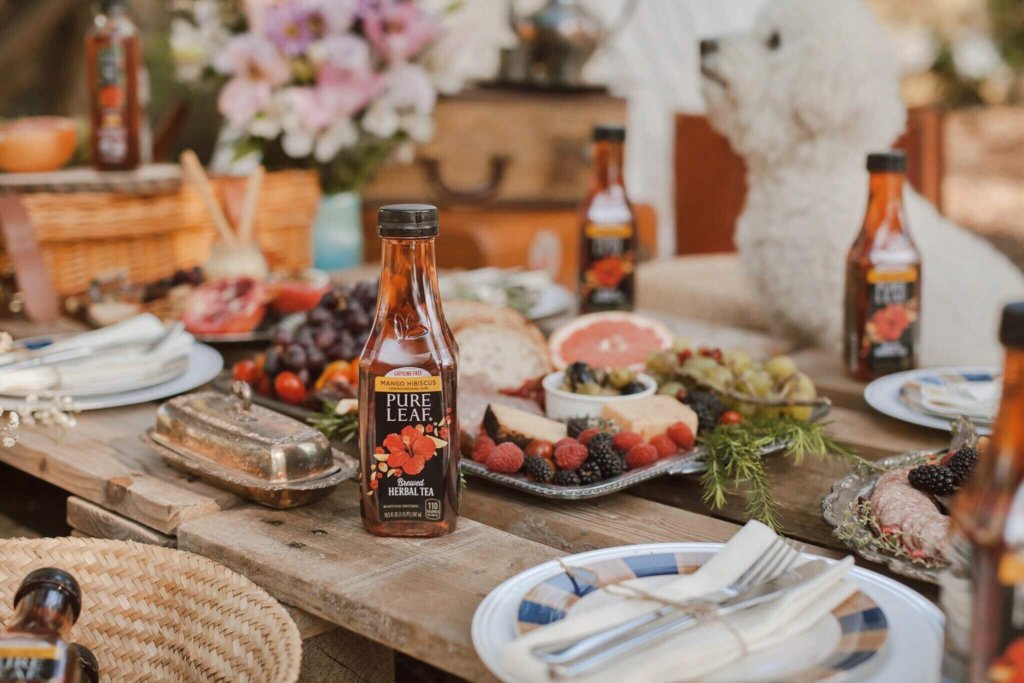 Moms appreciate those special times they get to enjoy with family and their children. And hosting a brunch is a perfect way to do it in style. Putting together a Mother's Day brunch does take some planning, but the most important aspect is making sure your mother feel relaxed and doesn't lift a finger. Whatever you decide to serve, or however you decorate, throwing a Mother's Day brunch for your mom will surely make her feel special and is an easy and inexpensive way to show her you care.
***Thank you to Teleflora, Pure Leaf, and Rodney Strong Vineyards for kindly sponsoring this post. All opinions are 100% honest & completely my own.