Luxurious and Healthy Choice for Breakfast: Acai Bowls
Nowadays healthy food-choice old-time vocabularies like "smoothies" and "salads" are not as as hip and trendy as some modern phrases like "grass shots" or "kale bowls". And the world of healthy eating has constantly evolved into something more complex every day. Just when you think that you get acquainted with terms like "antioxidants", "detox" or "Himalayan Salt", new concepts  have already emerged as the new trends in town. The newest trend in the world of "eating your greens" or "eating raw" is the decadent "Acai Bowl". If you notice your Instagram feed lately, you may have recognized that the Acai Bowls with colorful berries and seeds are such a huge hit. It looks very complicated to prepare an Acai Bowl, but it is actually easier than it looks; most of the work is just gathering all the ingredients. In this blog, I would like to share with you my simple Acai Bowl Recipe.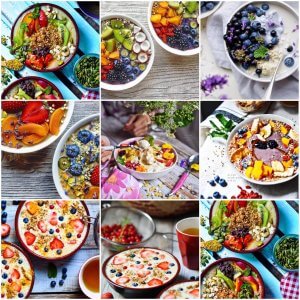 What is açaí ?
Acai berries (pronounced ah-sai-ee) are the fruits of acai palm trees, which are mostly grown in Brazil's Amazon rain forest. These dark-purple berries are high in antioxidants, fiber, amino acids and essential fatty acids. The Brazilians call Acai "Beauty Berry" because they have amazing health benefits such as increased energy levels, a boosted immune system, improved metabolic function and better hair and skin.
What is an açaí bowl? 
Acai Bowl is an acai puree/smoothie with fruits and berries, and topped with granola, coconut, and seeds.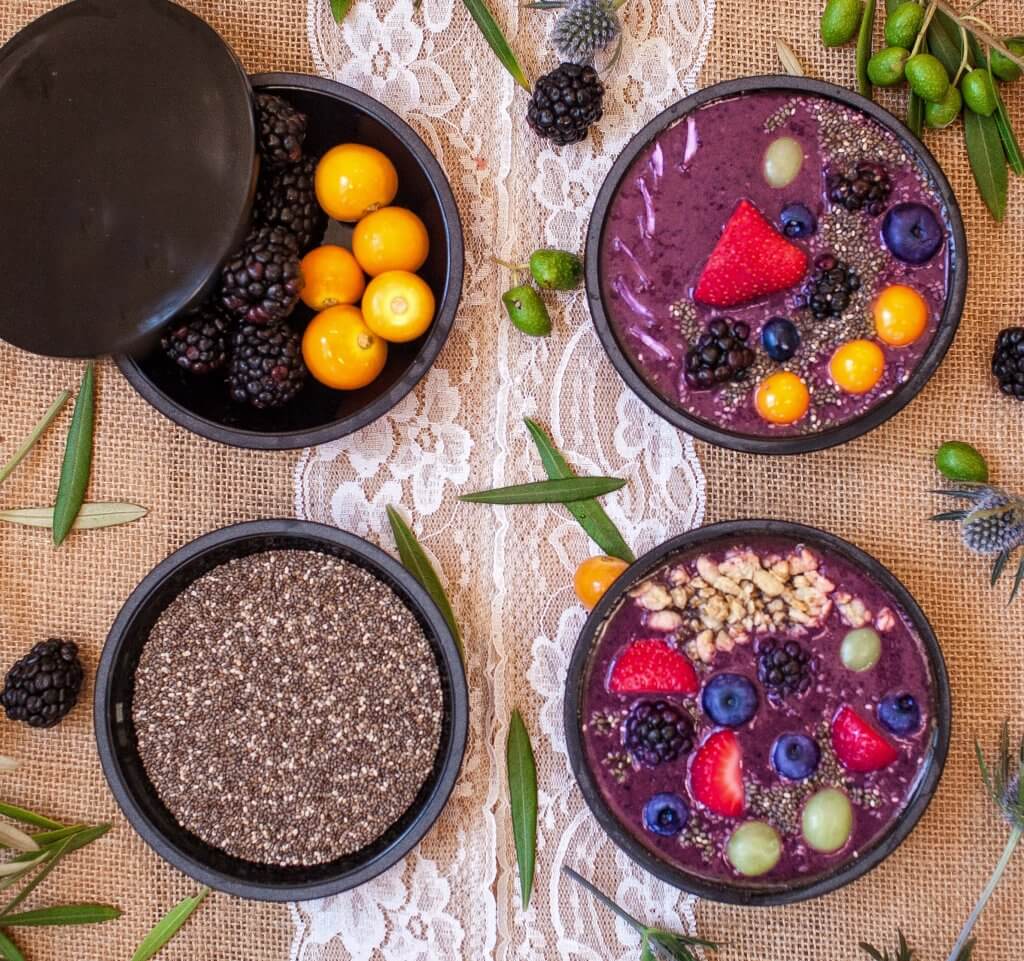 And Here's My Favorite Acai Berry Bowl Recipe: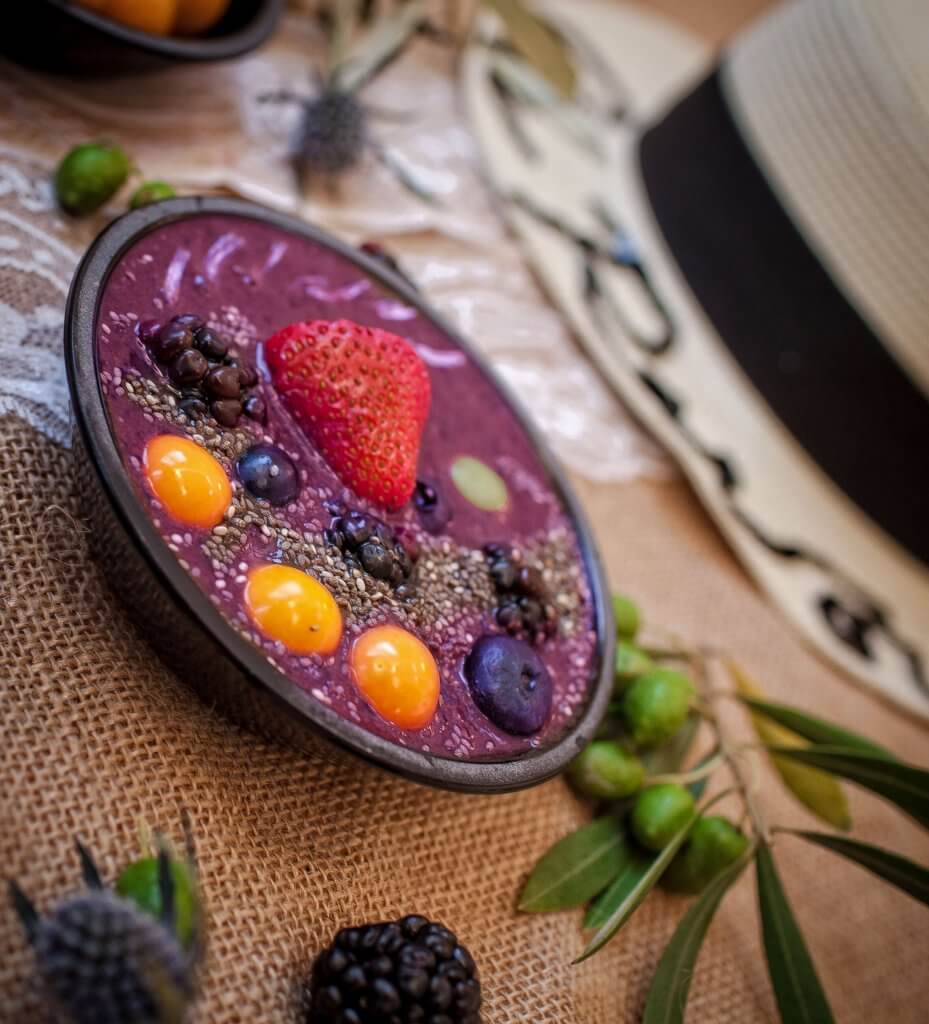 To make the açaí base (1-2 servings):
– 4 table spoons of frozen açaí powder pack (I recommend Terrasoul brand which you can find on Amazon)
– 1/2 cup of  fresh organic blueberries
– 1/2 cup of fresh organic blackberries
– 1 banana
– 1/2 cup almond milk
Instructions
Add the acai, berries, banana, and almond milk to a blender. Blend on medium speed for 1 minute until a smoothie-like consistency is achieved. Then pour it into your favorite bowls.

Top the bowls off with any fresh fruits including: 

strawberries, blueberries,  granola, chia seeds, and even edible flowers.
*Note: I love to top my acai bowl with Chia Seeds because they're full of antioxidants, vitamins, fiber and minerals that support healthy skin, collagen, and hair. I will talk about how to make a Chia Bowl in my next blog.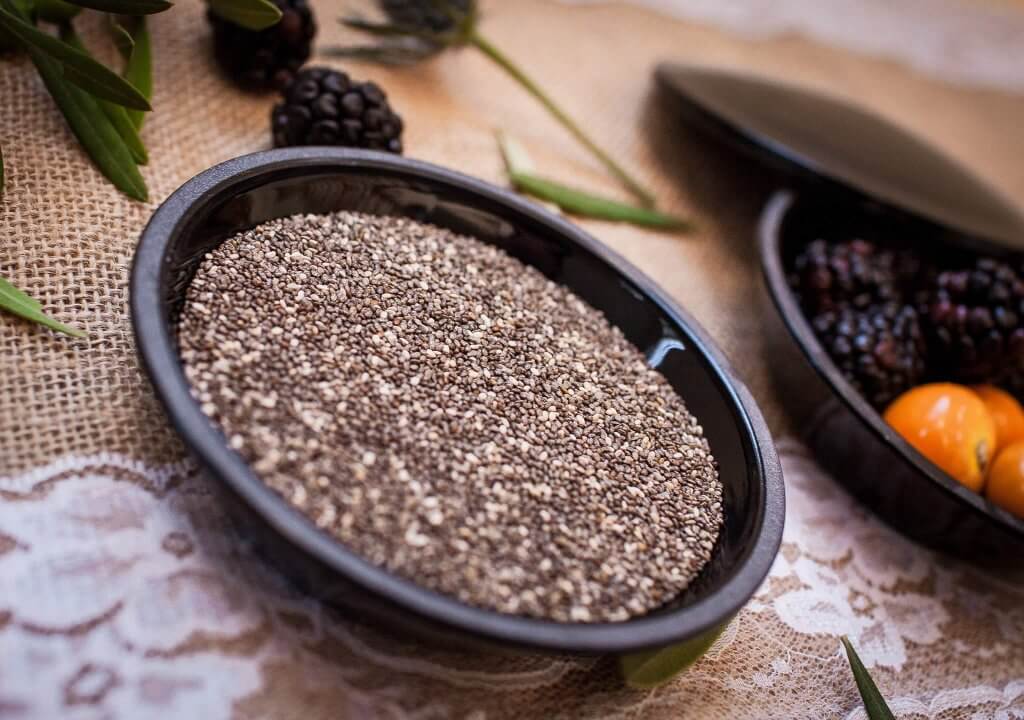 How to Make an Instagram-Perfect Picture of Your Acai Bowl:
The acai purplish creamy texture and the colorful berry toppings are enough to make your acai bowls photogenic. Make sure you use berries of different colors to achieve that gorgeous vibrance. However, the setting for your acai-bowl flatlay is also important. You also need to have the right bowls! Lots of bloggers and Istagramers use white porcelain or wooden bowls and set these bowls on a rustic-looking wooden table. The more rustic everything looks the more profound the concept of "raw eating" that you try to promote.
For me, I use a special kind of bowl – ultraviolet black glass bowls. (Oh!! and I definitely need to write about ultraviolet glass in another blog. If you are living green and organic, the science of "ultraviolet glass" is also important to know!)  The bowl size is perfect, not too big not too small and they also come with lids. I will show you where to get the bowl in "Shop My Finds" area under this blog! If you don't have a wooden table at home, you can find vintage/rustic table cloth which should be plain (white/beige/brown color)  to make your acai bowls pop. Also, find something green to throw around the table like olive branches or flowers in your garden.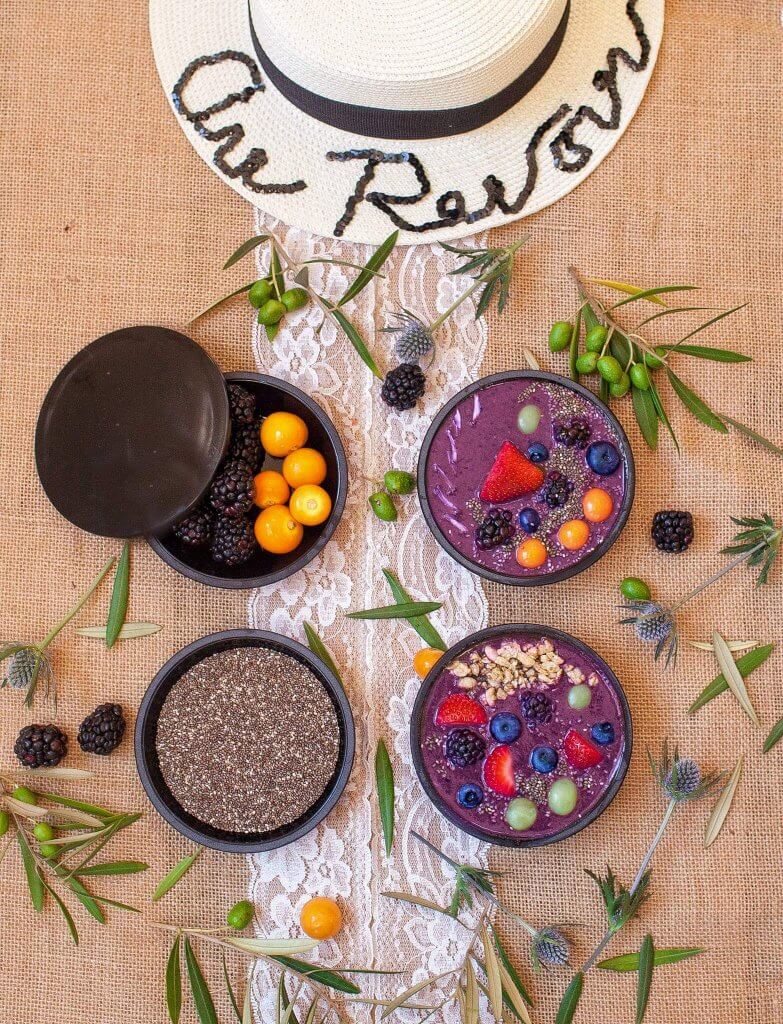 Giveaway for this blog: If you read my post all the way to the end, you will see this lovely hidden giveaway!!! My giveaway can be only applied to those who currently live in US/Canada.
To Receive the Giveaway: After reading my blog post, leave a comment for this post telling me about your favorite healthy choice for breakfast (smoothies, oatmeals, acai bowls, chia bowls, kale juices,….) or about your detox plan/routine. I will randomly choose a winner for my giveaway (based on how detailed/interesting your description is!)
Giveaway Prize: One ultraviolet glass bowl for your homemade Acai BreakFast!  (Valued at $49 on Amazon). Link.  
I will announce who the winner is on Monday, August 8.
Thanks everyone for reading!
August 3, 2016
Shop My Finds