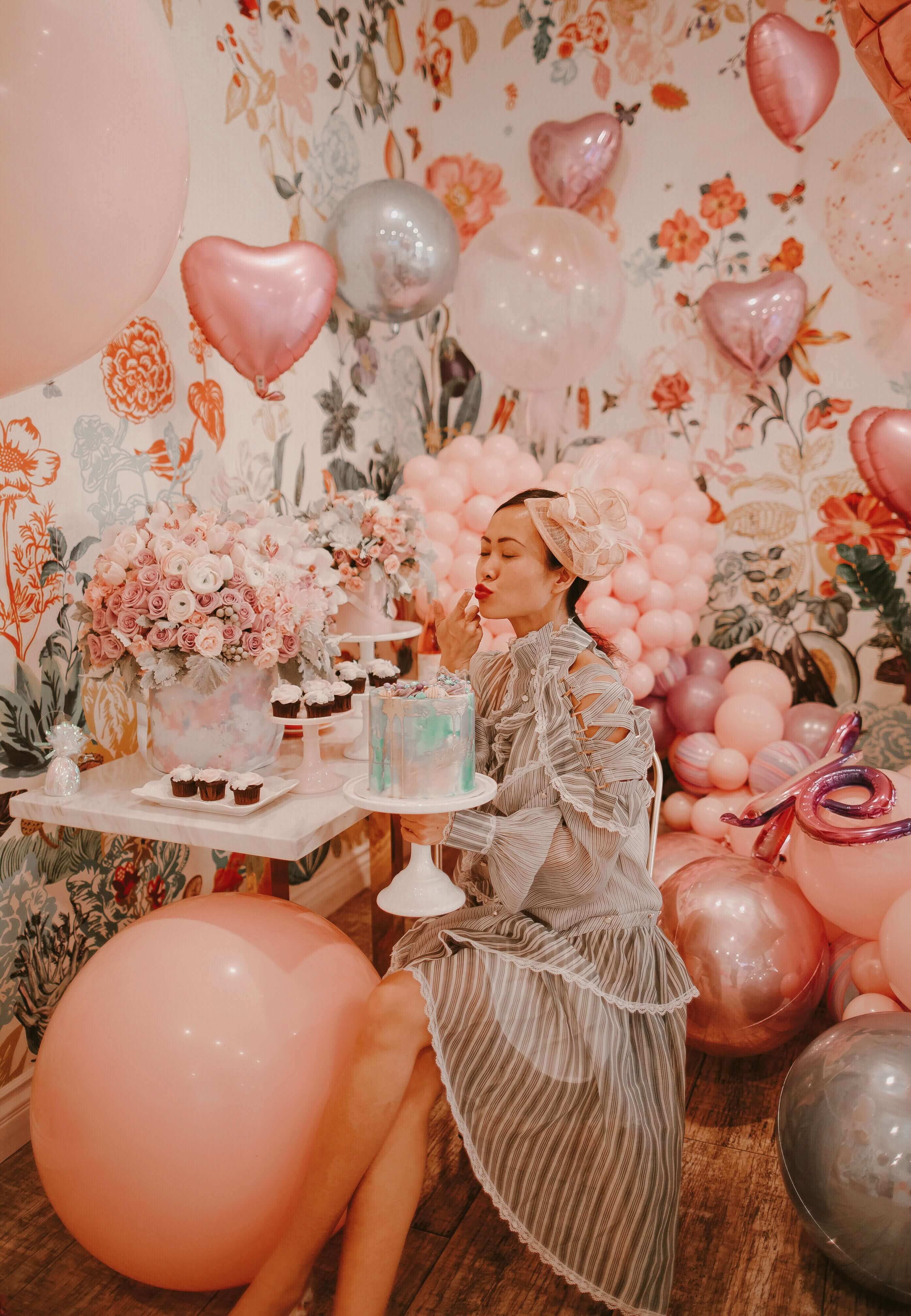 Whimsical Pastel Wonderland Themed Valentine Party
Here we are at that time of year again—romance is in the air! You've seen stores filled with cards, hearts, chocolate candies, and cuddly little stuffed animals with messages like "Hug Me", "Be Mine," or "Let's Kiss". It's the most romantic time of the year and is a big deal for most women. You know me, I'm all about the holidays and especially anything to do with decorating for the holidays! BUT… As I do a quick online search for Valentine's Day party ideas, and there are just so many party tables smothered in red and pink. Not that I don't love red and pink at this time of the year, but I'm on the hunt for something a little less vibrant….but more pastel, fairytale, and whimsical.
So this year I have teamed up with some of my favorite LA vendors to bring you lots of inspiration to create a beautiful and magical Valentine's Day decor. Whether you're celebrating with the girls for the ultimate Galentine's Day soiree or treating your Valentine to an afternoon tea for two, these romantic Valentine's Day decorations are sure to make everyone's hearts swoon.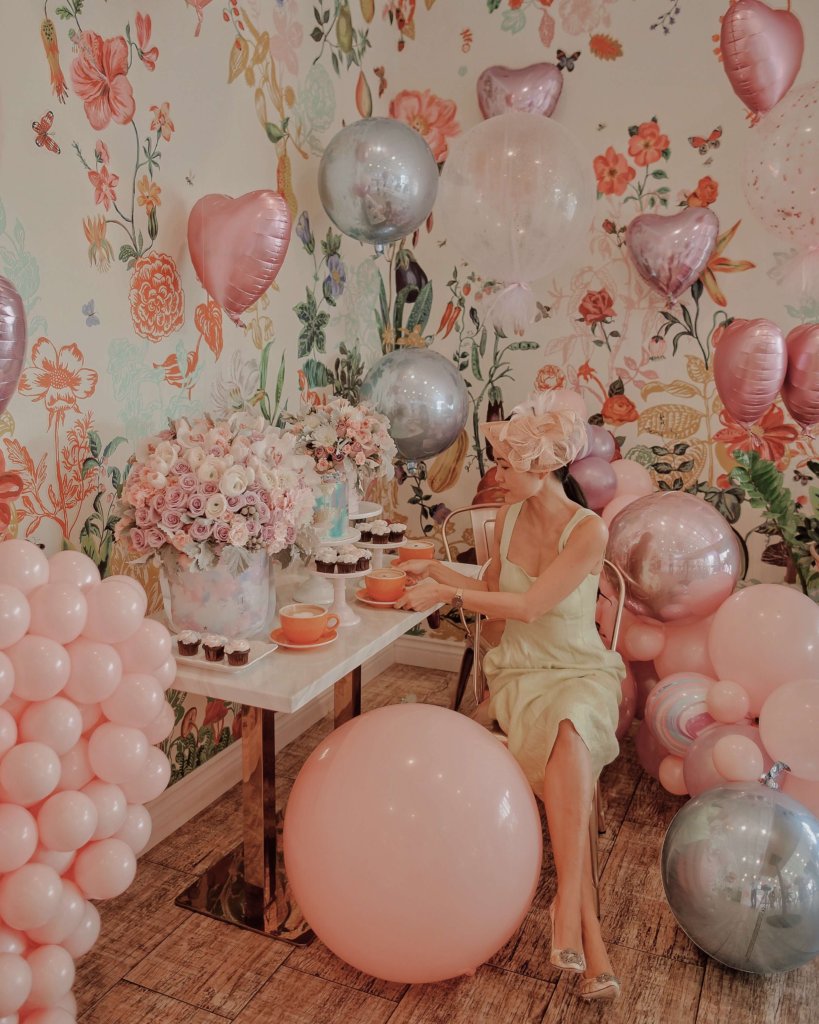 COLOR THEME
An elegant whimsical Valentine's Day celebration is all about setting the perfect color theme. The color theme we chose for our event was pastel (pastel pink, pastel blue, pastel purple,…).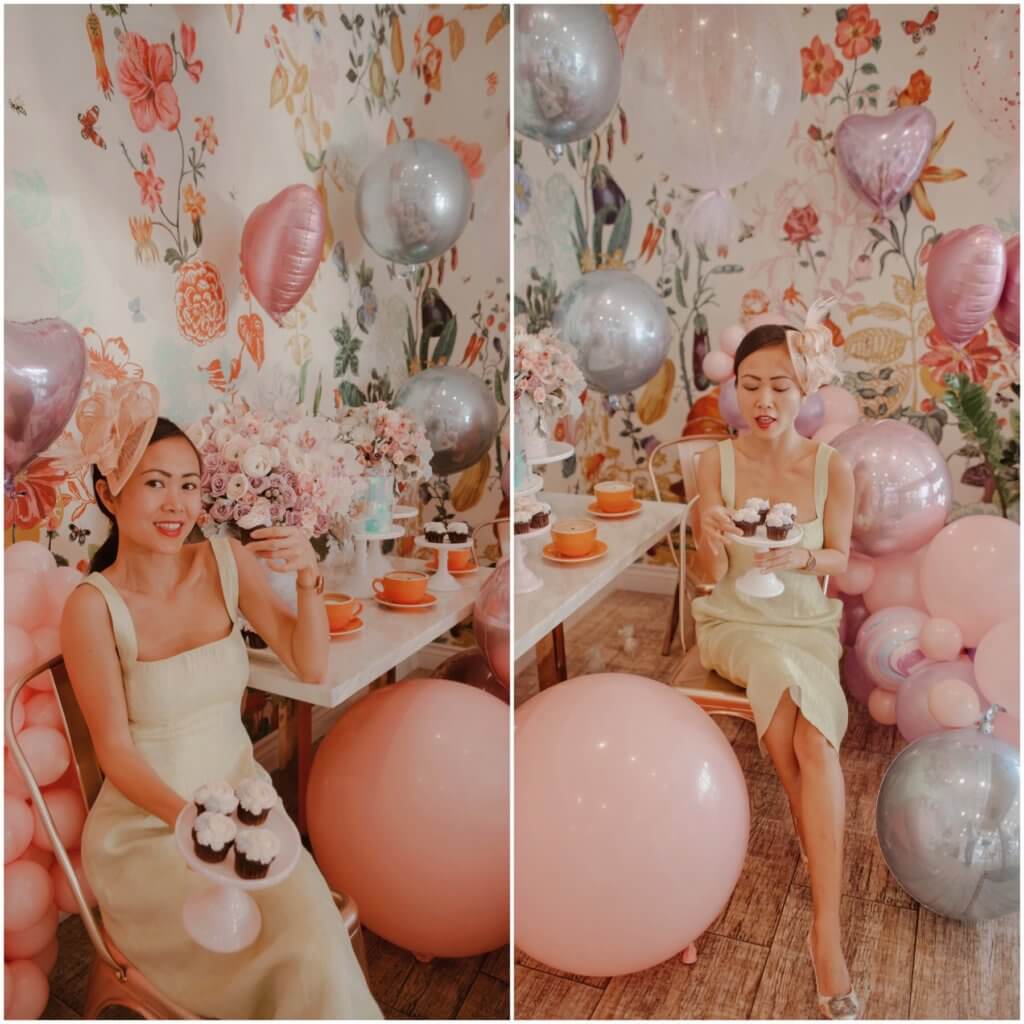 When it comes to choosing your color palette, go with colors that make you happy! Pink, purple and orange are a pop of fun. If you don't want such an intense look, opt for these hues in soft, pastel tones.
DECORATIONS
Venue
I wanted something that was playful, romantic and unique, with a bit of whimsy and lots of details. As one of my favorite things to do is exploring coffee shops in LA area, I discovered Dots Cafe. Dots Cafe is the new kid on the block and they are known for their cupcakes but also have a ton of delicious food. The inside of Dots has the most beautiful floral mural – an Instagrammer's paradise. You'll feel as though you've stepped into the pages of a fairy tale, of a sweet wonderland of sorts.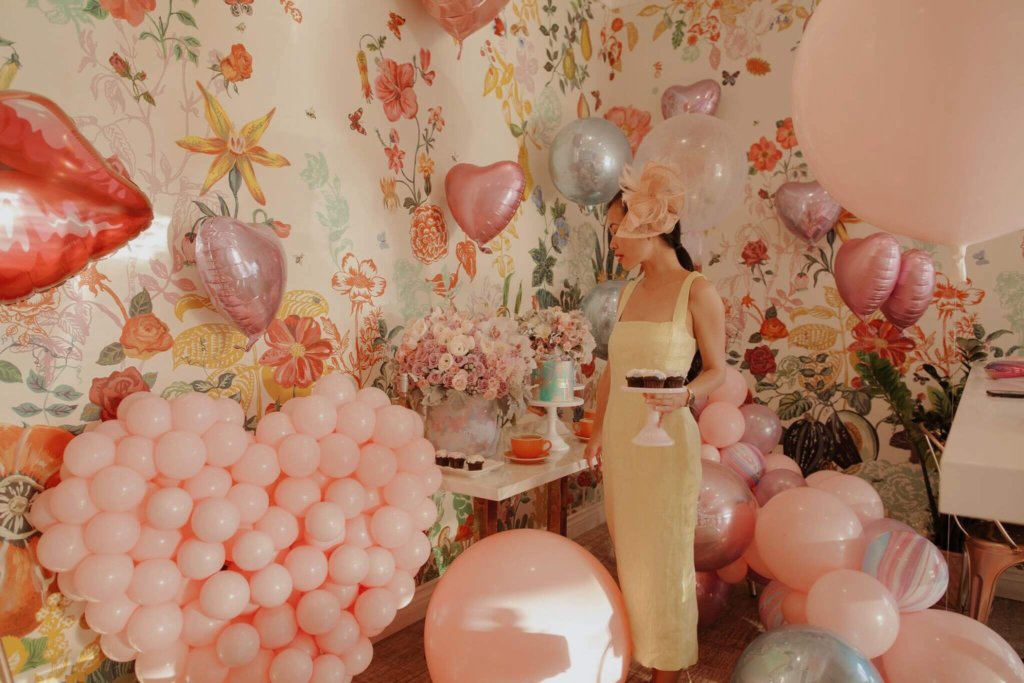 Somehow it all came together! It was important to remember that the venue already looked amazing without any decorations (which was why I booked there!). So whatever decorations I added in later were just to complement this gorgeous backdrop. If you are looking for an inexpensive way to celebrate V-Day, just come to Dots Cafe and spend an afternoon here eating cupcakes, drinking cappuccino, and taking pictures with their beautiful wall.
Balloons
Planning an extraordinary experience- Balloon avalanche! Sometimes a present alone isn't enough. Why not go the extra mile and plan something out of the ordinary? Nothing can play up the festive feel of any celebration like balloons. Balloon avalanche/arch/cluster is one of the hottest trends in event decor in recent years and can totally transform your venue.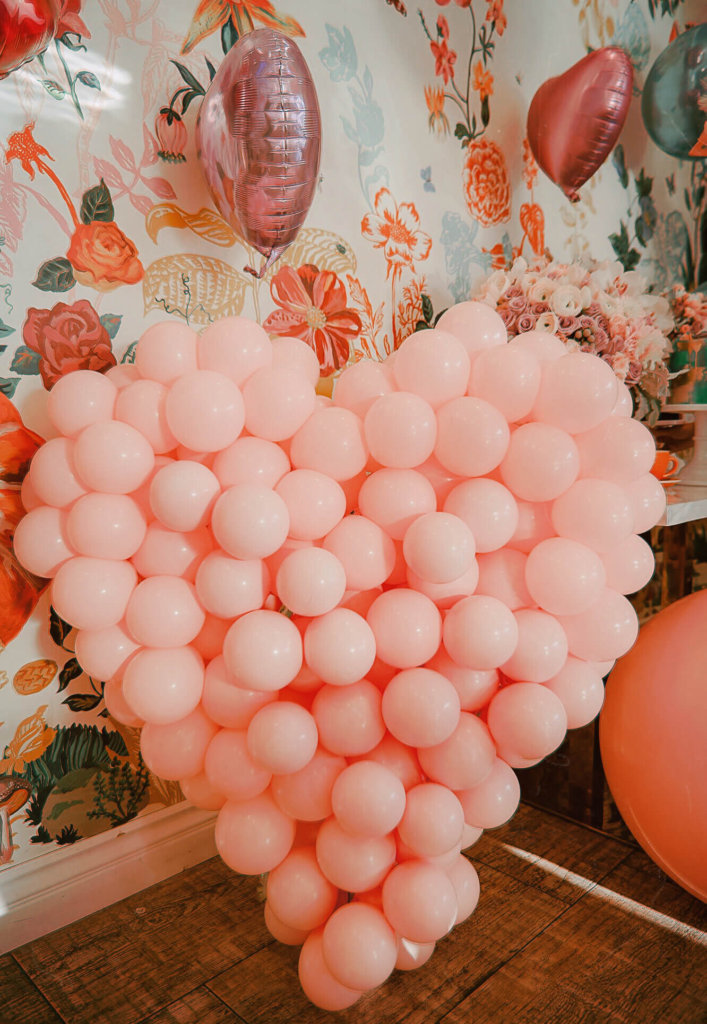 We always think of the balloons as colorful and cheerful, but they can actually be very elegant as well. Colors are also important; neutrals and pastels are modern and sophisticated. Balloon has made a comeback lately and become the must-have decoration at many events, for their versatility and their insta-worthiness.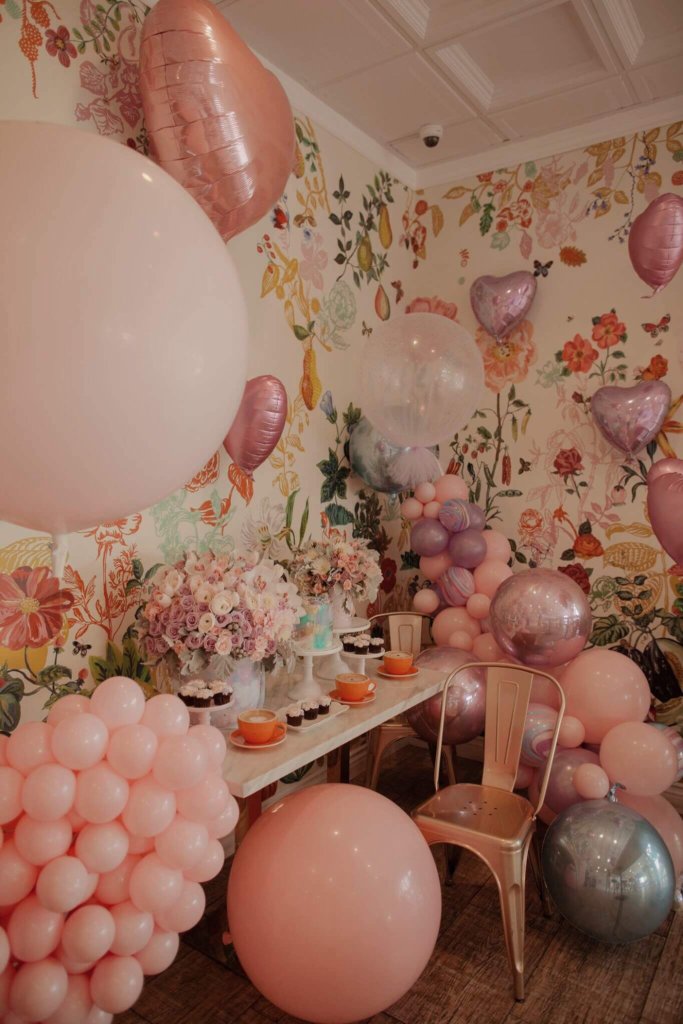 And Belle Âme Balloons, headquartered in Los Angeles, offer beautiful and unique custom balloon arrangements. They provide high-quality stylish and artistic balloon arrangements for a variety of occasions such as birthdays, weddings, corporate events, parties, and more. Belle Âme Balloon's owner, Araks Terteryan, exclusively designed a beautiful array of balloons clusters in pastel whimsical colors for my pre Valentine photoshoot. Araks and her team arrived at Dots Cafe right on time and set up everything in less than an hour. Their team is professional, talented, and creative.
Their balloon arrangement is truly an amazing work of art! The name Belle Âme means beautiful soul in French. The balloons designed by Araks are truly filled with love and joy when they are made. They add an elegant and whimsical touch to my Valentine celebration!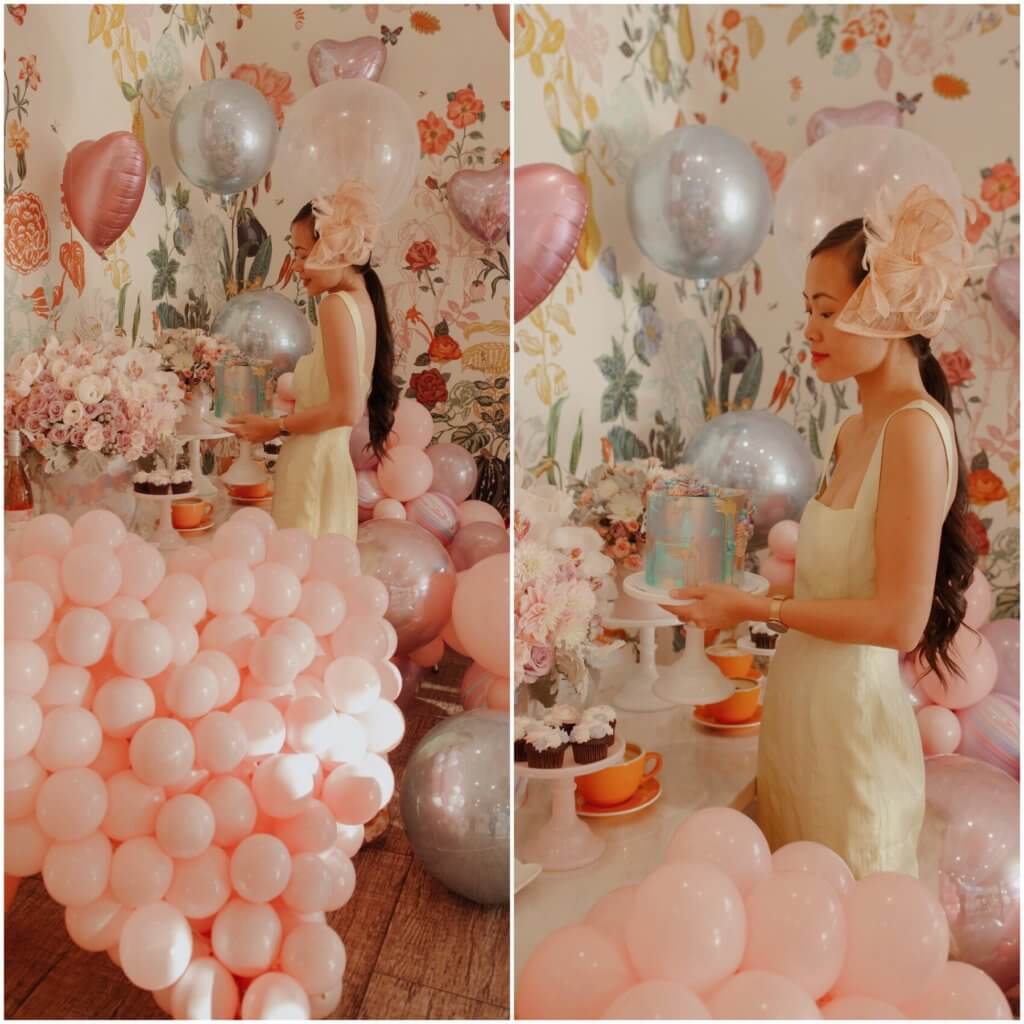 Flowers
The perfect Valentine's Day celebration starts with the perfect tablescape. When designing table decorations, flowers are almost always included because of their beauty, effectiveness and versatility. Adorn your table with classic roses in flirty pinks. It's all about the little details!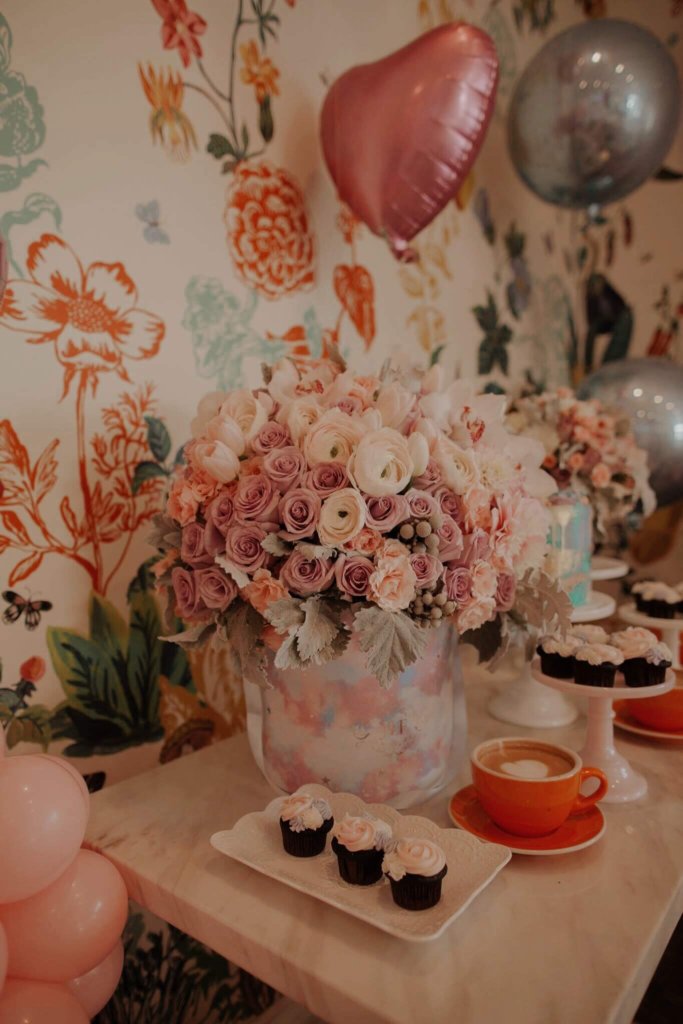 The arrangements can be a simple as a few long stems in a vase to professionally sculpted pieces. There are many ways to create a centerpiece that's uniquely yours. For the ultimate wow factor, a lavish centerpiece with an abundance of flowers and textures from J'Adore Les Fleurs will surely impress.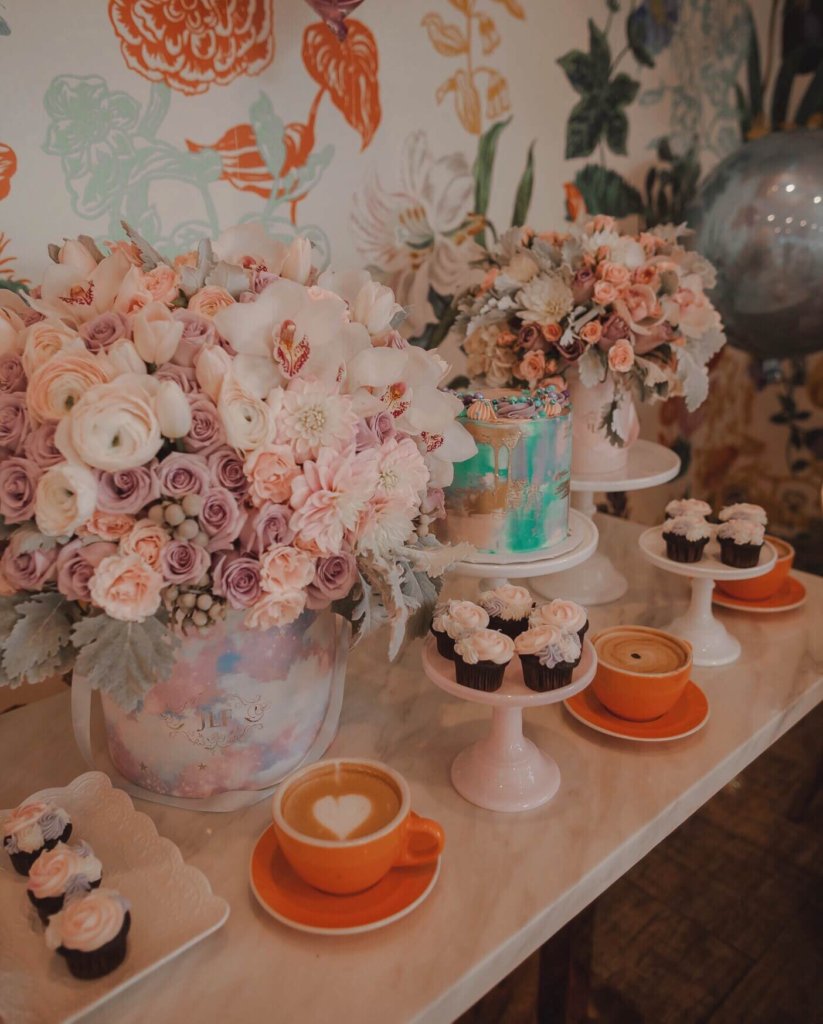 If you are in Los Angeles, I highly recommend J'Adore Les Fleurs who make a lush and prestigious statement by taking floral arrangements to their recipient to another level. J'Adore Les Fleurs succeeded in combining the style of Parisian packaging and branding by delivering luxurious flowers in their signature gift boxes. Giving birth to the first flower boutique to do such arrangements in Los Angeles and Las Vegas.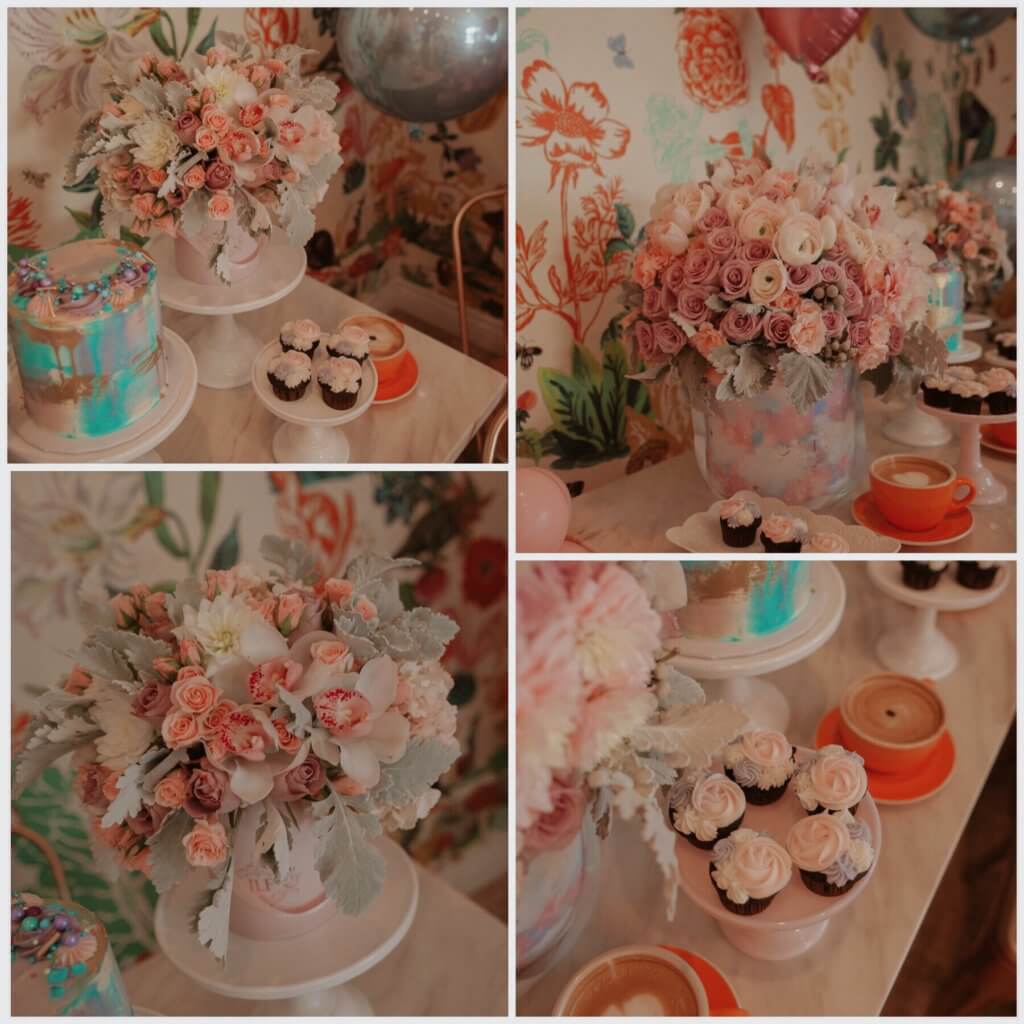 Tovmali Tee is a nod to J'Adore Les Fleurs signature rose boxes and became the main inspiration since the flower boxes are so adored by everyone! Their desgin is chic and unique. Gift your lady this tee to match with her J'Adore Les Fleur bouquet will certainly make her smile!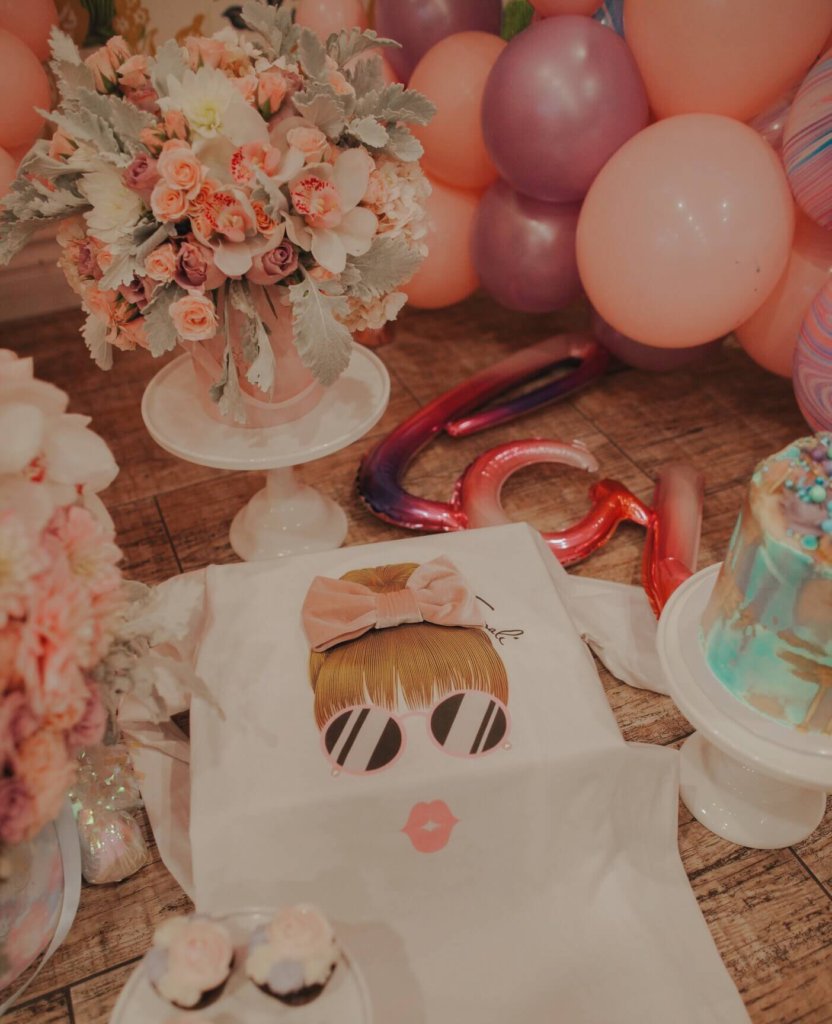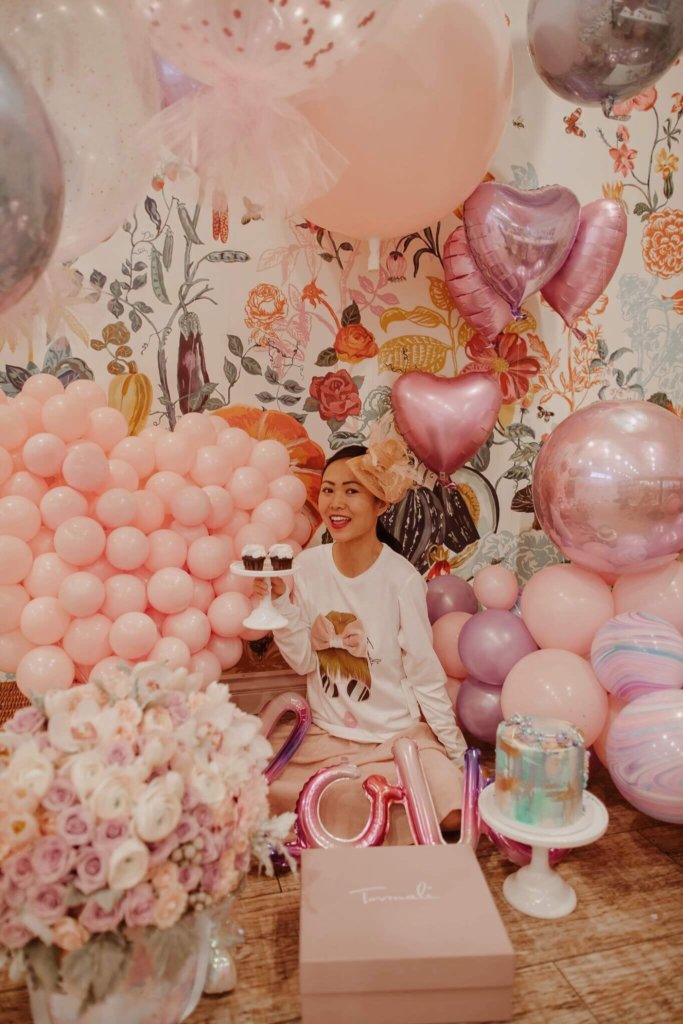 SWEET TREATS
Can you ever have too many cupcakes? Whether you want to surprise your Valentine with some delicious treats, or throw a party for friends or family, cupcakes are a perfect choice.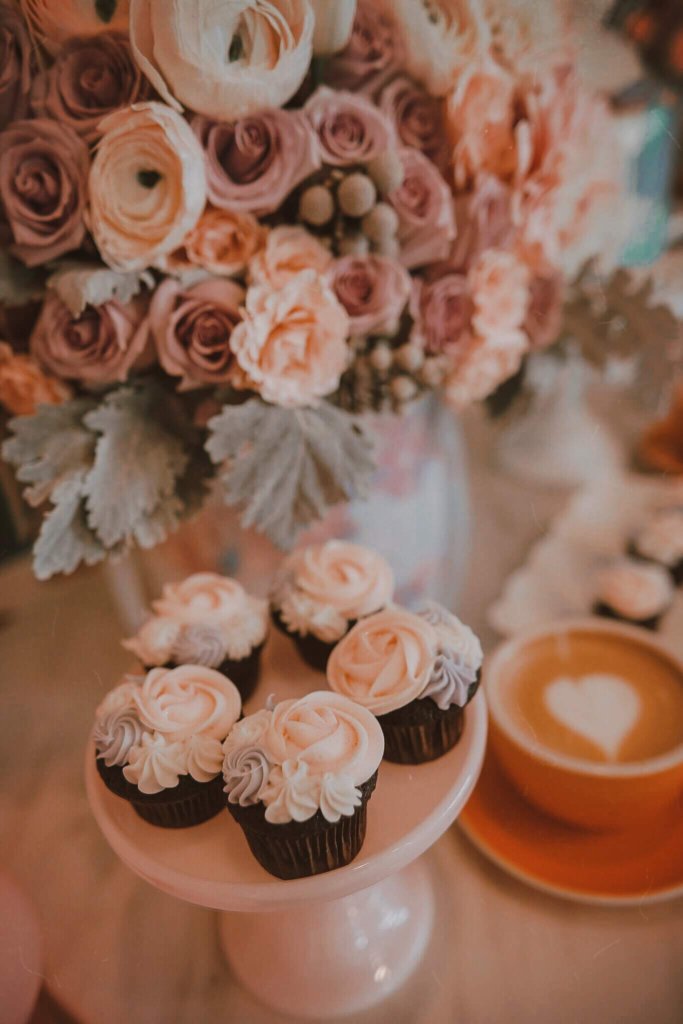 Cupcakeries are known for their sleek design and cutesy decor, and Dots Cupcakes is no exception. Dots Cupcakes are precious, with their creamy frosting swirls and sugary decal adornments. My heart is still fluttering over the precious details every time I look at these pictures.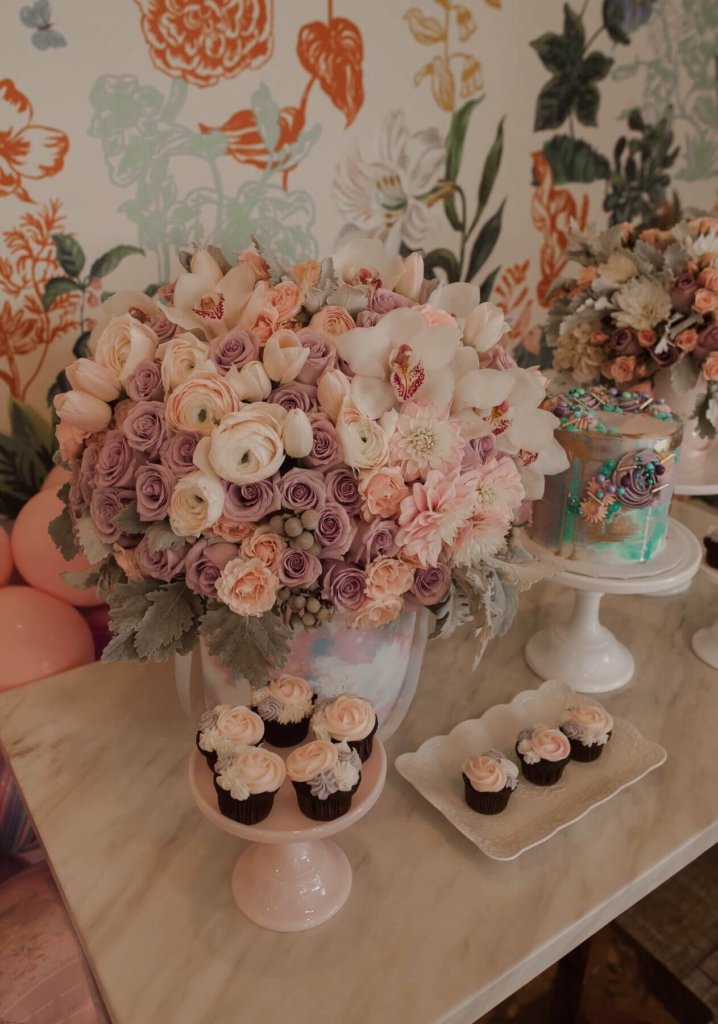 The cupcakes tasted as good as they looked. The cake had a firm but delicate crumb, while the frosting was just sweet enough. The ratio of frosting to cake was satisfying. Baked fresh daily, Dots Cupcakes uses quality, natural ingredients. Hailey Kwon, owner of Dots Cupcakes and her staff have been busy creating fabulous desserts and cupcakes this Valentine. If you are in the Los Angeles area, stop by and have a fabulous V-day at their cafe.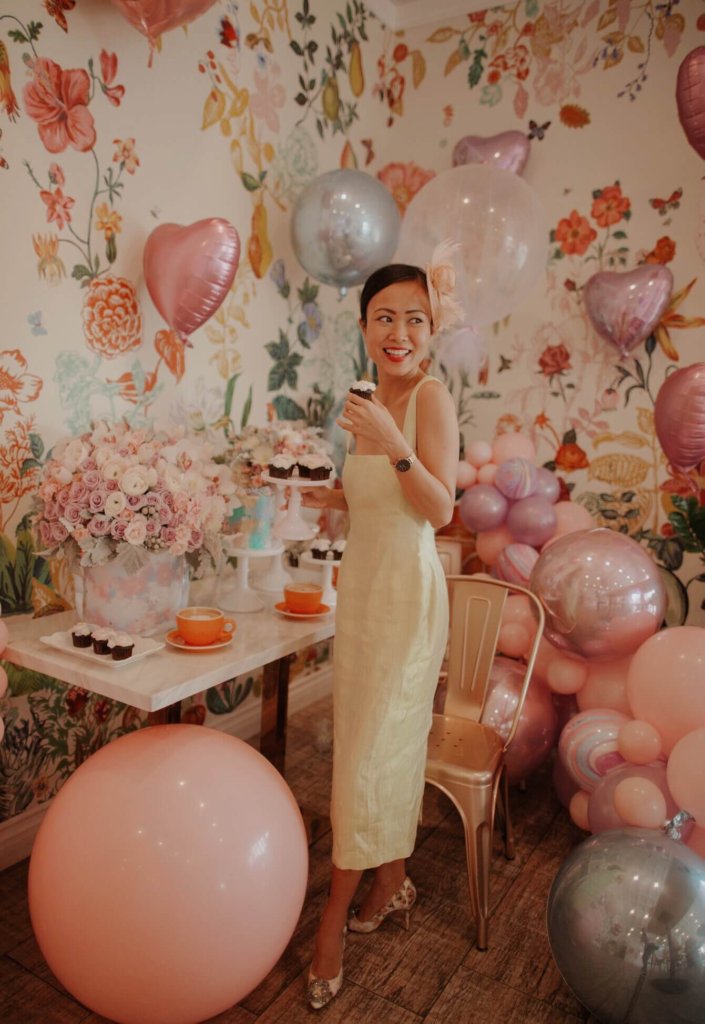 The watercolor theme has taken world by storm. It's the latest cake trend on Instagram. These stunning modern cakes make a statement on their own. Decorated with beautiful brushstrokes of all shades, the edible works of art are a sure way to elevate your Valentine day dessert.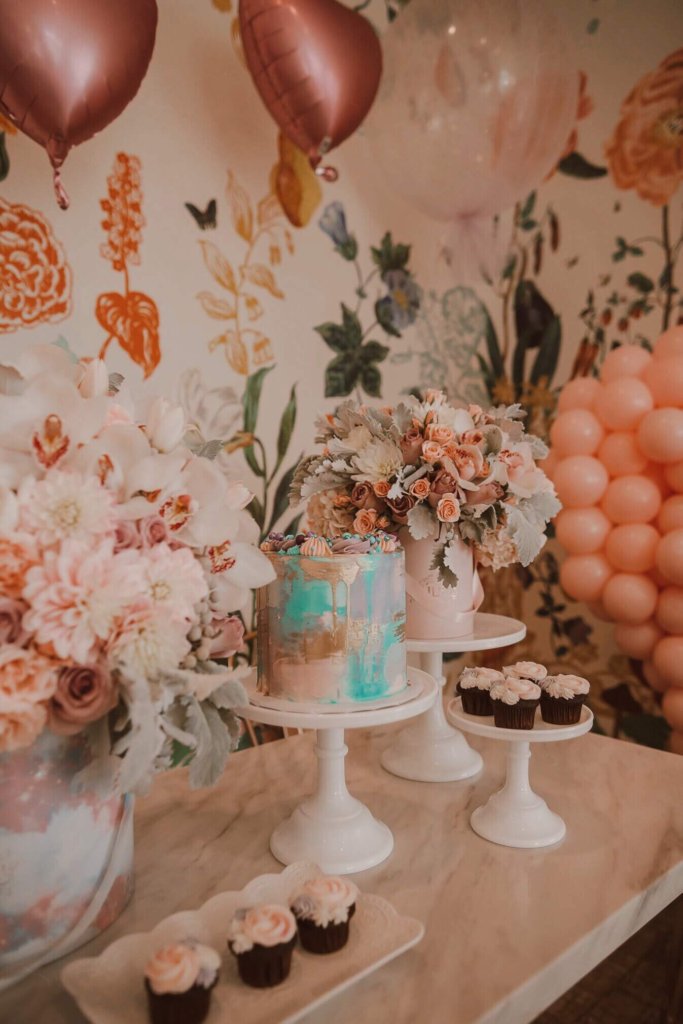 I ordered my cake from Danielle Keene, owner of Sheila Mae – a dessert based catering company. Bursting with creativity, their watercolor cake is a true work of art. Each cake is hand-painted and delicately stroked in a beautifully unique masterpiece that is nearly too pretty to cut. Whether floral, marble, or abstract, Sheila Mae hand-painted designs take cake to the next level.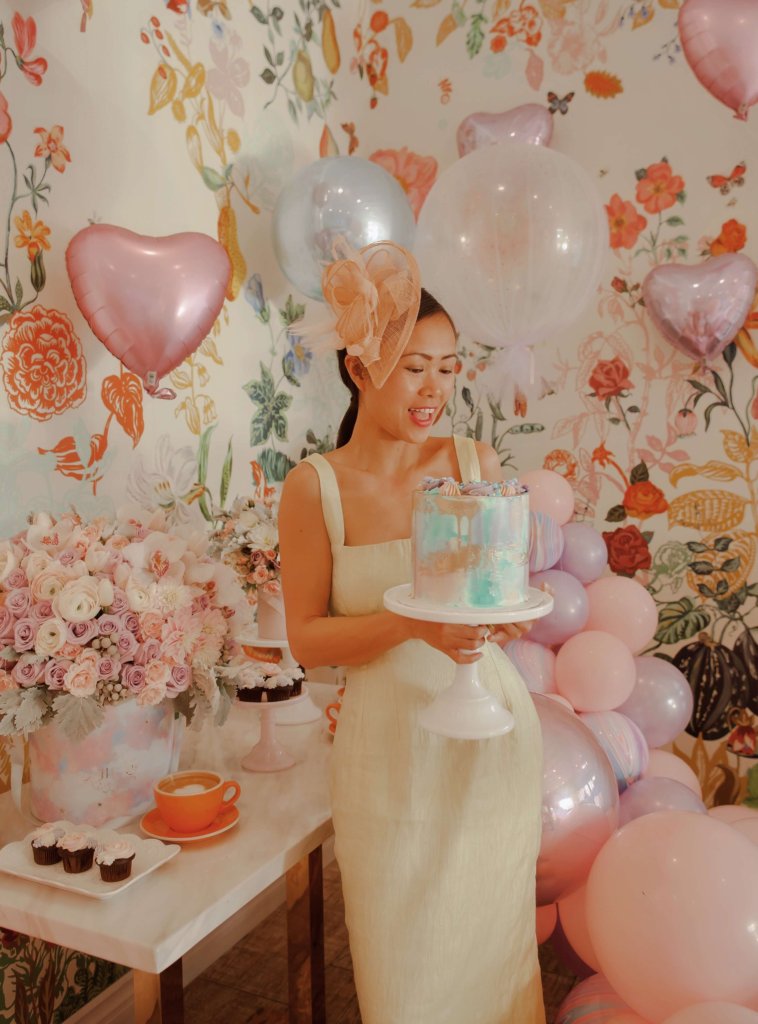 Vendors
Flowers: J'Adore Les Fleurs
Balloons: Belle Ame Balloons
Venue: Dots Cafe Bakery
Cupcakes: Dots Cupcakes
Cakes : Sheila Mae
Tee: Tovmali
****Thank you to the above vendors for kindly sponsoring this post. All opinions are 100% honest & completely my own!

The quest for the perfect gift or well planned Valentine's Day can be stressful so hopefully this blog will help you avoid the generic and cliché gifts for your sweetheart. Hopefully these ideas can kickstart your efforts to throw the ultimate V-Day celebration!
"Bring Alice and Wonderland to life by layering whimsical details on the table: small stacked books tied with ribbon, accents of teacups and hand-painted sweets (double up as decor and bites for the party to help stretch the budget), pastel vintage china and dusty pastel pressed glass for a magical high tea. Swoon." -Debi Lilly, Chief Eventeur of A Perfect Event