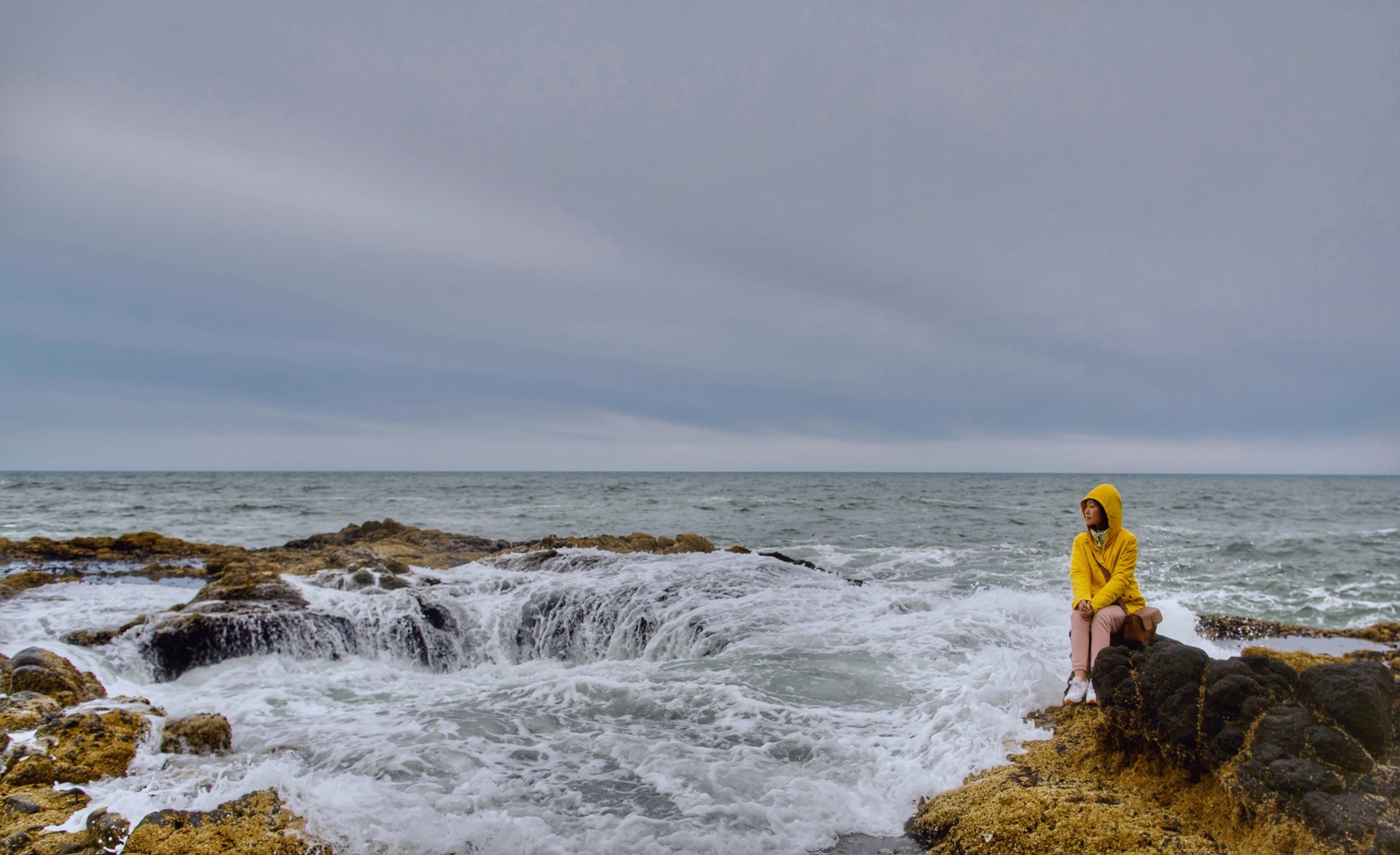 Visiting Thor's Well in Cape Perpetua, Oregon
Thor's Well, located on the Central Oregon Coast, is the most dramatic seascape and geologic feature. It has become a highly-sought photographic spot for the deep sinkhole look. When conditions are right, this little hole in the rock can look like the drain of the Pacific Ocean! We visited Thor's Well during our Oregon Coast road trip and it's the most unique sight we have ever encountered. It is a must-visit if you're cruising down the Oregon Coast!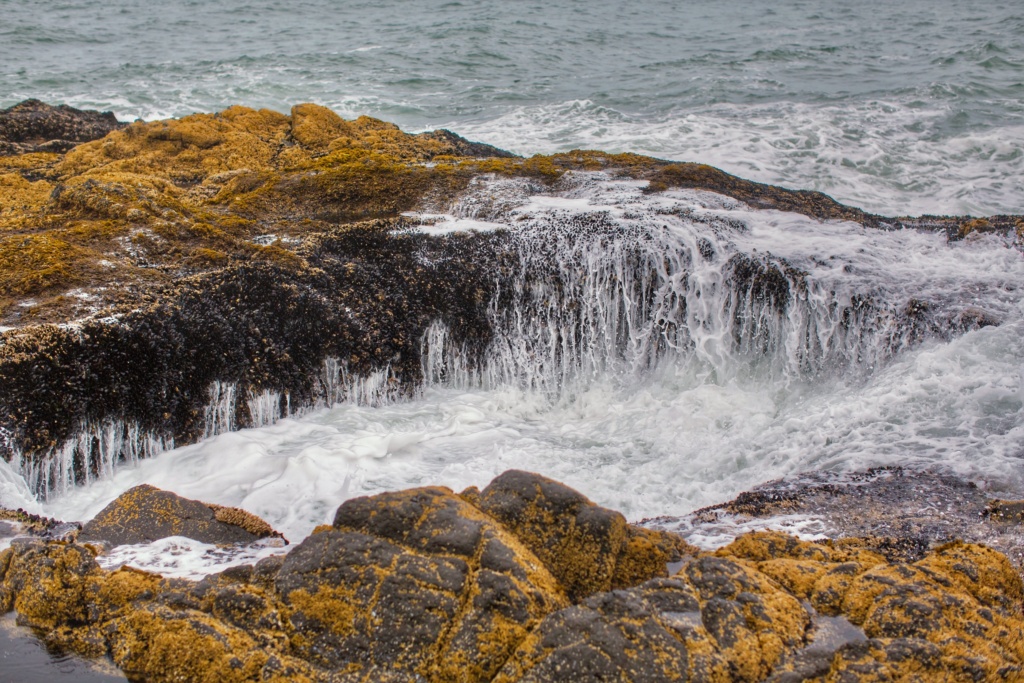 Your visit to this natural wonder will come with plenty of risk and plenty of reward. Carefully planning for your visit to photograph Thor's Well is essential to having a safe and successful outcome. I've put together this guide on Thor's Well, including the best time to visit and how to capture some amazing photos of nature at its best.
WHAT IS THOR'S WELL?
Thor's Well is a hole carved out of the basalt shoreline in the Cape Perpetua Scenic Area. It was formed when the thrashing ocean eroded a sea cave causing it to collapse and left a natural hole, around 20 feet deep, in the rock.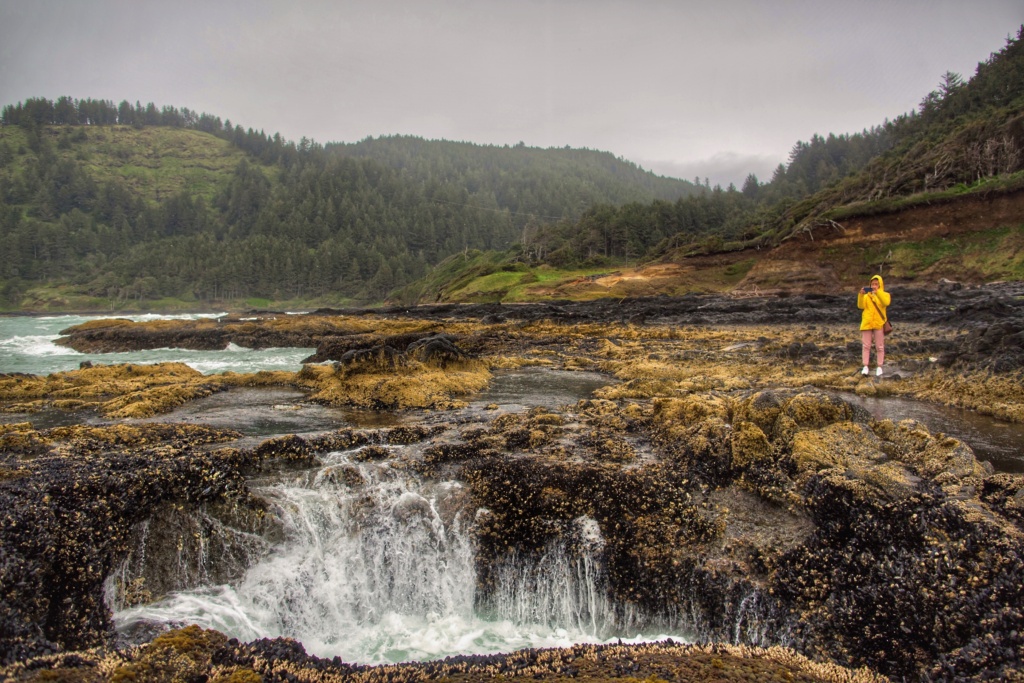 When the tide is high or the weather stormy, the waves of oncoming tides surge water under the bowl shaped hole filling it from underneath. After a few seconds the bowl overflows and sprays water over the surrounding rocks creating a very unique sight. It's almost like Thor's Well is draining the ocean and shooting it back out!
DIRECTIONS TO THOR'S WELL
It is about three miles south of Yachats in Cape Perpetua. Visiting Thor's Well is also a great stop during an Oregon coast road trip because it is right off of Highway 101. Parking for Thor's Well is at the Cook's Chasm pull-out, about .3 miles south of the Cape Perpetua Visitor Center. If you put Thor's Well into Google Maps, it should take you right to it.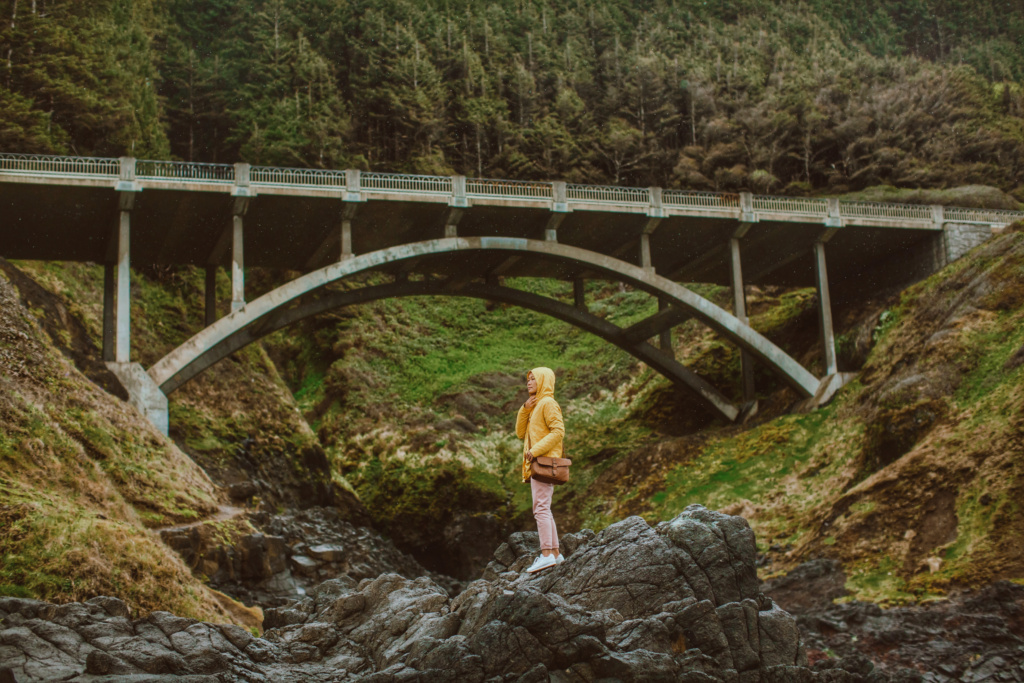 HOW FAR IS THE HIKE TO THOR'S WELL?
Thor's Well is set on a long basalt shoreline. From the Cooks Chasm parking lot, there is a short path to get a closer look at Thor's Well. This short path is paved and along the trail there are viewpoints for Cook's Chasm and Thor's Well. The walk from the parking lot to the well is about 0.3 miles roundtrip. We chose to do the half-mile loop on the Captain Cook trail instead that took us through a dense forest and over to a few other viewpoints over Cape Perpetua.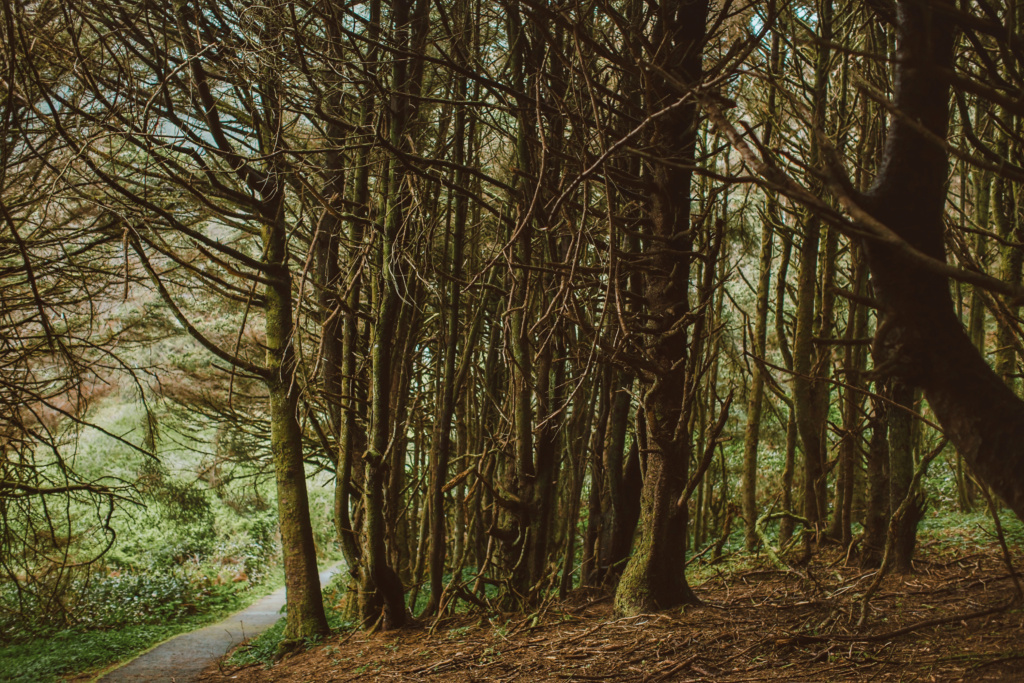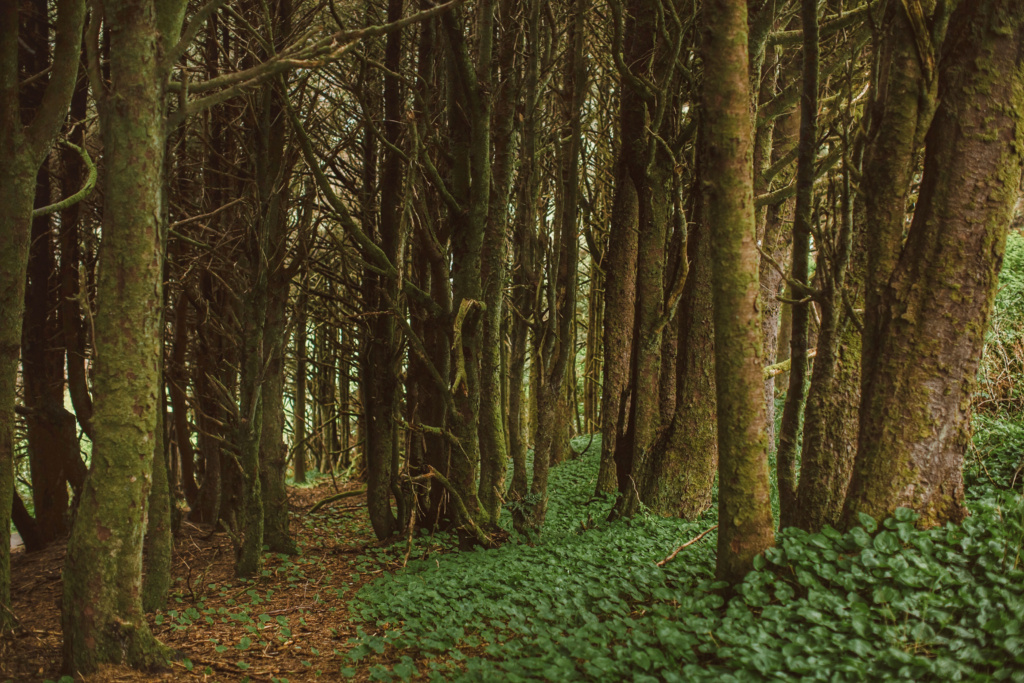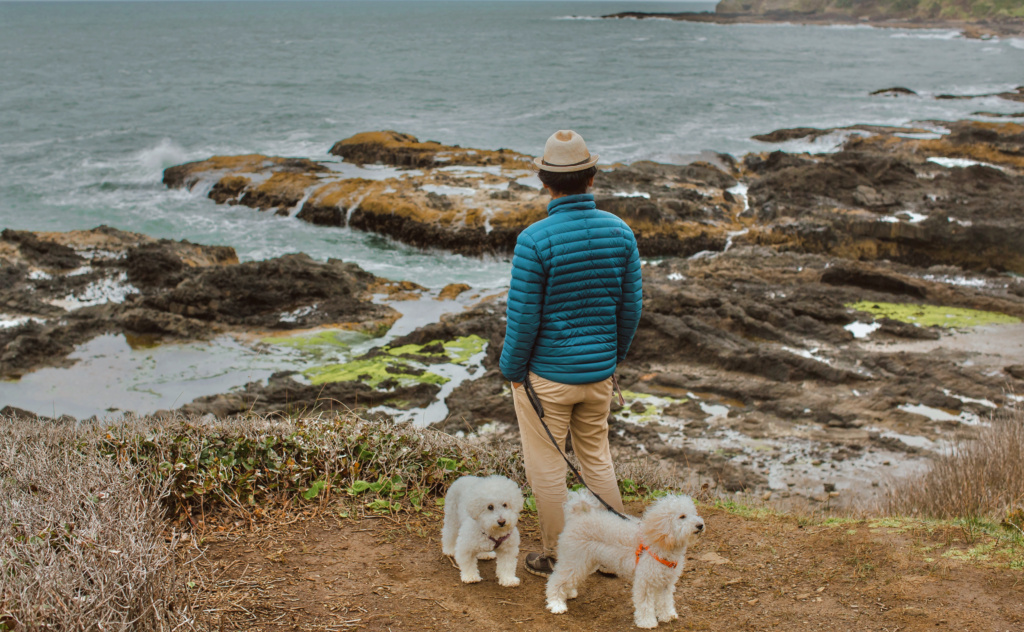 Finding Thor's Well is pretty easy once you know what to look for, especially if the tide is up. It is located across the dark volcanic rock close to the waters edge. At the end of the trail you will have to descend wooden staircases before reaching the rocky shoreline. Continue out carefully onto the black volcanic rocks and there is a rough rocky track that leads directly to Thor's Well.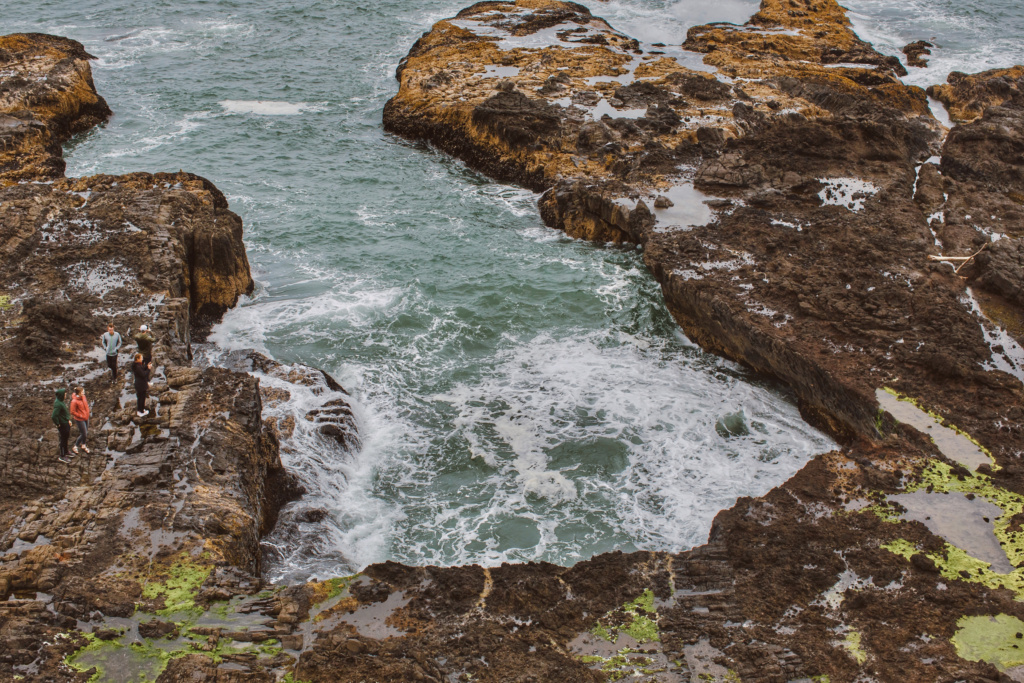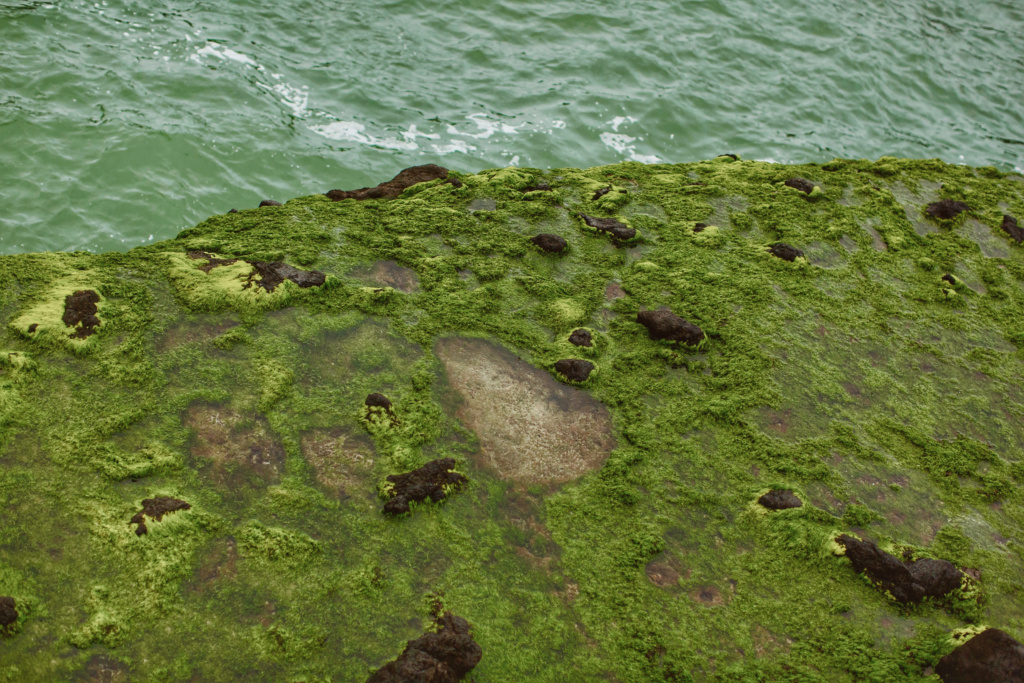 You'll notice to the left of the staircase a small overpass bridge and just beneath it, another wonder of nature, Spouting Horn in the Cook Chasm. The photo of the bridge and the blowhole is iconic to the coastal Highway 101.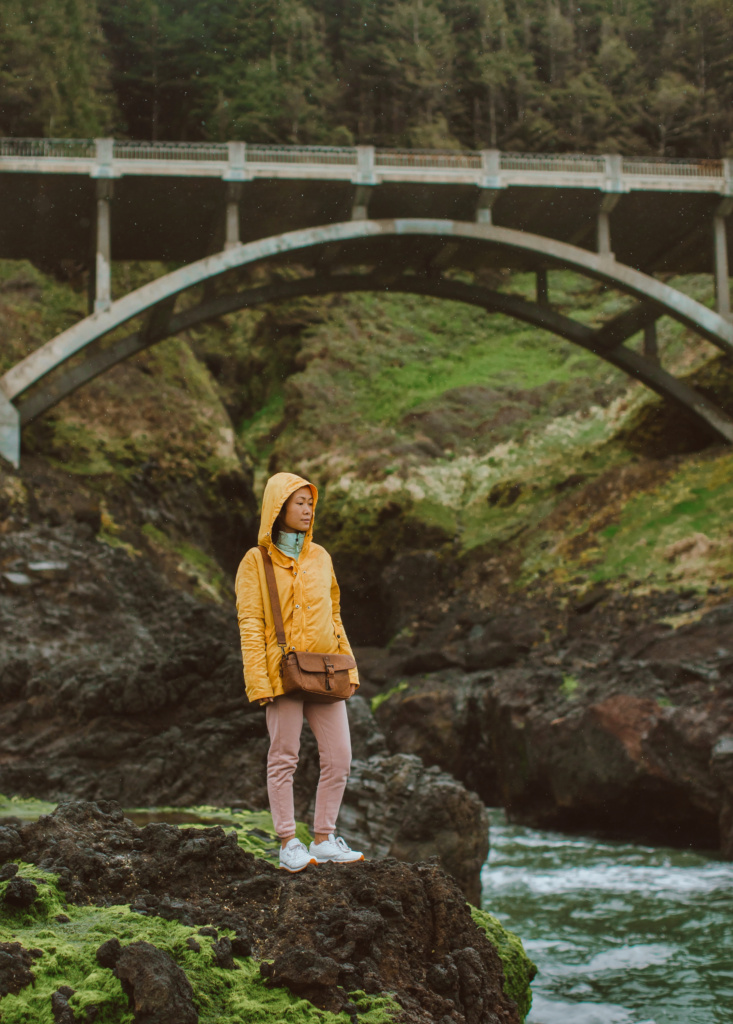 BEST TIME TO PHOTOGRAPH THOR'S WELL
Low tide is the safest time to go to get up close to it and see how it works. At low tides there likely won't be enough water coming into Thor's Well to allow it to fill and overflow.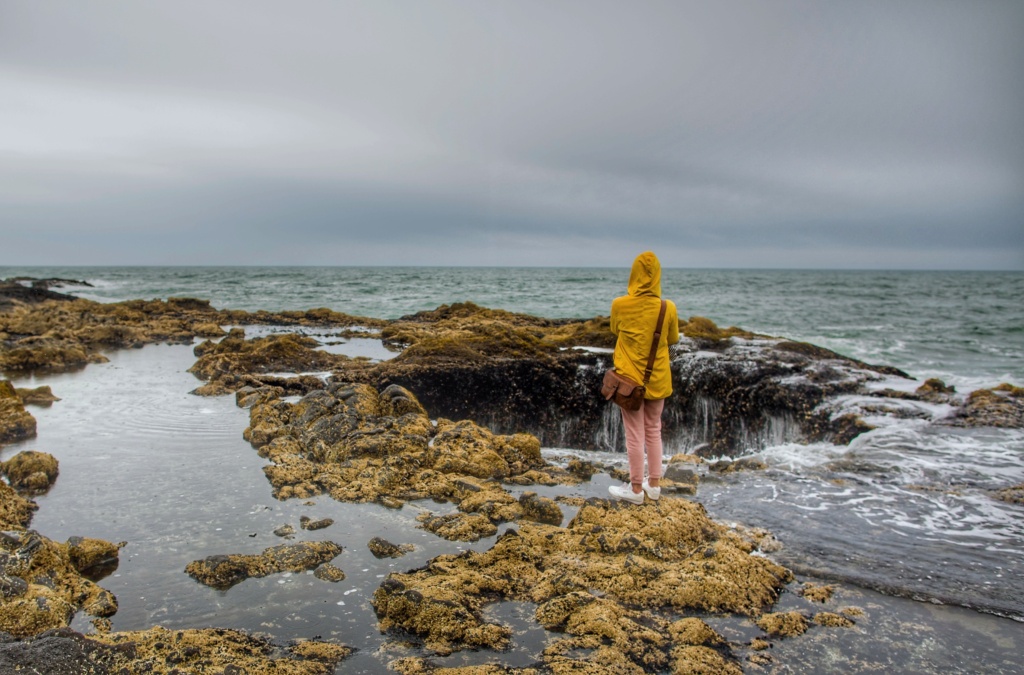 If you're a photographer, you most likely want to get the dramatic look of the water coming in and out so you will want to visit during high tide. High tide and stormy weather showcase Thor's Well at its finest and are the most popular times to visit.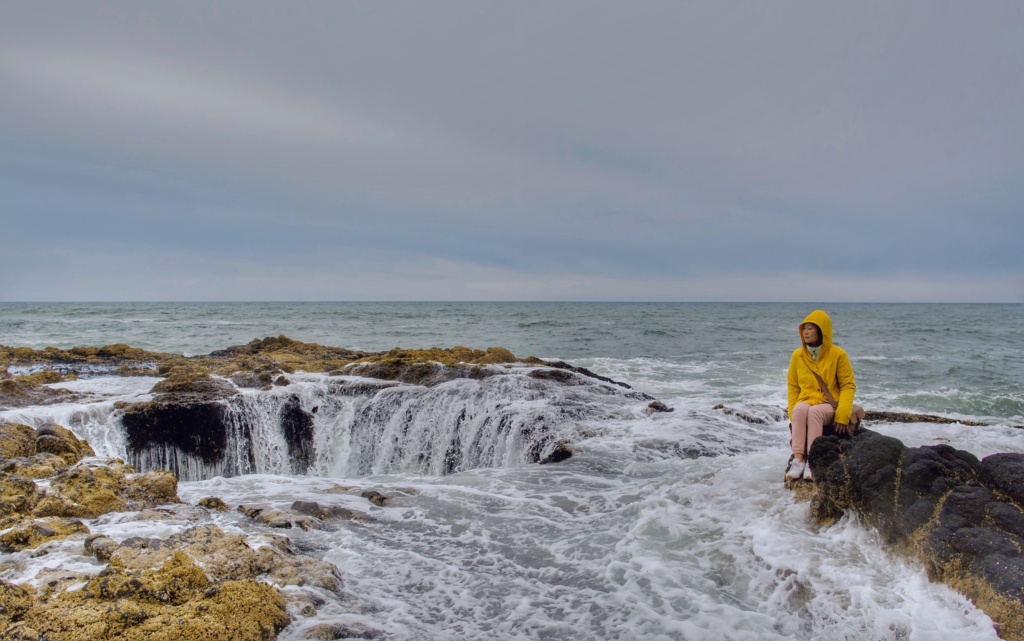 Visiting close to high tide on a relatively calm day will give the safest conditions for approaching Thor's Well and will also ensure the well filled with enough water to shoot it back out over the rocks.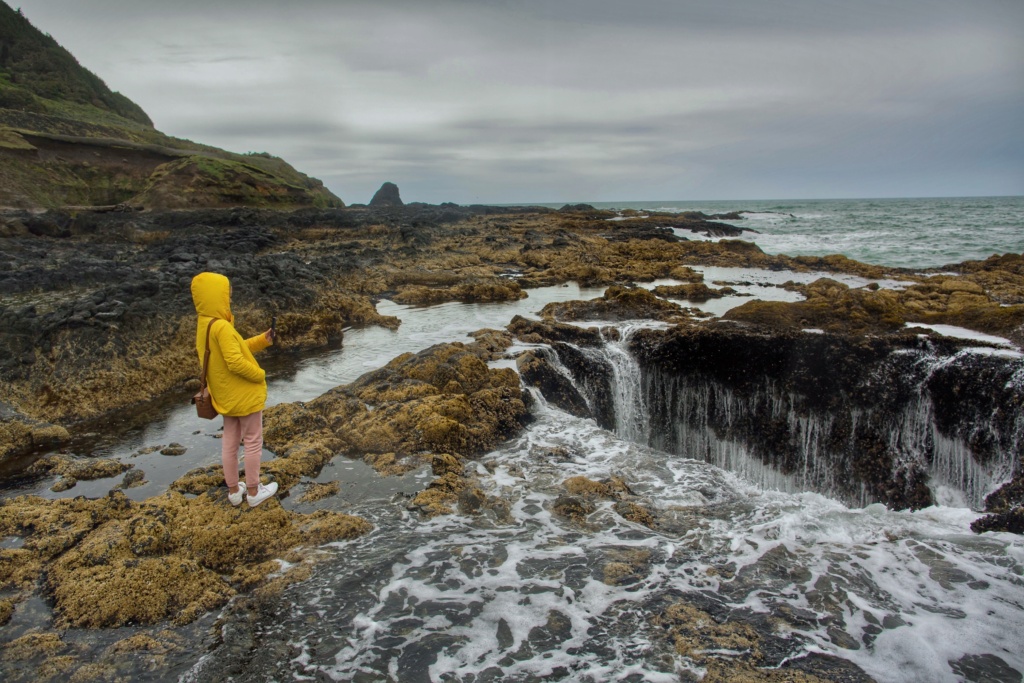 During our visit there was a storm coming through and the Thor's Well put up a real show. I checked the tide charts for Cape Perpetua on the day of our visit and it said the highest tide was at 12:45pm so we planned our visit accordingly.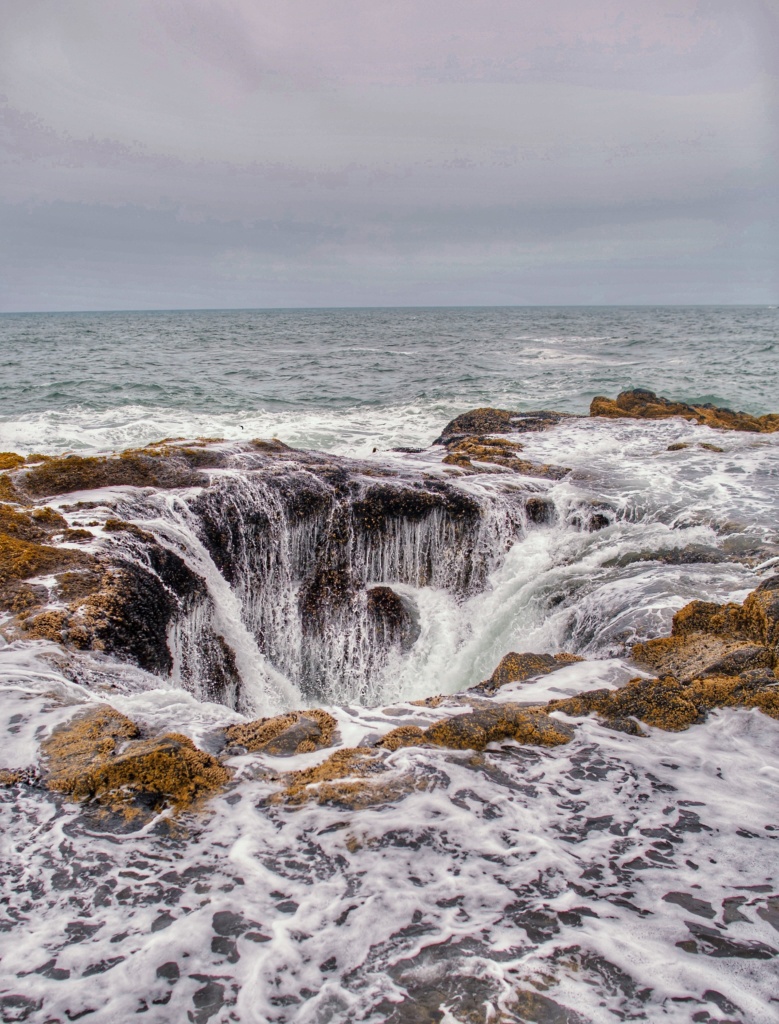 TIPS FOR PHOTOGRAPHING THOR'S WELL
A wide lens is great though you can probably make do with a full frame 21-24mm equivalent lens and not go wider.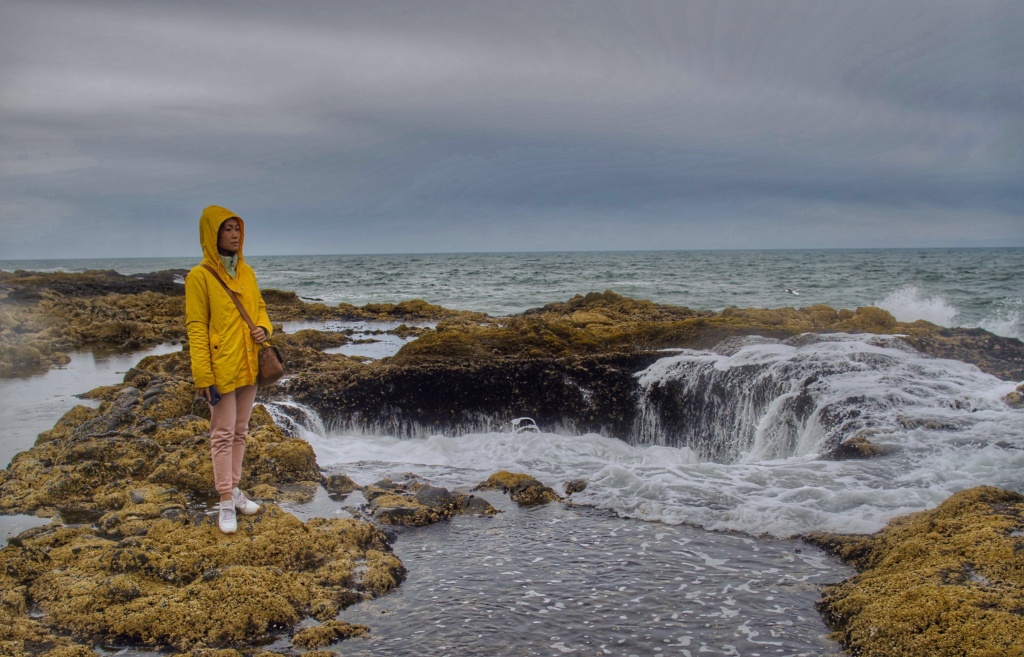 You may not even notice Thor's Well immediately from the viewpoint. The hole is smaller than most people expect at first encounter. Photographing it from up-close with a wide-angle lens gives it a much larger appearance.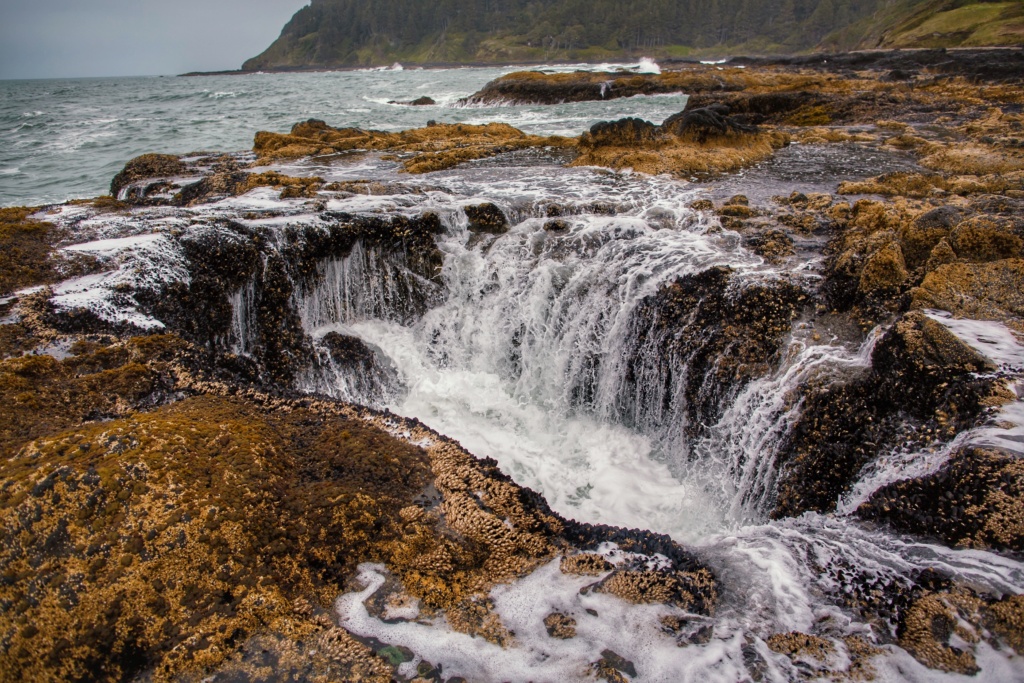 The best time to take your picture is when the water is draining into the well. The water comes up from the well below and then drains back down into the ocean. After watching the well for a minute or two, you will quickly start to see the water pattern in the well.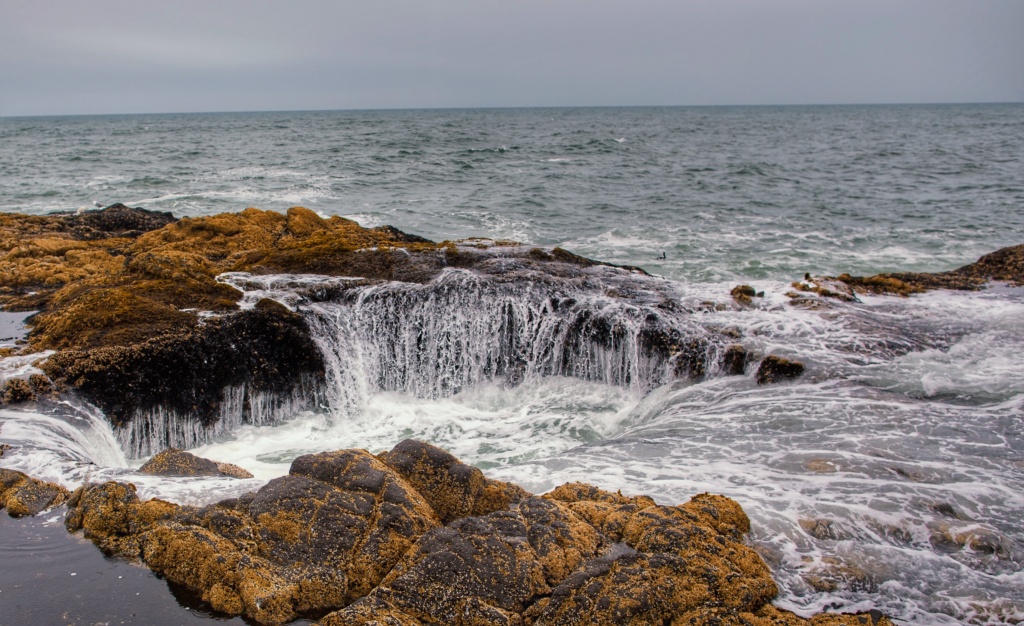 If you are looking for more of an angle down into the well, you can stand on some of the nearby sharp volcanic rock.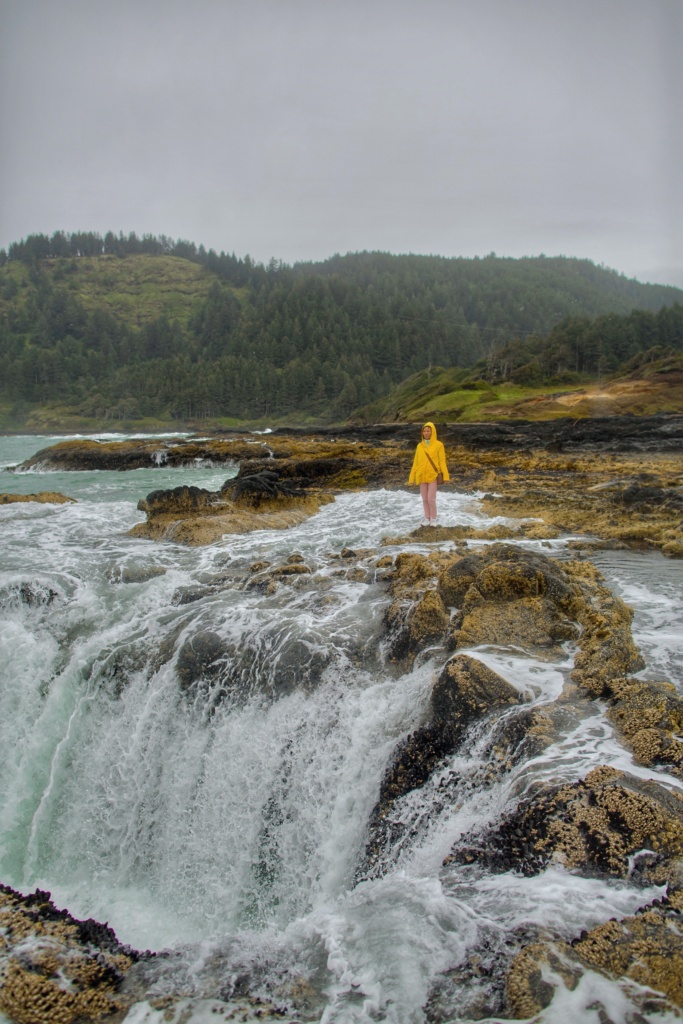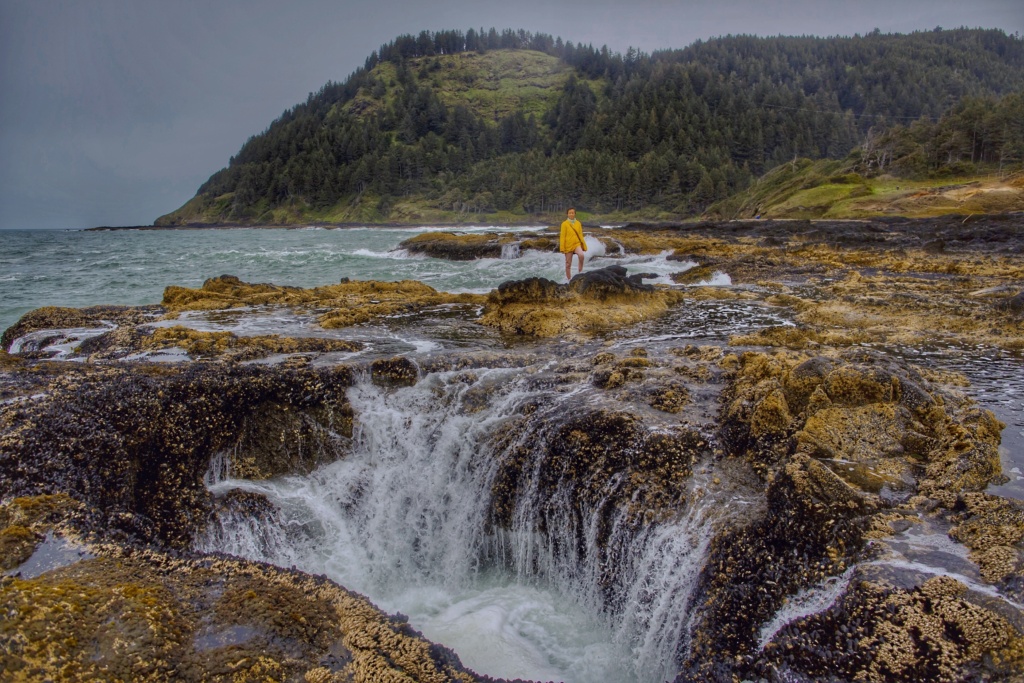 If you do visit at low tide, you can expect less water going through the well but more dramatic splashes.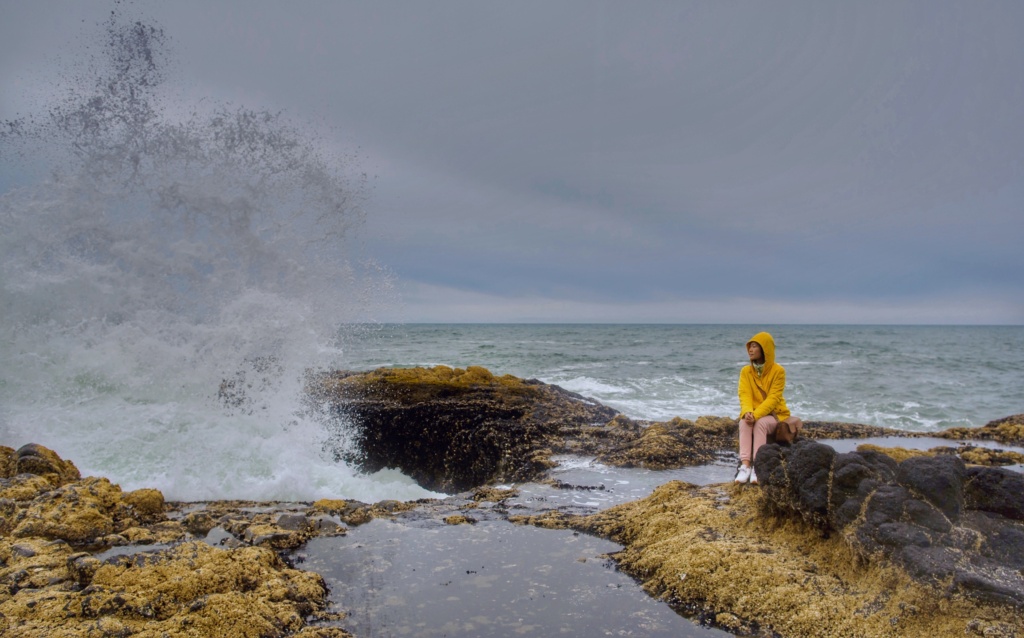 IS IT DANGEROUS?
Thor's Well has a reputation for being extremely dangerous. During high tide, you run the risk of getting swept into the swell of water and straight into the hole if you get too close. But if you are careful where you walk and mind your footing on jagged rocks, it is possible to safely visit Thor's Well.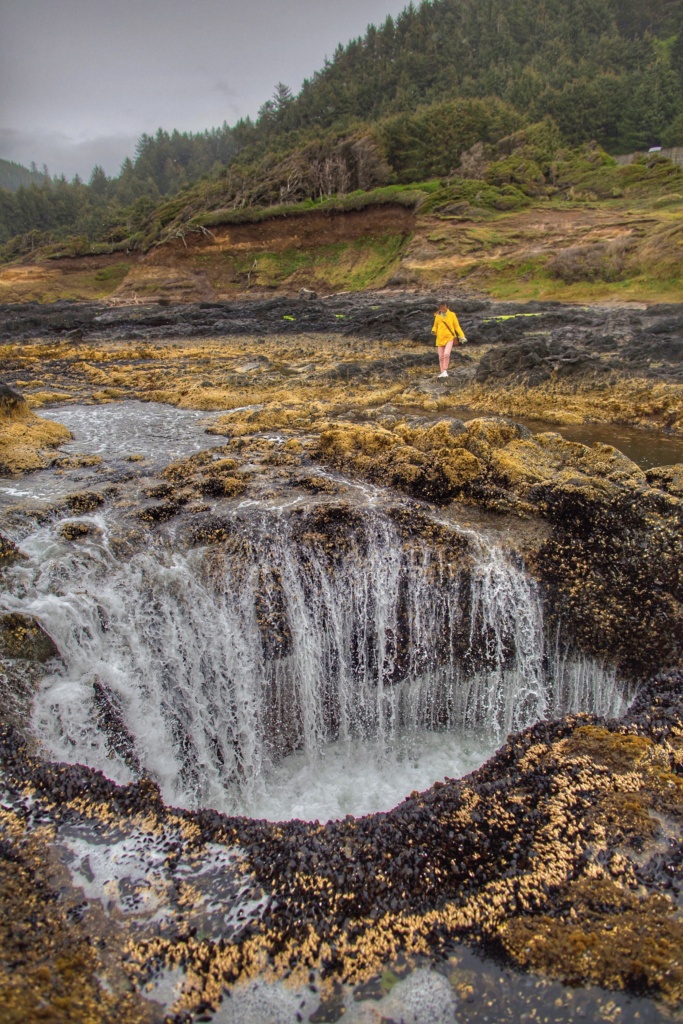 Watch out when you wander along the outskirts of the basalt terrain where the waves are crashing in as well. Just because a few waves have been small doesn't mean that they will stay consistent; the tides are constantly changing. Just be sure you are aware of your surroundings the entire time you are there.
****We are experienced photographers and are used to working challenging environments like those at Thor's well. Anyone seeking to get close to Thor's Well do so at their own risk.