Summer Love: Leon Max Silk Dresses
One of my favorite brands for silk dresses is Leon Max-a hot brand for many celebrities. Designer Leon Max creates his silk dresses with graceful twists. Beading, embroidery, butterfly sleeves, and drapes add intricate simplicity to his designs which always convey a feeling of effortless elegance.
In this post I would like to share with my readers a few of my Leon Max silk dresses which are currently on sale at leonmax.com.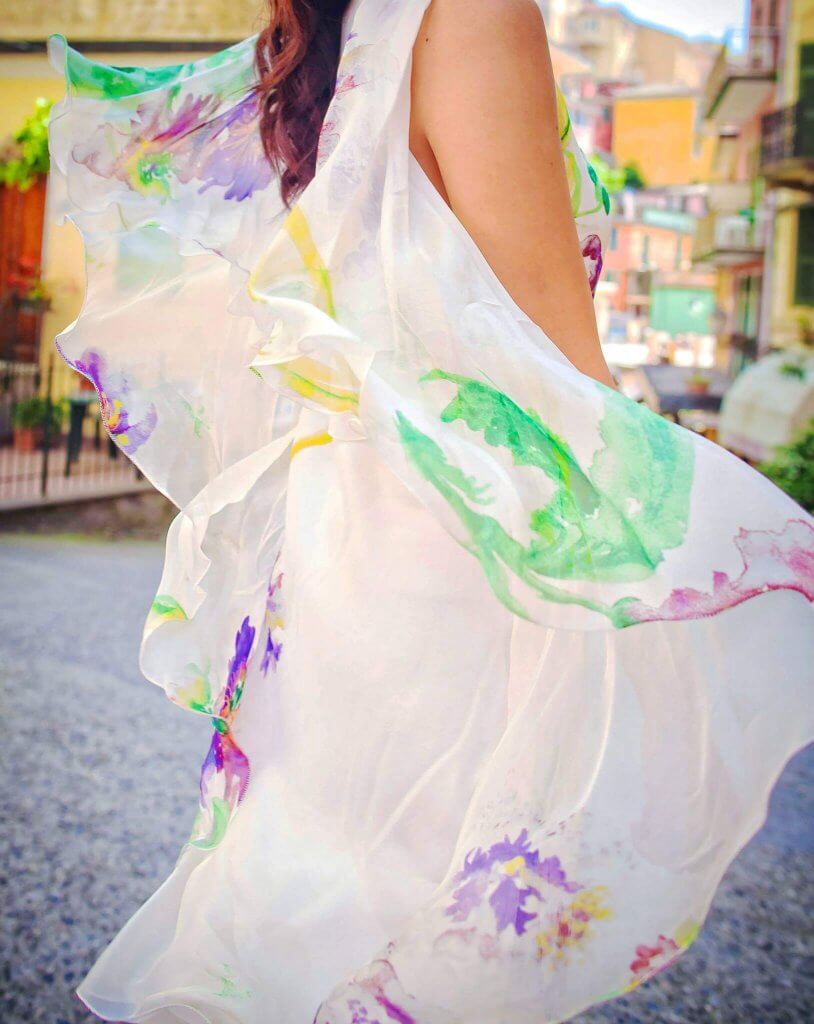 1.My "Santorini Dress" – Leon Max Silk Side Cape Dress
I wore this beautiful dress on my Santorini trip. I love how the bright yellow color created a bold and brilliant contrast with Oia's white-washed walls and blue domes. As described in the description on Leon Max's website, "….The silk fabric is twisted and tucked into a modern bouquet at the shoulder from where it drapes into a dramatic hem. The silhouette is designed with an asymmetrical neckline and back along with shirred textures that add a distinctly Grecian feel…." I felt like a goddess wearing this dress wandering around the narrow streets of Oia.
I bought this dress 3 years ago for $348 and to my surprise, when I researched about Leon Max's silk dresses for my today's blog the dress is still there and on sale for $148 (10% on your first order). For 3 years this beautiful dress has still been available for sale; that proves how popular it is and something this wonderful will never go out of style!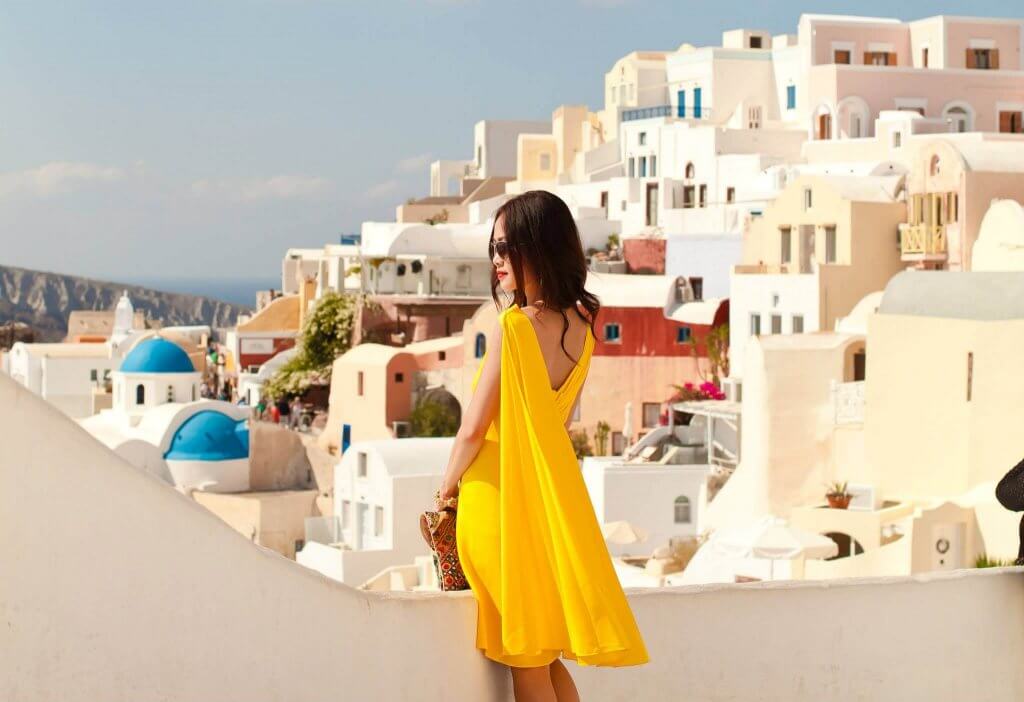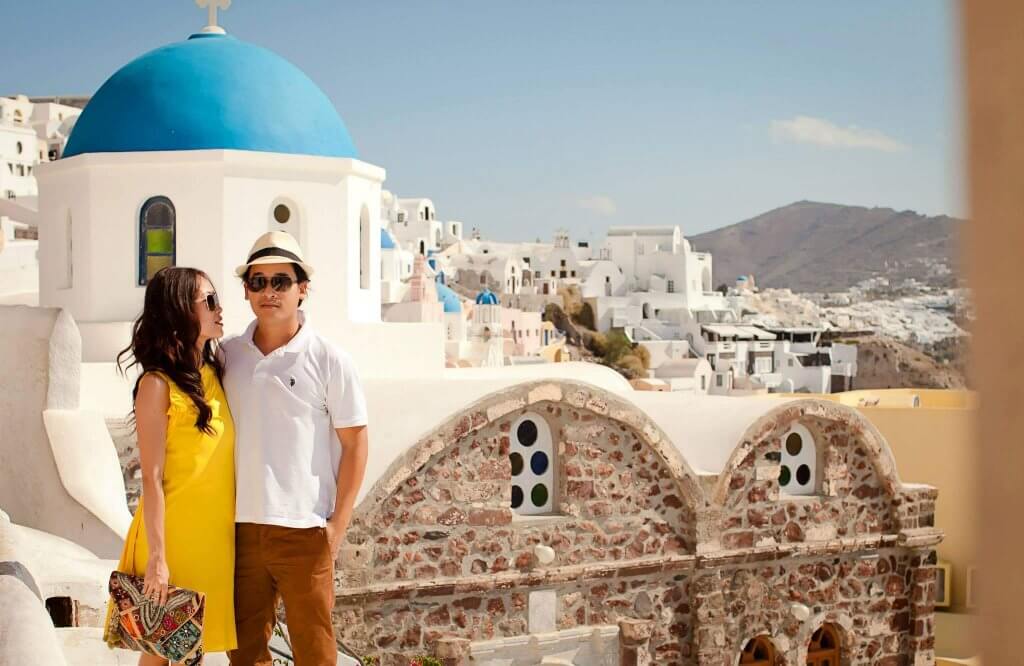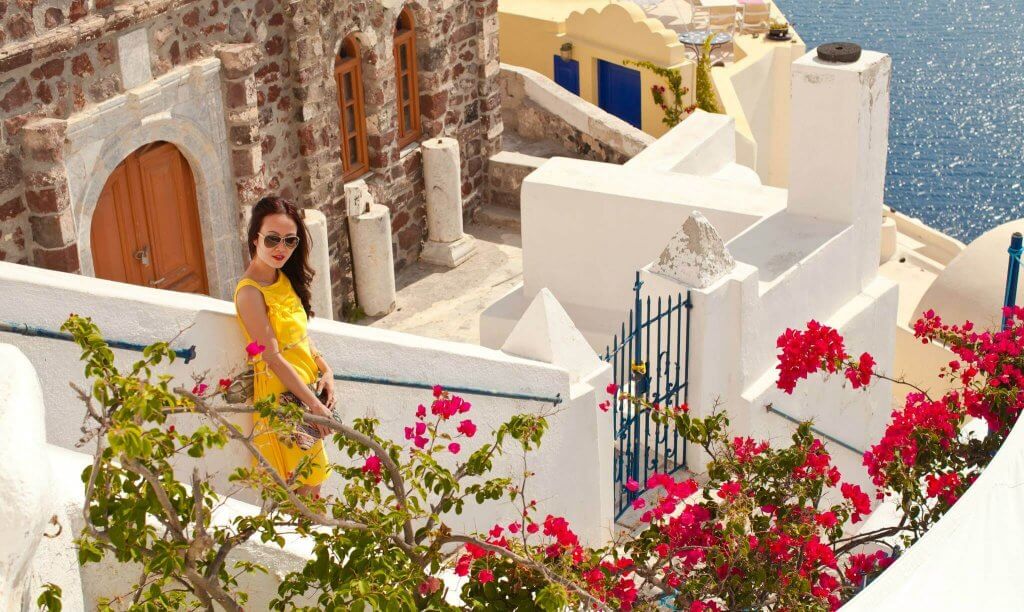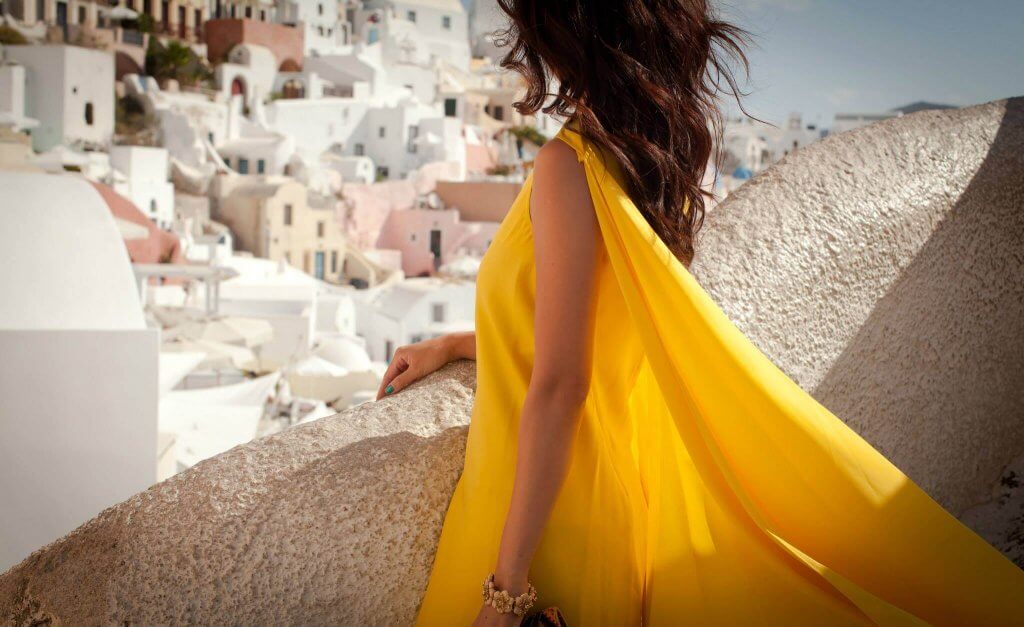 2.My "Cinque Terre Dress"-Leon Max Watercolor Chiffon Dress
One of my favorite dresses in Cinque Terre is Leon Max's Watercolor Silk Chiffon Dress: soft, feminine, ethereal, romantic and dramatic. Soft hand-painted watercolor floral design feels mysterious on the backdrop of the fabric.
I love Ashleigh Mcdrew's vivid description of the dress, "…The luxurious silk chiffon fabric of the dress has an eye-catching iridescence with an intricately patterned seamless slip underneath to create a stunning visual effect…"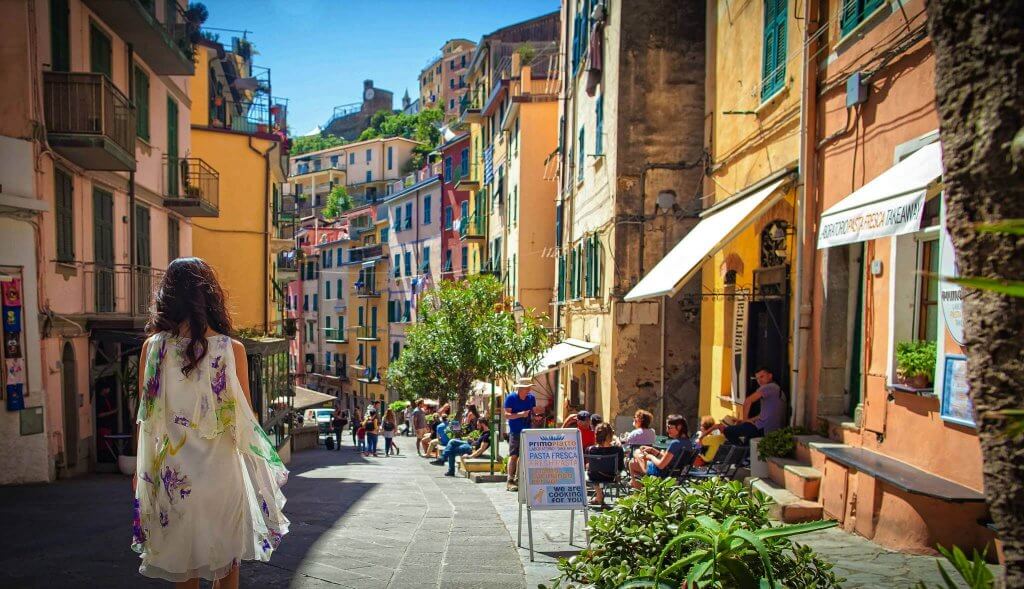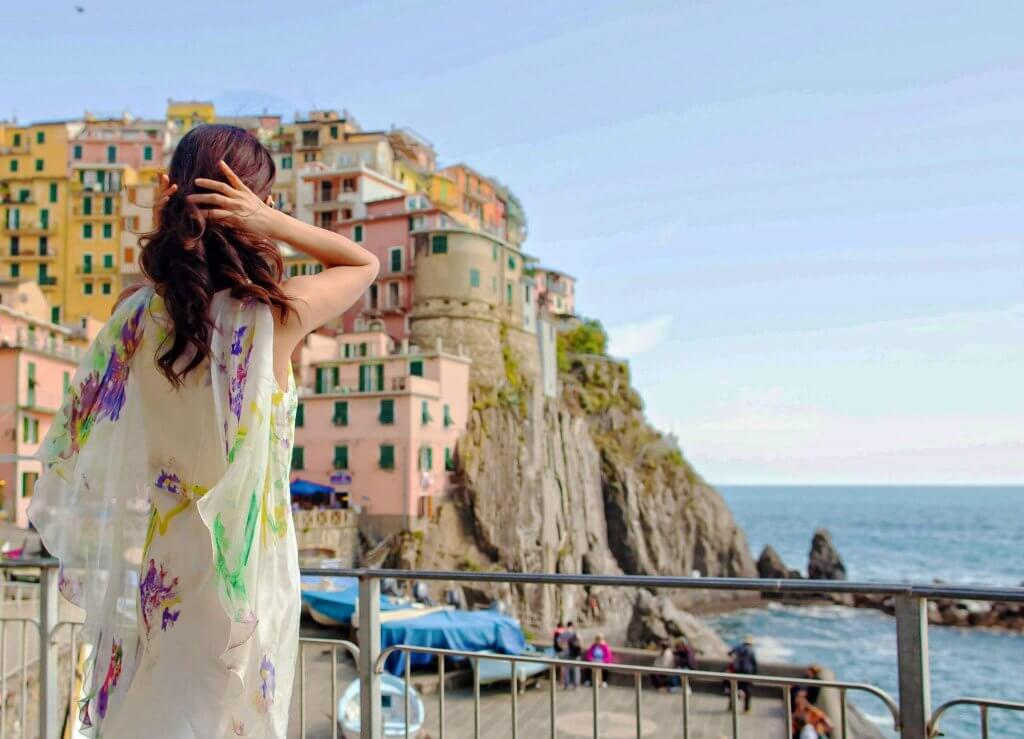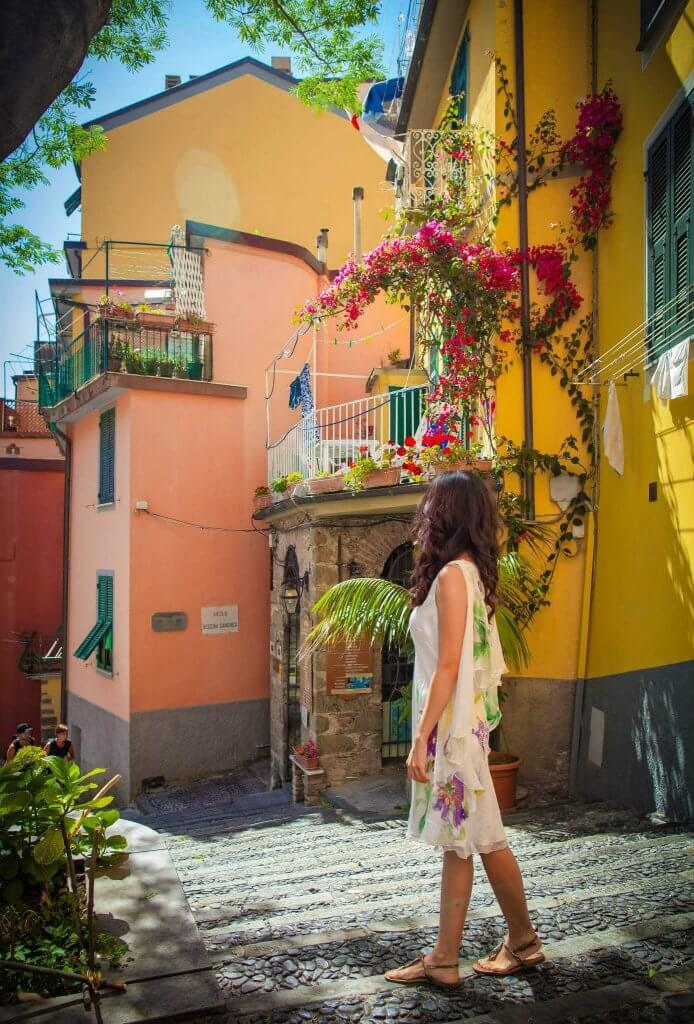 3. My "Budapest Dress"-Leon Max Printed Chiffon Dress
This dress with its alluring Art-Deco Print, tiers of soft ruffles, and a subtle opening in back has all that you need to be chic and sexy in seconds!!!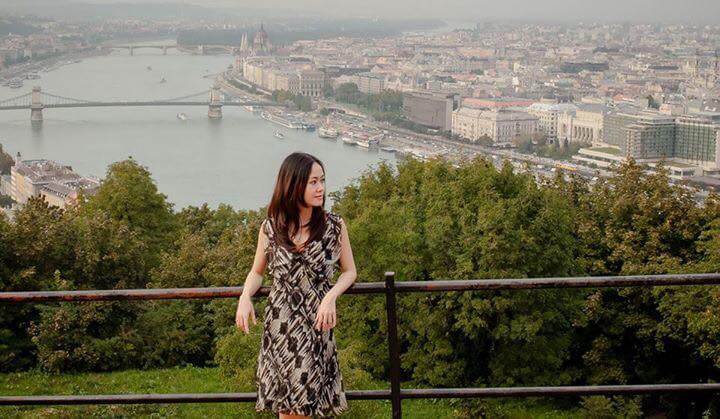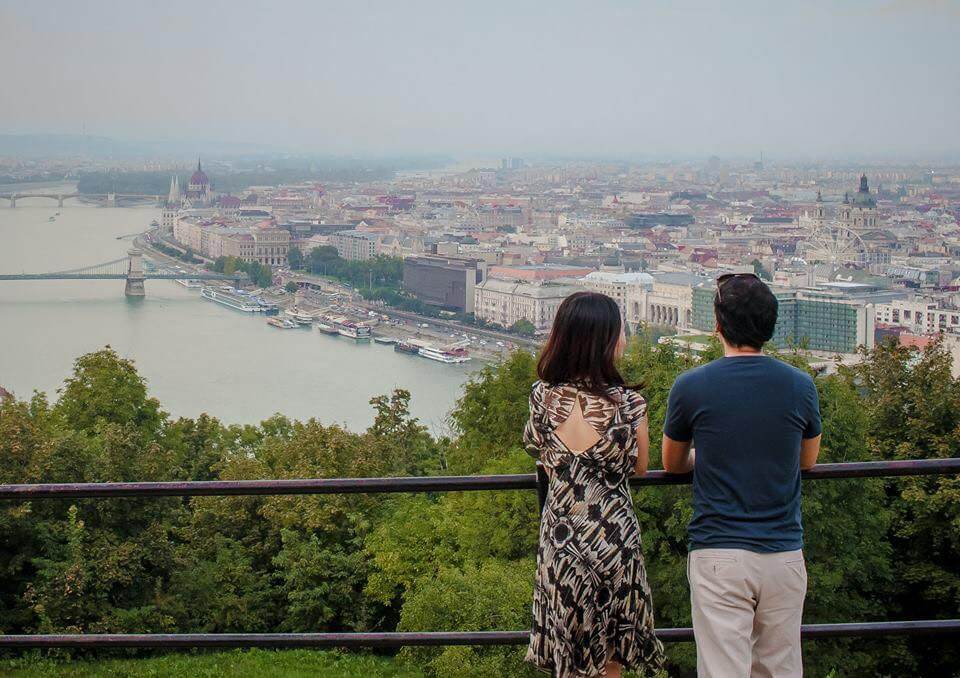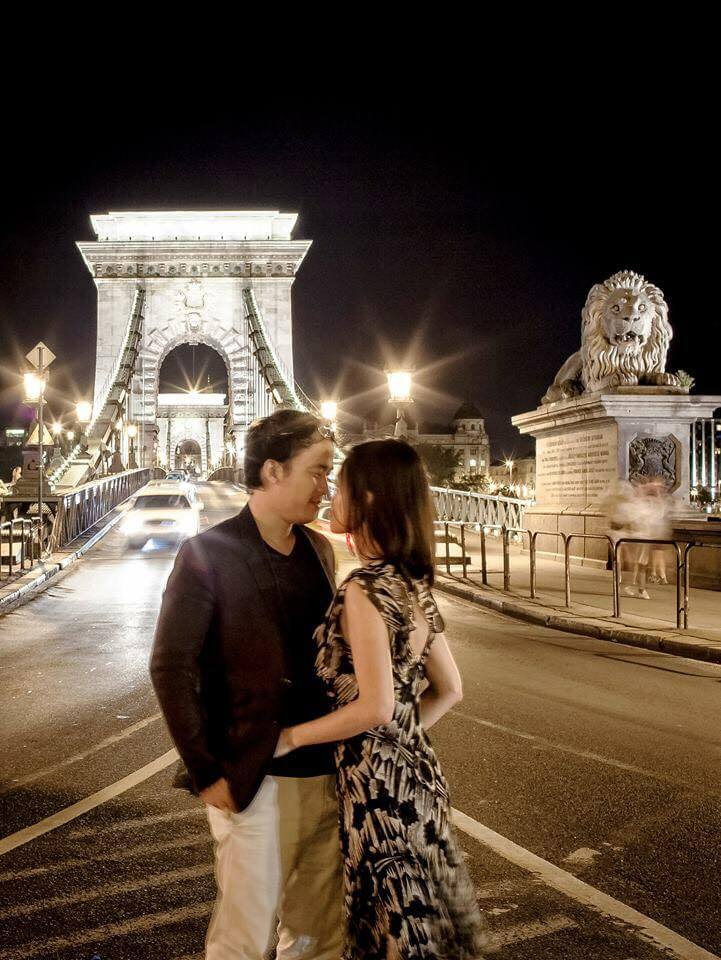 4. My "LA Dress"-Leon Max Silk Chiffon Charmeuse Petal Dress
This is a dress that will get you a lot of attention at a summer wedding or a cocktail party! The silk chiffon and satin are combined and tucked into petal-like shapes that flutter across the body. Romantic, glamorous, and modern elements are all found in this piece! You wear this dress and for every step you move you feel like a goddess.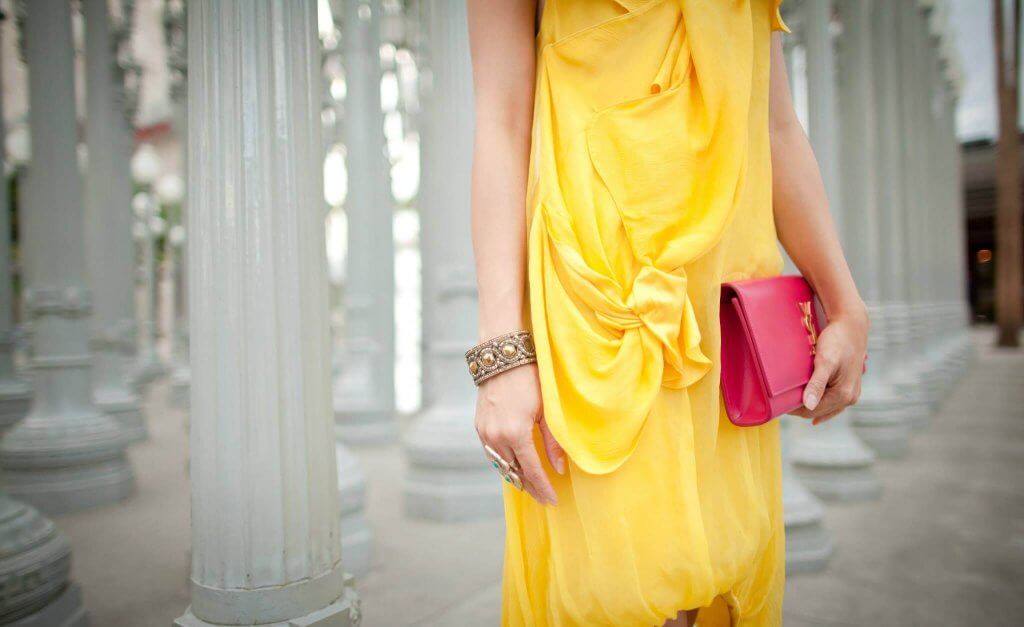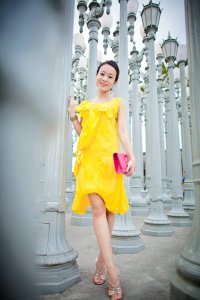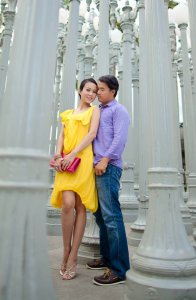 5.My "Nemzeti Dress"- Leon Max Printed Silk Chiffon Dress
When planning our trip to Budapest, I knew I needed a dramatic dress for our hotel-Nemzeti because I fell in love with Nemzeti's baroque staircase, Venetian mirrors, stucco columns,…and I wanted a photoshoot with the hotel's setting. Our hotel used to be a part of National Theatre of Hungary and its rich heritage explains the artistic spirit of Nemzeti Boutique Hotel. And an artistic hotel deserves an artistic dress!!!
The textural shirring and slightly padded cap sleeves of this dress feel romantic while the futuristic graphic print brings out modernity. Flattering drapes and luxurious fabric make this dress elegant yet contemporary. I wore the dress unbelted for a carefree and romantic look.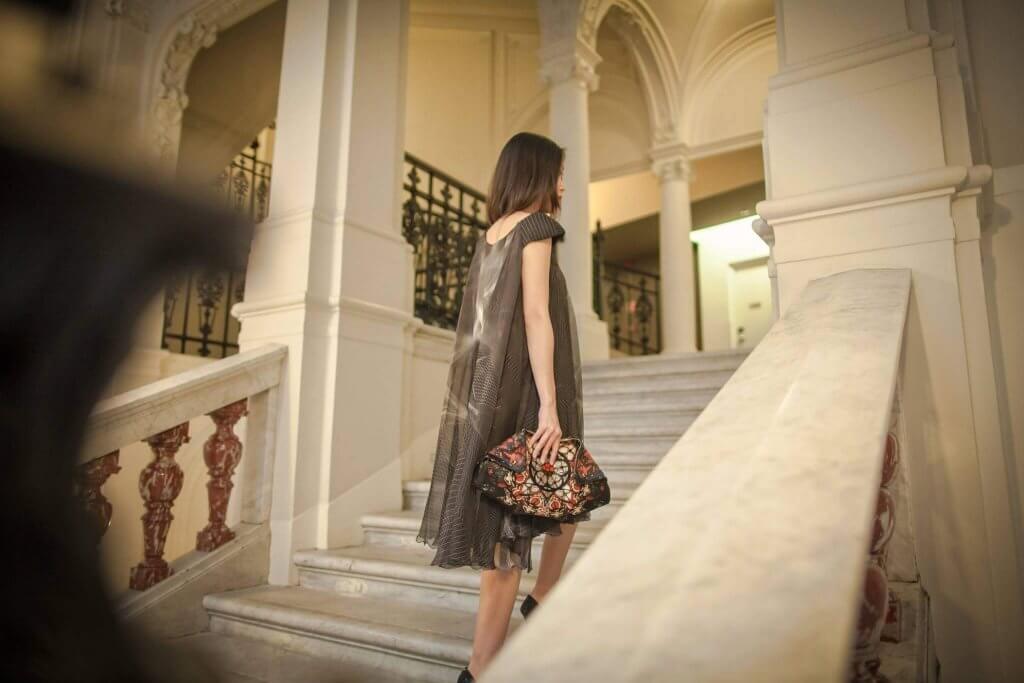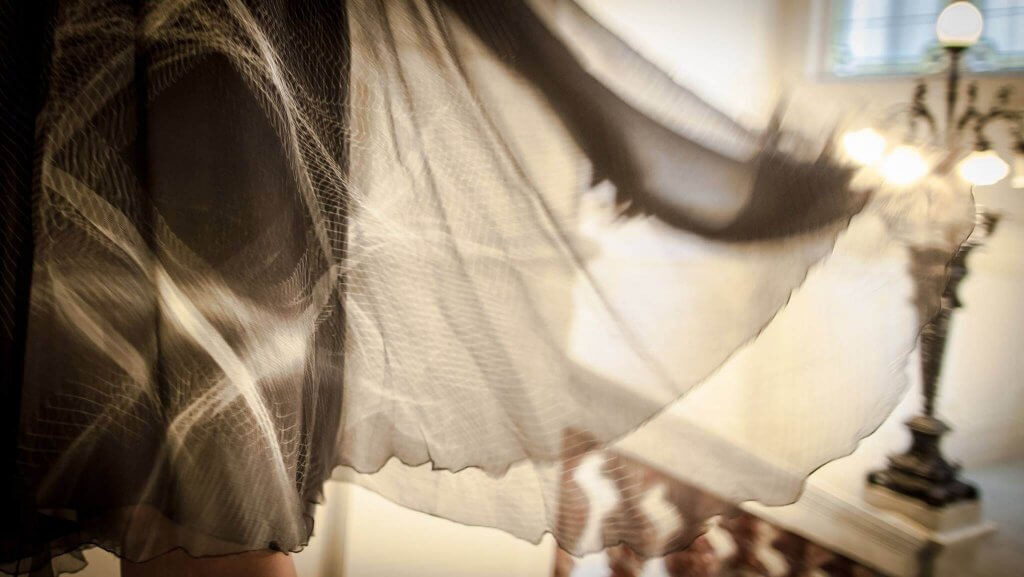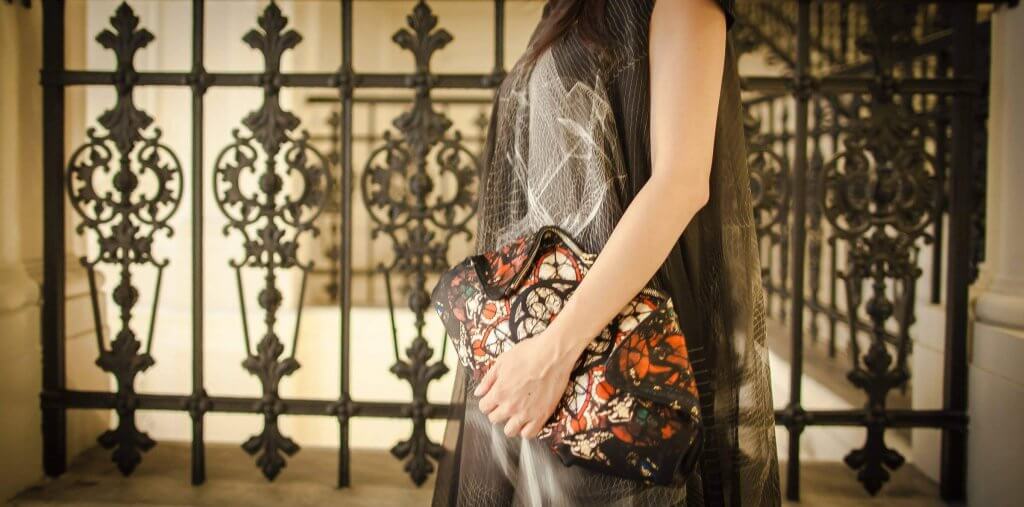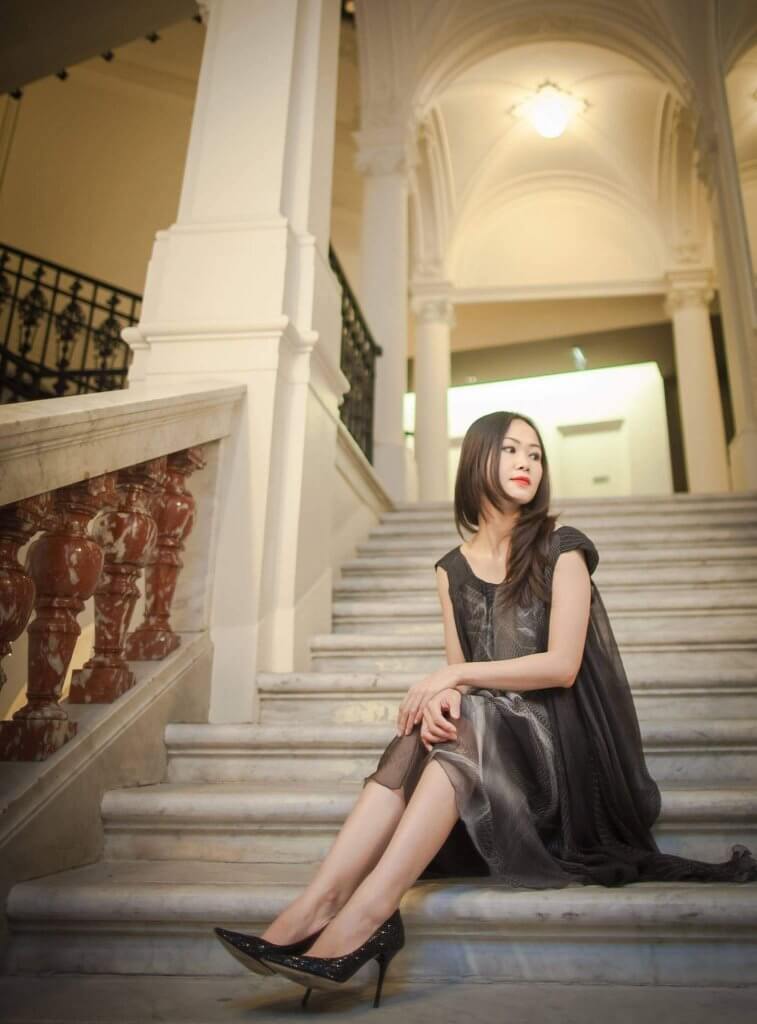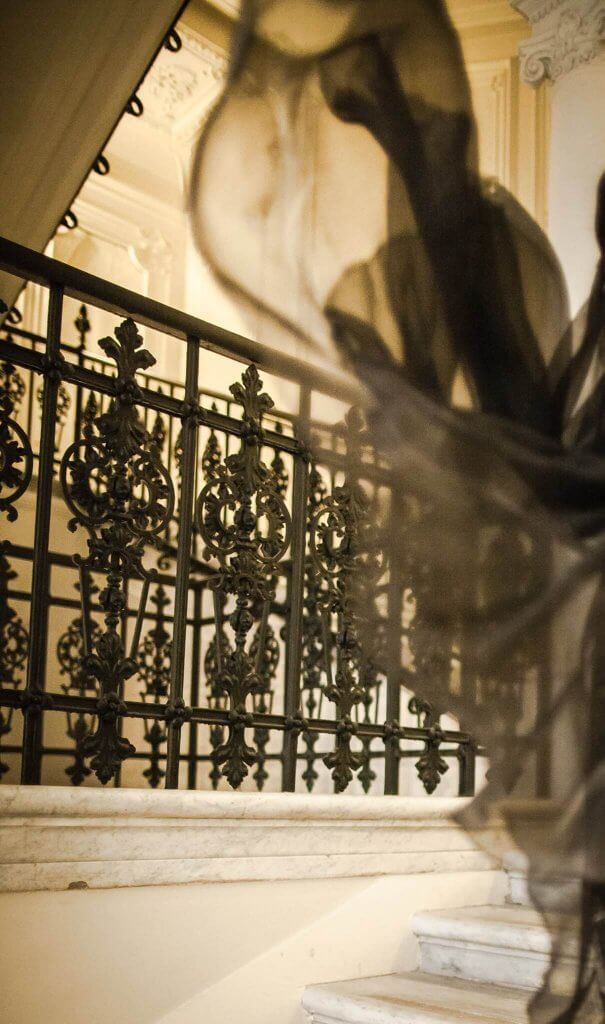 Giveaway for this blog: If you read my post all the way to the end, you will see this lovely hidden giveaway!!! My giveaway can be only applied to those who currently live in US.
To Receive the Giveaway: After reading my blog post, leave a comment for this post telling me about your favorite dress style (silky, floral, ruffled, A-line, Grecian,…). I will randomly choose a winner for my giveaway (based on how detailed you describe your favorite dress!!!)
Giveaway Prize:  An elegant goddess-looking white jumpsuit that looks like a dress. One interesting thing about this piece is if you stand still, it looks like a romantic Grecian dress; but when you move then it looks like a sophisticated jumpsuit.
Here's how it looks: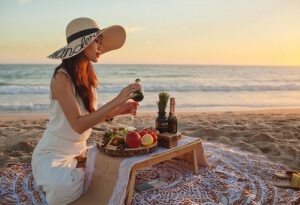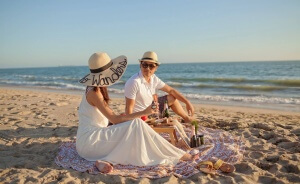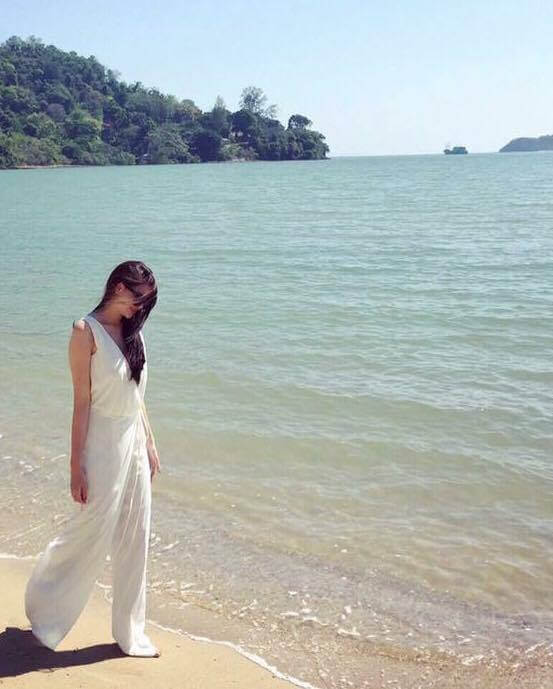 Happy Weekend Everyone!!!
July 29, 2016