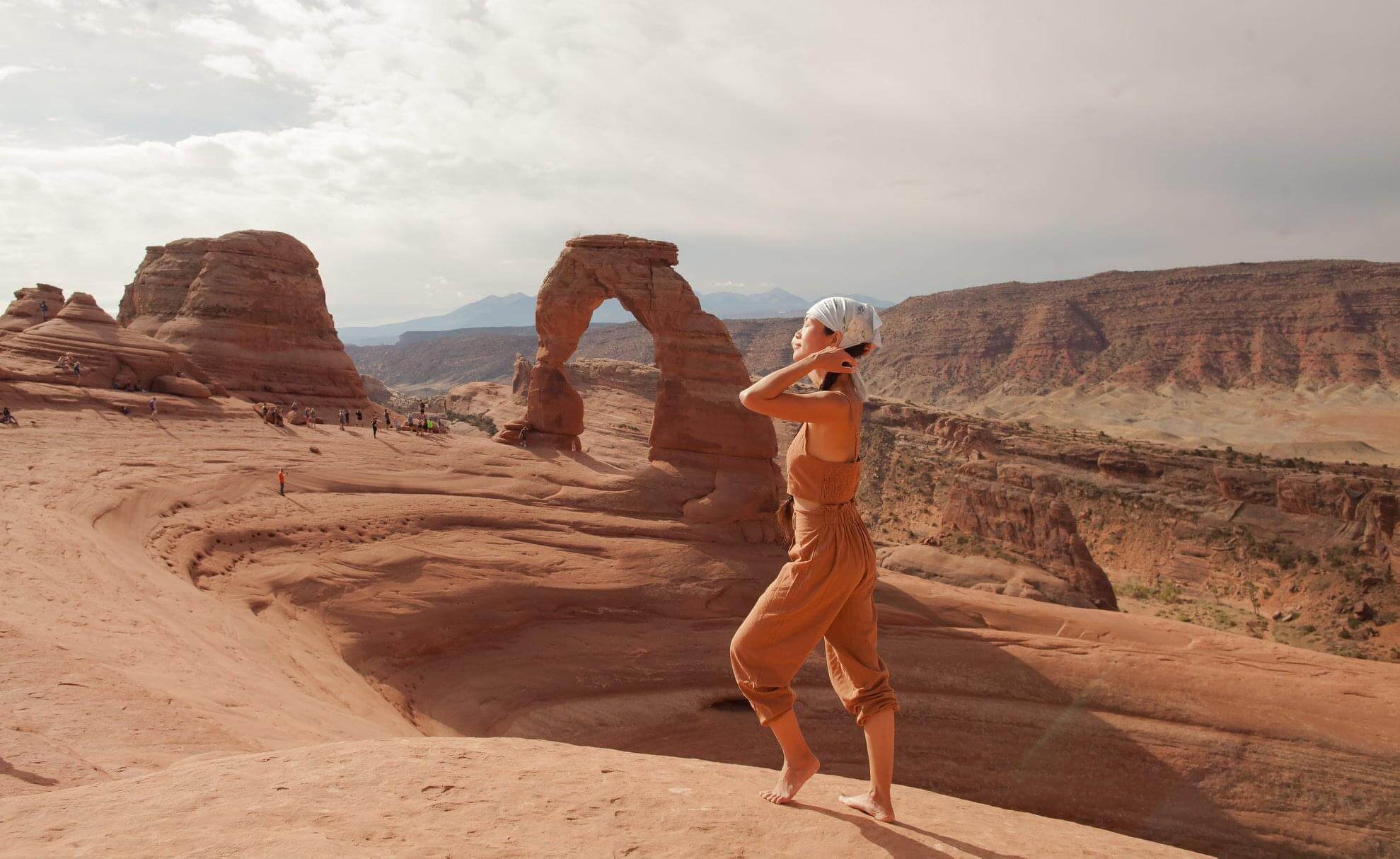 The Mighty 5: Visiting All Five Of Utah's National Parks
Utah is home to the famous "Mighty 5" National Parks; each one very unique and different from the next. The five National Parks are: Zion, Bryce Canyon, Capitol Reef, Canyonlands and Arches. I was very lucky to be able to visit all five this summer. And the best way to see these 5 National Parks in one epic road trip? It is absolutely without a doubt in an RV or some type of campervans. We finished building our living van in April and the first place we took "the Ark" was of course Utah. If you've ever wanted to visit all five National Parks in Utah, this is your guide to making it happen.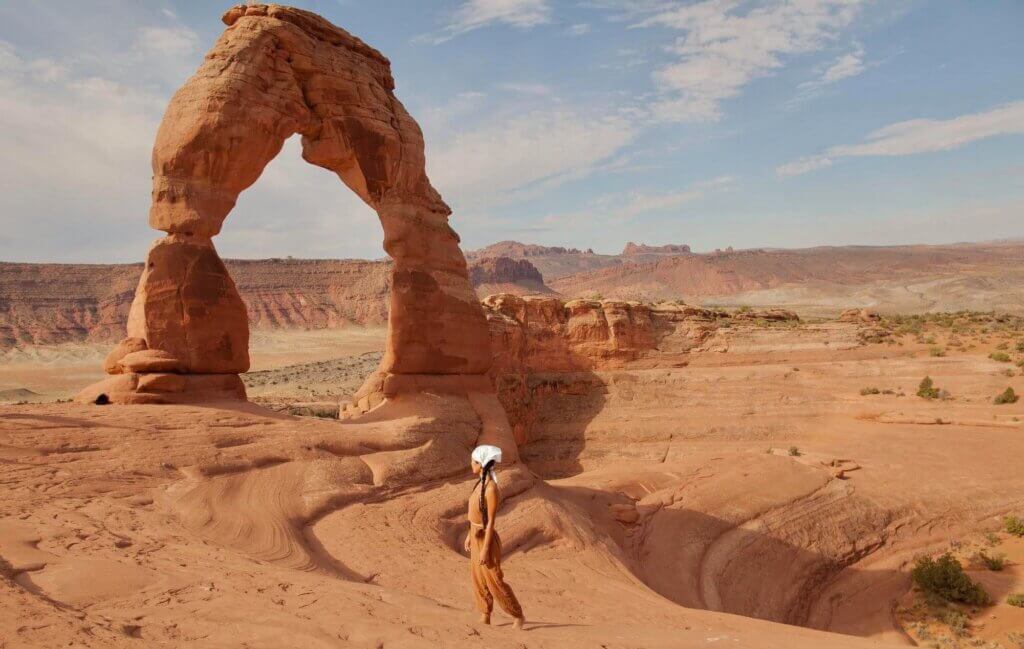 From Los Angeles To Zion National Park (439 miles – 7 hours)
Zion National Park is 430 miles away from Los Angeles. From anywhere in Southern California, you just need to make your way to the 15 N, and you're good to go. This drive goes right through Las Vegas, if you're looking for a nice overnight stop to break up the trip.
Zion was Utah's first National Park, and you'll see why. The park features high plateaus, a maze of sandstone canyons and incredible trails with easy access.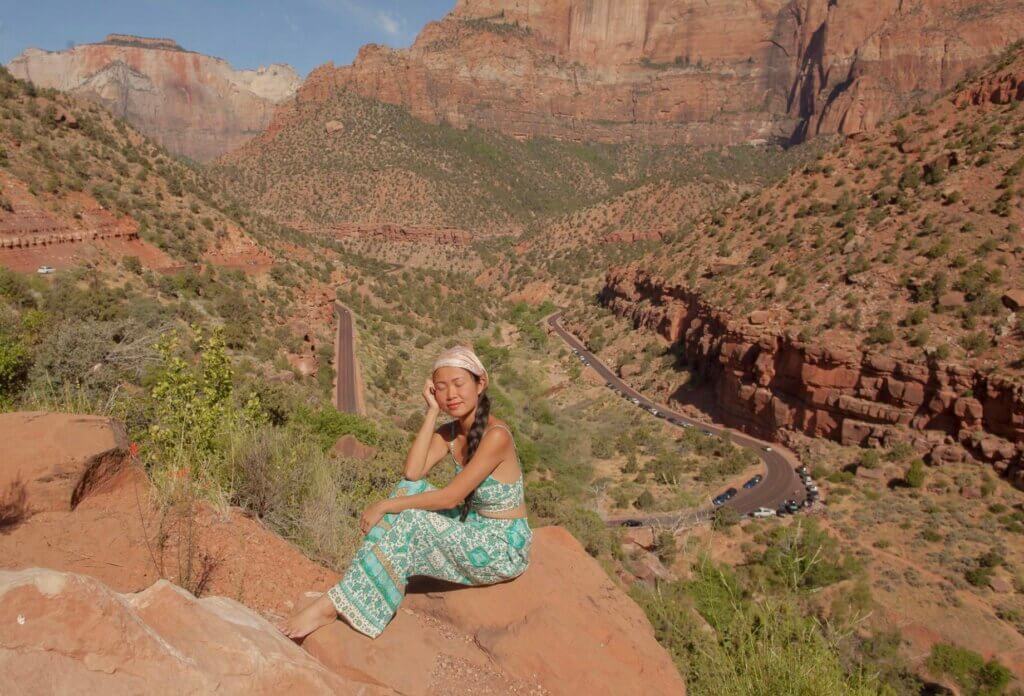 At Zion the only dog-friendly trail is the Pa'rus trail. It is clearly marked as pet friendly and extends for 1.7 miles along the banks of the Virgin River. But it was summer days and it was super hot to hike with our dog so we decided to skip the hike and just spent the entire day relaxing by the river, swimming and staying cool. Although it was 90F degrees at Zion that day, it felt like 80F in shades near the river (the river was icy cold)!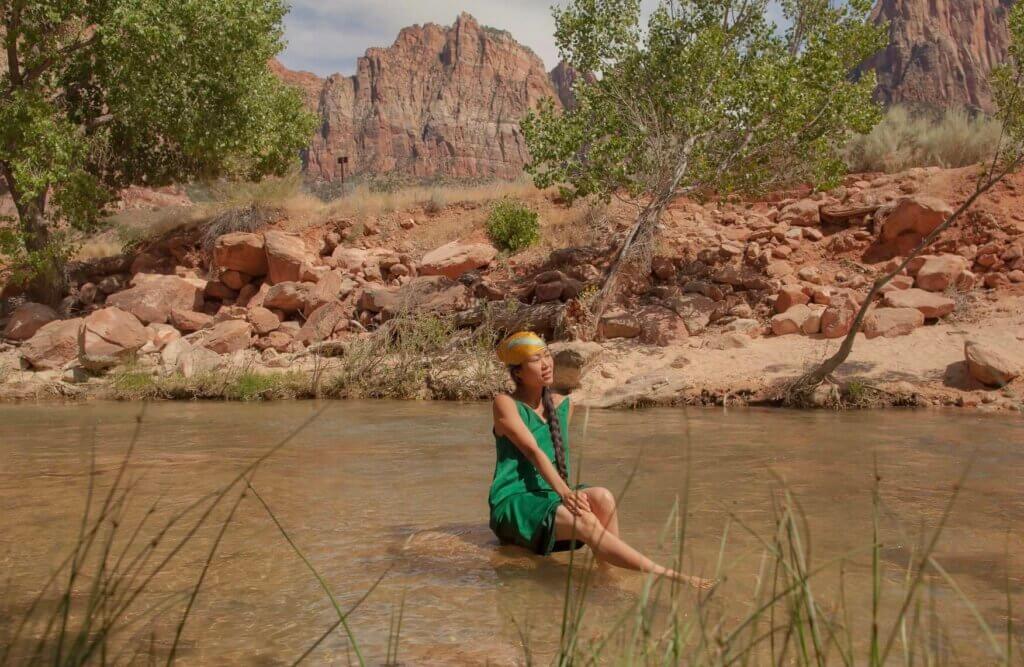 We found a quiet spot in the park near the East entrance with no one around and set up our picnic table to enjoy our dinner with a breathtaking view of red rock formations and sunset.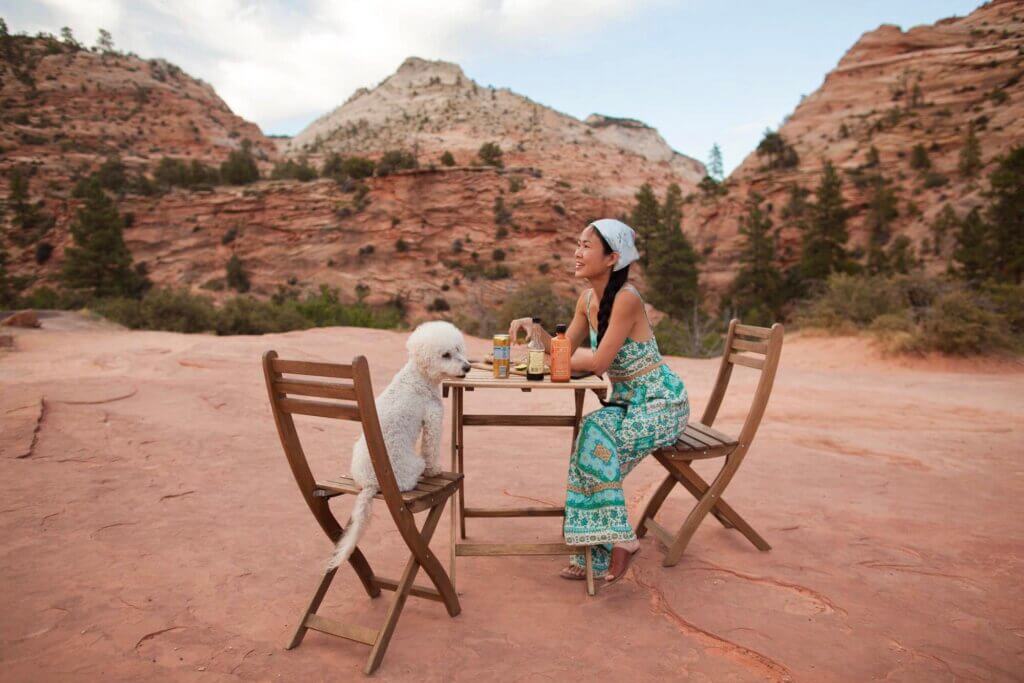 From Zion National Park to Bryce National Park (72 miles -1.5 hours)
Bryce Canyon National Park is 72 miles and about 1.5 hours driving time away from Zion National Park. We woke up before sunrise to make this drive. We arrived to Bryce at 8am and hopped on the trail to begin the Rim Trail hike with our dog (the only dog-friendly trail in Bryce National Park).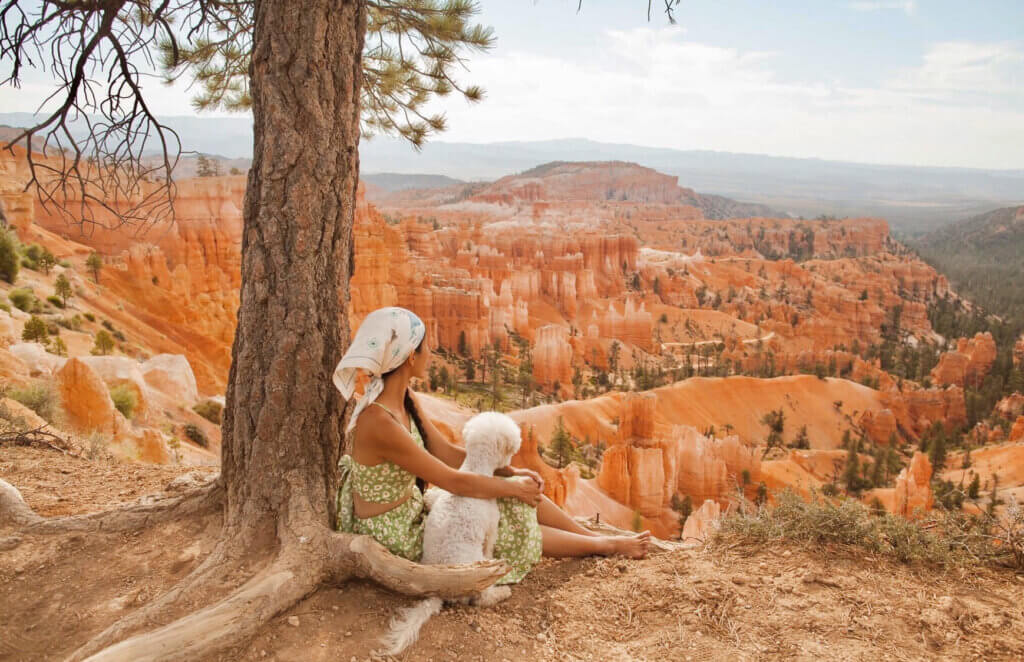 Bryce Canyon is famous for its hoodoos – sandstone columns each uniquely shaped by erosion. The contrast of the red sandstone hoodoos against the green trees and blue sky is breathtaking. As someone who loves photography, this park is undoubtedly my favorite park to photograph.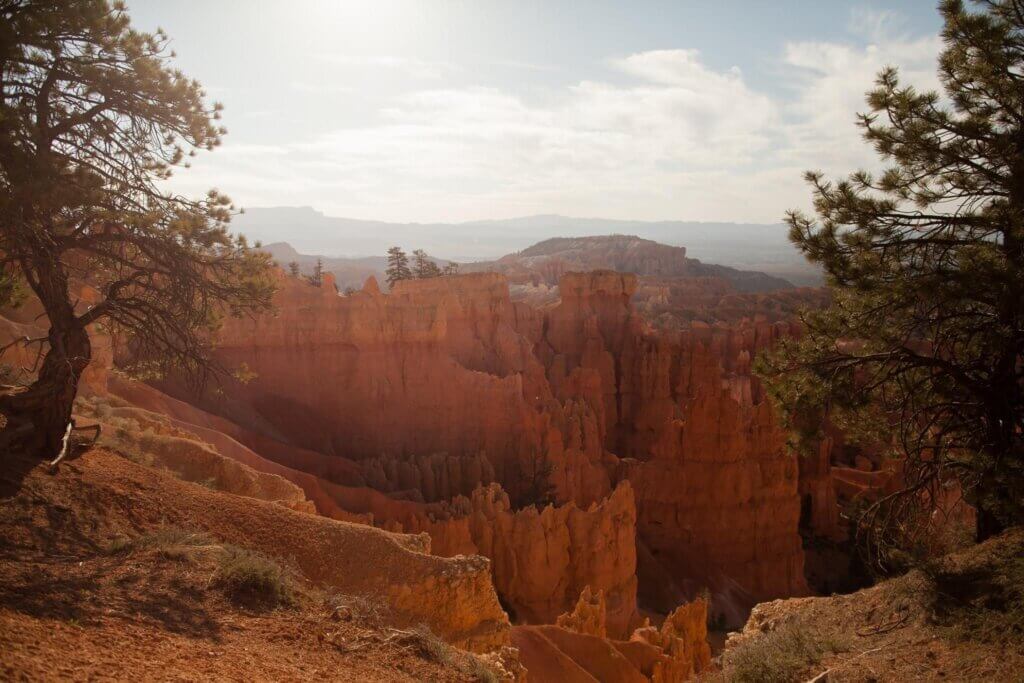 The main way to explore Bryce Canyon is from a series of overlooks and trails along the top of the rim. Our first stop was at Sunset and Sunrise Points. These viewpoints are also where the trail heads for the Navajo and Queen's Garden loop trails.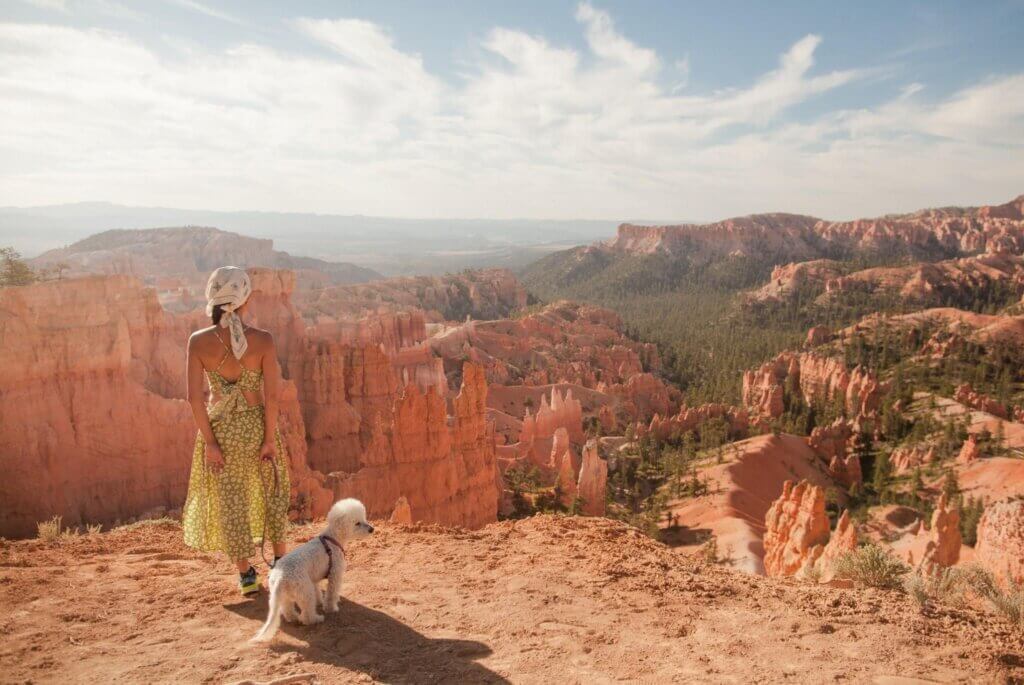 A nice stroll along the rim of the canyon between the Sunrise and Sunset viewpoints (part of Rim Trail) is one of the shortest and most popular hikes in the park and is also dog-friendly.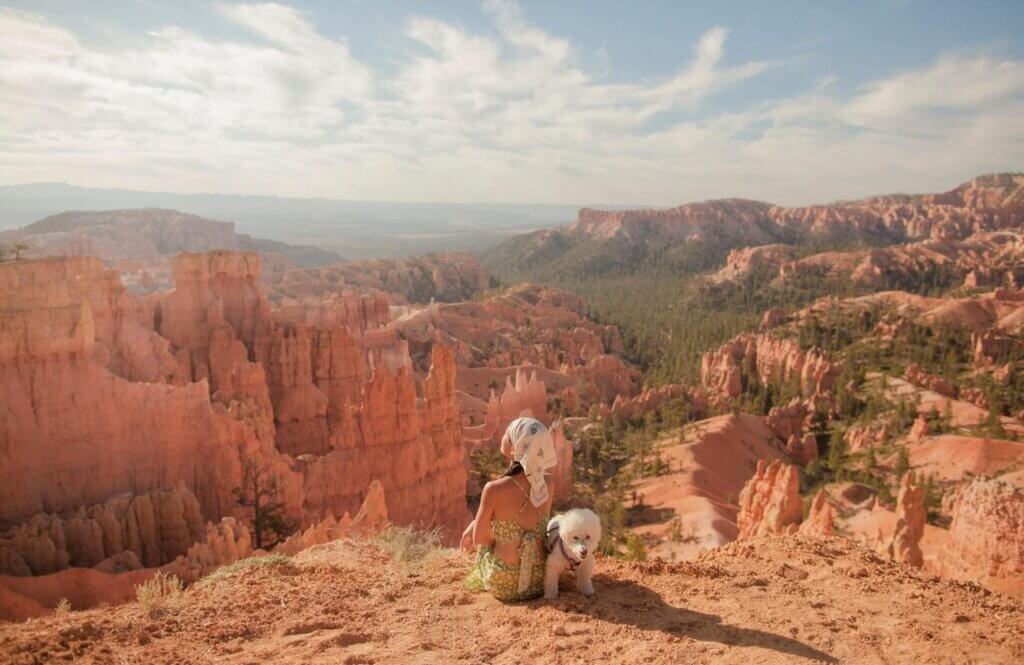 If you want to get close or among the hoodoos and see them from different perspective, there are several hiking trails which take you into the canyon.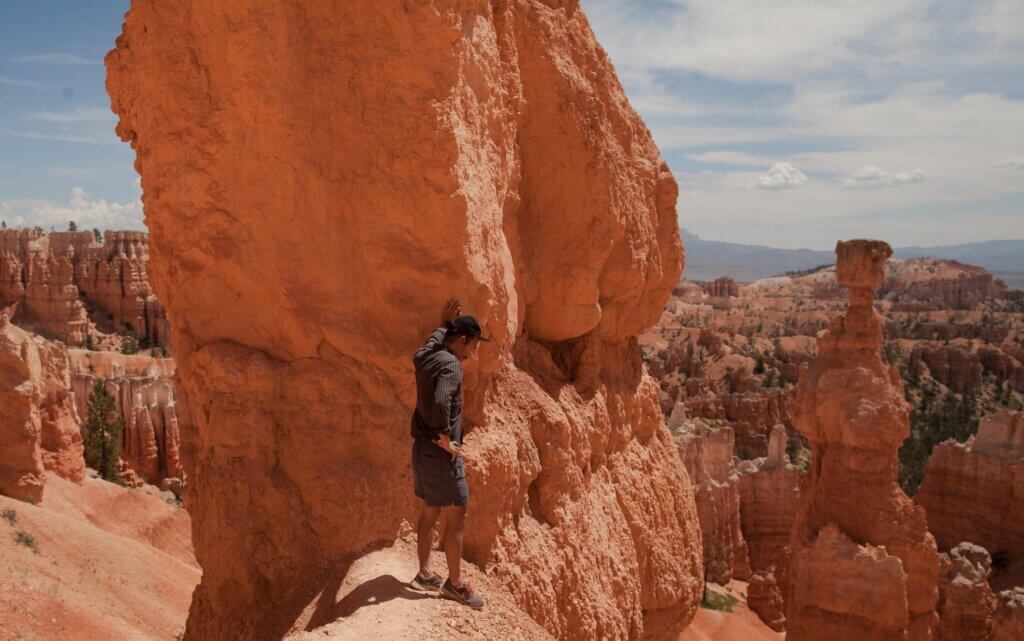 There was a campervan family who parked next to us and their kids wanted to play with Chloe. So they babysat Chloe for us to explore some of other hiking trails. We headed back to Sunset Point to the start of the Navajo Loop Trail. The trail isn't an extraordinarily long hike, but it is a moderately strenuous one. This short 1.3 mile hike includes 550 feet of elevation change.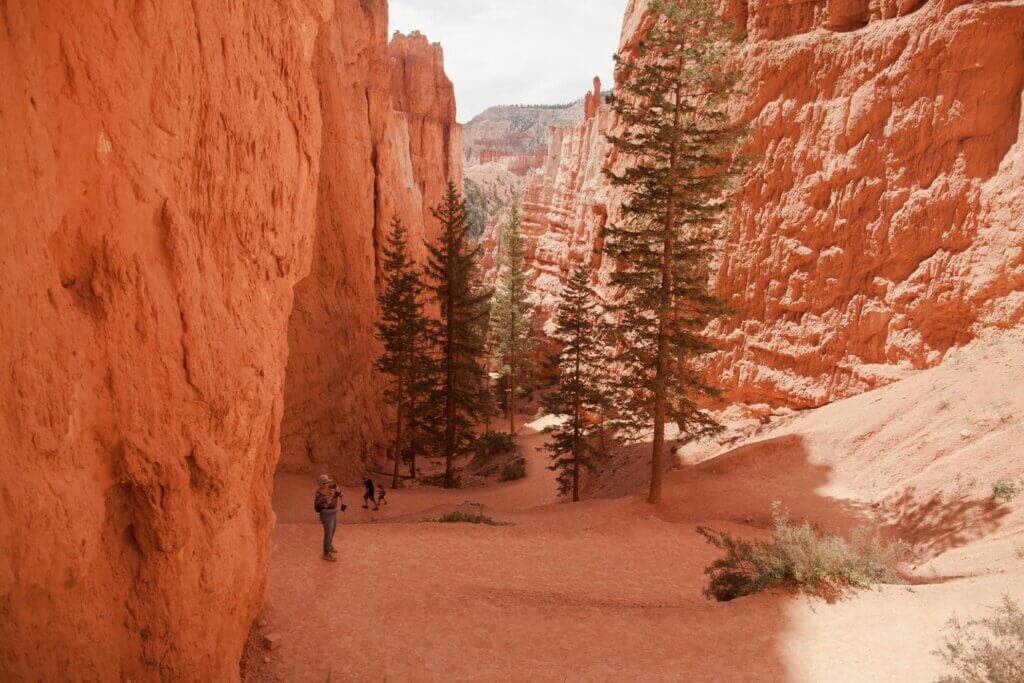 You'll get to see Thor's Hammer, Two Bridges, and Wall Street canyon on this trail. Here you can see up close the intricate detail of the patterns that erosion has left on the hoodoos.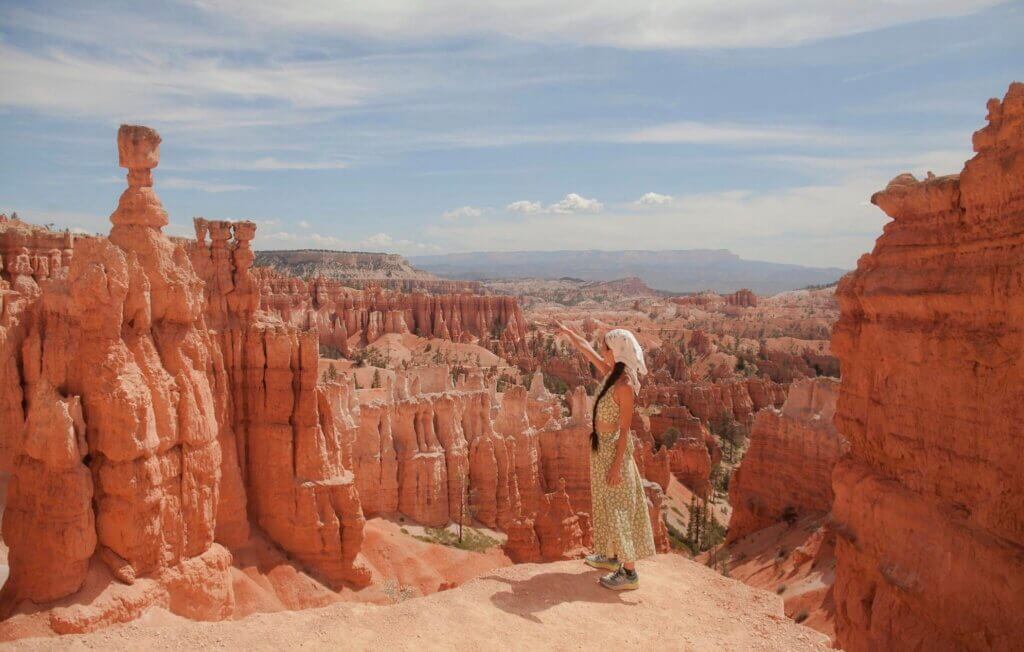 Inspiration Viewpoint is my favorite viewpoint in Bryce Canyon National Park. This viewpoint is comprised of three different levels of viewing platforms, each gaining elevation and providing more spectacular view.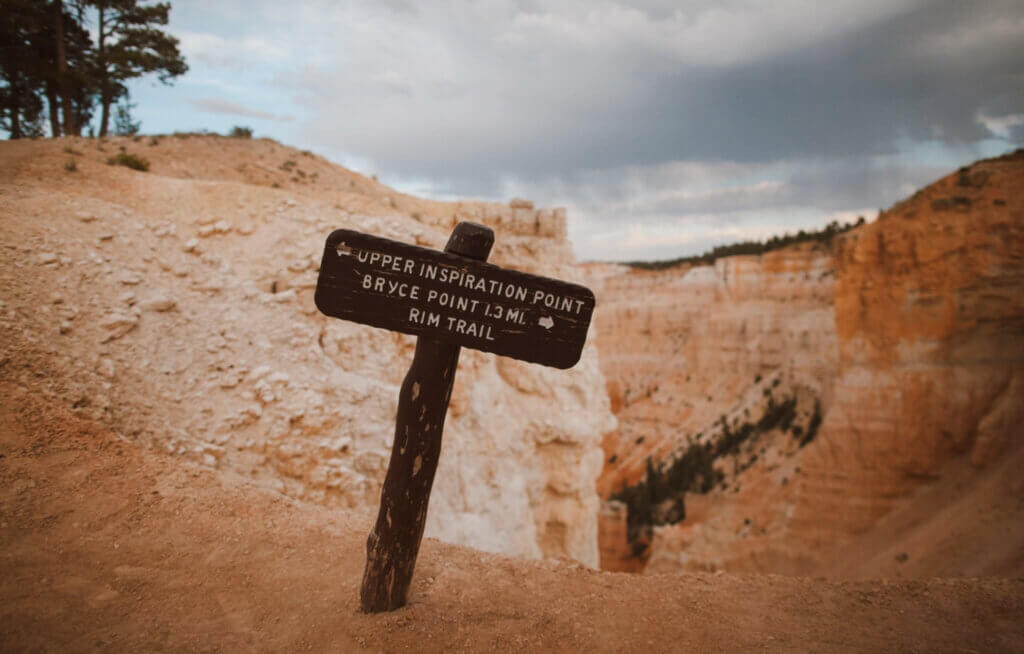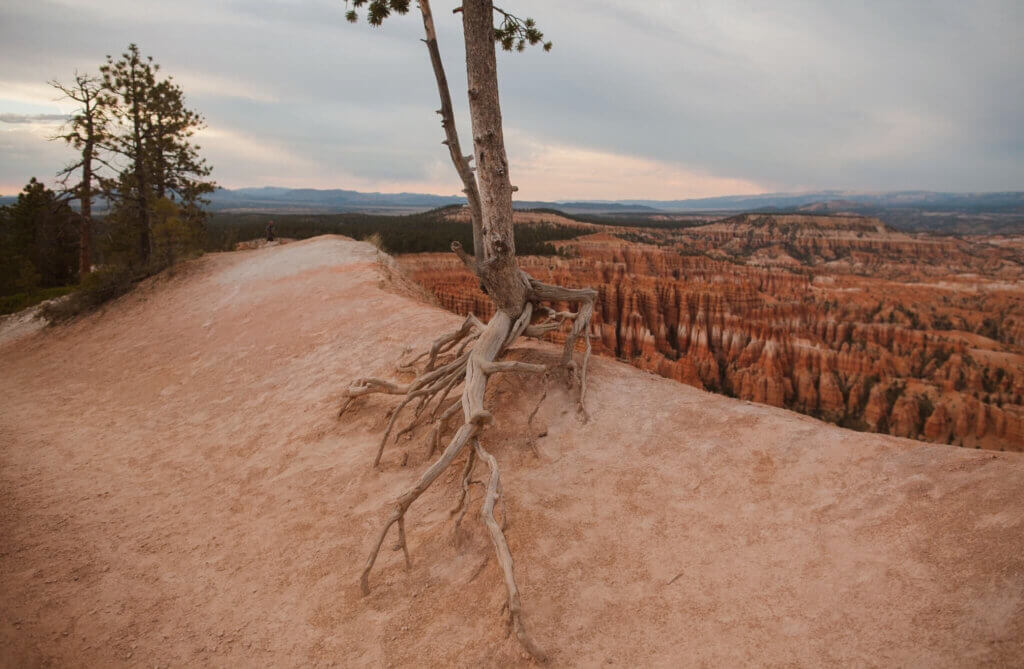 From these viewpoints you can see some of the areas of Bryce Canyon with the most dense concentrations of hoodoos.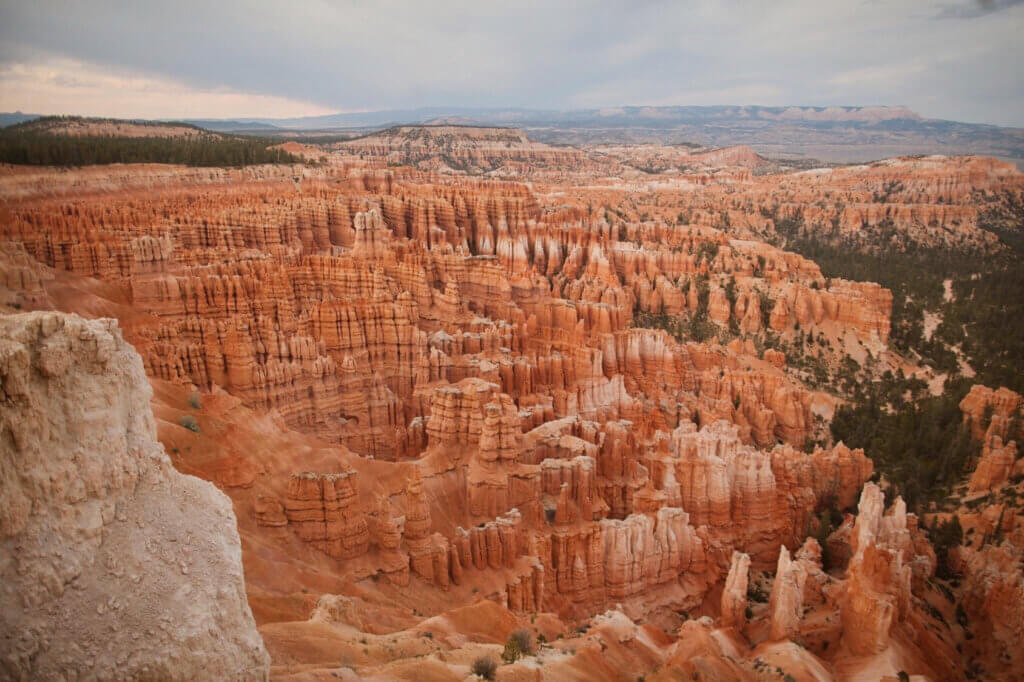 From Bryce Canyon to Capitol Reef (107 miles – 2 hours)
Capitol Reef is 107 miles and about 2 hours away from Bryce. The town of Torrey is right outside of the park, and makes for a great place to stop and have lunch. Capitol Reef is the least visited park of the Mighty 5 that is home to a multi-colored sandstone rock formed into canyons and reefs. One of the things that make Capitol Reef so easy to visit is that you can see a bit of everything from your car. With a highway that runs through the center of the park (highway 24) and lots of scenic pull off you can visit some of the most beautiful spots without stepping out of your car.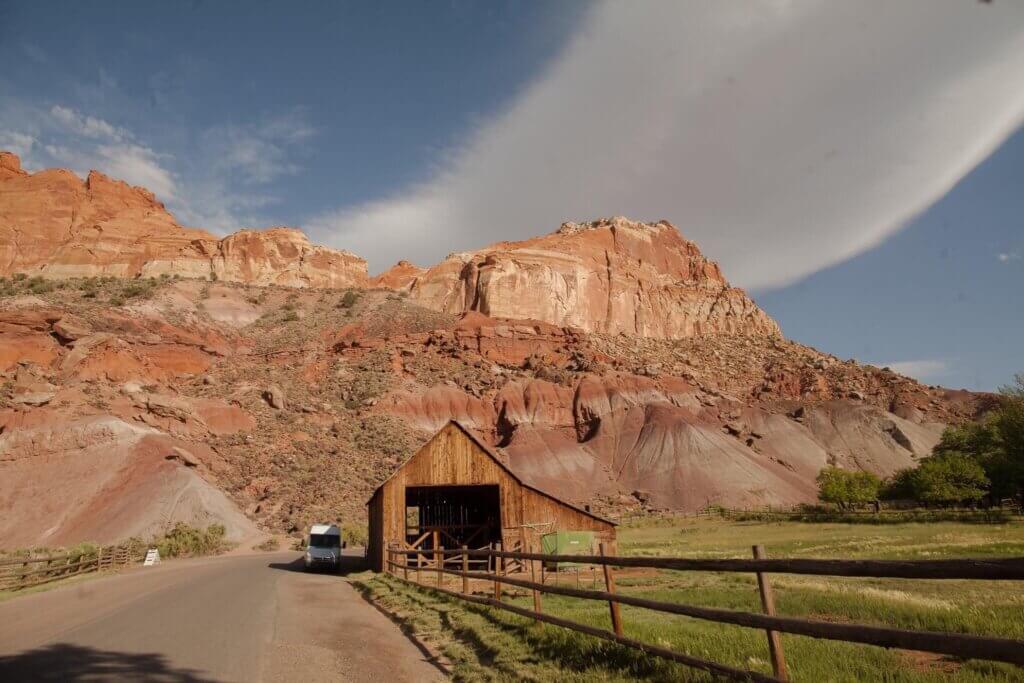 Capitol Reef is also home to Historic Fruita – a community established in 1880 by the Mormon pioneers. One of the few remaining Fruita homesteads is the iconic Gifford Homestead, comprising of the main house, a smokehouse and a barn, which is one of the most photogenic national park buildings in the USA.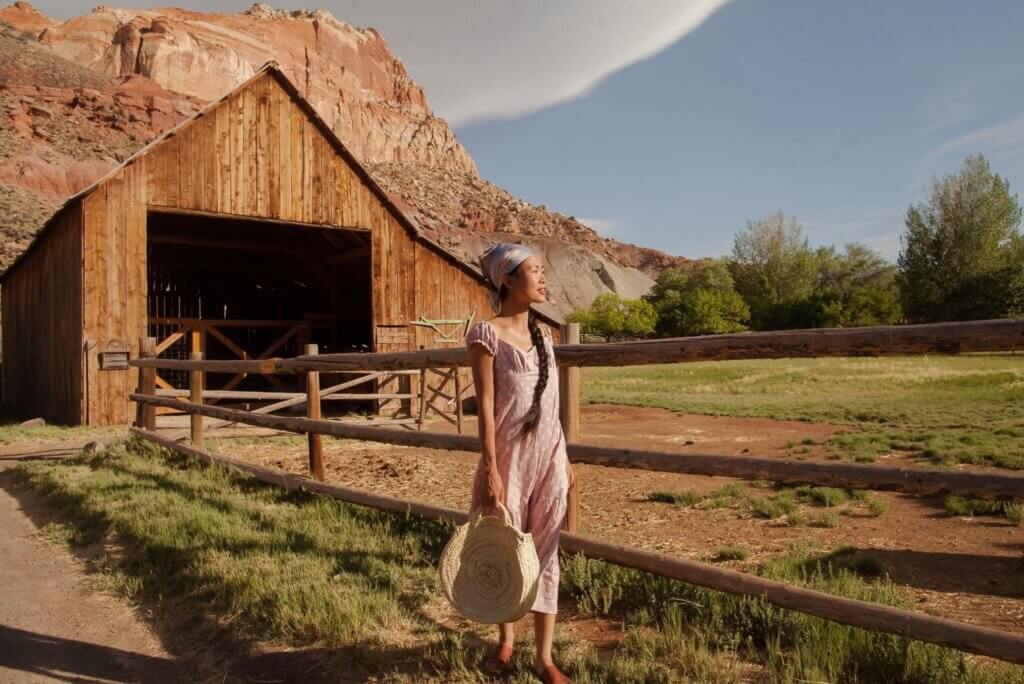 From Capitol Reef to Arches National Park (152 miles – 2 hours and 30 mins)
Arches was probably my favorite National Park in the Mighty 5. There are so many great hikes, iconic views, and diverse landscapes, that I could have spend a week here.
If you've ever seen a postcard or poster of Arches National Park, you've probably seen Delicate Arch. This amazing arch has become the symbol of Arches National Park.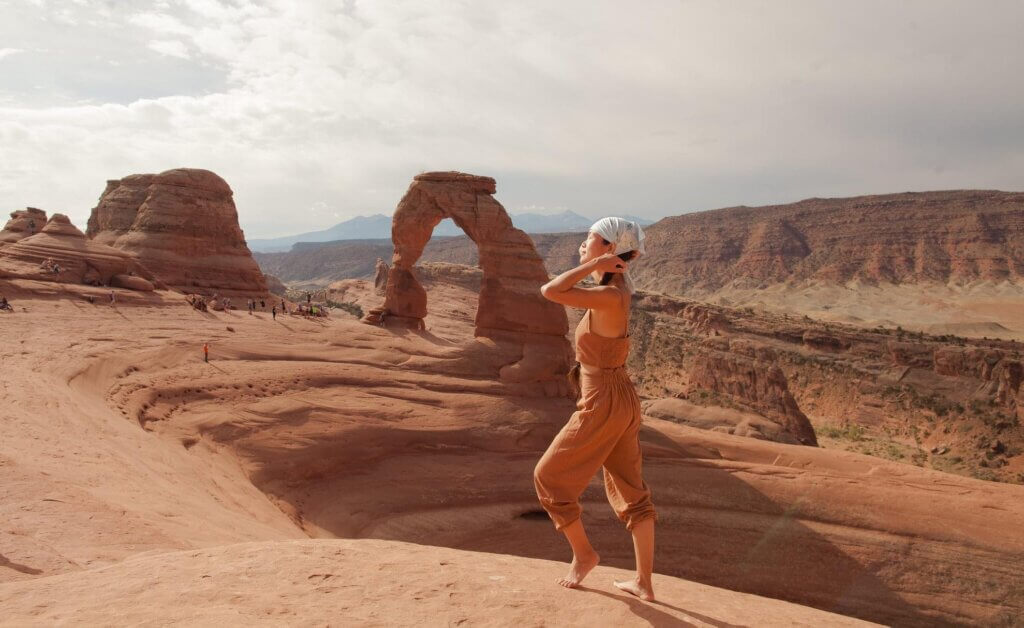 The hike to Delicate Arch is a moderately difficult hike (by some standards) and also one of the most satisfactory hikes we've experienced. Gorgeous views, challenging escalation, and when we reach the Arch you'll feel like you're on top of the world!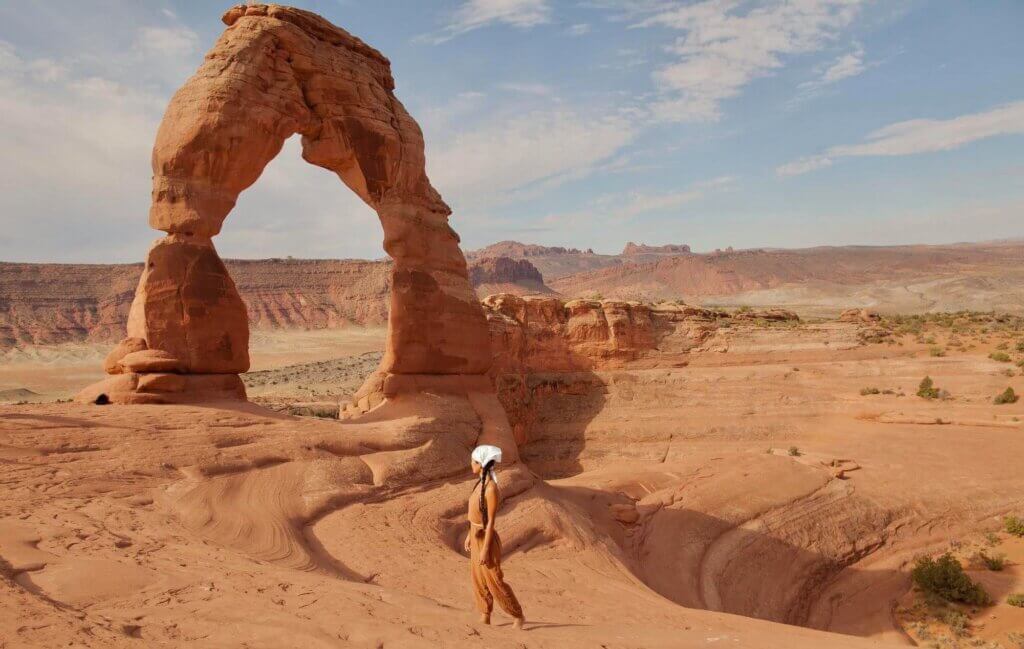 The best hikes in Arches National Park range from a number of easy hikes to more difficult hikes. Depending on the weather and time of year, visitors to Arches really have a ton of options for all types of hiking capabilities. We did all the easy ones: the Windows Trails (1-mile roundtrip), the Double Arch Trail (0.5 mile round trip), and the Sand Dune Arch (0.3 mile round trip).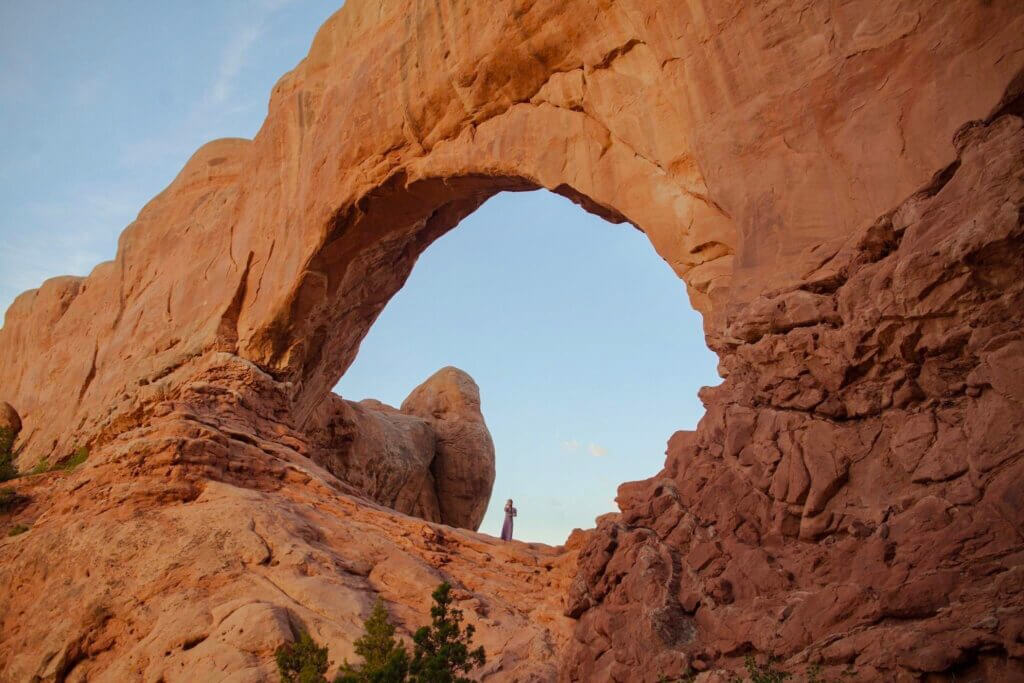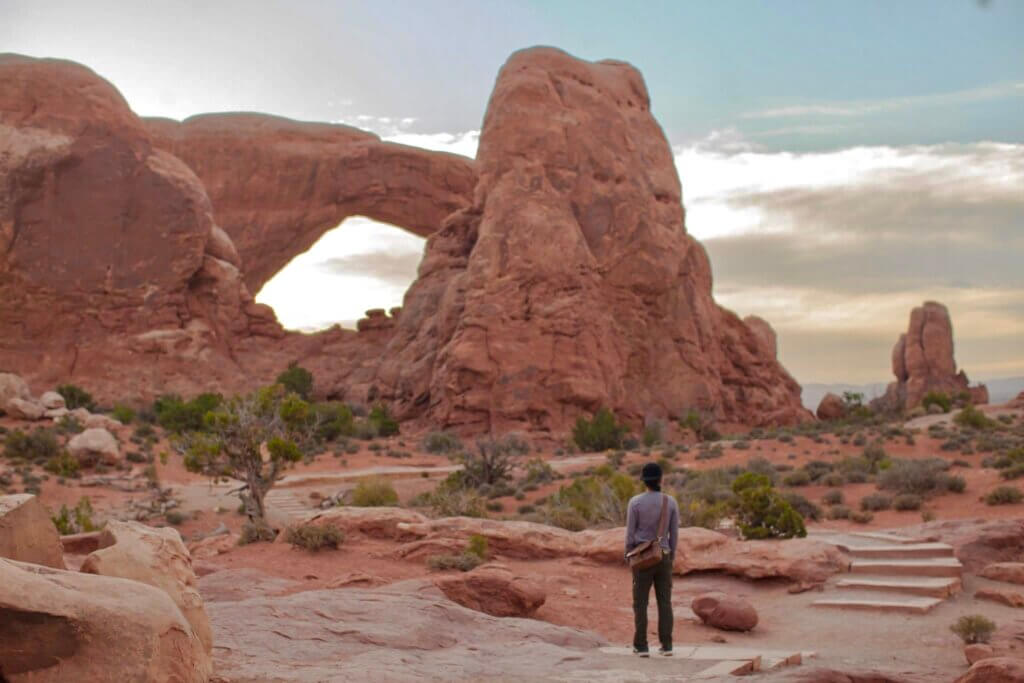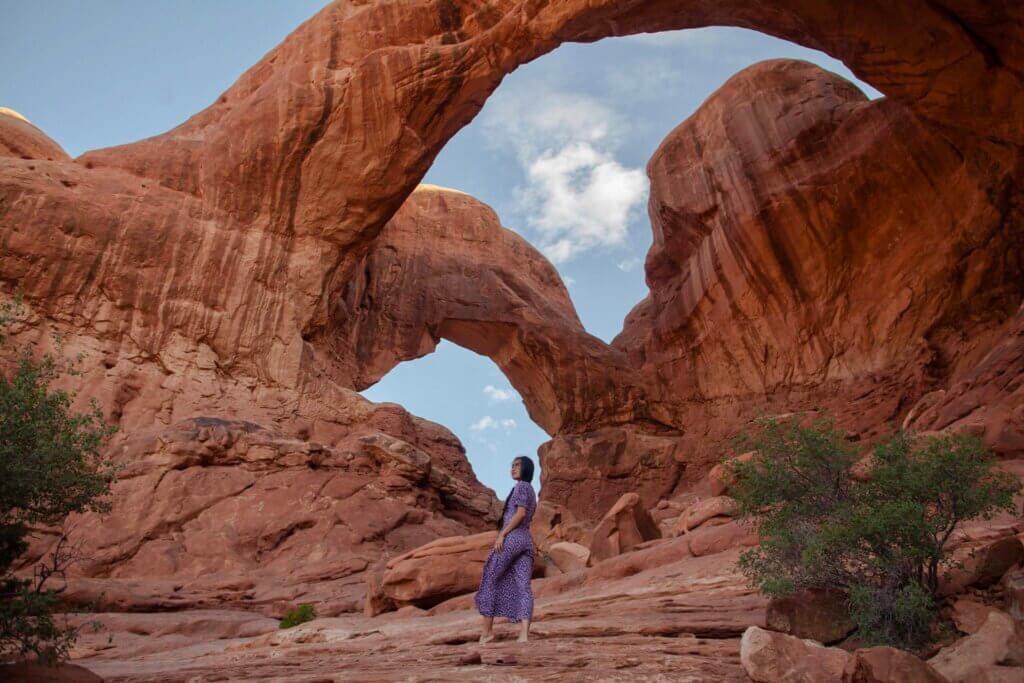 The Windows section of Arches is a must-see. Walk the easy uphill trail to see North and South Windows and Turret Arch. The sunlight is best in the early morning hours, making the windows a solid choice for sunrise photoshoot. This is one of the most popular areas in the park so visiting during sunrise can also avoid crowds.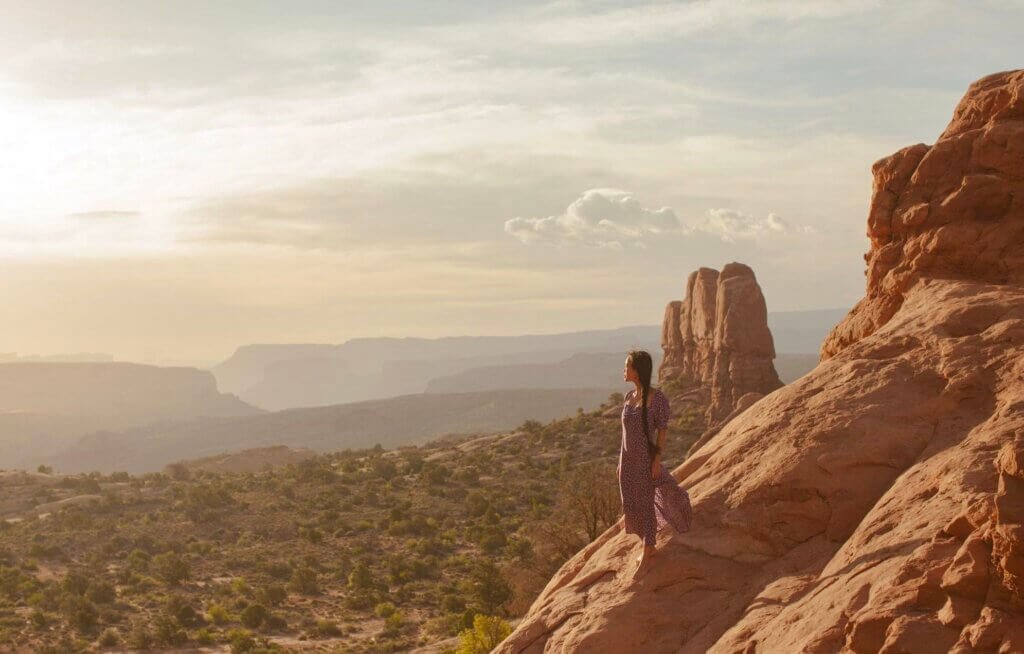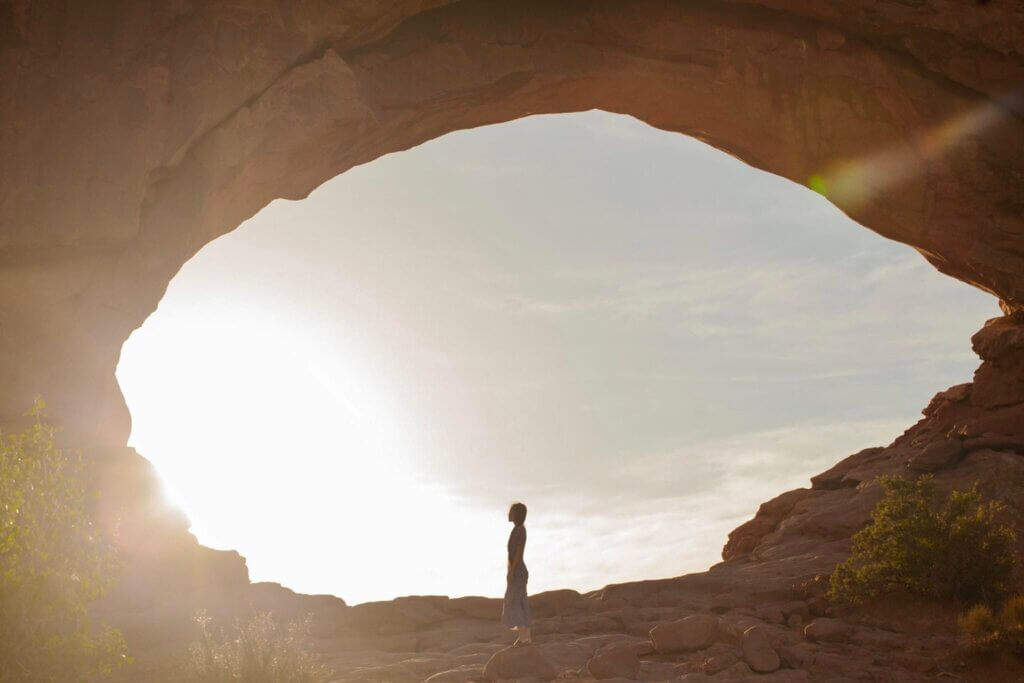 Double Arch is across from the Windows Arches and is just as it sounds, 2 arches connected at an end. Double Arch's claim to fame is a starring role as the setting of a scene in an Indiana Jones movie!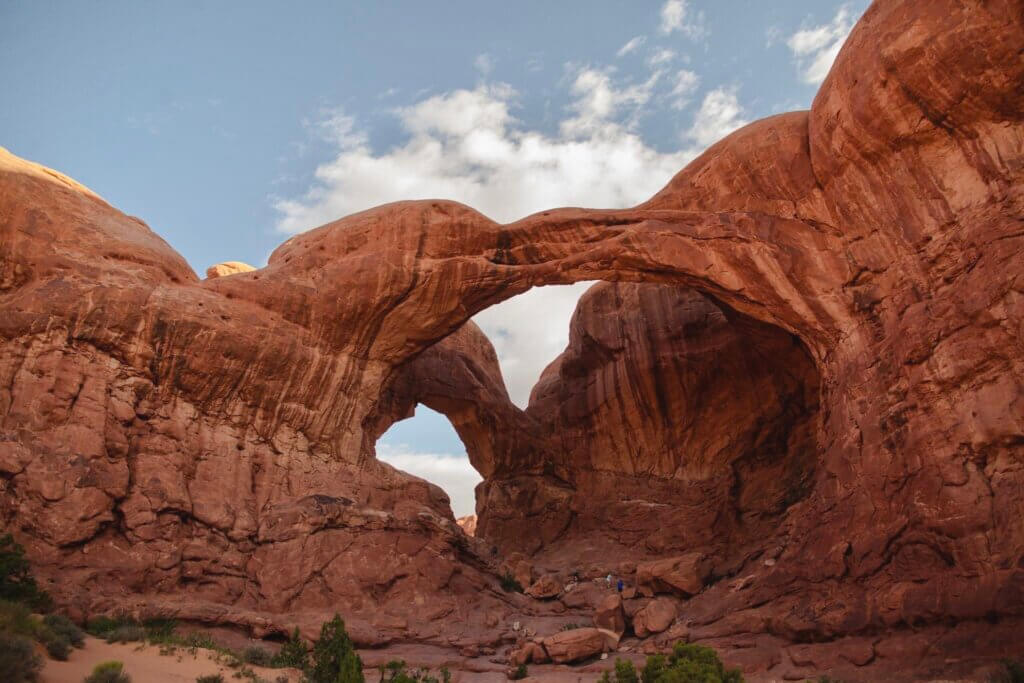 Sand Dune Arch is our must-do hike for those traveling with children in Arches. This hike is very short and gives kids the opportunity to play in the sand.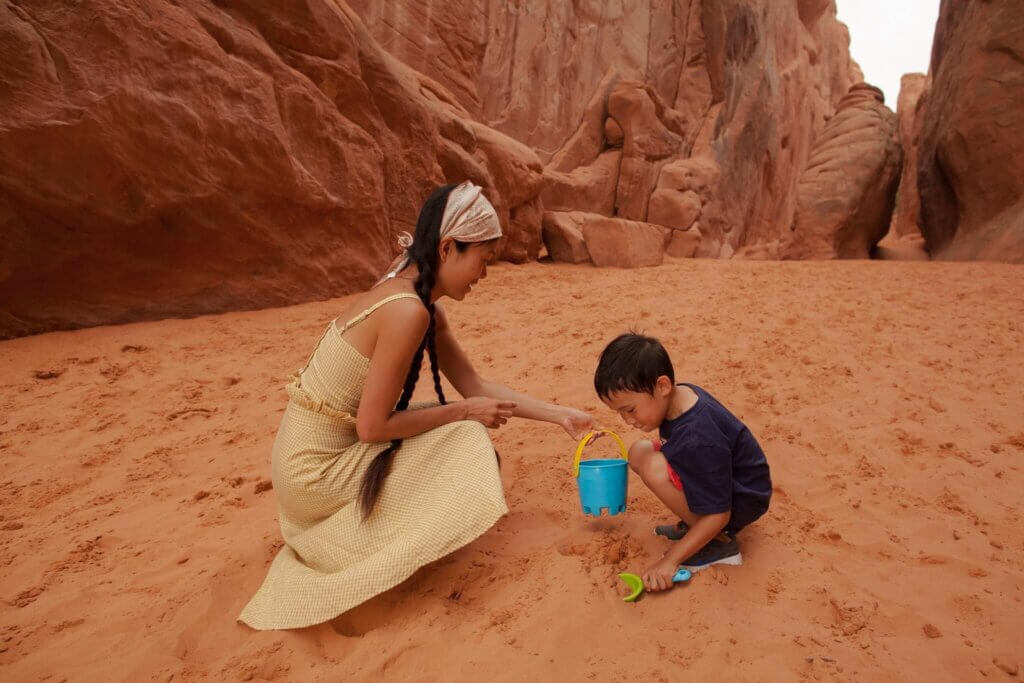 Sand Dune Arch is a pretty little arch squeezed between high canyon walls. This is one of my favorite places to photoshoot in the Arches (have that Petra-Jordan vibes!).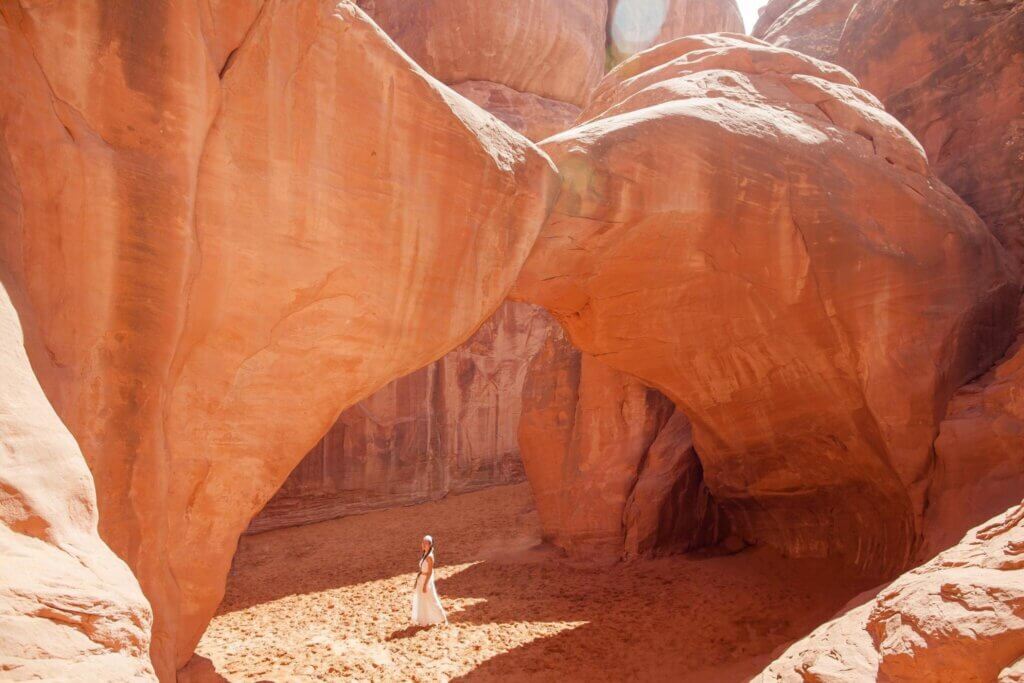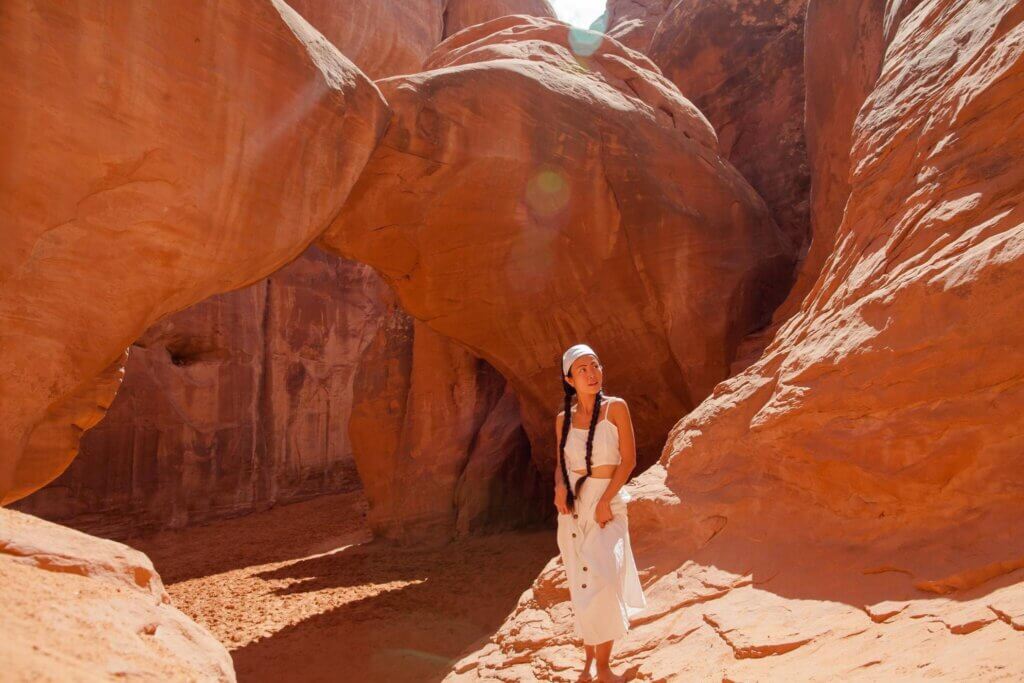 We parked our van at the Park Avenue Overlook to have lunch. It is the first stop for many people driving along the Arches National Park Scenic Drive. People usually skip this spot, but I highly recommend that you stop here for at least 15 mins to follow a wide, paved trail for about 100 yards to a viewpoint of Park Avenue.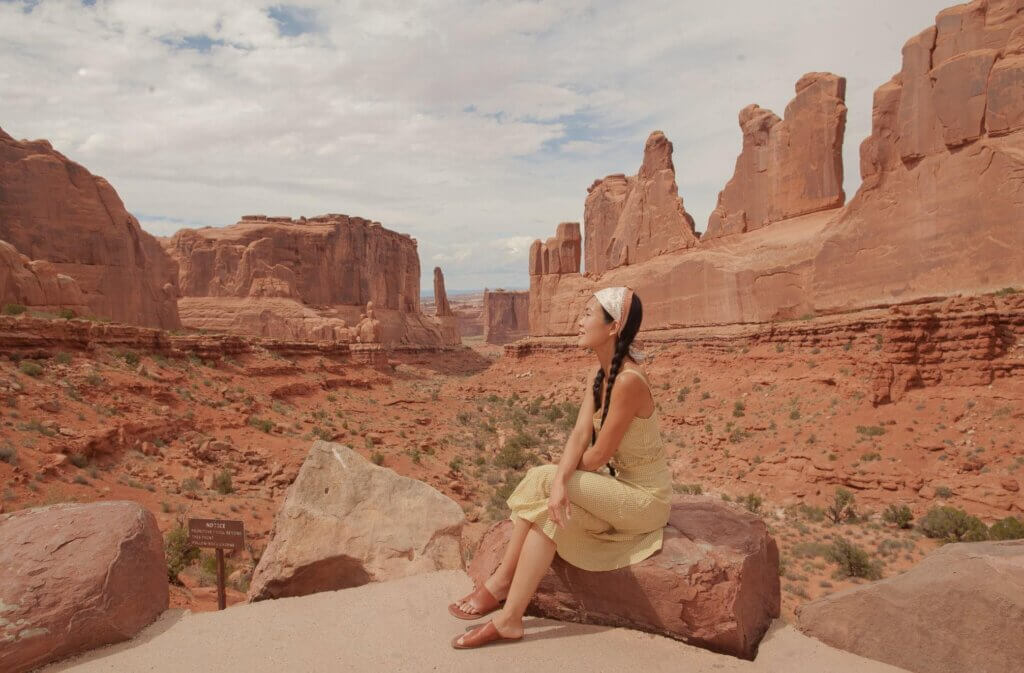 The short walk is a great introduction to the park's massive sandstone formations. Park Avenue is best photographed in the later afternoon for the deep colors on the canyon walls.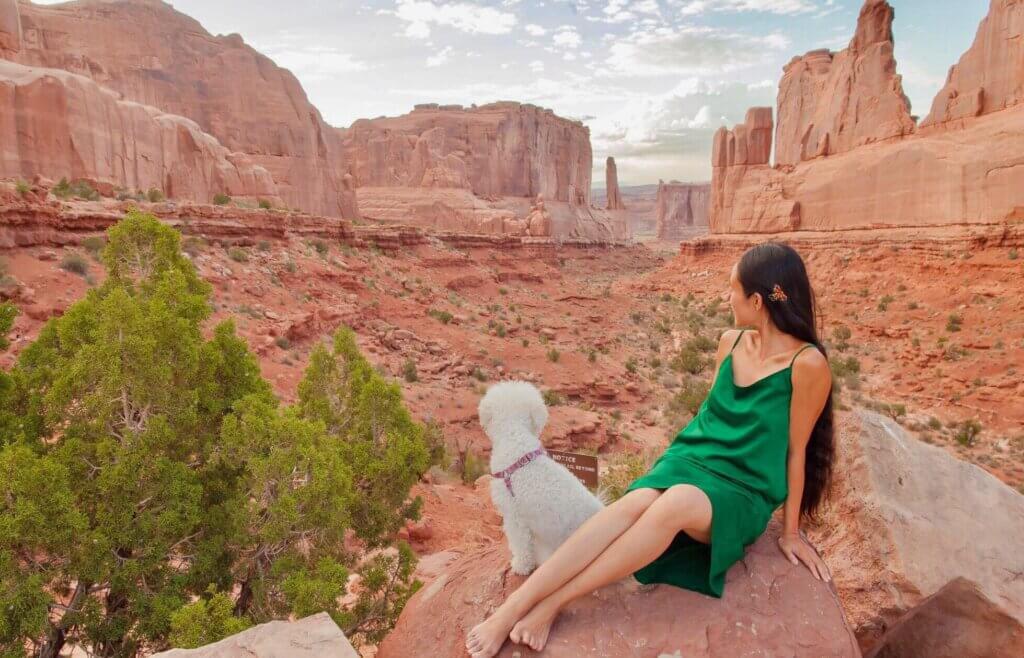 We spent the night parking (boondocking…shhhh…) at Park Avenue and enjoyed the starry sky.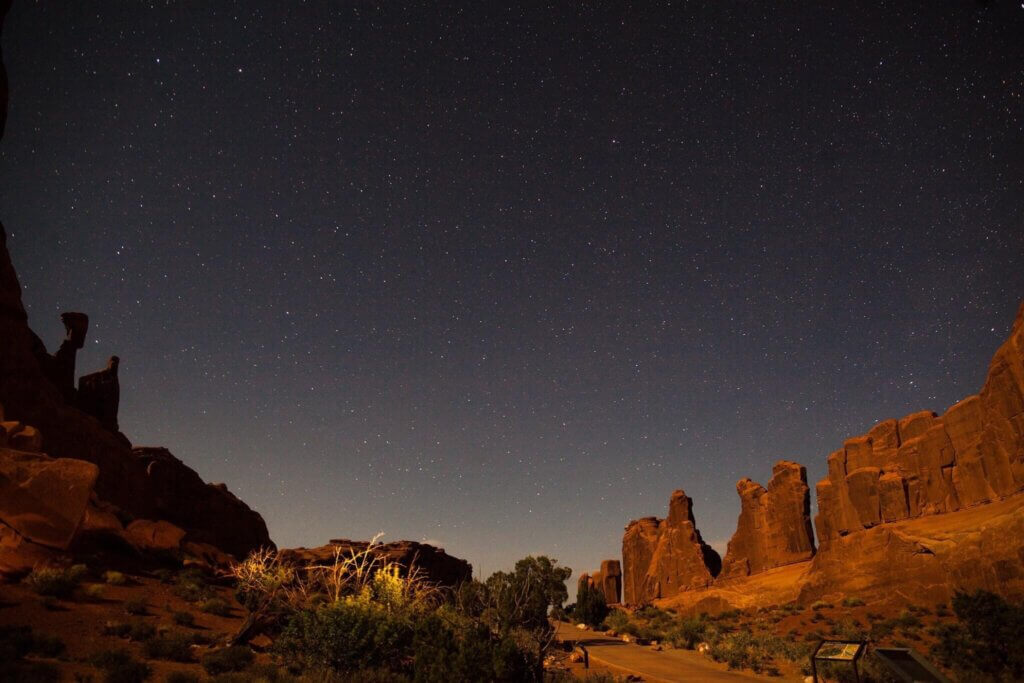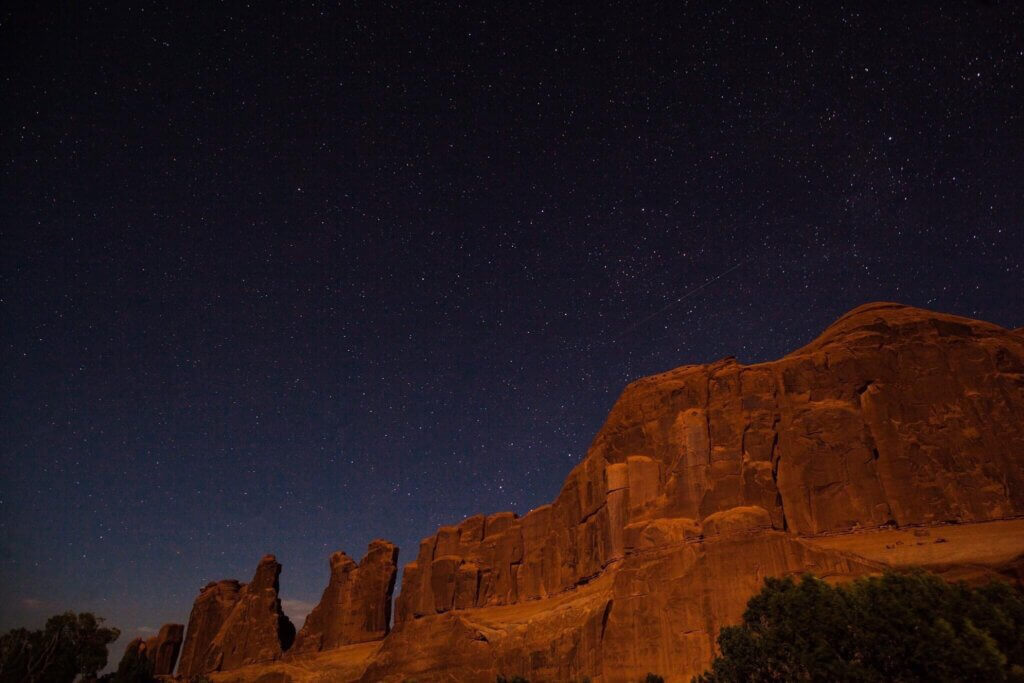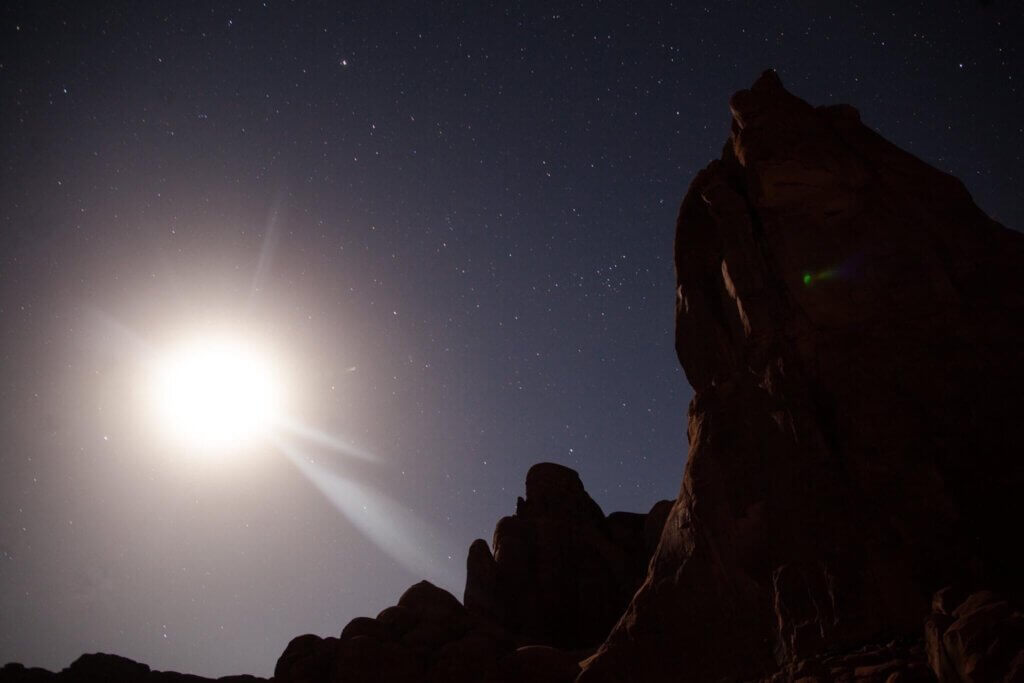 From Arches to Canyon Lands (29 miles – 35 mins)
Canyonlands is pretty rugged and remote (conveniently located near Arches National Park) but hidden among those canyons, mesas, and rivers are all kinds of treasures to be found: breathtakingly-hued rock formations, endless views of the stars in the night sky, and a true sense of adventure await.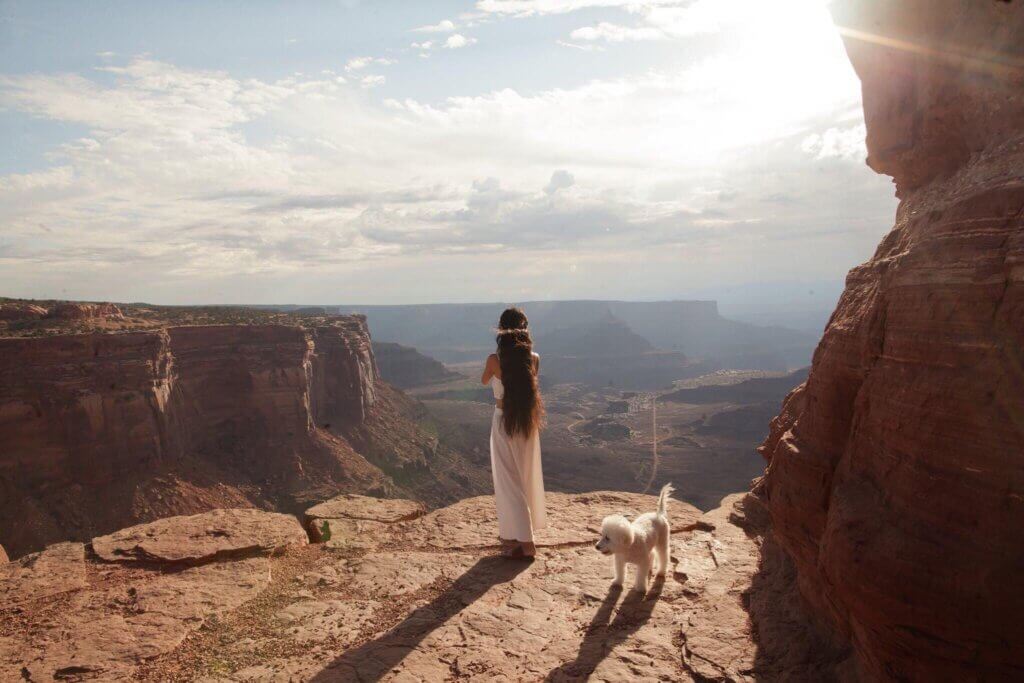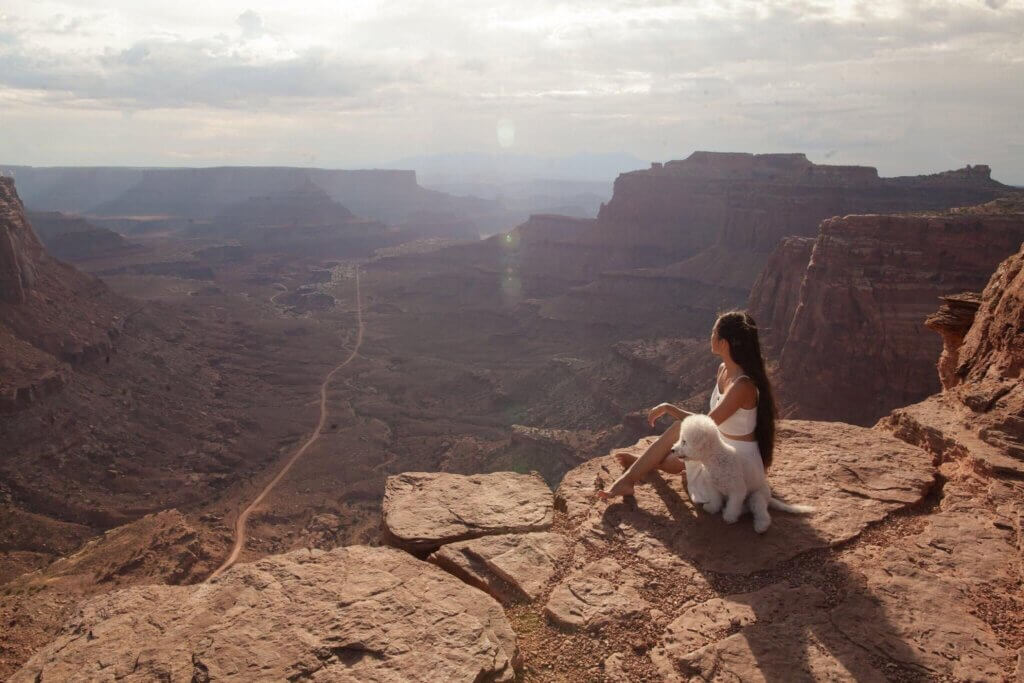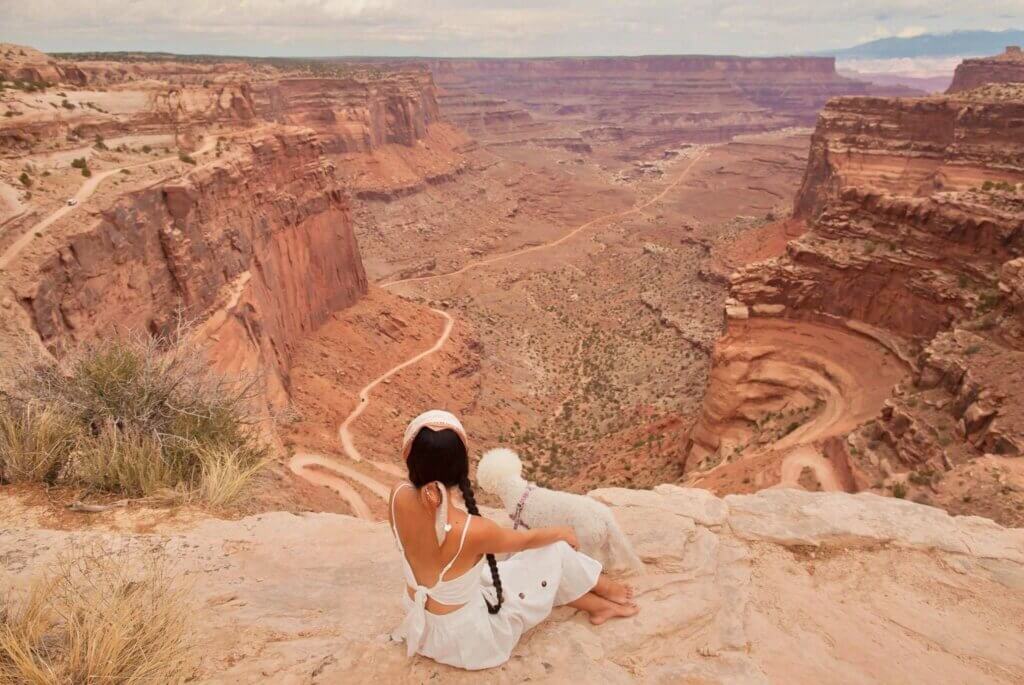 The hike to Canyonlands' most popular feature, Mesa Arch, is one of the easiest and most popular. The paved, well-marked loop is less than a mile round trip, and takes you right up to the edge of this arch, which frames an incredible view of the Island in the Sky.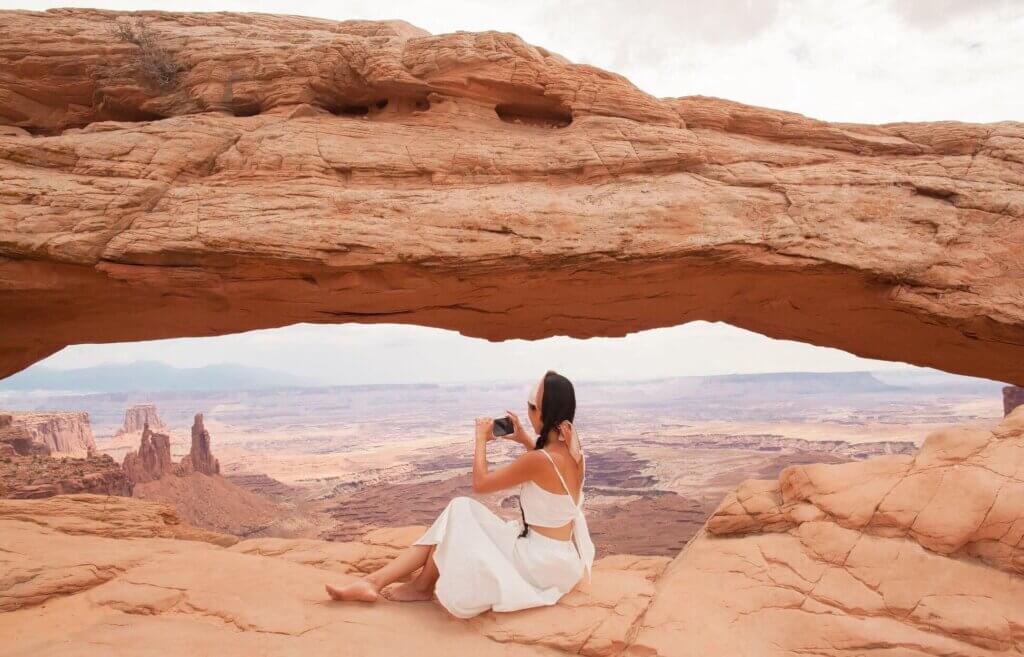 Have you been to Utah's Mighty 5 National Parks? What was your favorite part?
Are you planning a trip and still have questions? Comment below and we'll do our best to get back to you!