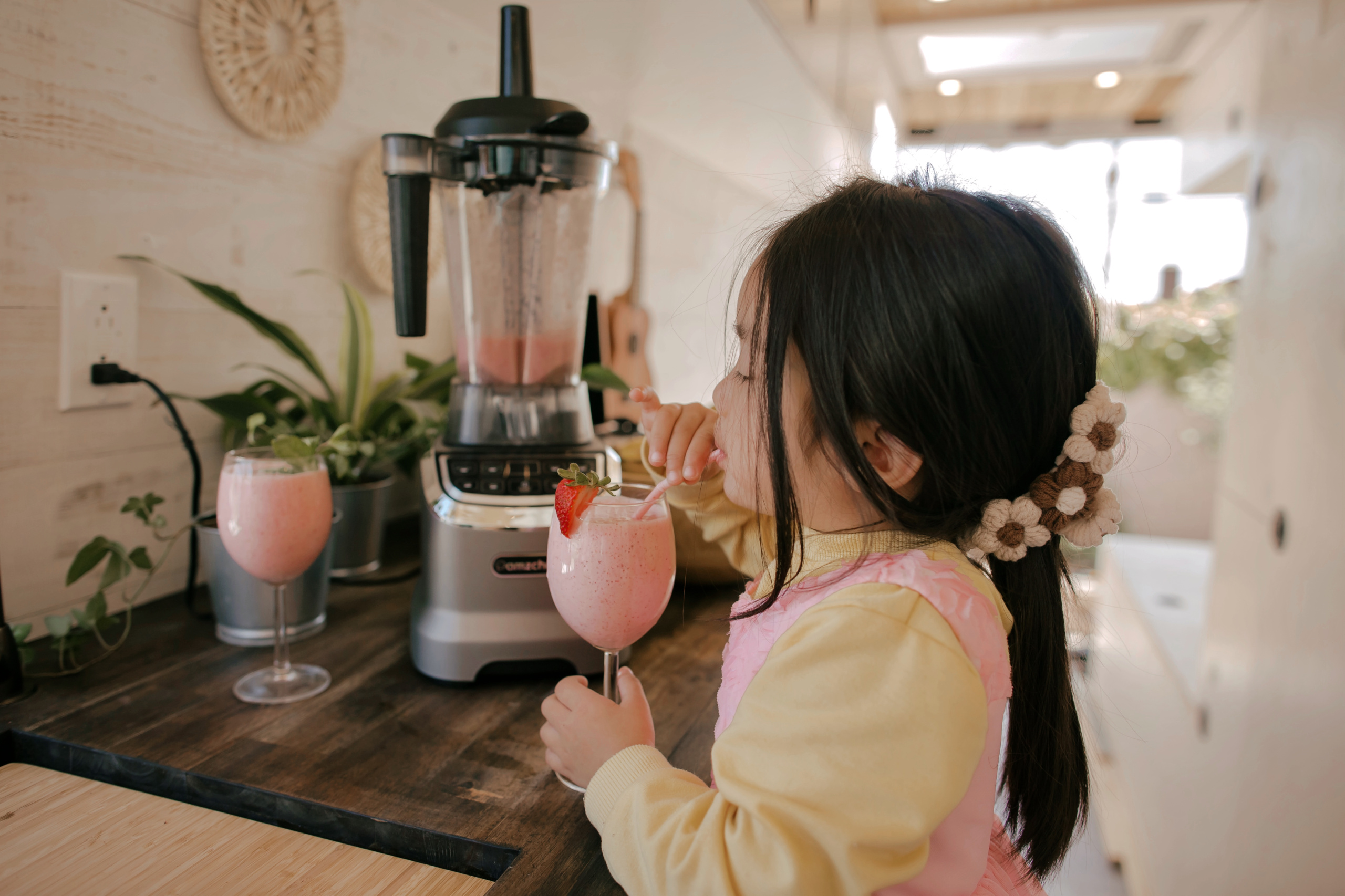 Top 5 Must Have Camper Van Kitchen Essentials 
When designing our van layout, one of our top priorities was a comfortable kitchen and cooking area. We want to make sure that our tiny home on wheels can function like a regular home. This way everyday cooking and living will be more comfortable and fun for the whole family; plus, having a decent kitchen setup can improve our family's overall health and quality of life (we tried to say no to the habit of seeking drive-thrus or boiling water for instant noodles!) and also helps us to save on expenses.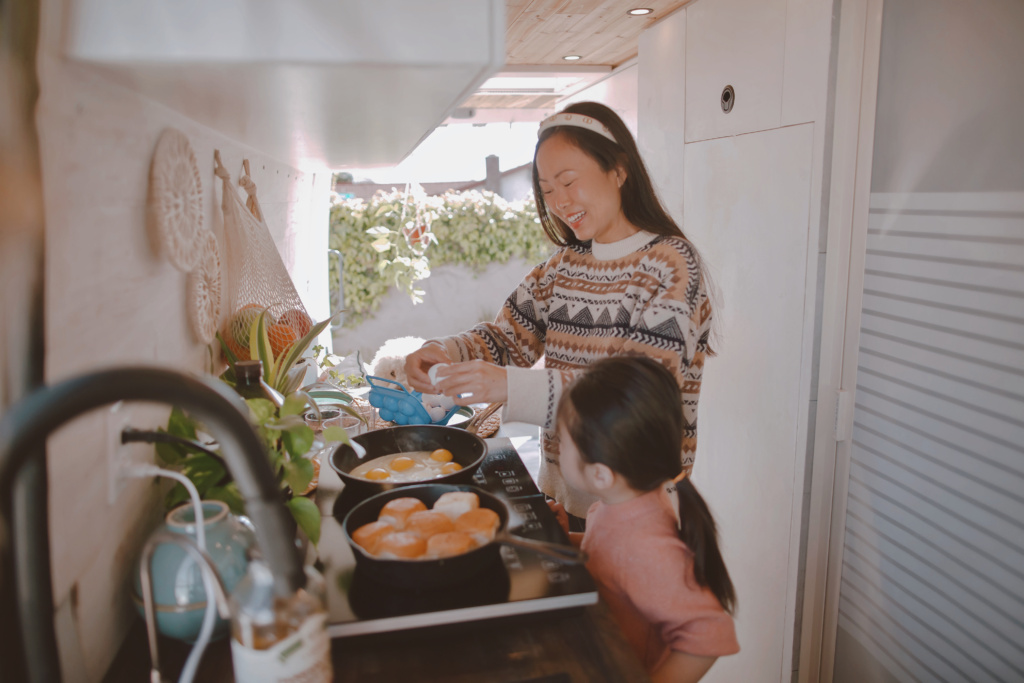 When stocking up the van with all the conveniences that make a kitchen feel like a regular home kitchen, it's important to determine what items are truly essential. In this article, we are sharing 5 of our favorite camper van kitchen essentials, which are compact and efficient, perfect tools and appliances for preparing nice, healthy meals.
1. AMZCHEF Portable Double Induction Cooktop with 2 Burners 
An induction cooktop uses an electromagnetic field to heat up a pan while leaving the cooking surface cool to the touch and without heating up the kitchen. If you are concerned with carrying around a cylinder of gas in your campervan, then an induction stove is probably your best bet. Other benefits include no open flames in your tiny home, precise temperature control, and rapid heating times.This cooktop requires a fair amount of energy so if you want to use this in your campervan, you have to have a decent-sized battery bank and solar system to accompany it.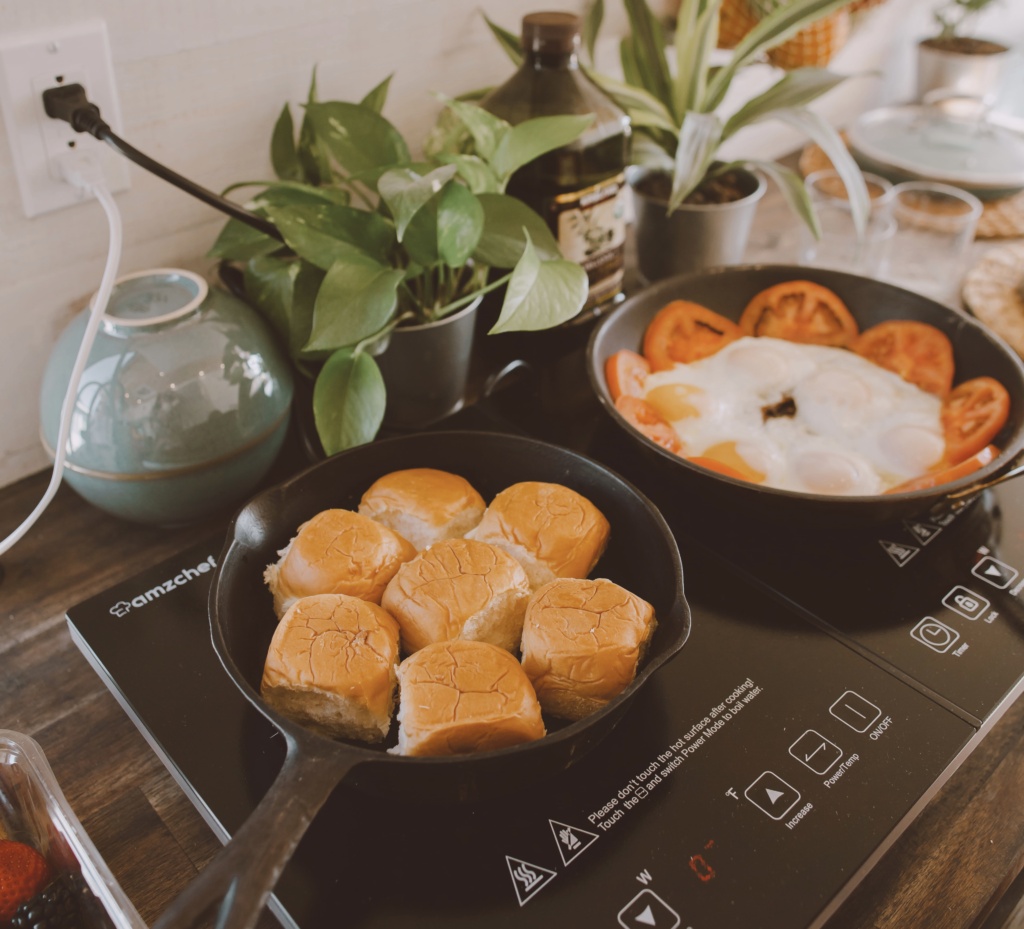 The AMZCHEF Portable Double Induction Cooktop is a great choice for van life and is the most budget-friendly option. The AMZCHEF double induction hob has 2 cooking zones (1800W + 1800W) with a total power ranges 200-1800W for quick cooking. It is simple to control the portable cooktop with a simple touch of a finger. It also has child lock function to give you and your family a safe cooking environment.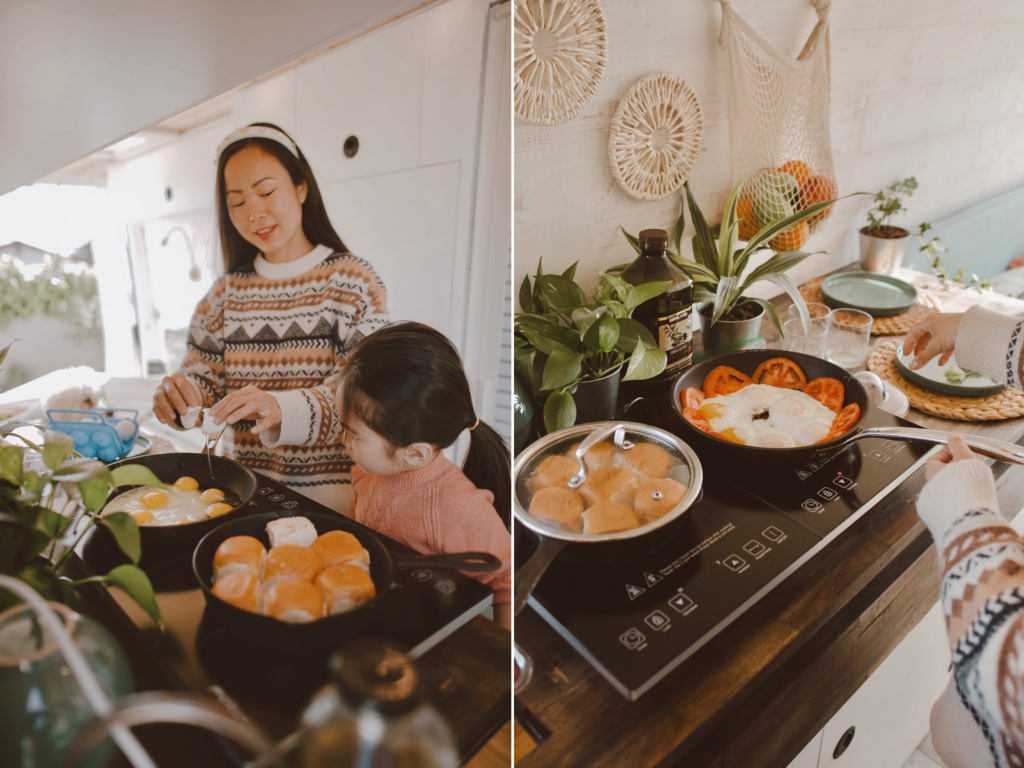 We are choosing not to do a permanent install of this induction cooktop and instead, we store the stove and take it out when needed. The induction cooktop's portability allows us to take them outside to cook greasy and messy foods; making clean up a whole lot easier. The whole working surface is designed with black polished crystal glass, shinny and durable. Easy to clean by a soft, water-dampened cloth.
Portability, storability and simplicity are requirements of nearly every piece of campervan gear. And AMZCHEF Portable Double Induction Cooktop meets all the above requirements to be one of our campervan's kitchen essentials.
2. AMZCHEF Cold Press Juicer
One question that comes up all the time is how to eat healthy if you are a vandweller. I have often been asked specifically if it is possible to juice while living in a van and my answer is, "Yes, it is possible!" Eating healthy while traveling is imperative since we want to keep our energy levels high in order to enjoy our travels and maintain a healthy mind. One way to ensure our family's healthier happier life is sticking to a juicing routine. Juicing provides vitamins, nutrients and enzymes that our body can easily digest for a quick wellness boost.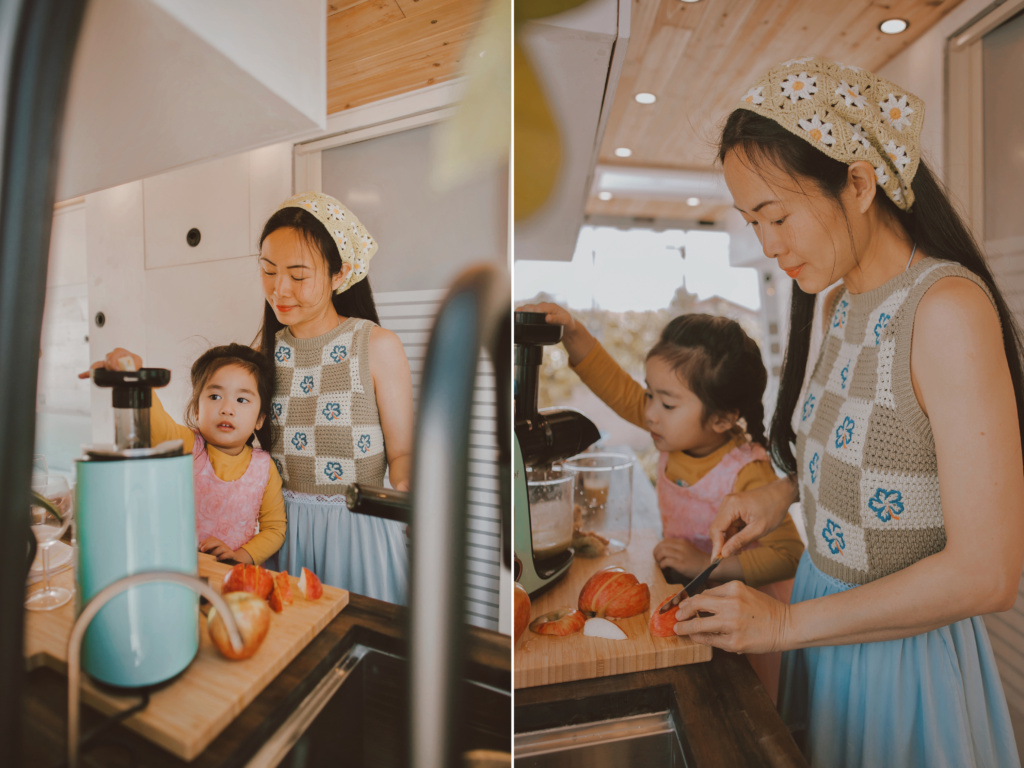 One of our favorite juicers is the AMZChef Cold Press Juicer. As the name suggests, cold press or slow masticating juicers produce juice at a slow speed. This helps to keep the heat at a minimum, which in turn helps to provide maximum juice yield and minimal oxidation (so you get more nutrients in every glass!).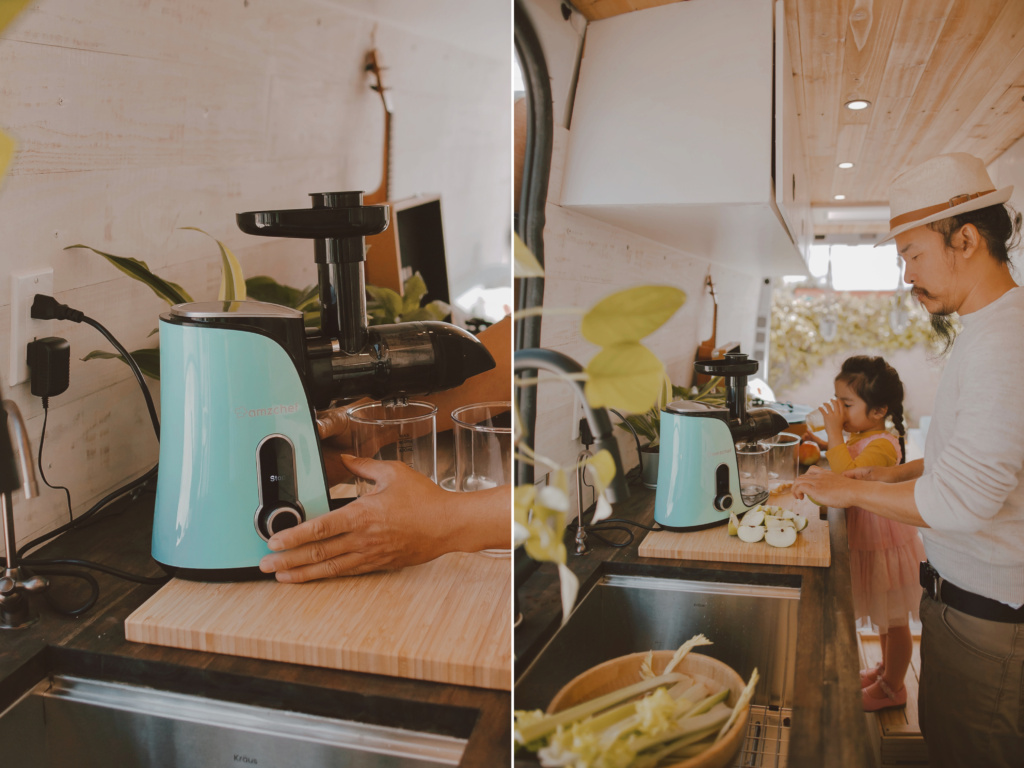 One aspect that makes this slow juicer perfect for vanlife is the ease of assembling, disconnecting, and cleaning up after use. There are only a few parts that you connect together and the discard goes straight into a separate bowl; that makes cleaning it super fast and easy. It also features a reverse function that prevents jamming, thus allowing faster cleaning. And it comes with a brush to help make your cleaning easier and faster.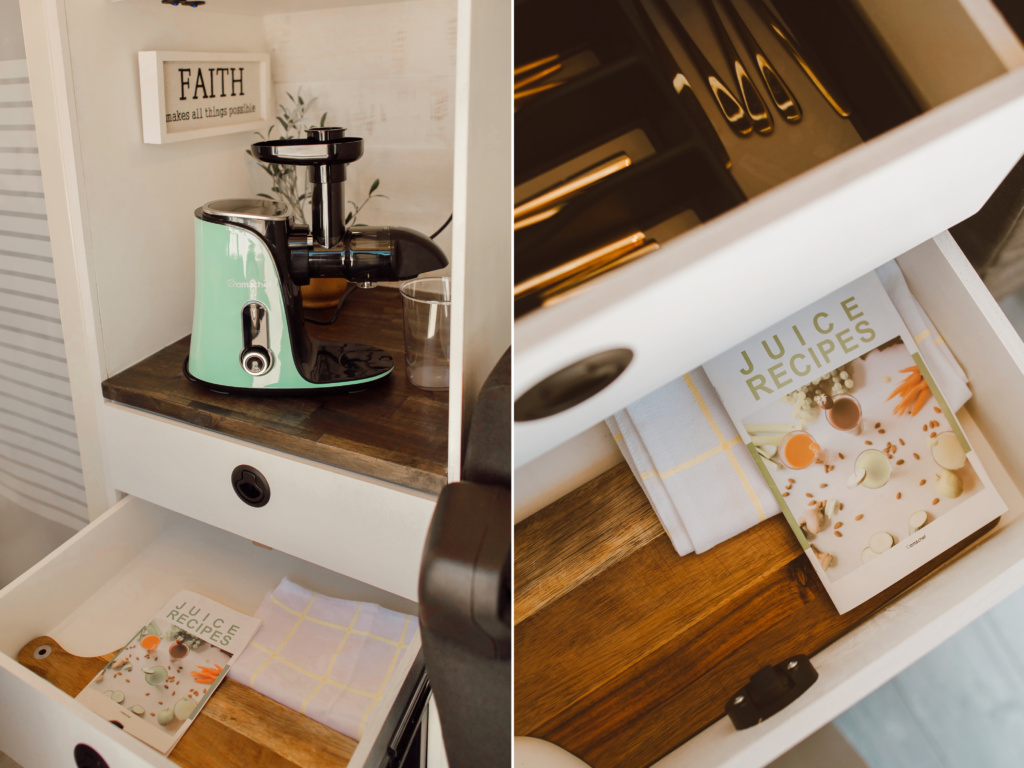 This juicer operates quietly meaning you won't attract any attention from by-passers when juicing inside your van. Its sleek compact design means that it can easily fit into your van kitchen cabinets. If you are thinking about starting juicing, we highly recommend this slow juicer.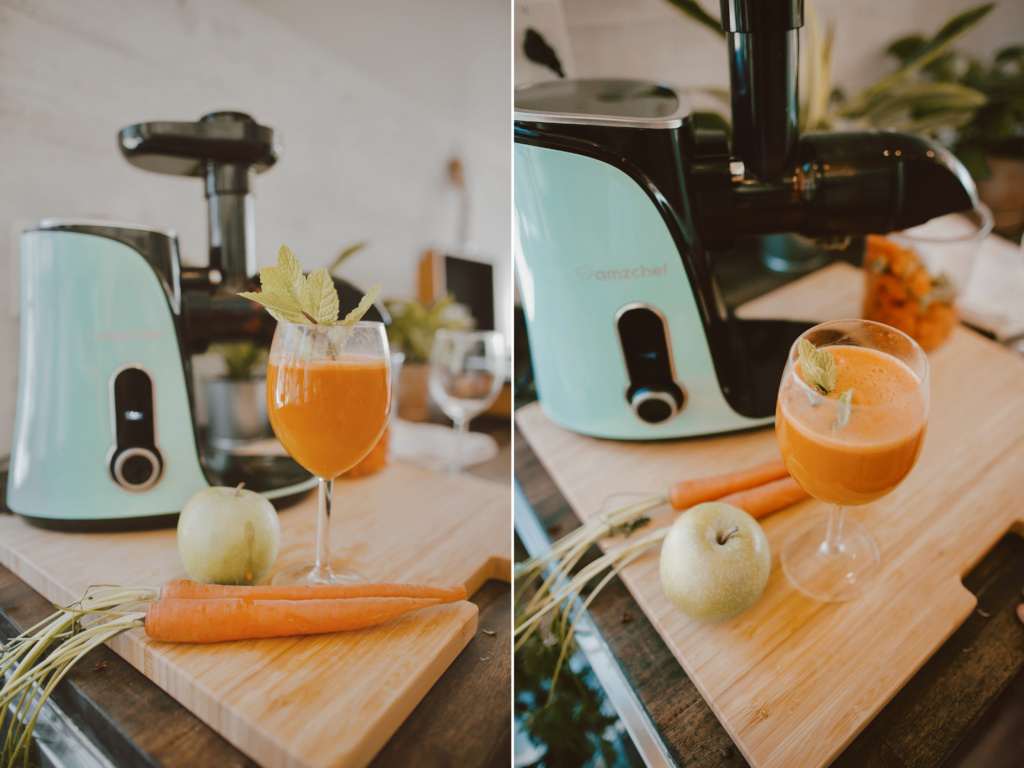 3. AMZCHEF Smoothie Countertop High-Speed Blender
We drink a lot of smoothies, especially when we are on the road and want something quick and nourishing. We tried to resist the urge of getting convenient eat-outs or or eating from a tin can. When we are hungry and do not have the time to prepare a proper meal, whipping up delicious smoothie is a way to go suppress our hunger at the same time giving us a healthy balance of nutrition.
When it comes to finding the best blender for smoothies, the options can be overwhelming, but I have a little secret to share with you: "Any blender will work for making smoothies." The health benefits and creamy texture of a smoothie all boil down to what you're putting in it and how to blend a little differently. But for van-dwellers, it's important to find a blender that fits into your kitchen's limited storage space with the proper wattages. And for us, AMZCHEF high speed blender 1800W is a great choice for vanlife.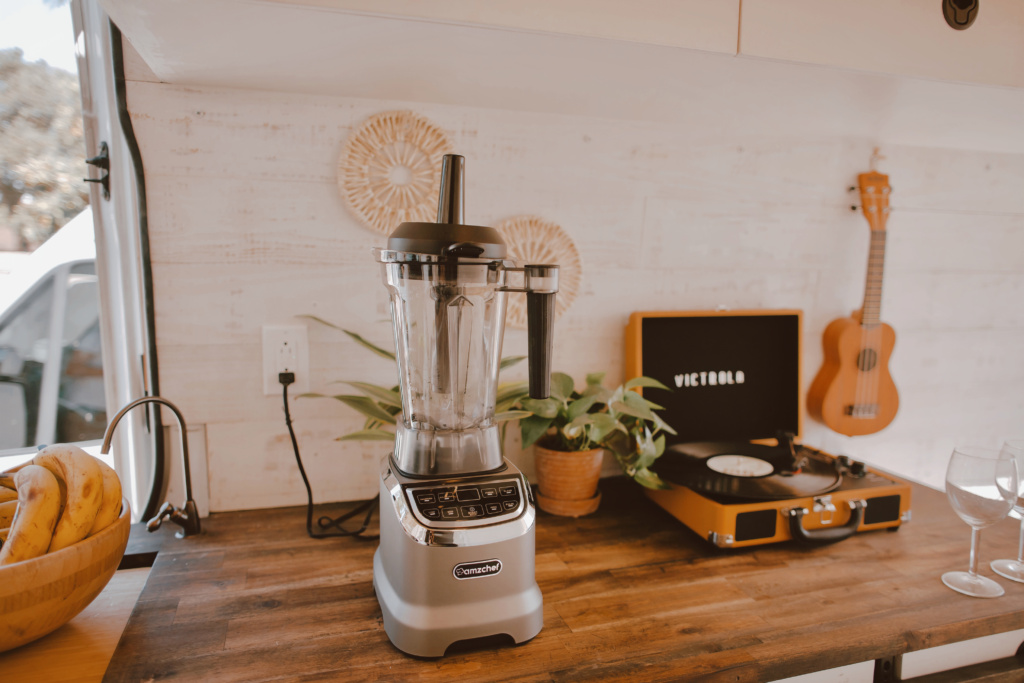 With its 1800W motor this blender has plenty of power on tap to meet your daily blending, blitzing and grinding needs. The Amzchef blender measuring about18 inches tall and 9 inches width doesn't take up much space. The black-on-gray base is lightweight which makes it easier to stow away.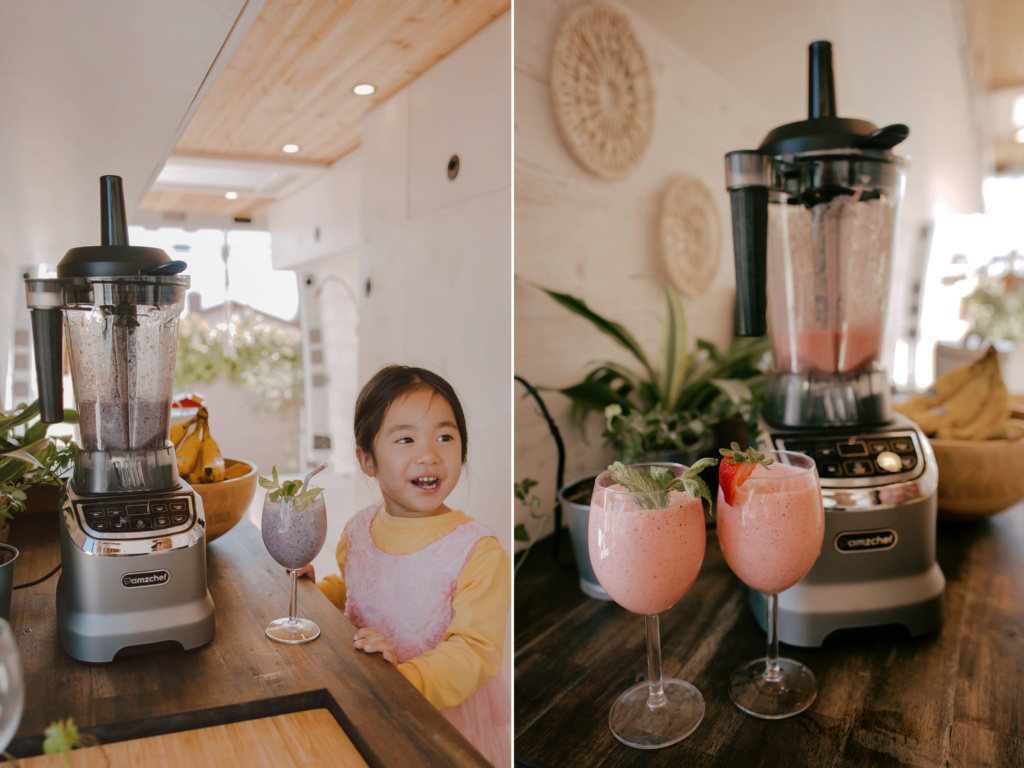 And it delivers more value by throwing a couple of extras into the package like the travel bottle. The travel-sized bottle comes with its own blade and cover lid is perfect for making a single serving of smoothies rather than a full batch. It's useful especially when you're short on time.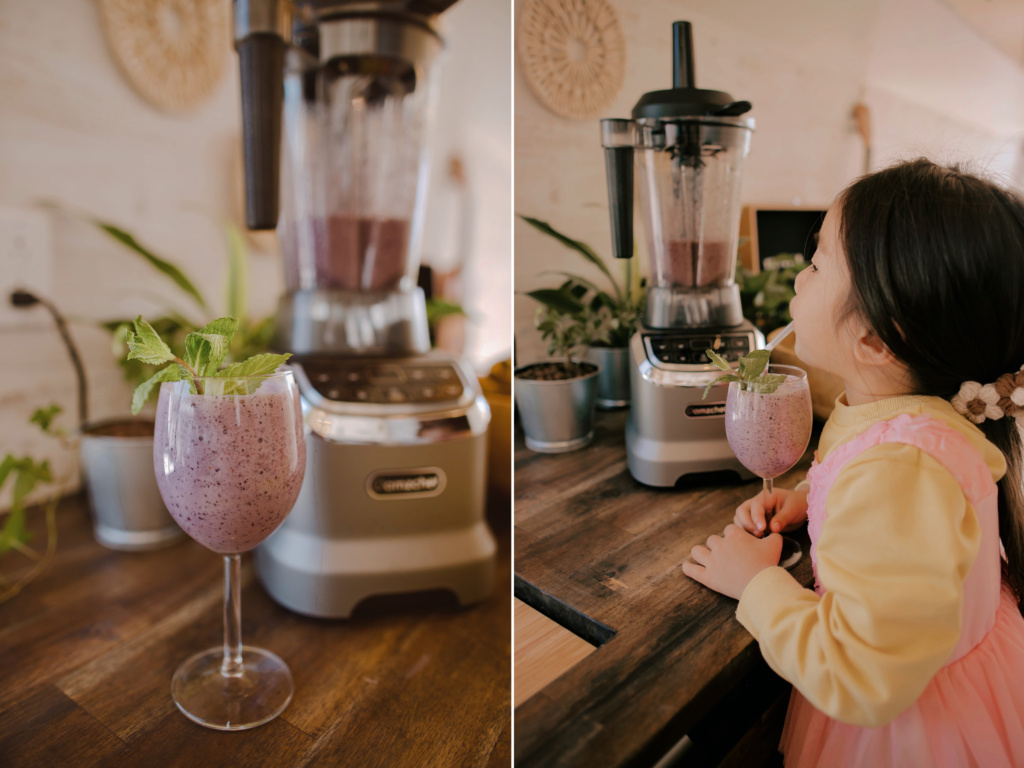 4. Bodega Budget-Friendly 12 Volt Dual-Zone RV Refrigerator
When you're talking about a must-have appliance to make the most of van life, what's the one piece of gear that every adventure van enthusiast can agree on? A good 12V fridge. A good 12V fridge is one of the biggest investments you'll make when building your van but totally worth it! Keeping your food cold and fresh means bringing the comforts of home on the road.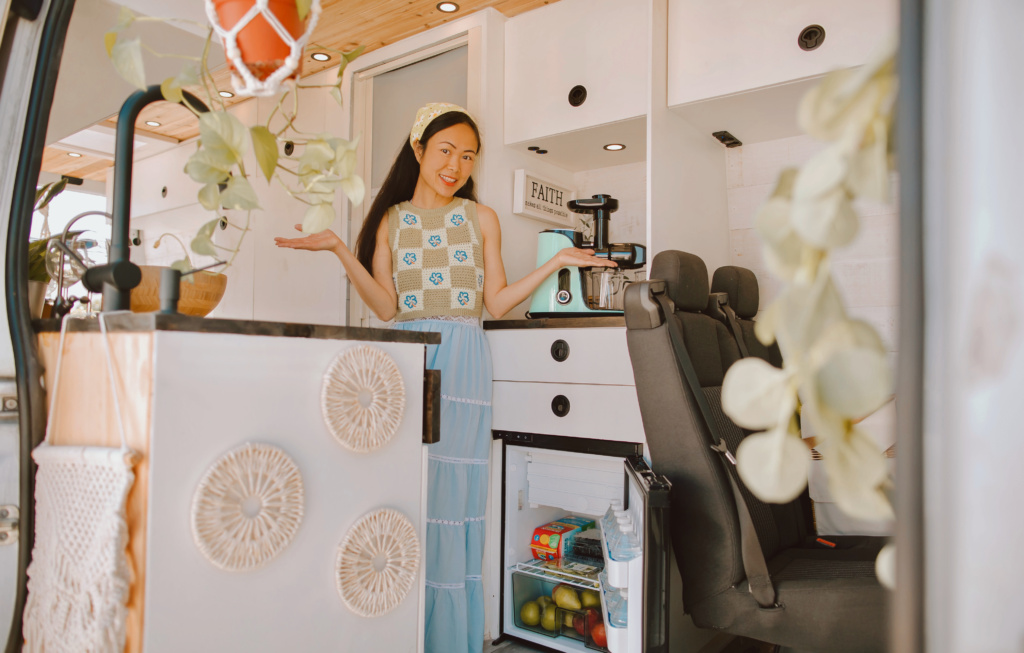 We did a LOT of research before investing in a 12V dual zone fridge, and finally made our choice based on a combination of specifications and budget. In our opinion, Bodega Cooler RV refrigerators are the best overall value for vanlife. They offer an excellent combination of top quality components, performance on par with higher end fridges, and affordable pricing that's tough to beat.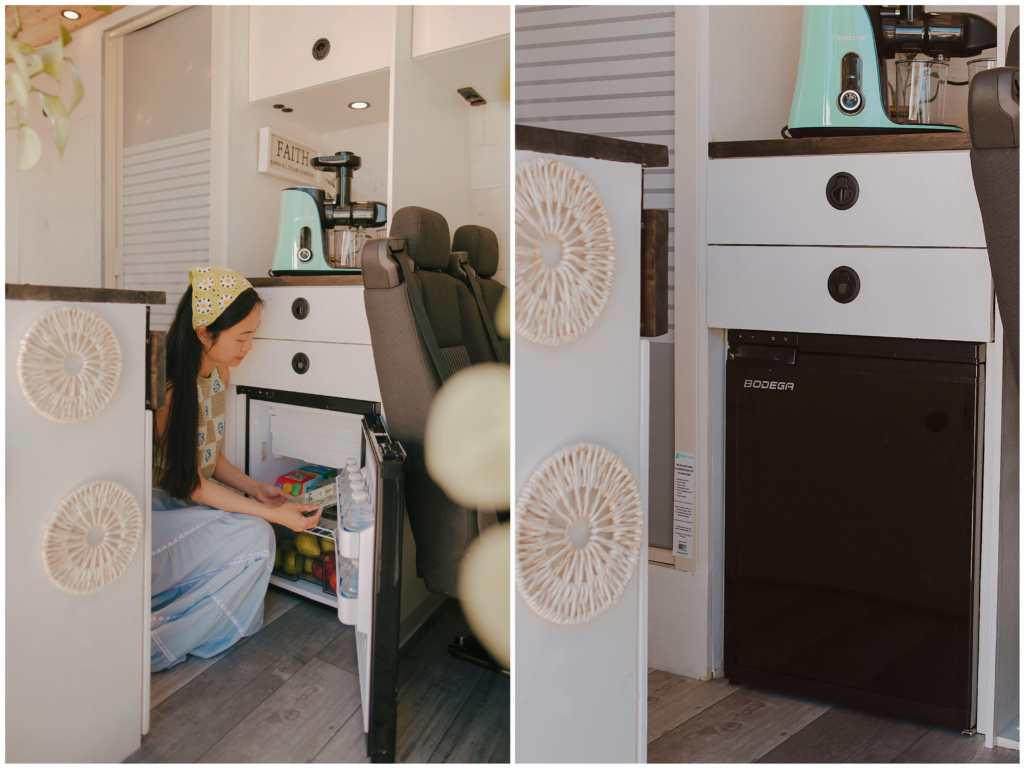 It has a compact size that makes it easy to fit into tight spaces, such as small RV, Van or Bus kitchens. Additionally, it has a sleek black finish that gives it a modern look and blends in well with any interior. You can read my full review of Bodega RV fridge here!
5. Sink and Faucet
If you're still hunting for that perfect camper van sink, look no further than Kraus Undermount 16 Gauge Stainless Steel Single Bowl Kitchen Sink. Unlike other RV sinks, Kraus sink is deep enough to wash pots and pans easy while still maintaining its compact design.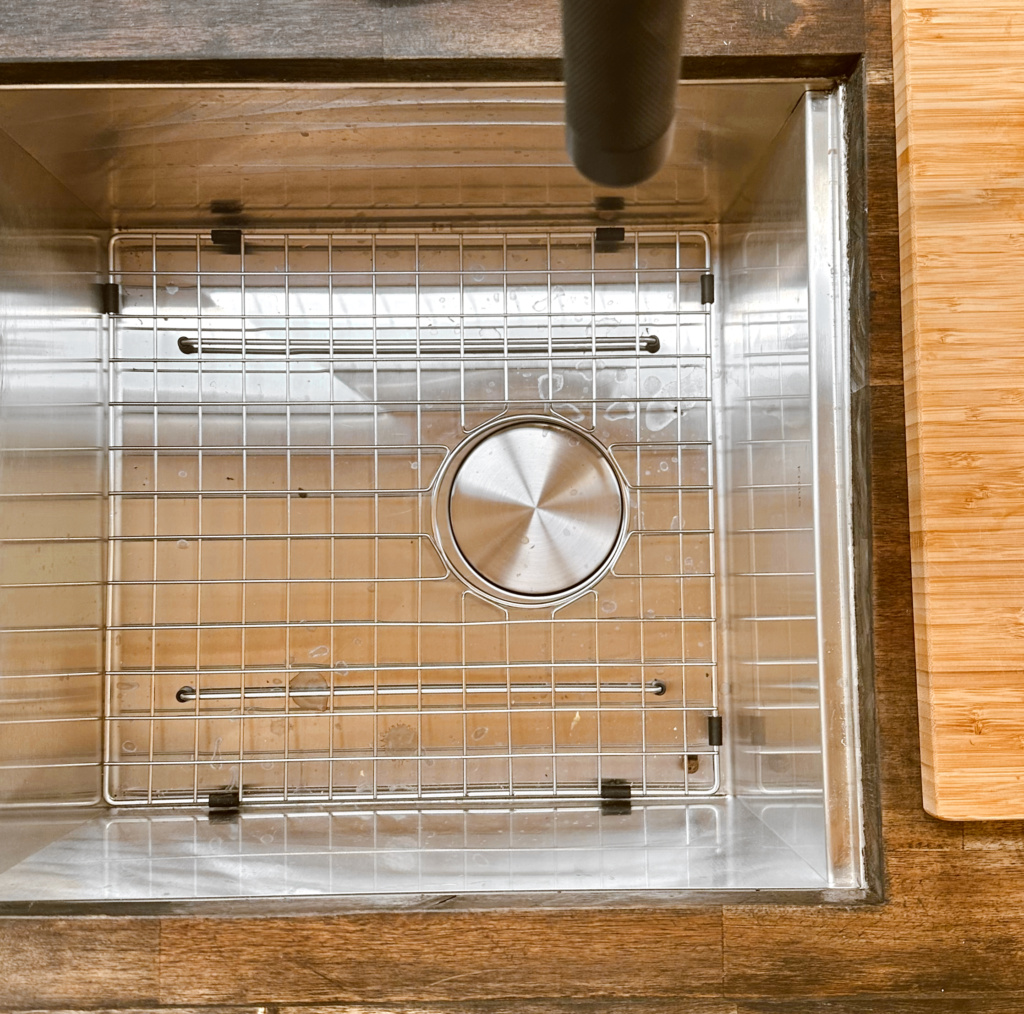 Made with real 16-gauge stainless steel, this sink is one of the toughest and most durable sinks on the market. The advanced modern look and culinary-inspired design is an instant upgrade to any van kitchen.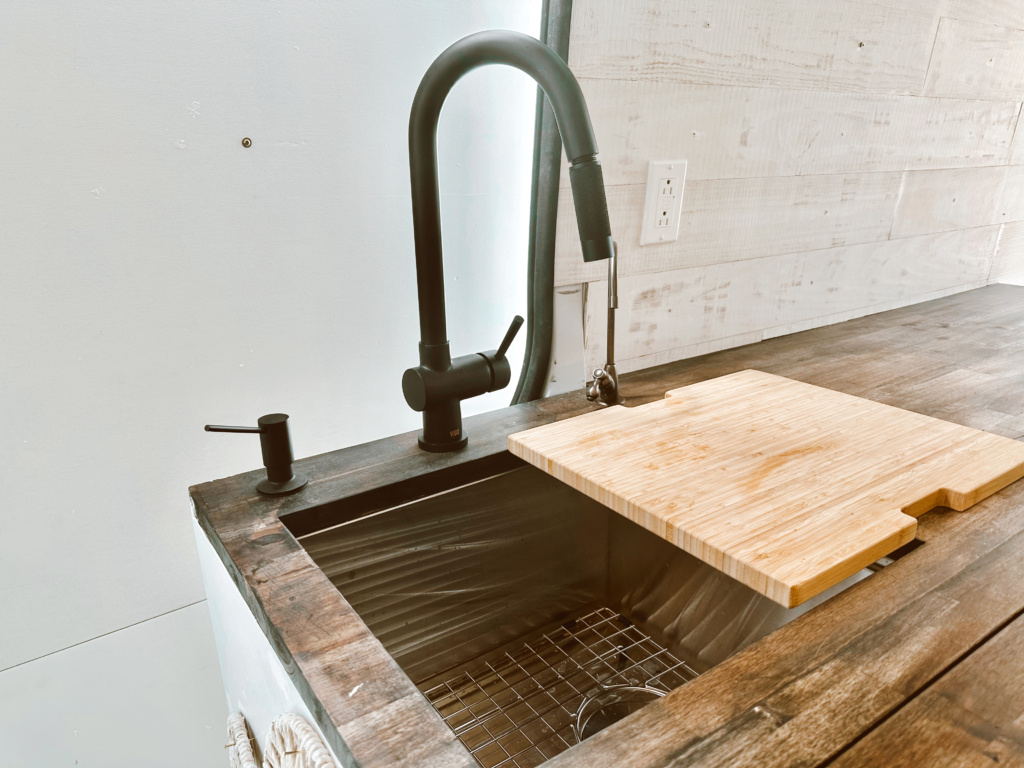 Also included with the sink is a beautiful bamboo cutting board. The best part of this cutting board is that the board sits perfectly flush to the top of the sink, allowing you to chop and slice without losing an inch of counter space. Plus, you don't have to worry about storing the board when you're on the road.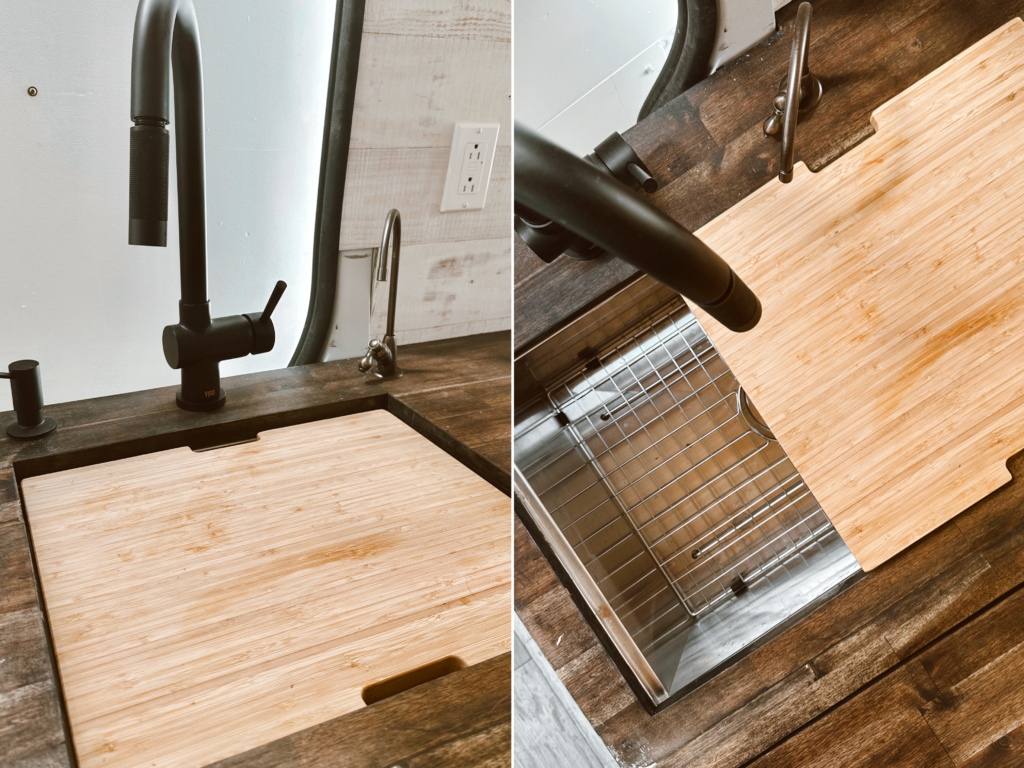 To maximize efficiency, it is the best choice to pair Kraus sink with Vigo Pull Down Faucet, which allows for greater access to all areas of the sink and makes doing dishes breeze.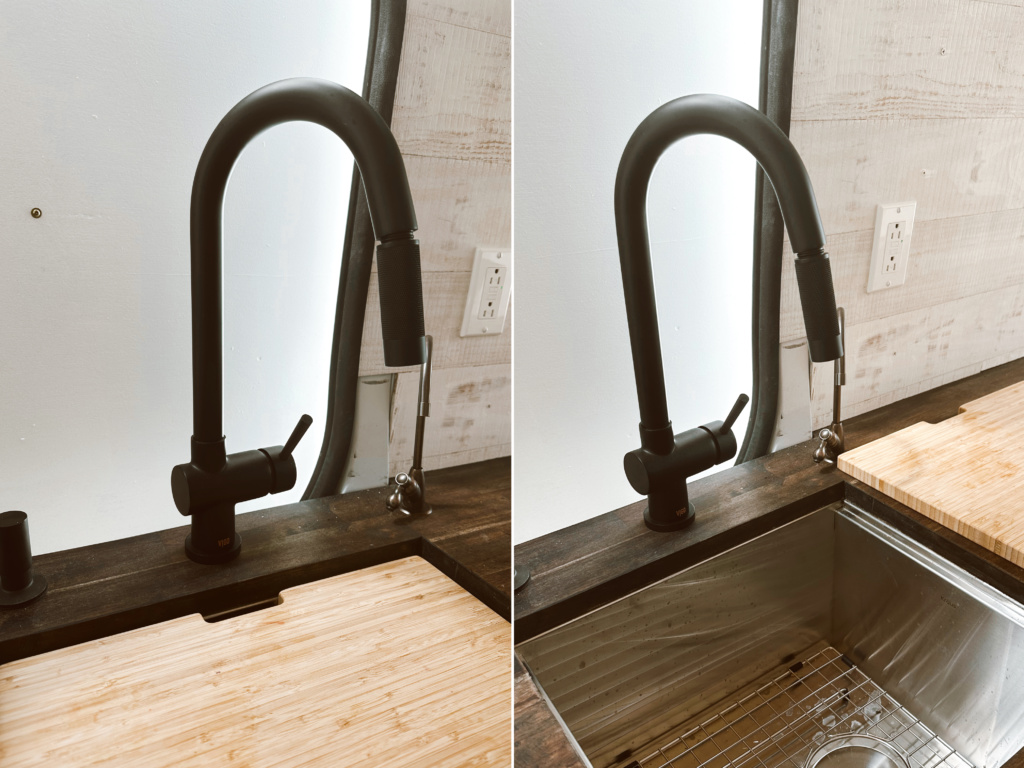 Save this post for later!