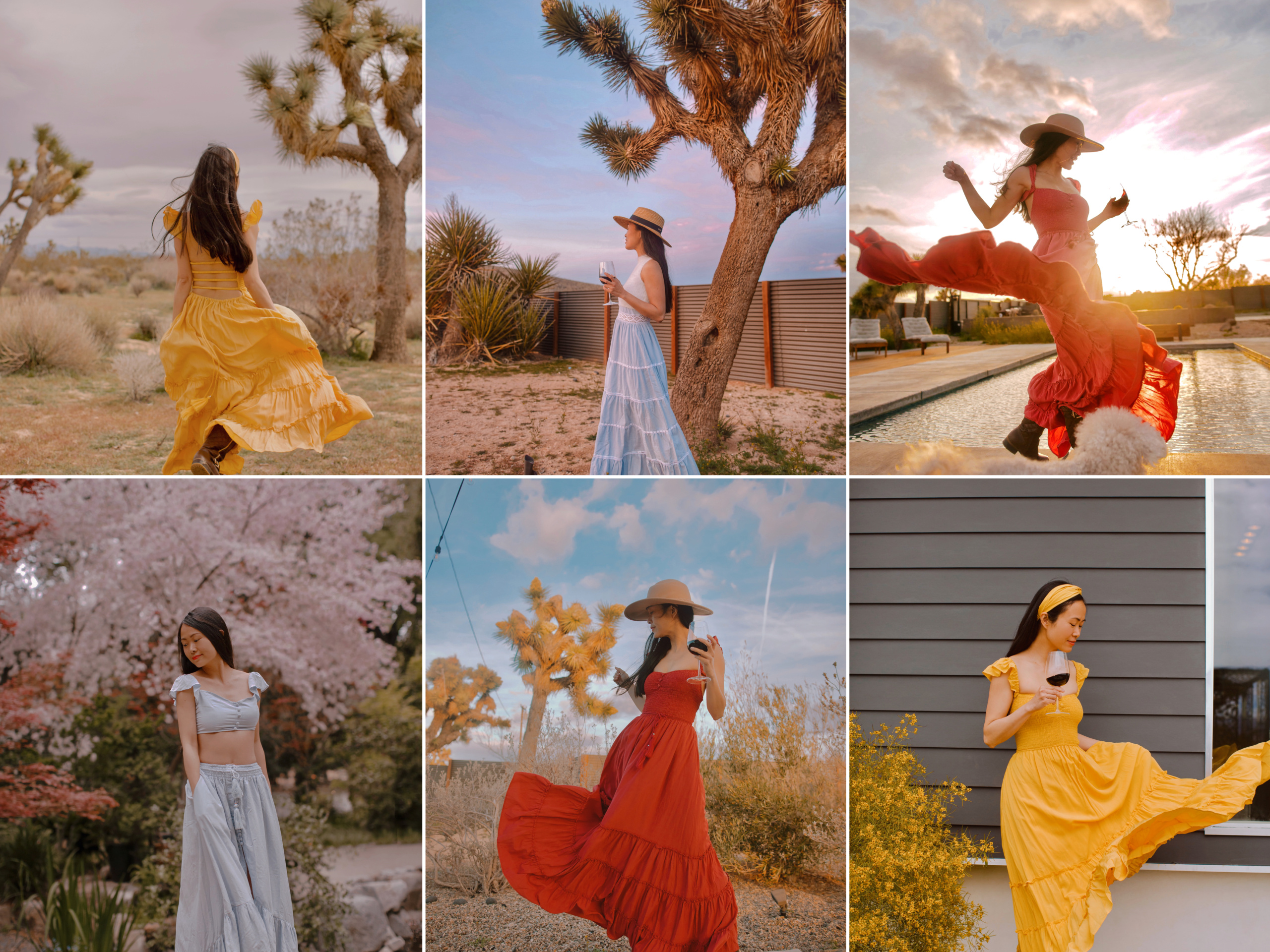 Over the years I have gotten used to comfortable dresses that are loose-fitting and flowy. If you look in my closet I think that 80% is filled with boho maxi dresses! Bohemian chic fashion comprises a mix of relaxed, comfortable silhouettes, and breezy fabrics. This timeless style is an unconventional way to show you are a hopeless romantic with a craving for wanderlust and a desire to express your individuality. And every boho babe needs a maxi dress in their collection. It's really a go-to staple spring/summer dress for weekend getaways and casual affairs.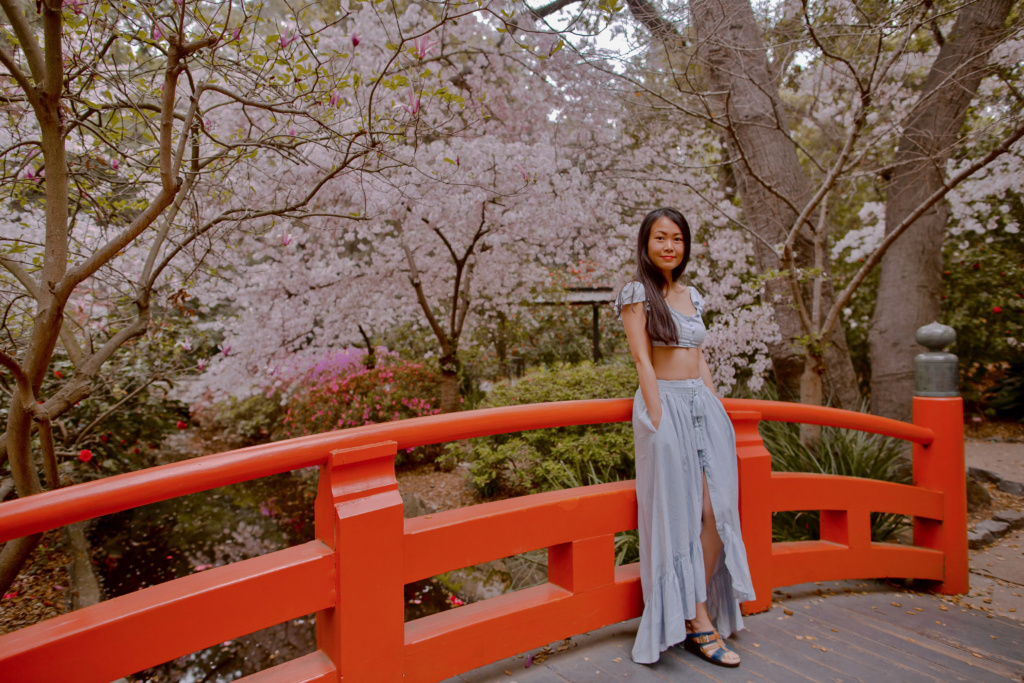 Creating bohemian looks for every season doesn't have to be a daunting task that seems impossible. To ease your job, Coconuts & Pineapples (Cocopiña) Boutique has assembled several maxi dresses that speak to your bohemian soul.
About Cocopina
Cocopiña Boutique was launched in 2022 with the mission to create beautiful dresses for every day. All Cocopiña products are handmade by talented craftswomen in Thailand using high-quality fabrics that will stand the test of time. Their dresses are produced in small batches to reduce overproduction and waste. Each piece is truly one of a kind!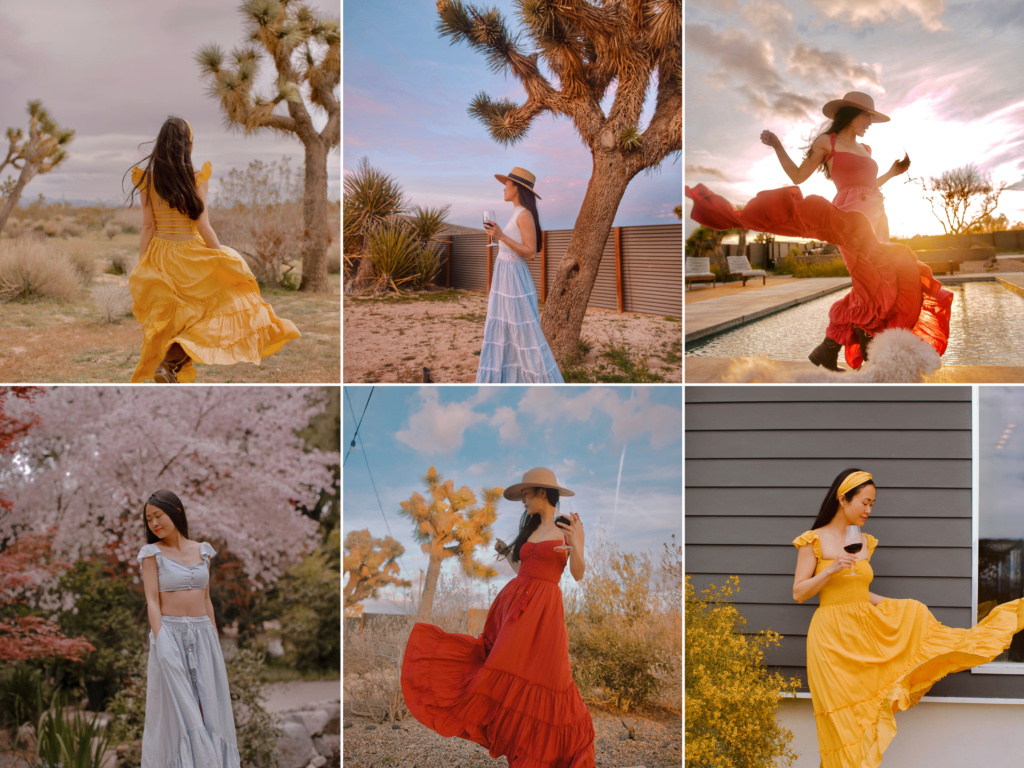 Based in San Diego their pieces are all vibrant, unique and new styles/colors are added seasonally. Loved by free spirits and gypsy souls, their maxi dresses are relaxed, feminine, eclectic, and carefree. Cocopina is really a one stop shop for all your spring/summer wardrobe essentials that you can transition from season to season.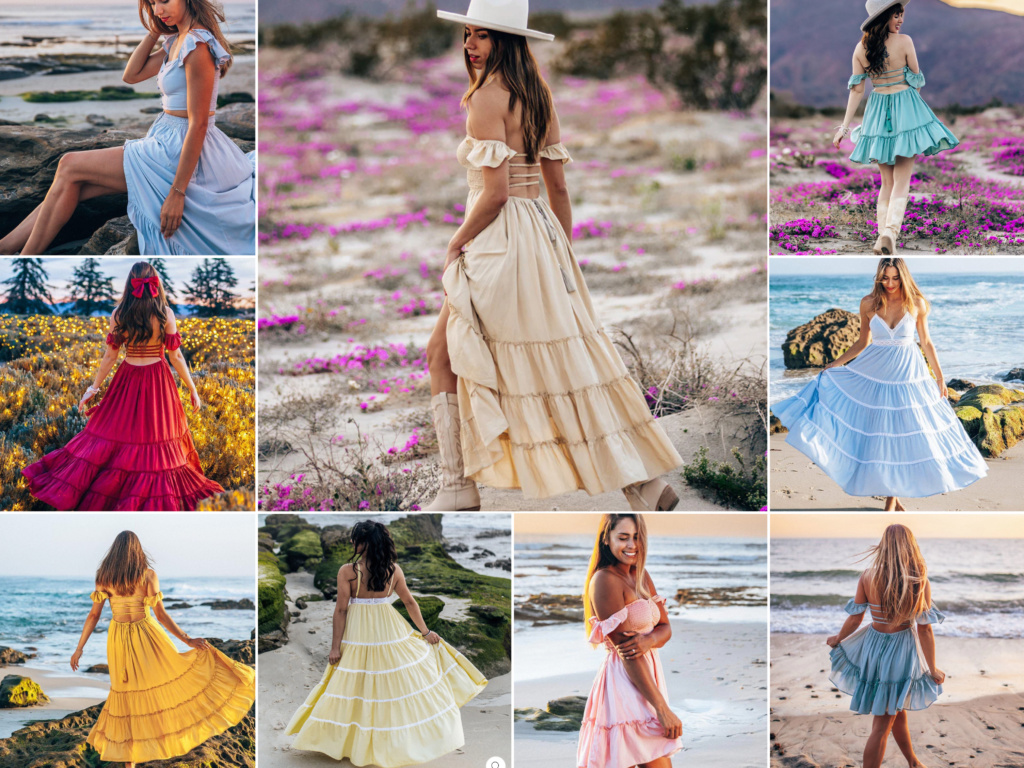 BELLE MAXI DRESS
Honestly, I really couldn't choose a favorite from all of Cocopiña spring/summer boho dresses, but their Belle Maxi Dress might be towards my top pick. Just adored the colors and intricate details on this dress. It has pockets and the length is petite friendly.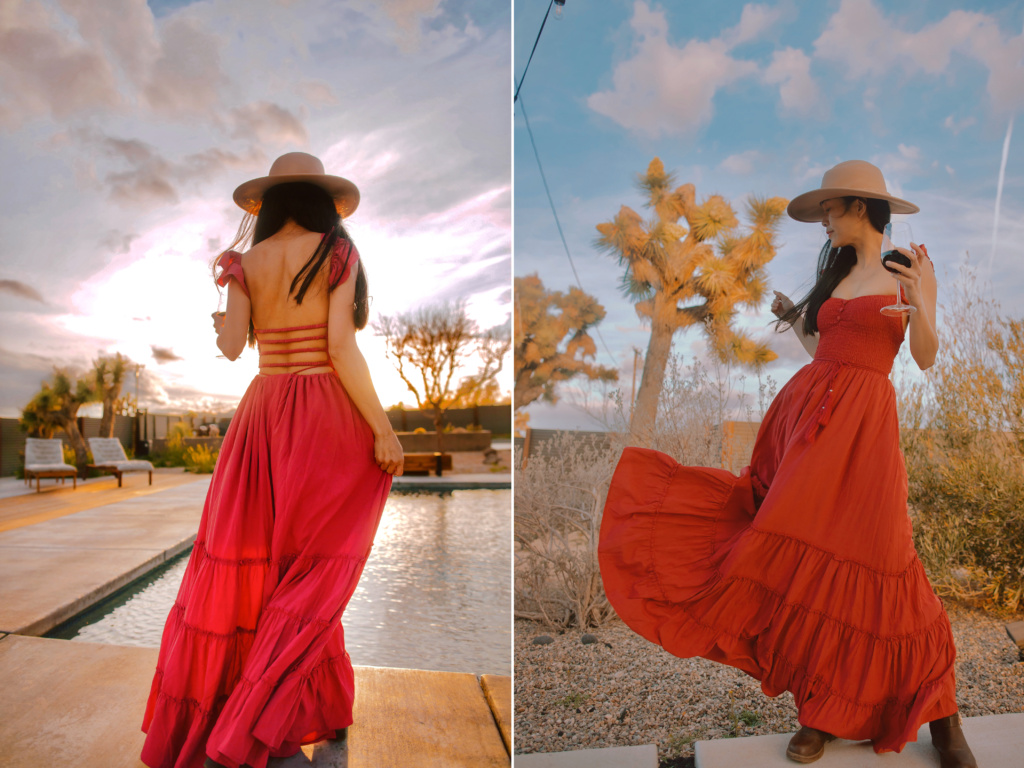 Belle maxi dress is designed for both comfort and style with smocked bodice, strappy back, tassel-tie waist, and fluttered sleeves that can be worn in two ways (straps or off the shoulder). What I love most about this dress is the way the fabric moves and dances with every move I make!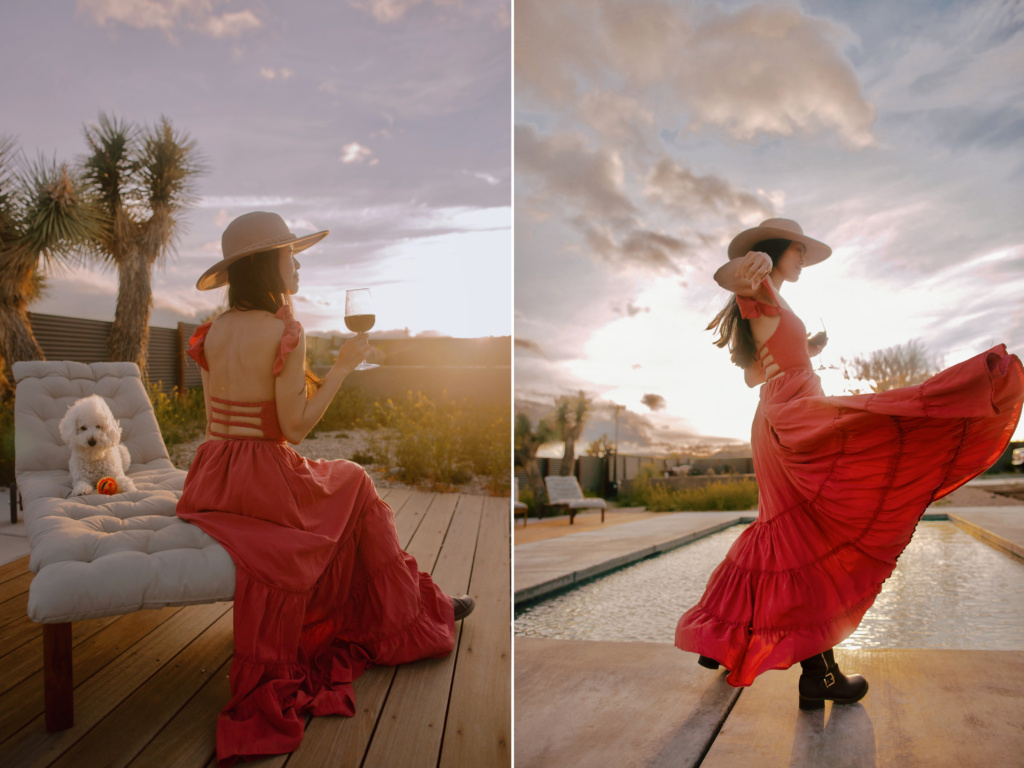 I love this dress so much that I got it in two colors: dusty red and daylily yellow. Their lavender and sand colors are just equally gorgeous. Belle Maxi Dress is the ultimate cool-girl statement piece.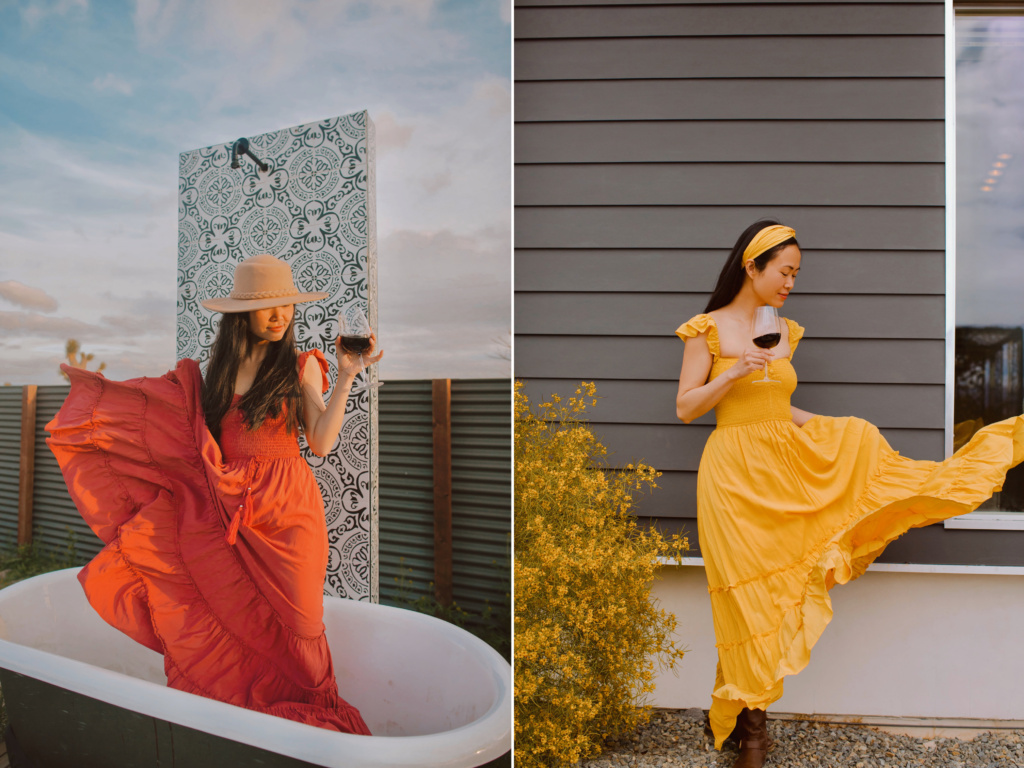 Finding a great dress and discovering it has pockets is always a wonderful surprise – after all, it's so much easier to stash my lipstick or strike a confident pose with strategically placed pockets. And all of Cocopina dresses have pockets! That's a win-win in my book.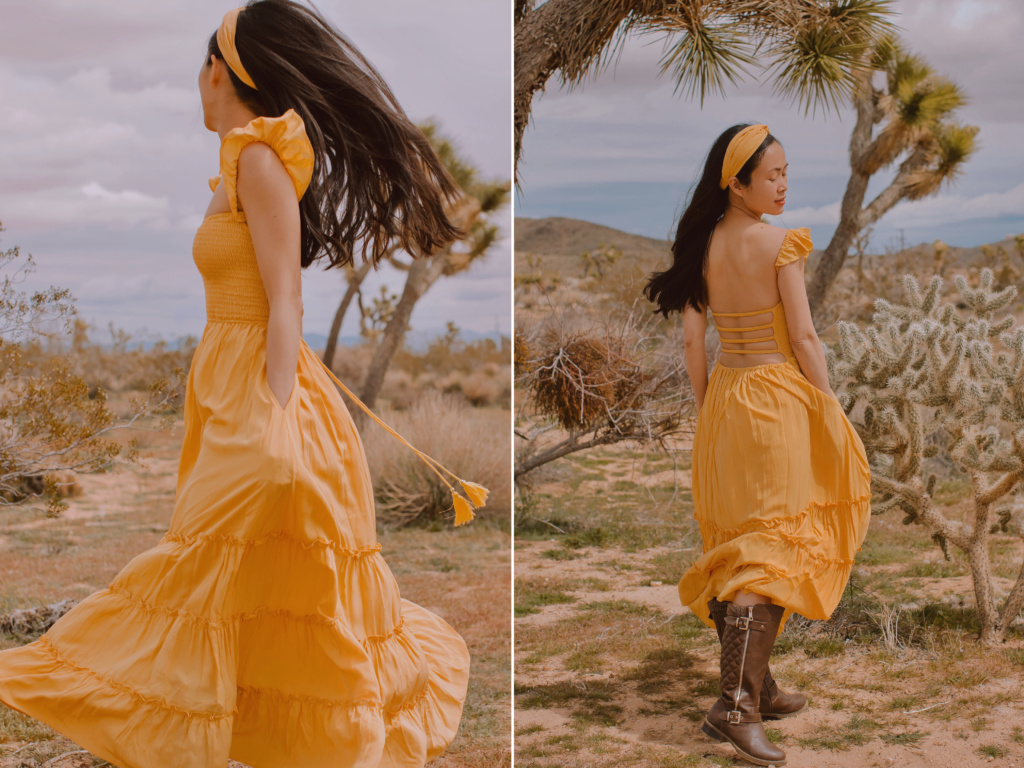 Coachella is just around the corner and you can embrace the festival spirit by pairing Belle Maxi Dress with hats, headbands, scarves, and cowboy boots.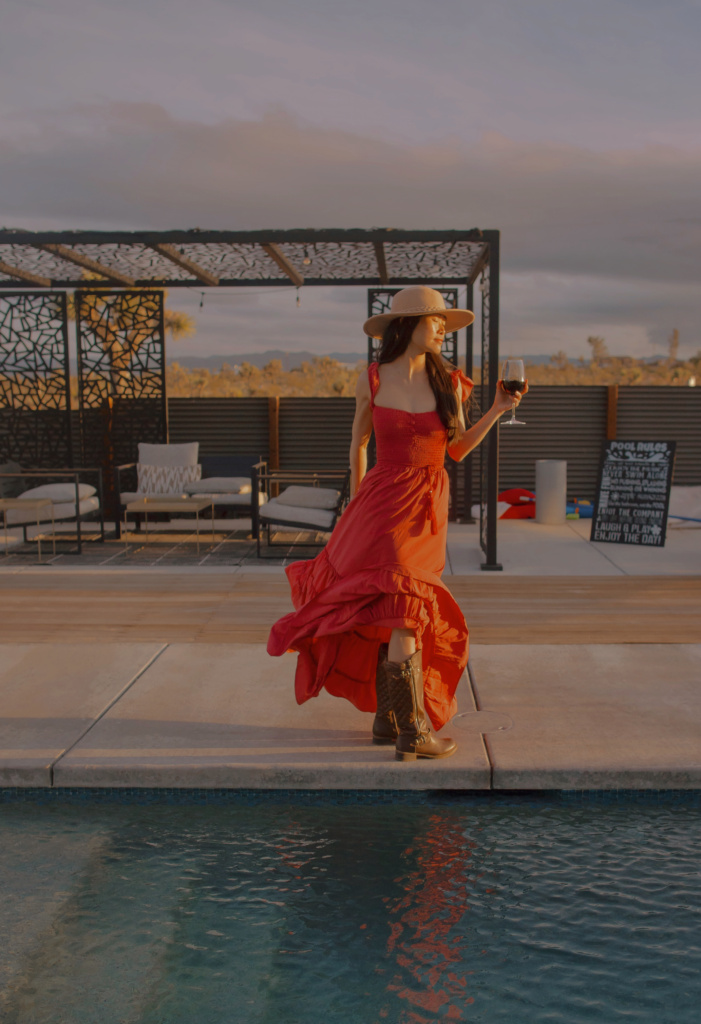 IZAMAL TWO-PIECE DRESS
Boho vibes are all about creating looks with freedom, flair, and flow to put away the winter blues and layer up for the spring. Spring time is really the months of maxi dresses. Cocopina Izamal crop top and maxi skirt set is ready for your next spring vacay. Designed with a smocked back and flutter sleeves on the top and pockets and a high-low hem on the skirt, this set is both comfortable and chic.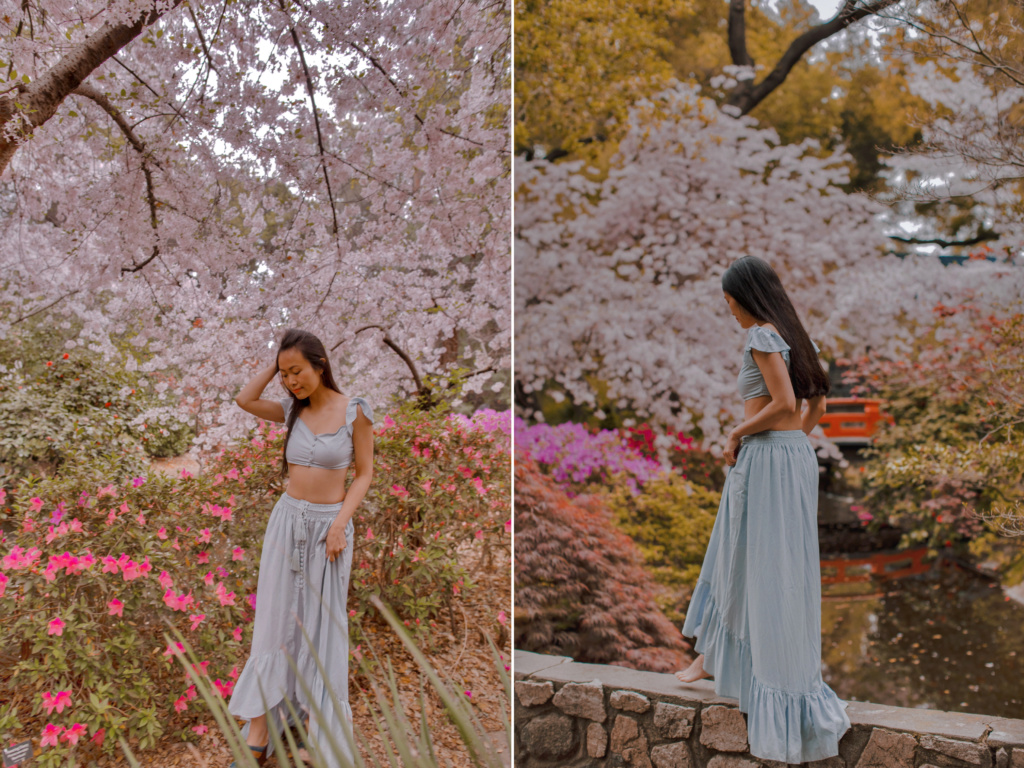 High-low hem dresses and off shoulder blouses are the ultimate in chic and boho style. So you can wear the two pieces in the Izamal set together as a look or style them separately with other items in your spring wardrobe. I styled the set with a small platform but easily could've worn flats with it too.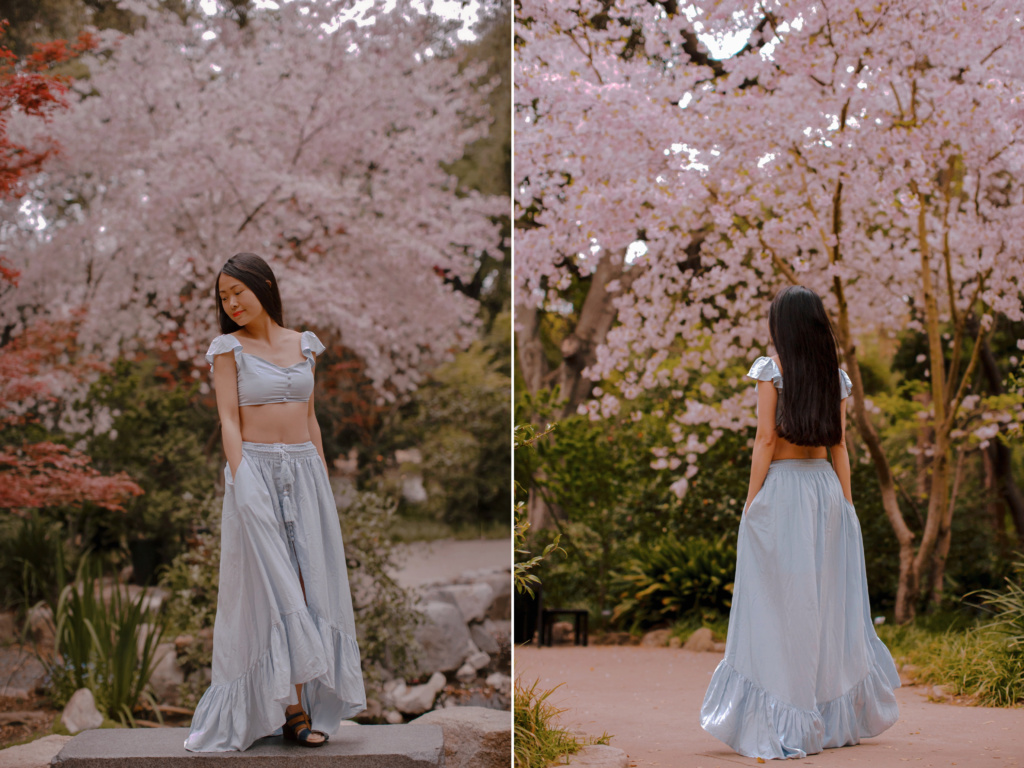 What I love about Cocopina is that they frequently update their look book with new styles and colors. For Spring/Summer 2023 they added this beautiful color of Tuscany Olive to their Izamal collection.
This flirty set is perfect for pairing with your favorite sandals and a cute bag for a chic boho vibe this season.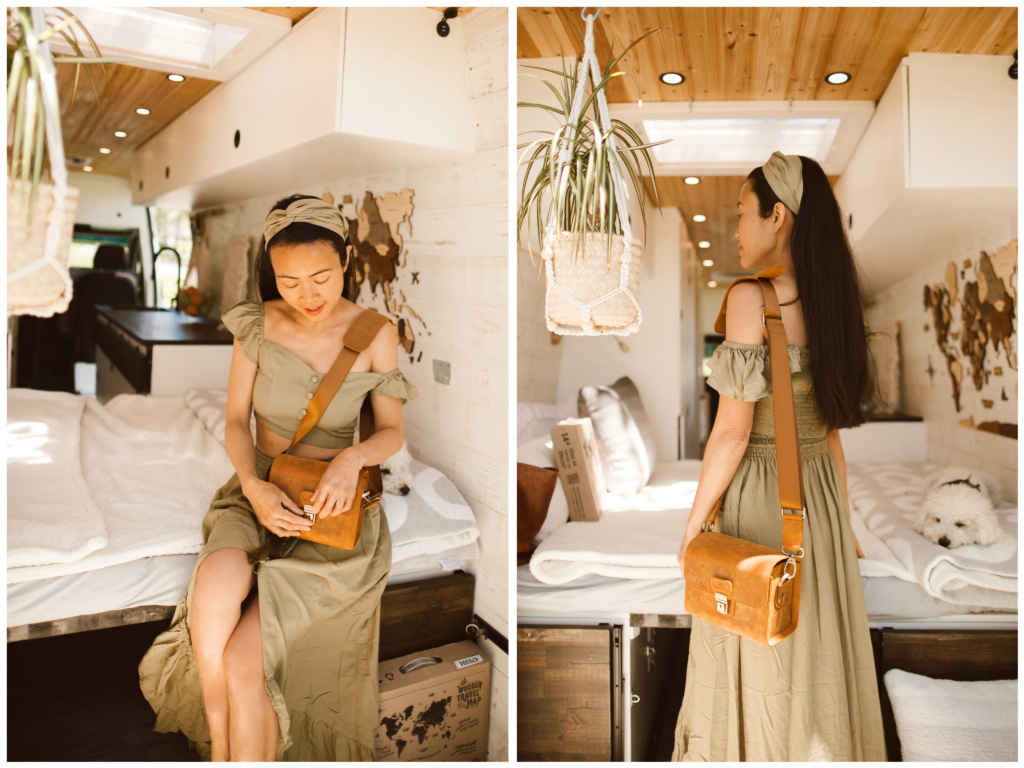 The form is insanely flattering, on everyone. Extremely versatile, for every style. Pair with a strappy heel and fine jewels for a rooftop evening dinner or wear with thigh-high boots for a festival fit to die for.
SICILIA MAXI DRESS
Another must-have spring piece from Cocopina is their Sicilia maxi dress. Their sky blue and white dresses are the perfect transition pieces that allow some airflow with a flowy hem. Put on this dress for a seamless flounce and voluminous look.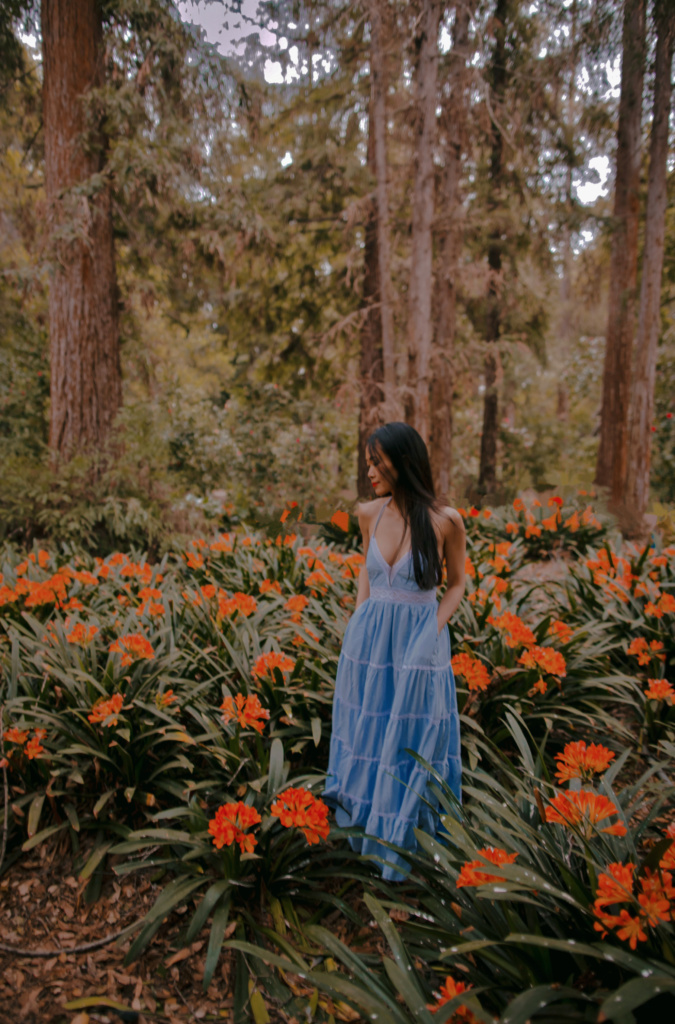 I wore this bountiful breezy dress to the cherry blossom festival in LA and among blooming buds, this sky blue boho dress is super chic and fun to twirl in.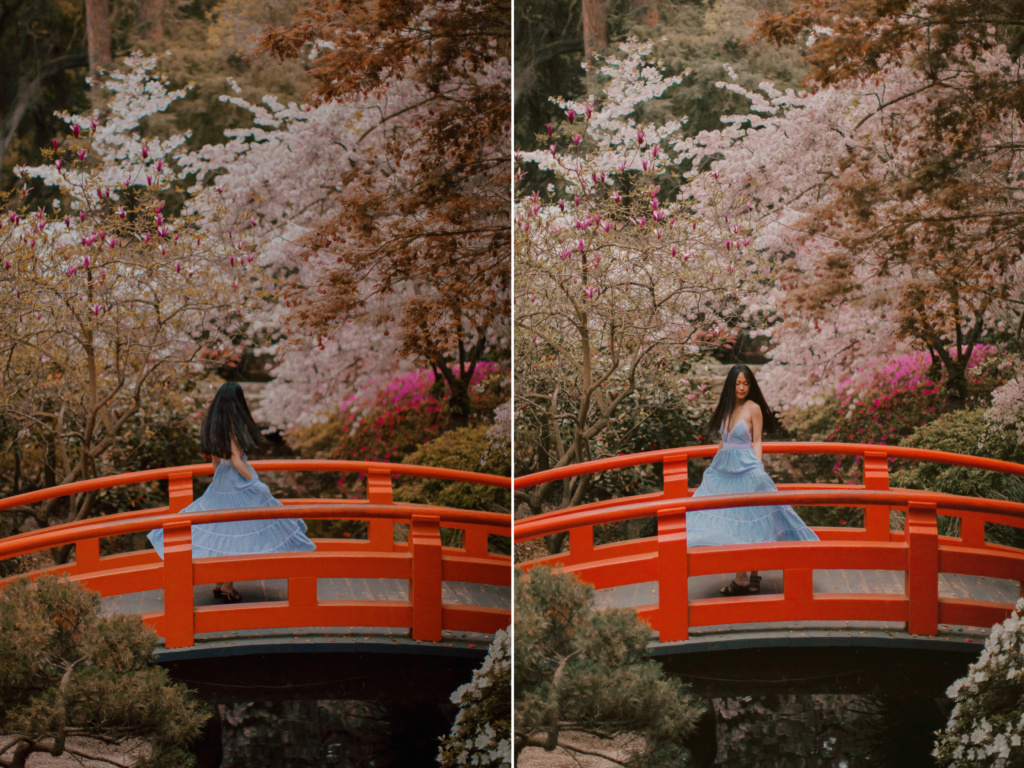 The halter V-neck and delicate lace details make this an effortless and elegant day-to-night style. This classic dress is an item that you can wear year-round. Style it with ankle boots in spring or gladiator sandals for a more beachy look. During the colder months, add a cozy sweater, and your favorite go-to boots.
SICILIA MAXI DRESS WITH SHOULDER STRAPS
This feminine Sicilia Maxi Dress with shoulder straps is effortlessly chic and just magical! It features adjustable shoulder strap and lace details at neck and waist. I love the dreamy light yellow color. It is perfect for casual during the day or dressy at night.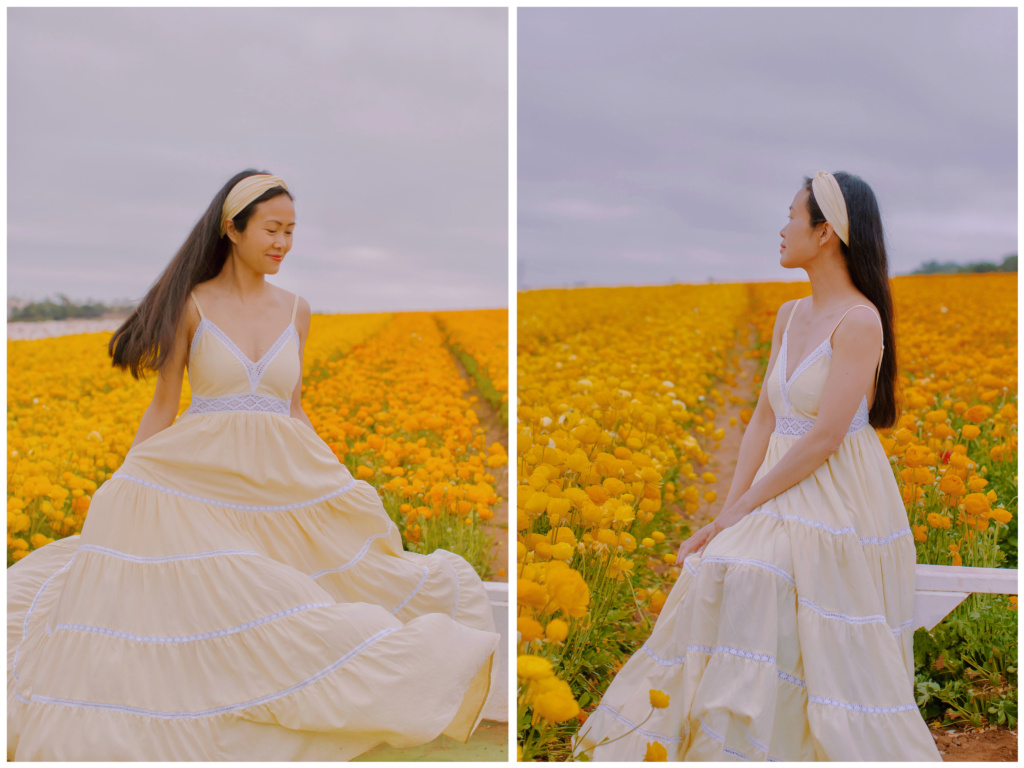 This stunning boho dress is elegant and effortless. It is easy to wear casual during the day with shoes for exploring and it is easy to dress up for brunch or an evening dinner. This dress will definitely last you multiple summers as it will be in style for years to come.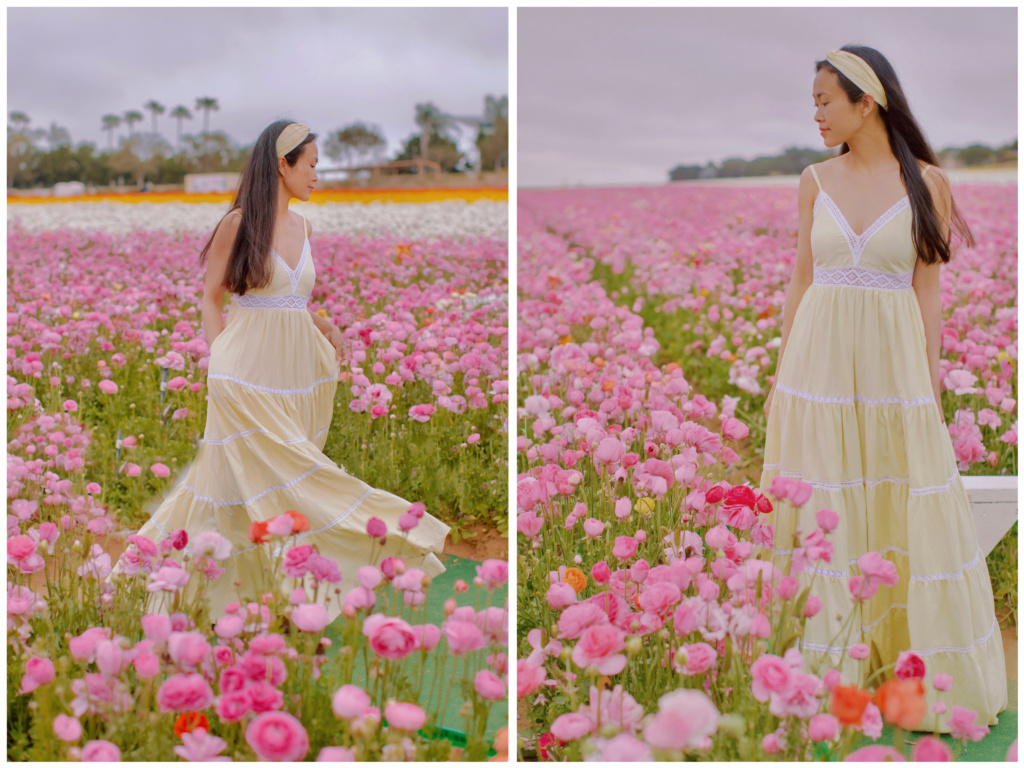 FINAL THOUGHTS
I try to wear dresses for as long as possible from the early spring days to very late into autumn. And the awesome thing about Cocopina maxi dresses is that they are versatile, and can be worn all year round. Your boho-chic love doesn't have to pause just because summer is nearing an end and temperature starts to drop. Just match their dresses with a warm sweater, knit crop top, or jackets for the perfect autumn/winter outfit.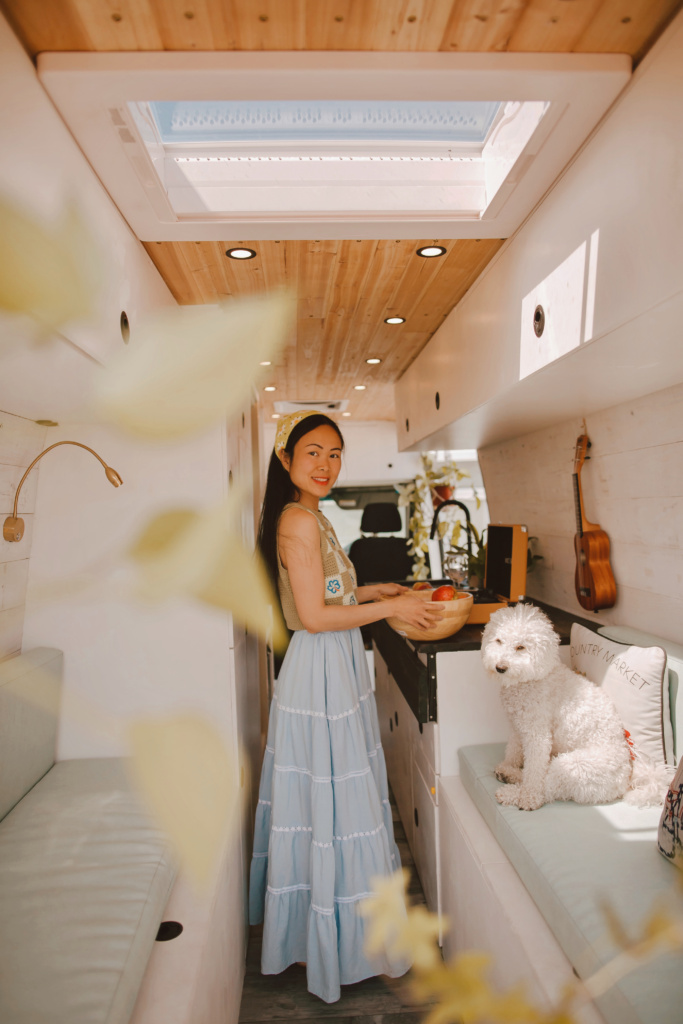 If you love loose flowy silhouettes, earthy colors and fun accents like embroidery or tassels, you'll love Cocopinã. Twirl and dance this spring season with Cocopina's signature boho maxi dresses for an extremely versatile look. Plus there is a complimentary matching headband with every dress purchase for a limited time!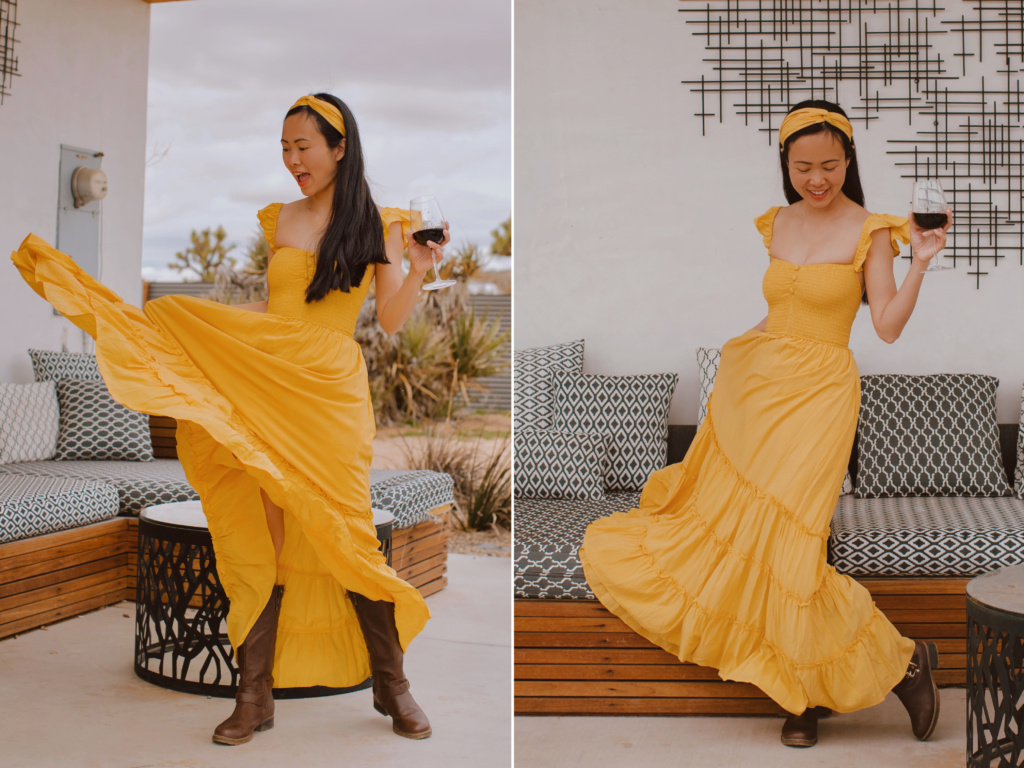 ***Thank you to Cocopiña Boutique for kindly sponsoring this post. All opinions are 100% honest & completely my own.
Pin this post for later!