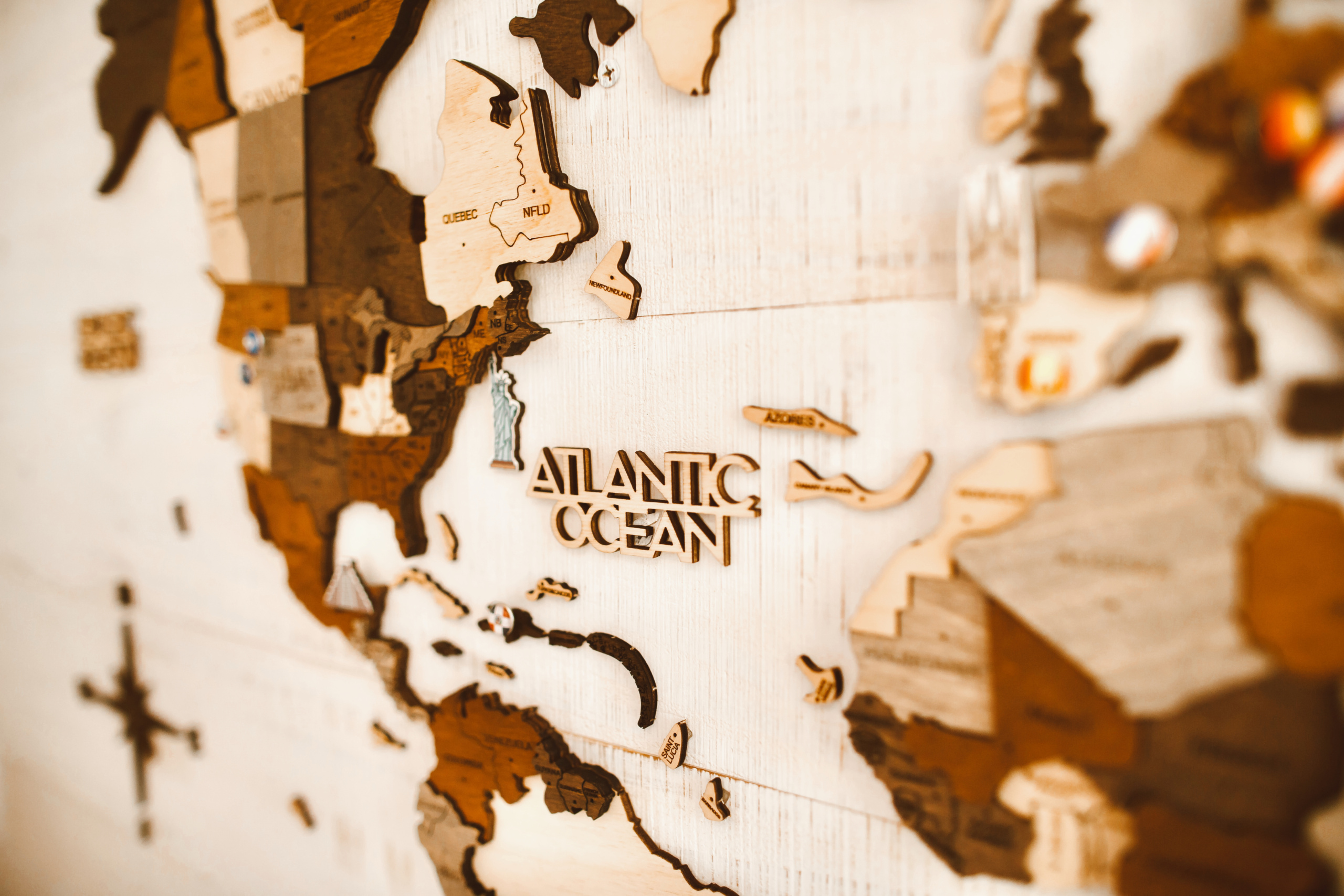 CAMPERVAN DECORATION IDEAS: WOODEN WORLD MAP AND NATIONAL PARK POSTERS
Campervans are the perfect vessel to explore the world from, so what better way to demonstrate that than having a world map and National Park wooden posters in your van? Our wooden world map and National Park posters are from Enjoy the Wood. They are our favorite interior decor pieces in our tiny home on wheels. Expertly handcrafted in Ukraine from the highest quality birch wood, Enjoy the Wood's World Map and posters are not just decorations, but statement pieces that bring the beauty and wonder of the world to our campervan's walls.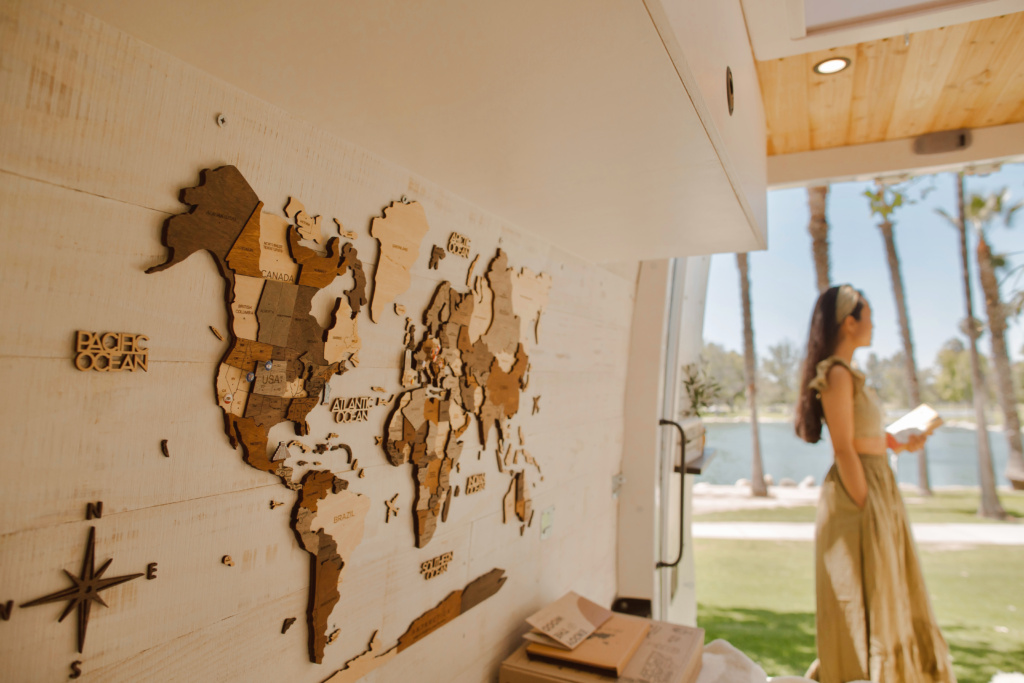 If you're an avid traveller like us or just someone who appreciates world travel and geography, then you'll love these wooden world travel maps and posters!
Enjoy the Wood – A Ukrainian craft business 
Enjoy the wood is a Ukrainian company that produces these wonderful wall maps of the world and wooden posters by hand. On their website, you can find their most popular product – world maps – in various colors and materials, as well as maps of the USA, Europe, Germany, Canada, major cities, globes, and more.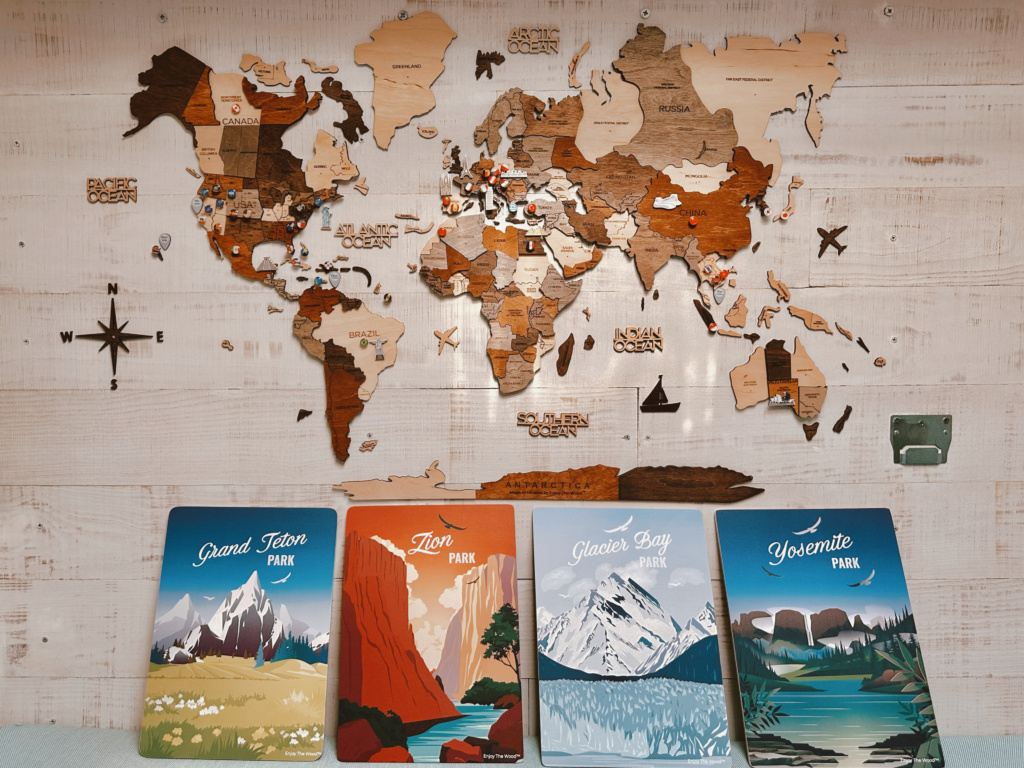 When you purchase these maps and posters from Enjoy the Wood you will be supporting a family-owned Ukrainian business whose members had to flee their home country and now are trying to rebuild their offices and production facilities!
Different sizes and options of the world map
There are different styles to choose from. There are Multicolour, Oak and Walnut, to quirky designs like Nordik, Cappuccino and Space. They come in four sizes ranging from Medium to XX-large. You can choose the level of detail you'd like on your map, and there are three different options:
Blank Map (only Map with names and borders NOT engraved)
Prime Map (only Map with names and borders engraved)
Prime Plus (the map comes with names and borders engraved as well as nine wooden photo frames).
My choice of the world map
I opted for the multicolour version in the Medium (24″x 39′) size. This size and color choice suite the existing interior decor of my campervan perfectly!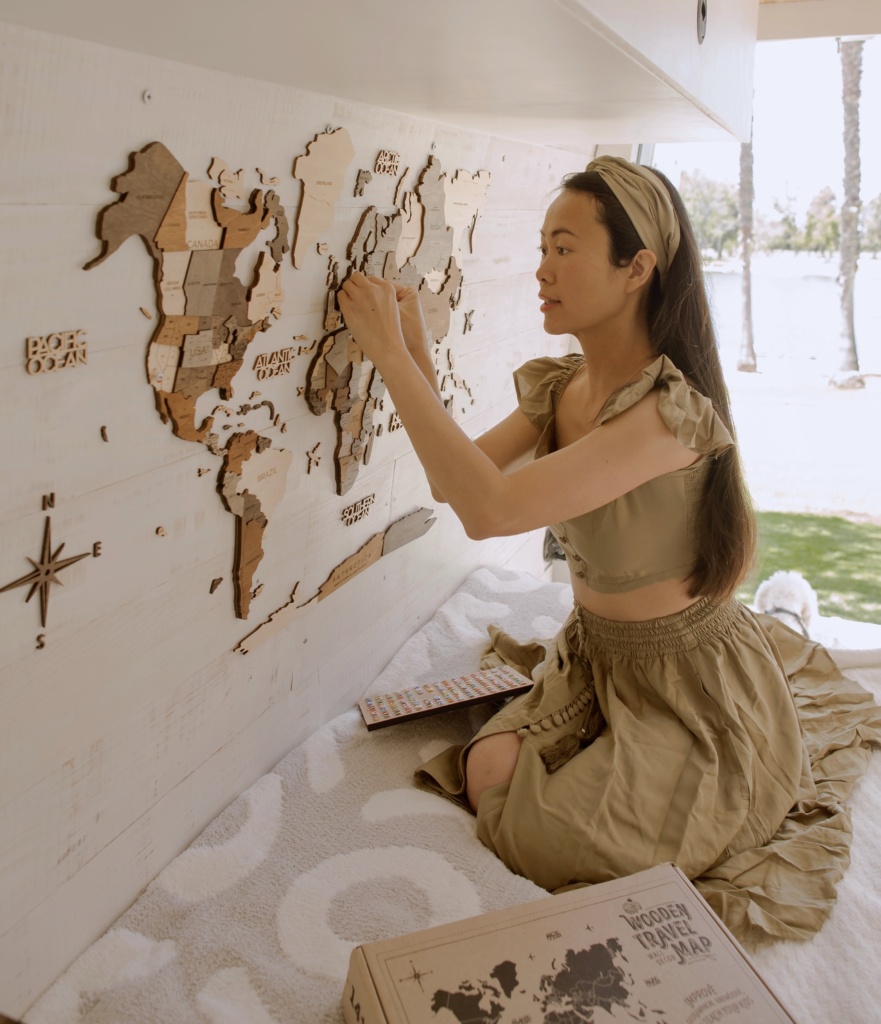 Unboxing and instaling the world map
The products are shipped in well-packed boxes with easy to follow installation instructions. Inside you'll find:
Wooden map pieces
Box with islands, ocean names and other wooden pieces
Double-sided sticky dots
Installation instructions and QR code
It took our family about 2 hours to install the World Map; we had so much fun putting it together and reminiscing about our adventures.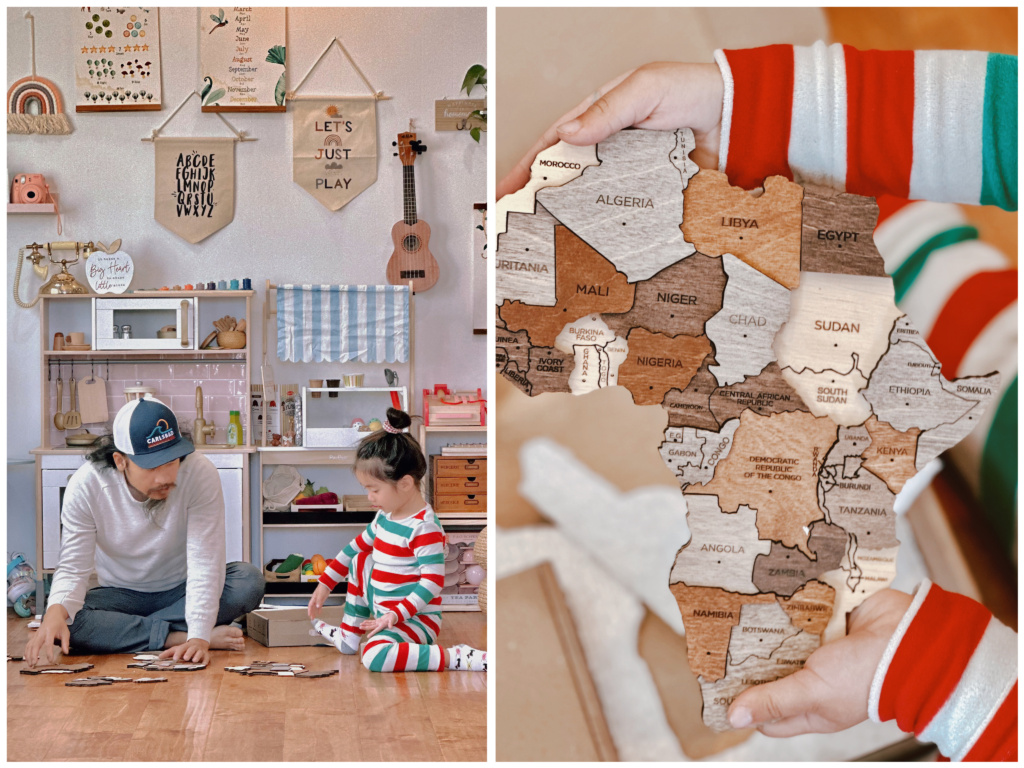 Before putting on our campervan's wall, we first laid out the pieces on the floor, making sure that all the pieces were there before fitting them together like a puzzle. The map pieces are beautifully cut and engraved.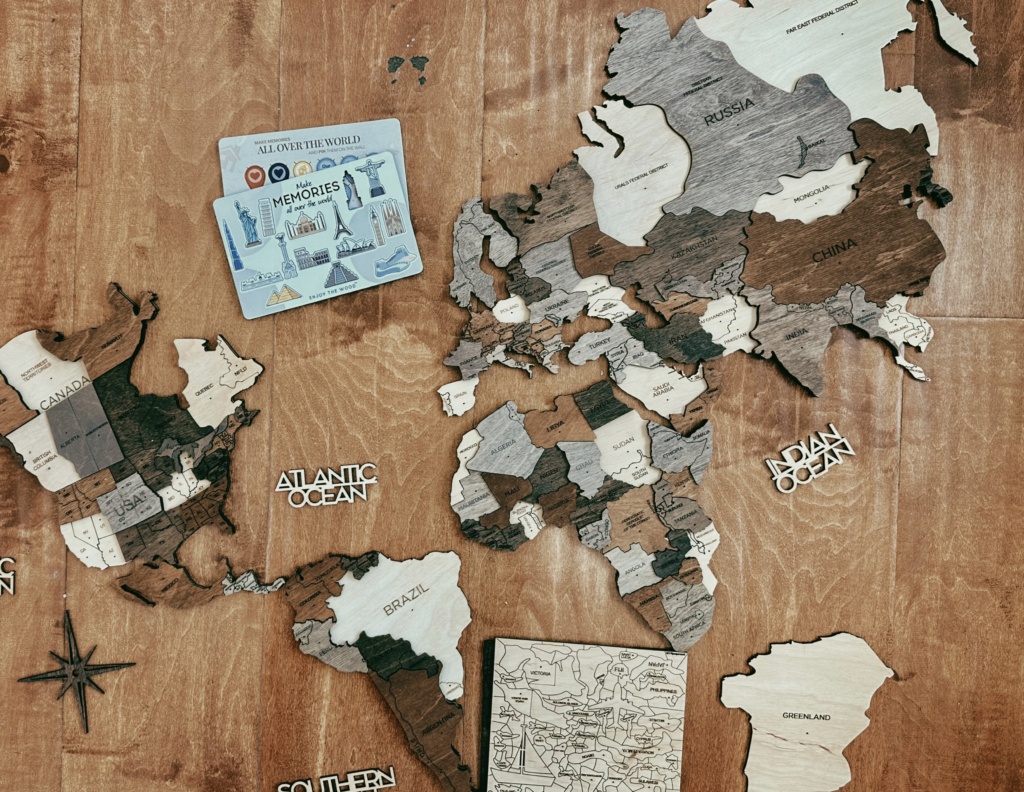 It's quite surprising how many pieces they include and the craftsmanship that goes into it. I love the fact they're made from birch plywood which is eco-friendly and durable.
Putting the world map on our campervan's wall
In order to put the map on your wall properly, you'll have to follow the instructions, which are quite simple! Inside the beautiful package you will find paper instructions accompanied by some QR codes that will also show you simple video tutorials.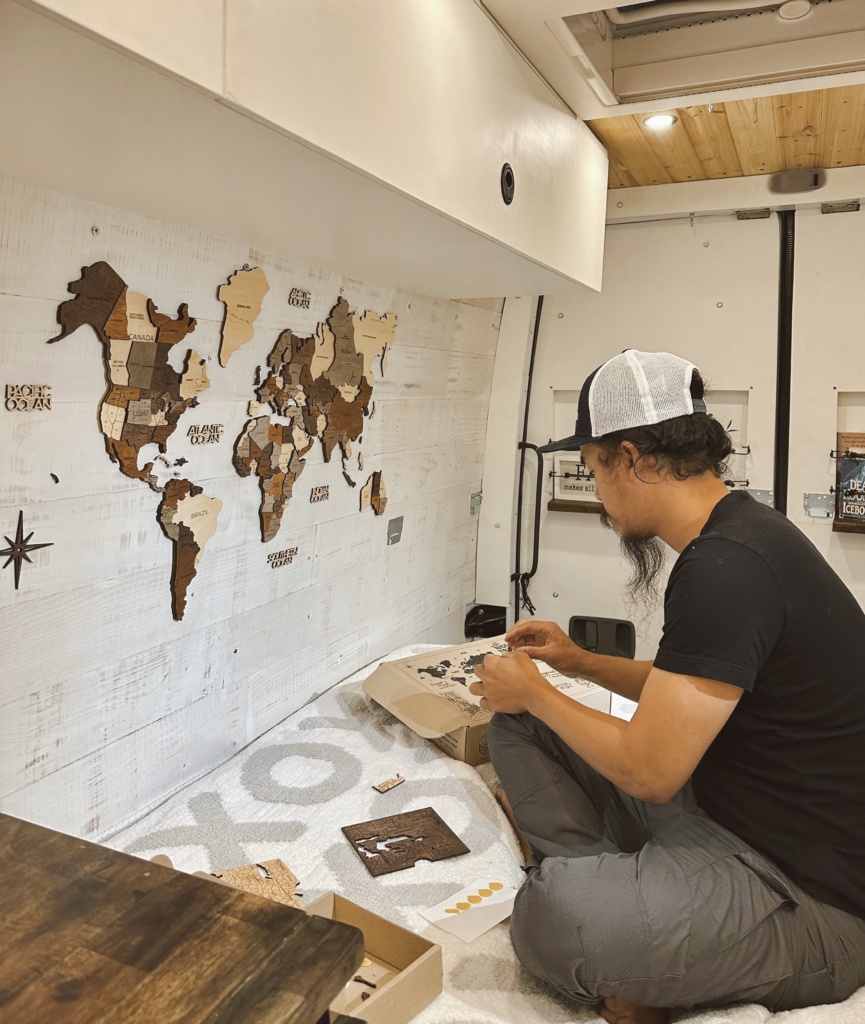 In our opinion, the hardest part of placing the wood map on the wall is sticking the double-sided tape to the back of each piece. It's quite time-consuming to peel the backing off of the tape and then place it on the back of the map.The rest of the installation process is just placing the various pieces of continents/countries and assembling them together. Many of them were already stuck together in big pieces, but the small islands were the hardest.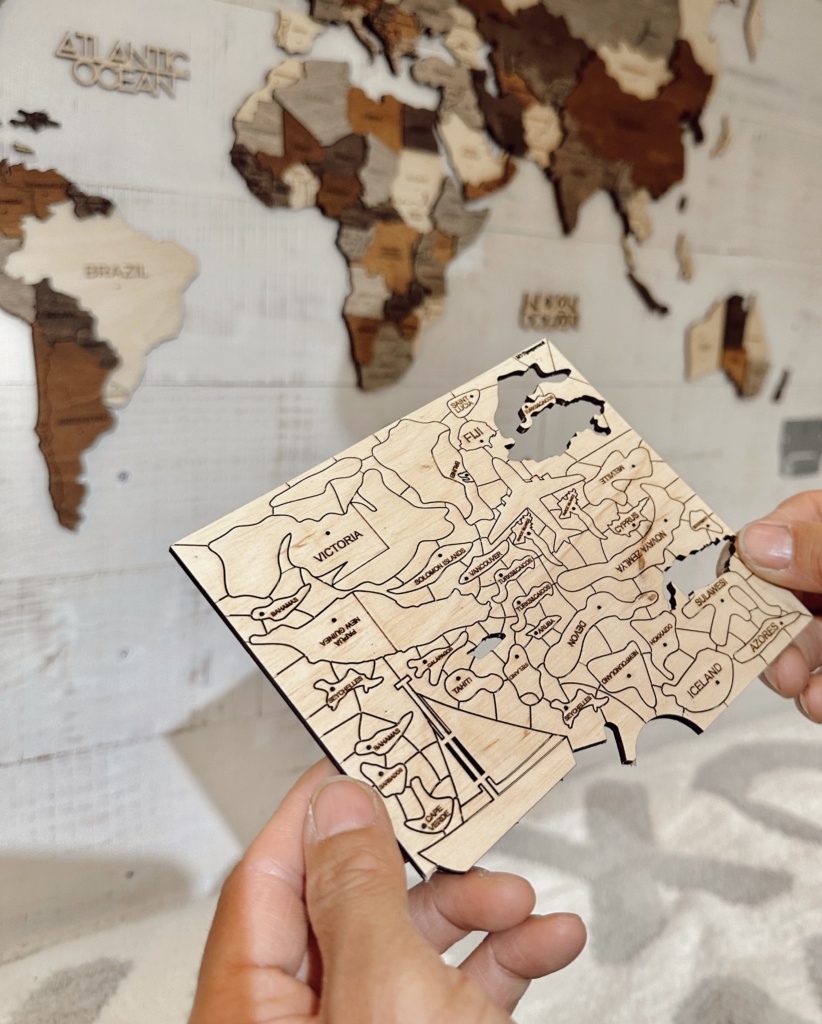 The final step was the detailed pieces. One of the interesting features of the Enjoy the Wood 3D Map is that it comes with ocean names, wooden airplanes, boats, and even a compass that really adds to the beauty of the map. These used to be additional accessories but are now included with your purchase.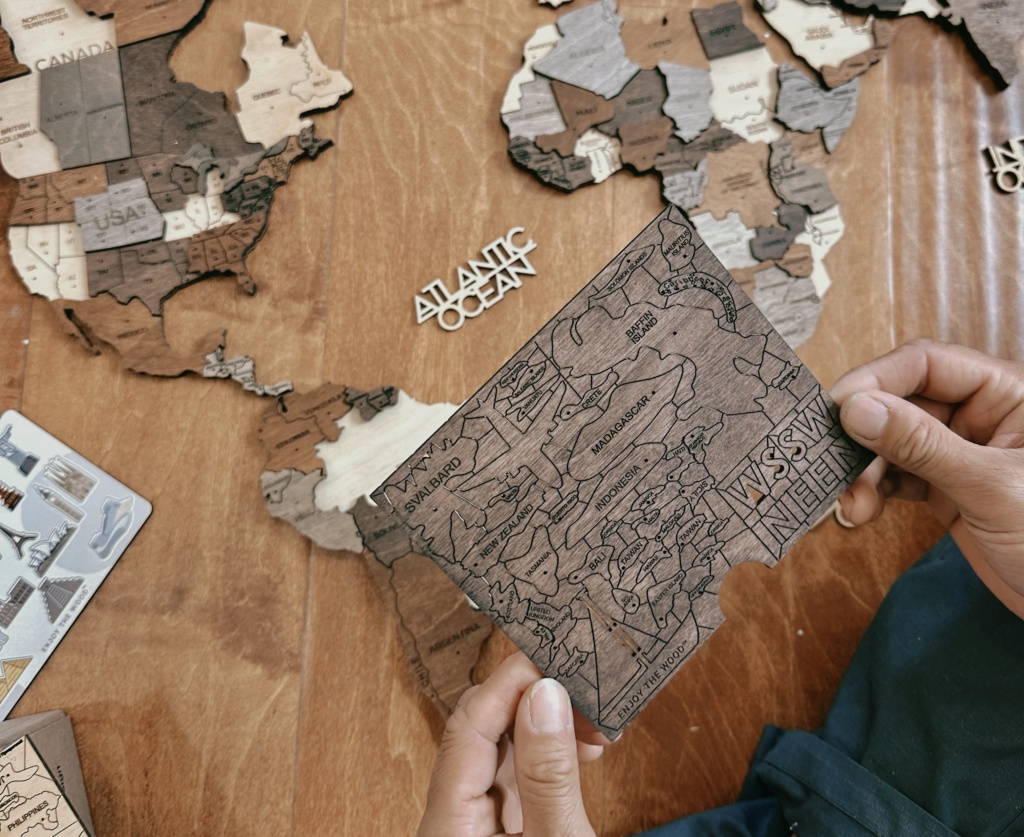 This part took a little more time because we had to gently tease them out of the wooden board they're etched into. Placing them required a little more accuracy as they don't join like the larger pieces.  Each one must be placed individually.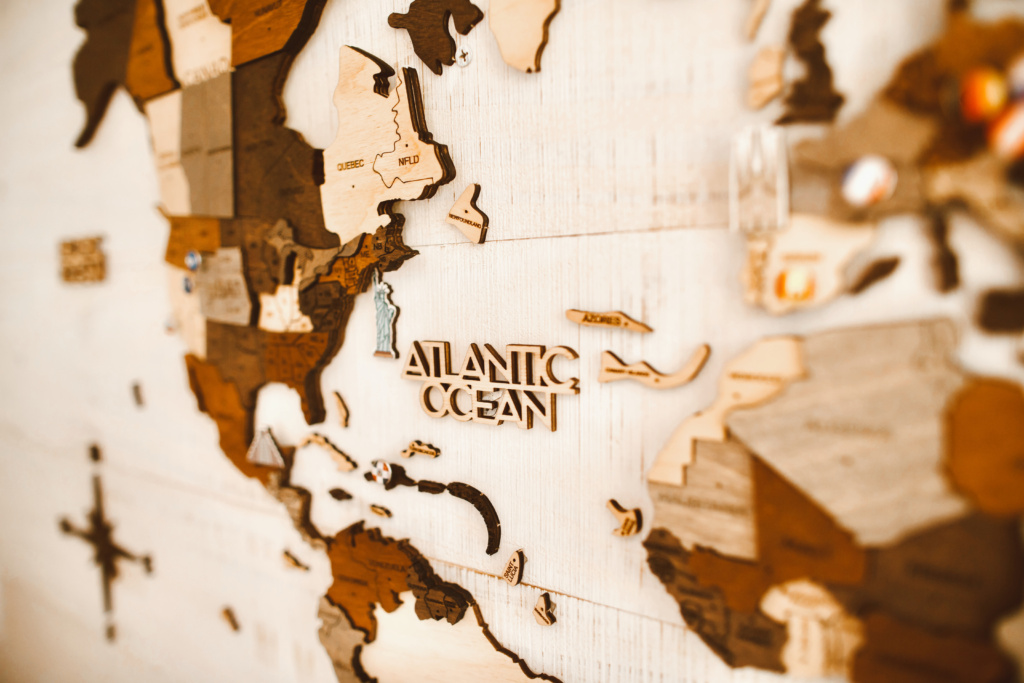 Wooden Map's Accessories
Although the wooden world map is beautiful on its own, one of the key features is the push pins, which allow us to pin the countries (and regions) we visited and have our travel bucket list in front of our eyes. Each country has its own pin and you'll also find pins from each Canadian province, each U.S state, and even the states of Australia.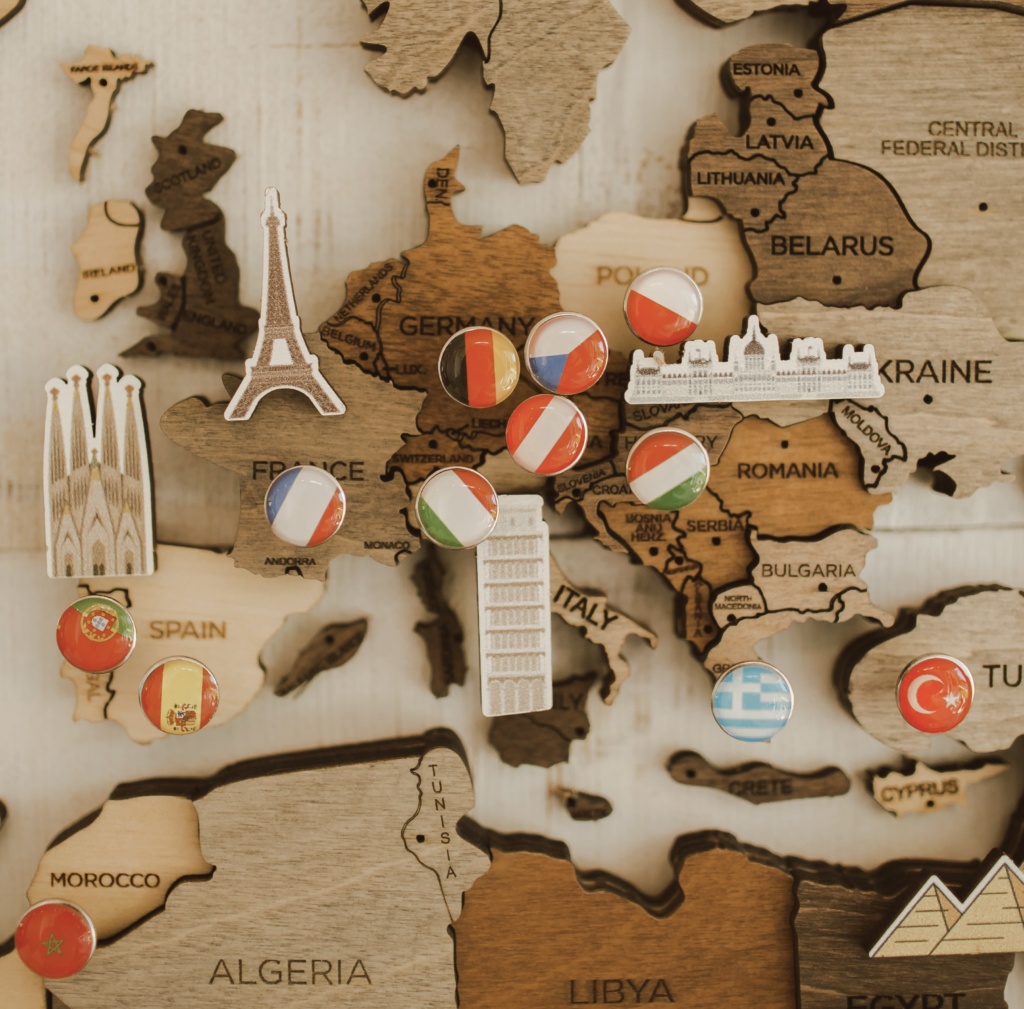 We also love the sightseeing pins (like the Great Wall of China, the Sagrada Familia of Barcelona,…) and memories pins to mark the special event at any place of the world (our first trip, our wedding, where we met,…).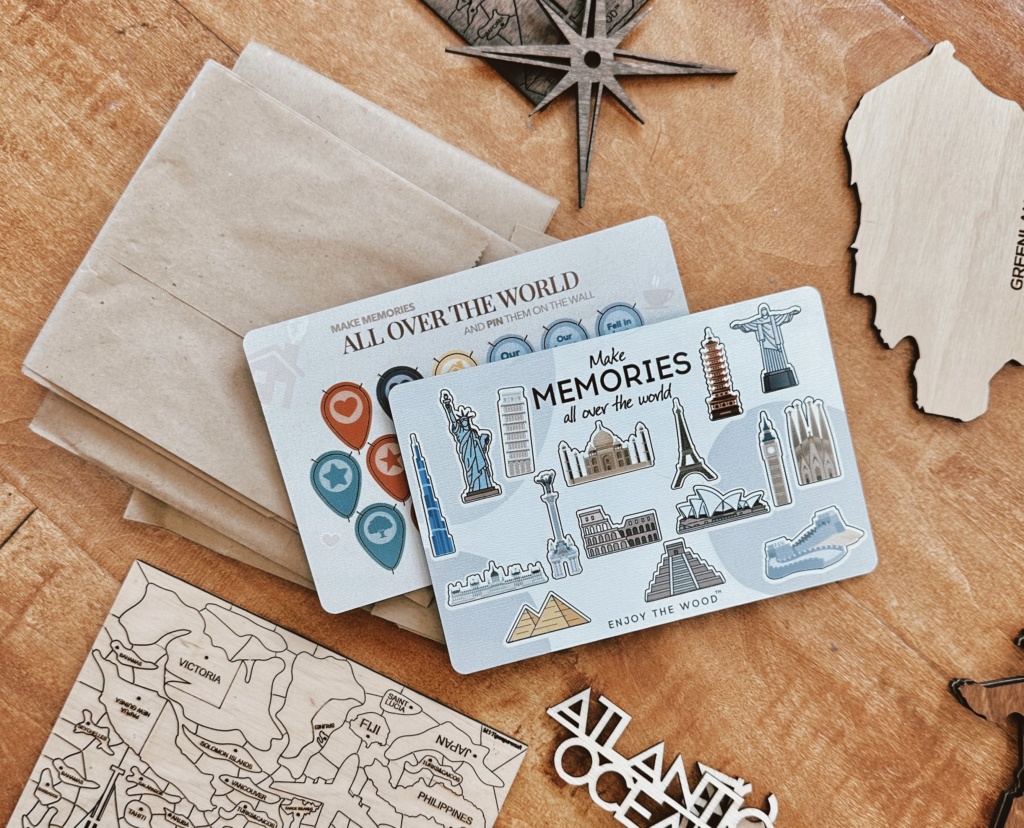 It's so meaningful for us as we both love to travel and have had great memories around the world. It brings joy to us as we search through the pins to find the destinations we've been to!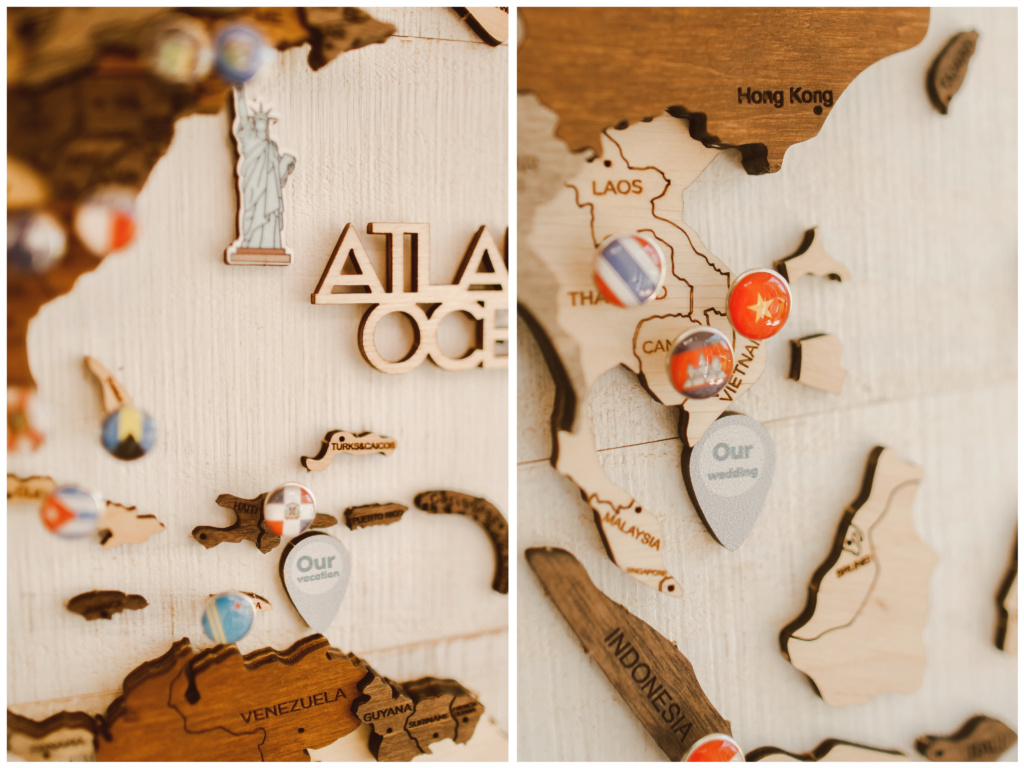 Enjoy the Wood's US National Park Wooden Posters
Most of you may already know about Enjoy the Wood's famous world map, but you might not know about their wonderful collection of National Parks wooden posters!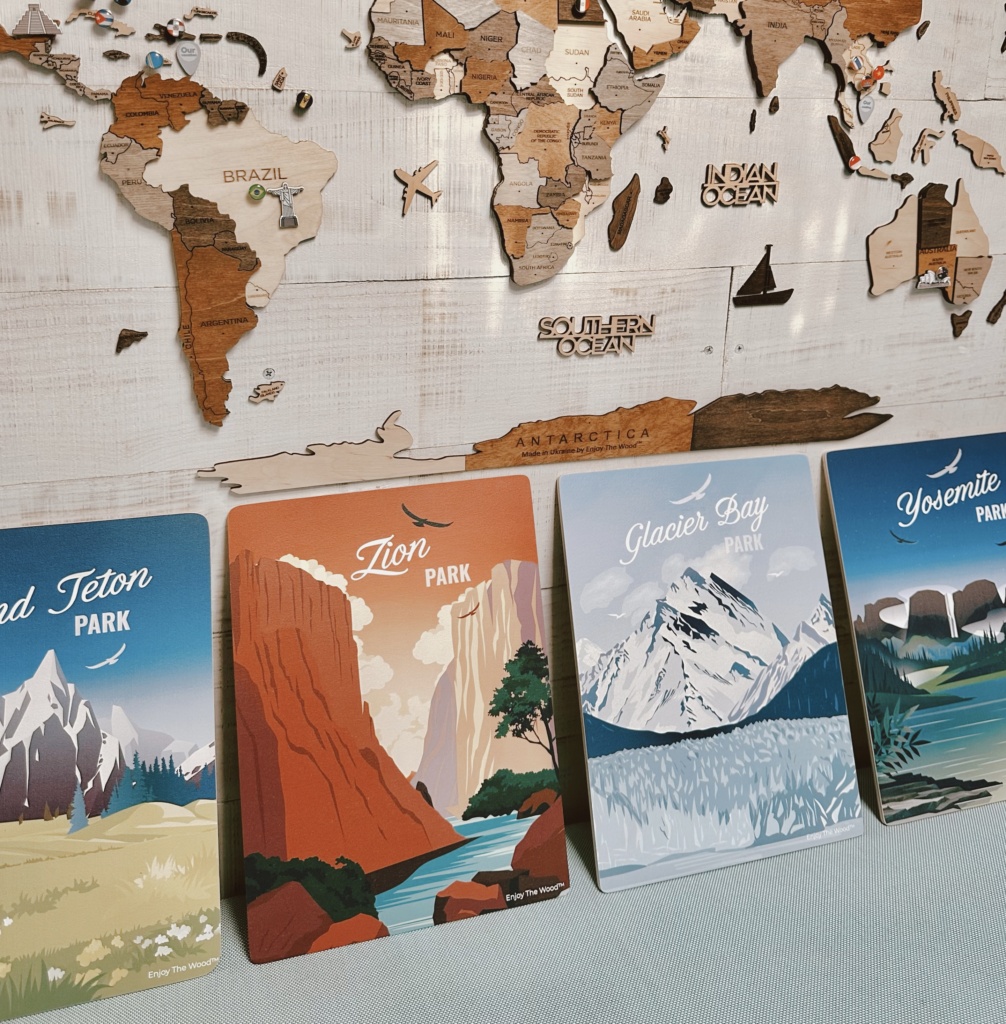 One of the challenges when decorating our campervan is how to dress up all the blank spaces on the sliding door and the back rear doors. We decided to turn these boring white wood panels into our own "National Park" galleries.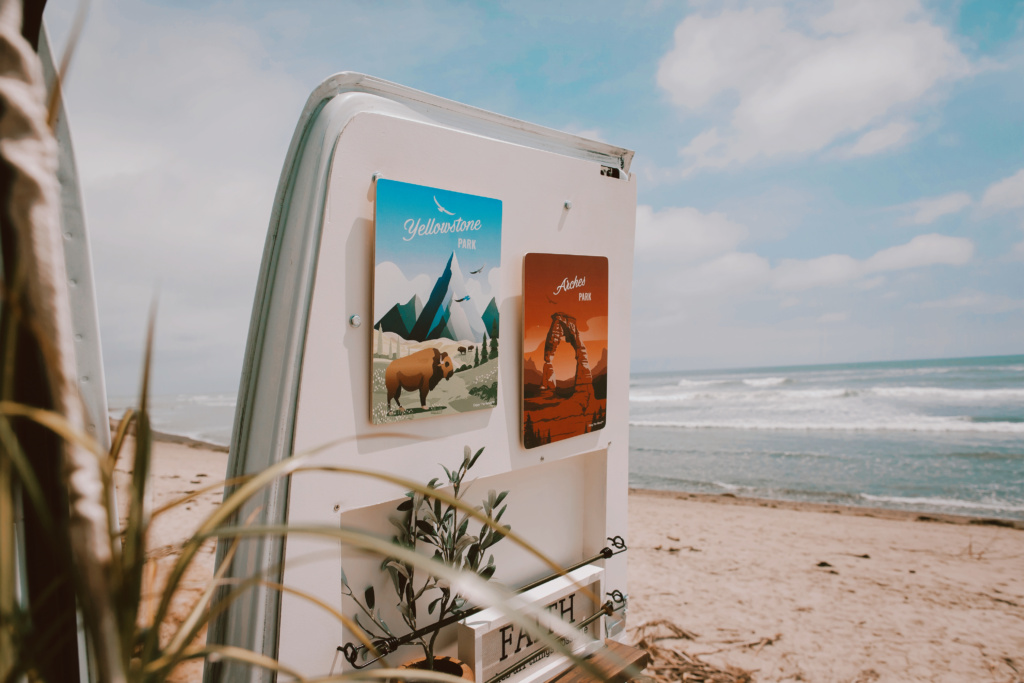 As our van's interior wall is decorated with Enjoy the Wood world map to mark the countries we have been to, our sliding door and back doors help us reminiscing about US Narional Park adventures.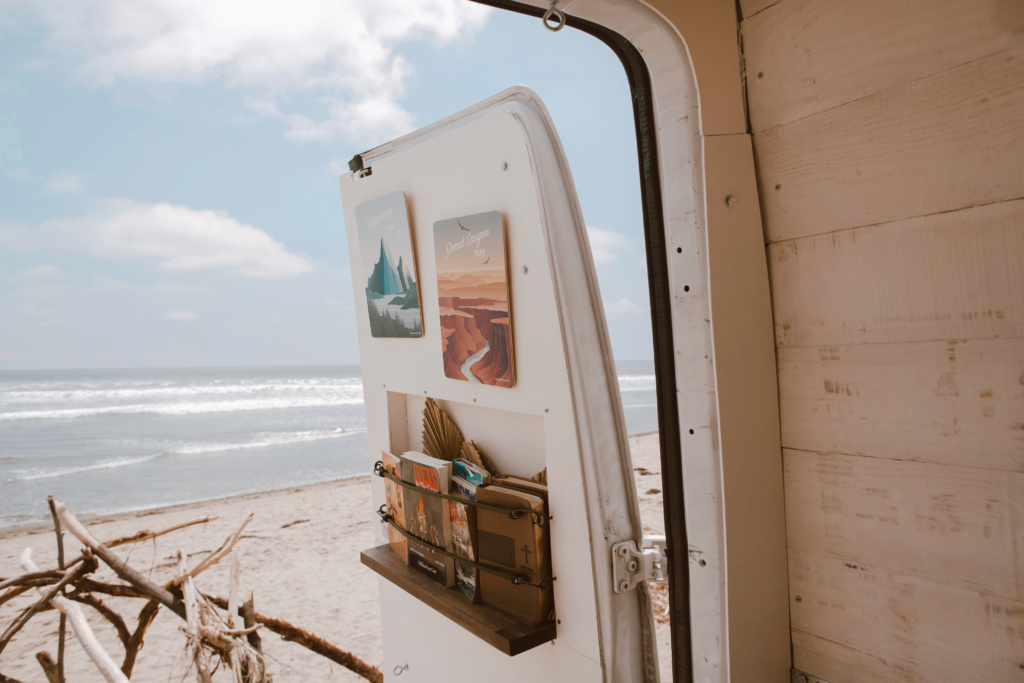 These sleek posters make beautiful conversation starter pieces that will look great in your household, office, and tiny home on wheels like ours. If you are a National Park enthusiast like us, these posters will make great statement pieces that bring the beauty and wonder of US National Parks to your campervan walls.
Final thoughts
We got tons of compliments about our 3D wooden world map and National Park wooden posters. They really look incredible in our van and we even find ourselves admiring them all the time. The map was right at our bed so that's the first thing we see in the morning.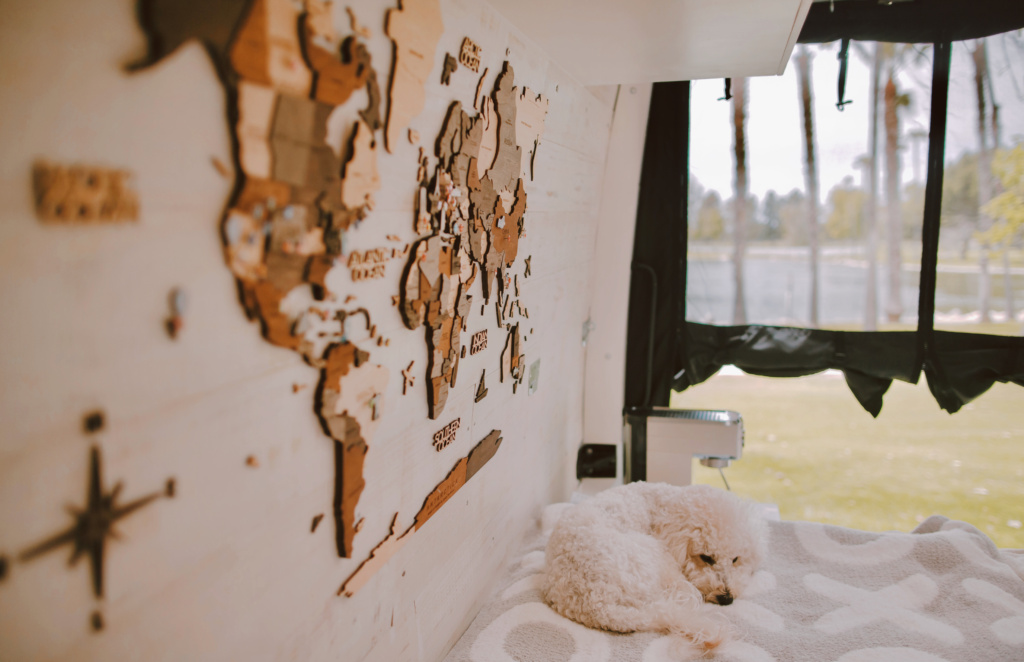 These unique wooden décor items really go well with any style (contemporary, industrial, transitional, minimalistic, rustic,…). Not only do they display our wanderlust in a unique way, but they also remind us of all the incredible places we've been to. They also make unique gifts for travel addicts, interior lovers, and a perfect way how travellers can #standwithukraine!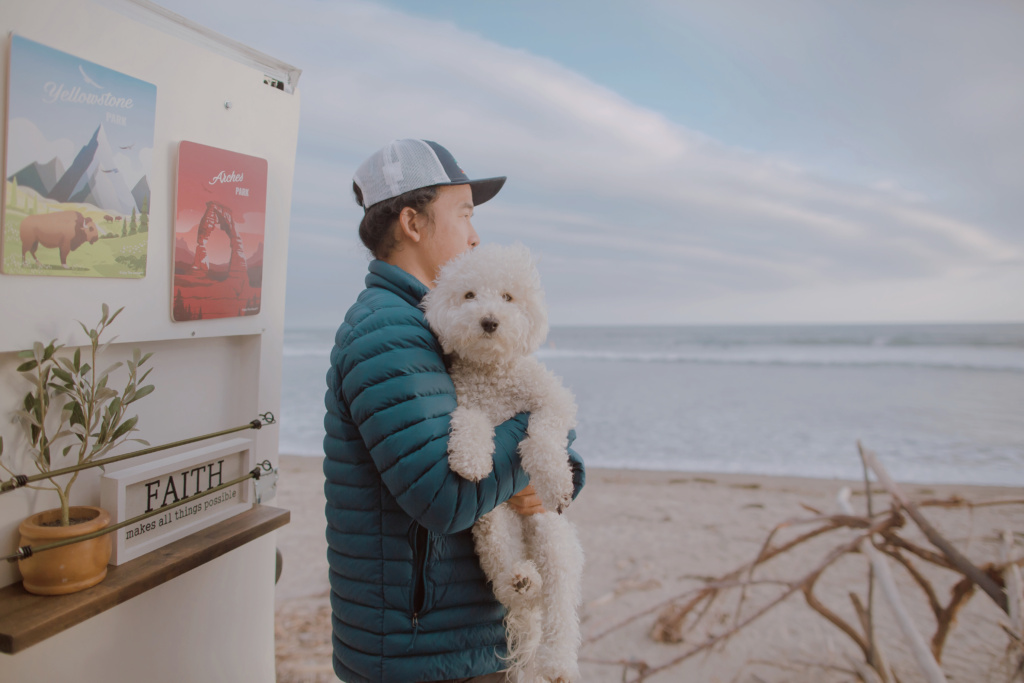 Mark the countries and national parks you have been to, plan your future adventures and display your wanderlust in a non-conventional way with Enjoy the Wood's world map and wooden posters. Use my code "MAY" to get 12% off your order!
***Thank you to Enjoy the Wood for kindly sponsoring this post. All opinions are 100% honest & completely my own.
Save this post for later!