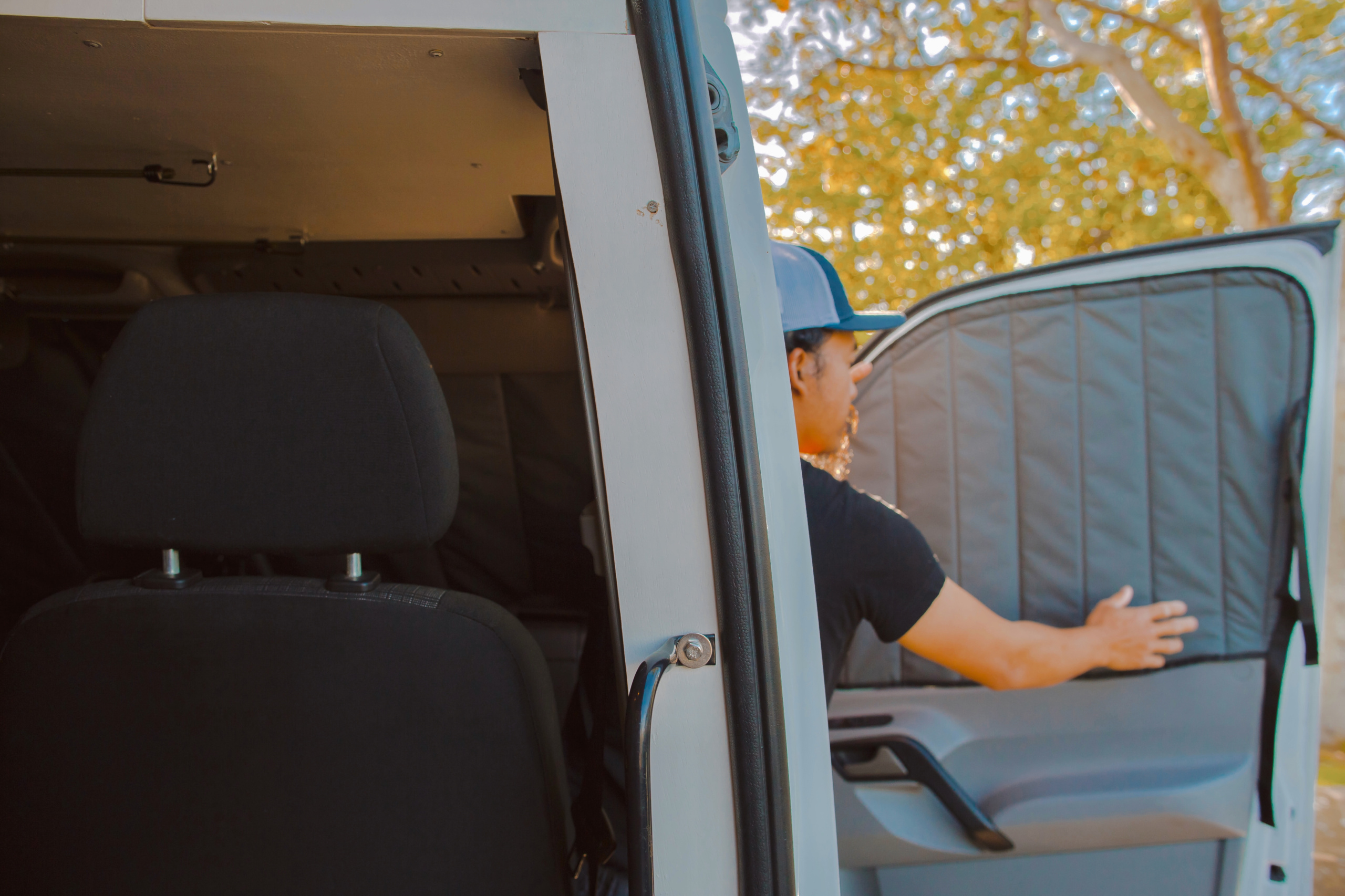 VanEssential: Window Covers, Roof Vent Cover, and Bug Screens
Insulated window covers are a "must-have" for campervans. They do more than provide privacy and control ambient light; they also help control temperature inside your van. After three years on the road, we have realized the value of having professionally made window covers that are helpful for thermal insulation and stealth camping. It can be overwhelming when searching for Sprinter van window covers. Our favorite window covers are made by VanEssential. Not only are they small business but they are vanlifers who made these covers with vanlifers in mind. Besides making window covers for Sprinter/Promaster/Transit, they also make bug screens that are made of transparent micromesh. Their bug screens offer optimal visibility so we can enjoy a pest free environment without obstructing the outdoors' views.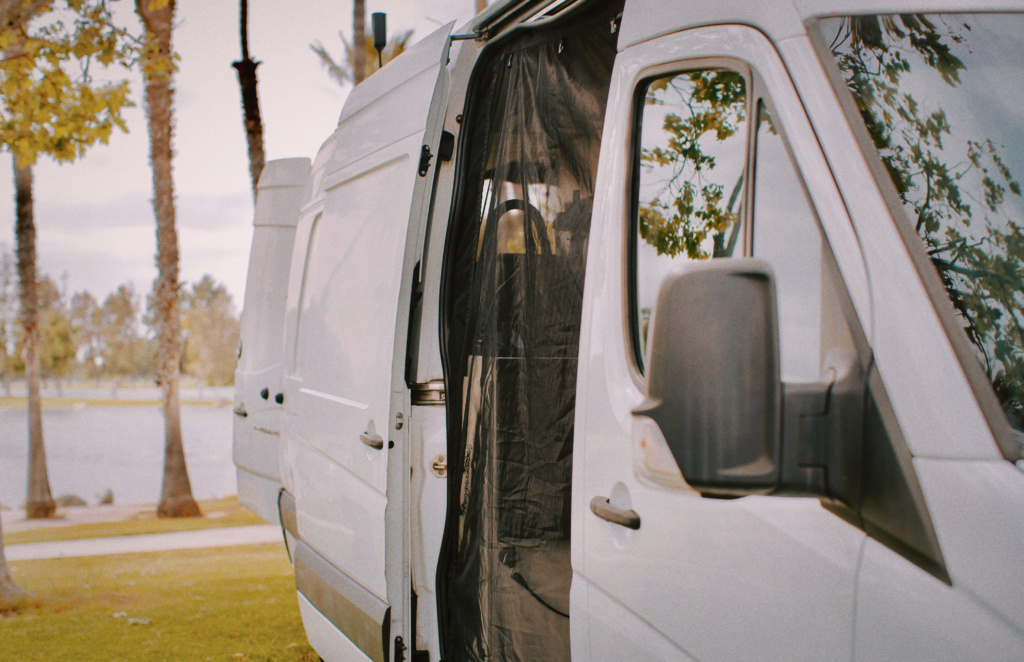 In this blog is our full review of VanEssential's window covers, roof vent cover, and bug screens.
Window Covers
VanEssential has some of the best covers we have seen at the most reasonable prices. They are made with rare earth magnets and high quality premium material. By strategically inserting magnets all around the edges, their window covers are super easy to install/remove. They simply snap to the metal window contour. Neat and functional, like it should be!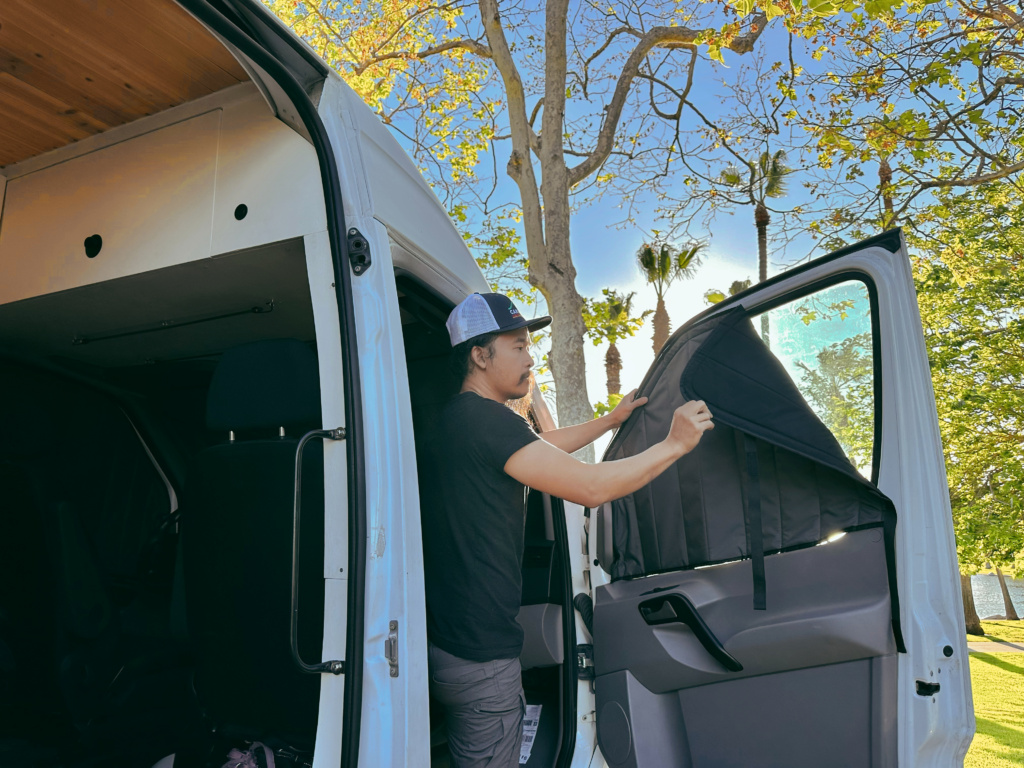 The window covers lock in place perfectly and block out all light from leaving the van. We've tested this on a dark night, walking away from the van and not seeing any of the lights blazing inside. This means the window covers are the perfect fit to block light leakage 100%.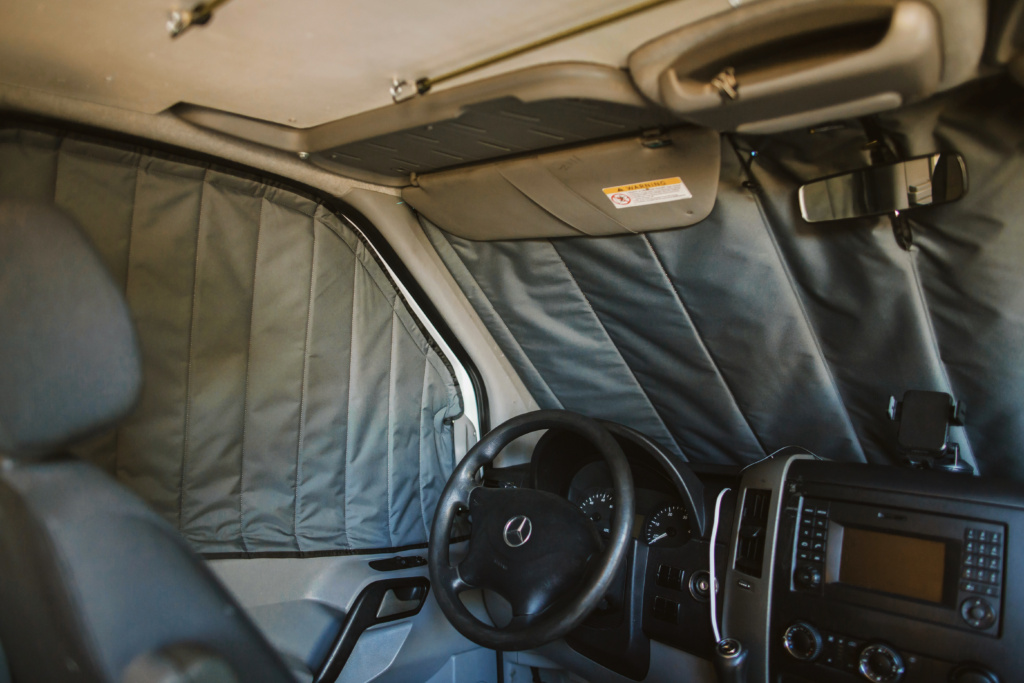 Designed for stealth camping, VanEssential window covers have external facing black fabric. From the outside, the black fabric almost disappears and gives the windows a stealthy blackout look which is far better than that silver reflectix look. When looking at our van from a distance, you can't tell if anyone is inside. All you see is just a black void. It almost looks like you're staring into an empty cab!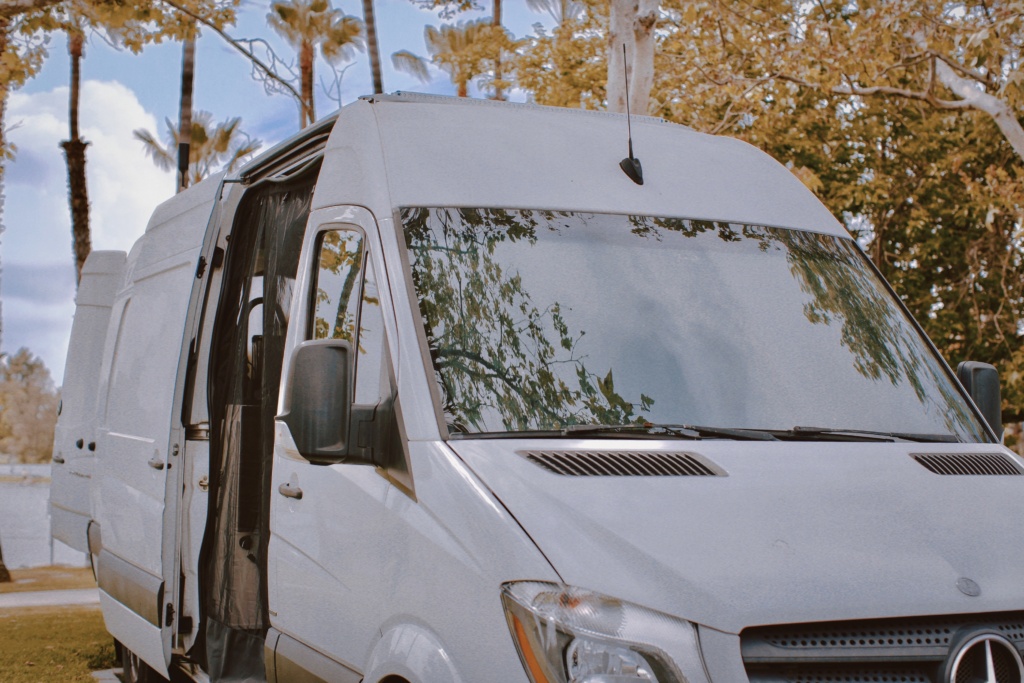 They are well insulated and also fold up nice and tight with the straps that are sewn right into the covers. Set up, pack up, and store away just take a few minutes. We bought VanEssential's Front Cab Kit that includes one front windshield cover and one pair of front window covers. With no light leakage and supreme Automotive Grade insulation VanEssential window covers really make stealth camping easier and more comfortable than ever!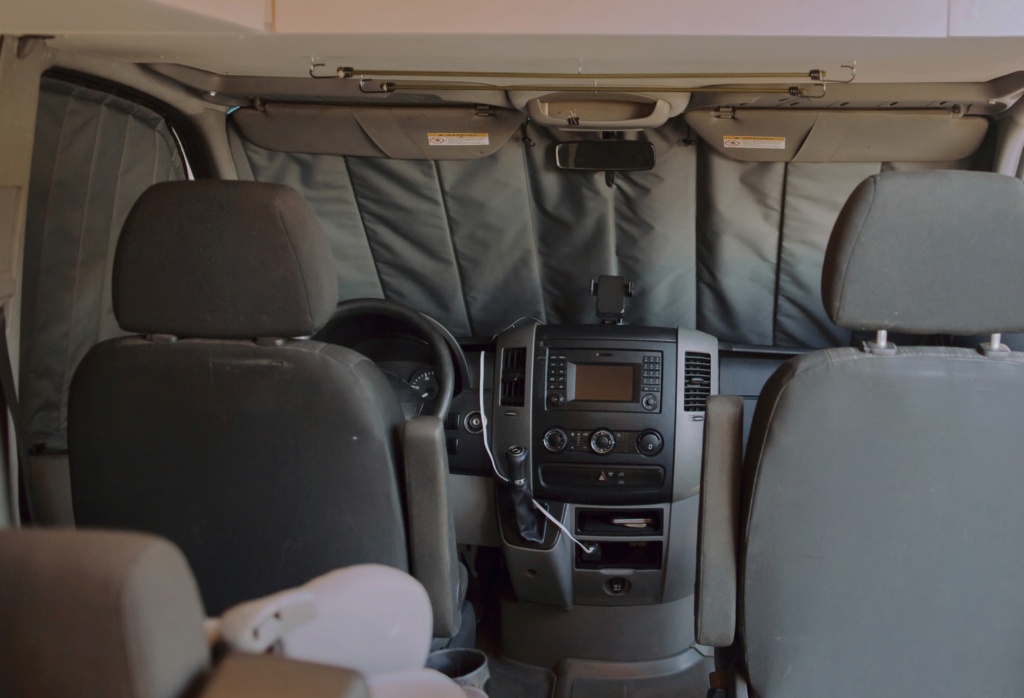 Roof Vent Cover
We also loved their Roof Vent Cover. Designed to fit the MaxxAir Fan or Fantastic Fan with 16.5″ x 16.5″ flange, this cover minimizes light leakage and provides great insulation.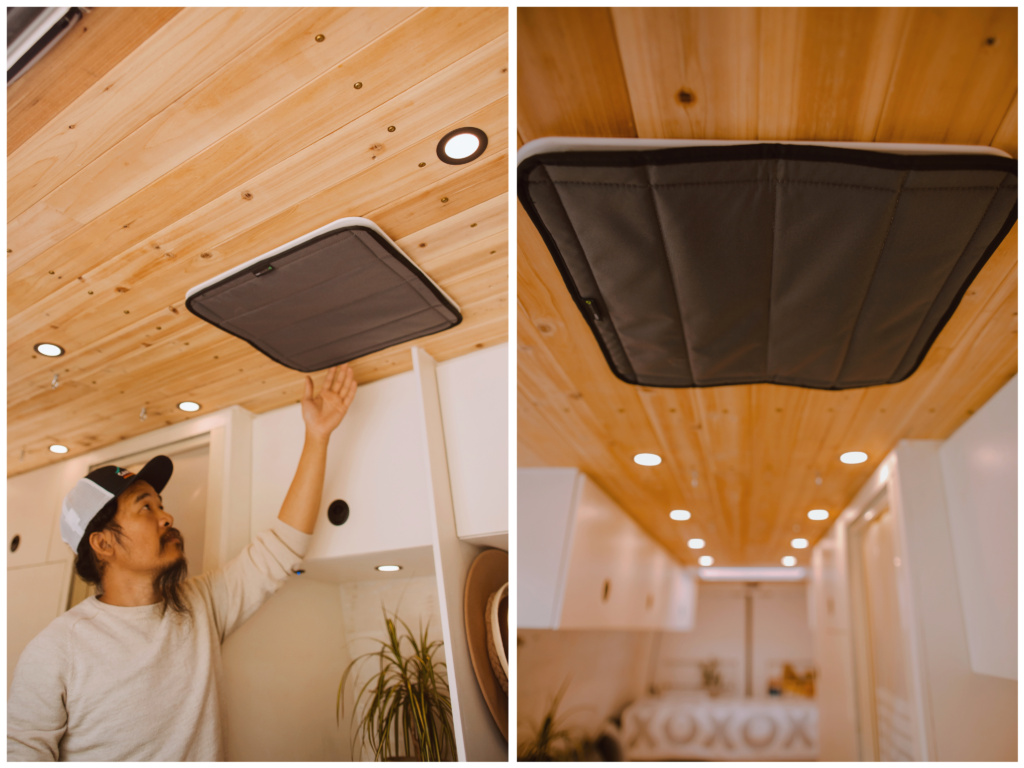 Having a cover over the vent fan was something we never would have thought about. Even though our fan has a smoked lid, there is still plenty of sunlight coming through in the morning and VanEssential Roof Vent Cover helps block out annoying sunlight when we are trying to sleep. The vent cover stays attached using magnets. The cover comes with metal plates that simply stick to the inside of the fan bezel.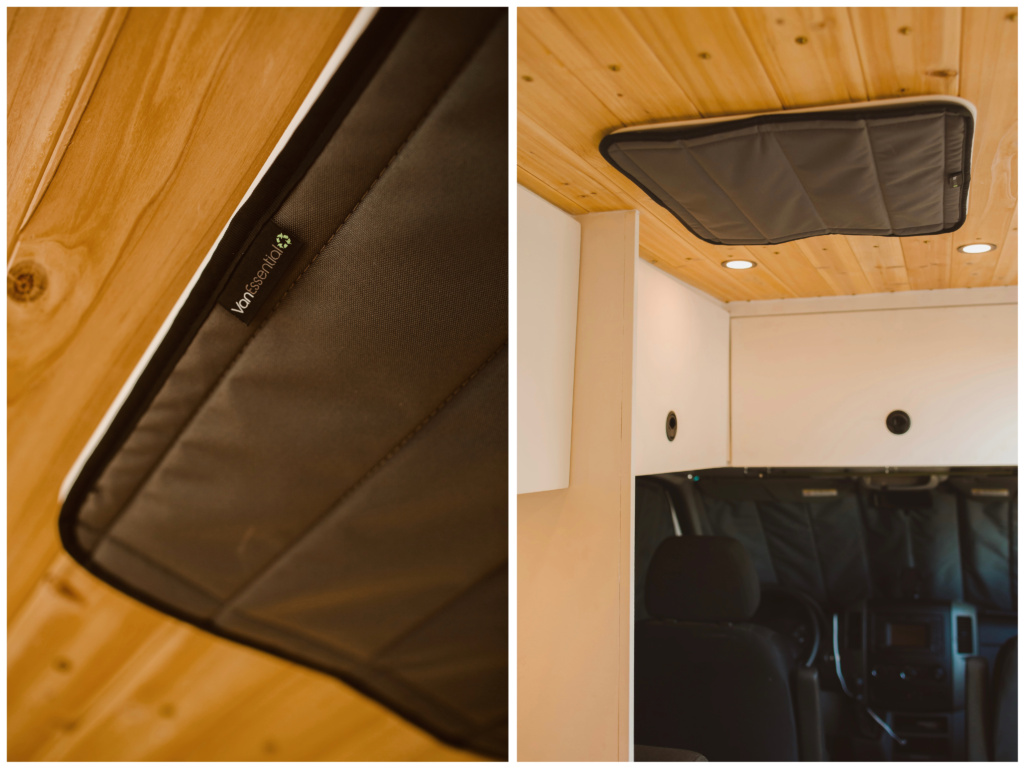 Want to insulate the giant hole in your camper van roof? Want to dramatically reduce road noise from your roof vent when driving? VanEssential Roof Vent Cover has got you covered!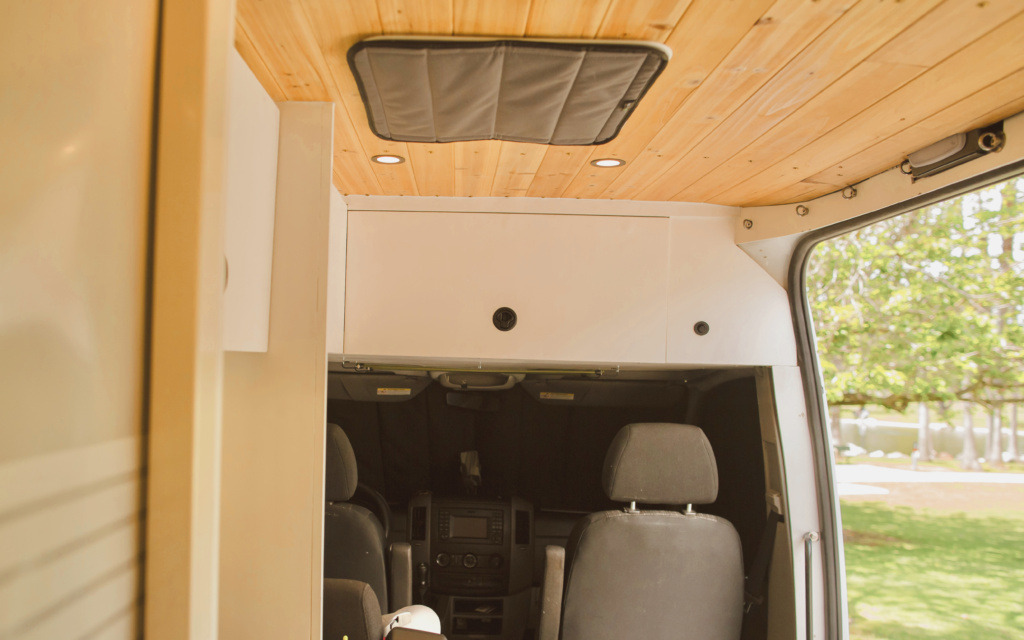 Bug Screens
Nothing can drive a camper more insane than a camper van full of flying and biting unwanted guests. That's why we cover both of our sliding door and back doors with easy to attach bug screens from VanEssential and enjoy the camping life fully.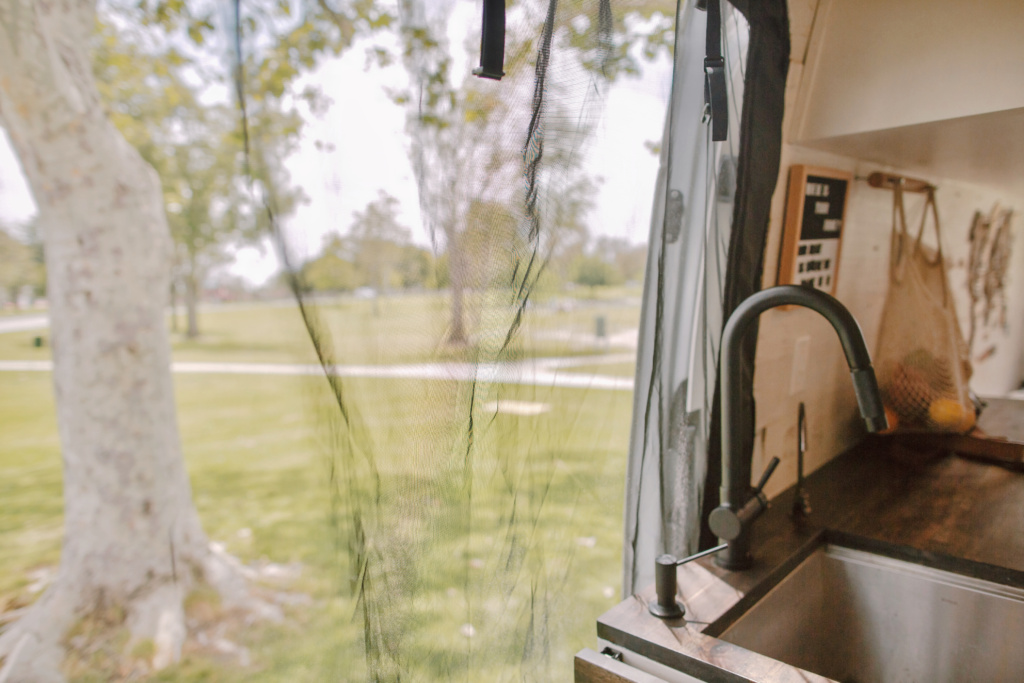 VanEssential Mercedes Sprinter bug screens are meticulously sized to fit perfectly and seal our van off from the outside creating a complete barrier to even the smallest of pests. The zipper style allows for easy access in and out of our van while keeping the bugs out.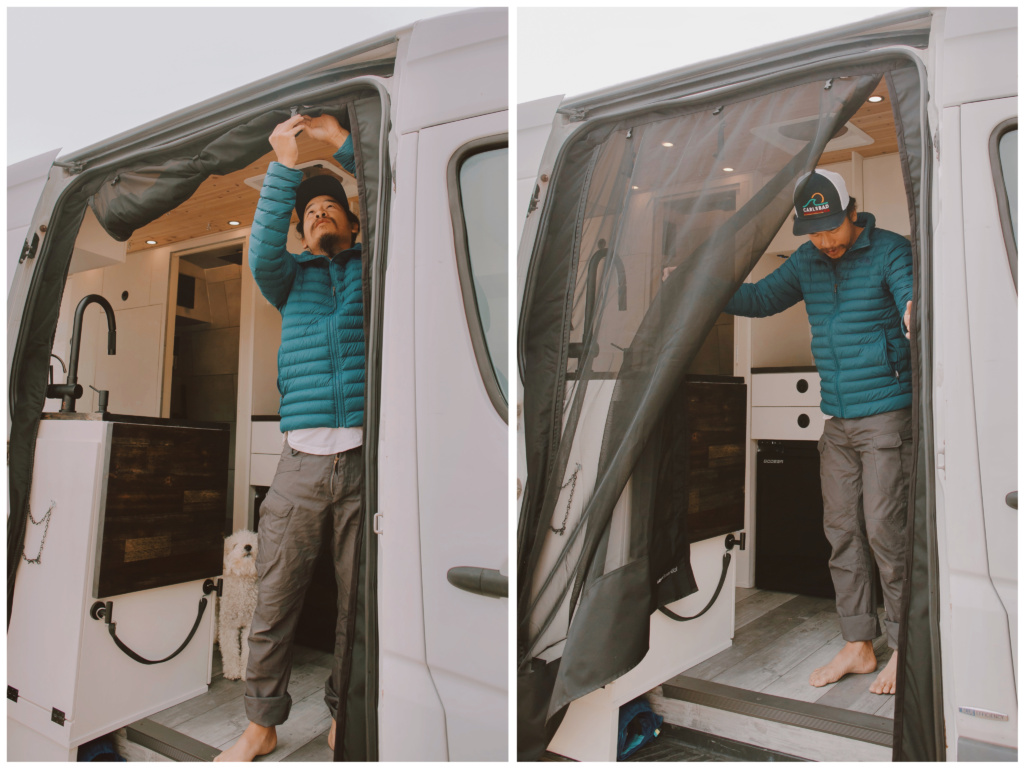 VanEssential bug screens are a simple and effective way to keep bugs out of our camper van while still allowing fresh air to circulate. They are easy to install and can be removed when not needed.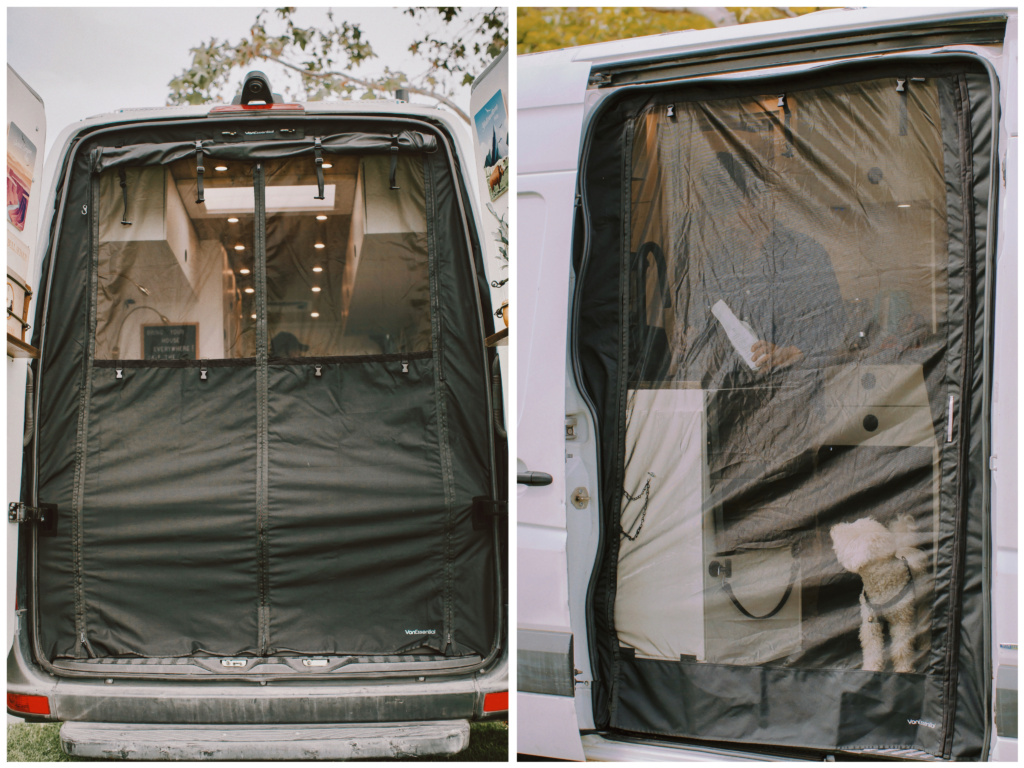 We love that their rear door bug screens' bottom section can be rolled up half way to access garage items or all the way to open up whole door.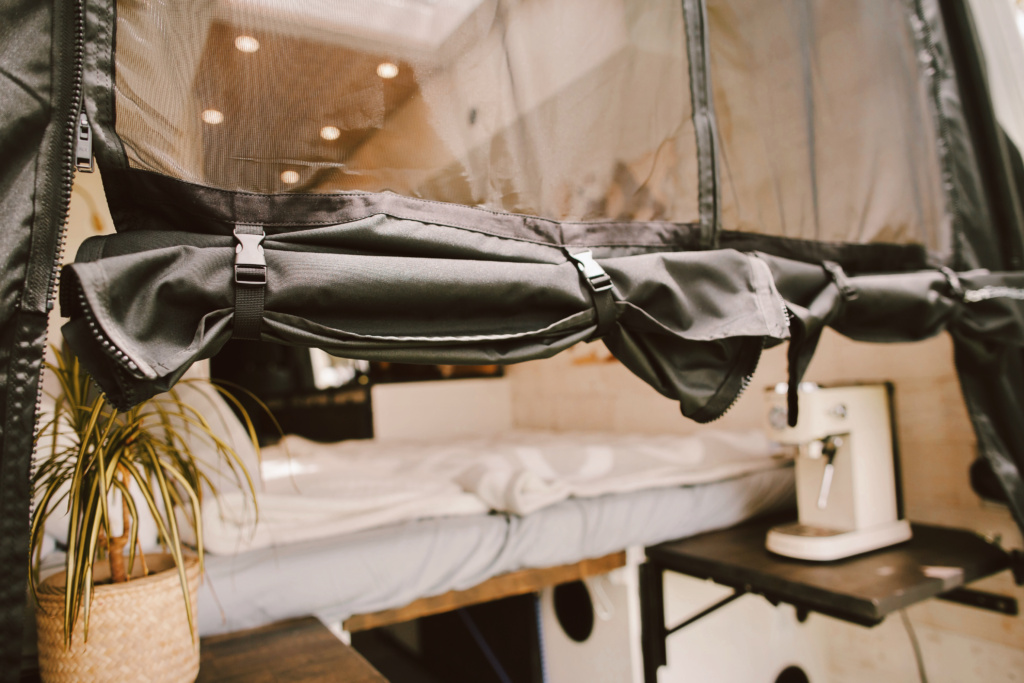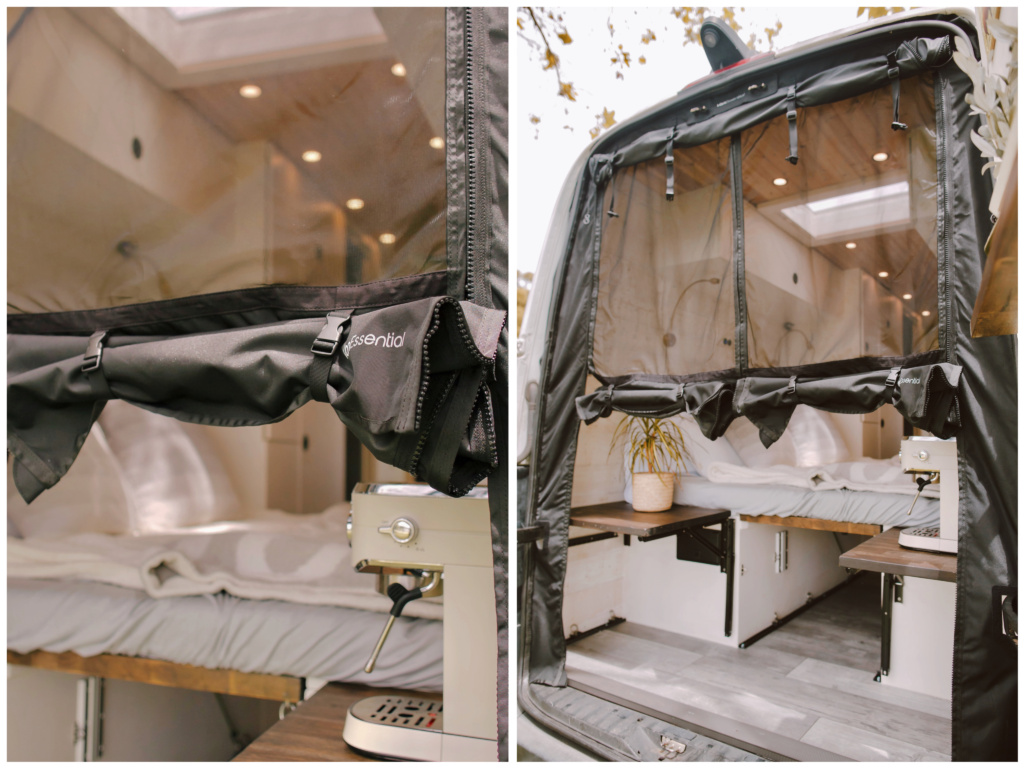 The bug screens improve air flow and gives the privacy we need all at the same time. We still have a great view through the transparent micromesh; it does not block the view.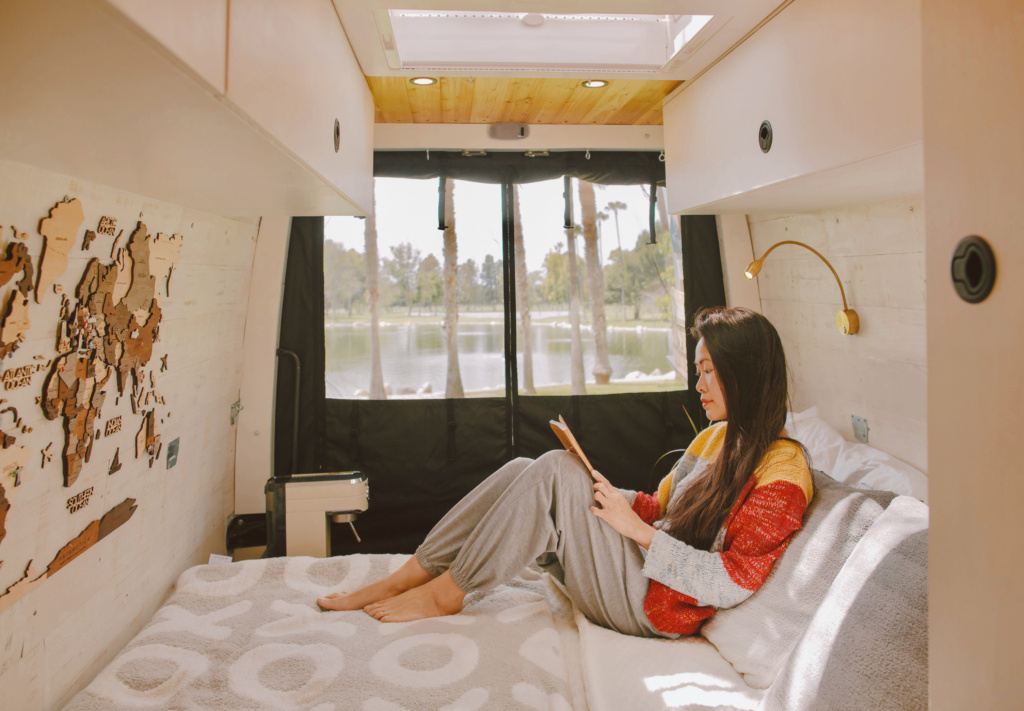 We love VanEssential bug screens for their ability to roll up out of the way and easily to be stored away during off-bug-seasons. We now can start enjoying our summer with our doors wide open without the pests!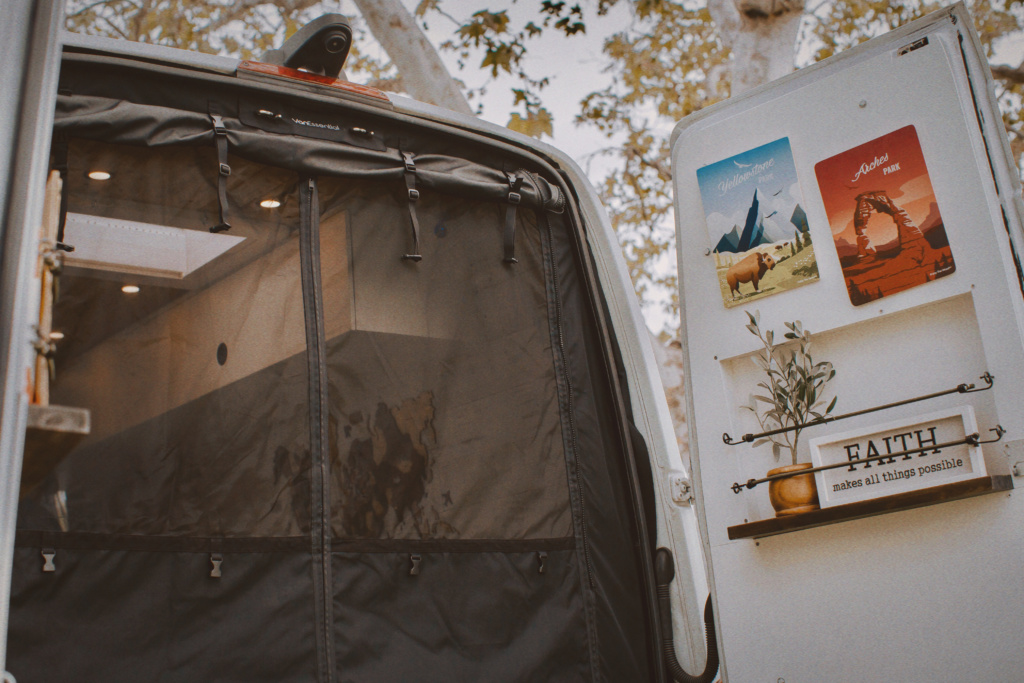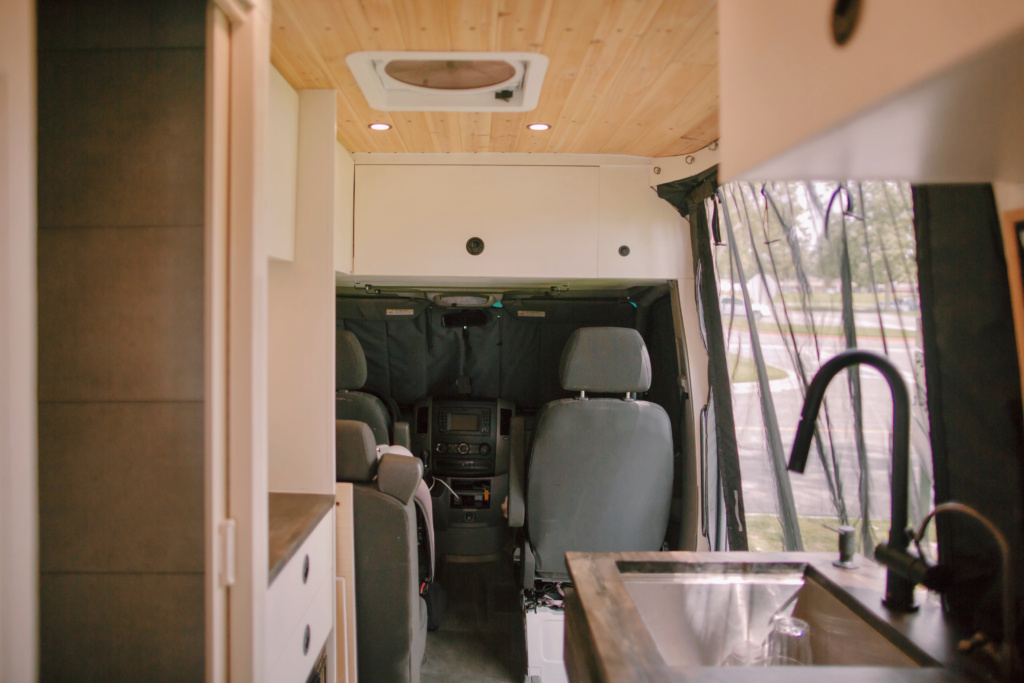 Final Thoughts
VanEssential high-quality window/ roof vent coverings provide complete darkness, offering privacy and ensuring a restful night's sleep on the road. Their fine weaved transparent mesh bug screens provide us with optimal visibility of the outdoors while keeping our van bug-free. The craftsmanship is top-notch, and it's evident that they're designed to last. If you own a Sprinter/Promaster/Transit van or are embracing the van life, do yourself a favor and invest in these exceptional window coverings and bug screens from VanEssential. Your adventures will be that much more enjoyable with these perfect accessories!
***Thank you to VanEssential for kindly sponsoring this post. All opinions are 100% honest & completely my own.
Pin this Post for Later!