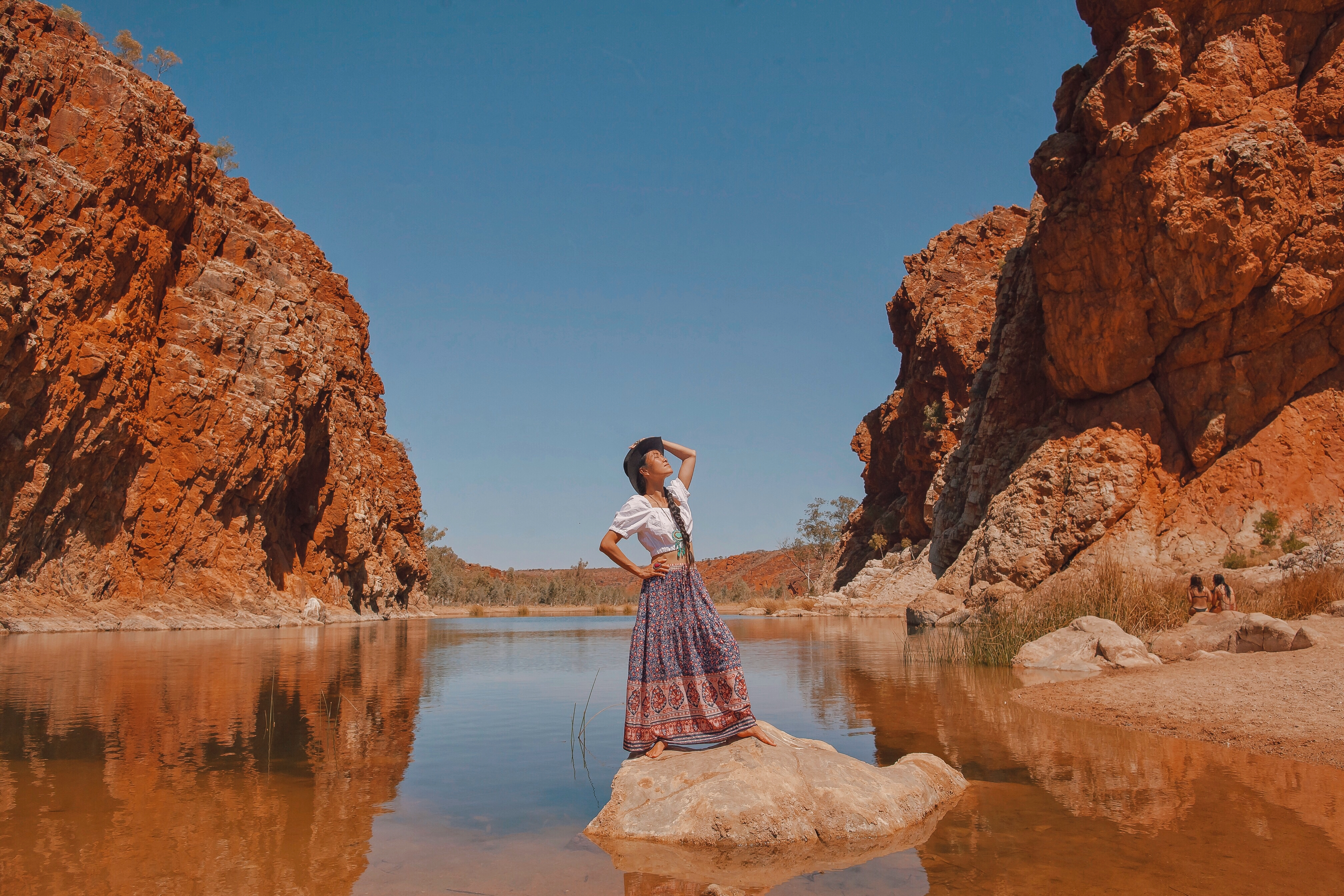 ALICE SPRINGS: CAPITAL OF THE OUTBACK AUSTRALIA
Australia's major cities tend to scatter along the coastline – meaning many travelers tend to be drawn to the coastal attractions. But those who don't venture inland are missing out on a true Aussie experience in the Northern Territory. Whether you want to immerse yourself in Australia's rich Aboriginal history or if you want to find out more about Aussie Outback culture, a visit to Alice is a must. Alice Springs is known as the capital of Australia's "Red Center", and it is a great base for exploring the natural wonders of the Northern Territory's outback, including Uluru, Kings Canyon, the West MacDonnell Ranges and their iconic Larapinta Trail. It's also a fascinating spot to explore Australia's Aboriginal culture. You'll find everything you need to know about travelling to this part of the Northern Territory broken down in this blog.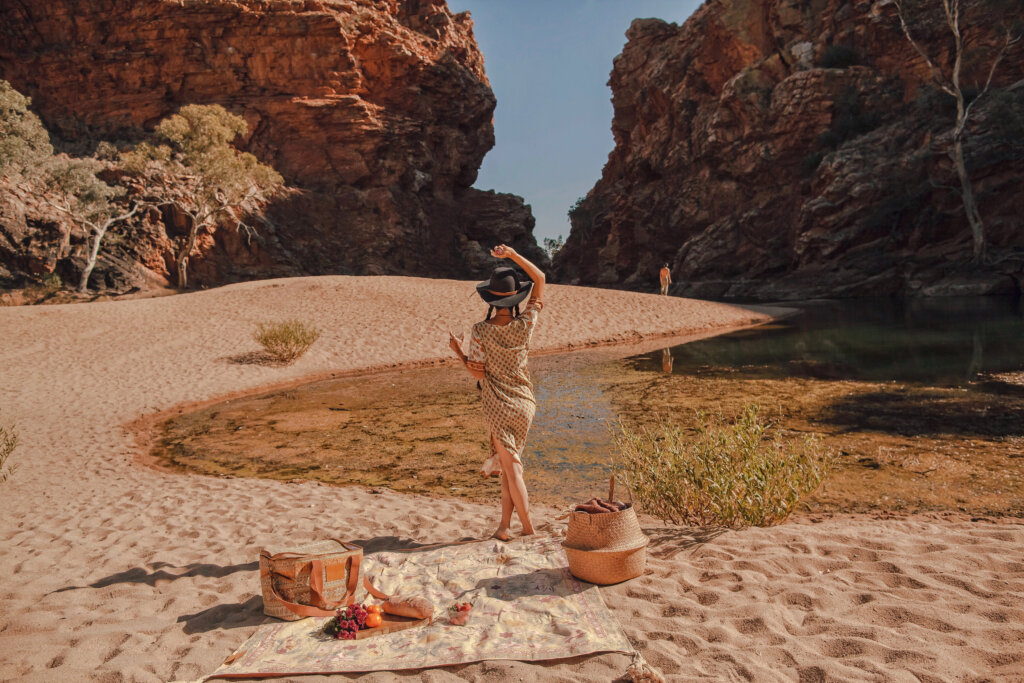 How to get there
Located at the centre of Australia, Alice Springs is around a 16-hour drive from most areas. But the easiest option is to fly in! Qantas has direct flights to Alice Springs from most major cities in Australia.
Qantas Explorer fares can take you further and give you the chance to see more of Australia for less. From any of the major cities you can fly to more than 30 domestic destinations including over 80 routes. It's so convenient to create your own customized experience. To access Qantas Explorer fares, select multi-city in the booking engine. By booking Qantas Explorer fares, they could cost you a lot less than booking your domestic flights separately.
When to Go to Alice Springs
Alice Springs' climate can be quite extreme, with very hot summers and cold winters.
Alice Springs Average Daily Temperatures:
Summer: 20.6° C (69°F) to 35.4°C (95.7°F) , December to February
Autumn: 12.8°C (55°F) to 27.8°C (82°F), March – May
Winter: 3.1°C (38°F) to 20.5°C (69°F), June -August
Spring: 14.2°C (58°F) to 30.3°C (86.5°F), September -November
So what's the very BEST time to visit? For us, it's September (spring time). We visited around mid-September and we got the most ideal weather. We got the perfect daytime temperatures (not too hot), and cool (but not freezing) nights. This means you can do lots of outdoor activities, like visiting the MacDonnell Ranges, the Desert Park and going on a couple of short hikes and you can even go camping.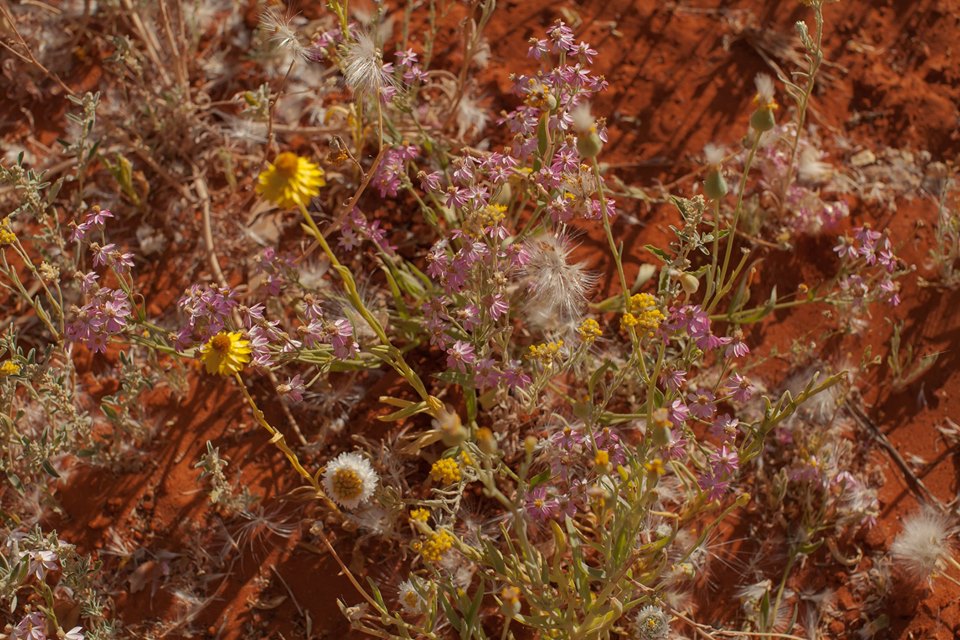 Getting Around
It's 15 km from the airport into town and there's a shuttle bus if you don't have your own transport. You can book the shuttle at the airport (there is a shuttle desk at the front of the airport) or you can book online. There are also plenty of taxis (around $30 into town) and private hire cars (around $48 into town).
But the best way to explore Alice Springs is renting a car. You'll find car rental desks for Avis, Budget, Europcar, Thrifty and Hertz at the front of the airport, near the baggage carousel. You'll be able to rent cars, campervans and even large 4WDs. The benefits of having your own transportation are:
You'll experience all the fun of an authentic outback road trip.
All of the roads are very good, sealed highways.
There is so much to see and do along the way like exploring different gorges and creeks in West MacDonnell National Park.
You can go where you want to go rather than following a tour itinerary, and stop when you want to stop.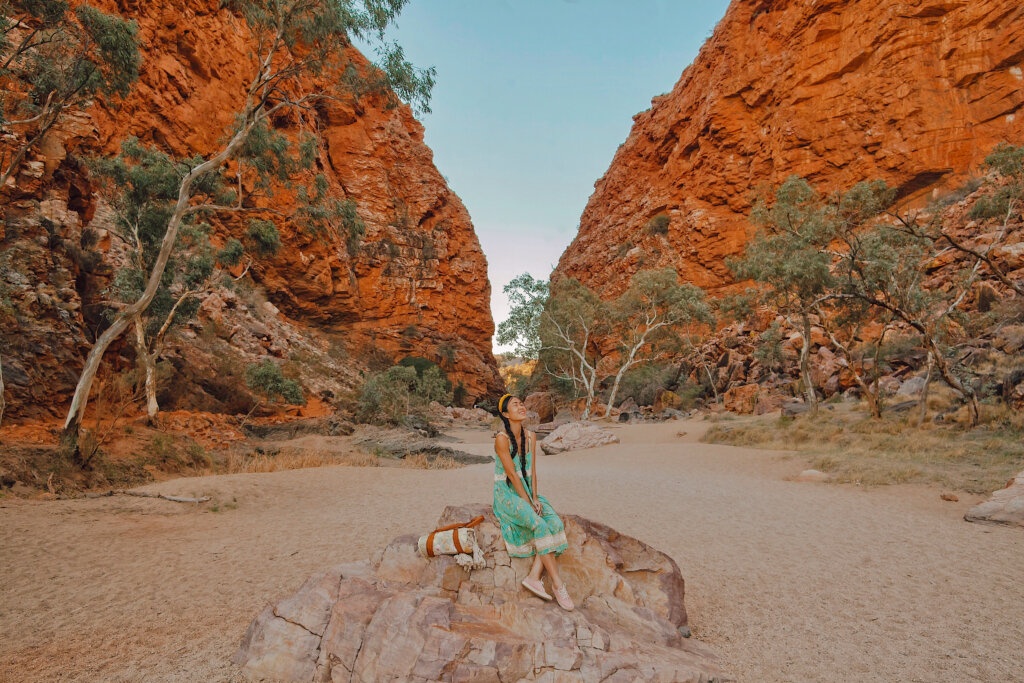 Things to do in Alice Springs
You really can't say you've visited the outback unless you visit Alice Springs. This small town is the second largest town in the Northern Territory. While many travelers consider Alice Springs as just a transit hub for the rest of the Red Centre, this town actually has a lot more to offer. It's home to an impressive wildlife park, various cultural points of interest, scenic bushwalking trails, botanic gardens, and lots of historic buildings. Many of these attractions showcase parts of Australia that both visitors from abroad and most other Aussies seldom get to see.
Alice Springs Desert Park
A visit to the Alice Springs Desert Park takes you on your very own journey of central Australia's many different natural habitats. This stunning park – part wildlife sanctuary, part botanic garden – is a mix of beautifully re-created desert habitats bursting with life.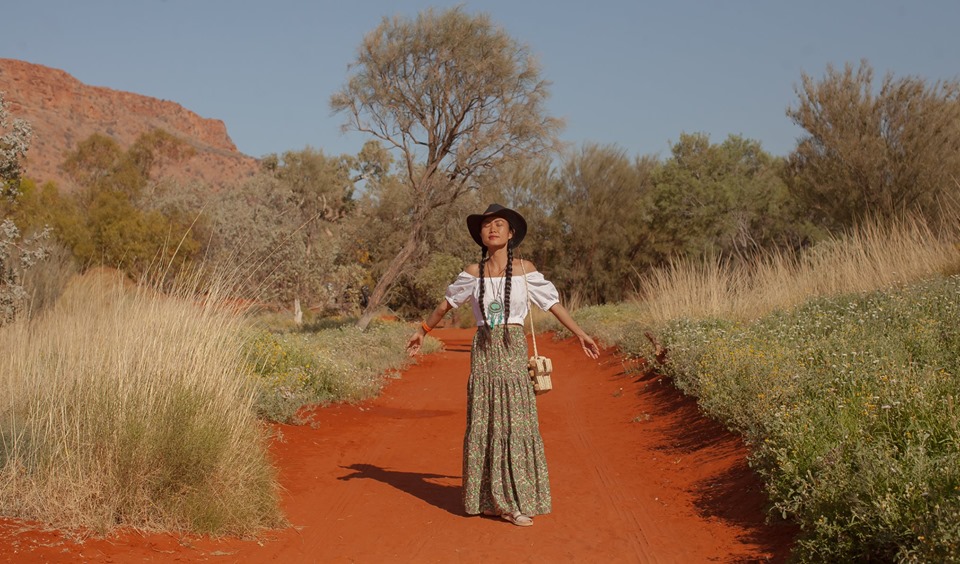 You'll get up close and personal with real kangaroos, emus, birds of prey and reptiles. Here we encountered the Red Kangaroos (Macropus rufus) -Australia's largest kangaroo. Males are a reddish-brown colour and females more blue-grey.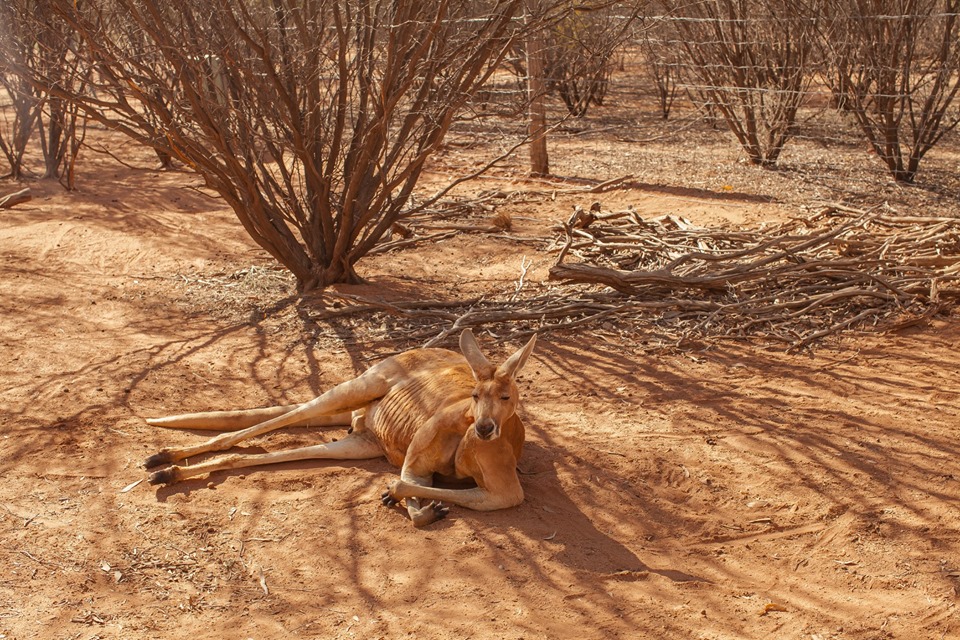 We visited during spring season, so the wild flowers were blooming everywhere.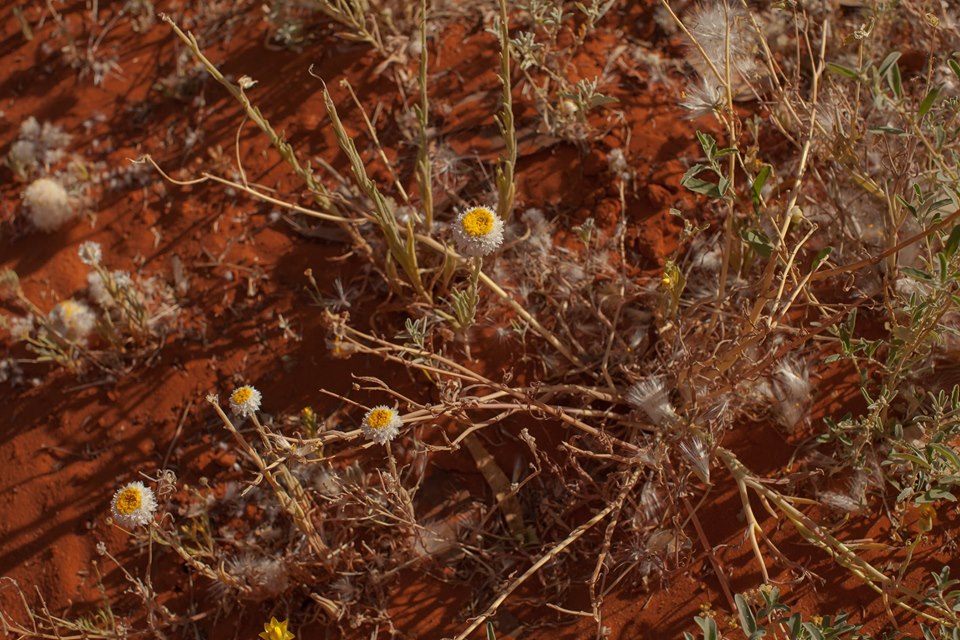 We learned about how Aboriginal people found food and medicine in the desert and how these plants have cleverly adapted to their dry environment.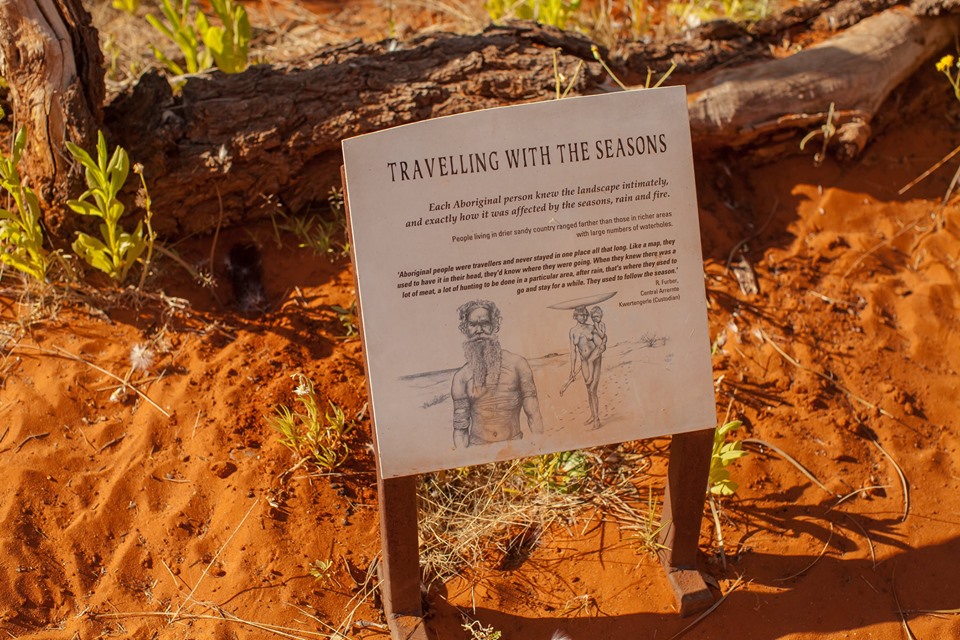 You should plan your visit around the daily shows and activities – you don't want to miss the free-flying bird experience. Feel the adrenalin rush as raptors of the desert sky fly over your head. Free-flying birds of prey demonstrate their natural survival skills.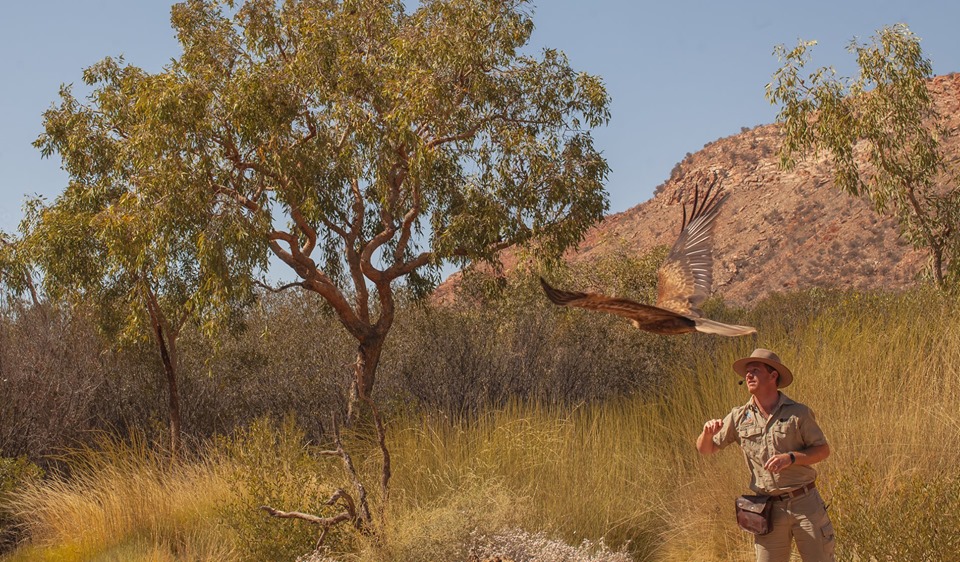 Take a walk along the trail to see three different habitat areas. These include the woodland, sand country, and desert rivers. On these walks, you will get to know about all the conservation efforts they have in place to preserve and protect the native plants and animals.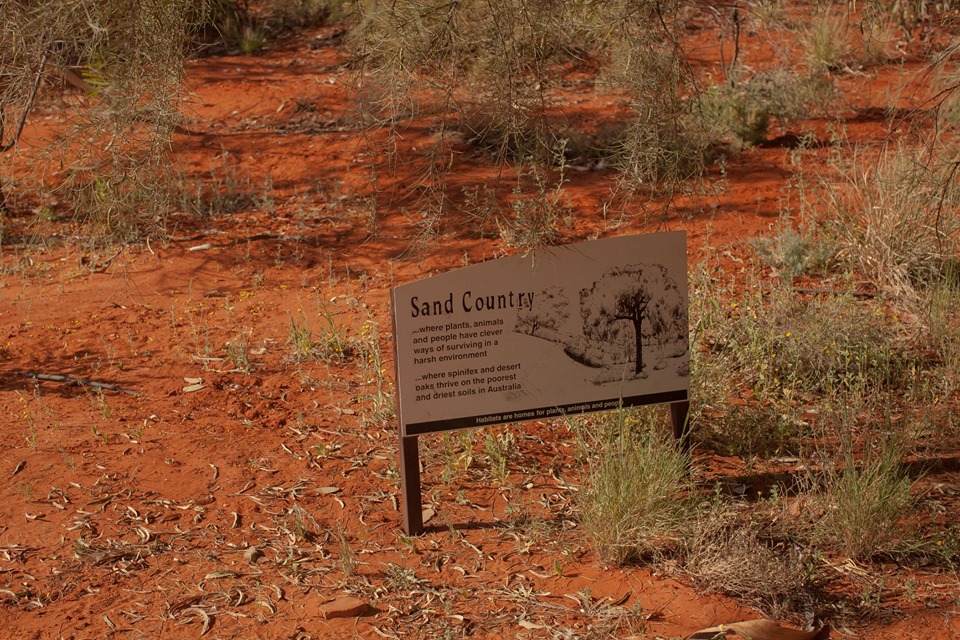 Alice Springs Desert Park is only seven kilometres from the centre of Alice Springs. Allow 3 hours to visit the Desert Park. The cost is $37 per adult.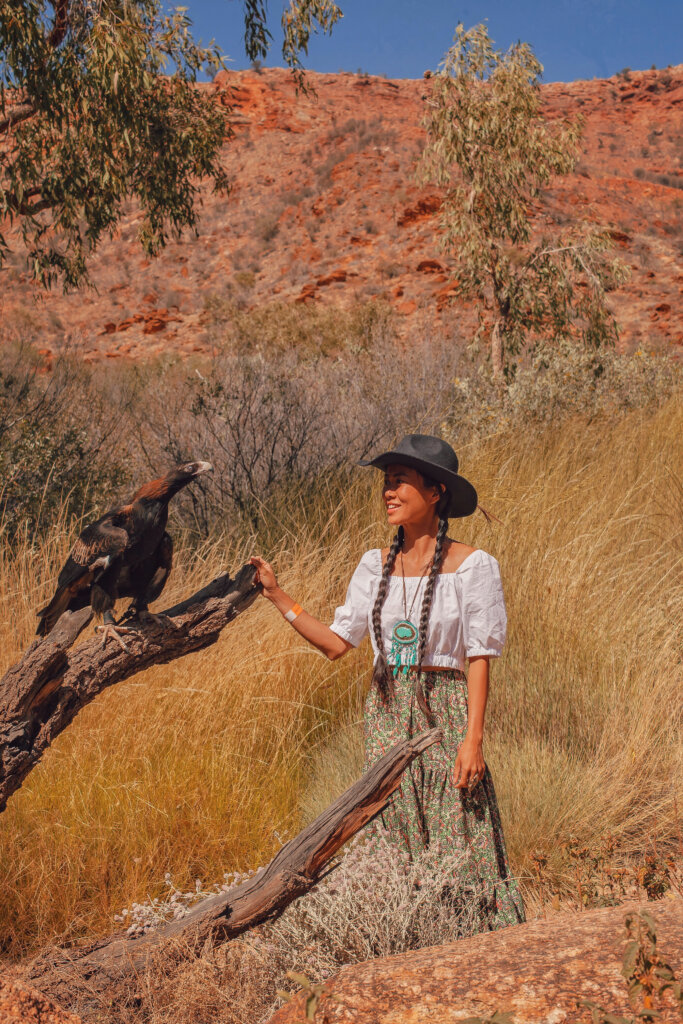 West MacDonnell Ranges
West MacDonnell National Park extends for over 200 kilometers west from Alice Springs along the Larapinta and Namatjira Drives. Most visitors to Alice Srpings seem to head straight to the famous Uluru (Ayers Rock), without realizing what they're missing. The West MacDonnell mountain ranges are simply stunning! You should spend at least one day exploring this beautiful park. There are many gorges, waterholes where you can swim, hiking trails and a great variety of flora and fauna.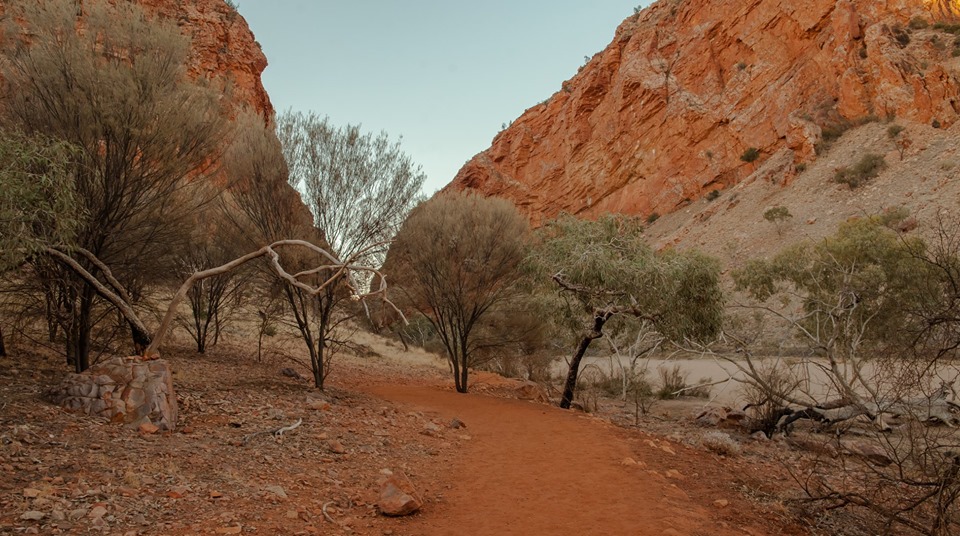 We wanted to visit and see them all, but we just didn't have enough time. Some of the stops we made were quick, but there were also others that we wanted to spend as much time as we could. We decided to concentrate just on the most beautiful gorges of West MacDonnell Ranges including: Simpsons Gap, Ellery Creek Big Hole, Ormiston Gorge, and Glen Helen Gorge.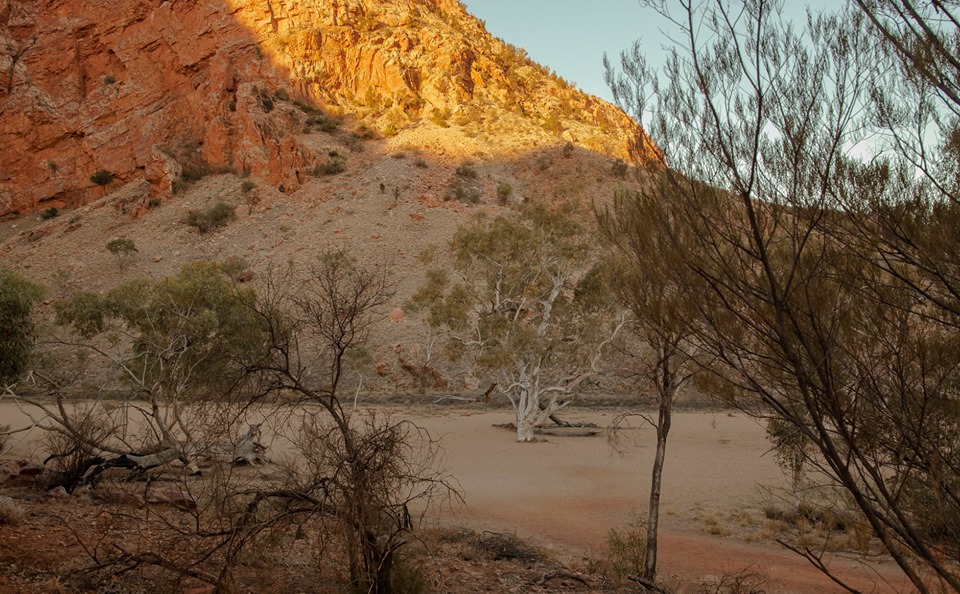 The Simpsons Gap
Our first stop was at Simpsons Gap, just half an hour drive from Alice Springs. It was still early in the morning and there was just one other car there when we arrived at the parking areas near Simpsons Gap. It's an easy nice short walk (only a few minutes from the car park) to the gorge between the mountains and all the way to the waterhole.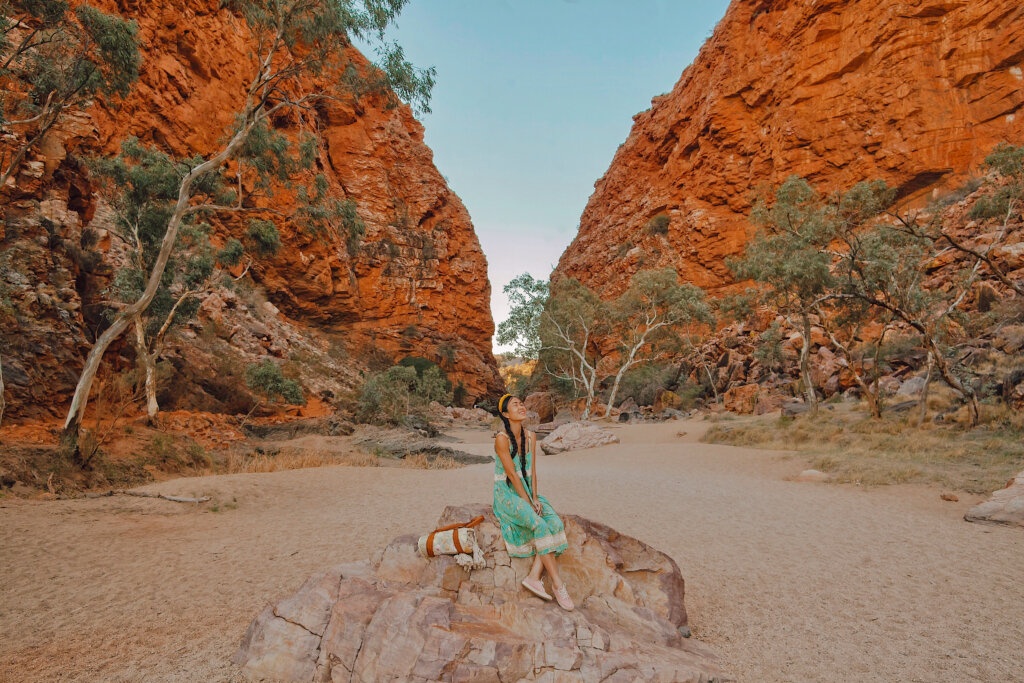 Most of the gorges hold some body of water, however, few were almost dry at this time (late September).
Ellery Creek Big Hole
Personally, I felt Ellery Creek Big Hole was one of the most picturesque spots in the West MacDonnell ranges.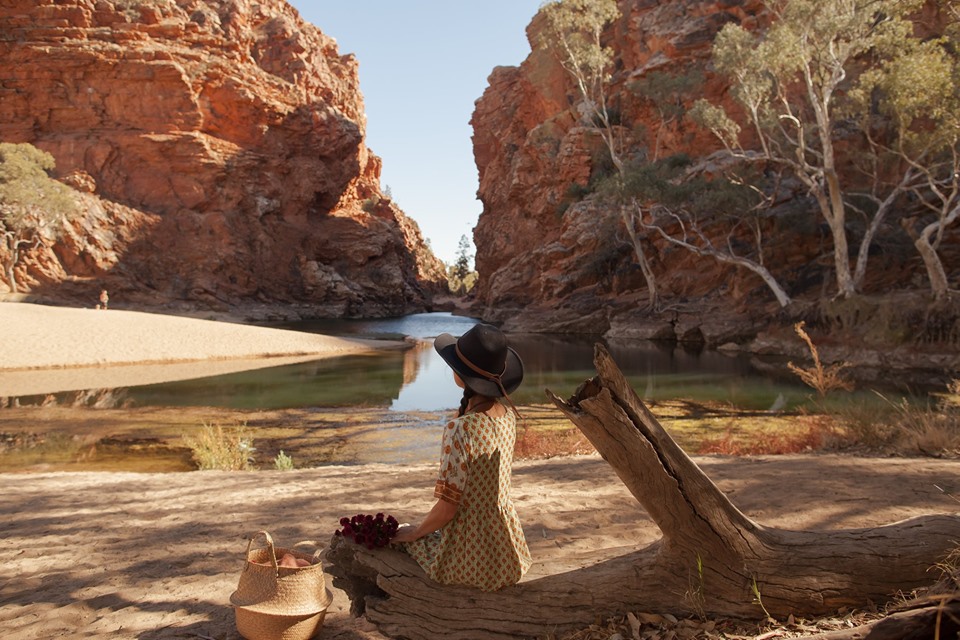 Being one of the largest in this area, it's such a great spot to swim and just relax. The waterhole here is quite deep (up to 28m) and becomes very cold. This gorge is located around 90km from Alice Springs, perfect for day trips and nice picnics. It's a real oasis in the desert!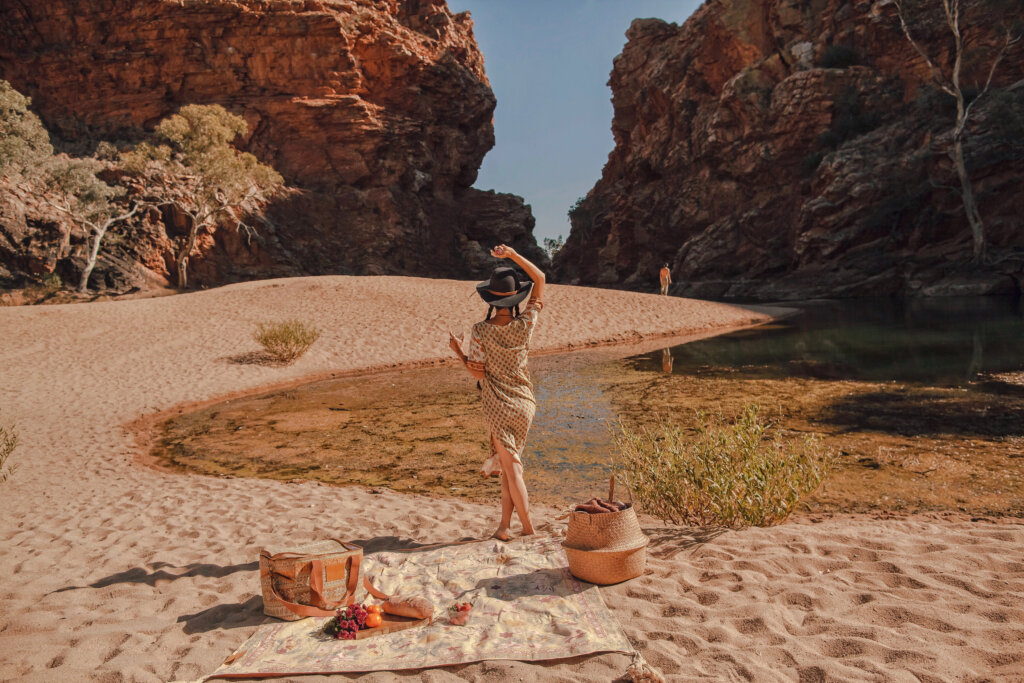 Ormiston Gorge
Located 135km west of Alice Springs, Ormiston Gorge is made up of layers of limestone, quartzite, mudstone, dolomite, and sand, was sculpted by the floodwaters of the Ormiston Creek over the past 300 million years. This was the busiest place we visited in West MacDonnell. There are lots of facilities here, a camping, and a paved path all the way to the gorge.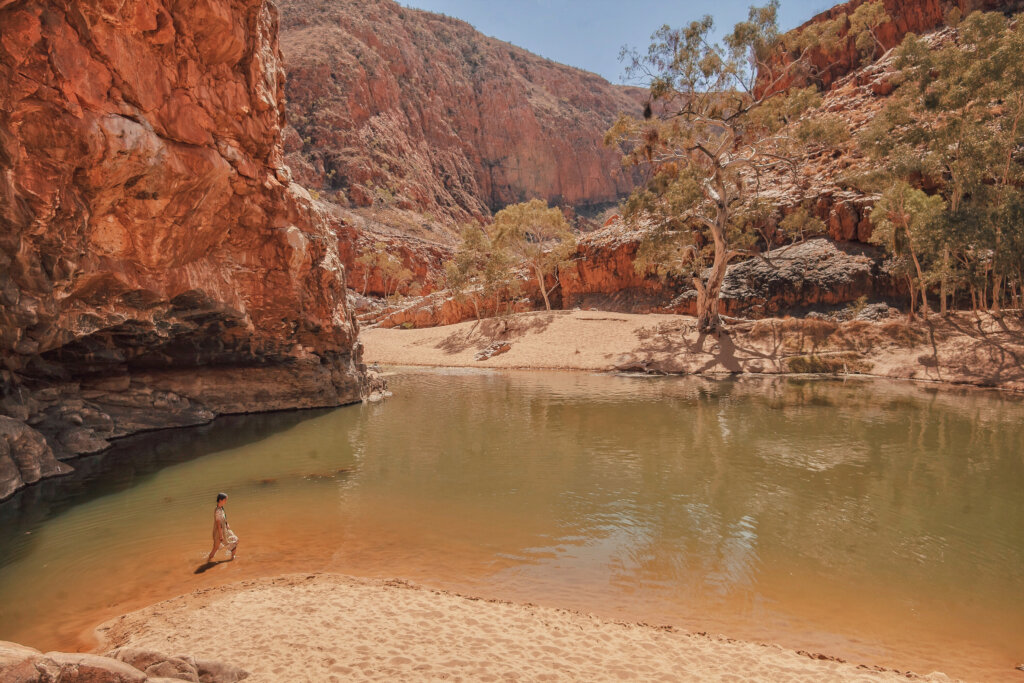 Ormiston Gorge has a big waterhole and quite some people were sunbathing and swimming here. It was a great spot for swimming and relaxing after the whole day of sightseeing in the heat of Australian desert. We spent quite some time here.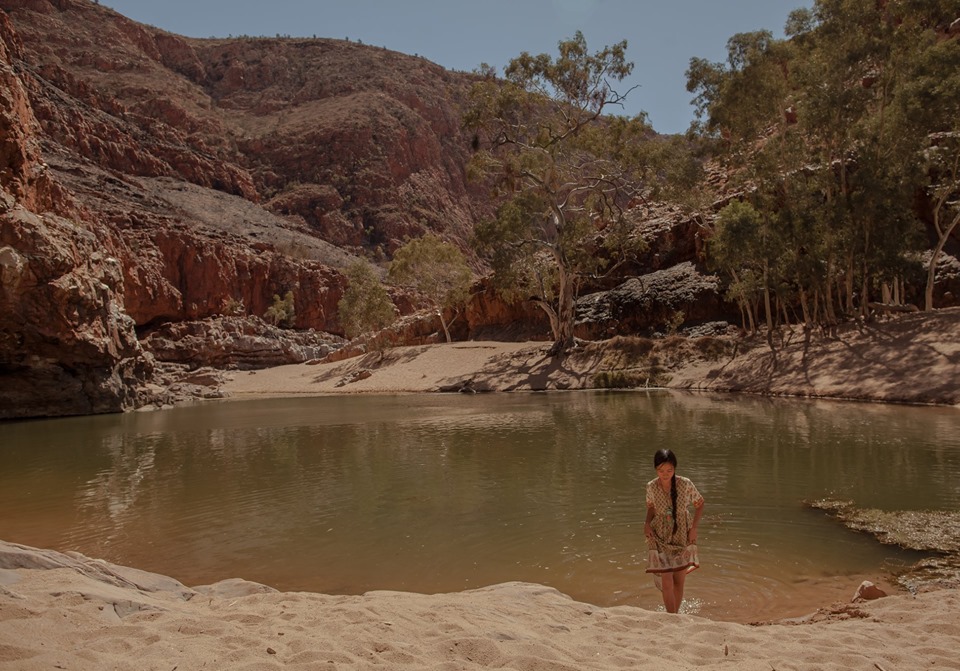 Glen Helen Gorge
Unlike some of the other gorges, you can see through the gap in the rocks to the bush beyond, which makes for a striking view. We had fun relaxing and basking in the sunshine here!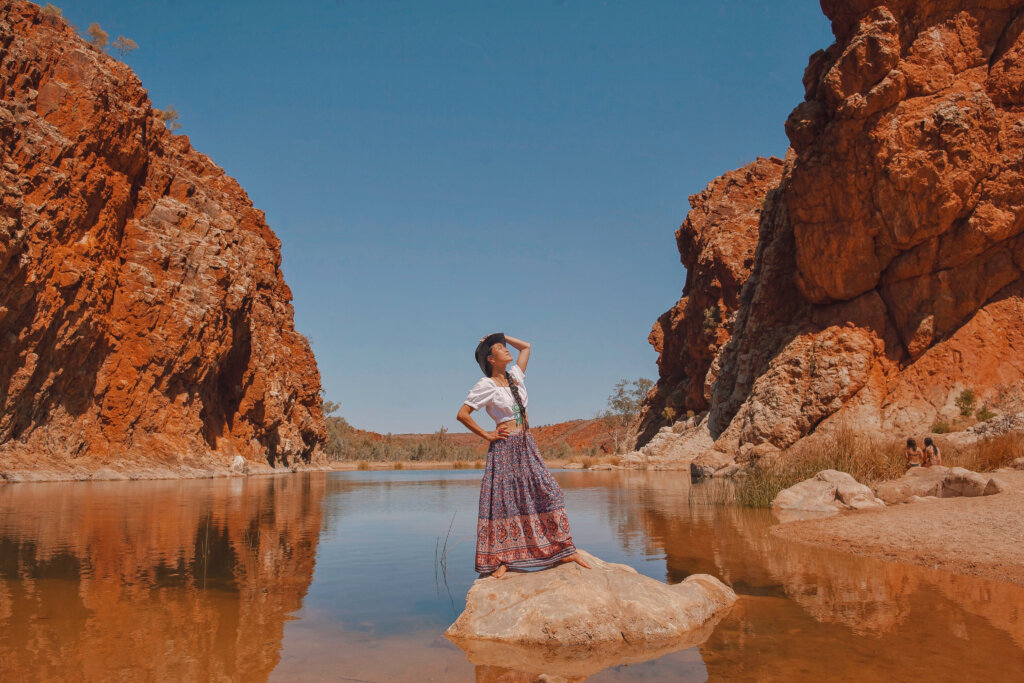 TIP: This is a self-drive West MacDonnell itinerary. If you don't have a car, it is possible to book an organized West MacDonnell day tour from Alice Springs. It brings you to all the most beautiful gorges of West MacDonnell ranges mentioned in this blog!
Summary
We loved Alice Springs — the town had a rough, independent feel to it. It's that small-town charm with lots of culture, things to see and do, and a free-spirit all its own! It's the gateway to some of central Australia's most spectacular landscapes: Uluru-Kata Tjuta National Park (a four-hour drive away), at the same time you don't have to venture far to find yourself among ochre-red gorges and pastel-hued hills!
Want to win 4 round-trip flights to Australia with Qantas? Click this link!
***Thank you to Qantas for kindly sponsoring this post. All opinions are 100% honest & completely my own.