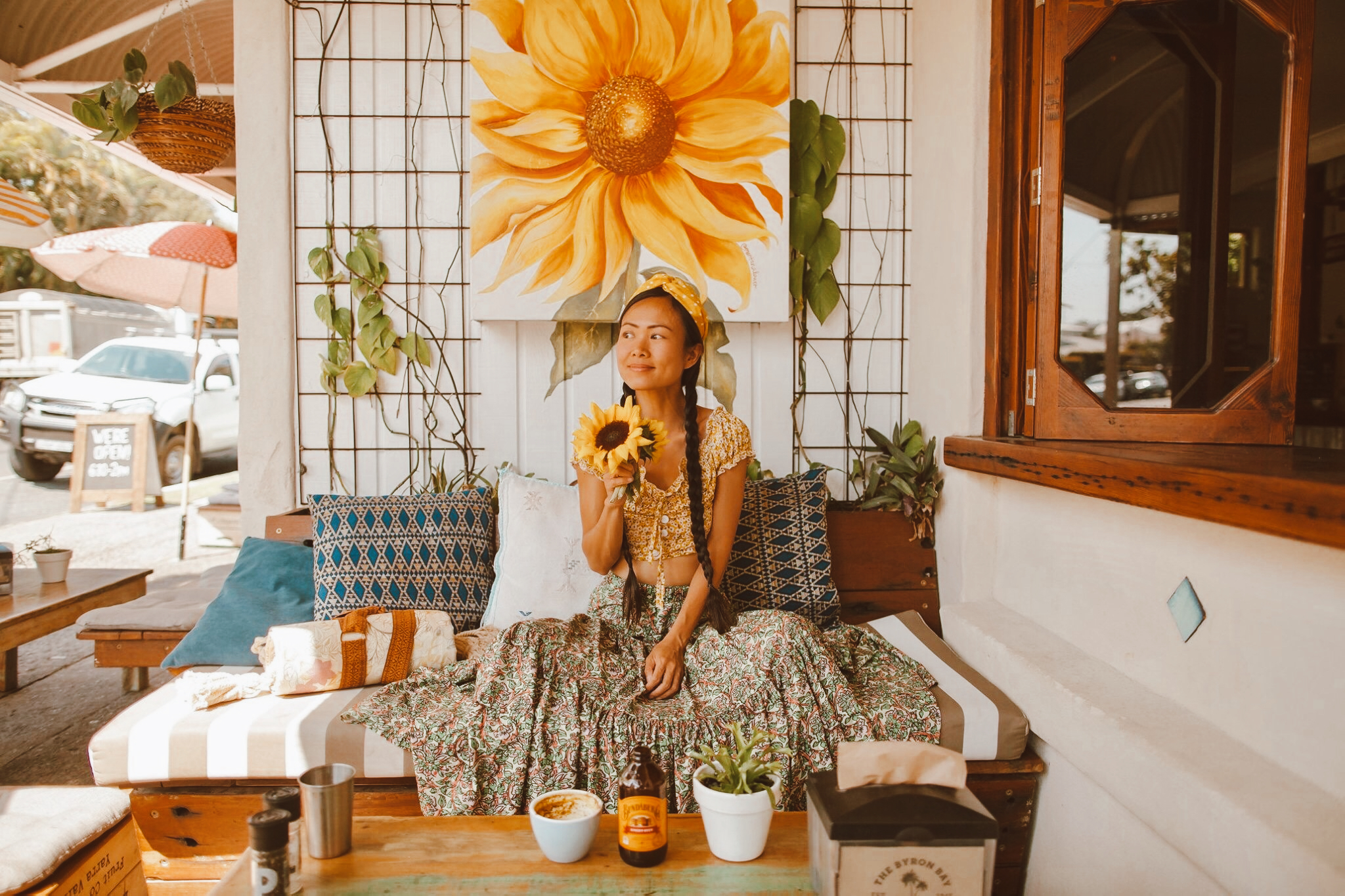 Located at the most easterly point of the country's coast, Byron Bay is one of the trendiest beach towns in Australia. It has a real reputation as an easy going and forward-thinking destination. There's no better place to visit than Byron Bay to experience the chilled-out, carefree and laid-back Australian surfer culture at its finest.
With a chill vibe that feels like a mix of Tulum and Bali, Byron Bay is primarily a destination for surfers or younger travelers looking for a fun atmosphere and boho-chic shopping. My 4 days in Byron Bay showed me that it's more than just a town for hemp-wearing hippie and smelly backpackers, but rather a seriously stylish holiday destination. If you plan on paying this town a visit, I've got you covered with all the best things to see, eat and do in Byron Bay in this blog, helping you to fully explore all the cute spots in the eastern most point of Australia.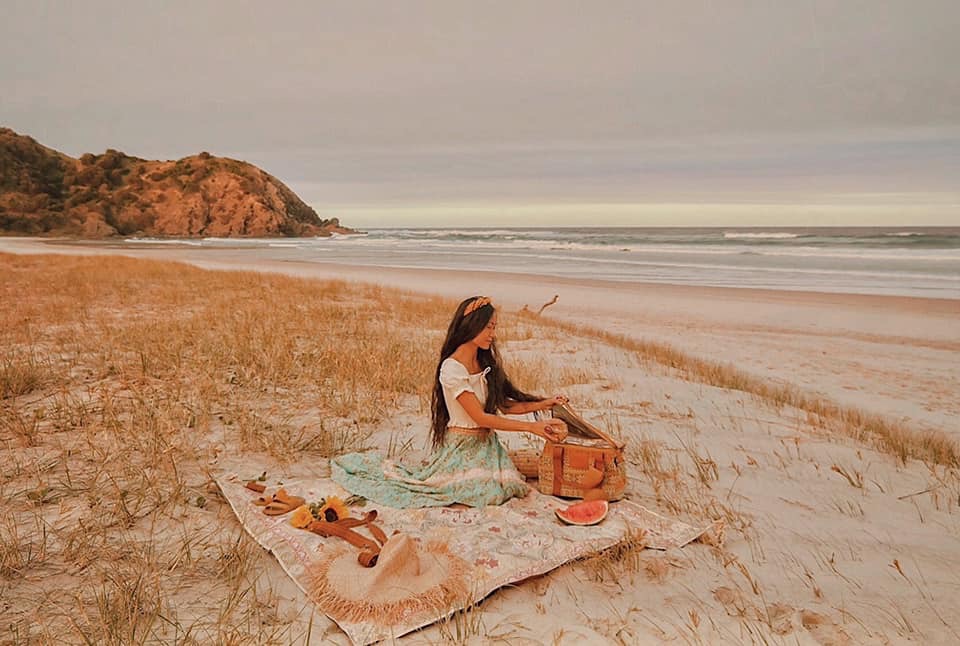 Where Is Byron Bay?
Byron Bay in on the coast of New South Wales, in South East Australia. Byron Bay is one of the most popular destinations on an east coast Australia road trip. It's located right at the top of New South Wales, about 3 hours south of Brisbane and 10 hours north of Sydney.
How to get there?
Domestic flights arrive at Ballina Airport, a 25-minute drive south of Byron Bay, or at Gold Coast Airport, a 45-minute drive north of Byron Bay. Many people choose to drive to Byron Bay: it's about a nine-hour drive north from Sydney or a two-hour drive south from Brisbane.
We flew to Gold Coast from Sydney with Qantas. And from Gold Coast Airport, we took the shuttle bus to get to Byron Bay. Qantas Explorer fares can take you further and give you the chance to see more of Australia for less. From any of the major cities you can fly to more than 30 domestic destinations including over 80 routes. It's so convenient to create your own customized experience. To access Qantas Explorer fares, select multi-city in the booking engine. By booking Qantas Explorer fares, they could cost you a lot less than booking your domestic flights separately.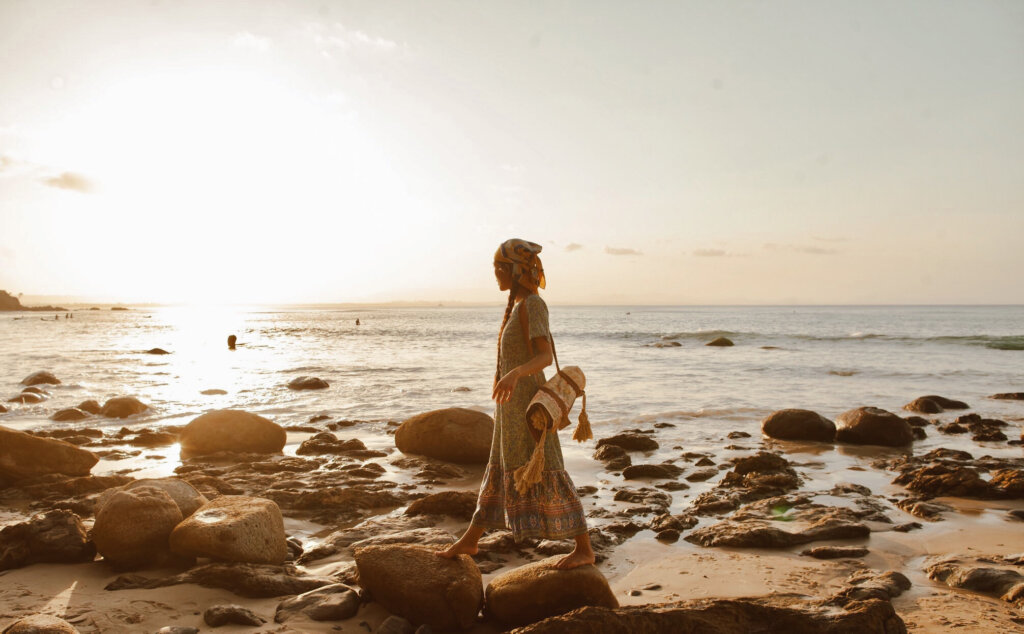 Where should you stay in Byron Bay?
Byron offers a range of accommodation options for all tastes and budgets. The majority of Byron Bay's highlights lie within its central region but, as with any popular destination, being in the centre comes with a price tag. If you're visiting on a budget, have a browse on Airbnb. We stayed at The Nest Byron Bay (for only $100 per night).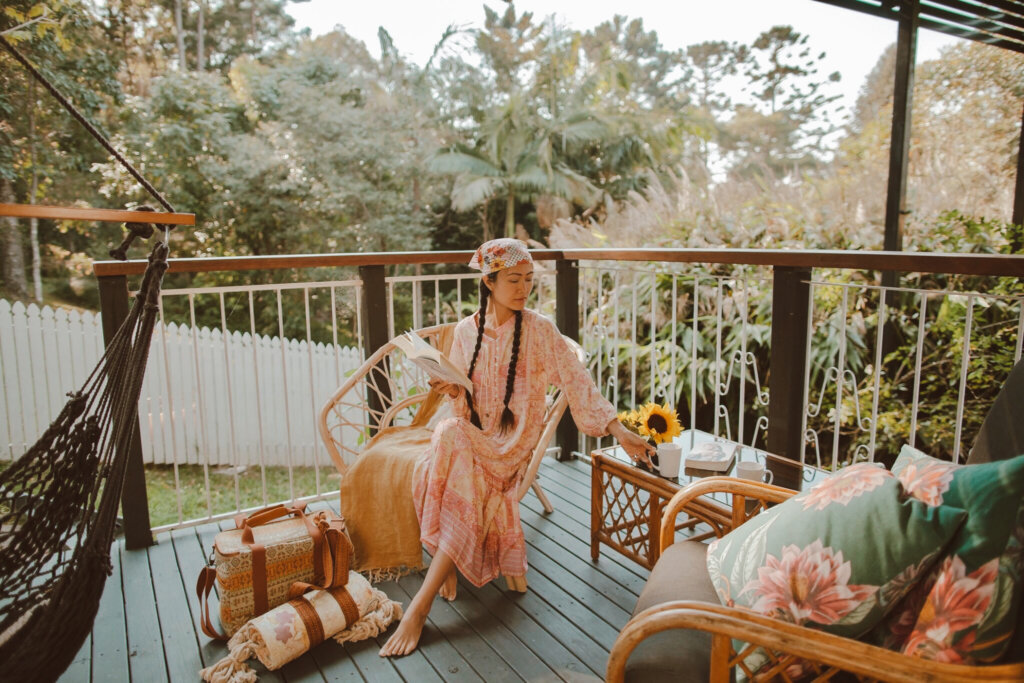 Set amongst tranquil gardens, The Nest makes a quiet secluded retreat that is still only 5 minutes drive from Byron Bay town centre and beaches. The Nest overlooks Byron Bay Golf Course. Newly renovated , the studio features a spacious bedroom, bathroom and a private balcony as well as a fully fence garden.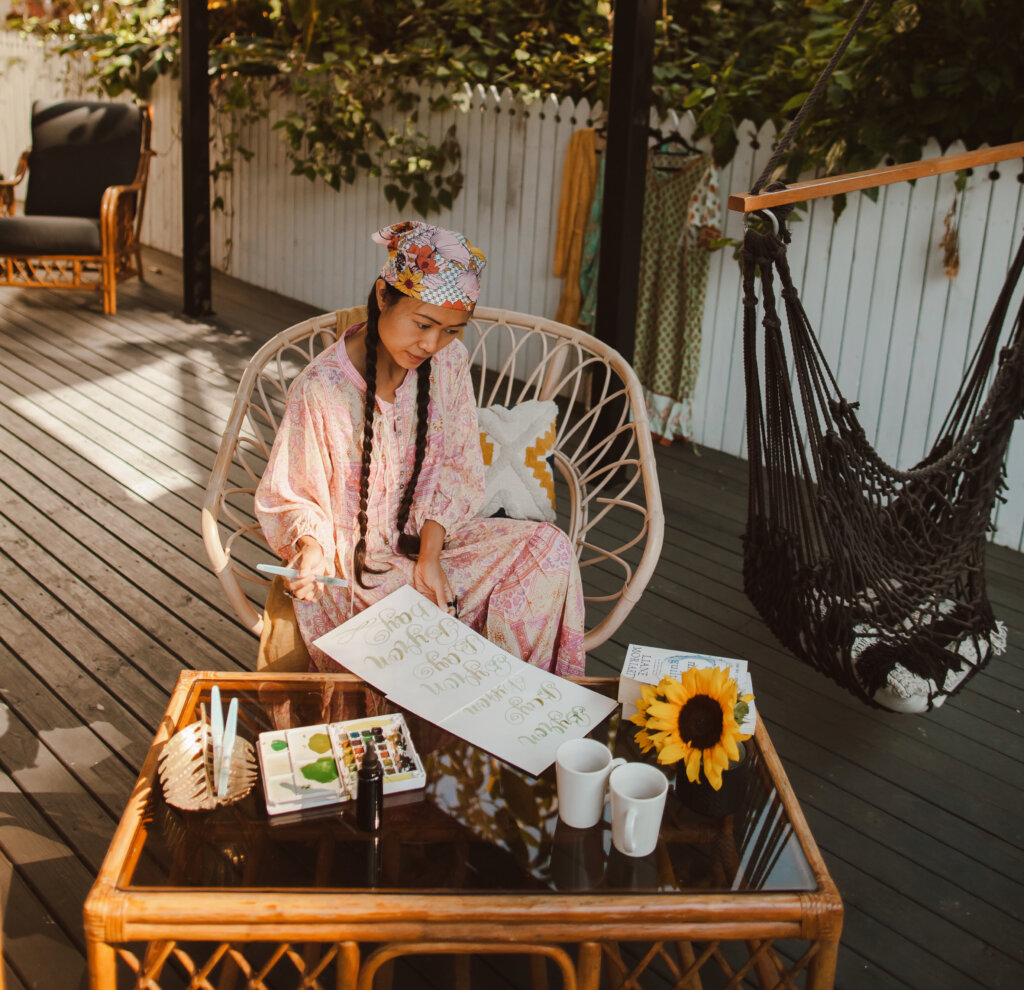 Things to do in Byron Bay
Lighthouse Walk
The beacon on Cape Byron is the lighthouse, which looks over the town and looks out for ships at sea. There are roads that can take you directly to the lighthouse carpark, but if you want to get active, there's a great walk that goes from the bottom of the Cape out to the lighthouse and back. This 3.7km loop is VERY worth doing. It takes you through rainforest, up to the Cape Byron Lighthouse and the eastern-most point of Australia, and back down along the coast.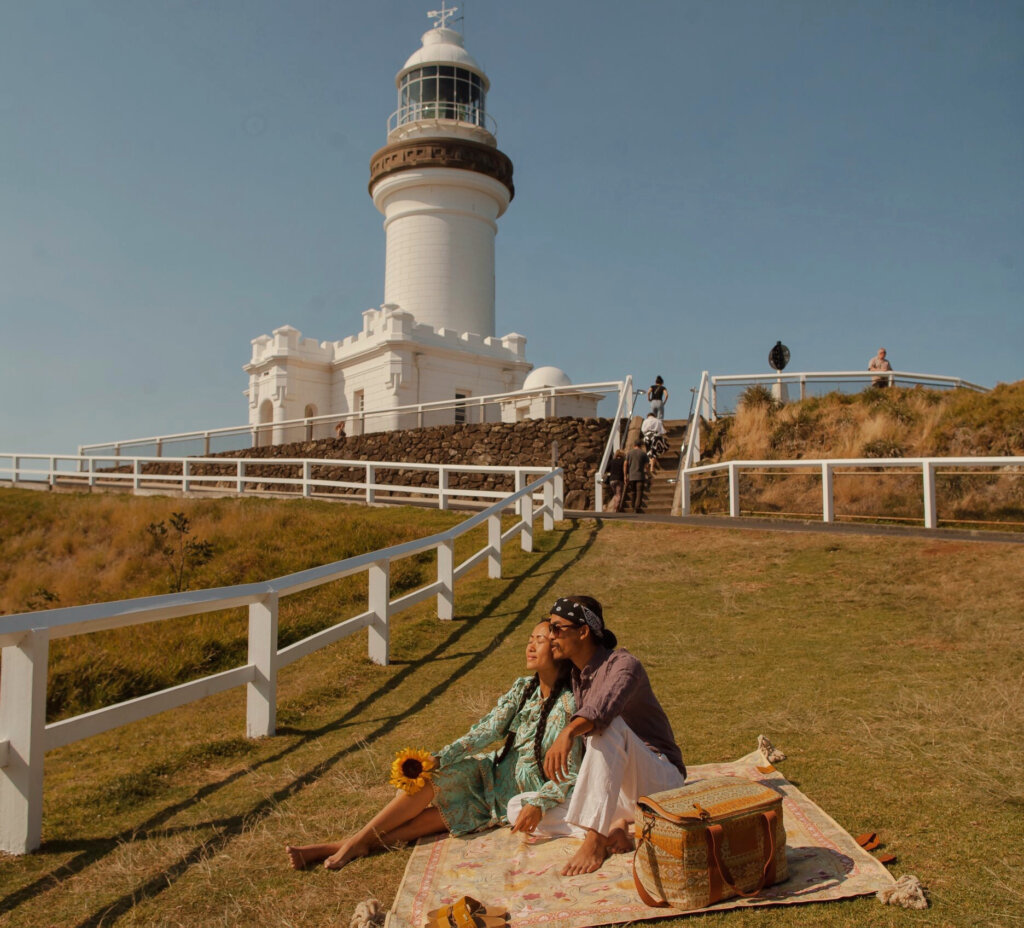 Chill out or have sunset picnic on one, or all, of Byron Bay's beautiful beaches
This one goes without saying. Byron Bay is first and foremost a beach town. Byron's blessed with 30km of beaches, every bit of it undeveloped and under-touristed. With most of the beaches facing north, you can watch the sunrise over the Cape Byron headland and the sunset over the hinterland.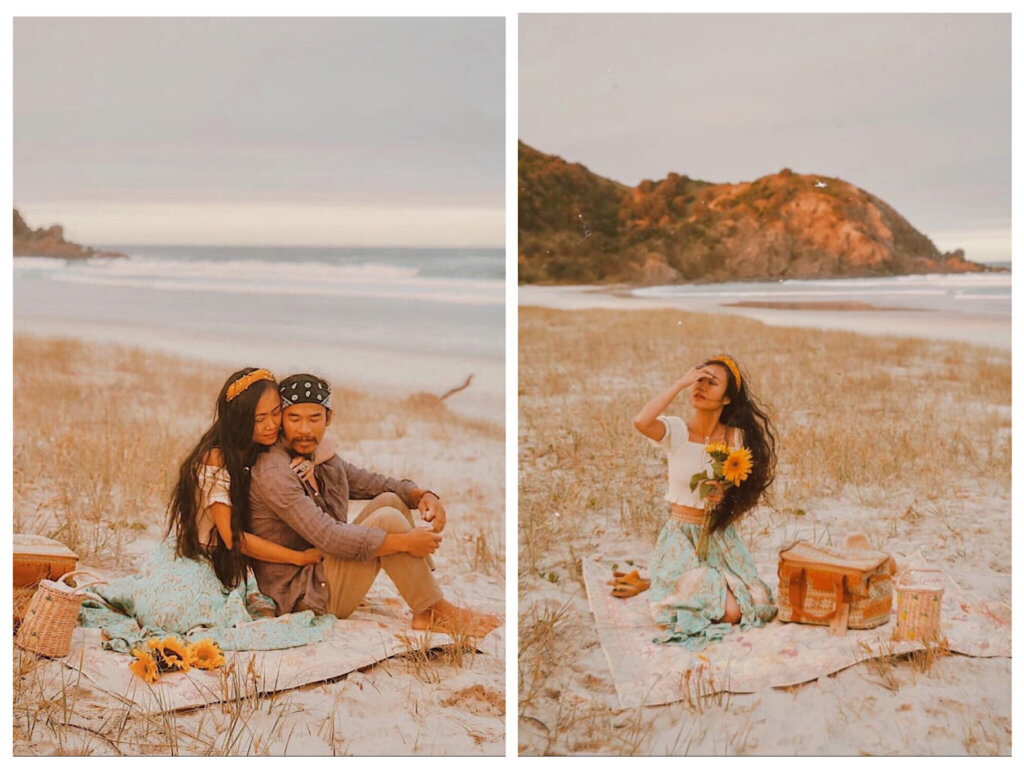 The most iconic stretch of sand is Main Beach but there are 8 others. Here are 4 of my favorite beaches:
Tallows Beach
All of the beaches deserve a mention, but Tallows is pretty special. It's the furthest from the town centre, which means that it gets about 1% of the number of tourists that visit Main Beach. It's home to white sand, blue seas and grassy areas perfect for sunset picnics! We visited on a Tuesday late afternoon and it was pretty much just us.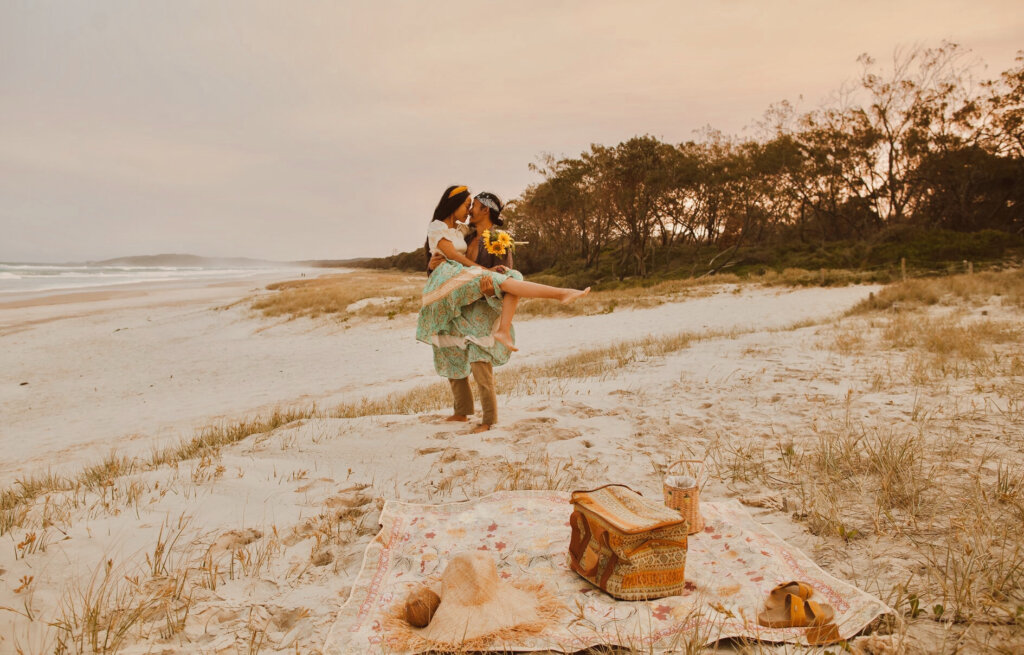 Wategos Beach
Wategos beach is a peaceful sheltered beach that is a perfect place to sunbathe, enjoy a picnic, and also surf! I think it's one of Byron Bay's best beaches, the westerly position, and abundance of greenery makes it a great place to shoot golden hour at sunset. Pack some gourmet goodies and a blanket and spend a few hours on the grass watching longboarders dance across the waves!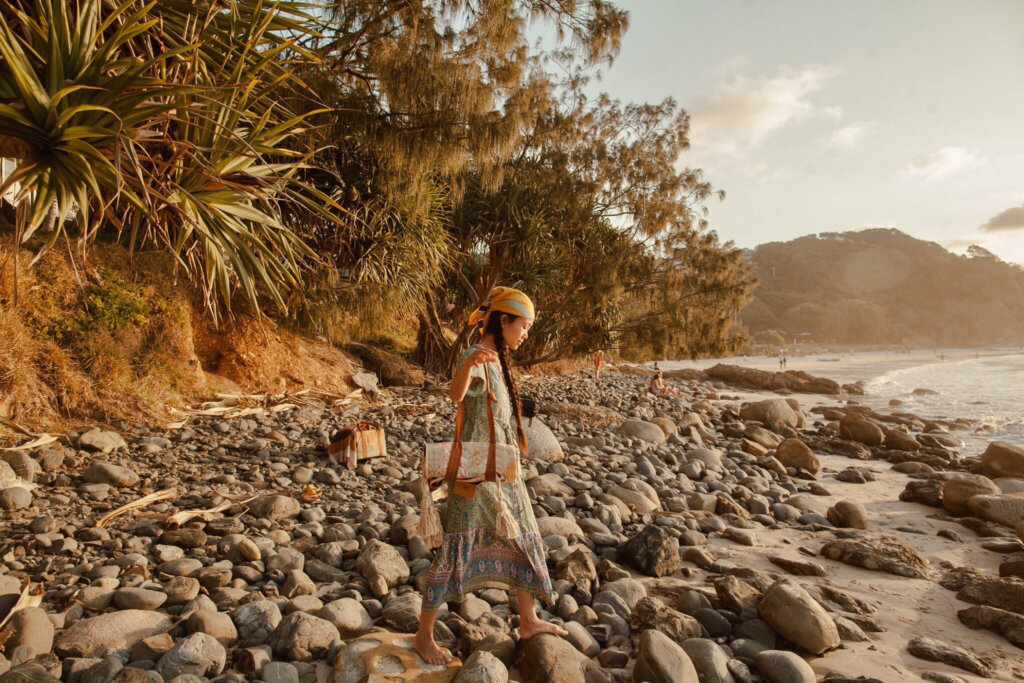 Little Wategos
Accessed either around the coast from Wategos or down the steps from the coastal walkway this beach has some interest with a bush backdrop, large pebbles and gorgeous soft sand. There are no facilities which makes it less attractive to families so on a good day you have the whole beach to yourself. That's well worth a longer walk back to the loo in our books.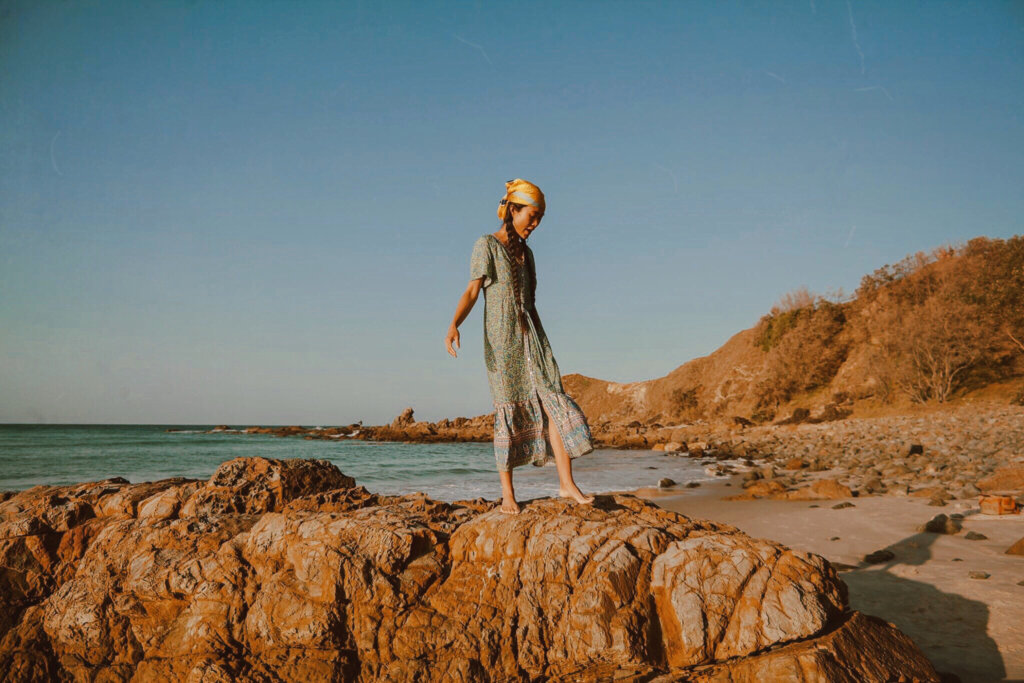 The Pass
The Pass is a stretch of beach between Clarkes Beach and Wategos. Wide expanses of white sand and long clear waves invite you to take a dip or a stroll along the gently curving shoreline towards the Cape.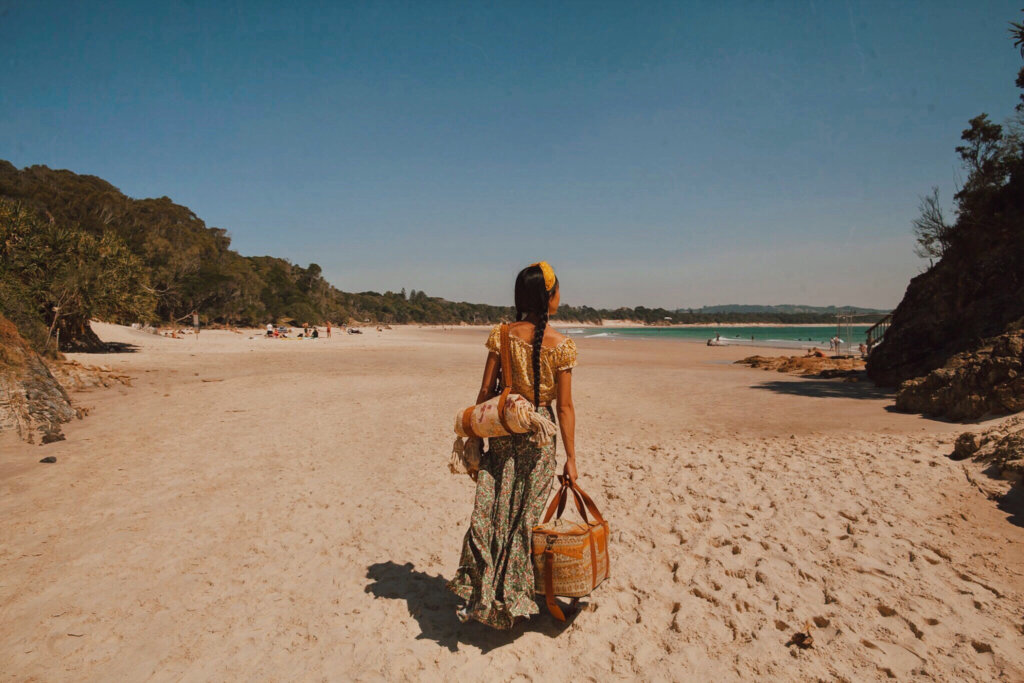 Shopping in Byron Bay
Both thrift stores and beach chic boutiques are sprinkled around and outside of town.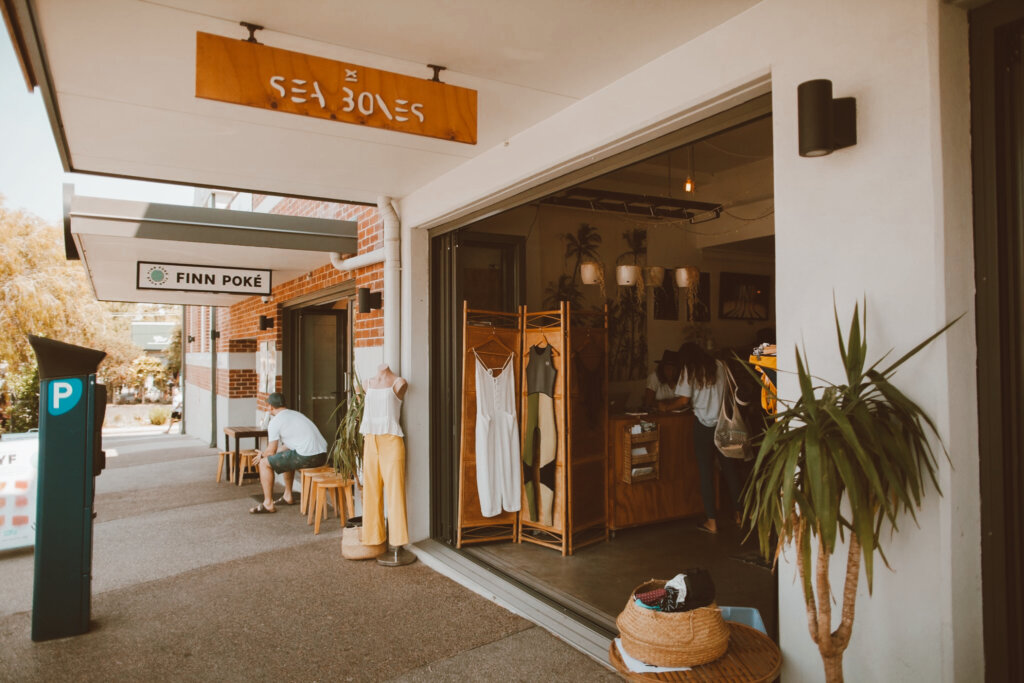 One could easily purchase a closet's worth of summer attire by shopping at the boutiques in Byron Bay. Here's a brief look of what I got from a day shopping in Byron Bay town!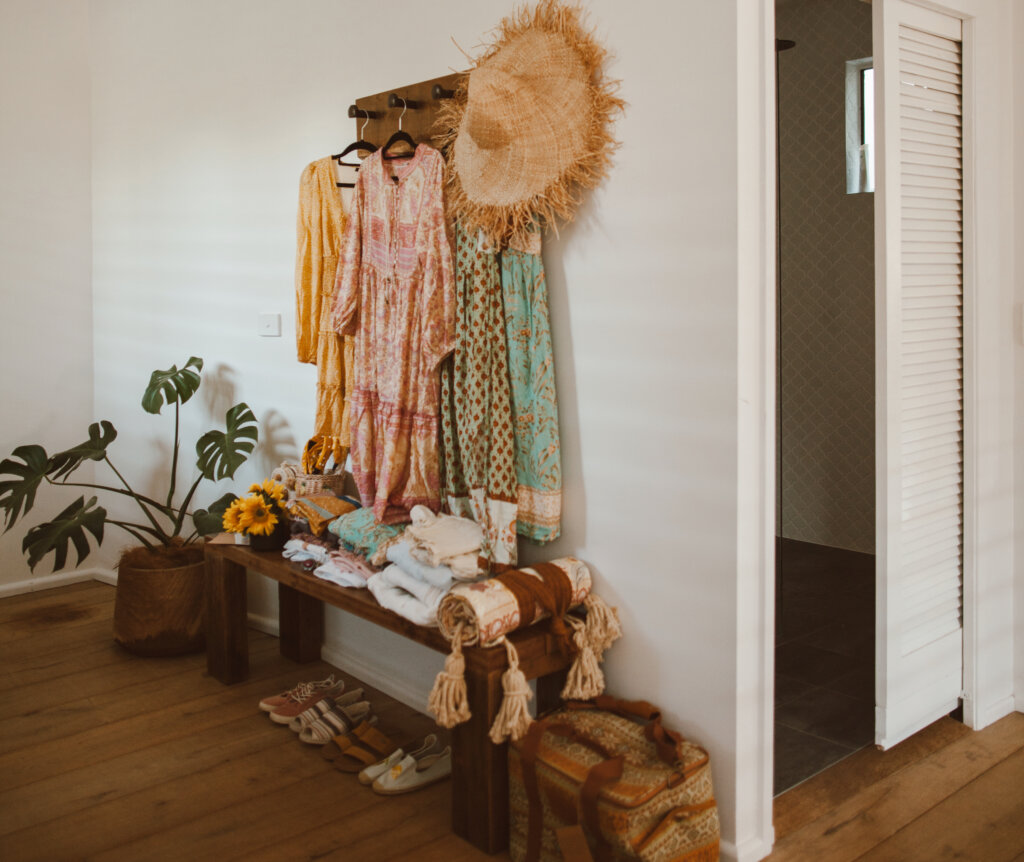 Byron Bay is certainly not lacking local, vibrant, boho-chic fashion labels. A number of independent fashion brands that started in Byron are now internationally known (thanks to Instagram) but you can find their original stores still here in town. A must-visit for every boho fashionista is Spell & the Gypsy Collective, which is located on the edge of downtown Byron, a favorite both amongst locals and tourists alike. If you're looking for Byron inspired fashion, look no further!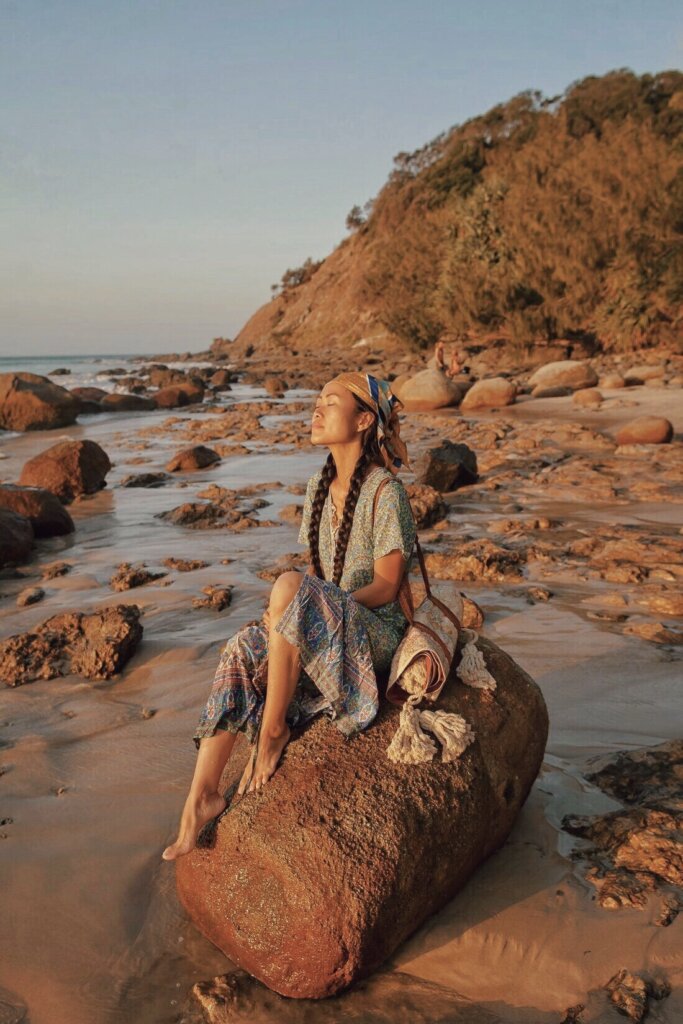 One of the most worthwhile purchases that we made in Byron Bay were a picnic rug and a cooler bag from Wandering Folk. Durable cotton canvas featuring a unique hand drawn artwork on the top side, Wandering Folk picnic rugs are created to last a lifetime and also aesthetically pleasing. Their rugs are more like a magic carpet than a picnic rug!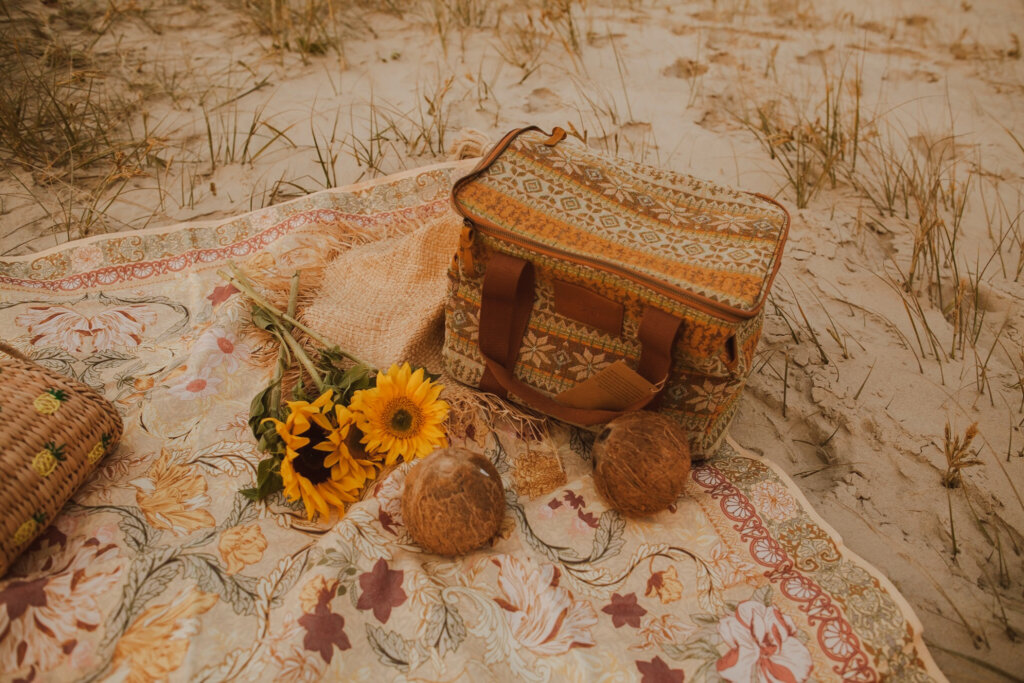 Every picnic rug comes with its very own brown woven strap, so you can carry your new rug wherever you roam.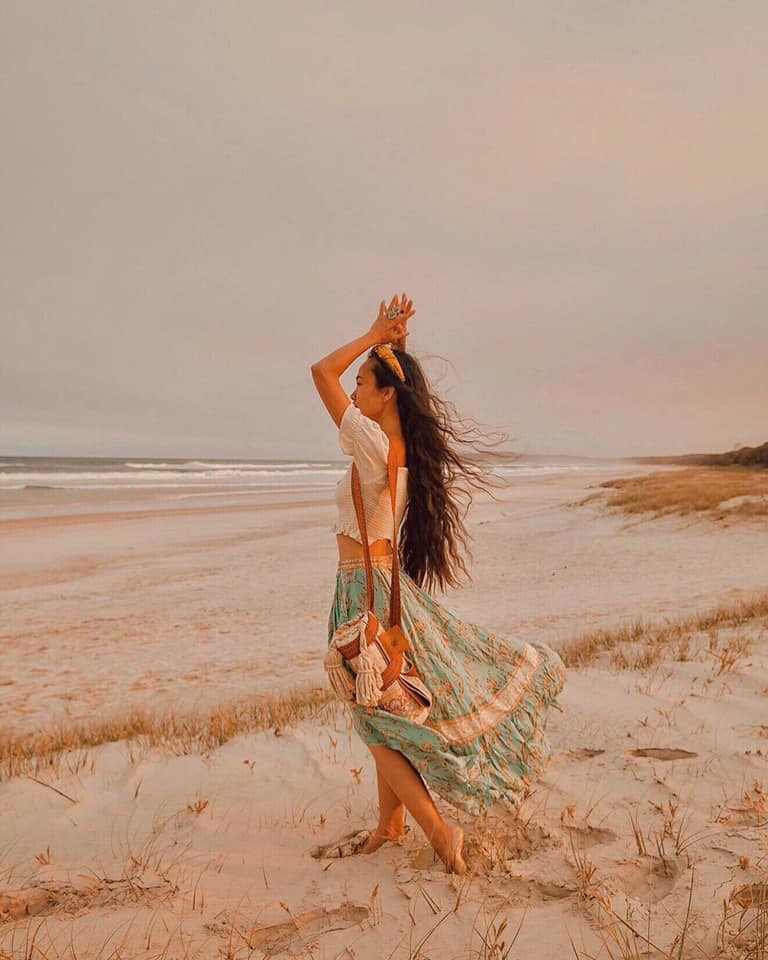 Where to eat/drink in Byron Bay
Byron Bay is a super laid back hippie town with lots of things to do (and eat!). Once the lazy beach town frequented only by locals, surfers and backpackers, Byron Bay has become one of the most popular getaway spots in Australia with vibrant restaurant scene. Byron Bay is a haven for thrill seekers and foodies alike. Here are some of my favorite spots for food and drinks!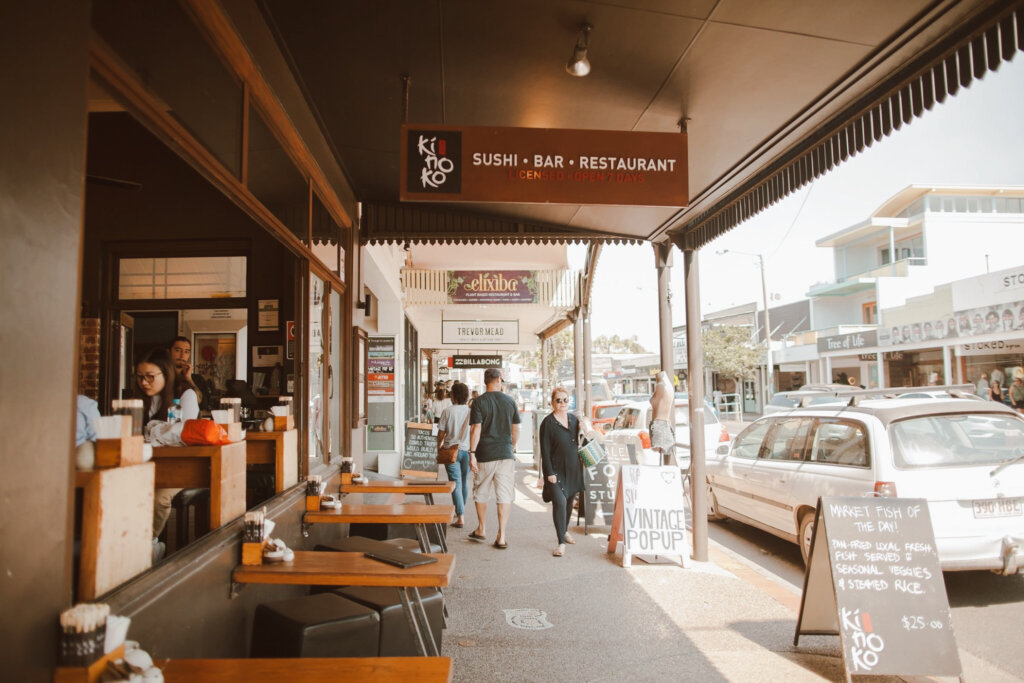 THE BALCONY BAR & OYSTER CO.
Balcony Bar is not cheap, but it's well worth the splurge. Because what beats sitting on a high stool, looking down from this lofty balcony, and enjoying fresh oysters, chilli crab linguine, and fresh fish ceviche. Wash it all down with a couple of passionfruit margaritas or cold beers and you've got yourself the perfect afternoon.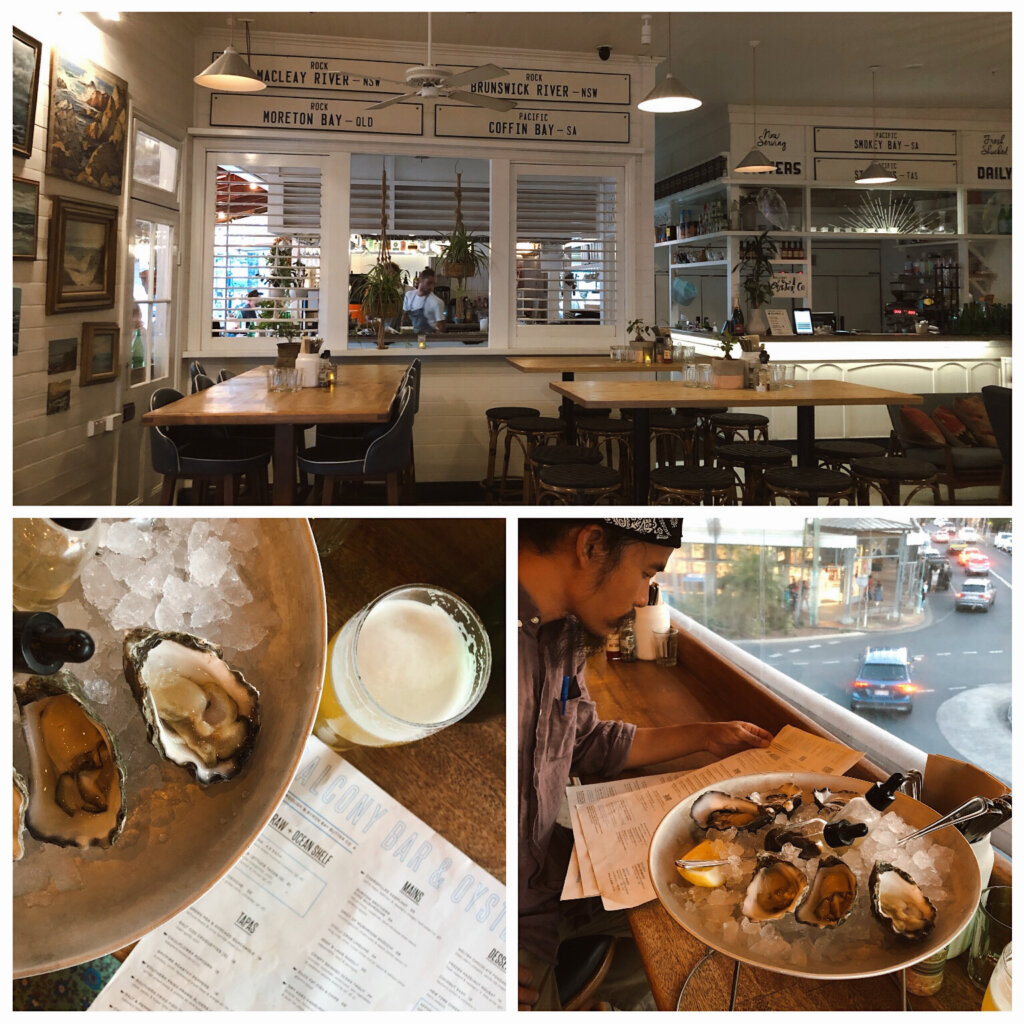 Main Street Burger Bar
Byron is well known for its hippie organic vegan culture, and it is so easy to slip into one of these by accident, but there's plenty for meat lovers too. There are a few burger joints in Byron, but Main Street was the best!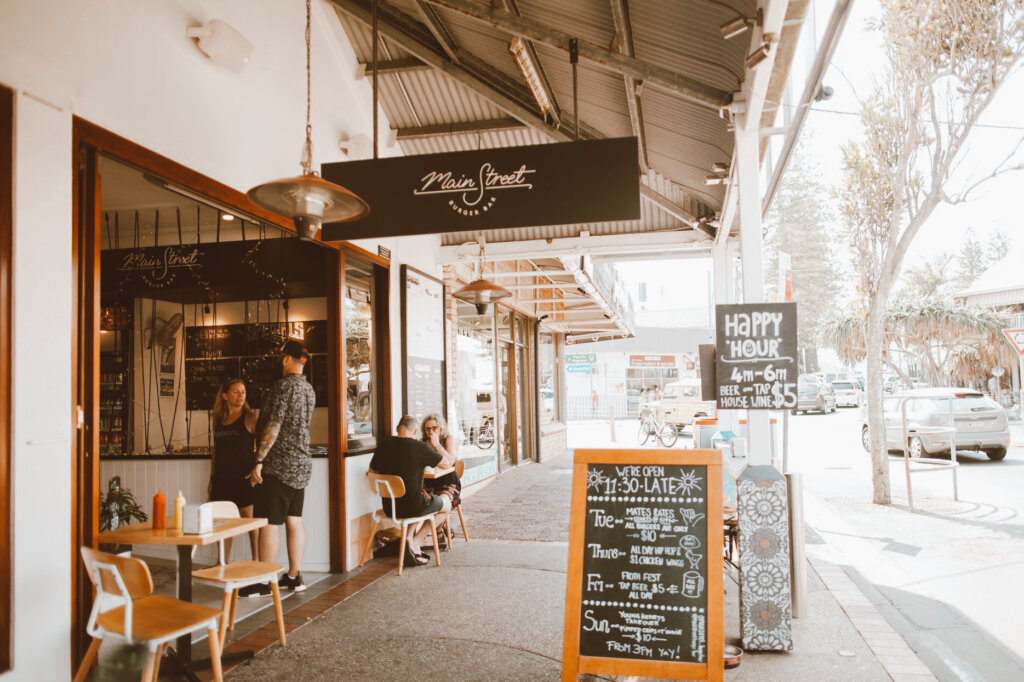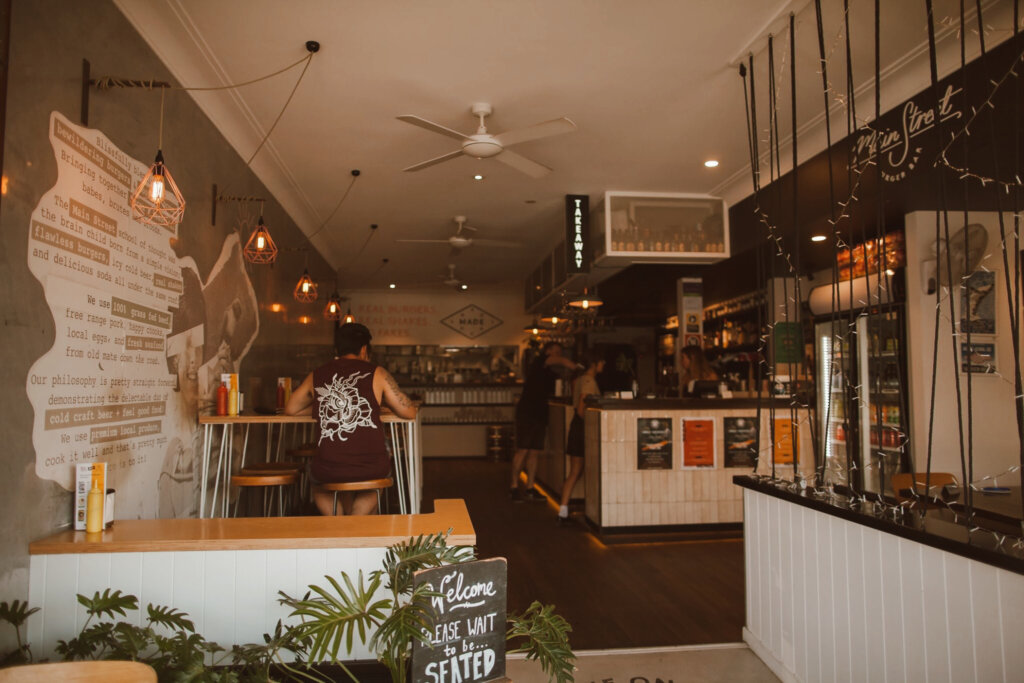 The patties are thick and juicy and the toppings are plentiful. They use 100% grass fed beef, free range pork, happy chooks, local eggs, fresh seafood, and Byron Bay's premium local produce! Their selection of REAL burgers, boutique local brews and milkshakes make this spot in the midst of town super popular.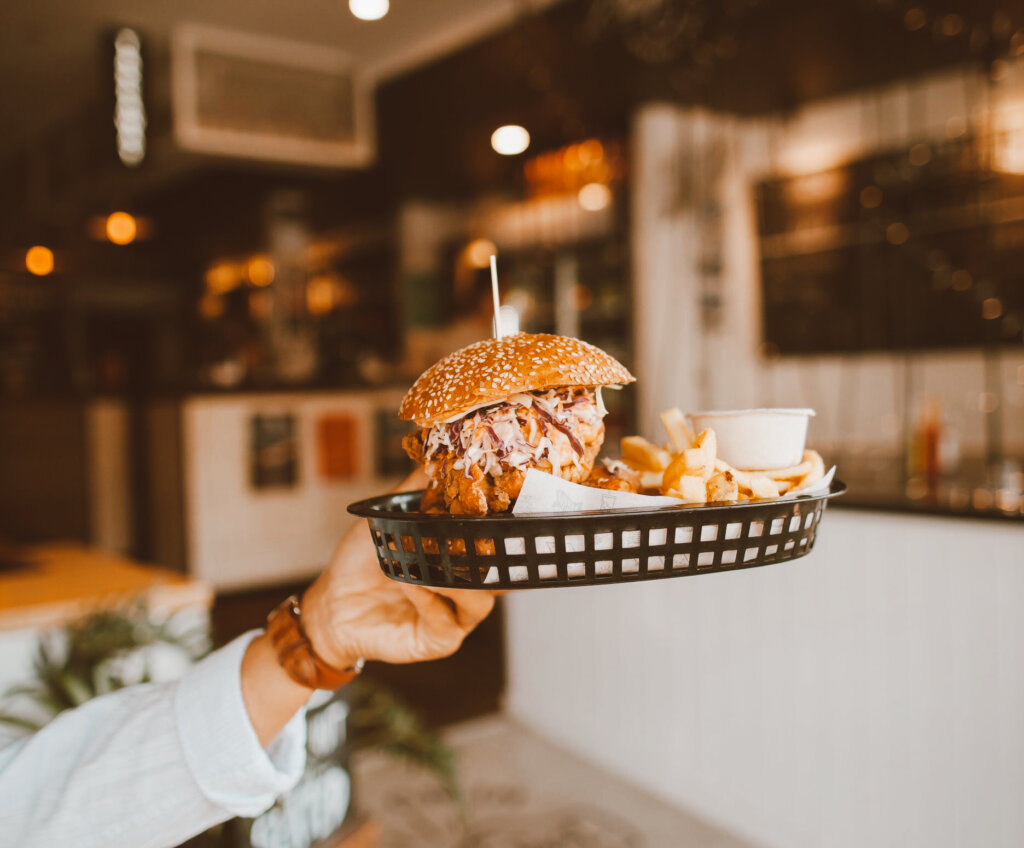 THE BYRON GENERAL STORE
Established in 1947, The Byron Bay General Store is among Byron Shire's oldest commercial buildings still standing.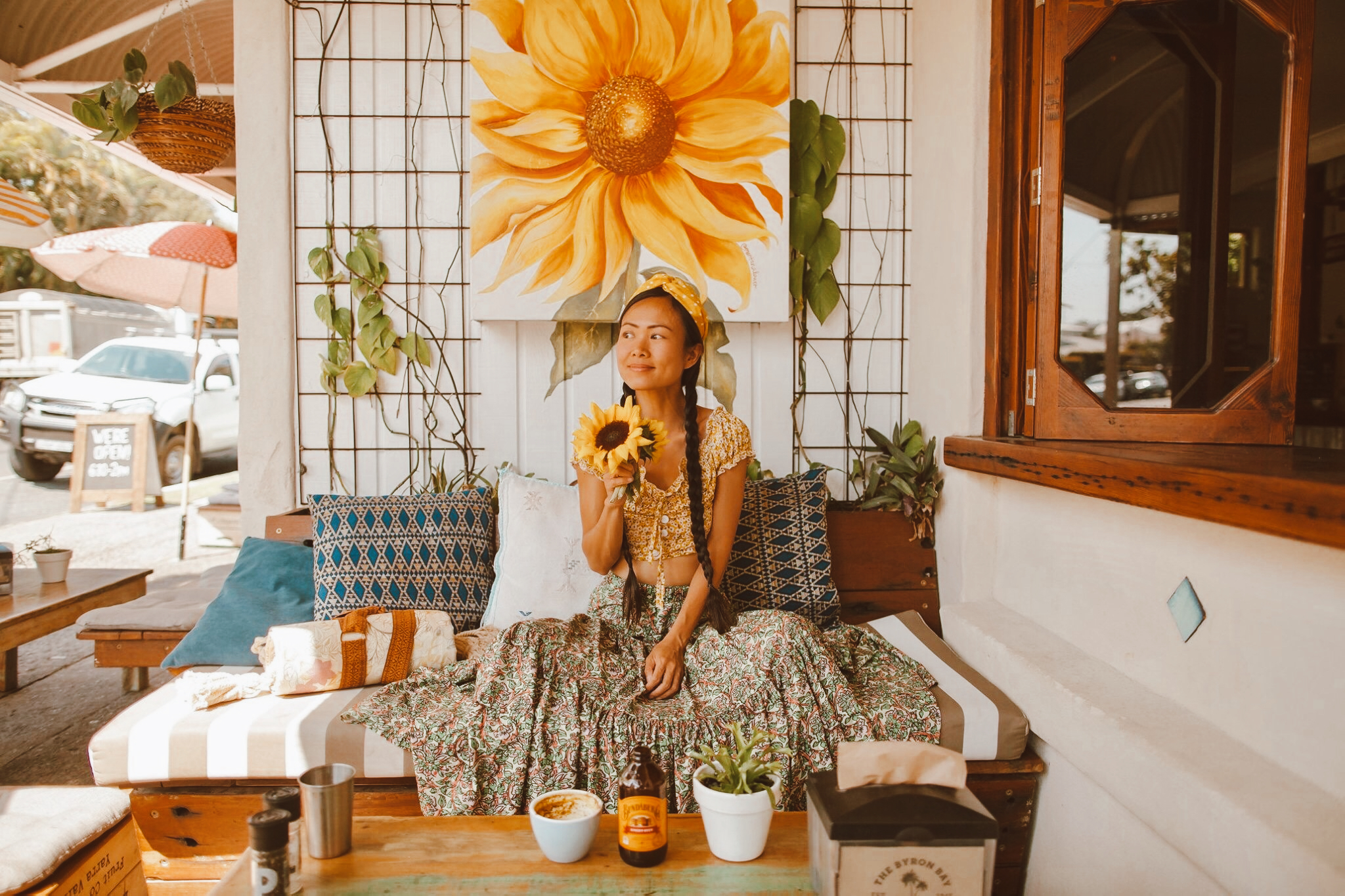 They source their produce from only the local organic farmers in the area. Their menu is designed to have something for everyone: vegan, vegetarian, gluten free options as well as sustainably sourced meat options. They also happen to have the best smoothie bowls in town!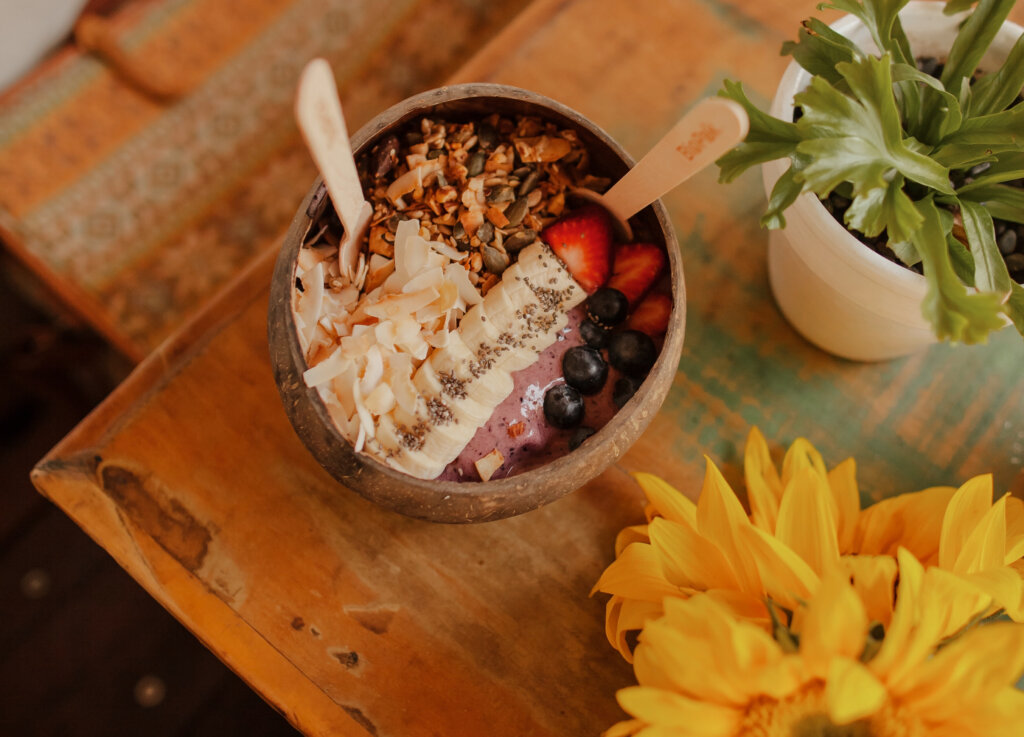 The General Store is a sweet little oasis if you want to get out of the centre of town!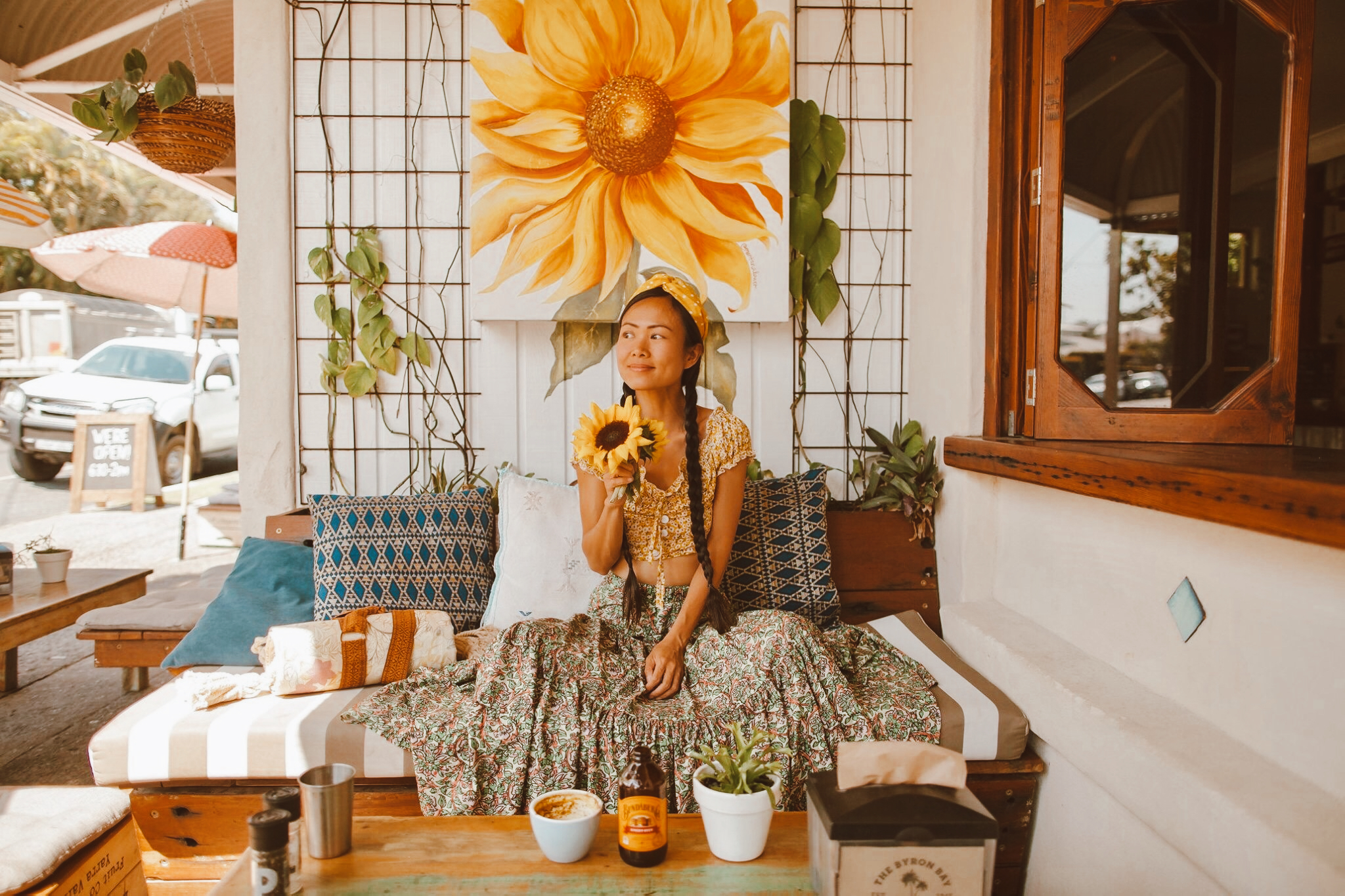 Fundies Wholefoods Cafe
After your walk along Main Beach a stop at this cafe is a must. There is a great selection of vegan foods available and the smoothies are to die for.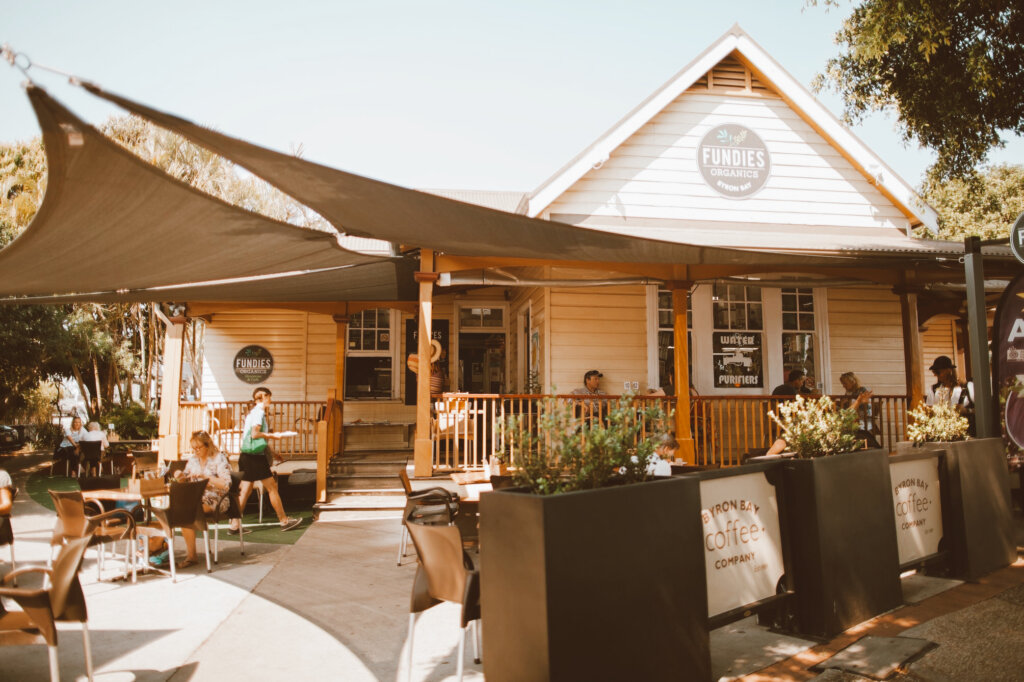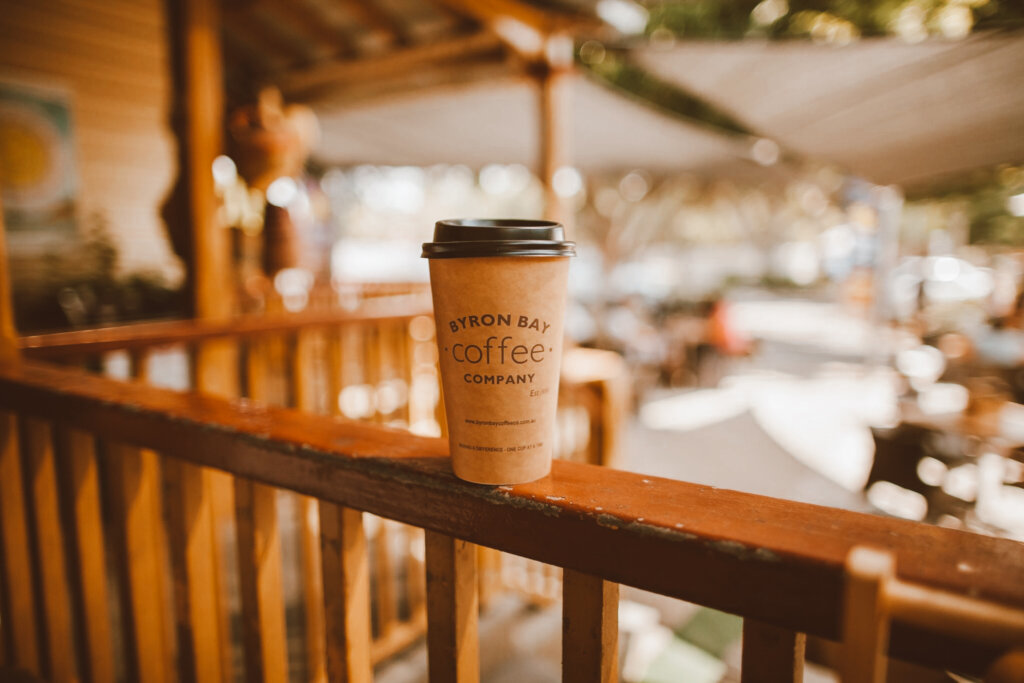 The Pressed Pantry
Don't be surprised to find plenty of amazing vegan food and vegetarian options with fresh ventures popping up all the time! You don't have to be vegan or vegetarian to appreciate the thrilling tastes and multiple health benefits this style of eating has to offer.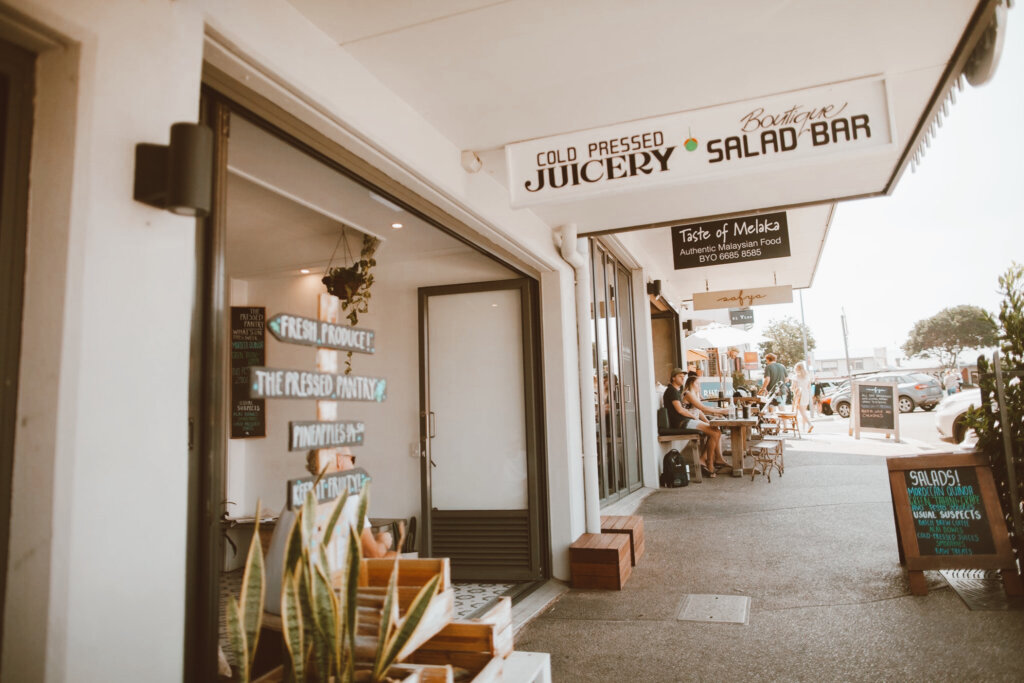 In Byron Bay's tropical climate, there's nothing quite as refreshing and rejuvenating as a cold smoothie, freshly-squeezed juice or nutritious acai bowl. Known as a cold pressed juicery and boutique salad bar, The Pressed Pantry is a fairly new player on the health food scene, but already picking up lots of fans (all thanks to Instagram)!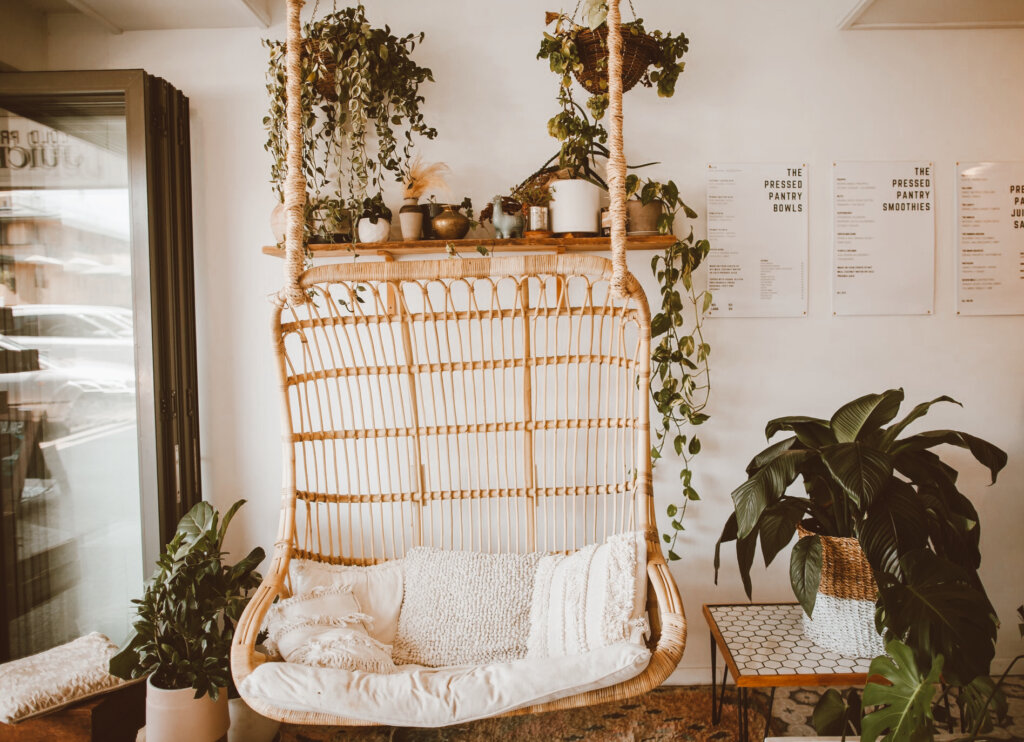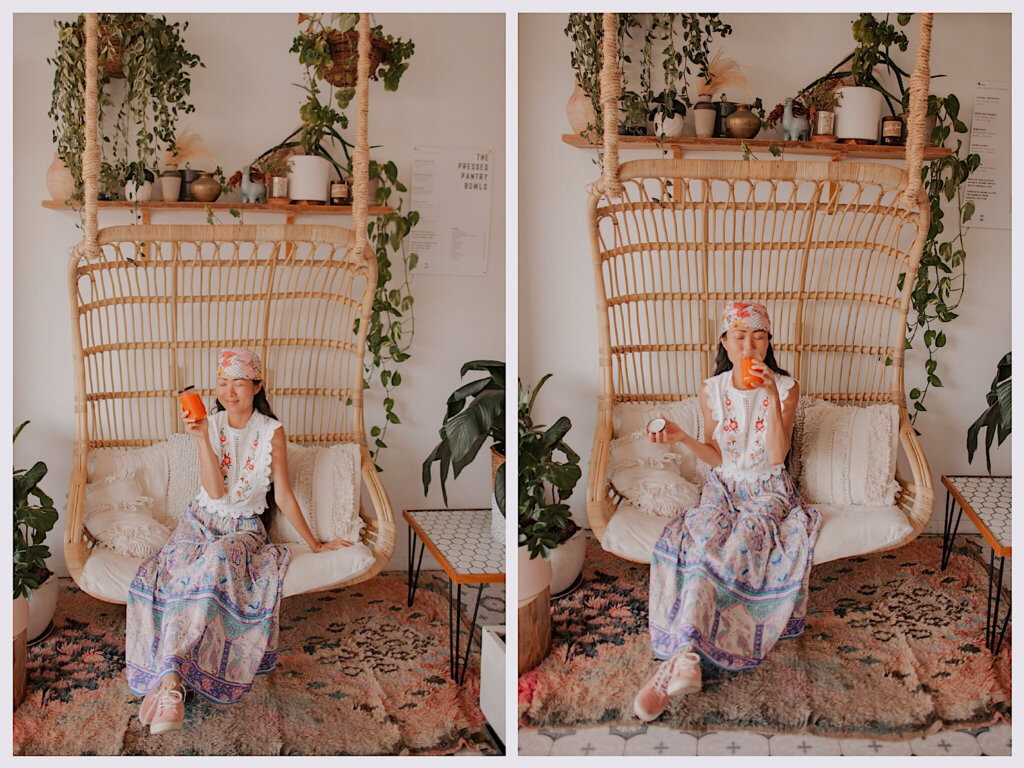 Summary
People travel from all over to experience the carefree, chilled out, slowed down pace of life that Byron Bay is famous for. In my opinion, Byron can be done in 3 days – and ideally as more of a relaxation retreat than a sightseeing trip. Don't plan too much in advance, but rather see where each day takes you.
It's the place where people rebel against the 9-5 style, where bare feet are common, where every day is the weekend, and where deeper and purer existence are deeply evaluated. Spend your days walking barefoot through the golden sands and side streets and indulge your nights in sunsets, cocktails and phenomenal musicians busking on the streets.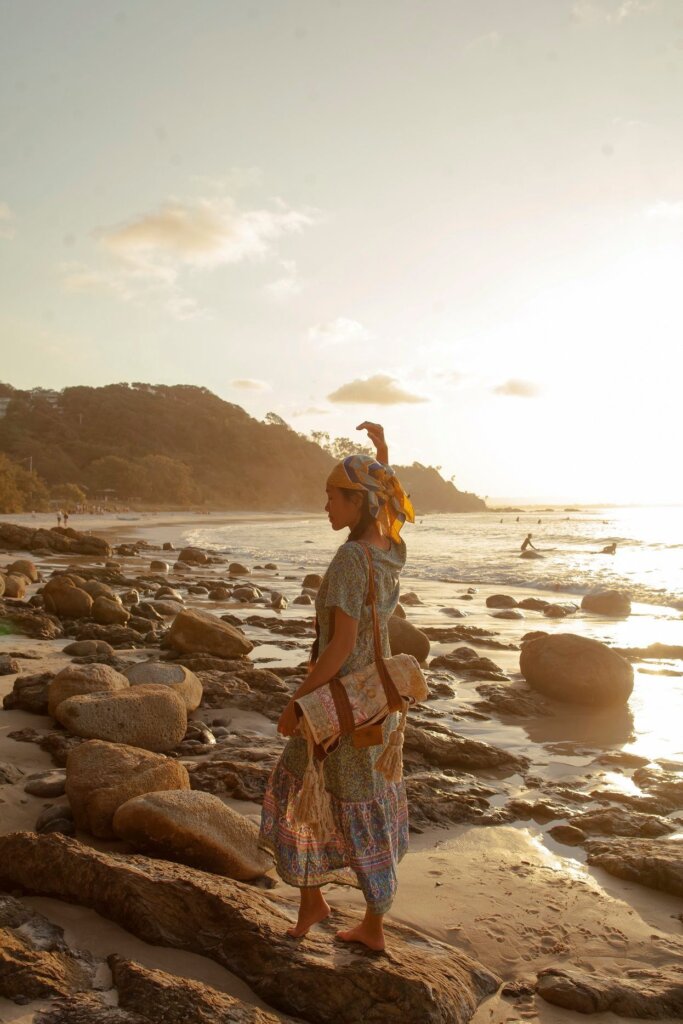 Want to win 4 round-trip flights to Australia with Qantas? Click this link!
***Thank you to Qantas for kindly sponsoring this post. All opinions are 100% honest & completely my own.