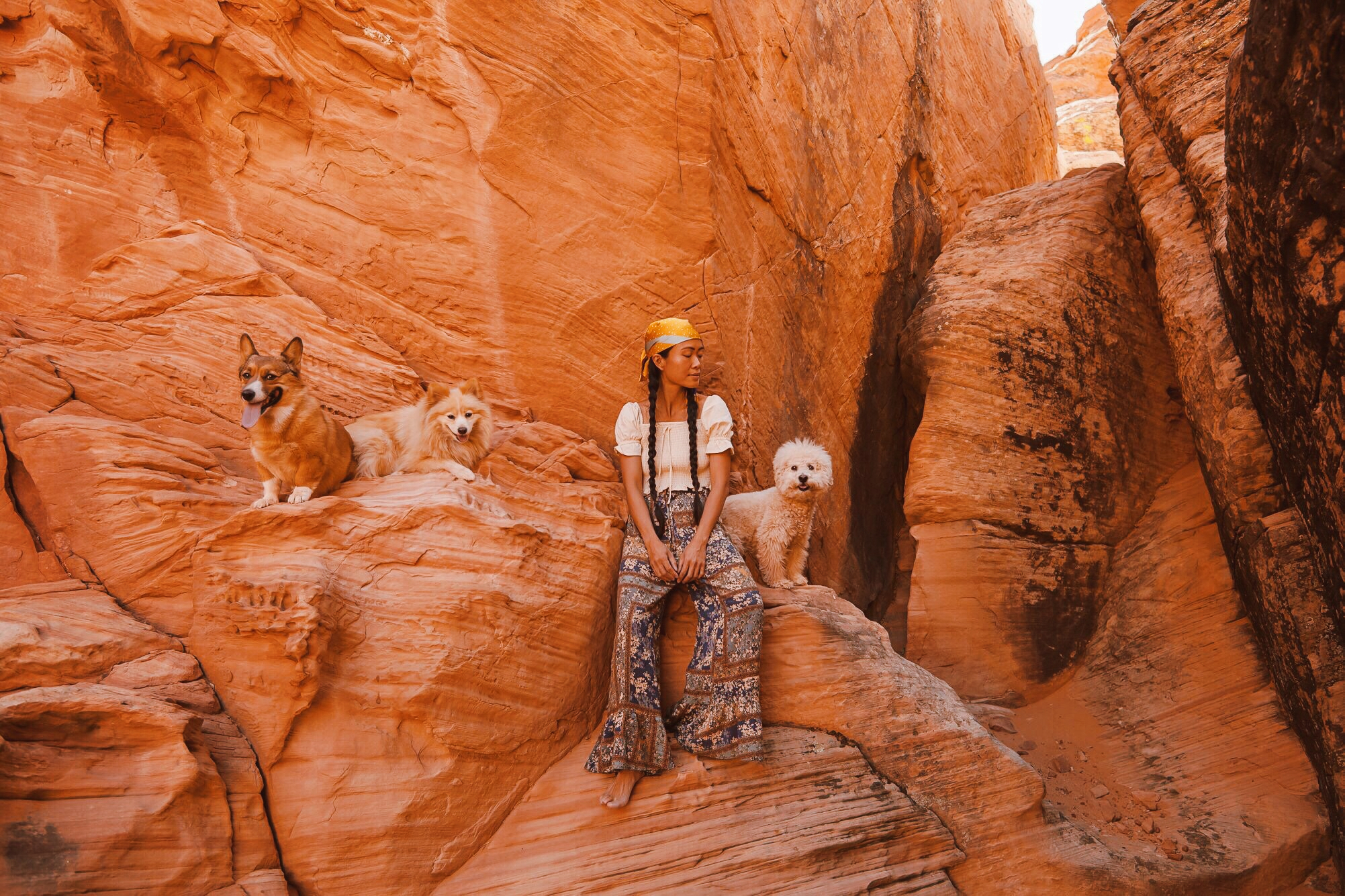 The Ultimate Pet-Friendly Southwest Road Trip Through Arizona and Utah
The look on my dogs' faces every time I pack up my suitcase is the most difficult part about being a travel blogger. After coming back from a 2-week work trip, I wanted to make up for my dogs with an epic road trip through the American Southwest. Well known for its arid climate, breathtaking views and desert landscapes, the Southwest is a must-visit region of the country. It also happens to be incredibly dog friendly. From Arizona to Utah, here are the Southwest's best places to visit with your pet.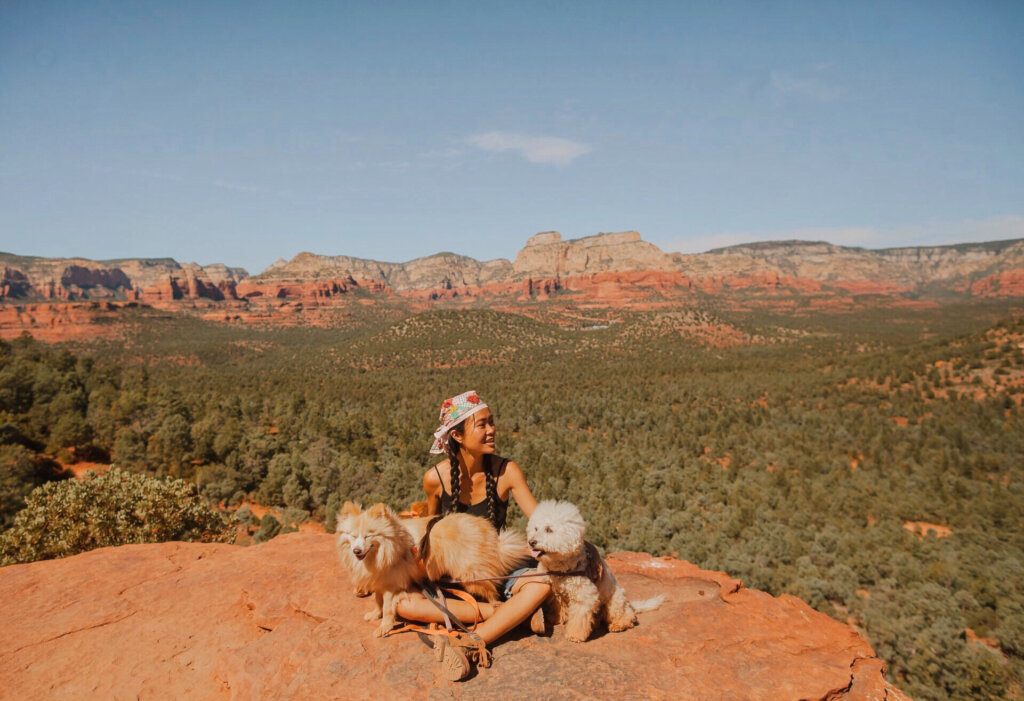 DEVIL'S BRIDGE TRAIL, SEDONA
Devil's Bridge Sedona is one of the most popular places to hike and photograph in the area, and no trip to Sedona would be complete without at least one visit to this magnificent place.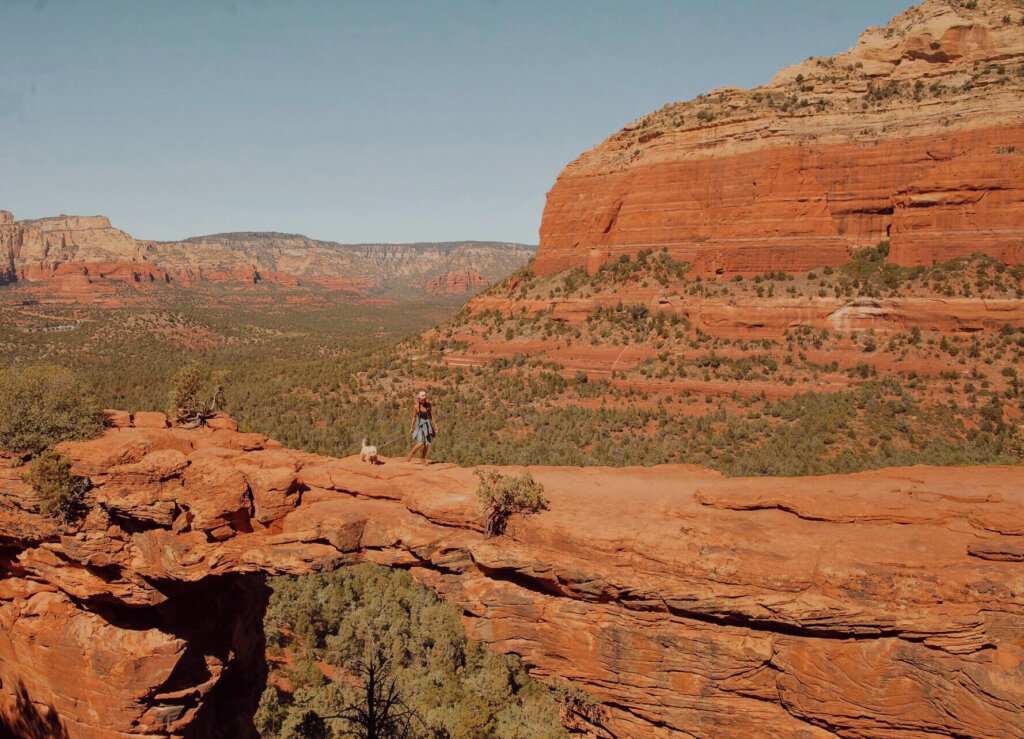 The hike to Devil's Bridge is moderate in difficulty and can be relatively crowded during peak season. There are two ways to start Devil's Bridge Trail from the main parking lot. Both lead you to the same place, but one is on a dusty 4×4 road, and the other is a longer trail through the desert.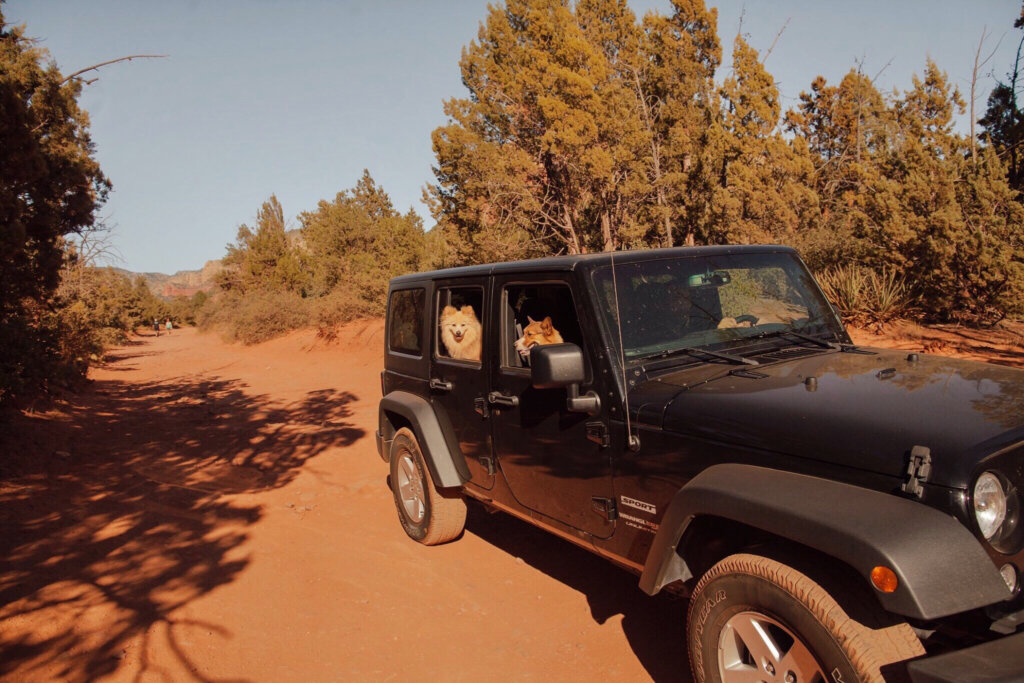 Since it can get pretty hot during the day and the hike might be too much for our small dogs, we decided to take the 4X4 off-road vehicle trails, which will allow you to get to trailheads quicker and shorten your hiking times (cutting your hiking time by 70%), but your vehicle must have high clearance and four-wheel drive.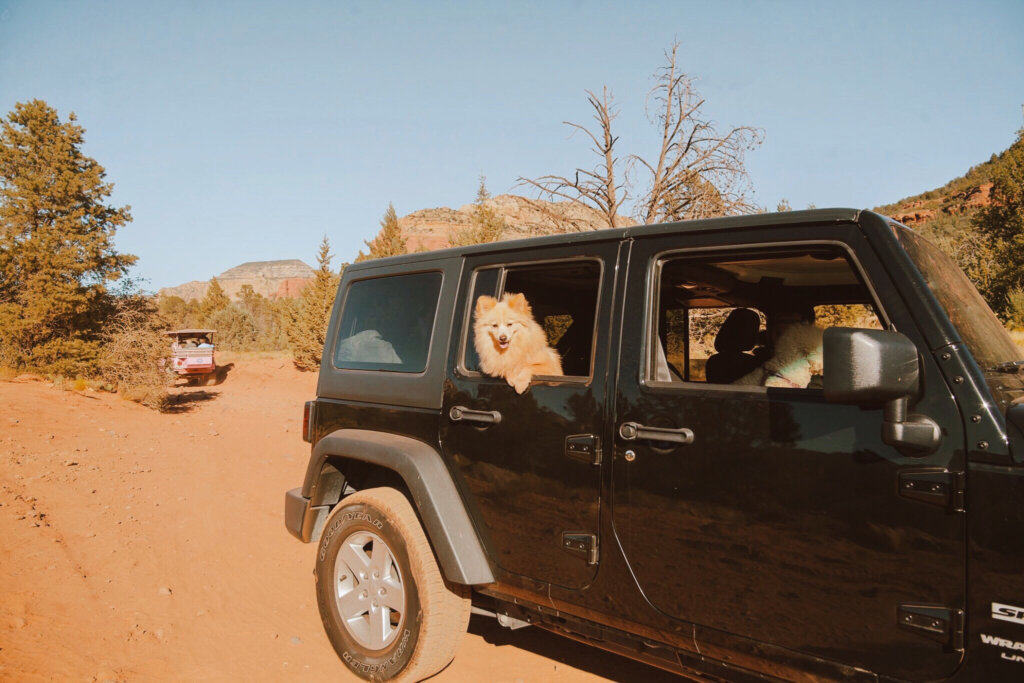 If you don't own a 4-wheel drive, you can book a guided tour with Pink Tourist Jeeps? This is a Sedona adventure tourism company that takes you on custom trail drives and trips around the red rock area!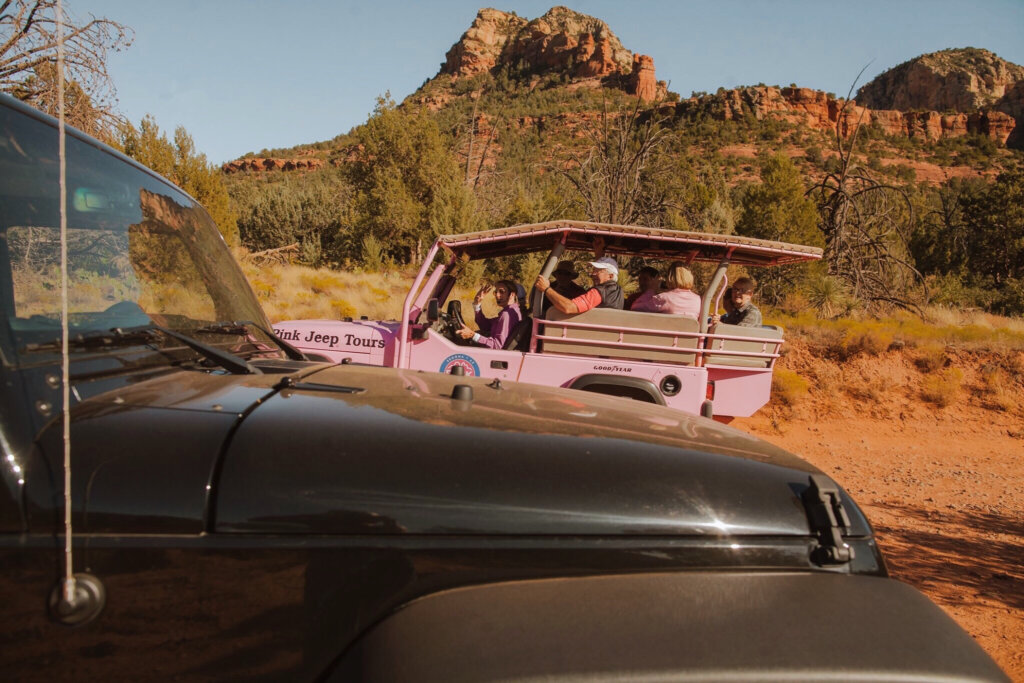 From the parking for the high-clearance vehicles, you only need to walk for about one more mile. Pretty easy for our dogs. You'll eventually see a fork in the trail. Turn left and you'll be lead down to below the Devil's Bridge. The trail to the right will be a steep trail to the top of Devil's Bridge. This trail is rocky and requires a series of climbing and stair-stepping.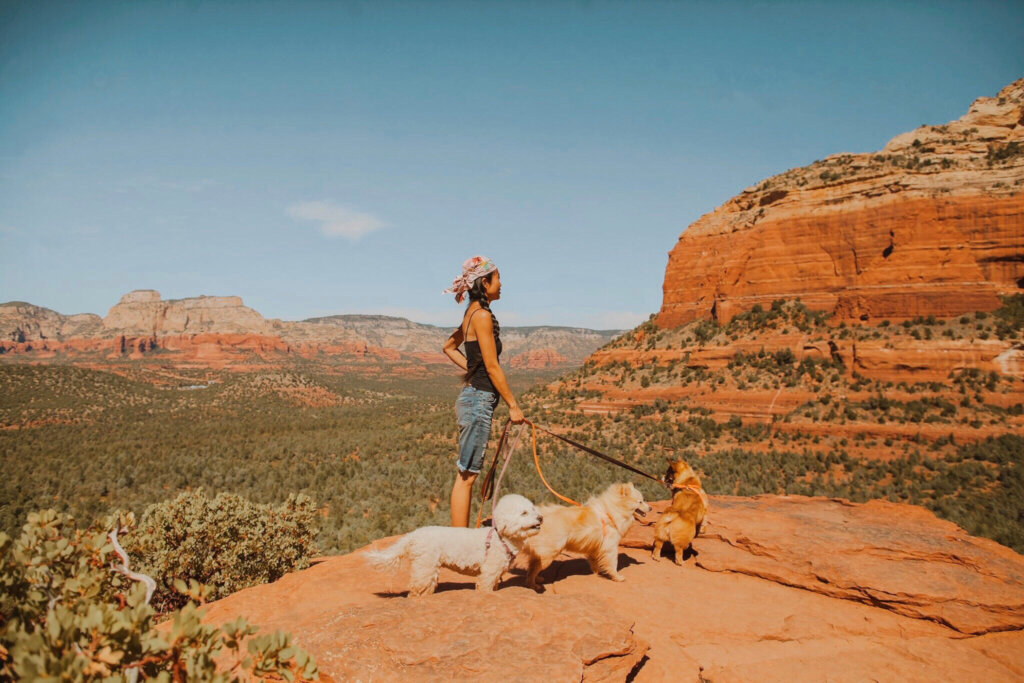 You will climb 2 separate natural rock staircases where the trail continues to the bridge. After the first stair case is your first spectacular view of the land.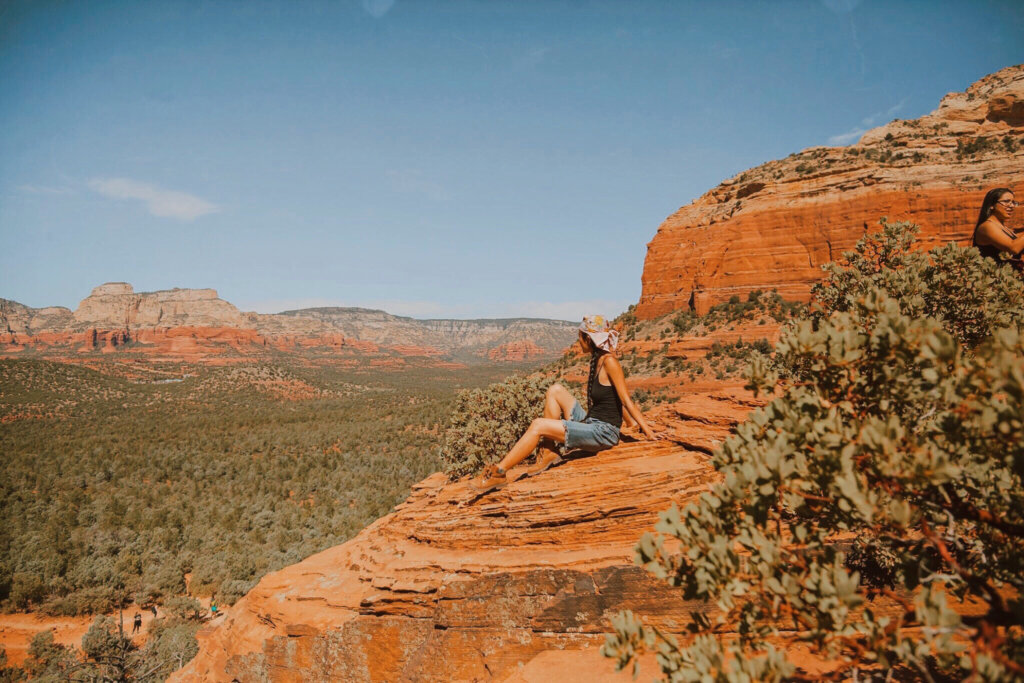 GLAMPING NEAR GRAND CANYON
Traveling with 3 dogs comes with many challenges. Imagine going on a road trip with your dogs where every restaurant you go to and trail you hike have to be pet-friendly. And it's even more challenging when it comes to accommodations.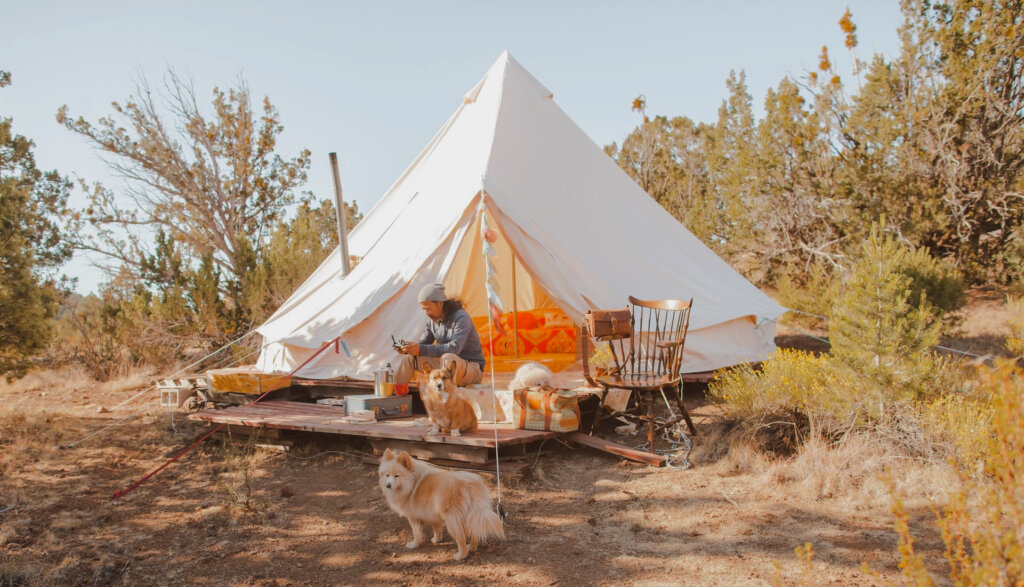 That's why we opted for glamping. Several campgrounds and Airbnbs in Arizona offer "glamping". Glamping is suitable for those who look for a getaway in nature with some comforts of home. Thankfully, we stumbled upon this pet-friendly glamping site in Williams – Grand Canyon Glamping Eco-Yurt.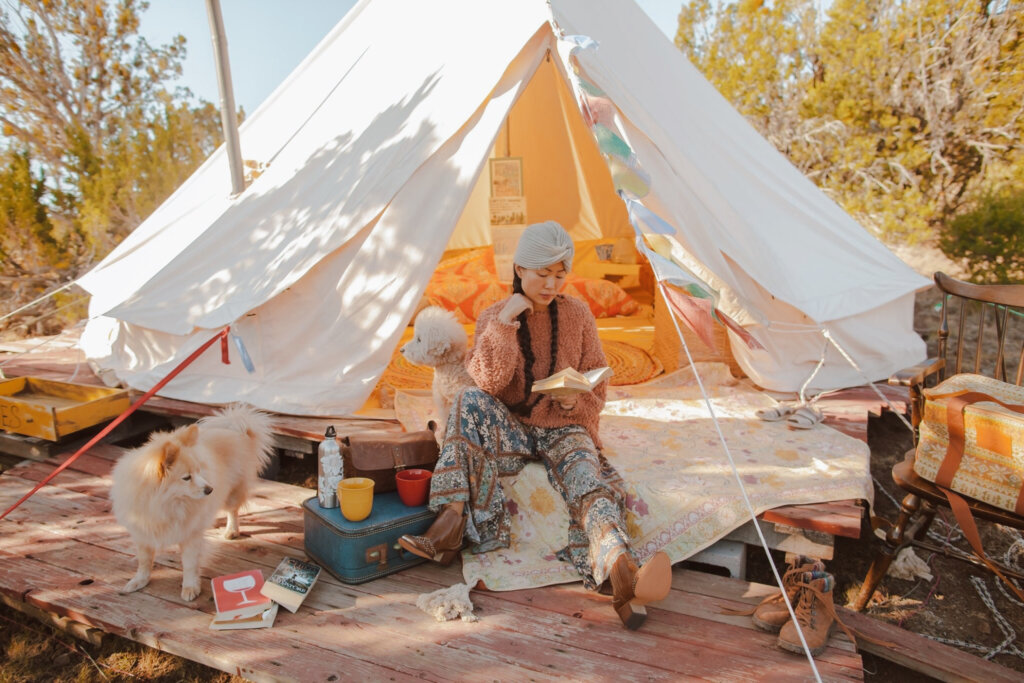 This yurt is perfect for couples, families or groups seeking an escape into nature. Separate bathroom and outdoor solar shower are near the tent. They charge $10 per pet for cleaning fee, which is very reasonable. Our 3 dogs had such an amazing time enjoying their first time glamping experience! Read more about our glamping experience here.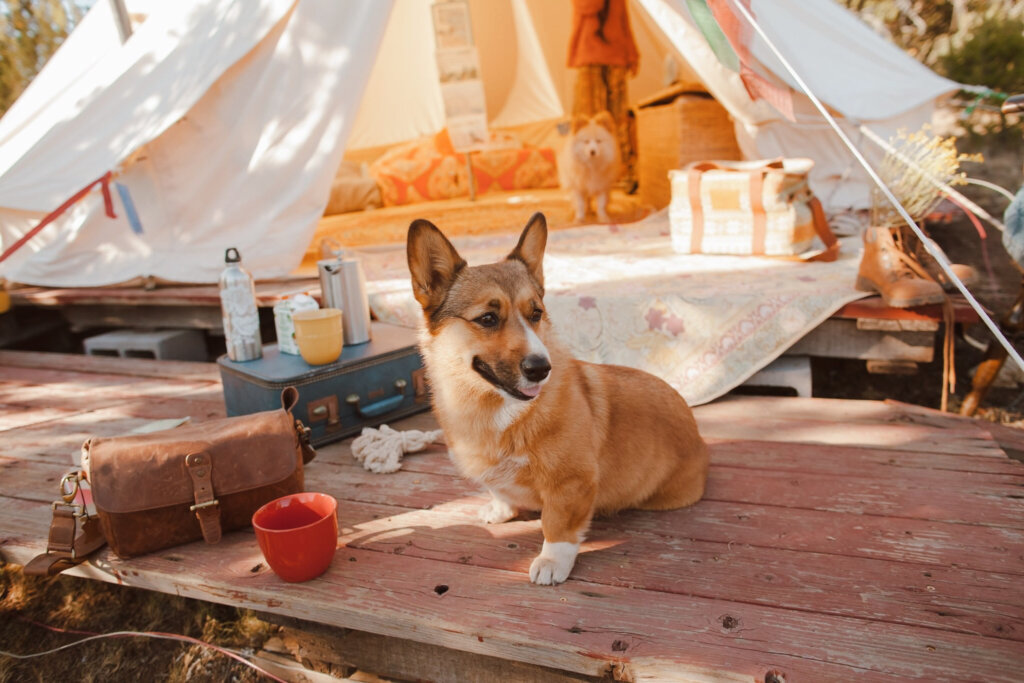 MONUMENT VALLEY SCENIC DRIVE, UTAH
While many national parks are notoriously lacking when it comes to pet friendly access, Monument Valley Navajo Tribal Park provides a refreshing array of options for adventuring with your pets.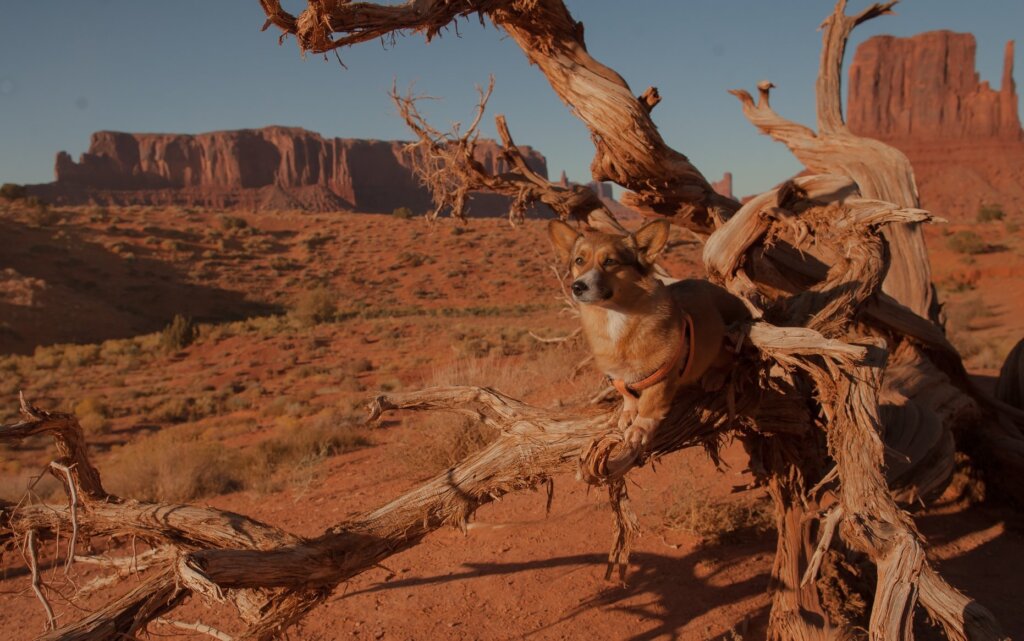 Dogs of all sizes are allowed for no additional fee and must be leashed at all times, cleaned up after, and under their owner's control. Dogs are allowed throughout the park, but not allowed in buildings. Check out my complete guide for Monument Valley here.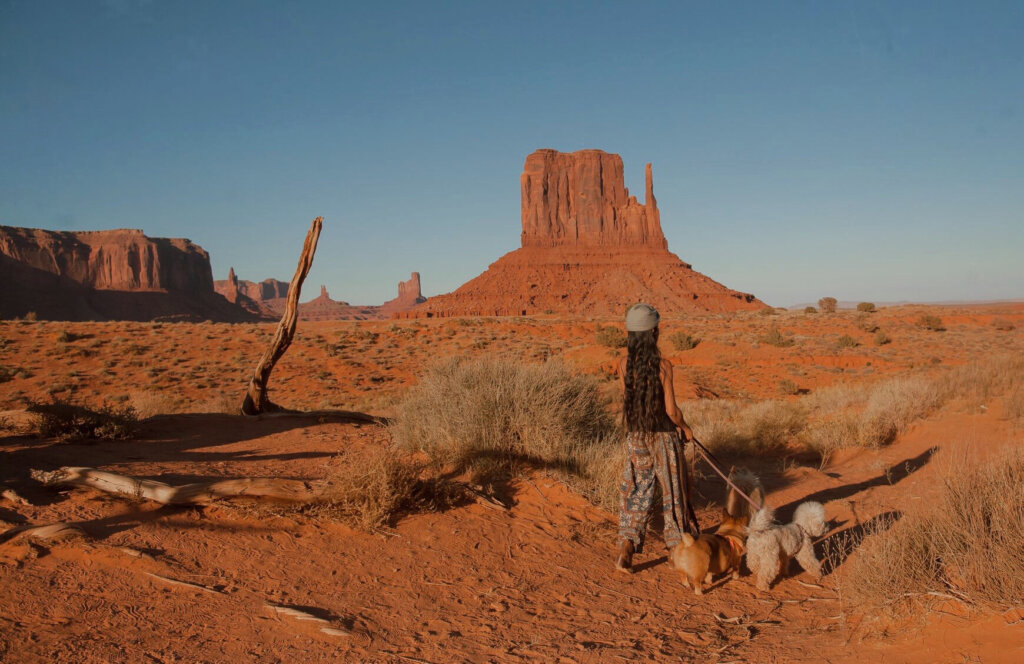 HORSESHOE BEND, ARIZONA
Chances are you've seen pictures of beautiful Horseshoe Bend. This spot has become popular in the last few years due to Instagram, and trust me when I say it is even more incredible in person. Horseshoe Bend appeals to visitors because of the short hike (only 20 minutes) and breathtaking scenery.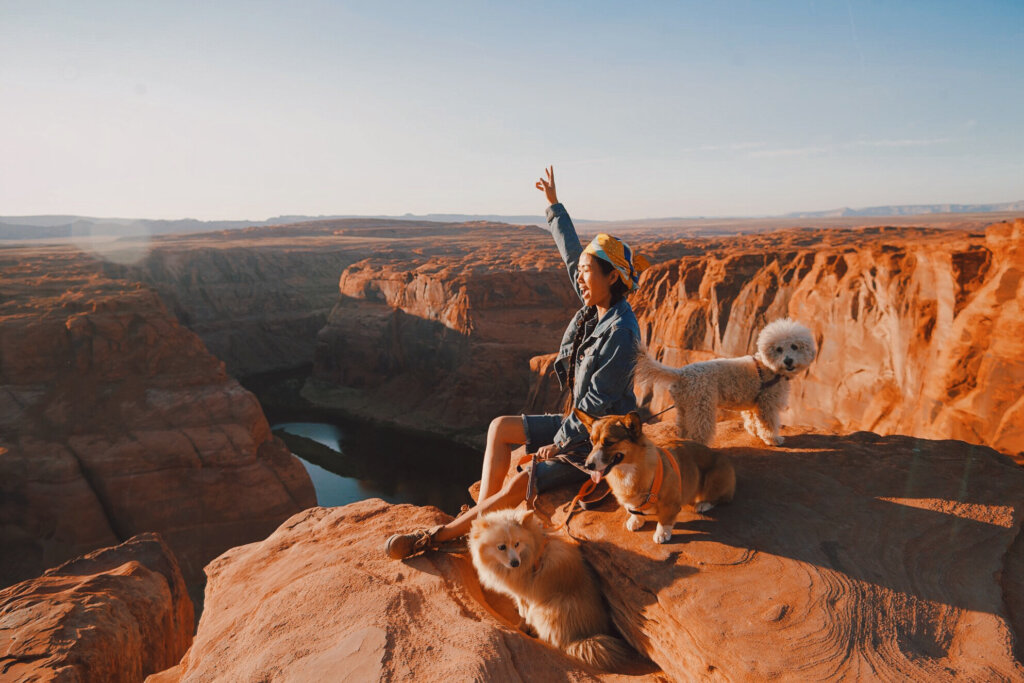 The best part about Horseshoe Bend is that it's dog-friendly. Dogs are welcome in Horseshoe Bend as long as their companions keep them leashed with no more than six feet of leash extended at any time. Dogs must also be under their human companions physical restraint at all times.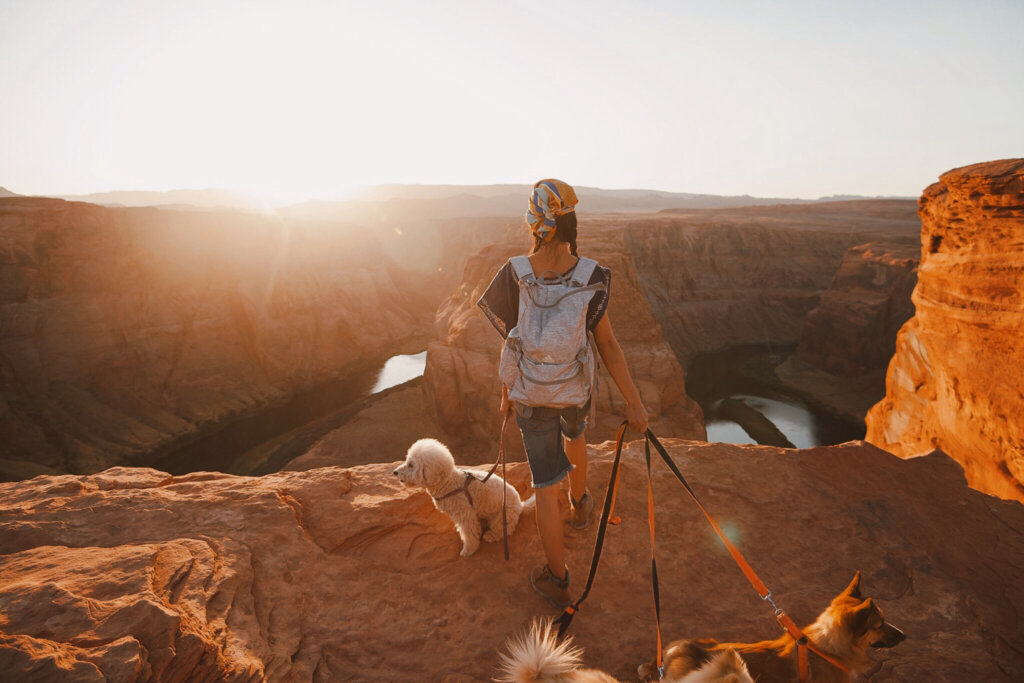 There was a line of people waiting to step close to the edge and have someone take their picture or snap several selfies. When we got down to the edge my 3 dogs proceeded to scamper between rocky outcrops and look down to the 1000-foot drop to the delight of some onlookers and the horror of others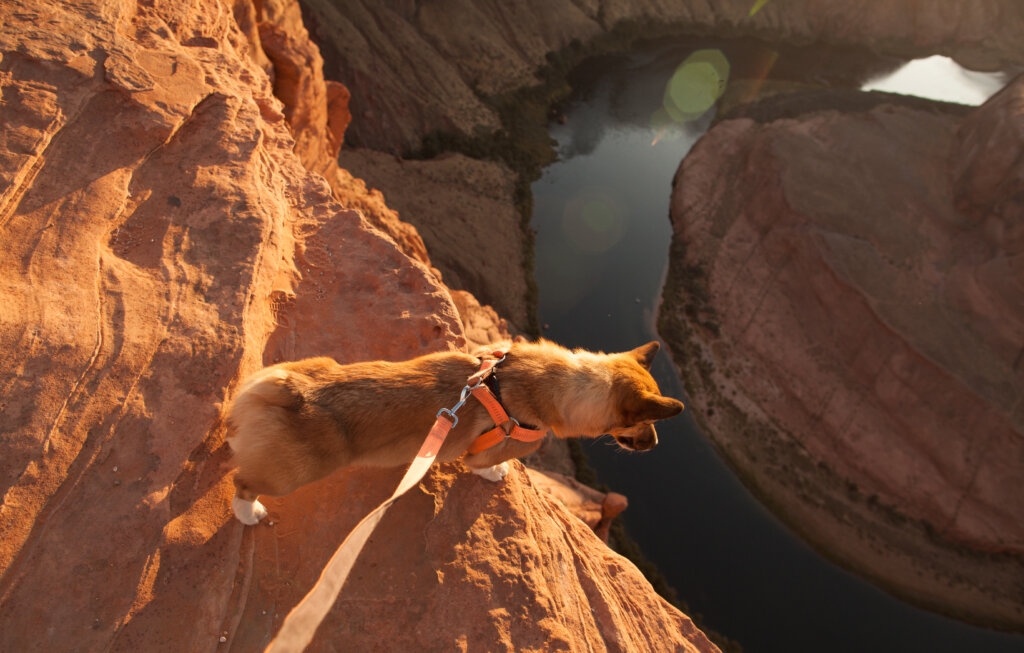 My advise is that be very careful at the edge as there is no railing. Be mindful of others as your dogs may not be as aware of themselves nor others, and accidentally bump someone or get spooked (here tourists tend to stand very close to the edge to take selfies!!!)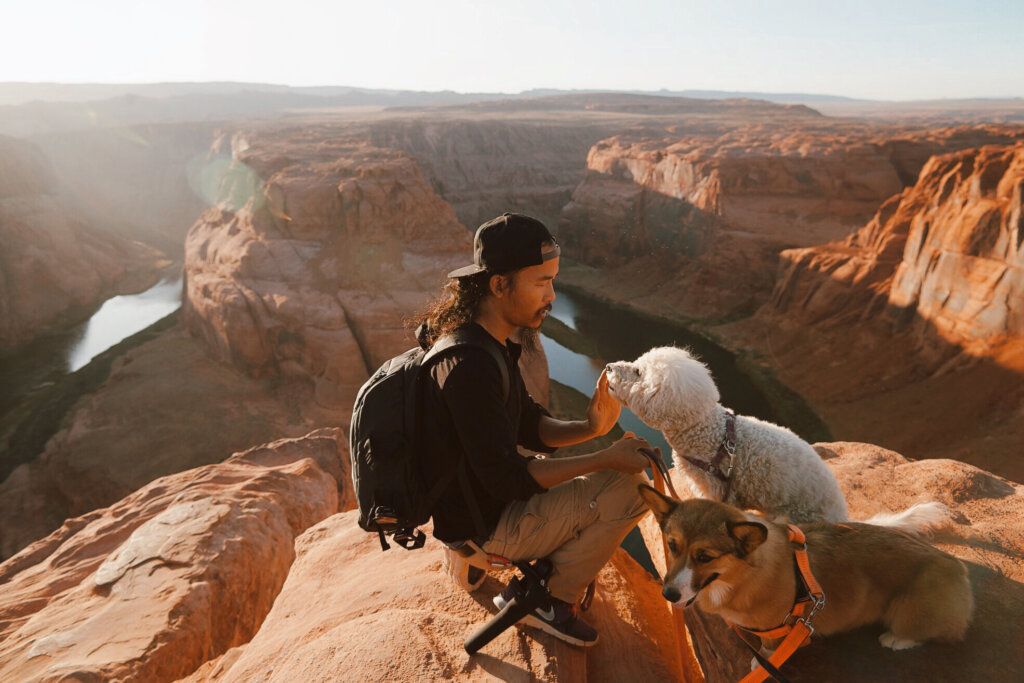 CORAL PINK SAND DUNES STATE PARK
Coral Pink Sand Dunes is a very scenic area with dunes of warm, pink sand. The park is located just southeast of Zion National Park, and offers views out over the Zion area.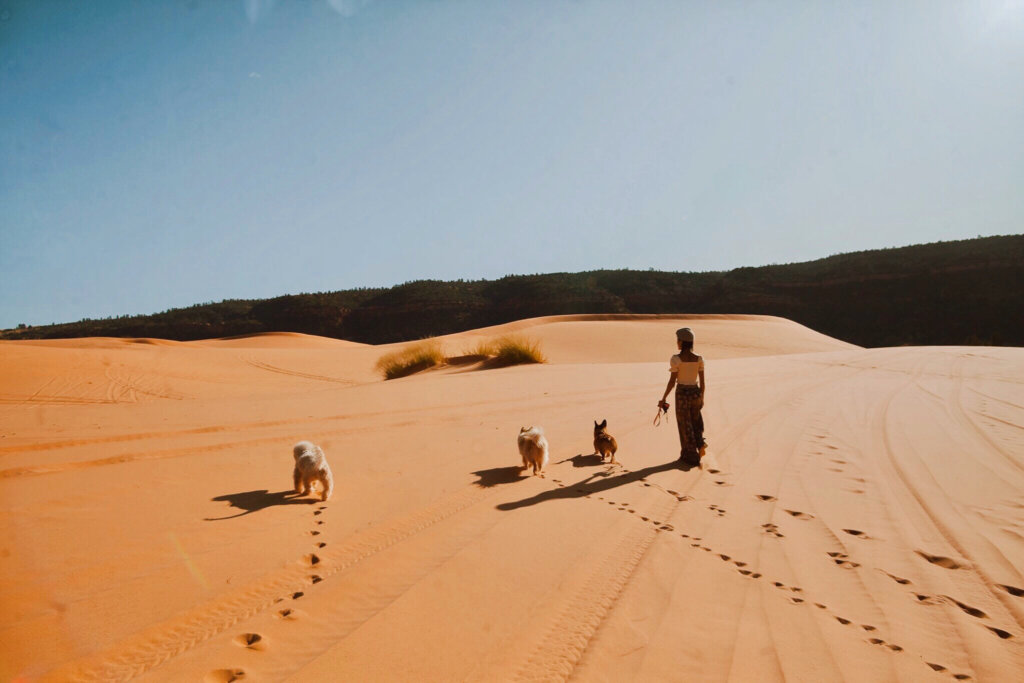 The first thing you notice when you step off the boardwalk onto the sand is how incredibly soft it is. The superfine soft sand felt like a fluffy comfy blanket.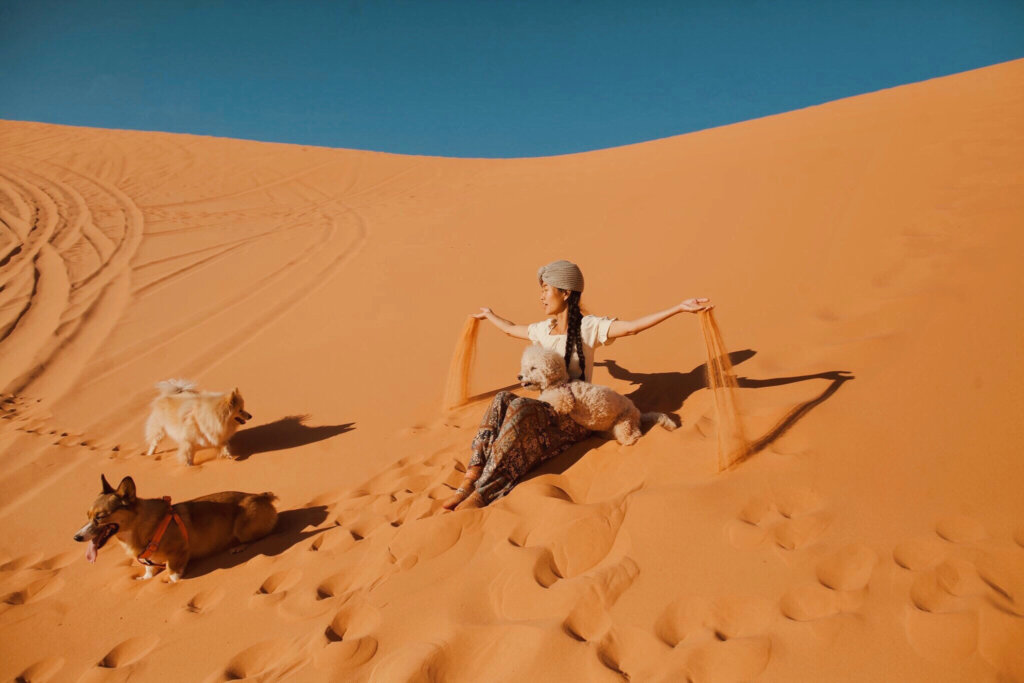 Since we arrived at the park very early in the morning (7-8am), there wasn't much of off-highway vehicles activity on the dunes. From my research, people say that the OHVs can be quite disruptive to visitors because they can use about 90% of the park so there really is no way to avoid them. But lucky us, there was no one there and we got the whole place to ourselves. So I let my dogs free to roam.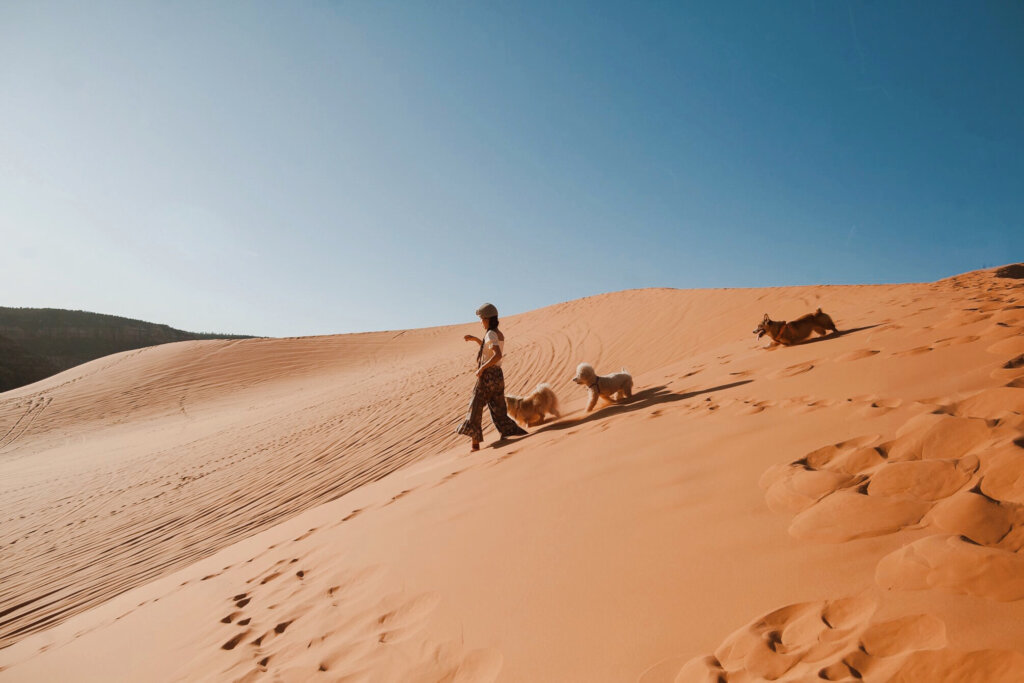 As the sun began to rise, the sand dunes started to show off its beautiful coral pink color. What an incredible sight!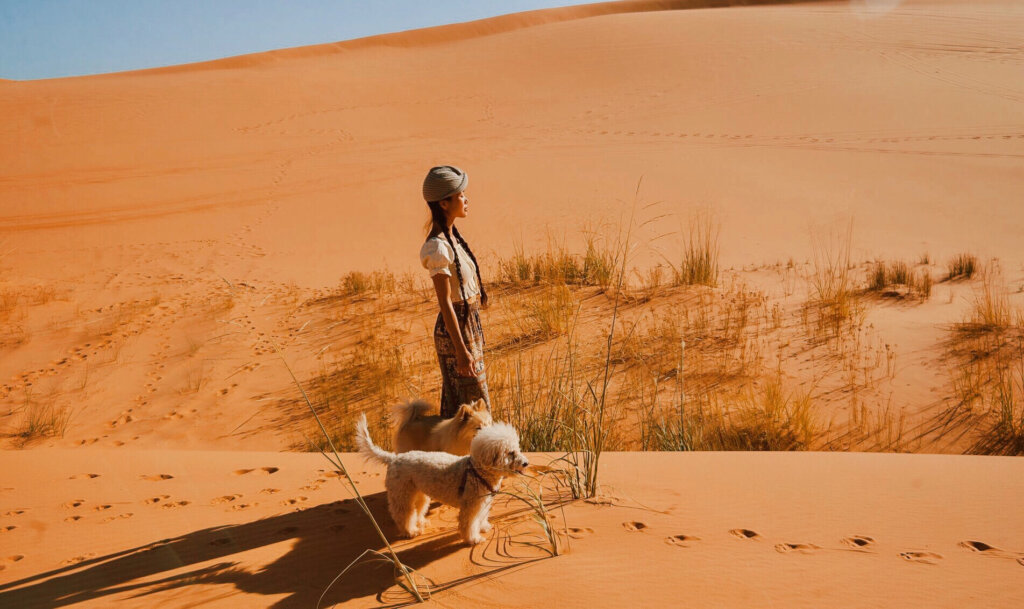 Our dogs ran down the hill barking from pure joy. And then we sat and watched the glowing sands and just admired the view.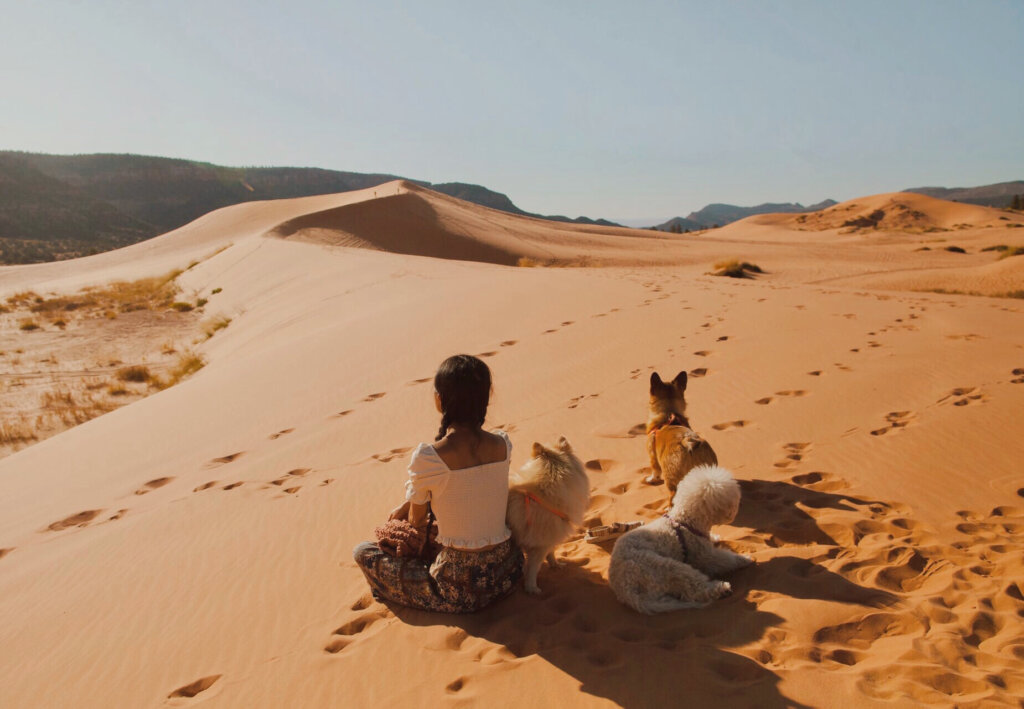 BABYLON ARCH TRAIL
Babylon Arch is a short, easy hike with little elevation gain. It is a short family friendly hike to the Virgin River and back. The trail is very sandy, which makes climbing hills difficult.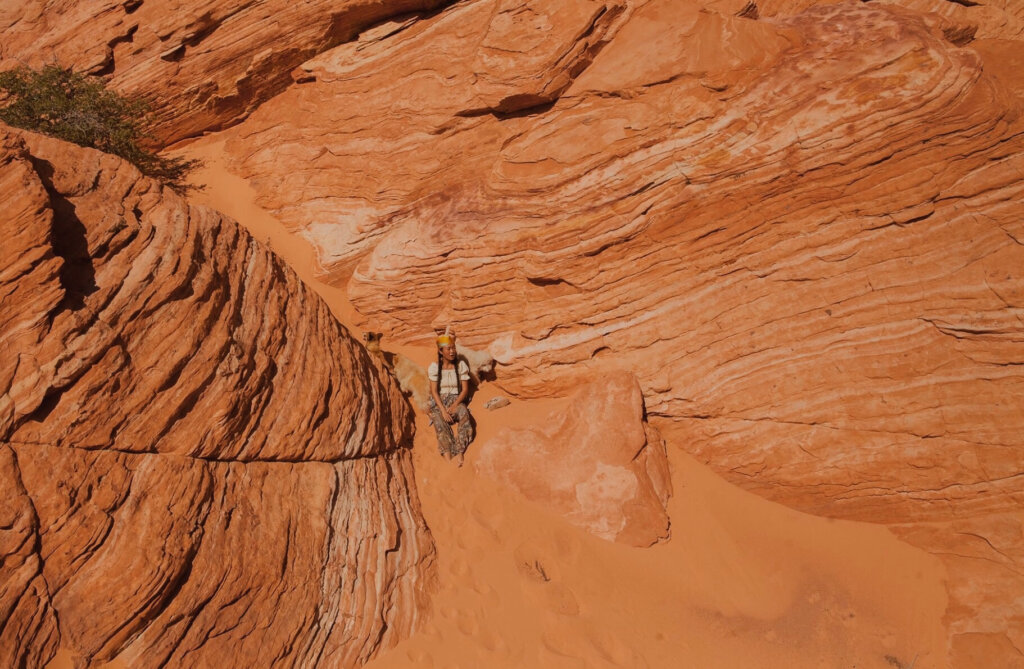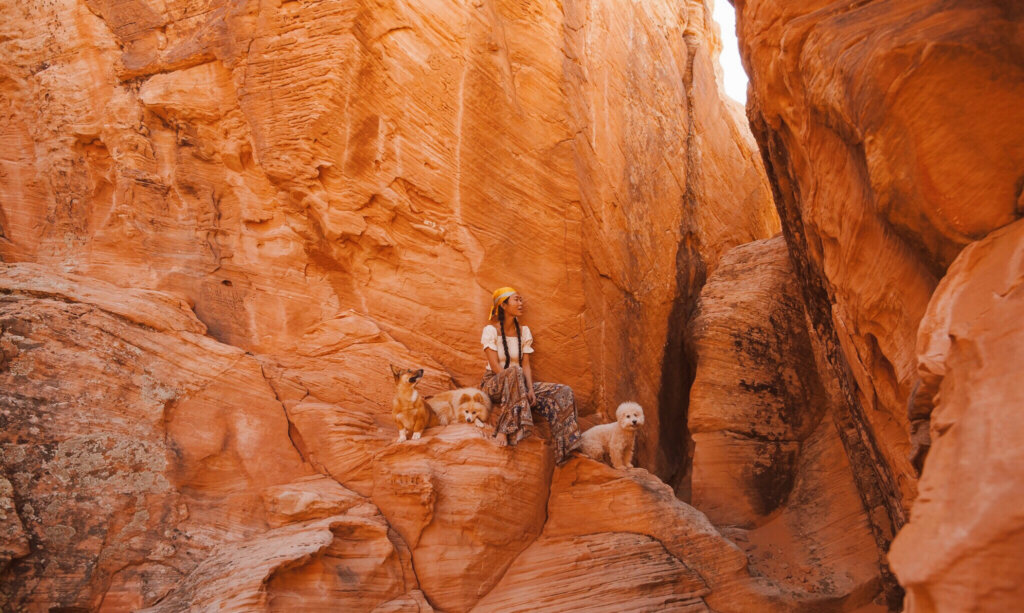 To get to the trailhead will require 4 wheel drive. That's why there was no one here but us. Our dogs were free to roam again. The hike is beautiful but shadeless, so bring plenty of water. And it doesn't take long on the trail to feel like you have landed on Mars with all the cool sandstone formations around you.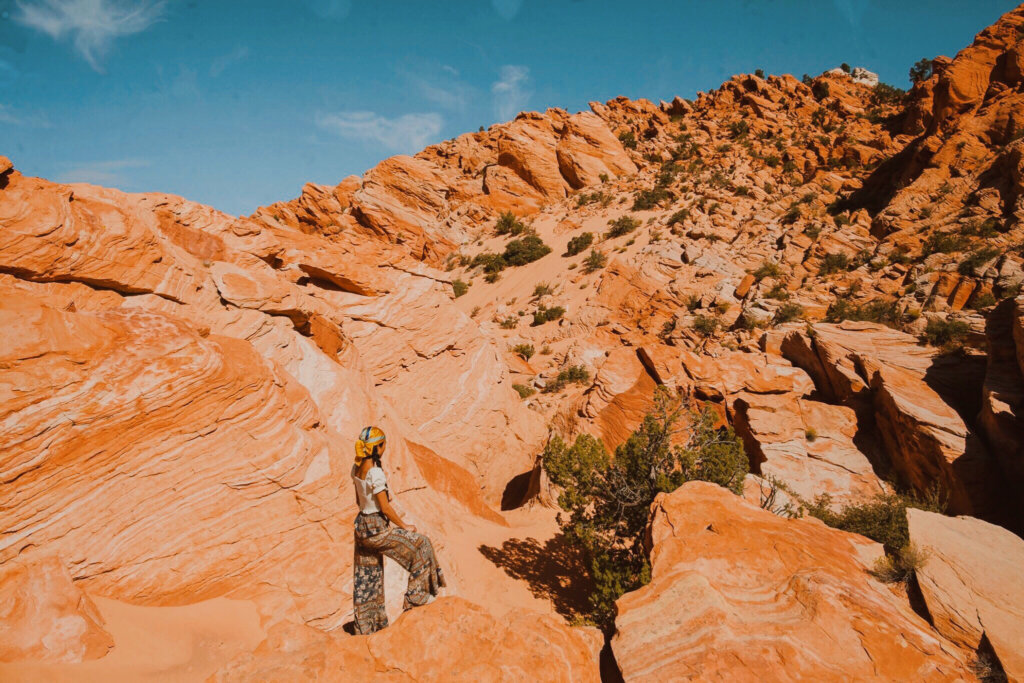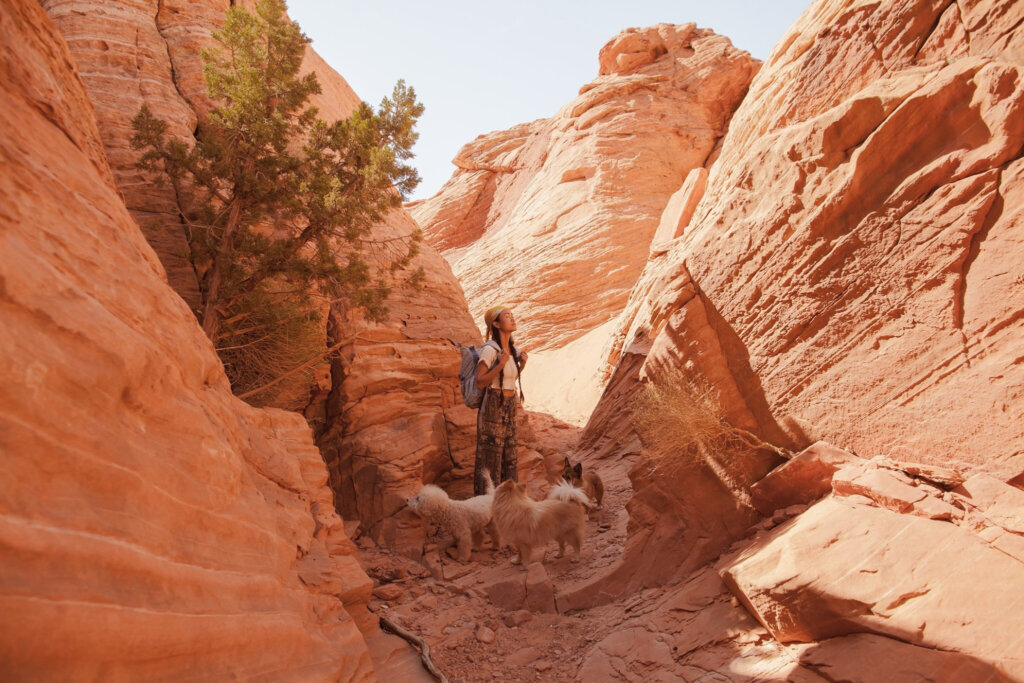 VALLEY OF FIRE STATE PARK
Valley of Fire State Park, located just 50 miles northeast of Las Vegas in Nevada, is a striking desert landscape of bold red rocks, pink canyons, and an undulating rock wave.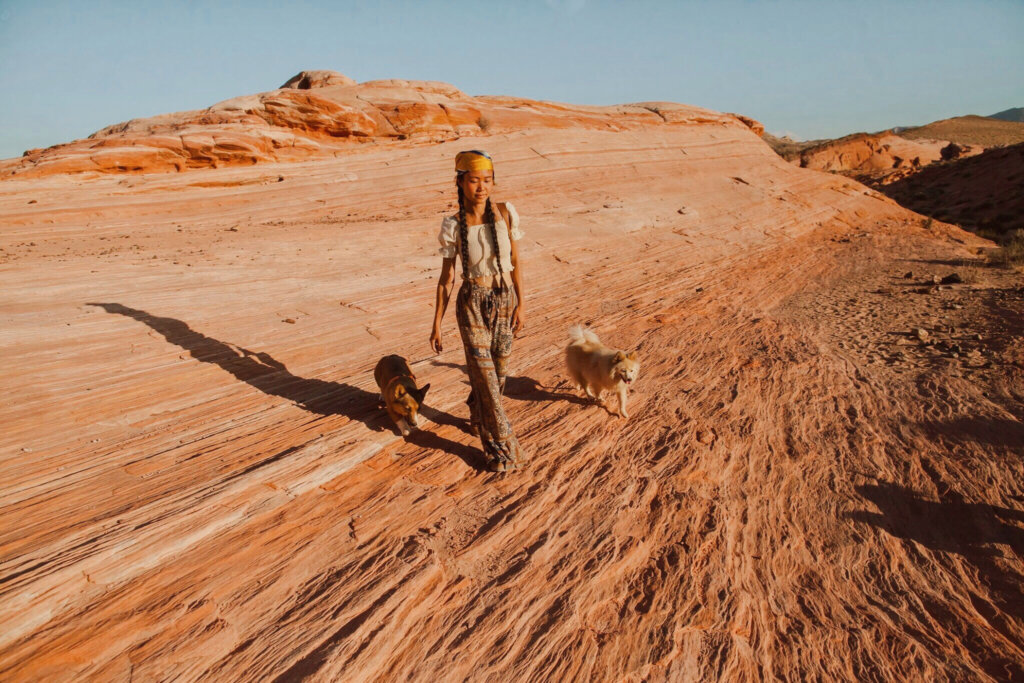 Valley of Fire is a relatively small park, but there is a lot to explore. There are also miles of pet-friendly trails if you have time to wander. One of our favorite trails here is the Fire Wave. Not to be confused with The Wave in Page, AZ, this wave is a swirl of colors, creating a wave-like feature. Take time to explore the surrounding area, as every direction you turn, another beautiful spot captures your eye.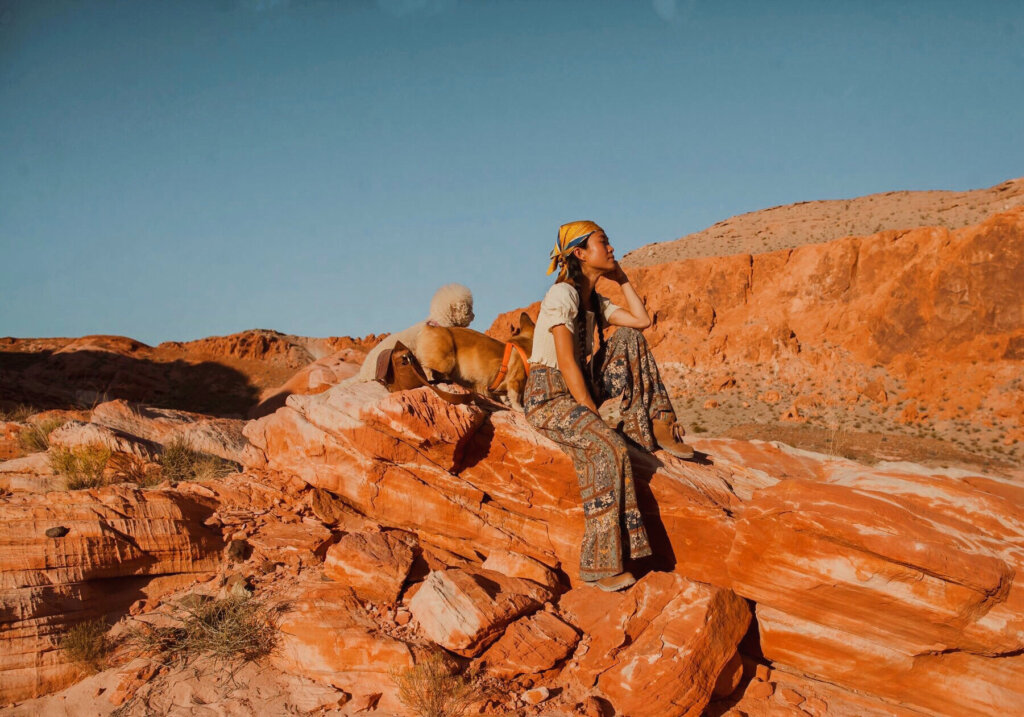 And also don't forget to drive around and find that Instagram-famous spot.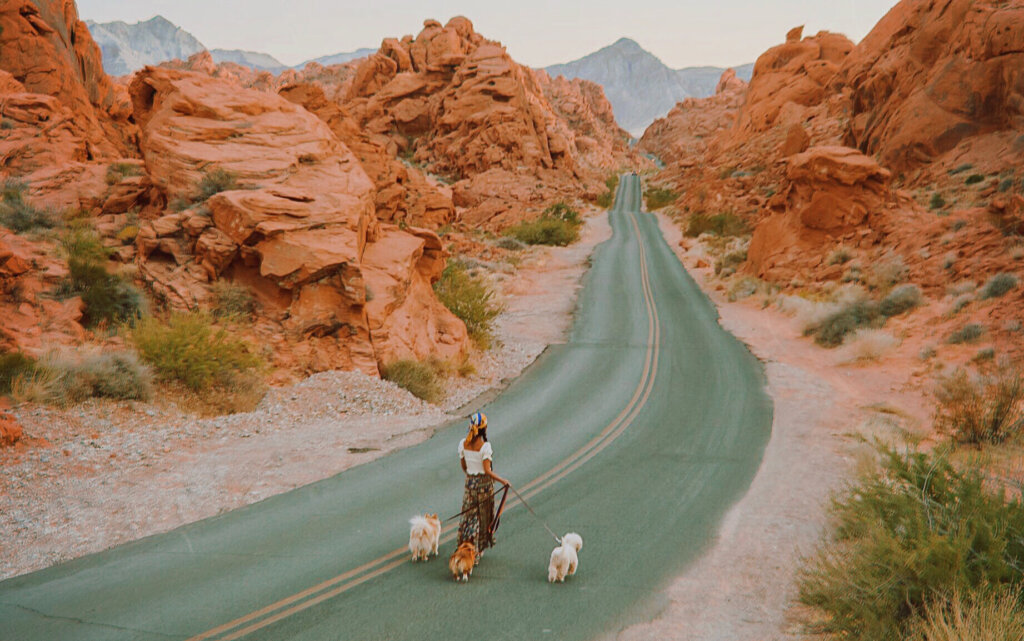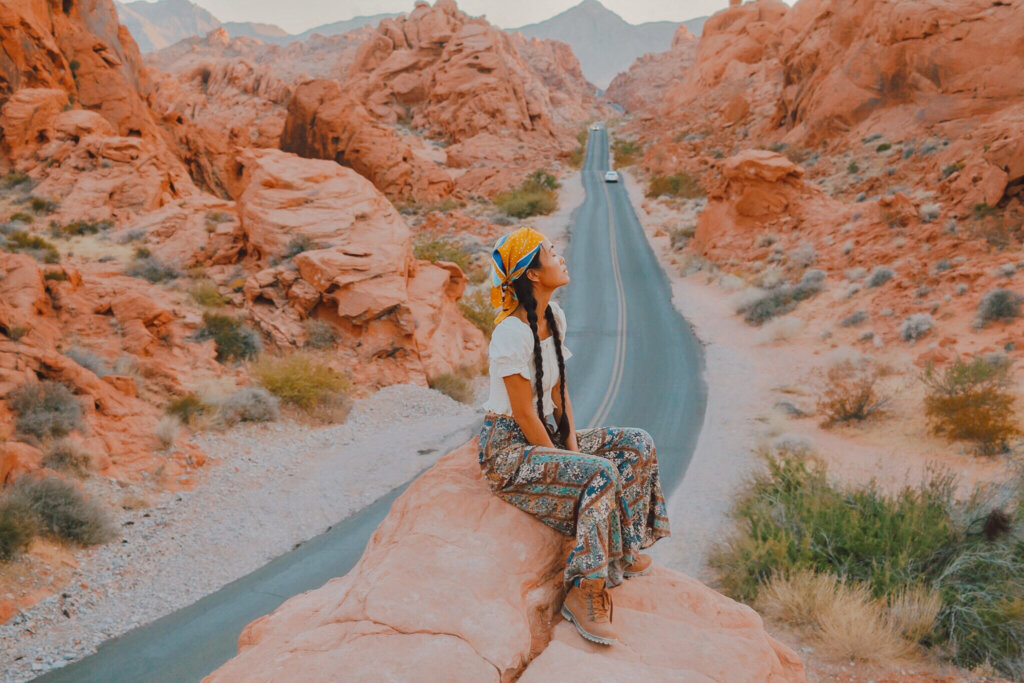 LAS VEGAS
Our last stop before heading home was Las Vegas. I wouldn't call this stop pet-friendly, but just want to include it here to show you our full road trip itinerary. You can find many pet-friendly Airbnbs in Las Vegas. We found a very nice house near the strip, and just enjoyed the last day of our road trip giving our fur babies a refreshing bath (after a week hiking in the Southwest they were super dirty) and taking them for a walk around the Venetian.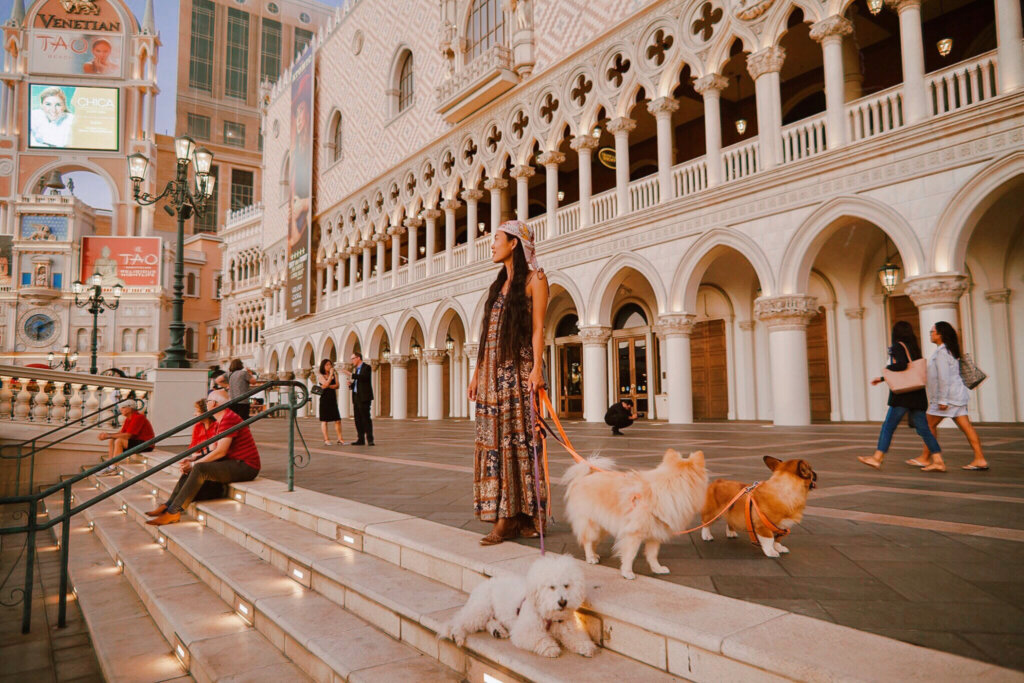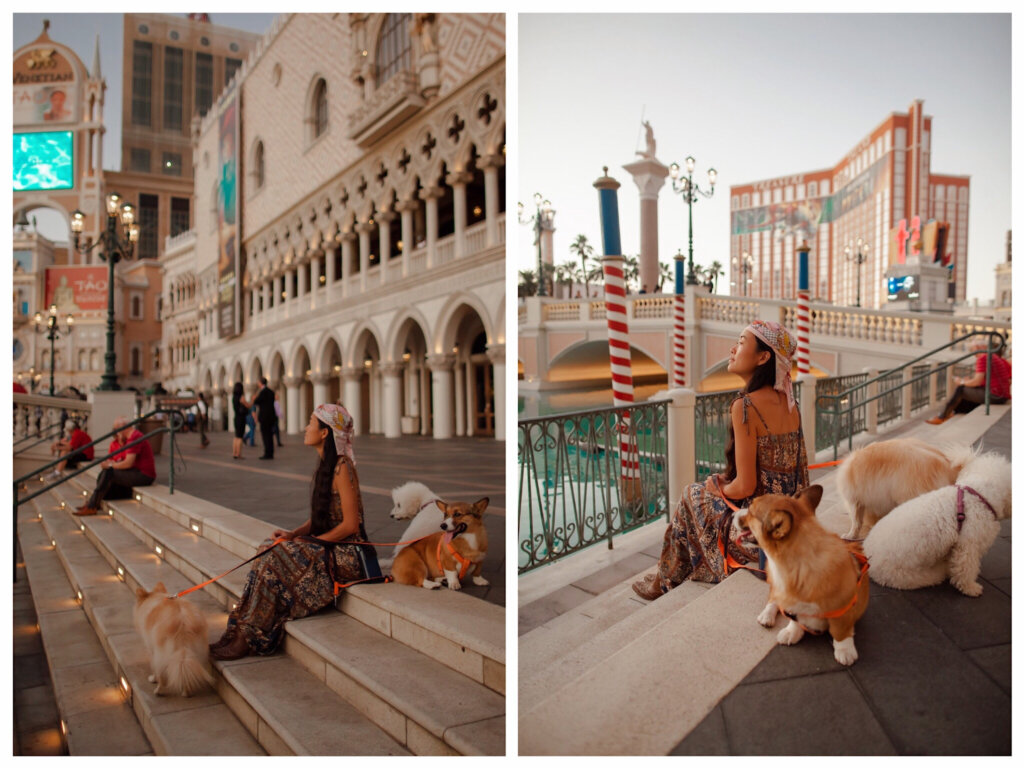 Traveling with 3 dogs comes with many challenges. Despite the challenges and extra planning, the bonding we experienced and the adventures we had together made it all worth it.
It's time to hit the road with your fur babies!