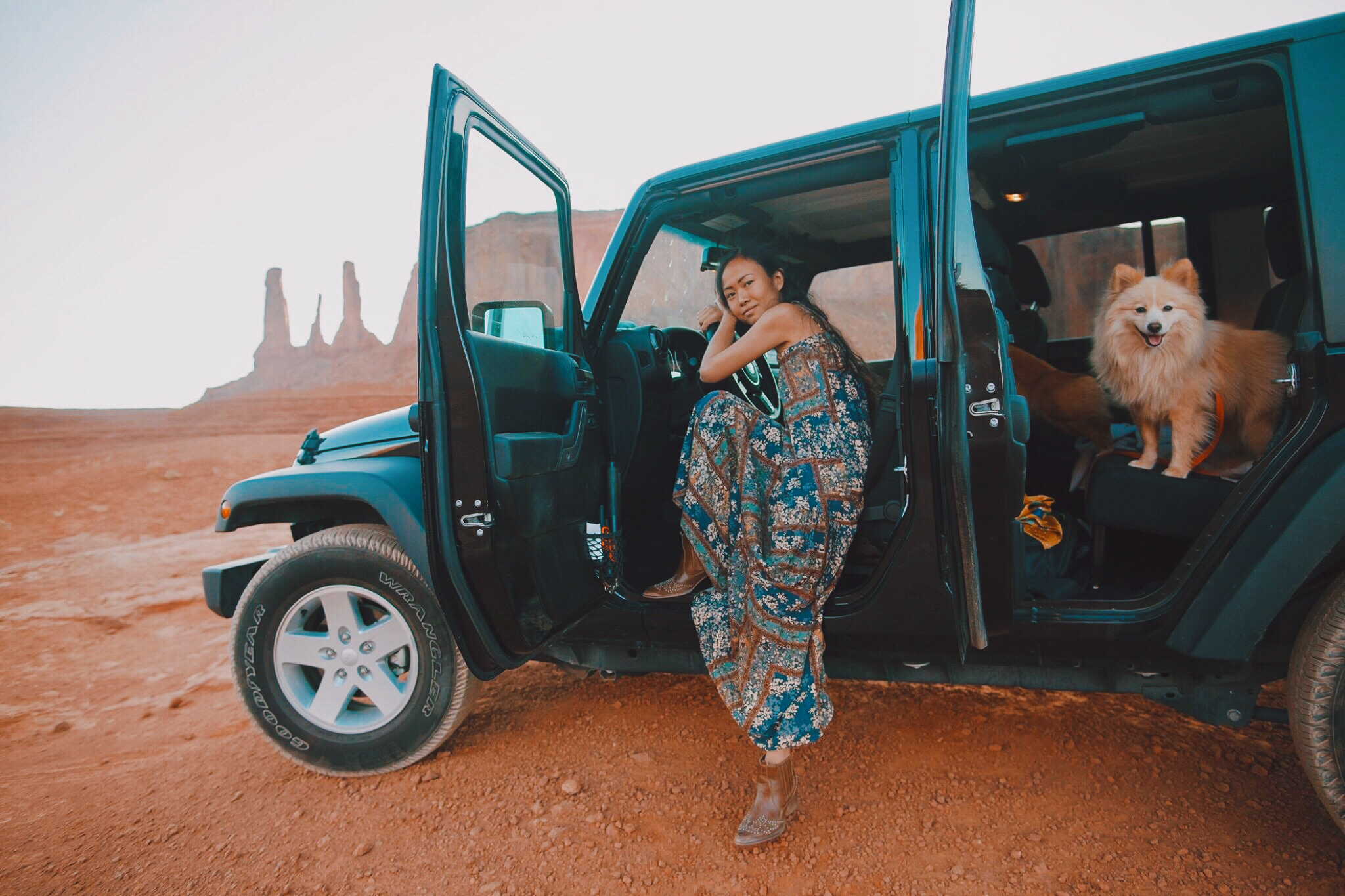 The Complete Guide to Visiting Monument Valley
"The Monument Valley, so this is where God put the West."
John Wayne
Visiting Monument Valley is one of those road trips that is on my family's bucket list. Of a week long road trip from California to Arizona and then Utah, this was our number one highlight. And one that feels like a just reward for embarking on an epic road trip. After visiting many national parks in the country and experiencing the heavy crowds at Antelope Canyon and the Grand Canyon, we were surprised to see the lack of crowds visiting Monument Valley. The hours of endless driving were more than compensated by the stunning sight of this valley and got the whole place to ourselves to enjoy and appreciate America's greatest spiritual treasure. Monument Valley is remote and while not difficult to reach, a trip here requires some planning and time. This short guide will tell you what you need to know about visiting Monument Valley.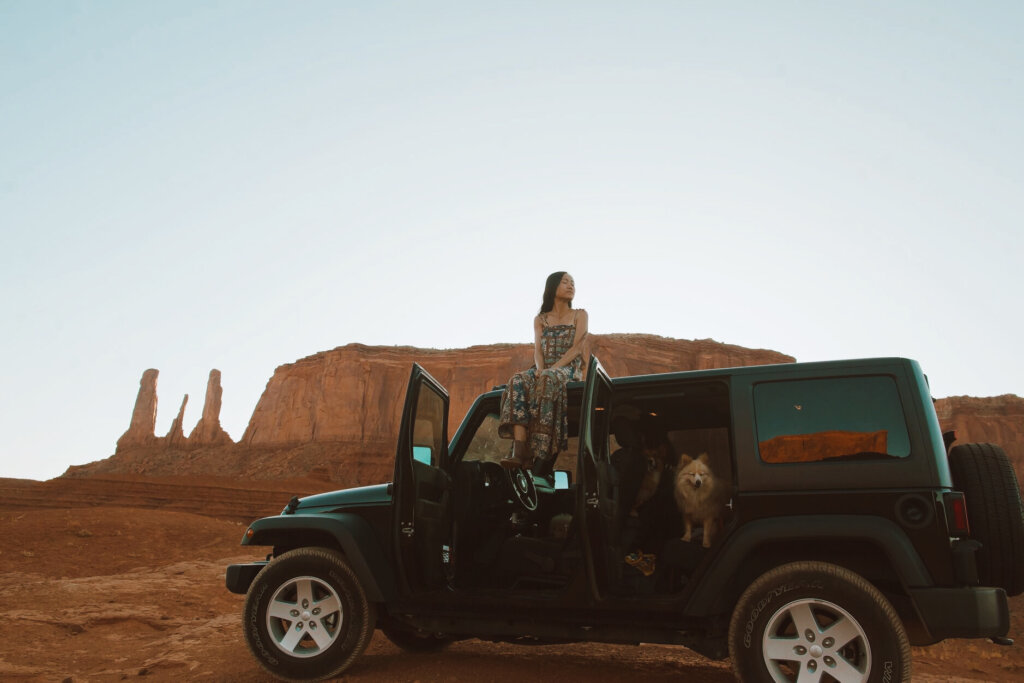 What is Monument Valley?
Monument Valley Park is a desert region of the Colorado Plateau. It is NOT an official national park, but is the traditional spiritual homeland of the Navajo people. They own, manage, take care of and invite us onto their lands. It covers about 91, 696 acres and extends into Arizona and Utah.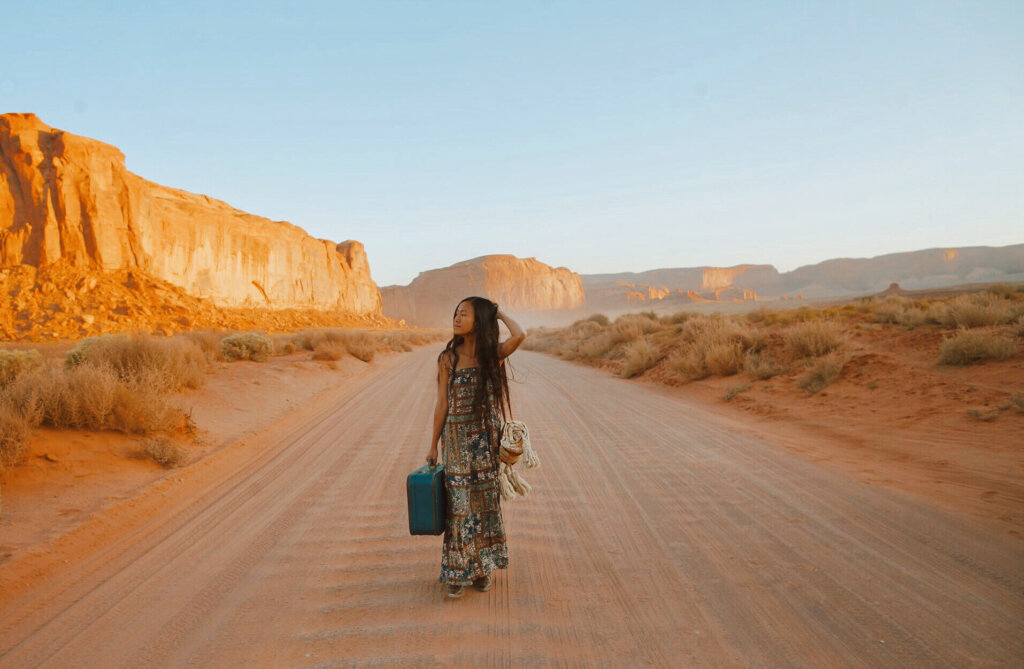 Characterized by rust-red soil, mesas (rock formation that looks like a table), and sandstone buttes (a mesa eroded further into a smaller form), Monument Valley is the embodiment of American South West beauty.
Where is Monument Valley?
Monument Valley is in the South West of the United States and its territory is between two states: Utah and Arizona. The area is not accessible via public transport, and located in the middle of nowhere, far from all the major airports. The best and most popular way to get to Monument Valley is driving. The valley is off the beaten path and having your own mean of transportation gives you the maximum flexibility.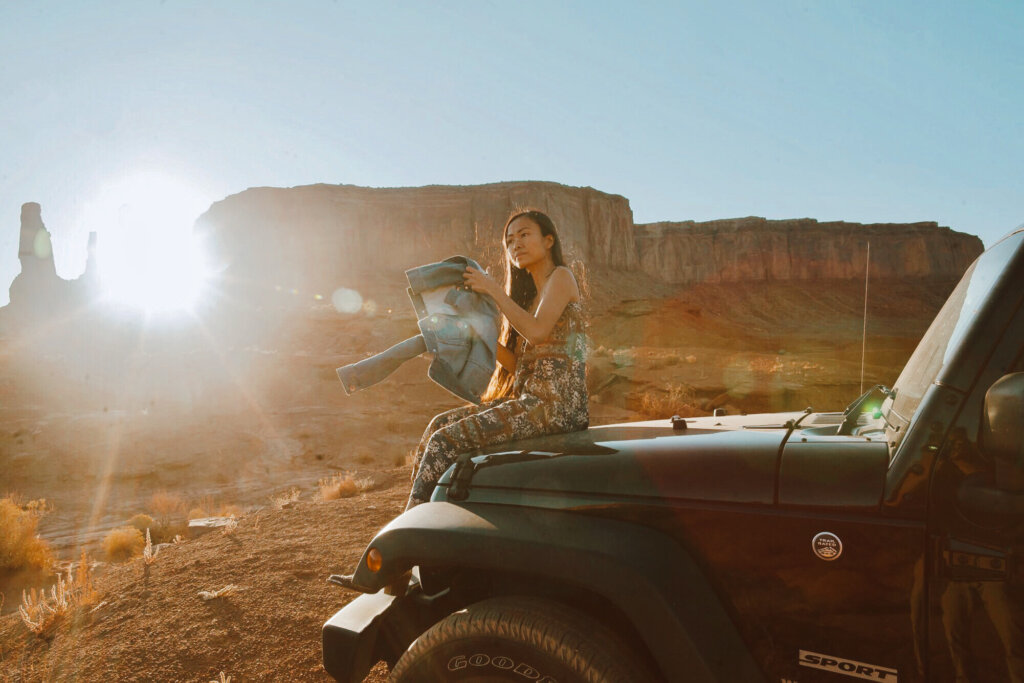 We drove from Flagstaff all the way to Monument Valley in one day, going via Page, Arizona. As we drove west towards Monument Valley on the 163 Highway, the landscape began to shift. The scenery color gradually become a deeper shade of red and rock formations start to rise from the Earth. We had arrived after around 4 hours driving and in late afternoon. Everything worked well to coincide with ensuring we were in Monument Valley for sunset photoshoot.
Things to know about visiting Monument Valley
Monument Valley Navajo Tribal Park is open from 6 a.m.-8 p.m. between May and September. The hours between October and April are adjusted to 8 a.m.-5 p.m. In the park, you'll pay an entry fee of $20 which grants entry for your vehicle and up to 4 passengers, with each additional passenger being charged $6 (You won't be able to use a National Park pass to save money on admission).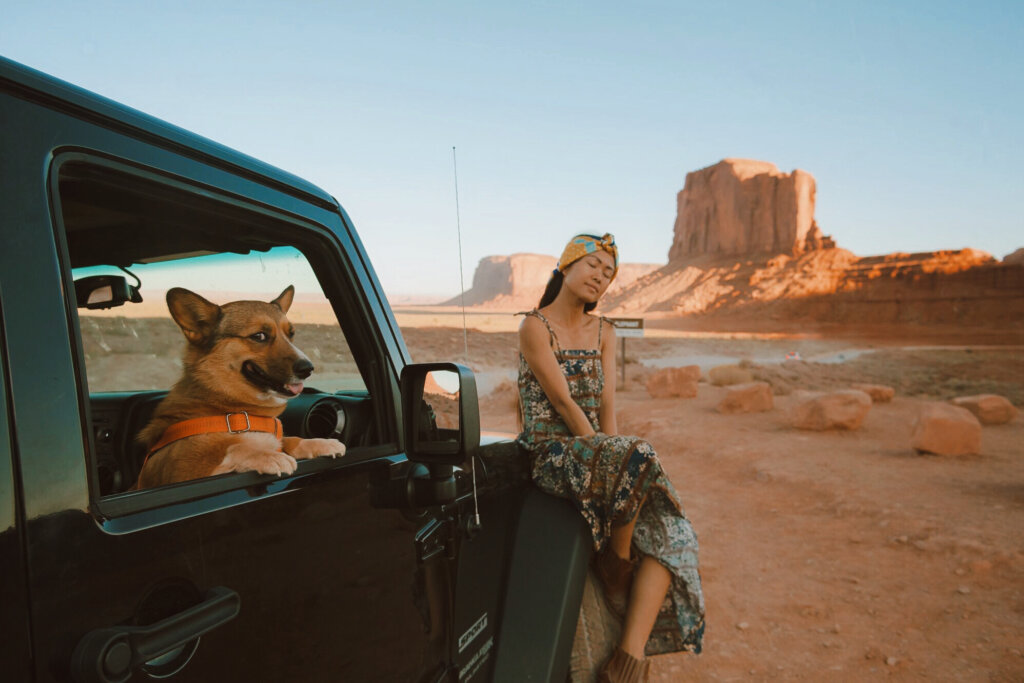 There are two options when it comes to exploring Monument Valley- either with a Navajo guide or through a self-guided tour.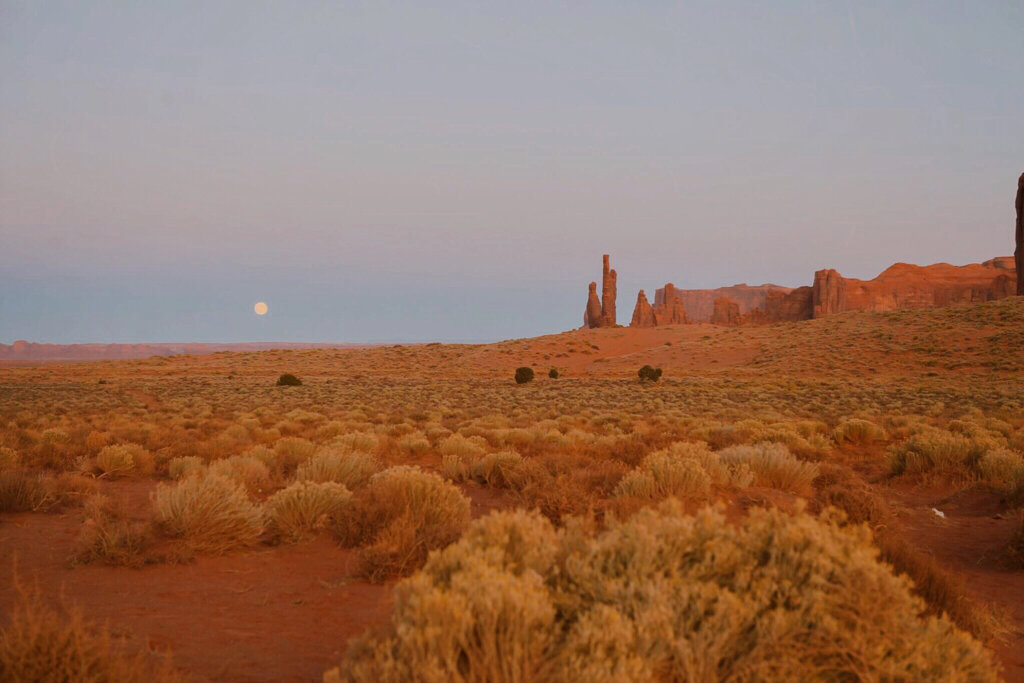 We arrived late in the afternoon so we just did a self-guided tour, or scenic drive. The self-guided tour is an easy-to-follow, 17 mile scenic drive loop, referred to as the Valley Drive. Upon entry to the Navajo Tribal Park, you'll get a self-driving map with information on points of interest. The self-driving roads aren't paved here, so be prepared for a very bumpy and dusty ride. Although a 4WD is not required, these roads are more suited to 4WD (We did see a couple of sedans and small cars)!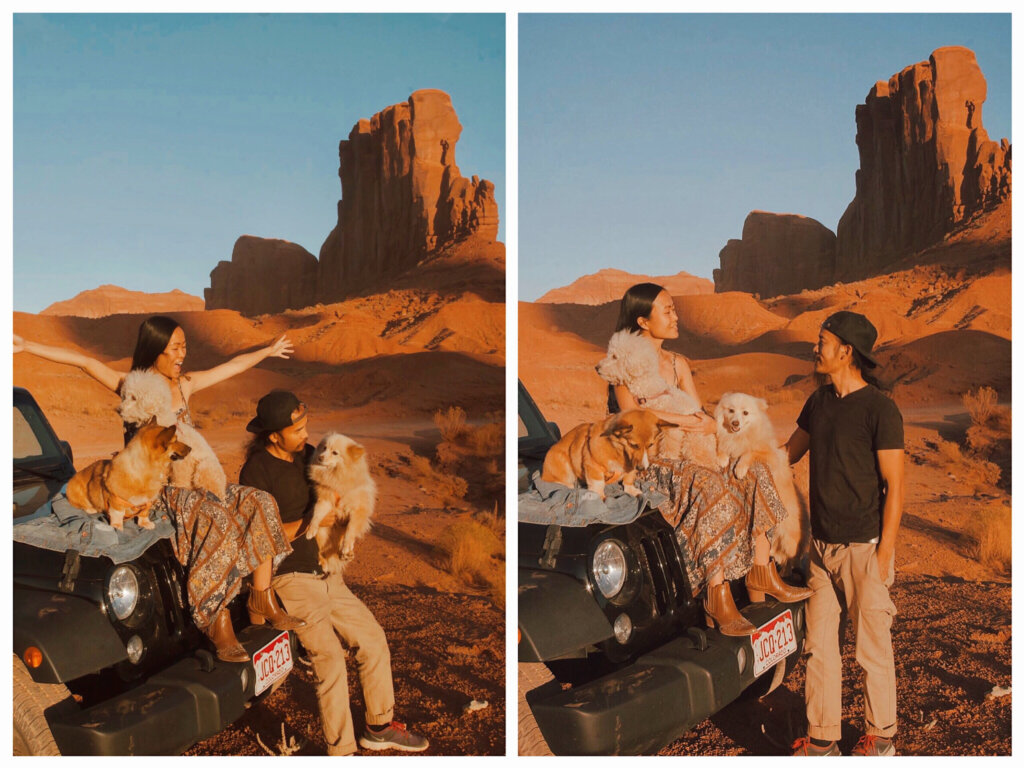 Along the way, you'll be able to stop as you like and take pictures. There are bays you can pull over in which make it easy to get out, enjoy the view and take those precious photos. We took our time in every stop (on the map, you will find 11 main scenic points over the 17-mile drive). Between driving, sightseeing, and jumping out to admire the landscape and take photos, we spent about 2-3 hours along the self-guided route. We were glad to be independent and to save the money we would have spent on a guided tour.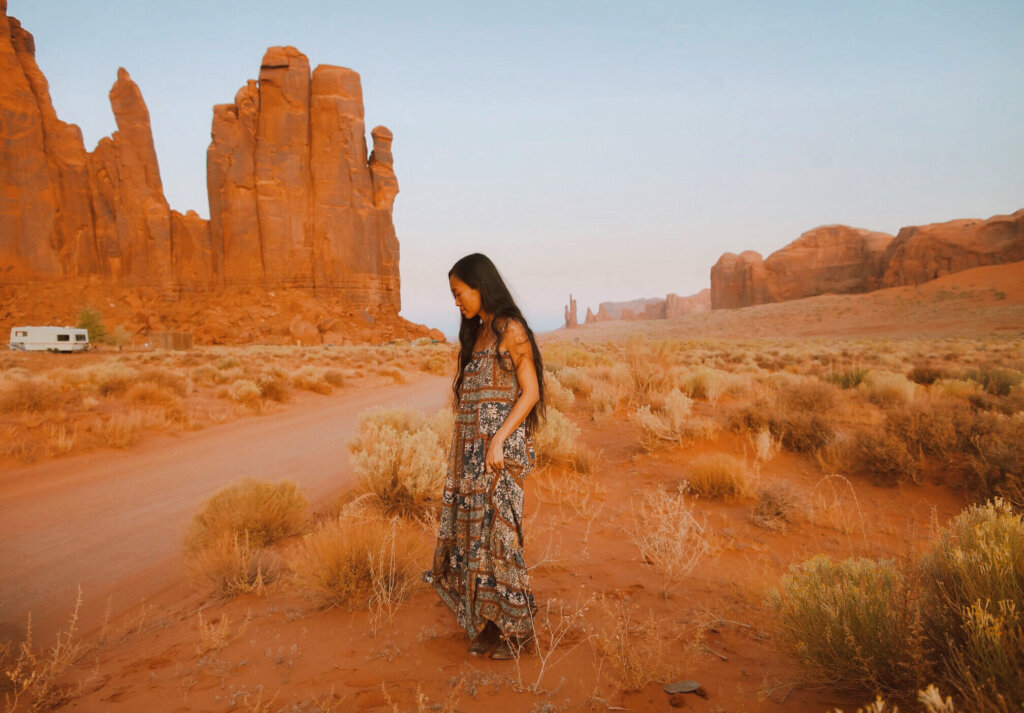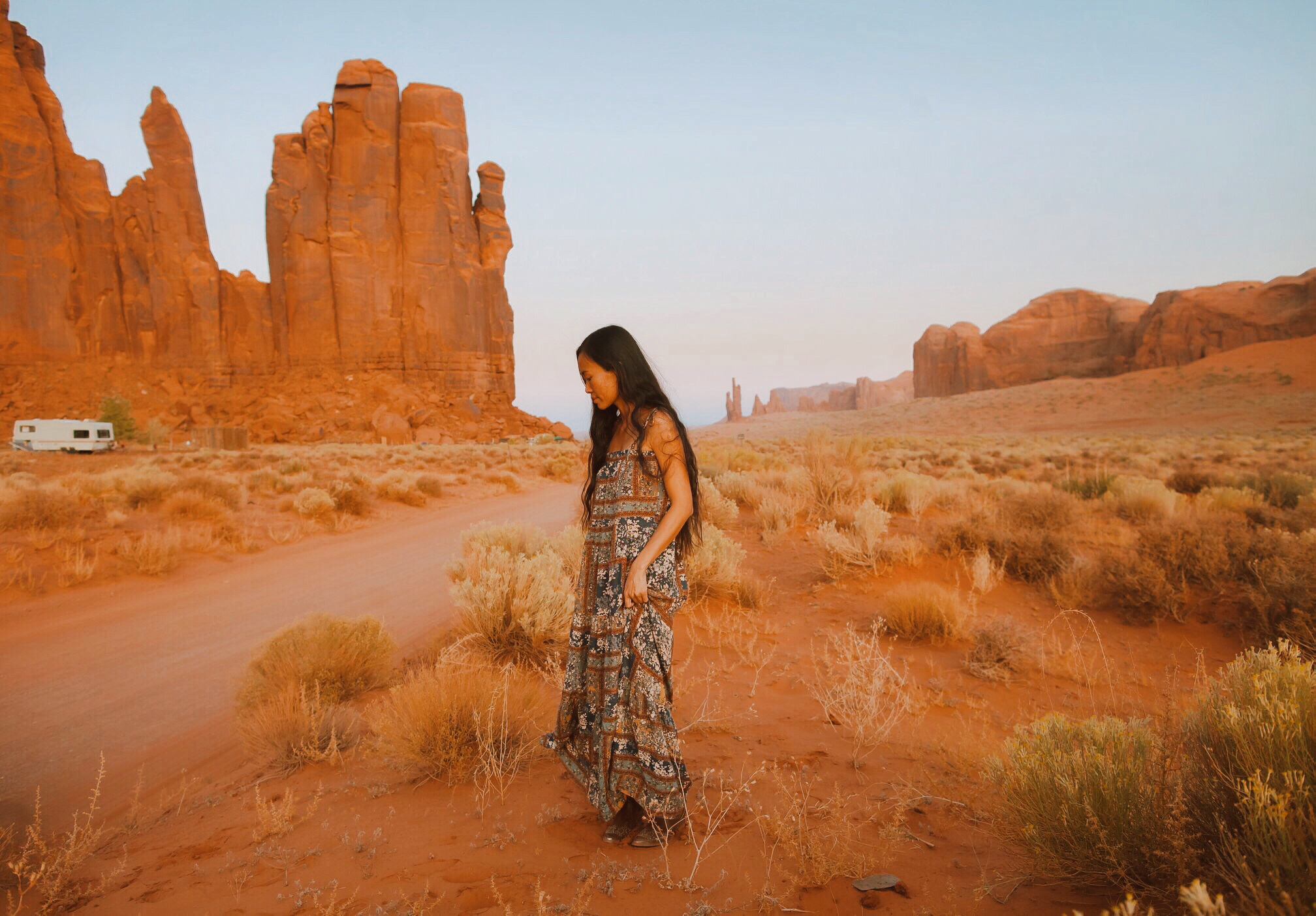 Although you can drive the road through Monument Valley yourself, for a deeper experience, hire a guide. You will need to make tour arrangements since it is tribal land. Trespassing is not allowed and visitors need to respect and abide by the rules set by the Navajo government. You'll learn about Navajo history and culture. Plus guides also take guests to restricted areas of the reservation. Expect to pay anywhere between $60-$135 per person depending on the type and length of tour you choose. There are sunrise and sunset tours, as well as photography tours available to choose from.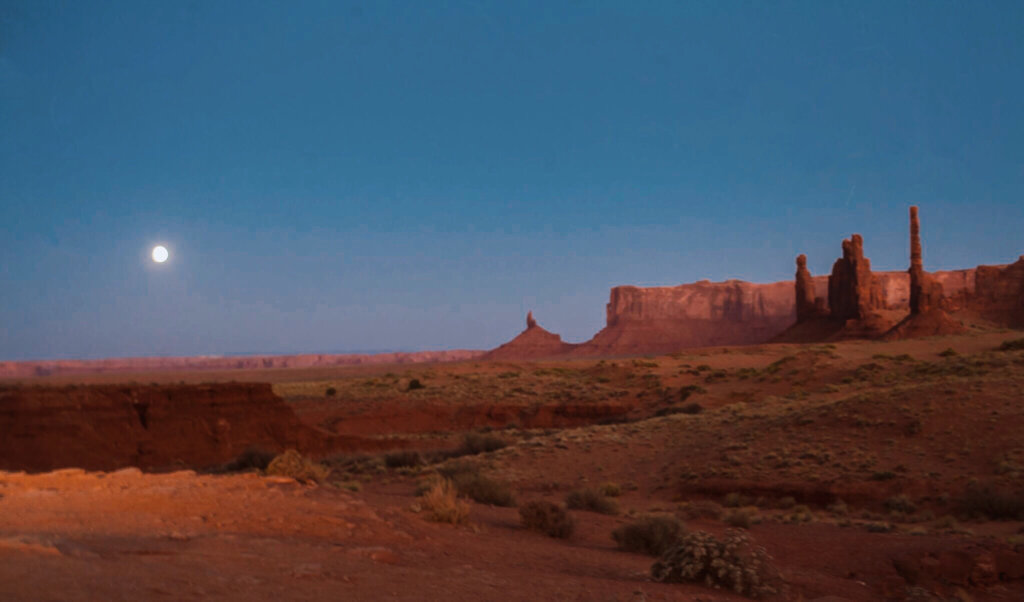 Other considerations for your visit to Monument Valley
When to Visit Monument Valley
Monument Valley has a desert climate with hot summers and cold winters. As you can imagine when it comes summer, temperatures can be quite oppressive. Summers are also the most crowded and the road is usually packed with visitors. Winters are extremely cold and can see light snowfall. Spring or fall is the ideal time to visit. At this time, the weather is mild and the number of visitors is not excessive.
We visited in late October. Temperatures in October see highs of 70 degrees Fahrenheit and lows of 40 degrees. Our visit was on the cooler days, but nothing a jacket couldn't handle!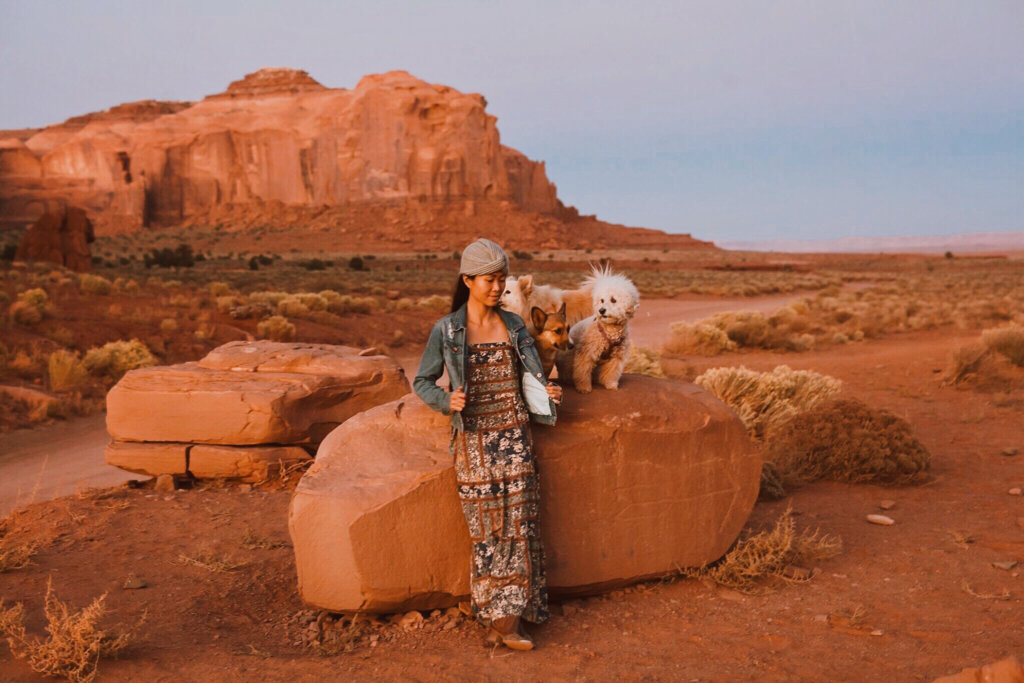 How Much Time Do I Need There?
The Valley Drive can be done in 2-3 hours, but if you want to do any hiking or exploring beyond the loop, I suggest giving yourself at least a day and stay a night in the area. Monument Valley is a gorgeous place to catch either sunrise or sunset, which makes an overnight stay totally worth it.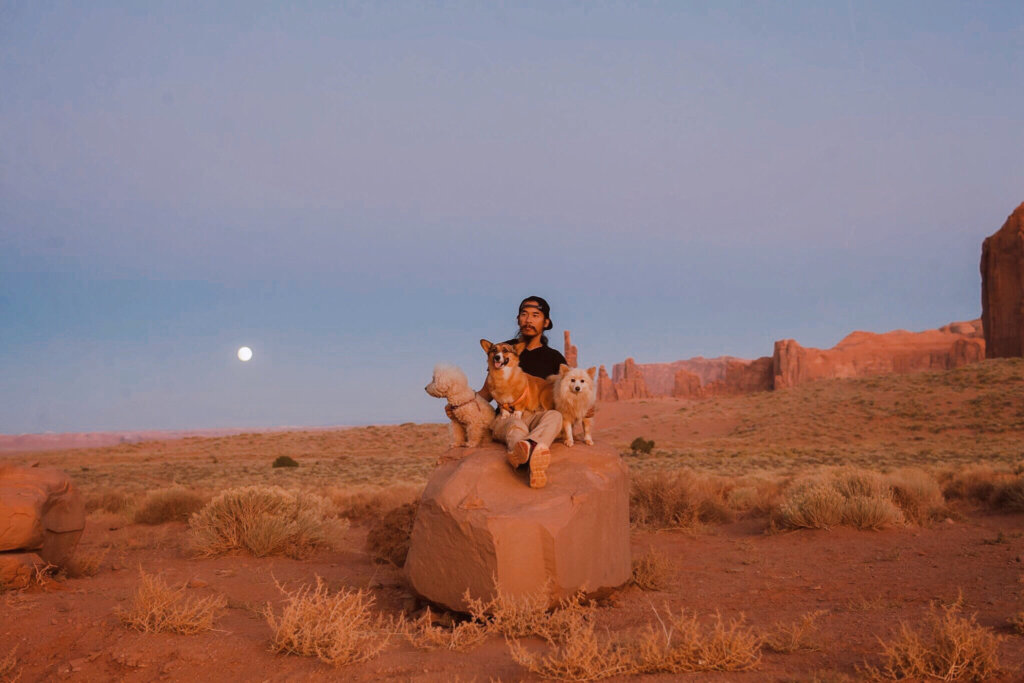 Where to stay in Monument Valley
Monument Valley is served by 2 main lodging options: Gouldings Lodge and the View hotel.
For budget travelers – Goulding's offers several types of lodging, from traditional hotel rooms to larger apartments with full kitchen as well as a campground for tents or RVs.
For mid-range travelers: The View Hotel – This hotel is within the Park and also offers camping and cabins on the rim.
Other than The View and Goulding's the nearest accommodation is Kayenta, which is located 20 miles south.
Pet-Friendly Trails
While many national parks are notoriously lacking when it comes to pet friendly access, Monument Valley Navajo Tribal Park provides a refreshing array of options for adventuring with your pets. Pets are welcome on Wildcat Trail and Valley Drive, but not inside the visitor center. Pets must be leashed and all hikers must remain on the designated path. Beyond that, you have the freedom to explore at your own pace.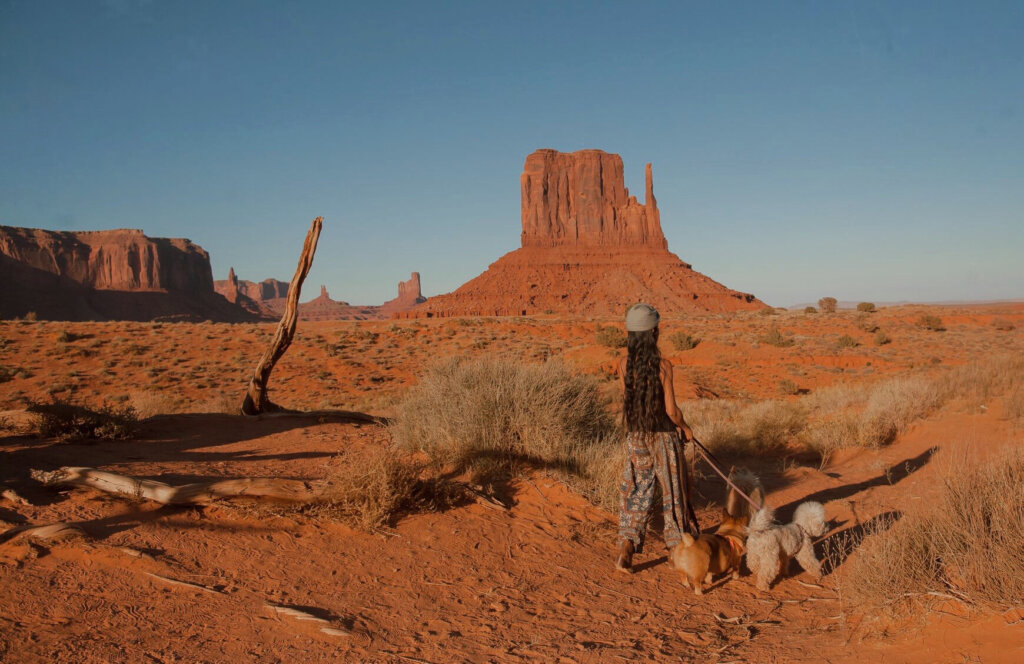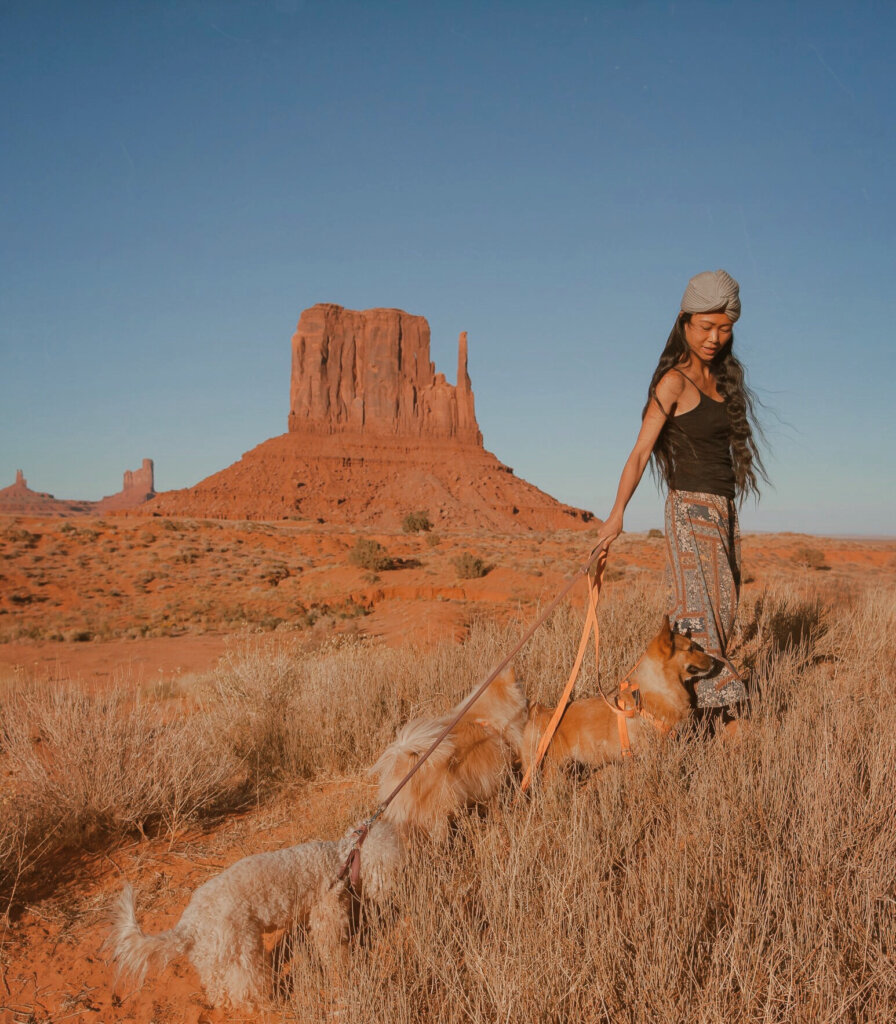 Are you putting together a Monument Valley itinerary? Leave me a comment and let me know!