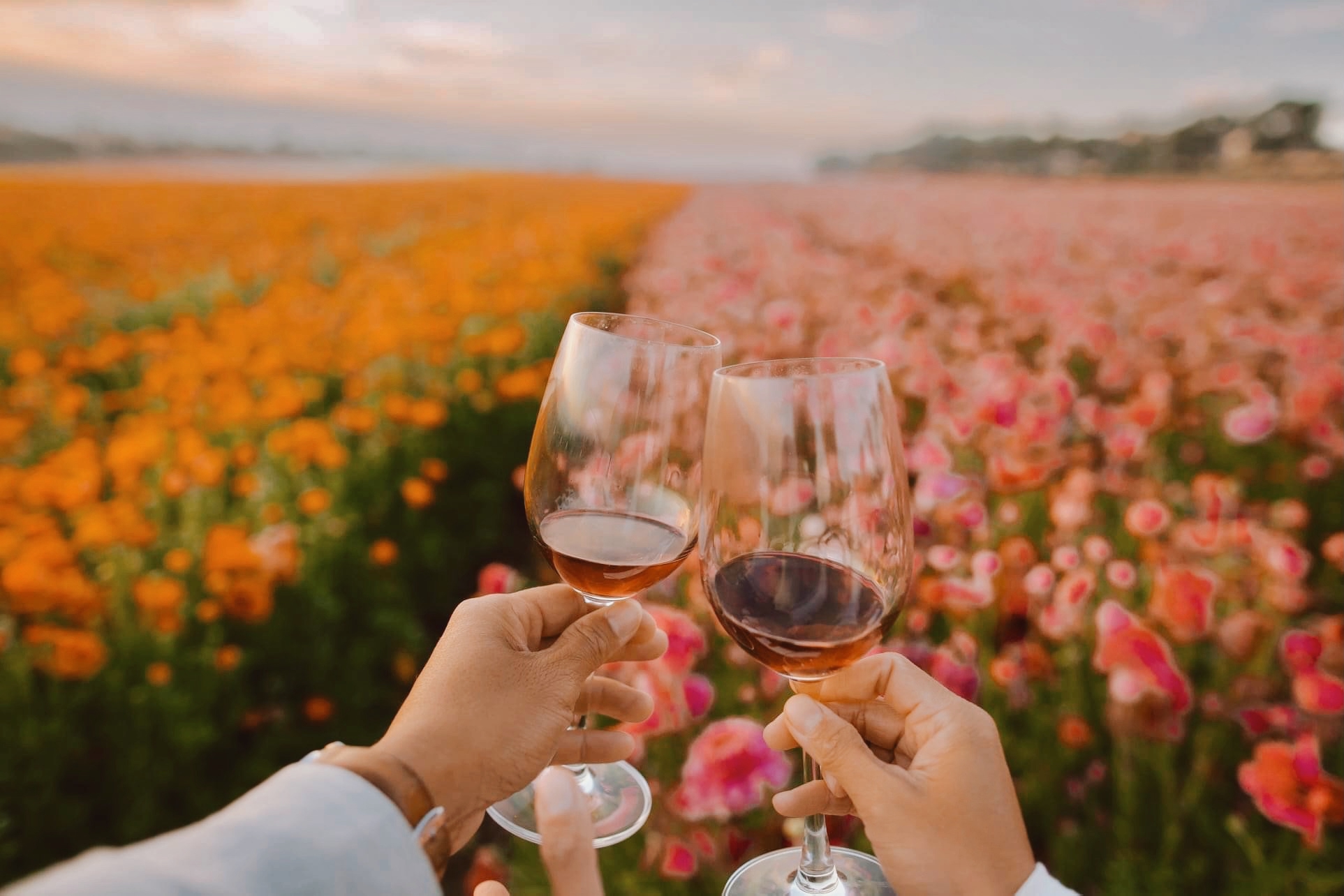 Carlsbad: The Hidden Gem Of SoCal 
Winter is just ending and spring is now beginning. Many families look forward to visit the Flowers Field located in Carlsbad California just North of San Diego City during spring time. Every year from March 1st to May 13th, 50 acres on the west side of Carlsbad come alive with the beauty of thousands of blooming Ranunculus flowers. The Flower Fields is considered by many to be the most spectacular farm of its kind in the whole country. But that's not all Carlsbad offers. Besides the Flower Fields, there are many more fun activities for your entire family around Carlsbad during this time. Here are some highlights of our family's recent visit to Carlsbad (March 2022)!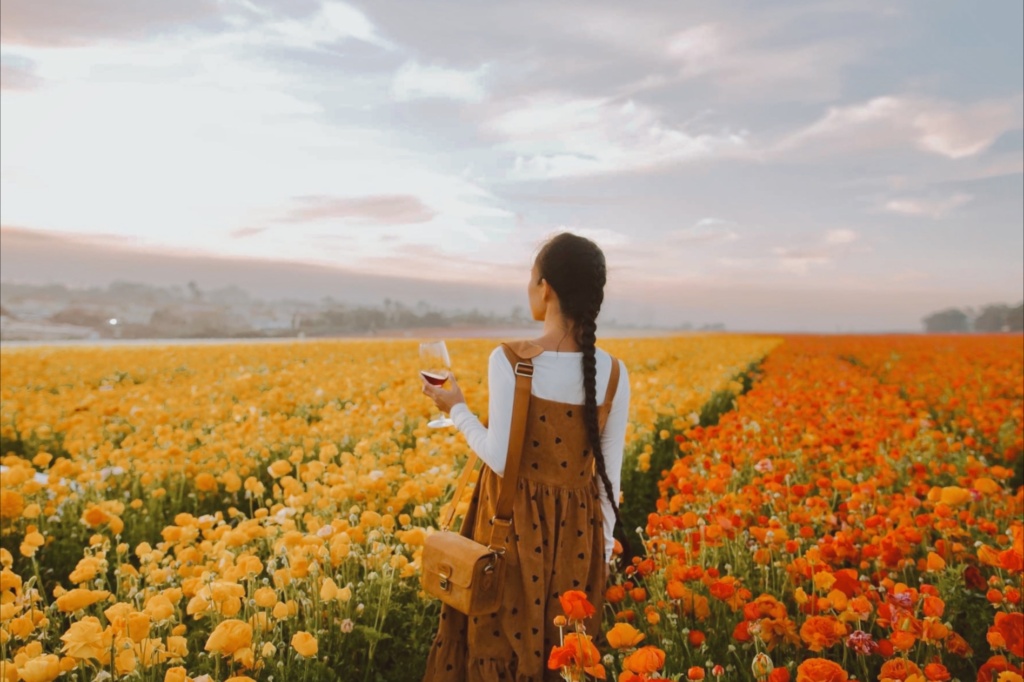 Where to Stay
Our family stayed 2 nights at the Westin Carlsbad Resort and Spa. This family-friendly/dog-friendly property offers a private entrance to Legoland California. The resort is located near the best things to do in Carlsbad including The Crossings Carlsbad golf course, The Carlsbad Premium Outlets, The Carlsbad Flower Fields, Carlsbad State Beach, and downtown San Diego. It's wonderful to explore Carlsbad from the comfort of this luxurious hotel.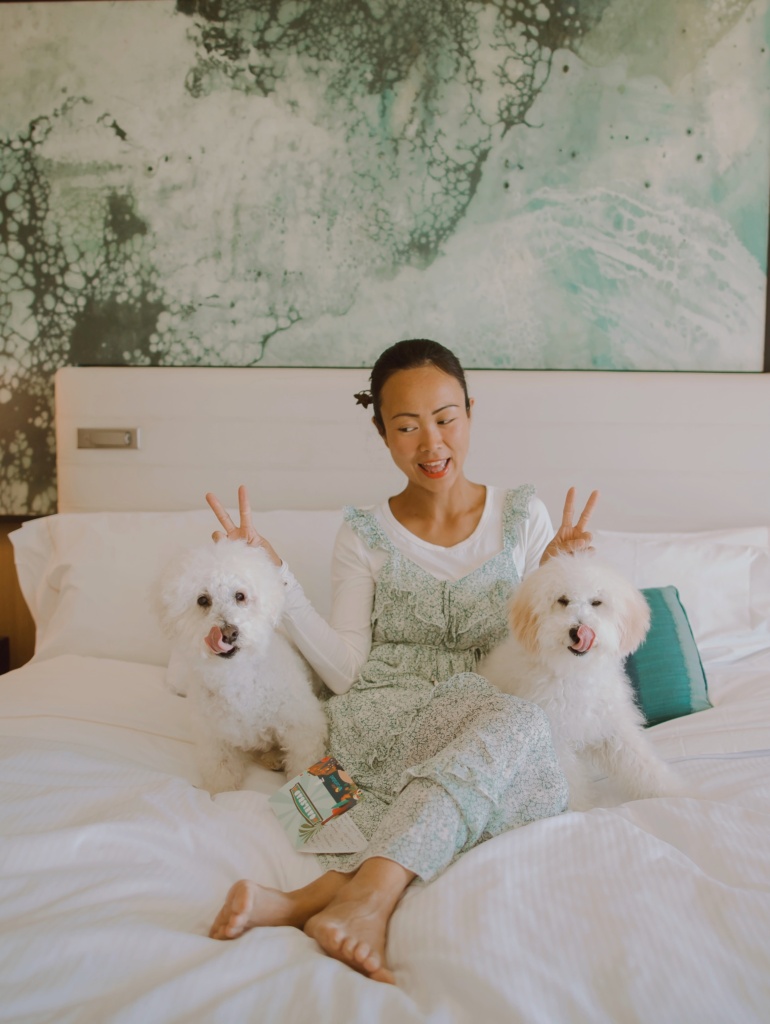 Perched above Legoland with views of the Pacific Ocean beyond, this luxury Mediterranean-inspired resort offers a tropical feel with mature palm trees around heated swimming pools and lush gardens.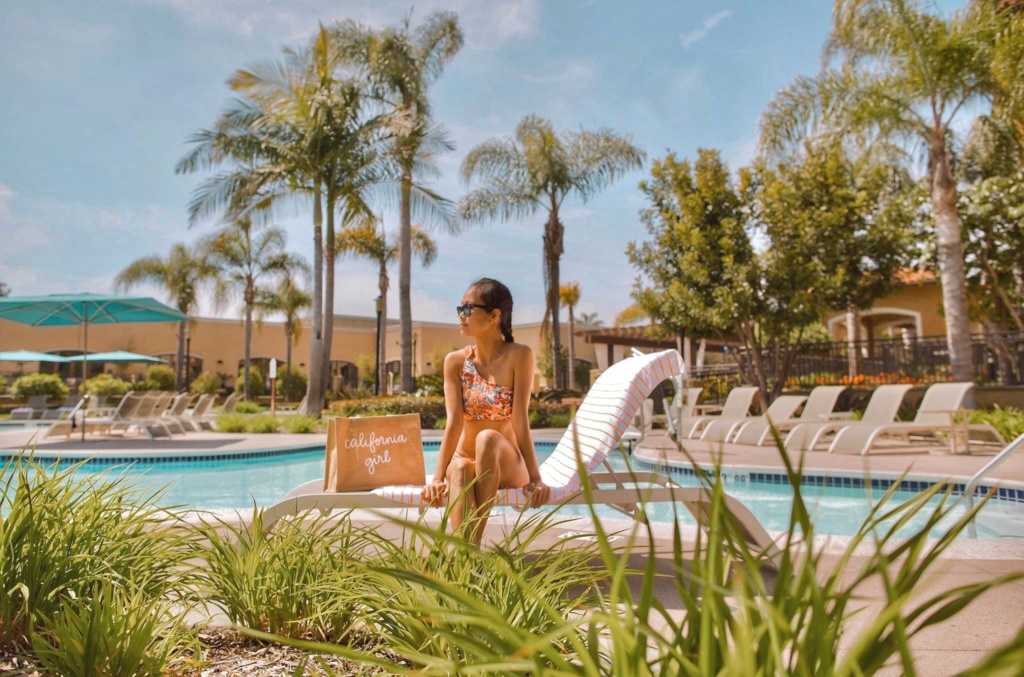 Our room is on the 4th floor of their newest building – the Grand View, offering a spectacular view of the pool and the ocean.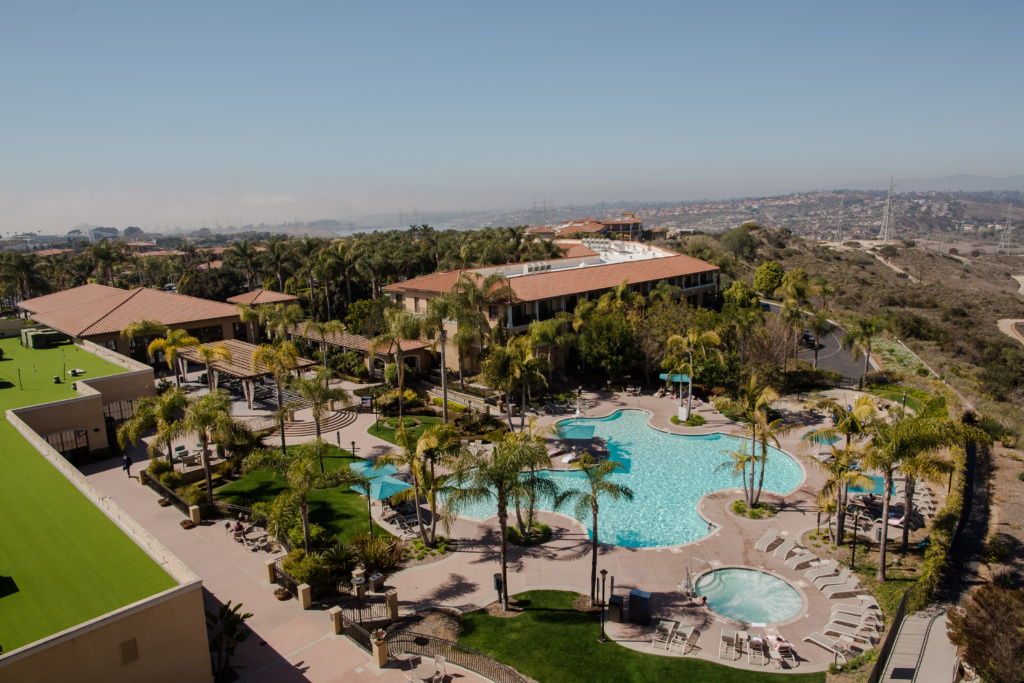 The room is carefully decorated with organic colors and ocean hues that reflect the beach-front, laid-back lifestyle that Carlsbad is known for. At the Westin Carlsbad we really were slowing down, truly unplugging, and relaxing with our fur babies in a modern Mediterranean setting.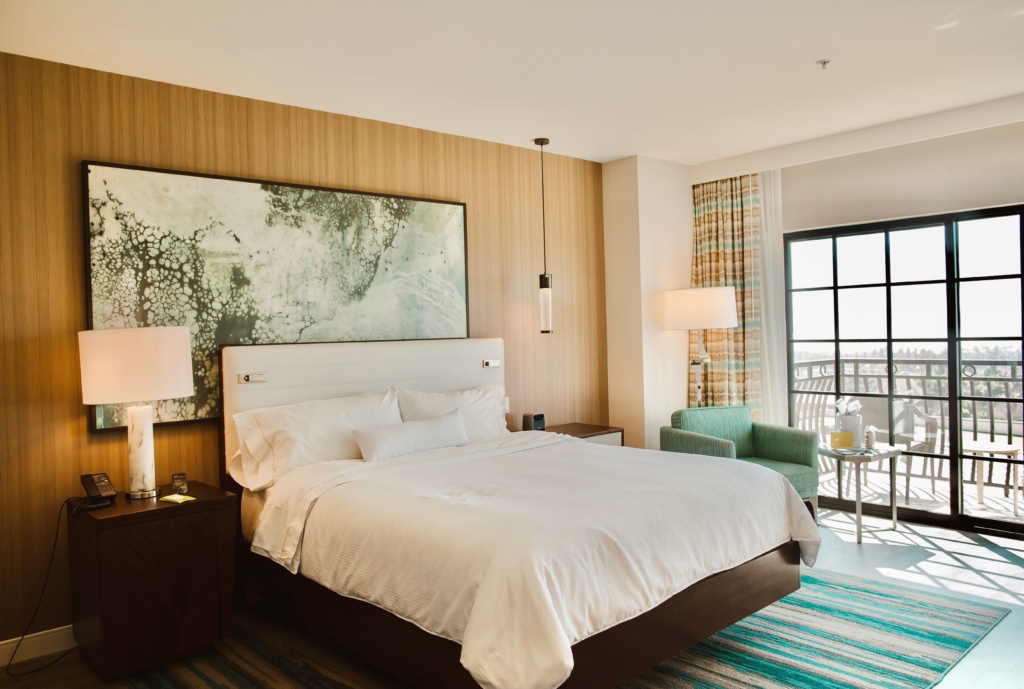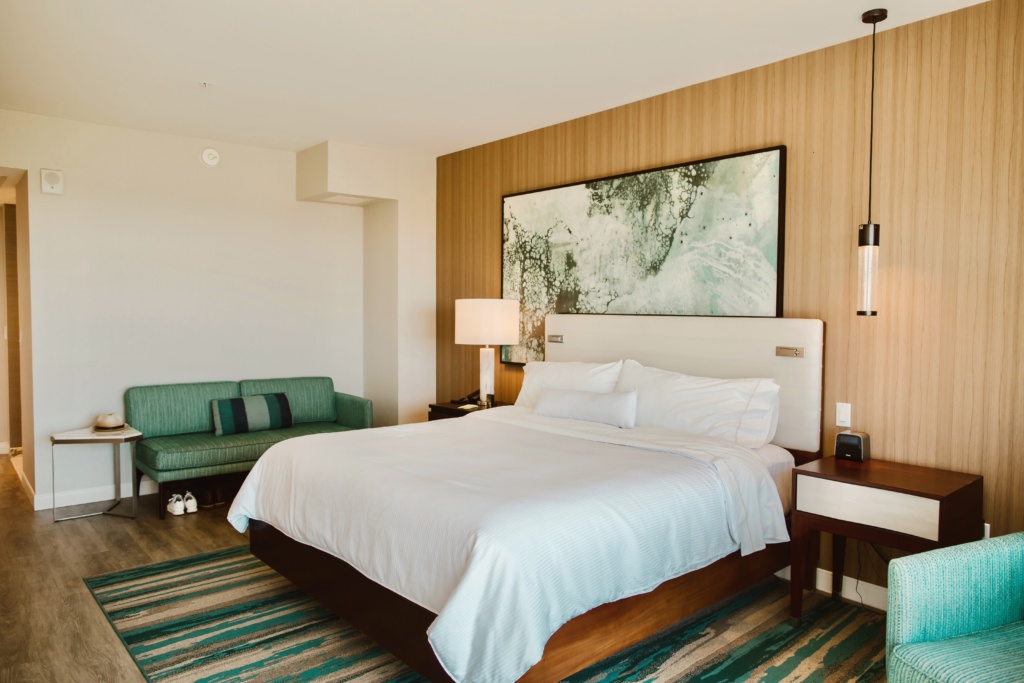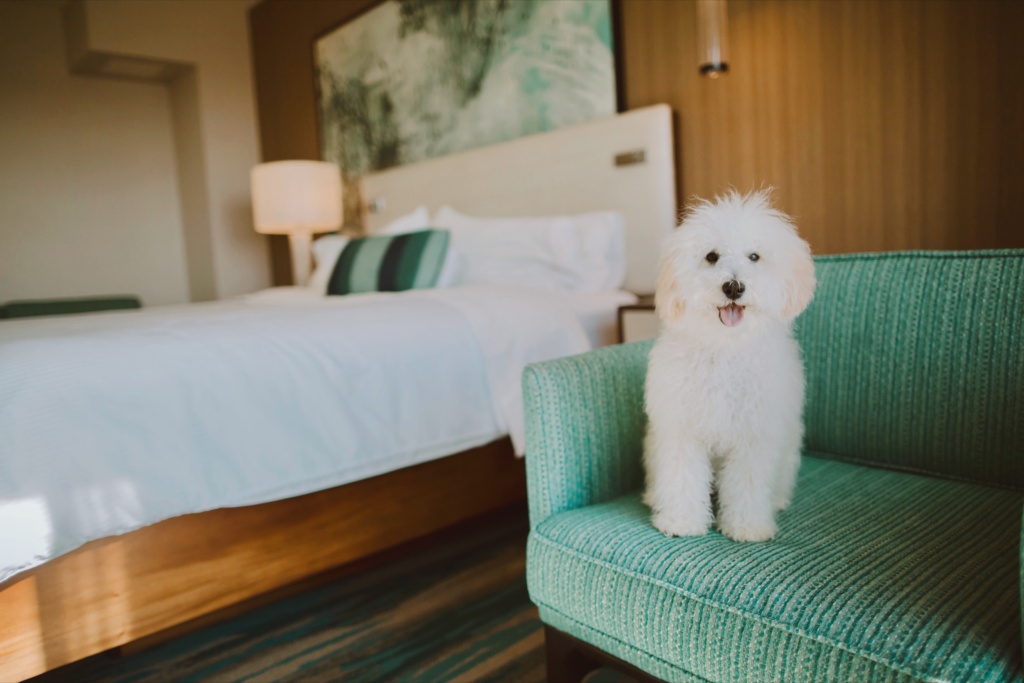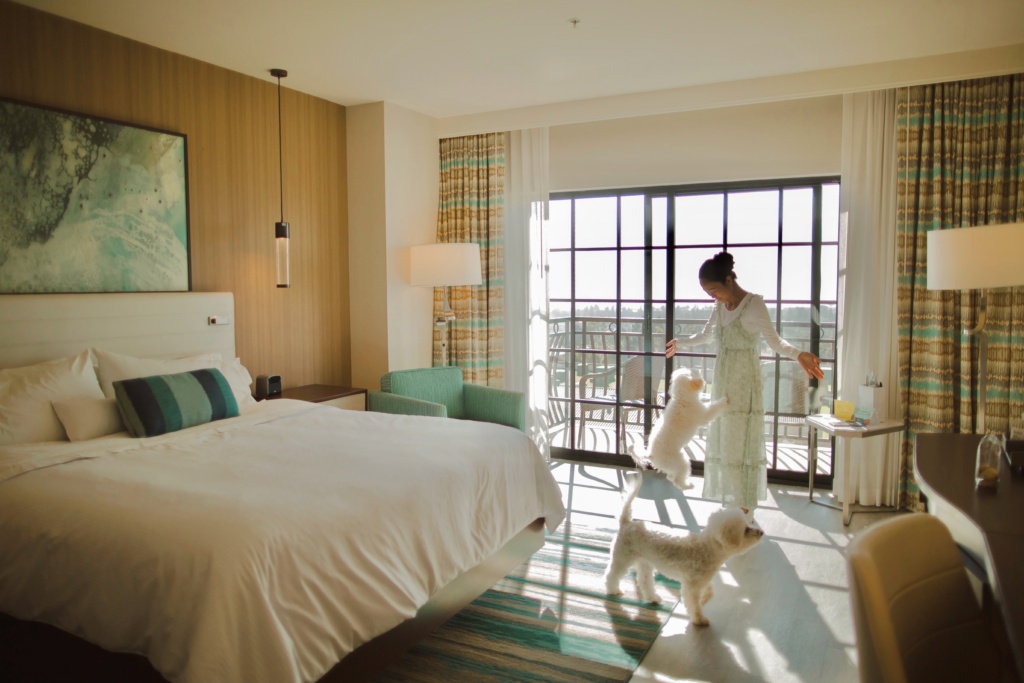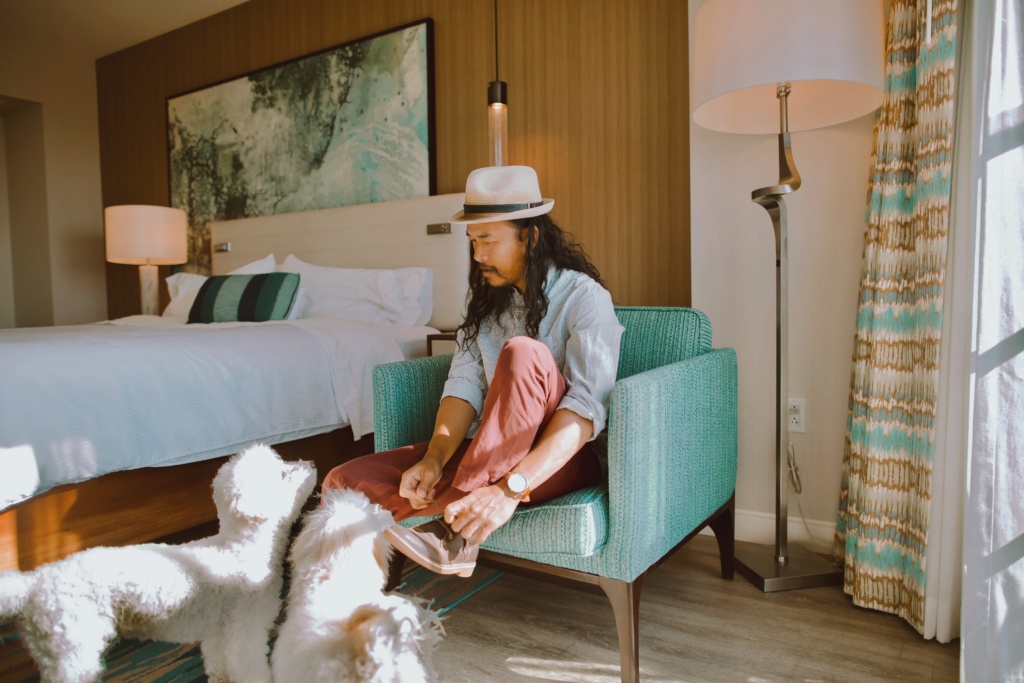 The Westin Carlsbad Resort & Spa offers a personalized hotel experience. We well rested and slept in the pure comfort of the Westin Heavenly® Bed, perfectly made with plush linens. It's a wonderful experience to escape to luxury at The Westin Carlsbad Resort & Spa with their Westin Heavenly® Bath products, custom robes and oversized fluffy towels.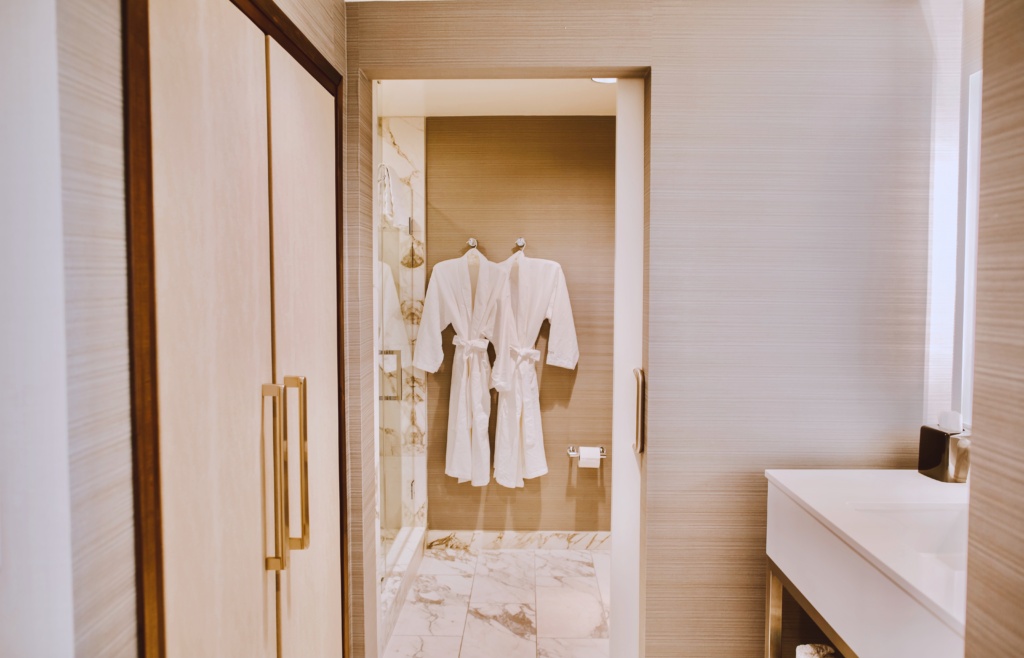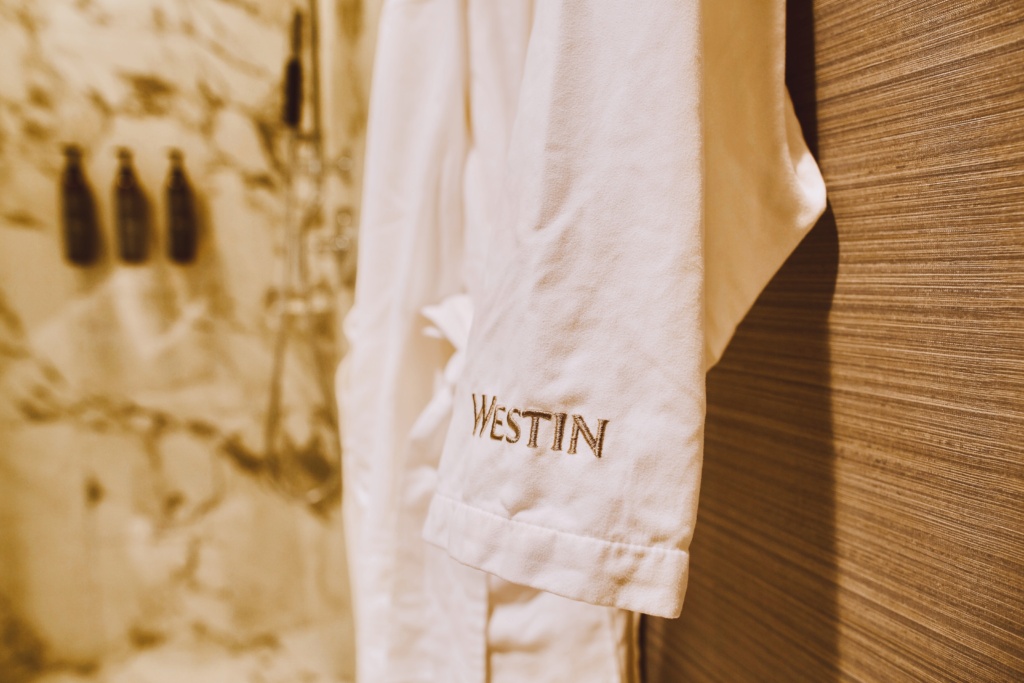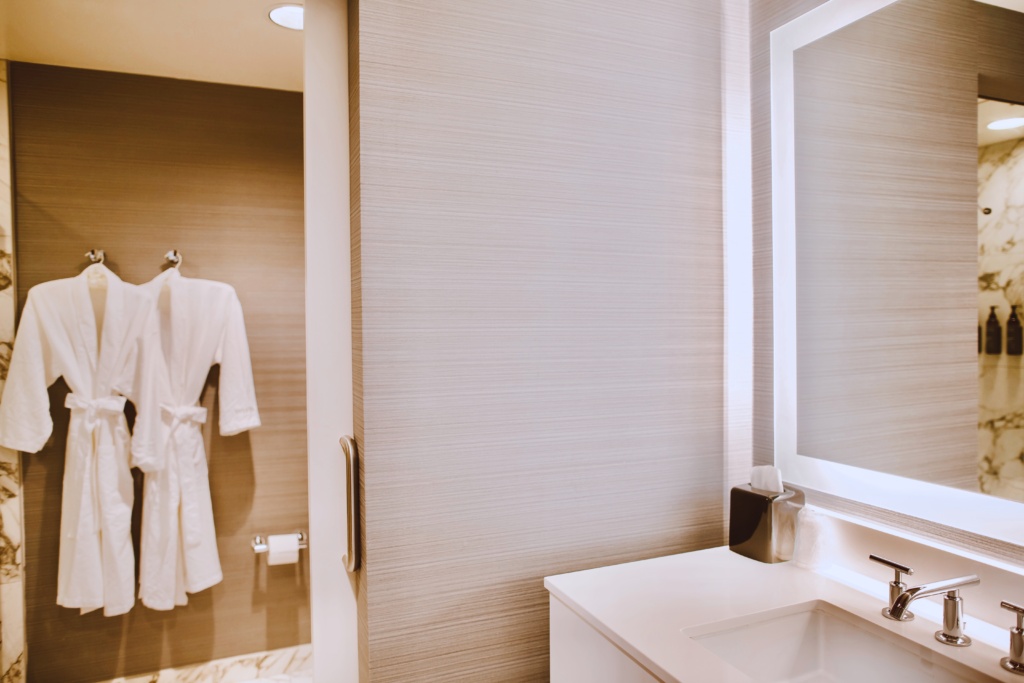 After an eventful day of exploring Carlsbad, we were looking forward to our dinner reservation at 20|Twenty Restaurant at the Westin. 20|Twenty offers cuisine with locally sourced seasonal ingredients from farms around Southern California. We really enjoyed their decadent thoughtful farm-to-table coastal cuisine complete with seascape views.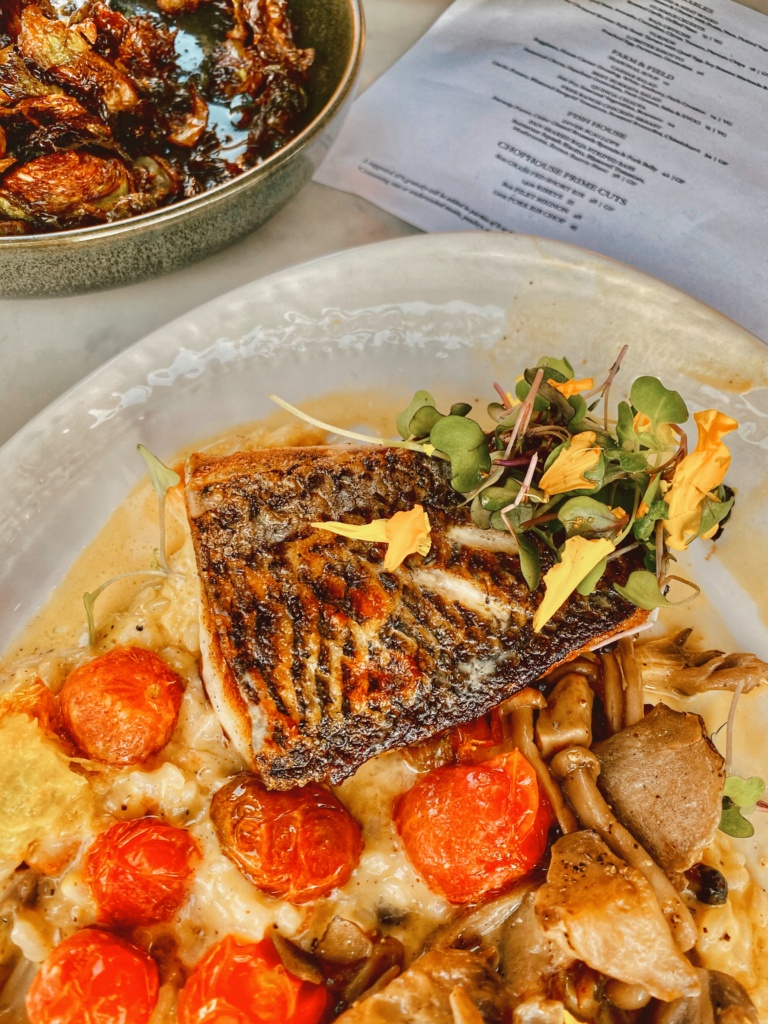 Our favorite dish is their beet burrata salad. This is the best burrata salad we've ever had; the dishes are colorful and flavorful with seasonal citrus, hazelnut gremolata, petit greens, and saba.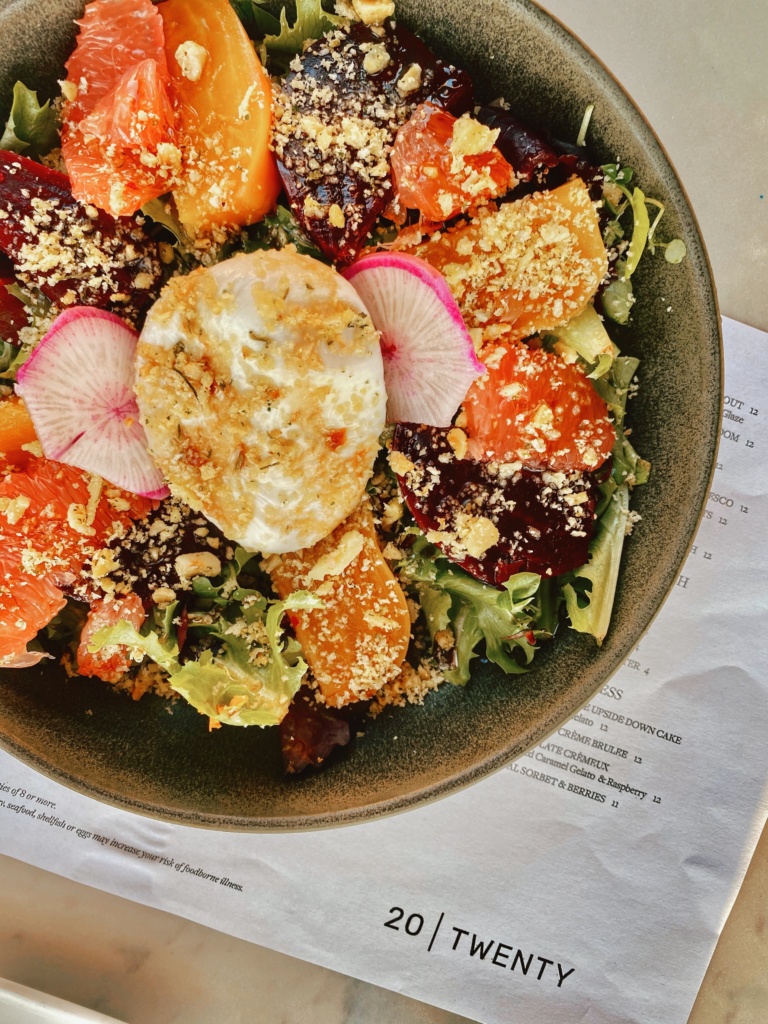 We loved their pan-seared Baja striped bass. It's the perfect combination of fresh bass, butternut squash risotto, tomatoes, mushrooms, and brown buerre blanc.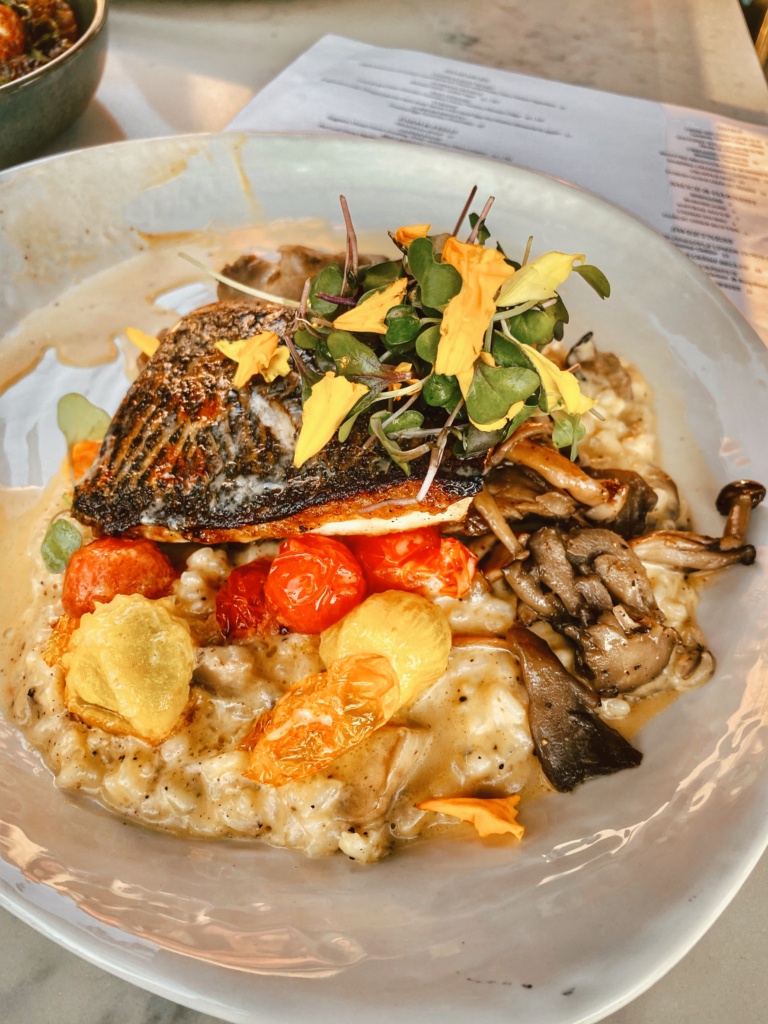 Things to Do
The Flower Fields
If you're looking for things to do on your Carlsbad spring vacation, the answer is simple: The Flower Fields. Besides the gorgeous bloom, there is a variety of events The Flower Fields hosts throughout the season. Events cover all kinds of interests, from arts and crafts, yoga, zumba, photography day, and live music. Make sure that you check their activity calendar when booking your tickets.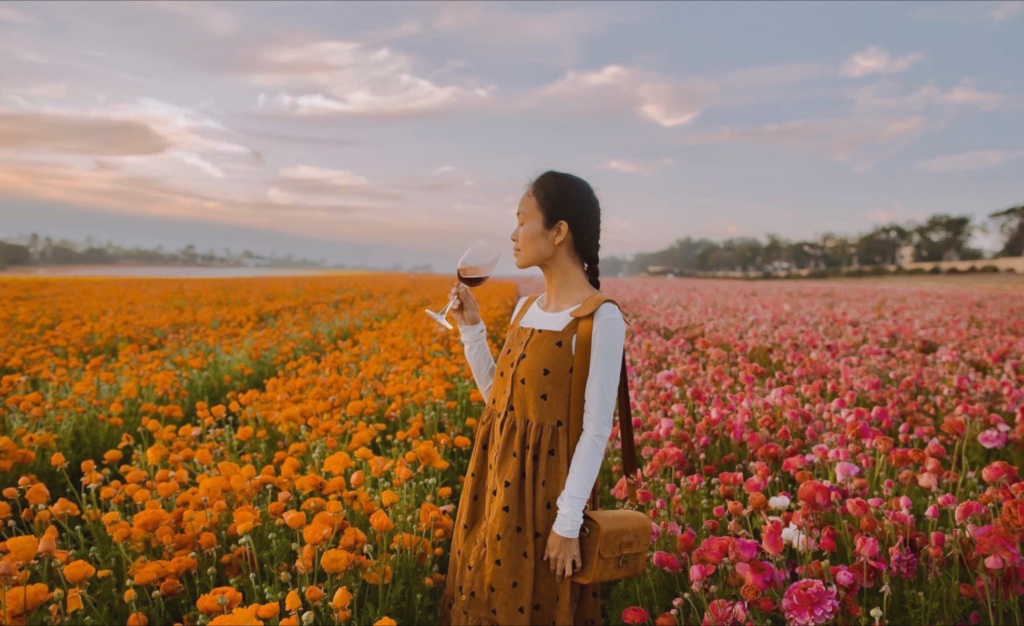 This year we attended their Sunset Wine Tasting. This after-hours event is an intimate gathering among all of the blooming beauties during the idyllic golden hour. We had such a wonderful time sipping on premium wines procured from highly sought after wineries, snacking on delicious food bites, enjoying live music from local artists, and watching the sun as it set on 50 acres of ranunculus flowers varying in a myriad of colors.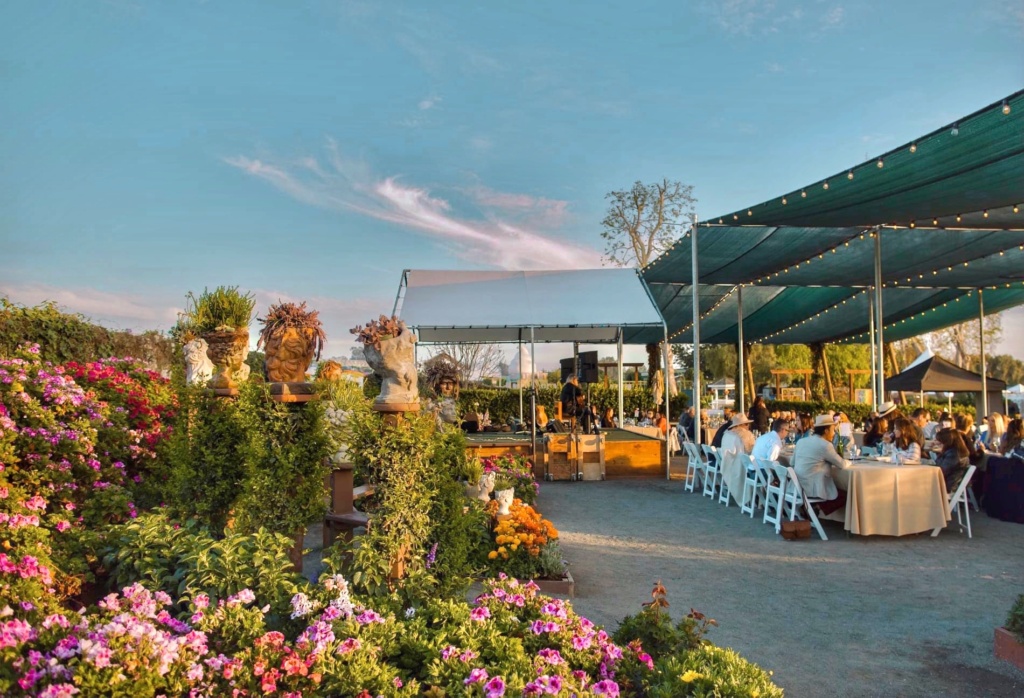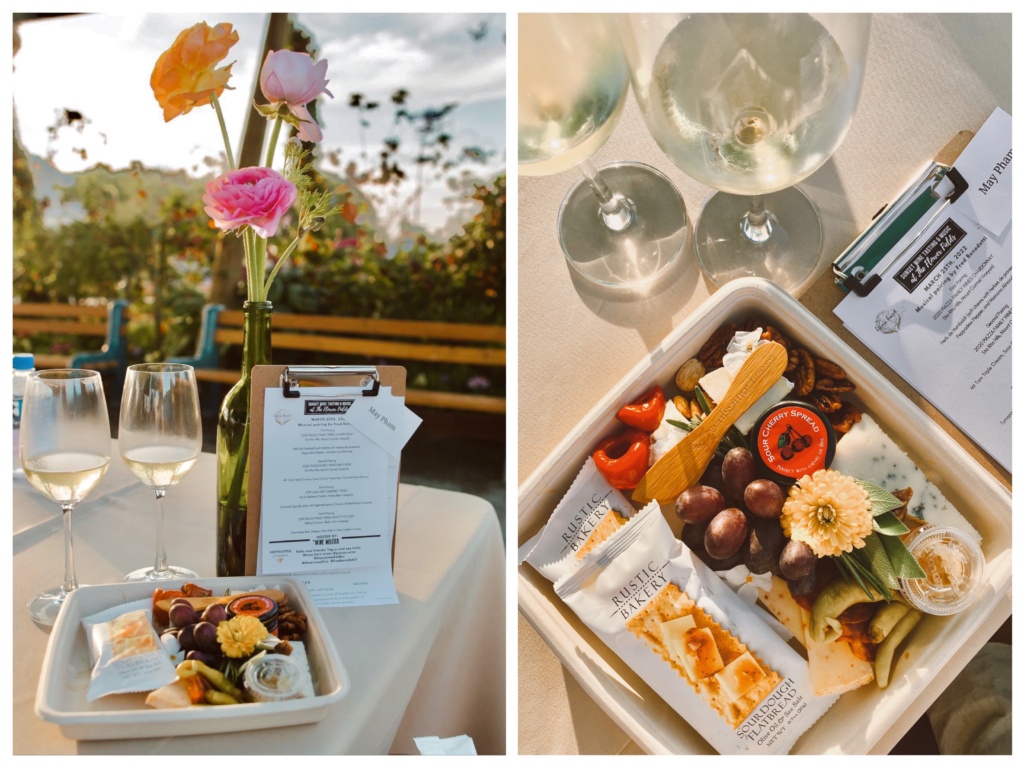 The evening included five wine tastings and wine education by Advanced Sommelier Lamar Engel from the Wine Militia. As we sat around the table and had lively conversation among dinner companions who share the same passion for wine, all eyes were on the backdrop of thousands of blooming, bold Tecolote Giant Ranunculus flowers!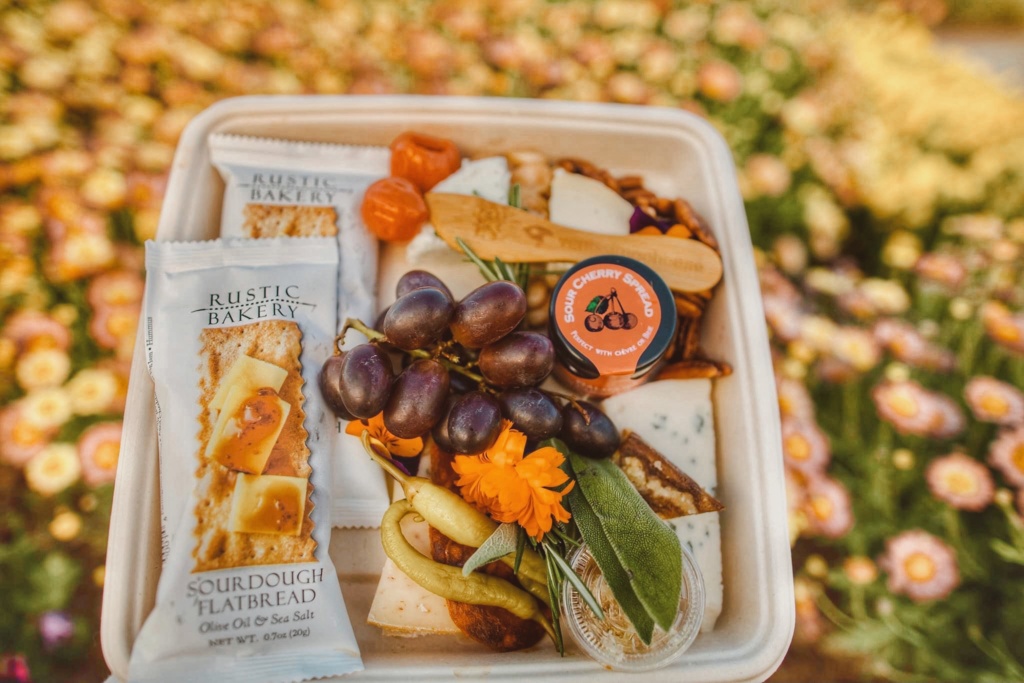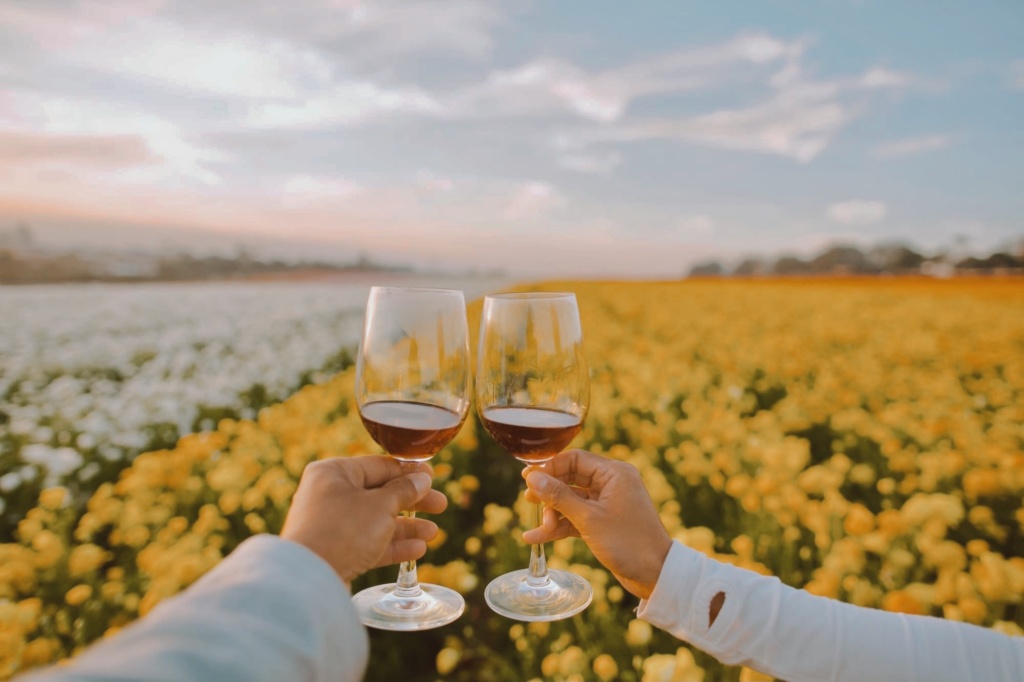 It's not like any wine tasting we've experienced! A lovely evening of flowers, wine, food, and friendship!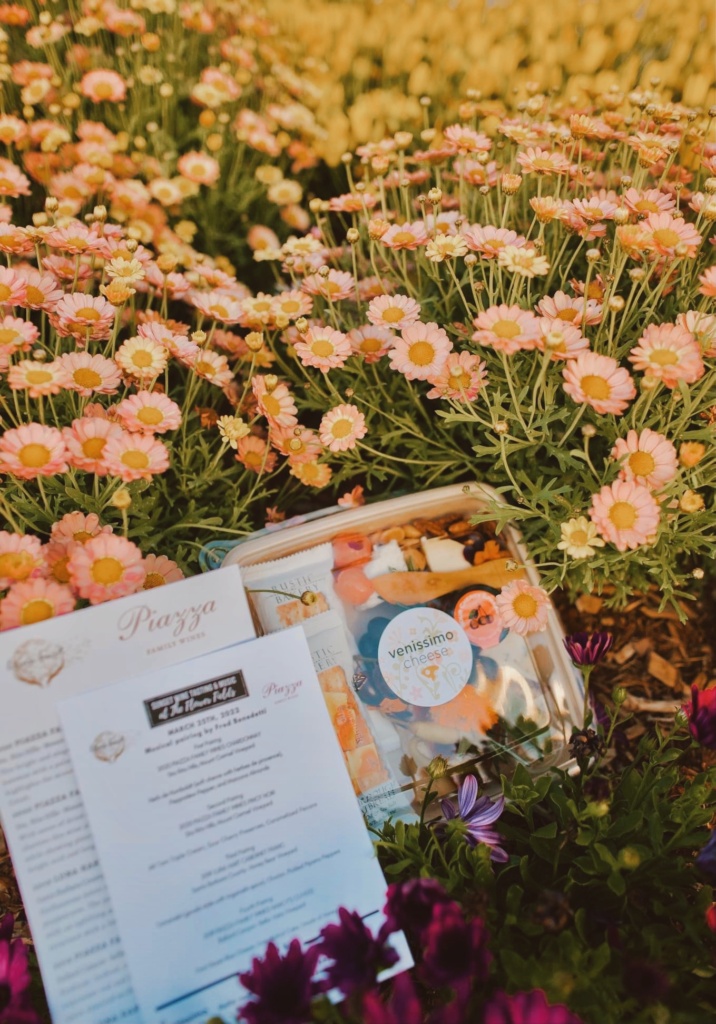 Strawberry U-Pick Company
You can find these strawberry fields on the 25-acres of land located just off the Interstate-5 in Carlsbad. U pick strawberries are daily from 9am-5pm (Address: 1050 Cannon Rd, Carlsbad, CA 92008). There are many other fun activities for your whole family here like tractor rides and sunflower maze.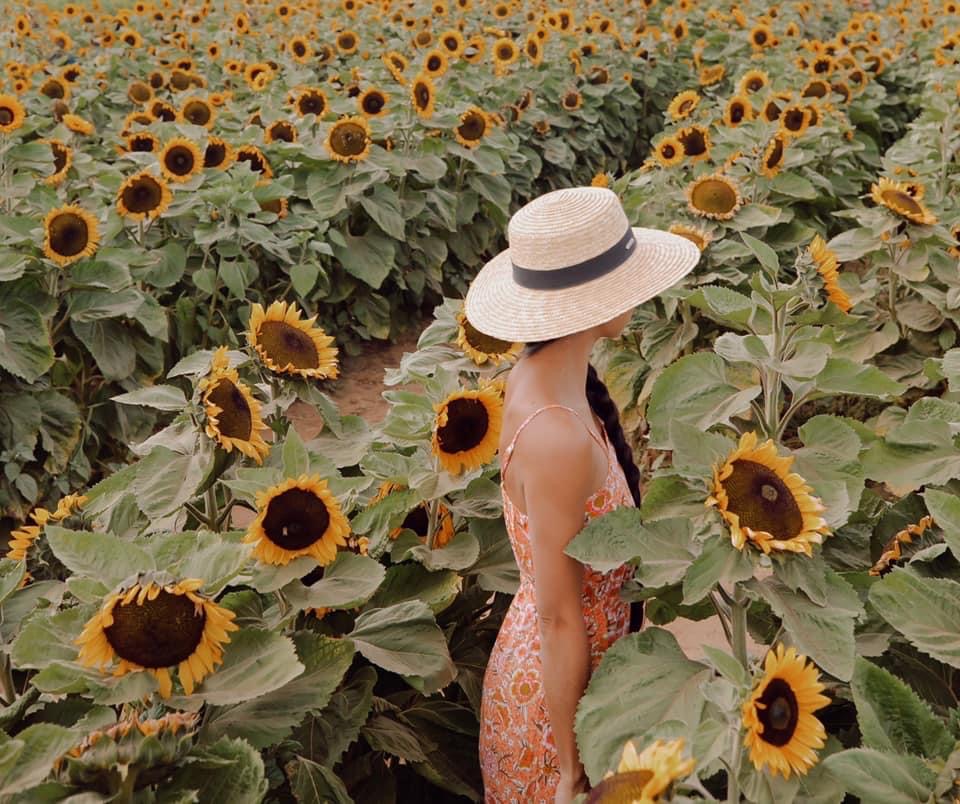 You should definitely check out their local produce stand to shop for fresh produce, milk and eggs! Here we found a variety of fresh produce (grown with organic methods) at more affordable prices than those certified organics from a supermarket.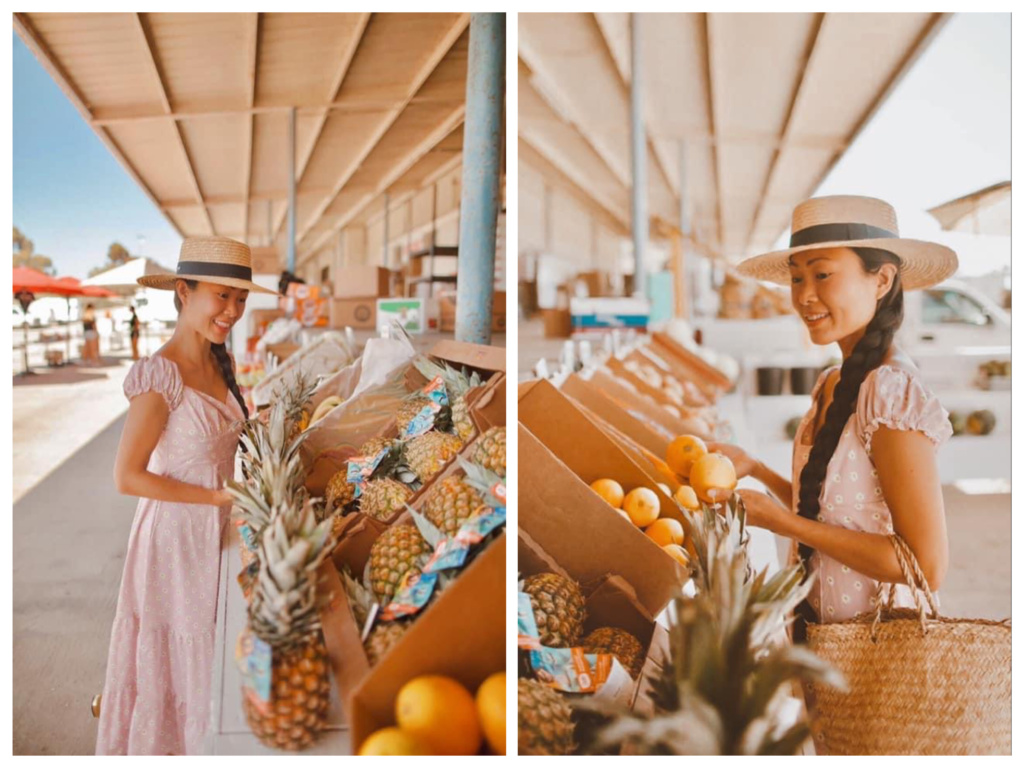 Carlsbad Village
Carlsbad Village has all the charm of a small town with a foodie scene you would expect out of a much bigger city. Whether it's beaches, taco shops, fine dining, artisanal donuts, or cute coffee shops, culture, arts and activity are always brewing in this commercial downtown area.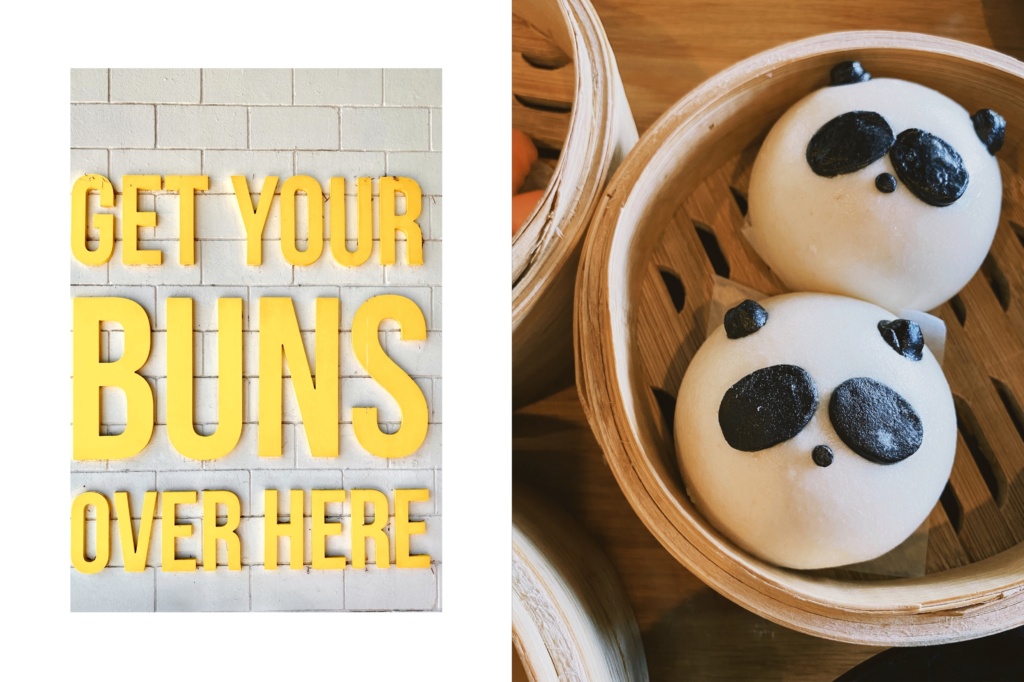 We have heard many great reviews about the famous Harumama Noodles & Buns and we were thrilled to find out that they just opened their newest location right in the heart of Carlsbad Village – on the corner of Grand Ave. and Madison St.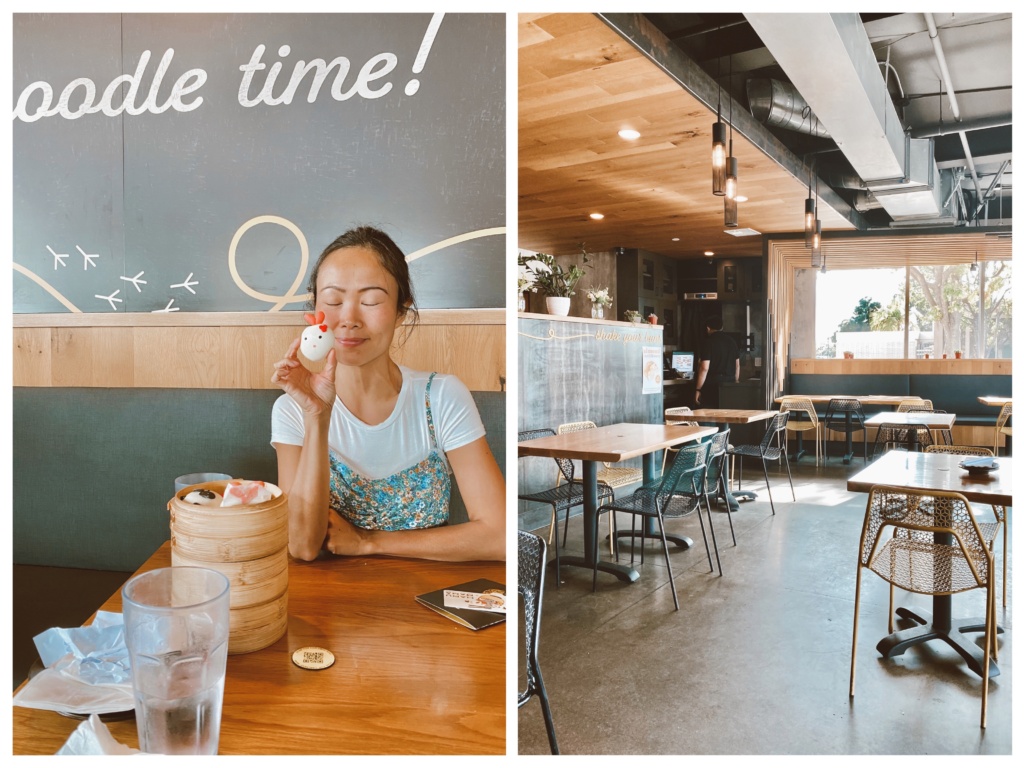 The character buns were the main reason we went to Harumama Noodles & Buns and I must say, we weren't disappointed. Harumama offers playful takes on Asian steamed buns featuring cartoon-like pandas, koalas, Hello Kitty and Japanese animated characters (Totoro) in a variety of flavors including sweet potatoes, shiitake mushroom, chicken, and more Asian treats. We went for the Instagram-worthy character steamed buns, but fell in love with its absolutely delicious food and sweet atmosphere.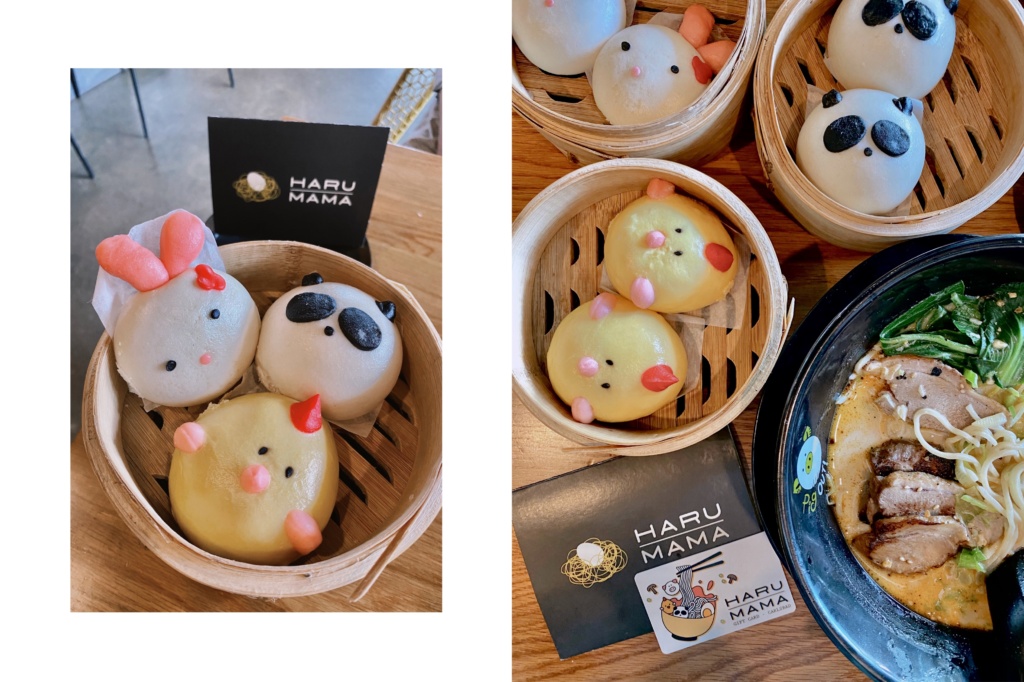 Along with buns, they also serve contemporary twists on traditional ramens, poke bowls, udons, noodles, baos and on offer are vegetarian, vegan, dairy free and gluten free options. We loved their Duck Fat Ramen (duck chashu topped with bok choy, fried garlic, miso) and Bulgogi Beef Udon (beef broth, bulgogi beef, caramelized onion, green onion)!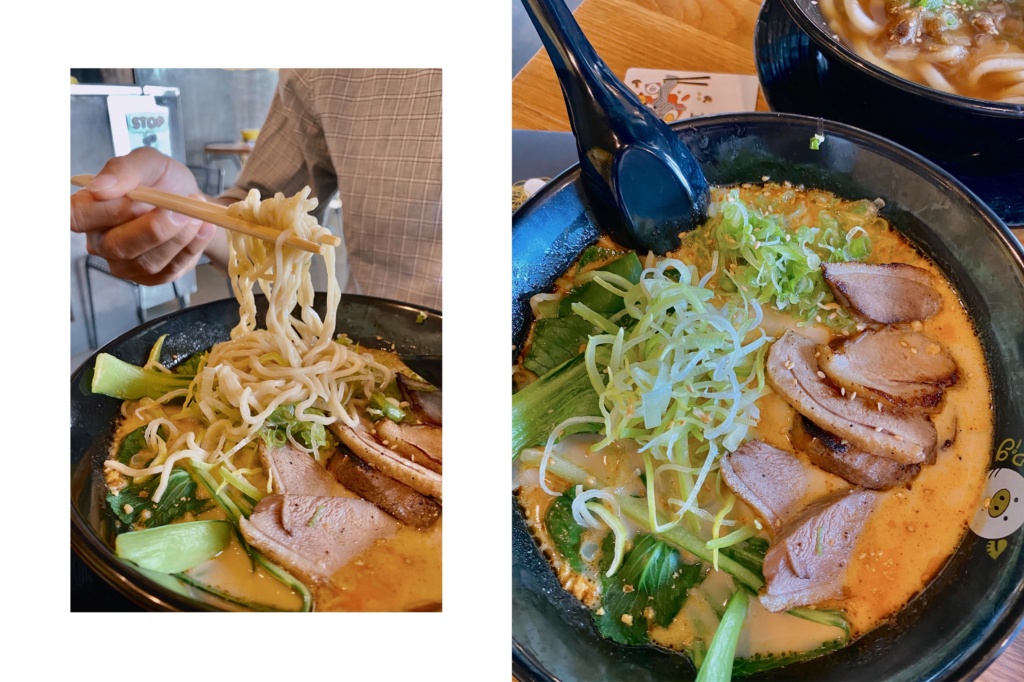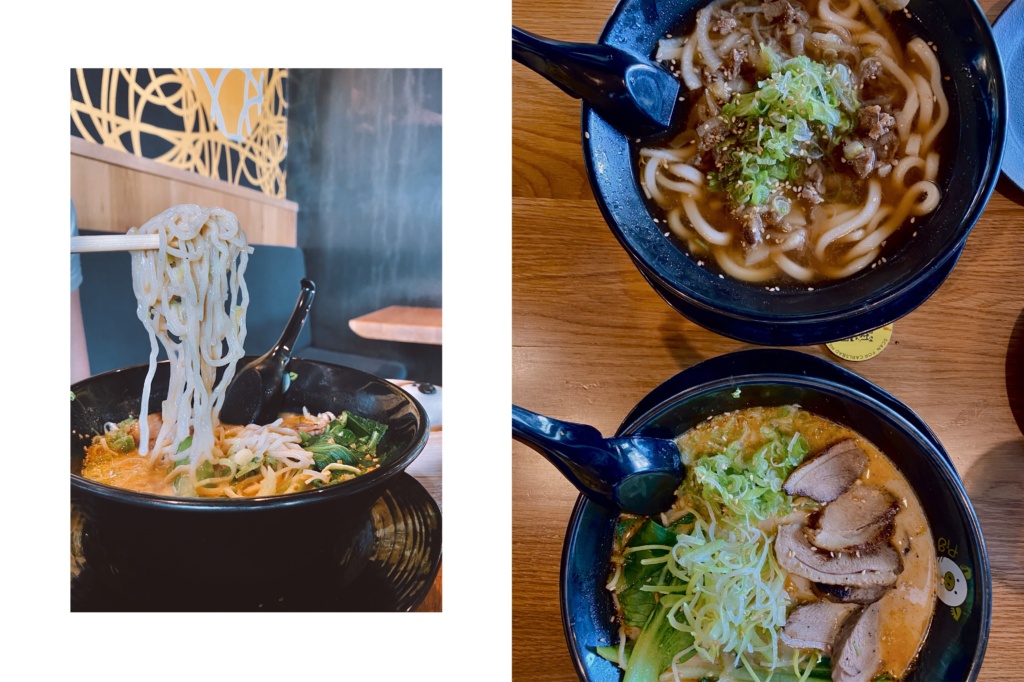 Just like the name suggested ( 'Haru' means 'a day,' and 'Mama' means 'mom,' so it actually translates to 'Mom's daily food') the restaurant strives to use the freshest, high quality and local ingredients to make their dishes just like how a mom cooks daily for her children! The owner said the process of making the buns takes about two days. The bao dough is prepared, then wrapped around a sweet or savory pre-cooked center, shaped and hand-decorated. Then each two-piece serving, priced at $7.95, is steamed to order. We had 3 different buns, which consisted of pandas (spicy chicken and broccoli), chicken (chicken, caramelized onions and mozzarella), and bunny (chocolate hazelnut). An amazing spot to stop by for lunch when you visit Carlsbad.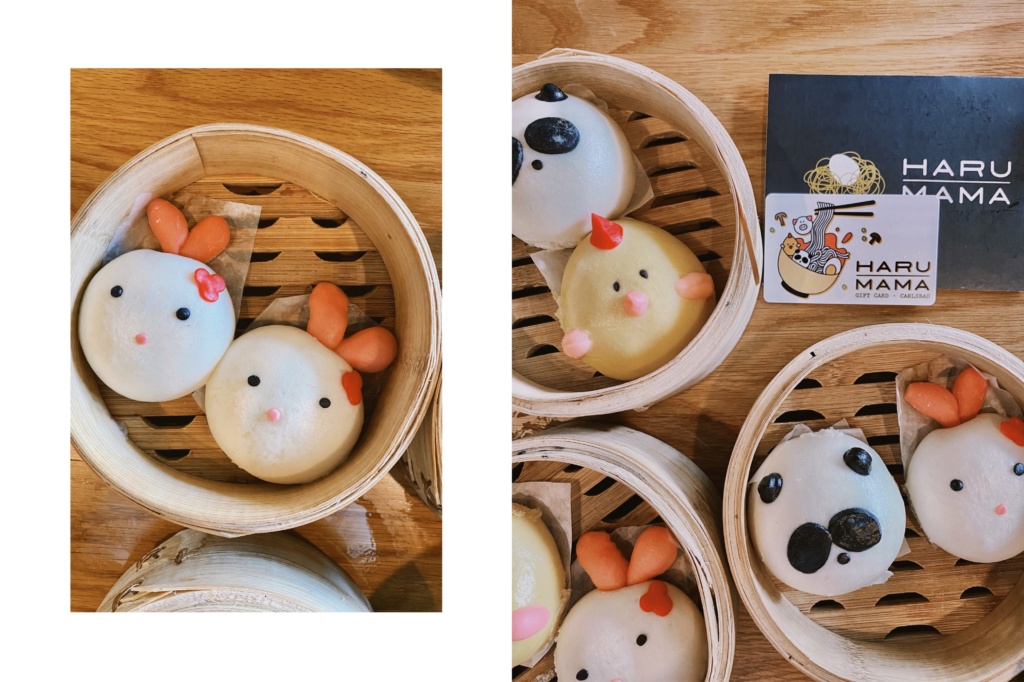 Another amazing food scene in Carlsbad Village on every Sunday is the authentic Mexican food stands taking place at Holiday Park in Carlsbad Village.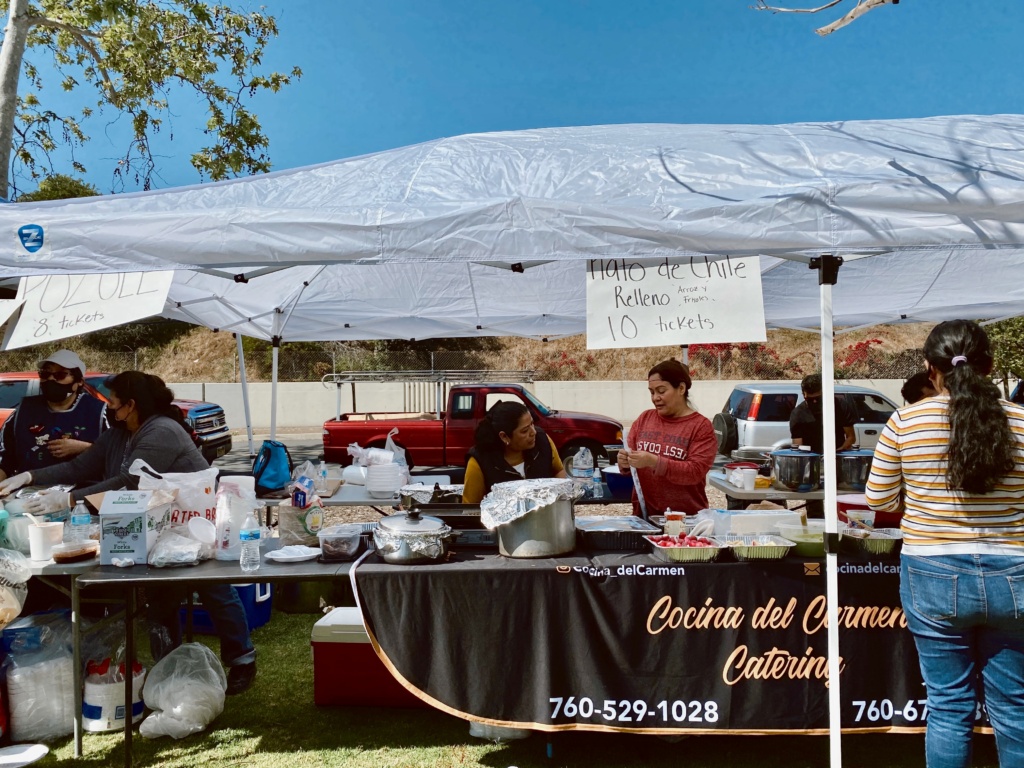 Carlsbad is blessed with a number of community parks, and Holiday Park near the Village, one of Carlsbad's oldest parks, is no exception. Located at Chestnut Avenue and Pio Pico just east of the freeway, Holiday Park covers almost 6 acres and offers a huge expanse of trees and green space to enjoy, along with playgrounds for the kids, a beautiful gazebo, horse shoe pits, and covered and uncovered picnic areas with barbecues.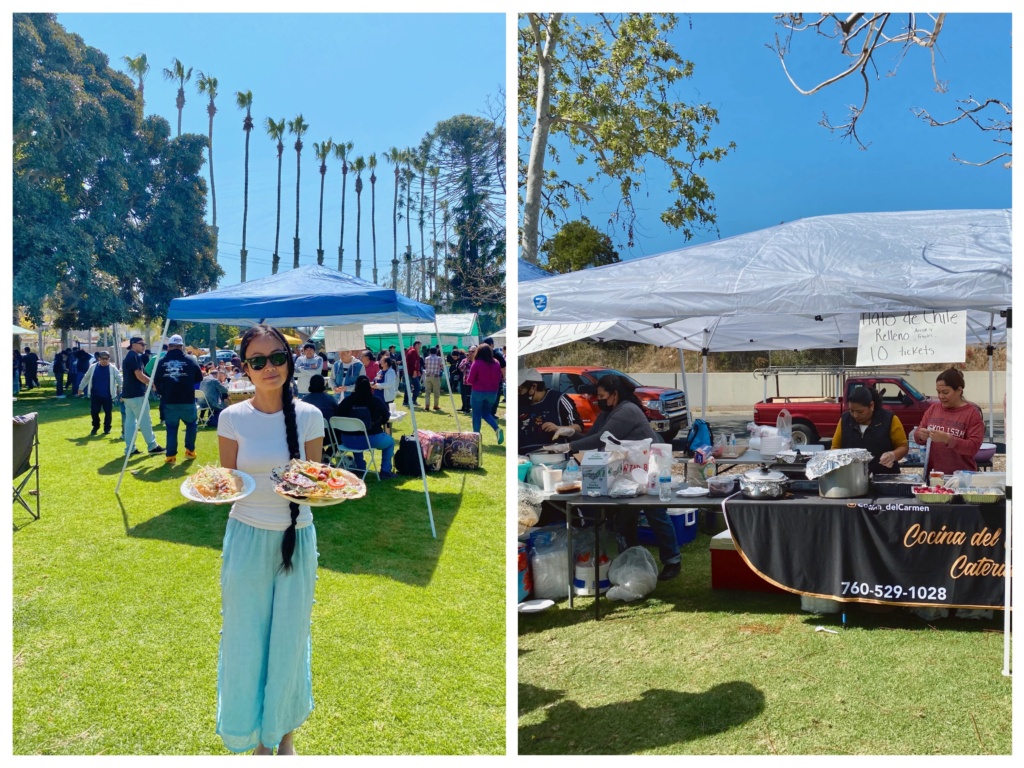 And if you visit the park on Sundays, you are in for a special treat. A real feast of Mexican authentic home-cooked dishes! Dishes that you won't see in a typical Mexican restaurant establishments. Here you will find a stand with traditional tlayudas -an iconic Oaxaca street food. It is sometimes called Mexican pizza or Oaxaca style pizza and generally consists of four ingredients: a crispy corn tortilla, black beans, quesillo or Oaxaca cheese, and strips of meat. It's absolutely wonderful to try this delightful tlayudas Oaxaca right in Carlsbad.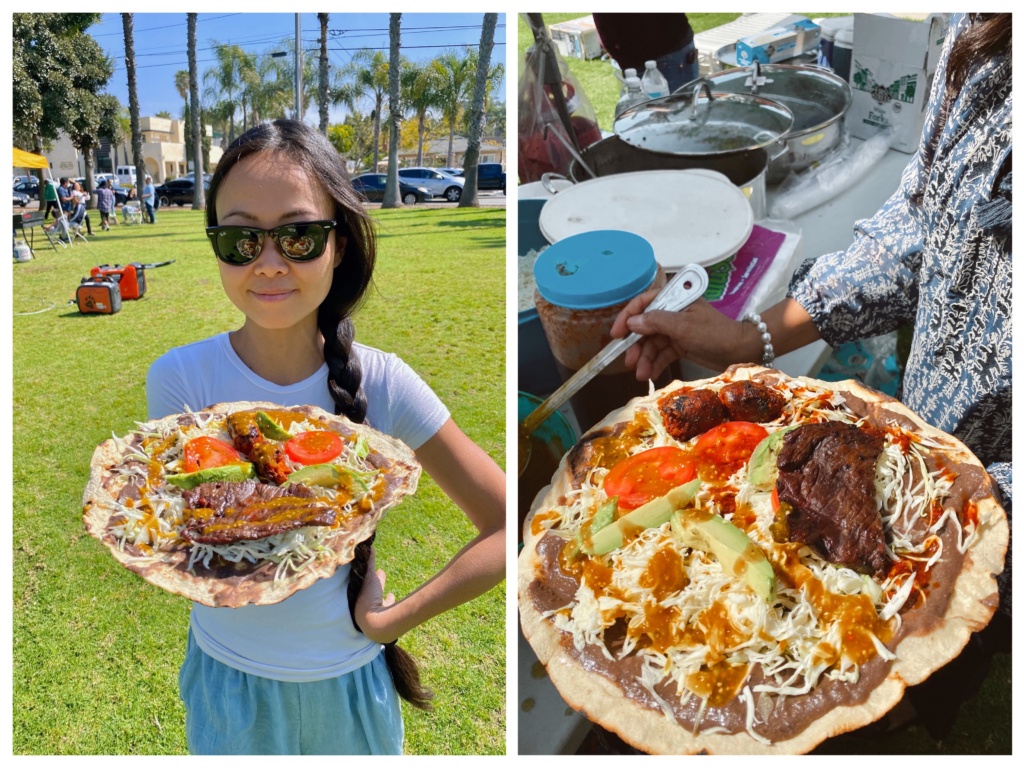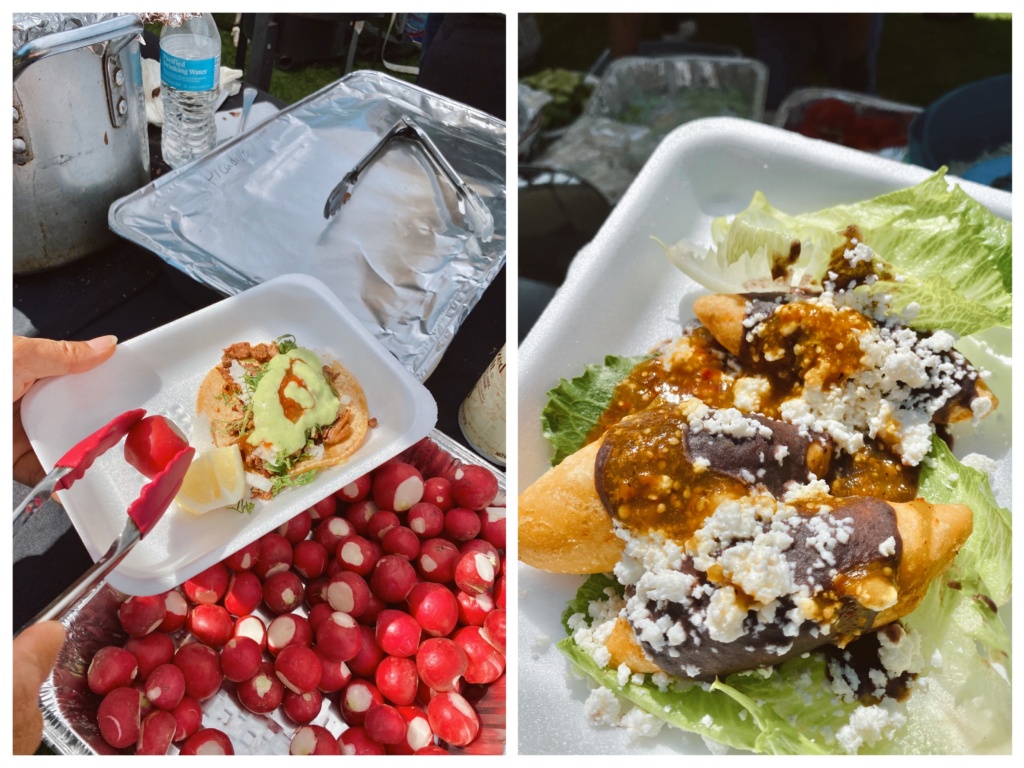 ***Thank you to Visit Carlsbad for kindly sponsoring this post. All opinions are 100% honest & completely my own.