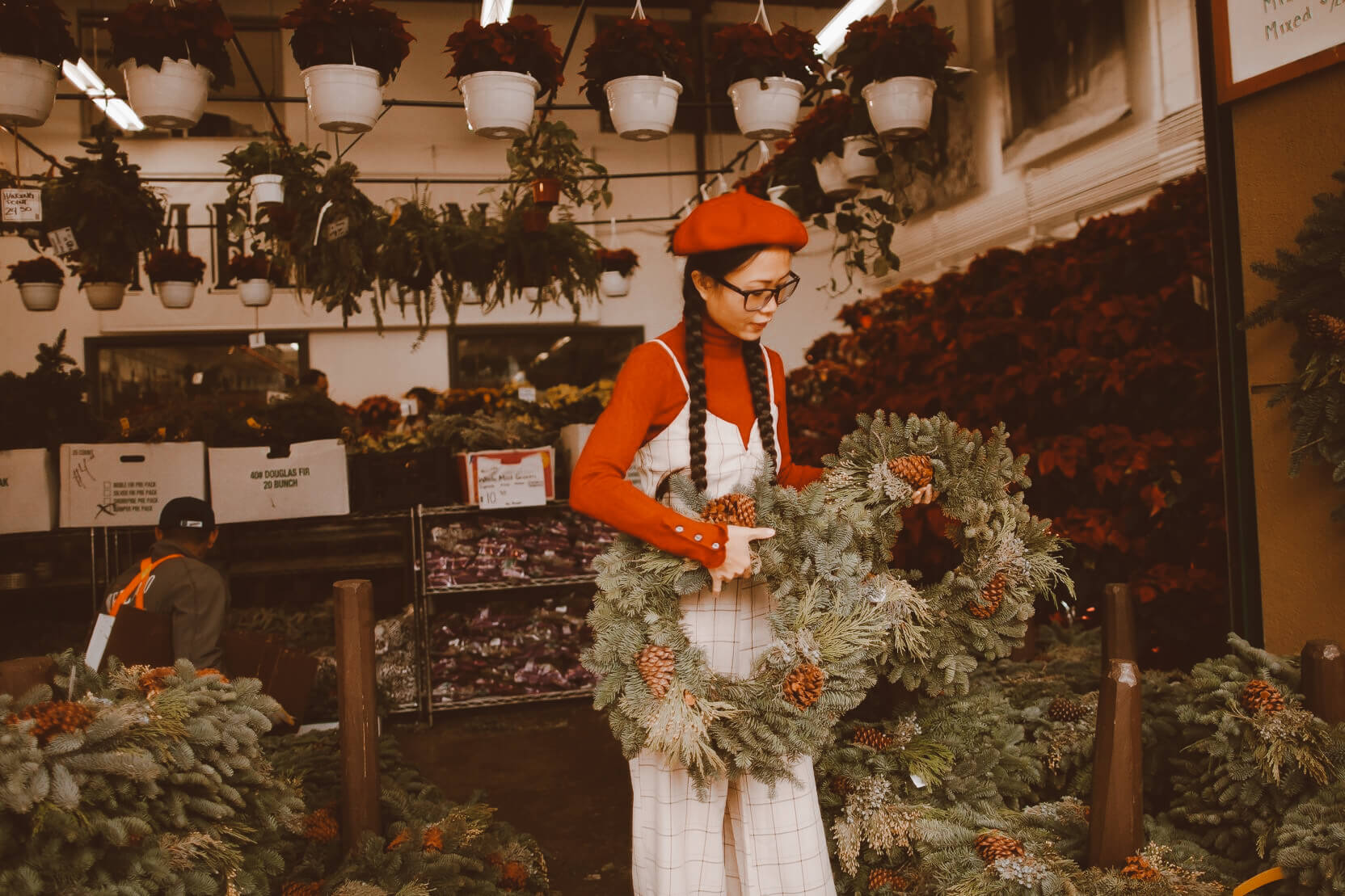 Festive Finds: Mellano & Company at the Original LA Flower Market
The holidays are a time to enjoy precious moments with family and friends, but all too often, we find ourselves rushing around and not taking a moment to relax and reflect. So, I always make sure I plan ahead to put up seasonal home decorations that will instantly put my family in a blissful mood. Just a few garlands of evergreens, a colorful wreath in the window, or an arrangement of poinsettias can create just the right abundance of festive vibes. My favorite place to look for holiday greenery in Los Angeles is Mellano & Company at the Original Los Angeles Flower Market. You can get all your holiday greenery/plants/flowers all in one place.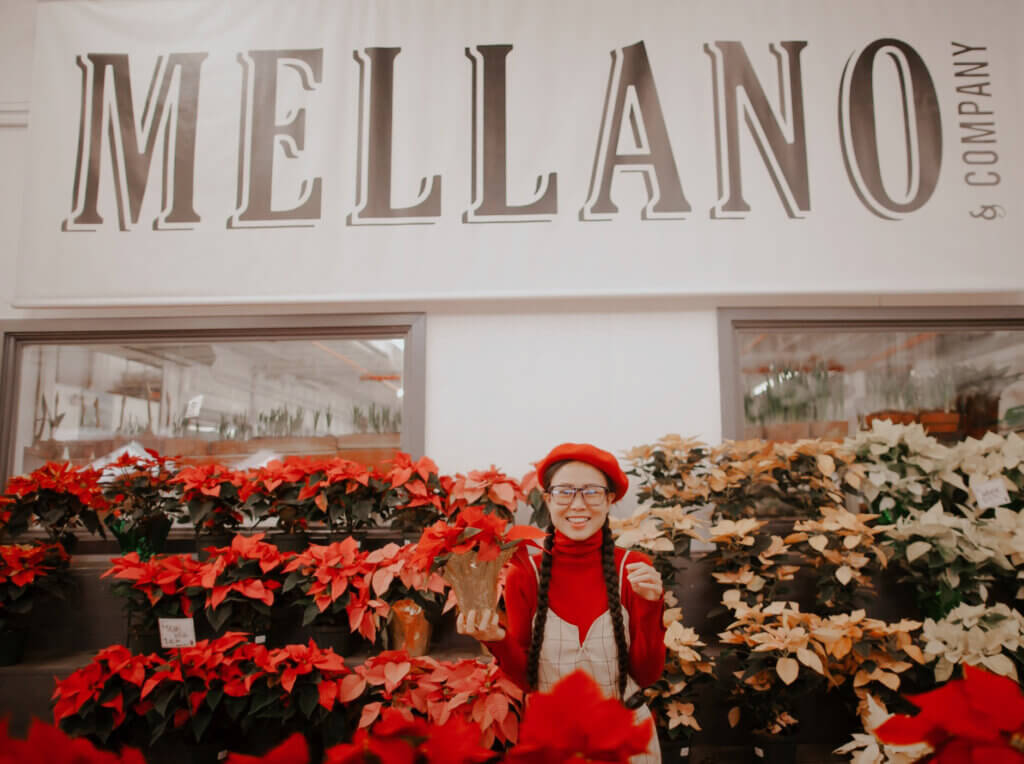 Mellano & Company has always been my go to spot for holiday greenery. They are the best at what they do and the staff is friendly and willing to help you out with all your needs.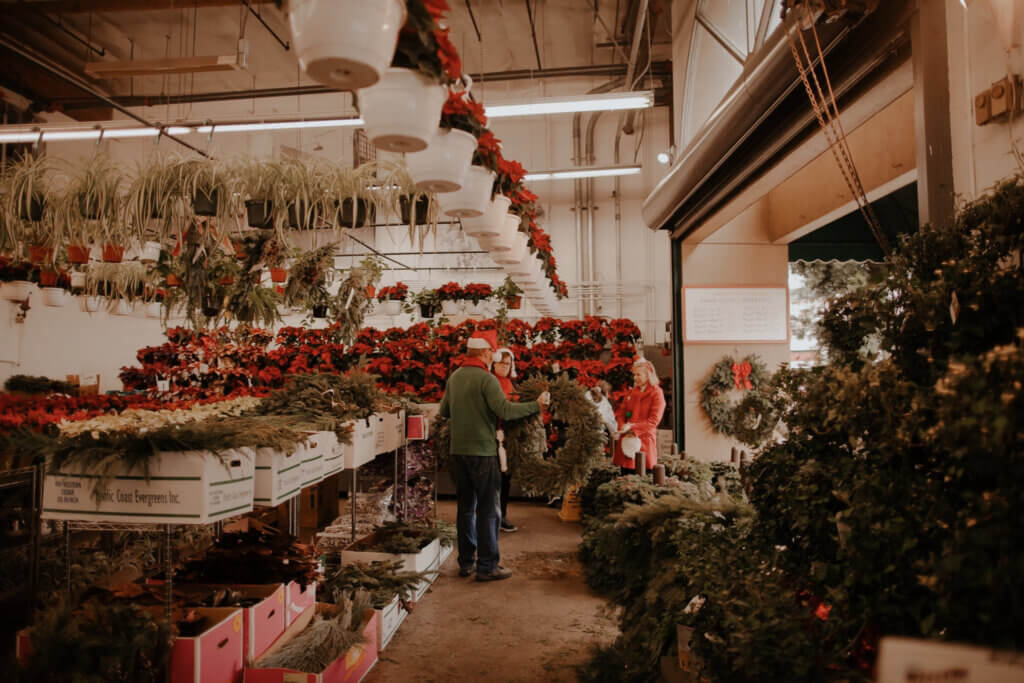 Walking into the Mellano & Co. is nothing short of a feast for the senses. The exotic fragrances of different types of flowers and greenery hit your nose like a bullet train. Staff members are running from place to place to ensure only the finest cuts are displayed on shelves.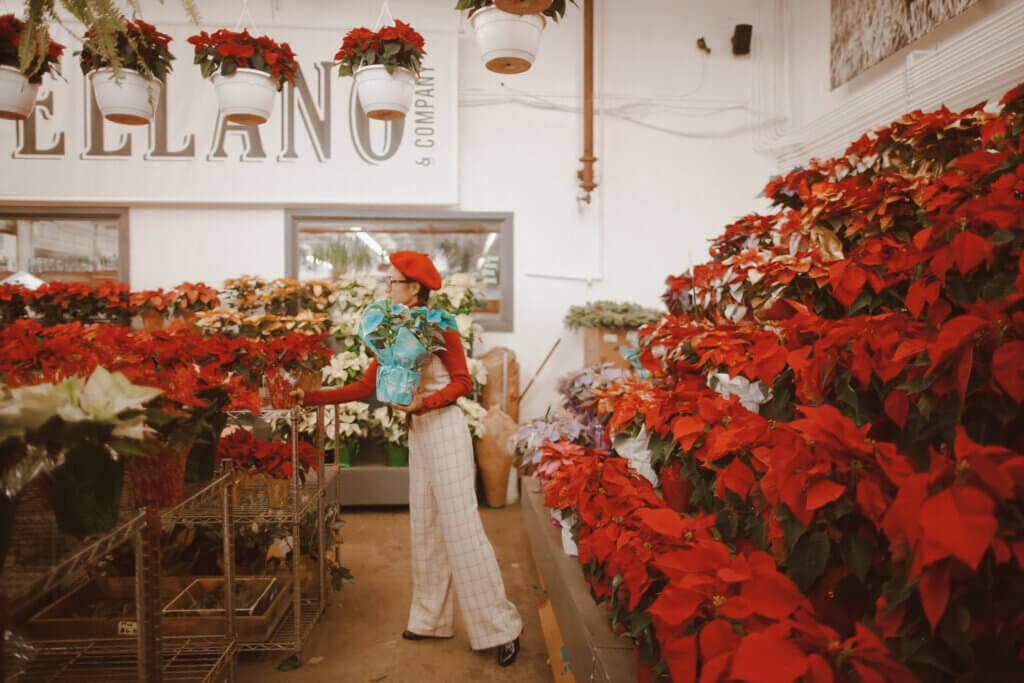 Christmas fresh wreaths, garlands and centerpiece swags are made here daily at Mellano & Co. It's one of a few vendors carrying greenery for wreaths. This includes prepackaged pine, fir and incense cedar; pine cones by the bag; and poinsettias of every size.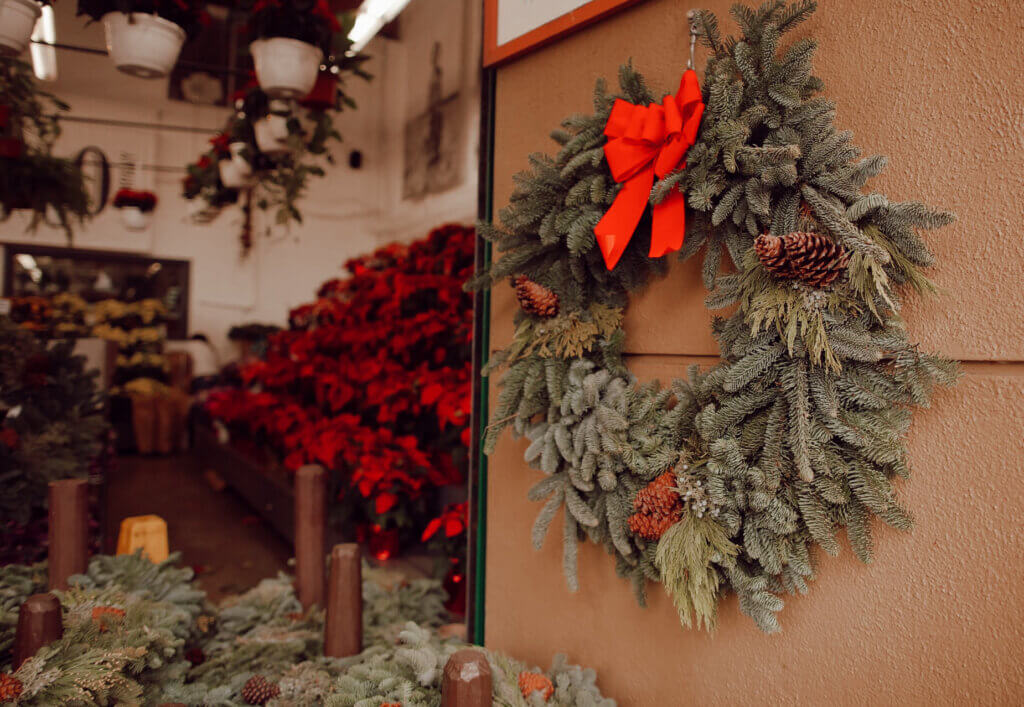 A fresh wreath from Mellano & Co. is very full, layered, and three-dimensional. Their wreaths are, without question, the highest quality evergreen products on the market. If you're looking for a natural and classic piece for your holiday décor, look no further! Mellano & Co. wreaths are handmade with fresh cut eucalyptus, evergreens, red berries, white berries and pine cones. It really brings the beauty of the great outdoors into your home for the holidays!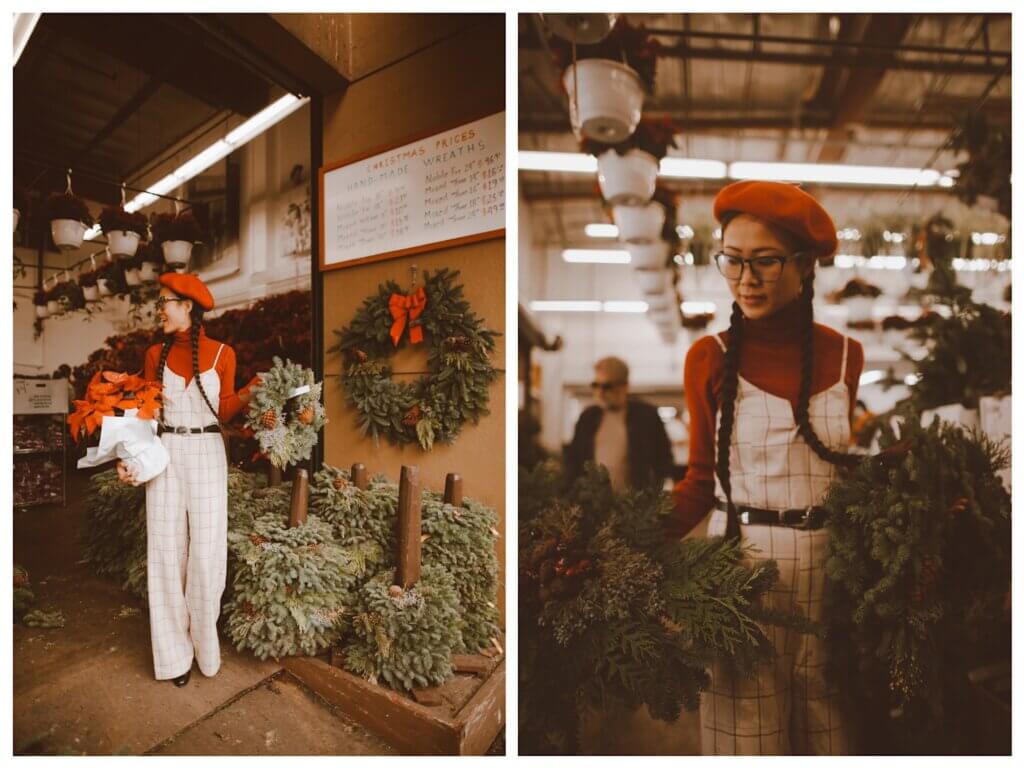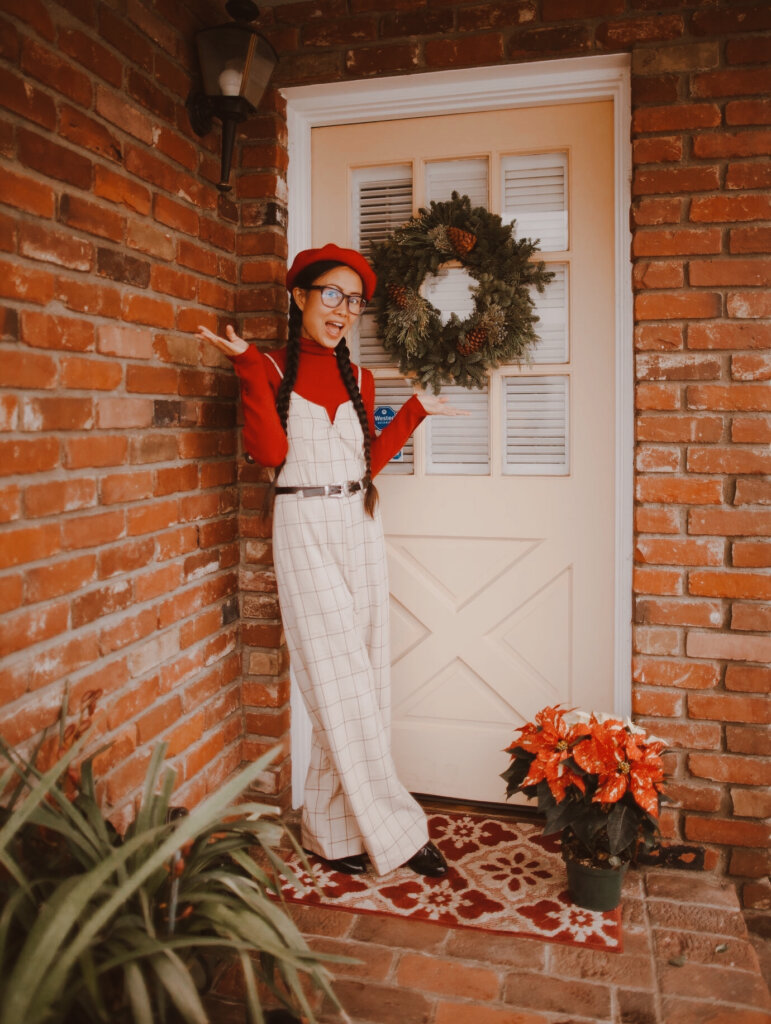 The process of designing these handmade wreaths requires lots of time and efforts. It begins by using a wire frame, which provides strength and allows an abundance of fresh greens to be fastened together. Boughs are hand selected, trimmed, and organized in preparation for assembly. The artisan then uses these boughs and the frame to create the base of greenery. Mellano and Co. takes great pride in the fact that their wreaths are extremely thick and lush.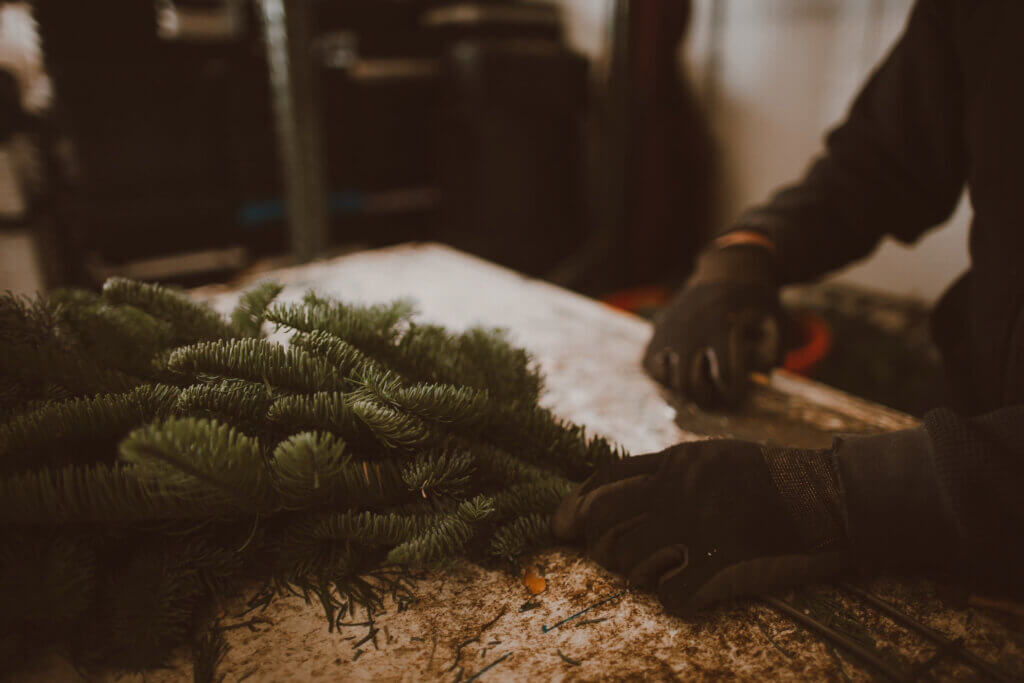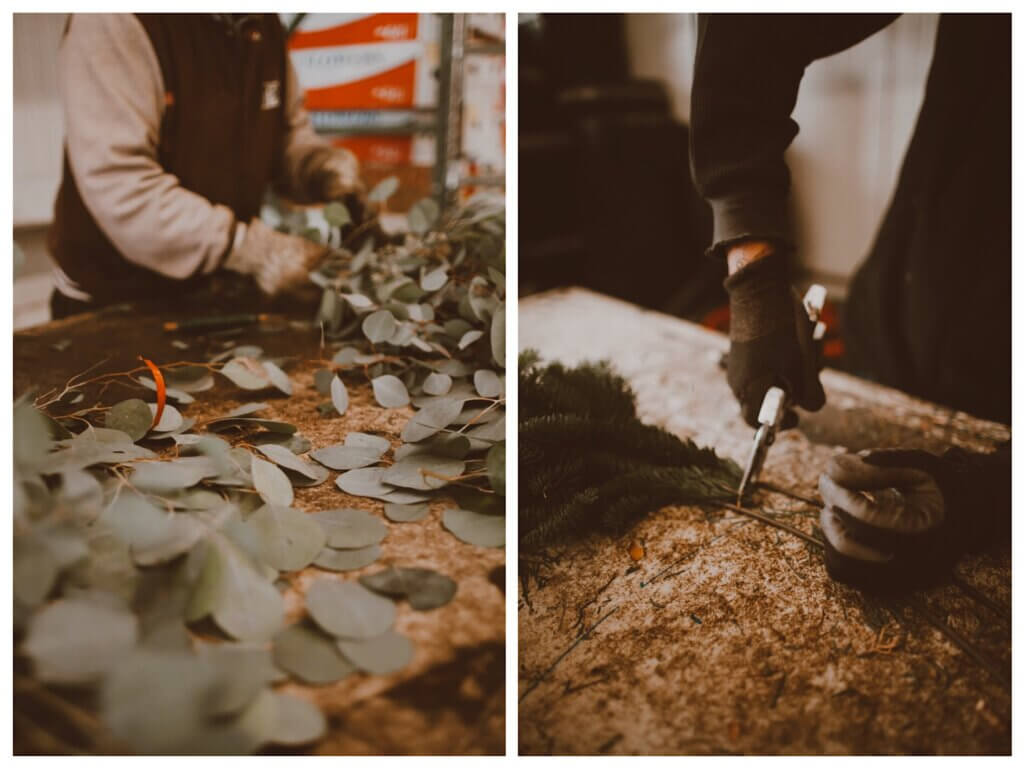 For me, the holidays aren't complete without poinsettias in my home. Poinsettias evoke the holidays like few other plants. Loaded with seasonal color, poinsettias are an easy way to decorate your home with a little holiday spirit. And if you like a little variety in your holiday floral display, you're not limited to just red poinsettias anymore. Mellano & Co. has a wide range of colors, including pink, burgundy, peach, purple, and blue.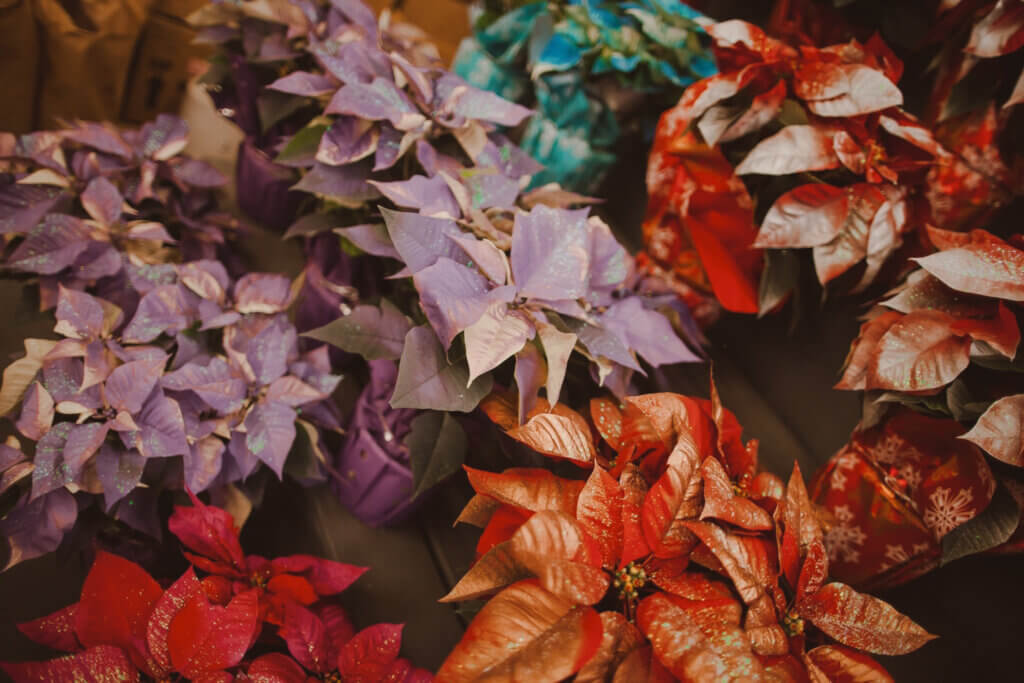 Take good care of it, and you'll enjoy your poinsettia's color well into March! (Tips: There's an easy way to tell how far long a poinsettia is in its display cycle! A poinsettia's actual flowers are small, yellow, and appear in the center of the bracts. The freshest poinsettias won't be blooming yet; instead, the flowers will be rounded green buds. If the yellow flowers look like they're producing powdery yellow pollen — or have started to turn brown, the plant is already past its prime.)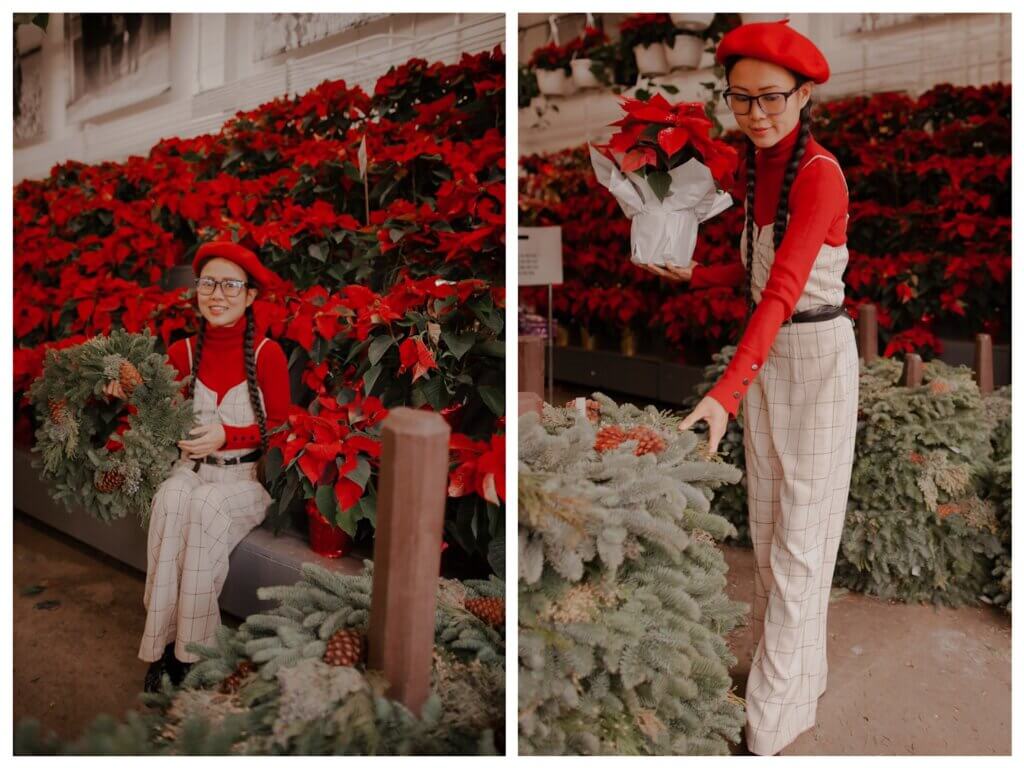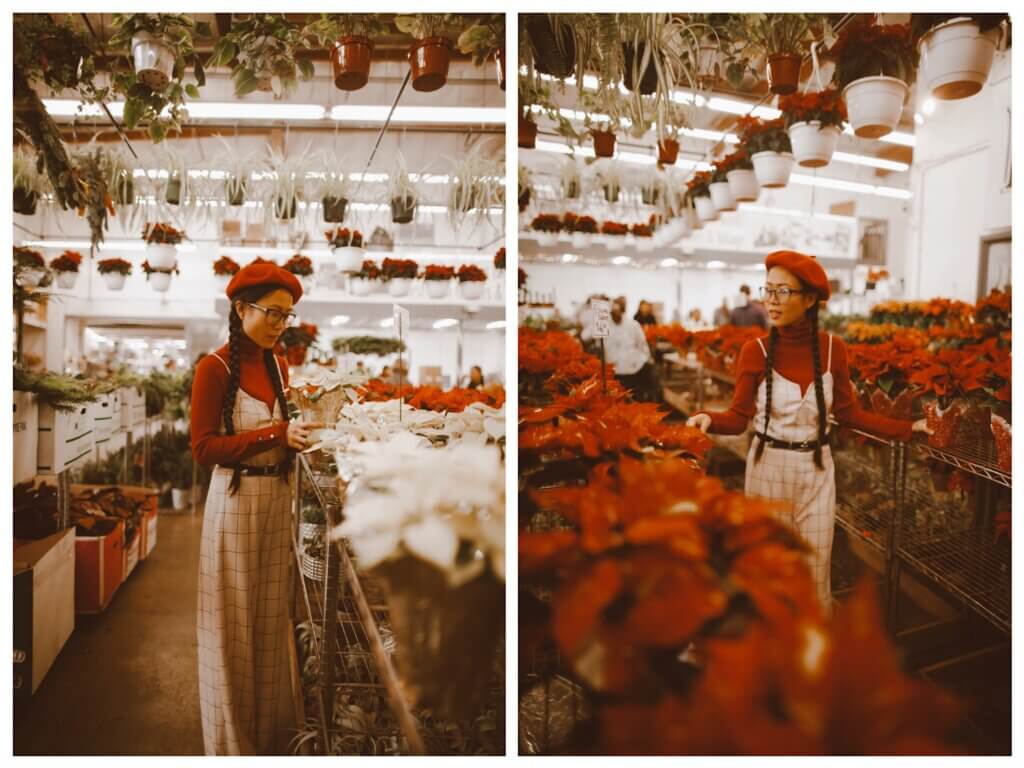 After browsing their holiday greenery in the front, I walked into the huge refrigerated room… and there are gorgeous flowers EVERYWHERE. Most are still in the bud stage, so they won't die right away. You can find all colors and some rare varieties of winter flowers.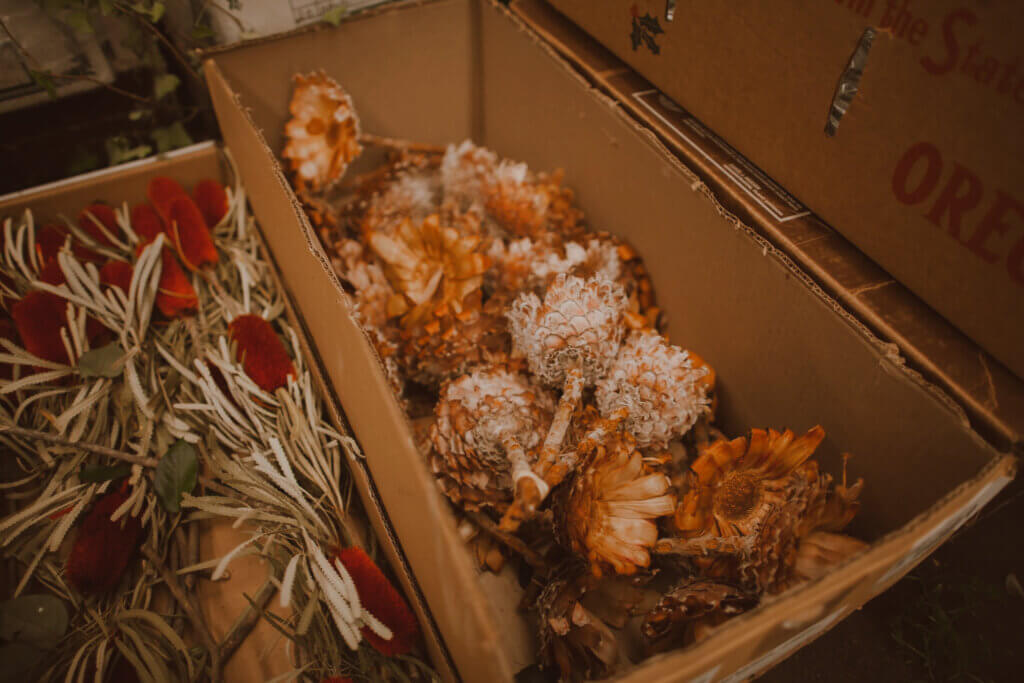 Mellano & Company has earned a solid reputation for supplying the most beautiful varieties of fresh cut flowers for their customers for almost a century. They're not just wholesalers, but also farmers. They take great pride in growing the finest flowers, greens and high quality bouquets that have a custom look and feel.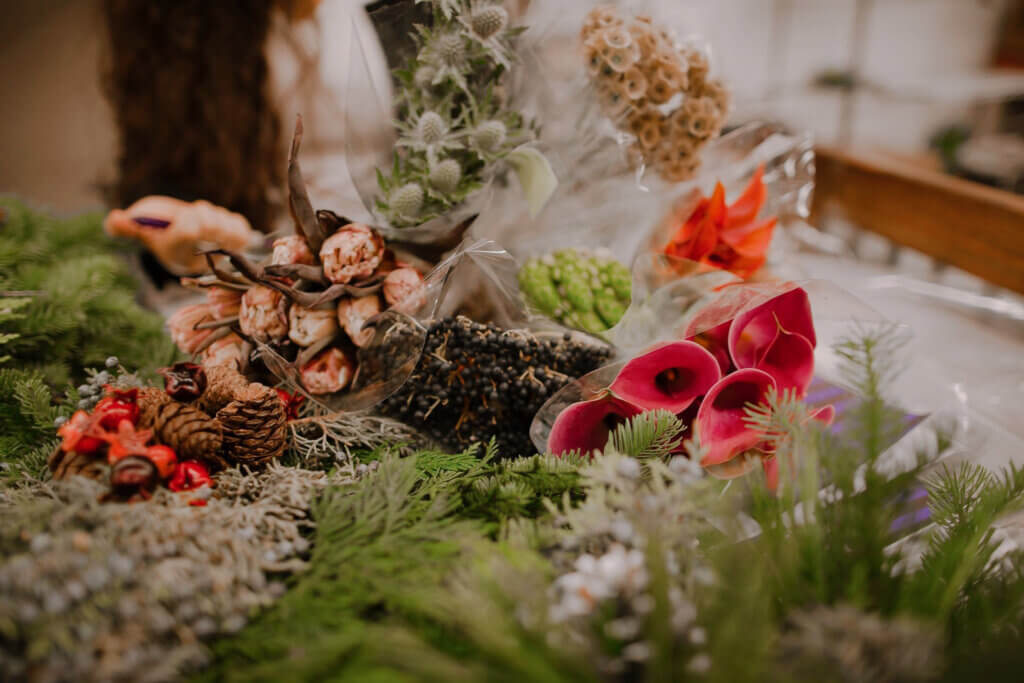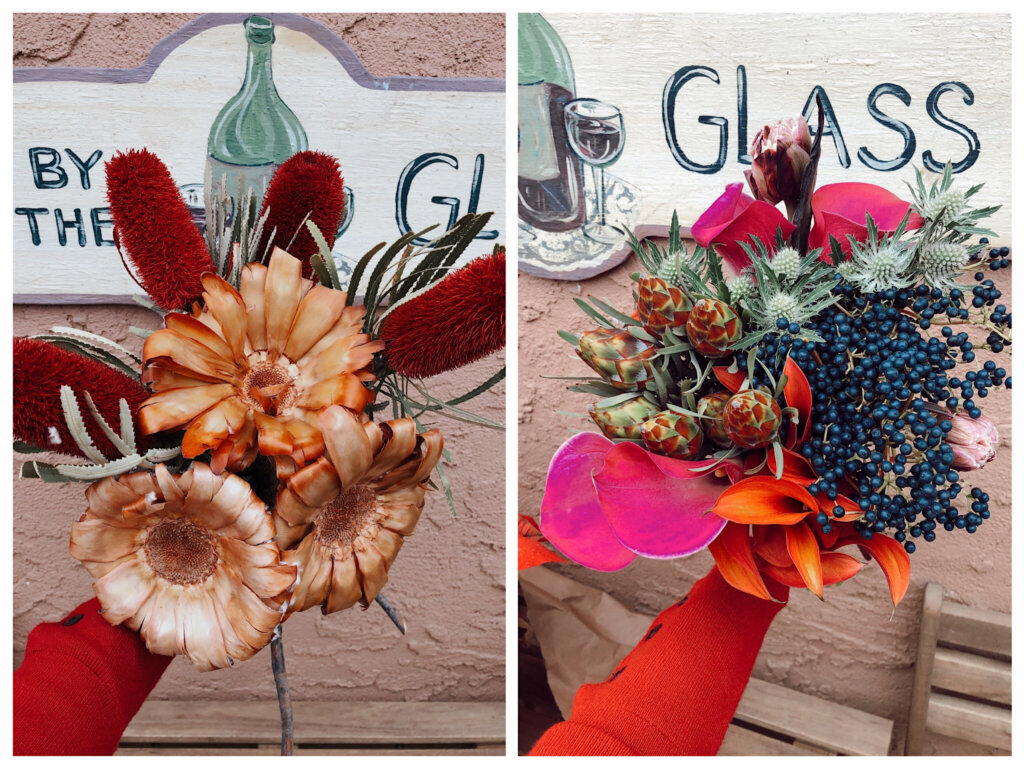 As you think about decorating your home for the holidays this season, consider Mellano and Company garlands, wreaths, greenery, and seasonal flowers.
***Thank you to Mellano and Company for kindly sponsoring this post. All opinions are 100% honest & completely my own.