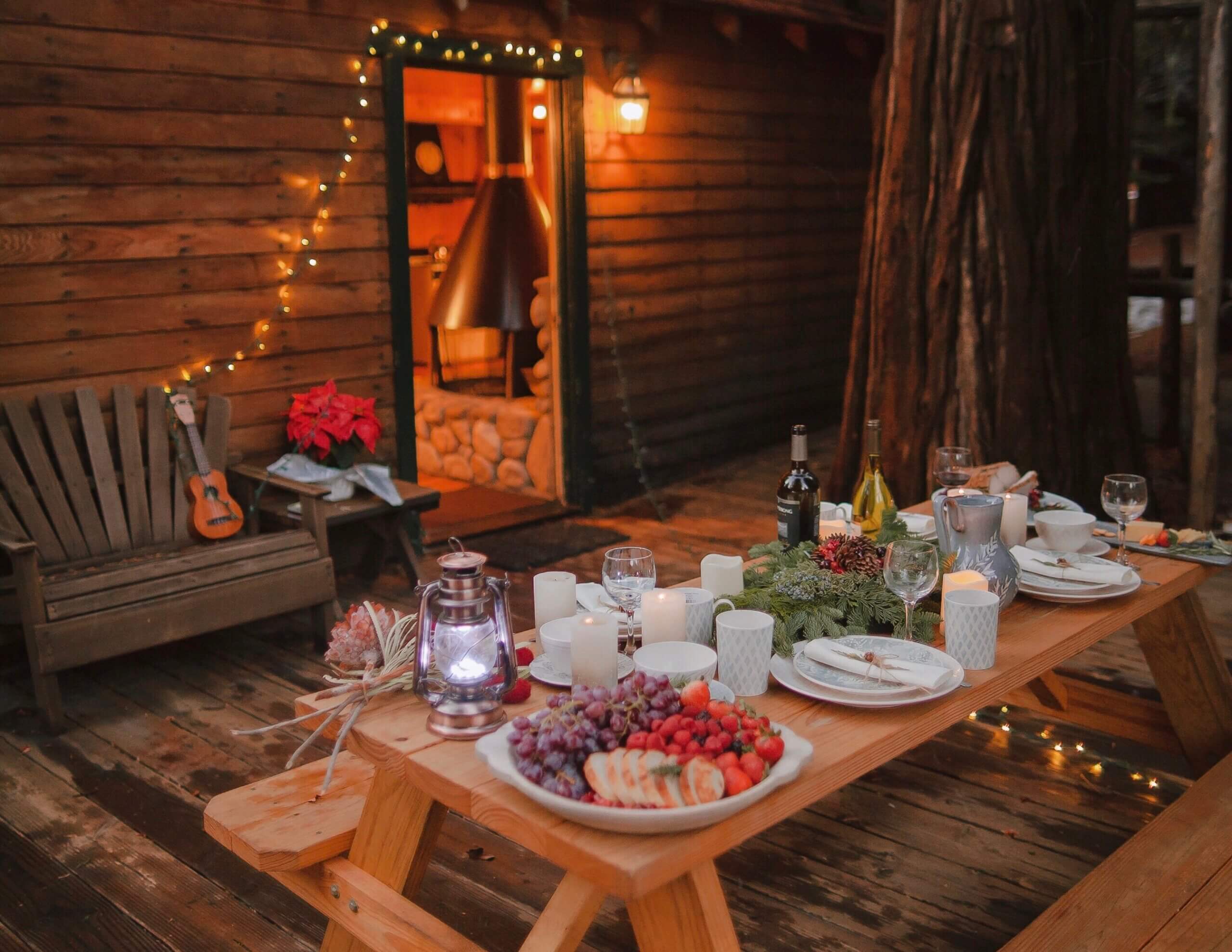 Happy December all! I have been in slow motion getting our holiday decor going. This year is a little different because our family is escaping to a cabin in the woods, so I have been less inspired than normal to "deck the halls"! But as always, I'm obsessed with tablescapes. Designing a tablescape for the holidays is one of the best ways to really find freedom in my decorating. Also celebrating togetherness with good food in a pretty atmosphere is a great way to remind your loved ones and your guests that they are special and appreciated.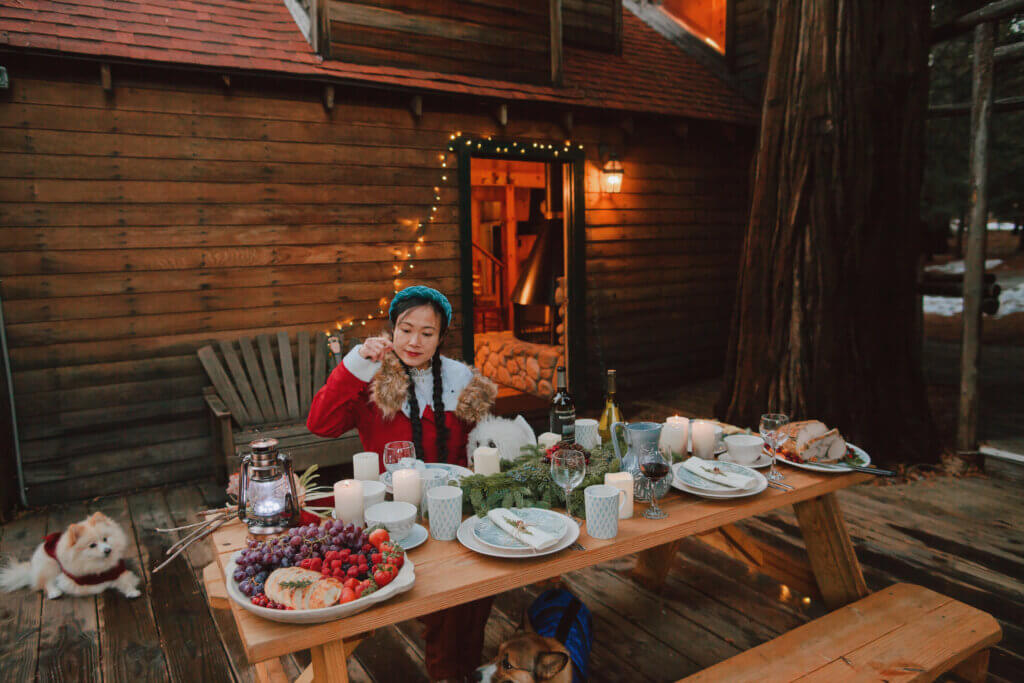 This year I decided on a "rustic woodland" theme, mostly because we already have the perfect setting of a cabin in the woods. If you've been dreaming about a whimsical winter dinner with your loved ones, read on and be inspired by these woodland-themed ideas.
SETTING
Once upon a time…I couldn't think of a more magical Christmas dinner than one featuring woodland ideas. Maybe I've read too many storybooks, but there's something undeniably enchanting about dining by a wood cabin in the dense foliage of towering pine trees.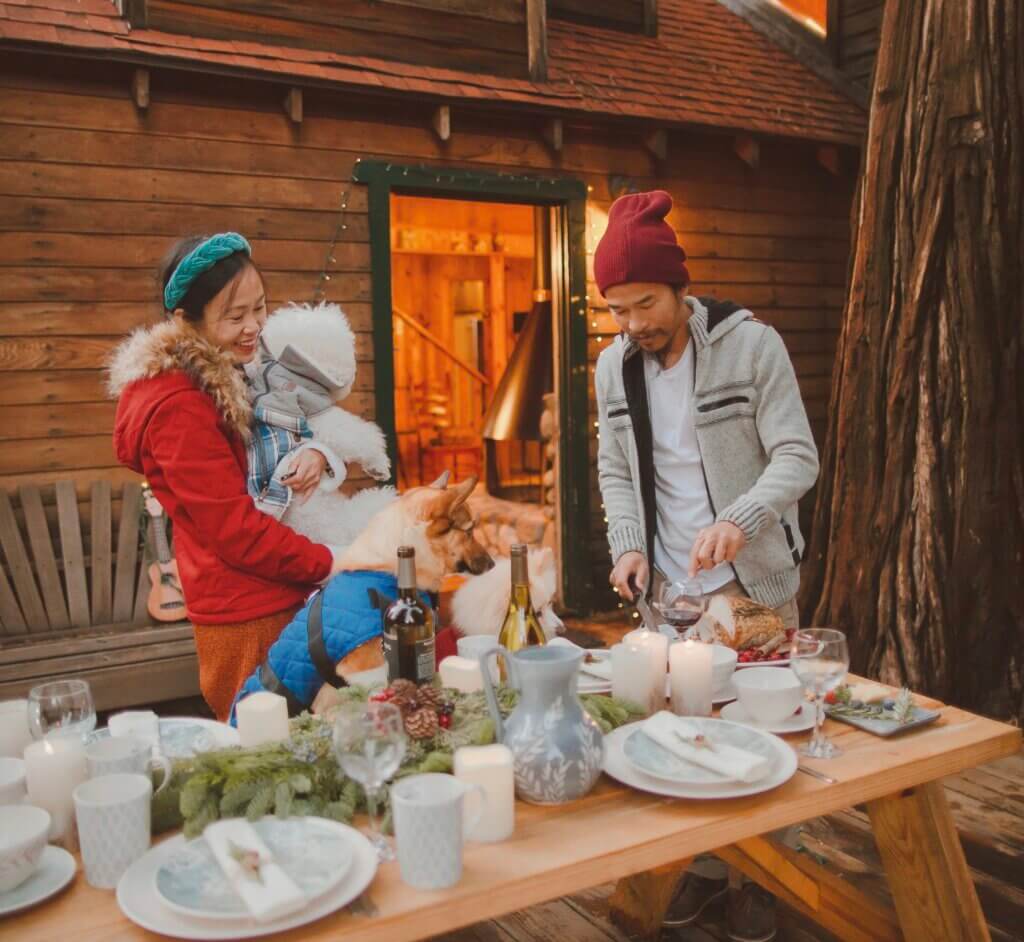 When I booked the cabin for our family winter escape, I didn't really pay attention to the name of our cabin. To my surprise, the cabin is named "Storybook Cottage", right on point to my holiday theme (We've been cast under the forest fairy's spell !!!).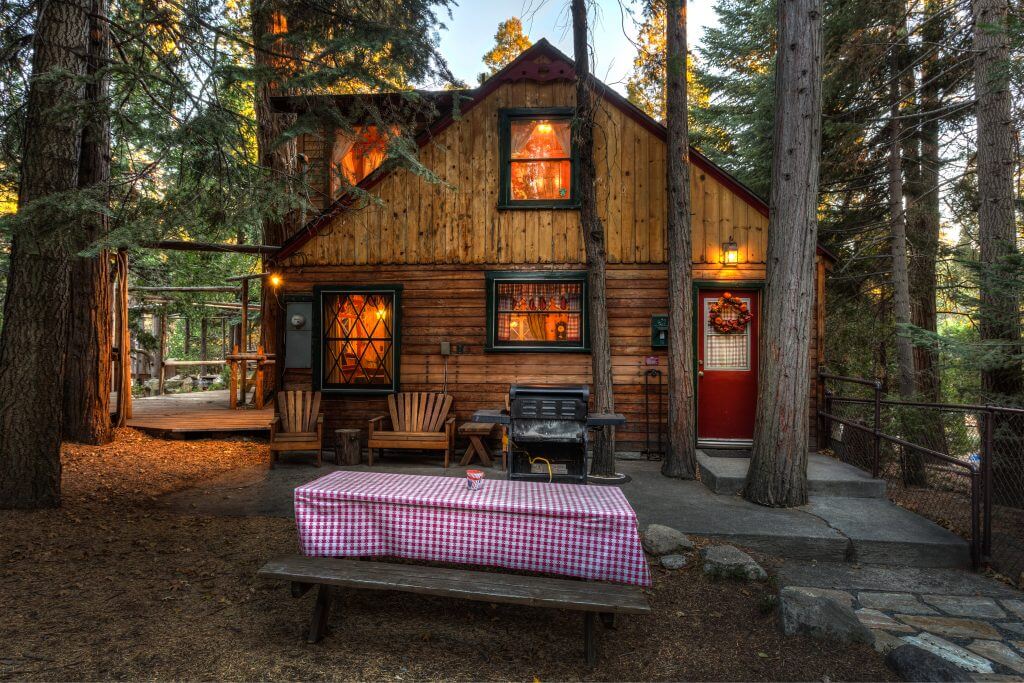 Pine Rose "Storybook Cottage" cabin is decorated in the theme of three popular fairy tales: Little Red Riding Hood, Snow White, and Goldilocks and the Three Bears. The main feature of this cottage is its amazing wrap­ around wooden decking directly overlooking Koi Ponds, and flowing mountain streams giving you a serene waterfront experience under the pine trees. It's the perfect setting for my dream winter woodland dinner.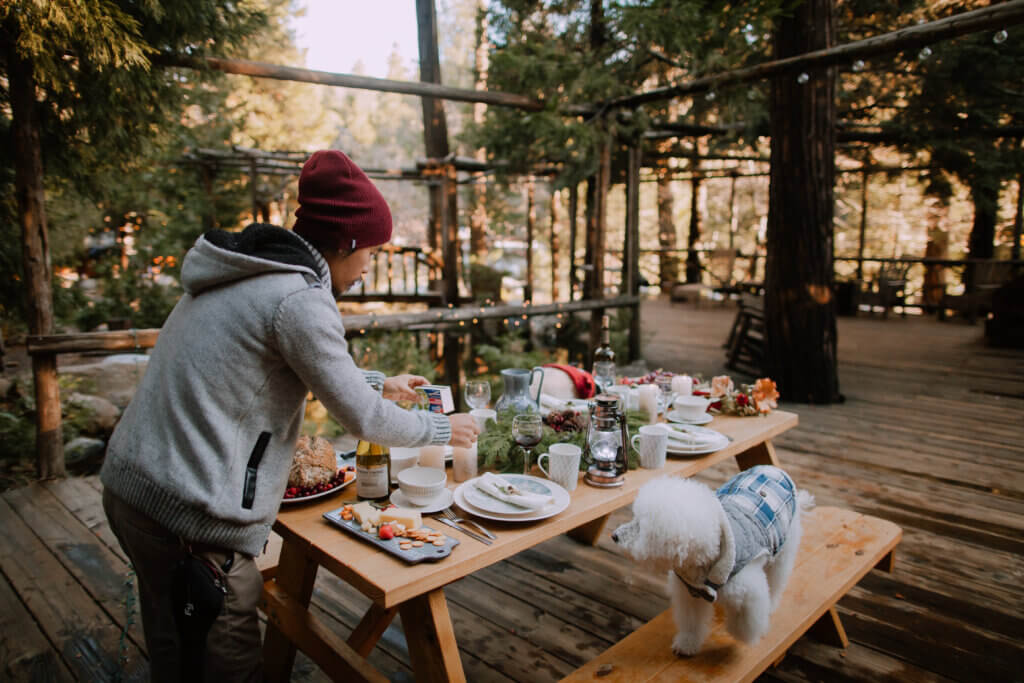 And you wanna know the best part of planning a winter woodland theme? Surrounded by such beautiful scenery, I definitely don't have to go overboard on the decorations. Nature is beauty in itself and makes a perfect backdrop! Just a few extra-special touches will do.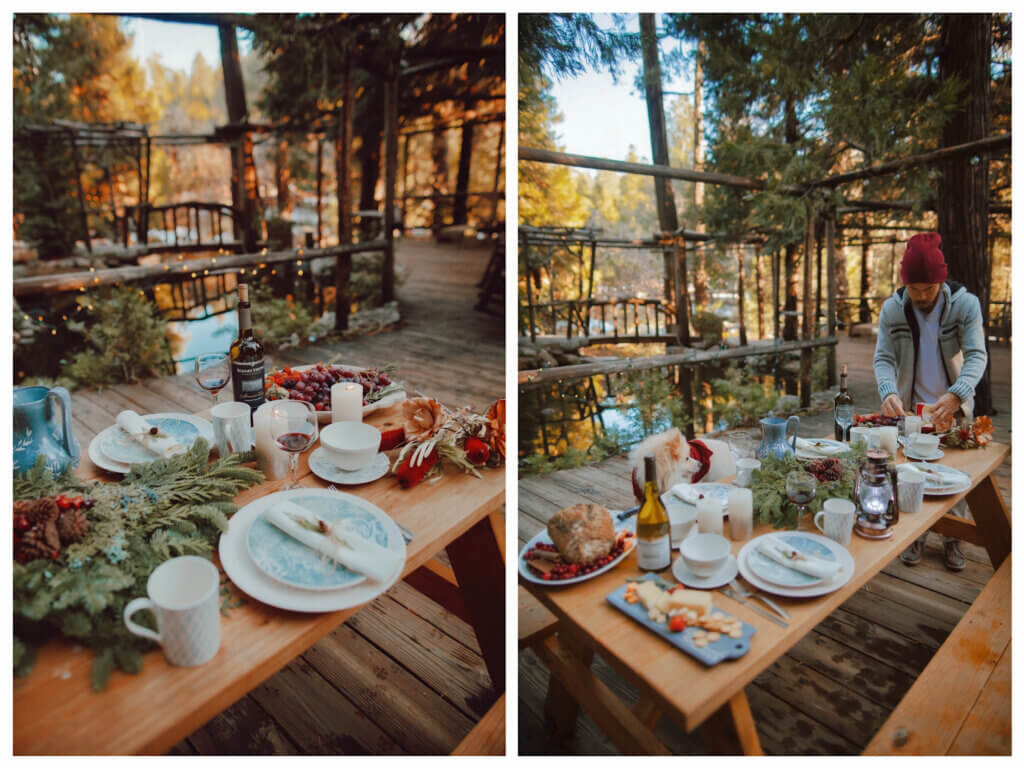 COLOR PALLETE
Shape your color palette based on the naturally occurring colors at your woodsy venue. Moody palettes, mossy accents, forest berries, lush greenery, wooden stumps — the combination is utterly alluring.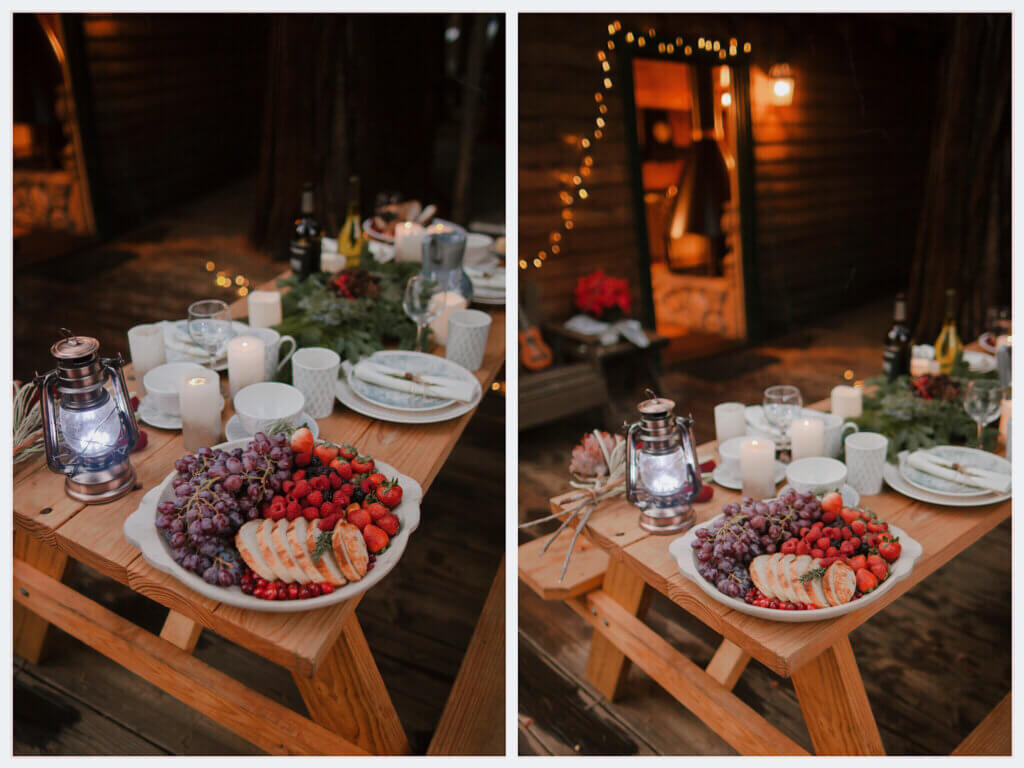 Earthy tones, organic lines, and woodsy floral arrangements give this theme an enchanted, romantic feeling.
CENTERPIECE
While a more traditional holiday might be restricted to floral displays for the centerpiece, there's no such issue with a rustic dinner – almost anything goes! An organic aesthetic means there's no need for anything overly decorated. Just a garland, a few pine cones, wood or even twigs can be used to great effect.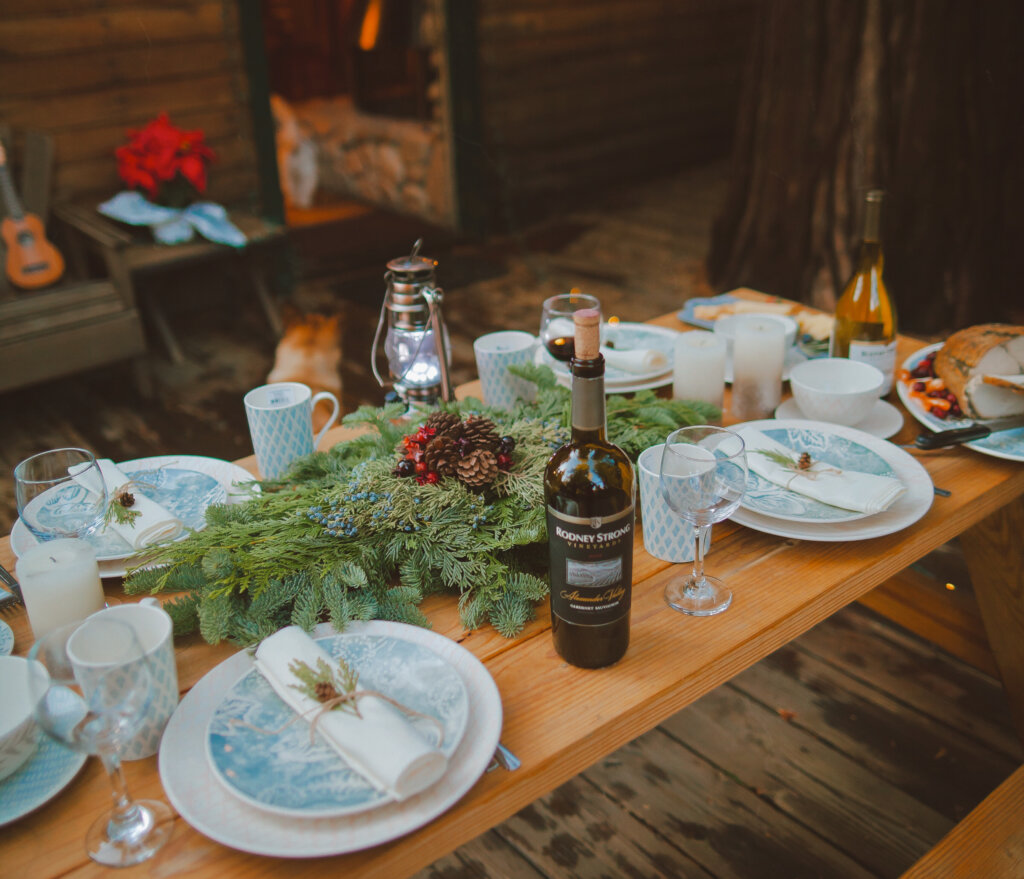 This gorgeous garland from Mellano and Company is simple and perfect for a holiday table. I just took some pillar candles I already had and placed them around the garland. A fresh garland from Mellano & Co. is very full, layered, and three-dimensional. If you're looking for a natural and classic piece for your holiday decor, look no further! Mellano & Co. wreaths are handmade with fresh cut evergreens, red berries, white berries and pine cones.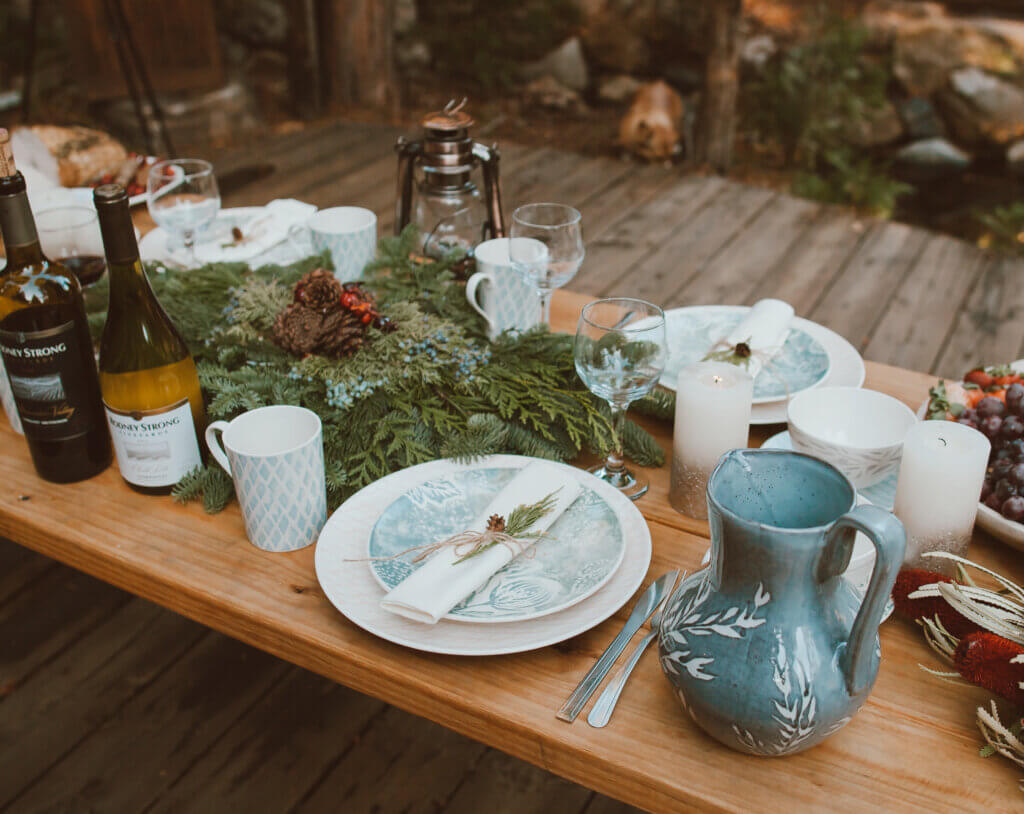 PLACE SETTING
As far as the place setting is concerned, look no further than the splendid collection of Lenox Textured Neutral. With subtle and organic patterns, the Textured Neutrals collection features a variety of subdued hues, creating a natural look for your table.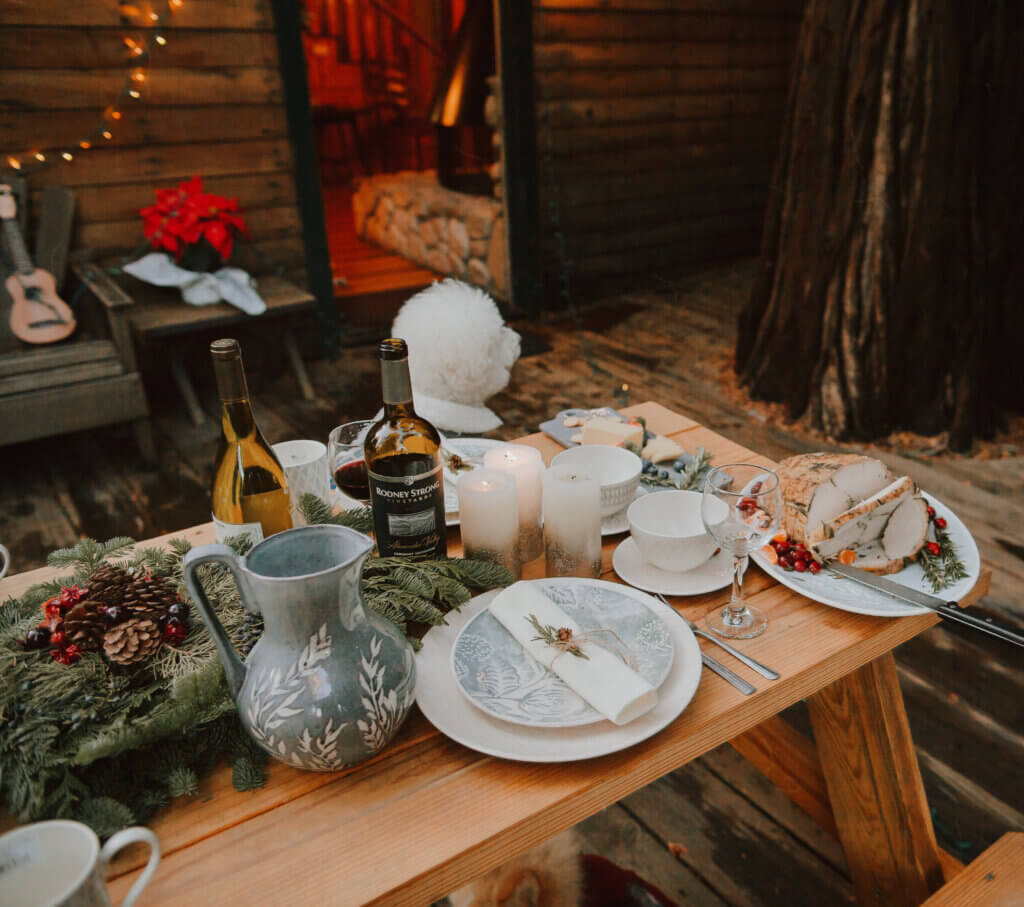 I love to create layers with my dishes because it is almost like unwrapping a present when you sit down. I topped each dinner plate with a light linen napkin tucked inside my DIY napkin ring – a twine tied around the napkin holding some evergreens and a mini pine cone.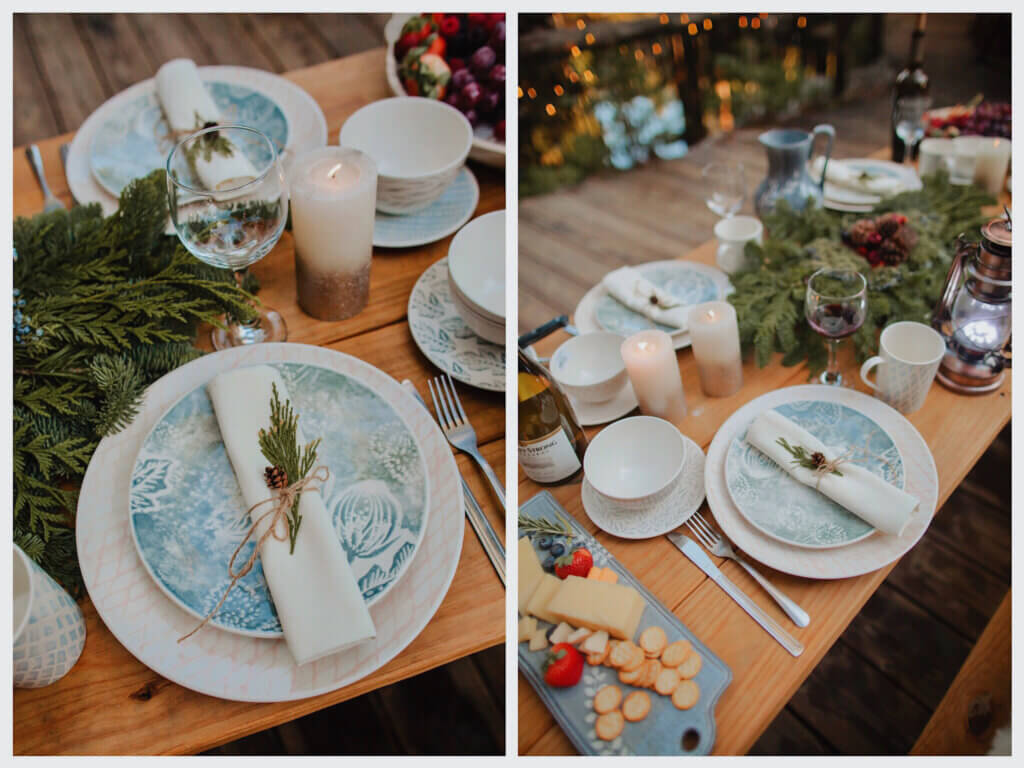 Three of my favorite items from Lenox's Textured Neutrals Collection are the medium pitcher, the oval platter, and the hors d'oeuvre board. These calm and organic patterns will bring subtle hues and natural designs to your table.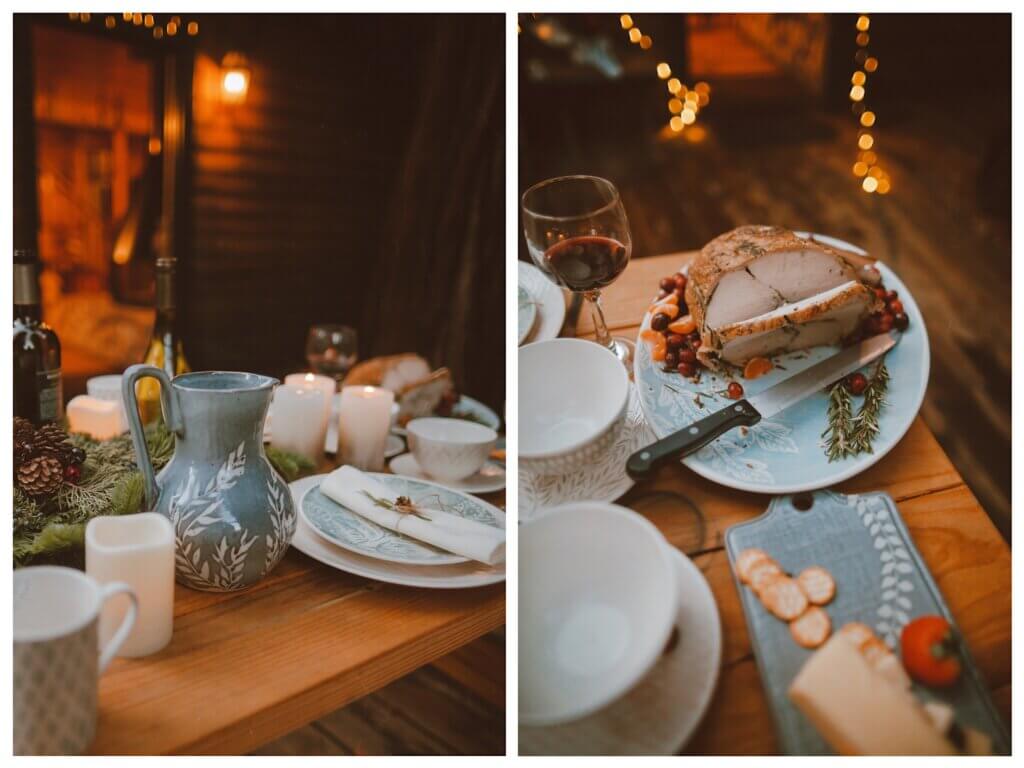 Go check out the gorgeous assortment of dinnerware on Lenox.com !
FOOD AND WINE
With traditional holiday dishes I see the main dish as the star, whether it be a prime rib, ham, goose, or whatever your annual holiday meal may be. The dish stands alone and, yes, there are several wines that work for whatever dish you chose to celebrate with.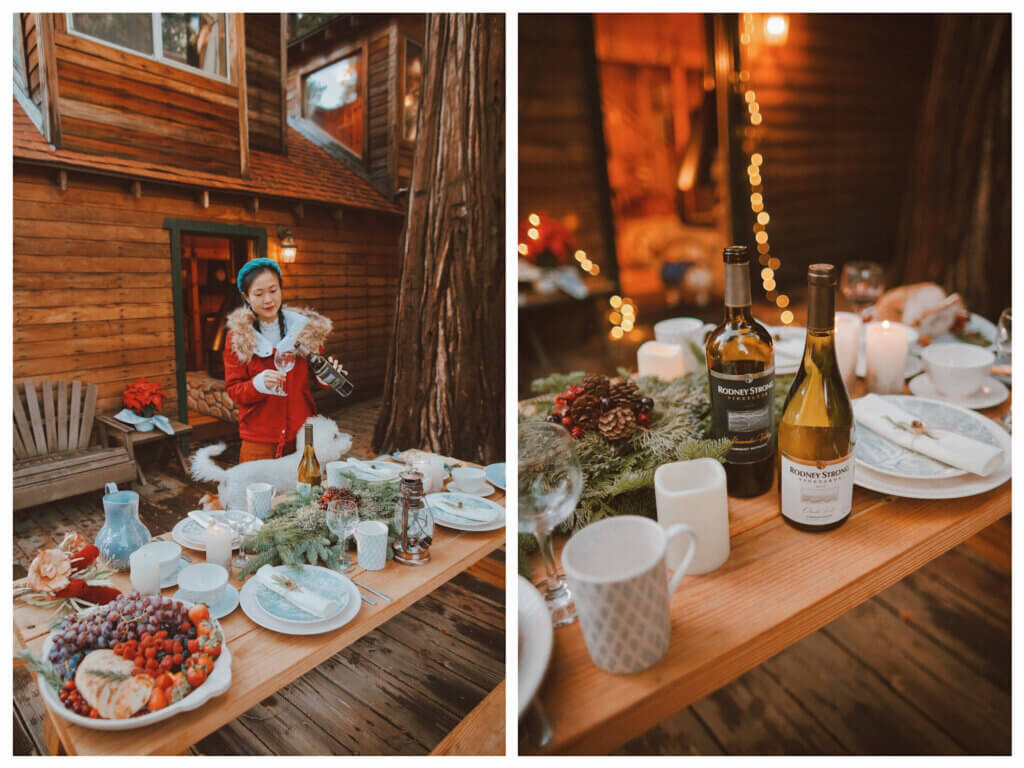 Holiday food mean big flavors. And big flavors beg for big wines. And by "big" I don't mean in weight , but more lively in aromas, structure, and sometimes body. That's why I always choose Rodney Strong Vineyards Cabernet Sauvignon to pair with these holiday heavy food because this wine is fulfilling, easy-to-drink, and lasting on the palate. Its aromas and flavors of black fruit and oak accents make it an excellent choice for large events and lots of food.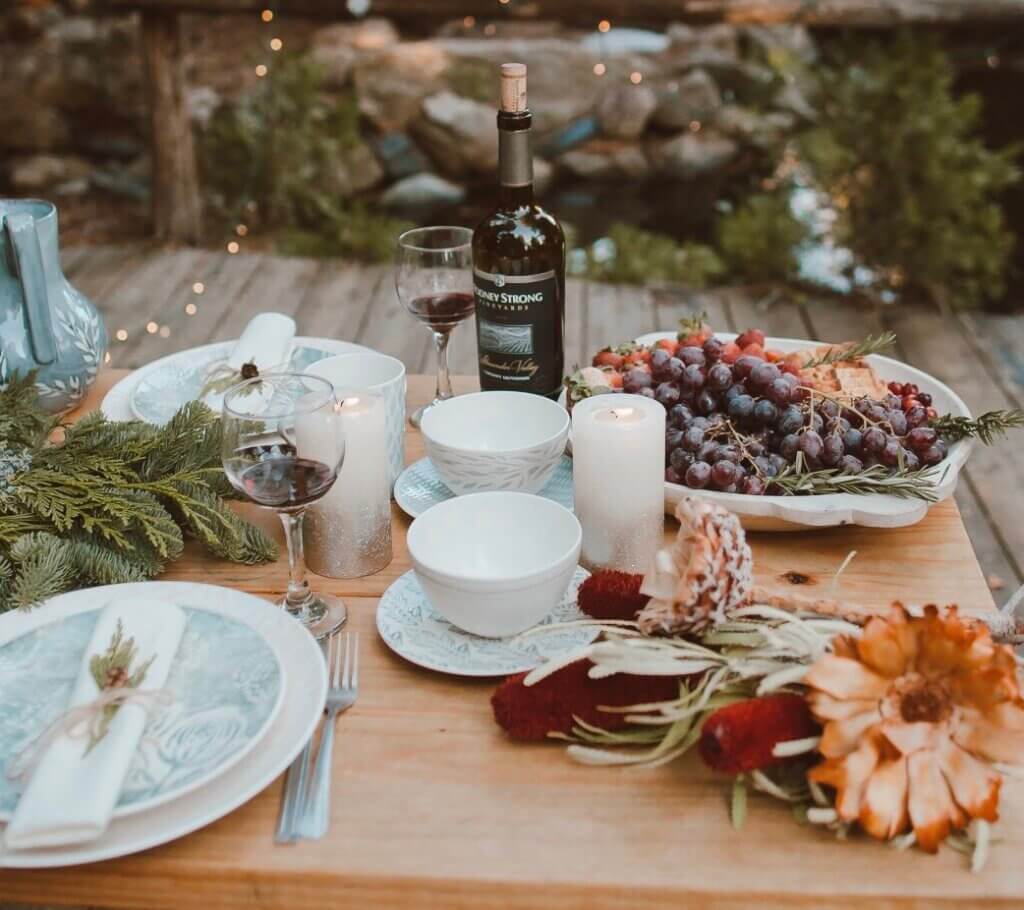 With an array of natural textures, my tablescape transformed into a woodland winter wonderland where rustic and natural elements like evergreen garland, pinecone, berries,…make a playful backdrop. This woodland Christmas tablescape has both whimsy and elegance.
I hope you love this guide for creating your holiday tablescape!
<INSTAGRAM GIVEAWAY> Today I'm partnering with LENOX to give away  $200 worth of products in their Textured Neutrals Collection to one lucky winner! All you have to do are:
1. Follow @LenoxUSA on Instagram
2. Tag a friend in the comment below my giveaway post on Instagram
* For US participants only! Start date: 12/17/2019, End date: 12/21/2019. The winners will be announced under the giveaway post and via DM on Instagram on 12/22/2019 .
**Thank you to Lenox, Rodney Strong Vineyards, Arrowhead Pine Rose Cabins and Mellano and Company for kindly sponsoring this post. All opinions are 100% honest & completely my own.