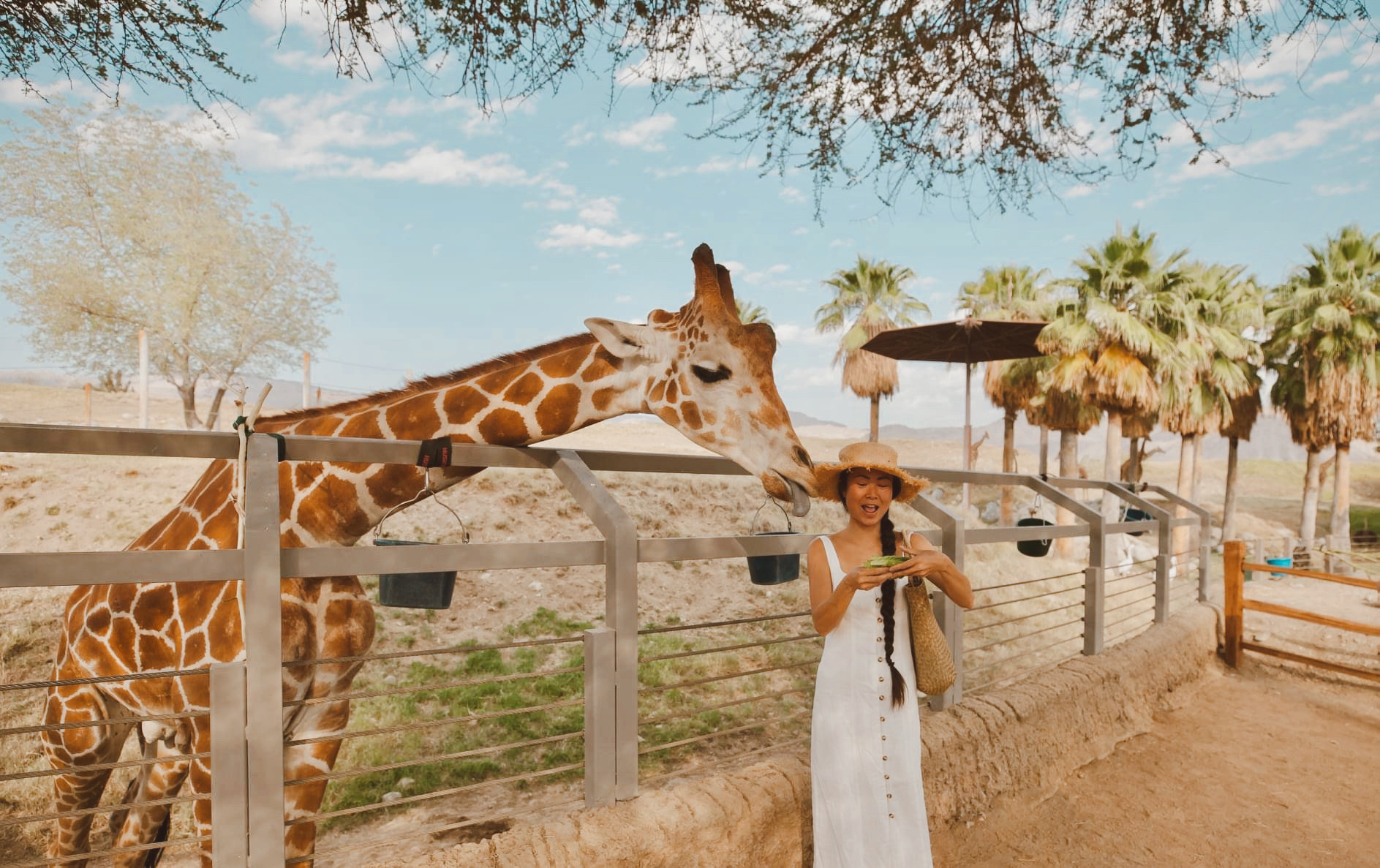 Renaissance Esmeralda Resort Spa: A Desert Oasis
It's no secret that I am completely obsessed with Palm Springs. For years Palm Springs has been a California desert retreat, known for its modern and chic style. There have always been plenty of reasons to vacation in this Southern California haven: sunshine, spas, hiking, golf, art, and mid-century modern architecture.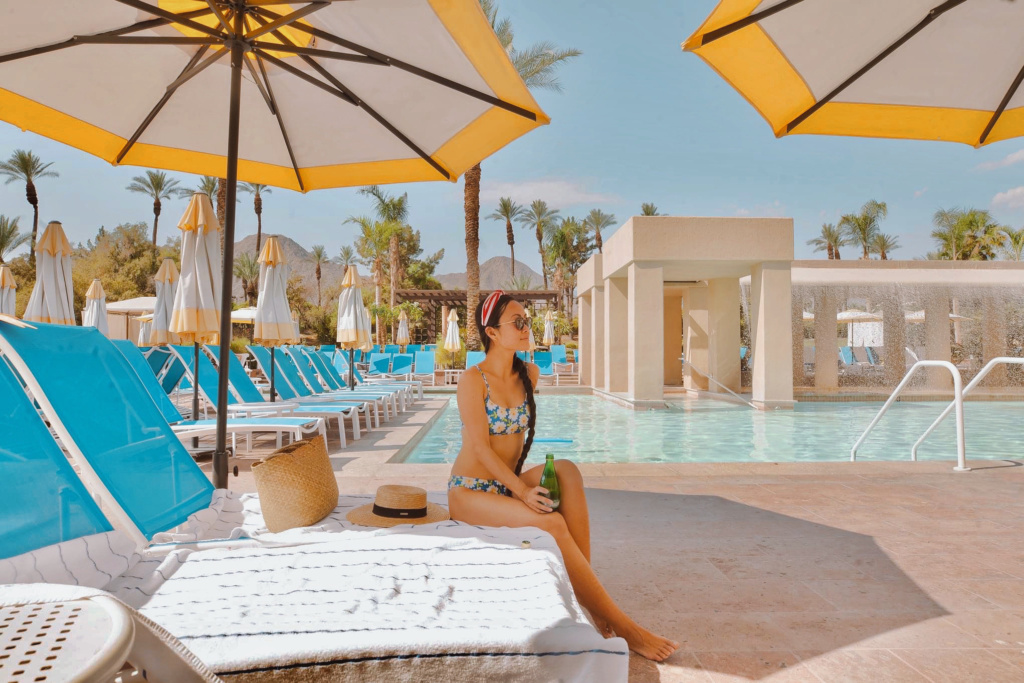 When it comes to Palm Springs hotels, you'll be spoiled for choices. Hotels in the Greater Palm Springs (made up of 9 communities altogether) has reached a whole new level of cool designs, investing in amenities and service and taking architectural risks. But if you're looking for a true oasis in the desert with spacious suites, luxury spa, swimming pool complex that includes a mini-beach for the kids, and an excellent restaurant, the Renaissance Esmeralda Resort & Spa in Indian Wells is the place for you. Here is a look into our family's quick getaway to the Renaissance Esmeralda Resort & Spa this summer.
Location
Just a 2-hour drive from Los Angeles, the Renaissance Esmeralda Resort & Spa is centrally located in the heart of the valley, between Palm Desert and La Quinta within the prestigious desert community of Indian Wells and is nestled at the foot of the Santa Rosa Mountains. With our bags packed, we were ready to leave the hustle and bustle of LA and unwind for a while. There was a heat wave during our visit (115F); the dry heat of the dessert might seem intimidating but we found absolute solace at the resort – an inviting oasis in the middle of a distinctive desert atmosphere.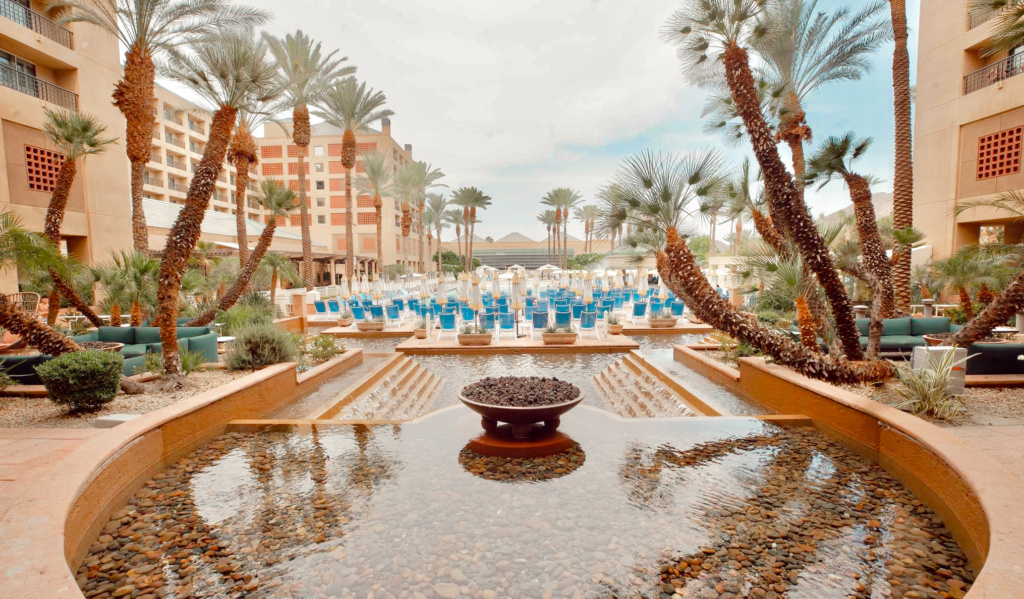 The moment we entered the lobby we were impressed with the Esmeralda's décor featuring a stunning marble and stone walkways, an eight-story atrium lobby with spectacular grand staircase, stretched sofas, deep plush seats, and special commissioned works of art throughout.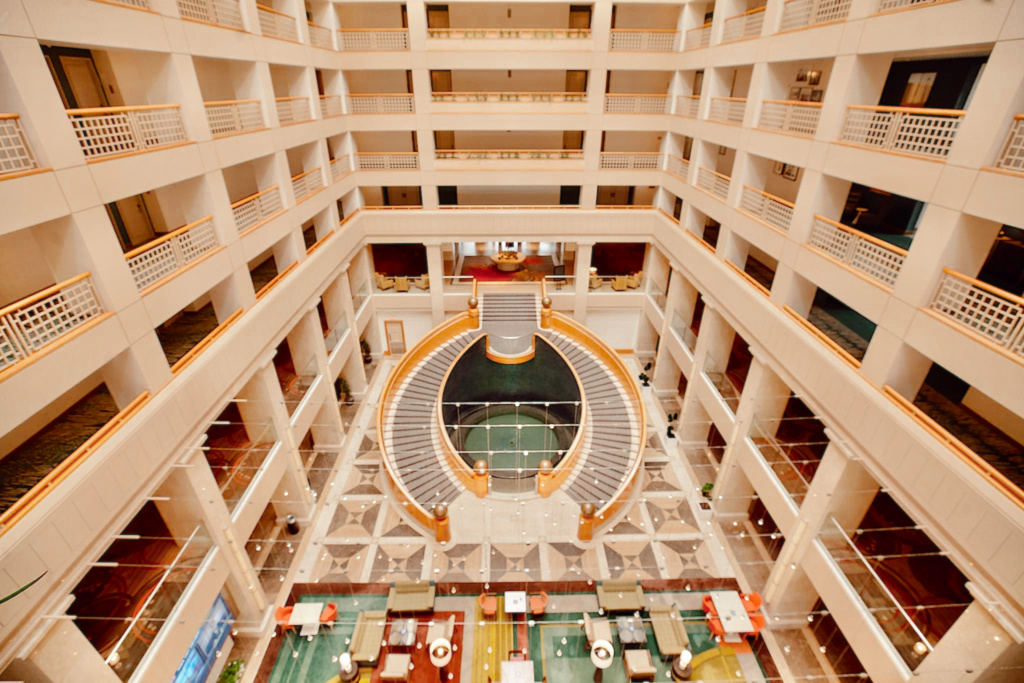 The Room
When we arrived to our suite we were amazed at the size and the amenities. At 640 square feet, our suite was on the fifth floor and absolutely the perfect fit for our family. We had a small balcony overlooking the pool area.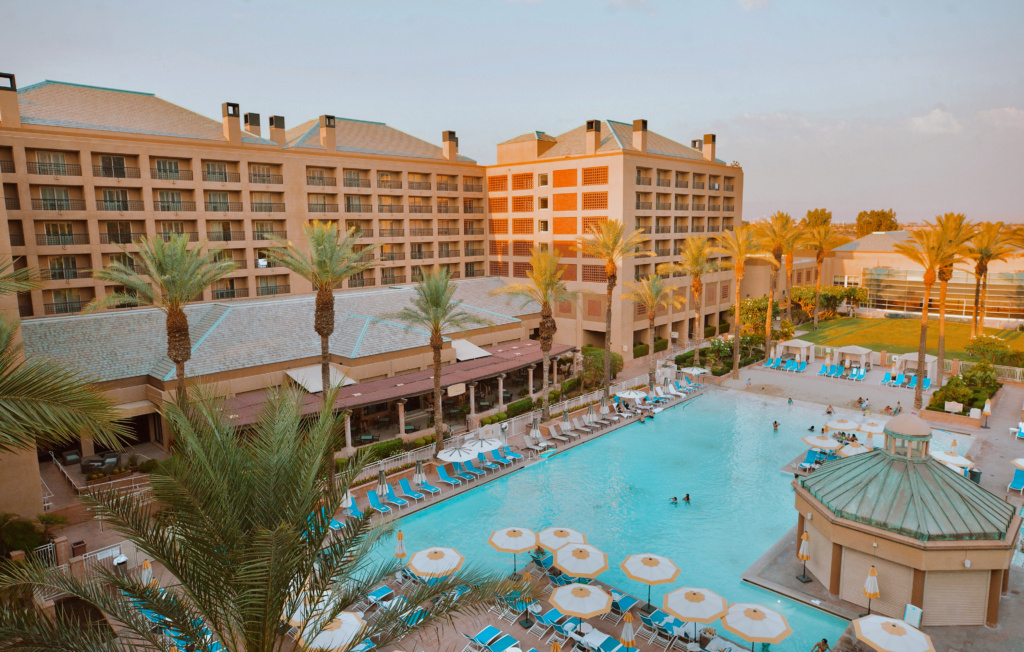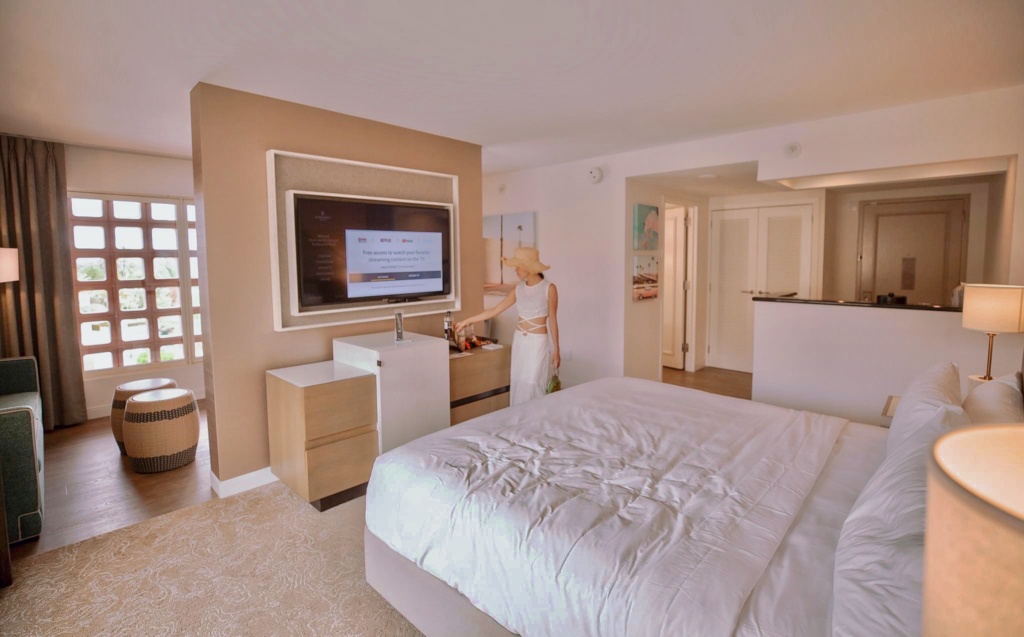 We were greeted with a room service welcome tray with delicious chocolates, berries, nuts, healthy snacks and complimentary sparkling water. Renaissance Esmeralda Resort & Spa just gets how the little touches mean so much and you will find them throughout the resort.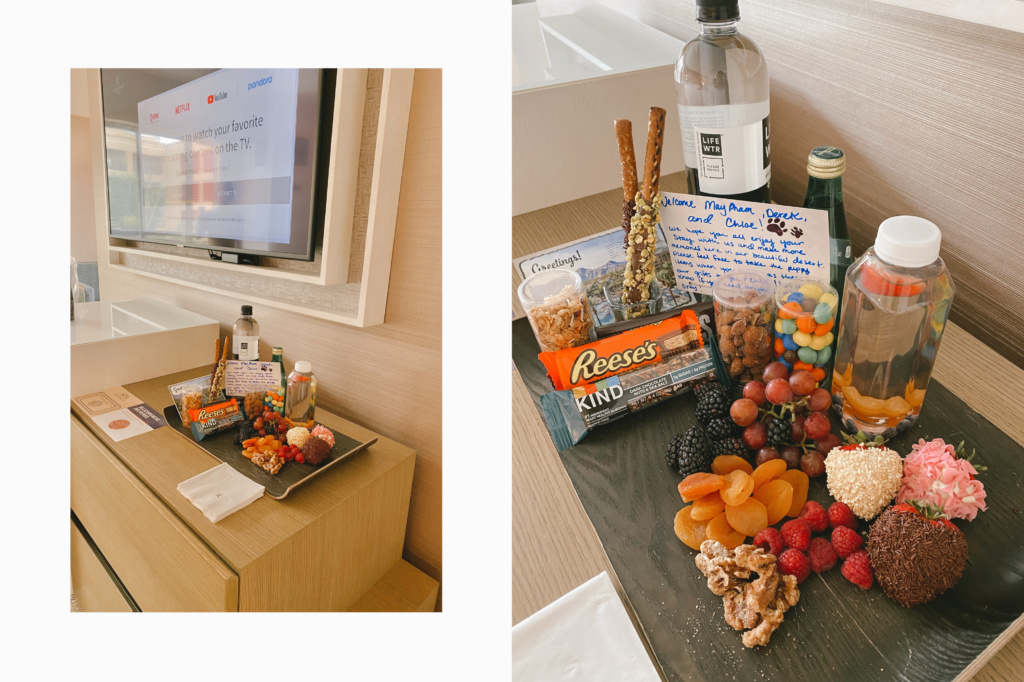 The room was decorated with clean simple lines in muted desert tones. The beds were comfortable, with plenty of soft, cushy pillows.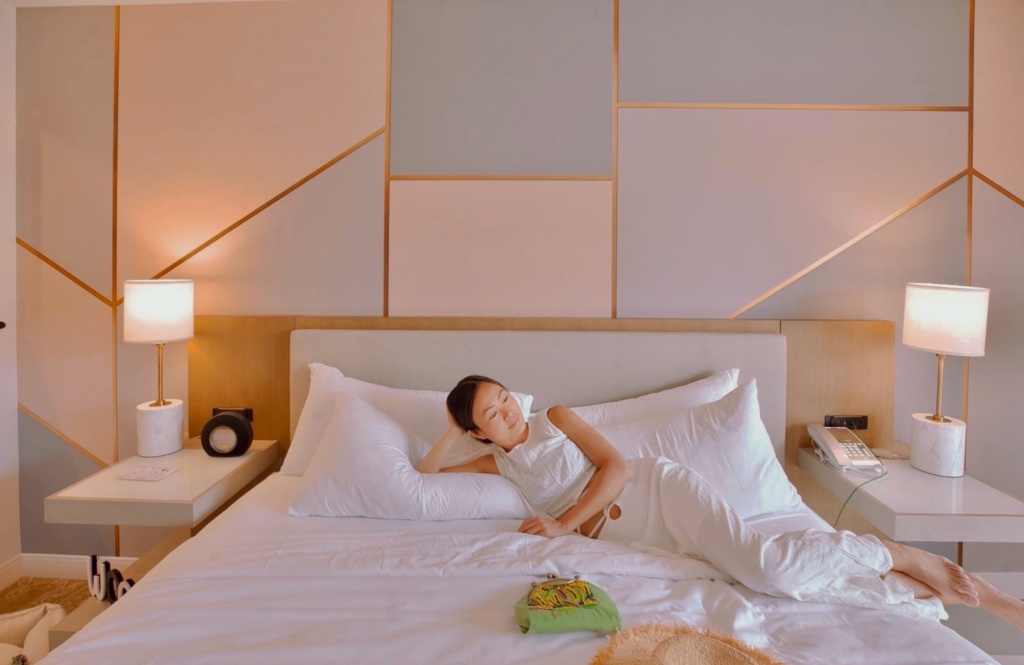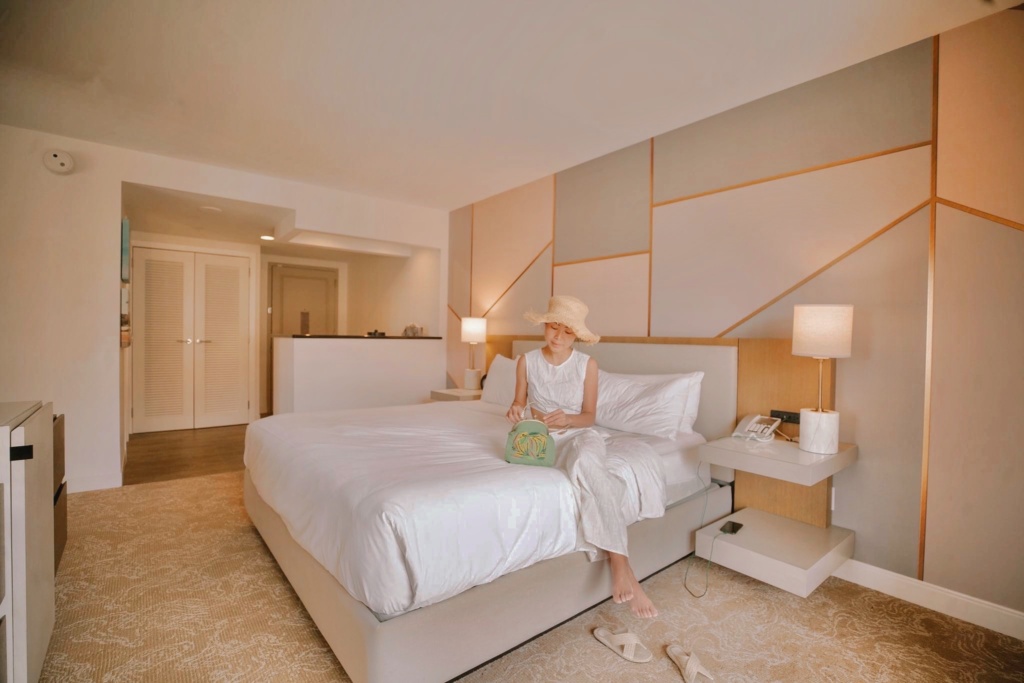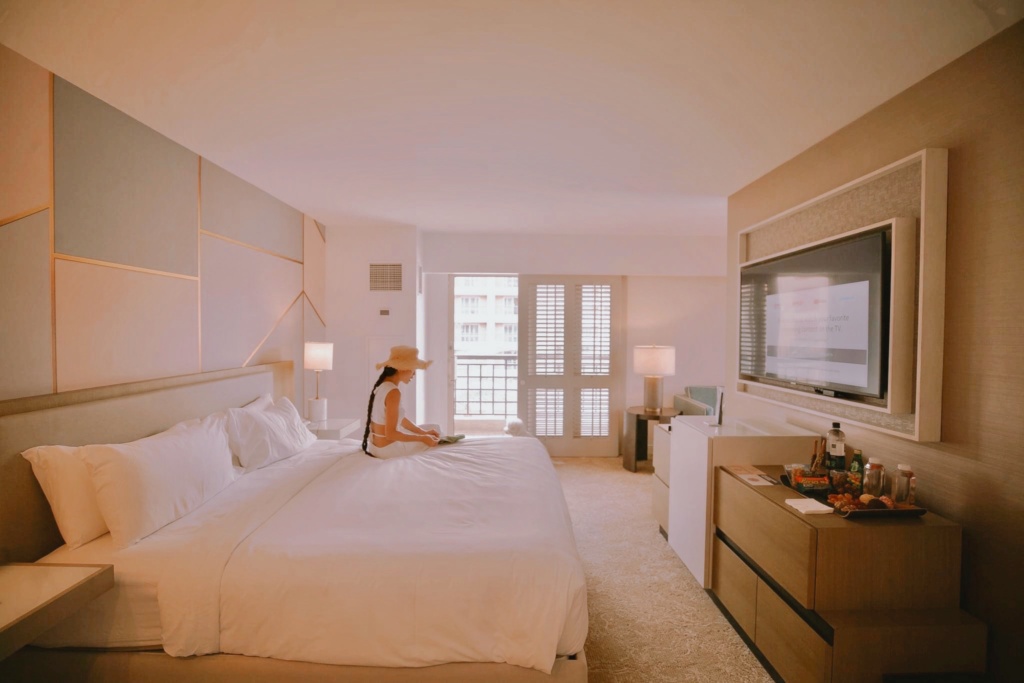 Designed to pay homage to the surrounding private residences of many famed Hollywood legends, our room wall arts complimented the famous Palm Springs theme. We felt the old Palm Springs retro vibes throughout the resort and loved it!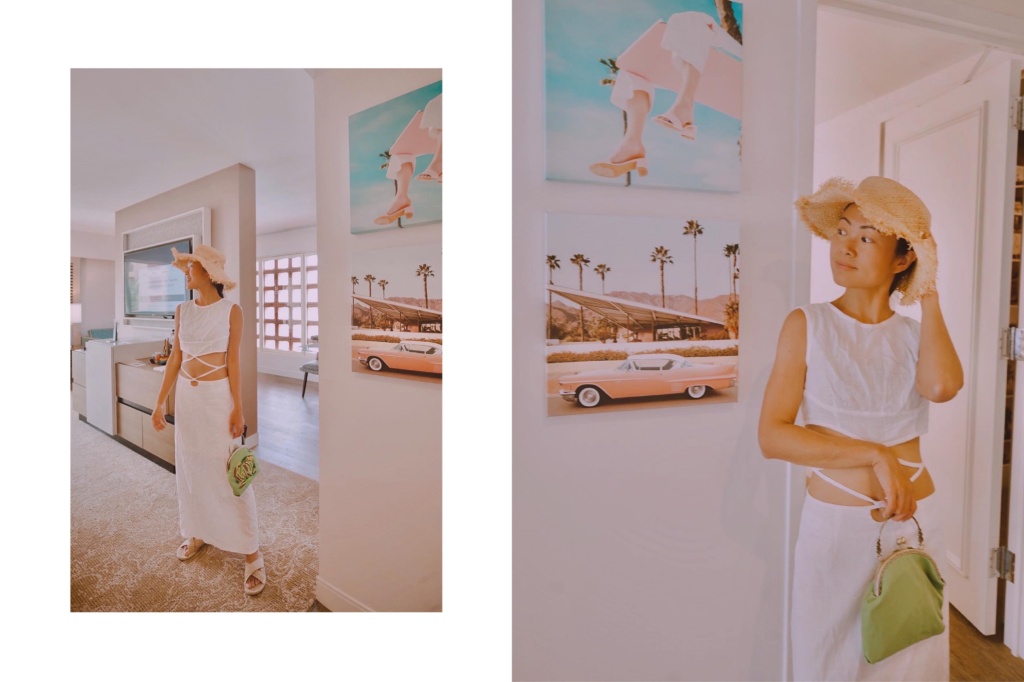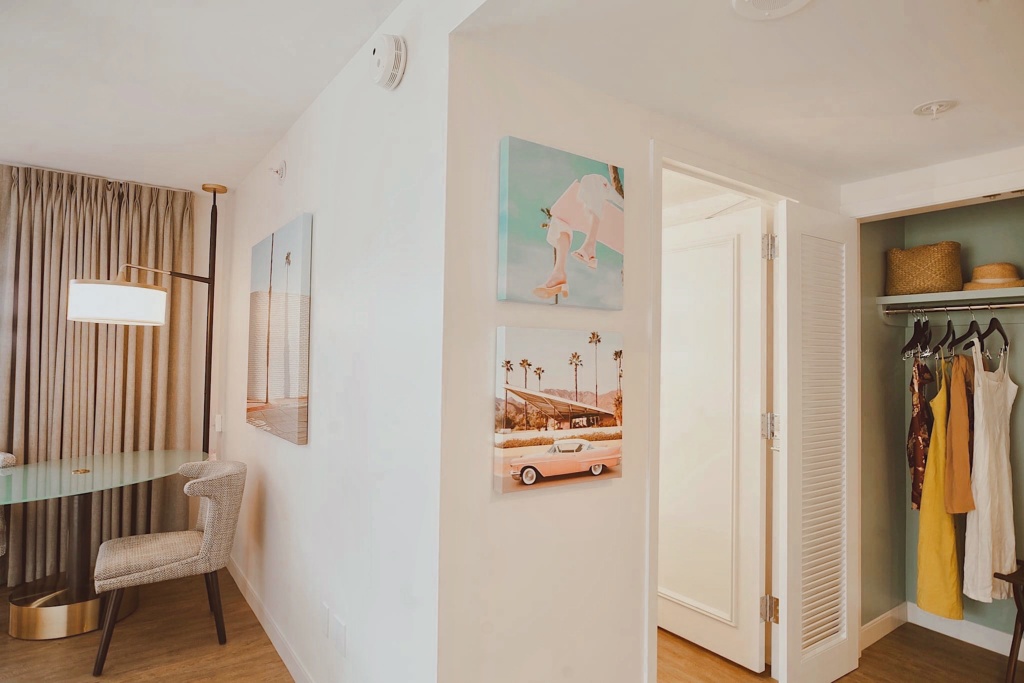 What we love most about our suite are the large bathroom complete with double sinks, a separate toilet area, and a spacious closet.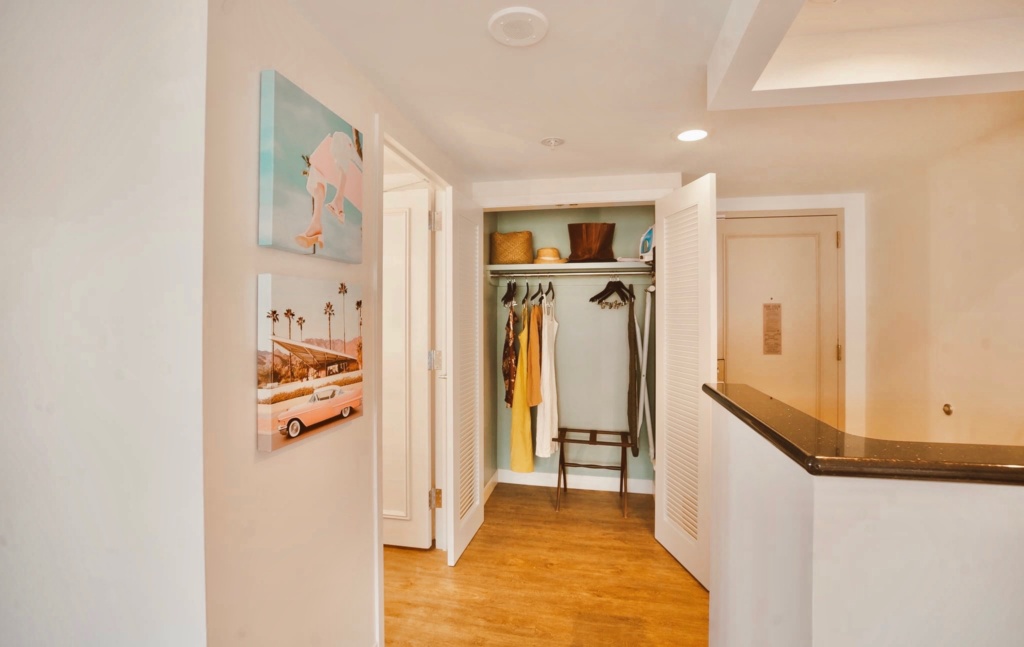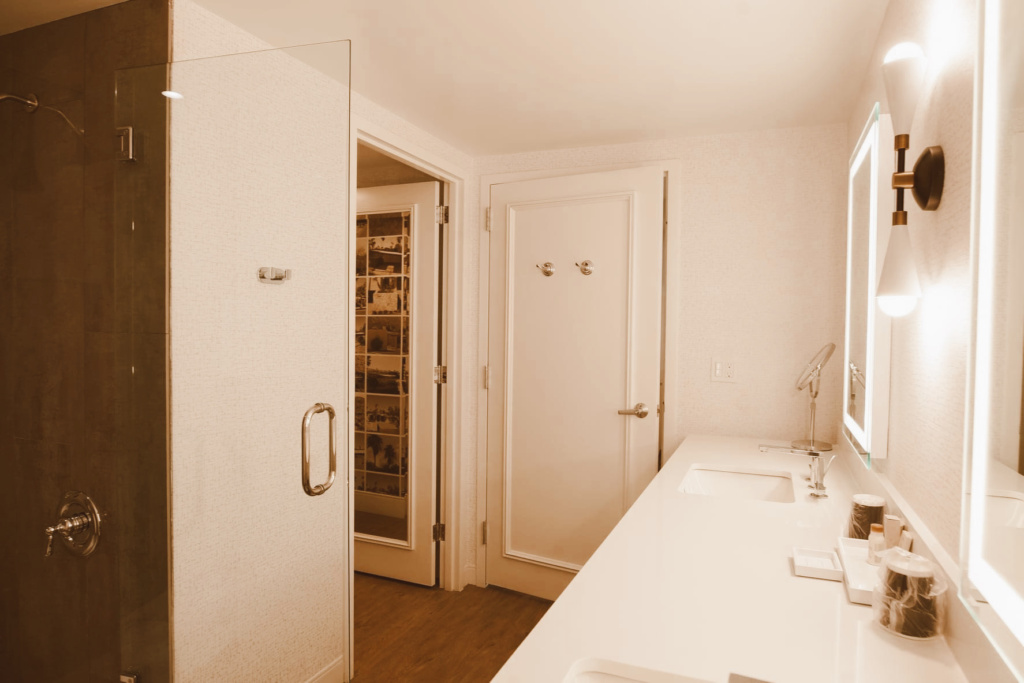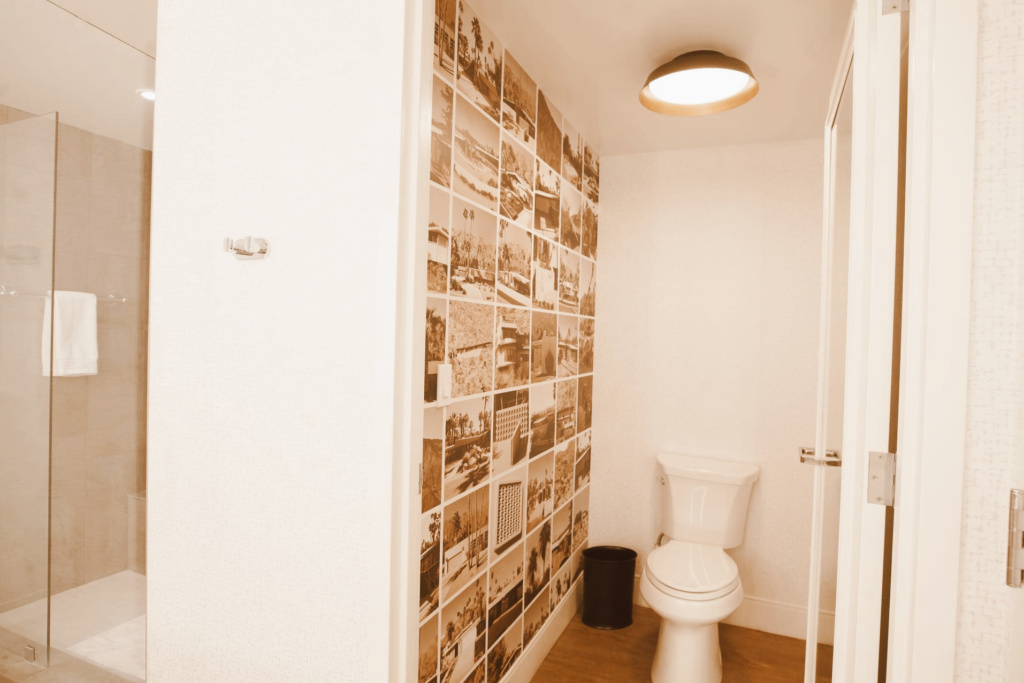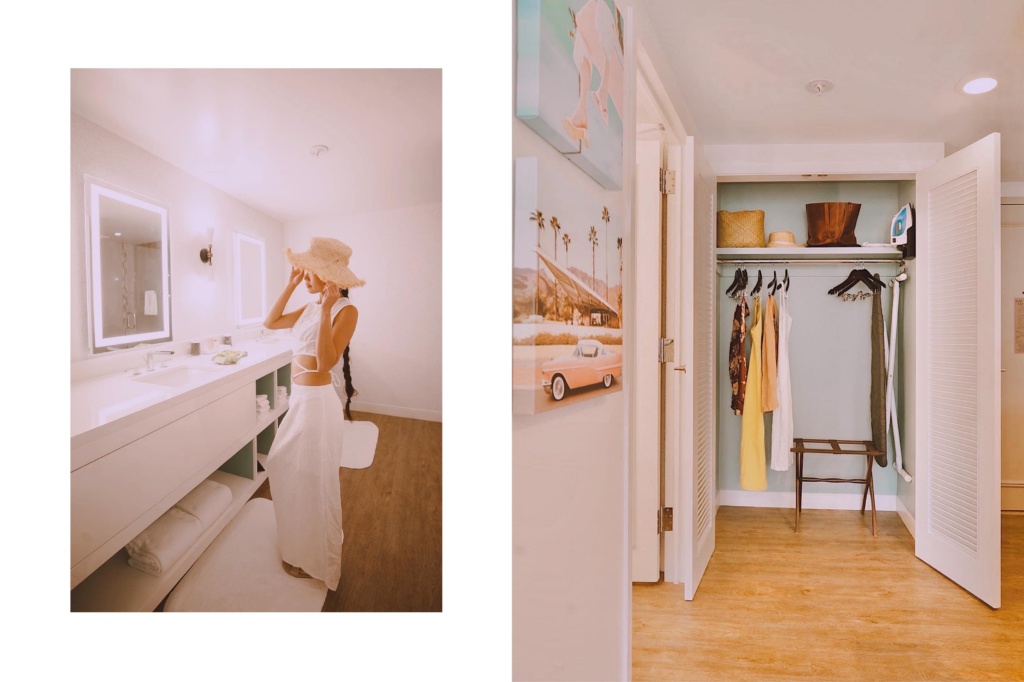 The Pool
Renaissance Indian Wells boasts the largest pool experience in the California desert, including three distinct pools with one having an actual sandy beach entrance area, serviced cabanas, magnificent waterfall and multiple hot tubs.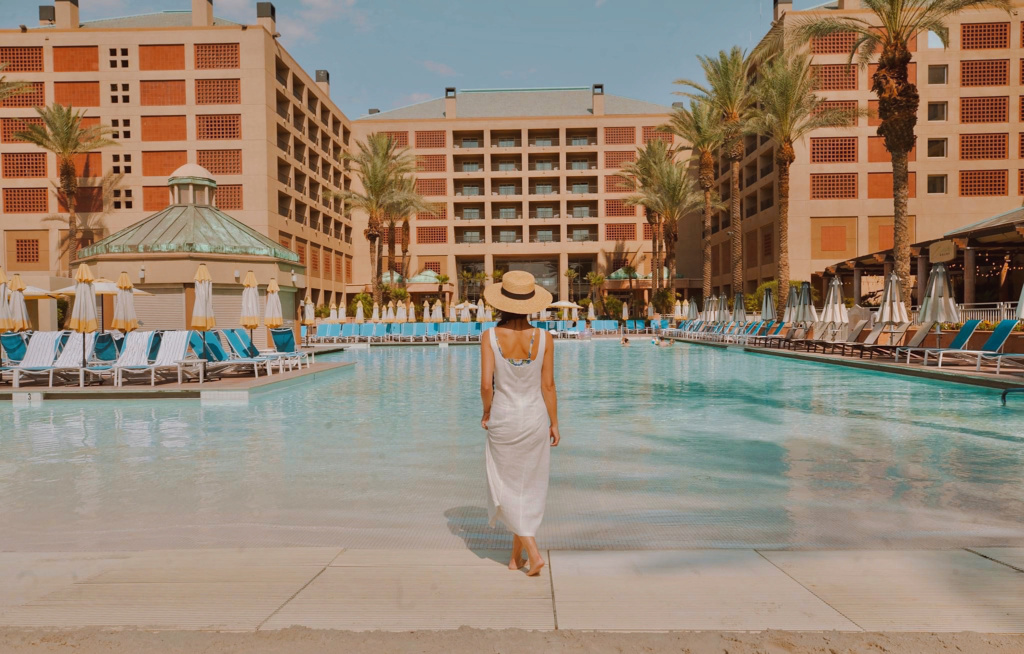 The bright yellow umbrellas with blue lounge chairs give the pool area a burst of colour while views of palm trees and the Santa Rosa Mountains give it an oasis-in-the-desert feel.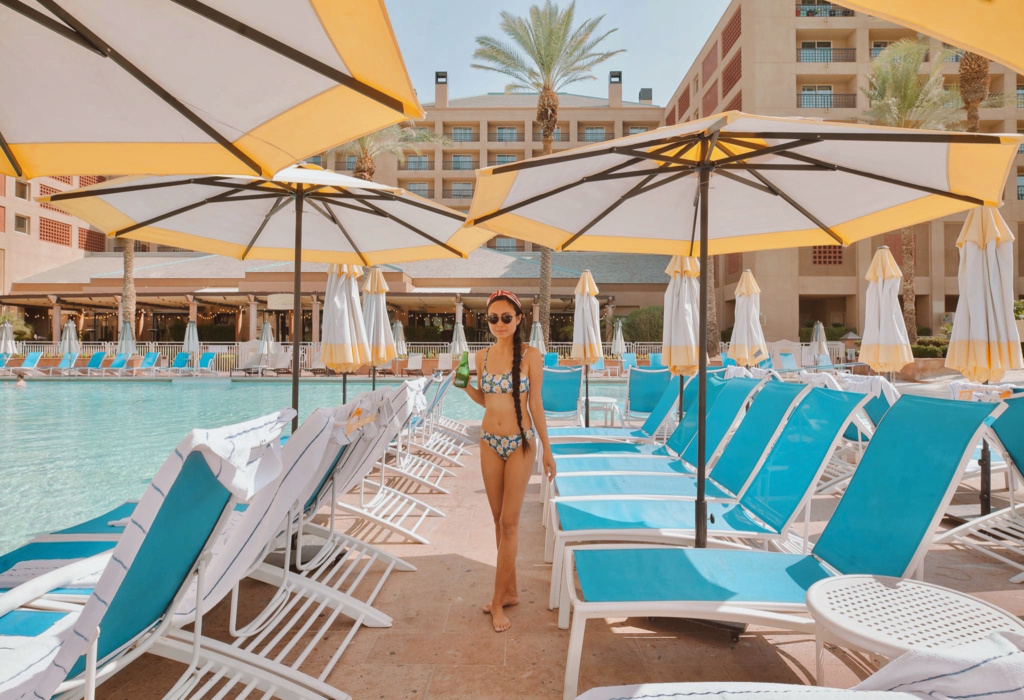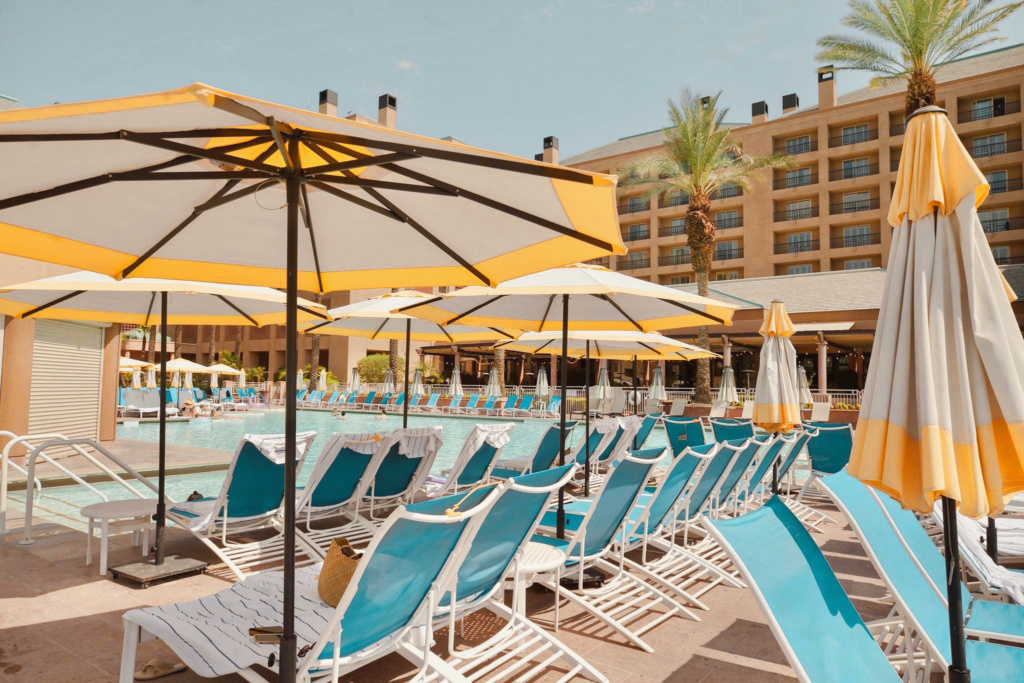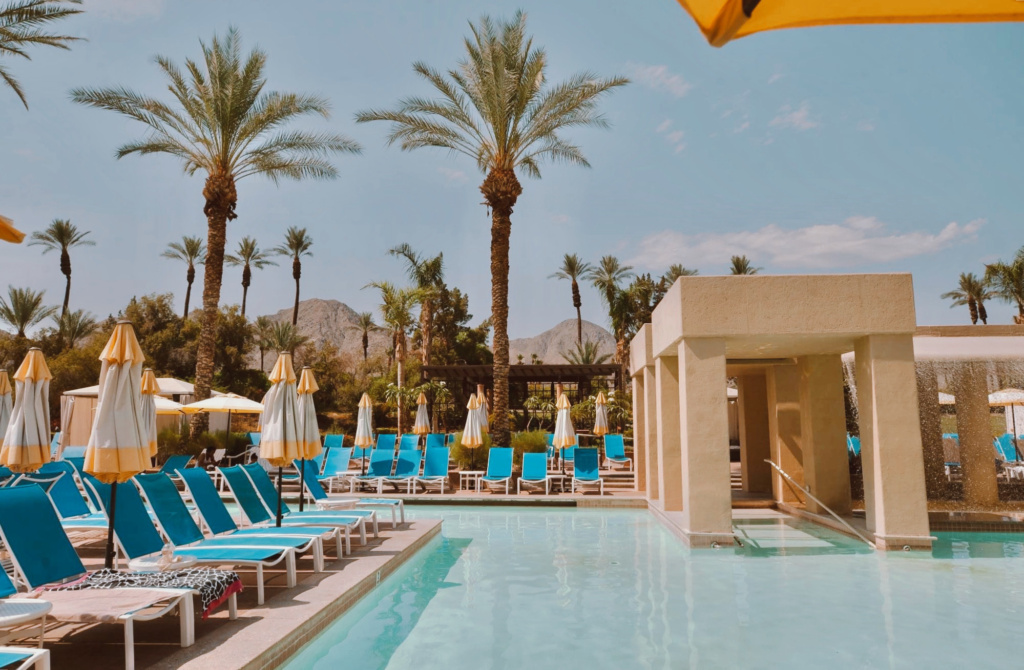 The hotel did not seem terribly busy, so the pool was empty most of the time we were there. I snatched as much deckchair time as I could.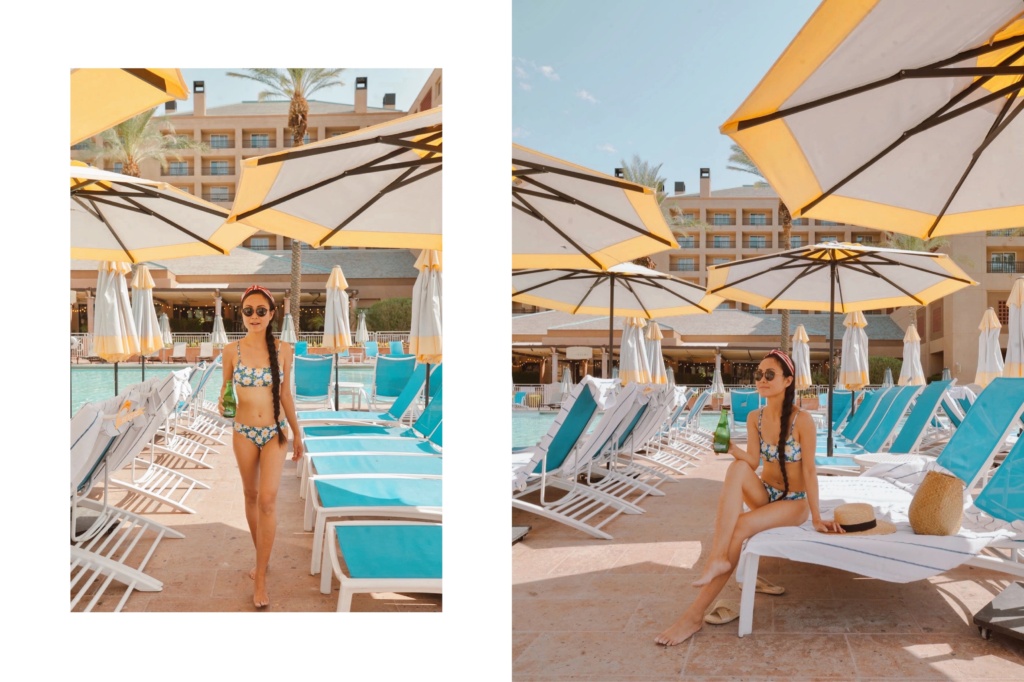 The lush grounds feature blissful garden settings, fountains, lakes, waterways and inviting lounge areas with fire pits.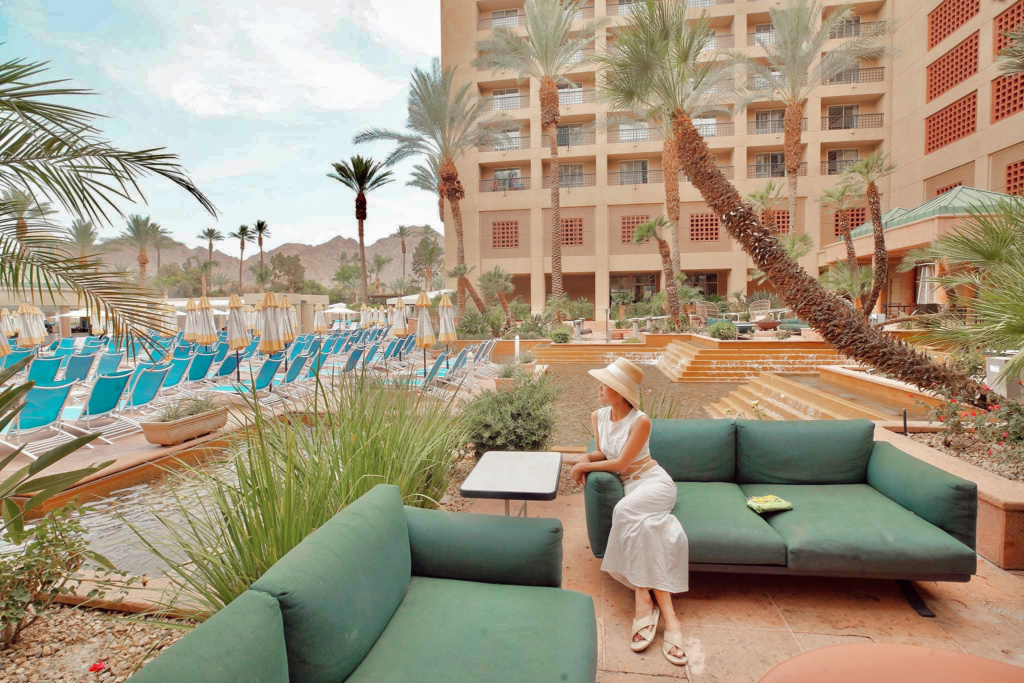 The Food
What we like the most about the resort is our breakfast at their CAVA restaurant – the resort's bistro-style all day eatery with indoor/outdoor dining options. Surrounded by a stunning garden and with views of the Santa Rosa Mountains, the scene was perfect for our culinary experiences.Their breakfast/brunch selection is exquisite with many options including made-to-order omelets, yogurt parfaits, pastries, waffles, pancakes, avocado toasts,…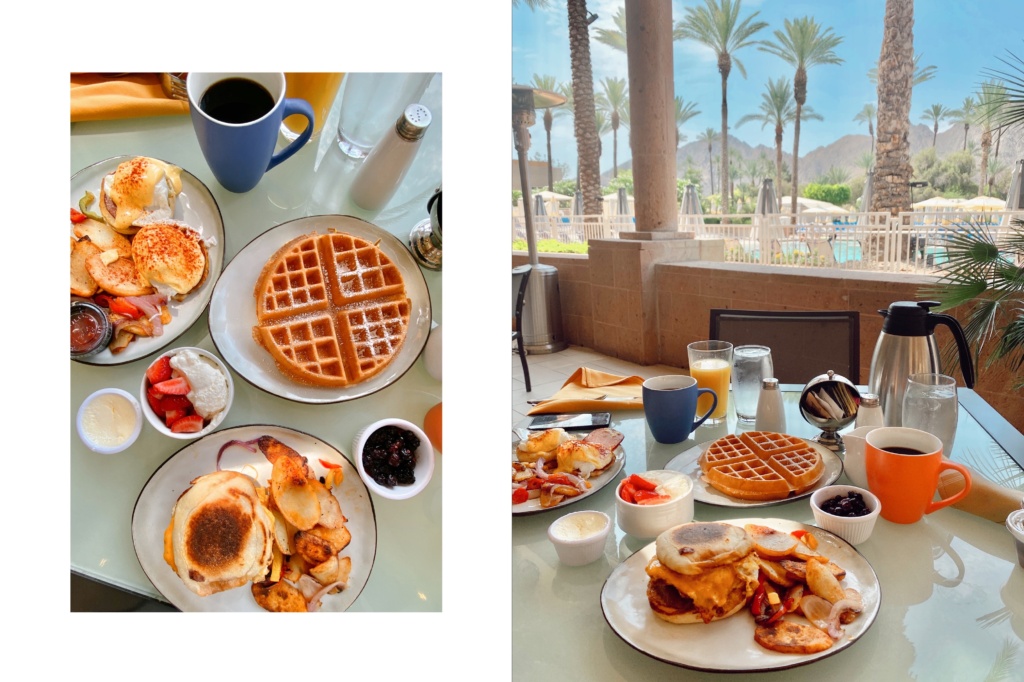 Things To Do
The resort boasts activities for every member of the family, from adventure seekers to those seeking a relaxed environment: sandy beach, spa, bike rentals, golf, tennis, fitness center,…But if you want more adventure, the resort is close to many other activities too. From canyon jeep tours to hiking… you could stay busy here for weeks!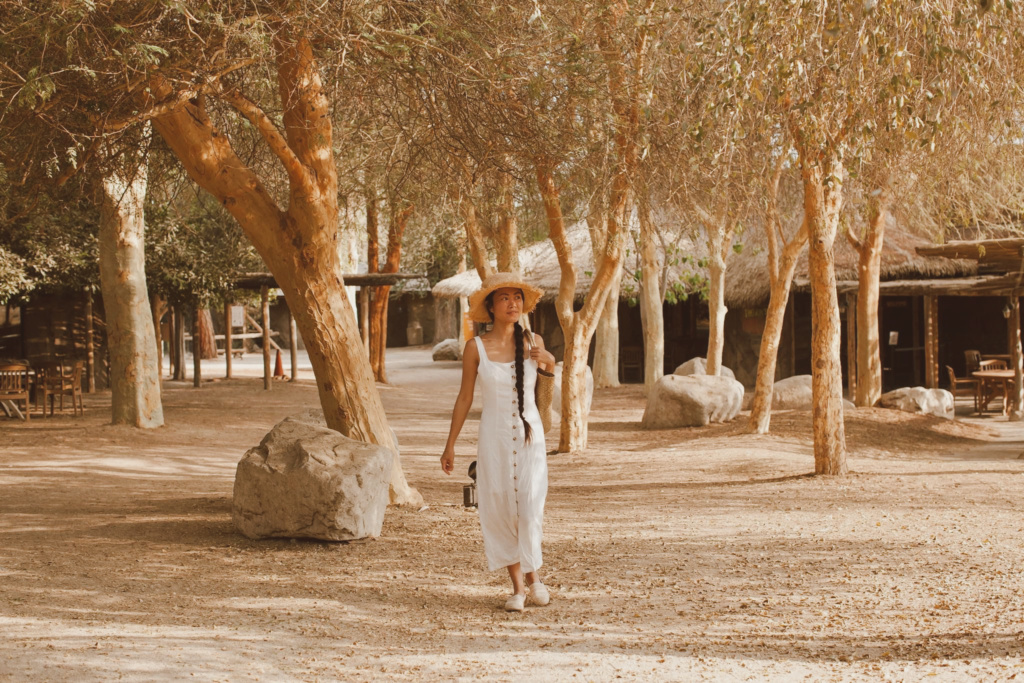 For our time outside the resort, we decided to visit the Living Desert Zoo and Gardens. Located only a few minutes from the resort there is this hidden gem, surely the highlight of our Palm Desert vacay.
Specializing in the deserts of the world, The Living Desert Zoo and Gardens is like no place else. From the African Savanna to Wild Americas to Australian Adventures, guests will see over 500 animals representing over 150 species. African Safari offers opportunities to see cheetahs, zebra and the incredible giraffe savanna.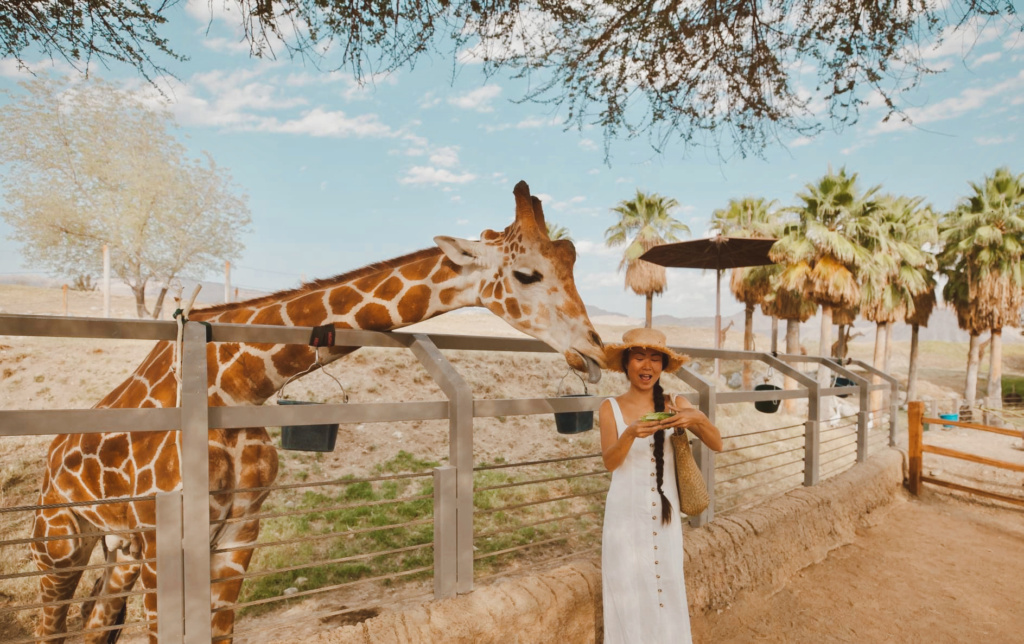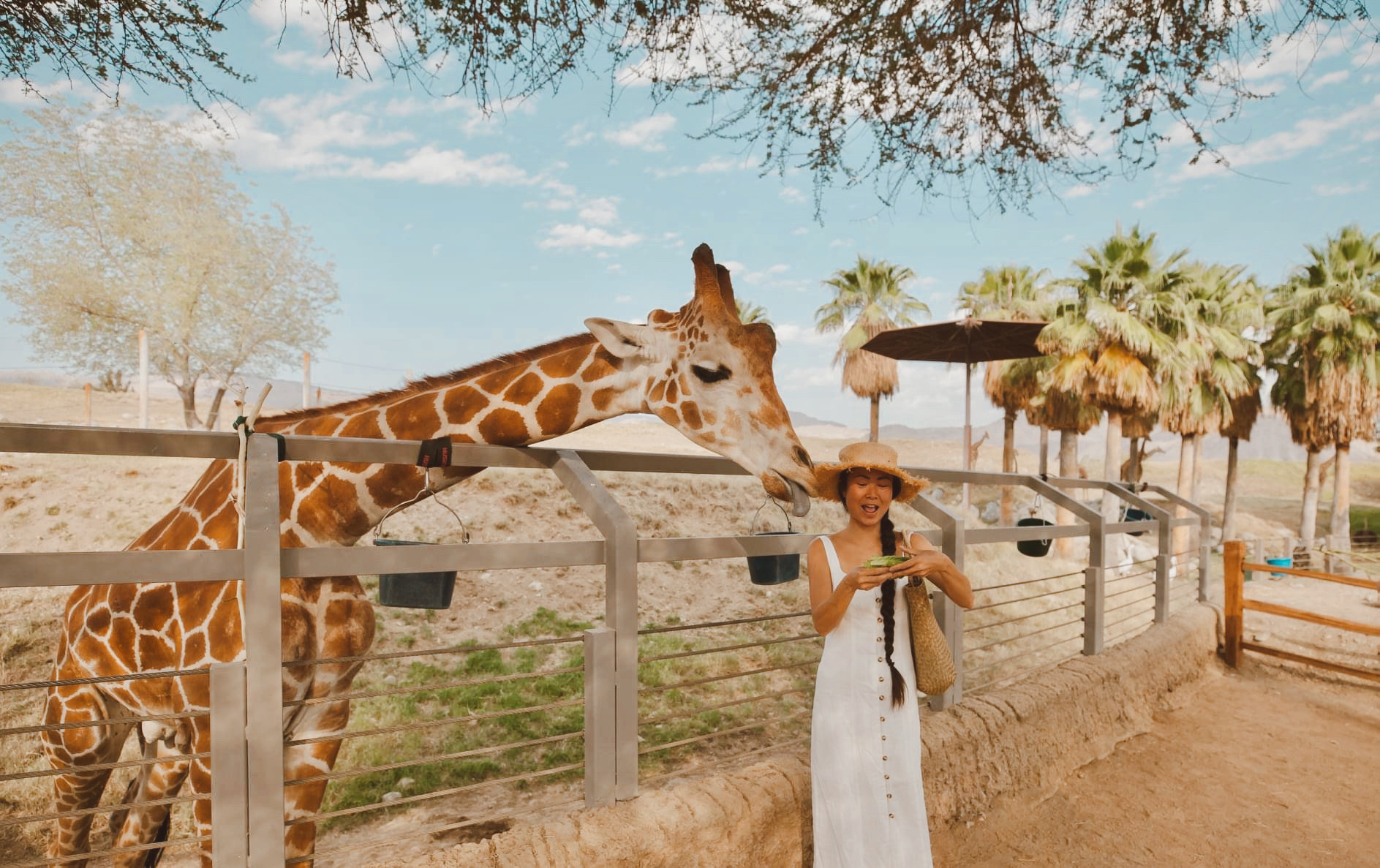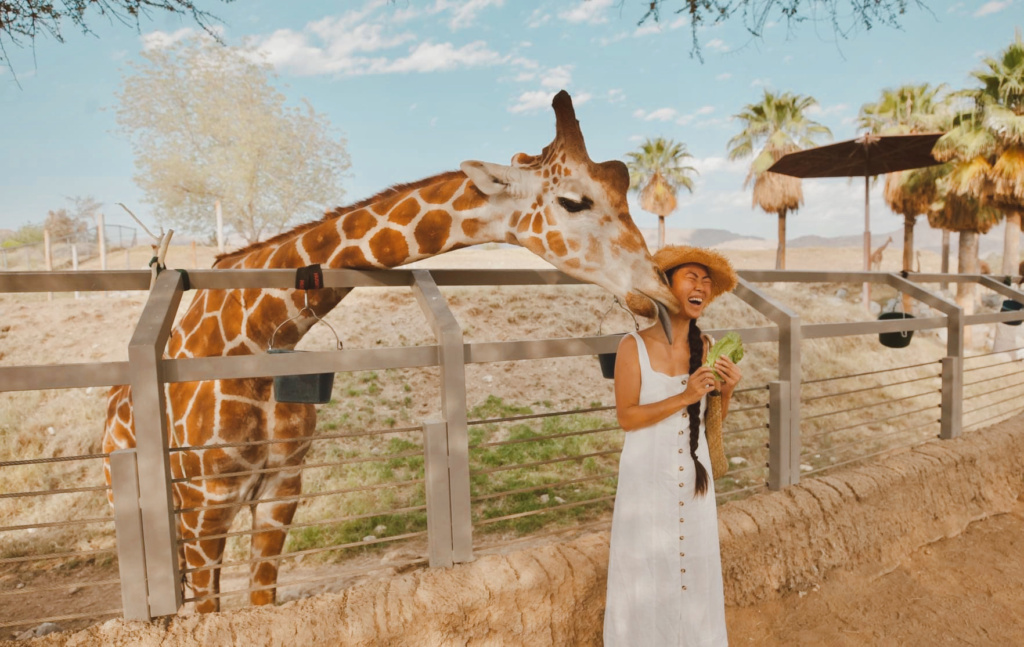 A wilderness preserve that reintroduces species back into the wild, The Living Desert Zoo and Gardens focuses solely on desert environments.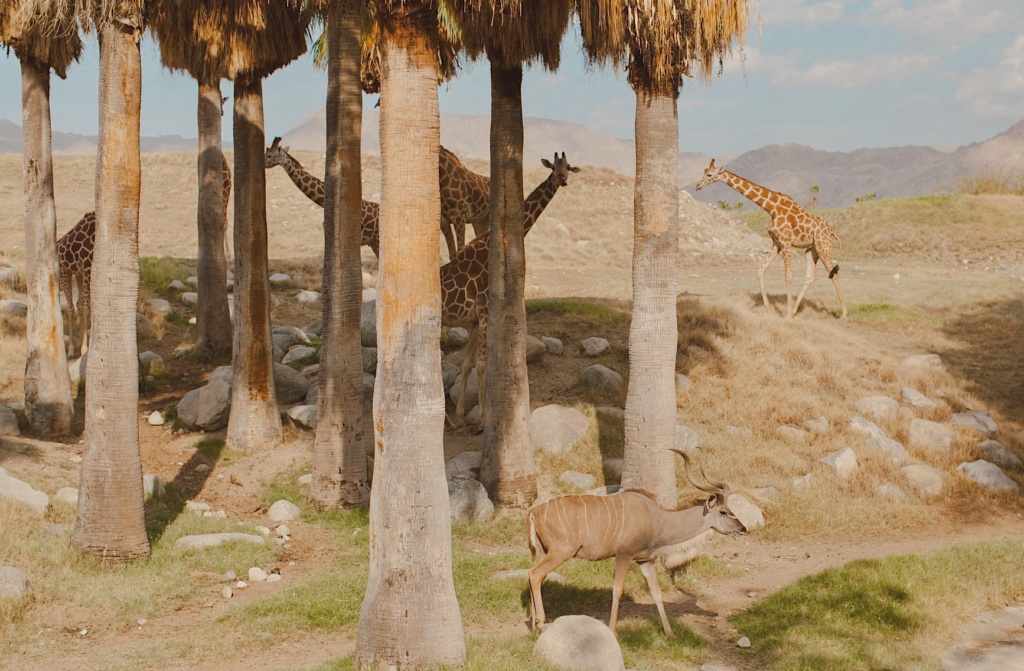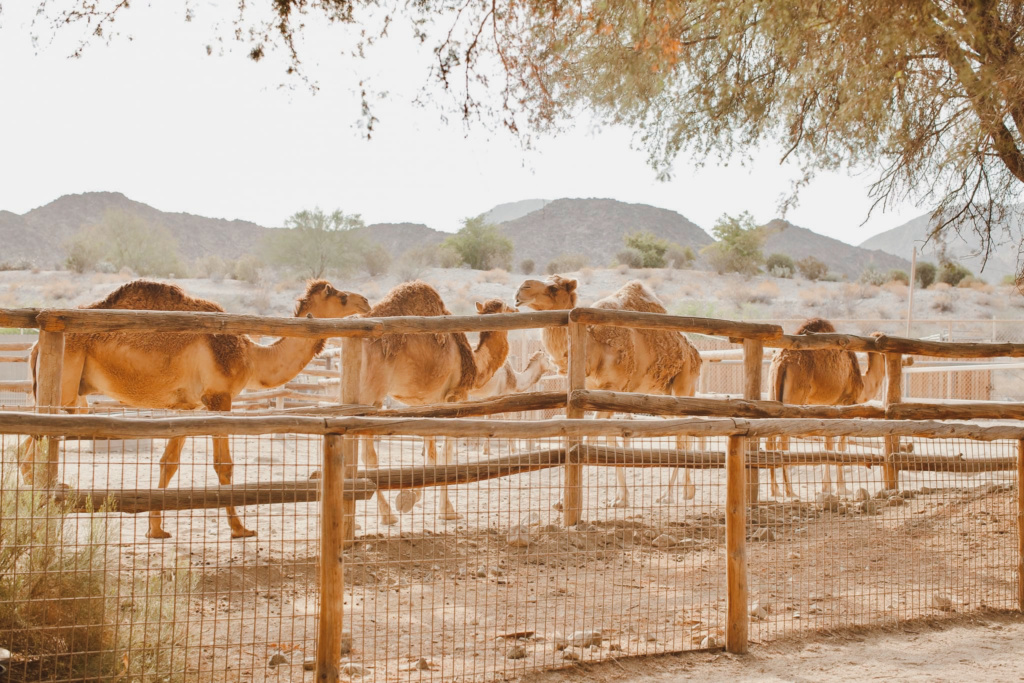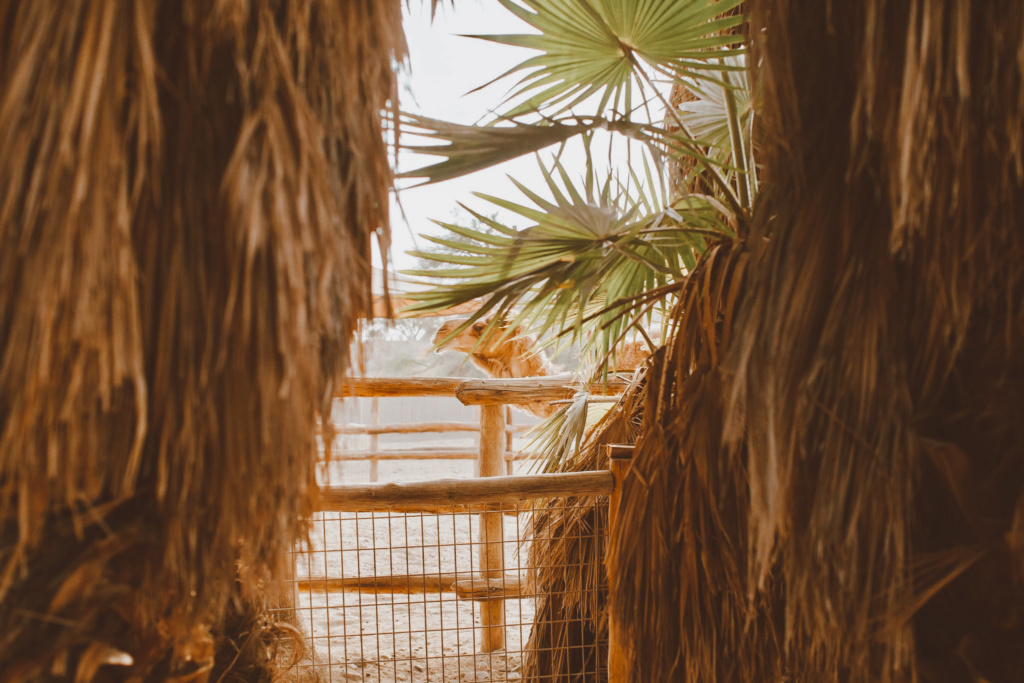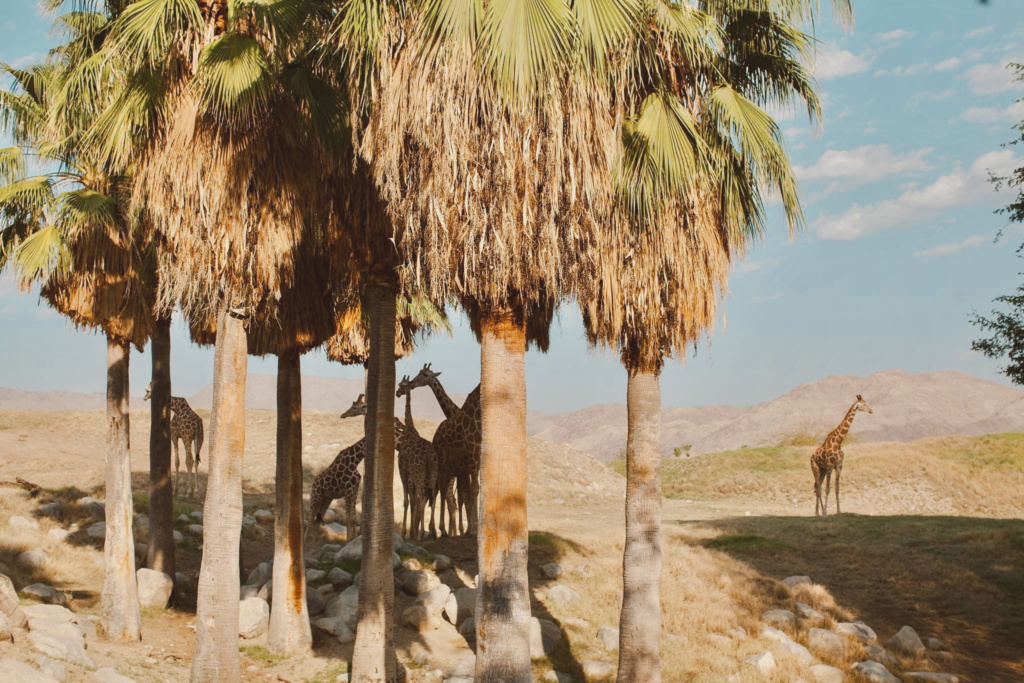 Giraffe feeding opportunities are offered daily. We paid an extra $7 to have a once-in-a-lifetime encounter with these tall guys.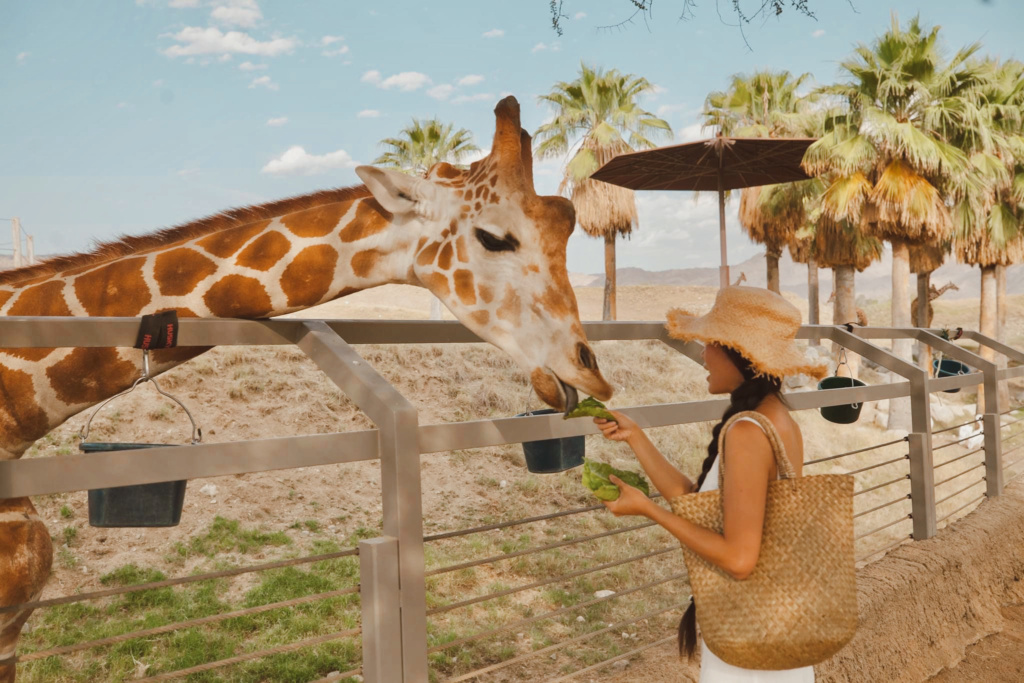 I recommend arriving early since the park offers little shade and temperatures often rise above 100 degrees. We booked our tickets online for 7am slot to beat the summer heat (giraffe feeding starts at 8am)!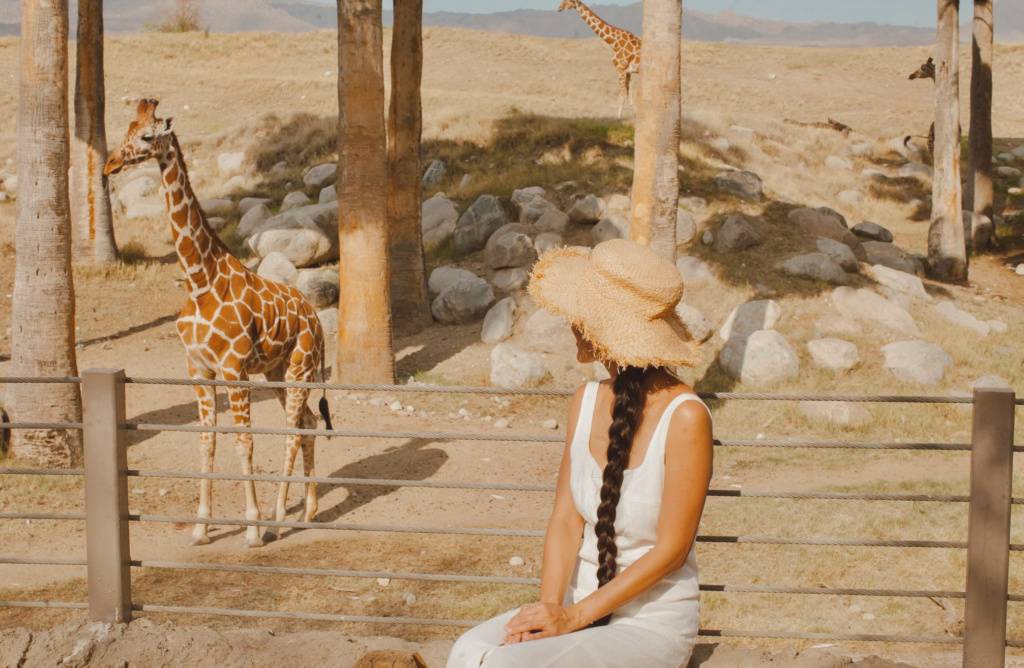 The Living Desert has many features to keep visitors entertained, whether you want to take in the scenery, look at animals, or simply take a hike through one of their trails. There will not be a dull second during your visit.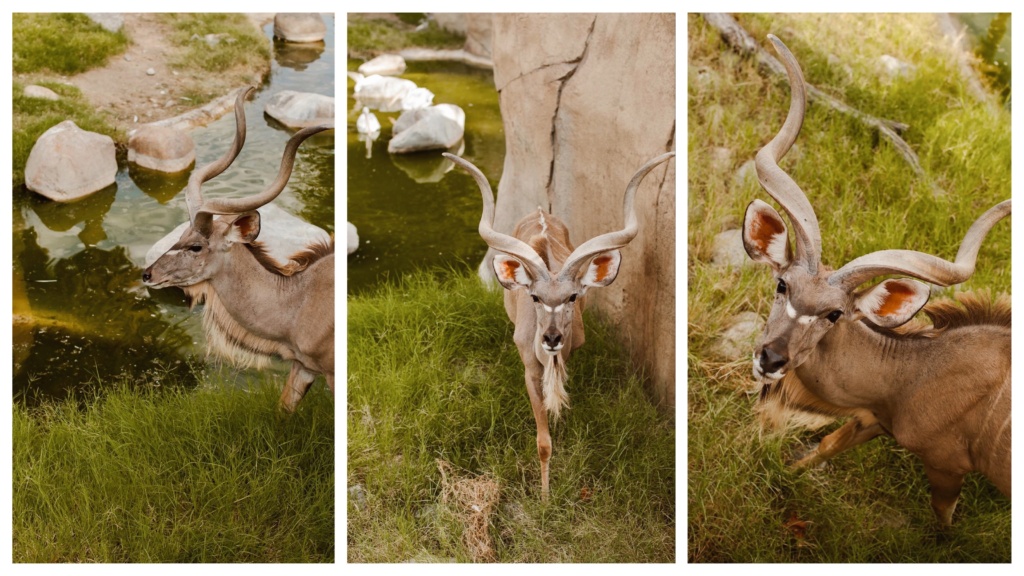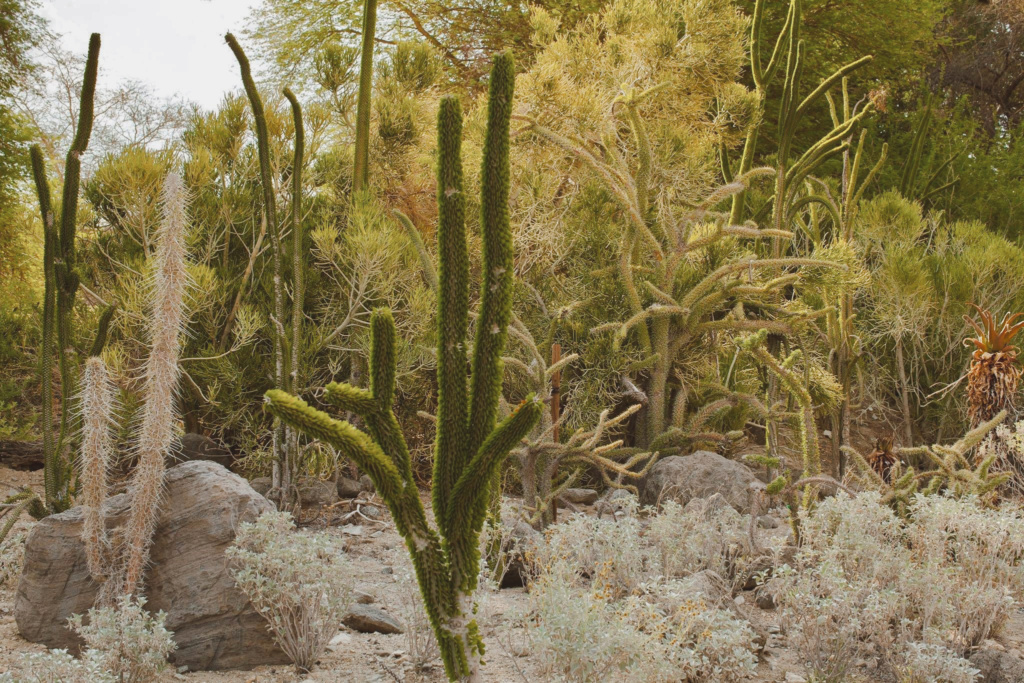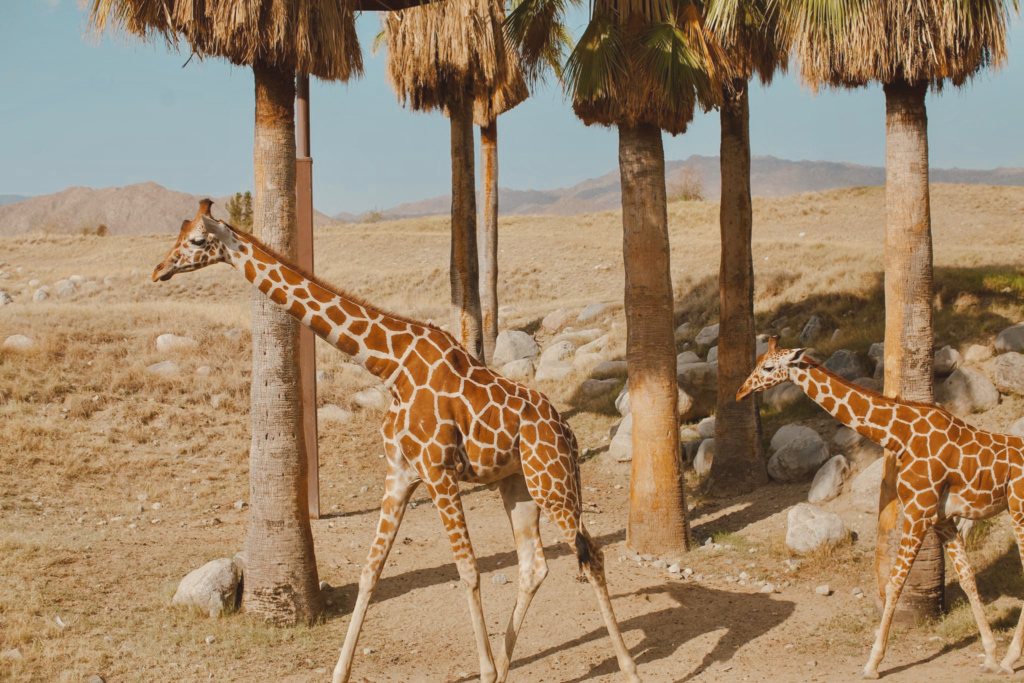 To learn more about Renaissance Indian Wells Resort & Spa, see a full list of highlights and amenities, view deals and to book your stay online, please visit the Renaissance Indian Wells Resort & Spa website directly!
***Thank you to the Renaissance Indian Wells Resort & Spa website  for kindly sponsoring this post. All opinions are 100% honest & completely my own.