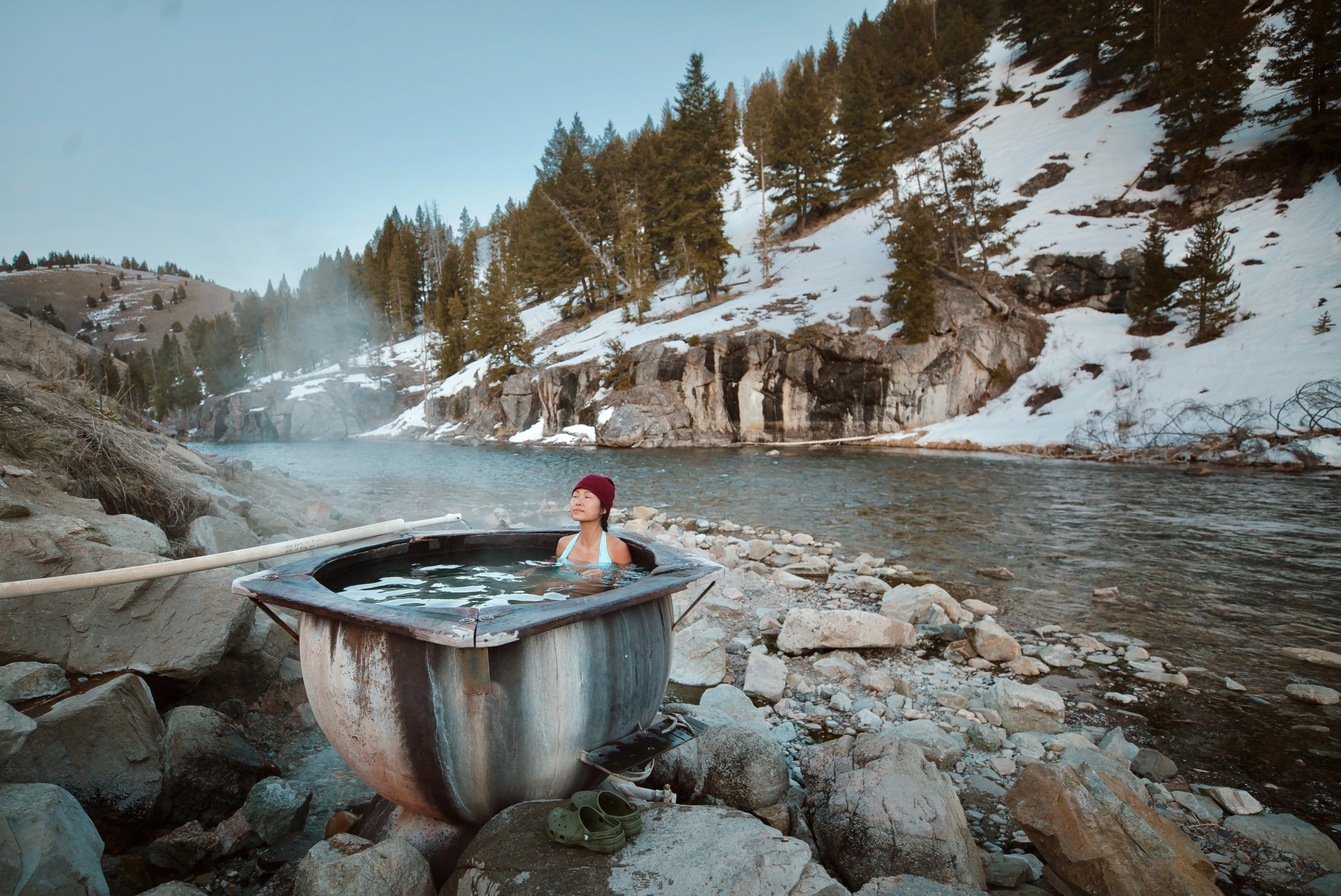 OUR 14-DAY NEVADA-IDAHO-UTAH CAMPERVAN ROAD TRIP ITINERARY
If you love the outdoors but can't stand the crowds at popular destinations, this Nevada-Idaho-Utah trip may just be the perfect itinerary for your next road trip. The highlight of this itinerary is southern Idaho. The Gem State has hot springs, mountains, lakes, waterfalls… literally everything you could want on a road trip!
We entered southern Idaho from Nevada and then looped back to Utah so we didn't head too far north of Idaho this time (next time we would love to). We spent 2 weeks in March-April doing this roadtrip, but we understand that not all road trips are created equal. Maybe you have less time or you just don't want to feel rushed. This full road trip route can be covered in just over a week but you're better off with at least 14 days to maximize your trip time and spend more time enjoying and less time driving. Nevada-Idaho-Utah are absolutely filled with outdoor recreation opportunities, so we tried to incorporate as many of them as we could into this trip.
Day 1: Las Vegas – Ely (4 hours – 258 miles)
The first stop on our roadtrip was Nevada's Ward Charcoal Ovens State Historic Park. The park features six beehive shaped charcoal ovens that were used from 1876 through 1879 to help process rich silver ore that was discovered in the area.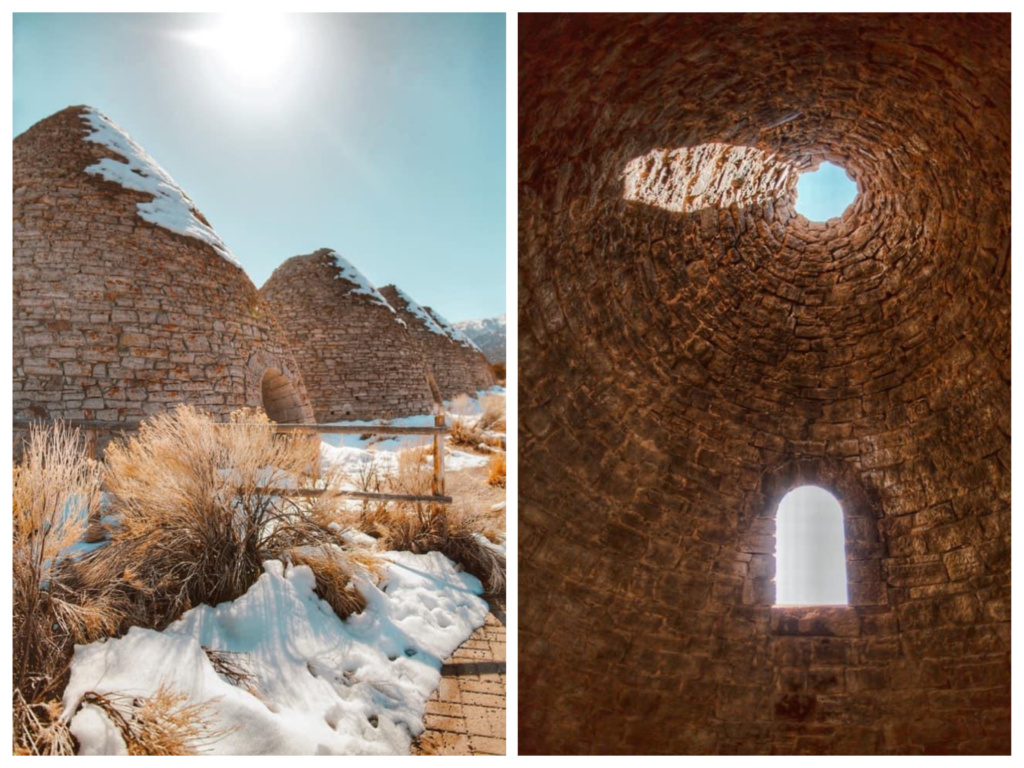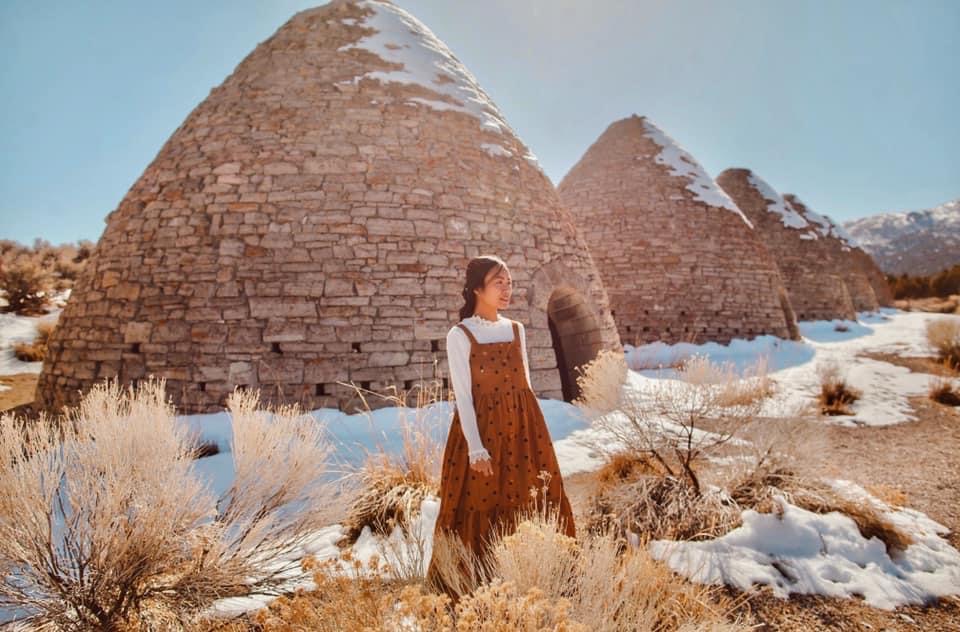 The ovens remain today and are open for touring. Visitors can also enjoy camping, picnicking, hiking and fishing. Snowshoeing and cross-country skiing can be done in the winter.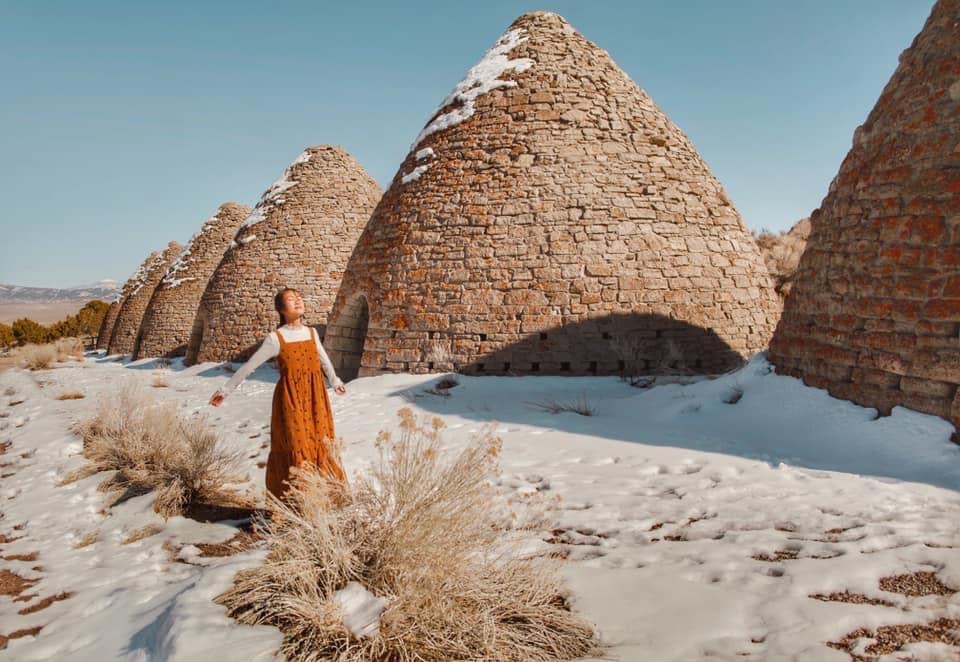 Day 2: Ely- Wells (3 hours – 166 miles)
Nevada is known for many strange things (gambling, Burning Man,…) but not hot springs. There's something about Nevada that makes it a driving-through state, often for travelers on the way to any of the neighboring states but rarely a travel destination. Not many people know that Nevada is peppered with hidden crystal-clear hot springs, most of them very isolated. Nevada has more hot springs than any other state in the U.S., with more than 300 occurring naturally; most are found in Northern Nevada.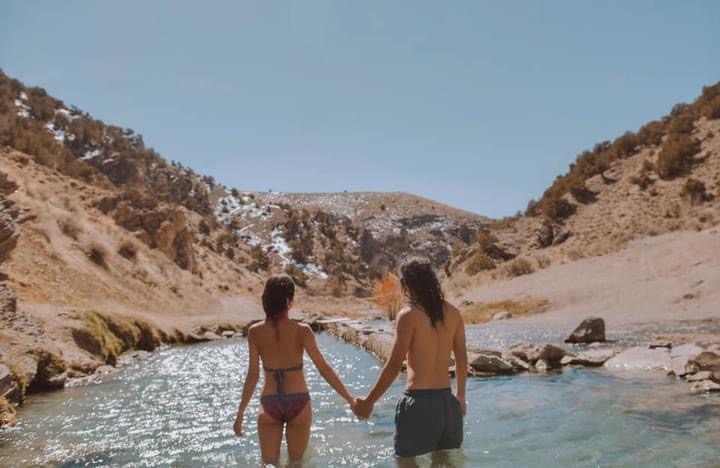 Before crossing from Nevada to Idaho, we stopped to visit the 12 Mile (Bishop Creek) Hot Springs – one of Nevada's hidden gems. How did it get its name? That's easy – it's roughly 12 miles north of Wells, Nevada along Bishop Creek. Getting to these hot springs is accessible year-round.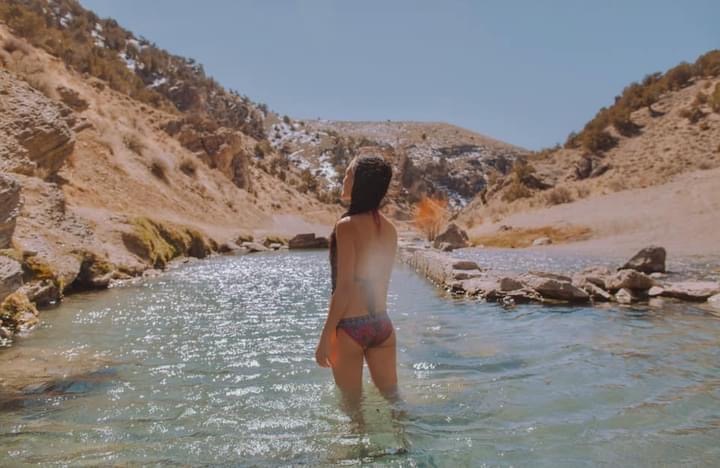 Worried about crowds? Don't be – most people haven't even heard of this place which makes it even more unique! Plus the journey to the 12 Mile Hot Springs was very challenging – driving through open spaces, over dirt roads, lots of potholes,…. Keep in mind that Bishop Creek Hot Springs is located on private property – the owners have been nice enough to let hikers use the dirt road to access the hot springs. At any time they could easily close off access so PLEASE keep it clean and Leave No Trace!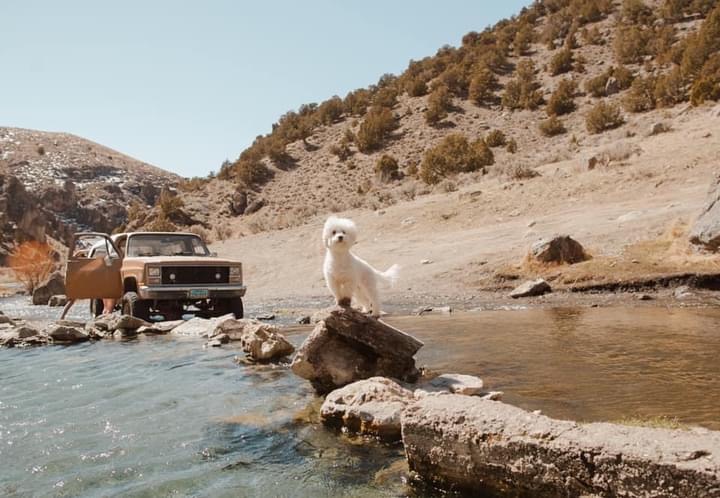 Day 3: Wells – Twin Falls (2 hours – 114 miles)
Twin Falls is nicknamed the "City of Waterfalls" due to what feels like an endless amount of waterfalls in the area. The place boasts a lot of stunning parks and panoramic hikes: Shoshone Falls Park, Ritter Island State Park, Dierkes Lake Park, Pillar Falls,….Unfortunately when we were there (end of March) the weather was super cold and windy and the waterfalls didn't have much water so we decided to skip most of the attractions in this area and head to Boise earlier than as planned. But if you visit Twin Falls in spring and summer time, this area deserve at least 2 days for outdoor activities (kayaking, boating, snorkeling, diving, fishing,…).
There was only one attraction we visited in this area – the Box Canyon State Park.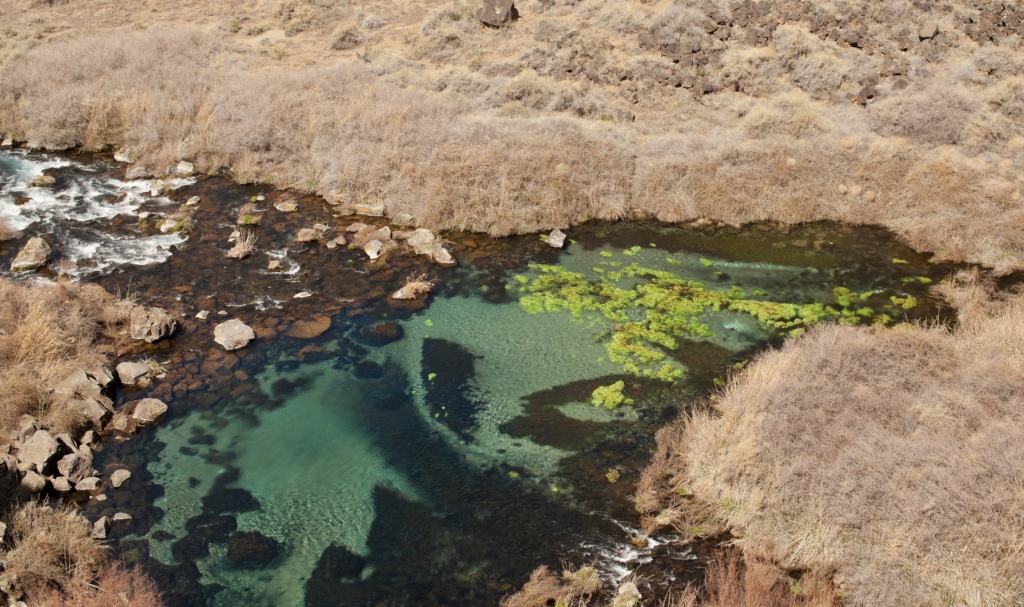 It costs $5 to visit (there is a small box to put cash) and you can hike down into the canyon where there is a super cool waterfall and crystal clear springs, which is the 11th largest natural spring in the US!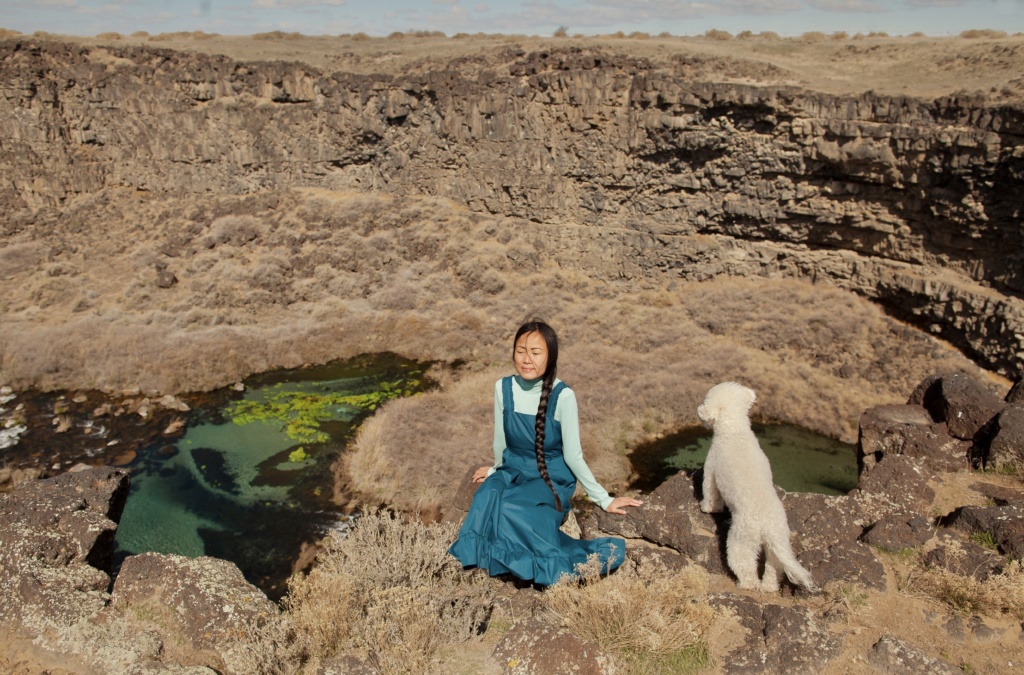 We only hiked to the waterfall, which was gorgeous and took maybe 45 minutes round trip from the top.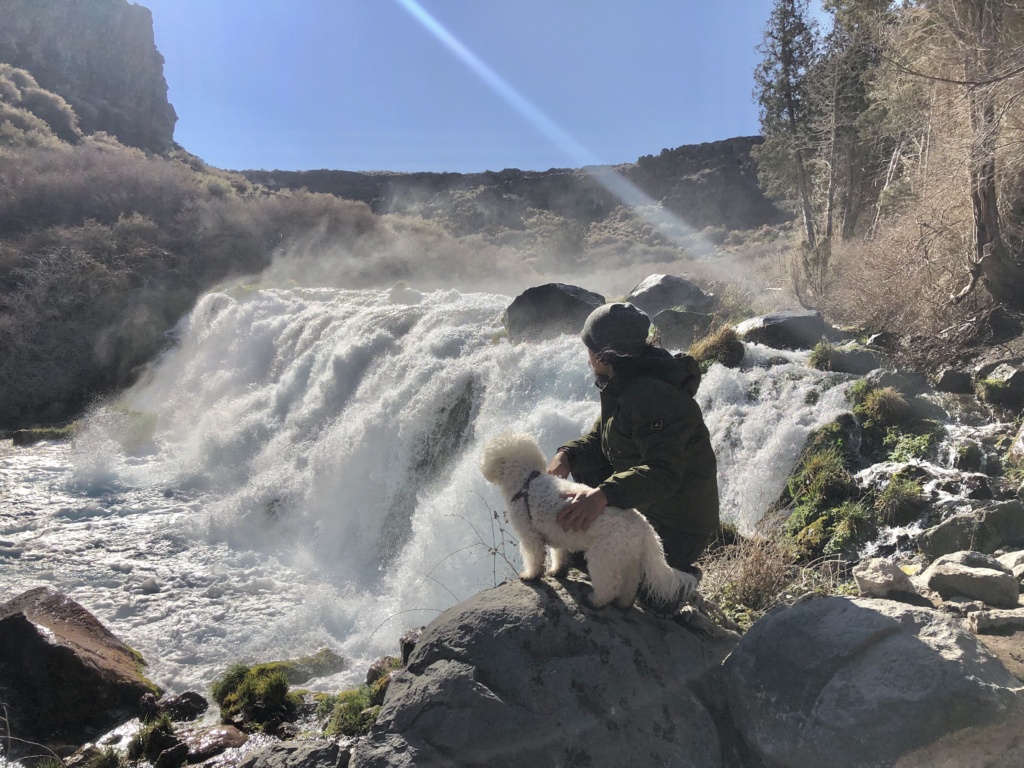 Day 4: Twin Falls – Boise (2 hours – 130 miles)
There are many things to do in Boise and the city is perfect for outdoor adventure-minded travelers. Boise has it all: sprawling parks, a bustling downtown, a foodie's paradise, and more. While we recommend staying for longer, we just passed by Boise (still a little bit crowded for us) and headed straight to Pine Flat Hot Springs. Our main focus of this Idaho roadtrip was to explore as many hot springs as possible; winter and hotspring is just an ideal combo for vanlifers like us.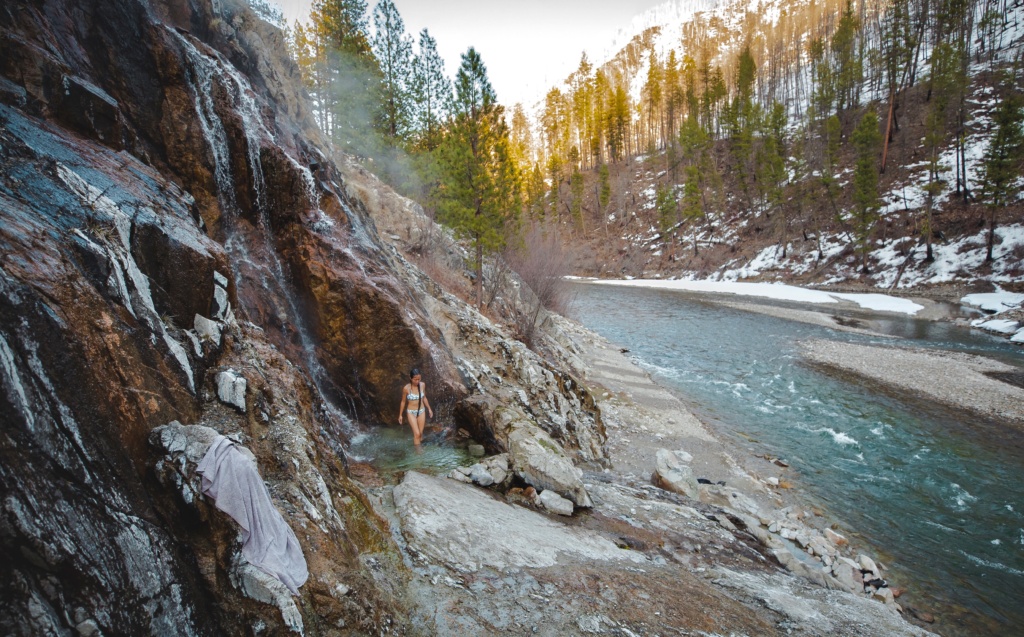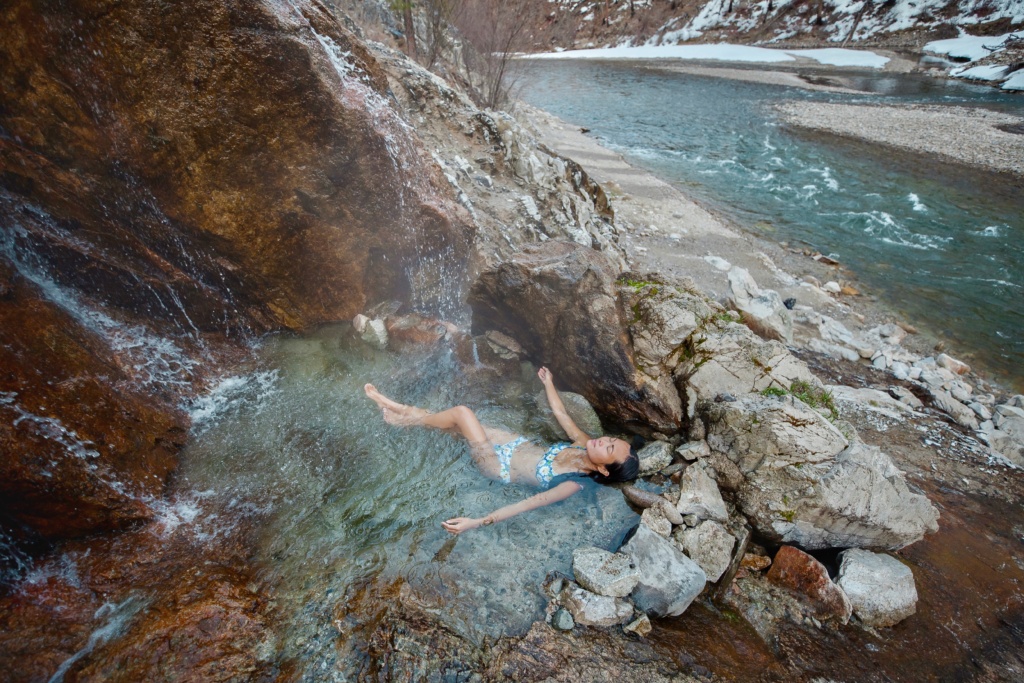 Pine Flats Hot Springs is a natural geothermal pool that lies along the beautiful banks of the Payette River. Not only does Pine Flats Hot Springs boast scenic views across the river, but it also features a waterfall that cascades warm water into the pool.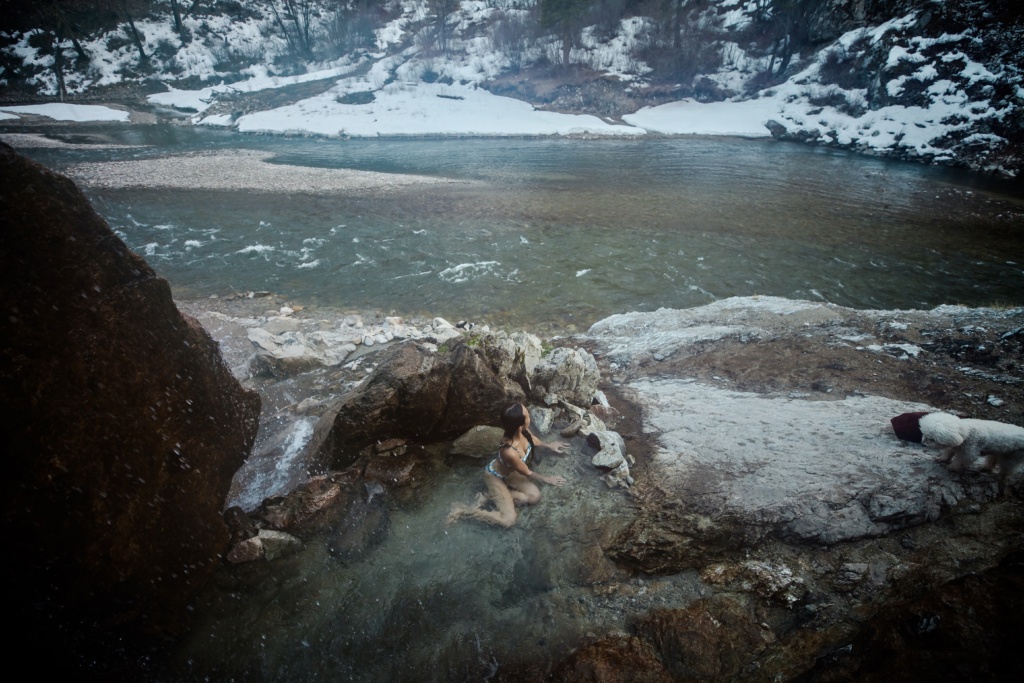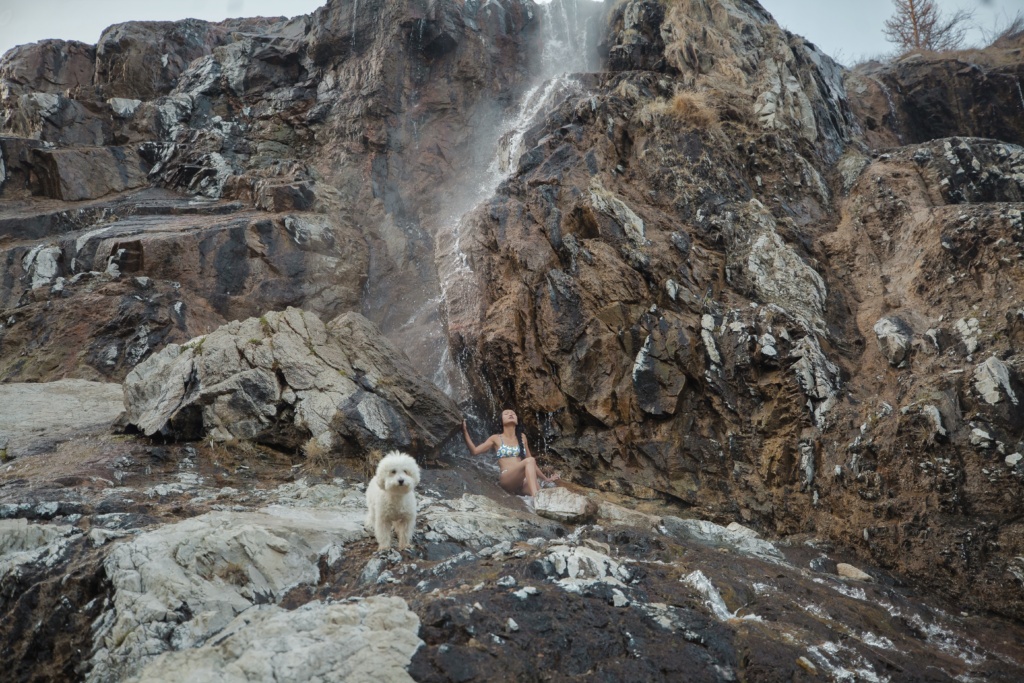 Pine Flats Hot Springs is open year-round. The Banks-Lowman Highway remains open for the Garden Valley and Lowman communities, which makes this an accessible Idaho hot springs even in the winter. However, it's important to note that the gate to the Pine Flats campground closes from September to May. We visited in March so what we did was pulling our car off the road by the closed gate and walked about a quarter mile through the campground to get to the trailhead.
Day 5: Pine Flats Hot Springs – Kirkham Hot Springs (15 mins – 10 miles)
On our roadtrips we always want to find time to relax; we don't want to burn out all of our energy by cramming too many activities and driving into our itinerary. We spent the whole day just relaxing at soaking at Kirkham Hot Springs.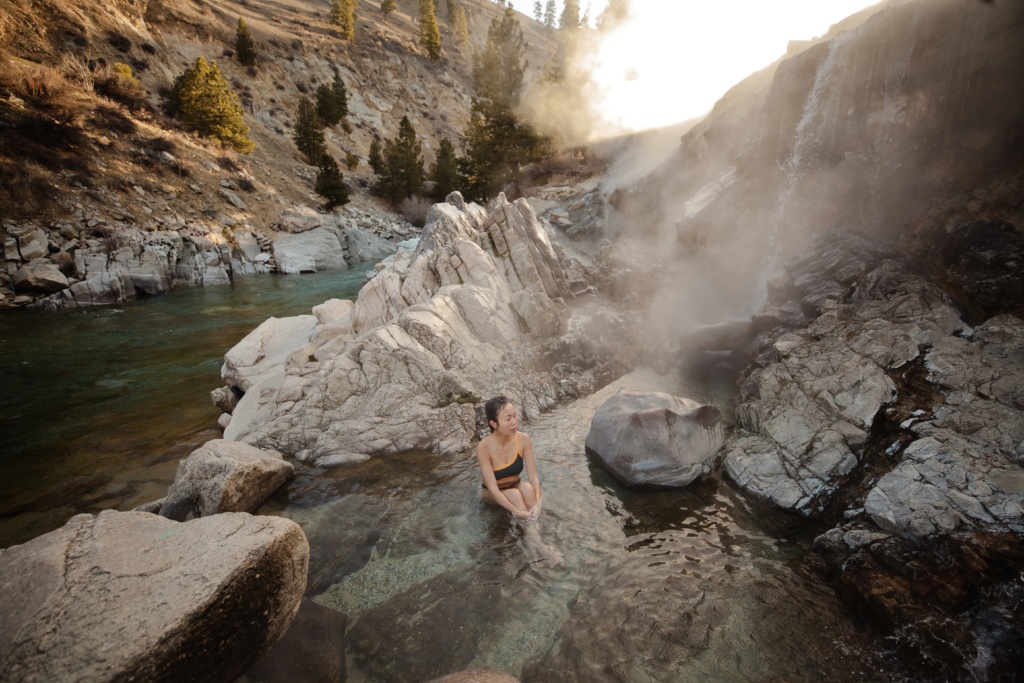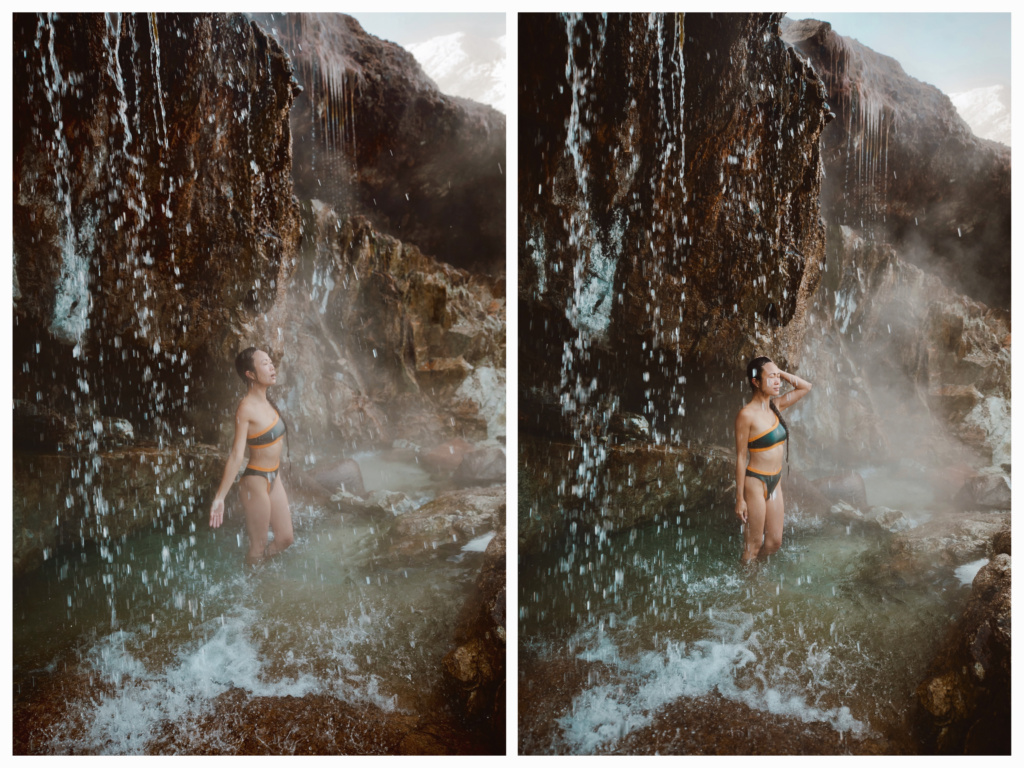 Although Idaho has a long list of hot springs that are accessible to the public, a good portion of them features some development associated with human construction. Kirkham Hot Springs is completely natural, meaning that the pools have no human-made enhancements or structures. This is perfect if you're searching for a true experience in untouched nature at its finest.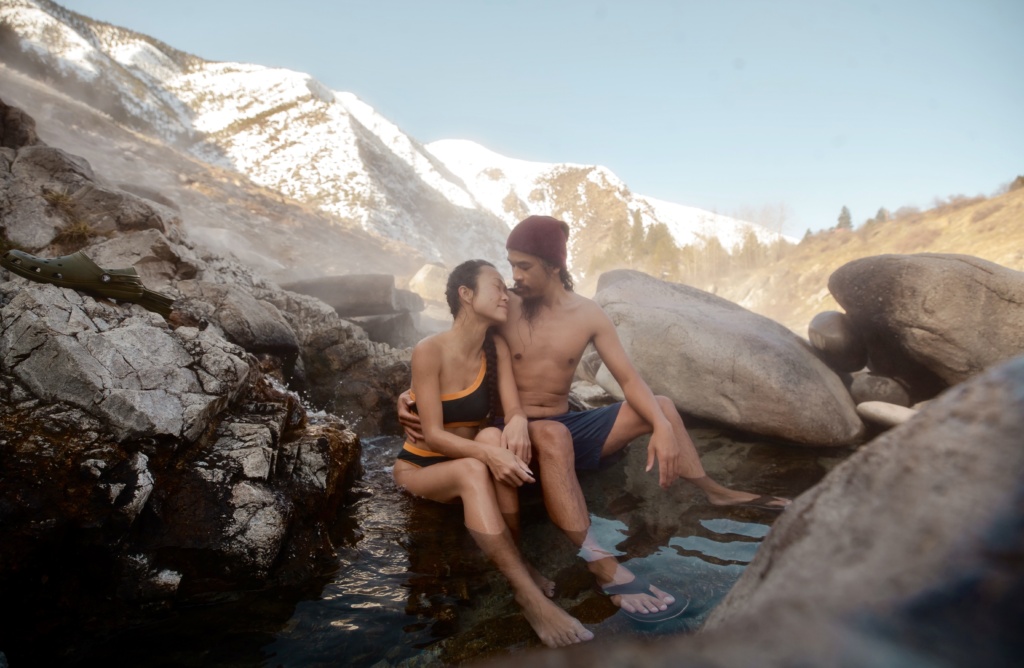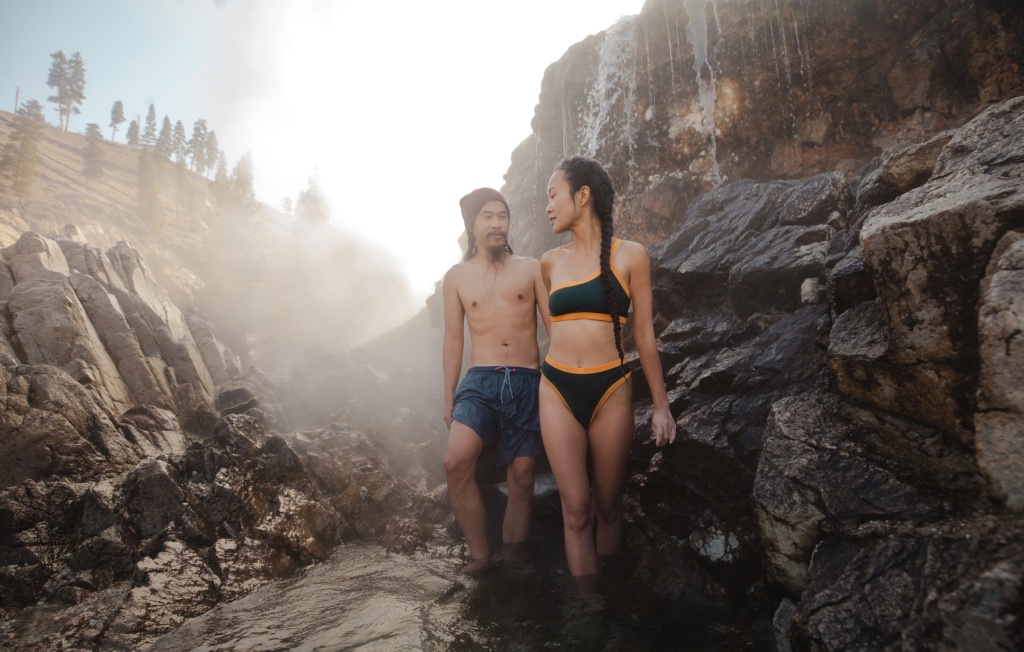 A handful of small, steaming waterfalls gentle pour into the pools, adding to the already incredible experience. The sounds of the rushing river combined with the breathtaking views of Boise National Forest make for one-of-a-kind visit.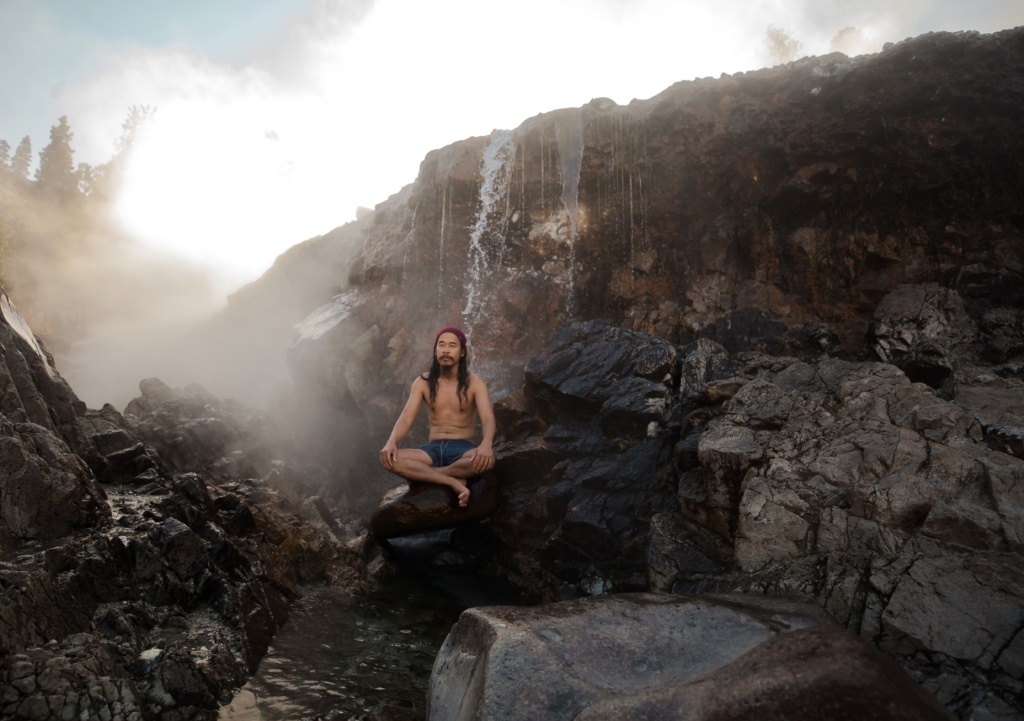 The season for the Kirkham Hot Springs area is April through November. Sometimes the campsite and parking area can close, which means you might have to park alongside the road if you want to visit Kirkham Hot Springs!
Day 6: Kirkham Hot Spring – Bonneville Hot Spring (24 min – 16 miles)
It was another relaxing day for us. Only a short drive from Kirham is Bonneville Hot Spring. Bonneville Hot Springs​ is more accessible in the summer when the Bonnerville Campground is open. At the time of our visit the campground was closed so we parked by the Warm Springs Trailhead (just 1000ft from the Bonneville Campground) and walked to the Bonneville campground gate. It was a super cold hike; first we hiked about one mile in snow to get from the campground gate to the trailhead and then another 1/4 mile from the trailhead to the hotspring. During summer it would have been an easy 1/4 mile only from the parking lot, which takes just a few minutes.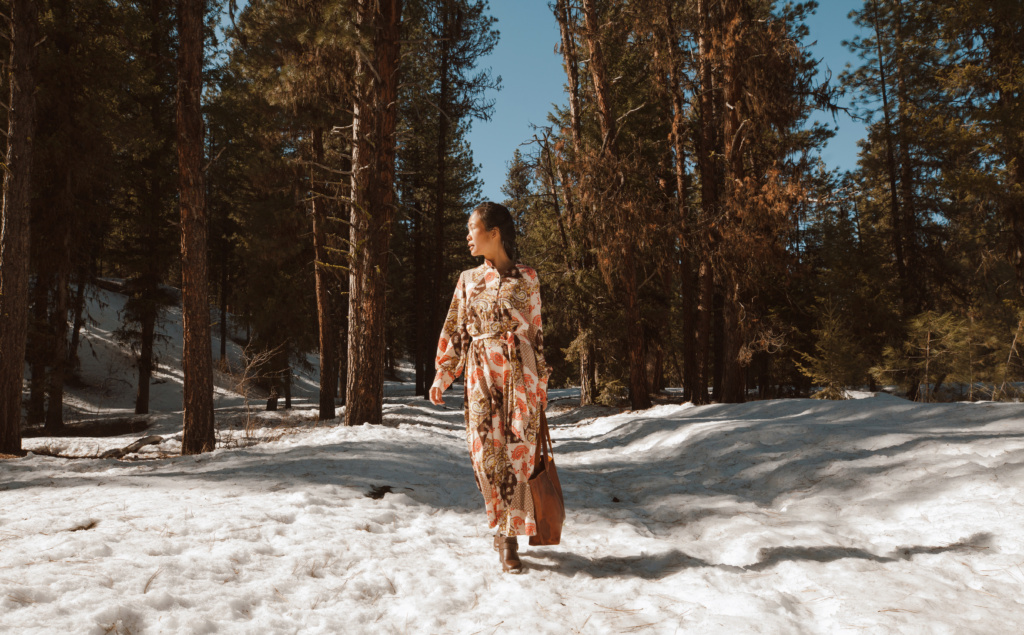 Bonneville was quiet, but it also felt as wild and rural as any hot spring we visited in Idaho this time of year! In the winter all of the campsites are closed, which is probably why it was so quiet anywhere we visited. For this reason – unless you are looking to camp – we'd recommend visiting during the months of May – September to get that truly tranquil experience.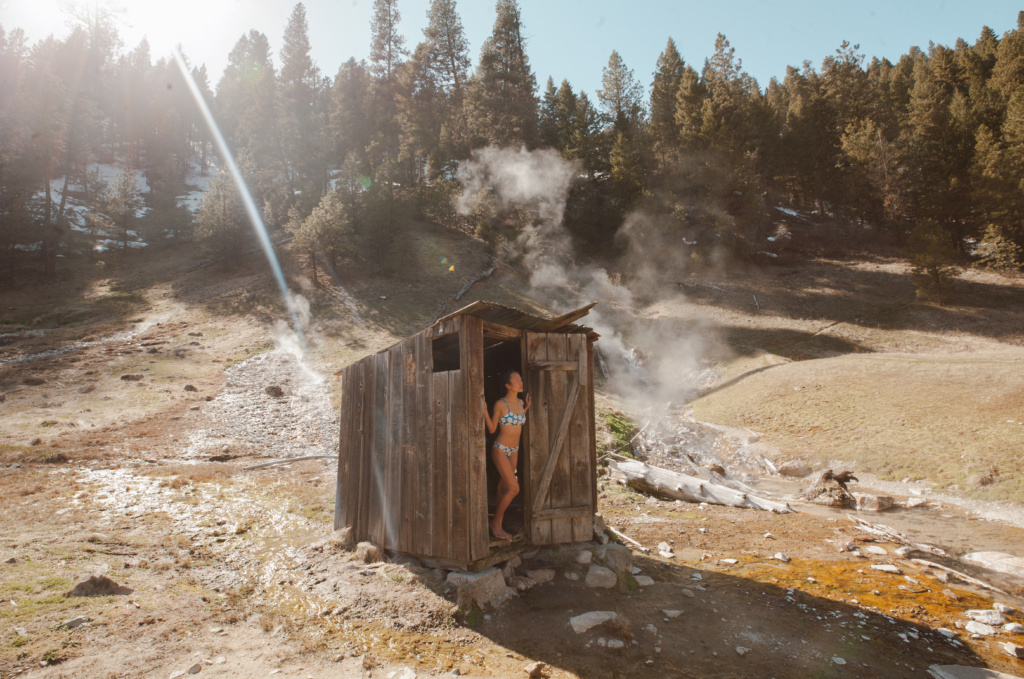 Bonneville Hot Springs seeps out of the hillside and cascades down to Warm Springs Creek.  The source is 120 degrees.  There are several pools set beside a fast flowing river. It was so relaxing listening to the sounds of the rushing water, the wind, and that sense of being transported far away from the rest of the world.
Chloe had an idea for the hot-cold therapy: half of her body was in the hot spring and the other half was in the cold river.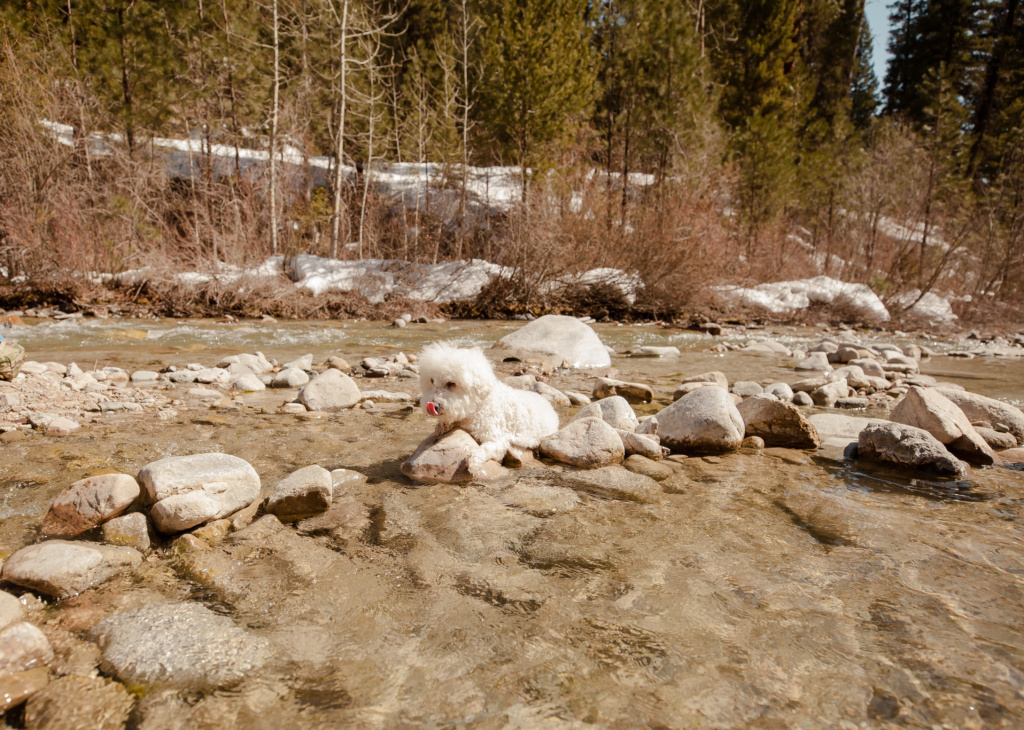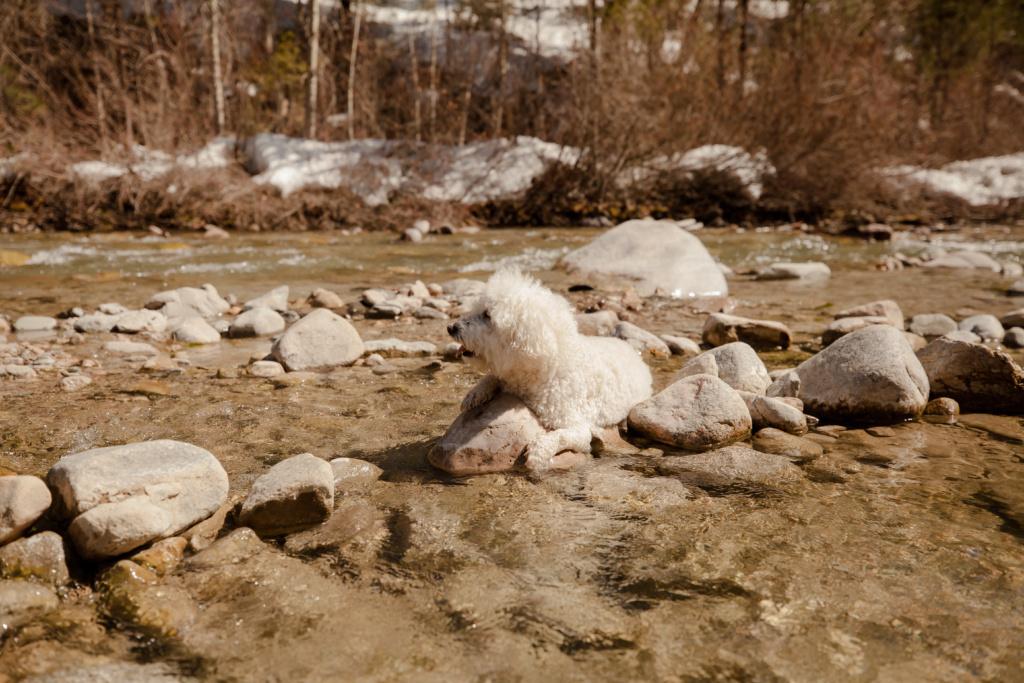 There's also a private wooden soak shack at the top of the hill with a bath tub and a pipe that's constantly refilling the tub. The temperature in here was just right!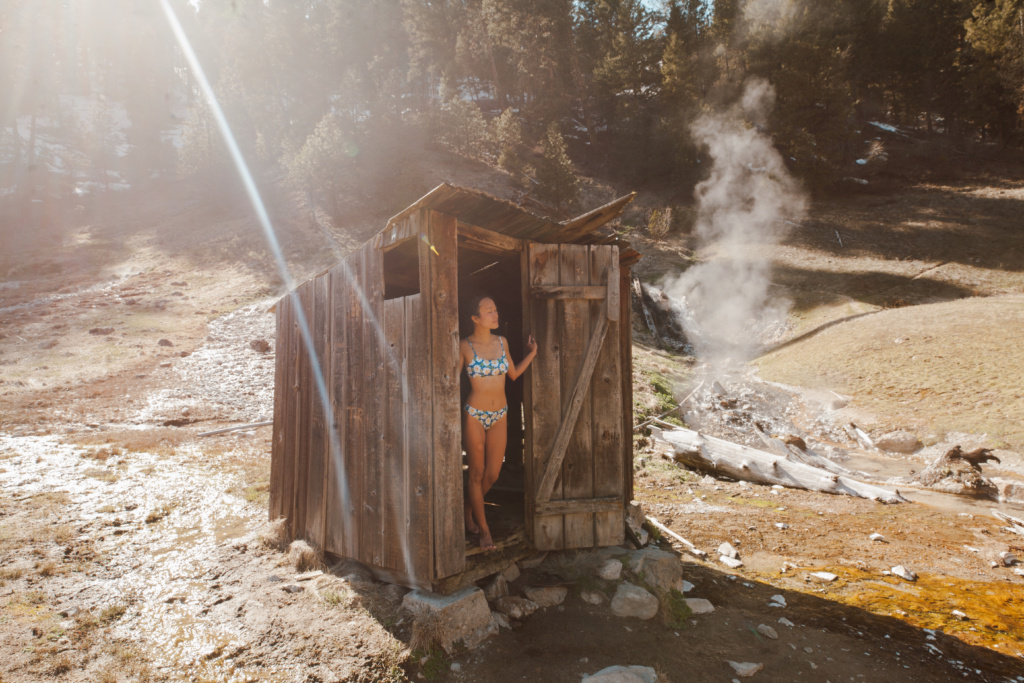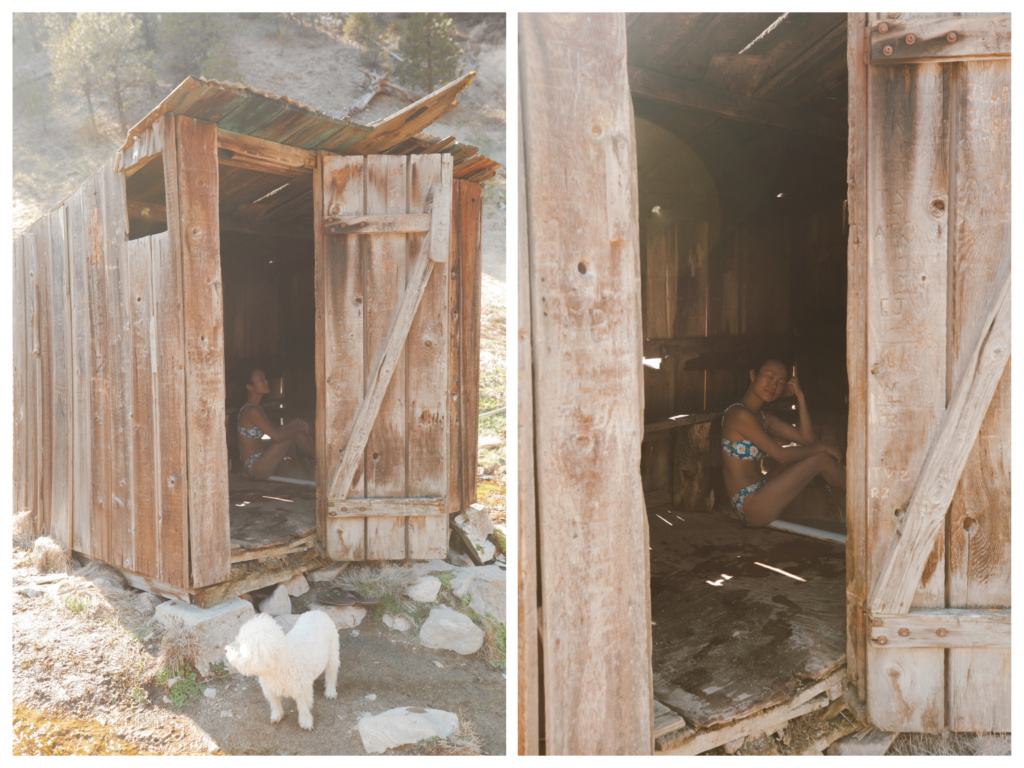 After this relaxing soak, we walked back to the parking lot at Warm Springs Trailhead to cook dinner and wrapped up such a lovely day before heading to Sawtooth National Forest the next day.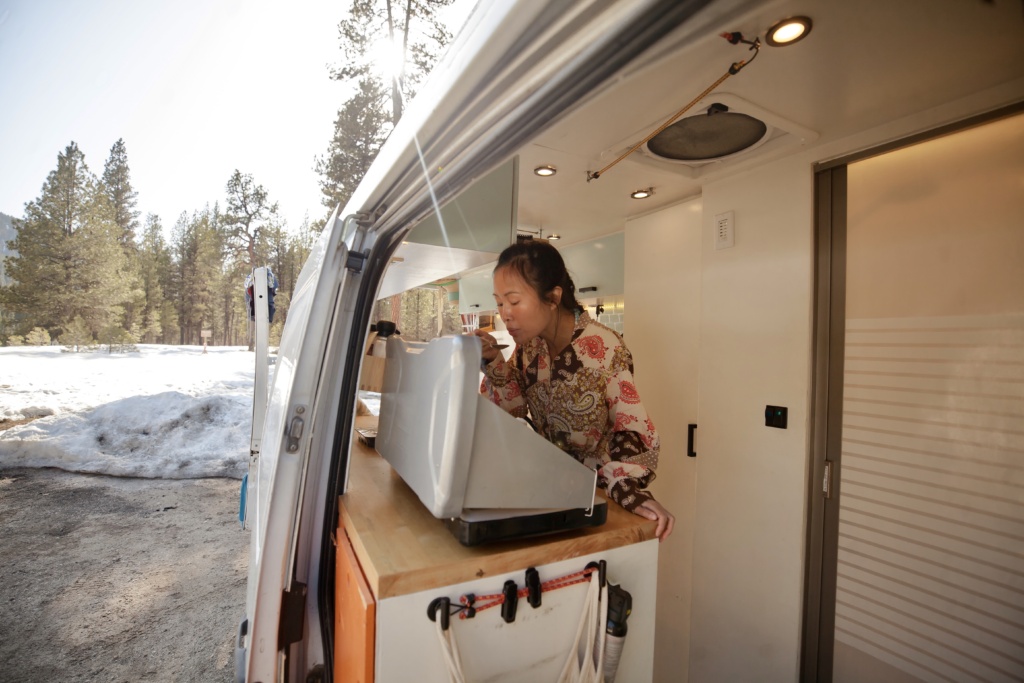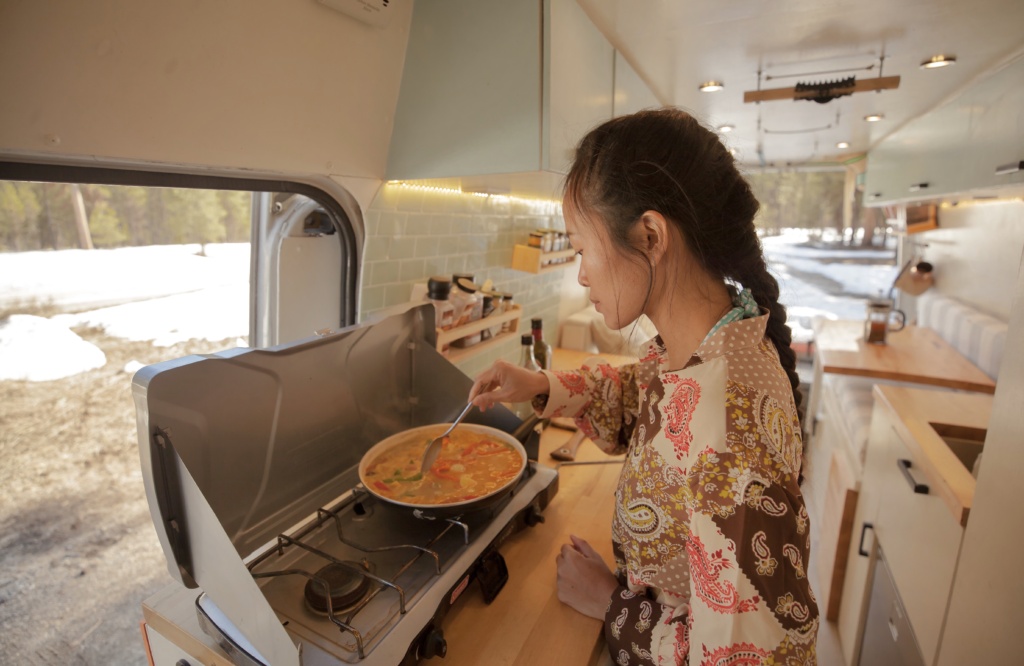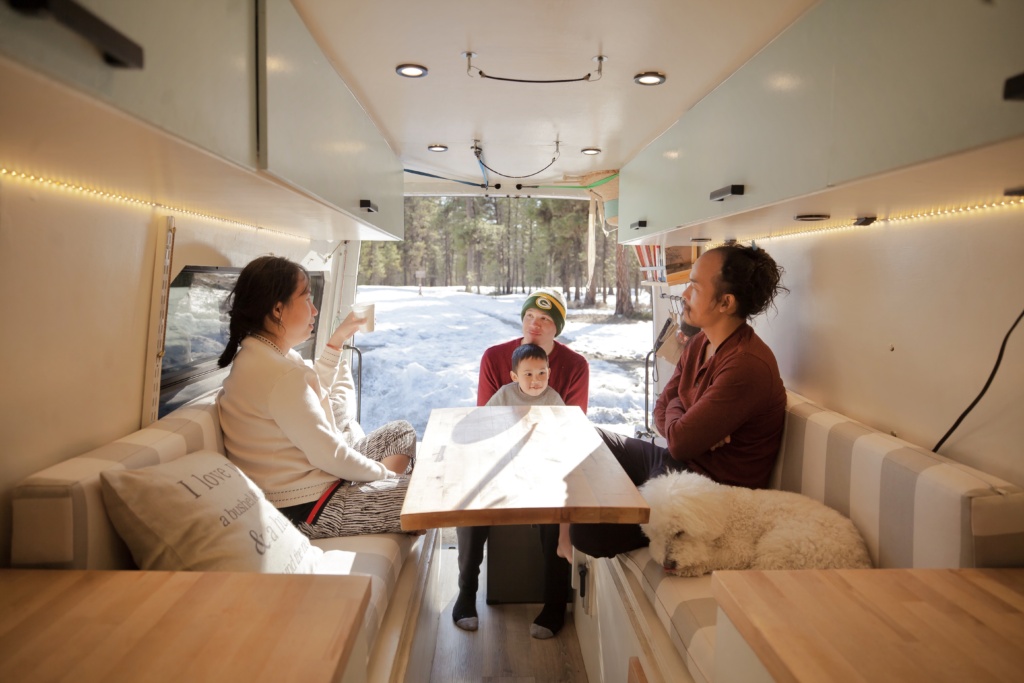 Day 7: Bonneville – Stanley (1 hour – 40 miles)
Known as the gateway to the Sawtooth Mountains, Stanley seemed like as good a place to base ourselves for our last few days in Central Idaho. Wedged between the Sawtooth Range and the Salmon River, Stanley is quiet and peaceful. Our first stop here was booking our soak at the Mountain Village Resort.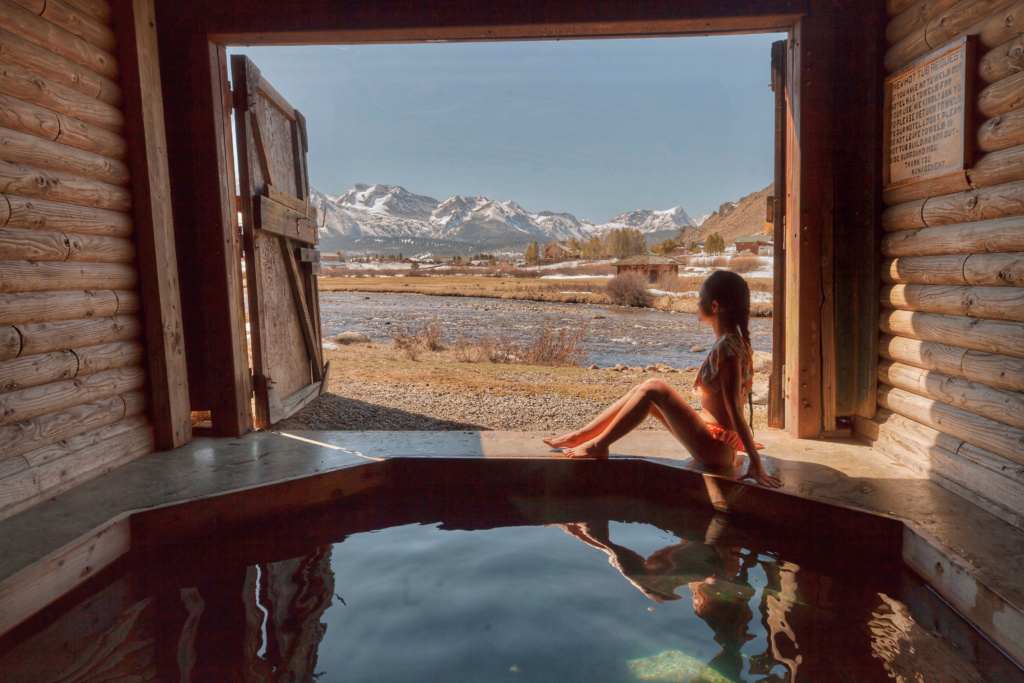 You've probably seen this hot spring on Instagram, as it's a very popular photo spot in the Sawtooth Mountains. This hotspring is the only one on my list that is not primitive. We generally prefer wild hot springs to private ones. But we can't pass the opportunity to soak in a hot tub in a wooden barn with rustic doors open to the iconic view of the Sawtooth Mountains.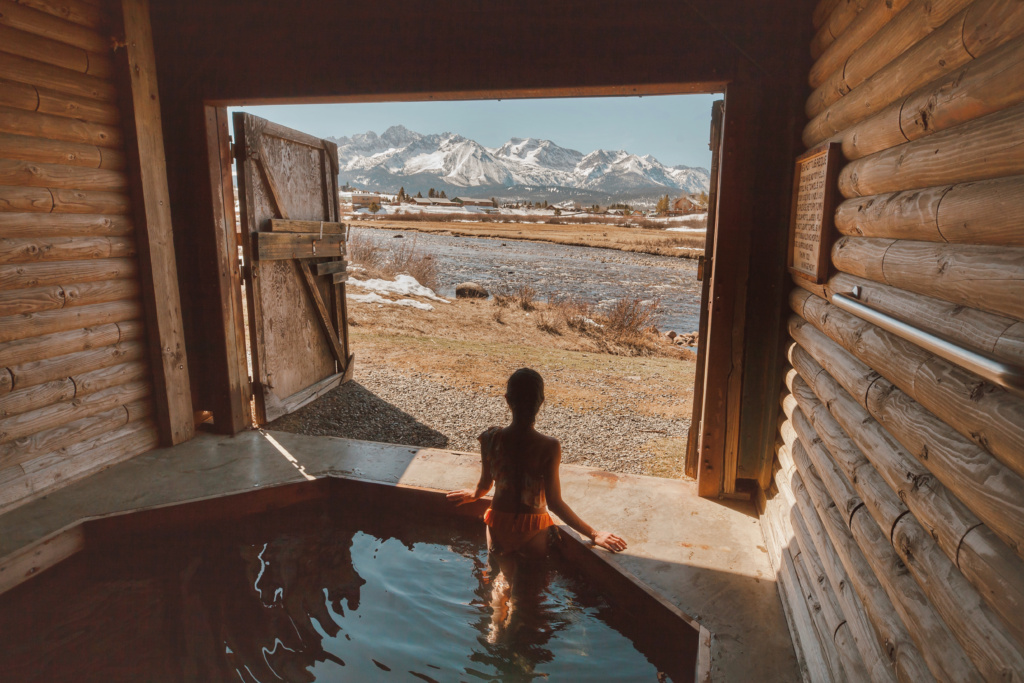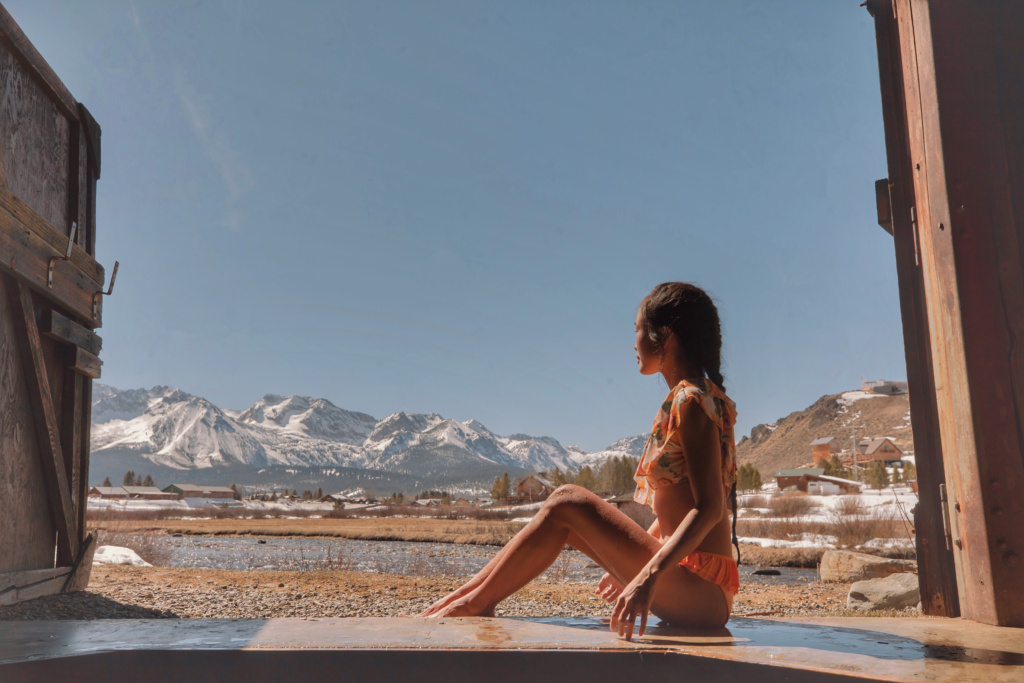 We also enjoyed our morning walk in snow along the Salmon River to get to the barn. Love Stanley's winter wonderland quaintness!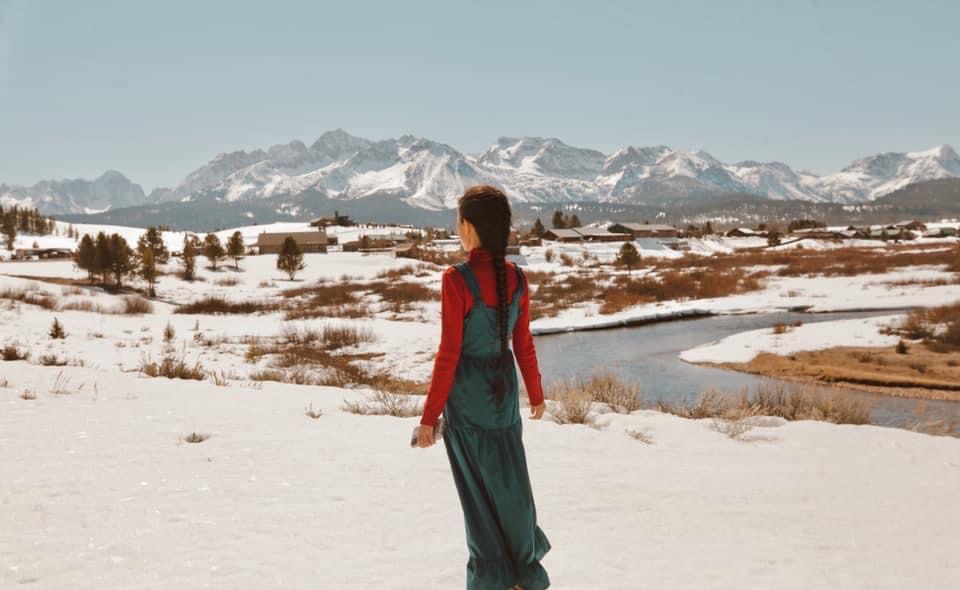 The hot spring is free for guests of the resort, but non-resort guests will need to call to reserve a time slot and pay a fee ($25/hour)
Day 8: Exploring Stanley
We spent our last day in Stanley just relaxing at Boat Box Hot Springs. Boat Box Hot Springs is located about 5 minutes outside Stanley, right off Highway 75. The pull-off can only fit about two or three cars and is easy to miss, so be on the lookout for steam rising from the direction of the river.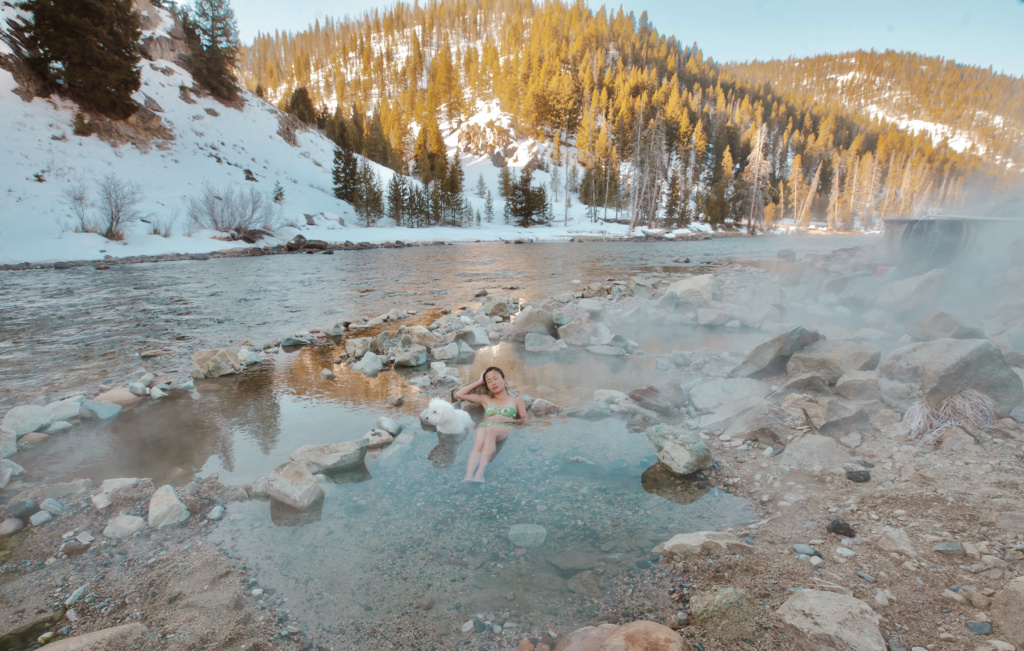 The story behind this spot is that there used to be a large wooden box that held the hot water, which rafters would soak in after a big trip. The box kept getting damaged by floods and was finally replaced by the metal tub that is there now. The hot water comes from a metal tube that fills the tub with the hot spring water.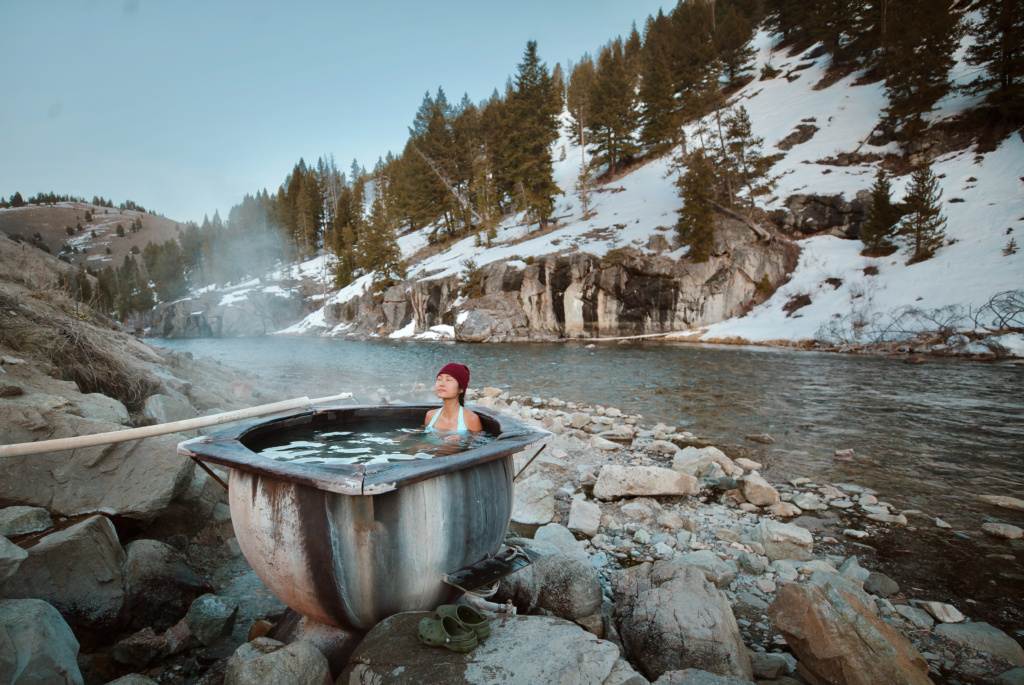 The water in the tub is scalding hot, so don't just jump in! There's usually a white bucket next to the cauldron that can be used to blend cold river water into the tub until it's just right.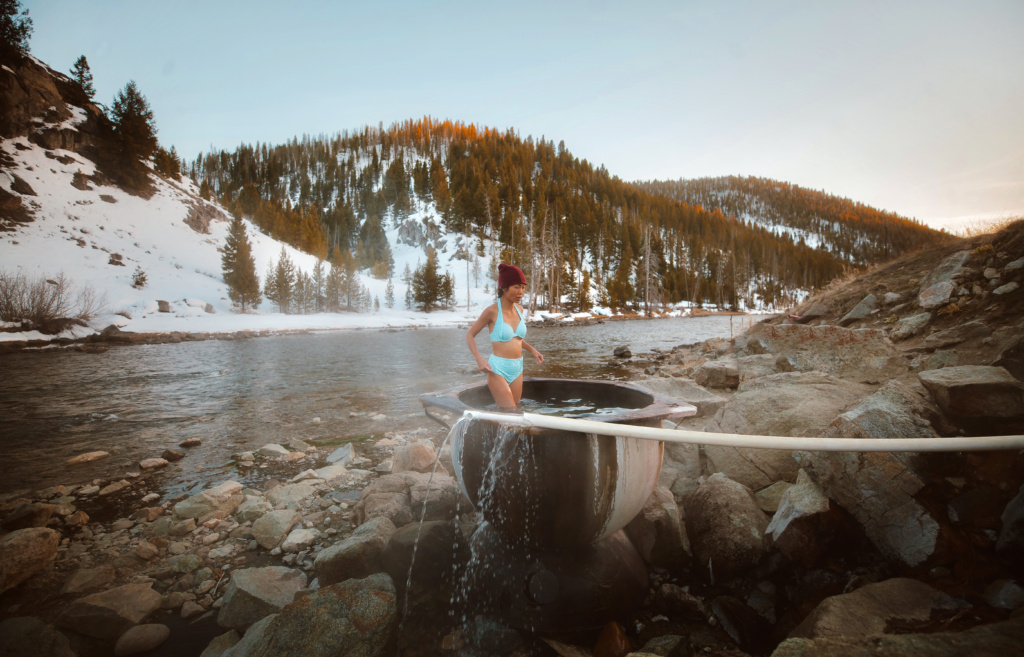 This spot is popular and only a couple people can fit in the tub, so arrive early to avoid having to wait around for it (courtesy soak rule at this hot spring: 45 mins/each group). For the entire time we were here we preferred using the other hot spring pools next to the tub. There are multiple pools next to the cauldron so you can hang out there and wait for the tub to be free (***some are super hot),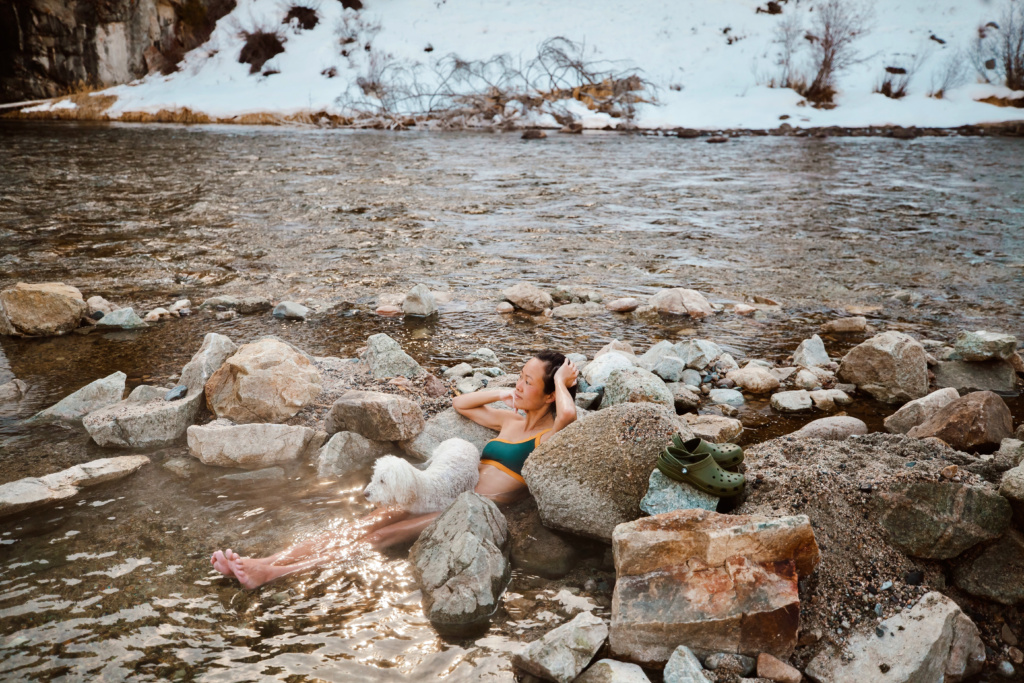 Day 9: Stanley to Idaho Falls (3 hours 27 mins – 200 miles)
Idaho Falls was just a quick stop for us to refresh and get ready for a long drive the next day heading to Utah. We stopped here to refill gas, fresh water, and do some grocery shopping. But if you have more time, you should definitely take at least a day to explore this beautiful city. Idaho Falls is well known for its range of attractions and outdoor activities. The Idaho Falls River Walk reaches five miles and offers you with the best scenic attractions.
Day 10: Idaho Falls – Antelope Island State Park (3 hours – 203 miles)
Did you know that you can drive across the Great Salt Lake to an island? And that island is home to the third largest bison herds in America. When you think of a huge herd of bison, you probably think of Yellowstone, which has the largest herd in America. Antelope Island State Park is also home to a surprisingly large number of bison; back in 1893, 12 bison were introduced to the island and today 550-700 animals make up the herd. We were lucky to see a herd of bison wandering on the beach next to salt water. This island is mesmerizing.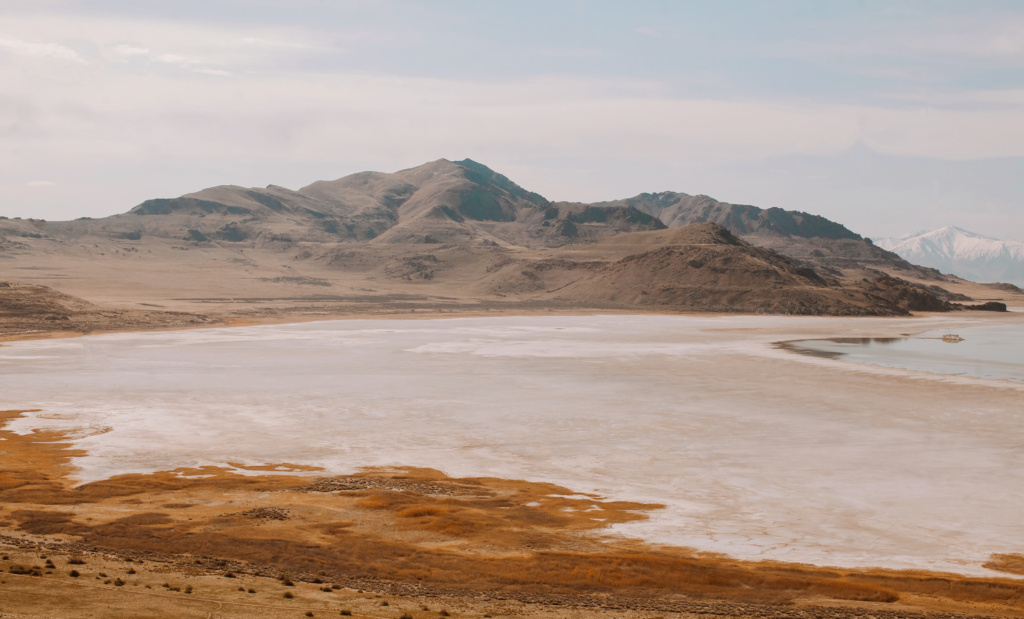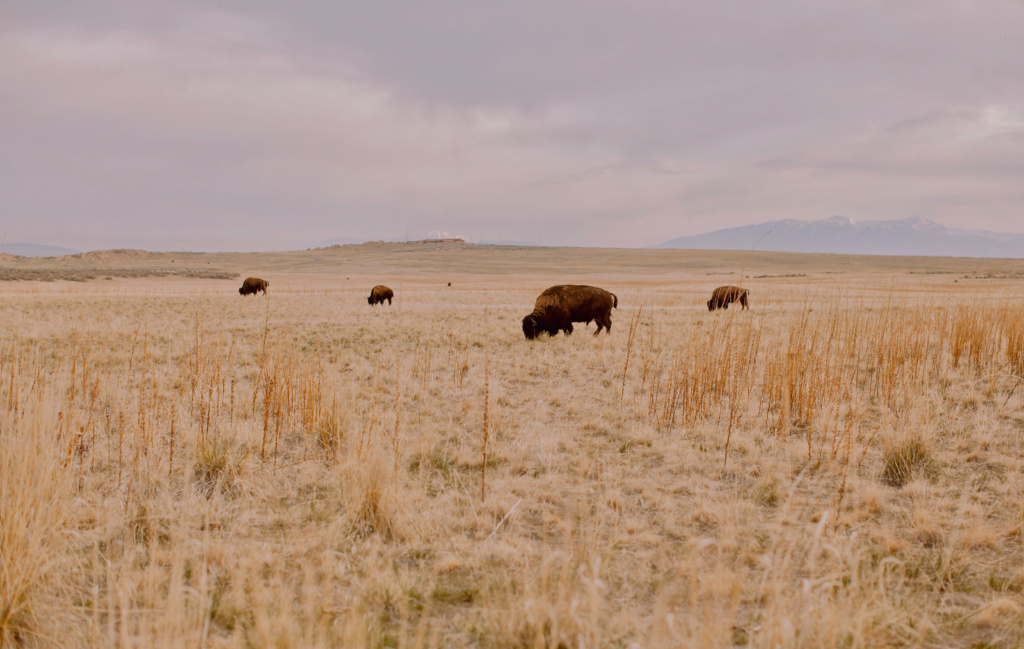 I visited Antelope Island only with the expectation of seeing bison, but was blown away by its incredible scenery. Salt pans, reflective waters, wildlife, and beaches make this state park such an amazing outdoor destination for adventurers.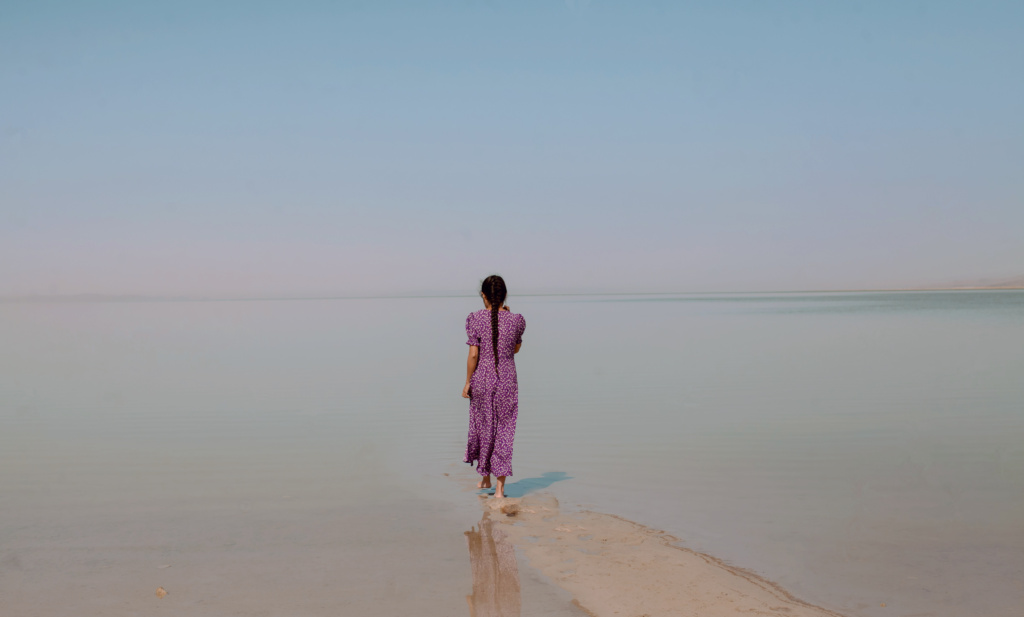 We parked our van at Buffalo Point and cooked up a yummy lunch with the iconic view of the Great Salt Lake.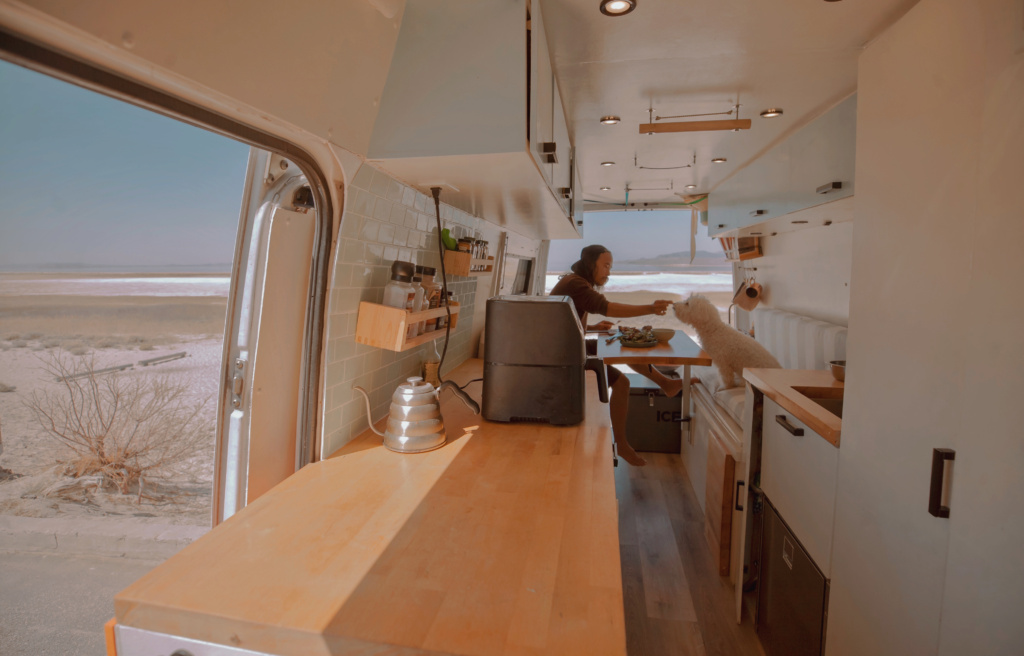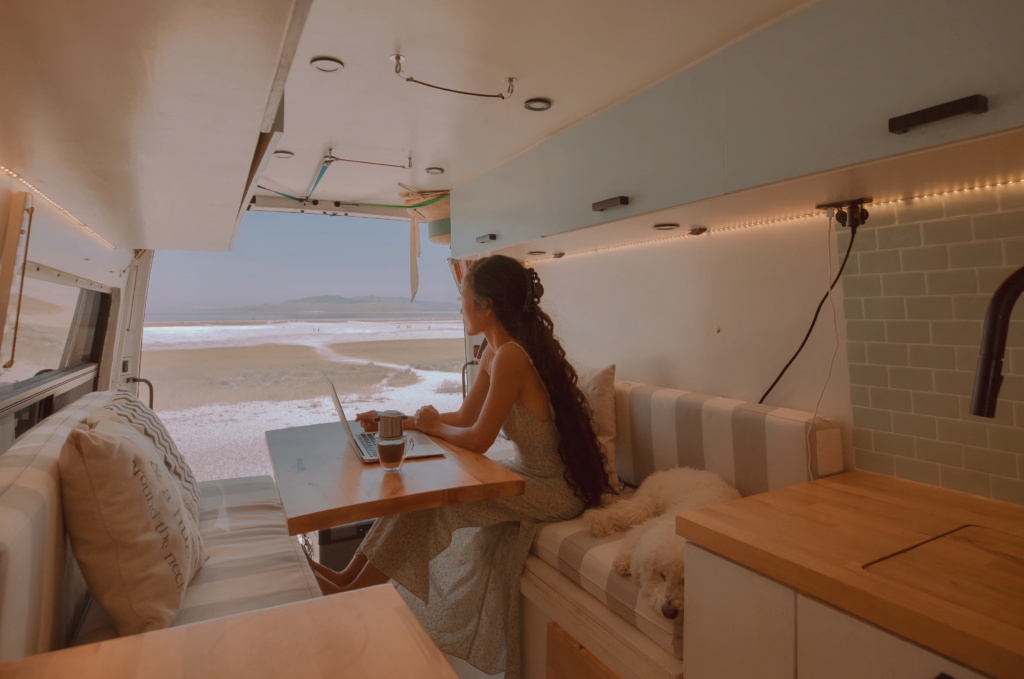 Day 11: Antelope Island State Park – Bonneville Salt Flats (2 hours 20mins – 150 miles)
The Bonneville Salt Flats are one of the most unique landscapes in the world. The salt flats are a remnant of an ancient lake that covered this region. They are approximately 90% common salt. It's free and open to public all year.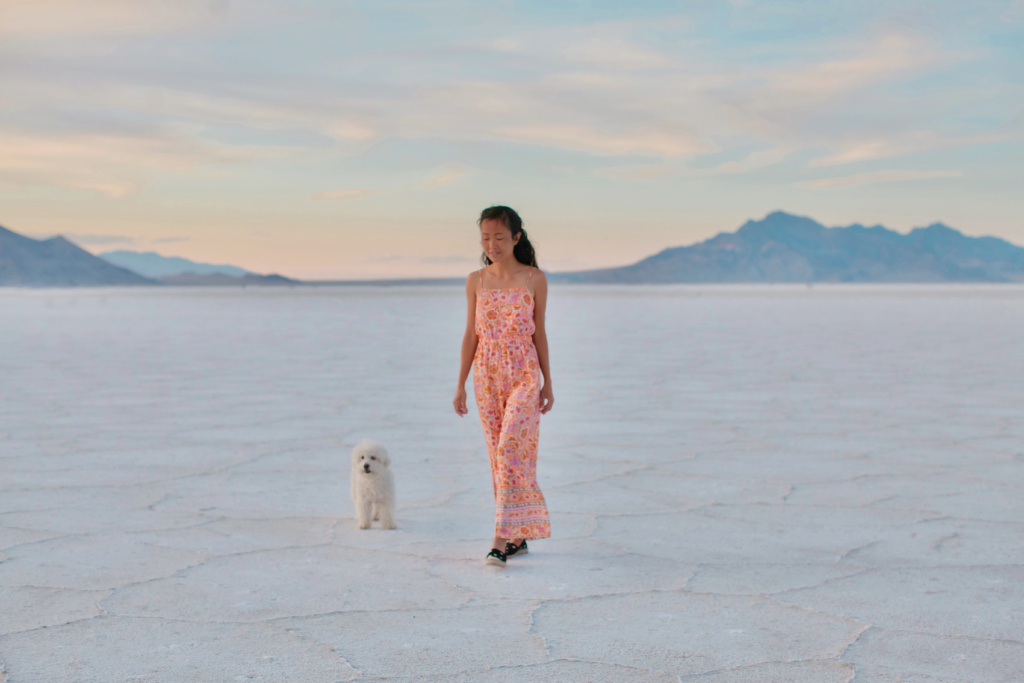 Summer is the best time to visit the Bonneville Salt Flats. The flats are dry and you can walk on them. Cars are allowed on the Salt Flats, but beware. Some areas are stable and supportable to drive on, but others are a deceptively thin layer of salt over vehicle-stopping mud.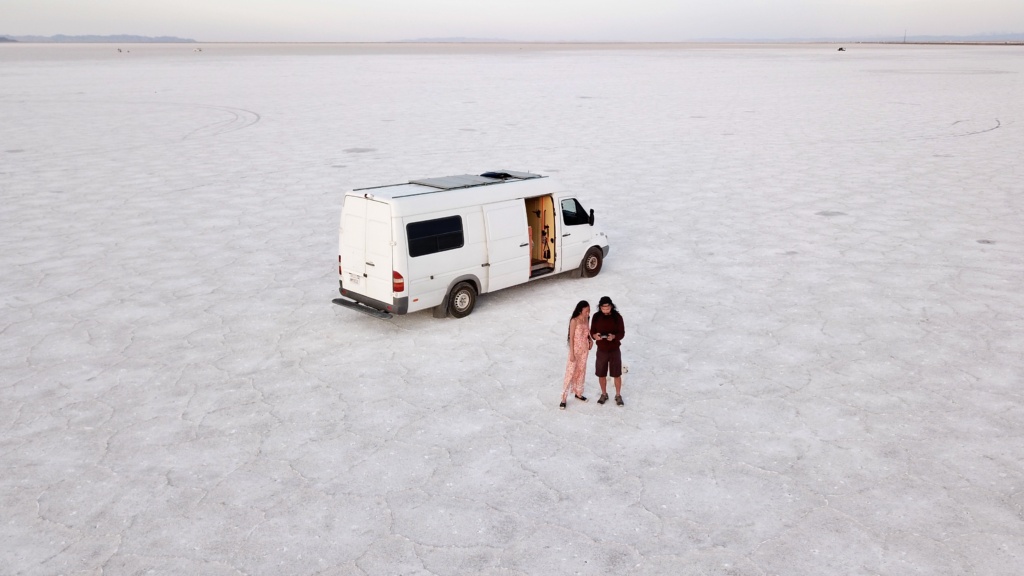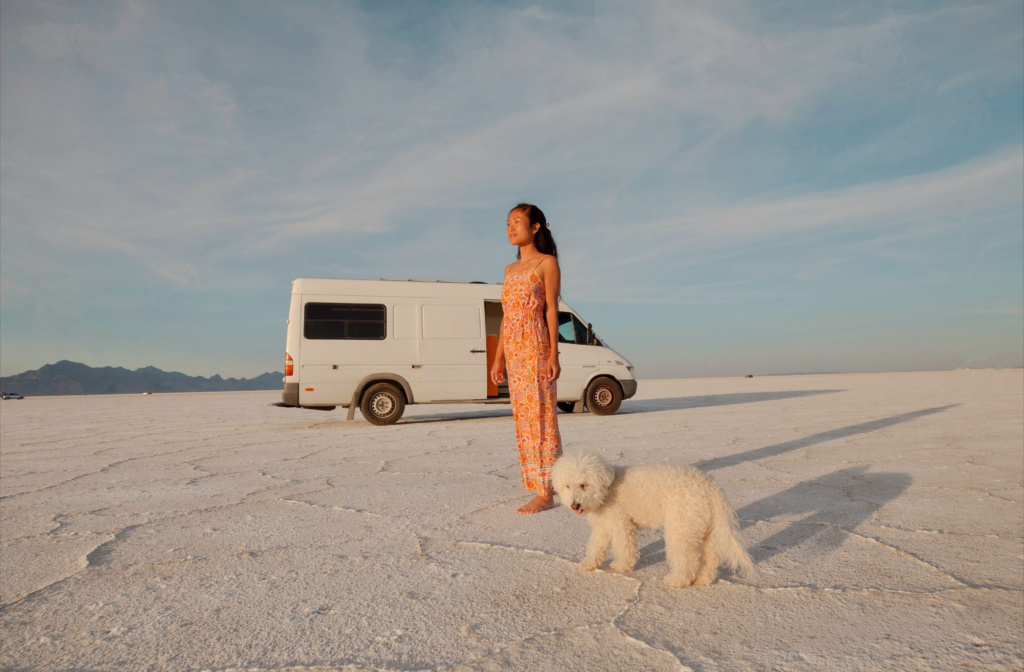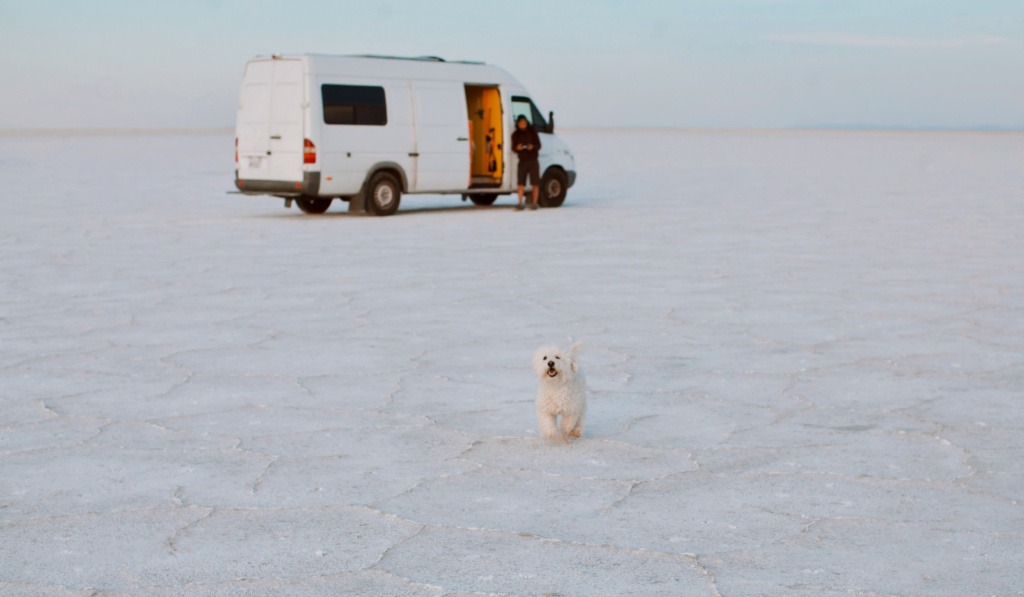 Salt Flat Rest Area (West Bound) was our first stop and the easiest spot to visit.  When we were there the salt flats were all dry and rigid so we decided to camp over night here (it's BLM!).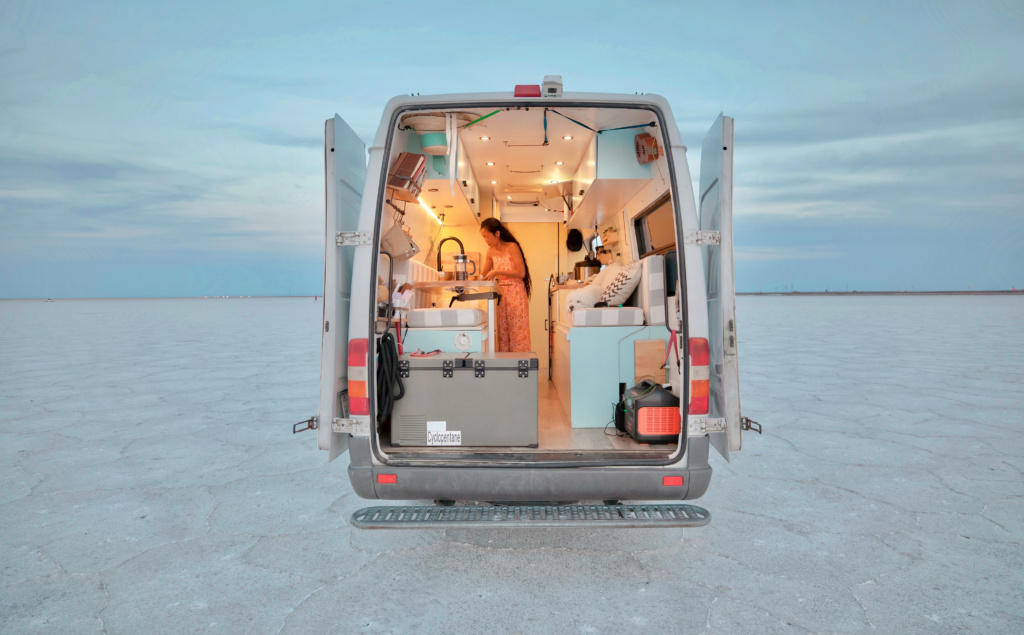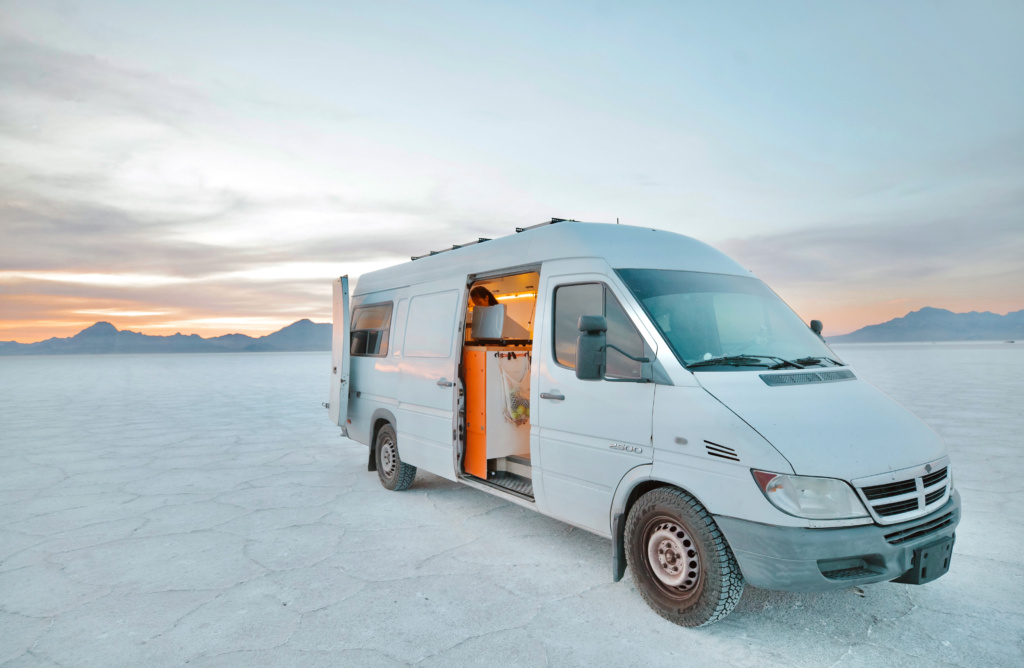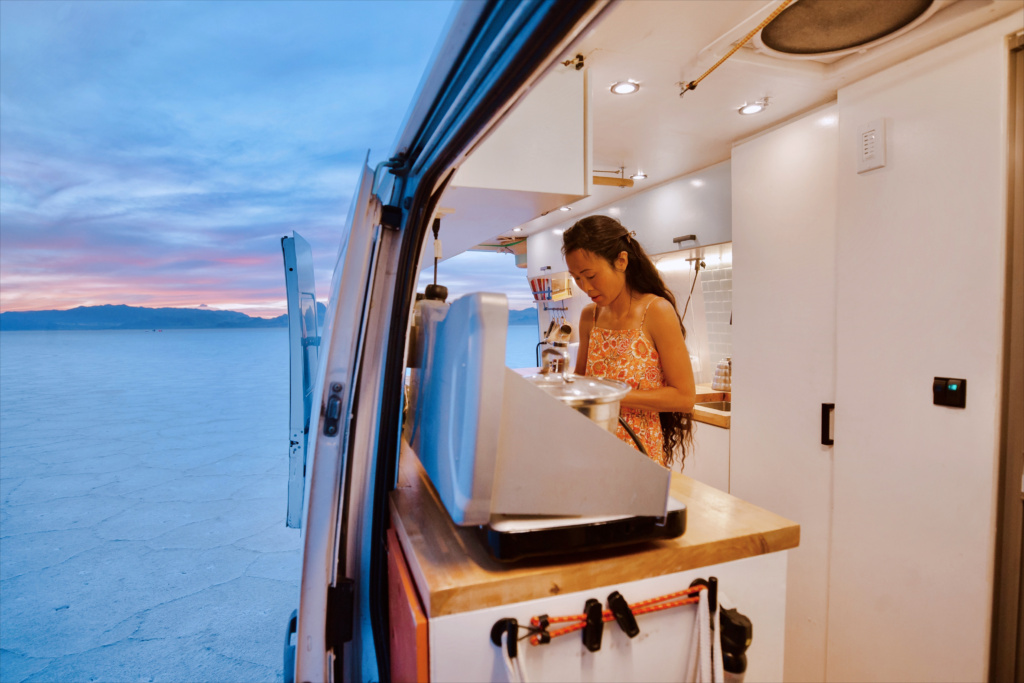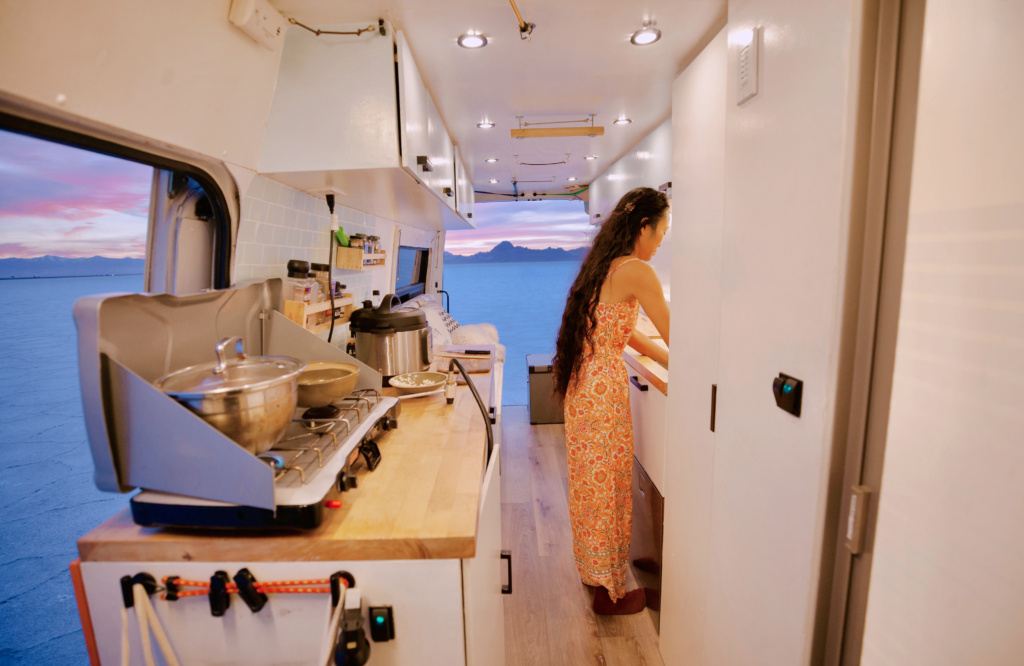 The second stop is just a short drive away – the Speedway.  Continue west on I-80 and take the next exit (Exit 4).  Drive north on Leppy Pass Road.  Keeping to the right, the road turns into Bonneville Speedway Road.  This road ends at a cul-de-sac with a viewing area and plenty of parking. Here we got some shots with the wet salt flats. The flats create a 'mirror effect' when flooded with water.  We got great photos with the water reflecting the mountains.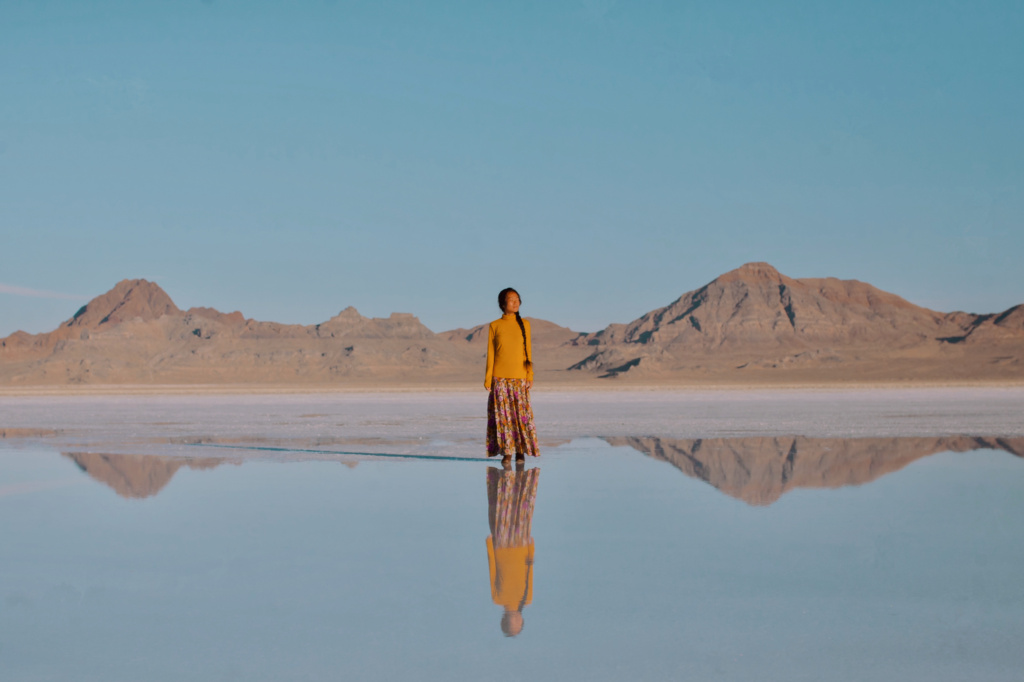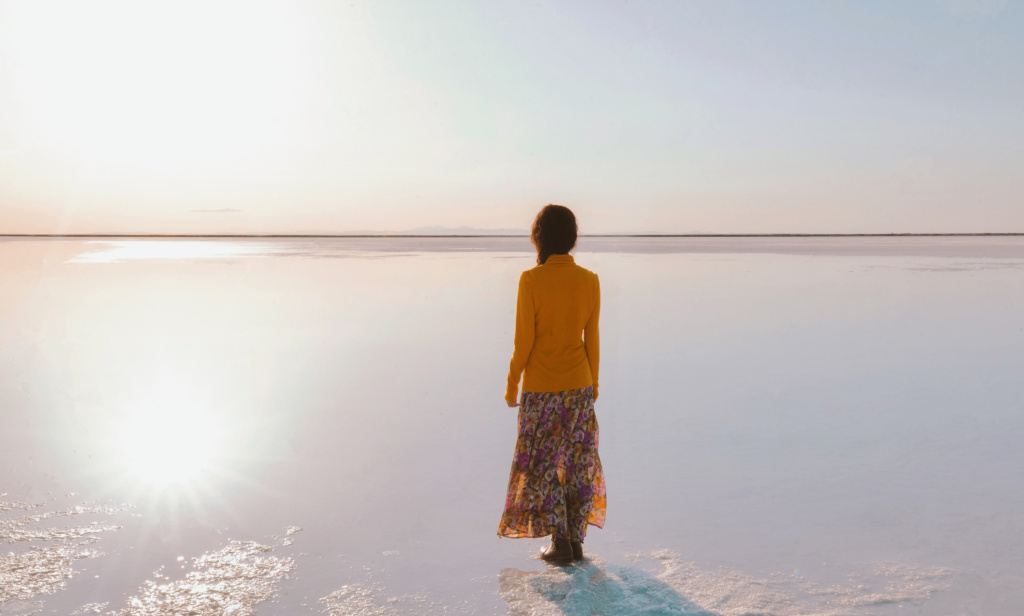 Day 12: Bonneville Sat Flats – Cathedral Gorge State Park (3 hours 45 mins – 245 miles)
We love to explore places that feel a little bit out of the way. Since we are traveling in our van for a year now, we have had great luck discovering smaller places that are a bit out of the spotlight. One recent destination like this was Cathedral Gorge State Park.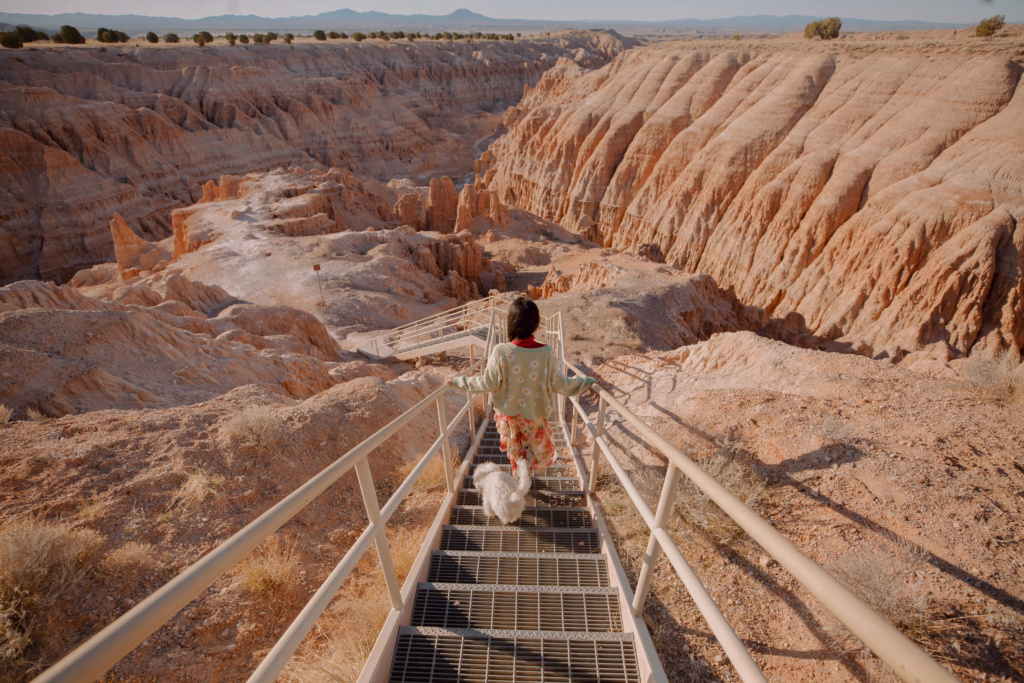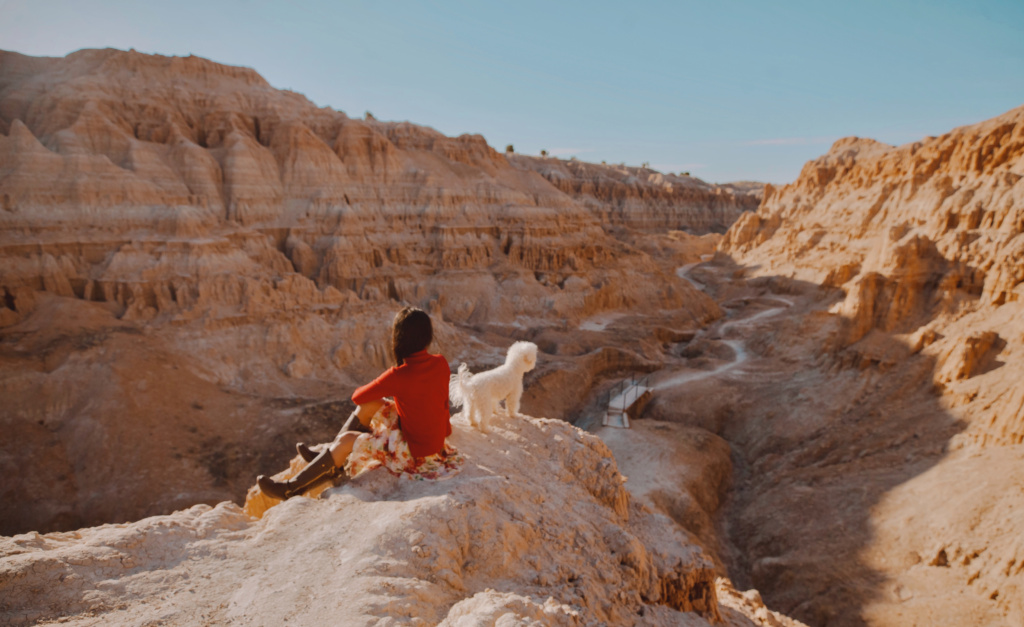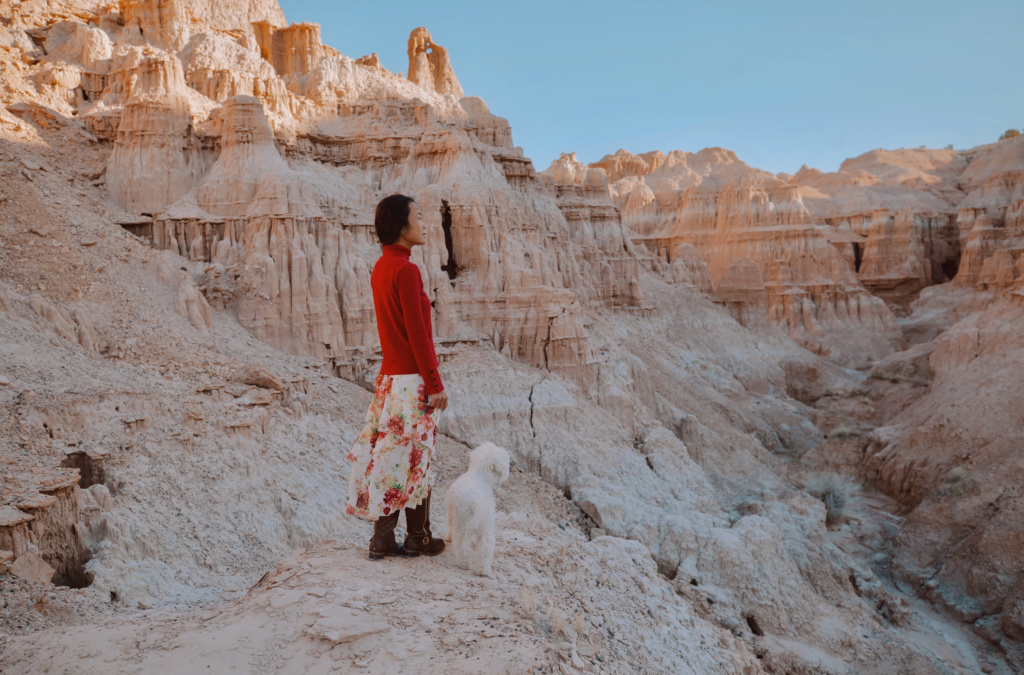 This otherworldly natural wonder caught me by surprise. The park's sandy hoodoos reminded me so much of Bryce Canyon in Utah, only quieter and its "caves" reminded me of Zebra Slot Canyon in Escalante.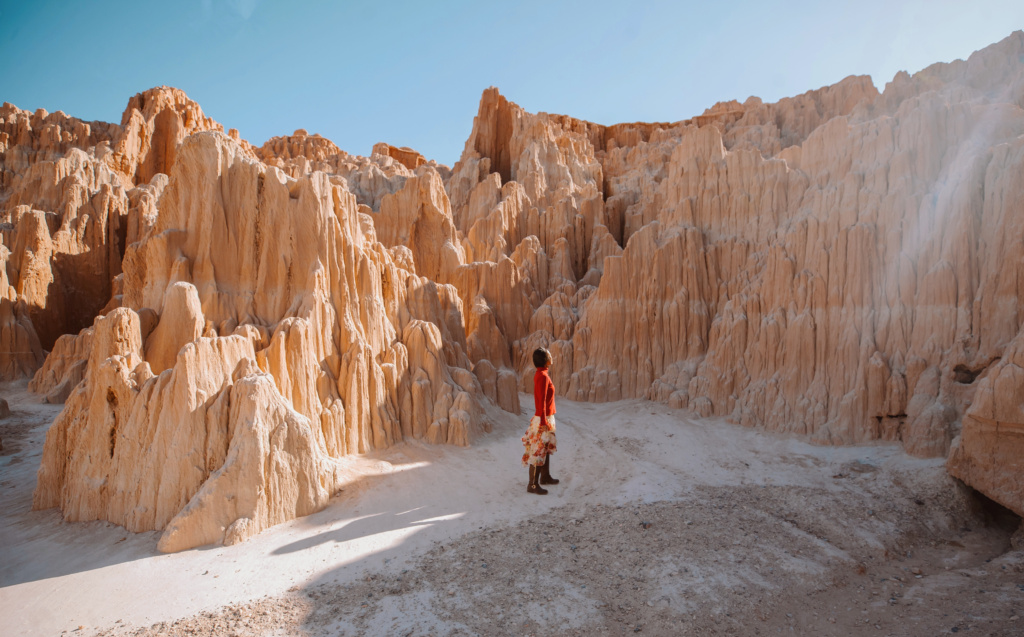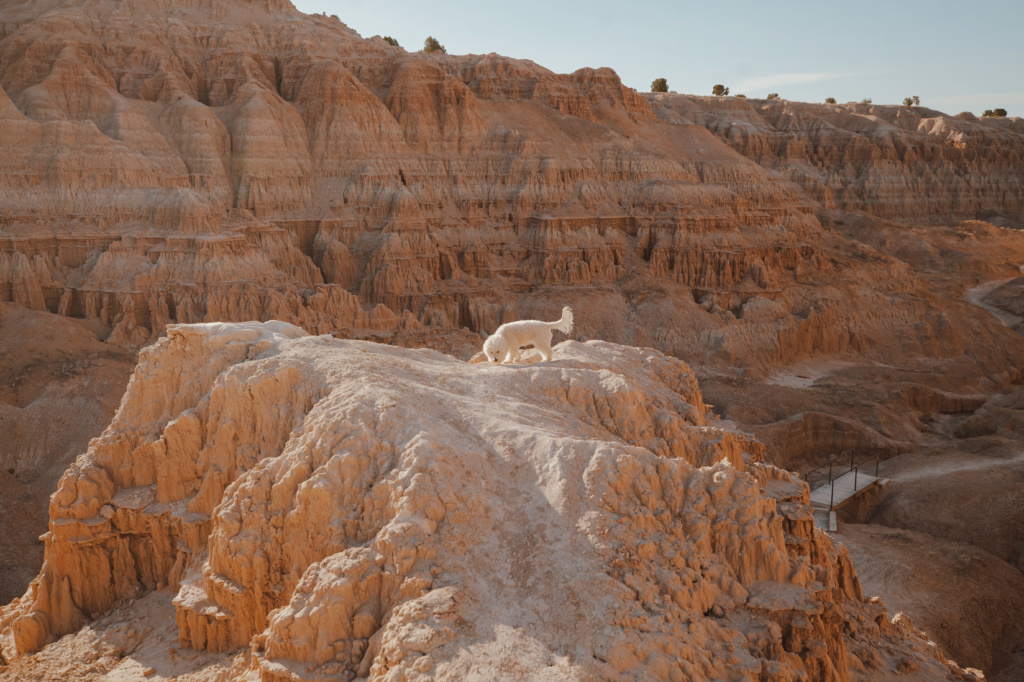 Since it's farther away from Vegas than Valley of Fire or Red Rock Canyon, there were fewer visitors. When we visited in April we had the luxury of being on our own most of the day.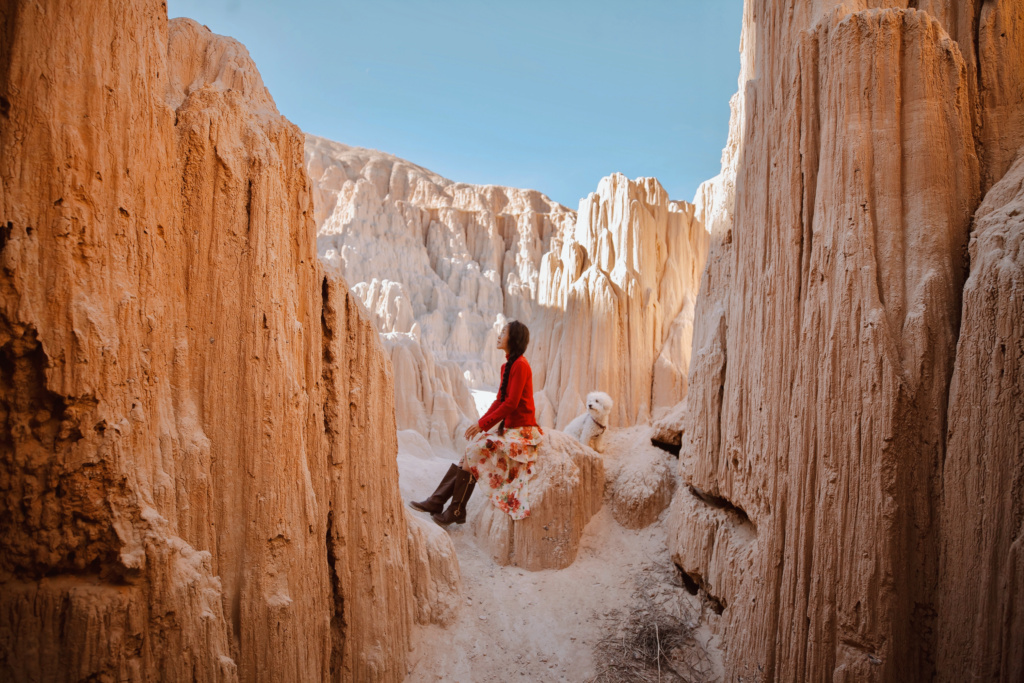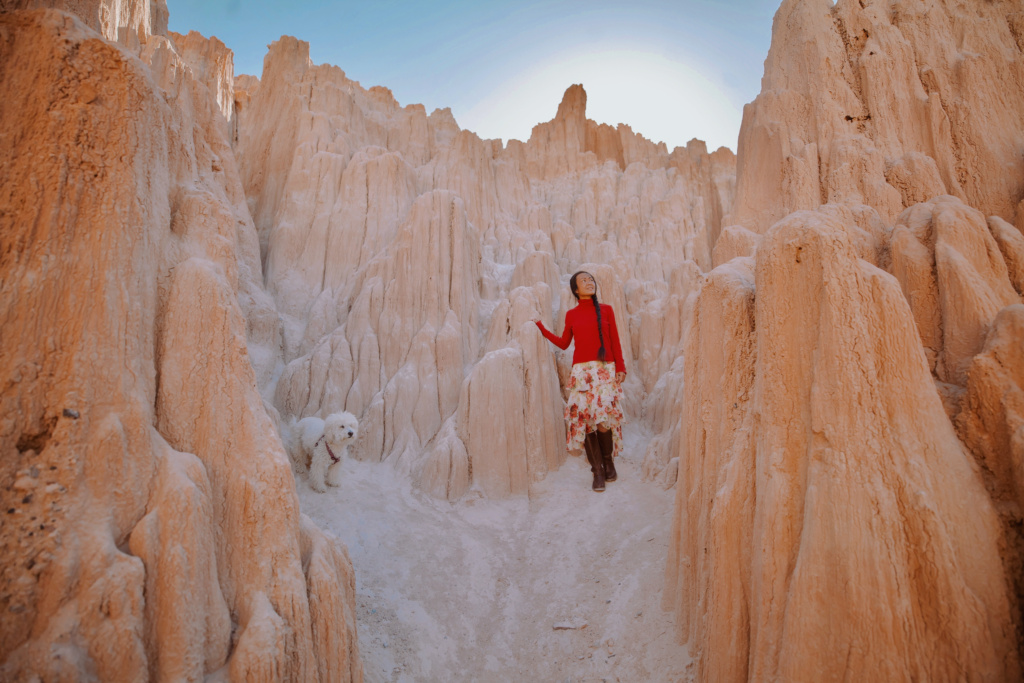 The main features of the park are extremely narrow slot canyons of eroded bentonite clay known as the "caves." Besides the caves, there are about nine miles of trails, and a campground.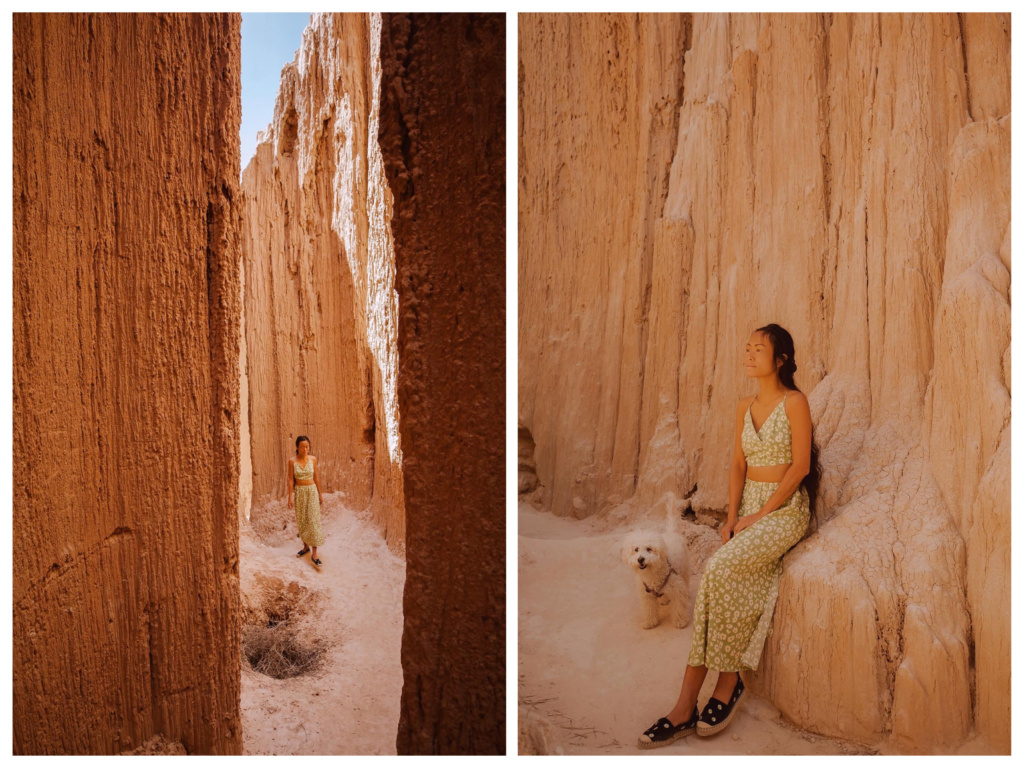 Day 13: Cathedral Gorge State Park – Lake Mead Recreation Area (3 hours – 191 miles)
The striking desert scenery and brilliant blue waters of the Lake Mead National Recreation Area is a true oasis in the desert. Encompassing an incredible 1.5 million acres in two states, Lake Mead National Recreation Area is a place where rugged mountains, lush valleys, arid desert, and shimmering fresh water come together for travelers to experience and explore.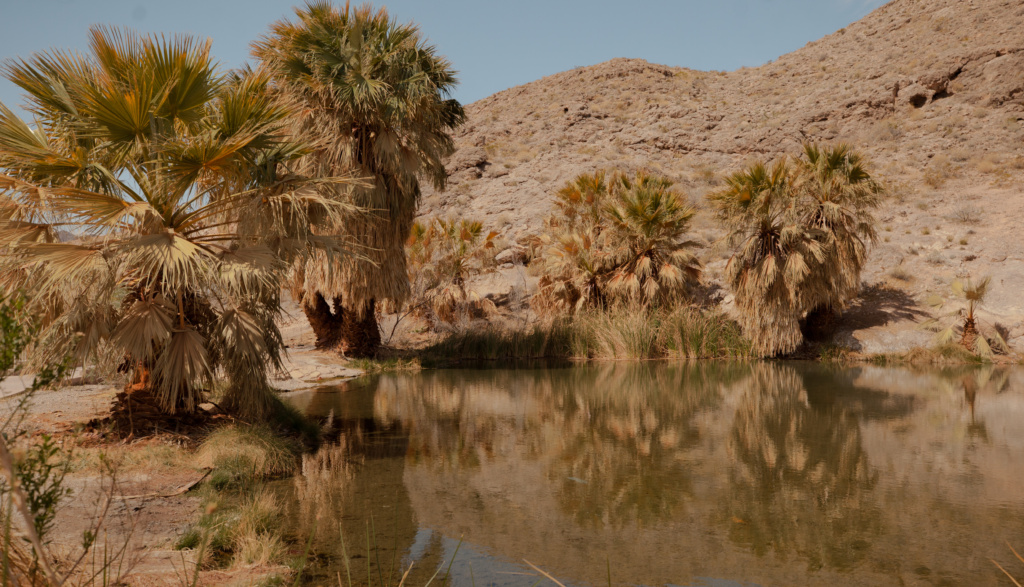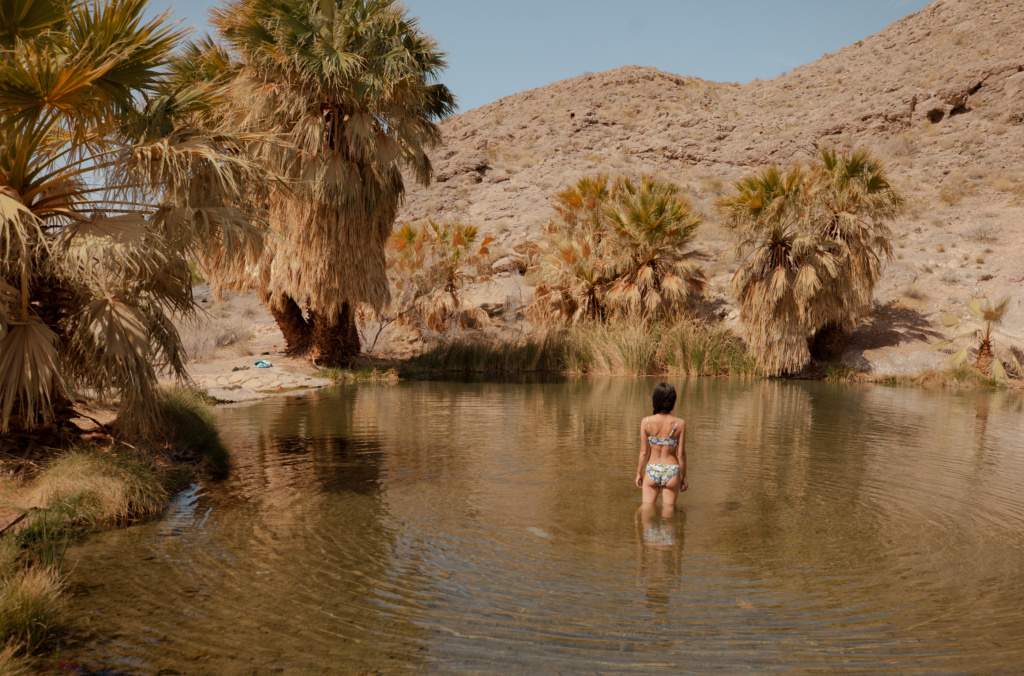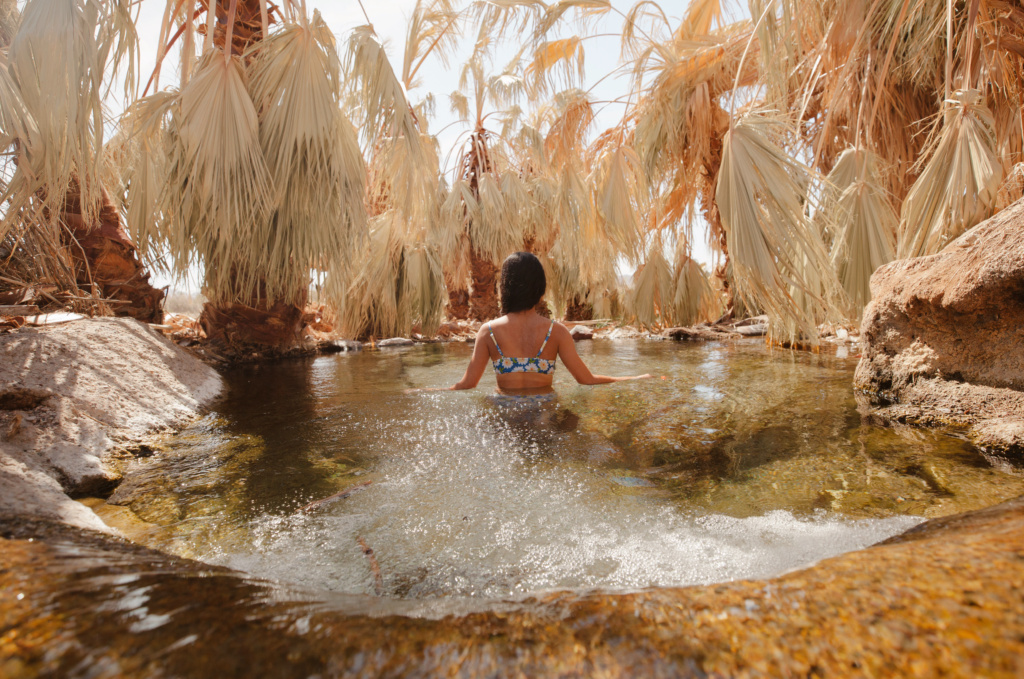 We found a warm spring in this area and had such a fun spa/jacuzzi experience. Our skin was naturally exfoliated by little fish in this spring. (*** note: our skin is all "organic" – no cream, no lotion, no sunscreen,…healthy feast for the fish).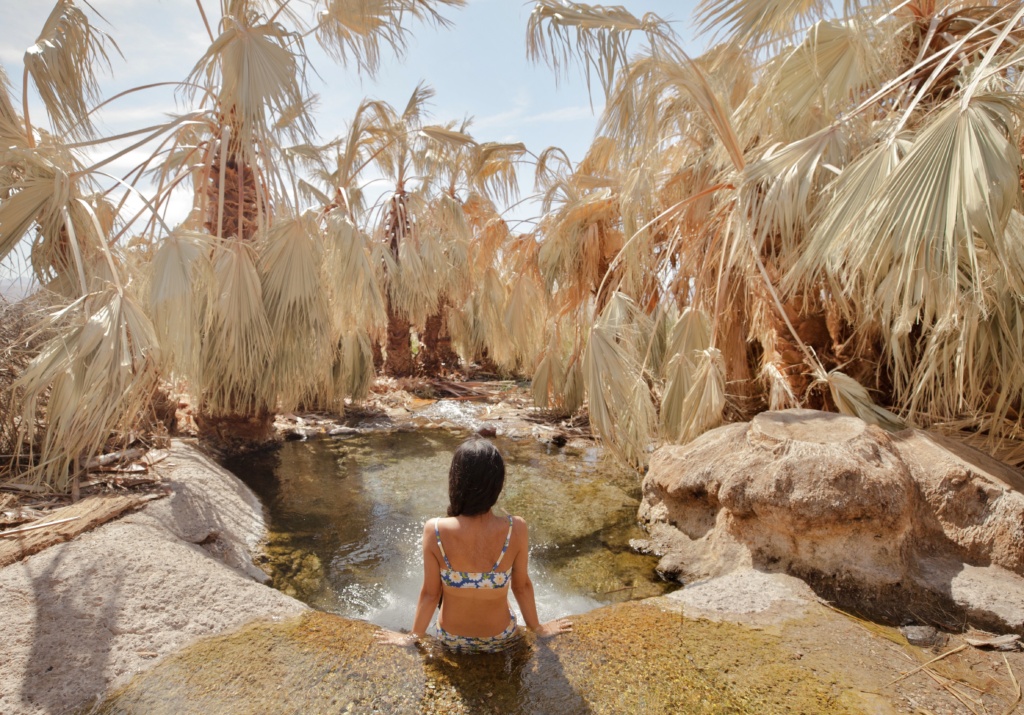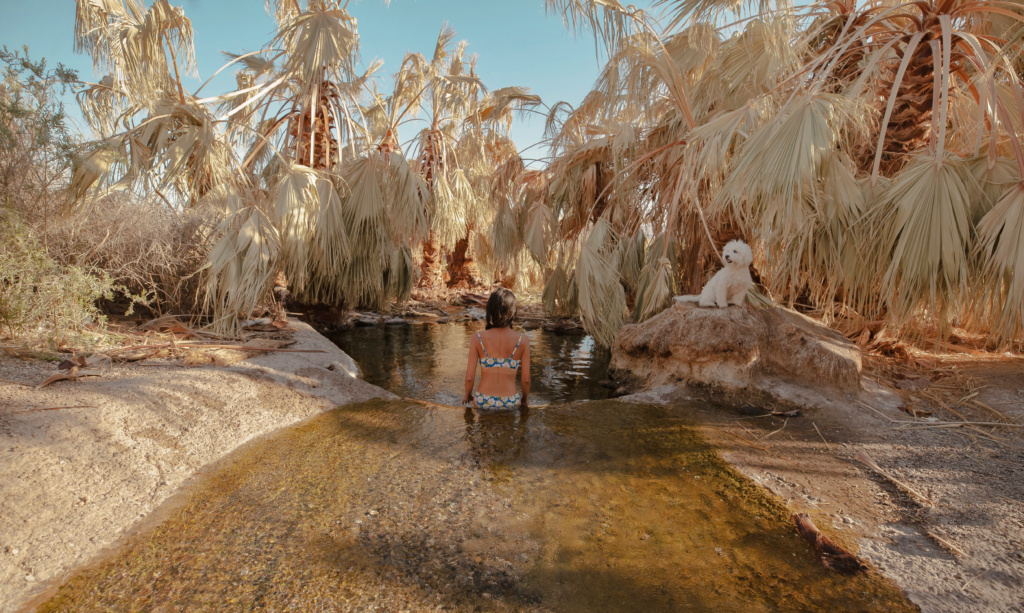 These fish's favorite food is our dead skin so if you visit these springs with "natural fish pedicures", please make sure that your skin is "all organic"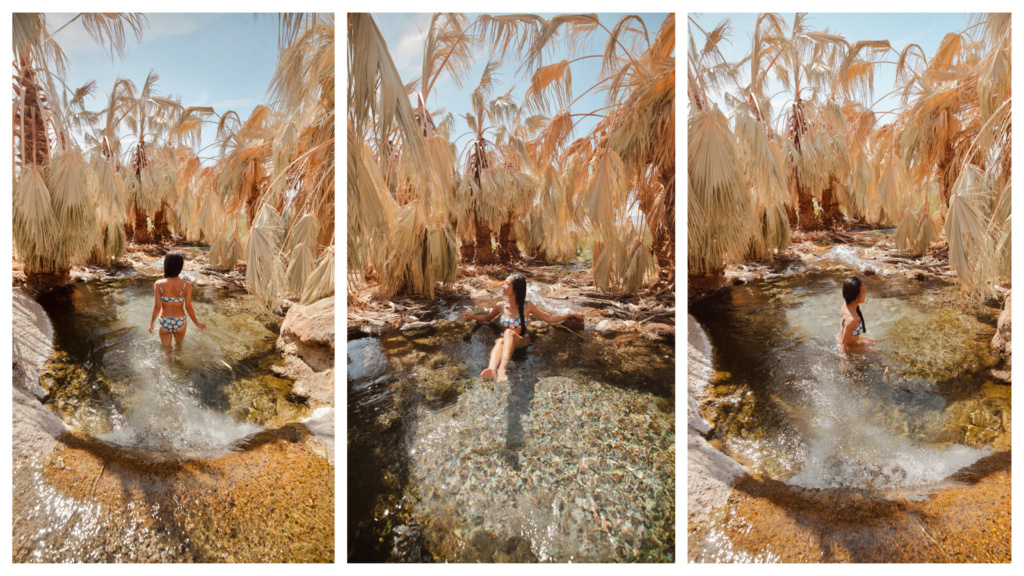 Day 14: Lake Mead – Las Vegas (30 mins – 30 miles)
****Before starting your adventure, please review the "Leave No Trace" principles to ensure you leave the places you explore even better than you found them.
Plan ahead and prepare
Travel and camp on durable surfaces: Travel on designated trails and camp at designated sites
Dispose of waste properly: Pack it in, pack it out.
Leave what you find: Take only pictures, leave only footprints.
Minimize campfire impacts
Respect wildlife
Be considerate of others.