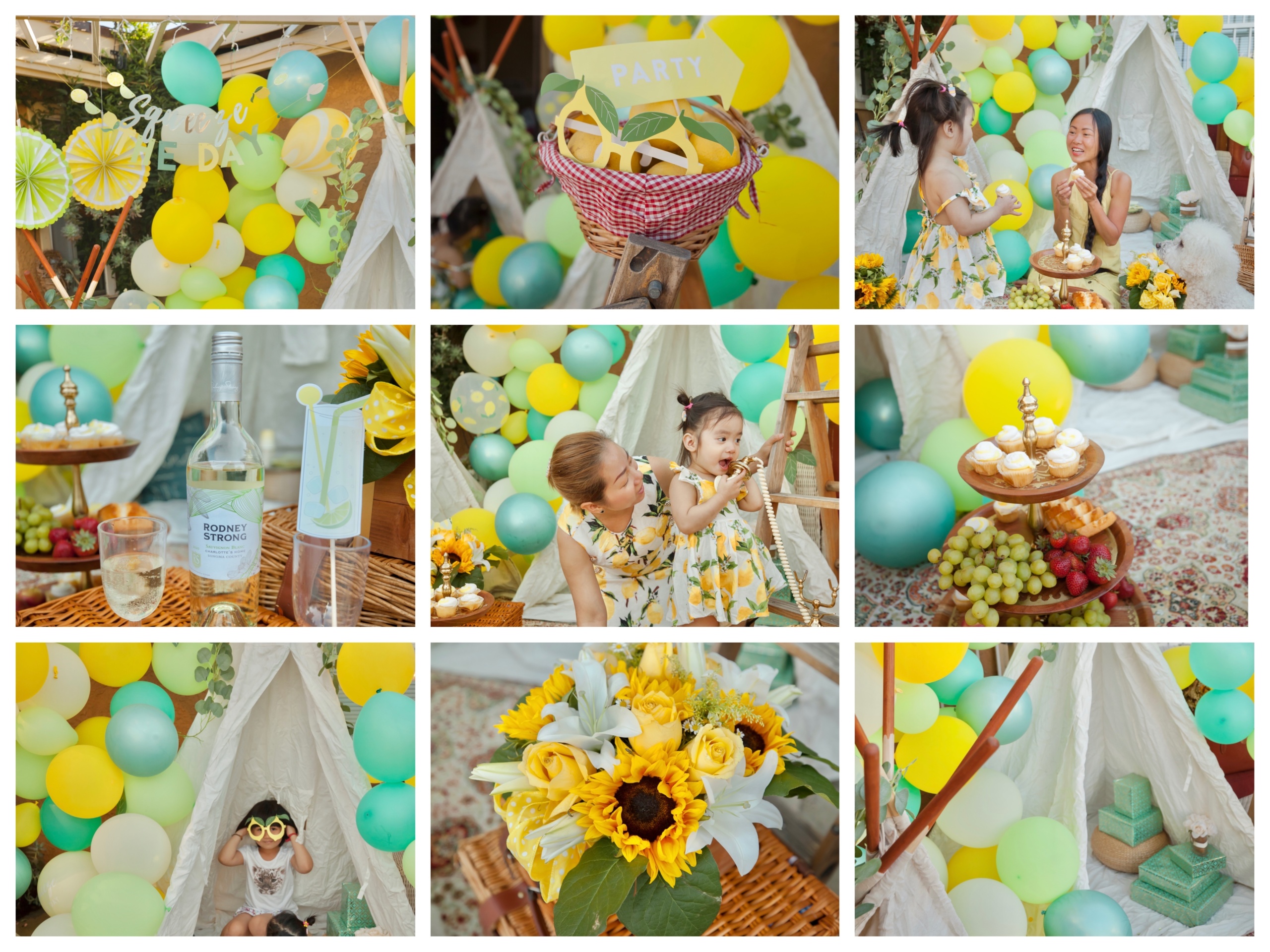 Lemon Theme Summer Party!
Nothing says summer like a lemon or lemonade birthday party! Lemon is certainly a quintessential summer fruit! Everyone loves sipping on old-fashioned lemonade, enjoying a lemon-flavored dessert, or brightening a spot in their home with a simple bowl of lemons. If you are looking for a fun summer party theme, this blog is for you. In this blog I'm sharing some fun and delicious ways to create a sweet picnic in lemon style!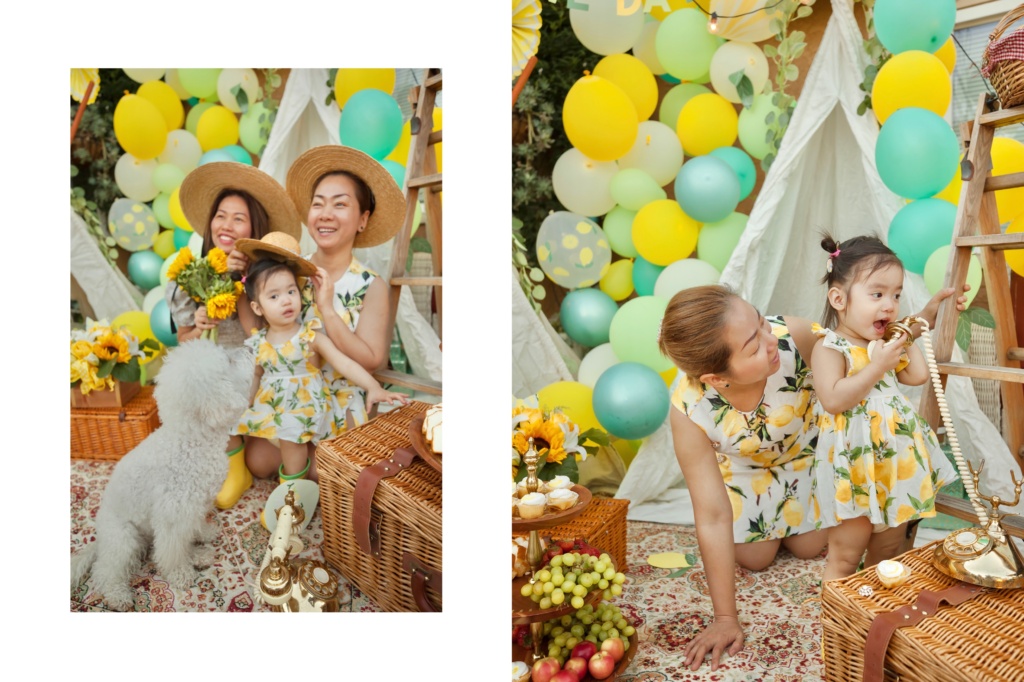 Lemons are fresh, yellow and bright! So I decided to create a balloon garland with different shades of yellow and green. And our lemon balloon garland did not disappoint! It gave the party a summery fresh touch!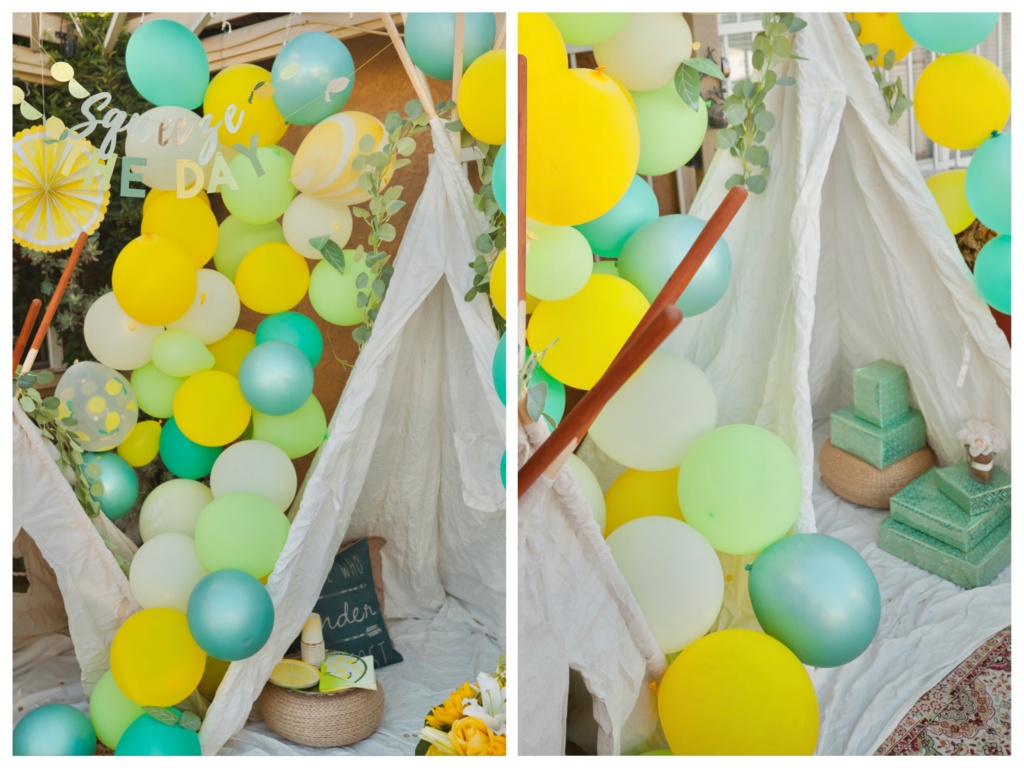 Feel free to use an assortment of colors and sizes of balloons to get an organic look to your garland. Those cute lemon balloons help to frame our picnic area, giving tribute to the fruit that started it all…lemons!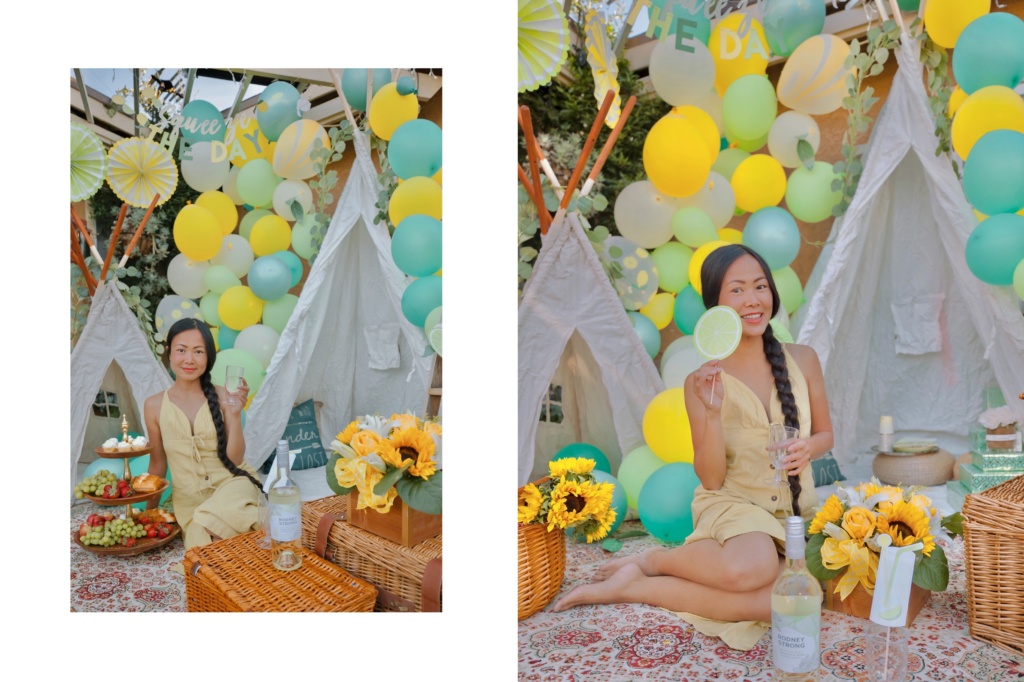 It's all about themes when planning parties! They make it easy to tie everything together for a cohesive look. Like our banner, it says "Squeeze the Day" …how cute and unique is it? Both of the banner and the balloon garland totally made this lemon-inspired party come together so nicely.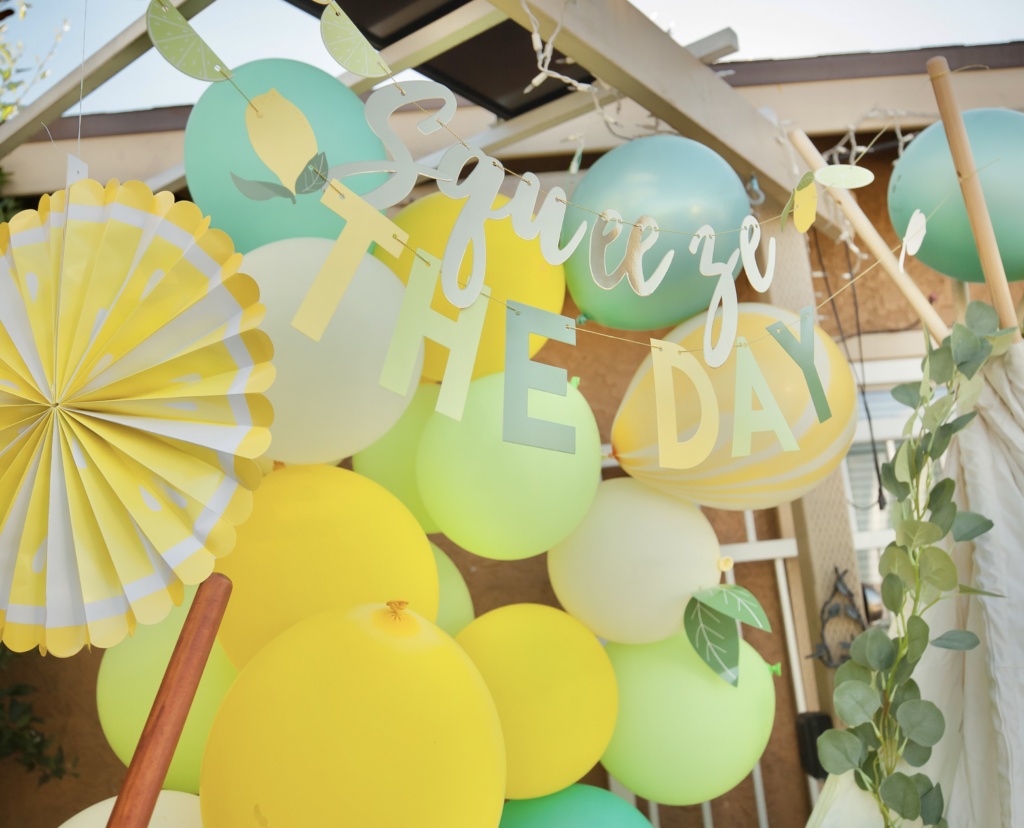 And the banner can be your room decor long after the party is over!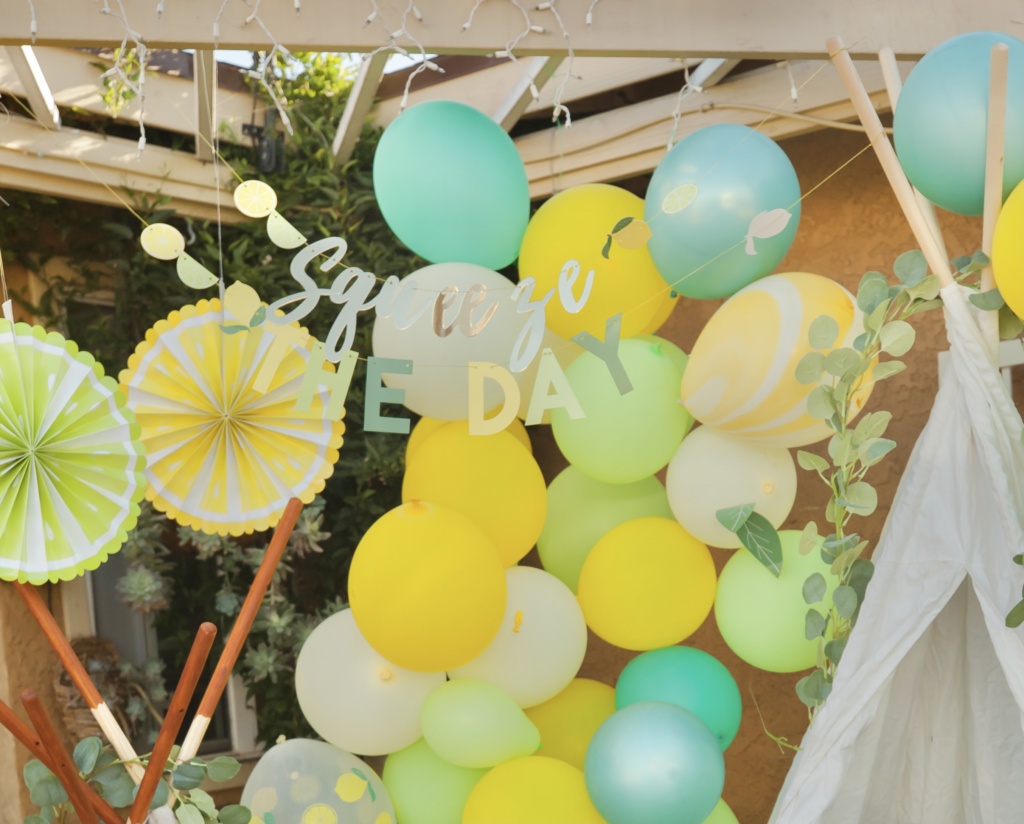 Another secret to a smooth design, for anything, is to have a good mixture of textures. Don't try to be too matchy-matchy. Think metals, woods, papers, linens, organic elements and greenery, plus glass!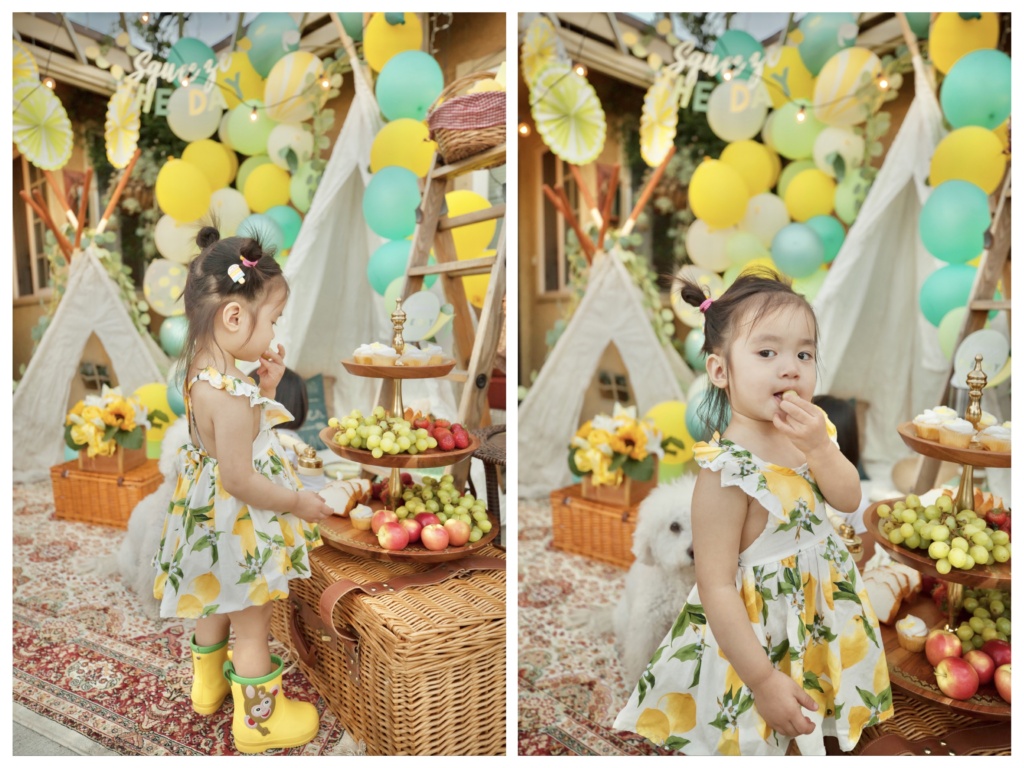 To compliment the lemon balloon garland, I set up 2 linen teepees where kids and adults can relax and hang out.
I also use straw picnic baskets and wooden three-tiered stand to have different types of textural elements for the party. So long as your colors are complimentary, a limited amount of color pops with the remaining colors as a neutral, you can mix textures to your heart's desire.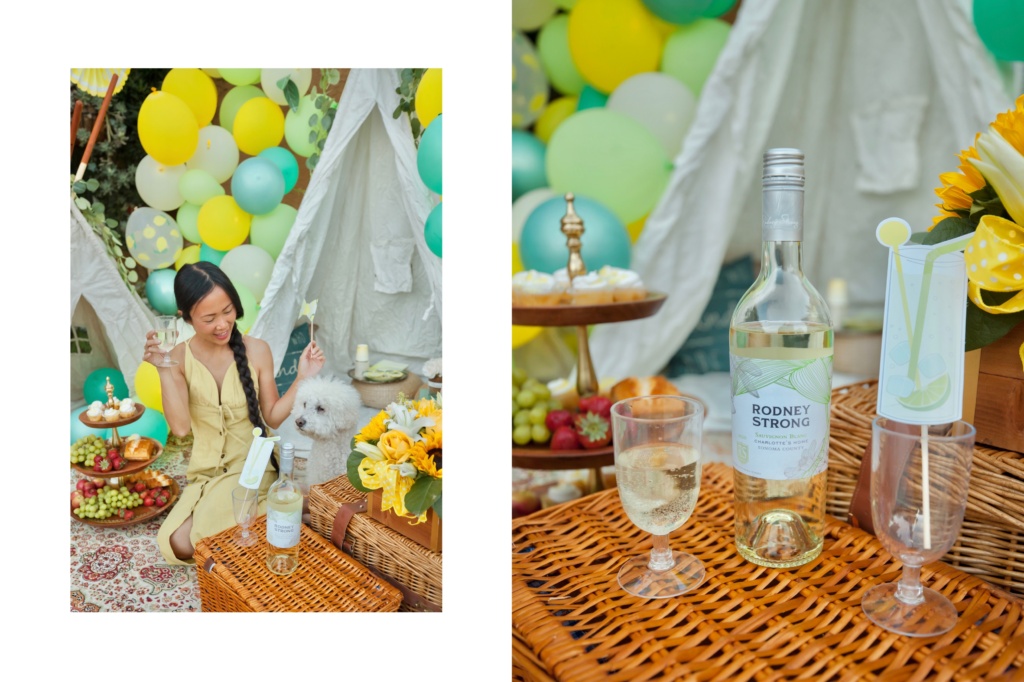 My wooden basket was perfect for displaying fresh lemons. When putting together your decorations, think about the usefulness and what purpose they will serve. Guests can take the fresh lemons home as party favors.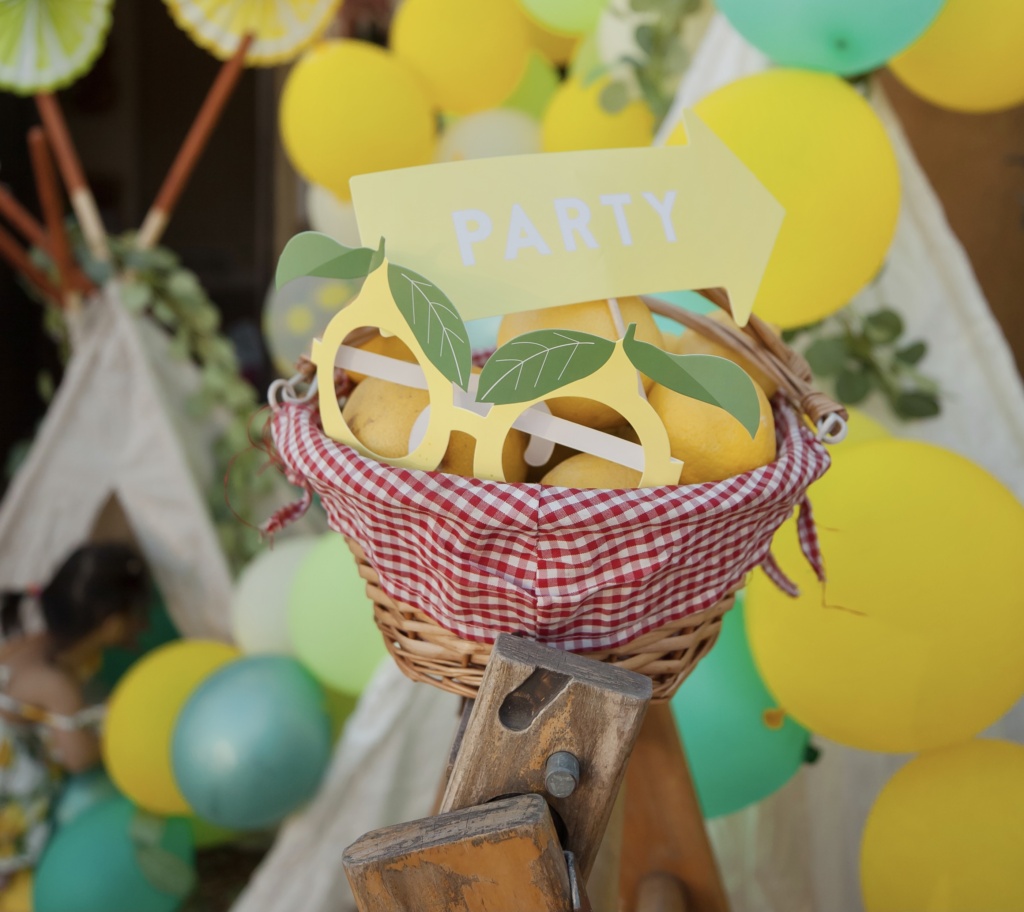 I also created a beautiful summer floral arrangements in a vintage wood box using a mix of sunflowers, yellow roses, and white lilies. White lilies create such a beautiful contrast to the bold yellow of bright round sunflowers, adding an extra layer of refinement to the boisterous summer flower.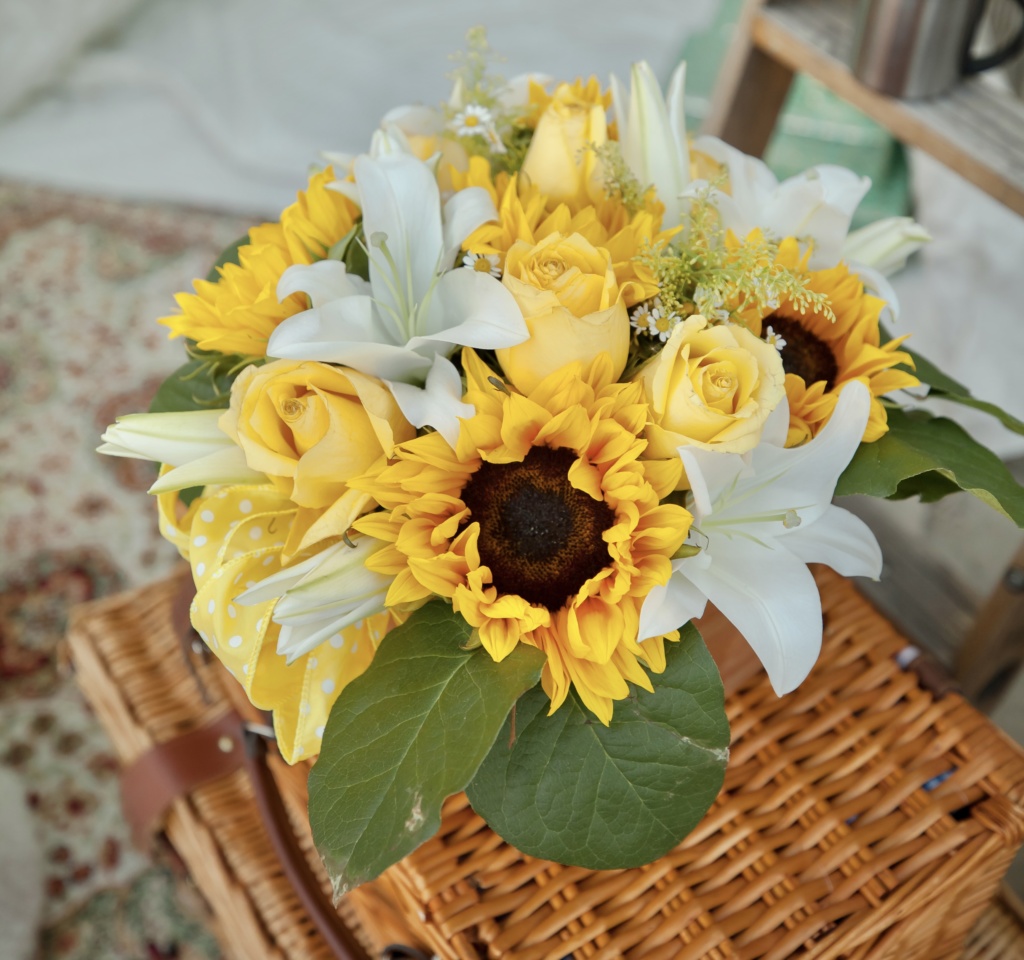 A Lemon Themed Party calls for Lemon Desserts! On the three-tiered stand I served lemon infused cupcakes and lemon pound cakes with grapes and strawberries.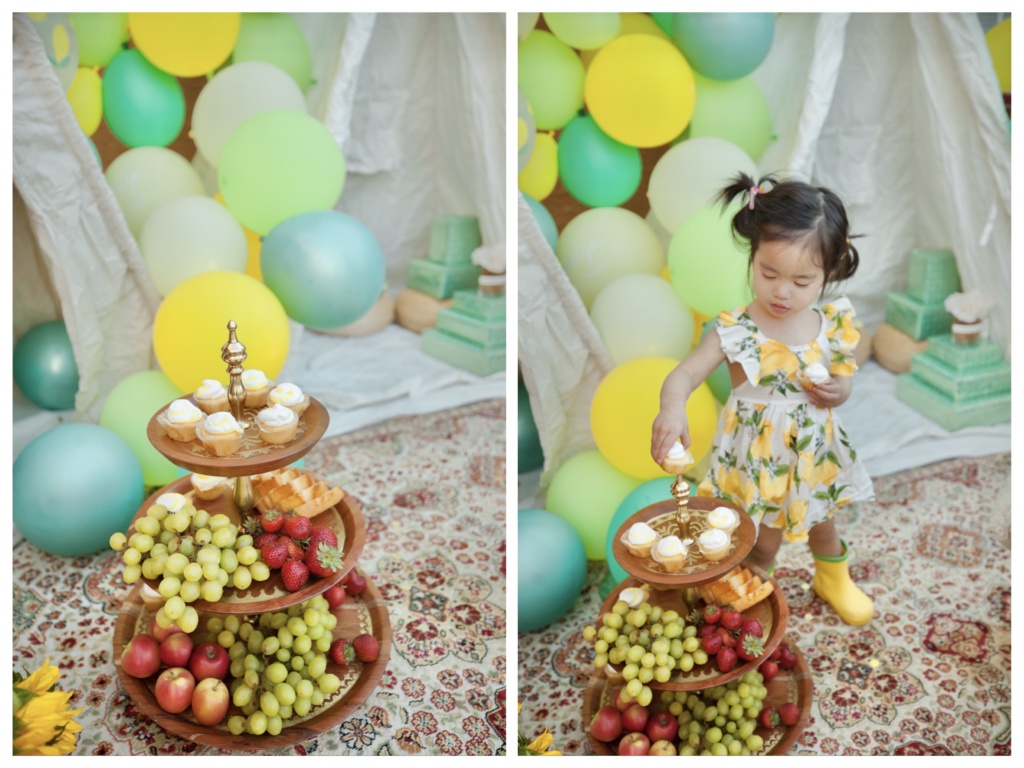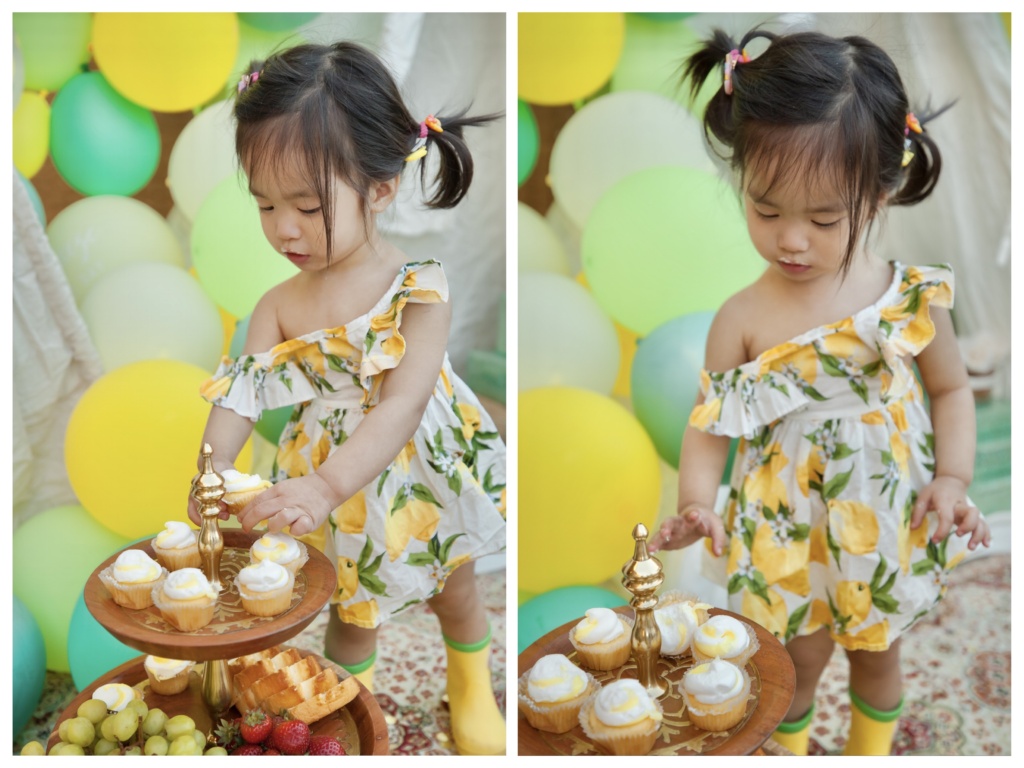 Get the party started with adorable lemon photo props which come in several citrus styles!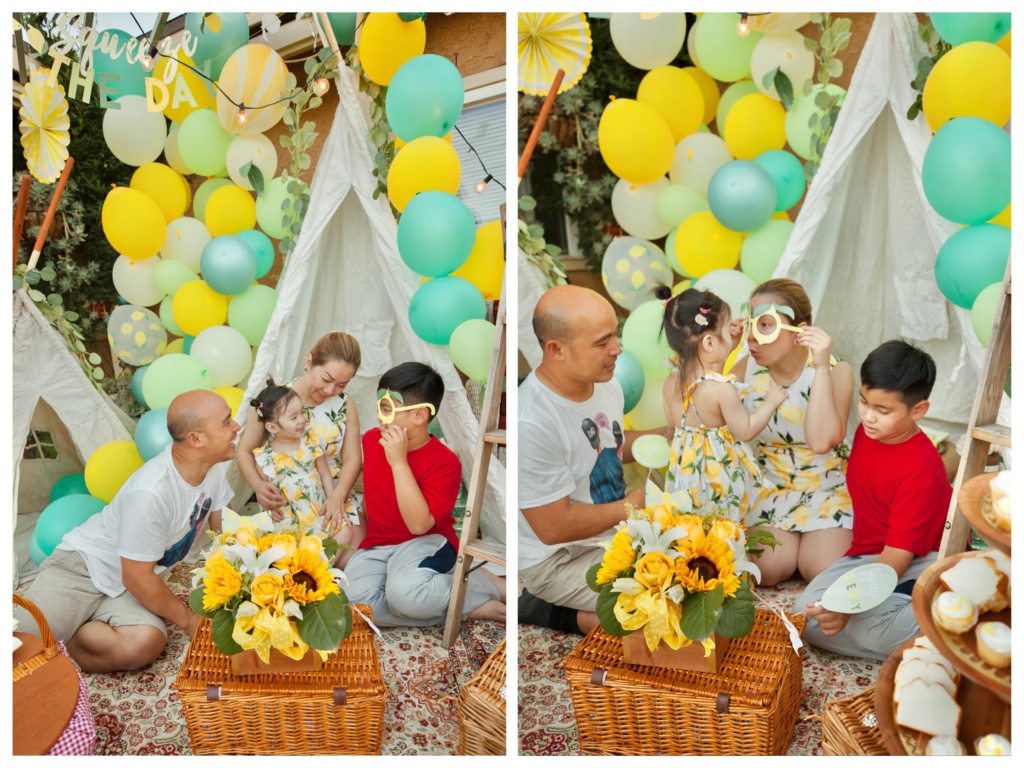 And tell your guests to dress to the theme. One of our adorable little guests wore a super cute lemon dress that matched beautifully with the Lemon Party Theme!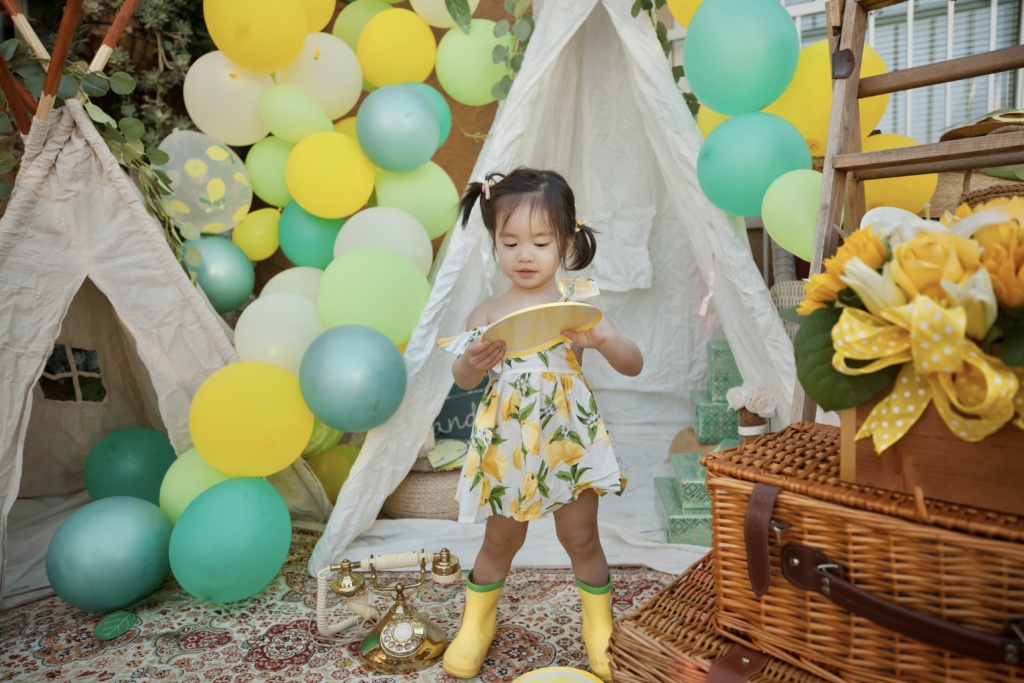 And her mom wore the matching lemon dress as well!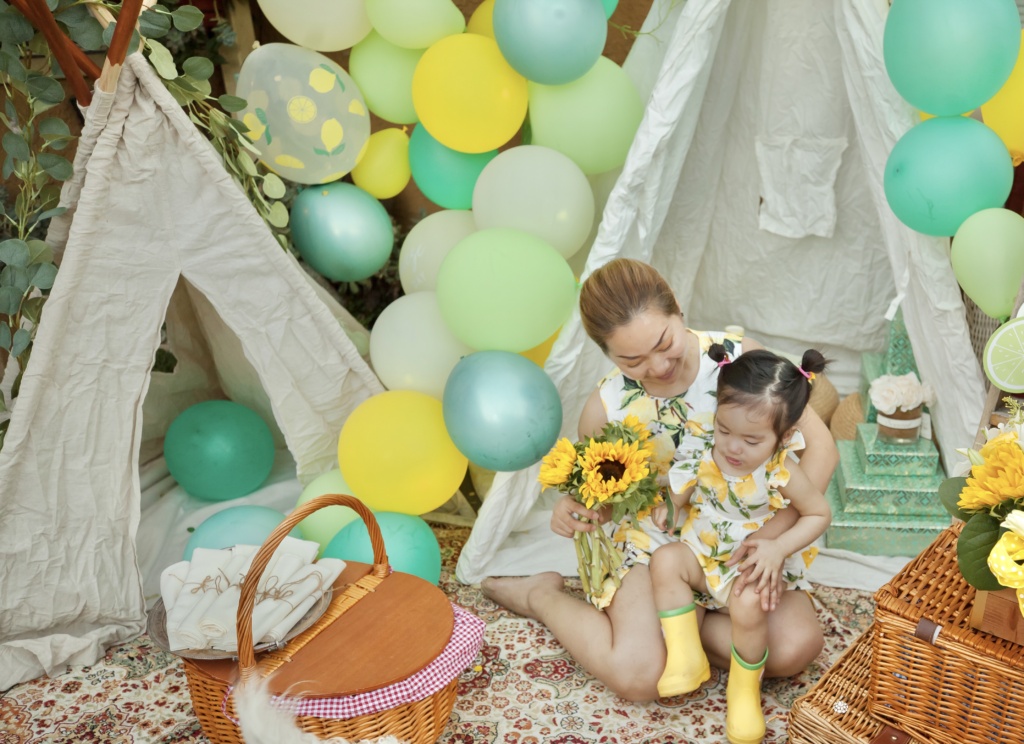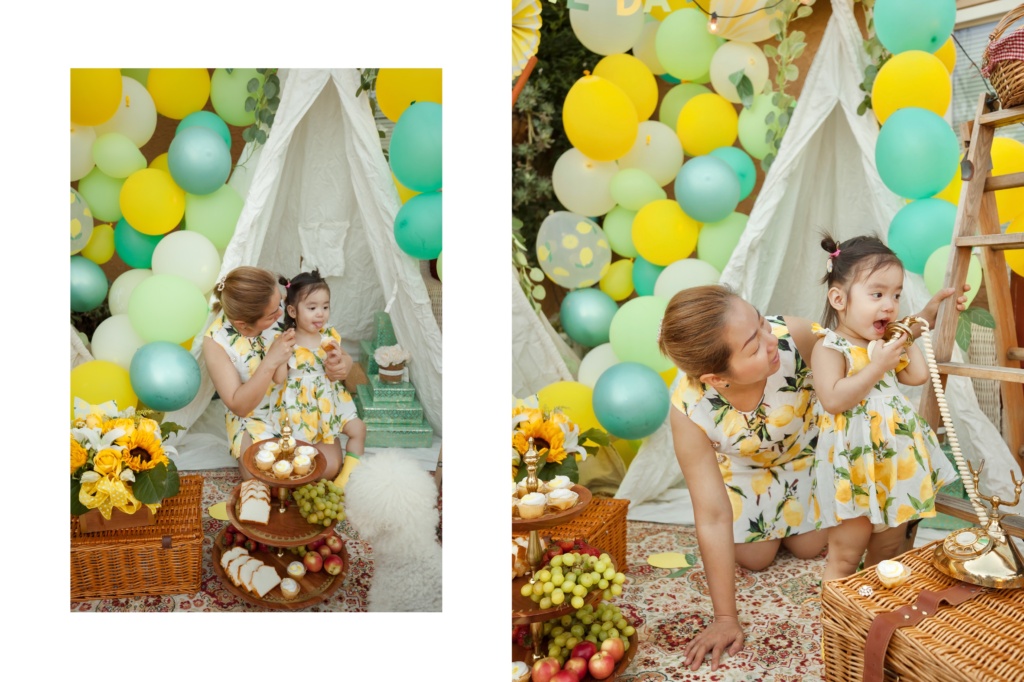 I also left out some different straw hats for the ladies to wear for fun summer photoshoots.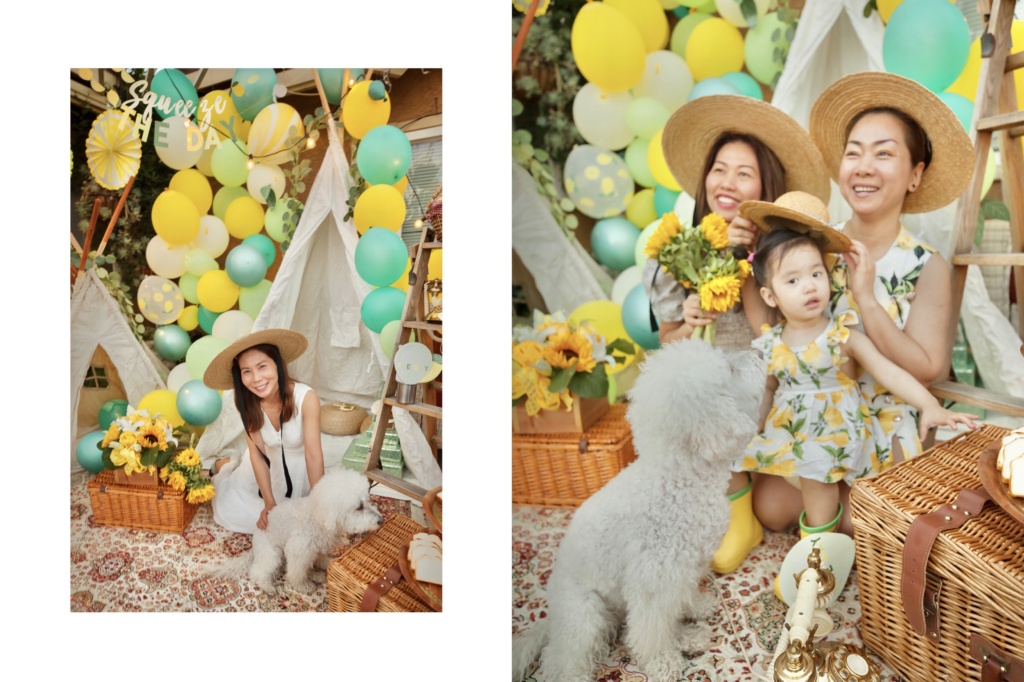 What is your favorite part of the Lemon Party?  Do you think you would try this party theme?