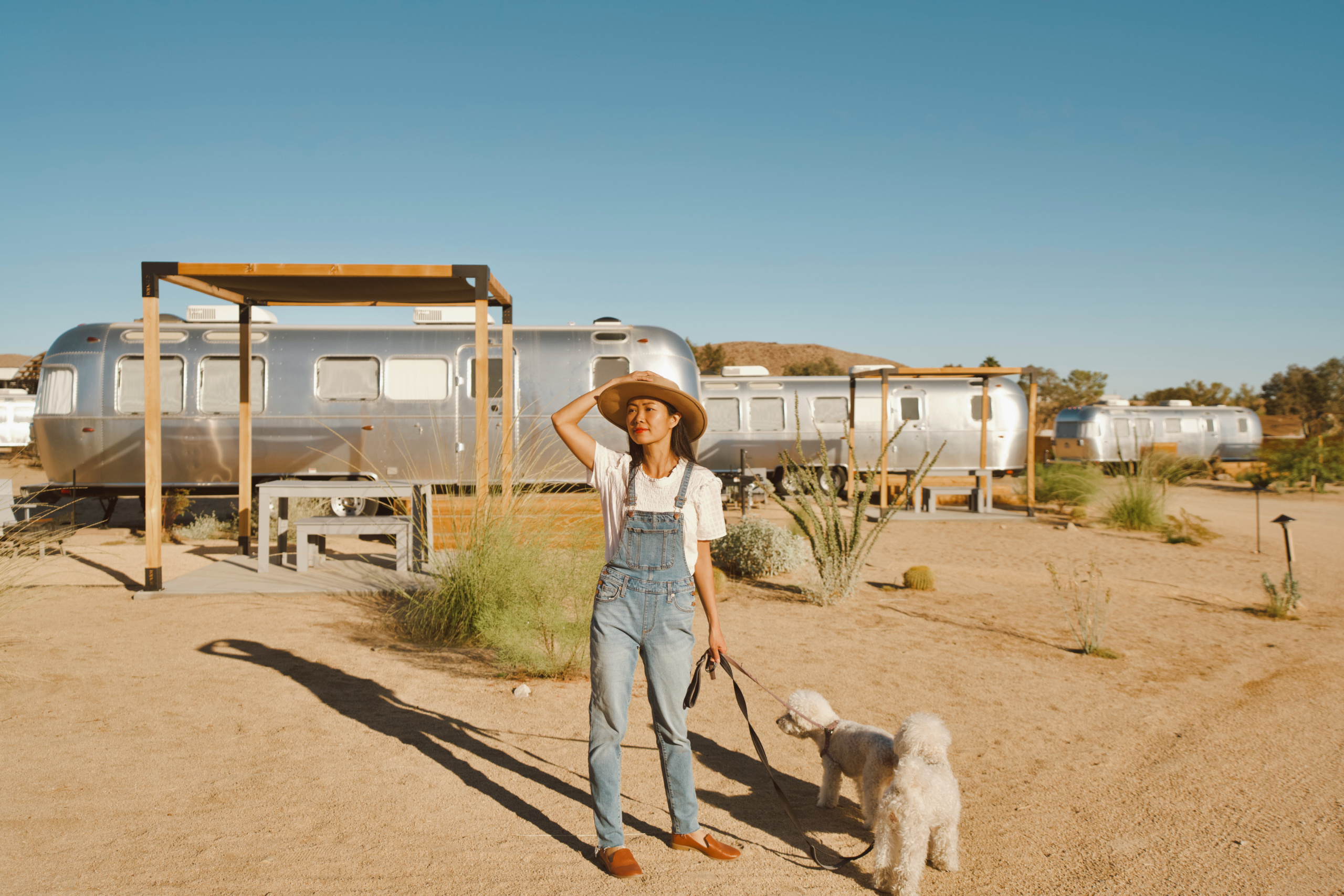 Review: Glamping at AutoCamp Joshua Tree
If you are visiting Joshua Tree National Park and are looking for a fun place to stay that's unique, cozy, and pet-friendly, then this is the perfect place! Autocamp Joshua Tree with the perfect mix of rustic campground vibes and the added bonus of some luxury modern amenities is an awesome accommodation for anyone that wants something a bit more in tune with nature but not quite as "roughing it"! Our two-night stay at Autocamp Joshua Tree was our first visit to an Autocamp location and it definitely lived up to expectations. Keep reading for our full review of the Autocamp Joshua Tree campground.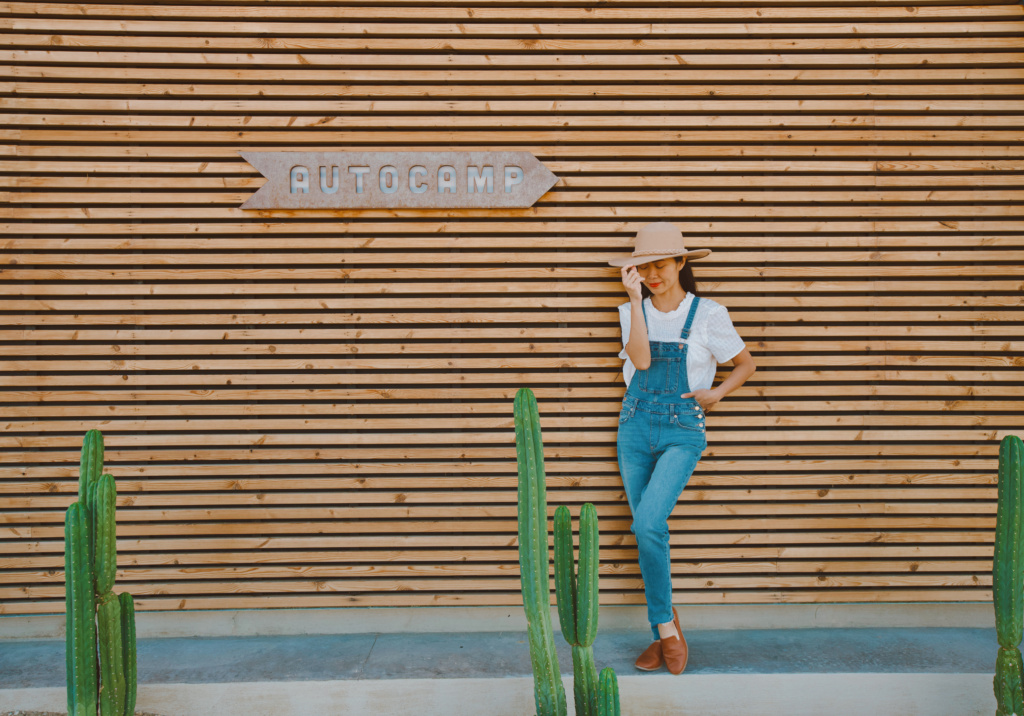 What is AutoCamp?
AutoCamp is a company that provides camping in awe-inspiring locations in America. AutoCamp redefined the American campground when combining outdoor adventure with modern luxury at their glamping resorts with stylish accommodations in sleek Airstreams, luxurious tents, and vista X suites all set against the backdrop of stunning locations.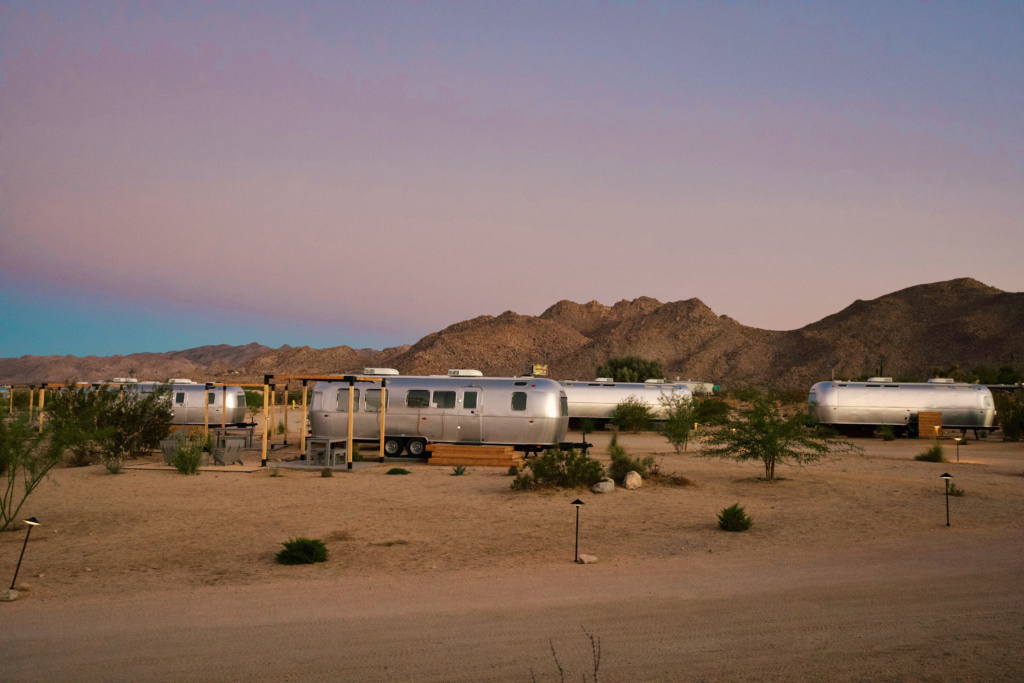 The first location of this Airstream "hotel" opened on the edge of Sonoma's Russian River, just outside the town of Guerneville. The outdoorsy brand has since launched camps in many prime locations like Yosemite, Joshua Tree, Cape Cod in New England, Utah's Zion, and New York's Catskills. Their goal is to break down barriers that would keep people from enjoying the outdoors due to a lack of proper equipment. Whether you're a seasoned camper or trying it for the first time, AutoCamp provides everything you need to enjoy your camping experience.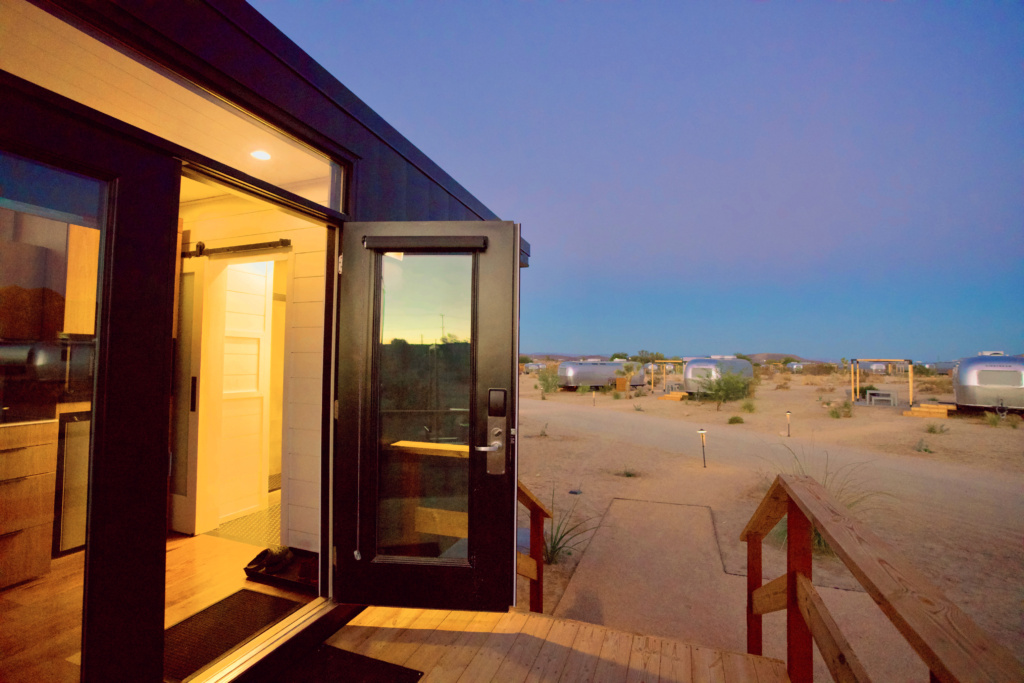 AutoCamp Joshua Tree Accommodations
The 25-acre property features three types of accommodations: Airstreams, Accessible Suites, and X Suites. There's definitely something for every kind of group. For those looking to have a classic auto-camping experience, the 31-foot-long Airstreams are the best pick. The retreat comprises about 50 Airstream trailers parked in a large circular pattern.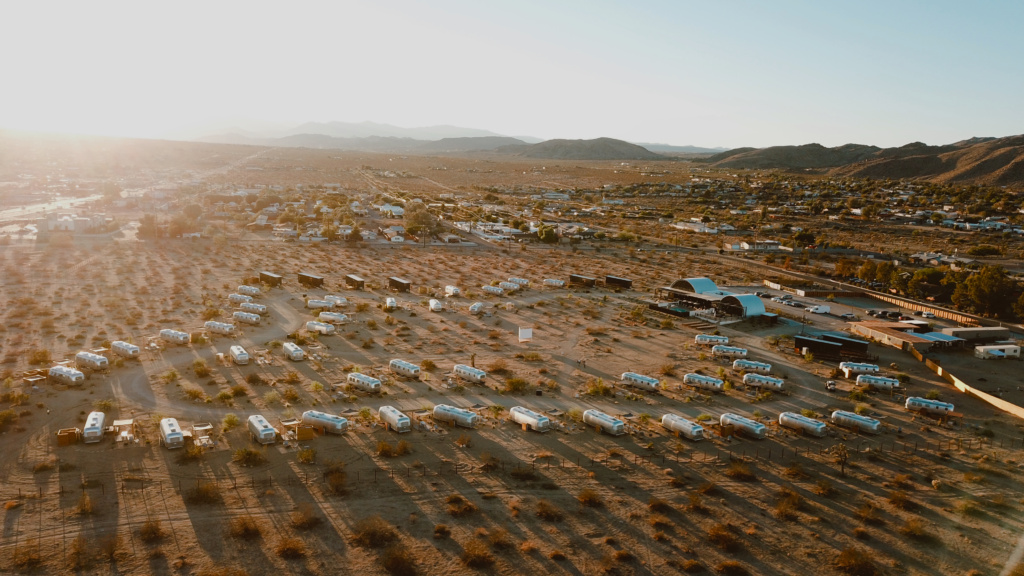 The concept is simple: Campsites filled with Airstream trailers that have been retrofitted with real bathrooms — fully functional toilets and walk-in showers with good water pressure — along with hotel-like amenities.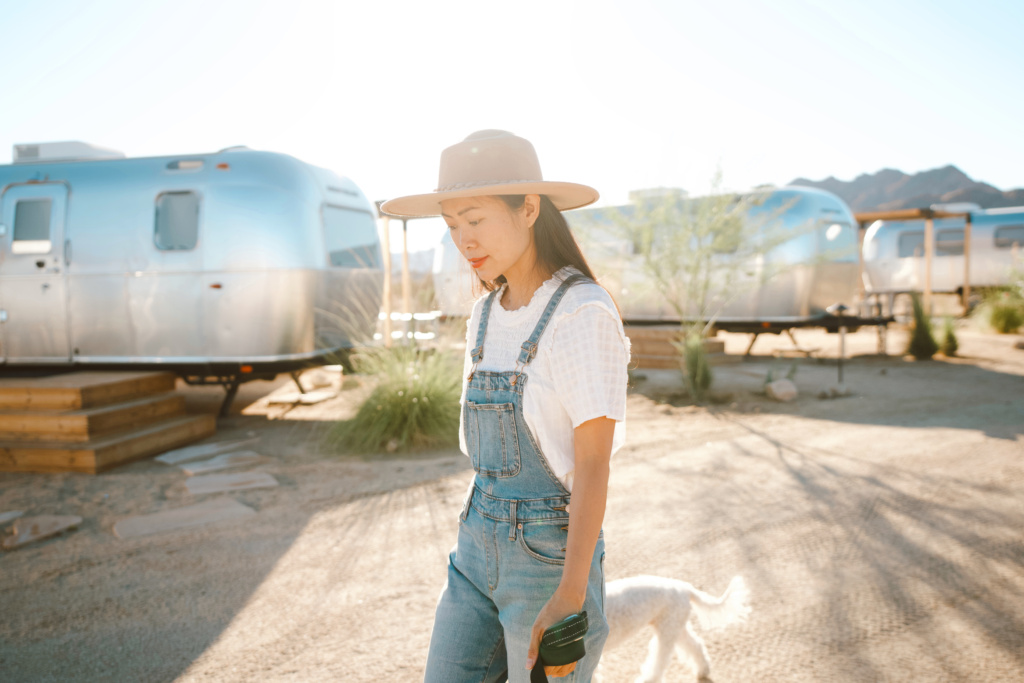 Since we have tried glamping in an Airstream before, this time we opted to stay at AutoCamp Vista X Suite. Their Vista X Suite is more spacious than the Airstreams; each offer a private bedroom, bathroom, kitchen, and living room.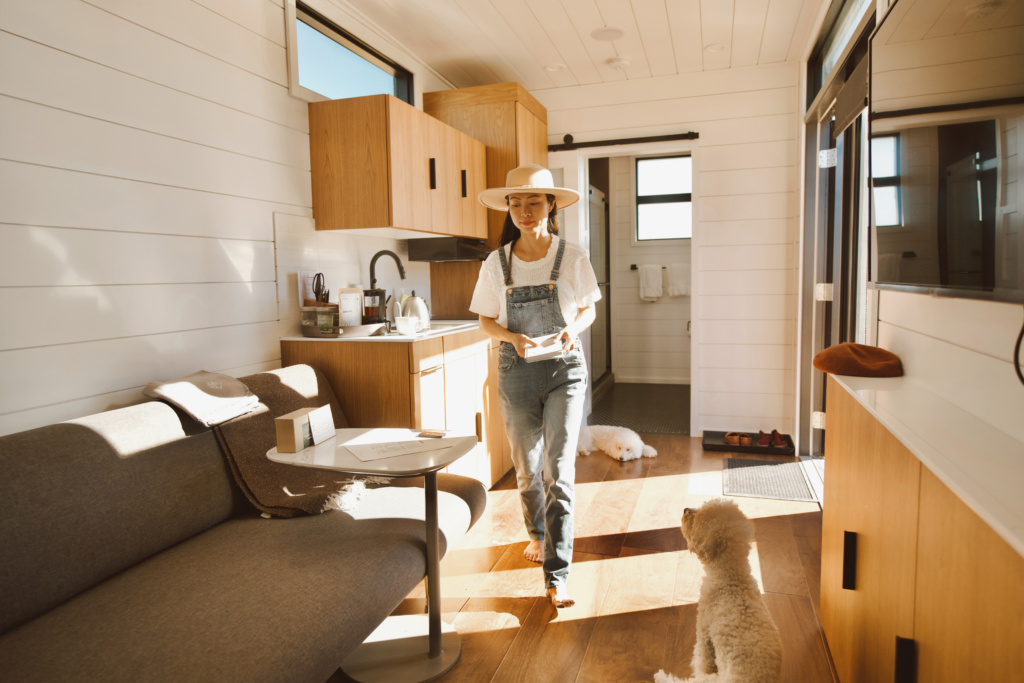 Inside the X Suite was exactly what we had hoped for — contemporary style with upscale amenities and immaculate cleanliness.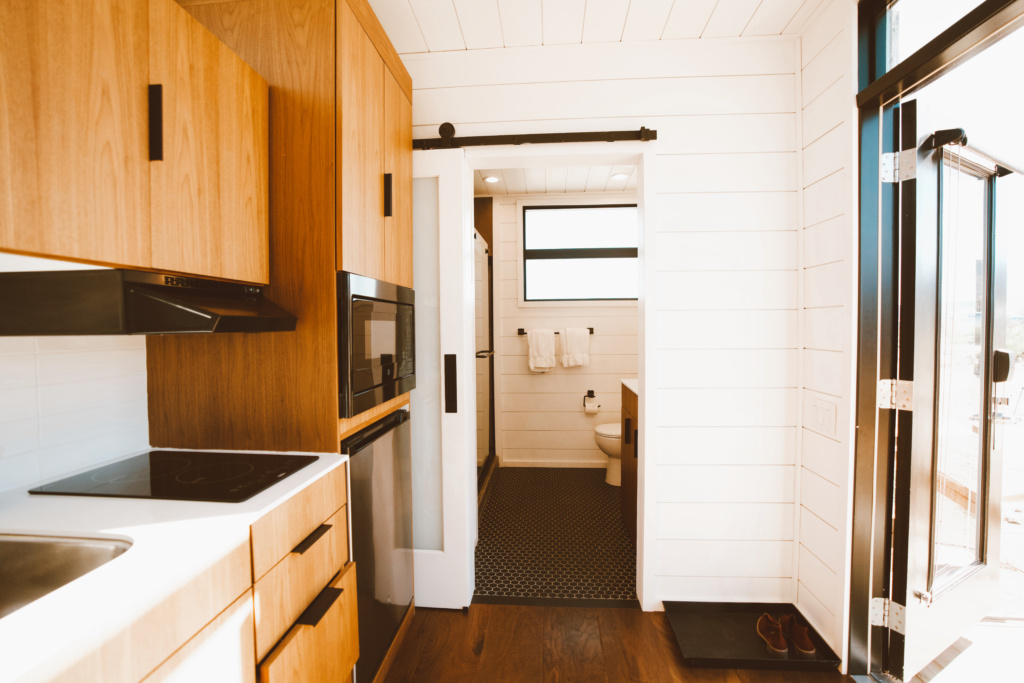 The bedroom features a queen-sized bed wrapped in crisp white linens and fluffy pillows with a small nightstand on the side equipped with built-in USB outlets and lighting controls. There was ample storage for a short stay.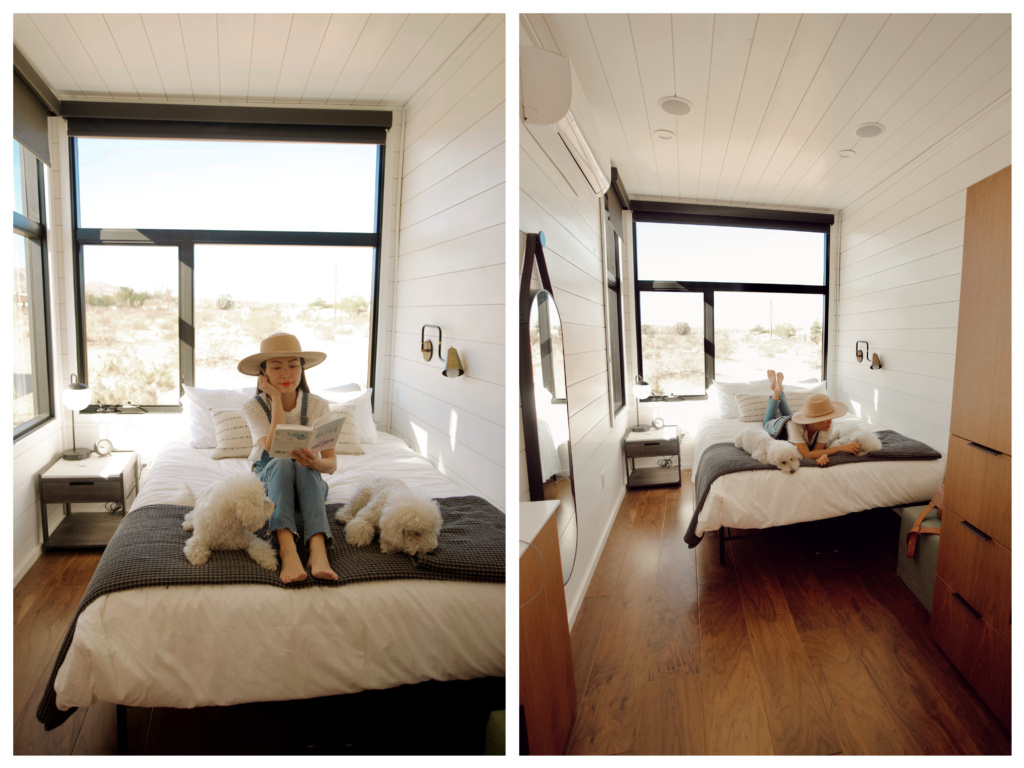 The living room comes complete with flat screen TV and sofa, which folds out into a soft double bed. Despite the blazing desert heat, residential-style air-conditioning keep the interiors icy cool.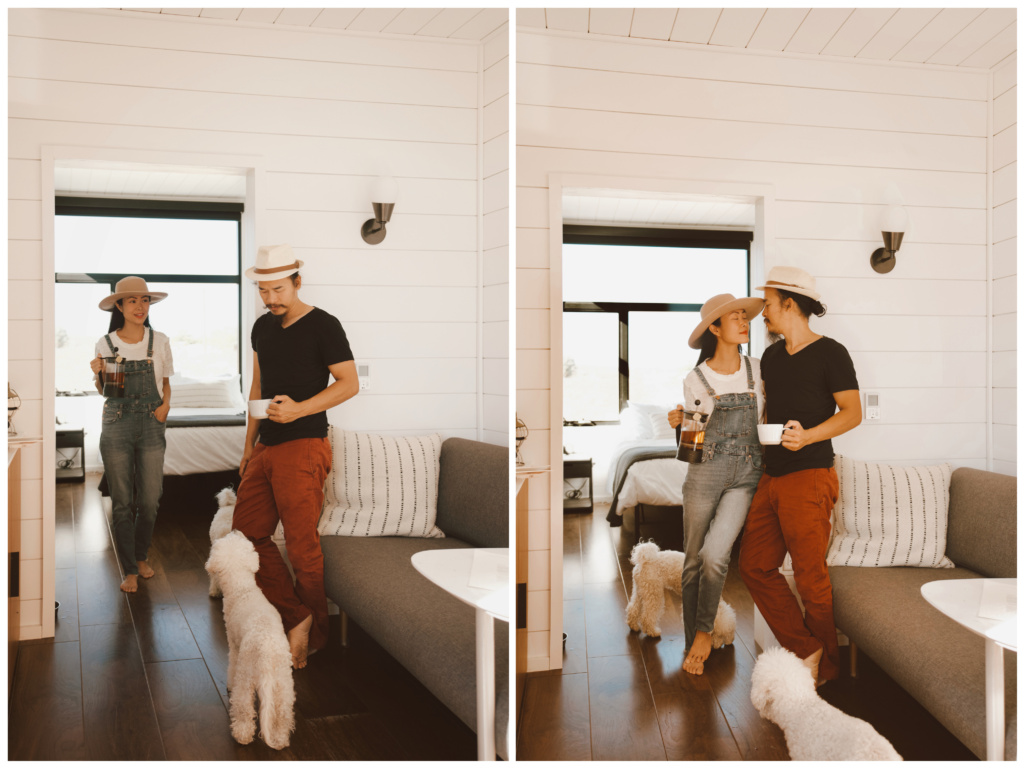 The kitchen is complete with an electric stovetop, microwave, mini refrigerator, basic cookware (even a cast iron skillet), tableware and BBQ utensils. There was a kettle and French press in the cupboard, along with a bag of very good complimentary coffee as well as paper towels, a sponge, and dish soap. Autocamp provided us with all basic cooking essentials to create memorable meals under the stars.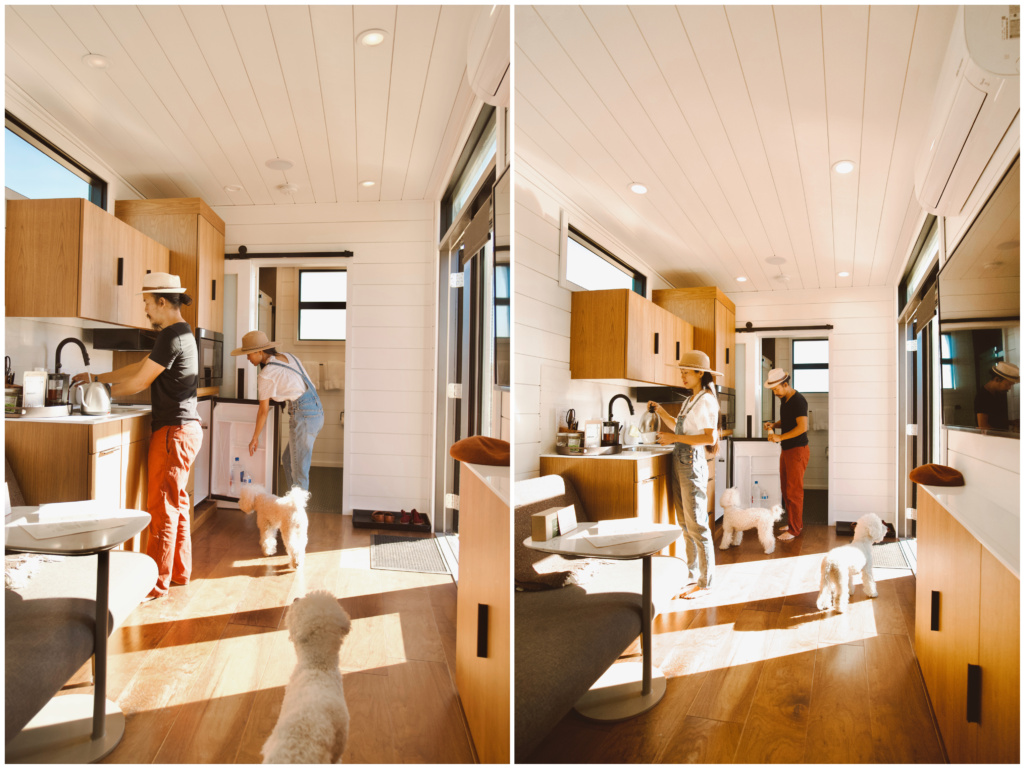 I was impressed with the bathroom layout, space usage, and natural light. There's a full-size vanity, toilet, and walk-in shower with strong water pressure. Out suite's spa-inspired bathroom is stocked with Ursa Major organic premium bath products, hair dryer, super-soft towels, and plush oversized bathrobes.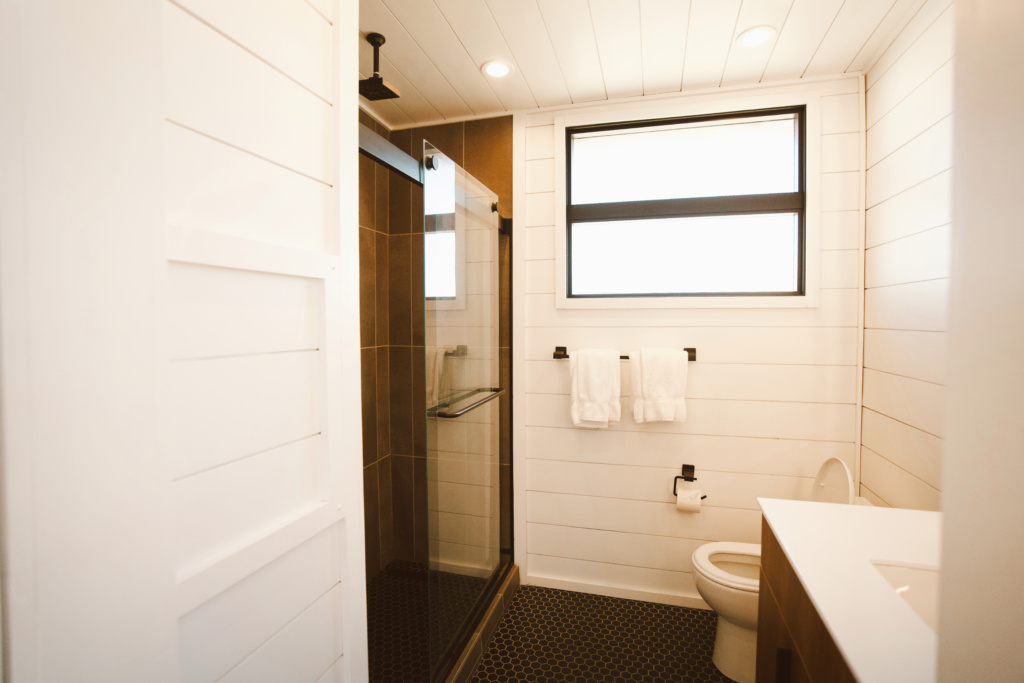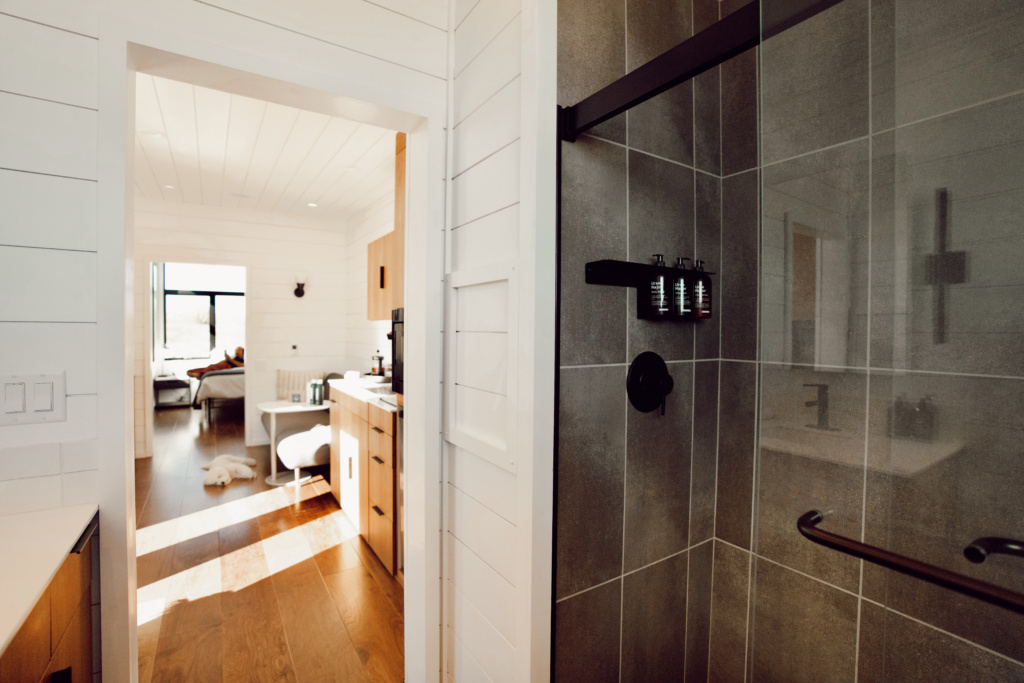 No matter which glamping option you choose, you'll have a private patio and campfire setup. Outside our suite are a large deck area, fire pit with grill, picnic table, and four chairs for outdoor dining.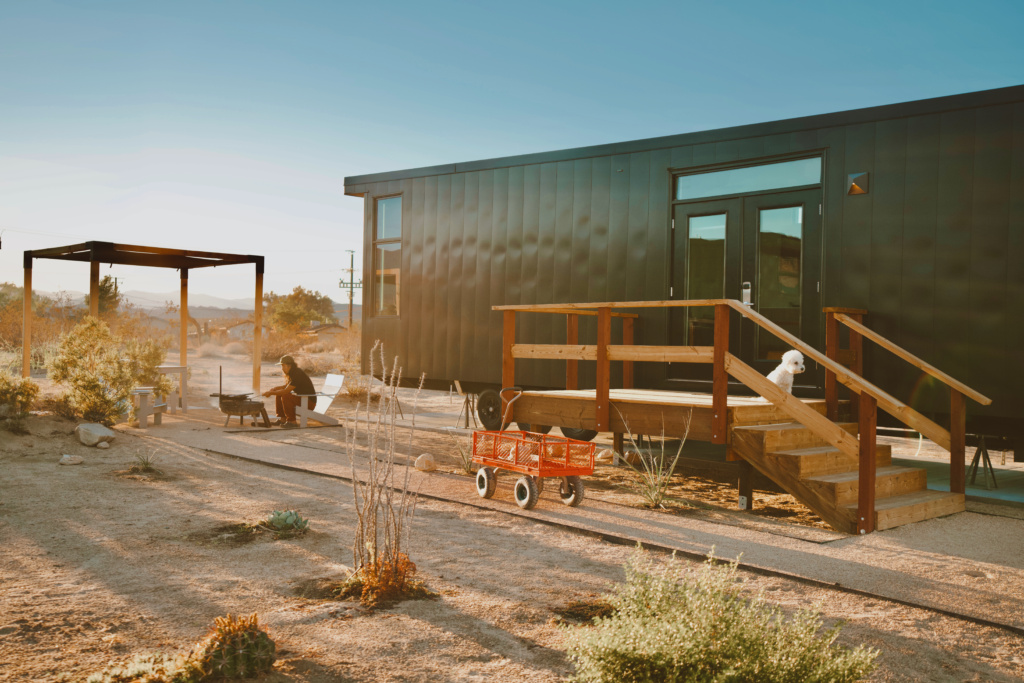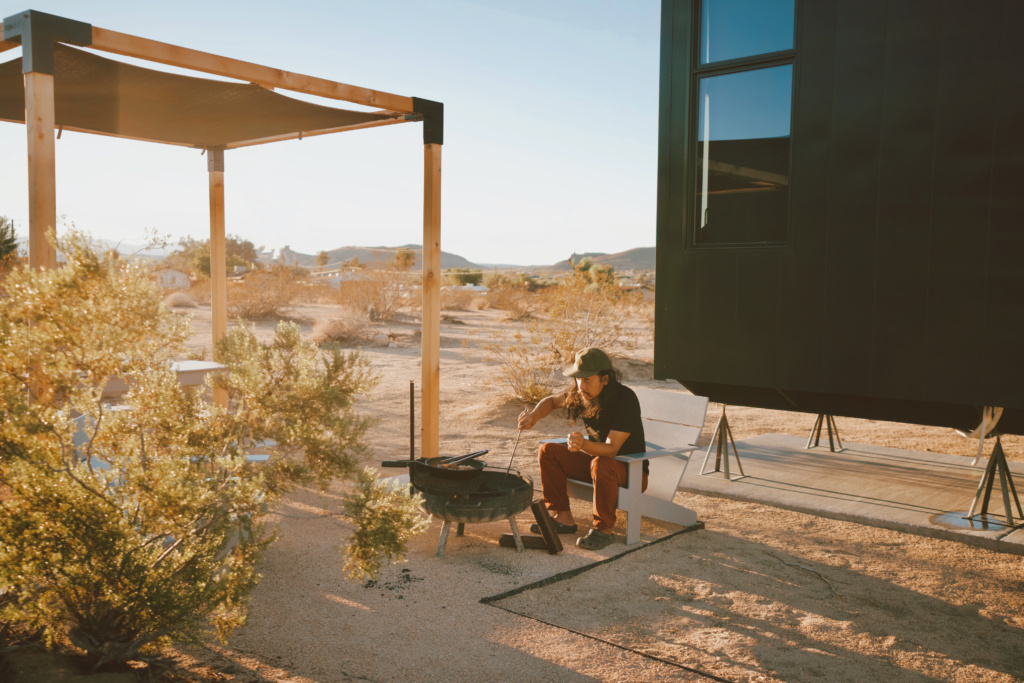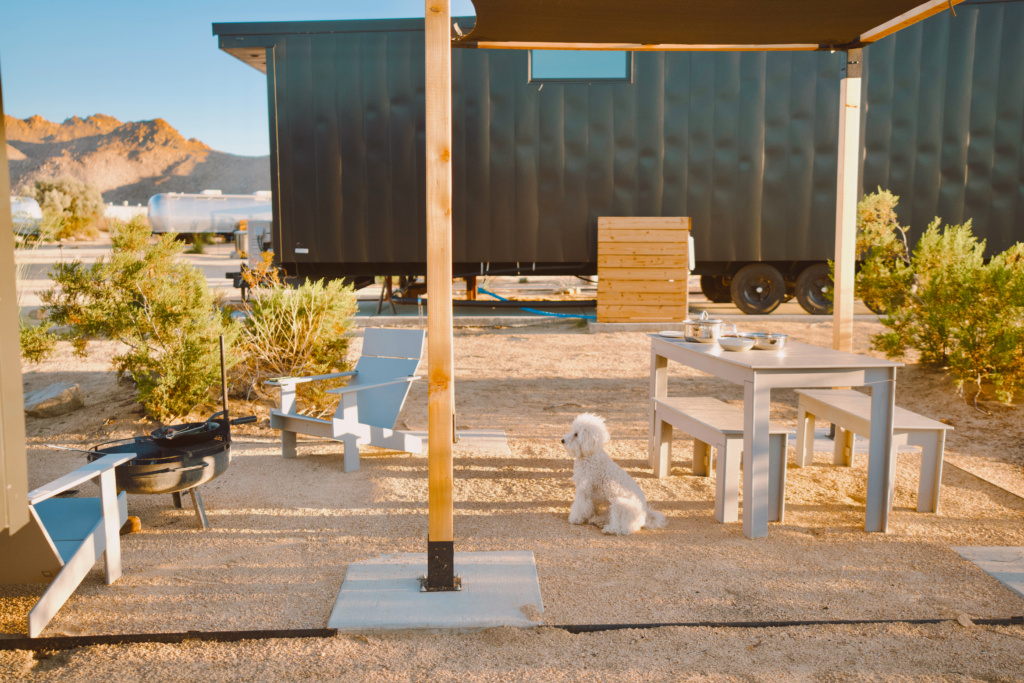 We were also provided with three food-grade camping logs to create a campfire for roasting s' mores. S'mores kits are available for purchase at the general store in the clubhouse.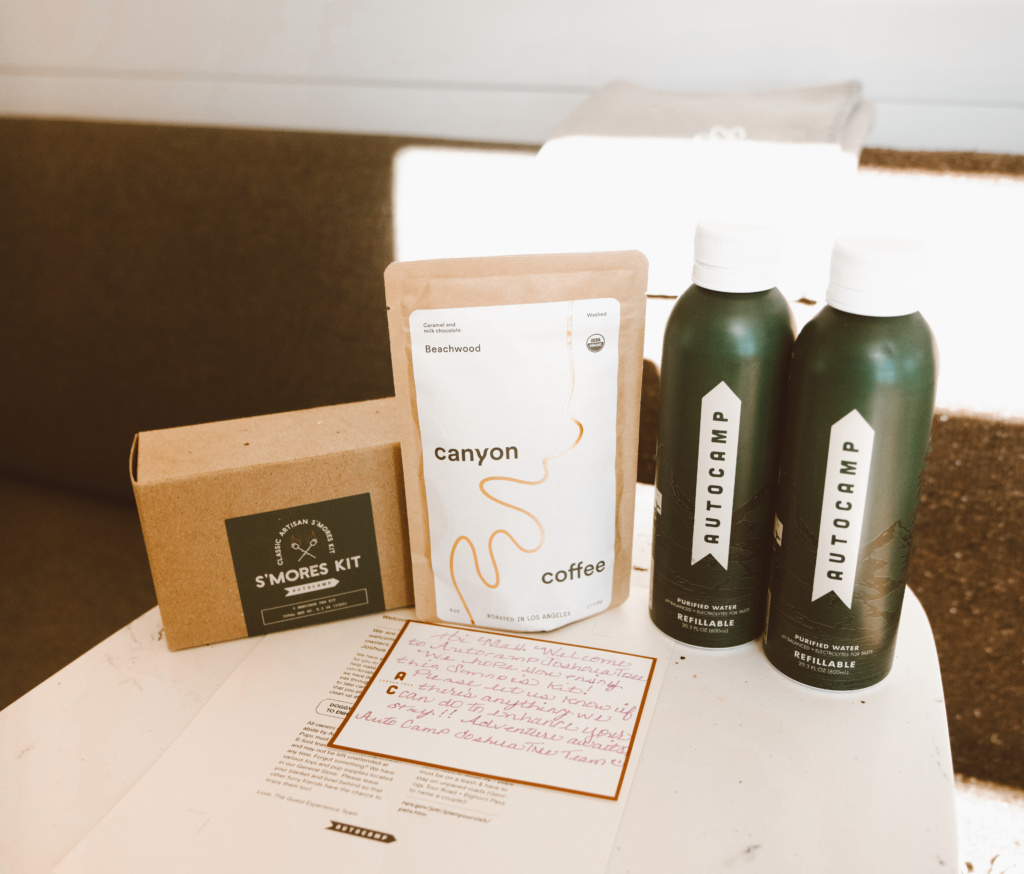 AutoCamp Joshua Tree Amenities
Another perk to staying at AutoCamp is the amenities. A custom-built clubhouse is the hub of each AutoCamp location. This is the gathering spot for guests, designed with an open layout with various places to lounge and mingle.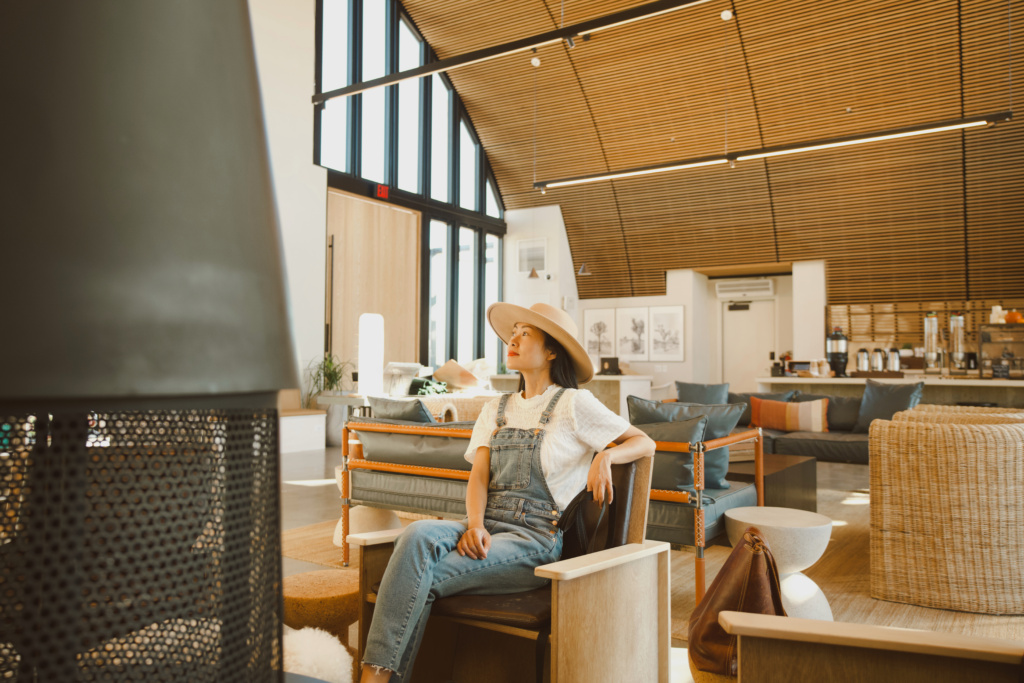 The Autocamp Joshua Tree Clubhouse is decorated mid-century modern, featuring an indoor fire pit and dome-covered lounging areas with board games. Right outside the clubhouse is a plunge pool and a large outdoor fire pit.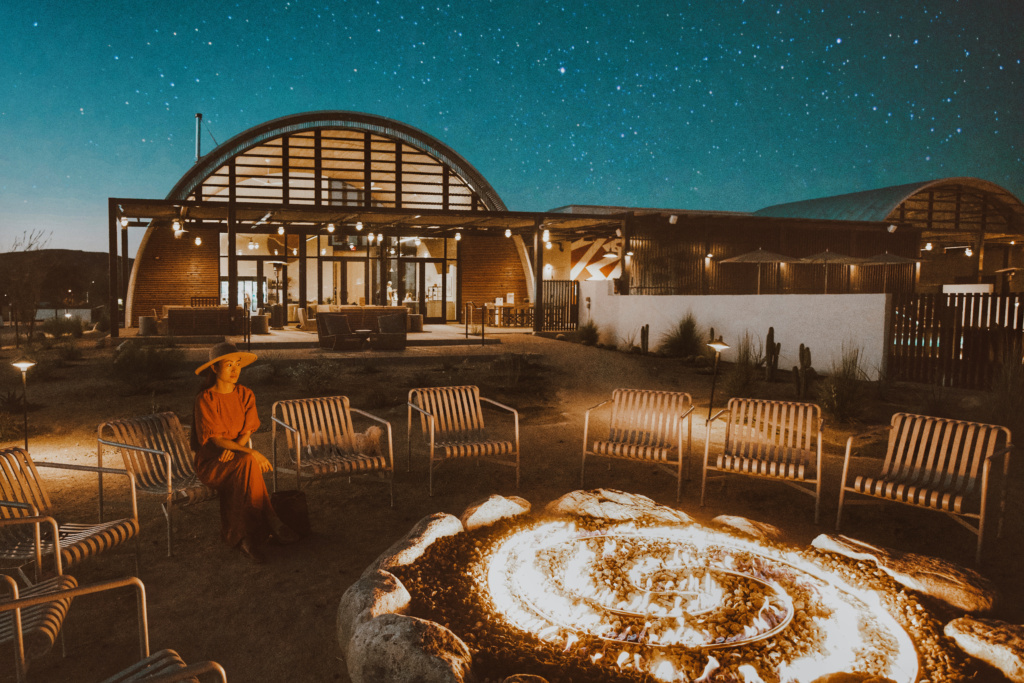 To our surprise, there was food available at AutoCamp. There isn't a sit down restaurant but there is hot food available for purchase. They also provide complimentary basic breakfast items like granola, whole milk, almond milk, craft coffee, orange juice and tea every morning from 7am-10am in the clubhouse.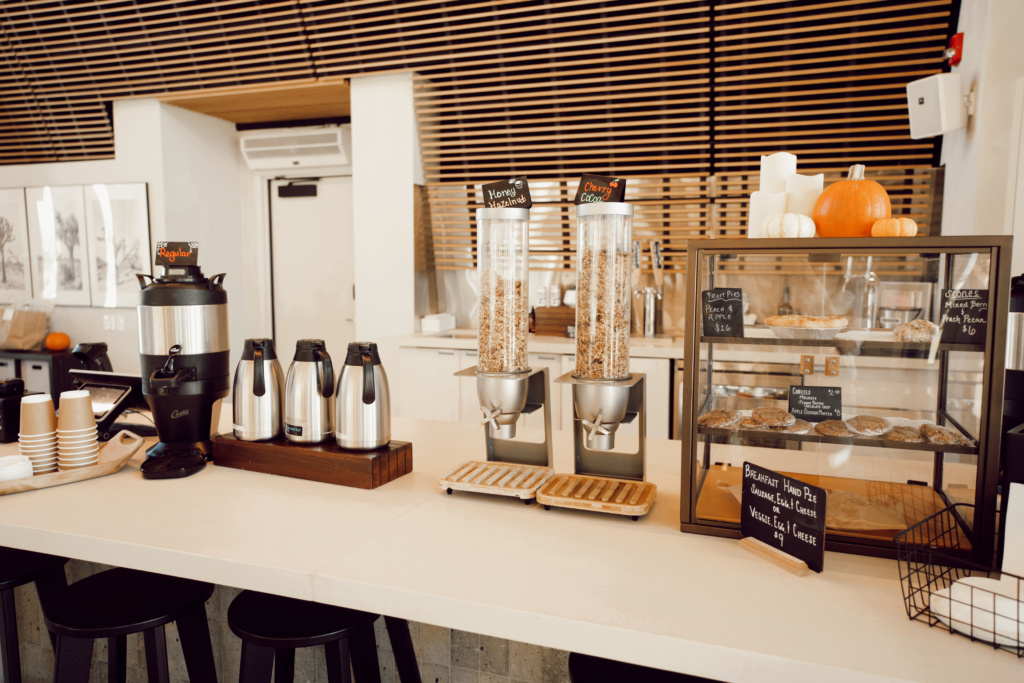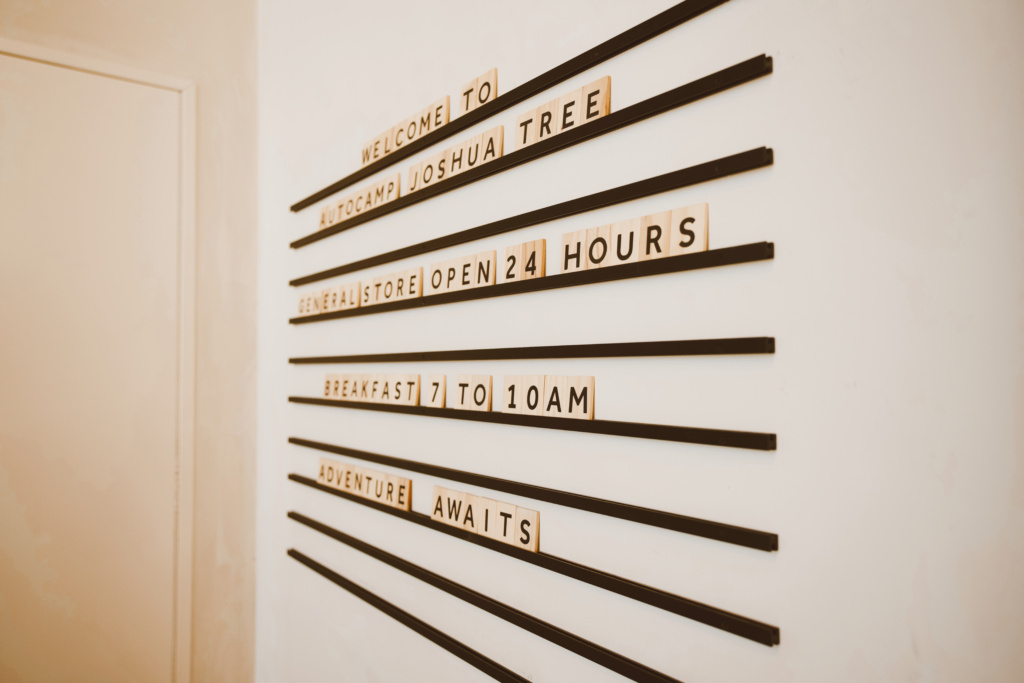 Their General Store has all the snacks you could need during your stay. You'll find grab and go breakfast items, basic groceries, cooking supplies, beer, wine, soda, candy, snacks, and fire supplies (wood, fire starter, etc.). You can totally bring your own food and cook in your own kitchen if desired, but they also have a dining menu you can order from that's not super extensive but does include things like pizza, croissants, turkey sandwiches,….
We pre-ordered their BBQ kit and Smore's kit in advance. The BBQ kit for 2 was around $85 (New York strip steaks with veggies) and everything was ready to heat and eat over our own campfire. Each BBQ kit also comes with a pack of logs. You can also purchase fire starter and additional supplies in the general store.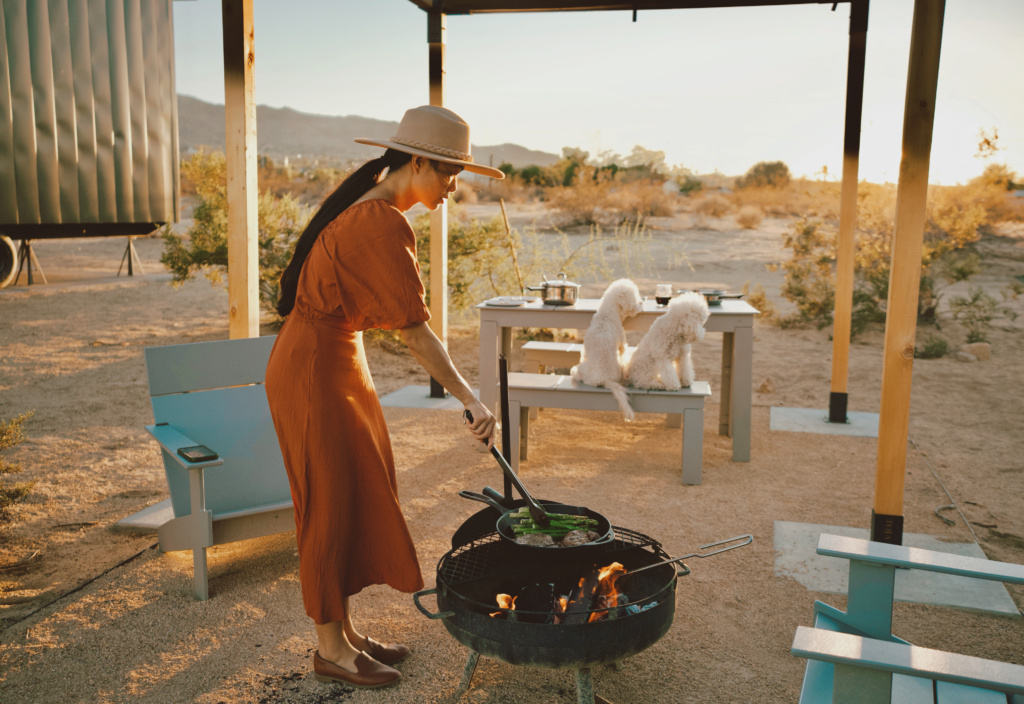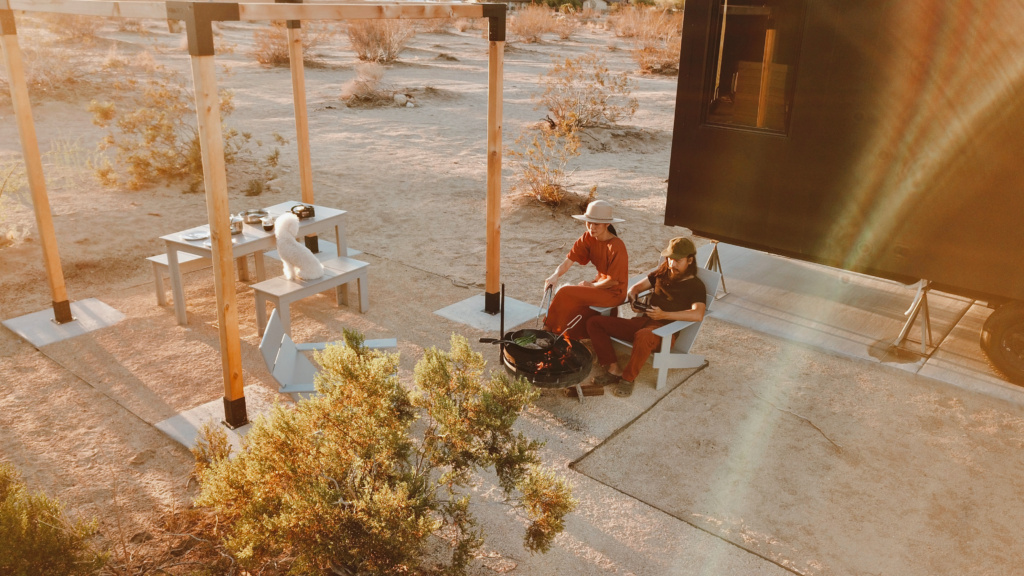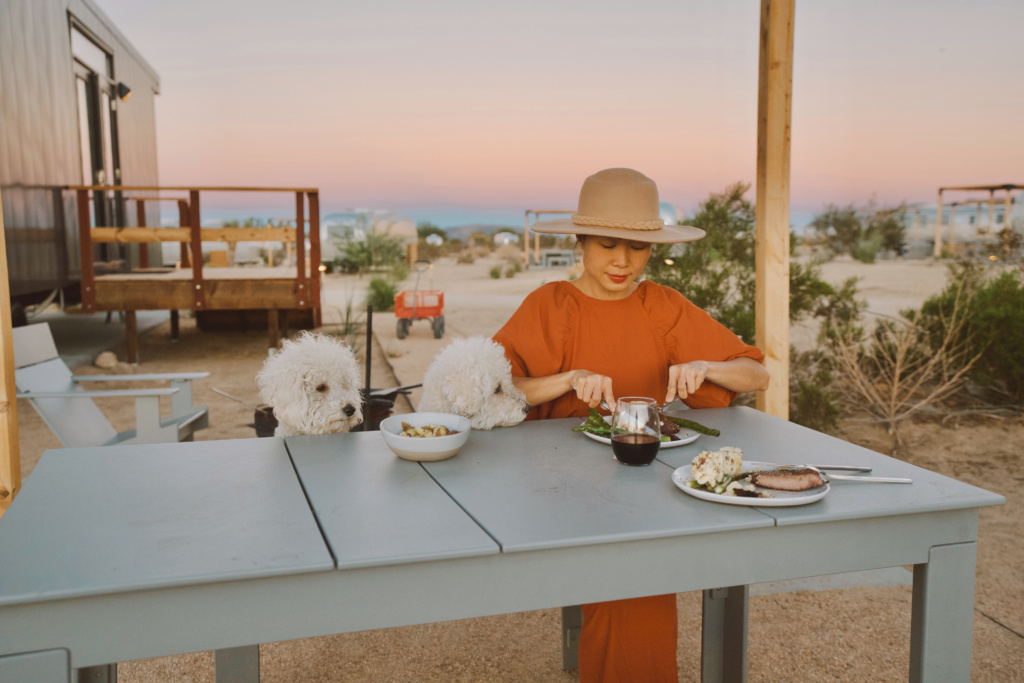 We love little personal touches here and there added to make guests feel so comfortable like cute little red wagons to transport our stuff from the parking lot to our camp site, which could be a decent walk away given the size of the property. Complimentary bikes are available to use on the property as well.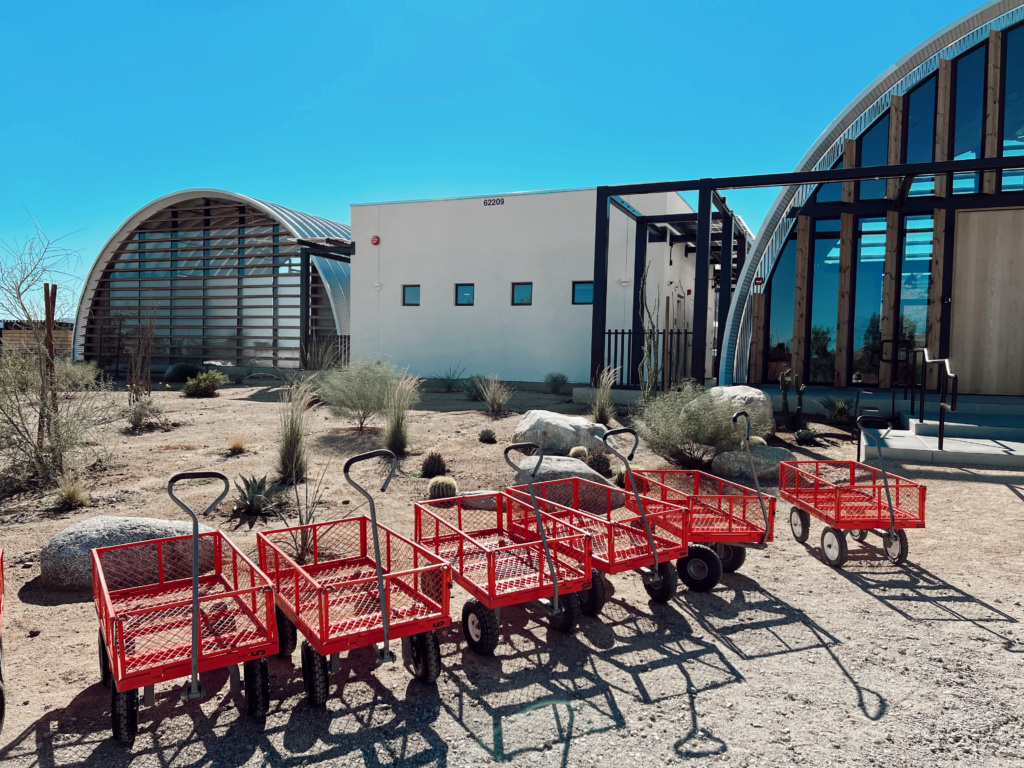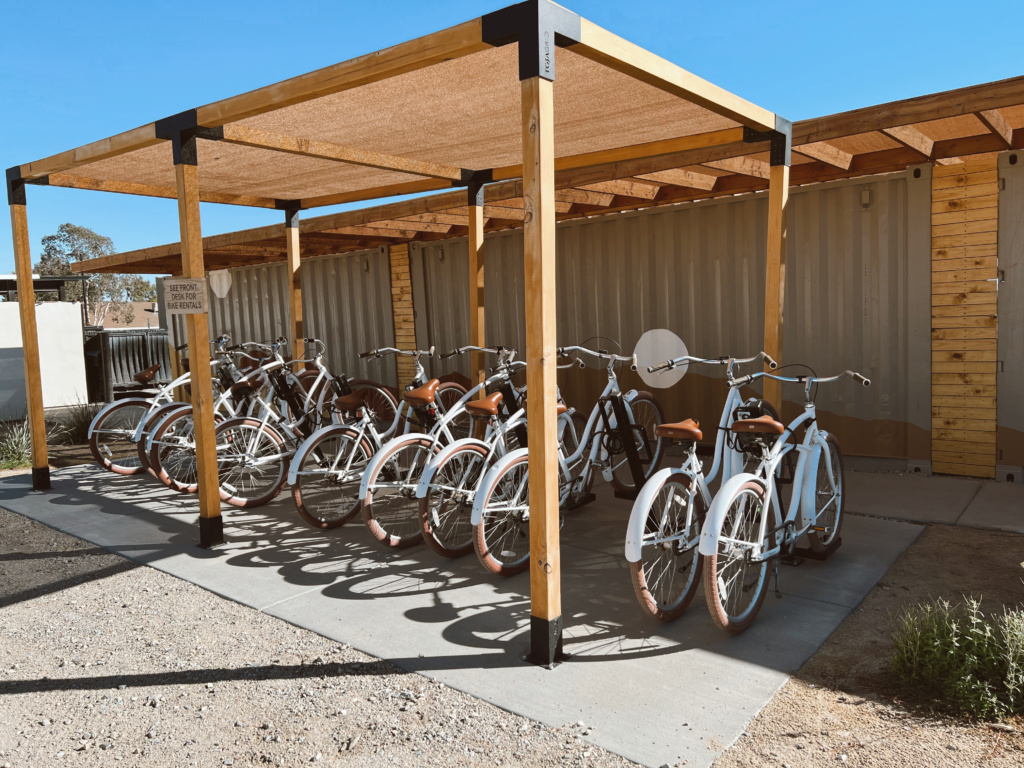 Another perk of staying at AutoCamp was that they're pet-friendly. That's a huge plus for pawrents like us. AutoCamp welcomes all well-behaved dogs with their owners for an additional fee of $75.00. There is a 2 dog maximum with a 80lb maximum weight each.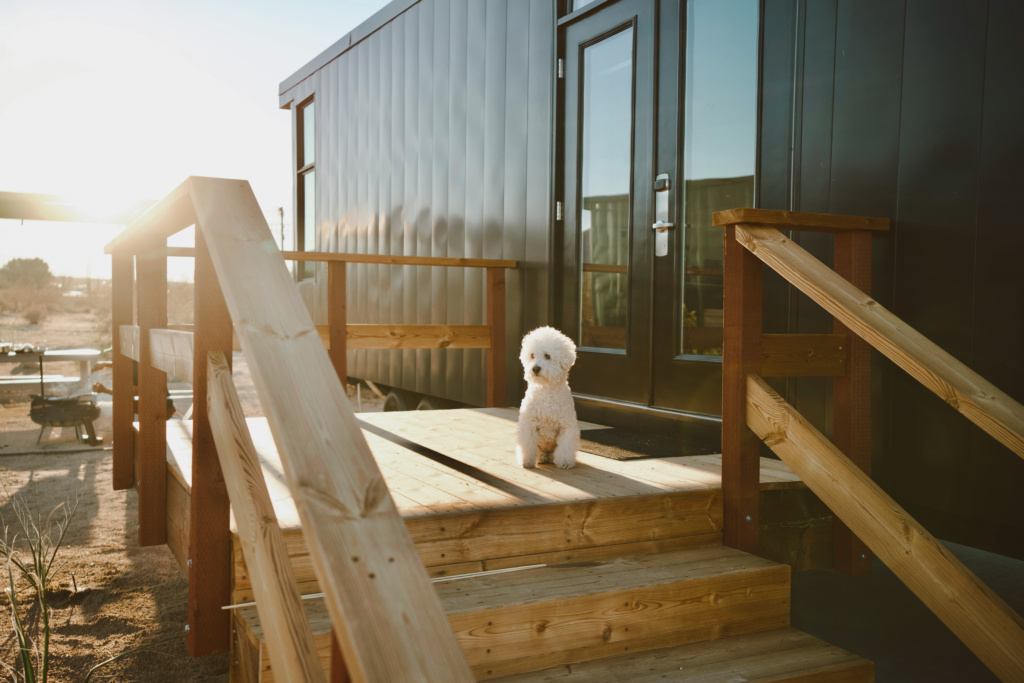 Our thoughts
Our trip to AutoCamp Joshua Tree was wonderful! This is the perfect stop for a family road trip, a couple's getaway, a girl's weekend, or a small company retreat. I definitely recommend AutoCamp Joshua Tree and would visit again. AutoCamp really adds a nice touch to a Joshua Tree National Park trip as there is plenty to do at the campground itself and its uniqueness makes it its own experience separate from the park. I'm also interested in checking out some of their other properties, especially the one in Yosemite.
Pin this post for later!
***Thank you to AutoCamp Joshua Tree for kindly sponsoring this post. All opinions are 100% honest & completely my own.