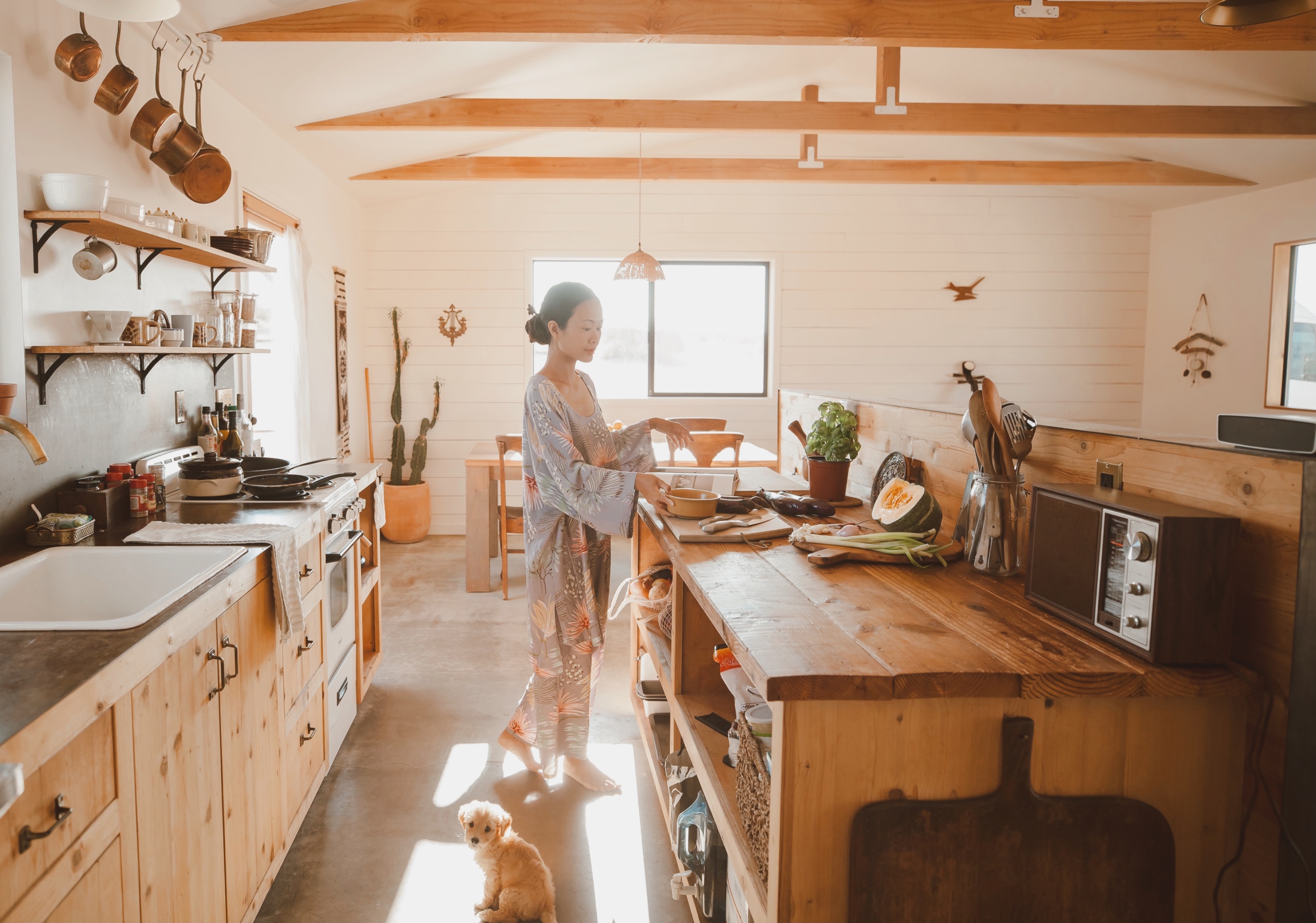 Review: Luna Cabin Joshua Tree
Joshua Tree is a bohemian wilderness of otherworldly landscapes which has lately become one of the top destinations for people looking to escape the hustle bustle LA and get a dose of nature. Joshua Tree has a seemingly endless supply of unique Airbnbs. On our most recent trip to Joshua Tree we opted for a beautiful 1950's homestead called Luna Cabin. This original Joshua Tree Homestead Cabin has been fully reimagined with luxurious upgrades while maintaining its original charm.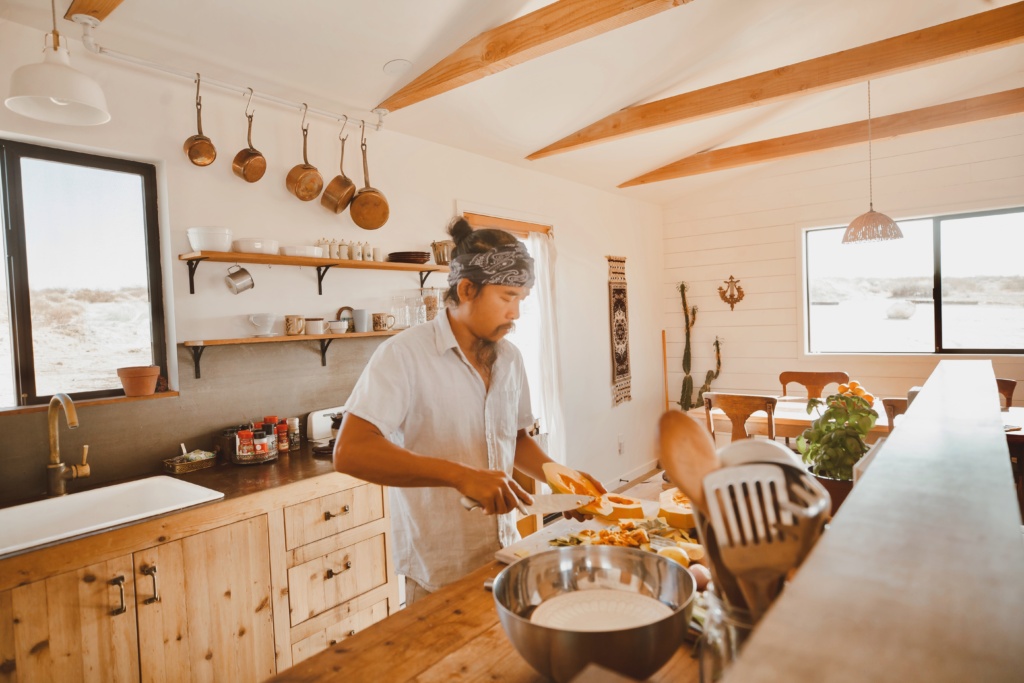 Perched on a hillside with wide-open views, Luna Cabin is a private getaway with easy access to the Joshua Tree National Park and the town center.
At Luna Cabin, a rustic meets modern getaway positioned on a hillside where the views are wide-open, providing the perfect amount of seclusion and unobstructed views of the sweeping desert landscape.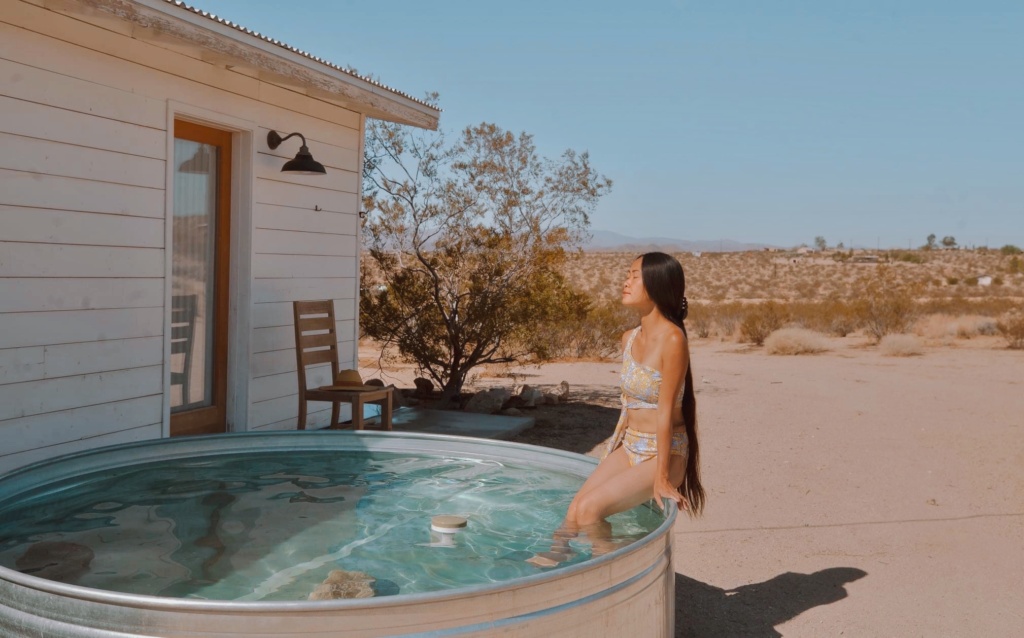 Surrounded by native flora and fauna, this jewel box is the perfect place to unwind and explore the magic and majesty of the high desert.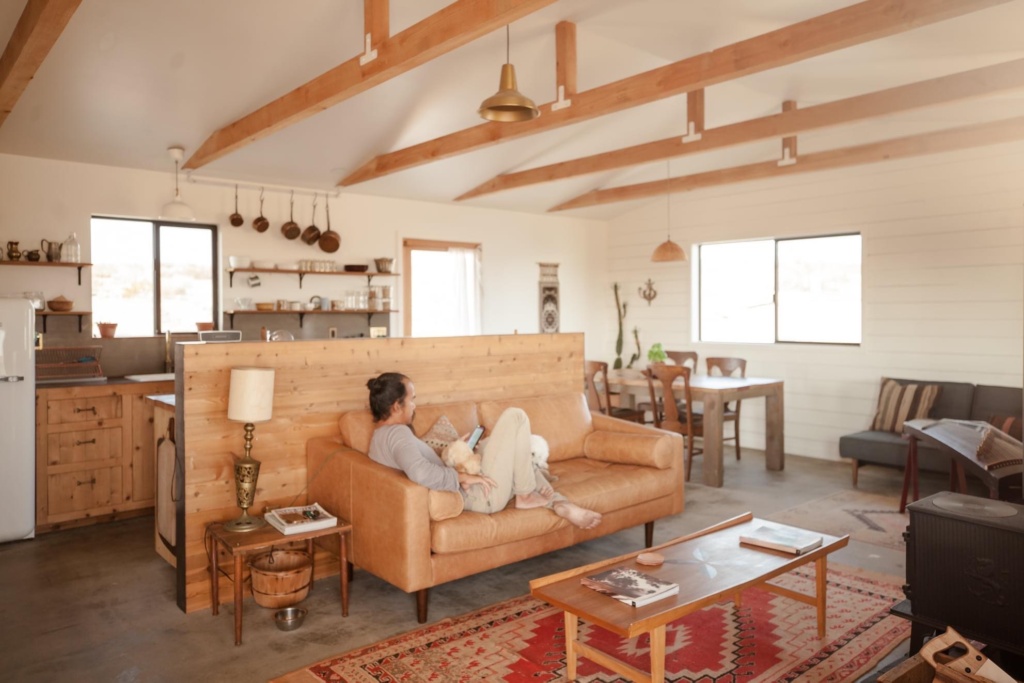 When we walked into Luna Cabin, we instantly felt welcoming. We love Luna's high ceilings, concrete floors, large windows, wood stove, and its open plan kitchen.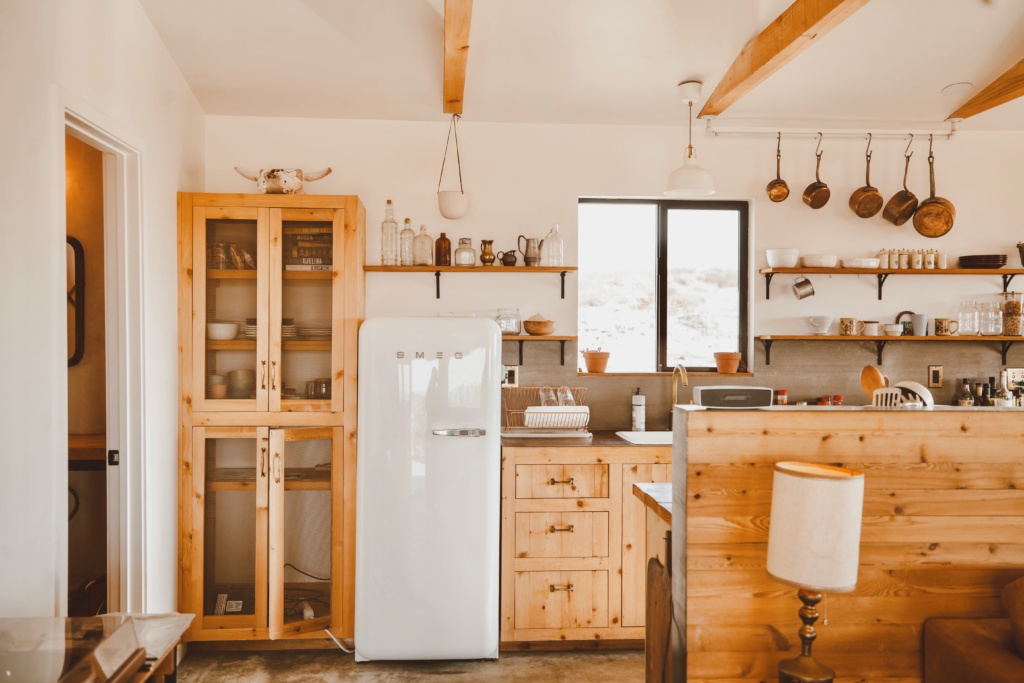 The space feels authentic, a genuine reflection of the home owner. It's rare to find on AirBnb nowadays homes that have a strong sense of identity – which is different to having a strong look. Homes like Luna Cabin are not trying to emulate someone's style or follow trends. It is a fine example of a warm and genuine space.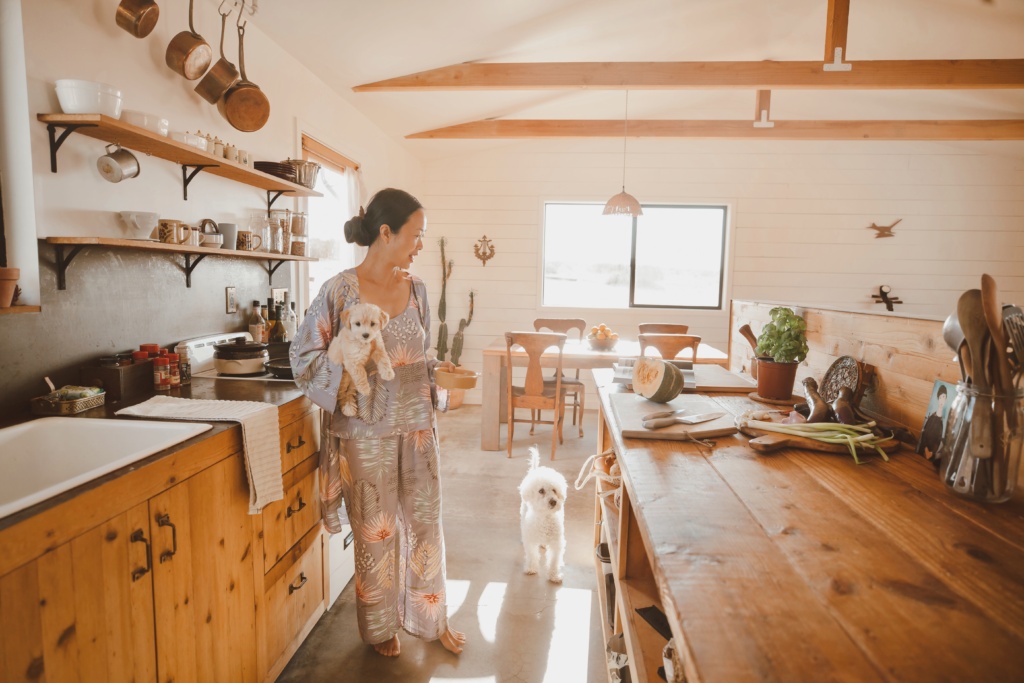 Luna Cabin was made to be a place where rustic meets refined, and modern meet vintage. Natural light floods the rooms and natural materials will make you feel at one with the surroundings while still having modern conveniences and comforts.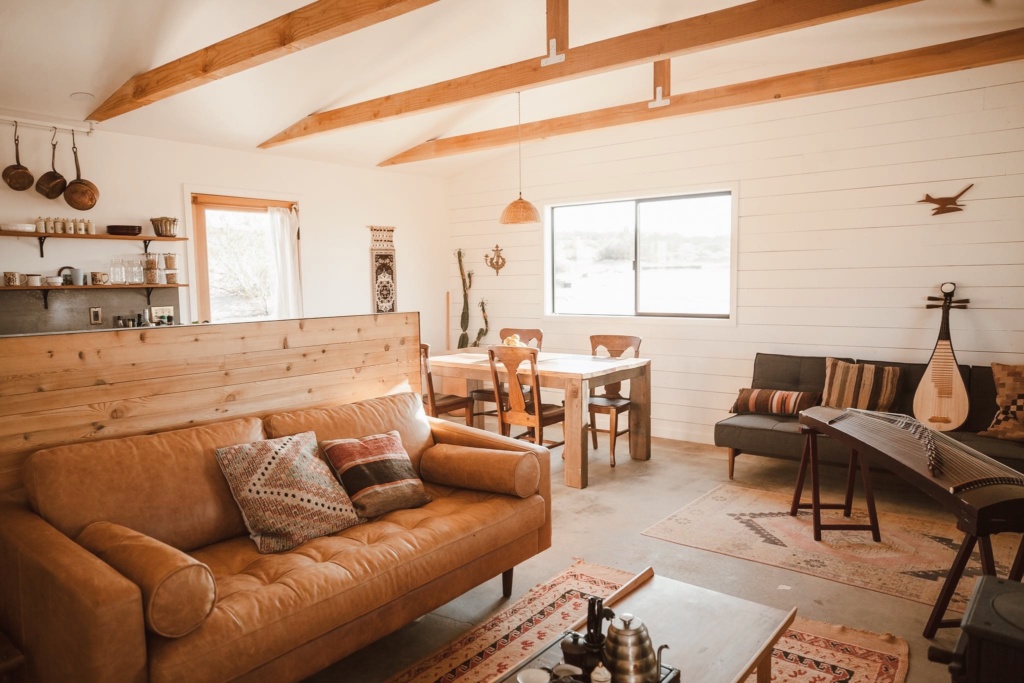 One of the things we love most about Luna Cabin is its kitchen. I always prefer a cozy farmhouse style kitchen that gets its glamor from natural elements to one of those high tech kitchens.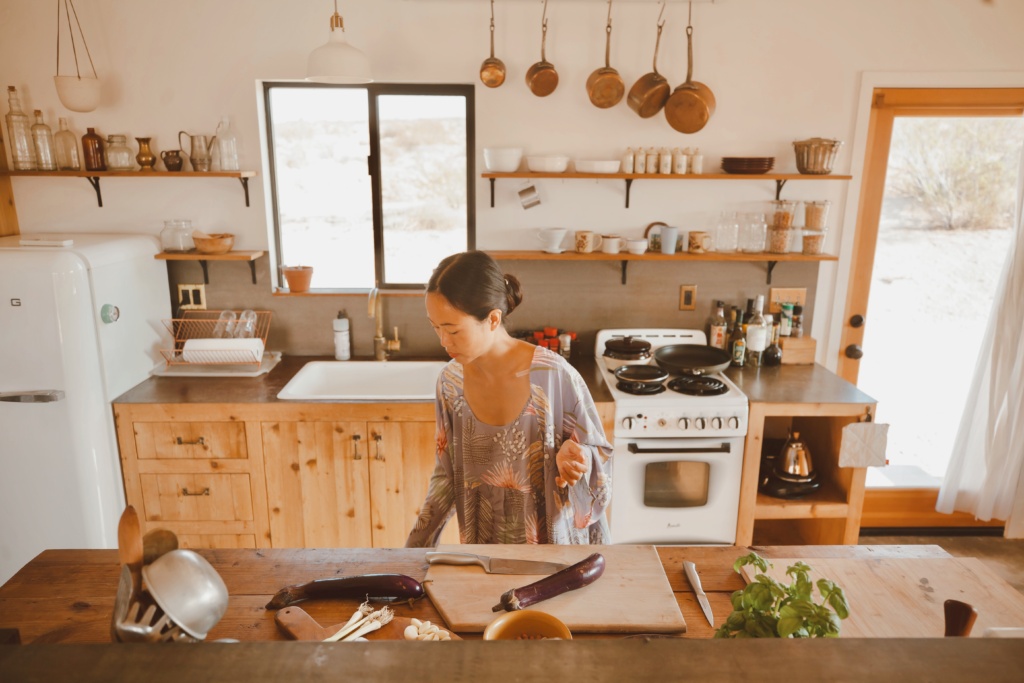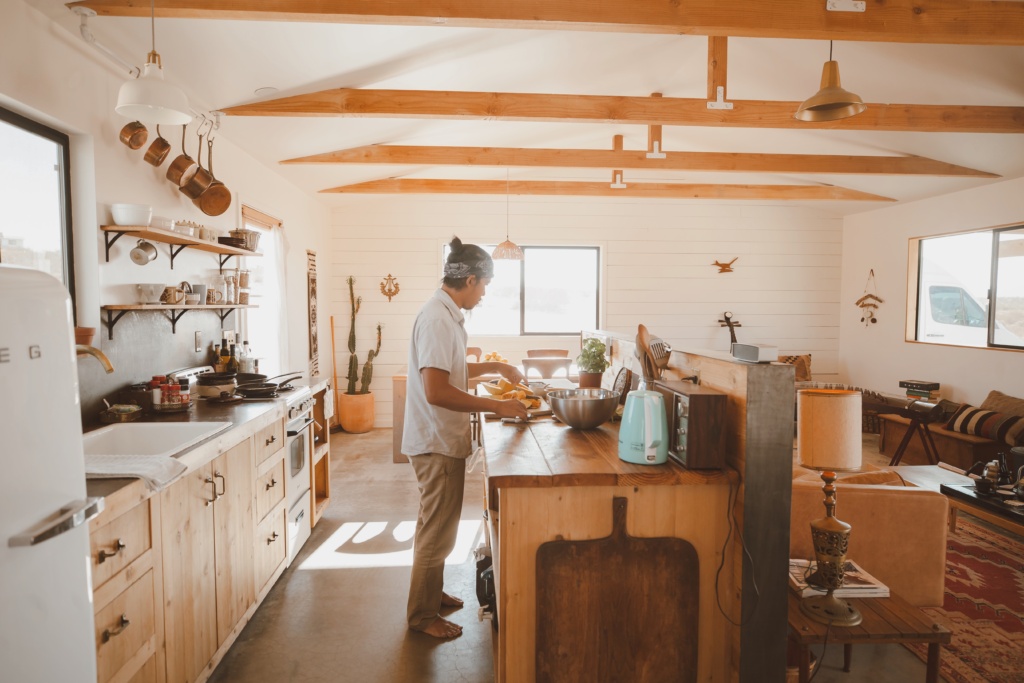 Luna Cabin's owner created this kitchen to recapture the spirit of "modern desert": wooden countertops, simple cabinets, wooden beams, and other natural elements.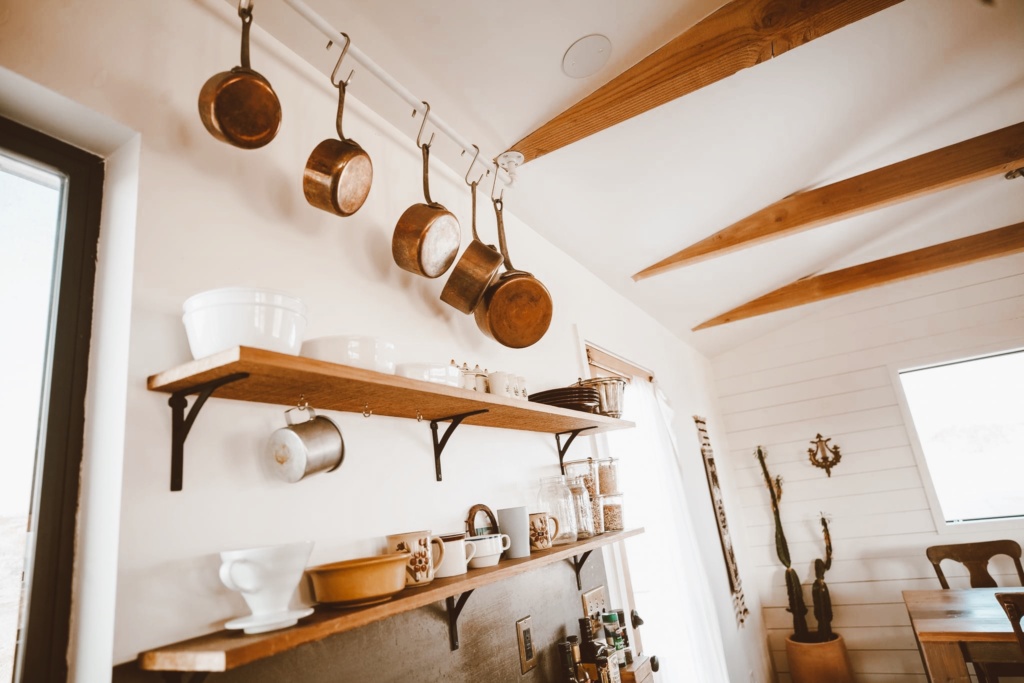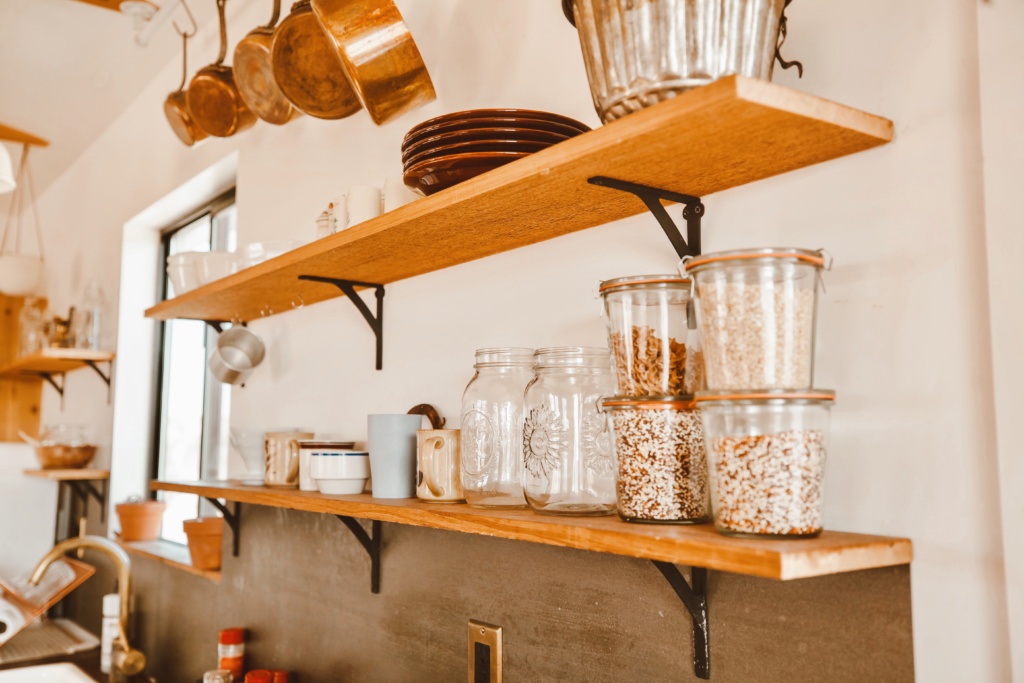 And the heart of the dining room is the farmhouse style table.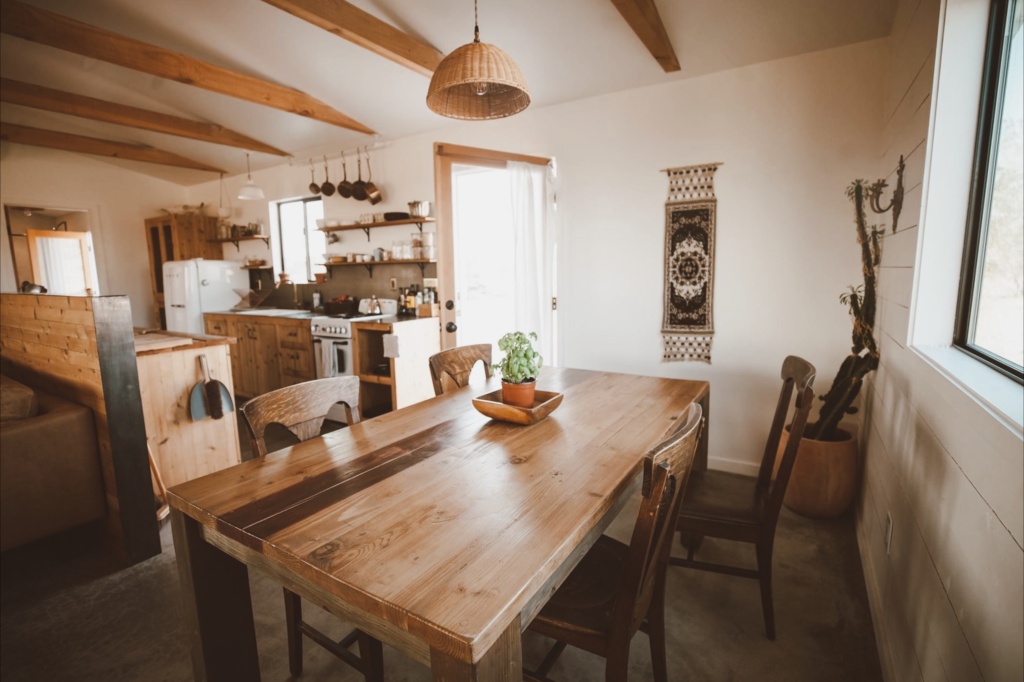 Although the Luna Cabin is situated in what seems to be in the middle of nowhere, it's fully equipped with just about every modern amenity you'll need for a comfortable stay.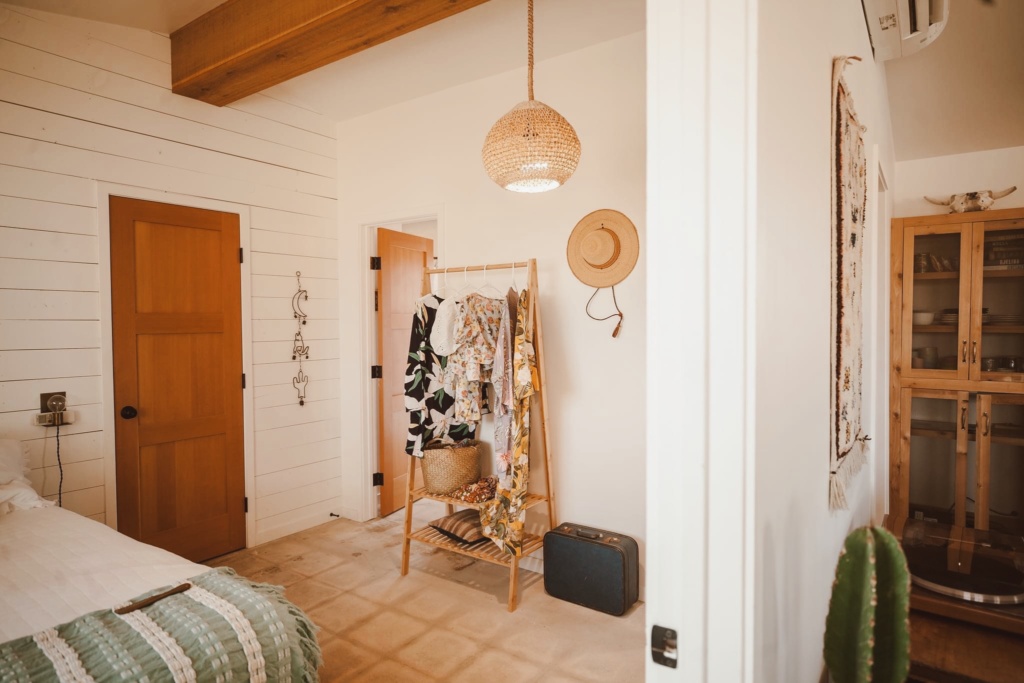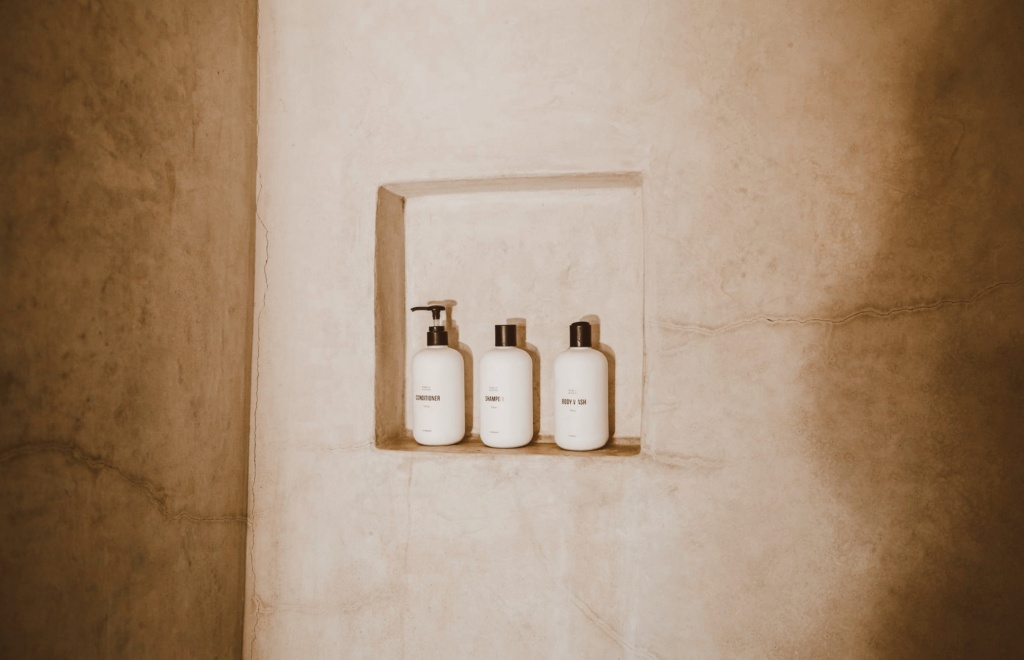 The cabin has one bedroom, a bath, and accommodates 2 guests.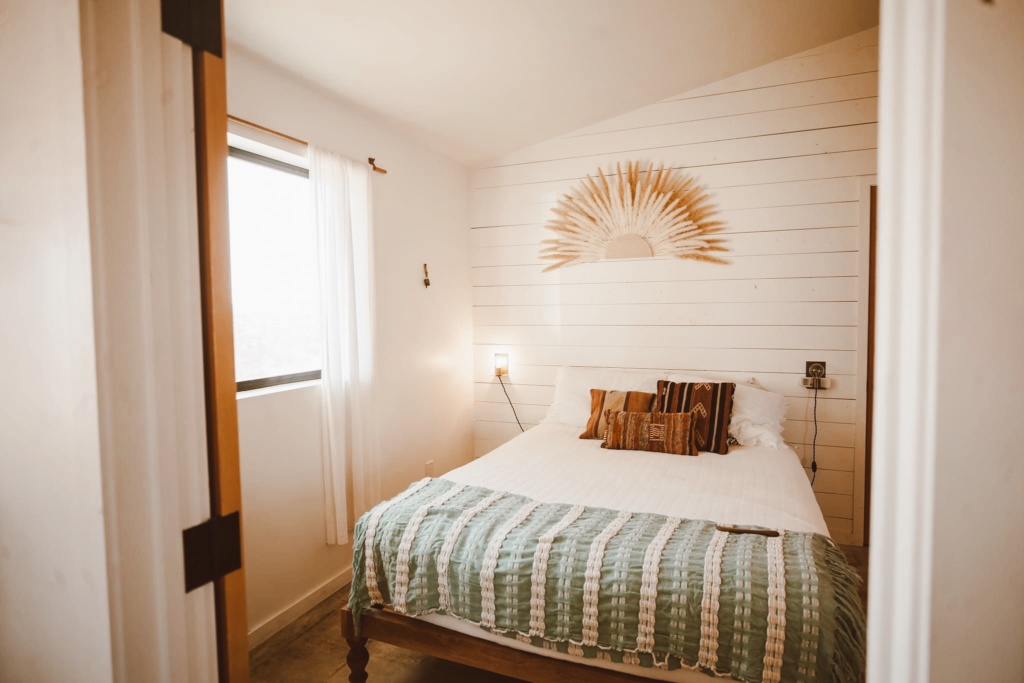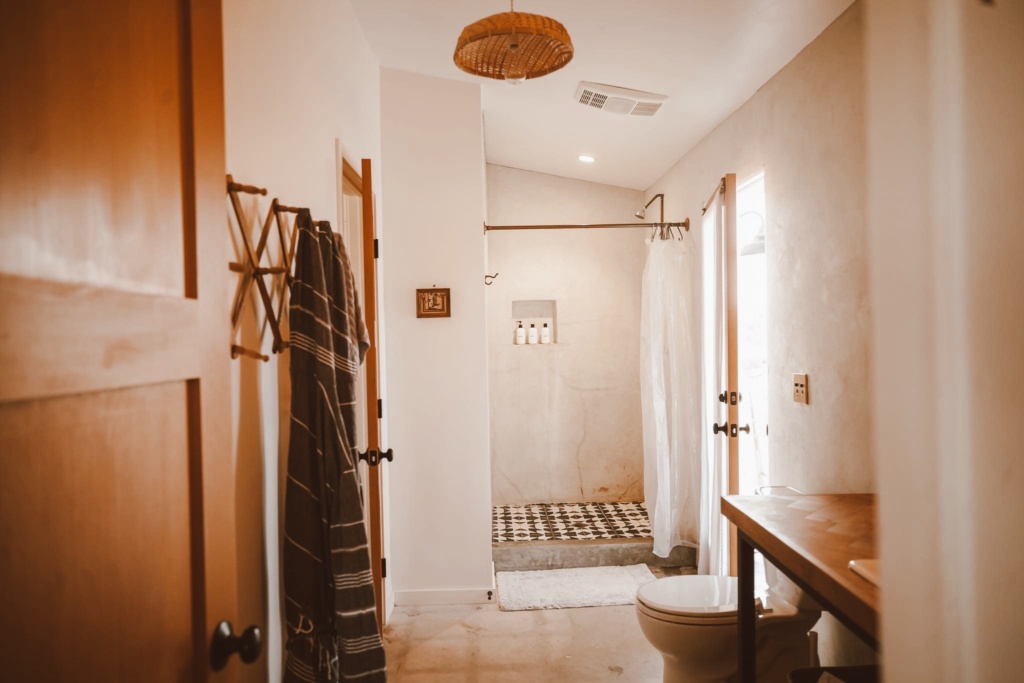 It is filled with modern amenities which include a queen size bed, beautiful bathroom, oversized covered patio, wifi, and air-conditioning for those hot summer days.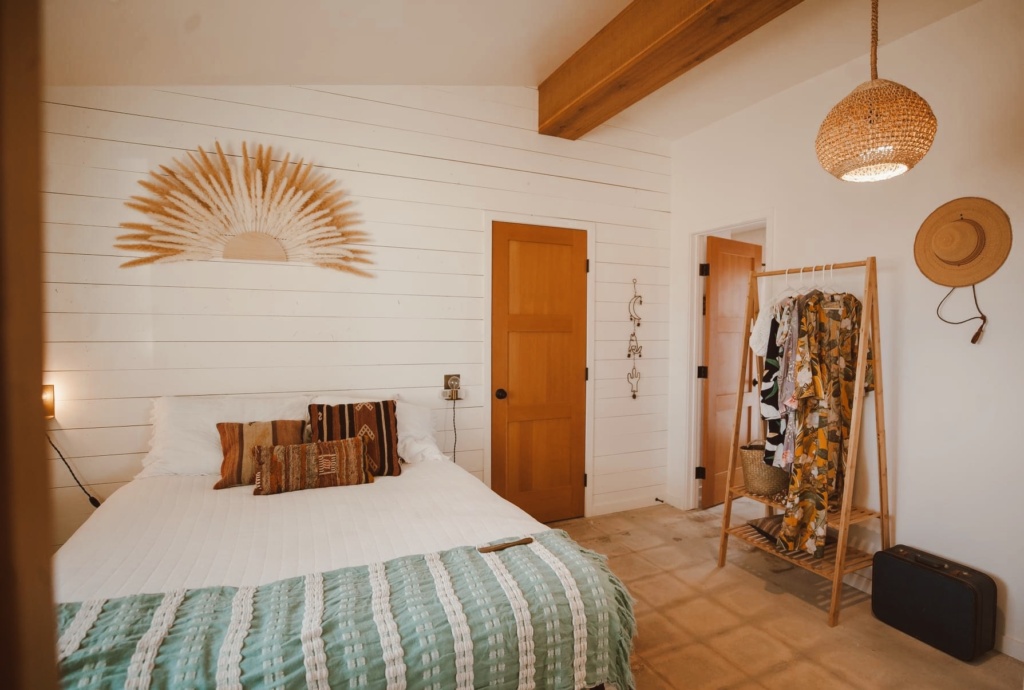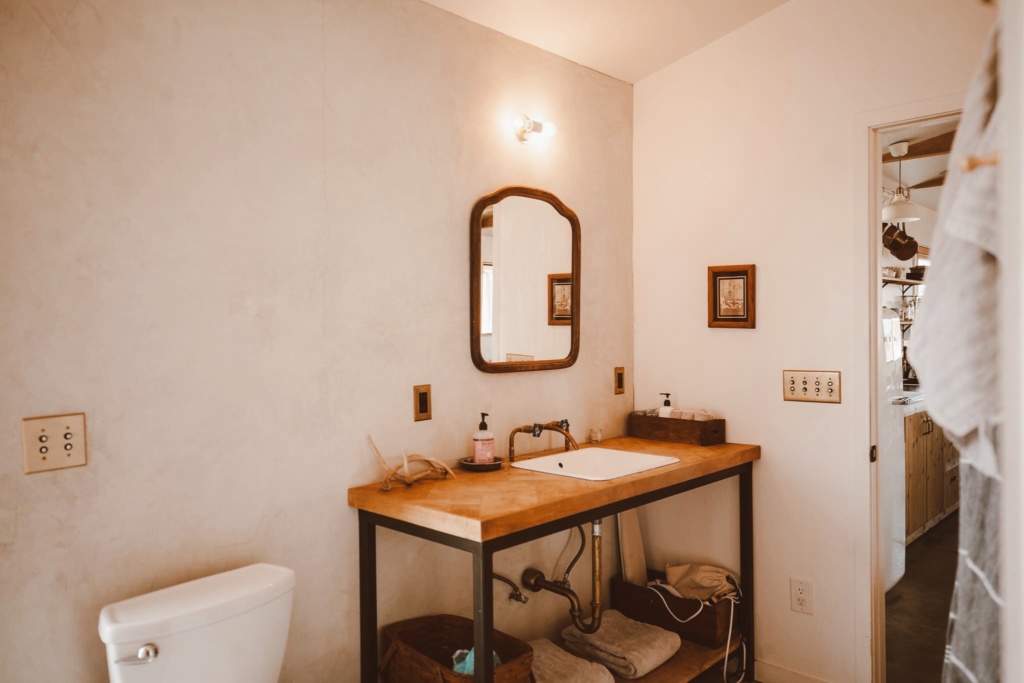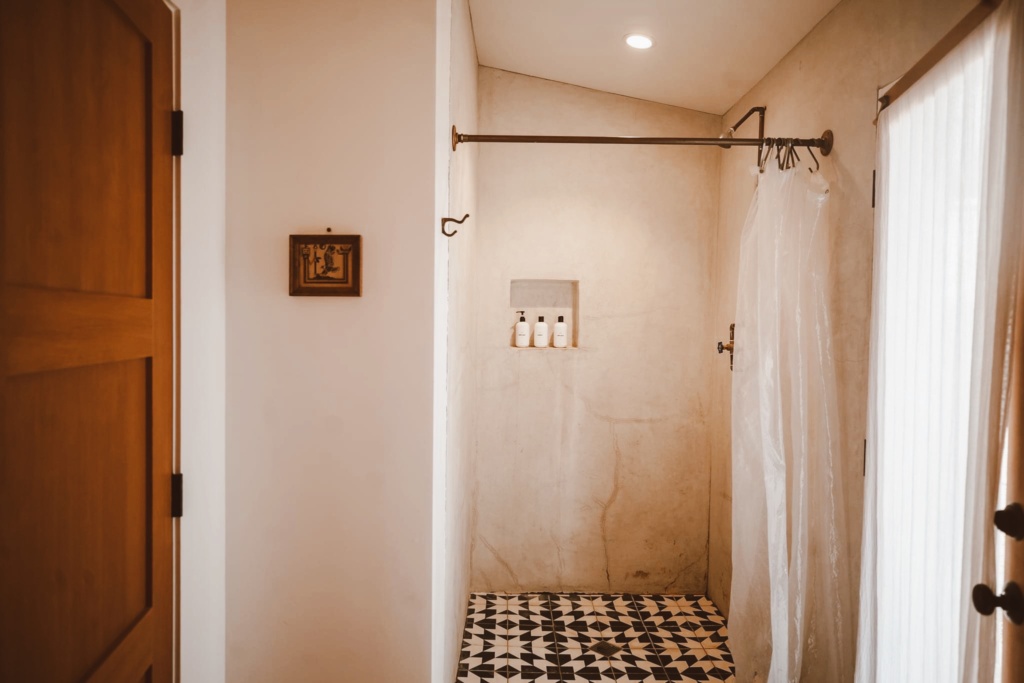 The cabin maintains elements of a bucolic dwelling with exposed beams, wood shelves and countertops, vintage furnishings and decor.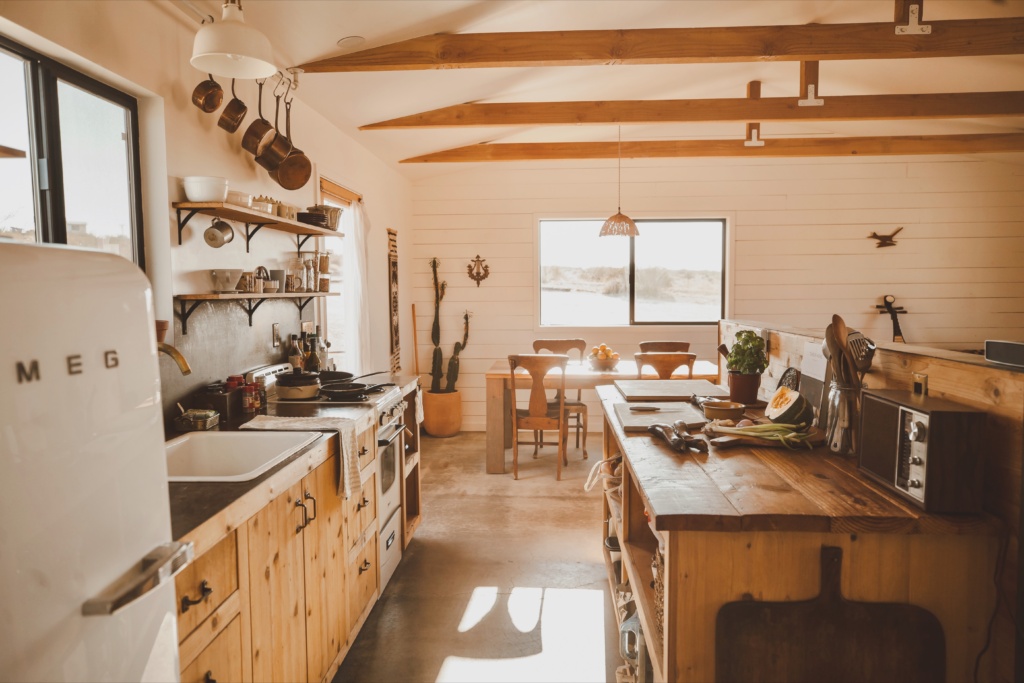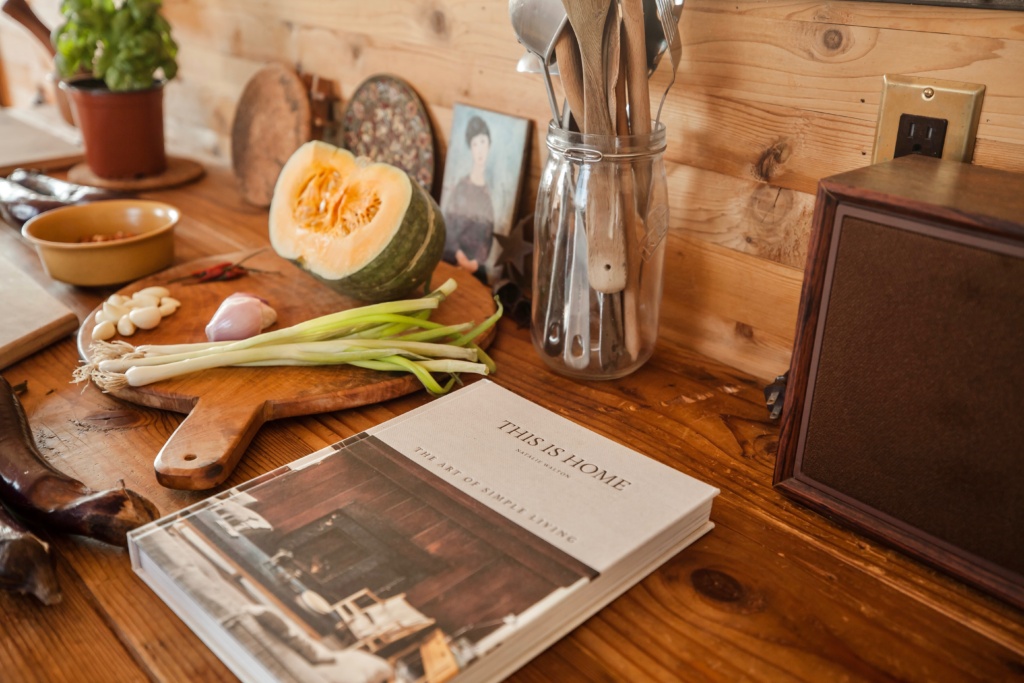 The space is thoughtfully designed with cozy blankets and throw pillows, Moroccan carpets, vintage record players and lots of desert plants.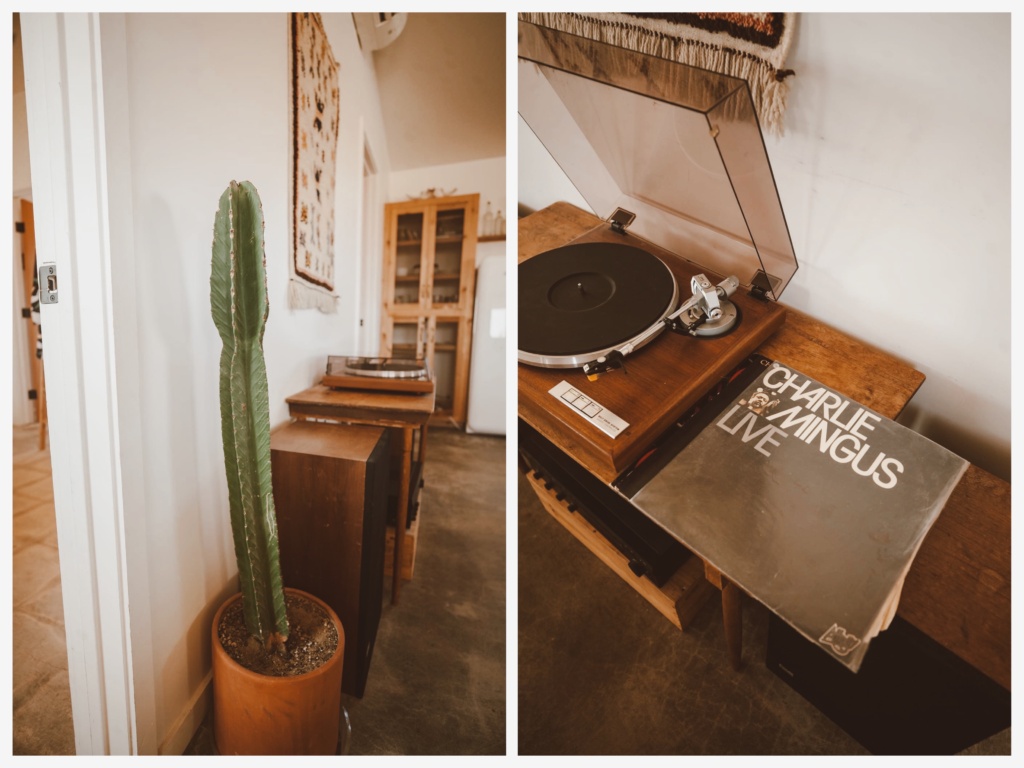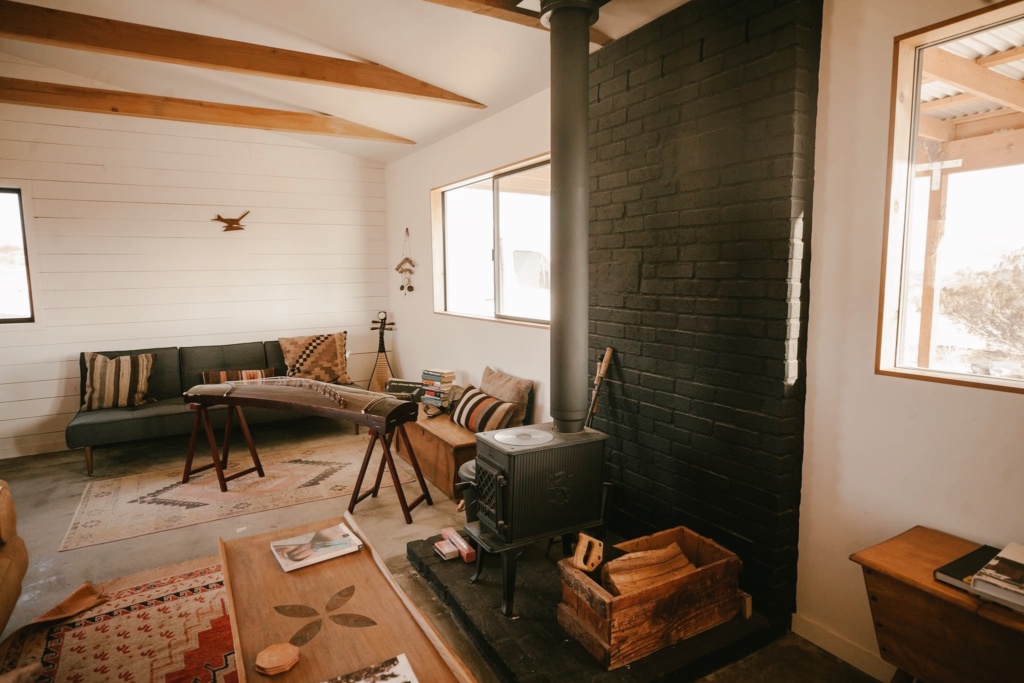 If you've ever dreamed of a Joshua Tree getaway, there's a good chance it involved an outdoor shower and a cowboy tub for star gazing at night. Luna Cabin offers both!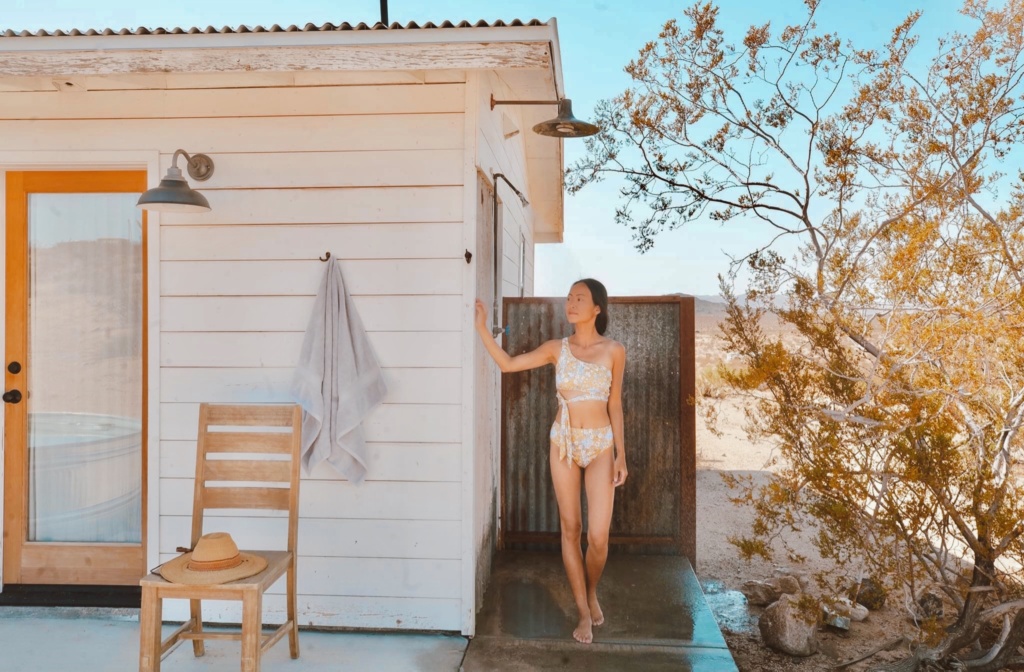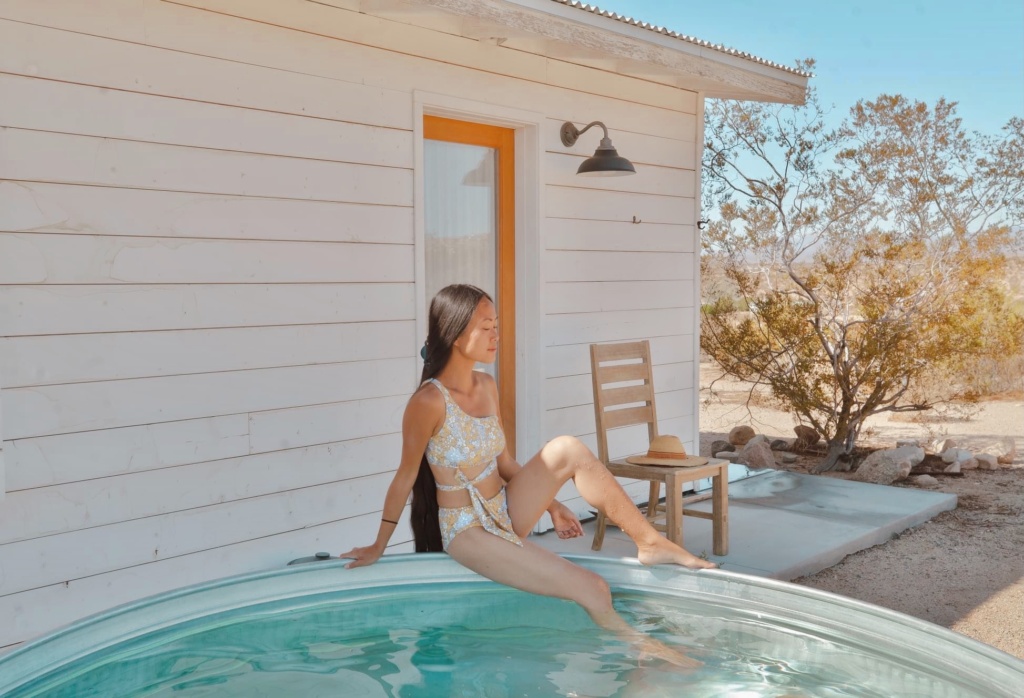 After a day of hiking in the nearby Joshua Tree National Park you can rest, relax, and rejuvenate under the stars, cool off in the cowboy tub, or enjoy any of the other treats this unique property has to offer. Luna Cabin will exceed your expectations.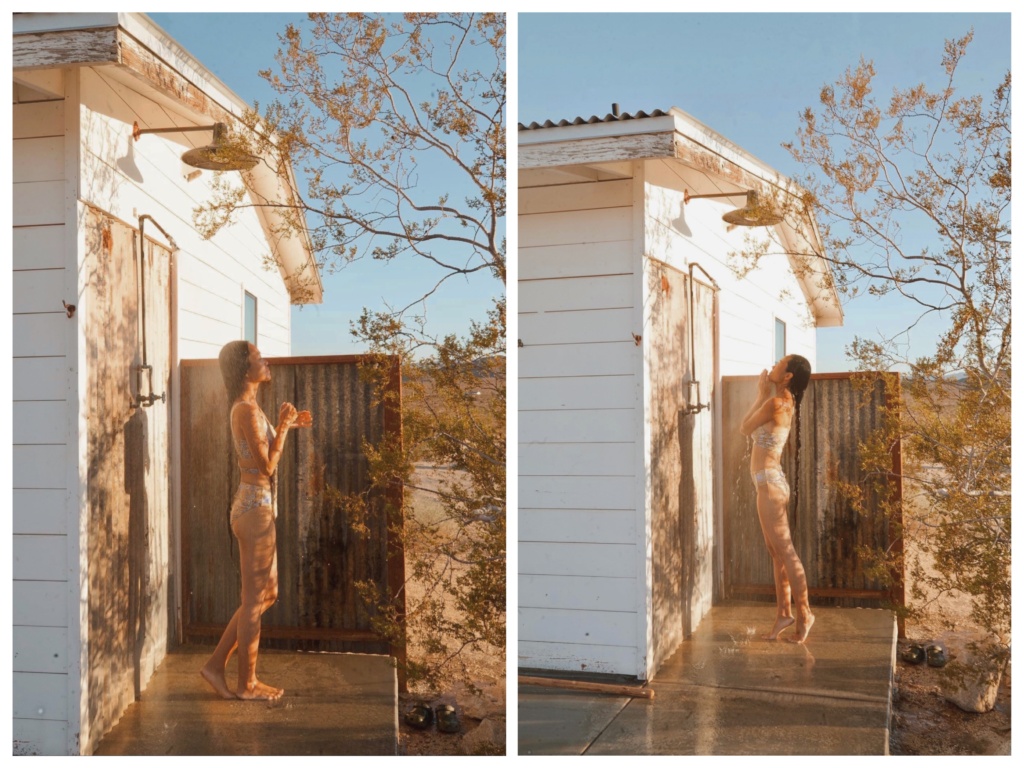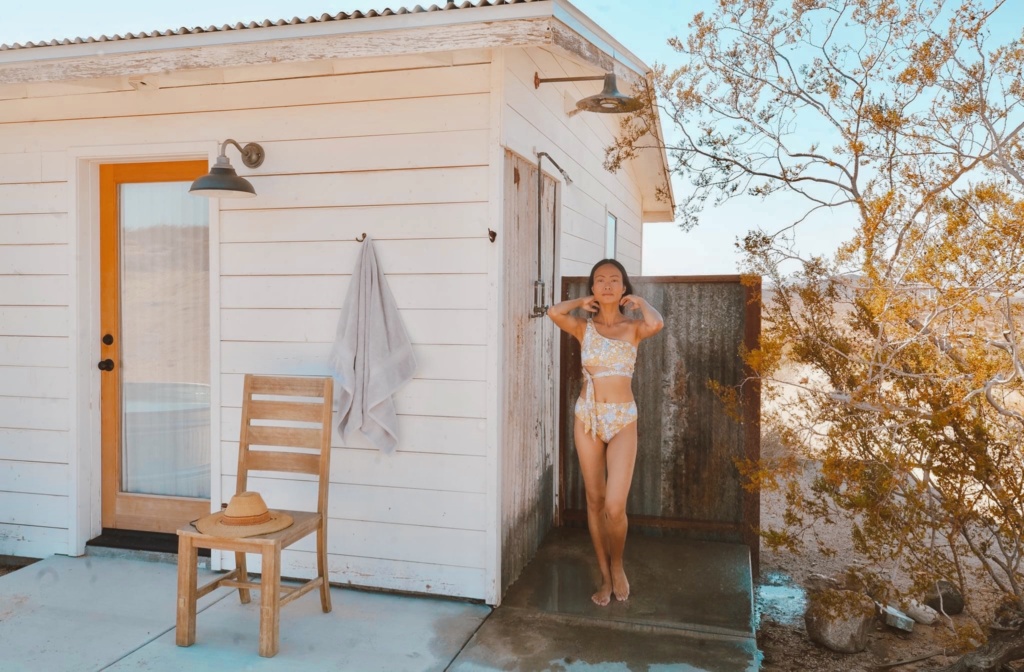 There's a wonder to this 1950s cabin with the charm of a pioneer homestead – it's where rustic meets modern. The home owner has successfully created a sanctuary where guest can live in harmony with the surrounding environment. The home favors natural elements, sustainable materials, letting in natural light and the sweeping view of desert landscape – all help us to connect with the surrounds and expand our sense of space. When we take time to connect with nature, our lives become richer.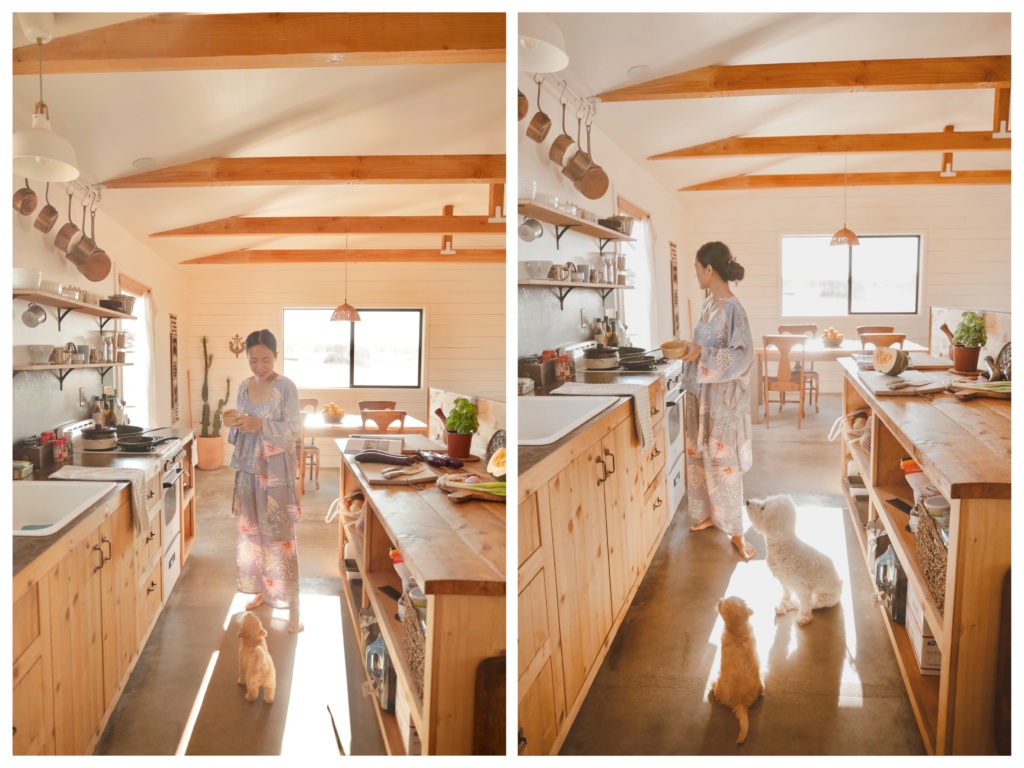 There's a sense of gentle calm that gets inside you when you're at Luna Cabin. It comes upon you slowly; your mood will shift with sunrise/sunset, the house aglow, and the view of the valley stretching out below you. This is a place for dreamers to reset, reflect, and create – designed with a 'slow' pace in mind so that you enjoy every part of your stay.
If you are seeking peace and tranquility in the desert, make sure to check this place out. It's far enough to feel alone, yet close enough to experience all that Joshua Tree has to offer. Book and find out more online.