Are you hosting a Christmas party this year?! Or in charge of the tablescapes at your next party? Decorating for the holiday is one of the most joyous things I can do for my family. It creates an ambience for the season and my holiday tablescape is no exception. I'm obsessed with tablescapes. Designing a tablescape for the holidays is one of the best ways to really find freedom in my decorating. Also celebrating togetherness with good food in a pretty atmosphere is a great way to remind your loved ones and your guests that they are special and appreciated.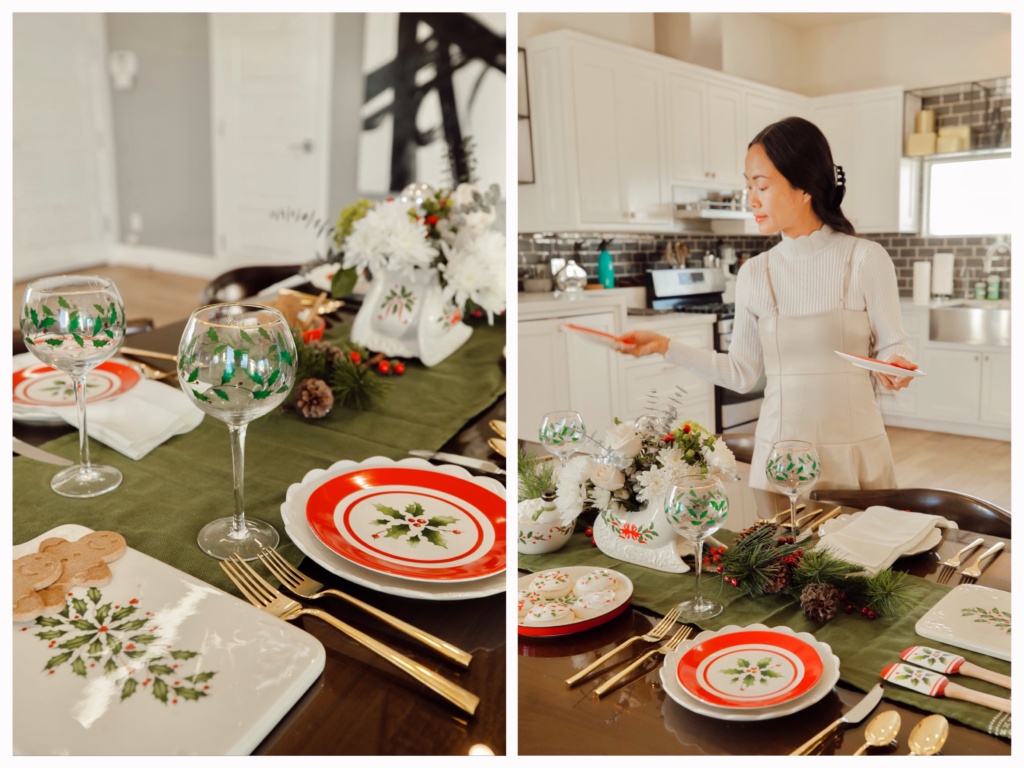 In this blog I'm partnering with Lenox to give you some tips and inspiration you'll need for simple holiday tablescapes.
Choose a Theme
Creating a theme for your holiday tablescape sets the mood and tone. It doesn't have to be complex. It can be a color, a fruit, memorabilia or a combination thereof.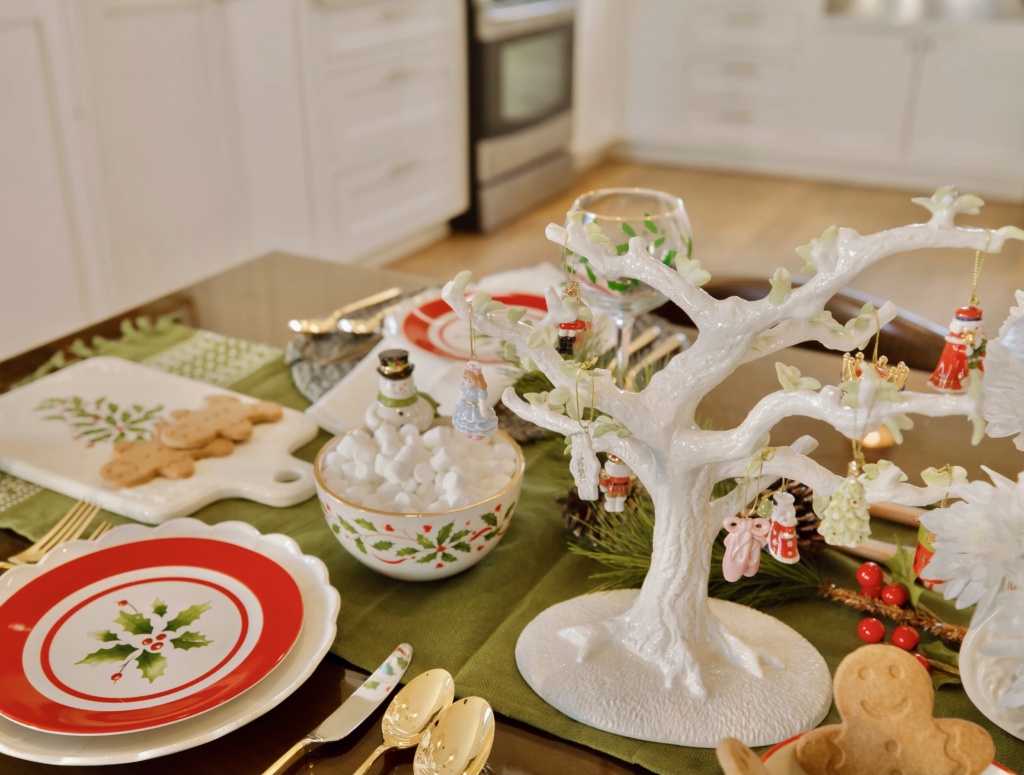 Place Setting
As far as the place setting is concerned, look no further than the splendid collection of Lenox Holiday Dinnerware with beautiful holly and berry rim and gold trim on its iconic cream colored porcelain.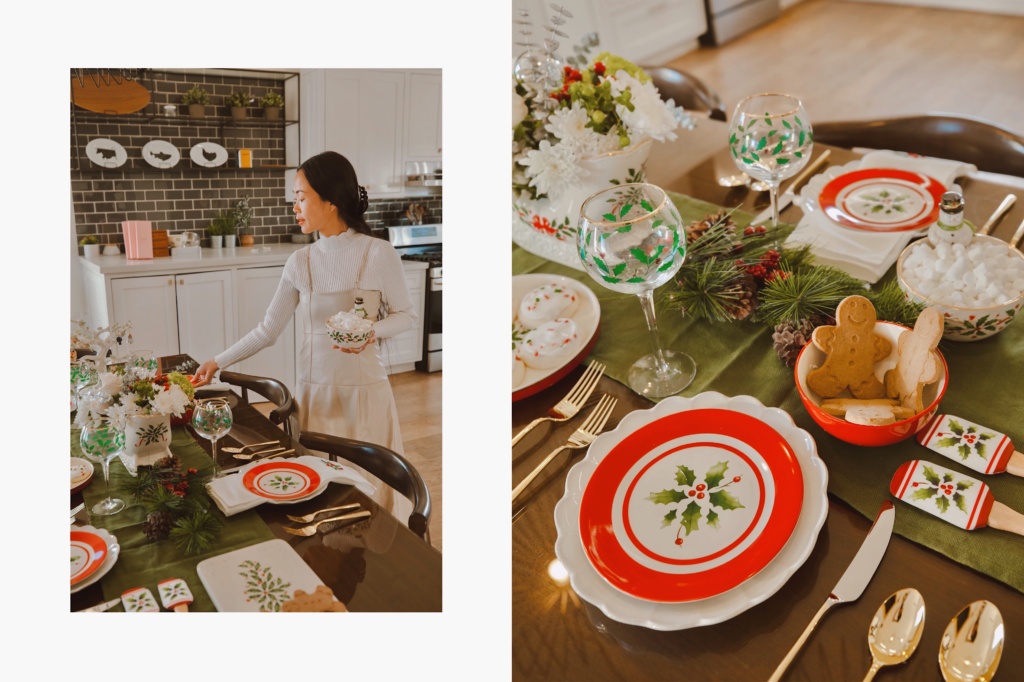 Do you remember that china your Mom always pulled out for special occasions or Christmas dinner? It was most likely Lenox. Lenox shares a passion for design and style with those who love to entertain and celebrate with family and friends. Over the last 130 years, Lenox has been a piece of how people gather around their homes. When you want to impress your guests, these timeless pieces that reflect superb quality and craftsmanship will certainly do the job.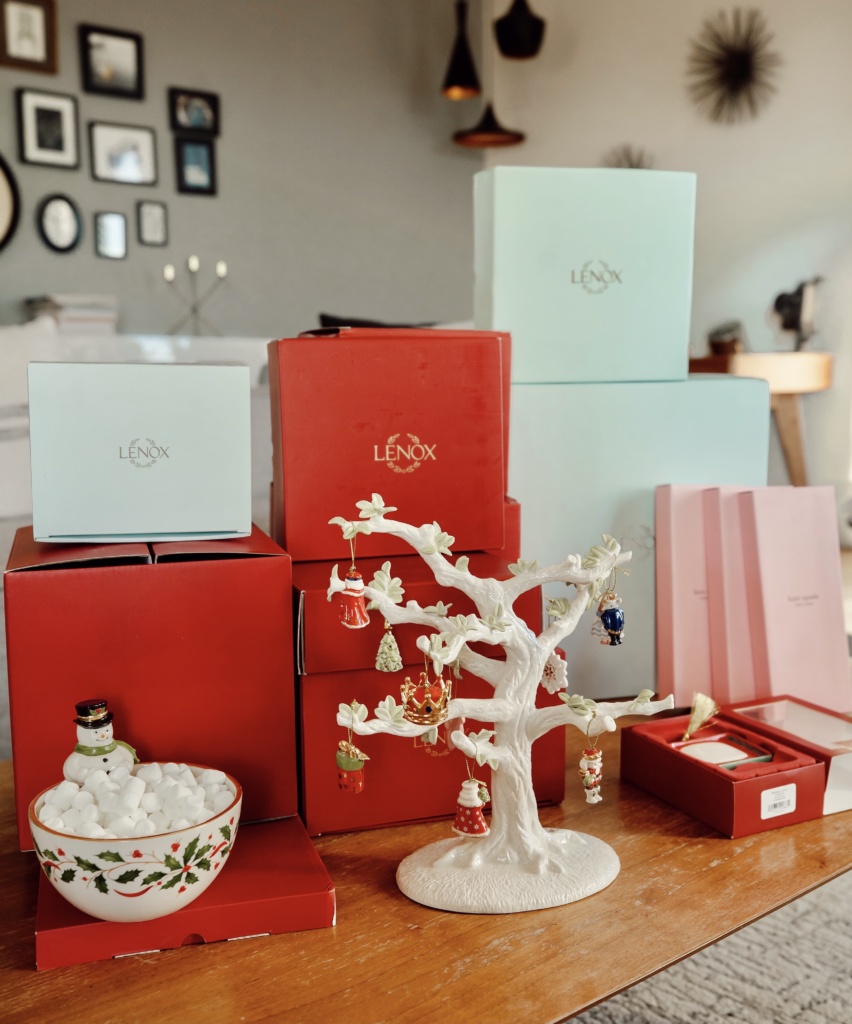 If you have a small and intimate family gathering (6-8 people), it's a great occasion to bring out Lenox classic holiday pattern. Lenox Holiday dinnerware makes every table instantly merry with its holly and berry motif.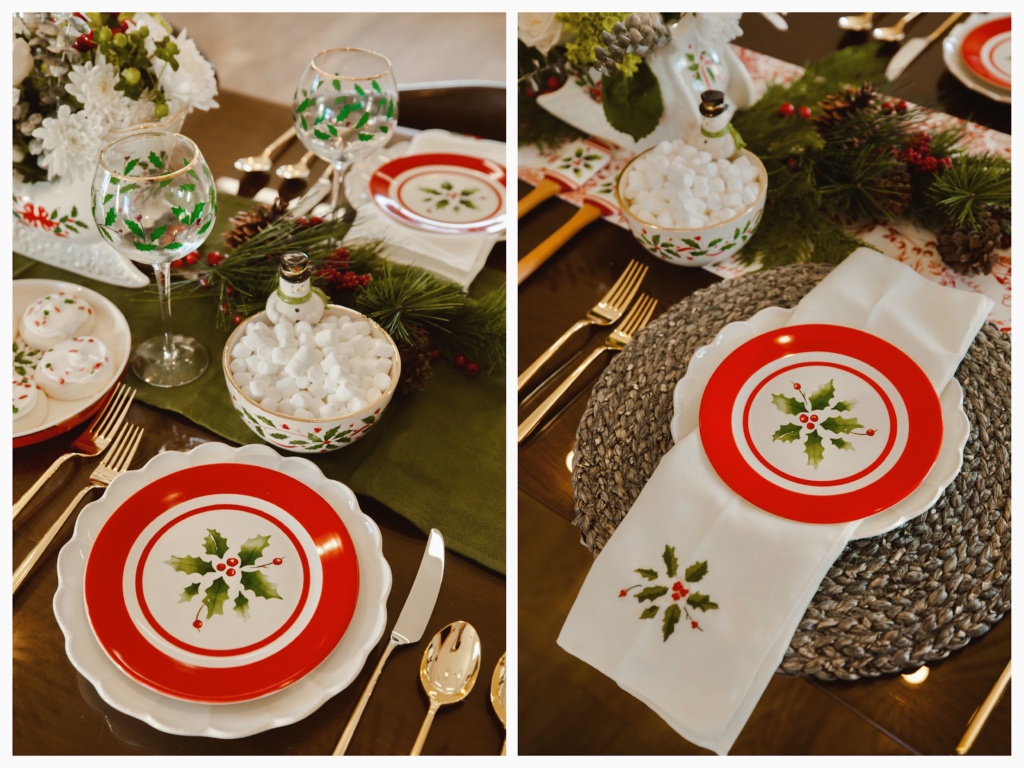 One of my favorite items in the collection is Lenox Holiday Cheeseboard which adds to the elegance of my holiday entertaining in the years to come.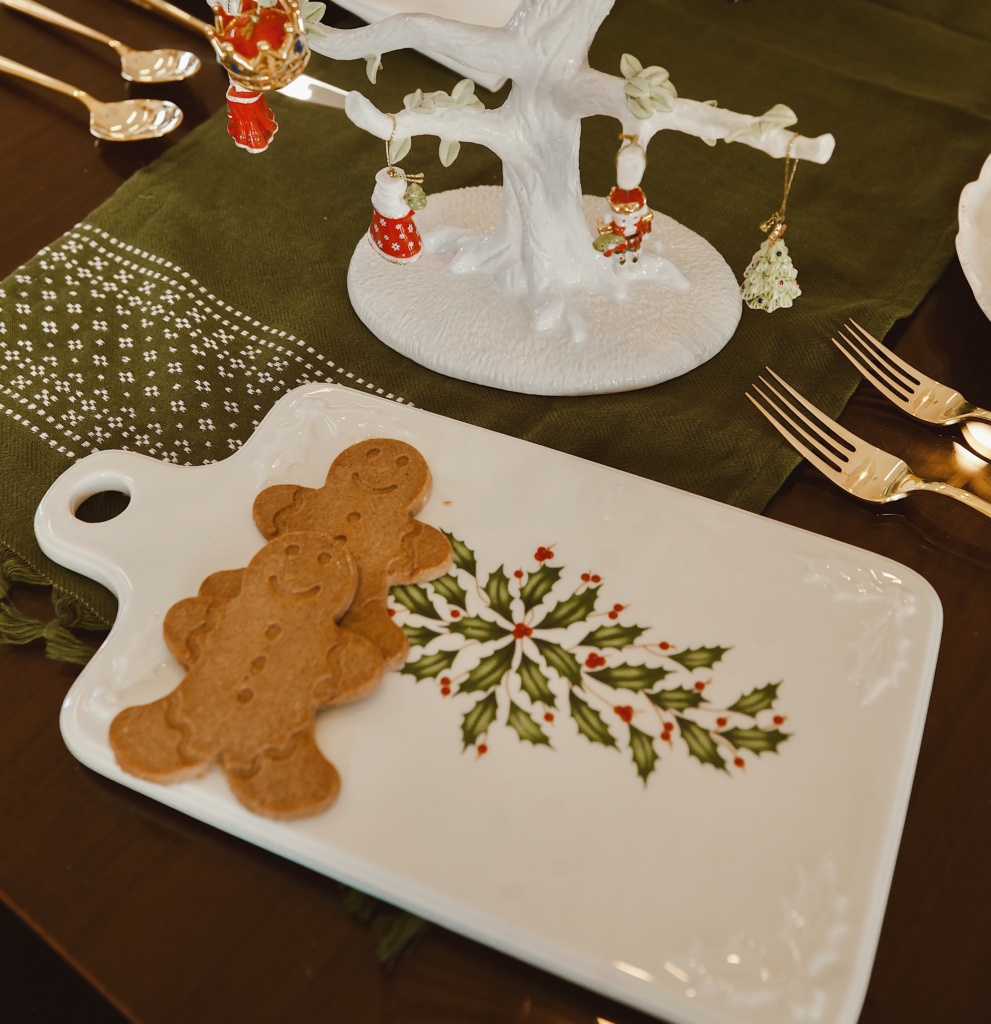 And their Holiday Snowman Bowl is perfect for marshmallows, gum drops, candy canes and cookies! Display this bowl on your counter for an instant holiday vibe and fill it with all sorts of sweet treats.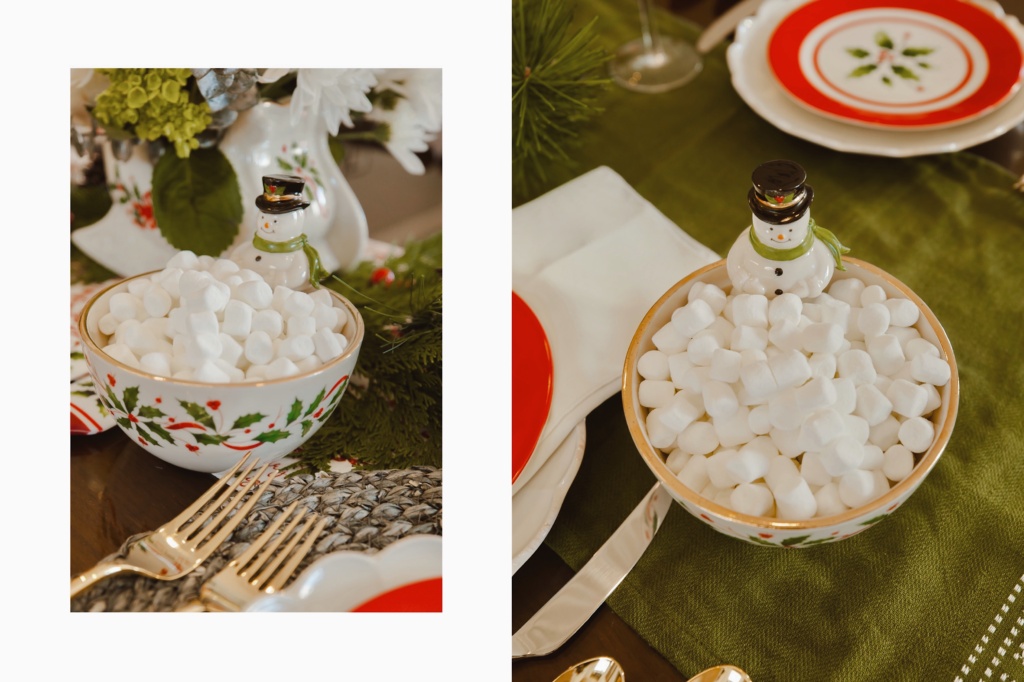 Featuring the best-selling holiday pattern of holly leaves and berries, Lenox 24k-gold-accented wine glasses certainly add such a lavish upscale touch to my party and bound to be a conversation starter for my Christmas dinner.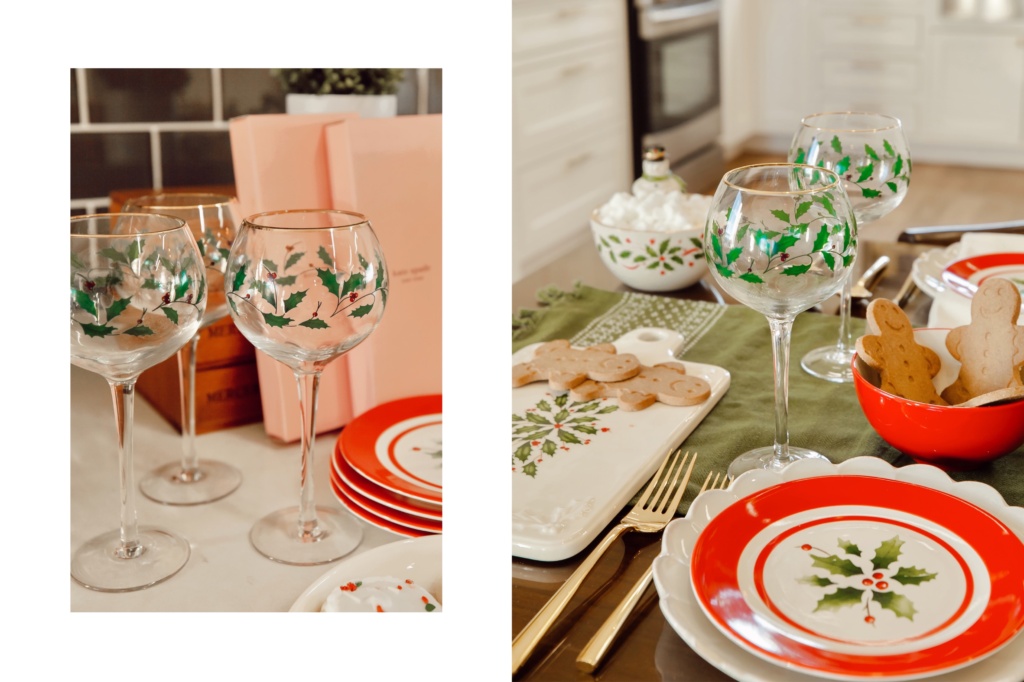 A proper place settings makes a meal taste better, so does a proper serving set. Lenox flatware will certainly impress your guests. Crafted from durable and tarnish-resistant stainless steel, the sleek Malmo Gold 5-piece Flatware Set by kate spade new york will do nicely.
Personalized Holiday Napkin
Hand-embroidered napkins are perfect for taking your holiday tablescape game up a notch! With just a few simple steps, you can transform any run-of-the-mill napkin into gorgeous (and festive!) Christmas decor. Whether you use a pre-purchased napkin or dive into your fabric stash, you can stitch one up for everyone gathered around your Christmas dinner.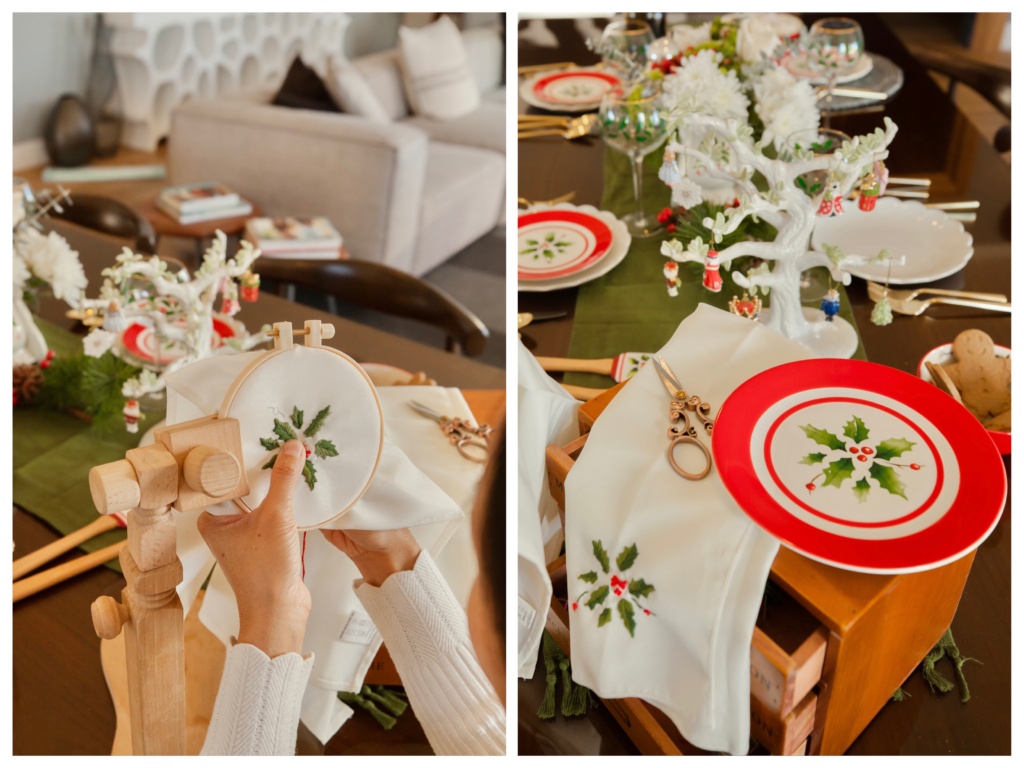 To tie everything together with Lenox festive holiday theme, I decided to embroider my napkins with Lenox holly-leaves-and-berries. I had these linen napkins from Target and thought they were perfect for this DIY project. Then you need a fabric pencil (to trace), scissors, embroidery floss, and embroidery hoop.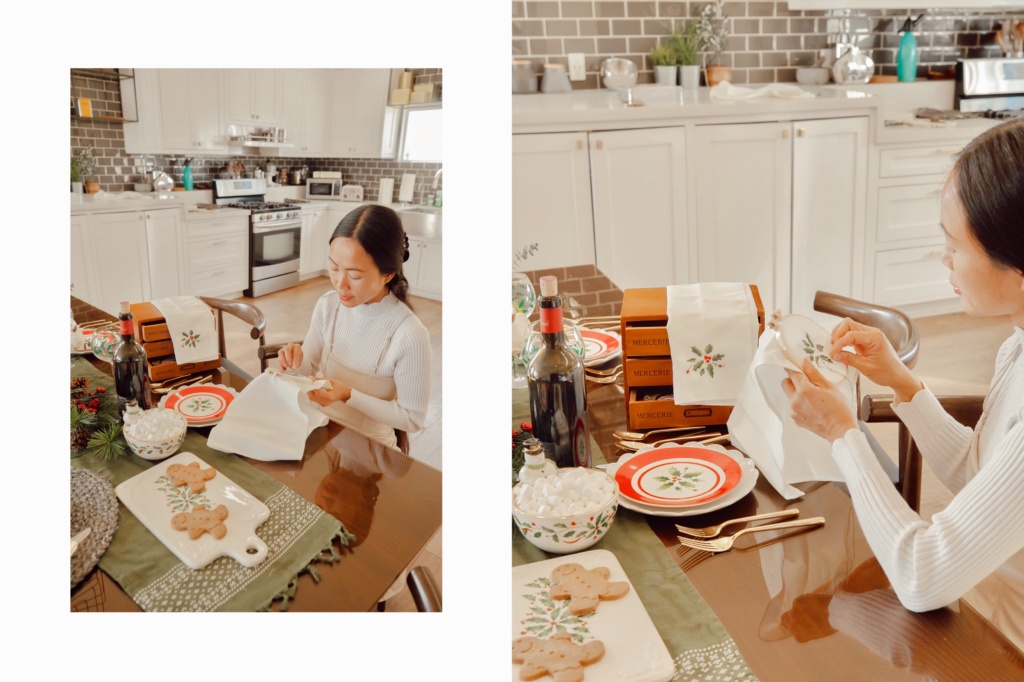 I traced the pattern onto the napkin, placed the napkin in embroidery hoop, and stitched the design. I love how these turned out and I feel like they definitely dress up my tablescape! They would also make a great gift for someone who loves to entertain!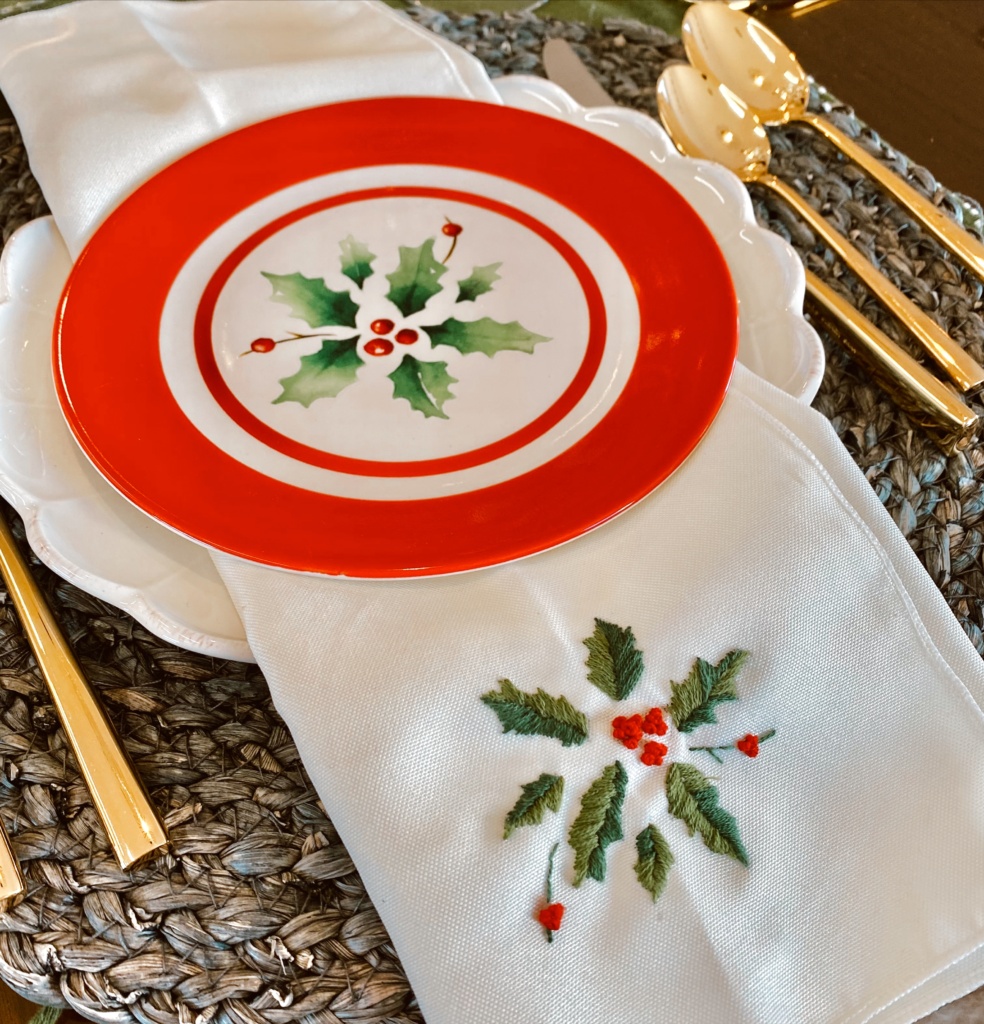 Festive Centerpiece
This is where many get a little unsure of themselves. The best approach is to keep it simple and manageable. Start with your theme. Lenox got you cover in this area too. Lenox is really a one stop shop for entertaining and decorating.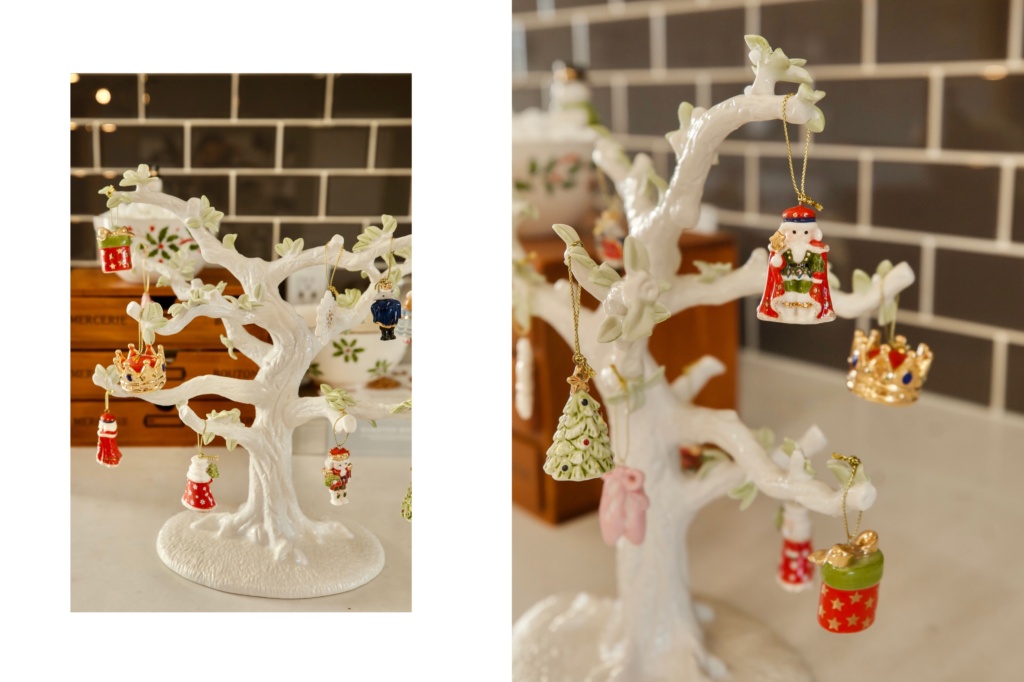 I used Lenox Ivory Ornament Tree as my centerpiece. Crafted of pristine ivory porcelain, it's the perfect piece for showcasing your mini ornaments all year round!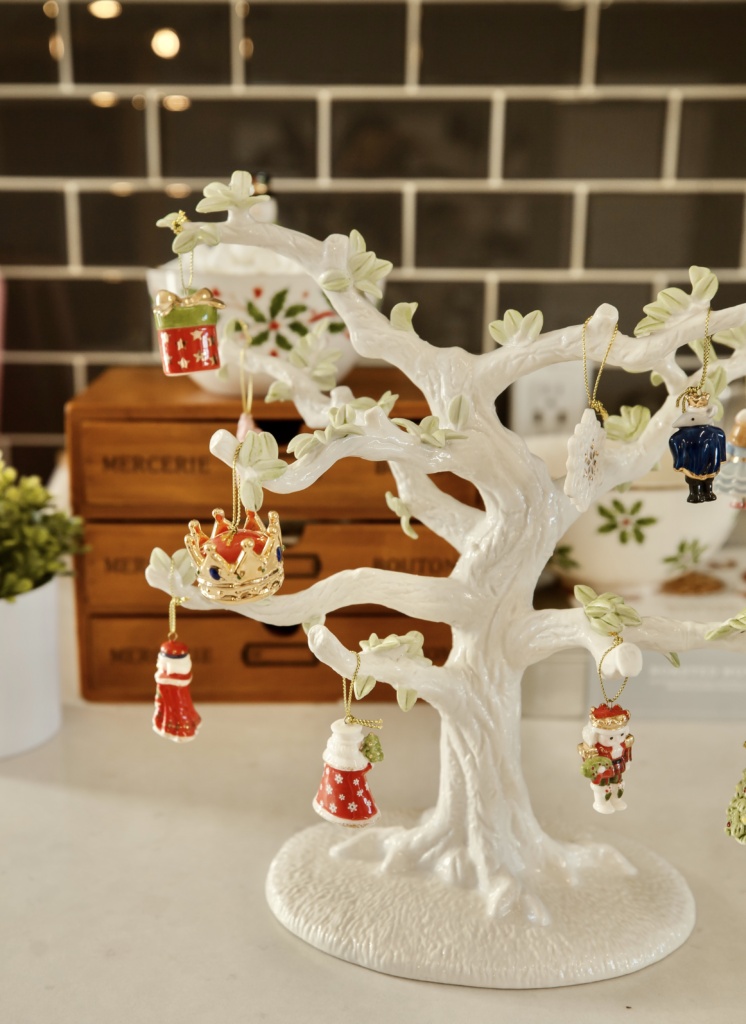 I chose to decorate the ornament tree with Lenox Nutcracker 10-Piece Ornament Set. The classic story of the Nutcracker comes to life with the charming 10-piece mini ornament set featuring nutcrackers, a crown, the Mouse King and more. This ornament tree and ornament set also makes a great gift for the ballet fan, storyteller or Christmas lover on your list.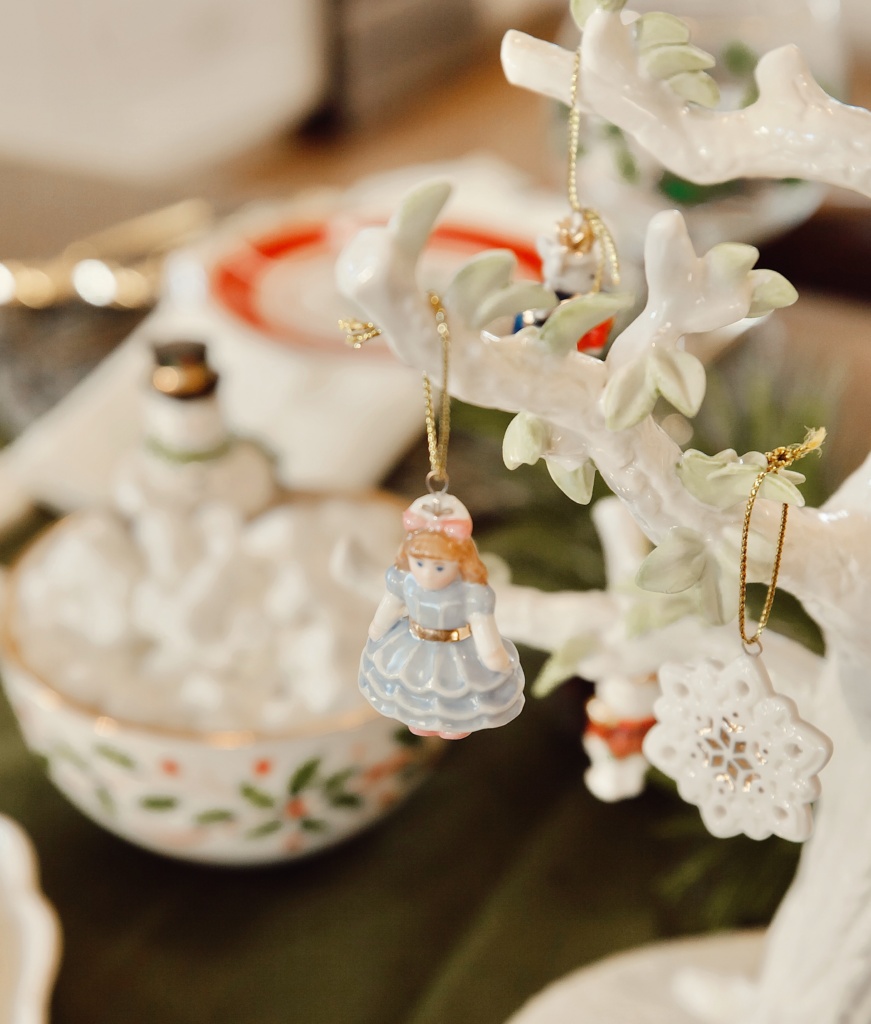 I also arranged some fresh flowers in their Holiday Sleigh Candy Dish. This sweet candy dish comes in the shape of Santa's sleigh and features the signature holly motif along the sides. Accented in 24k gold, this precious treat dish is perfect for serving after-dinner candy to your guests! Or in my case, it serves as a beautiful vase for my floral centerpiece.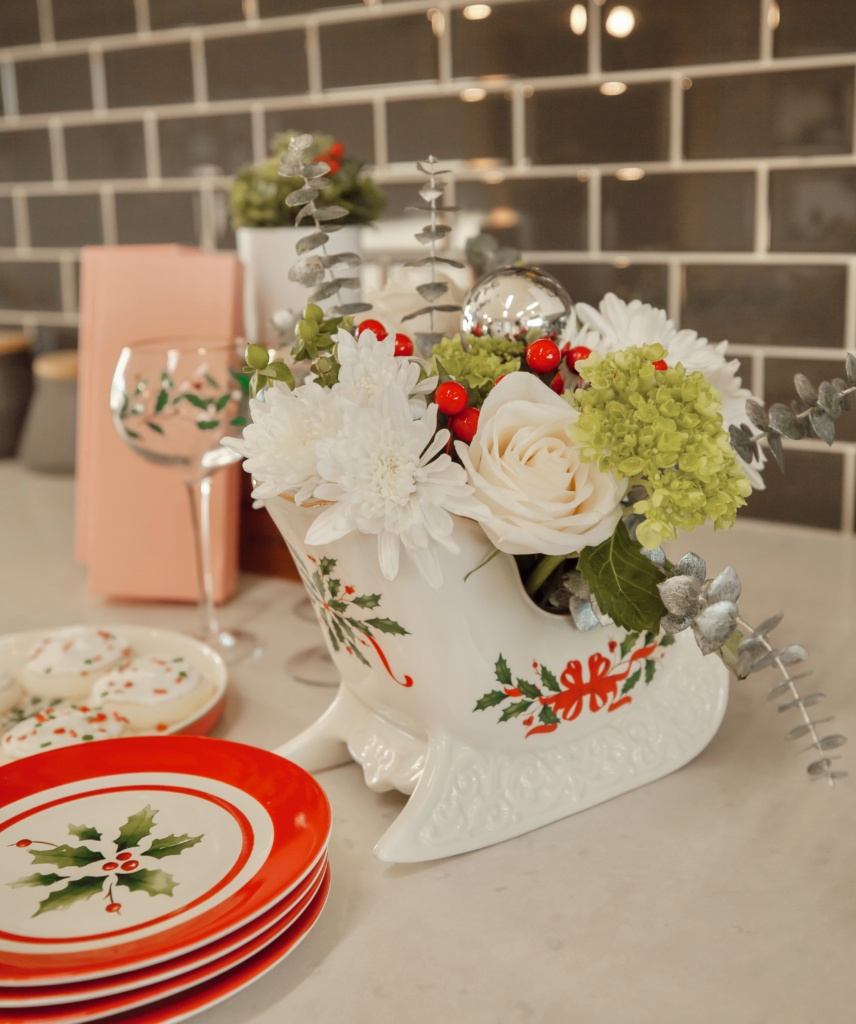 Table Runner and Greenery
A runner is the dining table's base, much like the traditional table cloth we are used to. However, when added to a dining table, it adds a beautiful texture. Runners come in all designs, ranging from intricate to simple. Some even have holiday themes sewn into the edges. You can build from there and add all your decor on top.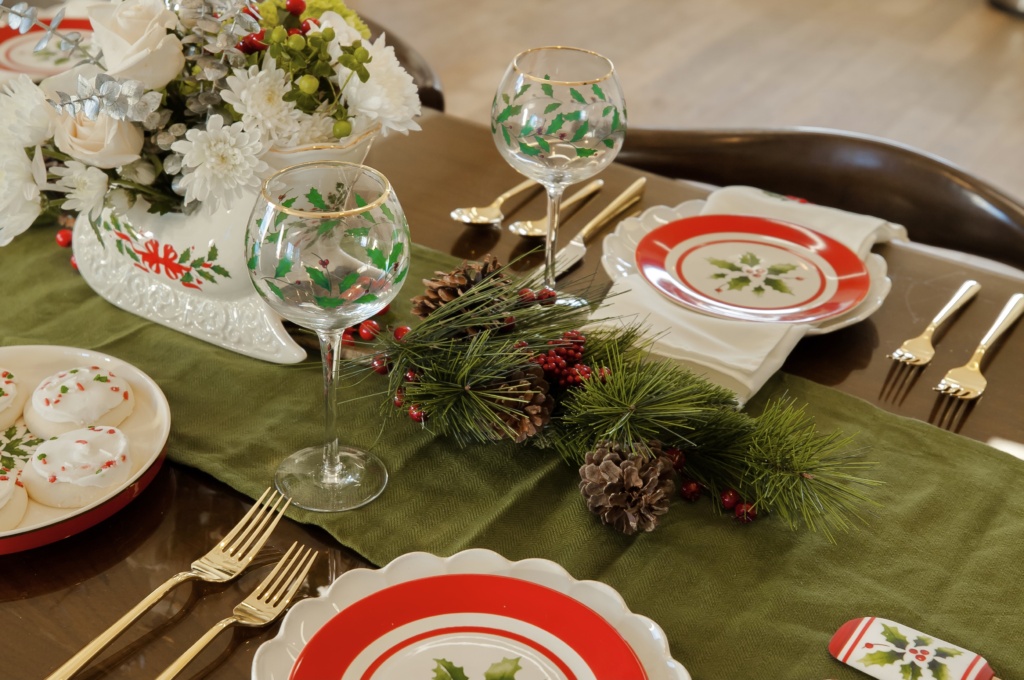 Adding some greenery on your table runner is best way to add a fresh organic, cozy environment to your holiday party! There are multiple ways to use greenery in the dining room: pine cones, twigs, berries, garland, chestnuts, fruits,… The combination of nature and candlelight really helps to create a world's away vibe. And that's really what a holiday tablescape should do.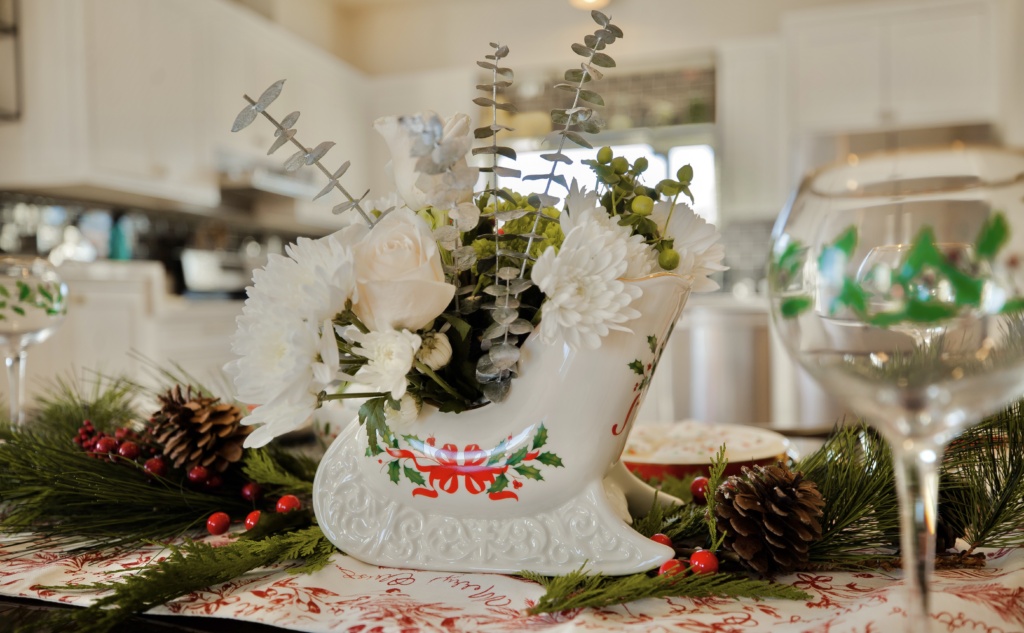 I hope you and your family can create lasting traditions using these tips and tricks as a base for your designs. Happy Holidays!
*Thank you to Lenox for kindly sponsoring this post. All opinions are 100% honest & completely my own.