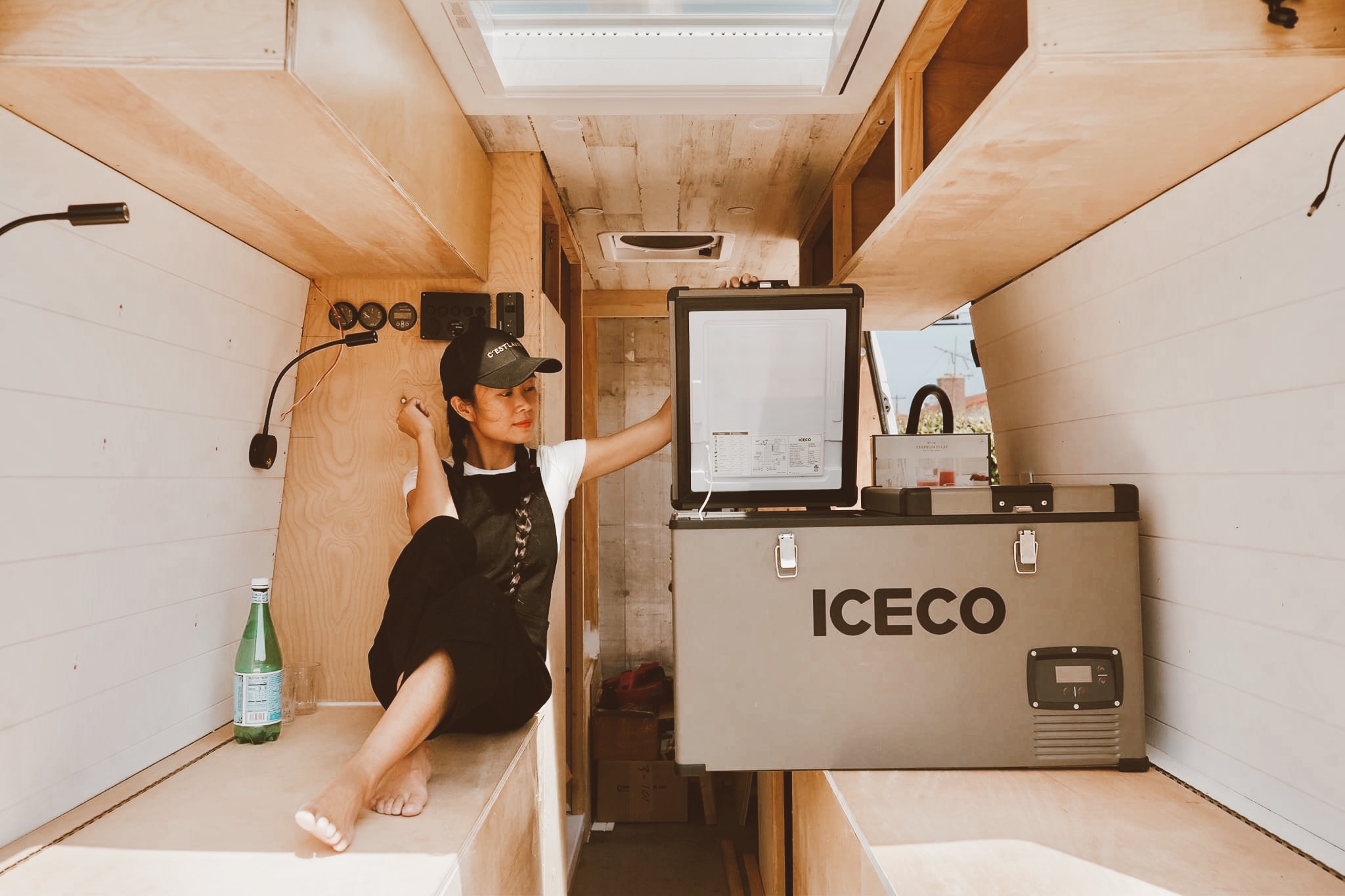 Review: ICECO VL60 Dual Zone Portable Refrigerator
Whether you're planning to live in a van or RV, or just want a camping fridge to take in your car on some road trips, keeping your food cold means bringing the comforts of home on the road. A good 12V fridge is one of the biggest investments you'll make when building your van but totally worth it! Having a campervan refrigerator means saving money (and eating healthier) by cooking your own meals. All you need to know is that the fridge you're getting will meet your needs and hold up to the daily grind of life on the road, all while staying within your budget.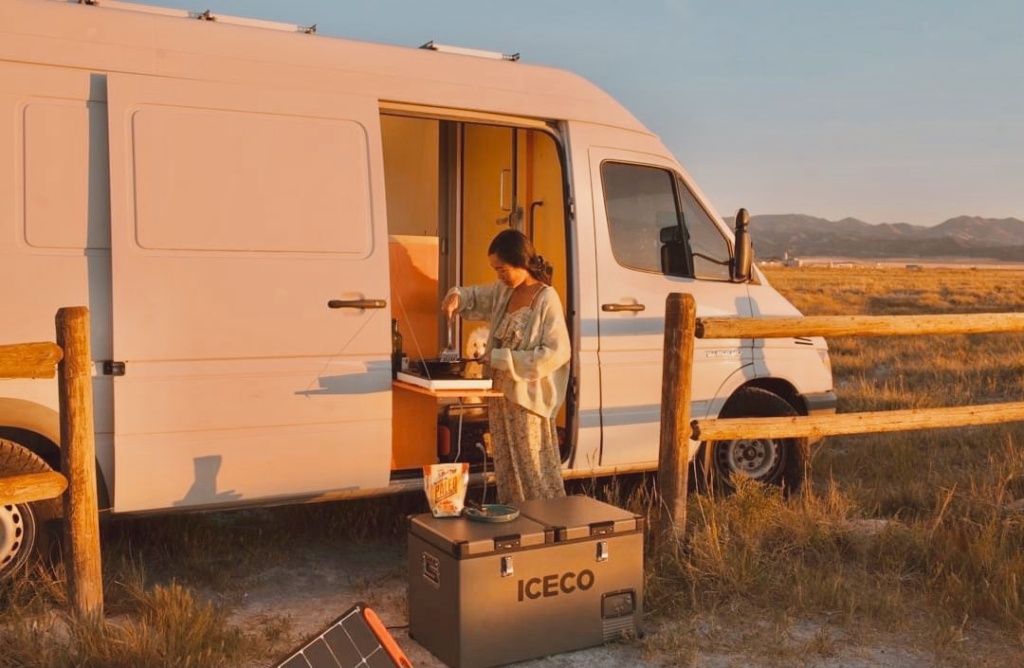 We did a LOT of research before investing in a fridge/freezer, and finally made our choice based on a combination of specifications and budget. In our opinion, ICECO refrigerators are the best overall value for portable refrigerators in the vanlife space. They offer an excellent combination of top quality components, rugged construction, performance on par with higher end fridges, and affordable pricing that's tough to beat. In this blog is our full review of our ICECO 63.4QT VL65 Dual Portable Fridge Freezer.
It has been one year since we bought ICECO dual zone fridge for our first campervan and it is still running smoothly (despite all of the bumpy roads on our van adventures). That's why we chose ICECO again for our second van conversion.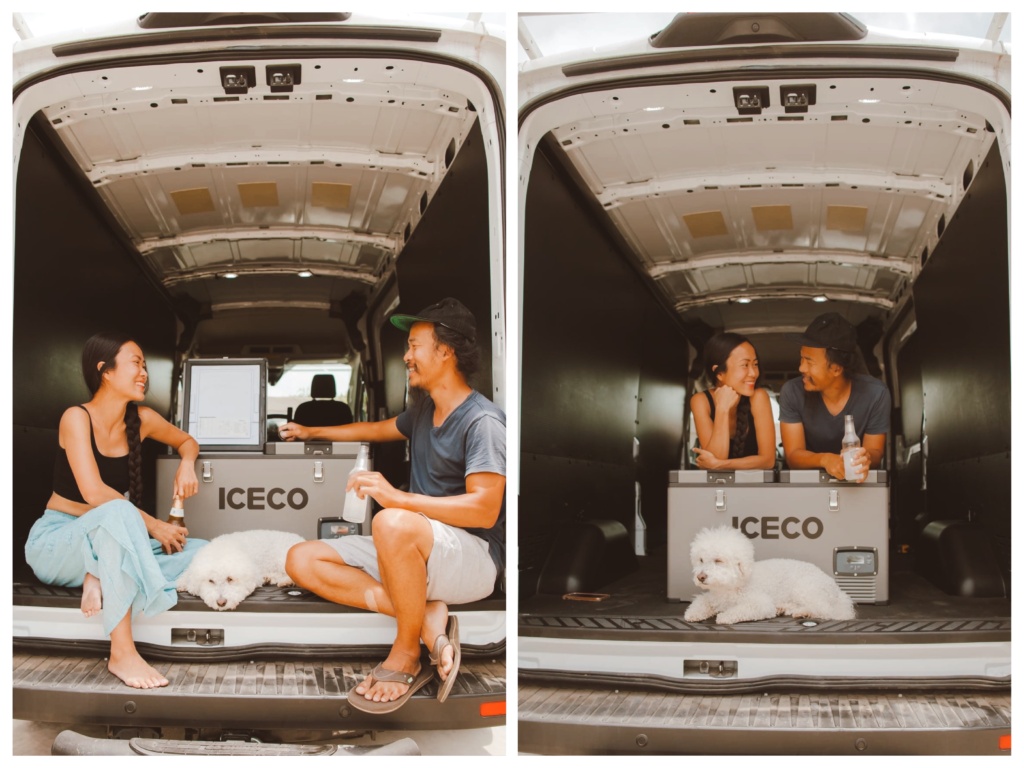 One of the most important things you should consider when choosing a fridge for your campervan is durability. You don't want to spend a ton of money on a fridge that isn't going to last on the road. Is the fridge able to withstand lots of use and bumpy roads? ICECO is definitely the most durable portable fridge on the market.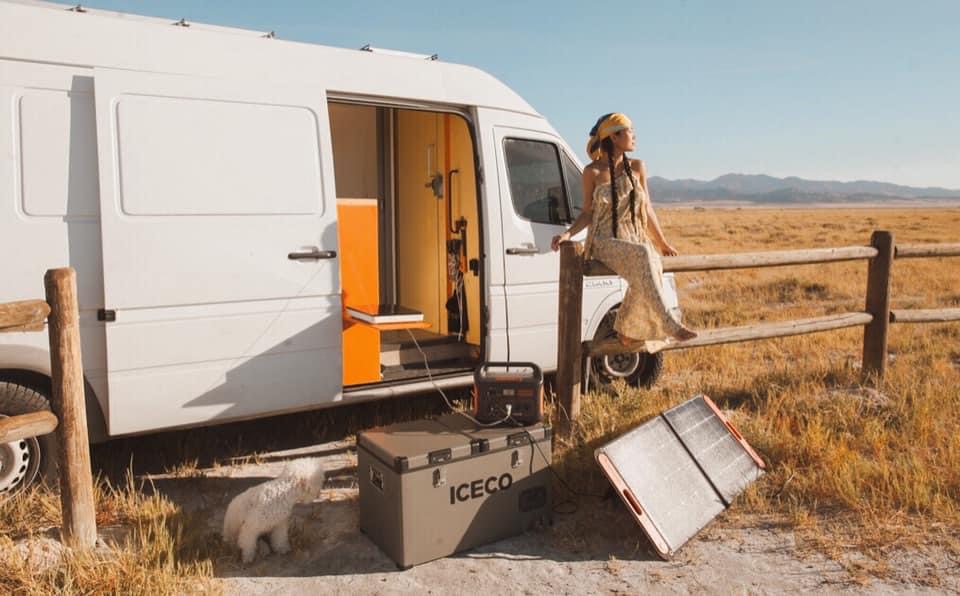 What sets ICECO apart from other portable fridges is its sturdy, military-grade quality (you could drop this thing from 5-10′ and it wouldn't skip a beat). The shock-proof construction is made to withstand vibrations and dents. And it has heavy-duty corner caps and sturdy handles.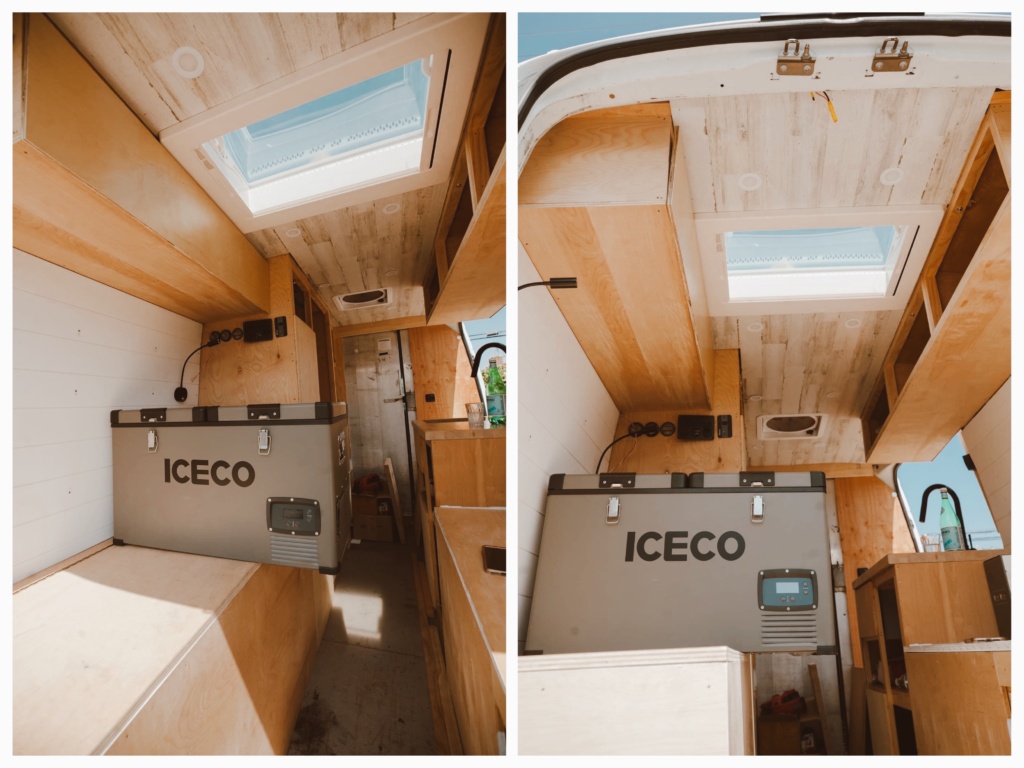 Sleek and compact, ICECO fridges are all well designed and built. We love the futuristic looking, yet approachable at the same time, with an interface that is easy to understand.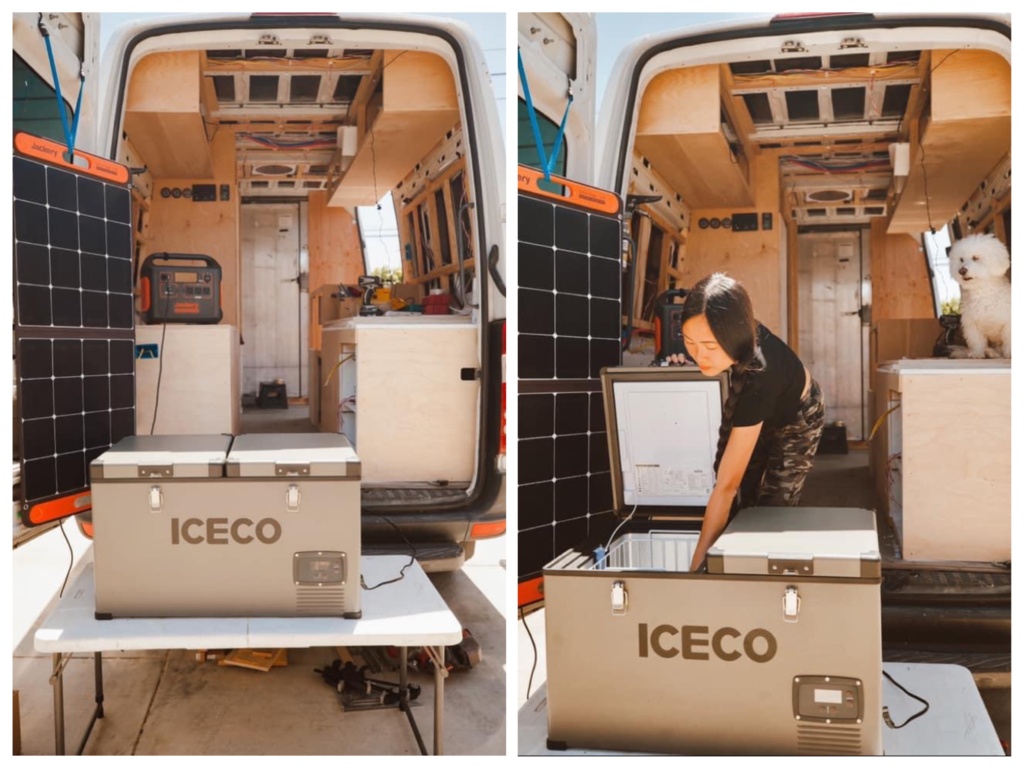 The second thing you should consider is which fridge style fits your campervan layout.There are 2 types of 12V DC refrigerators: upright fridges that open from the front and chest style fridges that open from the top. For us, chest style fridges fit our van layout best.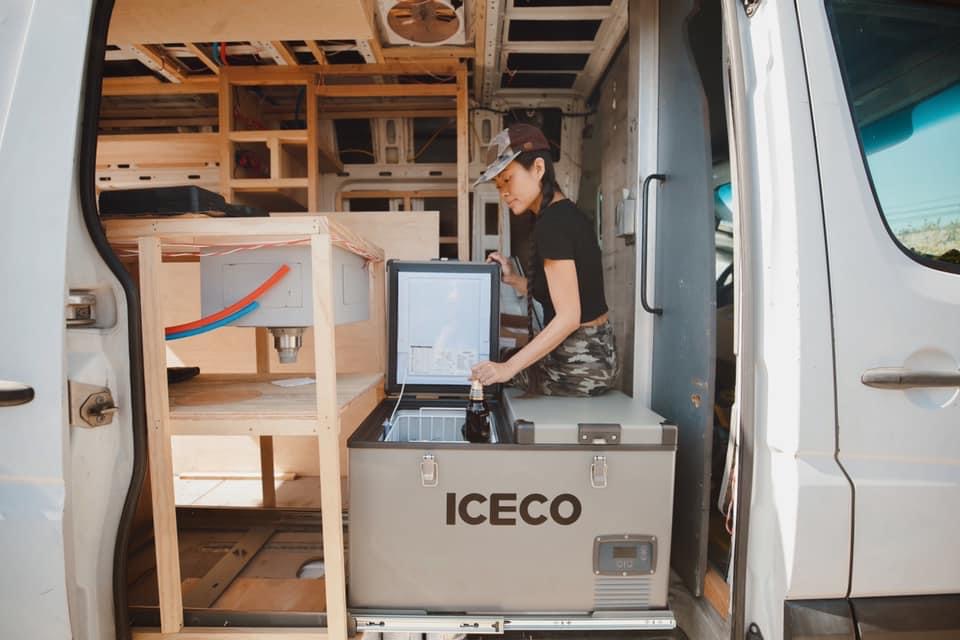 Even though the chest fridges take up smaller space, it can hold more! You can pack more stuff in and eliminate the wasted space that comes with the upright fridge. Chest fridges are portable and most chest fridges have handles, meaning you can carry it around.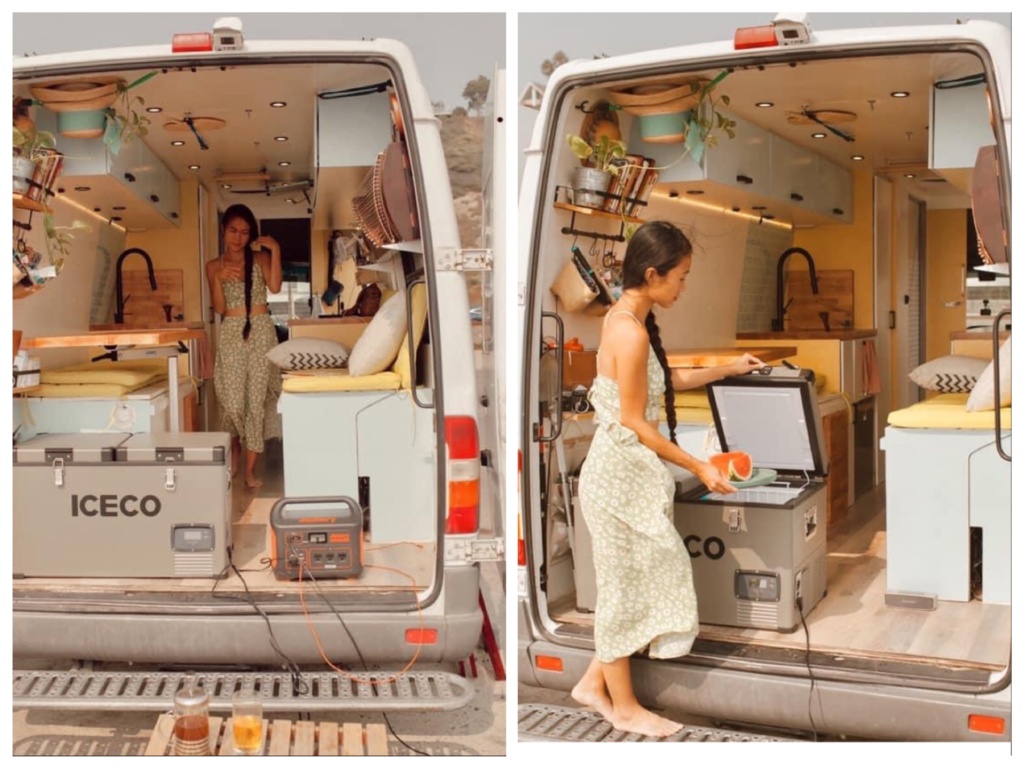 If you are looking specifically for chest style fridges, Iceco dual zone portable fridge is a great option for you. It is a chest style fridge that has a total capacity of 65 liters across the two compartments, and the compartments can be opened individually. This means that you can put food in one of them without letting any cold air out from the other.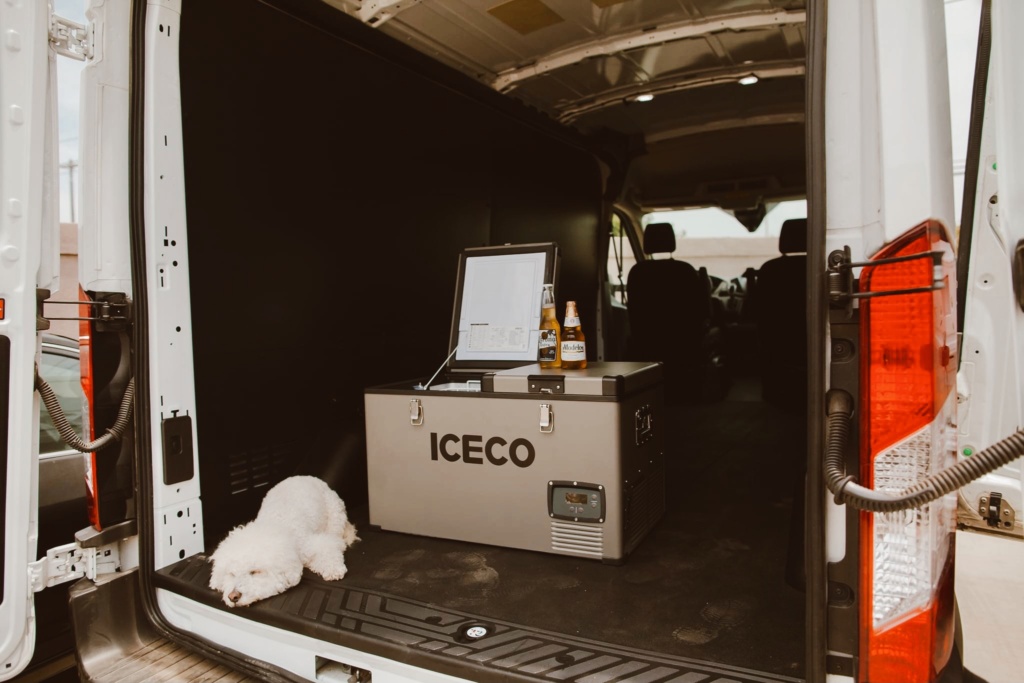 This fridge is made to fit snuggly in our van with its perfectly squared sides and spring steel handles which tuck away flat when they're not being used. The height is also capped at 18.8 inches which allows it to fit perfectly beneath our sink.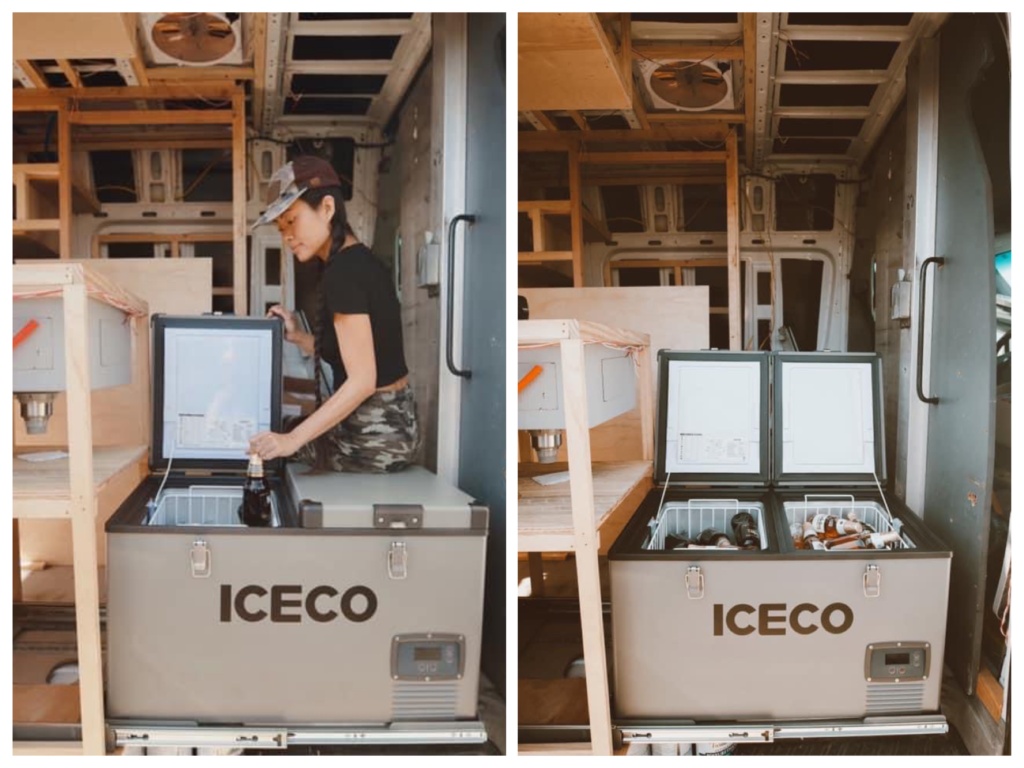 You can set the same temperature for the freezer on both sides or set one side to be cooler than the other. Moreover, you can choose to turn off one zone for the purpose of energy-saving or capacity requirements. Also, there's an LCD display that lets you adjust the temperature inside the fridge. Once you turn it on, it can be completely cool in a little under an hour. The temperature range is 0-50 degrees Fahrenheit.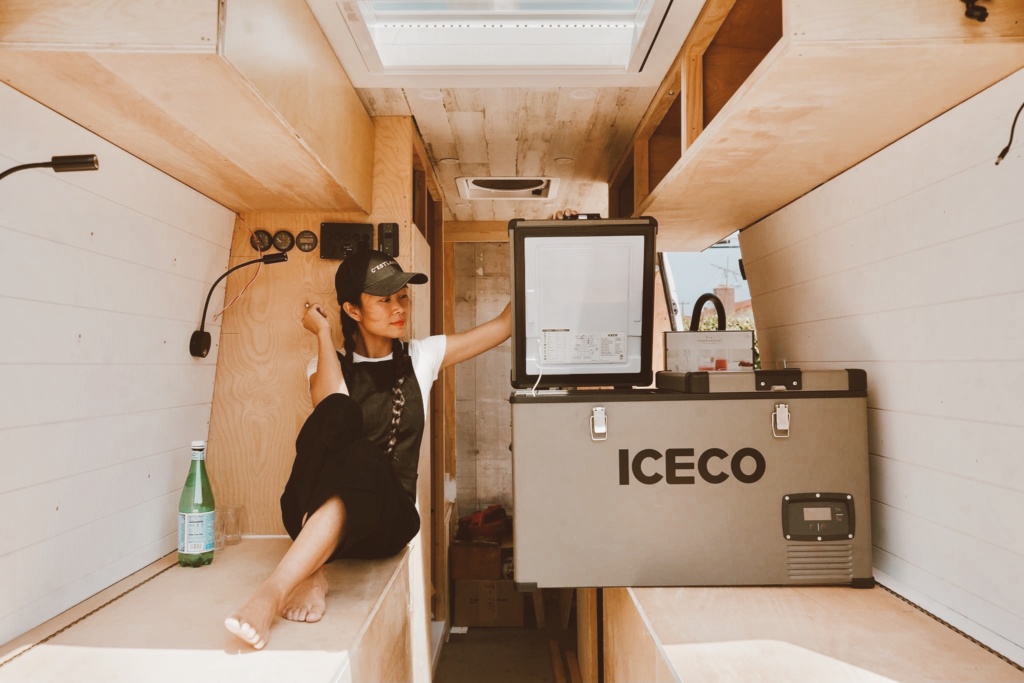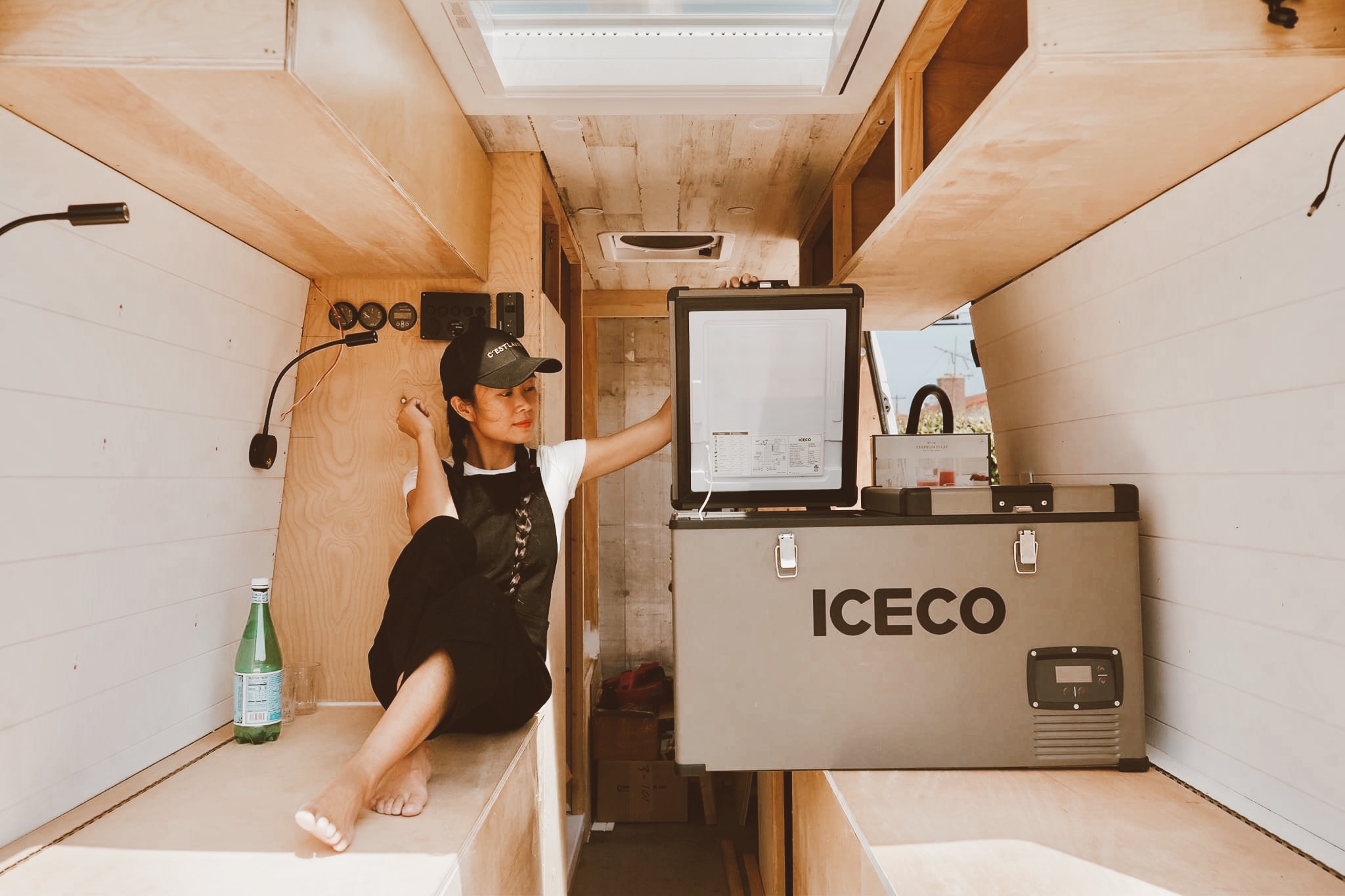 The fridge comes with two cables, and it can work both on AC and DC. The device can plug directly into any AC wall outlet and its included cable can also draw power from a 12-volt port in a car. It's versatile to charge in your vehicle or at home, which makes it a great option not just for campers, but also for family picnics.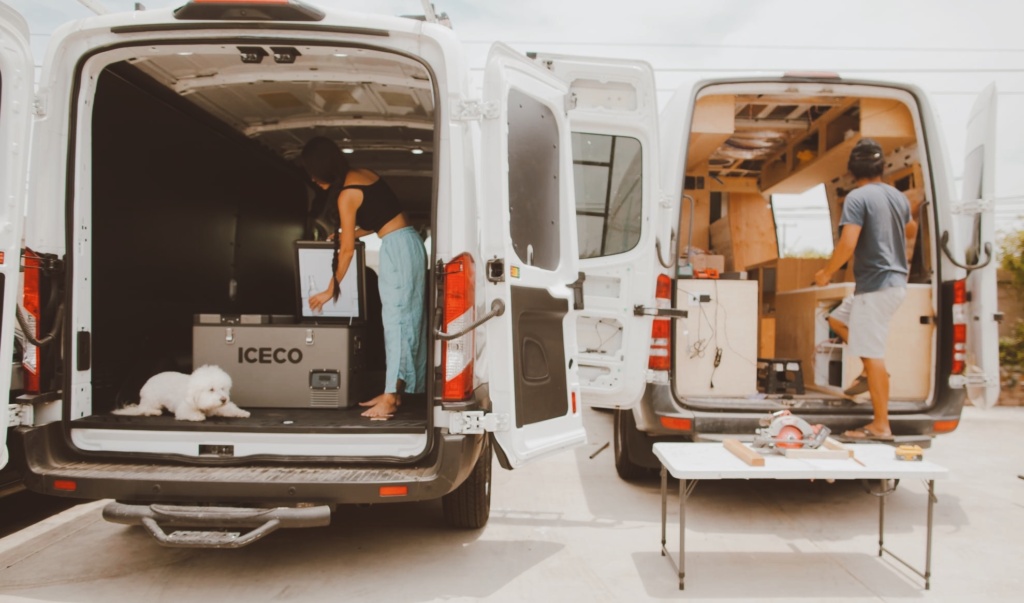 Put to use in the field, ICECO fridge is surprisingly efficient and quiet. That makes it great for use in the backyard, at family picnics, or just about anywhere else you want to take it.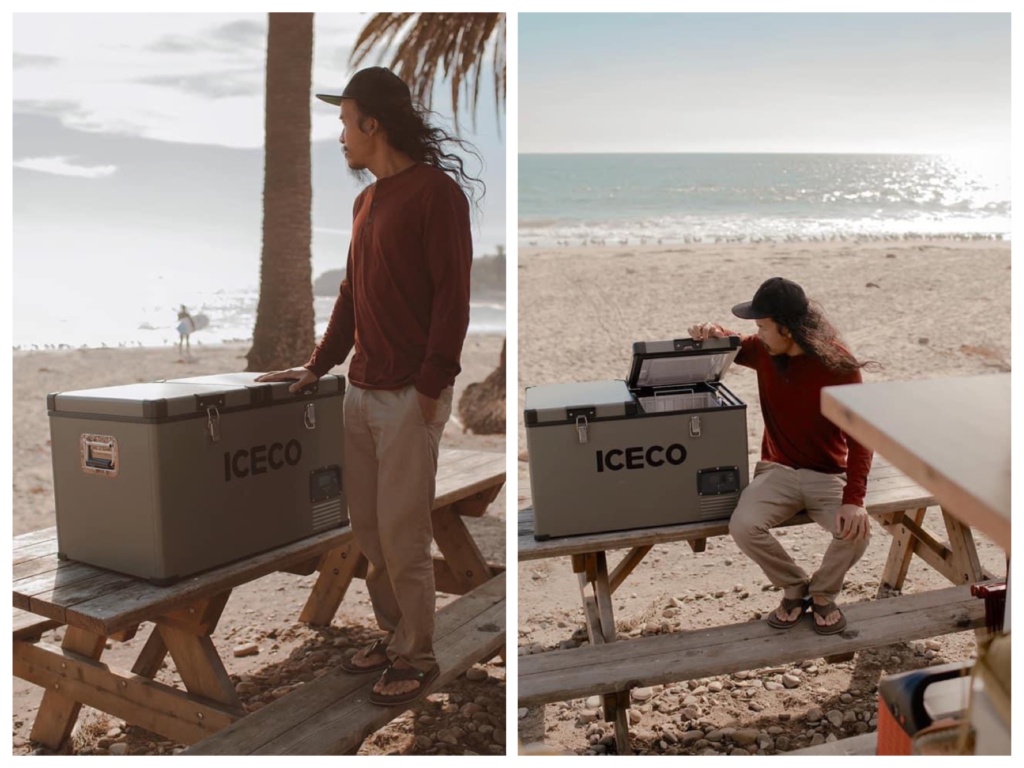 The high price point could off-putting for a lot of people. But at least it comes with a 5-year warranty for the compressor, and a 1-year warranty for all other parts. So If you're looking for the convenience of cold food and the luxury of frozen treats during a road trip look no further ICECO. There are a number of different models to choose from, ranging from 47 quarts to 90+, but the ICECO VL Series is our top choice in terms of value.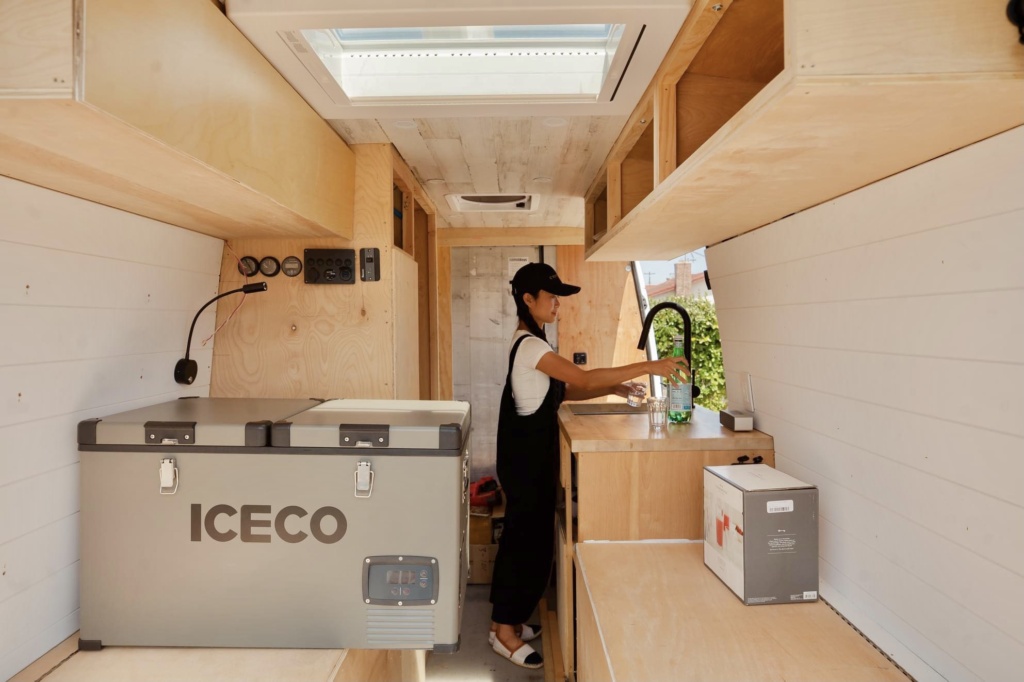 ICECO portable freezer does more than just keep your food/drinks at the right temperature for long journeys. Their benefits during disasters can't be understated! Whether you are struck by wild fires, storms, earthquakes, or hurricanes you can at least rely on fresh food when everything else around you is not working. We will continue to test this unit and do an updated review in the future.
***Thank you to the ICECO  for kindly sponsoring this post. All opinions are 100% honest & completely my own.