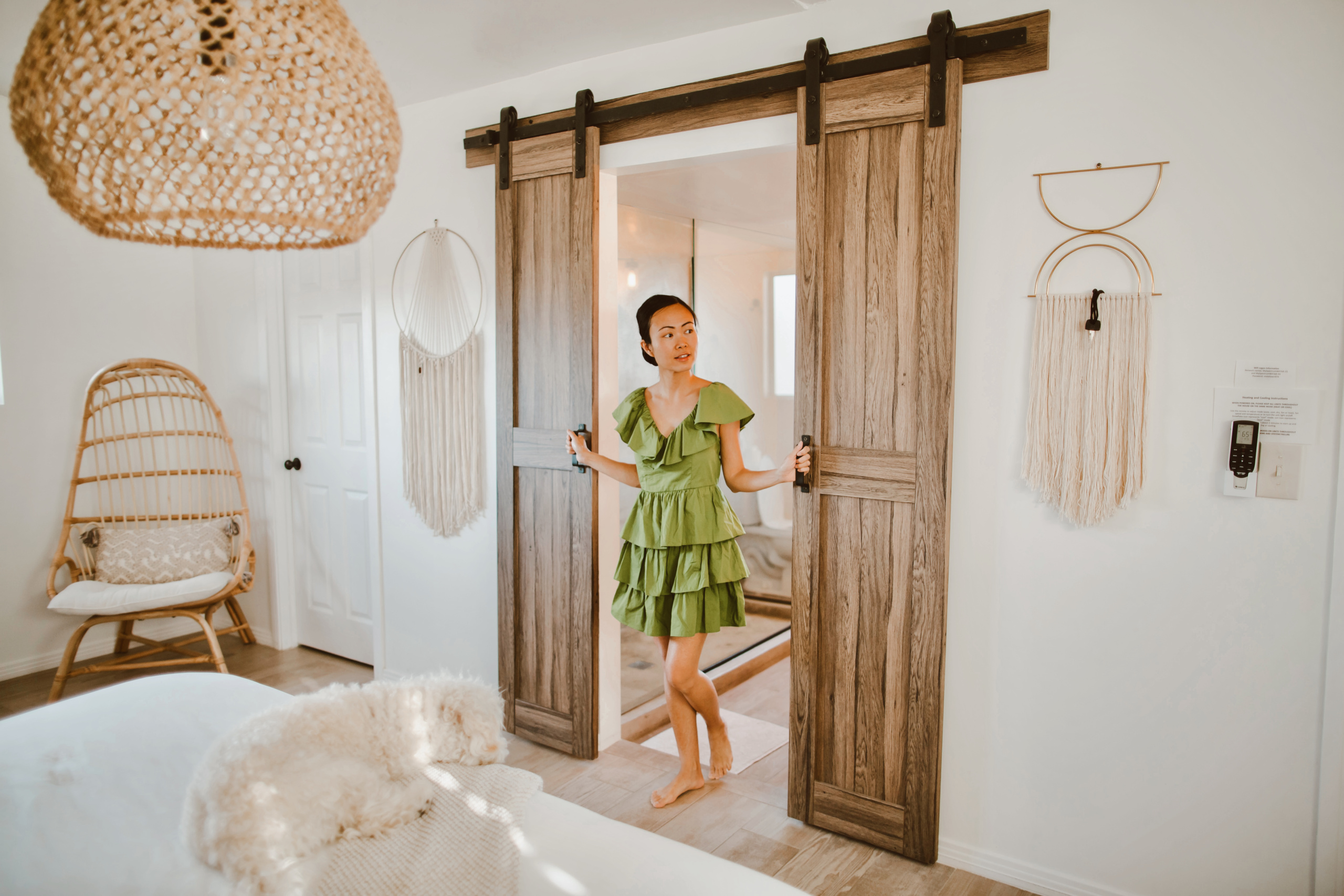 Review: The Desert Nomad Retreat in Joshua Tree Village
It doesn't always take long for the hectic pace of life to catch up with us. Between work and life responsibilities, making time for a family getaway is more important than ever. When you could use a healthy dose of fresh air and scenic surroundings, a trip to Joshua Tree promises to check every box on the list.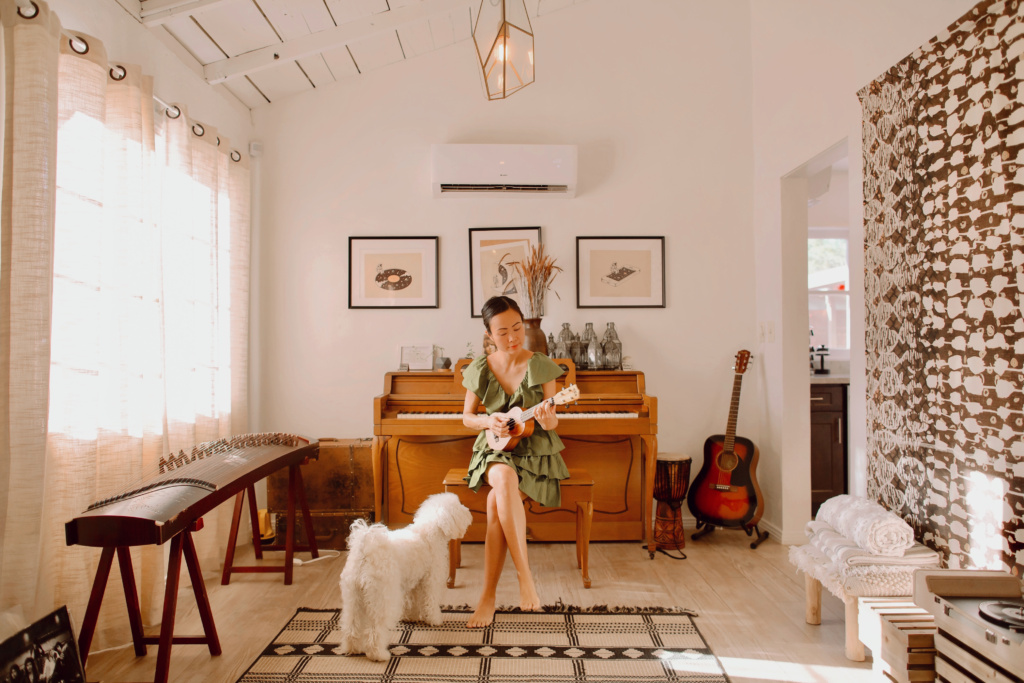 Due to its otherworldly desert landscape and close proximity to Los Angeles, Joshua Tree has become one of the top things to do in California. Most visitors come to Joshua Tree National Park for hiking, camping, and rock-climbing. Others come for the bohemian vibes found in the nearby communities of Joshua Tree and Yucca Valley. Joshua Tree is a popular spot for many grown ups who want to get away, parties, retreats, etc. but is there anywhere kid-friendly, pet-friendly, and family-friendly to stay? The answer is YES! During my recent Airbnb search for our group getaway trip (3 families with kids and pets) I came across the Desert Nomad Retreat in Joshua Tree Village – a perfect family friendly house for exploring Joshua Tree.
Meet the Bohemian home of your dreams! If you love spending time indoors just as much as you enjoy sightseeing while on vacation, this airbnb offers a staycation experience you won't want to miss.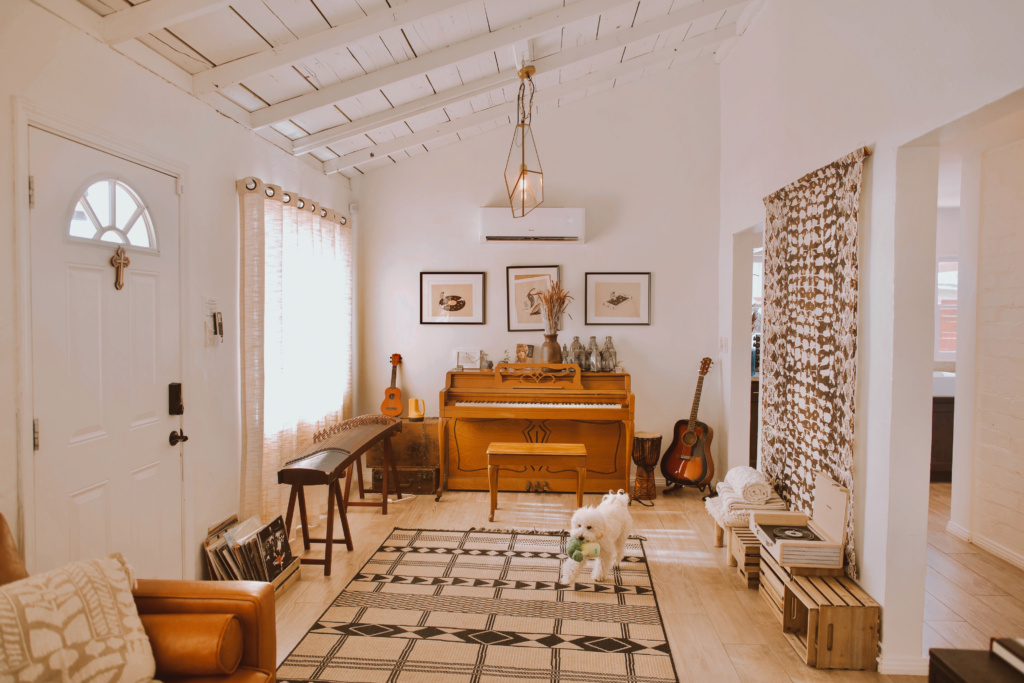 Despite the proximity to the west entrance of the national park and downtown Joshua Tree, there's a real off-track feel at the Desert Nomad Retreat. The house is in a quiet neighborhood set back from the road with a fully fenced yard, private driveway, and front entrance gate. We love their spacious front and back yard with lots of rooms for our dogs and kids to run around.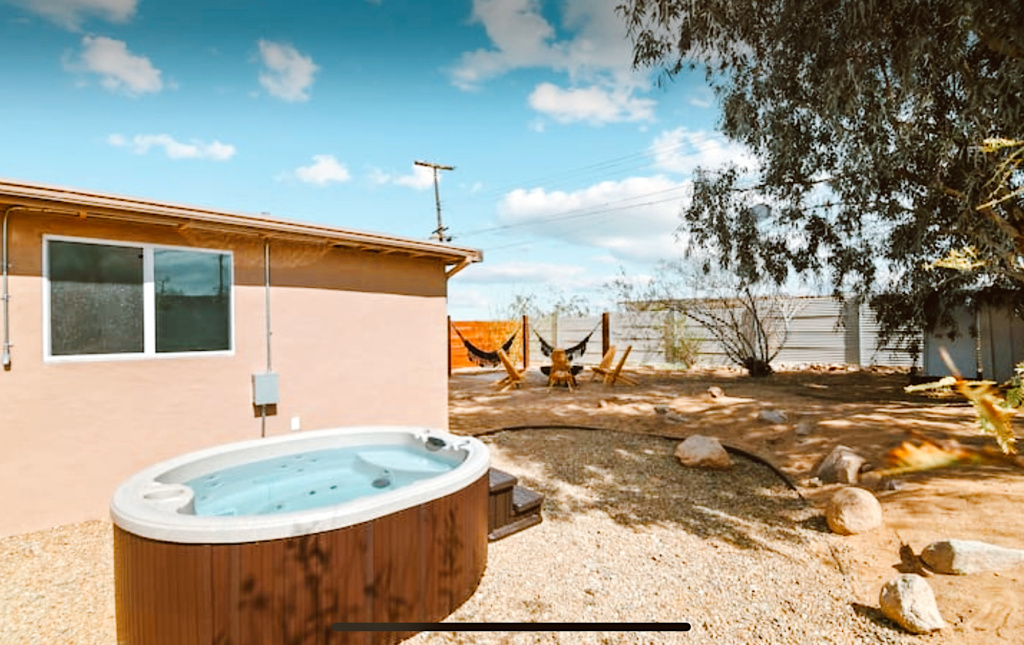 The 4 bed 2 bath newly renovated airbnb features all the comforts of home that is conveniently located only 5 minutes to Joshua Tree National Park. Designed with families in mind, this home sleeps up to 8 comfortably including a king bed in the master bedroom, 3 queen beds in the three guest rooms, and two full baths. This spacious home offers plenty of amenities to keep everyone happy.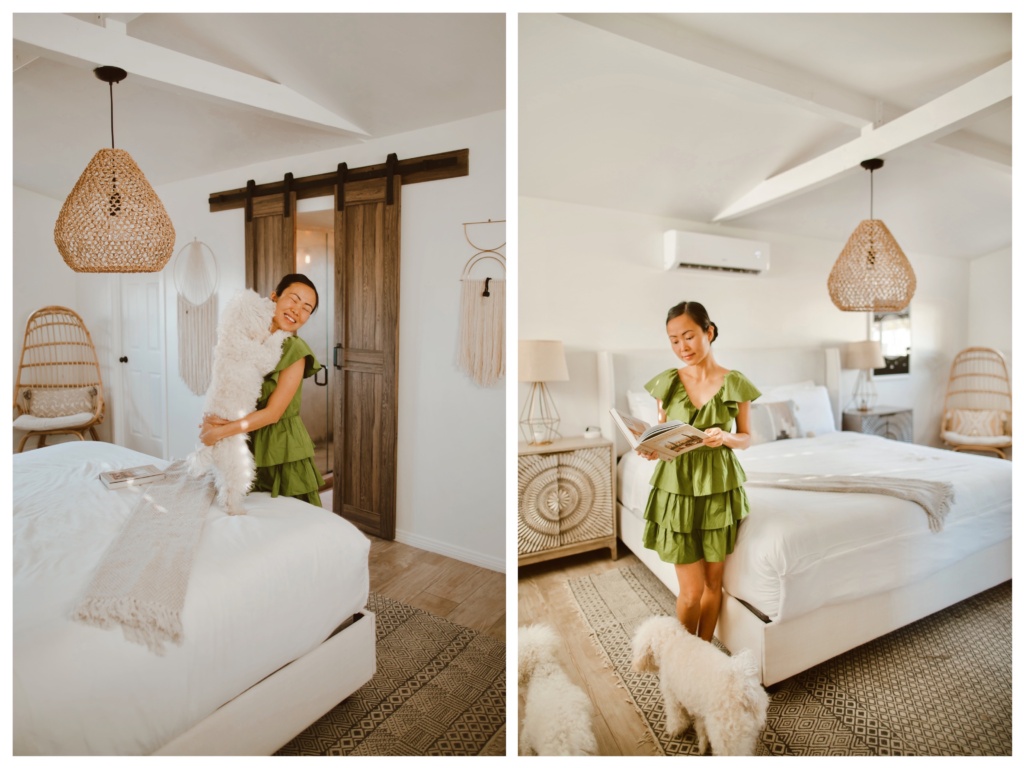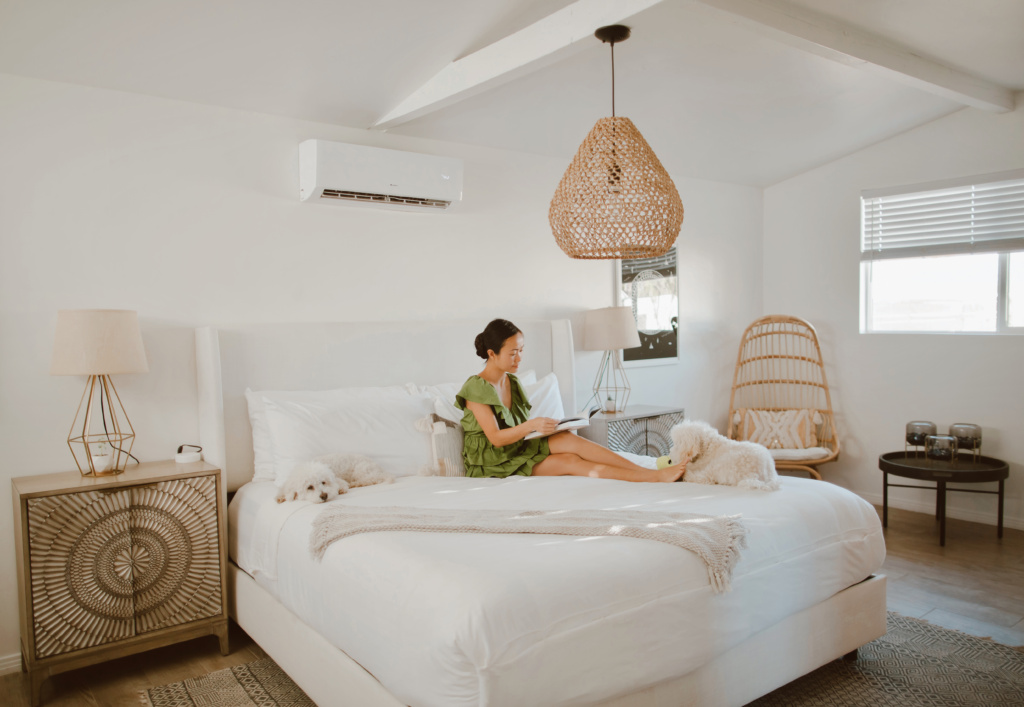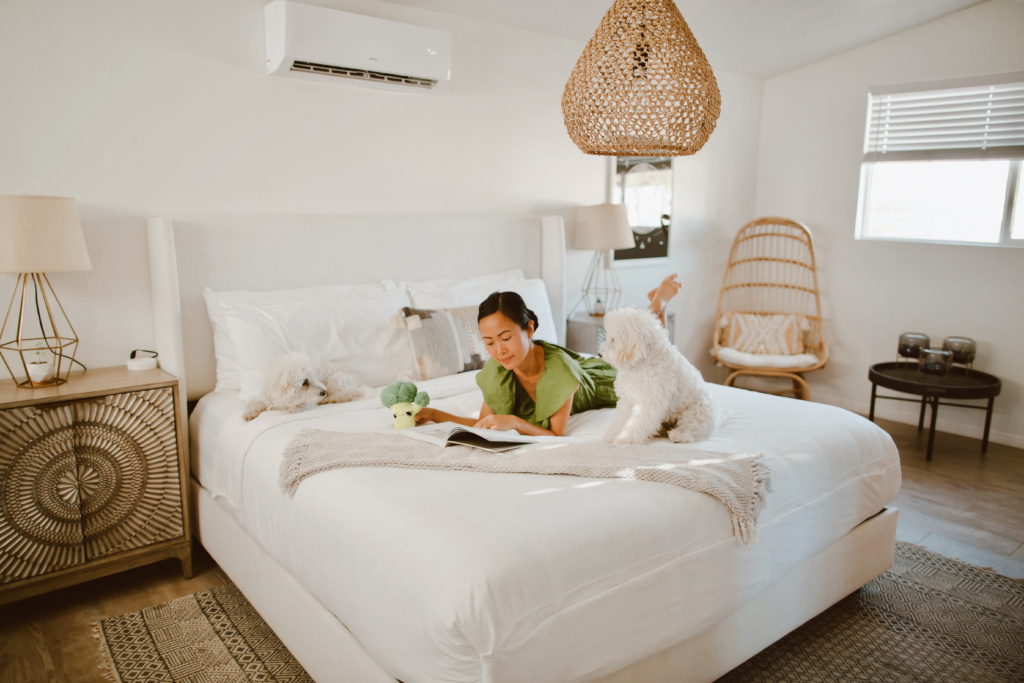 Each bedroom is decorated with wood paneling, boho arts, carpets, natural rattan lounging chairs, and rustic basket woven hanging lamps to give it that rustic cabin-feel.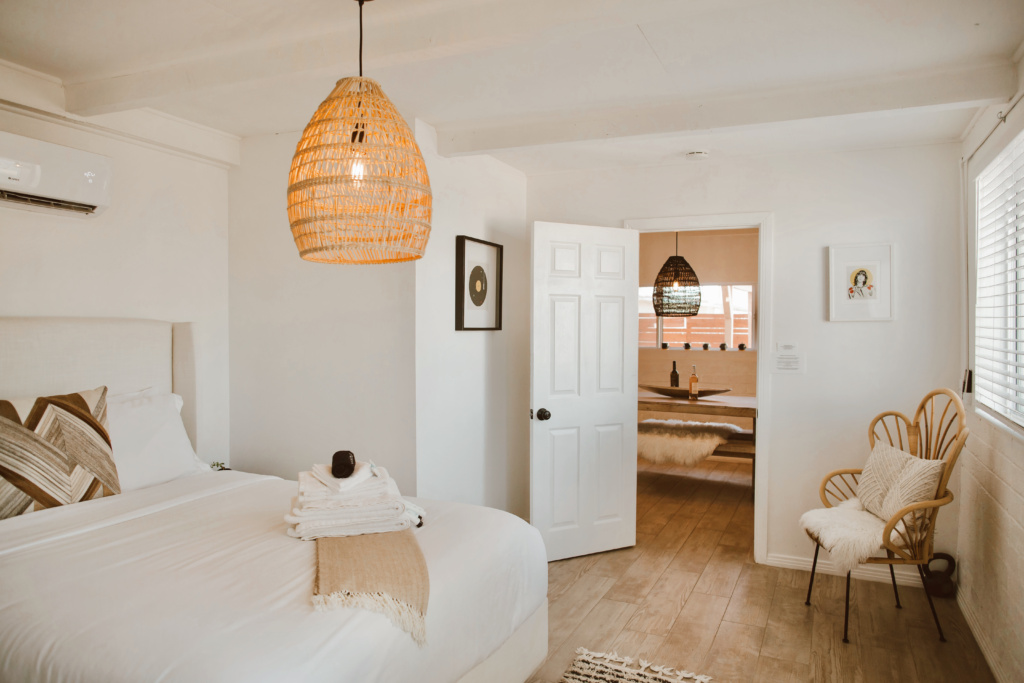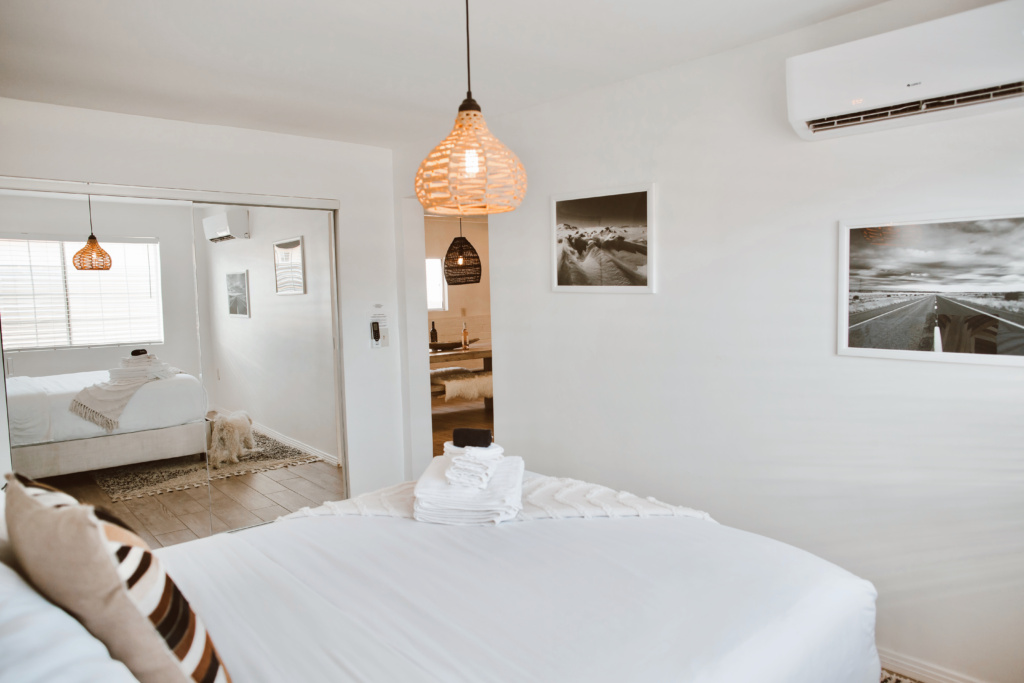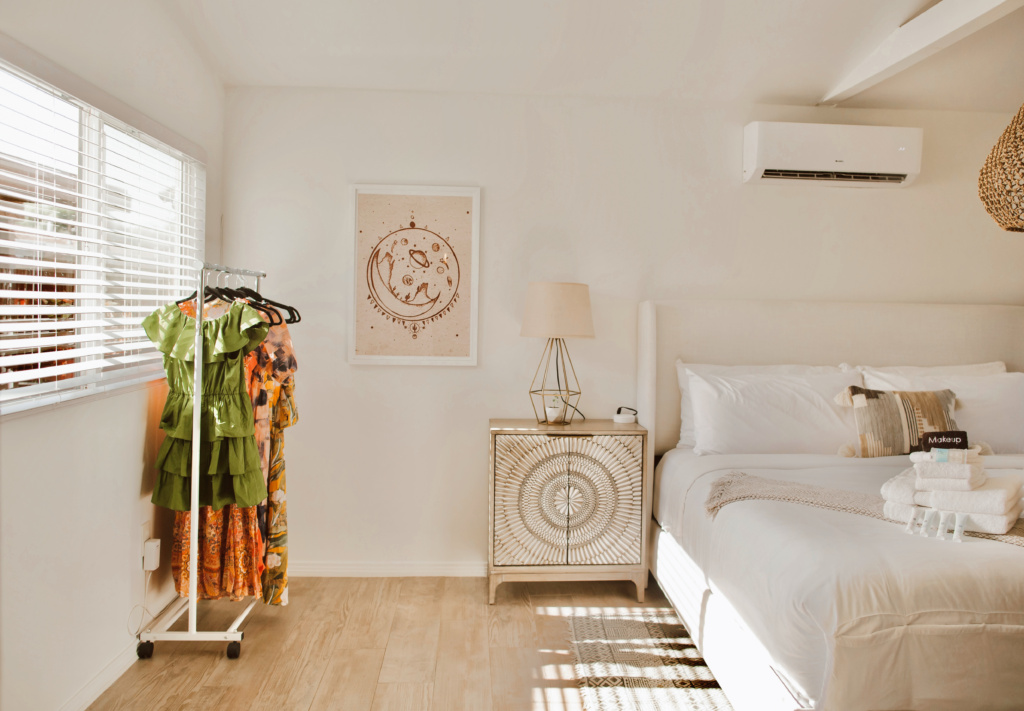 And the surprisingly spacious master bathroom features a large walk-in shower, a custom-made sink, modern fixtures, spacious countertops, and high-end toiletries.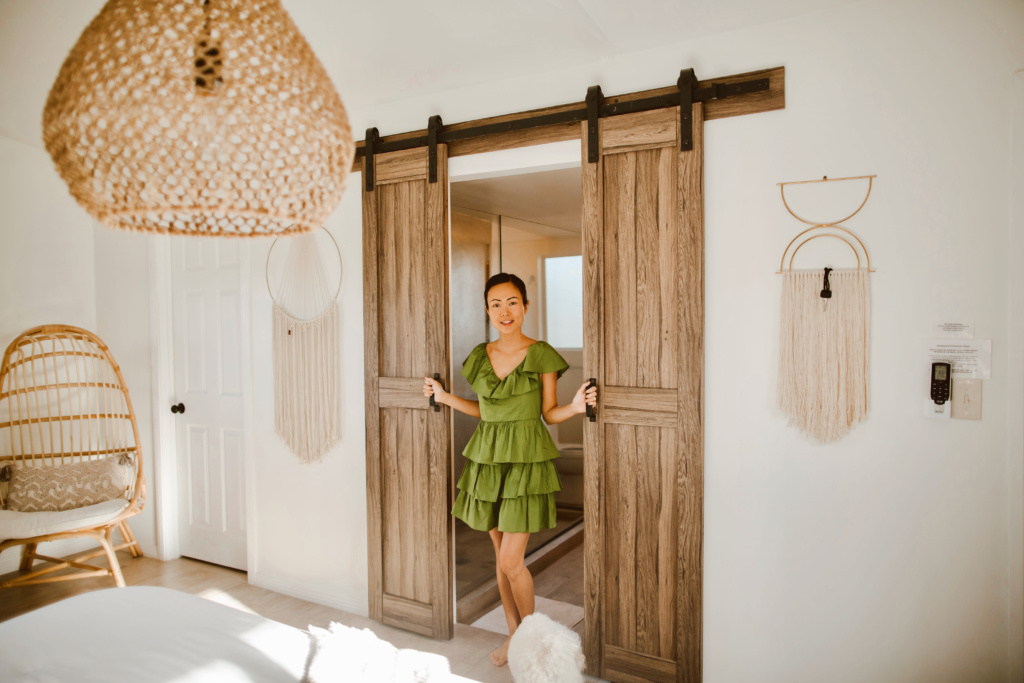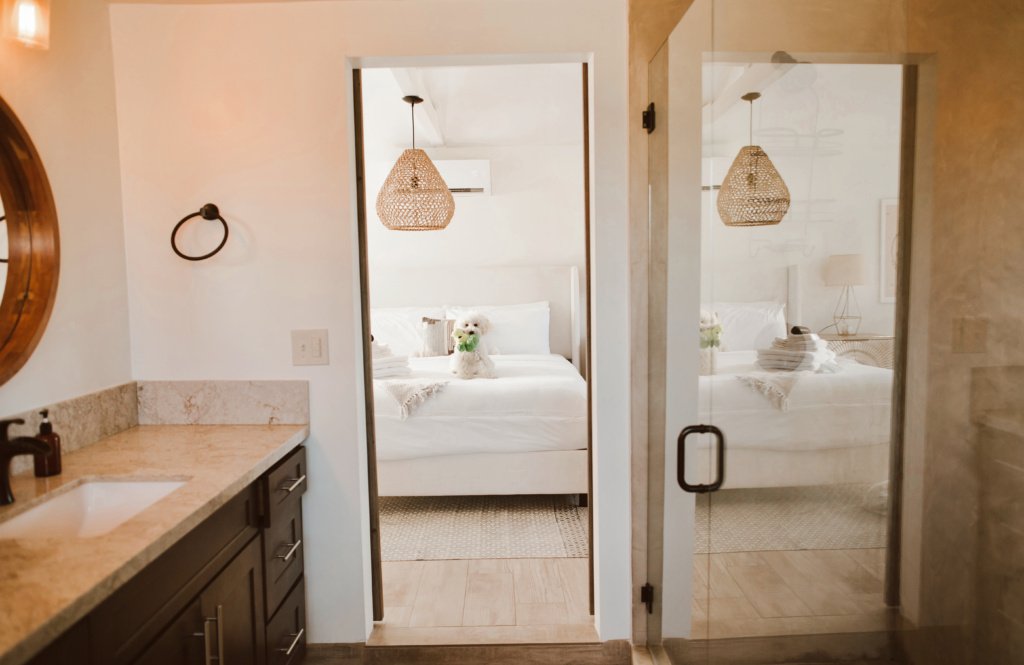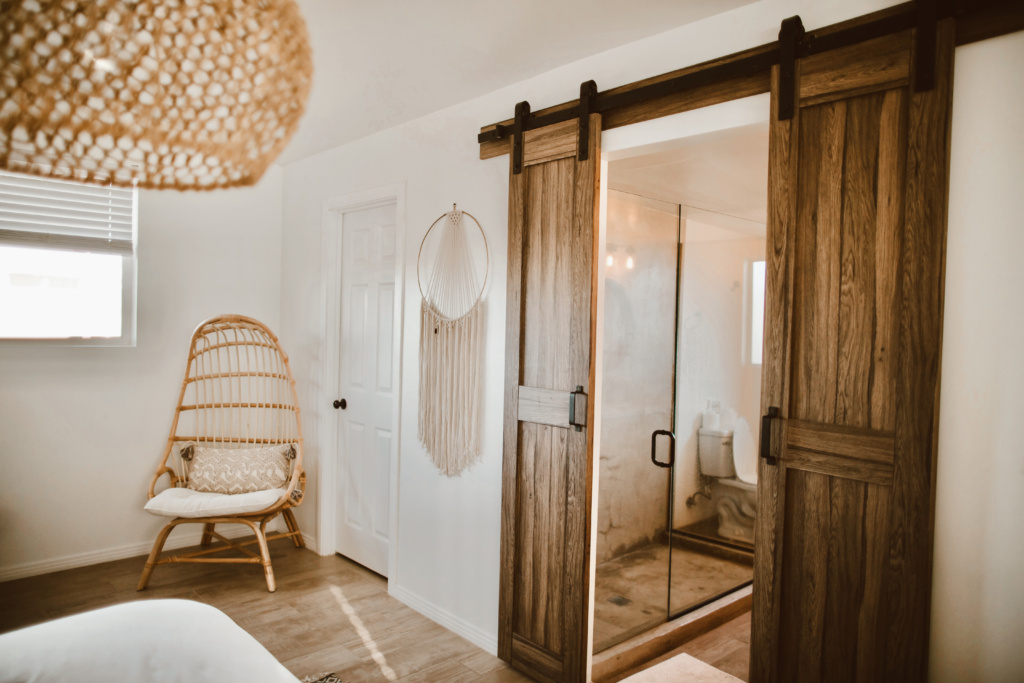 The home provides luxury amenities: natural soaps and shampoos, top-of-the-line mattresses and bedding, and six individually-zoned air conditioning and heating units, including one in each bedroom. Extra linens, blankets, and towels are provided.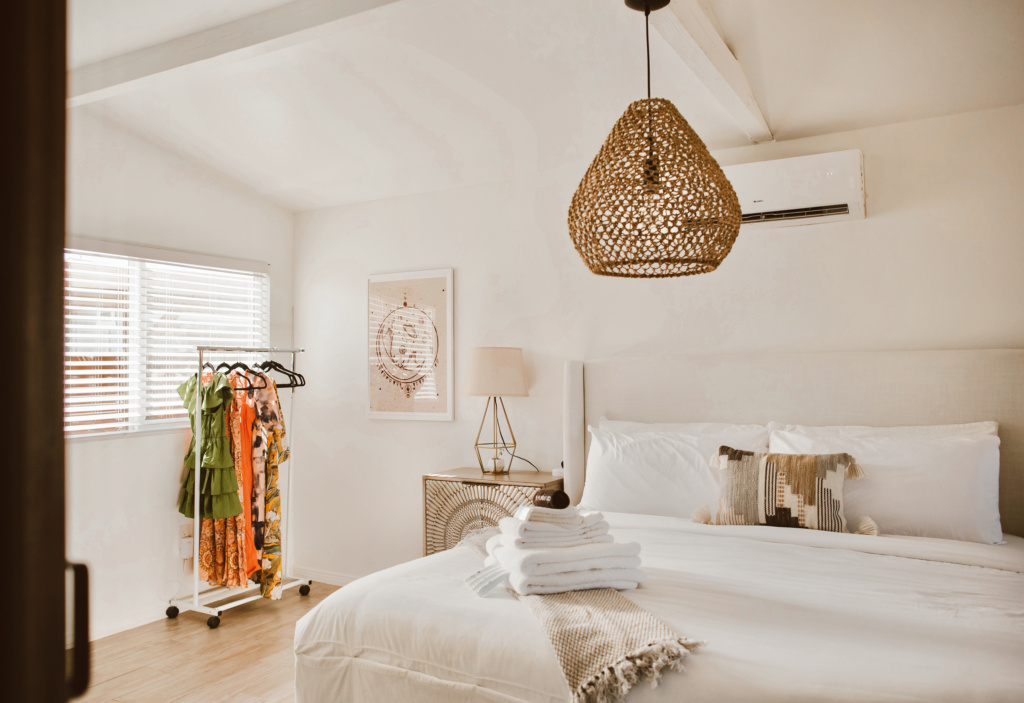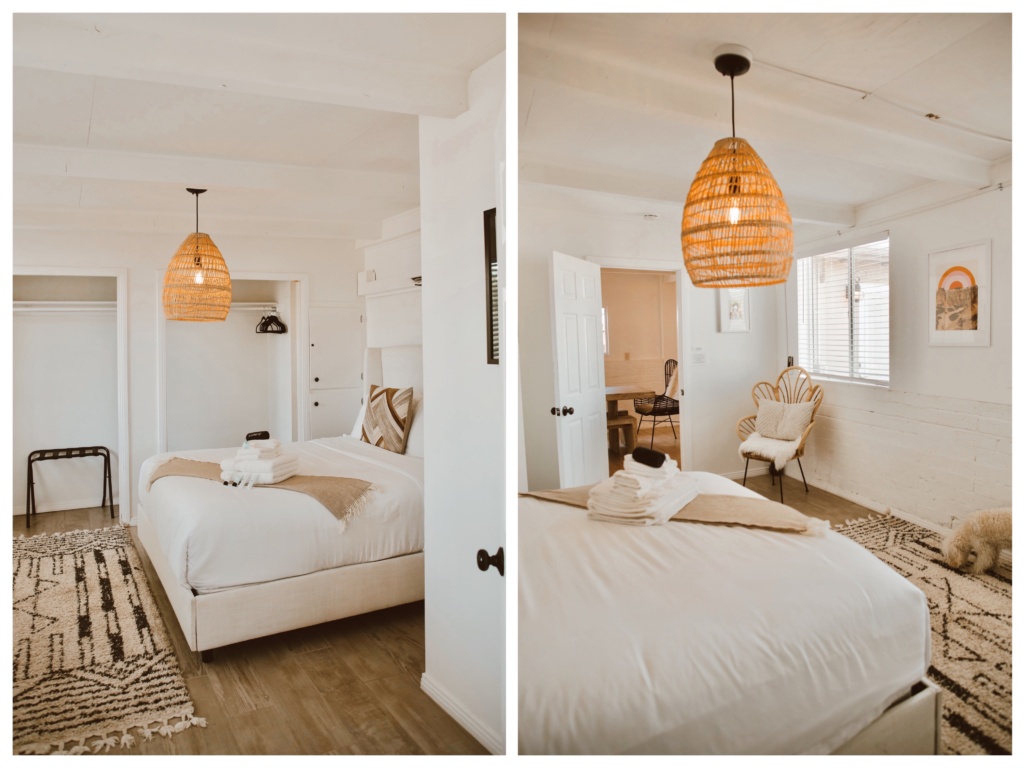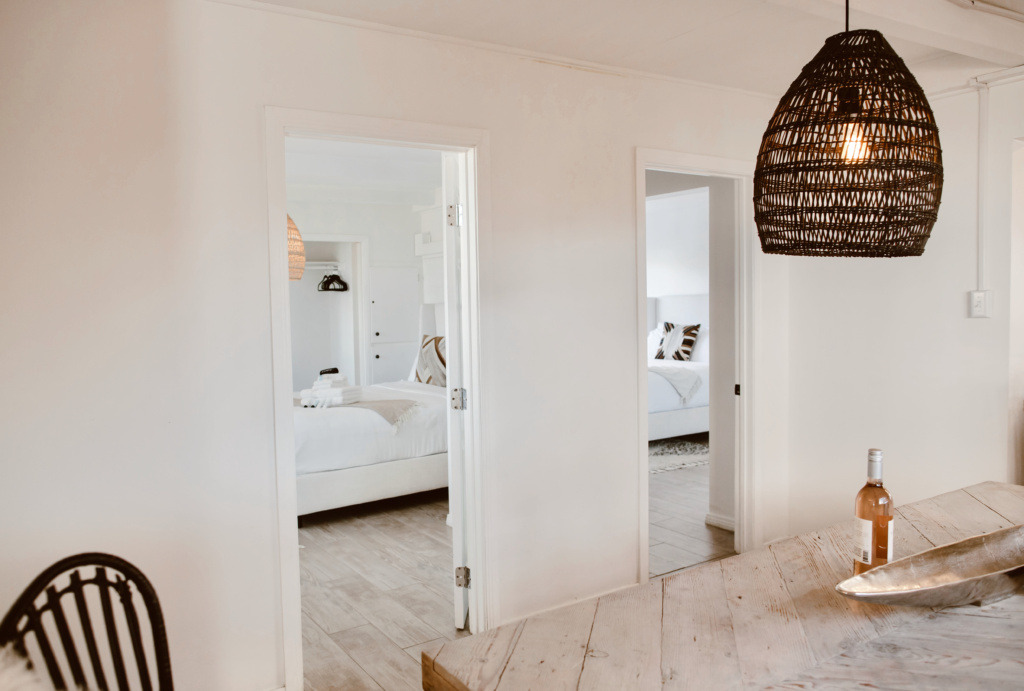 This Joshua Tree rental will undoubtedly make you feel right at home! In the living room, you'll find a posh bohemian sitting area with a smart TV and cable.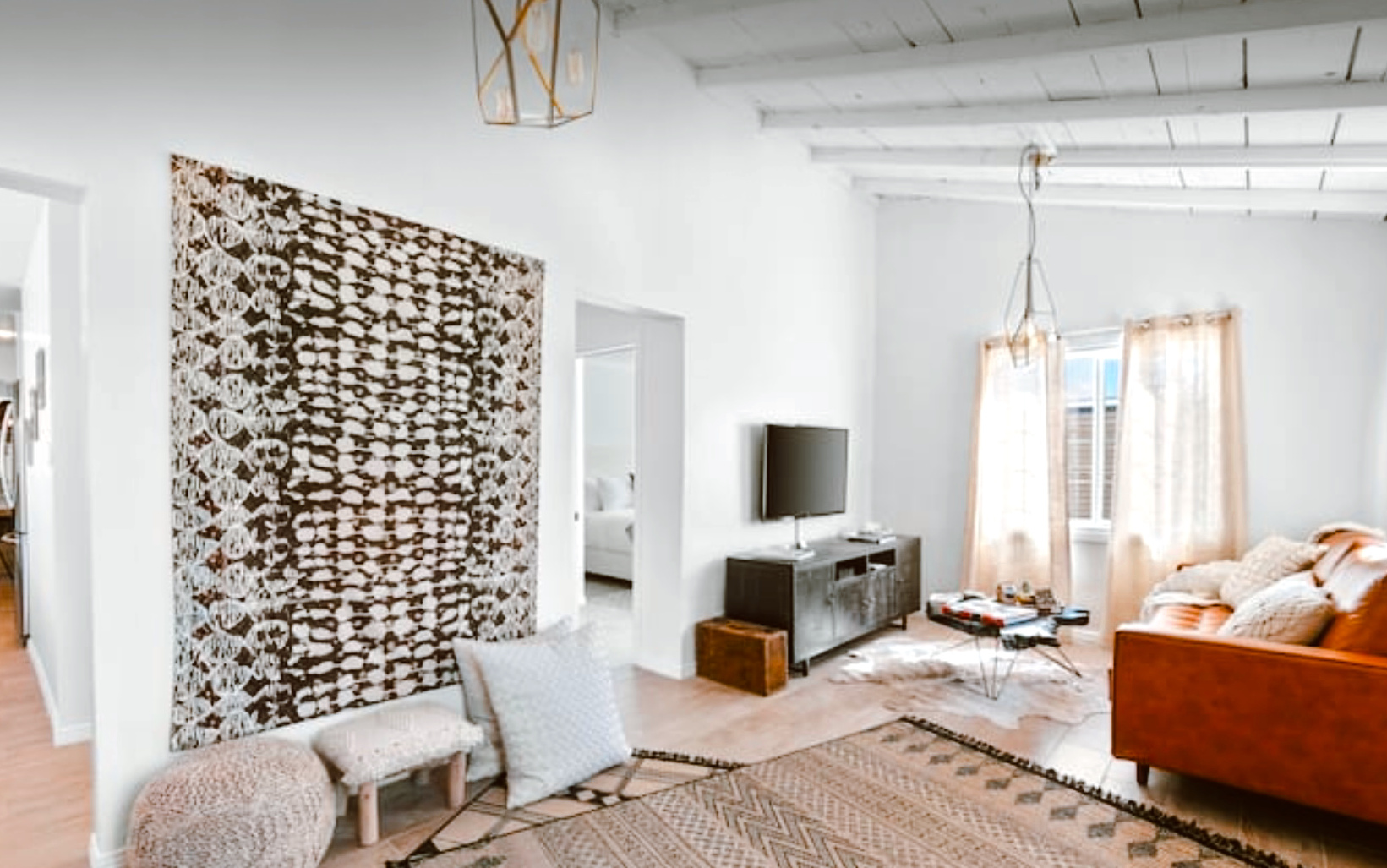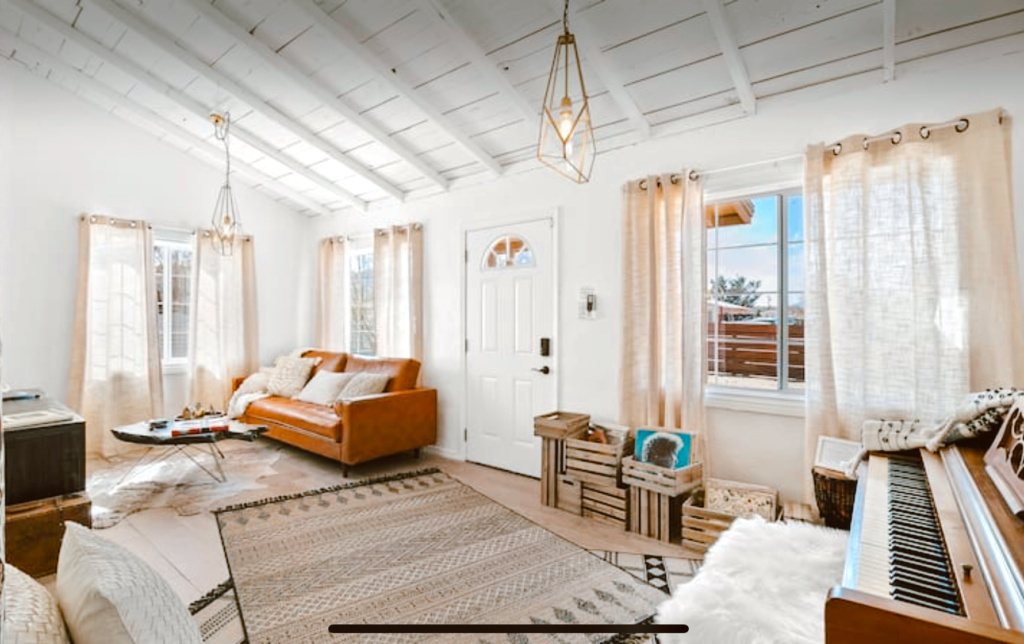 The living room boasts bohemian decorations, leather and natural fabrics, wood foraged from the desert, vintage knick-knacks, unique wall carpet arts, plush throws and extra-large floor poufs for additional seating which really add to the ambiance of the place.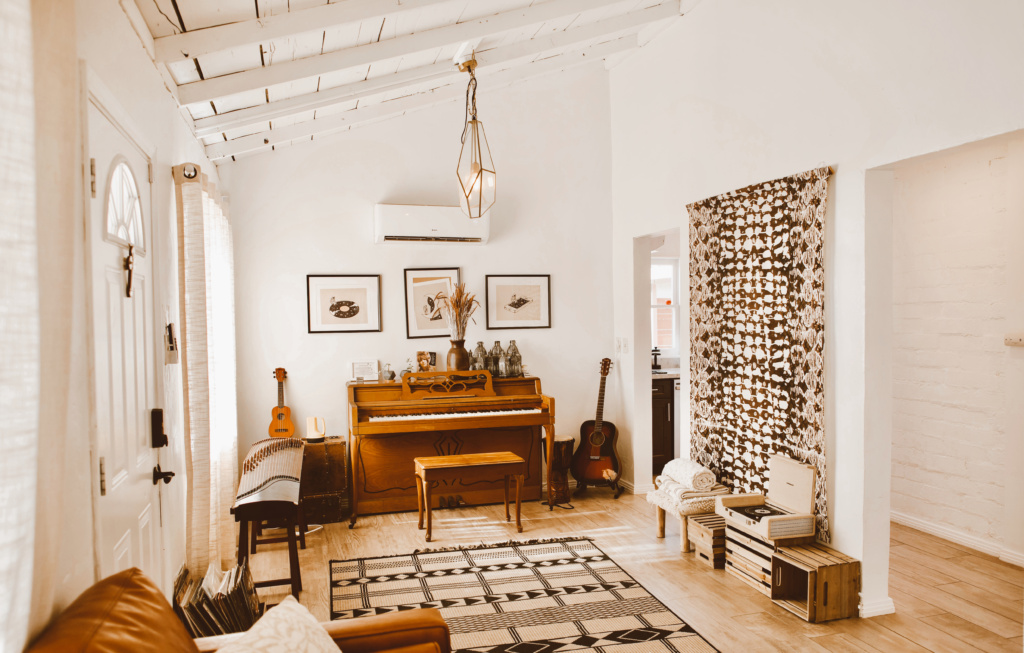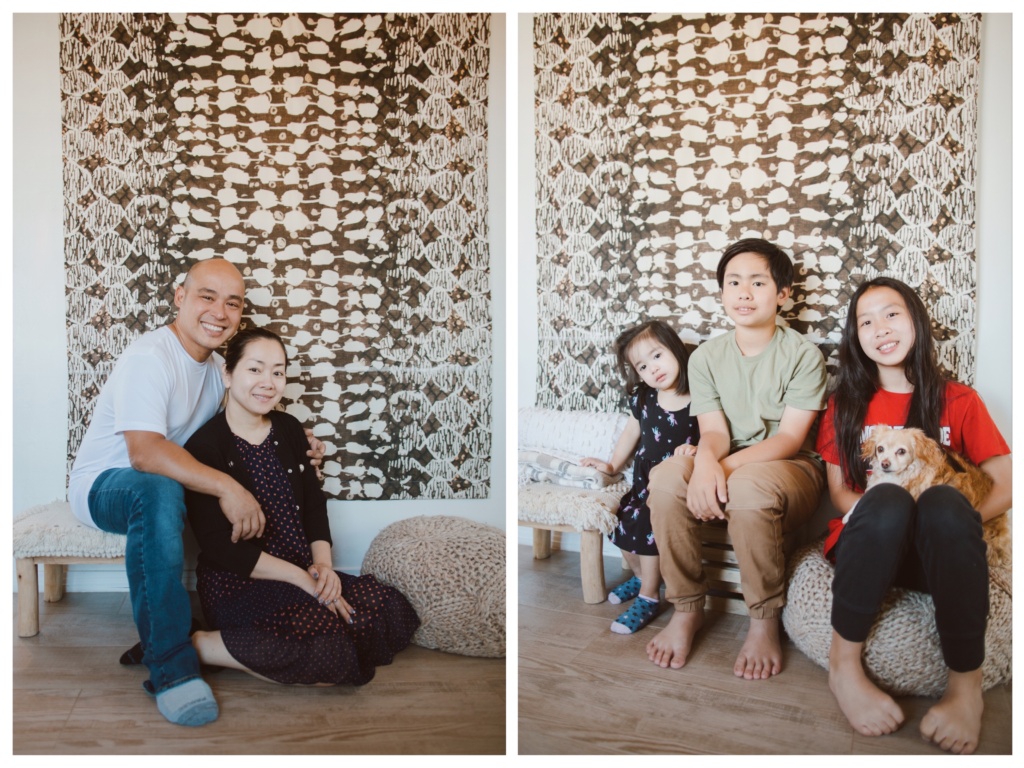 This carefully curated residence has an eclectic mix of modern and retro decor; its standout features include a vintage piano, acoustic guitar, bongo drums and curated vinyl collection (and record player). It's the kind of Airbnb that any music lover would appreciate!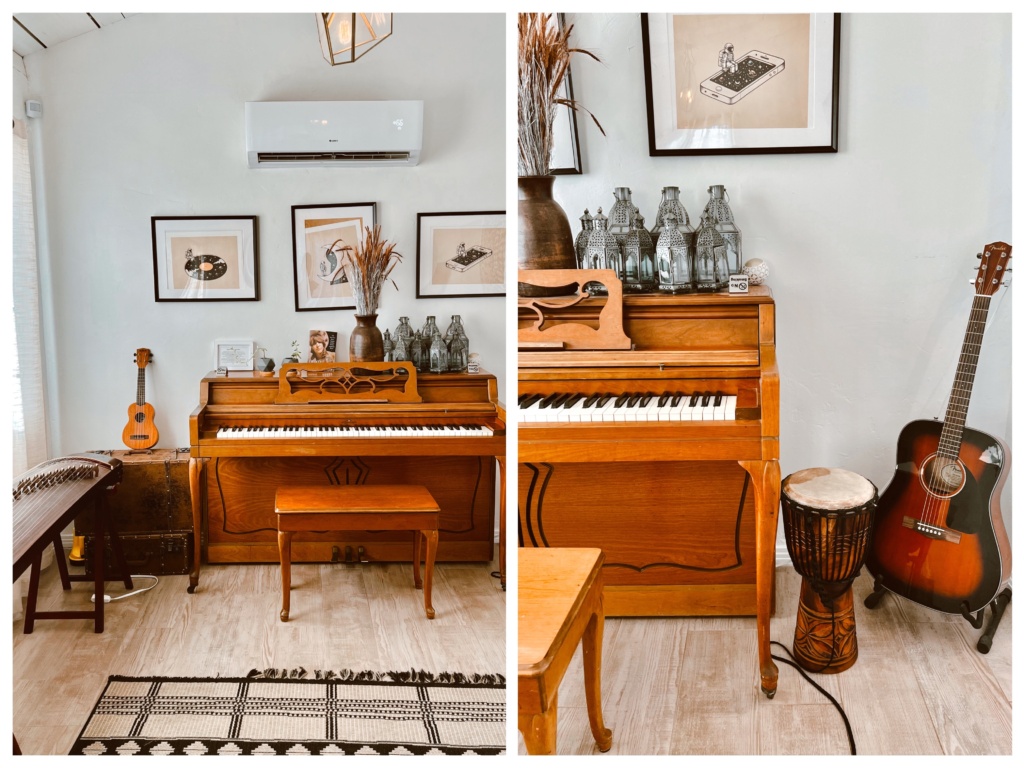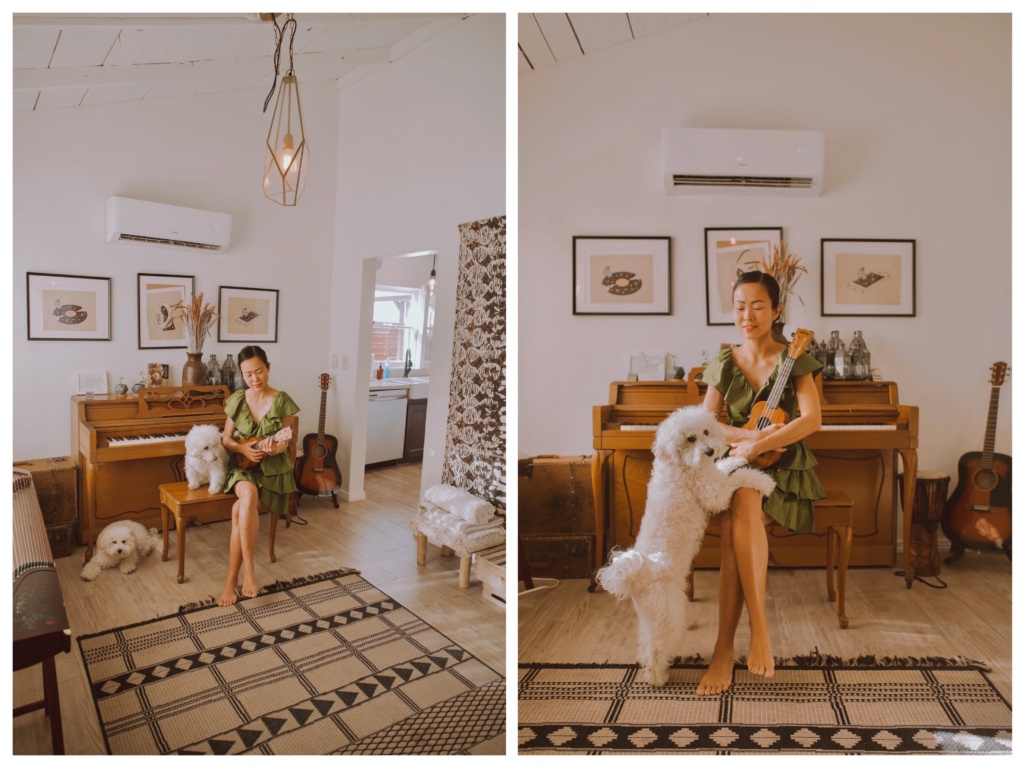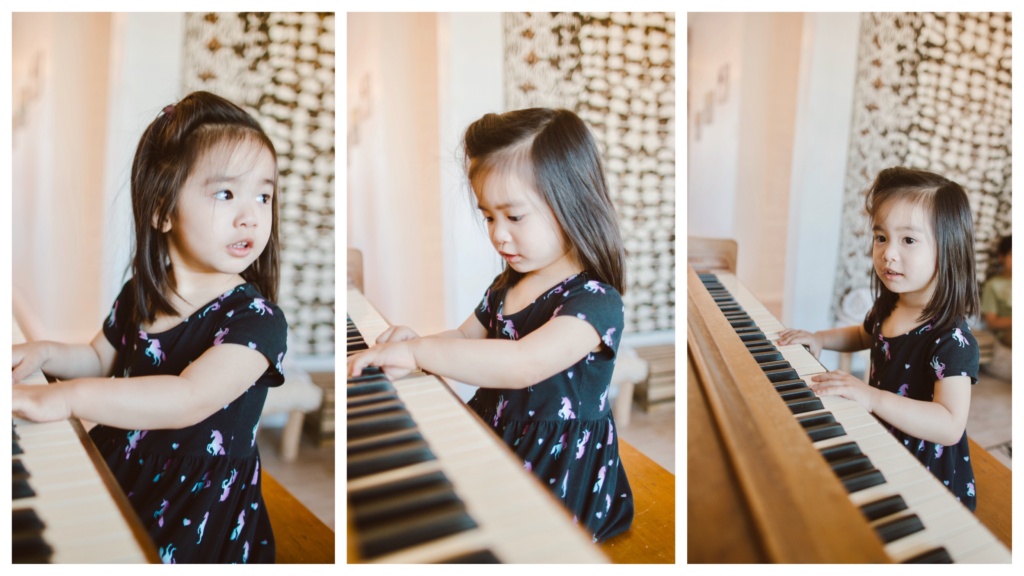 We love the common areas of this home with lots of desert charm. Relax in the vintage leather couch while listening to vinyl records or playing some music was the perfect way to end our day.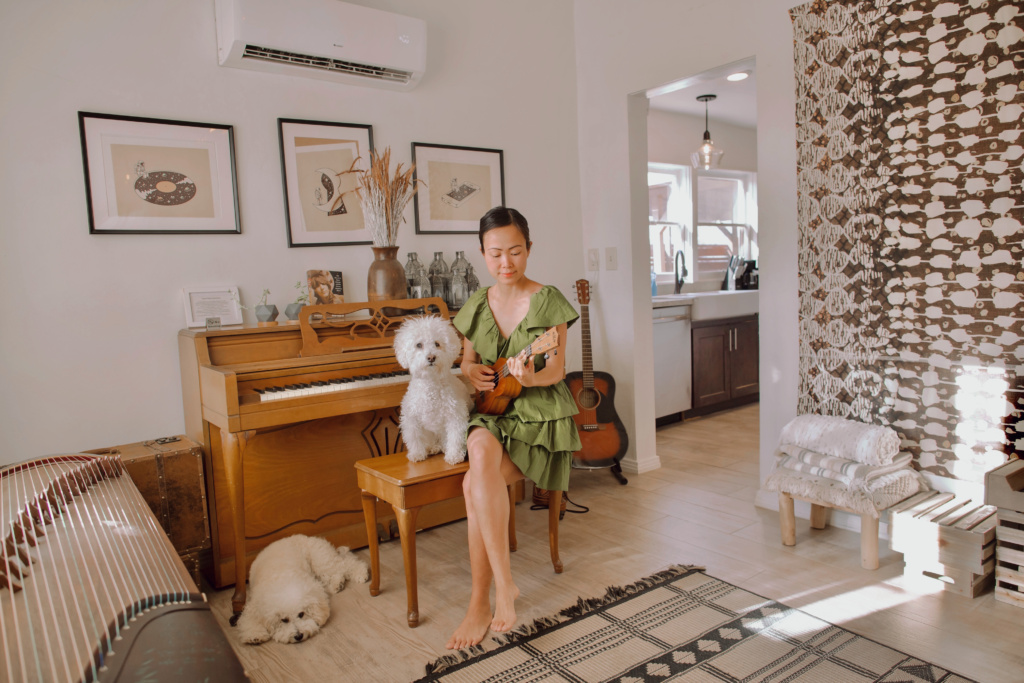 The dining room is elegant with an oversized mid-century rattan hanging lamp, a huge farm-house style dining table, two wooden benches, and two super-sized comfortable rattan chairs. A perfect spot for guests to enjoy a glass of wine to help unwind and relax after a long day of traveling.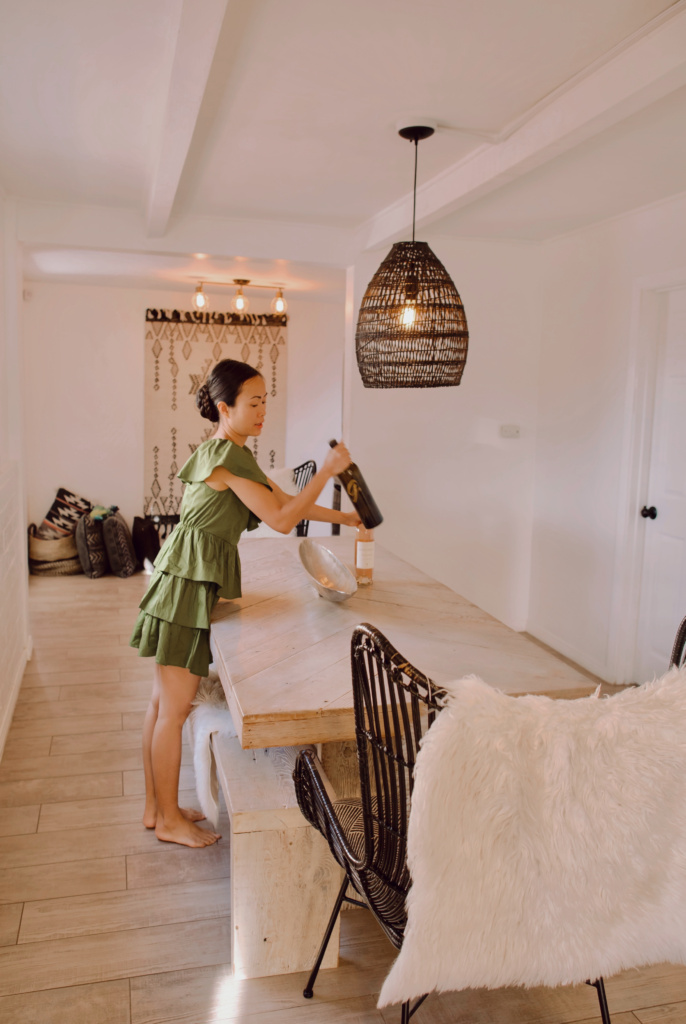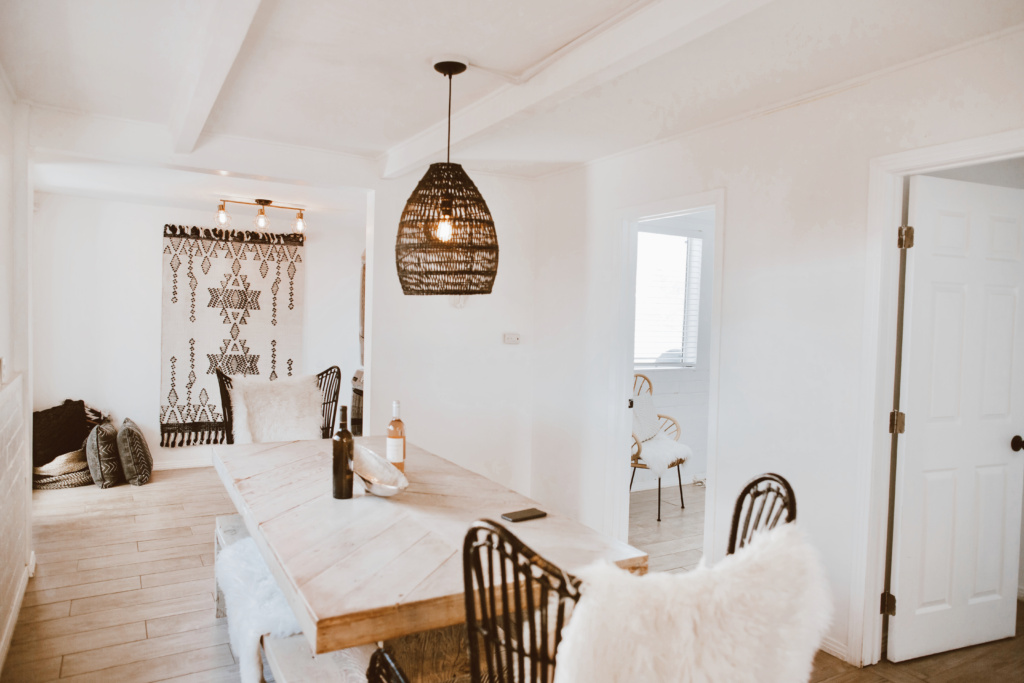 The contemporary kitchen includes a huge refrigerator, a stove, an oven, a microwave, a dishwasher, and a coffee maker. The custom cabinets are stocked with dishes, cookware, and all the other kitchen necessities.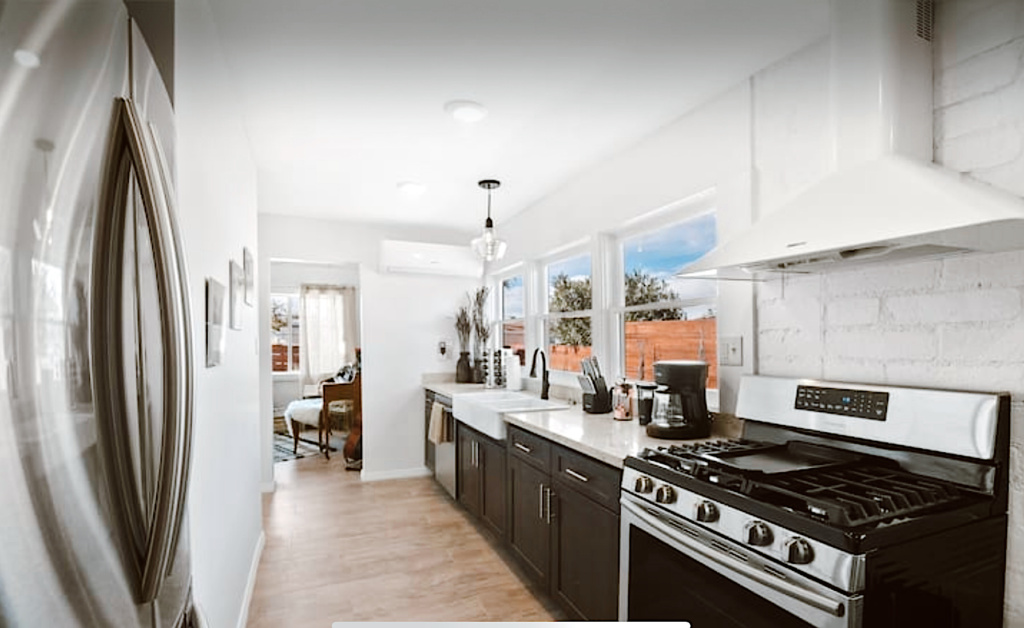 Outside you'll find even more amazing amenities like a jacuzzi, a fire pit, loungers, a BBQ grill, and outdoor hammocks. It felt like we owned a little oasis in the middle of the desert. This quiet home has everything you'll need for a rejuvenating stay.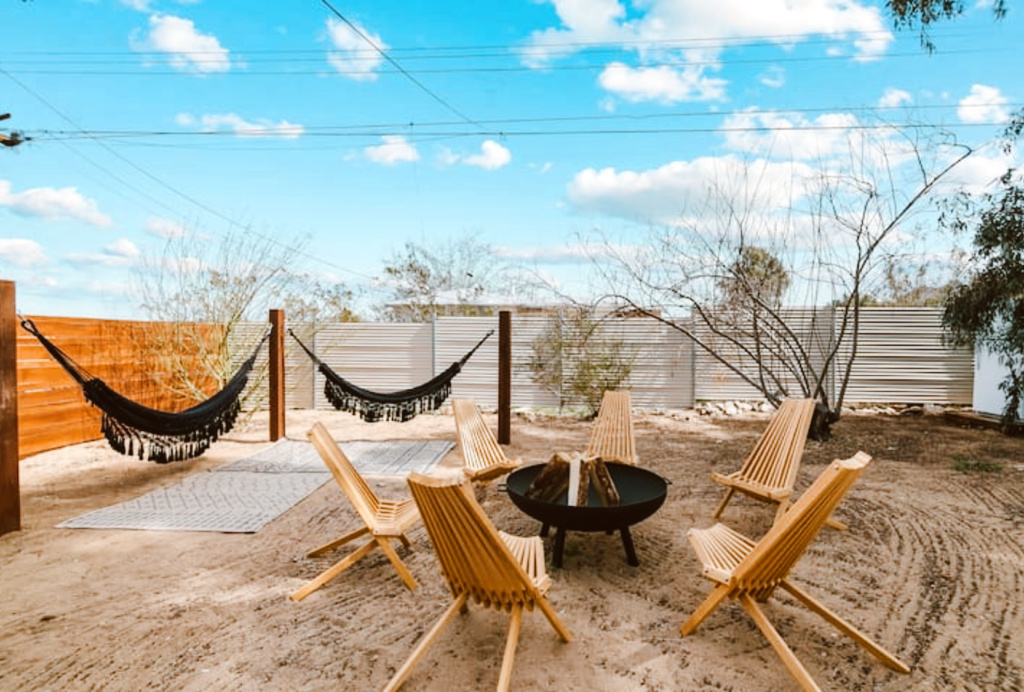 While local shops and restaurants are just a quick two-minute drive away, trust us when we tell you that you won't want to leave this home! Step outside at night, and you'll quickly be rewarded with breathtaking views of the desert sky and shimmering stars. Soak in the hot tub, take advantage of the outdoor grill, roast marshmallow over the fire pit or relax under a sky full of stars…this home is just the place to slow down and recharge. Your family members and friends will want to stay for more than just a few nights just to enjoy them all!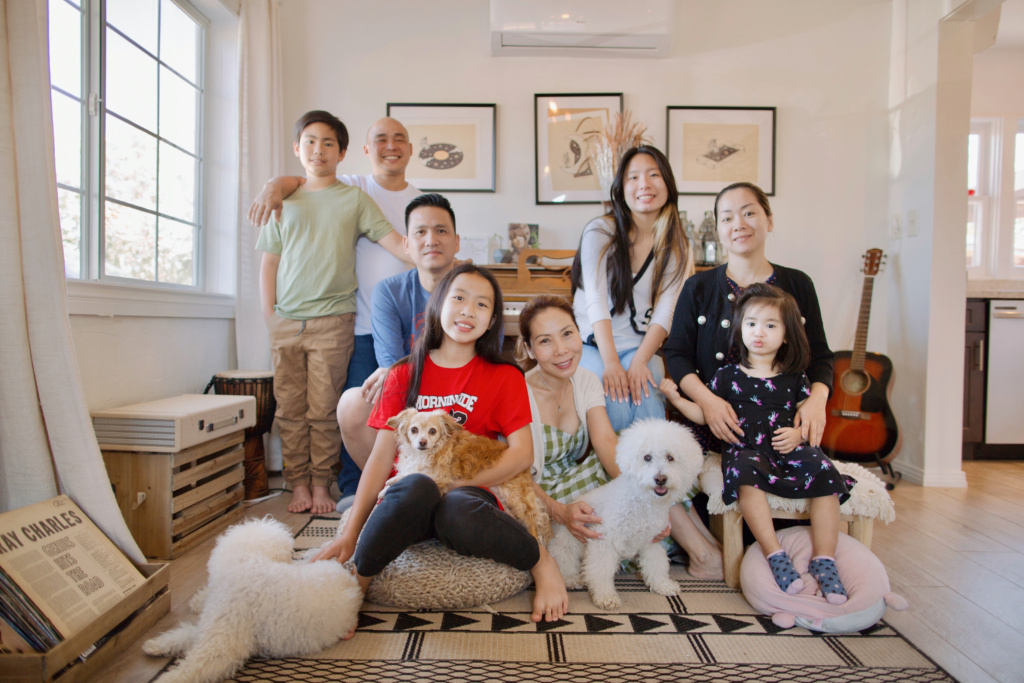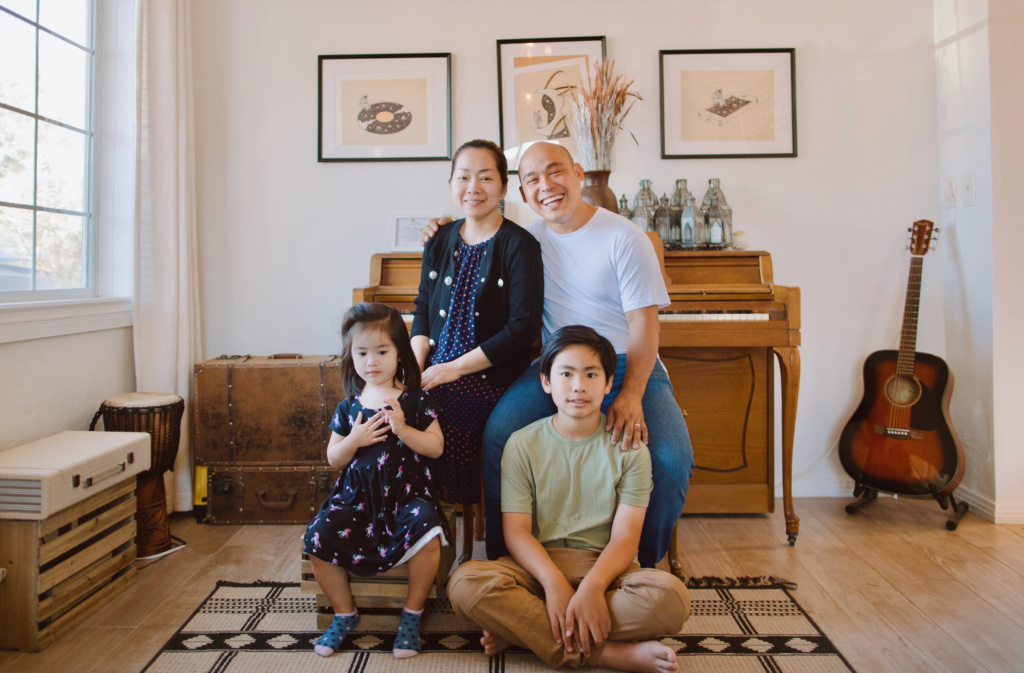 How about family-friendly activities? What are things to do near the Desert Nomad Retreat? Joshua Tree not only is a photographer's dream, it is also an adventurous kid playland. The striking boulders are perfect for climbing, and the unique landscape is the perfect backdrop to unleash your kids' imagination. There are also plenty of easy hikes and trails for smaller children.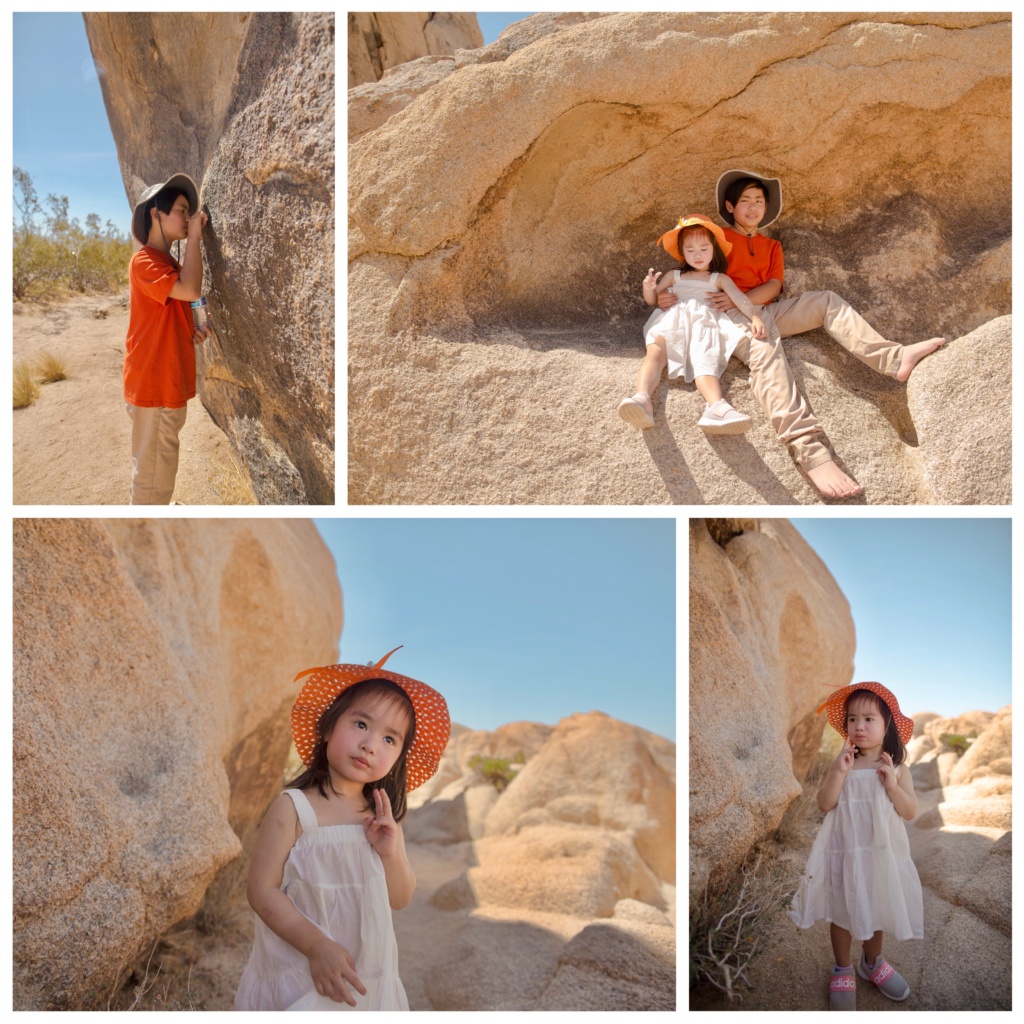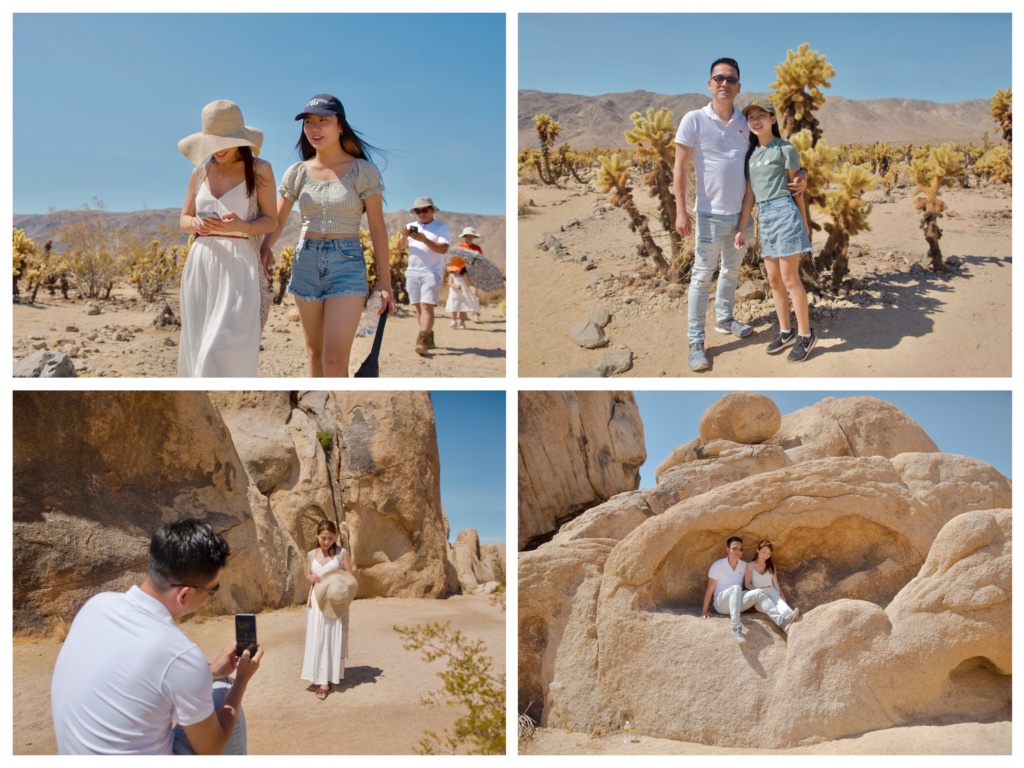 One of the must-visit spots in Joshua Tree is the Cholla Cactus Garden, where you'll find the 'teddy bear' cactus, a species that regenerates by eating its dead parts. This unique landscape full of prickly cactuses is an amazing sight to witness and makes for great photos and views of desert nature. The easy trail is also perfect for little ones.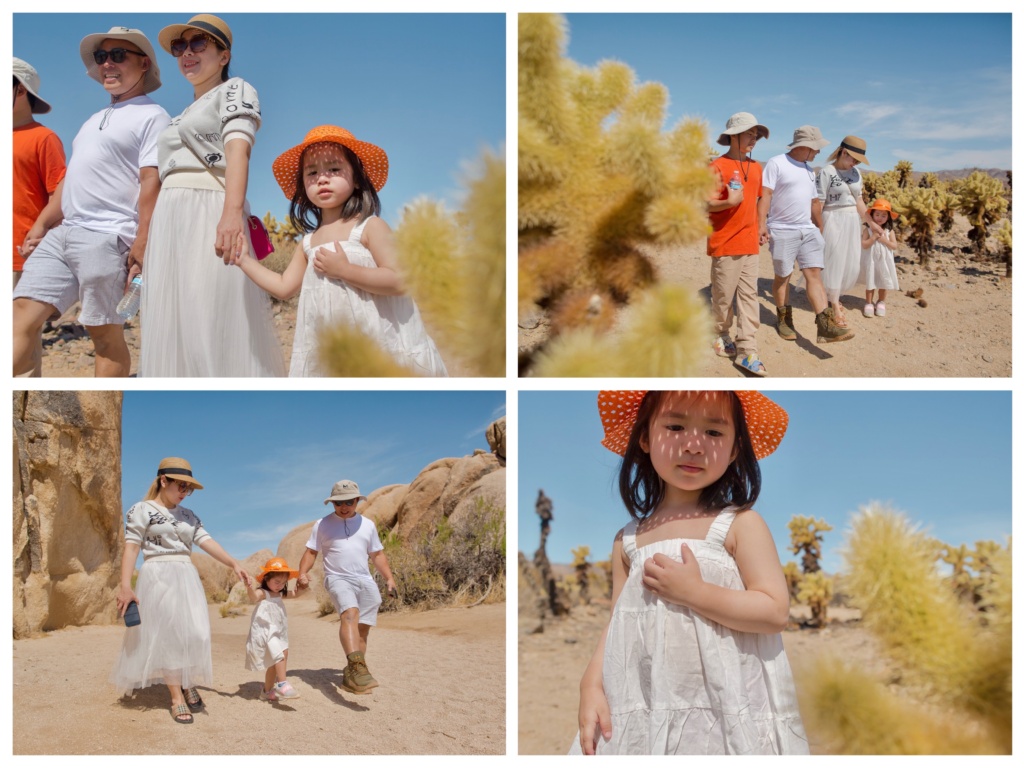 ***Thank you to Airbnb for kindly sponsoring this post. All opinions are 100% honest & completely my own.