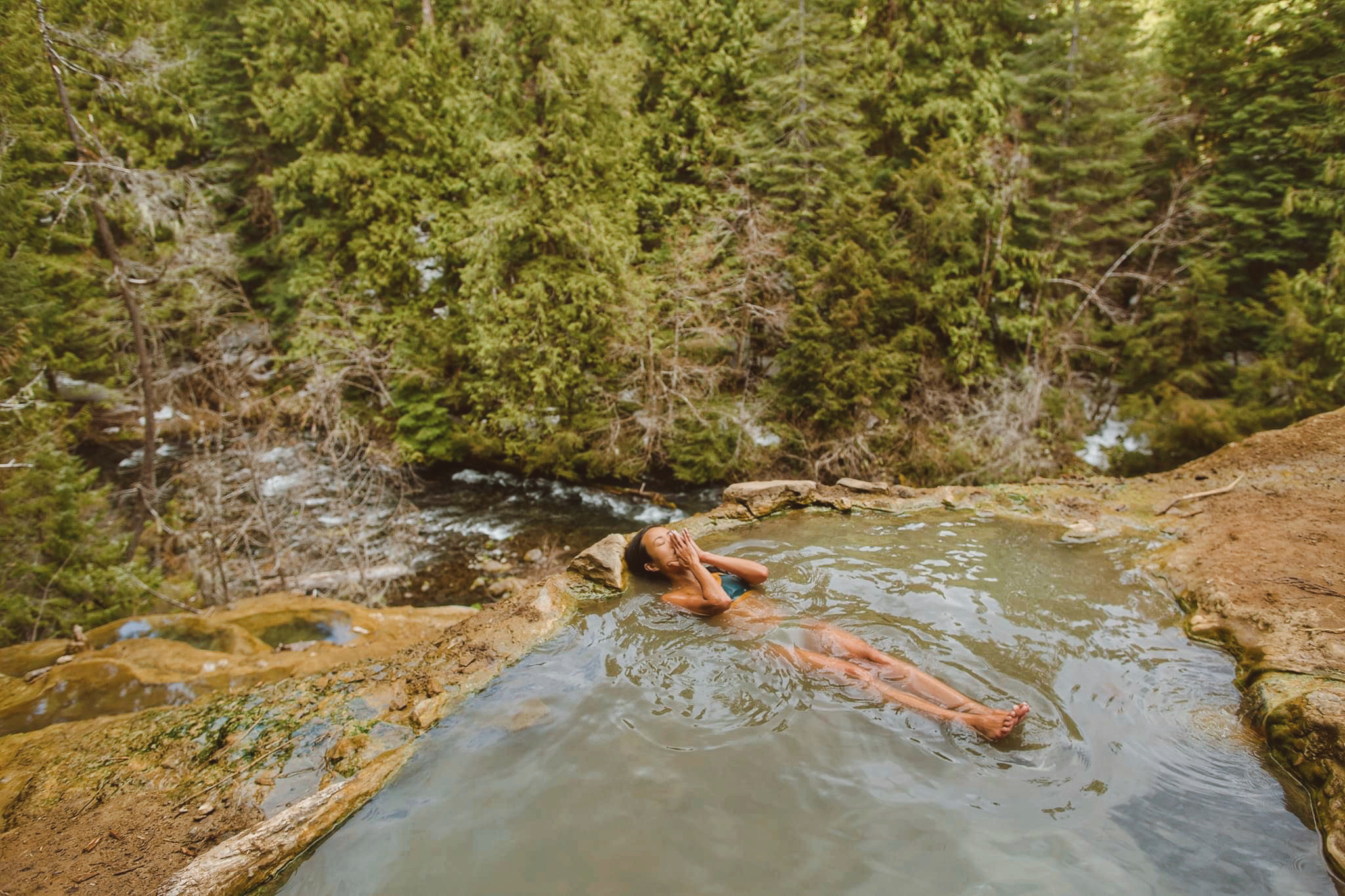 The Ultimate Two Week Norcal/Oregon Roadtrip
The Pacific Northwest is known for its abundance of evergreen trees, moss-covered rainforests, rocky Pacific coastline, breathtaking waterfalls, and sky-high redwood trees. The stretch of Highway 101 from San Francisco through Southern Oregon is a stunning region made for adventurers. Recently, our vanlife family embarked on this 2-week road trip driving through the towering redwood forests, winding up the wild Umqpua National Forest, and looping back down through Oregon's otherworldly rocky coastline.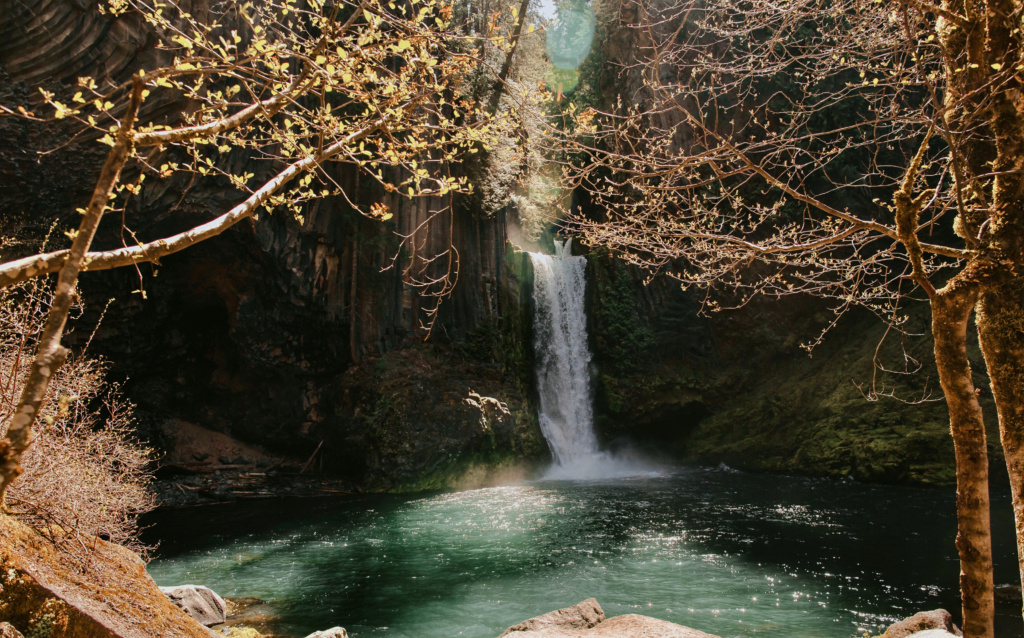 In this blog is our complete itinerary, taking us through some of the most diverse and breathtaking scenery the west coast has to offer. Whether you're driving a car, van or camper, this road trip is sure to not disappoint. 
Day 1: San Francisco – Point Reyes National Seashore (1 hour 36 mins – 58 miles)
Point Reyes, located about 1 hour north of San Francisco, is a relatively hidden gem tucked away on the California Coast that feels like something out of a fairytale. Once you cross the Inverness Ridge toward the Point Reyes headlands, you'll enter a world of rolling hills, coastal grasslands dotted with cattle, scattered ranches. redwood forest, and charming small towns.
The drive will make you feel like stepping into the Irish countryside! The Point Reyes National Seashore may be secluded, but with 150 miles of scenic hiking trails, thousands of species of plants and animals for wildlife viewing, and the unmissable chance to gorge on local cheeses and some of the best oysters on the West Coast, there are many things to do here for your whole family!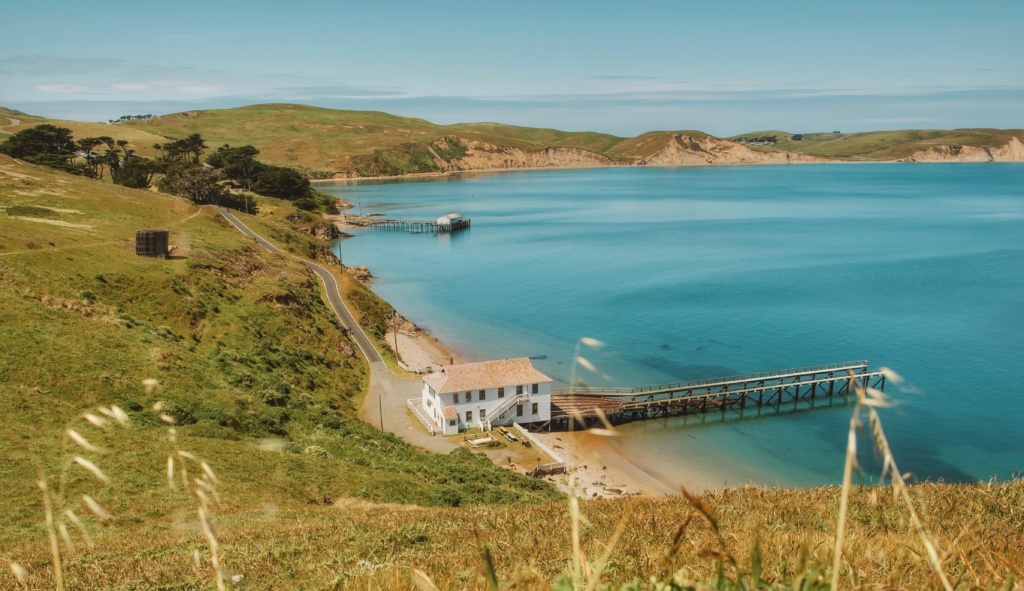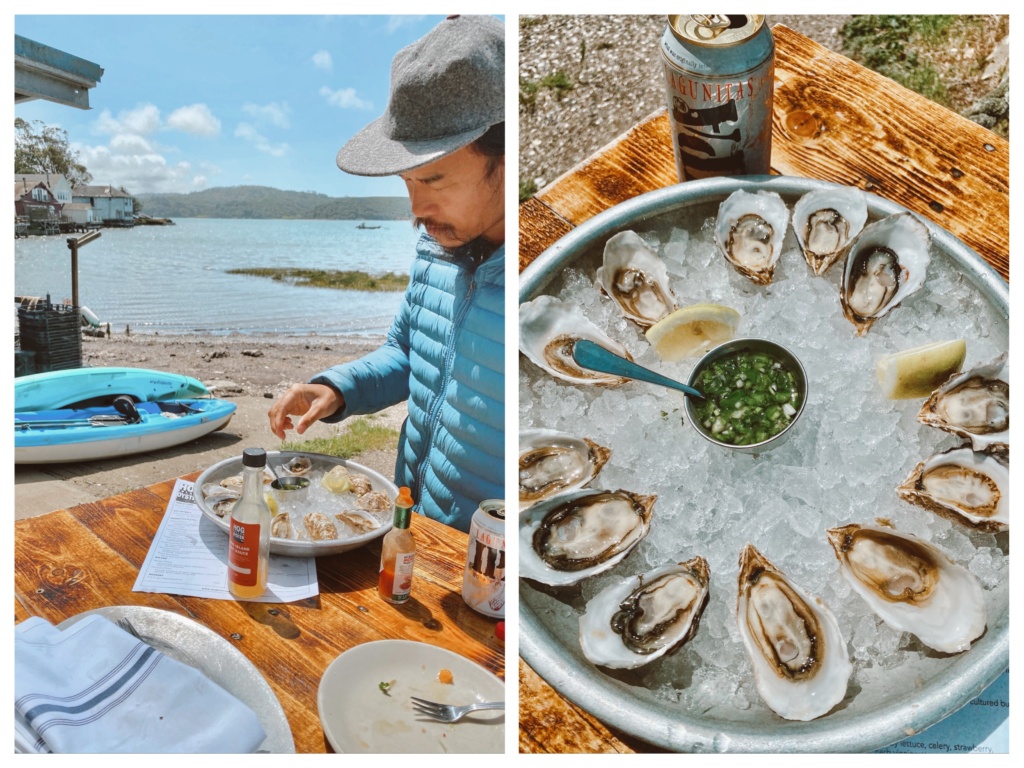 One of the best things to do in Point Reyes National Seashore to really experience its natural beauty to the fullest is to go for a hike. The trails here are relaxing, scenic, and not too strenuous at all. If you only have the time and energy to do one hike, I highly recommend one of two hikes – the Chimney Rock Trail or the Tomales Point Trail. Hiking in Point Reyes allows you to immerse yourself in the rugged atmosphere of the park, including its scenery and wildlife.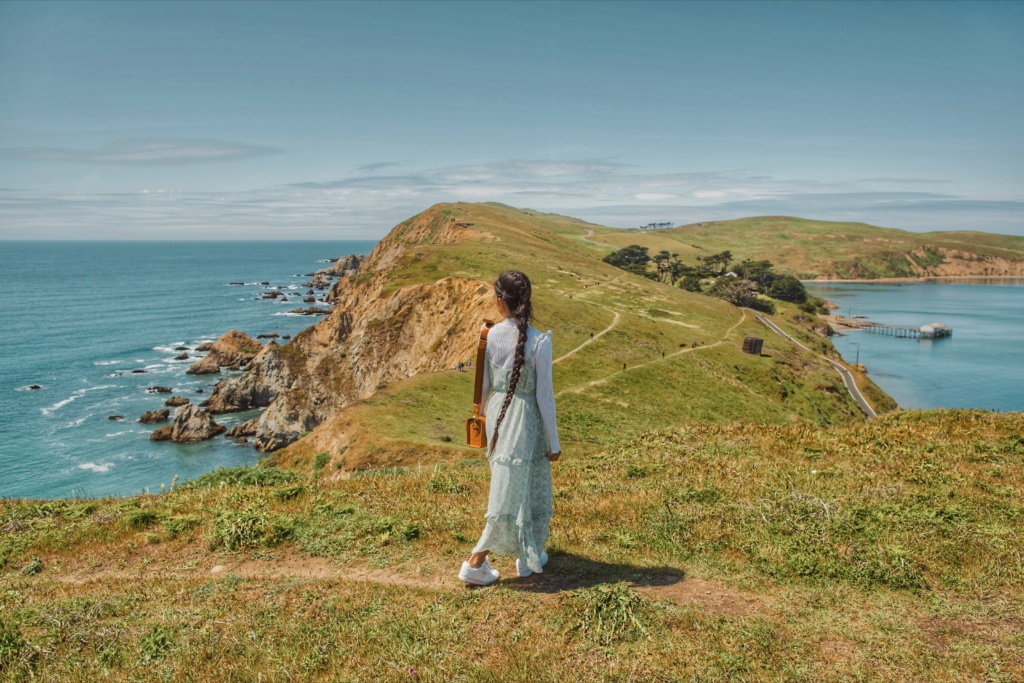 We visited the park around mid April (2022) and were blessed with sunny weather, clear skies, pleasant temperature, and less crowds. Spring brings beautiful wildflowers at hiking trails and I think it is one of the most lovely time to visit Point Reyes. On the days of our visit the skies were so clear and we were able to see miles and miles of pure open ocean.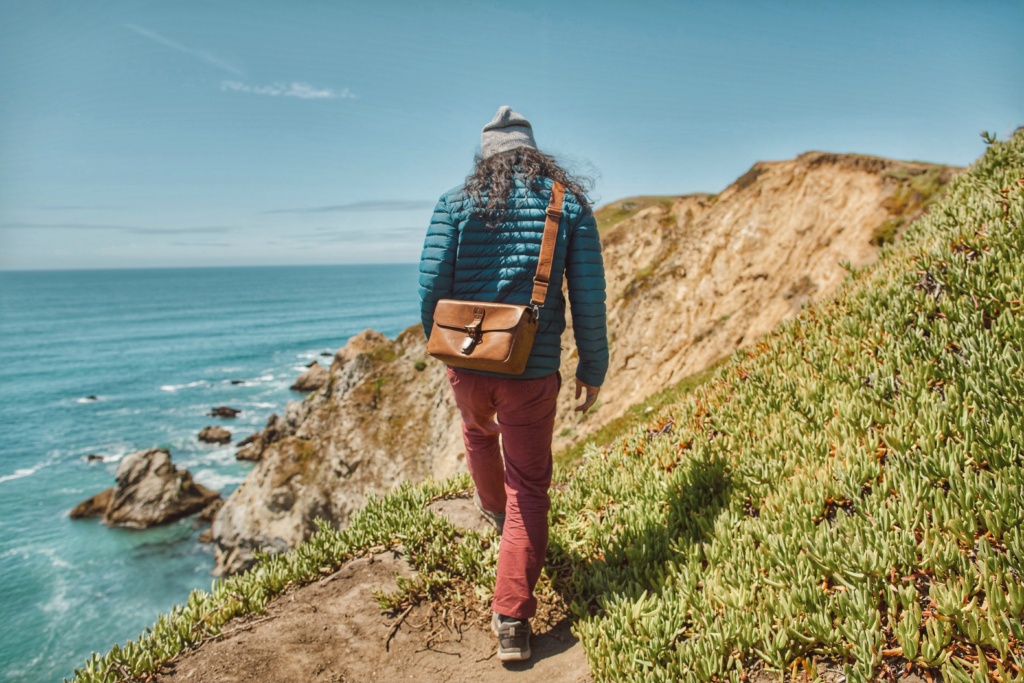 Point Reyes is infamous for its treacherous coastlines, often shrouded by fog and amplified by fierce waves and even fiercer winds. The Point Reyes Peninsula has claimed many ships and lives over the past hundreds of years. So when in Point Reyes, it only makes sense to witness this history for yourself with a brief visit to the Tomales Bay Shipwreck, the Inverness Shipwreck.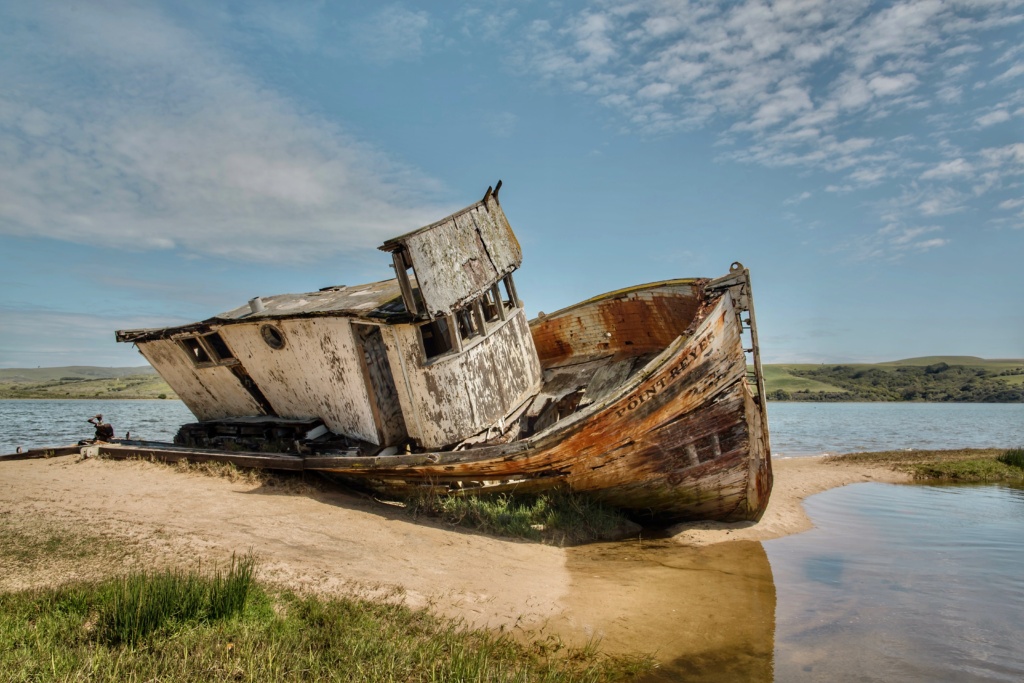 And here is also the home of the famous Cypress Tree Tunnel. Most likely you've seen photos of this famous Cypress Tree Tunnel on Instagram. It's a tucked away spot in the Point Reyes National Seashore where the giant Monterey cypress trees grow into a tunnel over the road. It's a perfect spot for photographers to capture early morning sun rays, or for anyone to get some moments of solitude.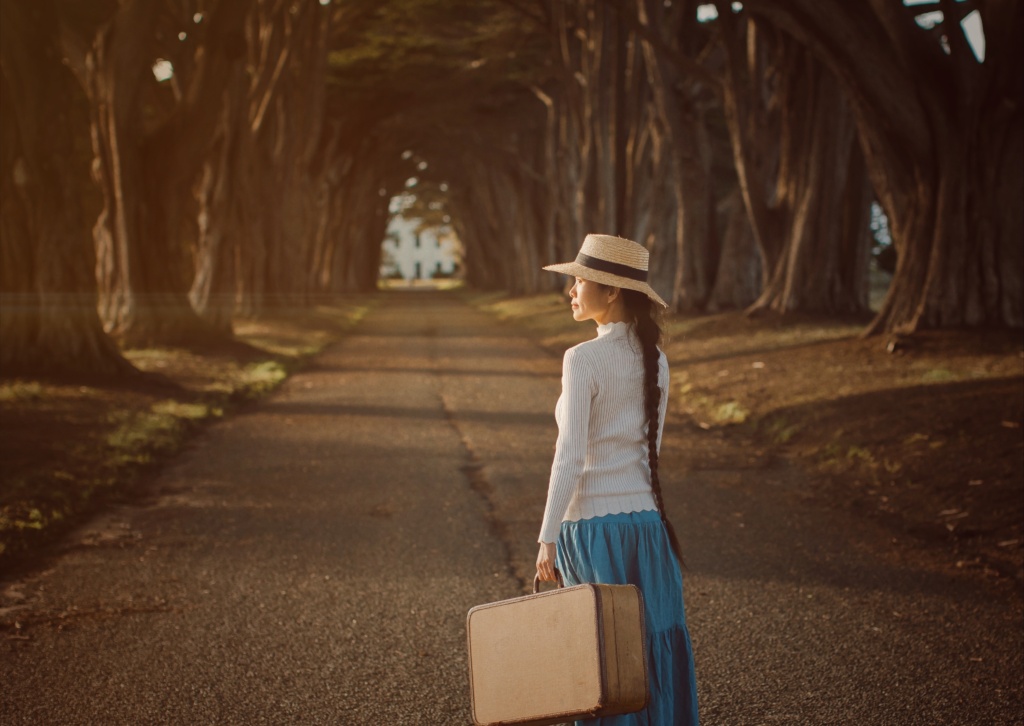 I wrote a more detailed blog for Point Reyes here if you have more time to explore this region. Click here to read!
Day 2: Point Reyes – Napa (1 hour 37 mins – 60 mi)
A mere 30 miles long and just a few miles wide, Napa Valley may be small but it is packed with delectable experiences from wine tasting to five-star farm-to-table dining. The first time I visited the California Wine Country was in 2012 (you can read about our visit to Napa in 2012 here). It was on that trip that we stayed at the Silverado Resort and Spa and that when I fell in love with Napa. The resort has that classic Napa Valley elegance that is so alluring for those who appreciate the old and timeless beauty like us. So this time coming back to Napa we were so happy to revisit the Silverado and explored the property all over again.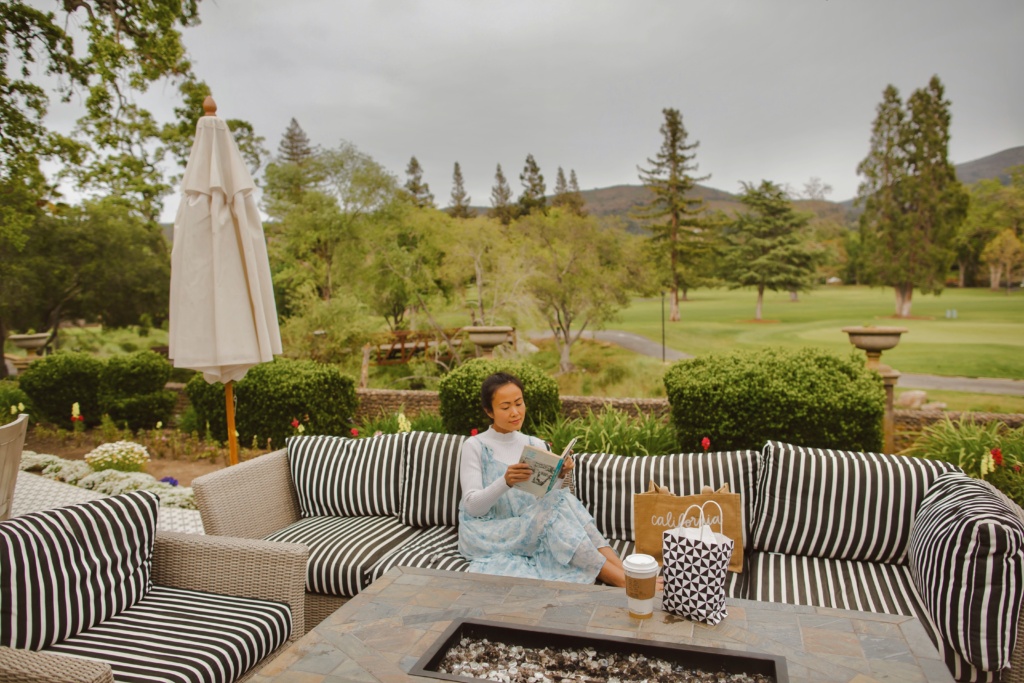 The Silverado Resort and Spa rests in the heart of the wine country known as Napa Valley. Only a stone's throw from a handful of amazing wineries, featuring two champion golf courses, and less than 5 miles from downtown Napa, this resort hotel is known for being a private getaway in the center of it all.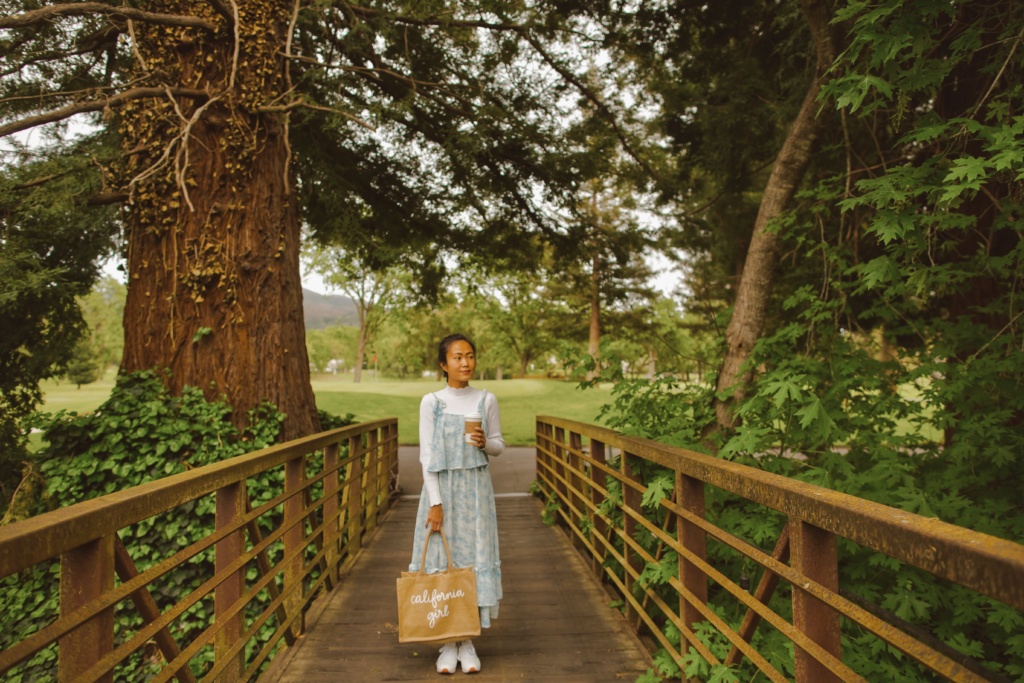 As you turn off the country lane, your first sight of the Mansion will kick your vacation excitement into high gear. The whole property exudes a combination of Southern grandeur with California flair.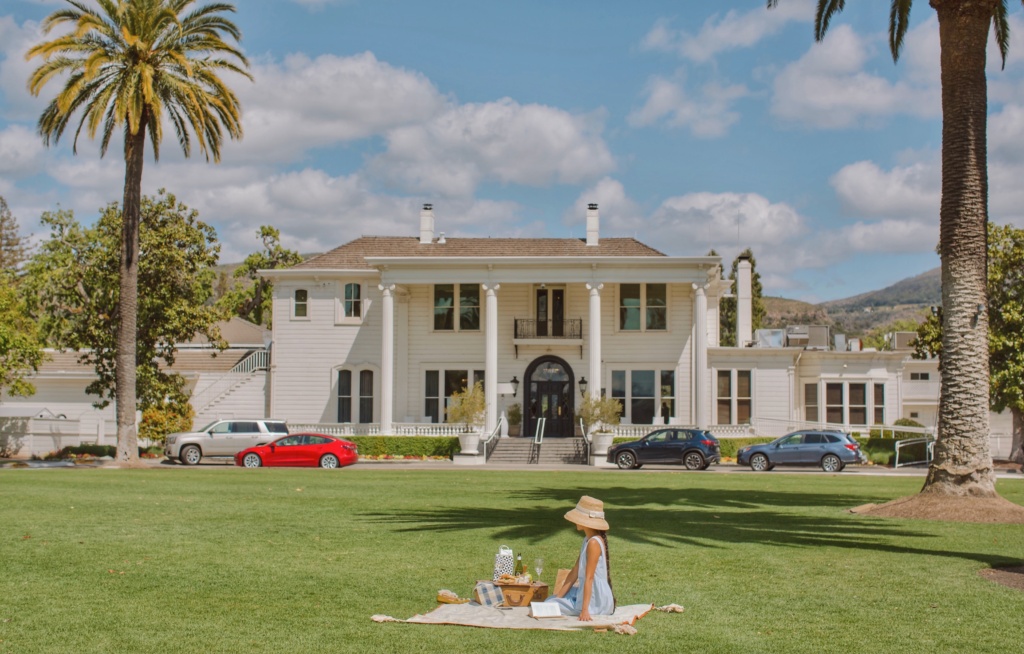 Whether you are in Napa for wine tasting, relaxation, golfing, tennis, spa or anything else – this property will have what you need! I wrote a detailed review of the resort here! If you are interested in spending more time in Napa to explore this lovely wine country and do more wine tastings, click here to read!
Day 3: Napa – Umqua National Forest (7 hour 30 mins – 463 miles)
You should definitely break this drive up into 2-3 days since there are many epic stops along this route like Shasta Trinity National Forest, Klamath Falls, and Crater Lake National Park. We were visiting at the end of April while there were still snow covered many parts of this region, making the roads inaccessible and hazardous so we decided to drive straight to Umpqua.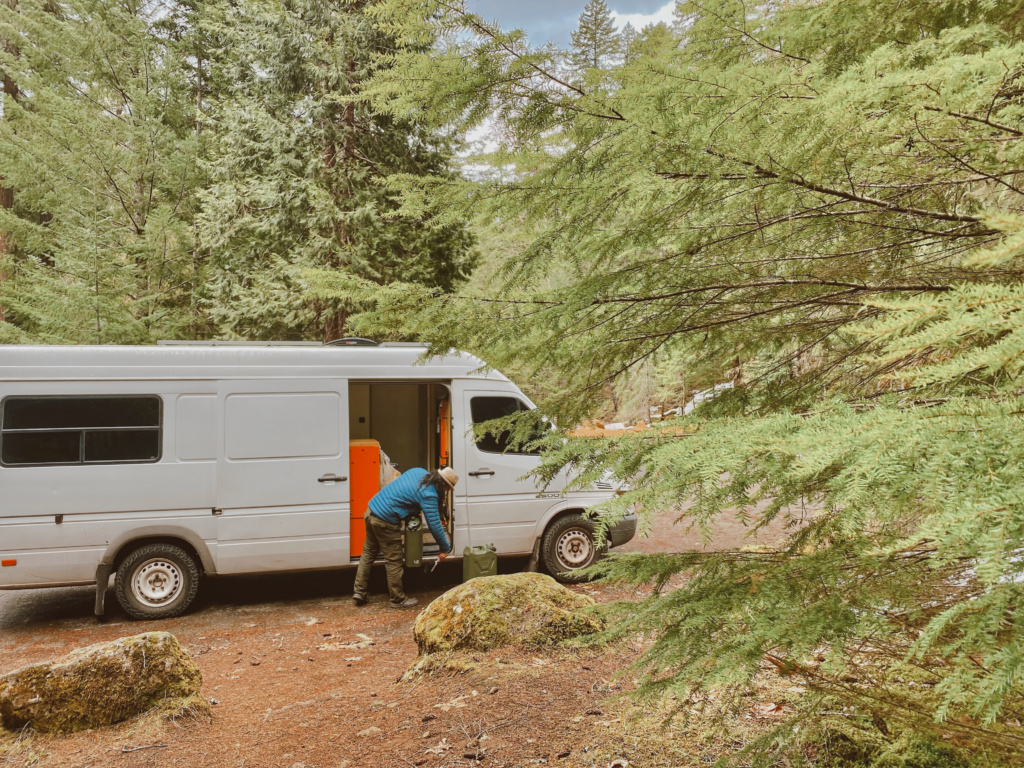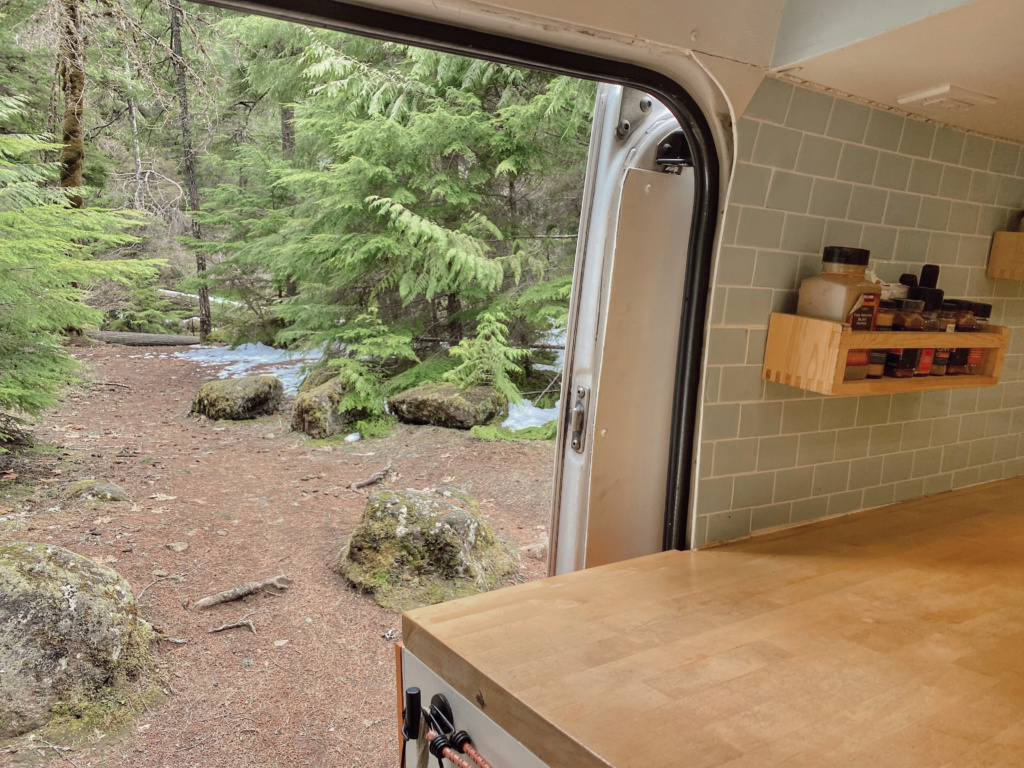 The Umpqua National Forest is located on the western slopes of the Cascade Mountains in southwest Oregon. The word Umpqua loosely translates to either "Thundering waters" or "across the waters".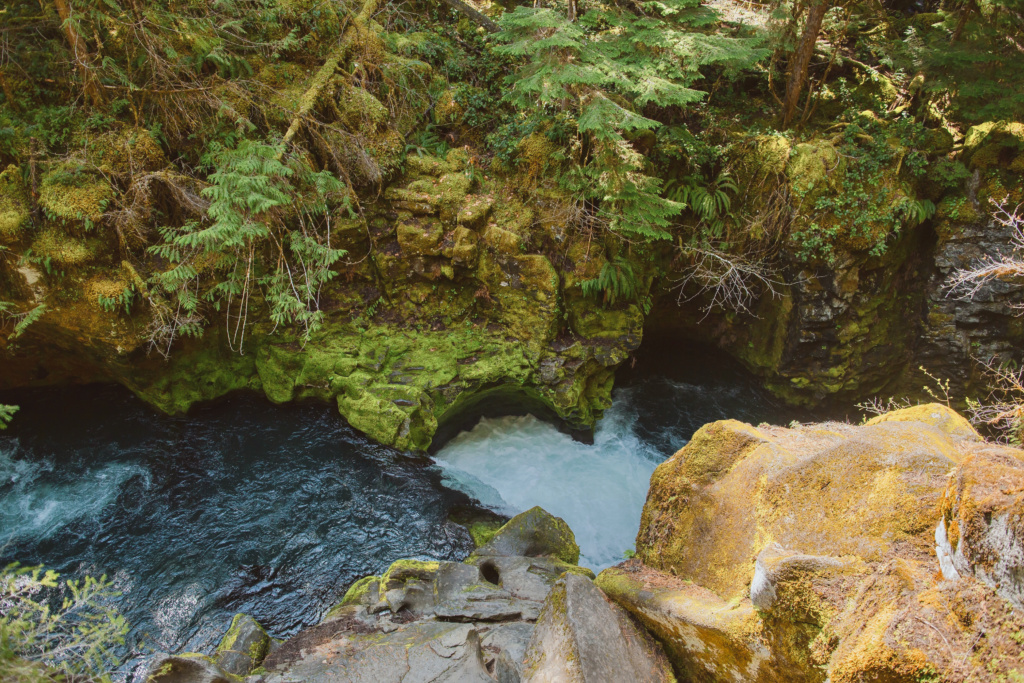 The 66 mile Umpqua River Scenic Byway cuts through it, following the Umpqua River and the beautiful forest of the Coast Range. This corridor has many epic waterfalls you can explore on short hikes and on these amazing hikes you'll find tumbling waterfalls, lush forest vegetation, rushing rapids and alpine lakes. This is definitely the place to come for outdoor adventures.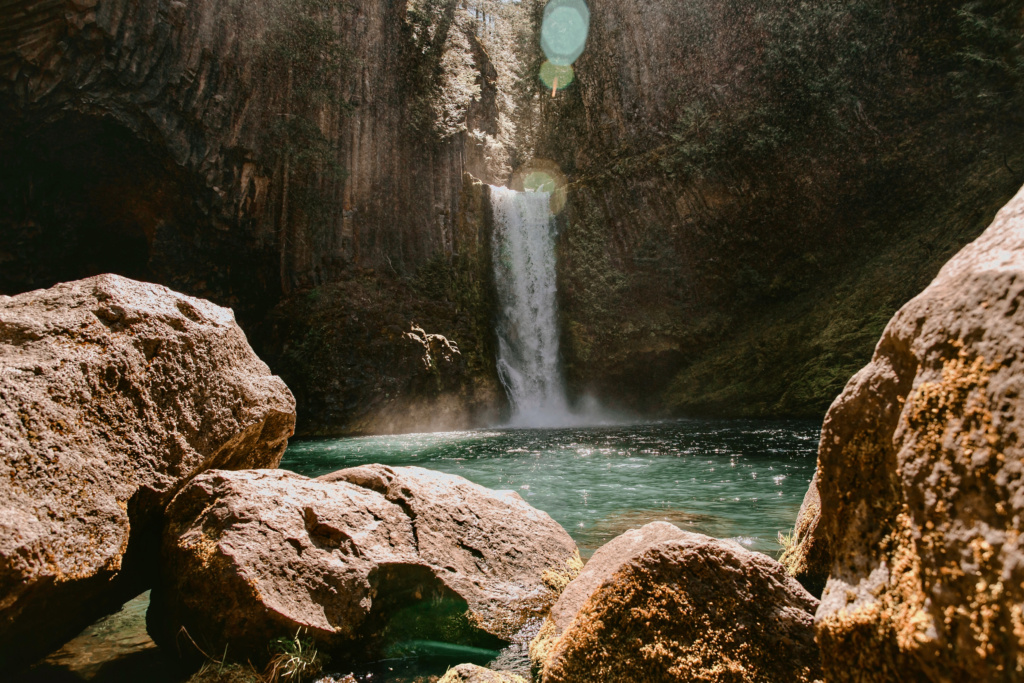 Our first stop in Umpqua is the famous Umpqua Hot Springs. The iconic hotspring is comprised of a handful of small cascading terraced pools, tucked into an evergreen forest, overlooking a rushing river below.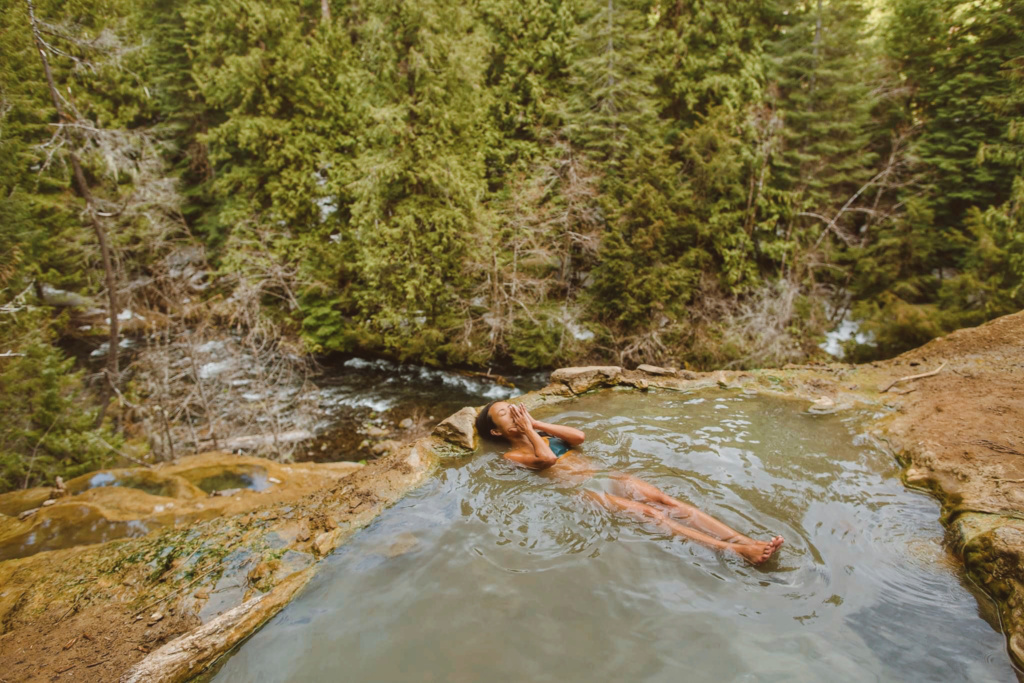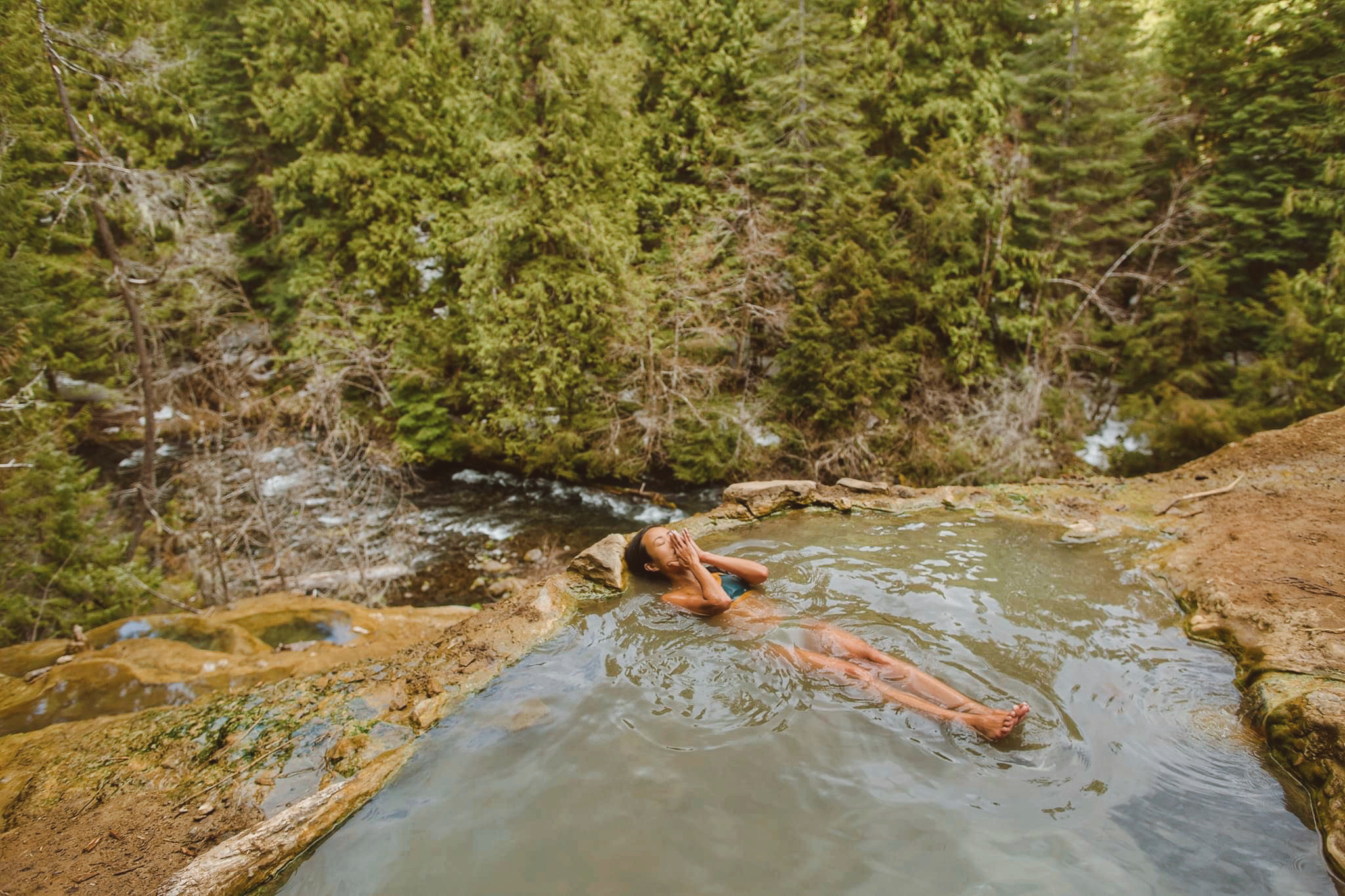 The Umpqua Hot Springs trailhead is located down a 2.2 mile rocky, pothole-filled road. If our van could navigate the rough road, yours can too. Make sure to drive very slow and cautiously. You'll need to hike 0.8 miles round-trip to reach the springs. Past the trailhead, you'll walk along a bridge painted rainbow colors and then, on to a short, but steep hike up to the springs.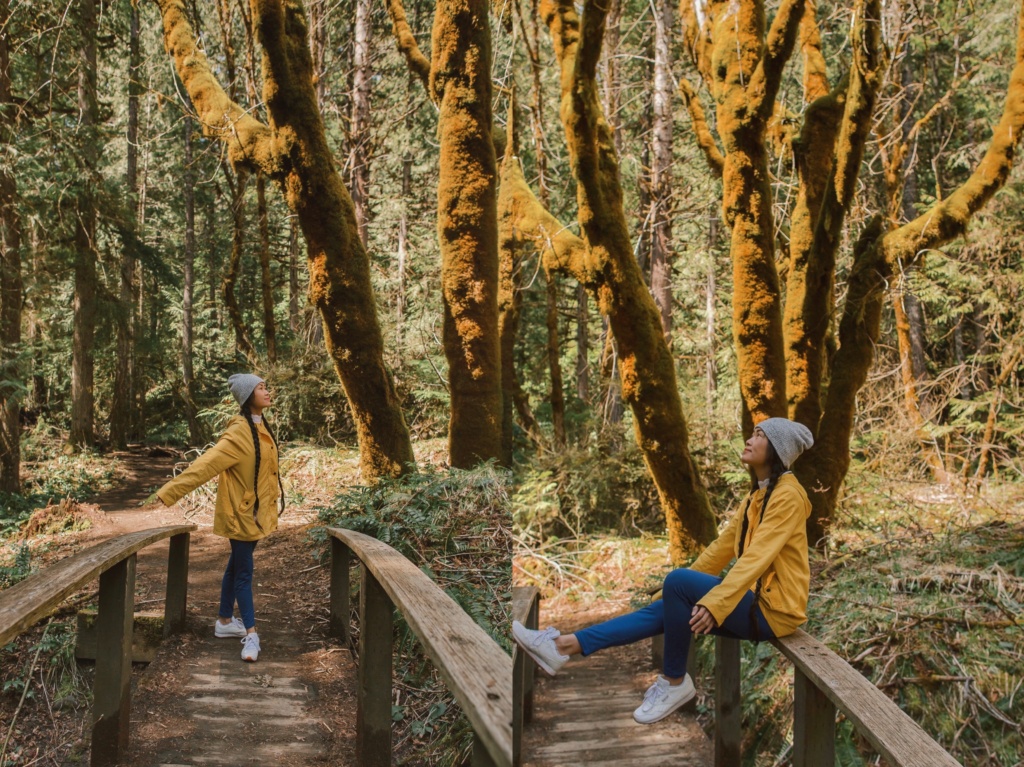 The top pool is also the hottest of them all; the pools lower on the cliff get progressively cooler. The variety of temperatures means you can hopefully snag a pool that's to your liking!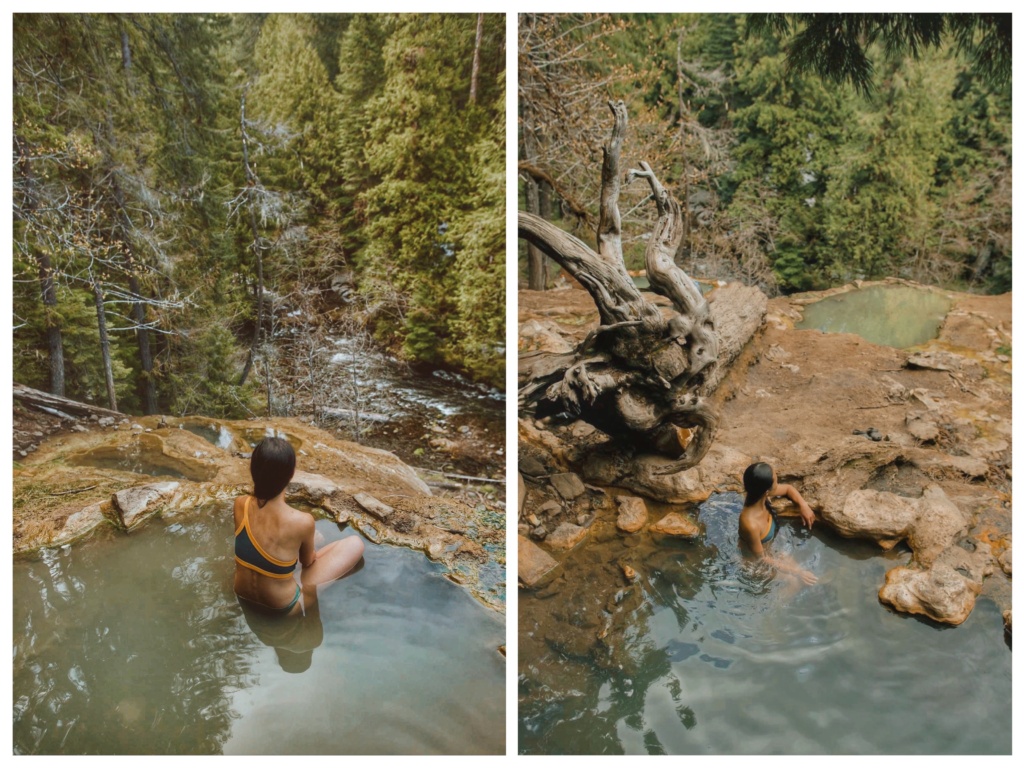 While it is somewhat remote and requires a short hike to reach, you'll likely be sharing the area with many others. If you want the springs all to yourself and at their most photogenic, I'd highly recommend coming here early on a weekday!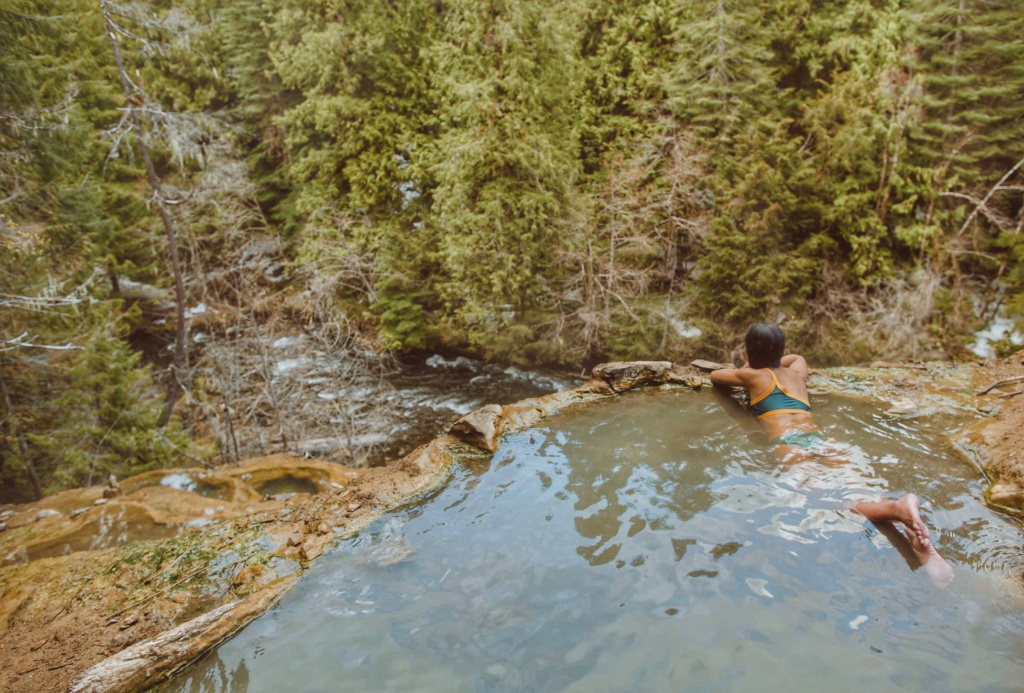 Day 4: Hiking and Waterfall Chasing in Umpqua
If you love hearing the peaceful flow of the river, hiking in Umpqua National Forest will be a surreal experience for you and the grand prize for many hikes is a stunning panorama of an Umpqua waterfall. Most of the waterfall hikes in Umpqua require no more than a 1.5-mile roundtrip commitment.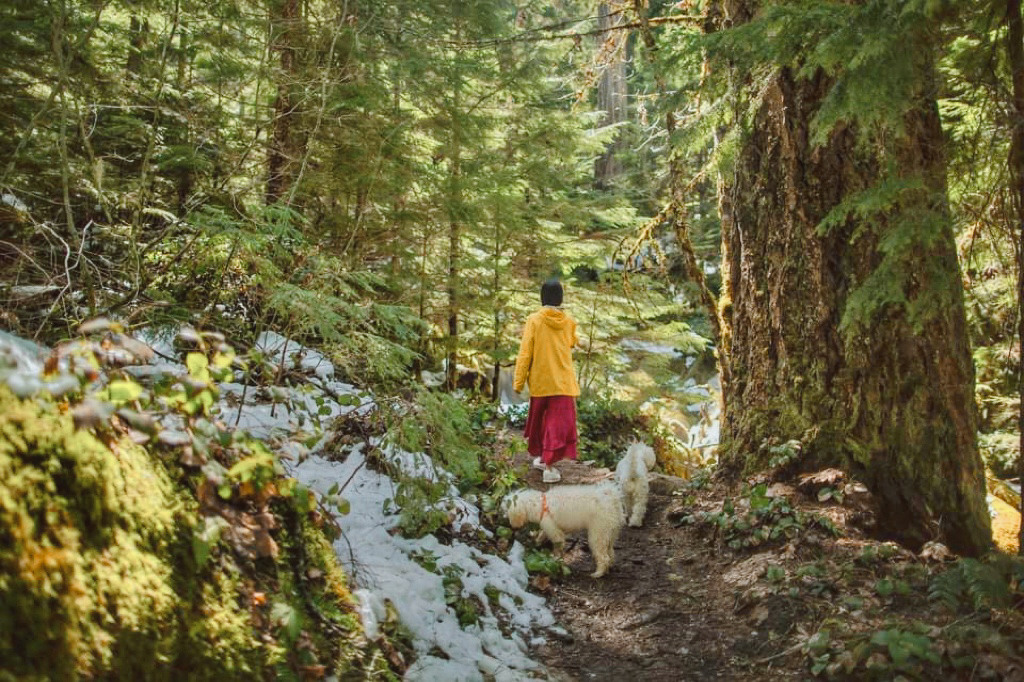 If you have time to visit only one waterfall in Southern Oregon, make it Toketee Falls! The basalt-columned gorge surrounding the two-tiered waterfall is one of the most breathtaking sights in Umpqua National Forest.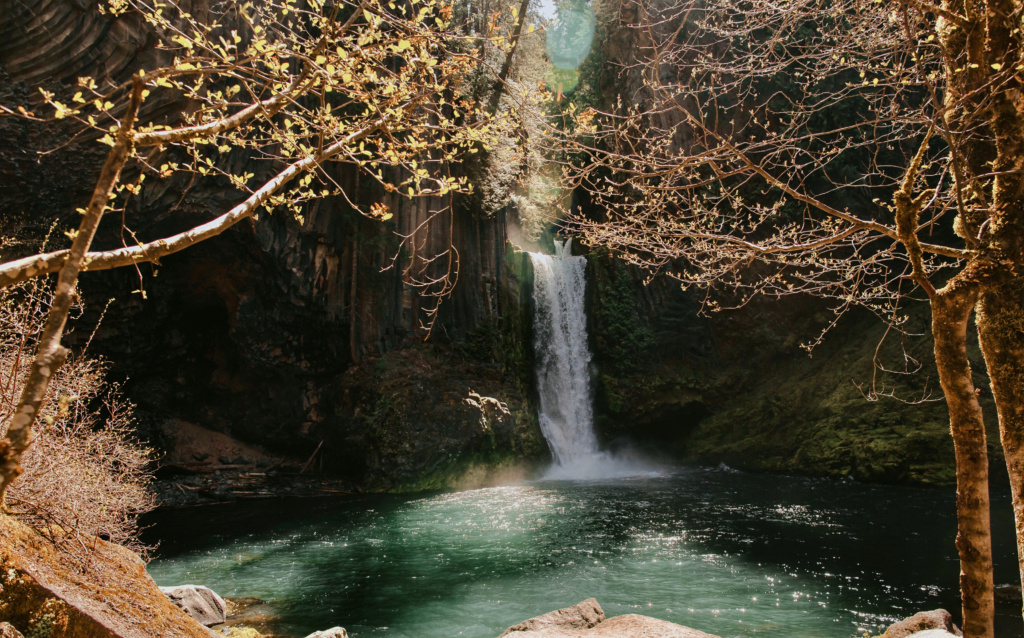 Upon arrival at Toketee, the hike from the parking lot to the waterfall takes about 15 minutes. You will arrive at a large, elevated boardwalk that provides a stunning view of Toketee Falls below.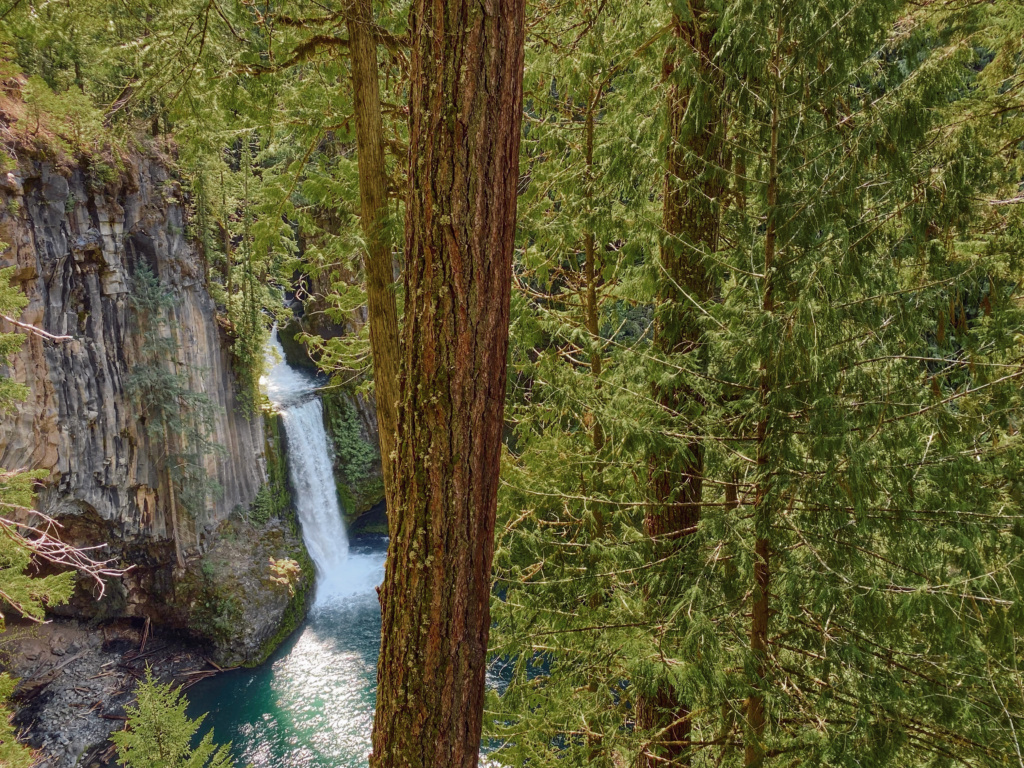 The view from up top is great but it's nothing compared to the view you'll get if you venture further. If you do a simple google search of this waterfall, it will turn up photos along the base of the river. Getting down to the base of the Toketee Falls is dangerous and risky; it involves a lot of scrambling, climbing over fallen trees and ropes to hang onto as you scale almost vertical sections of the trail. The Forest Service discourages people from veering down the gorge to the river. There have been rescues that have taken place because of people wandering off the trail.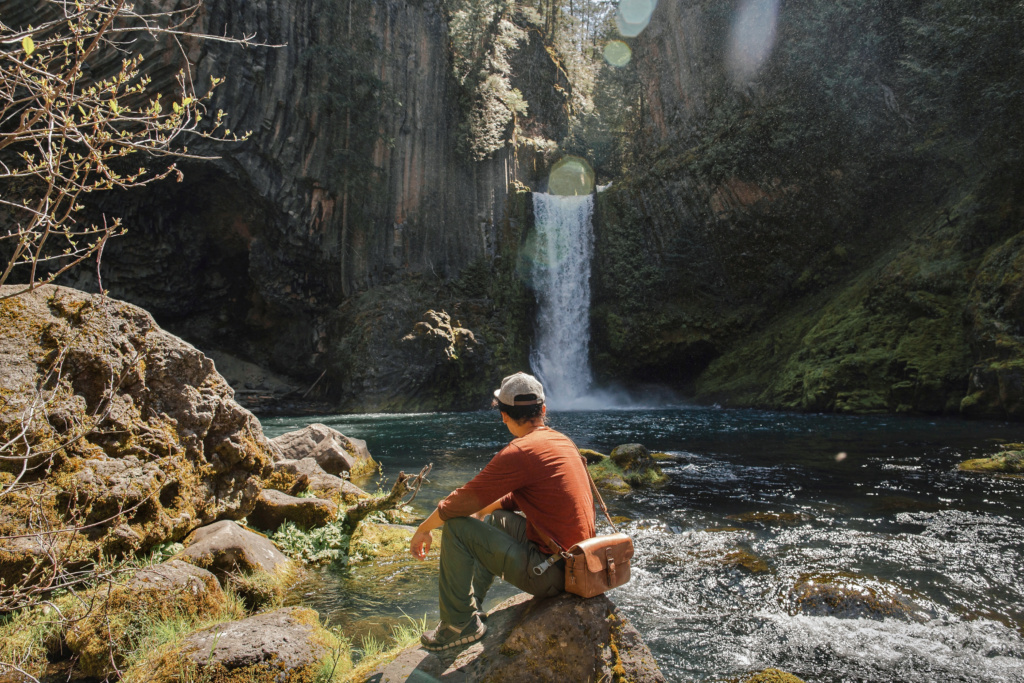 But if you are willing to take the risk to be rewarded with the most gorgeous view of the falls, here's how to do it. If you look to the left hand side of the lookout, the barbed wired has been cut away to reveal a hole you can climb through to get down. Then, you'll see two ropes that lead to the bottom of the steep dirt hill. Make sure that you're grabbing onto the rope, branches, or rocks at all time.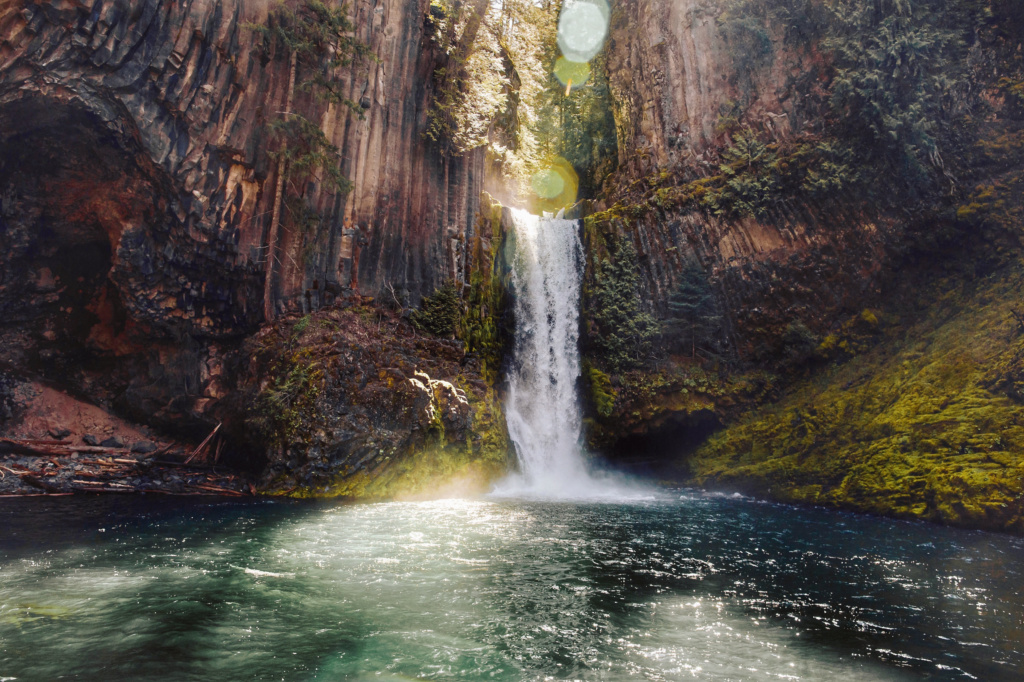 There are 4 waterfalls near Toketee Falls alone, all within 15 minutes of each other by car. Only a 5-minute drive from Toketee is our second favorite: Watson Falls!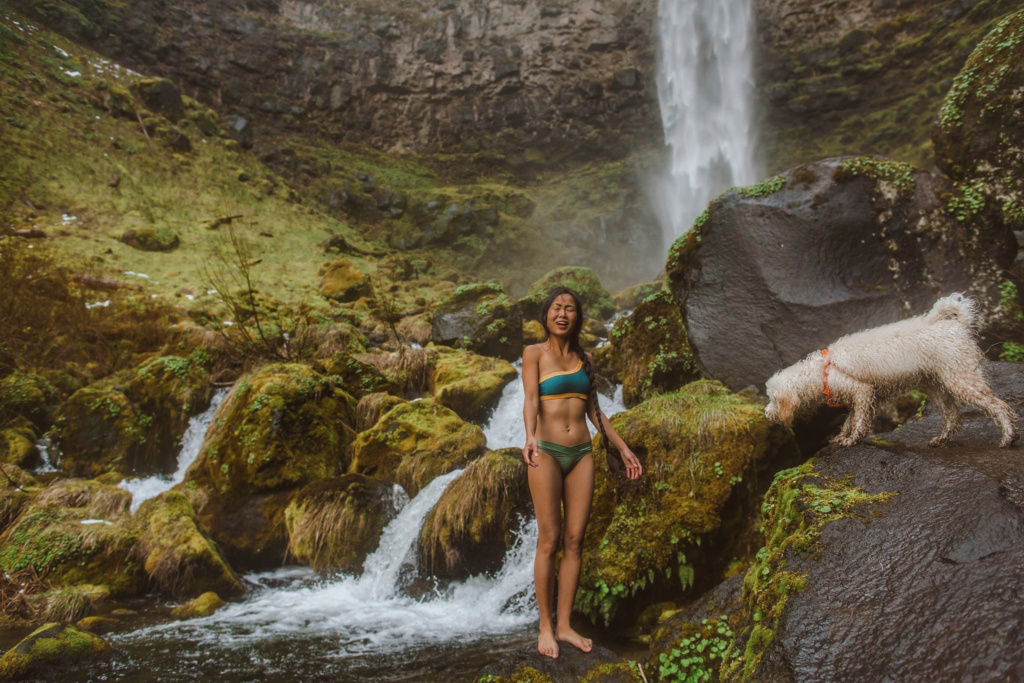 At 272ft tall, Watson Falls is the largest drop of all the waterfalls in Southern Oregon and the second-highest in the state. Thundering over a craggy cliffside surrounded by a lush forest of Douglas-firs and moss covered boulders at its base, Watson Falls may just be the most picturesque panorama in the forest.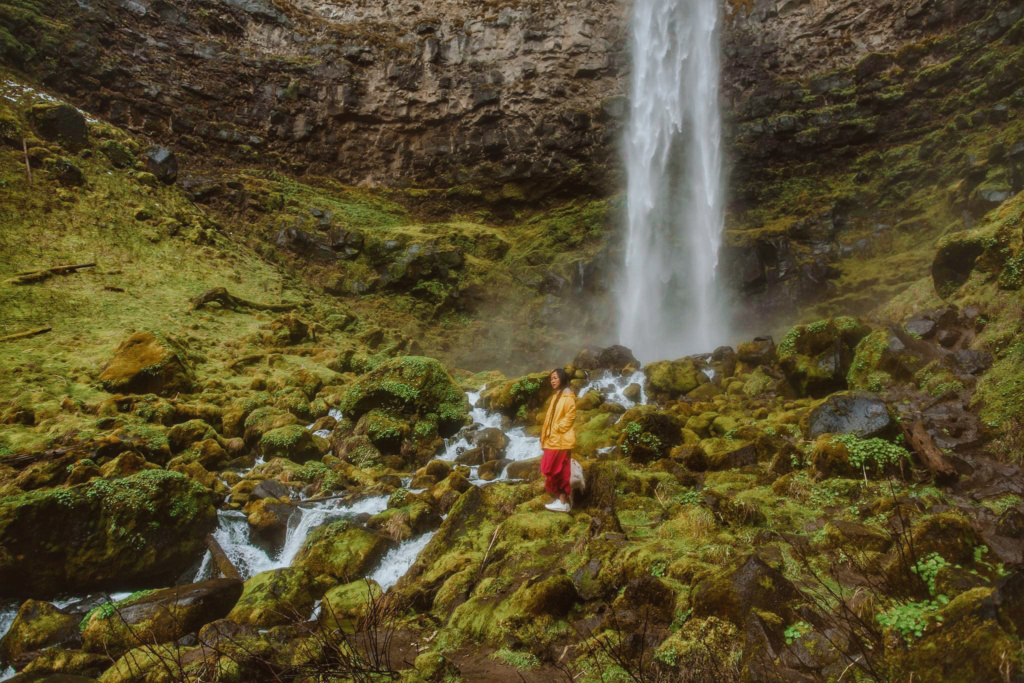 Be prepared for a more strenuous hike than the others, despite only being half a mile to the top. When we were there, the trail was partly covered in snow so it was extremely slippery.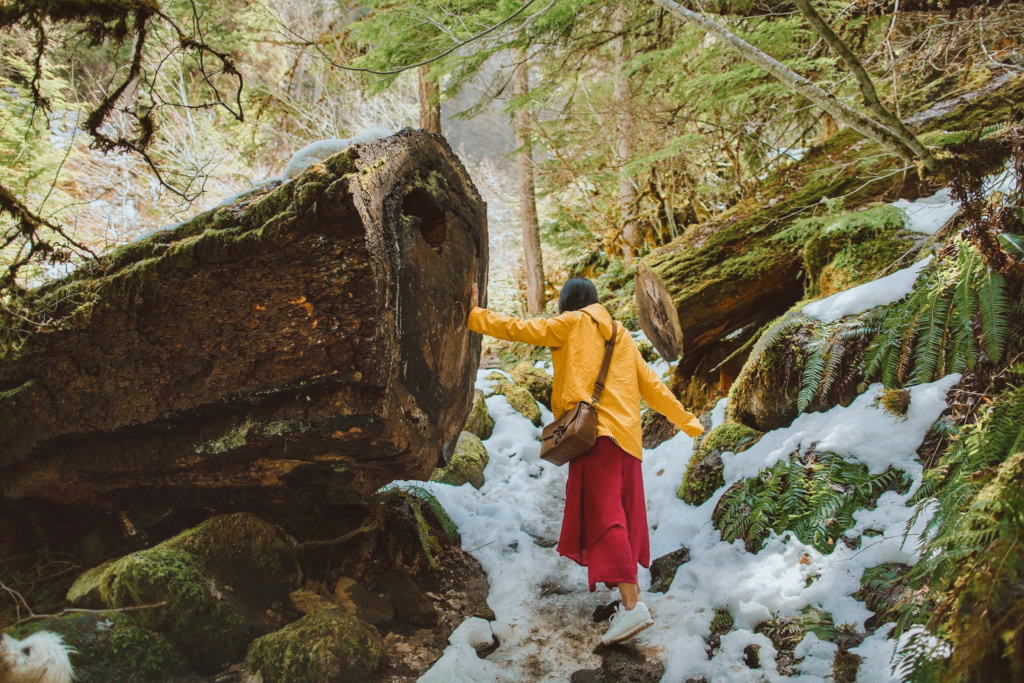 The good news is that there are many photo opportunities on the way up the trail, meaning you will have a couple of chances to stop, take pictures, and catch your breath.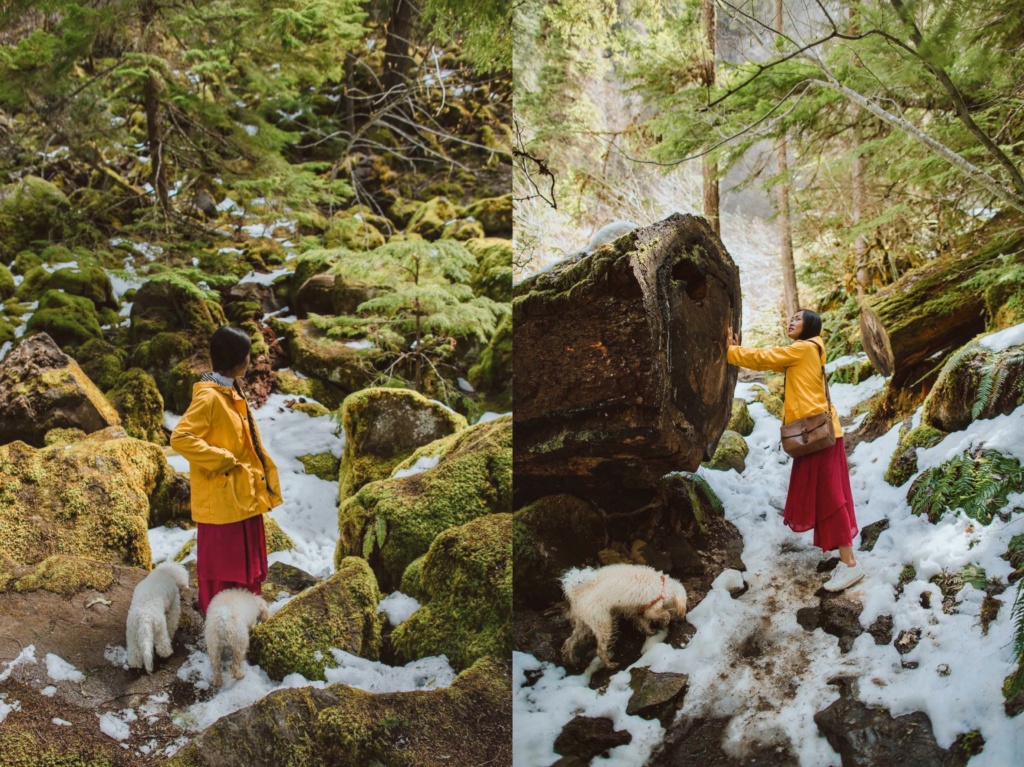 The best part about this waterfall is that you can walk right up to it. There are plenty of unique compositions for photography enthusiasts, and a comfortable viewing platform for those who just want to sit and enjoy.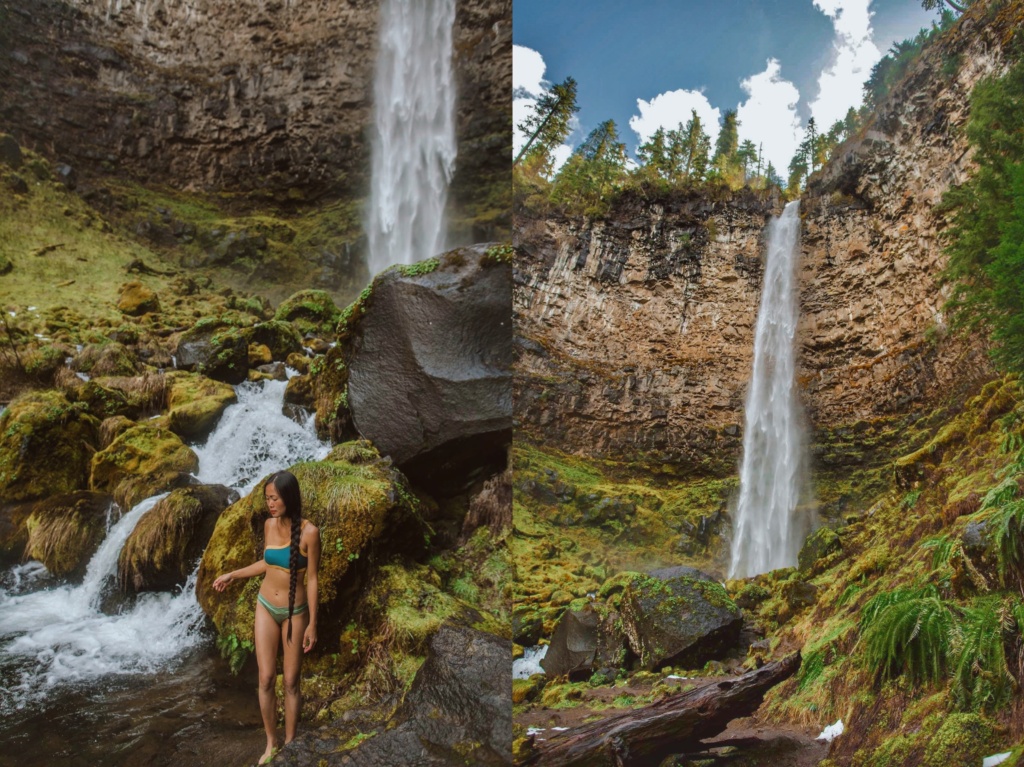 Day 5: Umpqua National Forest – Eugene (2 hour 30 mins – 130 miles)
We stopped in Eugene to do our laundry and refresh. Our friends and relatives when talking to us get very concerned about the logistics of vanlife hygiene. "Do you even wash your clothes?! Where do you do your laundry?" Indeed we do (just as often as we live in a house). Since moving into the van, we do laundry regularly, once a week. For others, doing laundry can be a big chore, but for us exploring eco friendly laundromats on our roadtrips is just as exciting as chasing waterfalls.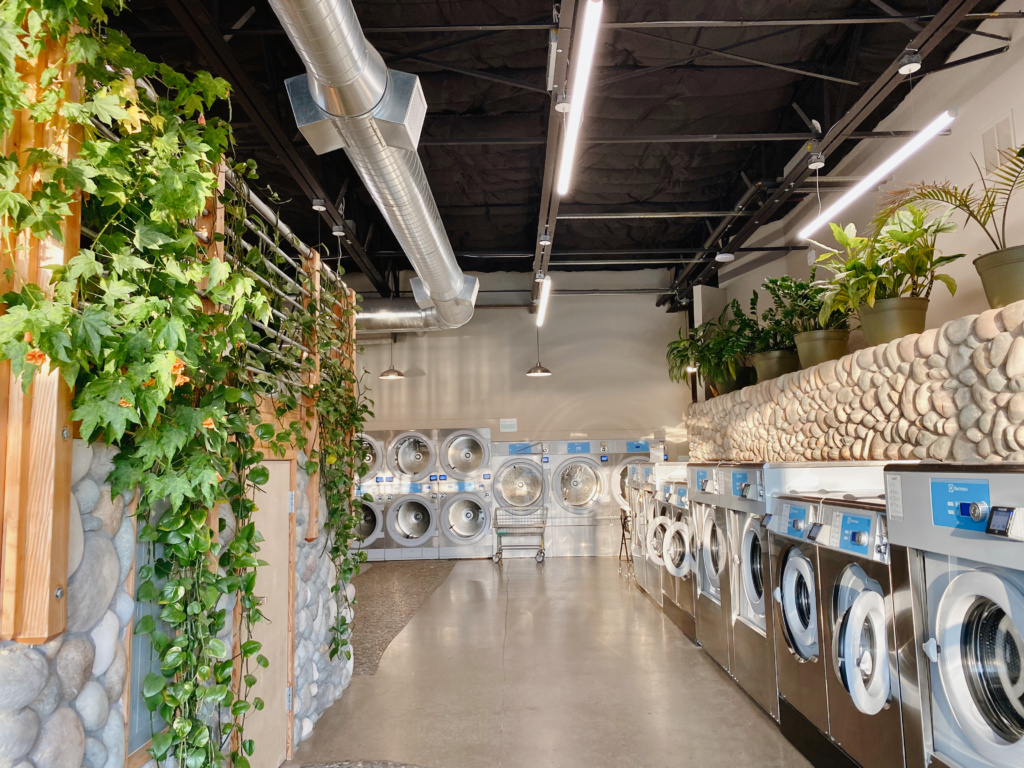 And in Eugene we discovered the coolest laundromat ever – Clean Eugene Laudronmat. The laundromat commits to using only sustainable, chemical free laundry products and is equipped with a state-of-the-art laundry facility with all new, efficient and eco-friendly machines that wash much faster, use less soap and rinse more water out than the other machines. Here we felt like we were going to a chic coffee shop (also pet friendly), and just sit back, relax while waiting for our laundry to be done!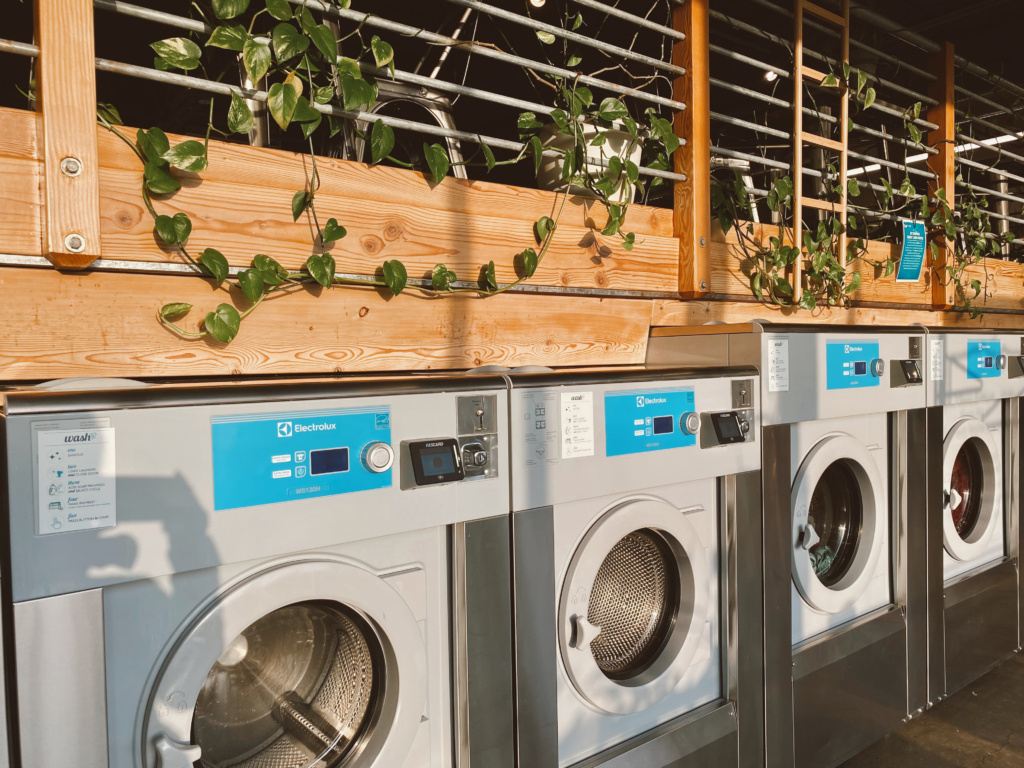 When we walked in, the staff walked us through the machines, gave us some background, and let us know that they provide sustainable and eco-friendly detergent/stain remover/fabric softener anything you could need since the machines are sensitive to standard residential laundry products.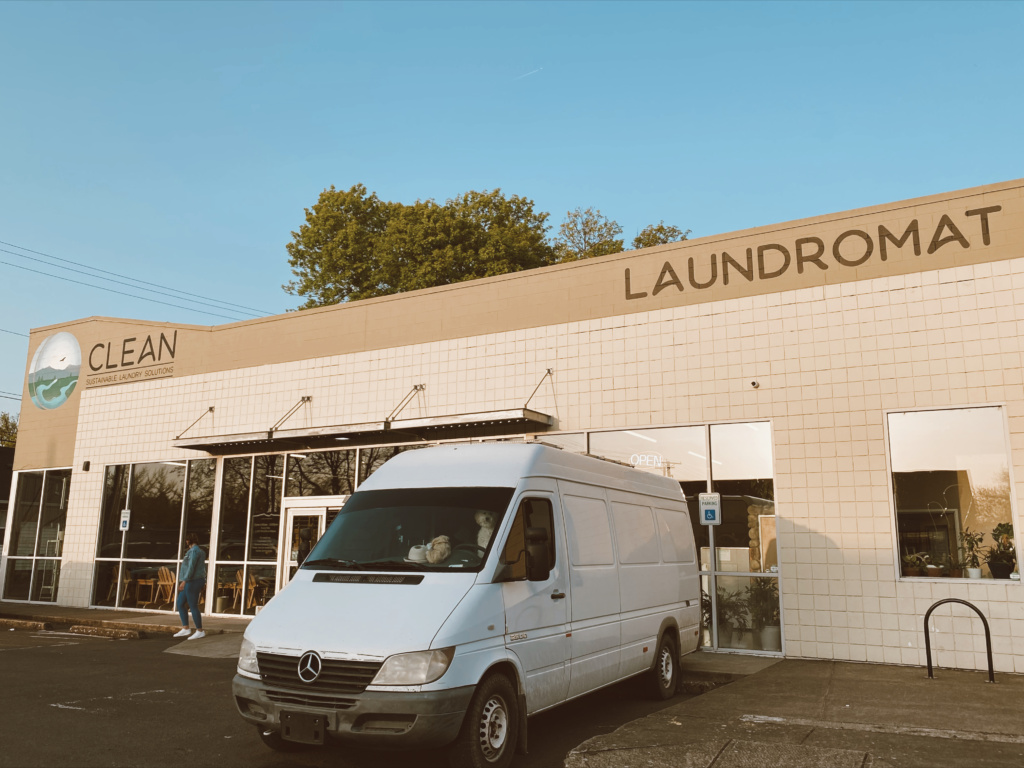 Clean Laundromat provided us with Charlie's soap that is biodegradable, hypoallergenic and petrochemical and dioxane free. They also offer complimentary use of their wool dryer balls with each dry. We learnt from them that the standard softener dryer sheets contain at least seven dangerous toxic chemicals when heated up can create formaldehyde, which is a probable human carcinogen. They introduced us to their wool dryer balls which naturally reduce static, soften clothes and speed up dry time. Wool is actually the best all-natural fabric softener and also reusable.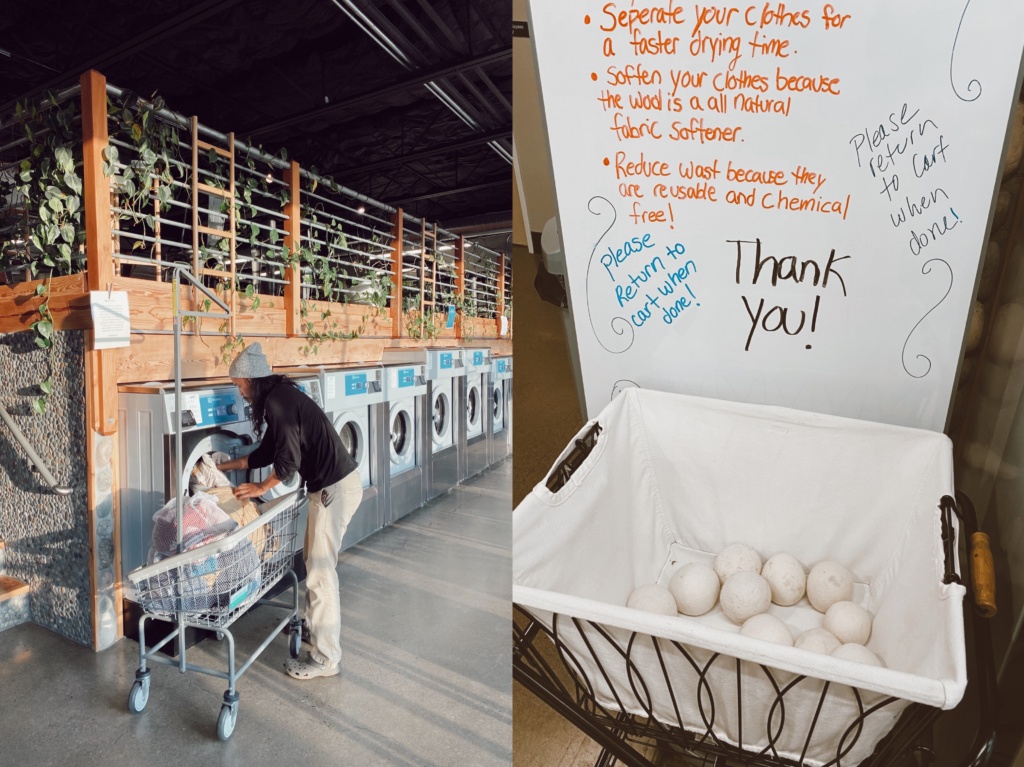 So if you are a vanlifer who roadtrips through this part of Oregon, we highly recommend doing your laundry at Clean Eugene. And they also give you a free dry for first timers. While waiting for our laundry to be done, we walked across the street and stumbled upon a local gem – Eugene Fisherman's Market. Fisherman's Market has proudly been a part of Eugene since 1989, and they have served up fresh seafood straight from the boat to your plate.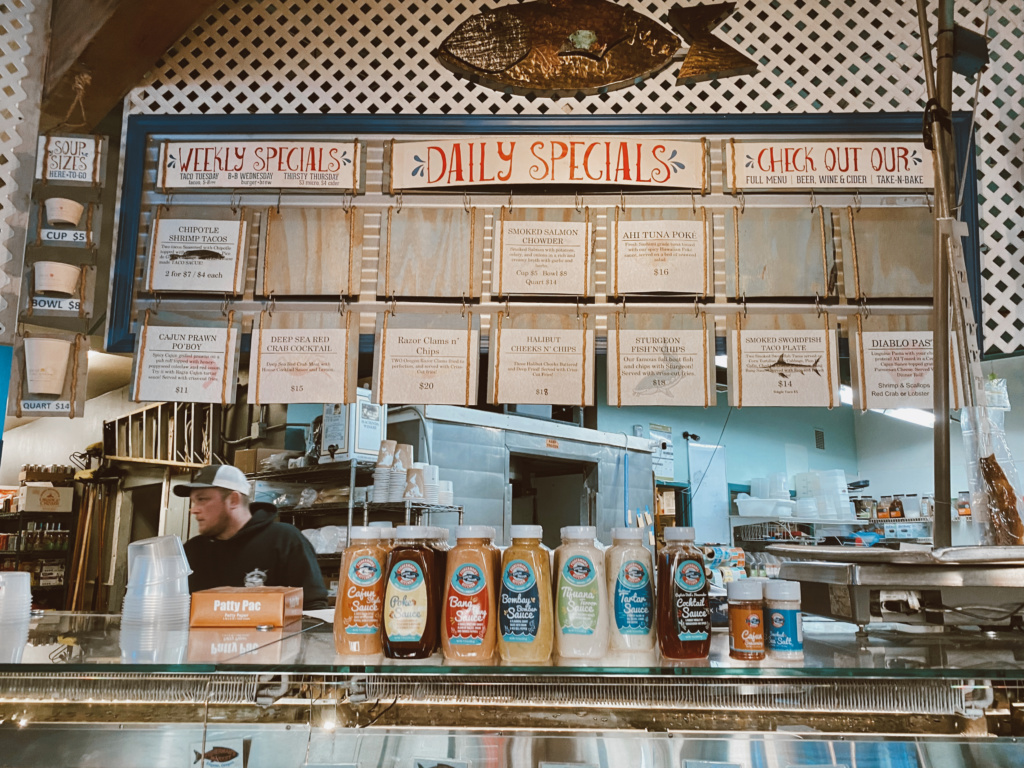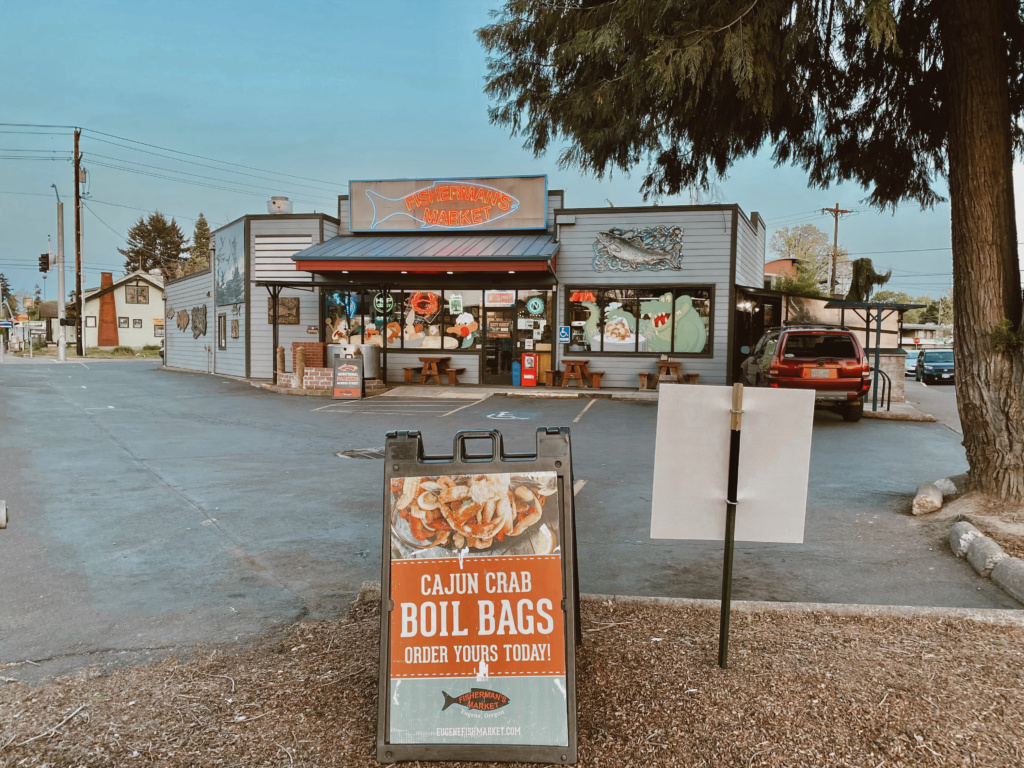 The Market offers a full menu including Dungeness crab dinner, 12 types of fish n' chips, fish tacos, Cajun crawfish pie, local draft beer, and more! A Eugene favorite, the Market also offers Cajun crab boil bags, take n' bake meals, and house-smoked fish.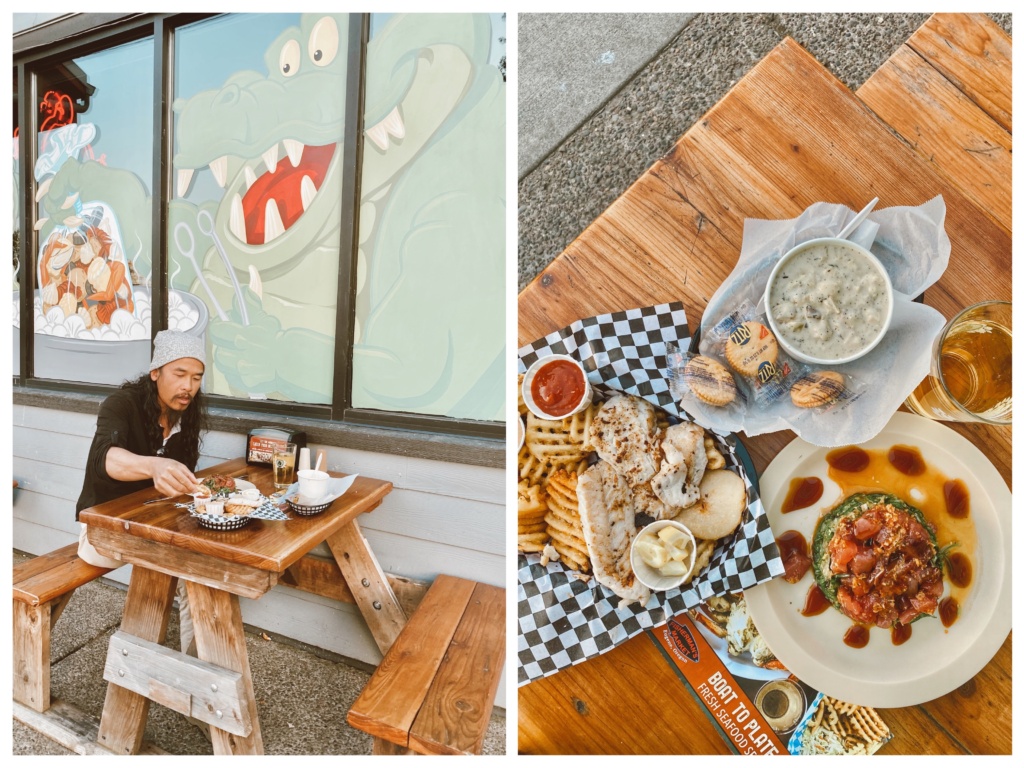 Most of the dishes here come from Oregon-based fishing boats. At Fisherman's Market, you'll find a fresh, wild, unusual, wide selection of seafood and everything on their diverse menu is very tasty. We ordered their fish n' chips with grilled halibut, clam chowder, and Ahi Poke. Their Ahi Poke is exceptional. Taking one bite of this mouthwatering dish is an explosion of flavors: the silky and buttery texture of the ahi tuna, the sharp umami of the soy sauce, the crunch of the onion, the pungent ginger, and the garlicky fragrance. If you like fresh local catches, this is a must!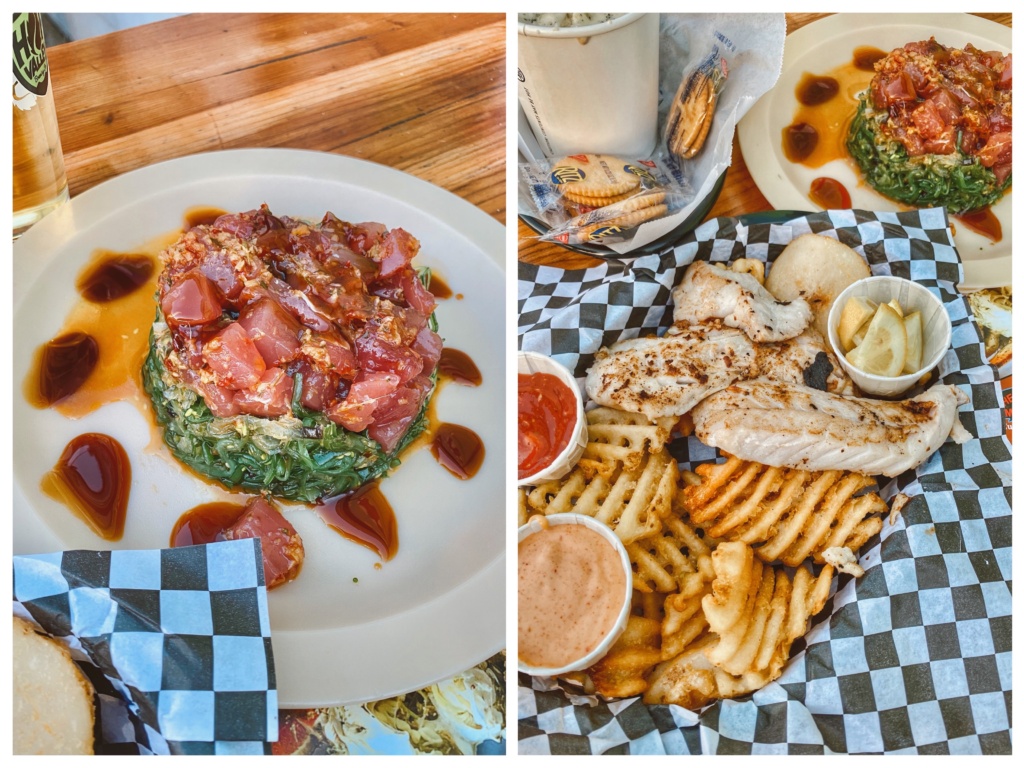 Eugene shares much of its culture with Portland, 100 miles to the north. Eugene's environmental ethos, outdoorsy lifestyle, and embrace of microbrews, locally produced wine, and farm-to-table dining is a perfect quick stop for your Oregon roadtrip.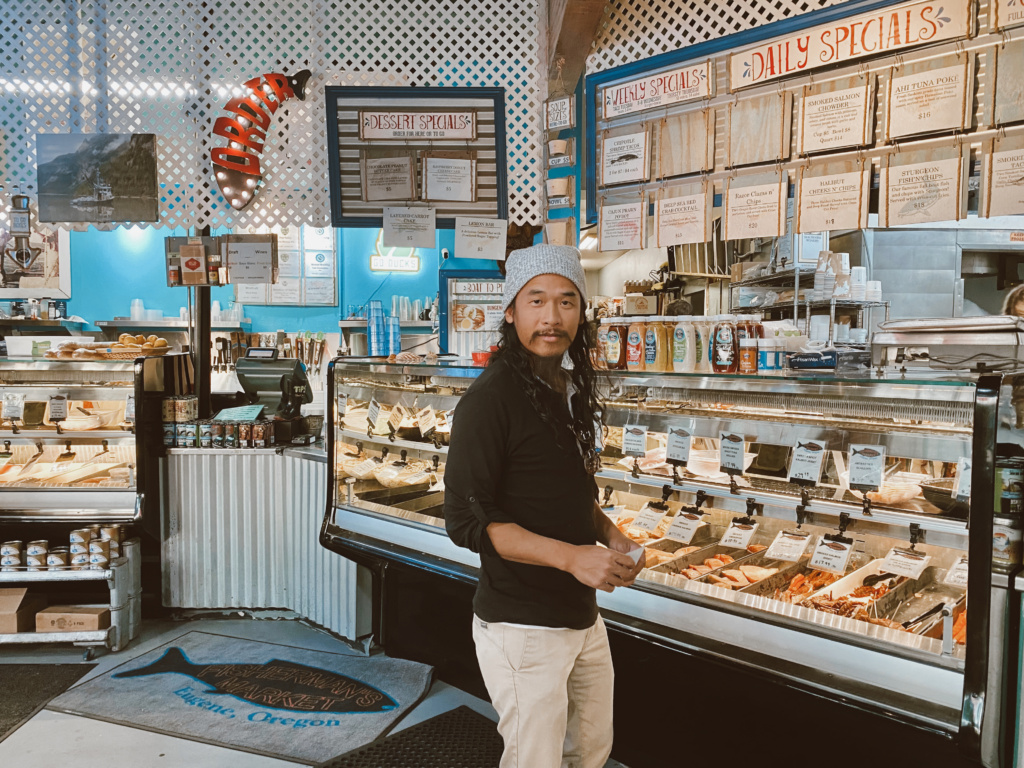 Day 6: Eugene – Woodburn (1 hour 30 mins – 87 miles)
Woodburn was one of the stops that we were looking forward to the most on this roadtrip because it's the home of Wooden Shoe Tulip Festival.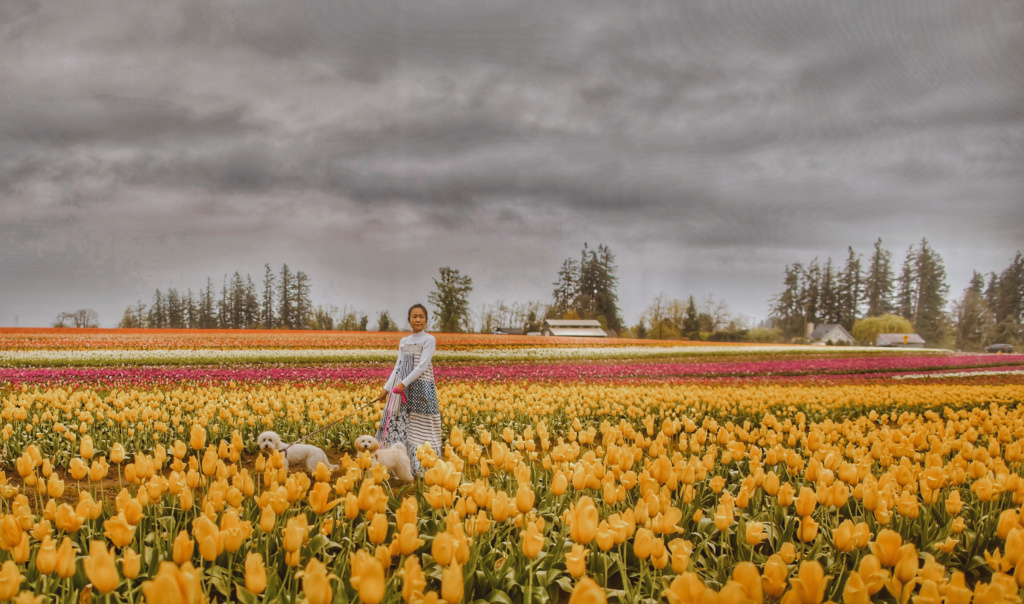 The annual Tulip Festival at Wooden Shoe Tulip Farm happens every year from late March through early May. Woodburn is located south of Portland, Oregon, and northeast of Salem. The colorful crop is celebrated every year when the Tulip Farm opens their 40 acres of rainbow-hued fields up to the public, and thousands of people come to admire the countless rows of blossoms.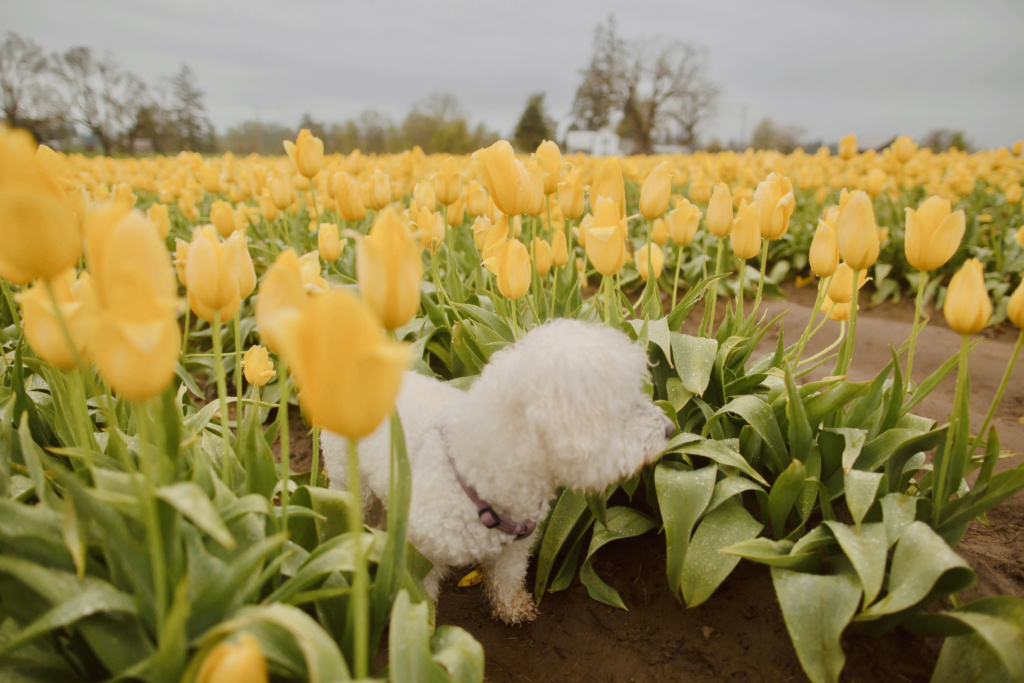 We visited on April 25 (2022) and would highly recommend aiming for this time because that's usually about the time that peak bloom is reached. It's not always a good idea to go late in March or early in April because not all the tulips have started to bloom.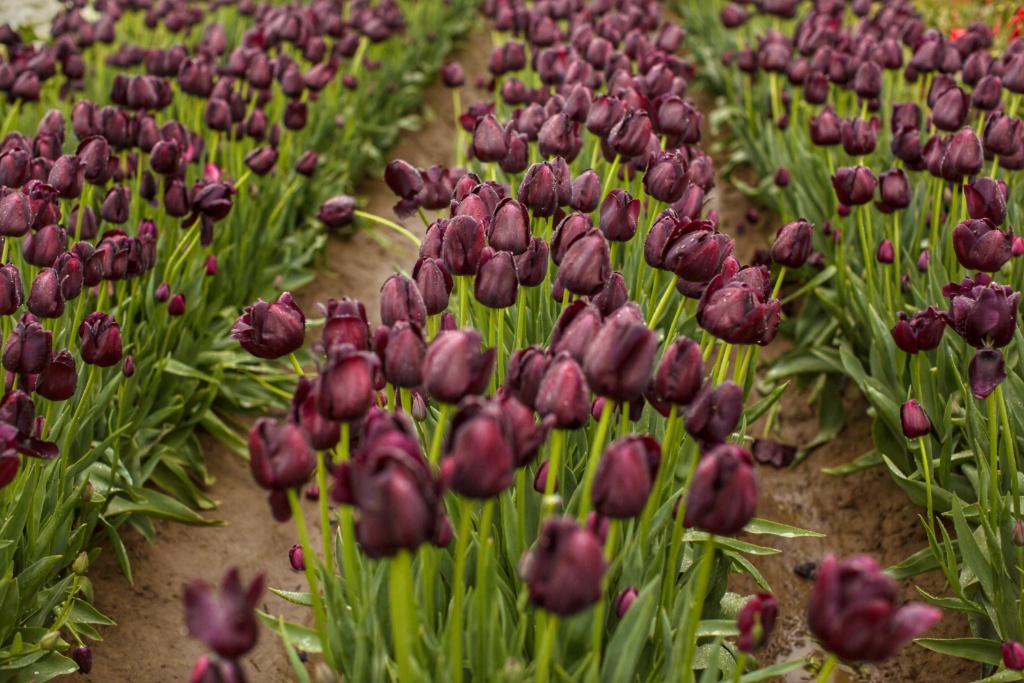 If you wondered, "What am I gonna do there other than staring at a bunch of flowers? Is it really worth the drive?", the answer is, "Yes. It is 100% worth the drive!" There are tons of things to do at the Wooden Shoe Tulip Festival, included in the general admission costs are the beautiful views of tulip fields, tram and/or hay wagon ride, children's play area, and photo cut-out boards. The Wooden Shoe tulip fest has many food stalls (wood-fired pizza, tacos, donuts, coffee) and wine tasting events.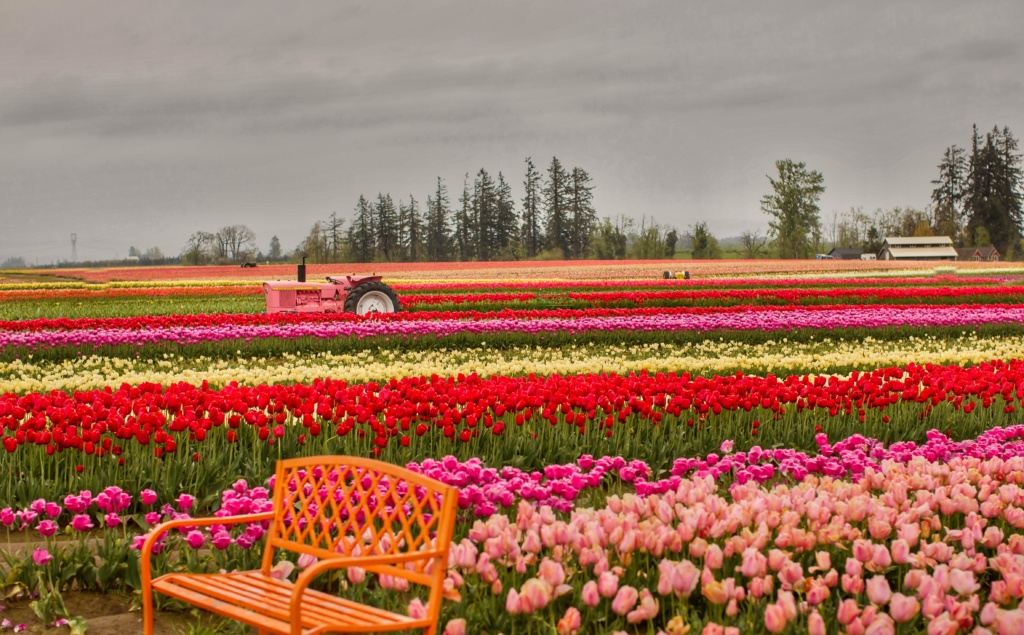 And there are so many great photo opportunities including a massive windmill, a flower truck, the darling "Tulip Train", rows & rows of tulip fields with Mount Hood looming in the background, tractors ~ including a pink one, pretty benches, & more. I wrote a detailed guide for the Wooden Shoe Tulip Festival on another blog. You can read it here!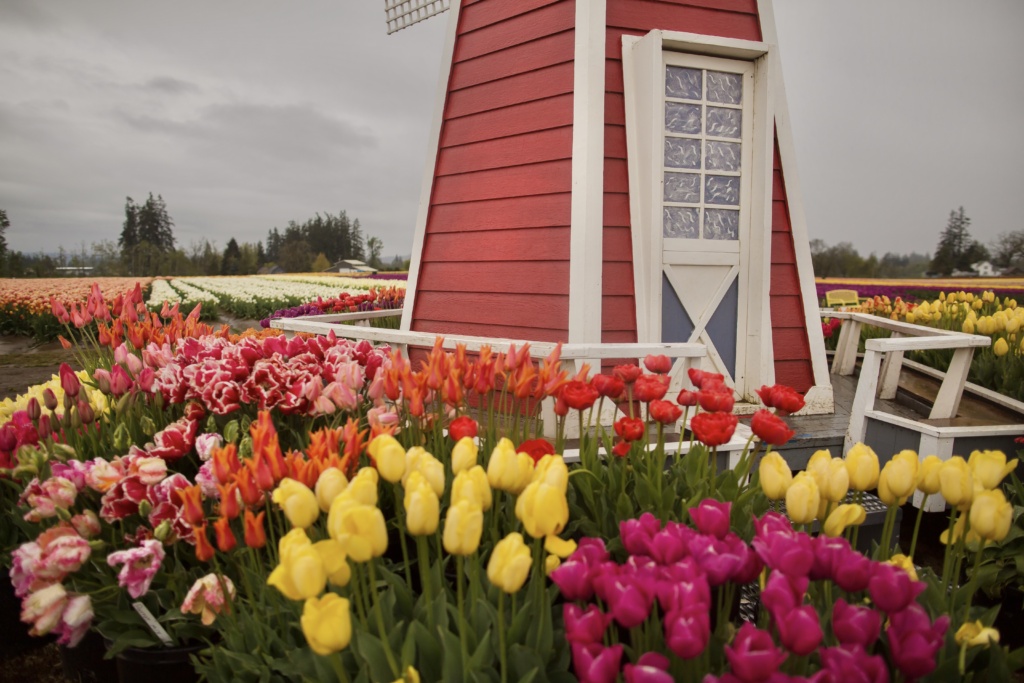 Day 7: Woodburn – Hillsboro (55 mins – 36 miles)
Nestled deep within the expansive forests of Hillsboro, Oregon sits the famous Oregon's airplane home. Since 1999, Bruce Campbell, a former engineer and pilot, migrated his airplane home to Oregon from Greece and has been gradually transforming a 727 jetliner into his dream home.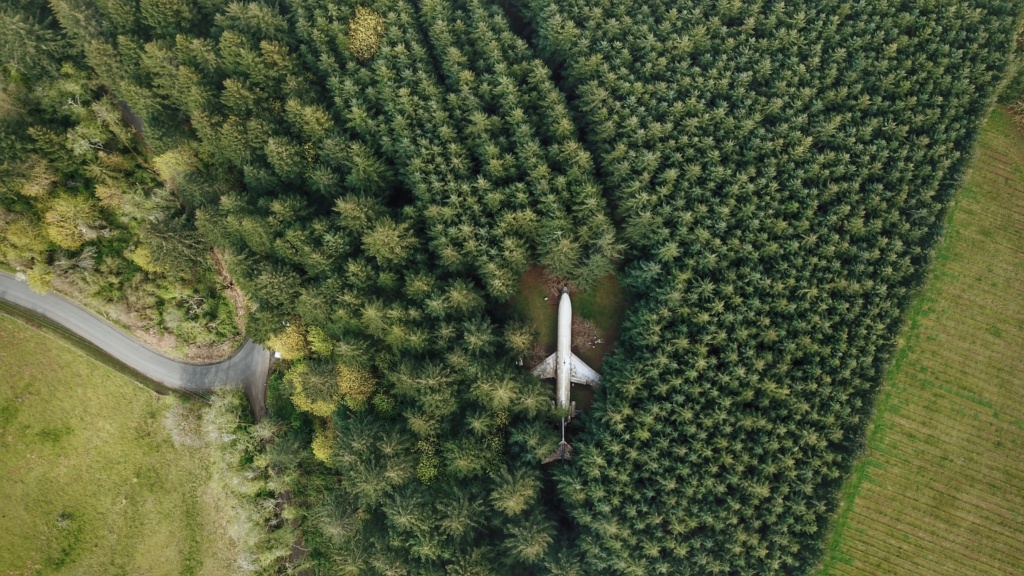 It's pretty straightforward to find Bruce's home. On Google Maps, simply type in "Airplane Home" and your final destination will lead you to Hillsboro, Oregon. Once you spot the sign "Concert on a Wing", you know you are at the right place. Bruce invited us into his house and told us everything we need to know to convert an airplane into a beautiful home from buying an old jetliner to the moving and conversion process.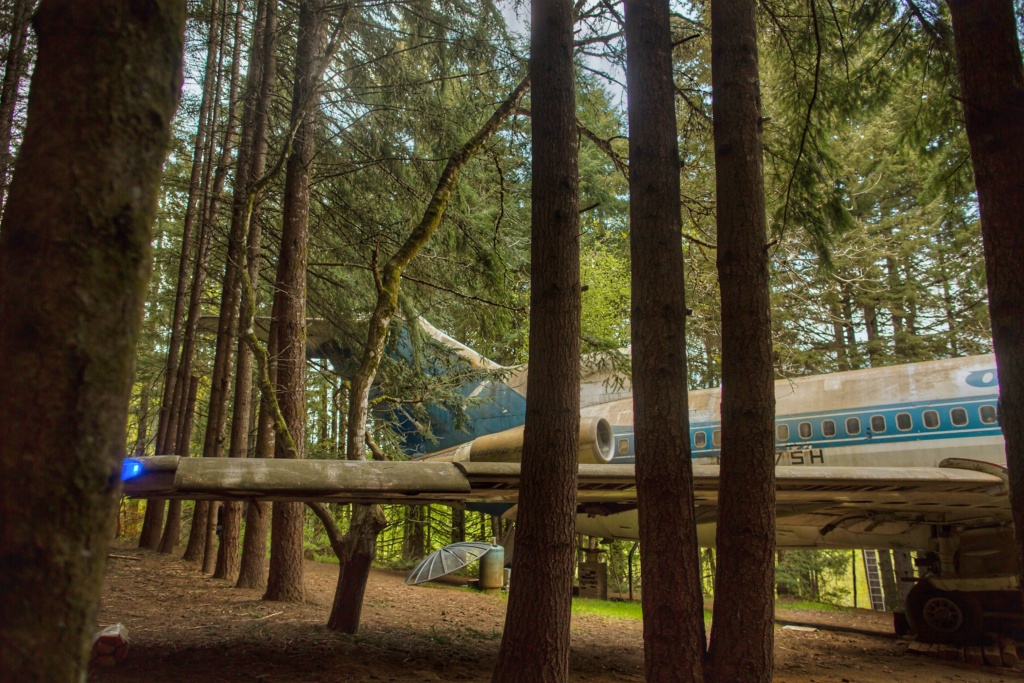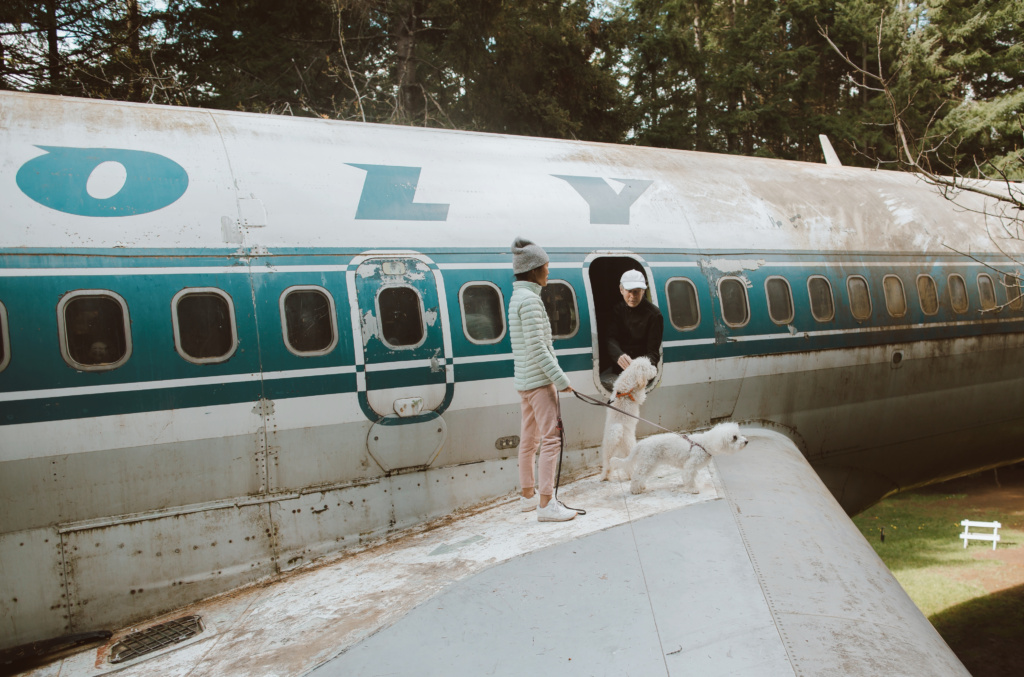 Having lived and traveled full time in our home on wheels, we were fascinated with Bruce's project and interested to know more about the cost and the process of how to turn a jetliner into a living home. Bruce broke down the cost for us: $35K to buy an old jetliner, $50K to move the airplane to your land, and the cost of conversion depends on what you desire for your home. He said the aircraft cost a fraction of the traditional home and mortgage concept. He doesn't like the concept of debt and especially enjoys not having to pay off mortgage.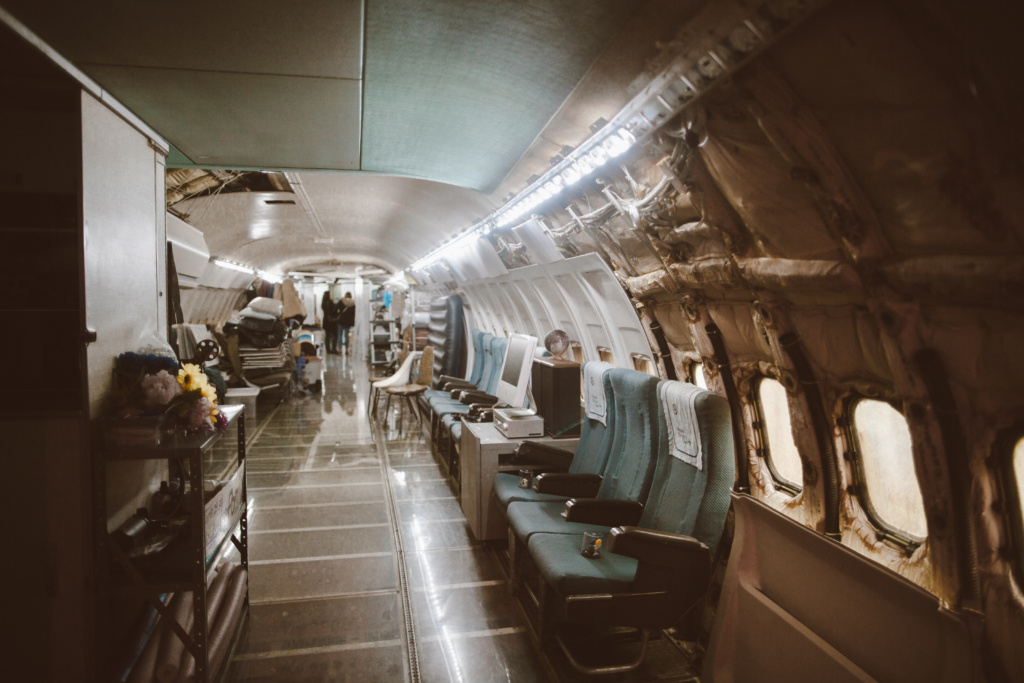 From the short time chatting with Bruce, we can feel his passion for this project. We are thankful that he opened his home up to us and gave us such an amazing tour and inspiring stories so I wrote a more detailed blog dedicated to his plane-to-home commitment. You can read it here!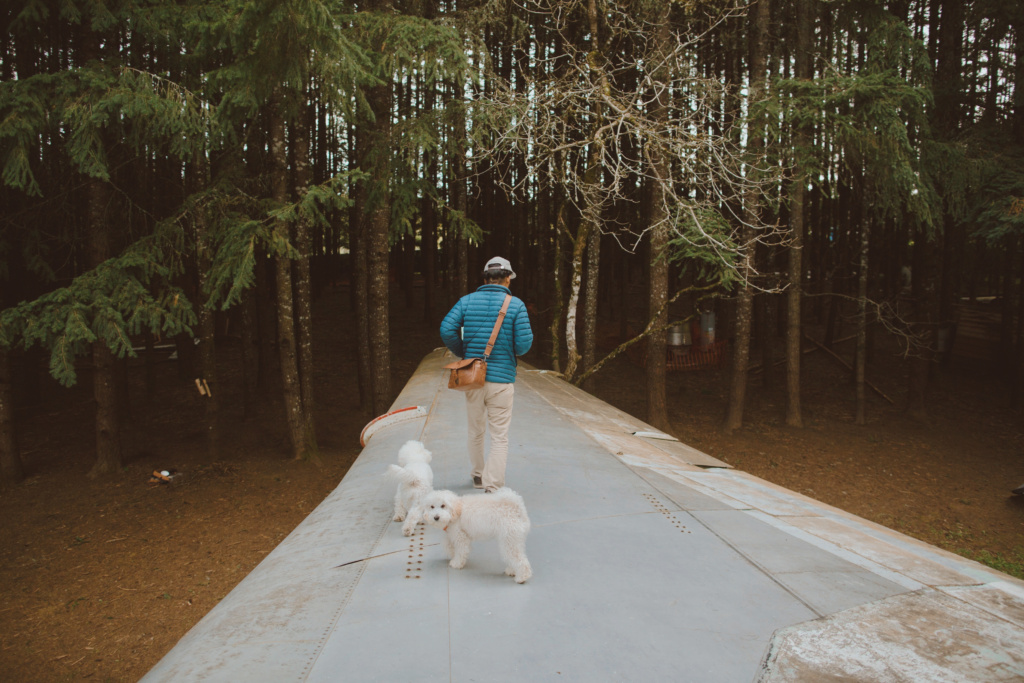 Day 8: Hillsboro – Cannon Beach (1 hour 16 mins – 67 miles)
Cannon Beach is where we started to loop back down. This was the beginning of our Oregon coastal roadtrip where we bounced from coastal town to town, taking nature hikes, visiting local breweries and creameries, and consuming our weight in clam chowder and other locally famous seafood dishes. There are hundreds of things to do along the Oregon Coast – which can make it extremely overwhelming to plan an Oregon Coast trip, so I have devised a separate Oregon Coast road trip itinerary on another blog. You can read it here.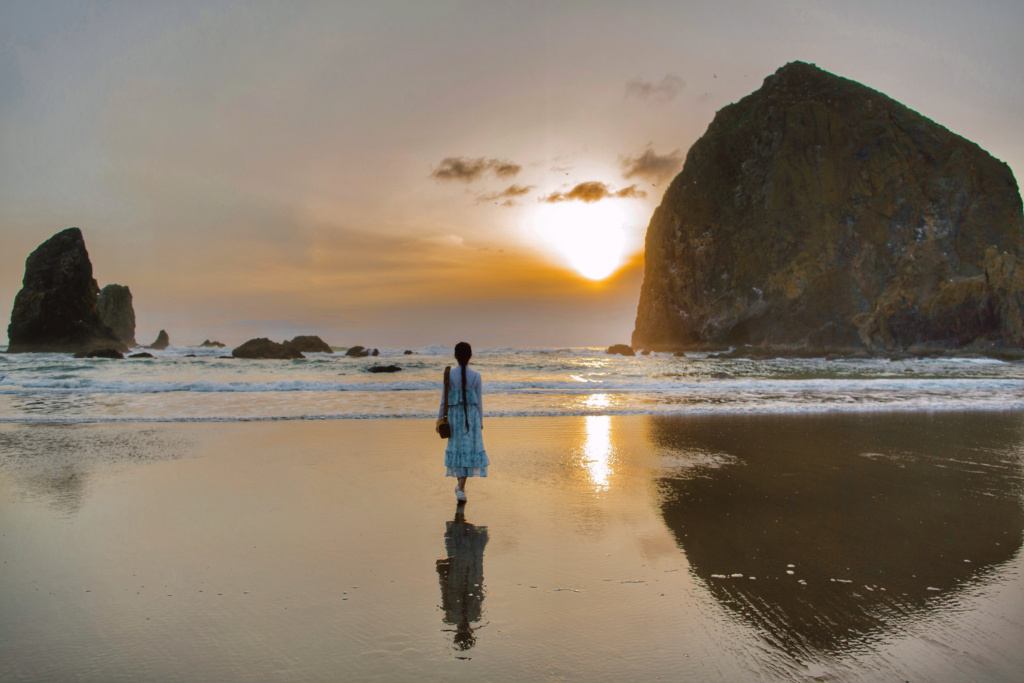 When we arrived at Cannon Beach, it was just about dinner time, and the sun was quickly sinking into the ocean. Haystack Rock, bathed in golden rays, took my breath away from the moment I saw it.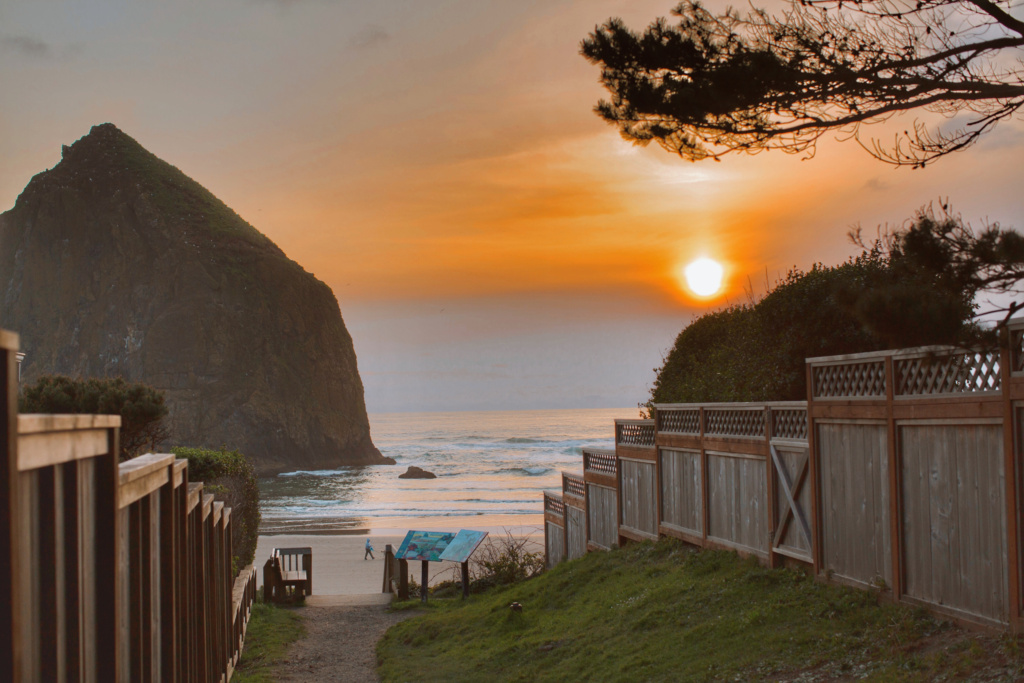 It's all that it's hyped up to be, especially at sunset. When you are here, make sure to snap some photos of the unique and recognizable rock formations.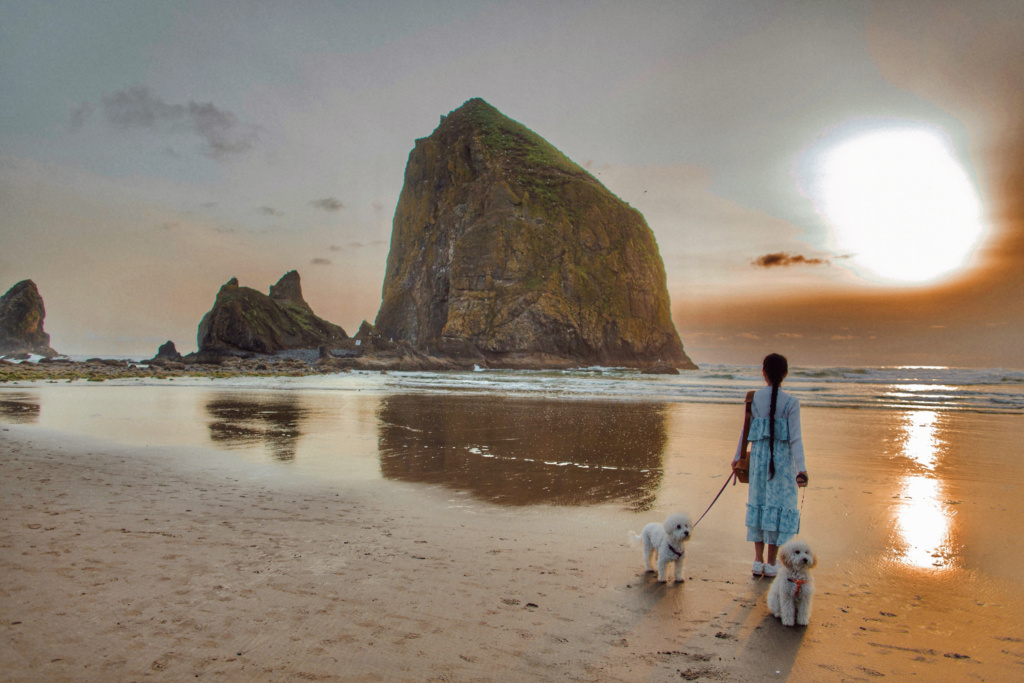 We were visiting at the end of April; it was still low season and the town felt sleepier than expected. Cannon Beach town itself is so cute, with independent boutiques, holiday homes, seafood restaurants and local shops and galleries to explore.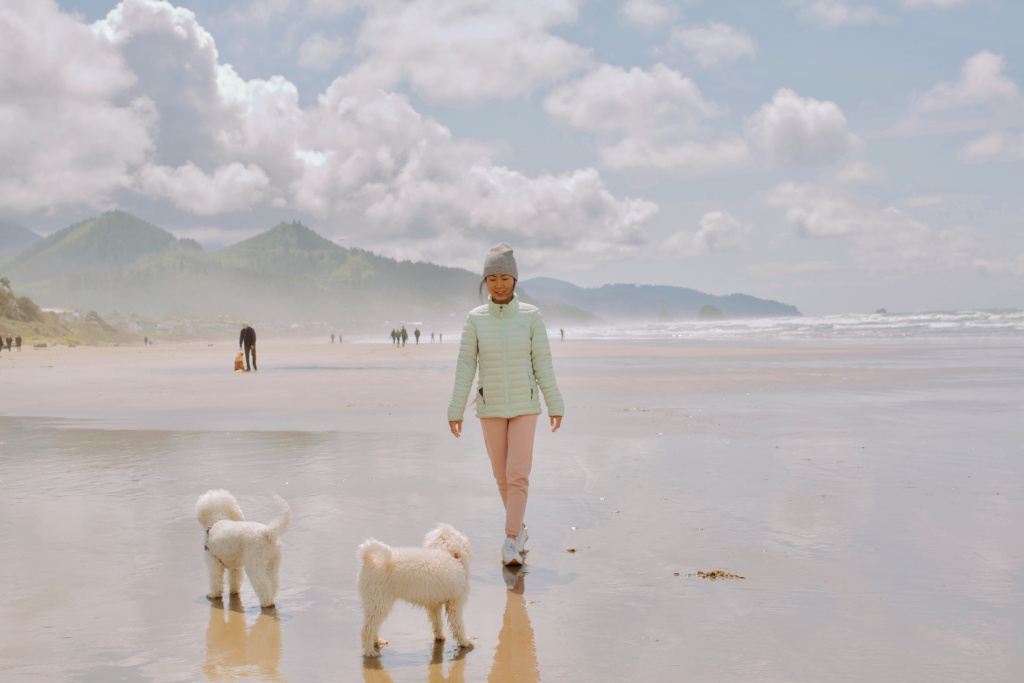 This was our first stop on our Oregon coastal roadtrip so we were very excited to try out the signature coastal dishes. We had heard that no trip to the Oregon Coast is complete without a big bowl of delicious clam chowder to warm the heart from the cool, ocean air. And we decided to try the local favorite : Mo's Restaurant.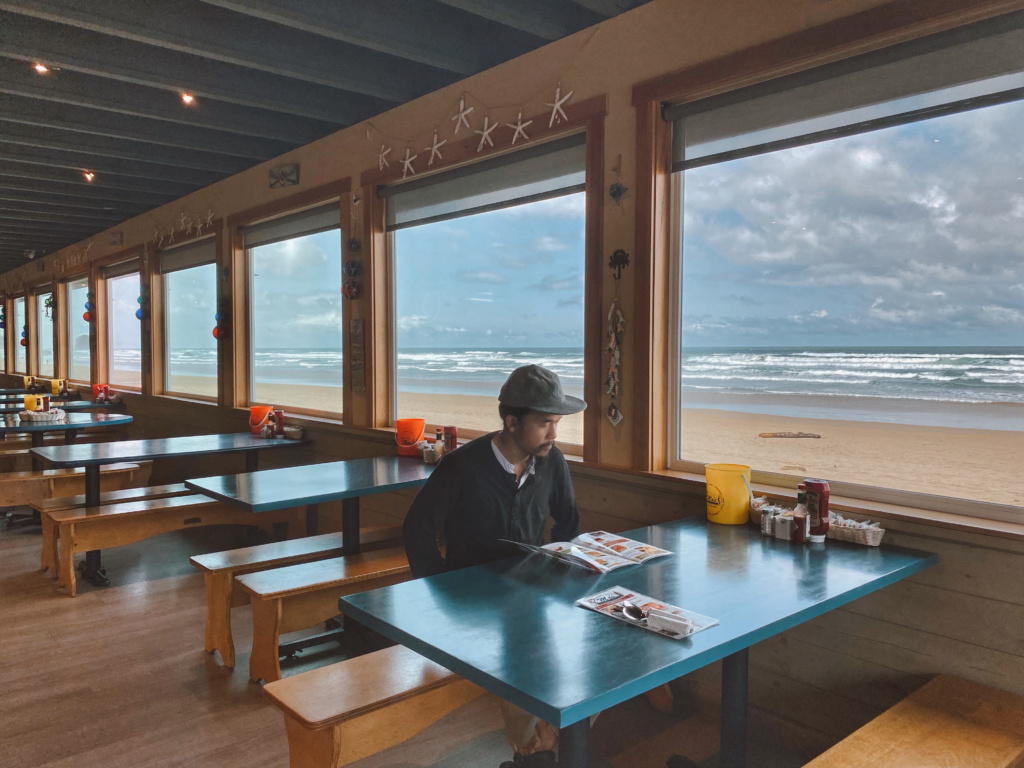 Famous for its chowder and the legendary legacy of Mama Mo Niemi, Mo's chowder is a household name up and down the Oregon Coast. The creamy, New England-style chowder features a homemade and treasured recipe. You can order it with home baked bread, garlic cheese bread or in a sourdough bread bowl. It is described as creamy, fresh, tasty with quite the beautiful texture and balance and perfectly paired with a dark beer. Mo's chowder meets the lips of tasters with a clam broth with spices that are out of this world.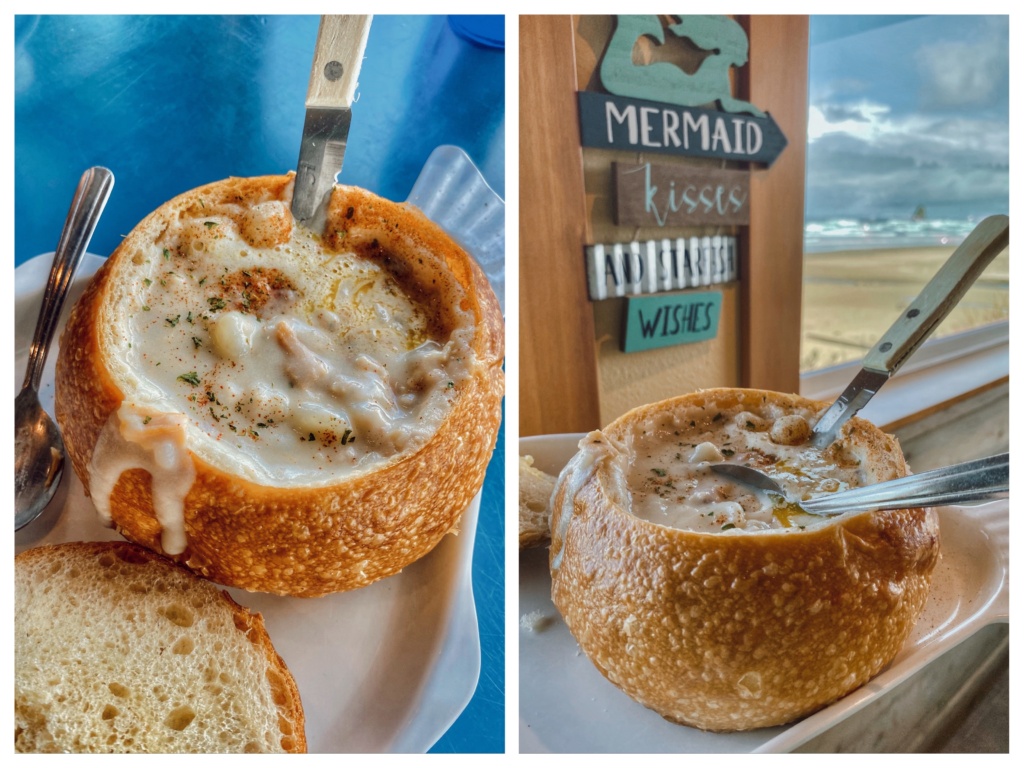 A gorgeous panoramic view of the Pacific and a bowl of tasty clam chowder was just what we needed after a long walk on Cannon Beach. If you are a clam-chowder fan, this is the place to try!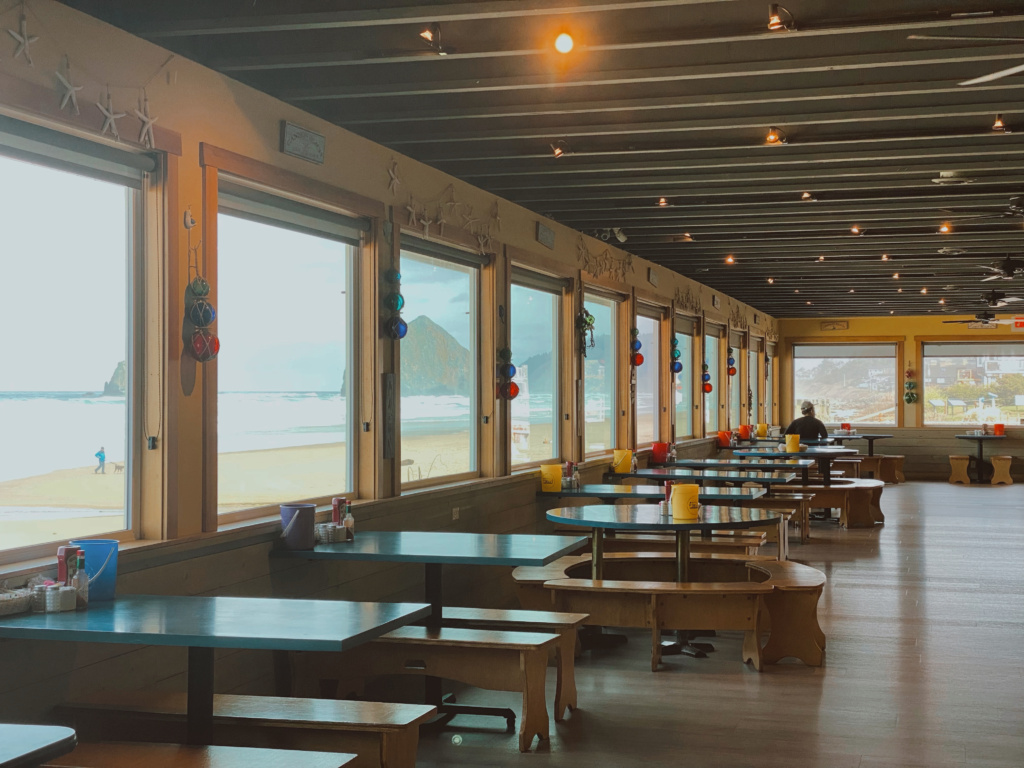 Day 9: Cannon Beach – Tillamook (38 miles – 49 mins)
One would never think that a cheese factory/creamery would be a go to when you are out on a fun sightseeing trip through the Oregon coast. But I am here to tell you that Tillamook Creamery is well worth the stop. This is where "dairy done right". After a few minutes of taking a free self-guided tour around their facility, you would totally understand why their cheese and cream totally live up to their slogan.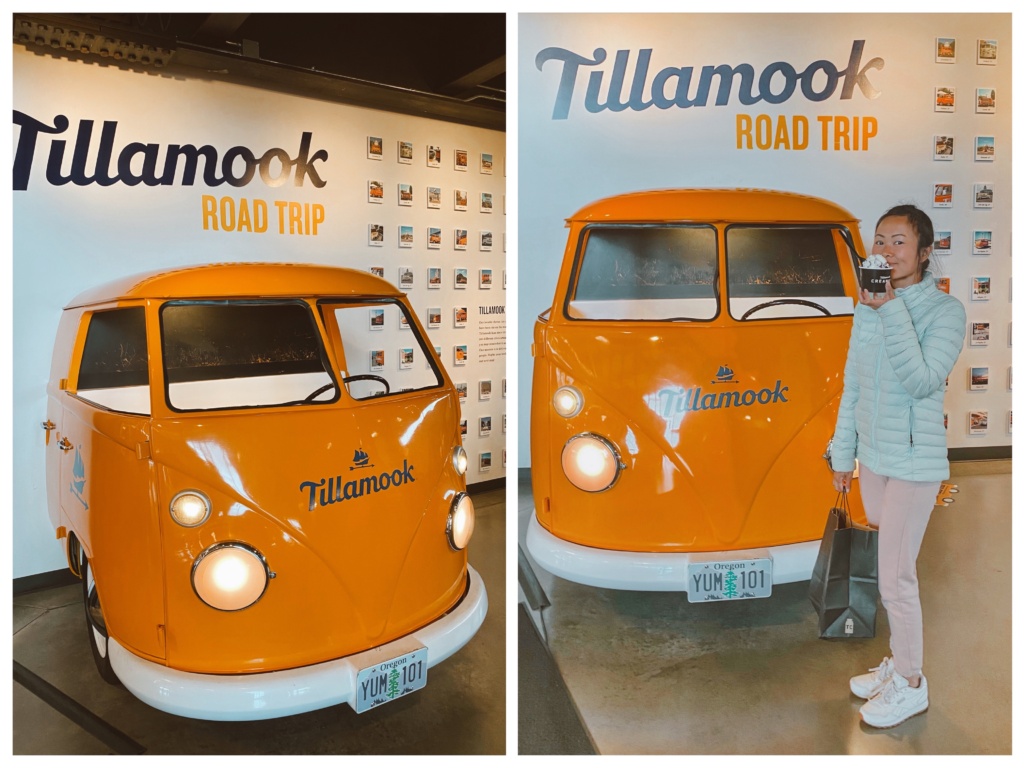 Tillamook is most widely known for its dairy industry. The Tillamook area has been in the dairy business since mid-19th century, and the Tillamook Cheese Company has been around since 1909. Today it is a co-op creamery made of over 100 farmer families. For a true glimpse of how the production of cheese happens, all the way from the dairy farm to your table, nothing is better than a tour of the Tillamook Cheese Factory.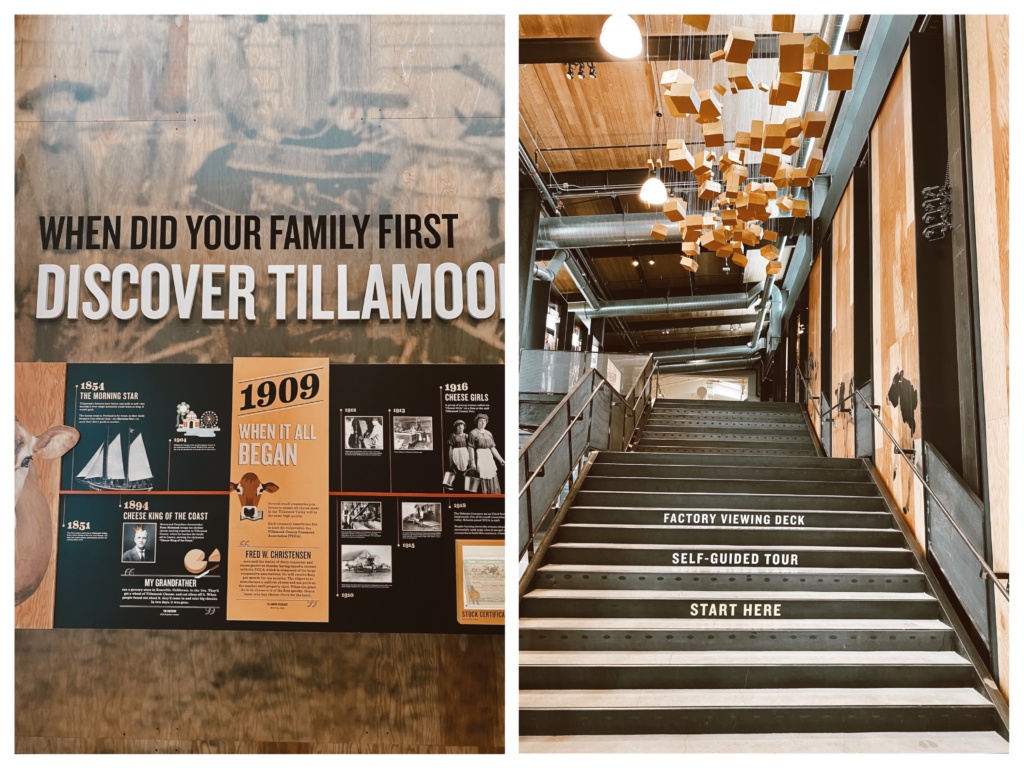 The exterior of the factory has a somewhat modern flare, with metal beams, contrasting against a blond vertical wood siding in some parts. Black, beige, white and wood seemed to be the theme. The second floor of the creamery has loads of information on cheese-manufacturing from step one to the packaging and distribution.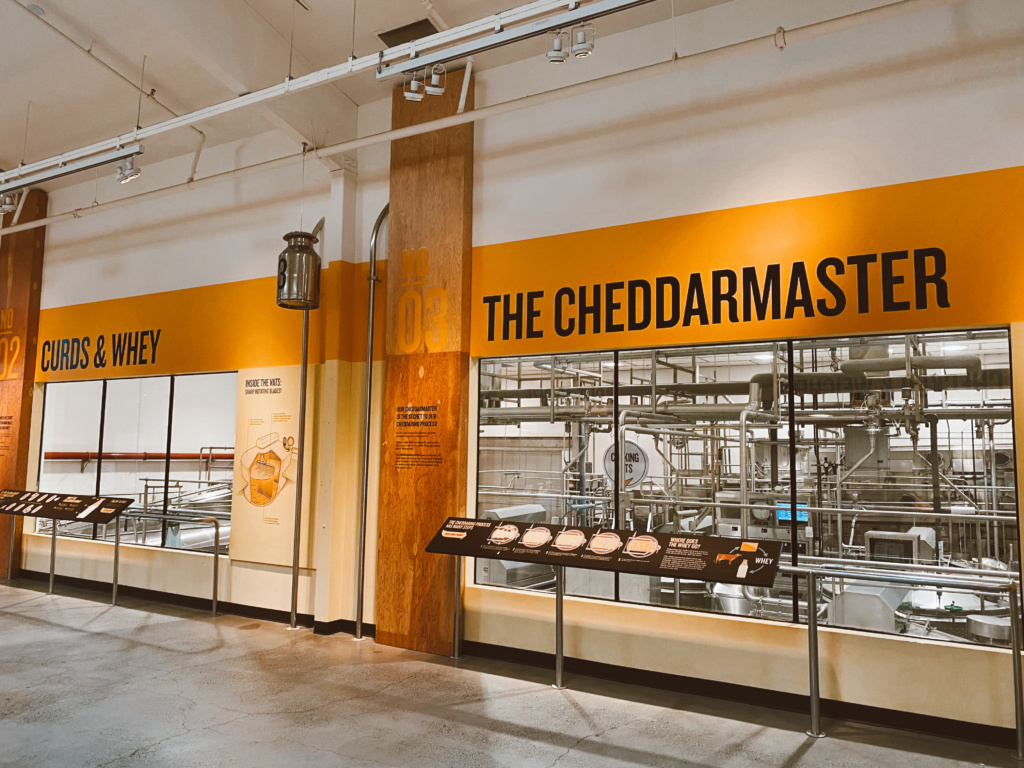 Visitors can observe the Tillamook Cheese manufacturing process through windows from a walkway above the production lines.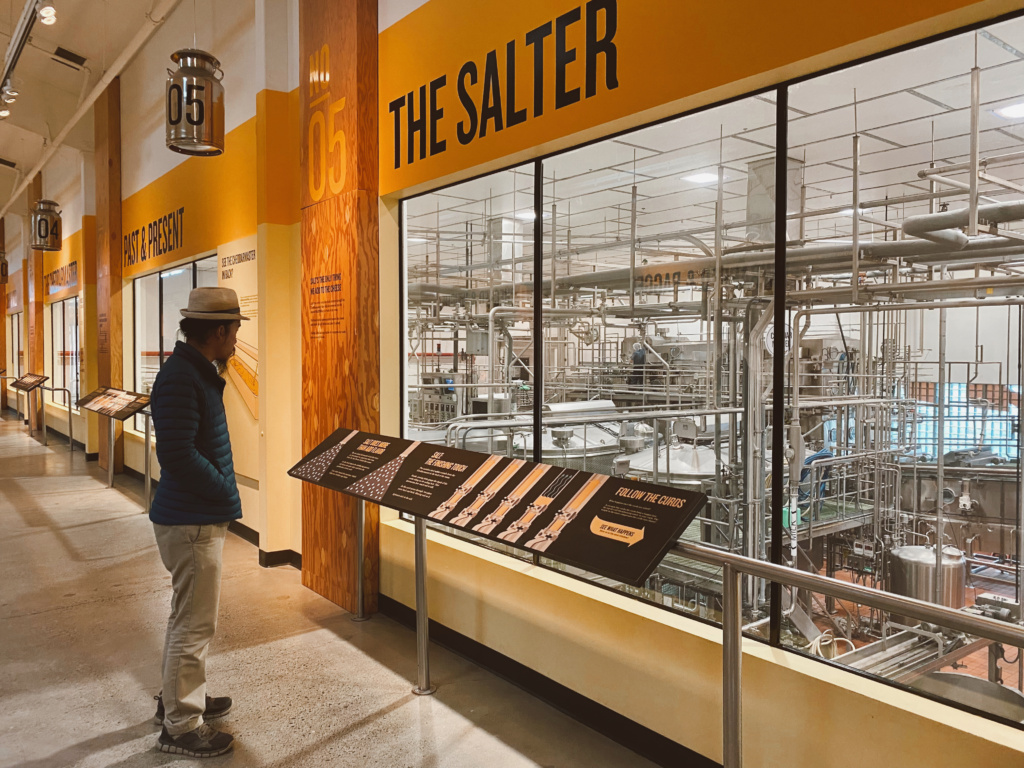 After learning about cheese manufacturing, there is a station with free samples for visitors to try several varieties of Tillamook cheese. On the bottom floor of the Tillamook Creamery, there is a large gift shop that sells all sorts of locally-made products. The shop has every kind of Tillamook cheese imaginable, including aged cheeses not available anywhere else and, my personal favorite, cheese curds.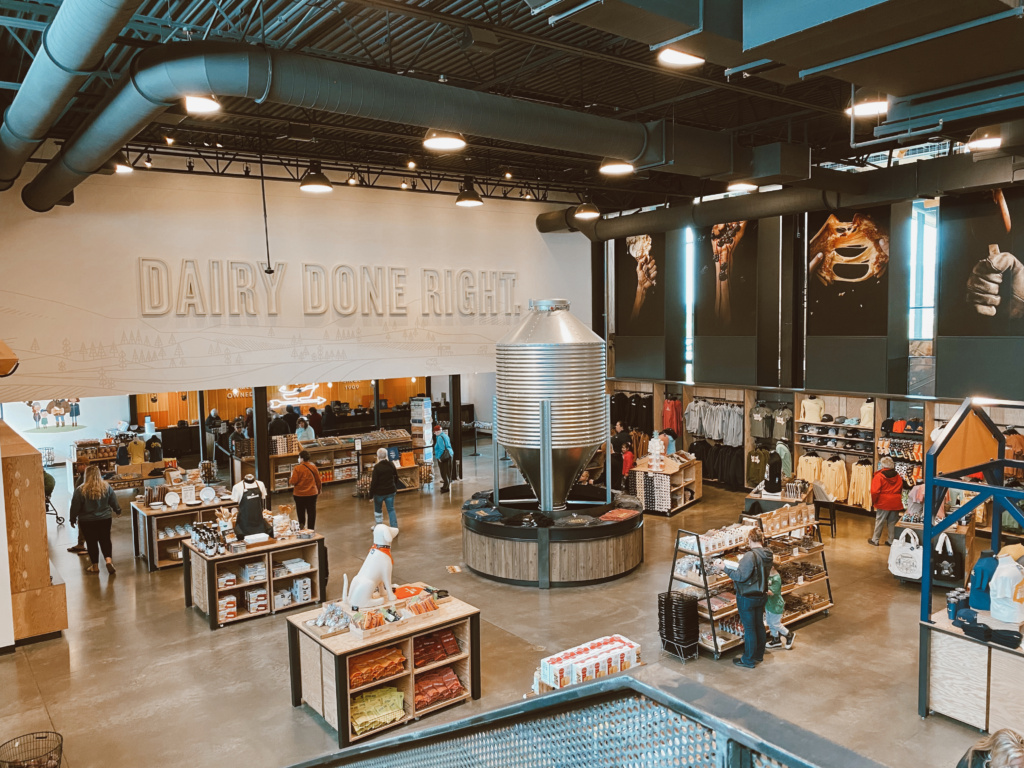 Here we picked up a jar of Kelly's Marionberry Habanero Pepper Jelly to pair with Tillamook cheese and right now we wish that we had picked up 10 jars at least; that's how good these locally made jams are! It's rare to see jams and fruit preserves all natural with perfectly healthy ingredients (no artificial flavors, no preservatives, and no coloring agents).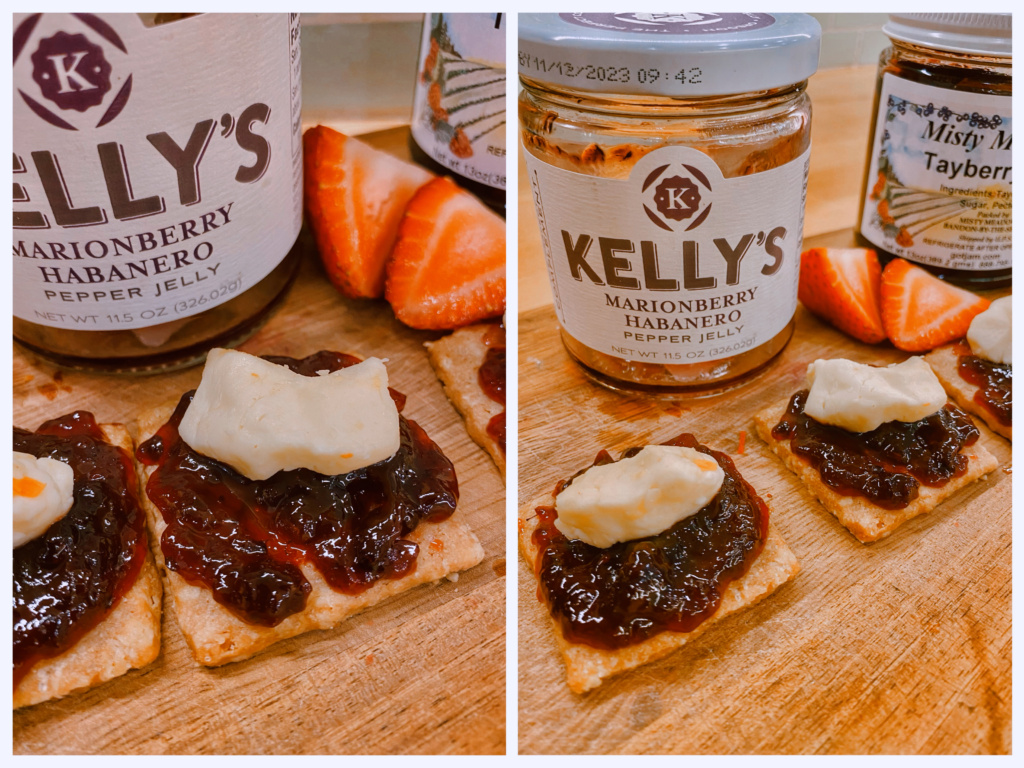 Opposite the gift shop on the ground floor is the restaurant and ice cream shop. The restaurant has a wide variety of options, each incorporating Tillamook cheese like Tillamook Cheese Burger or Tillamook fried cheese curds. The ice cream shop has dozens of options and we had the most difficult time deciding between all the delicious flavors! Finally we were settled for these two heavenly delicious flavors: Mountain Huckleberry and Salted Caramel! (Highly recommended!). This was the best ice cream on our entire Oregon coastal roadtrip!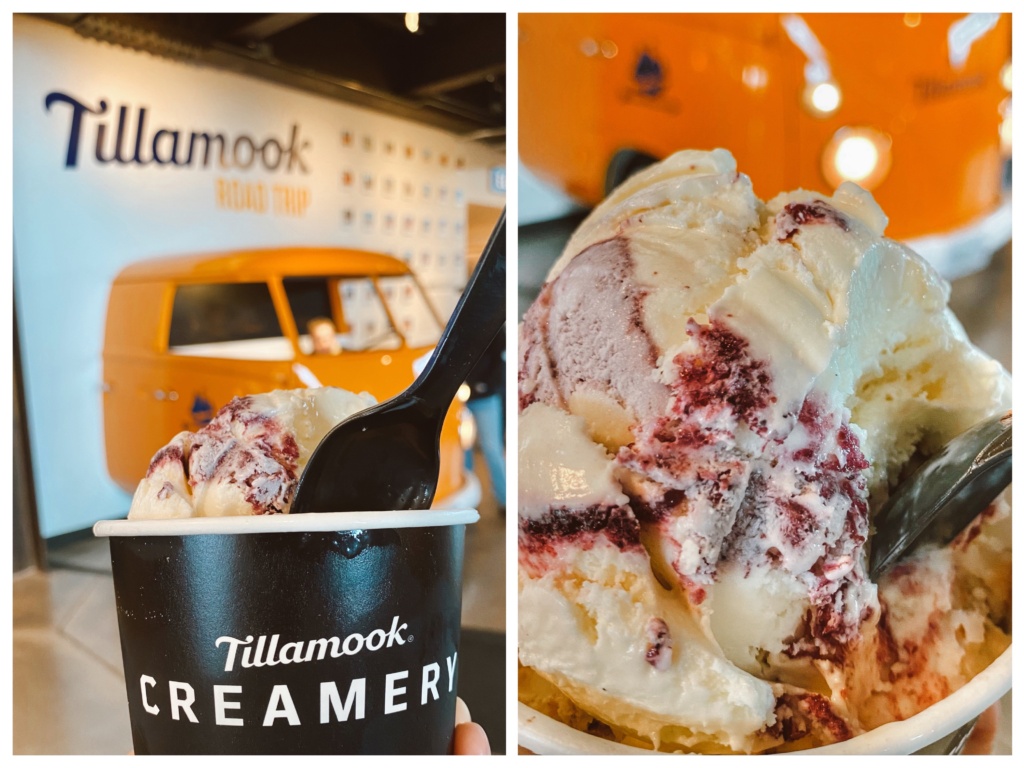 Day 10: Tillamook – Cape Kiwanda (25 mi – 34 mins)
Cape Kiwanda State Natural Area is located just under a mile north of Pacific City, about half way between Tillamook and Lincoln City on the Oregon Coast. Cape Kiwanda is one of three capes along the Three Capes Scenic Route, which also includes Cape Meares and Cape Lookout.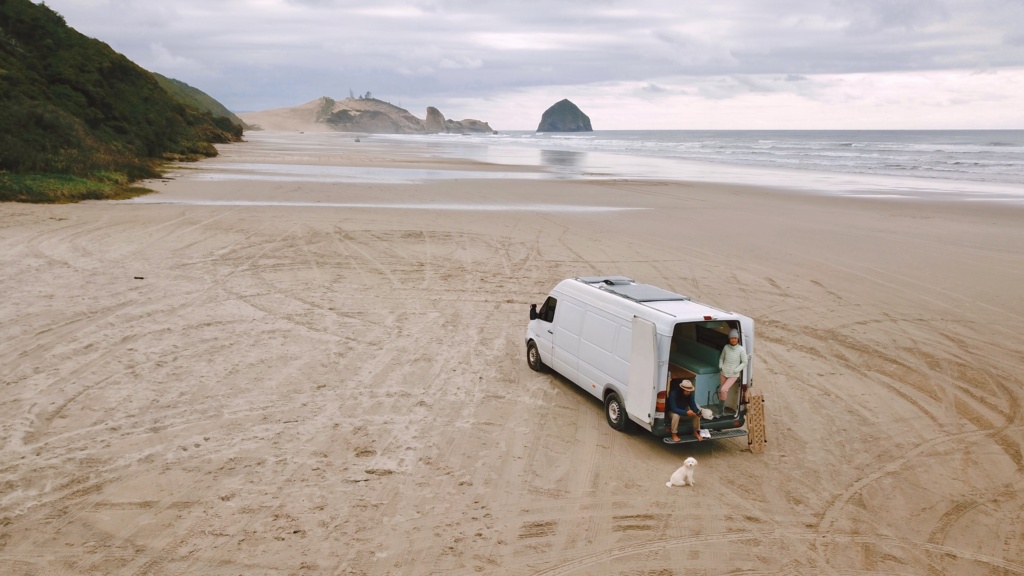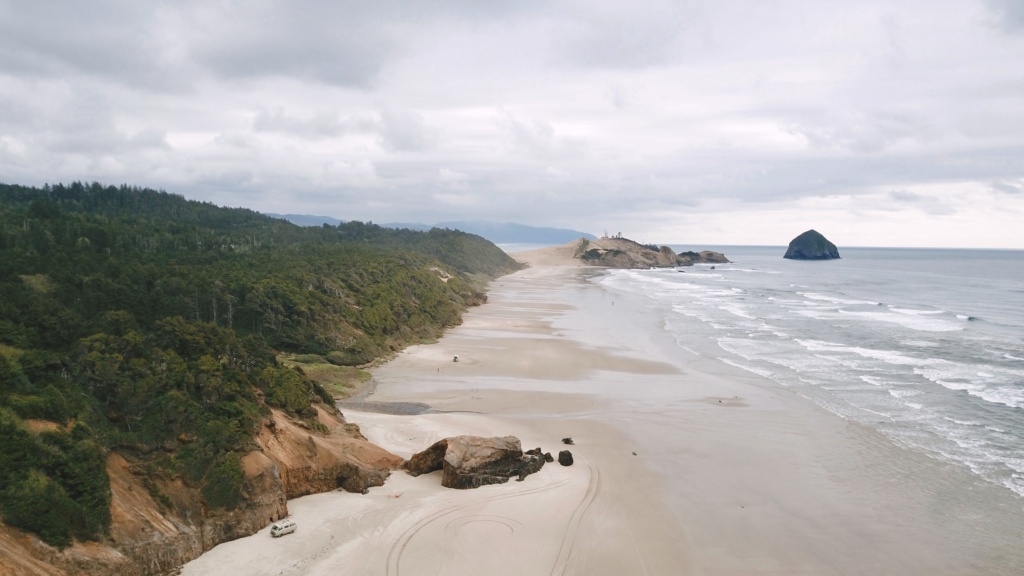 Unique sandstone formations meet sandy beaches – a total dream spot!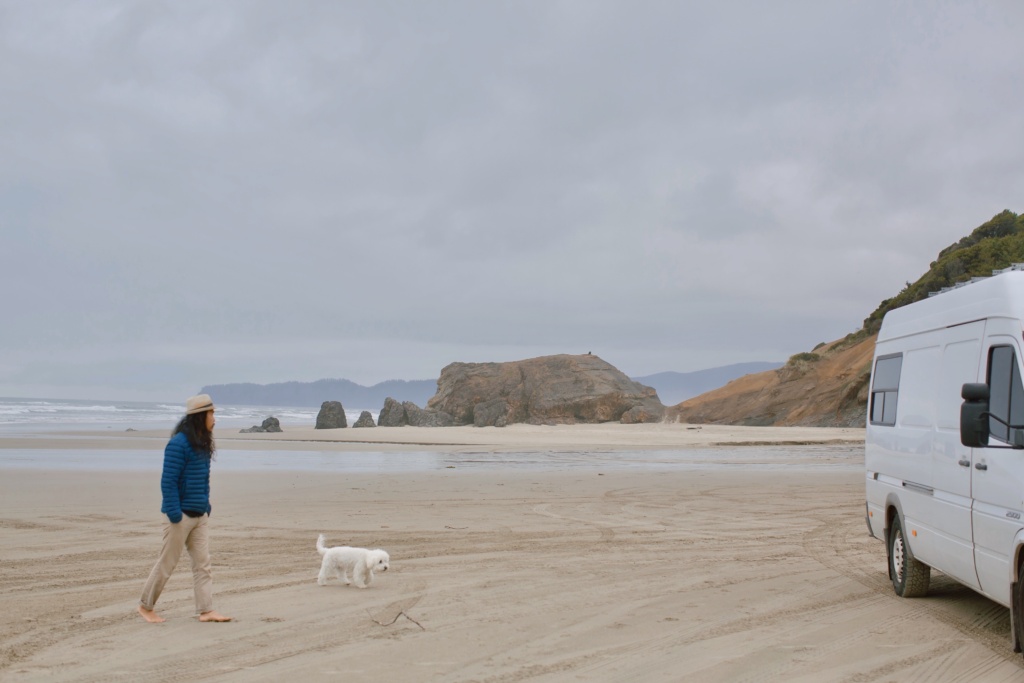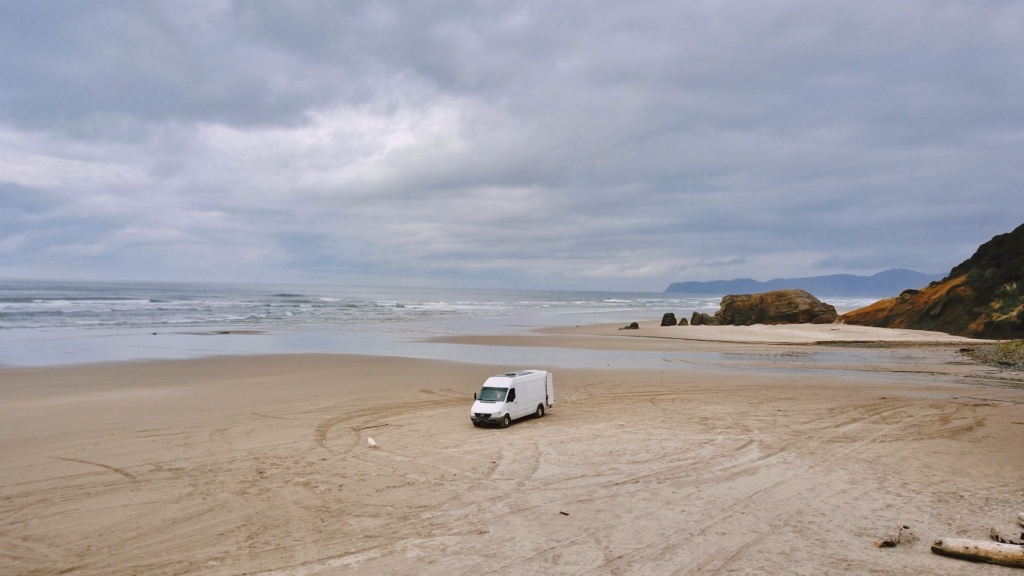 Here, you can take some good old fashioned long walks on the beach, or get a little more adventurous driving your van on the beach. If you are a vanlifer, this place is the photo spot for that dreamy shot "van on the beach"!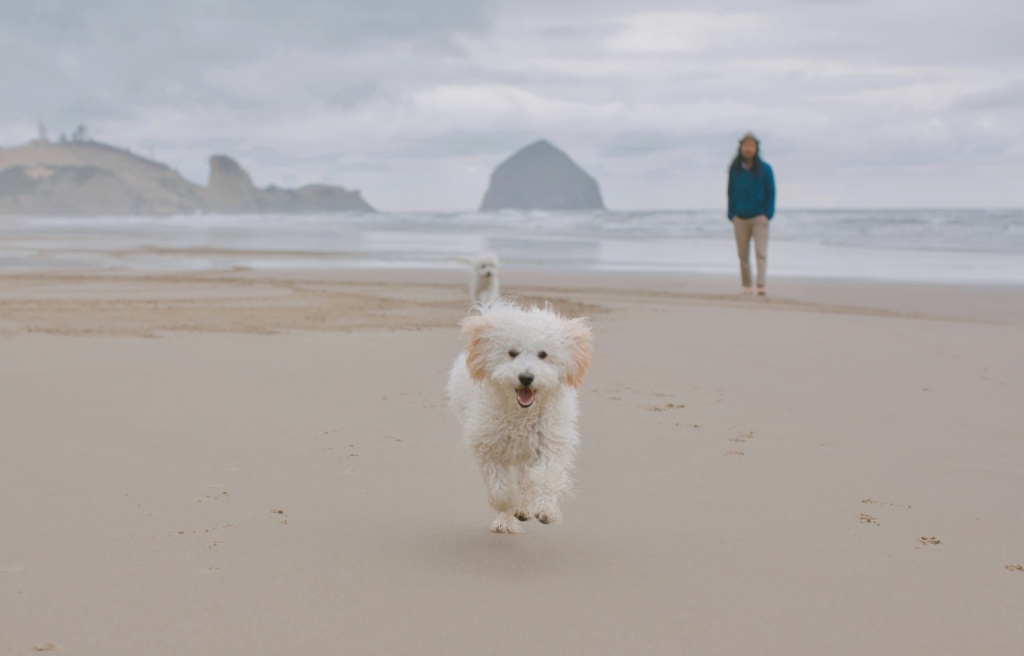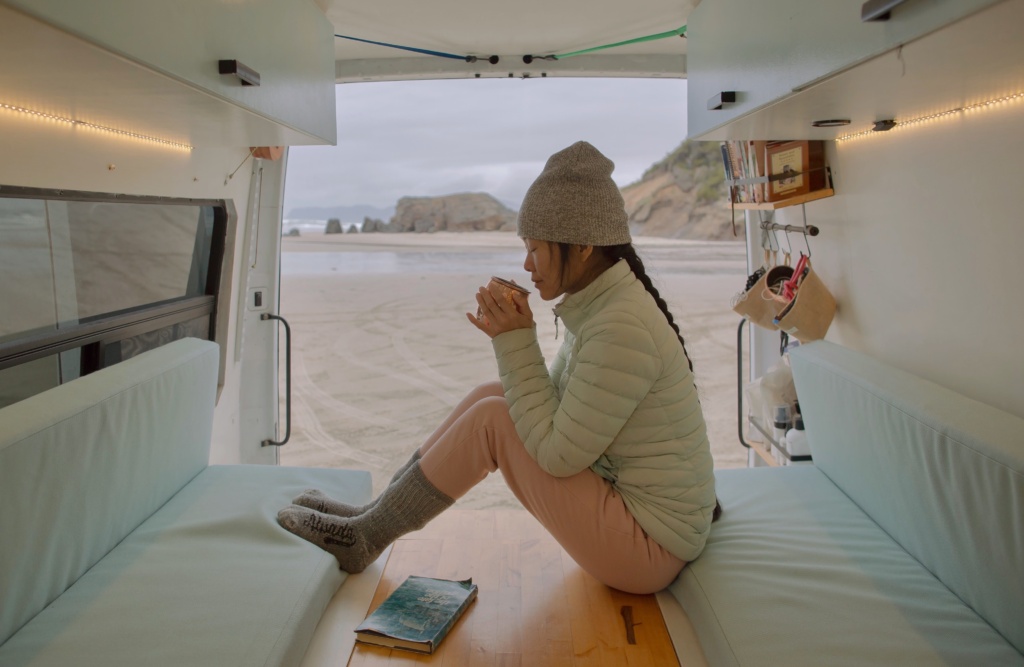 There are two places where you can access the beach by vehicle. There's an access point on the south side, right across the bridge on Pacific City Avenue, or the north side of Pacific next to Pelican Brewing Company.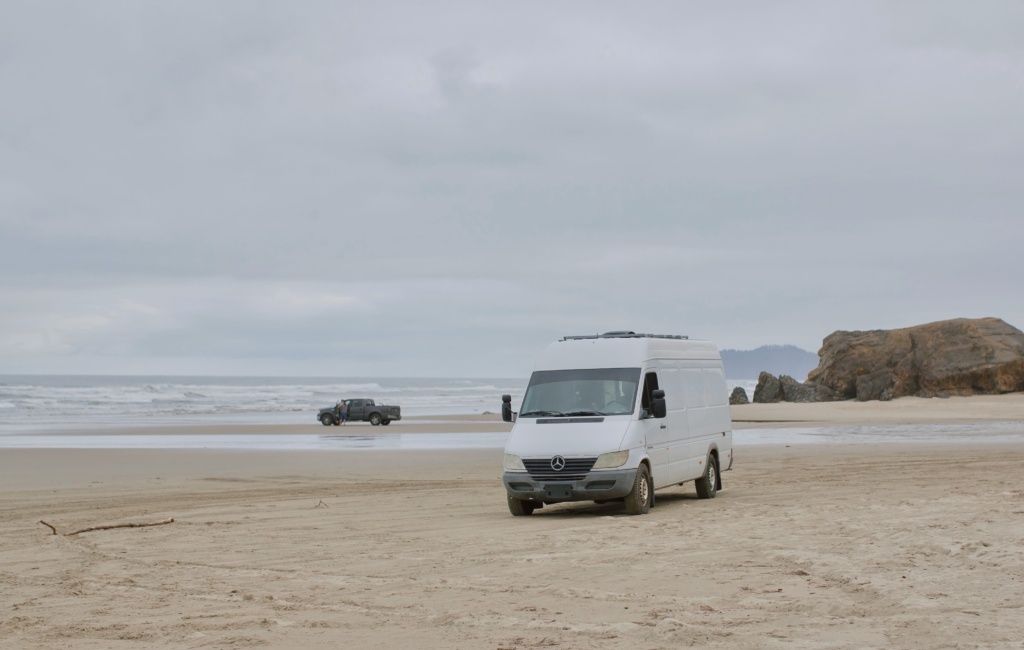 Here you will see another Haystack Rock. This one is 327 feet above sea level, the tallest of the three Oregon coastal Haystack Rocks. (The other two are at Cannon Beach and Bandon's Devil's Kitchen Wayside.)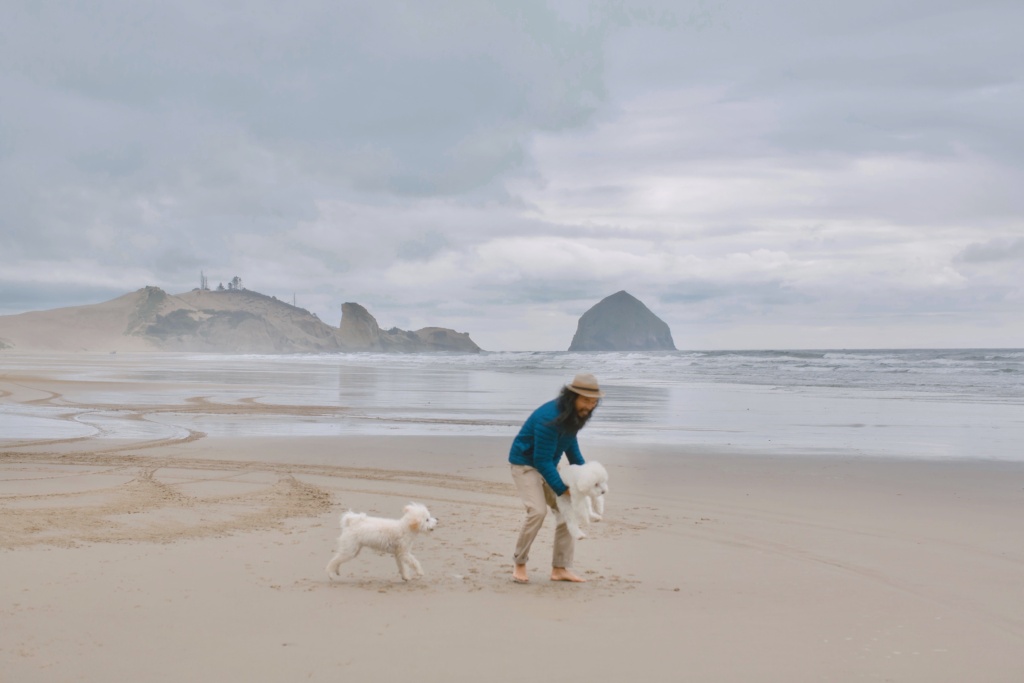 Day 11: Cape Kiwanda – Cape Perpetua (74 mi – 1 hour 35 mins)
Midway between Newport and Florence, Cape Perpetua is called the "Gem of the Oregon Coast" for a reason. It has everything the Oregon Coast is famous for craggy cliffs, spouts, coves, and tide pools full of life!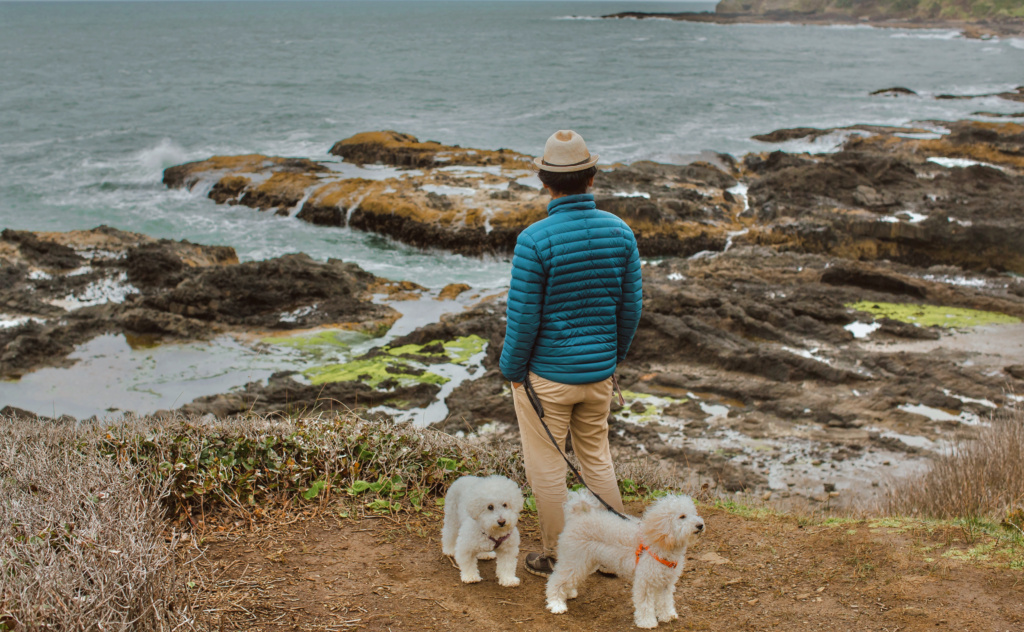 It's a popular stop to take on any Oregon Coast road trip to stretch your legs and take one of their many short trails. Many trails are just less than a mile to stunning landscape: coastal trails, spouting rock formations, and a collapsed coastal cave.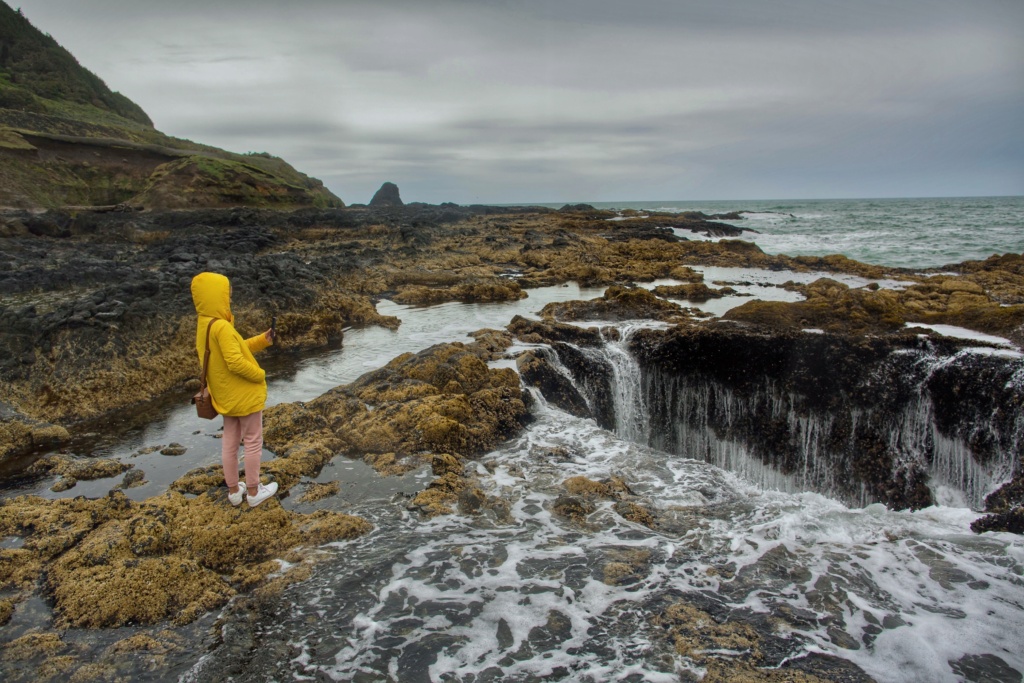 One of the highlights of our visit to Cape Perpetua is Thor's Wells. Thor's Well has become a highly-sought photographic spot for the deep sinkhole look. When conditions are right, this little hole in the rock can look like the drain of the Pacific Ocean!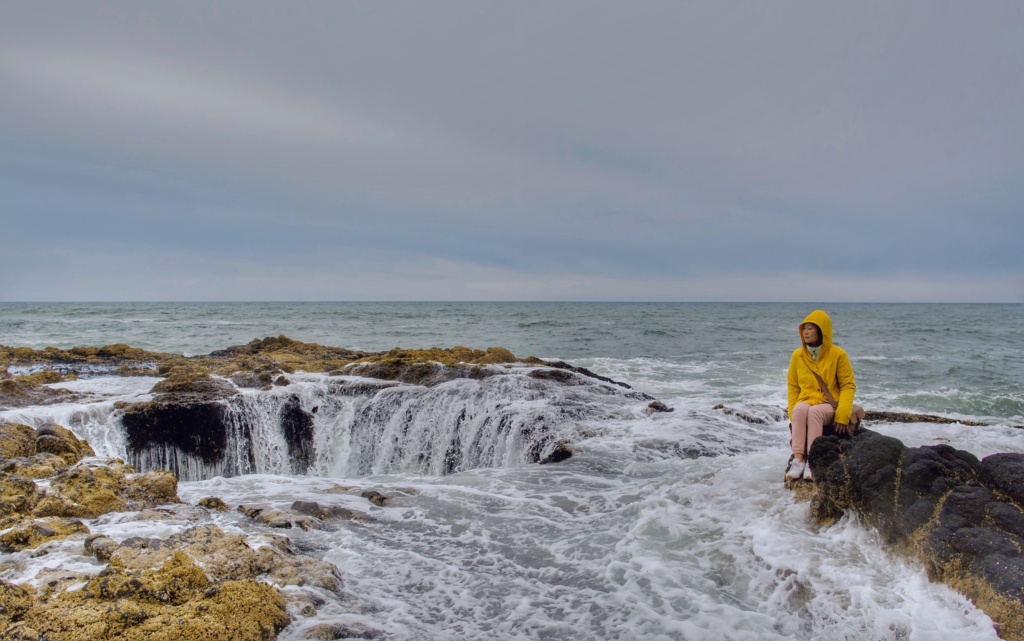 When the tide is high or the weather stormy, the waves of oncoming tides surge water under the bowl shaped hole filling it from underneath. After a few seconds the bowl overflows and sprays water over the surrounding rocks creating a very unique sight. It's almost like Thor's Well is draining the ocean and shooting it back out!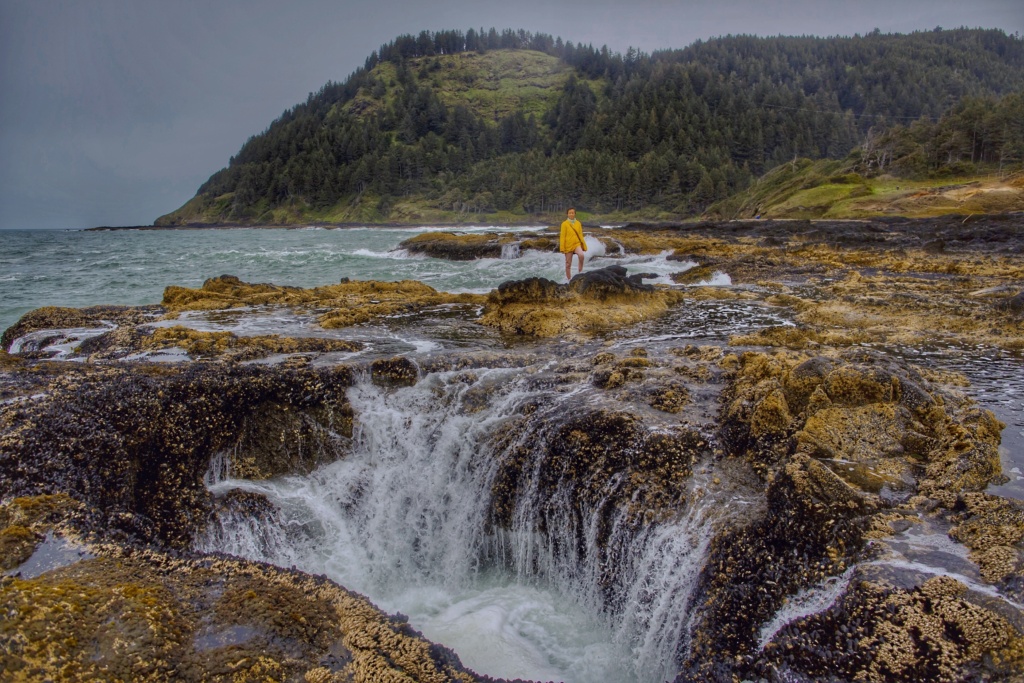 Your visit to this natural wonder will come with plenty of risk and plenty of reward. Carefully planning for your visit to photograph Thor's Well is essential to having a safe and successful outcome. I've put together this guide on Thor's Well, including the best time to visit and how to capture some amazing photos of nature at its best. Click here to read!
Day 12 : Cape Perpetua – Florence (23 mi – 29 mins)
While there are numerous beautiful beach towns that line Oregon's coast, Florence may not be the most popular or touristy one but it is one of my absolute favorites.
Coming from Cape Perpetua to Florence, you should stop by to visit the Heceta Head Lighthouse.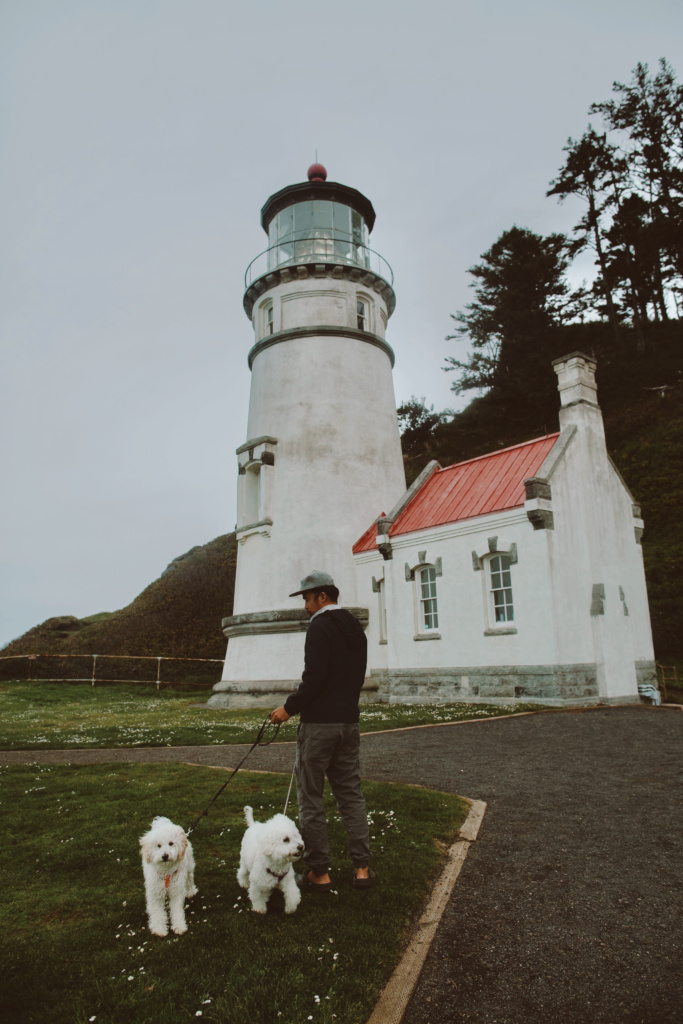 When it comes to beautiful lighthouses, you can't find many that are more beautiful than the Heceta Head Lighthouse on the coast of Oregon in the United States. There is a dedicated parking lot next to the beach and a hiking trail that will take you up to the lighthouse.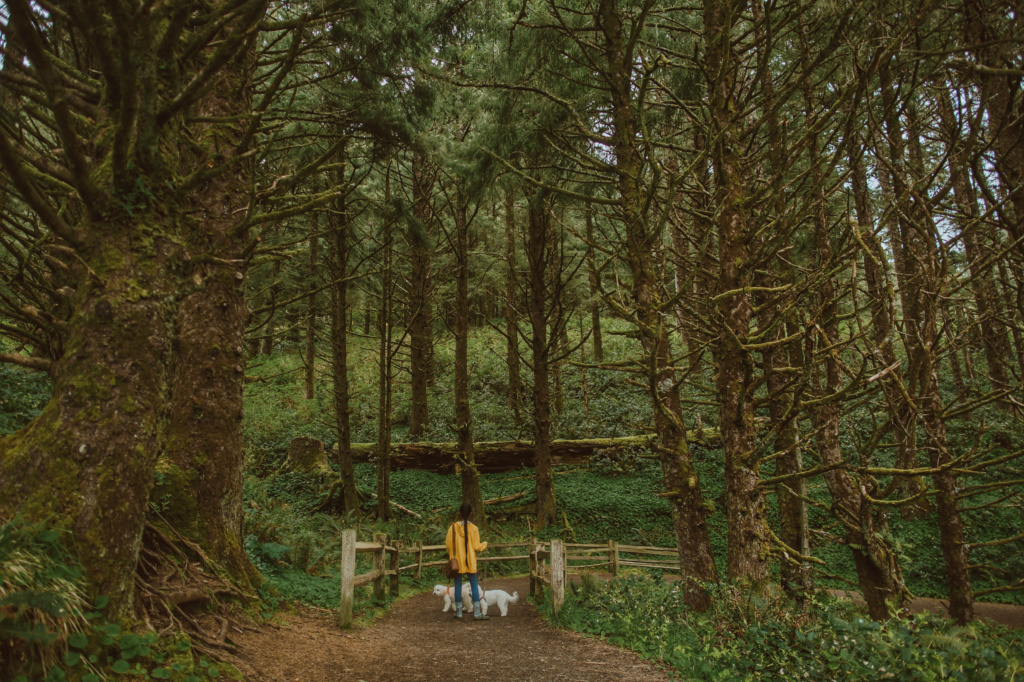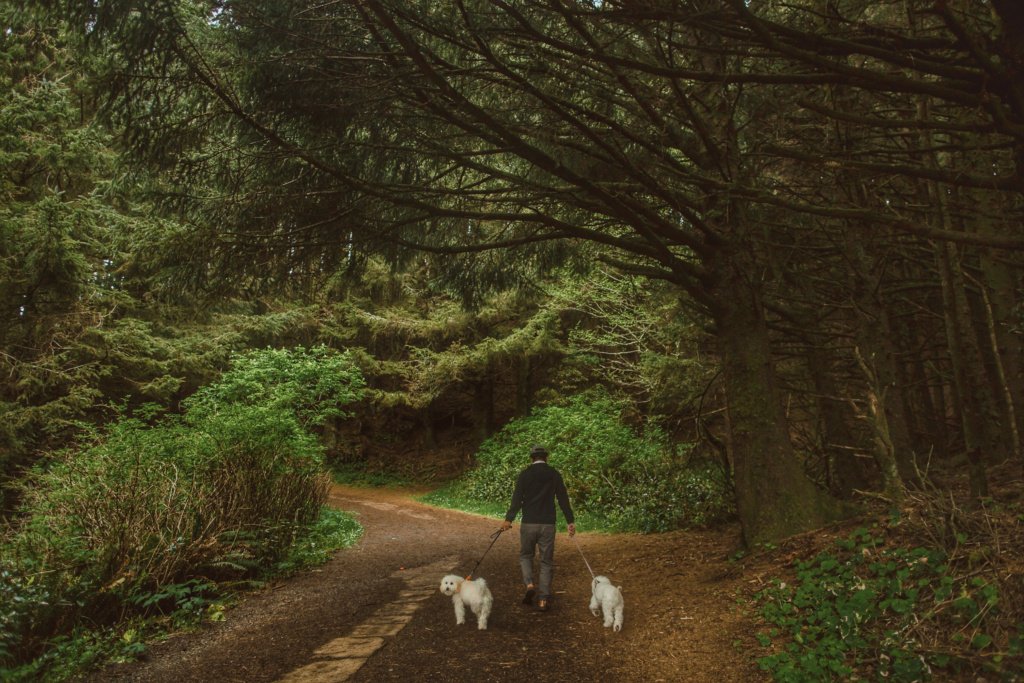 The former Lighthousekeeper´s home, now "Keeper´s House" is perched on the cliffs of Heceta Head State Park, overlooking the Pacific Ocean and the sandy Cape Cove below.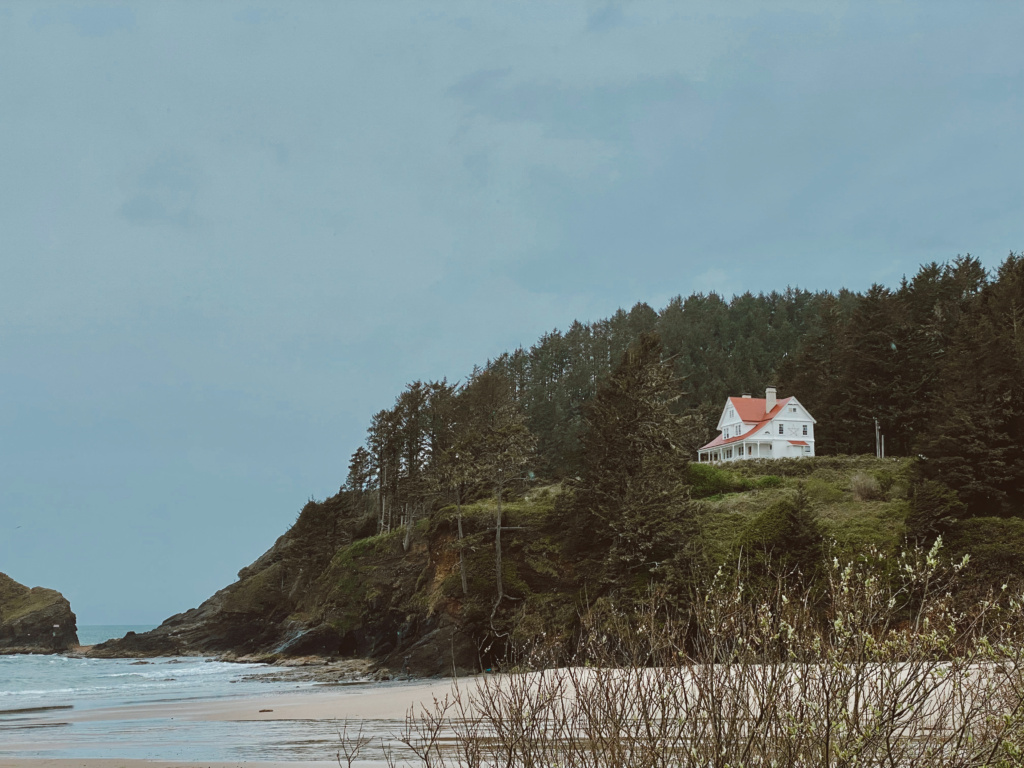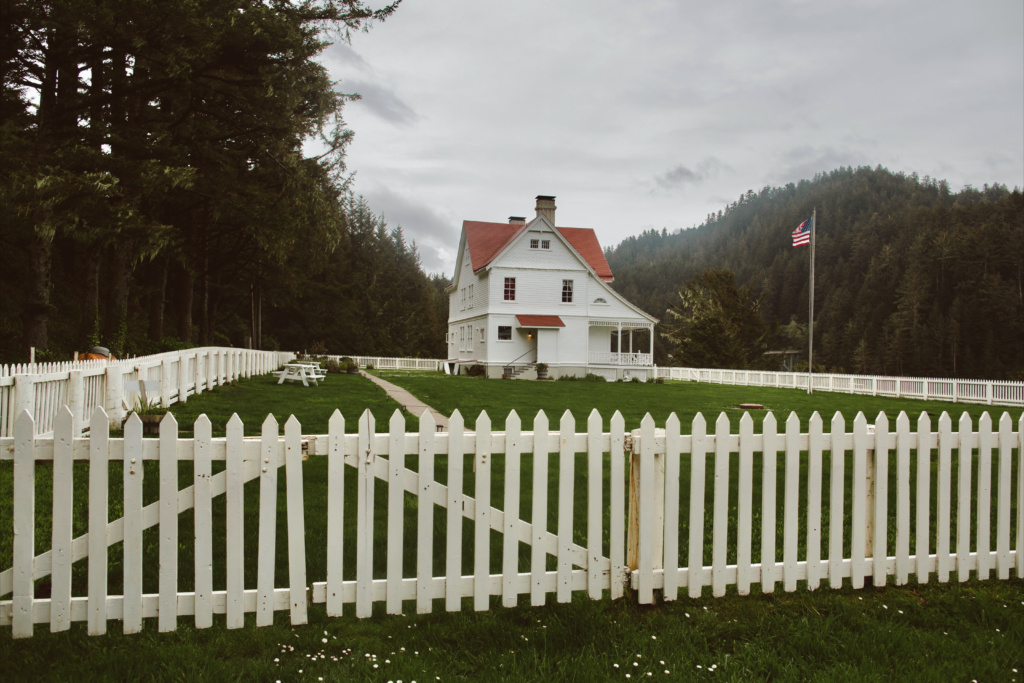 The lighthouse itself rises 205 feet / 62 metres high above the ocean and its light is still shining along the Oregon Coast today. It's said to be the brightest light on the entire Oregon Coast and considered one of the most beautiful lighthouses in the US. It is especially pretty at sunset or when large waves are crashing against the rocky shore.
The charming Old Town district in downtown Florence is nestled along the Siuslaw River. The district is lined with a handful of quaint shops, restaurants, art galleries and coffee shops.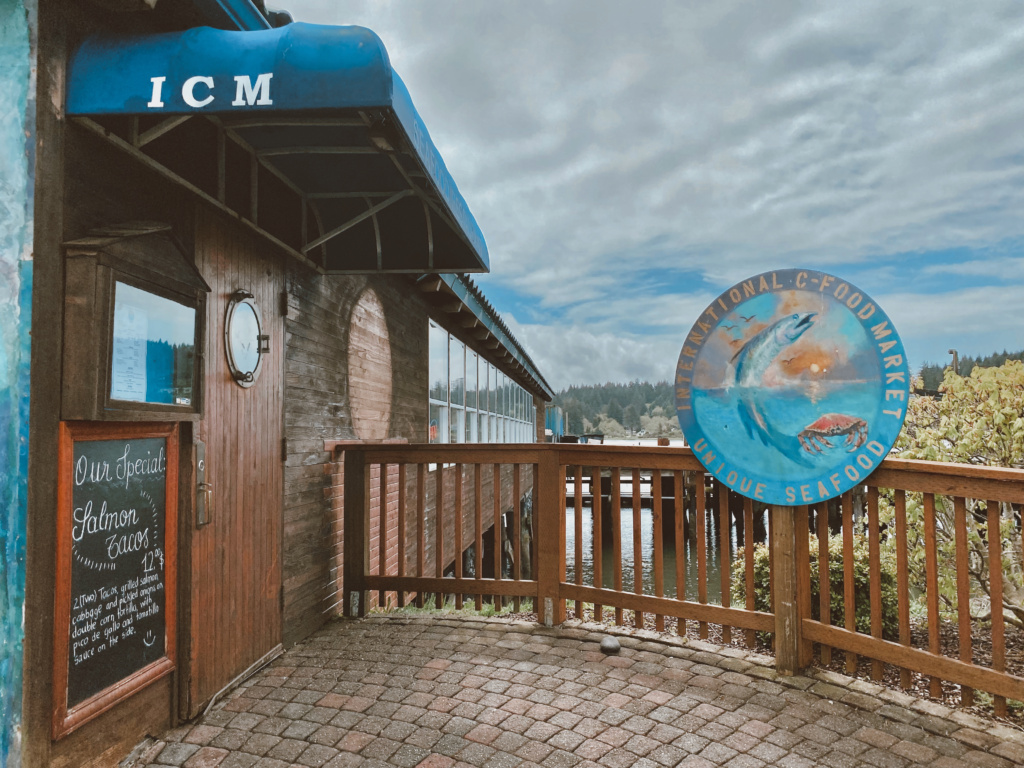 One of the best ways to explore the Old Town is with an ice cream cone in hand – and BJ's Ice Cream Parlor is the perfect place to pick up your sweet treat. Boasting dozens of handmade flavors, BJ's has been in business in Oregon for five generations.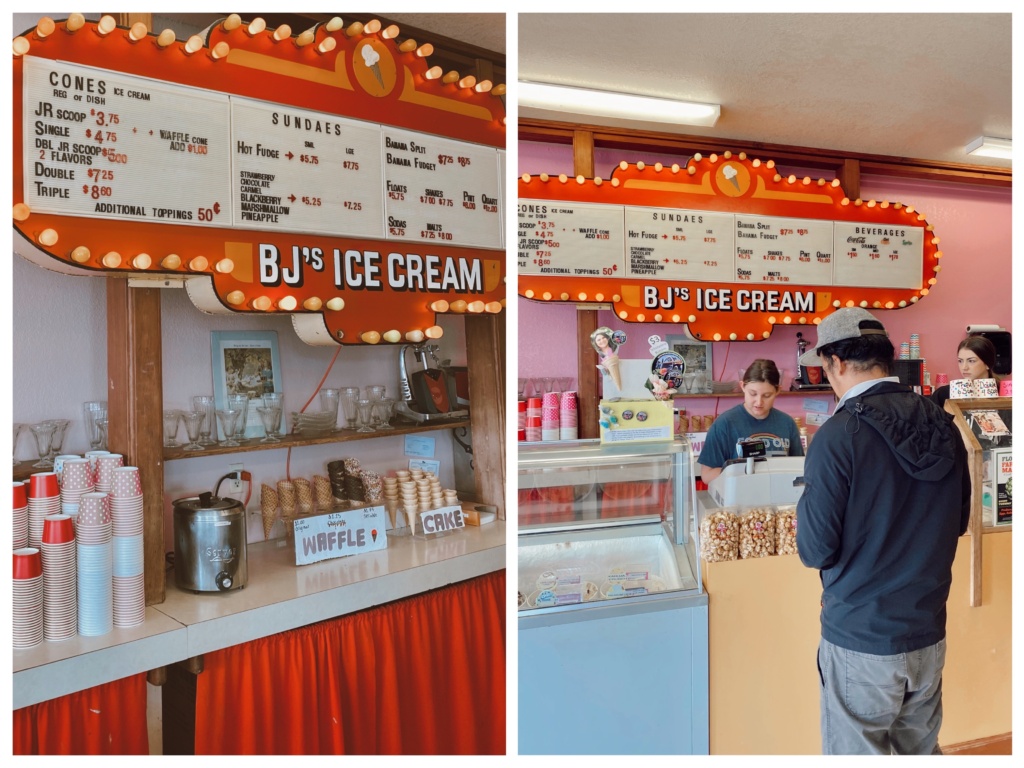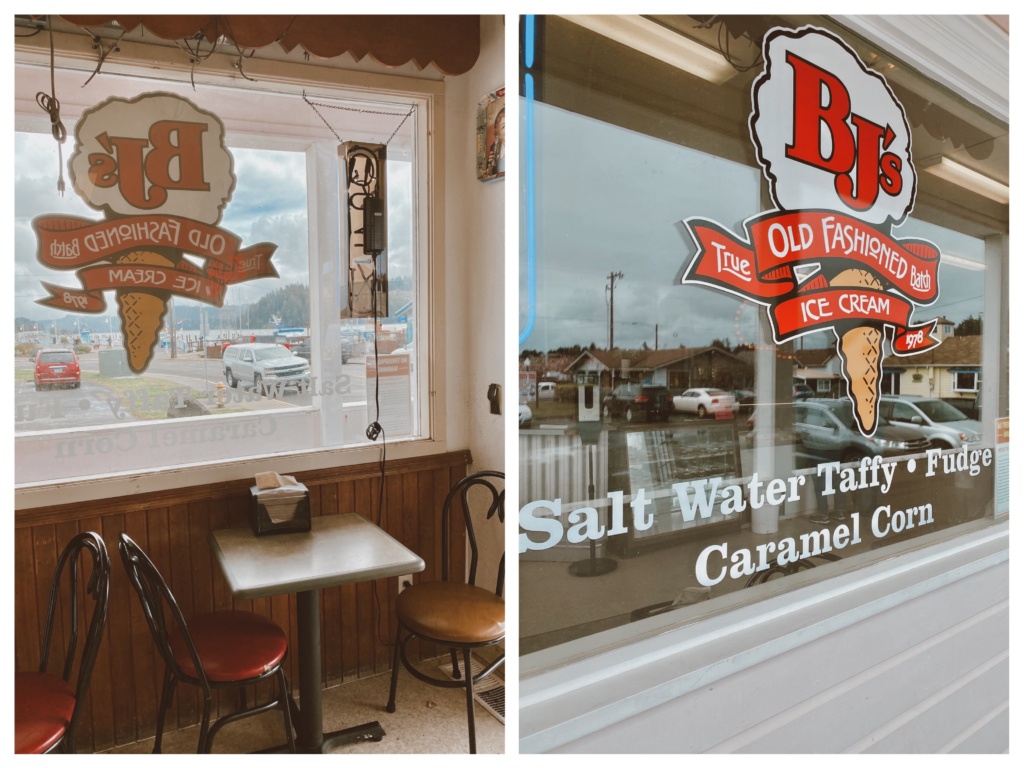 When it comes to seafood restaurants in Florence, there is a plenty of choices. Mo's and International C-Food Market are two prominent restaurants at the end of Bay Street.
However, for the absolute best seafood in Florence we recommend getting a bowl of award-winning crab chowder from the family-owned Novelli's on the dock. Walk down onto the docks and pull up a seat at the floating outdoor counter then dig into "boat-to-bowl" crab chowder. The owners catch all their own crab, selling it live or cooked right there on the docks, and serving up crab cocktail too.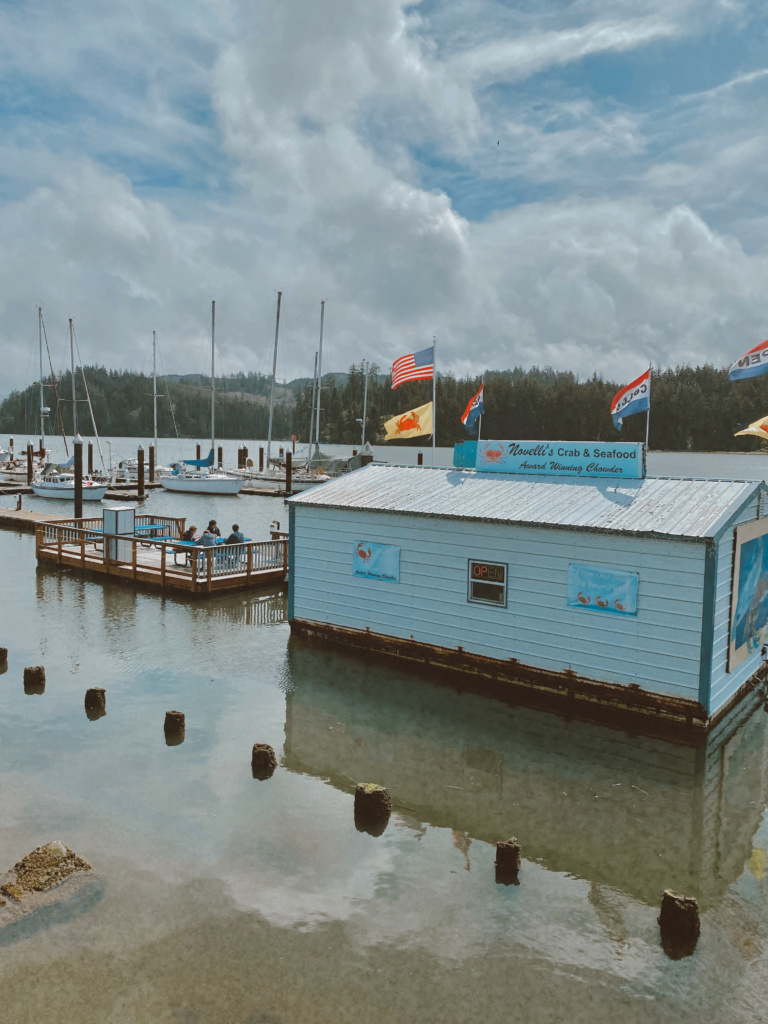 And now this is a piece of information that my fellow vanlifers will be very interested! Right at the heart of Florence you can find a place to do your laundry while taking a long hot shower at 37th Street Coin Laundry. Their bathroom is very clean and spacious. For $4 you get a super hot 8-min long shower, plus they will provide you with towels and shampoos/conditioners. Florence is a perfect stop for vanlifers to refresh, organize your van, do some laundry while taking in the historic charm of an old coastal town.
Day 13: Florence – Bandon (73 mi – 1 hour 28 mins)
Unlike other popular towns along the Oregon coast, Bandon does not have a built-up waterfront area. Our first stop on our tour of Bandon was at Face Rock Creamery to grab some ice cream. Inside, they have a lot more than ice cream. There are cheeses, jams, soaps and many more local treats. The place is a working factory, so you can watch the workers sorting through cheese through large glass windows.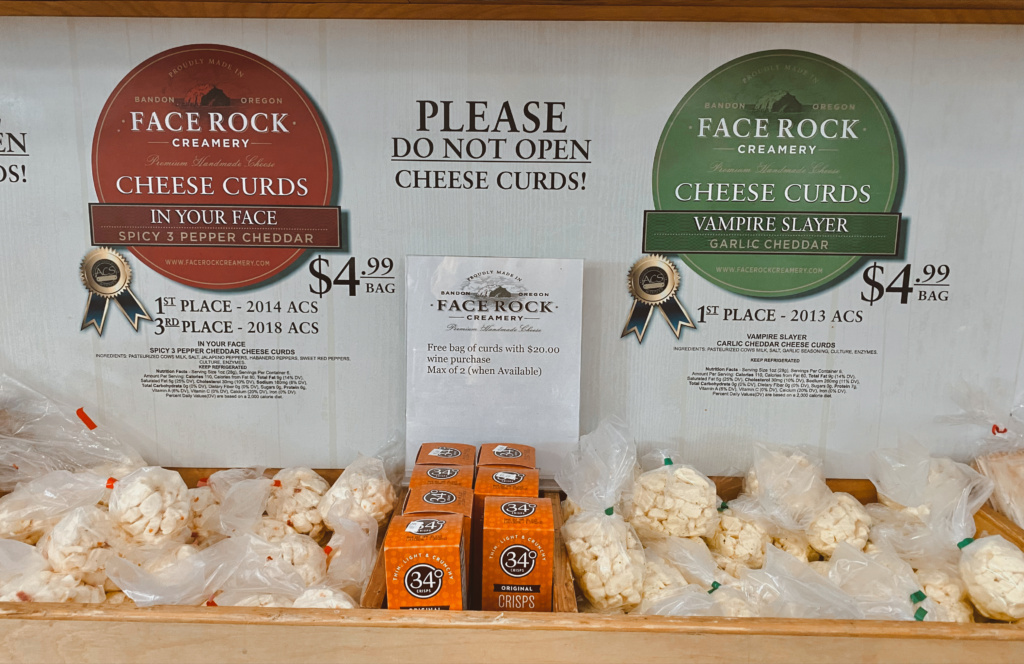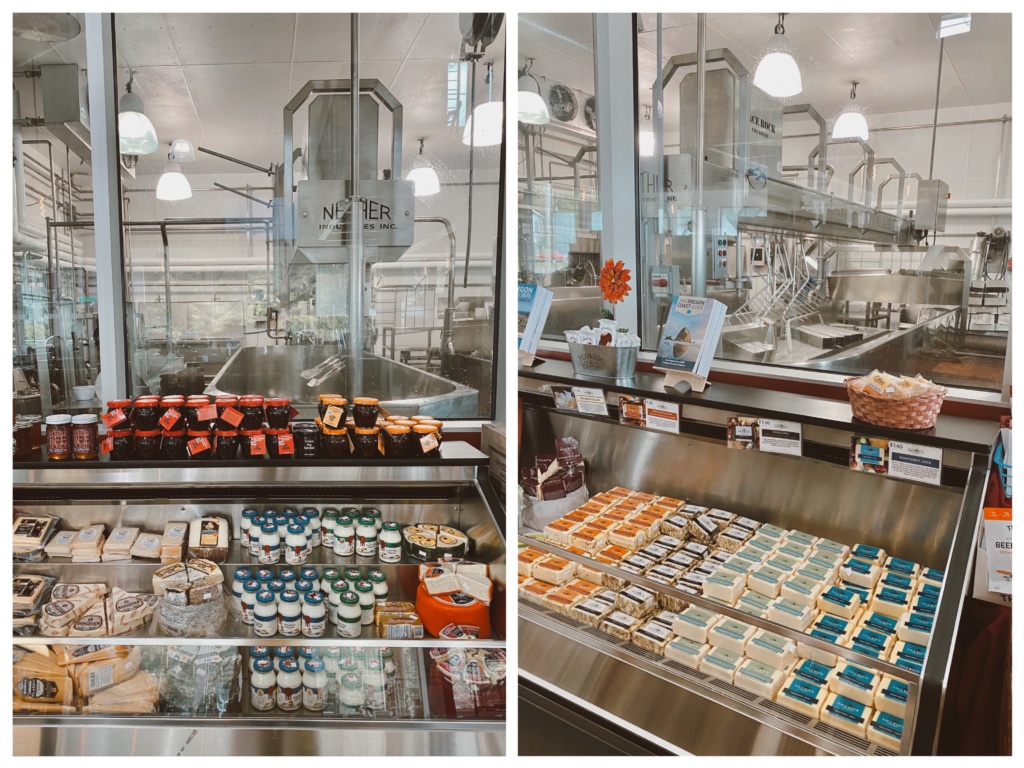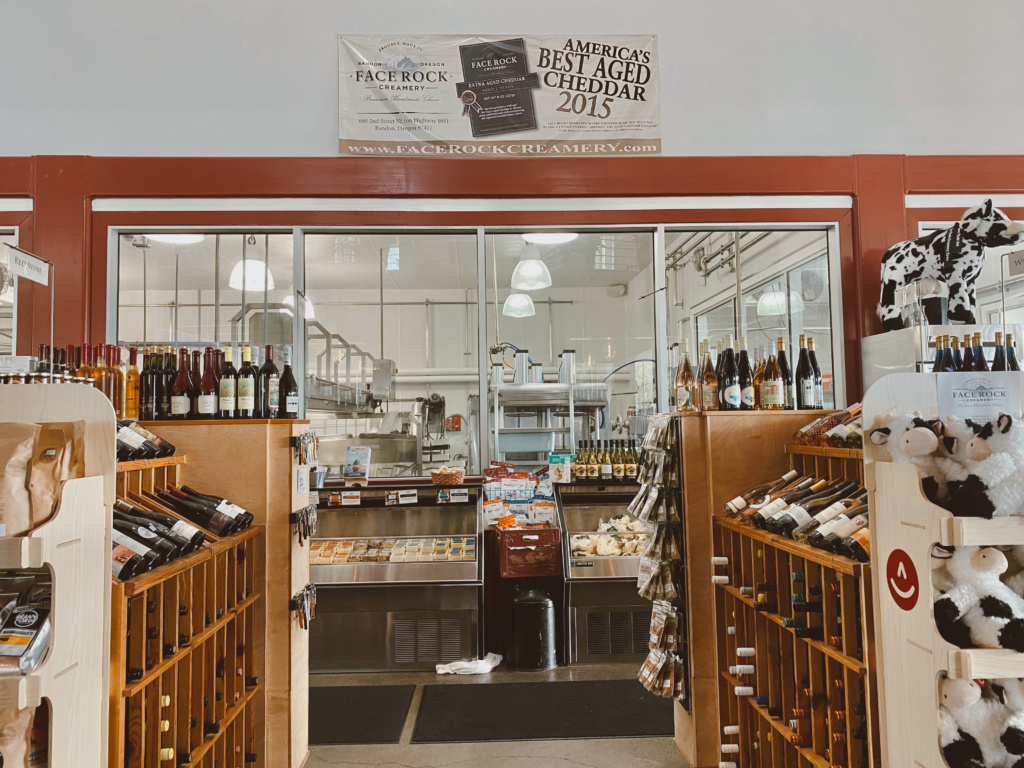 One of my favorite parts about visiting small coastal towns like Bandon is the chance to enjoy a delicious seafood meal. It's less expensive than what we find in California, and it's a lot more fresh. One of the most popular spots here is Tony's Crab Shack and Fish & Chips Chowder House. They're located on the north end of Old Town, right along the Coquille River.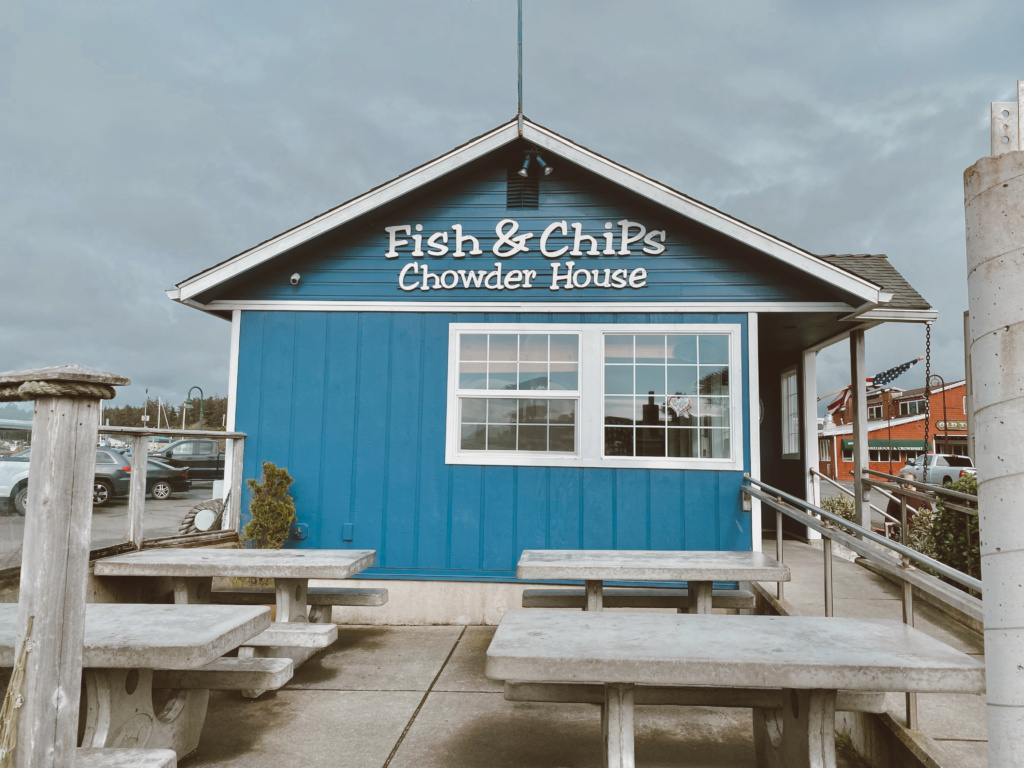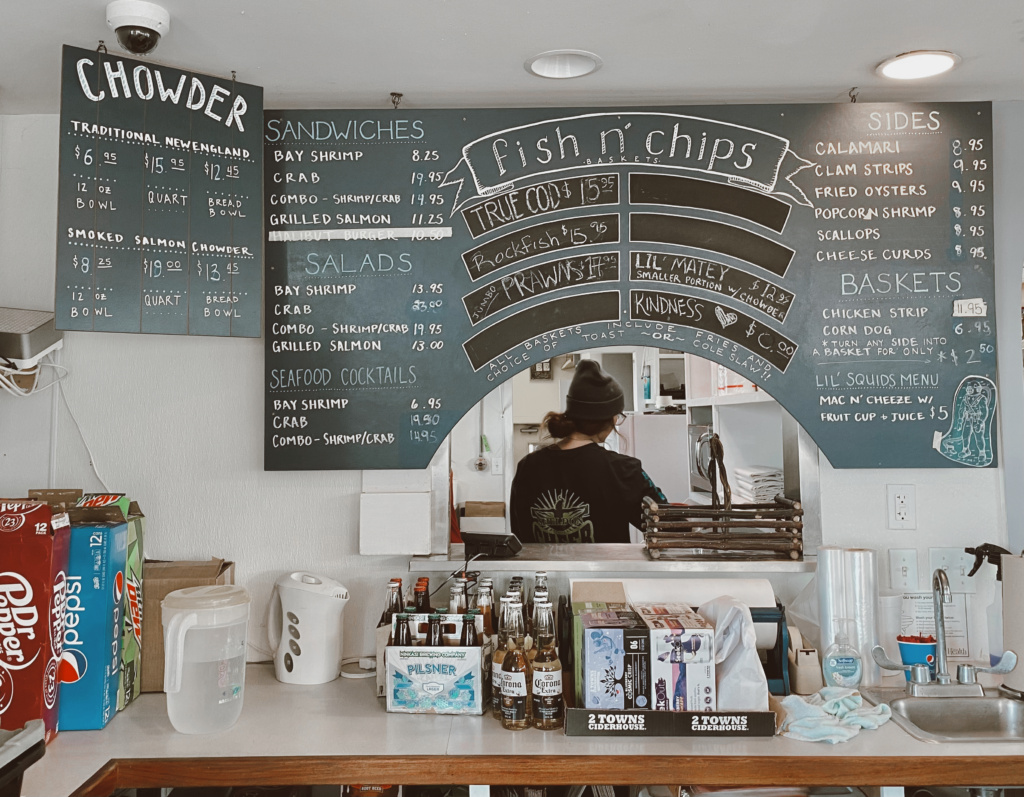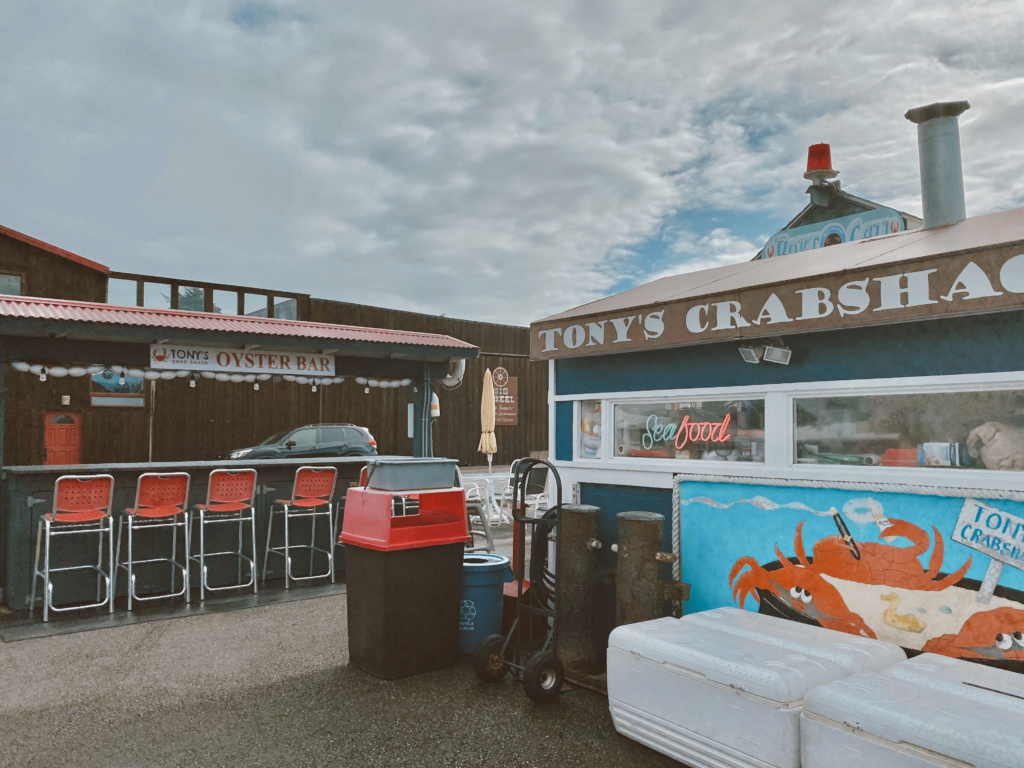 We visited Face Rock State Scenic Viewpoint & Beach in the afternoon and it was gorgeous. This is one of those places where you drive up and it takes your breath away.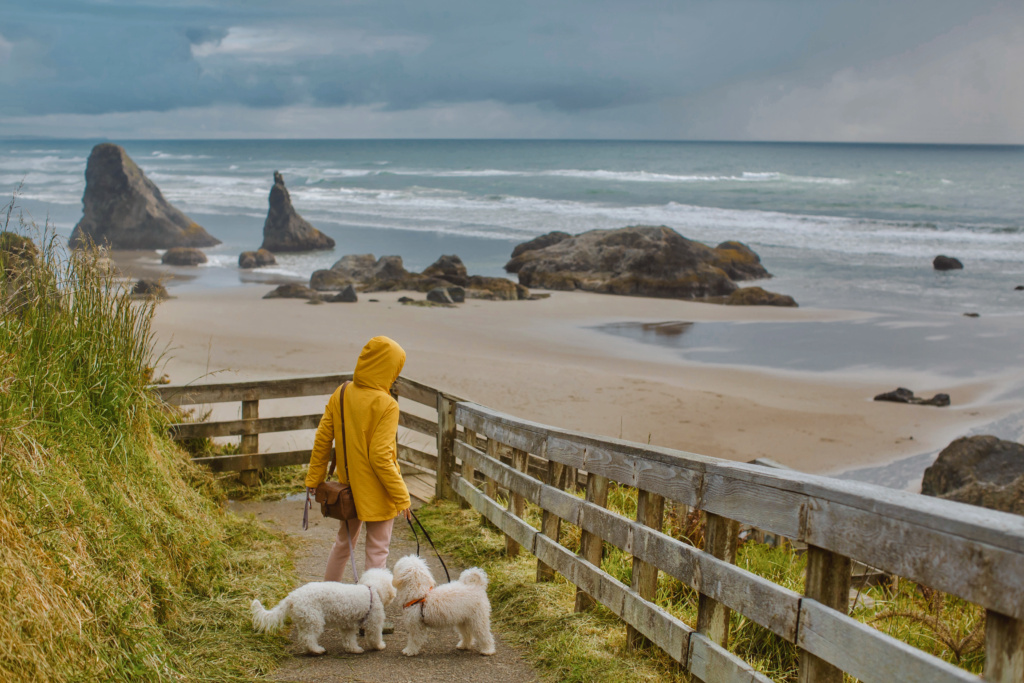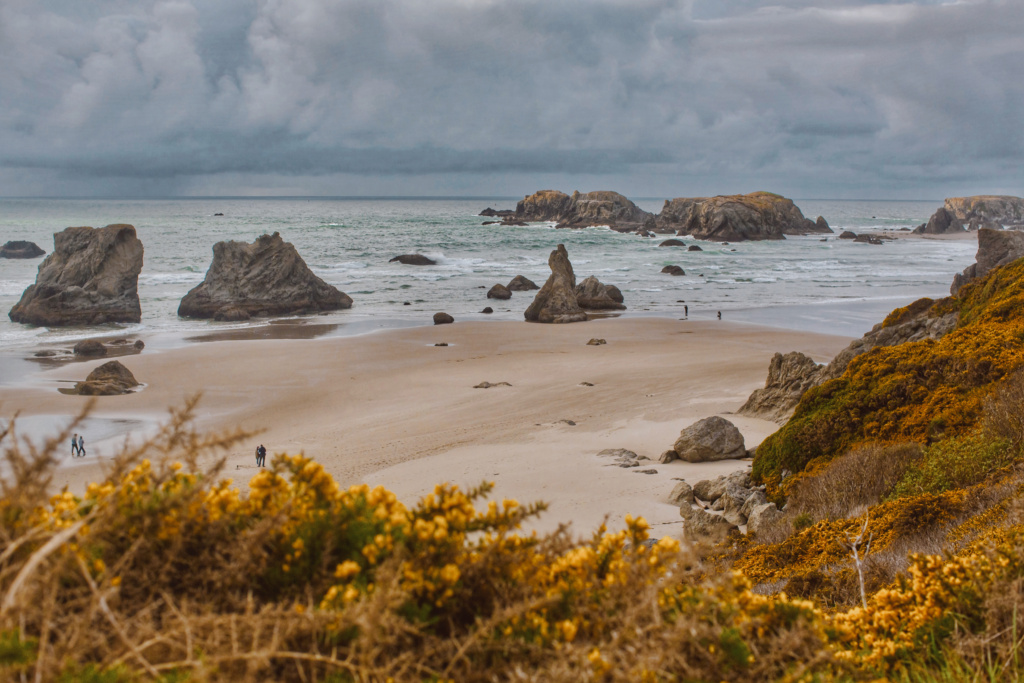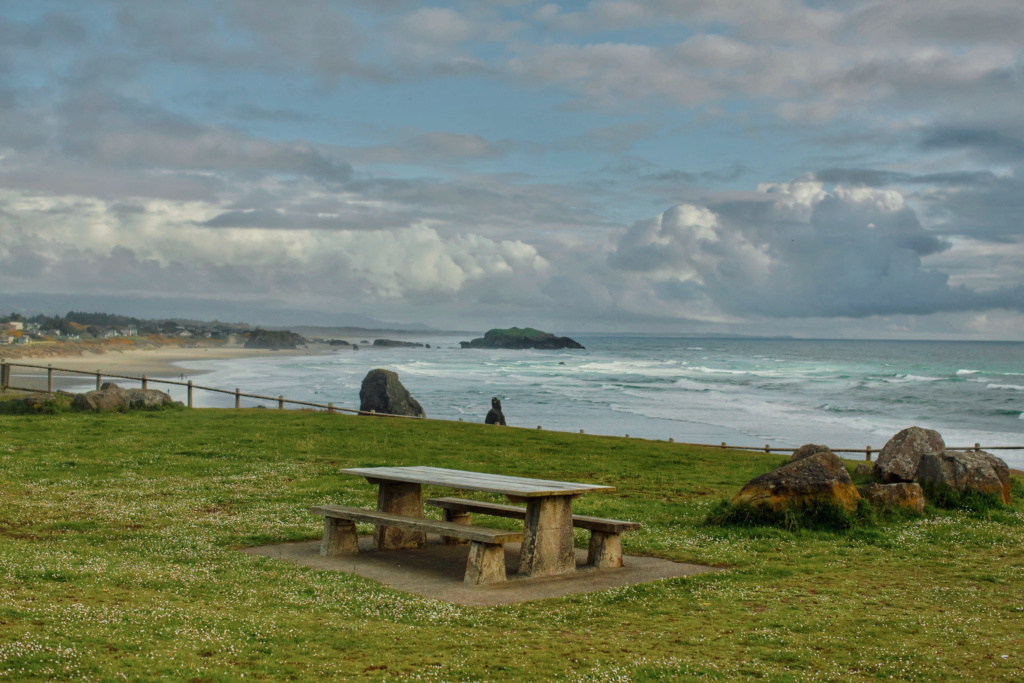 Bandon has been blessed with a surplus of sea stacks. These isolated rock towers take on a variety of shapes and sizes. Though none are as formidable as Haystack Rock off of Cannon Beach, the collection found here creates an equally grand impression. Some are tall and slender, some are triangles, and others are gigantic domes with small sea caves and rooms inside.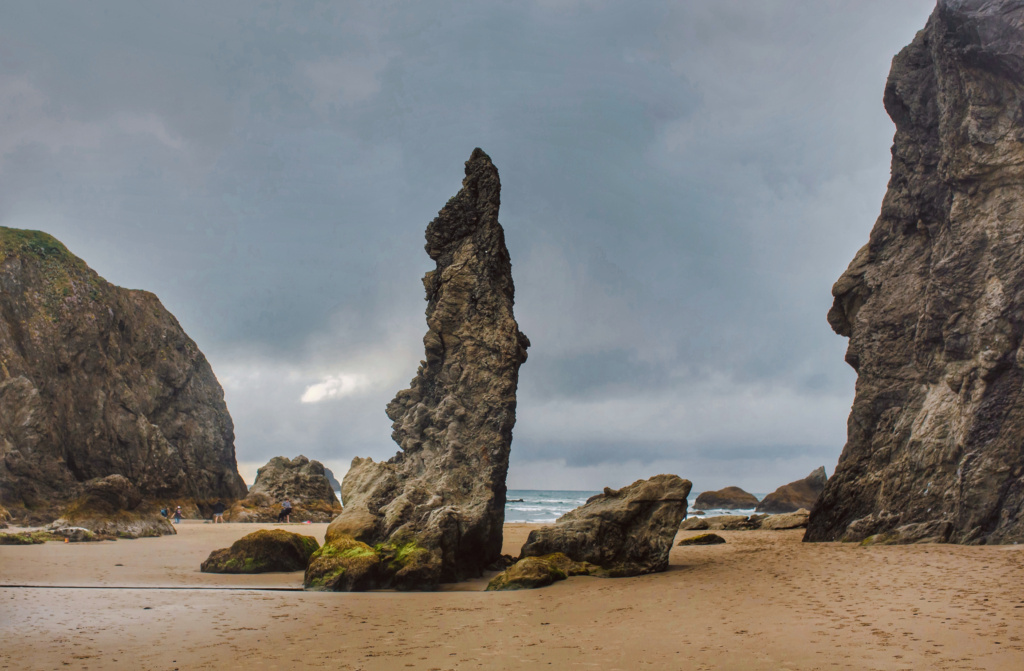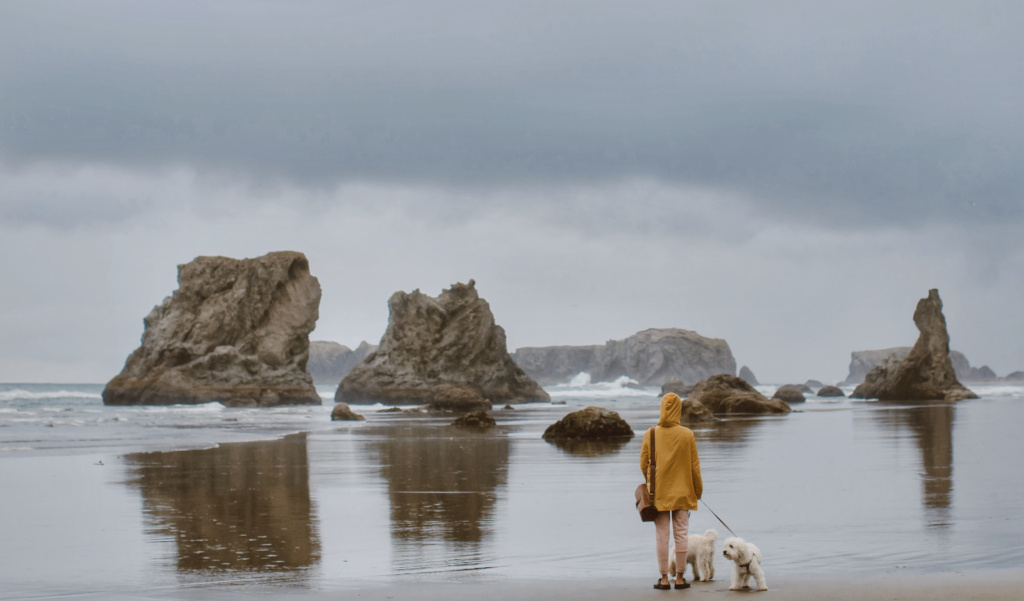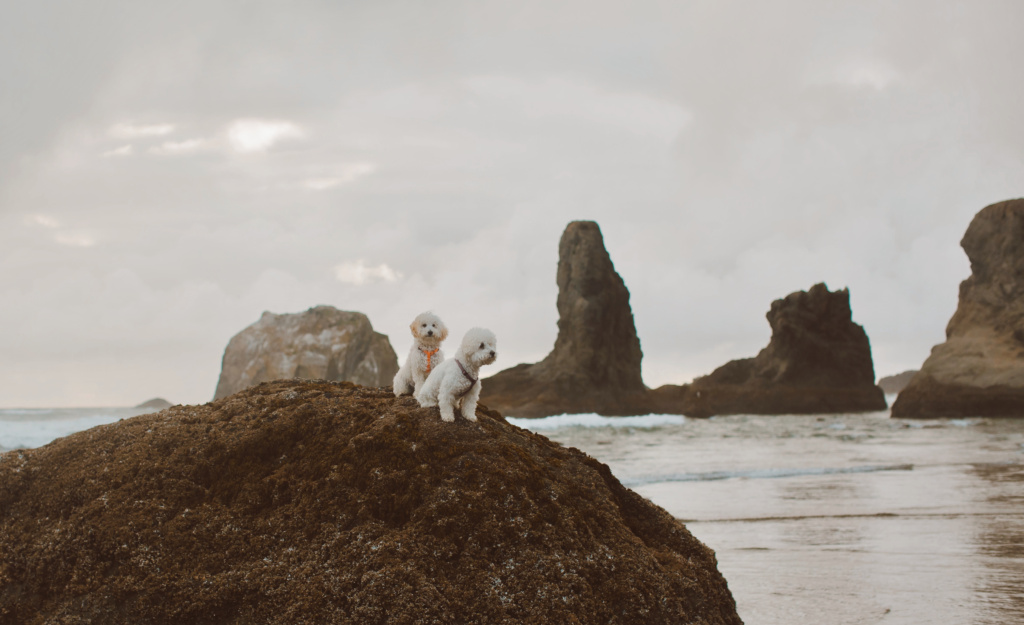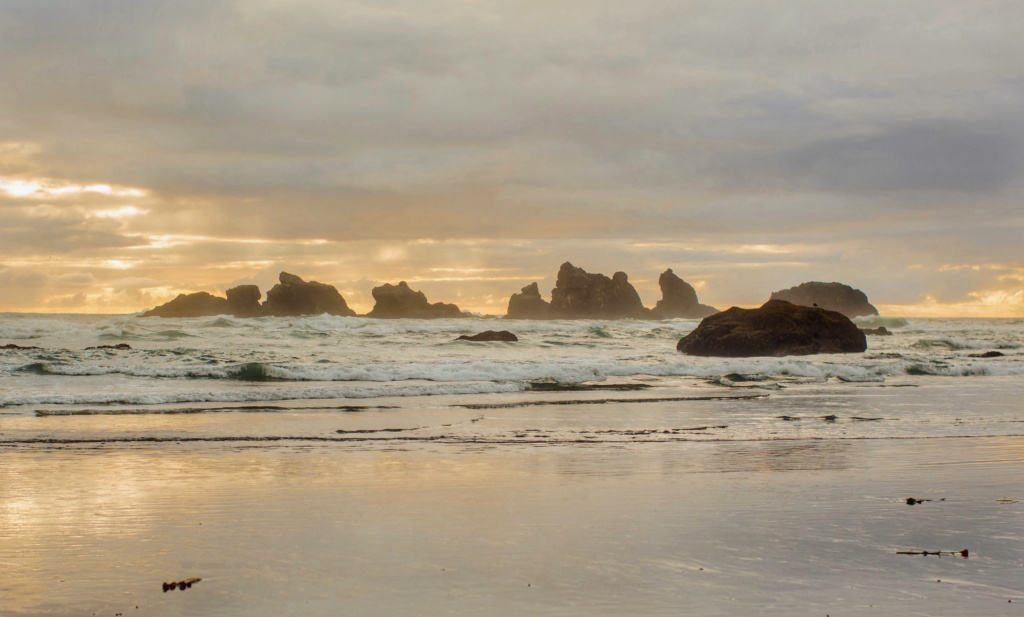 If your dream is riding a horse along the ocean at sunset, Bandon Beach is the place to make your dream come true. The Bandon Beach Riding Stables has been in business since 1979. The family owned and operated business offers amazing riding experiences entirely on the beach; the horse ride features tide pools, creek crossings, beautiful rocks and caves, and of course views of the Pacific Ocean. The beach is not a terribly crowded one, and at times, riders feel they are the only ones there.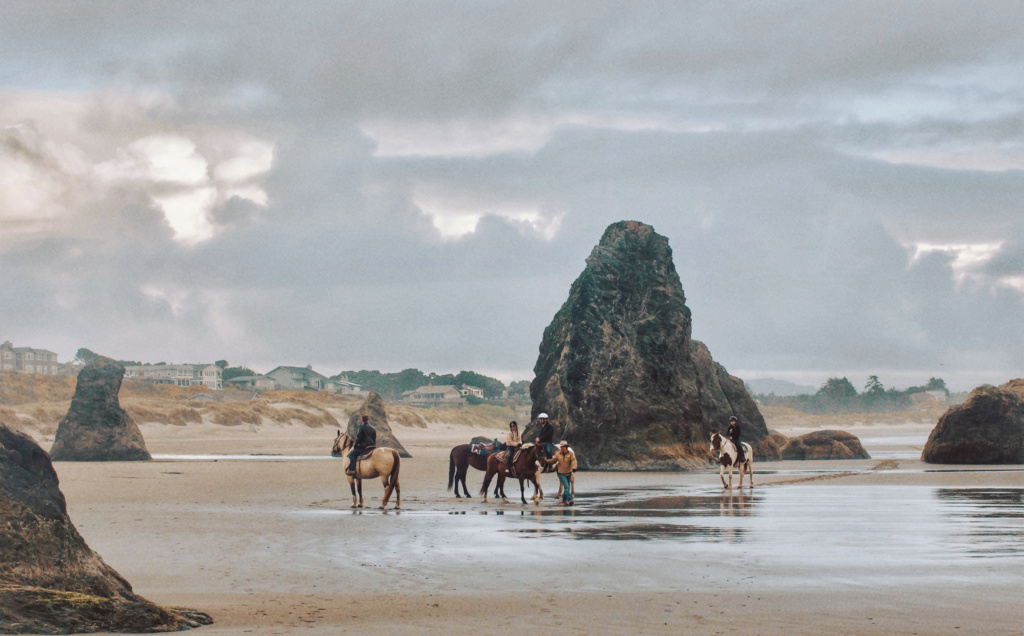 Day 14: Bandon – Brookings (83 mi – 1 hour 35 mins)
Samuel H. Boardman is like a spectacular condensed version of the entire Oregon coast, meaning it's got a little bit of everything: gorgeous sea stacks, and stunning viewpoints. The corridor stretches 12 miles along the coast and the area is full of huge Sitka spruce trees, rugged coastline, and small sandy beaches.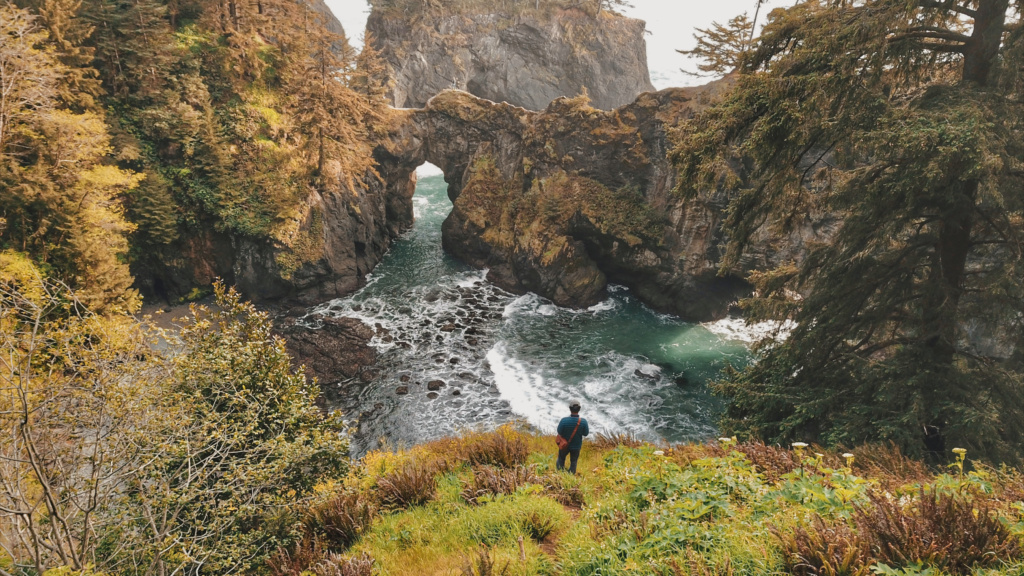 Most of the hikes here are short and easy. The parking lot usually takes you directly to the viewpoint platform.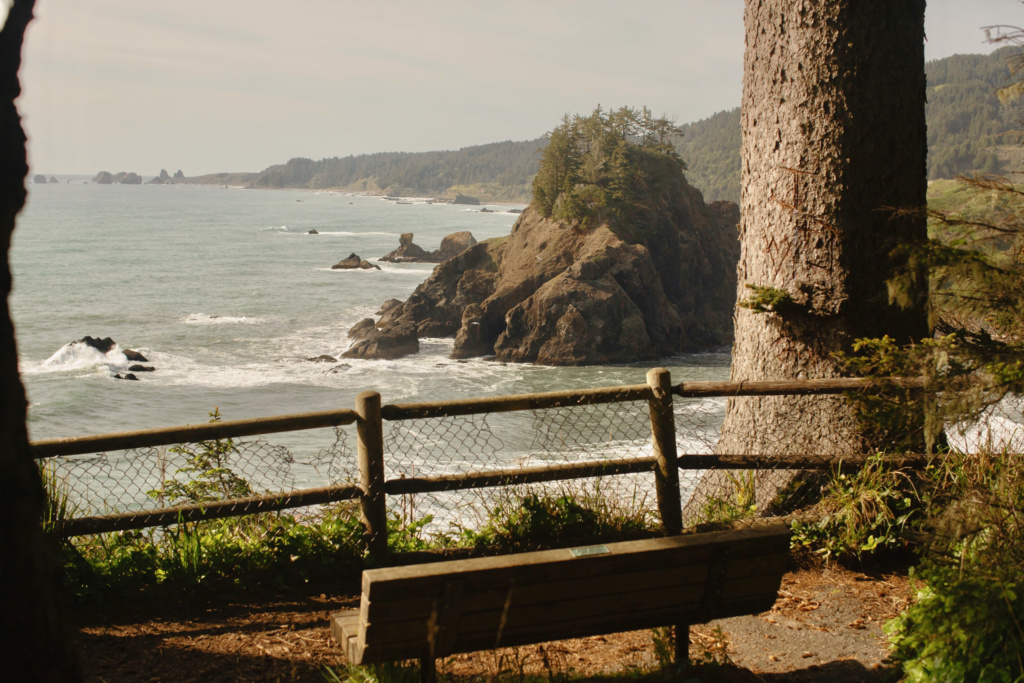 However, the path to the famous spot that is all over Instagram is a bit more secretive. The hike to this spot is steep, tricky, and many hikers consider it as dangerous. Here are the step-by-step directions to get this famous IG spot.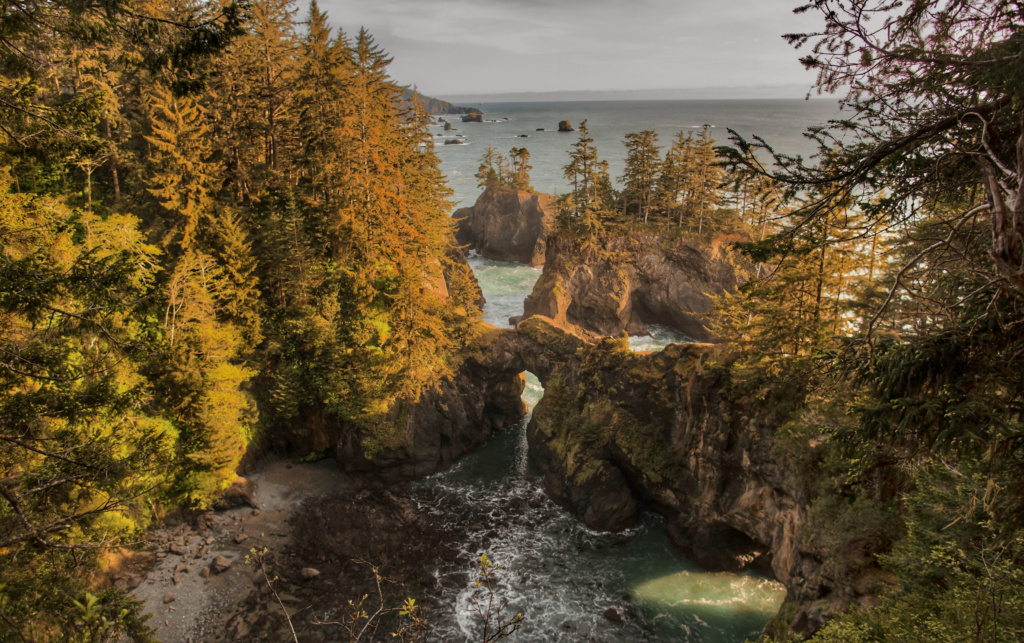 From the car park is the paved walkway to the viewing platform on your left as you face the ocean. Instead what you need to do is go to the right hand side of the car park. Here you will find a small dirt path through the undergrowth and trees and this is what you need to follow.
Take the LEFT at the first fork.
Take the LEFT at the second fork
Hike down the super steep and scary-looking dirt road on your LEFT.
Once you get down to the edge, you'd get a good view of the bridges and the cove, but you'd need to keep hiking down.
Follow the same steep trail as it will lead you to the top of the arched bridge. Just head LEFT and pick a safe path to get down to the top of the arched bridge.
Hike back the same way that you get down.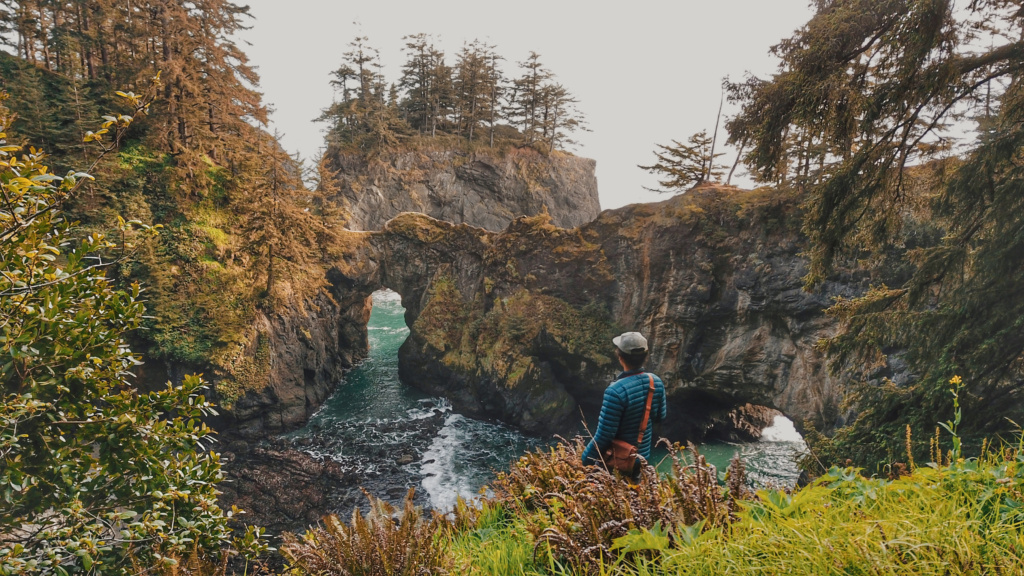 The best time of day to visit the Samuel H Boardman Natural Bridges for the best photography is at sunrise or sunset when the sun rays beam through the arches.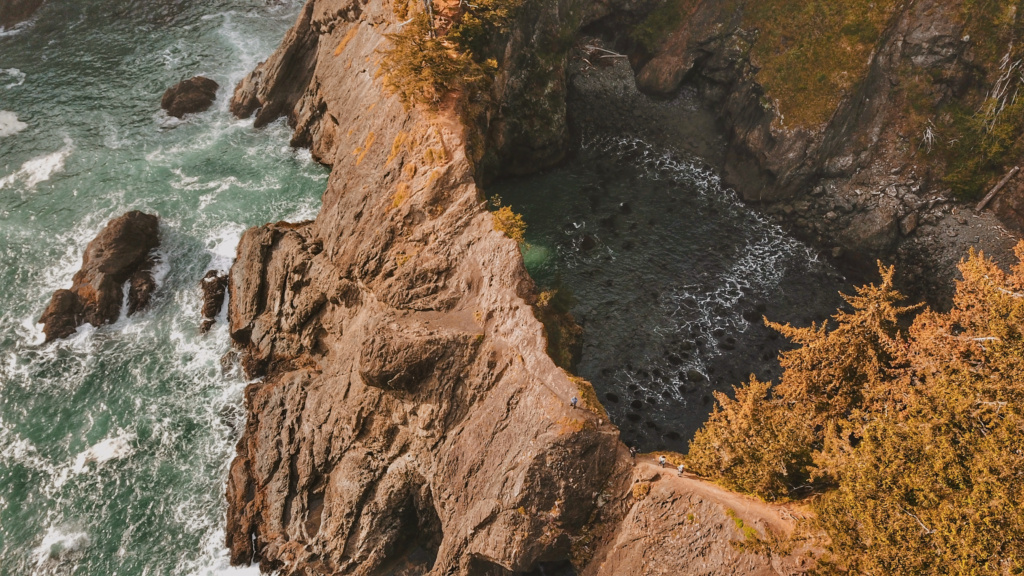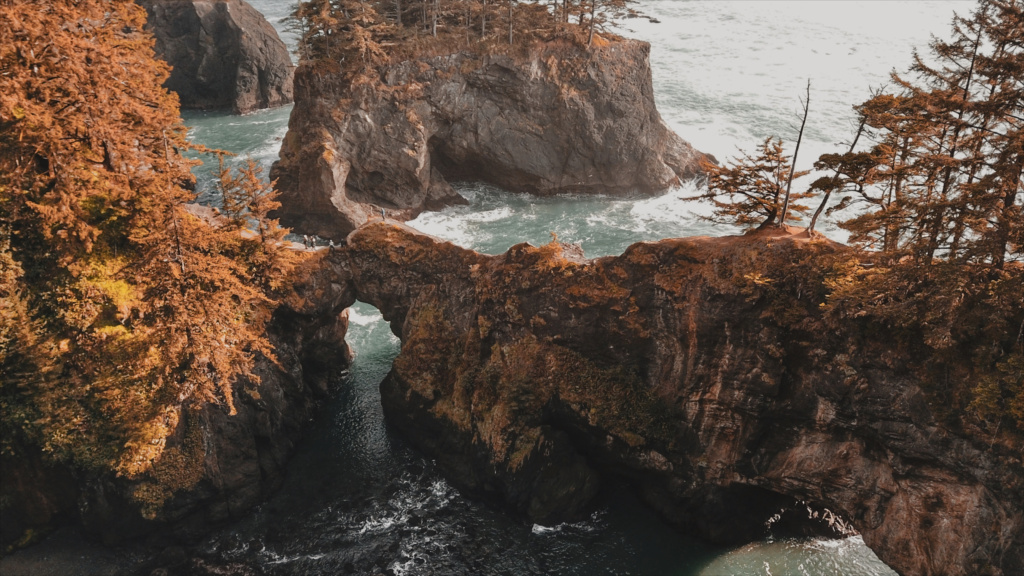 Our second favorite stop at Samuel H. Boardman is the Arch Rock. Arch Rock is the first stop you will recognize after entering Samuel H. Boardman Scenic Corridor (when driving from North to South). From the parking lot it's only a 5 minutes walk before you reach the viewpoint where a huge sea stack with a hole in its middle opens up right in front of you.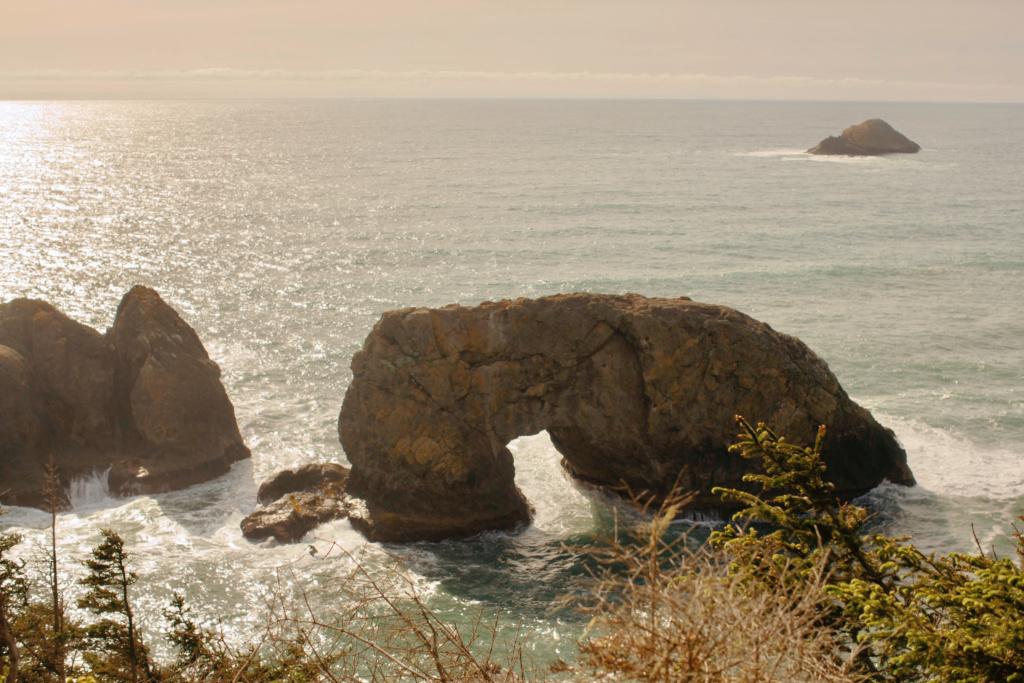 This easy 0.2-mile loop trail with plenty of picnic tables is an excellent trail option for families because it's very short with a huge payoff!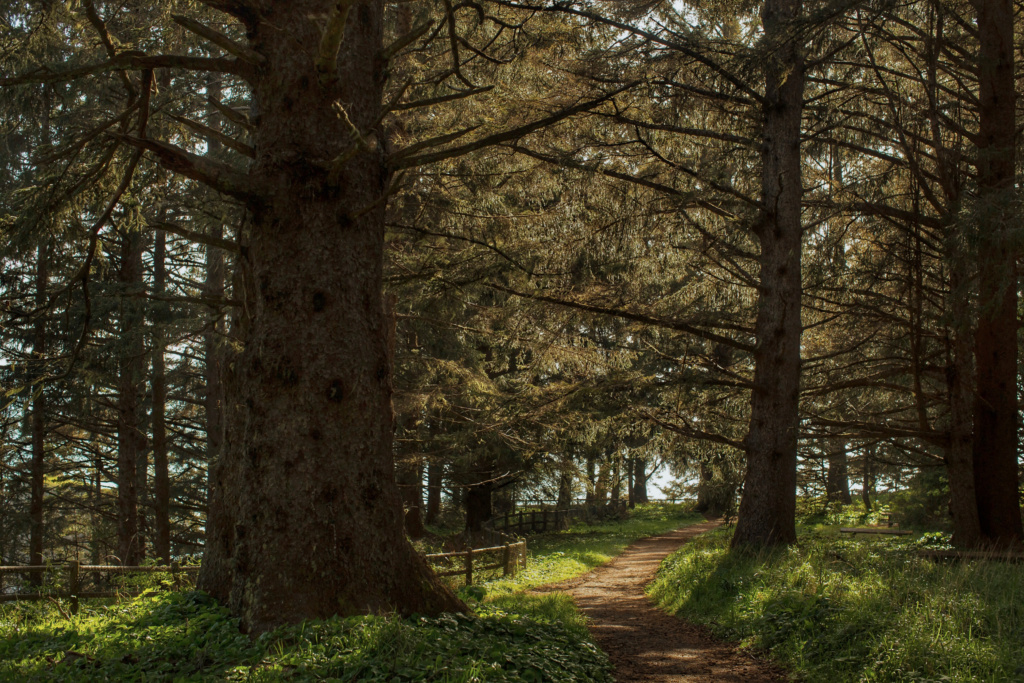 And for our fellow vanlifers, the parking lot at the Arch Rock trail is the spot if you want to open the back door of your van to the beautiful view of the ocean and haystack rocks.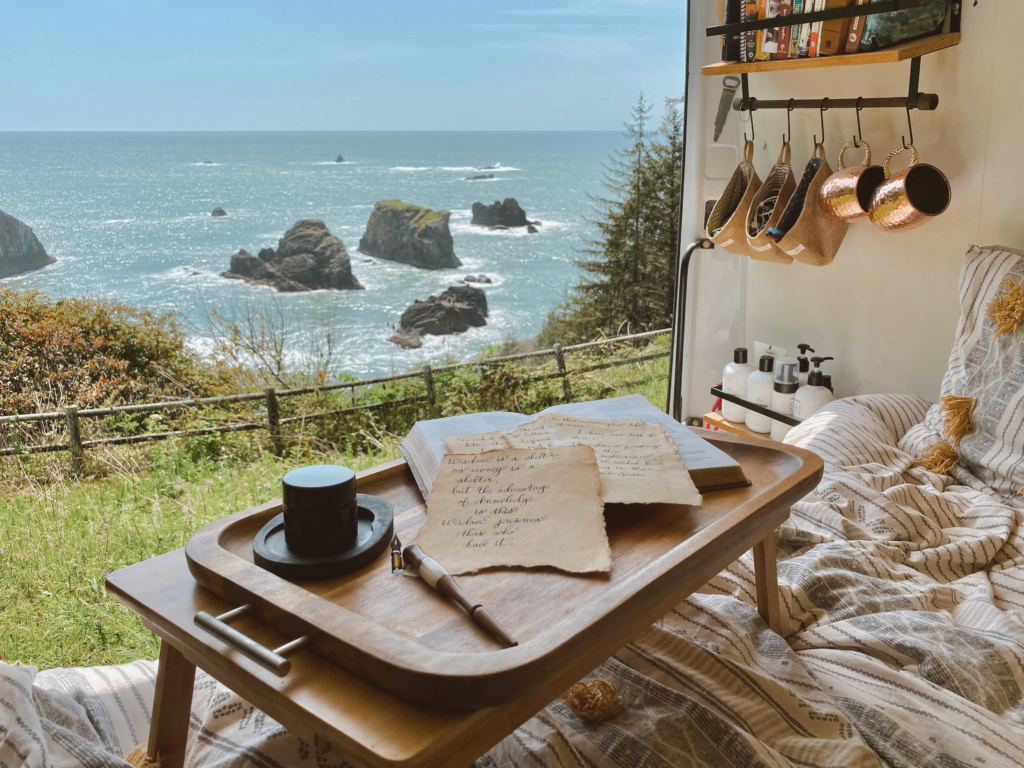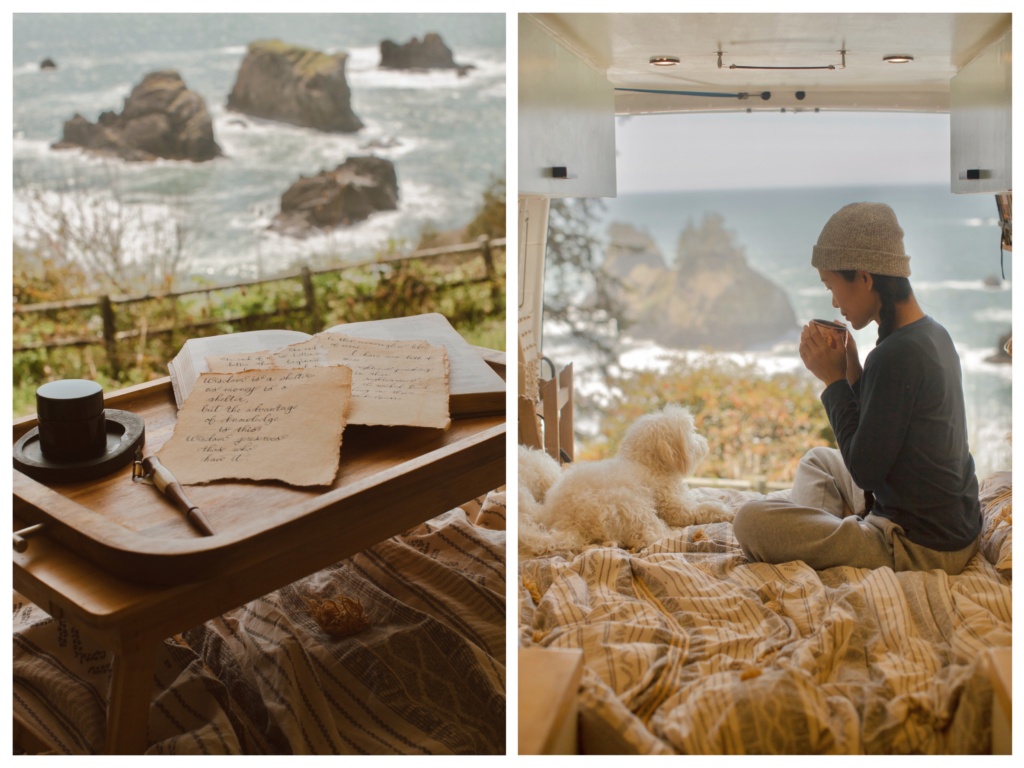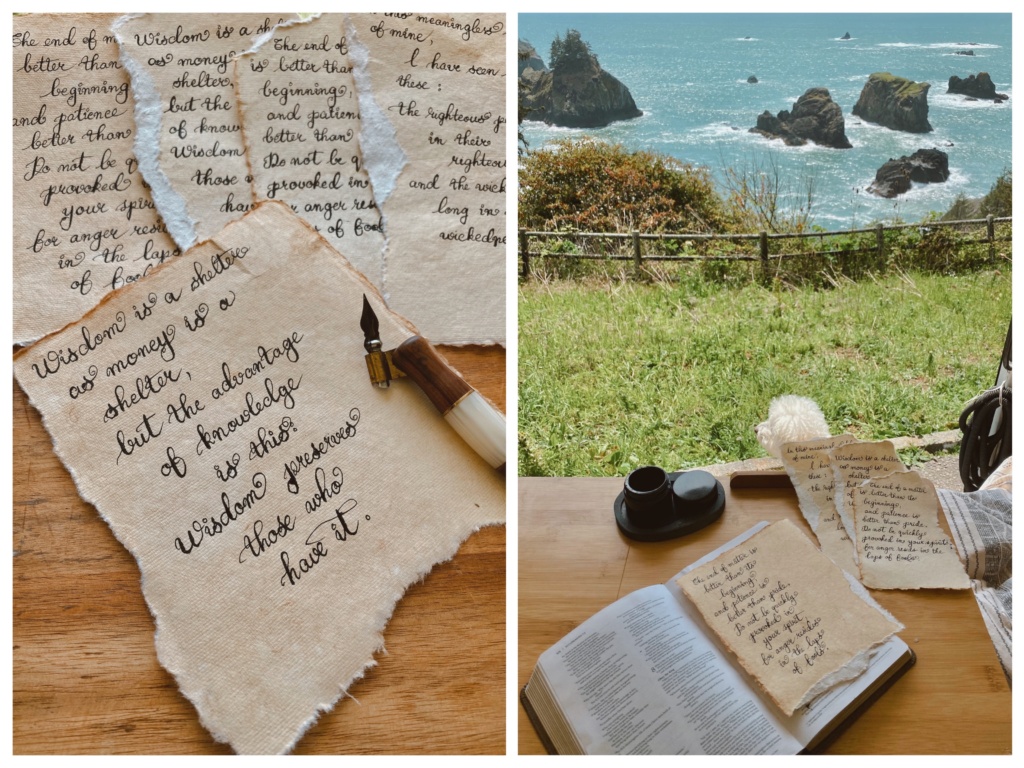 Only 14 mins from Samuel H. Boardman is the lovely coastal town of Brookings. Umpqua ice cream and seafood at the Brookings Harbor are musts when in Brookings.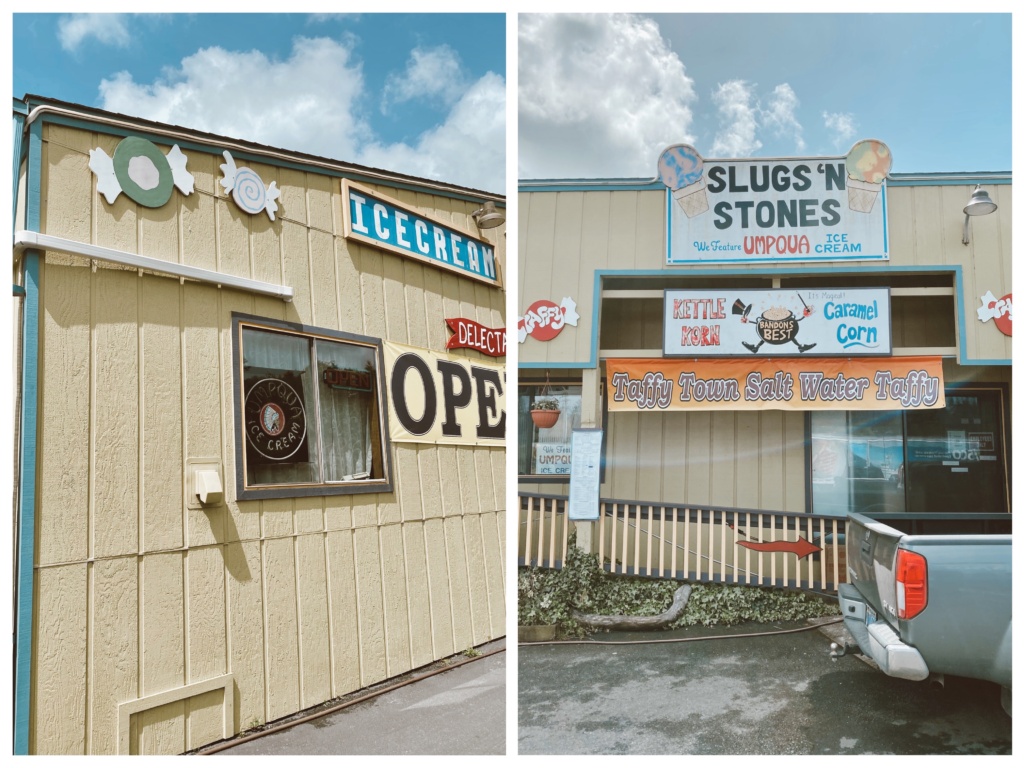 Slugs 'N Stones 'N Ice Cream Cones is the ice cream shop we recommend, selling Umpqua Ice Cream, an ice cream made locally in Oregon!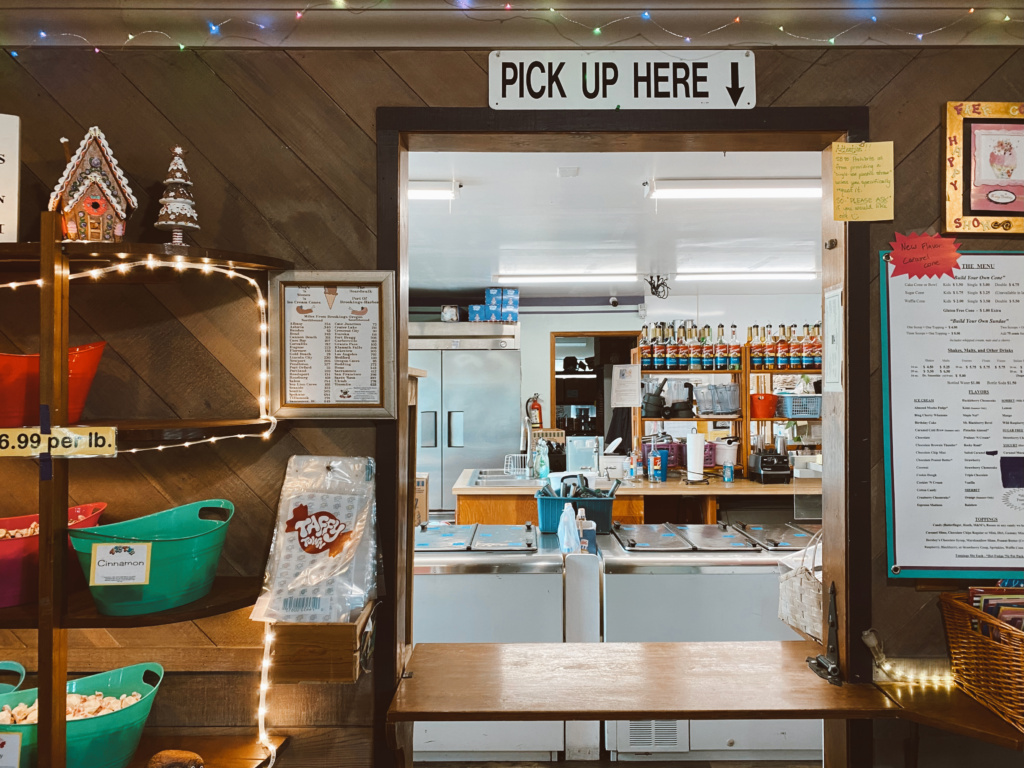 For seafood, head to the Hungry Clam. The Hungry Clam is really cute inside. Lots of windows made it bright and cheery. And the decor had that wonderful, laid back, beachy vibe.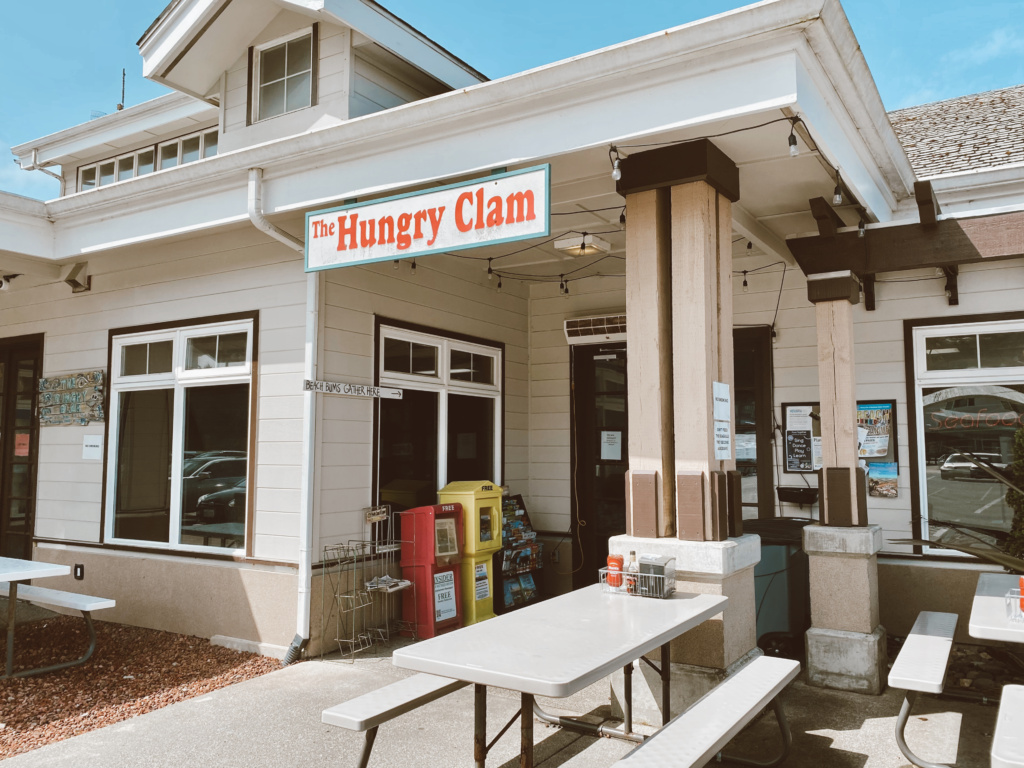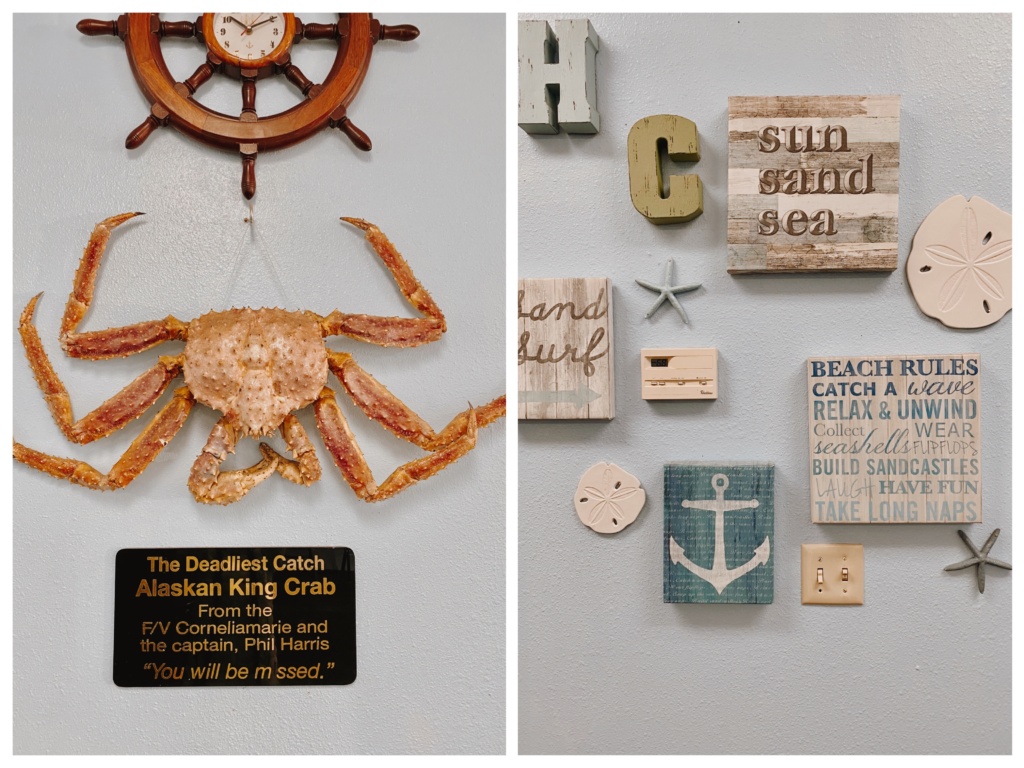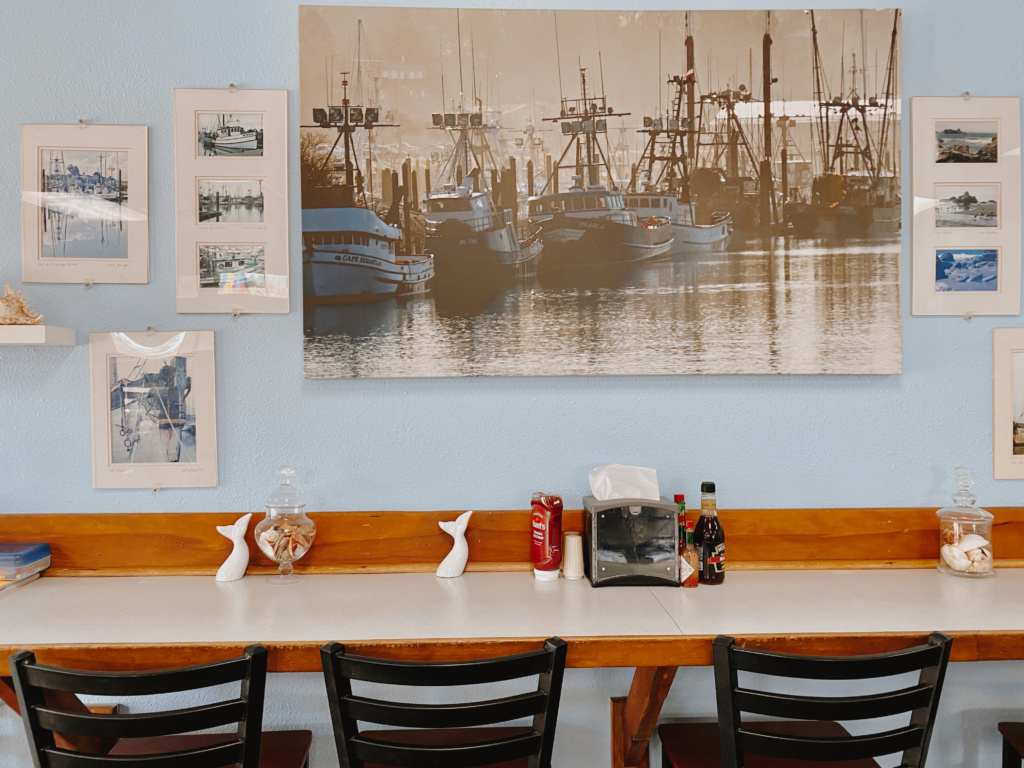 Our fish and chips basket and fish tacos were delivered to the table in cheerful paper lined baskets. The food was piping hot and not greasy at all! The tender fish were very well seasoned and cooked to perfection. The crinkle cut French Fries were nice and crunchy. And the portions were huge! They also have a great clam chowder that's perfect on a cold coastal day!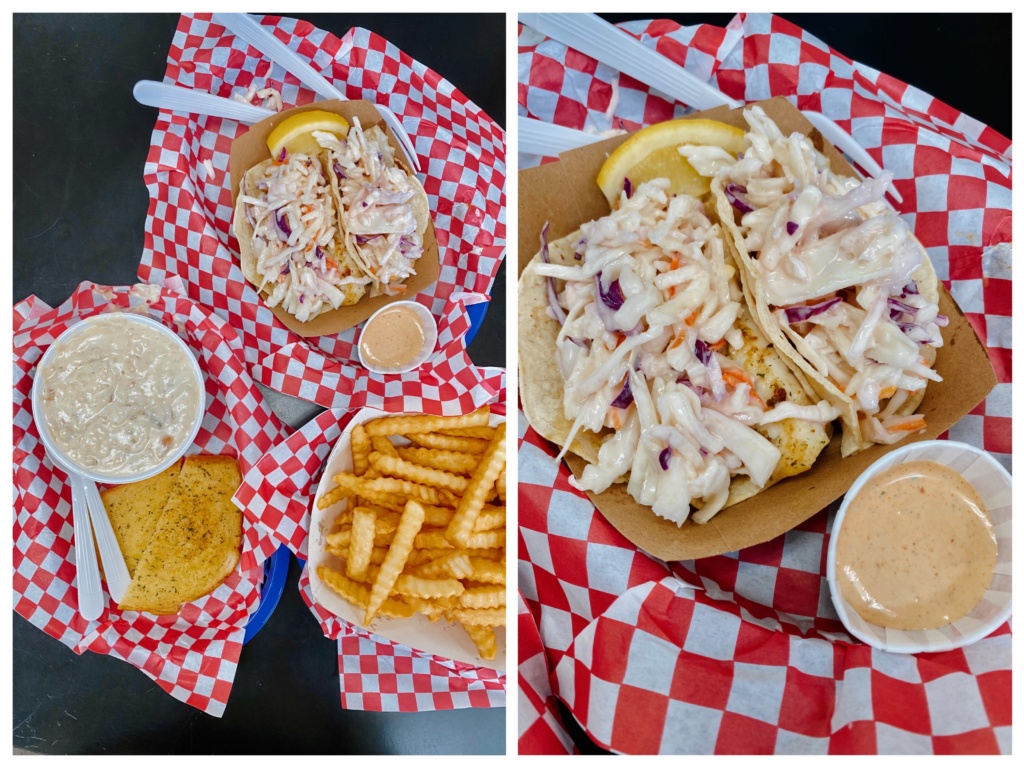 Day 15: Brookings – Redwood National and State Parks (1 hour 18 mins – 58 miles)
Redwood National Park is home to the world's oldest massive redwood groves and the world's tallest tree. Walking amongst these giants (many over 2,000 years old) makes you feel tiny.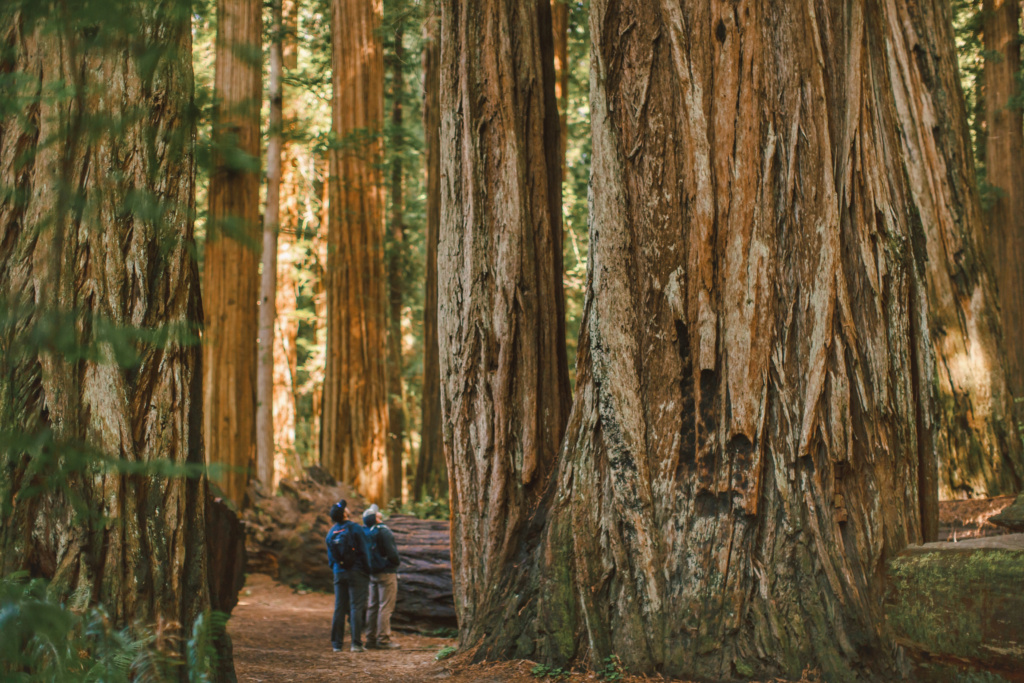 Instead of being just one National Park, it's actually made up of four different parks: the National Park, Jedediah Smith Redwoods State Park, Del Norte Coast Redwoods State Park, and Prairie Creek Redwoods State Park. Together, these parks take up 131,983 acres spread out across Northern California and are managed by both national park and state employees. It's also a UNESCO World Heritage site! We only were able to visit Jedediah Smith State Park.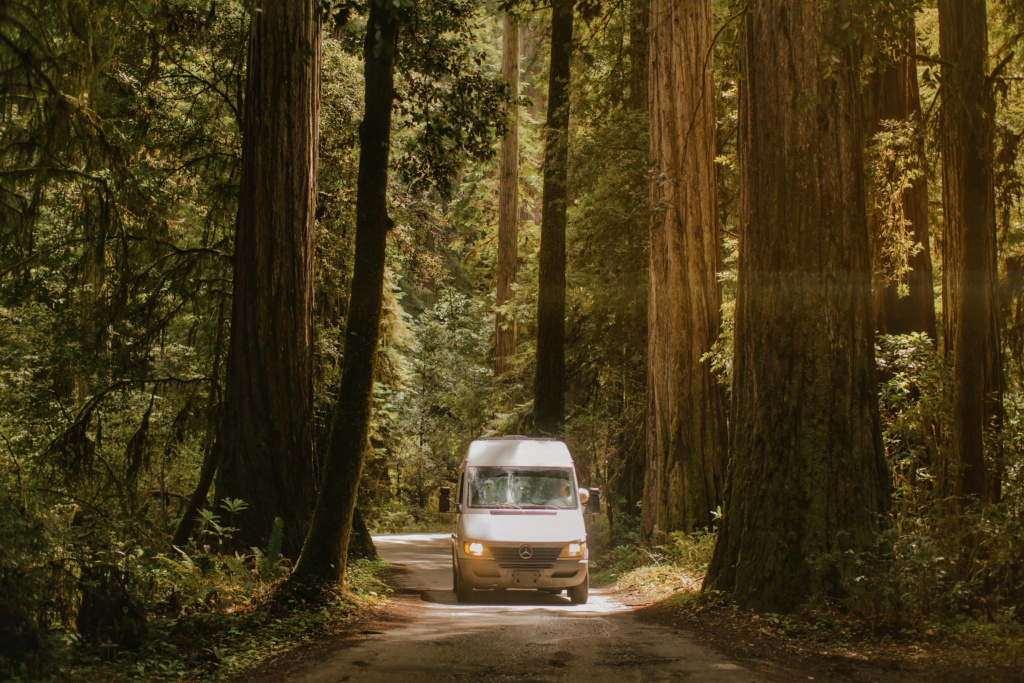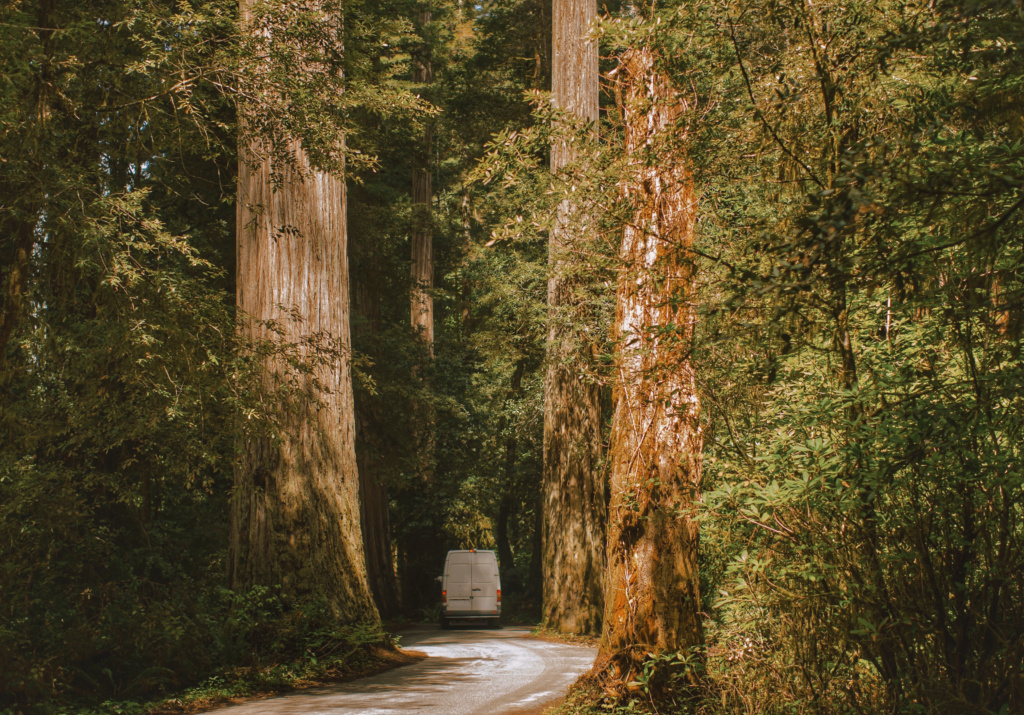 The ancient mosses and ferns from another era are the reason many movies, like Star Wars and Jurassic Park, chose to film here. If you love photography, the scenery within Redwood National Park is unique and beautiful to capture. With landscapes of mist, mountains, and coastlines you'll have epic snapshots.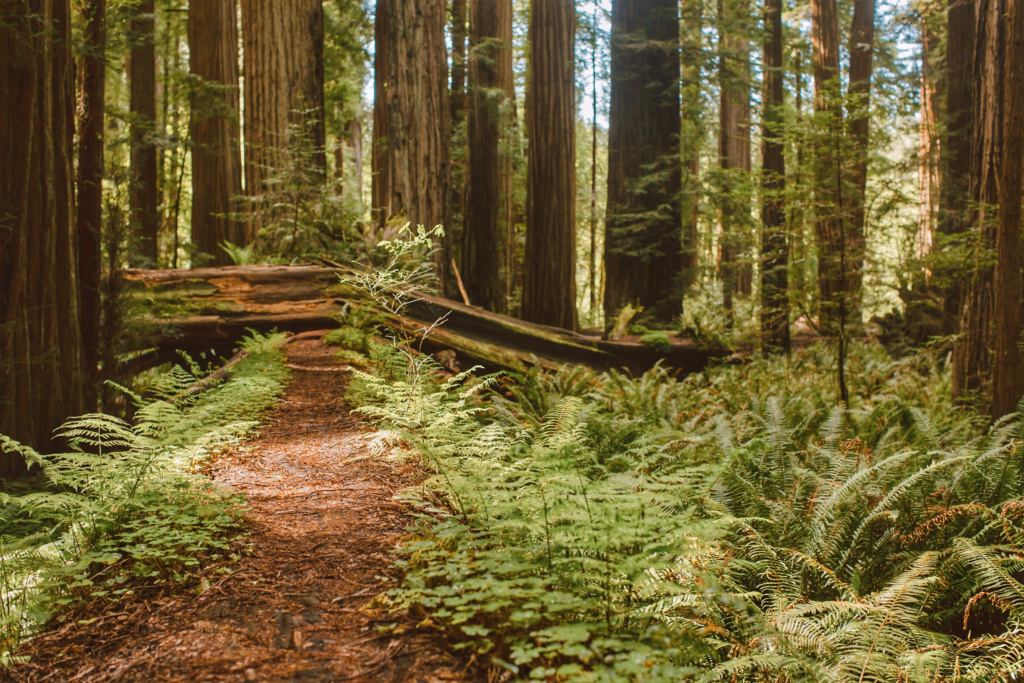 In my opinion, spring is one of the best times to visit Redwood National Park. Visiting in spring guarantees you'll experience the area at its greenest and most lush. A little of rain, fog, and mist bring such a mystical pop of colors to the emerald forest, making the park feel like another planet.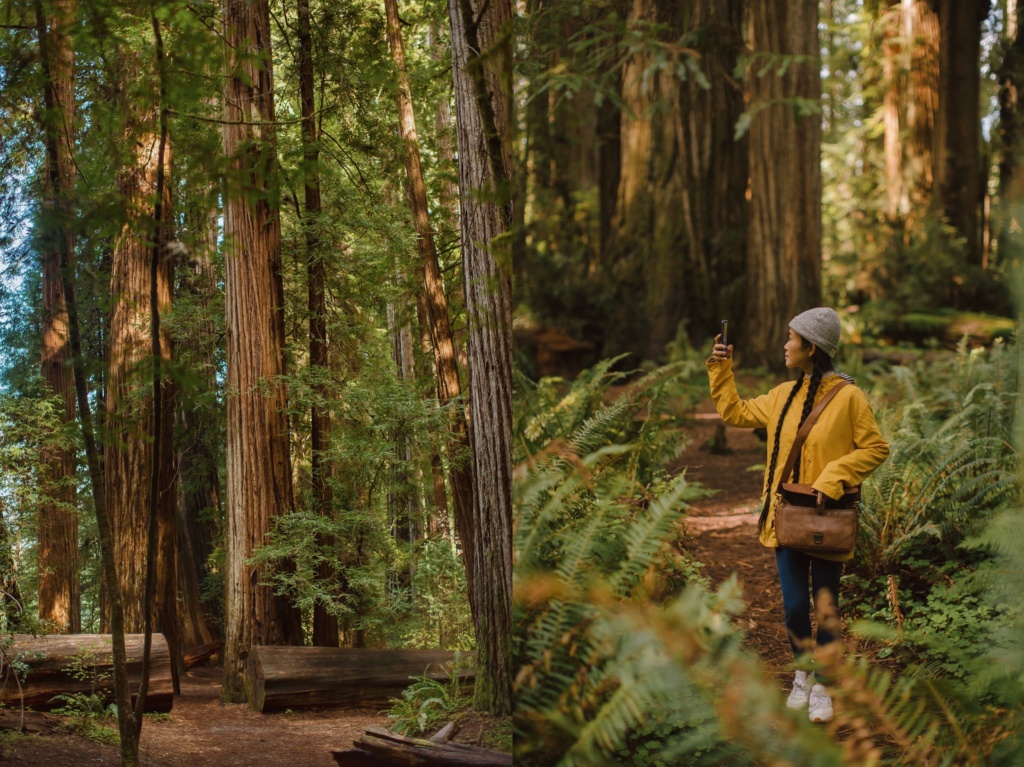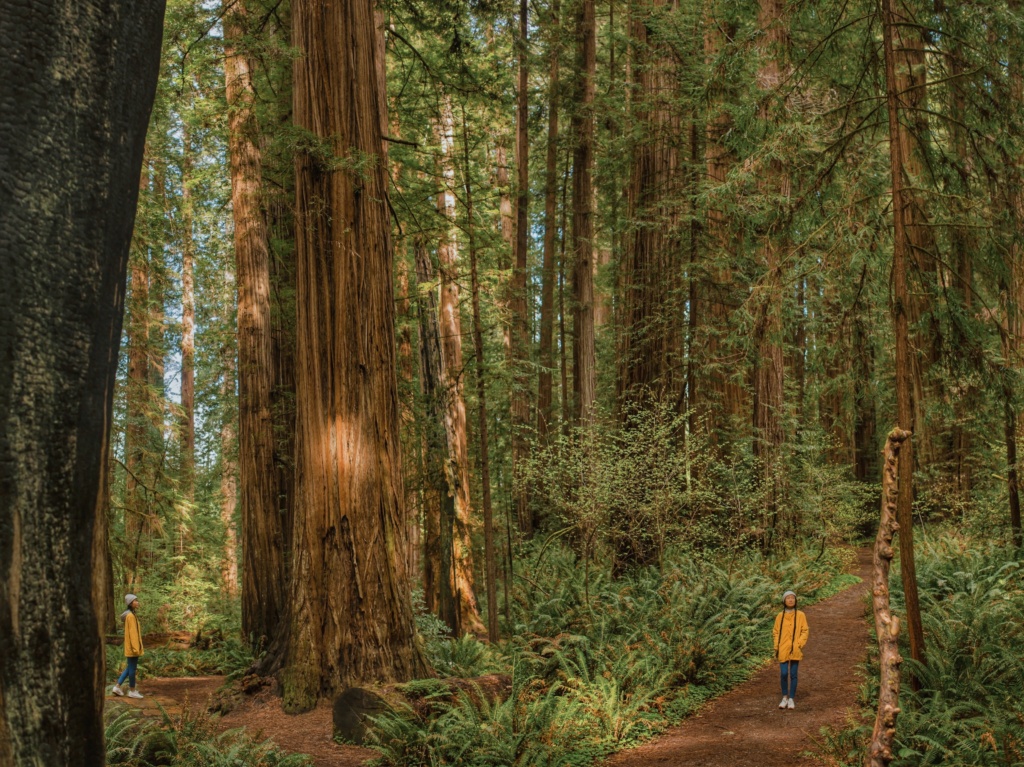 There are over 200 miles of hiking trails in Redwood National & State Parks! I highly recommend the Stout Memorial Grove. It's an easy hike that takes you through a dense and old collection of redwood trees. The giants have shaded out any other trees, so you'll be able to really experience the towering glory of a redwood forest. Stout Grove is a lovely loop that is an easily manageable hike for a morning or afternoon.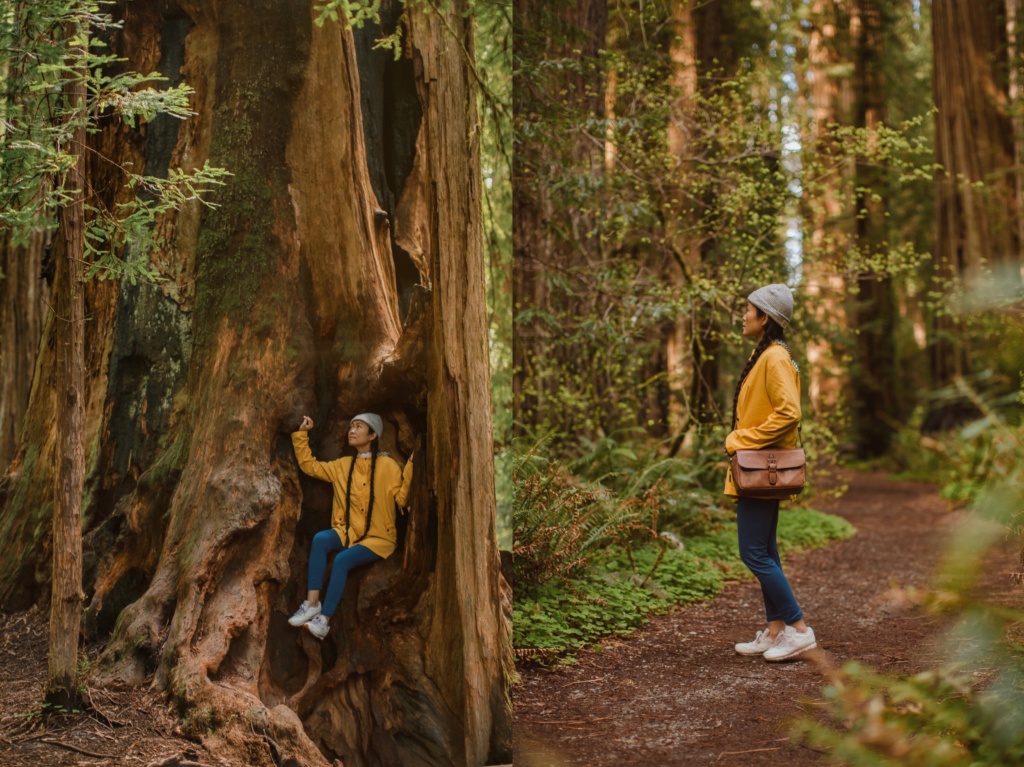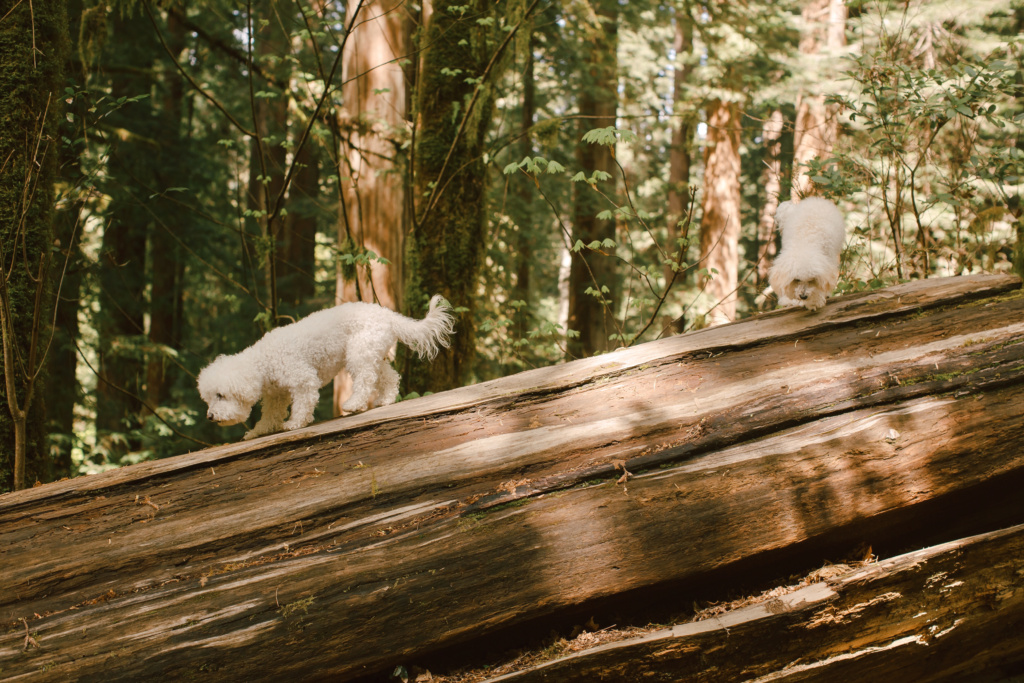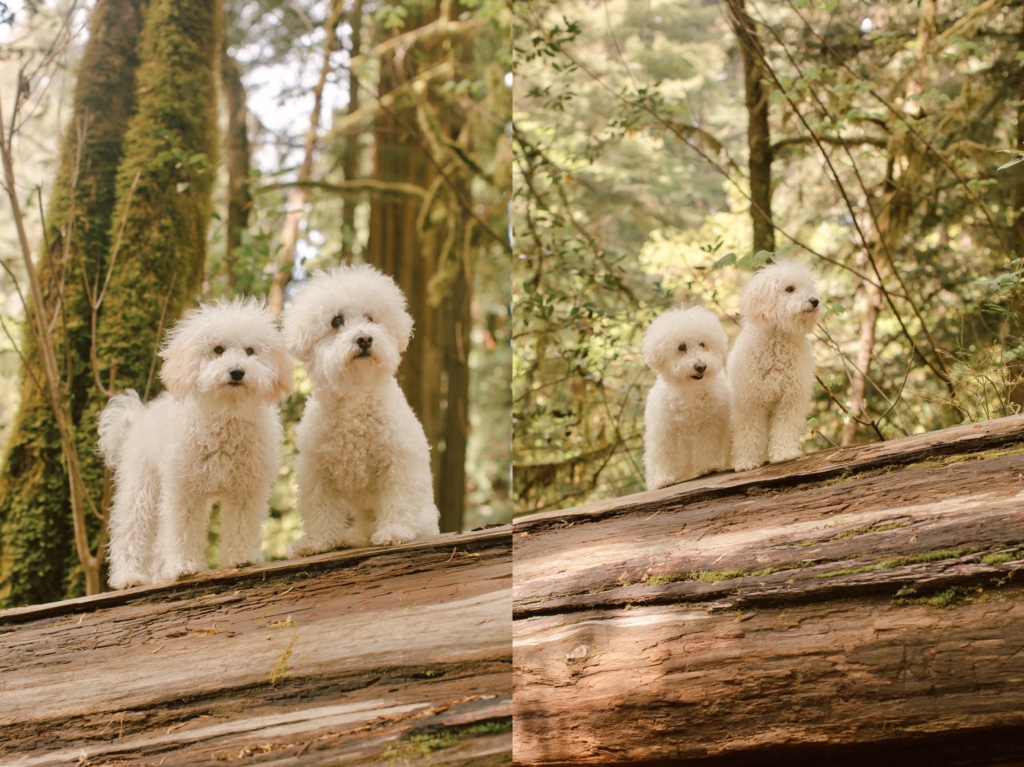 Although Redwood National Park is known for its massive, mysterious redwood trees, redwoods aren't the only thing to see when visiting Redwood National Park. It's also along the coast of California. Venture to the coastline to see the jagged shores and tide pool-filled beaches.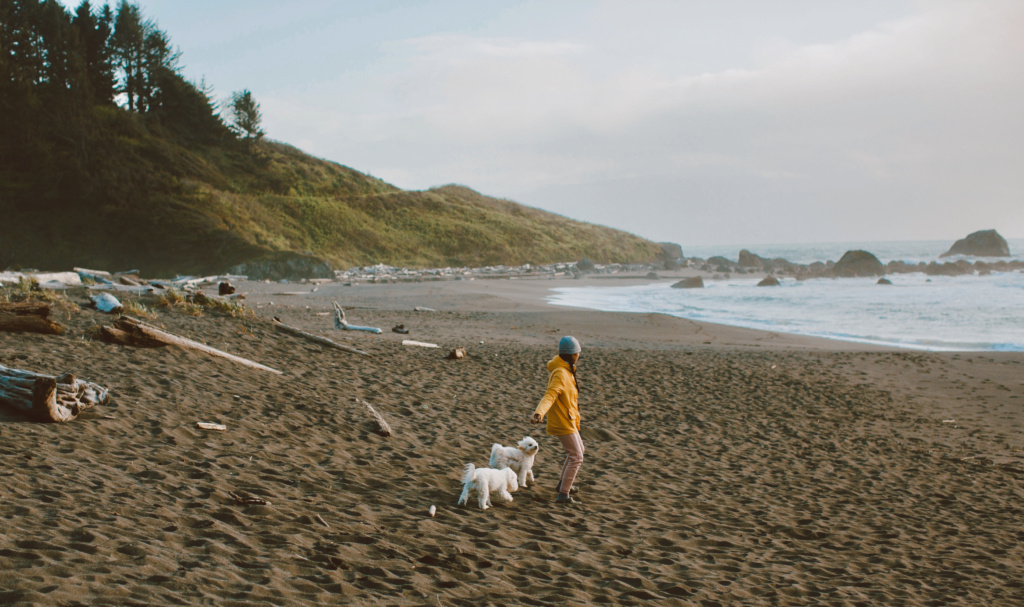 Redwood National Park gives you mystical forests and rugged coastal views all in one trip.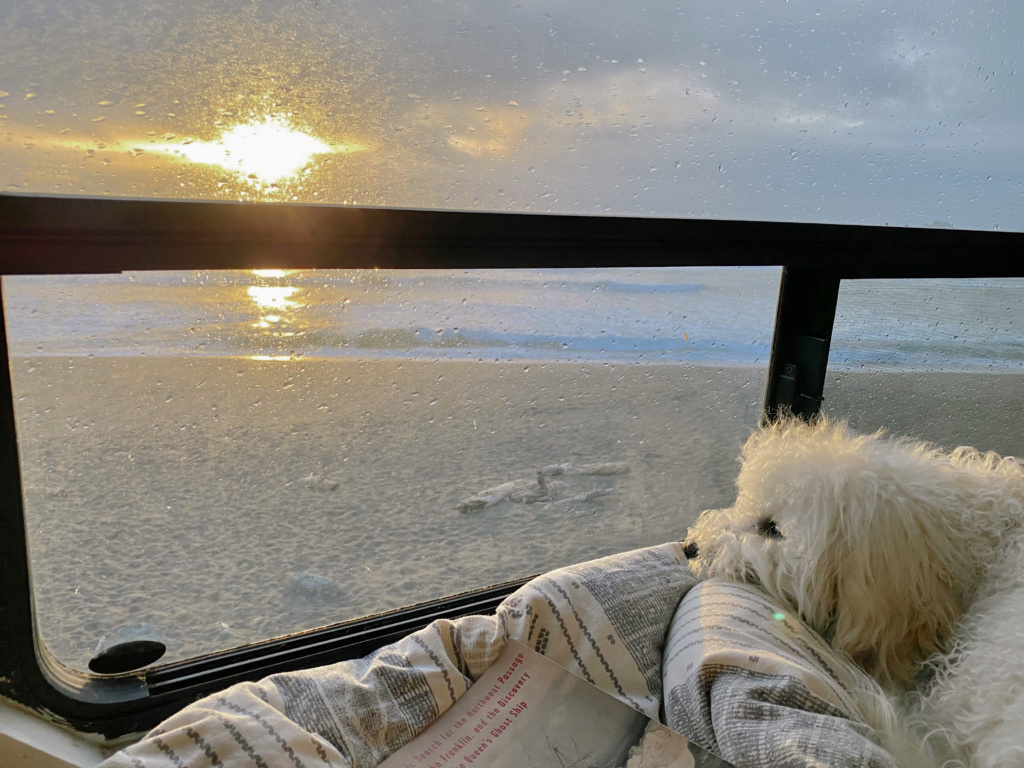 And there you have it – my Ultimate Two Week Norcal/Oregon Roadtrip ! We could do this route any time of year and have a blast, but late spring or September are the best times to go.
Pin any of these photos to save this Norcal/Oregon road trip guide for later!