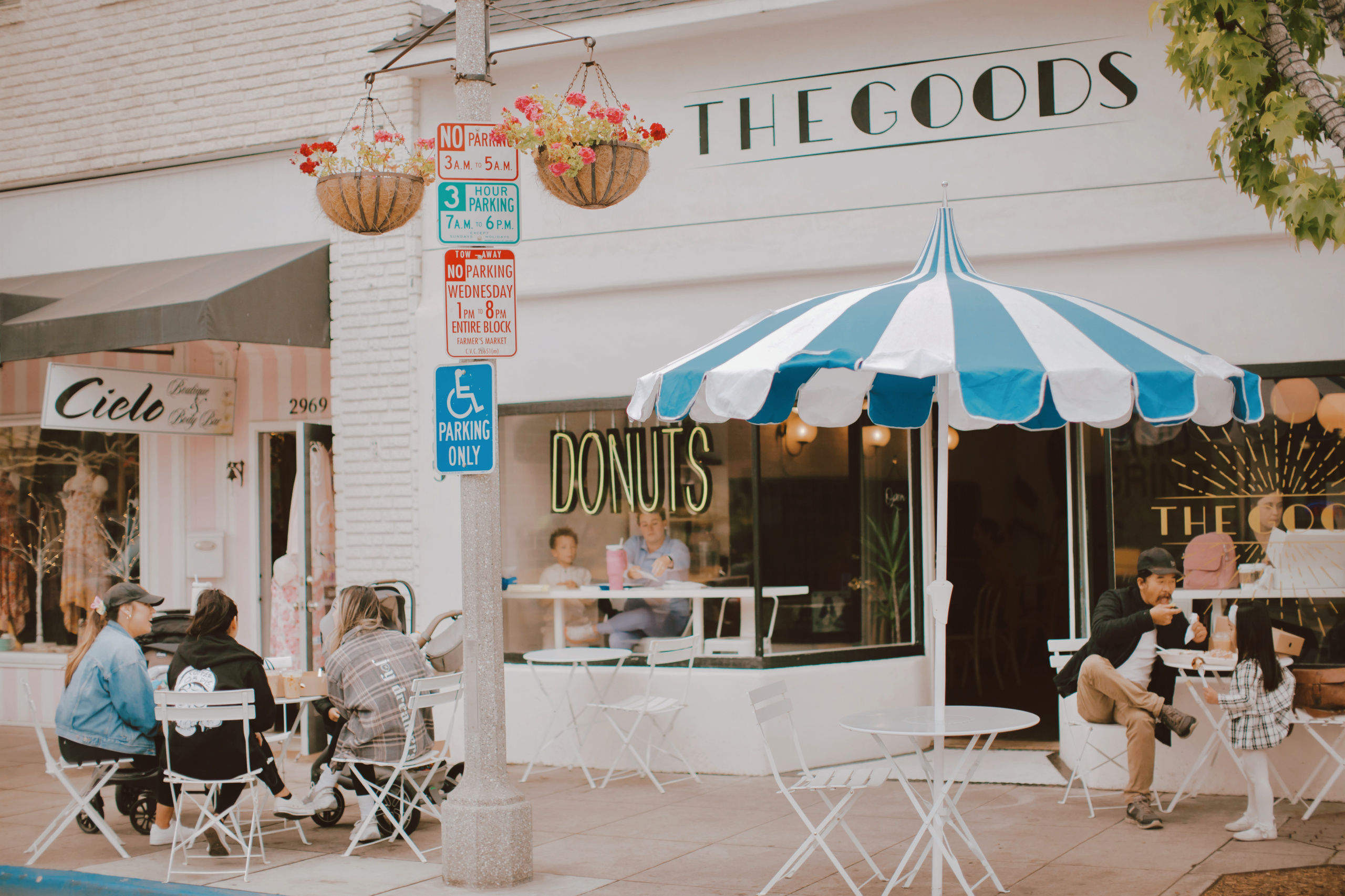 The Ultimate Guide to Carlsbad, California
Carlsbad also known as the Village by the Sea is a charming laid-back beach town that offers visitors long stretches of sandy beaches, year-round temperate weather, picturesque scenery, a thriving foodie scene, and much more. Whether you are looking for a romantic getaway or a trip for the whole family, Carlsbad is an easy Southern California road trip destination. This vibrant coastal city has plenty of family-friendly (pet-friendly) activities and attractions that will make your vacation worth remembering.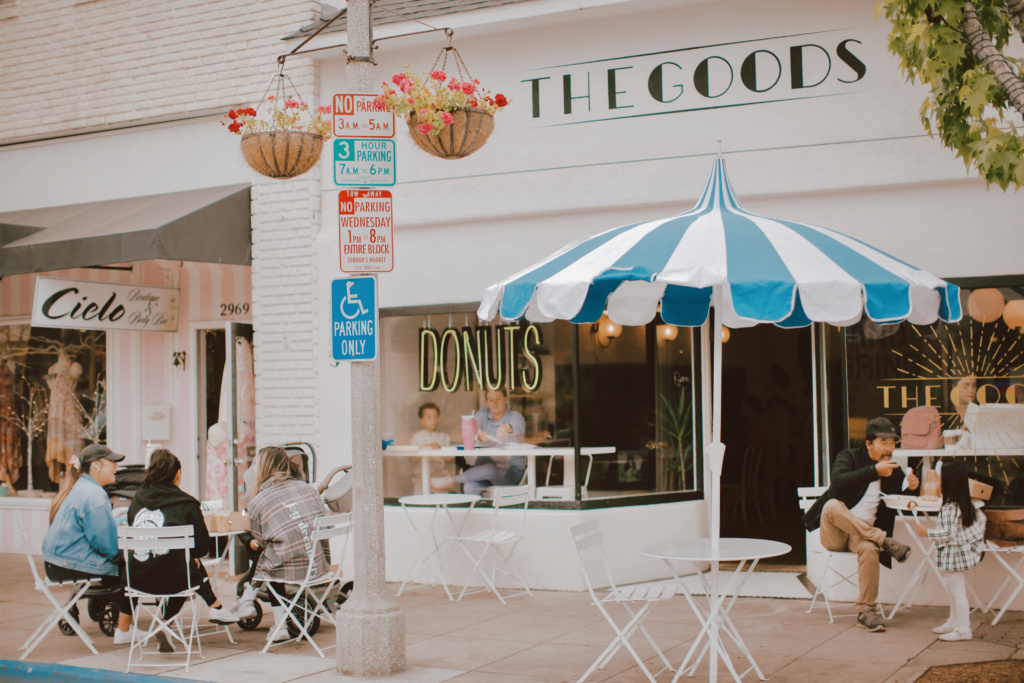 When it comes to finding something to do in Carlsbad, the options seem endless. So we are here to guide you to the best places to maximize your vacation in this lovely town!
Where to Stay
Cape Rey Carlsbad Beach, a Hilton Resort & Spa
The laid-back town offers several luxurious and family-friendly places to stay. If you need a beachfront and pet friendly hotel, take a look at Cape Rey Carlsbad Beach, a Hilton Resort & Spa, which is an official LEGOLAND California partner hotel with a concierge on-site to help you make the most of your theme park vacation and time on the beach. It's across Carlsbad Boulevard from Carlsbad State Beach and just minutes away from Legoland and many outdoor activities throughout beautiful Carlsbad.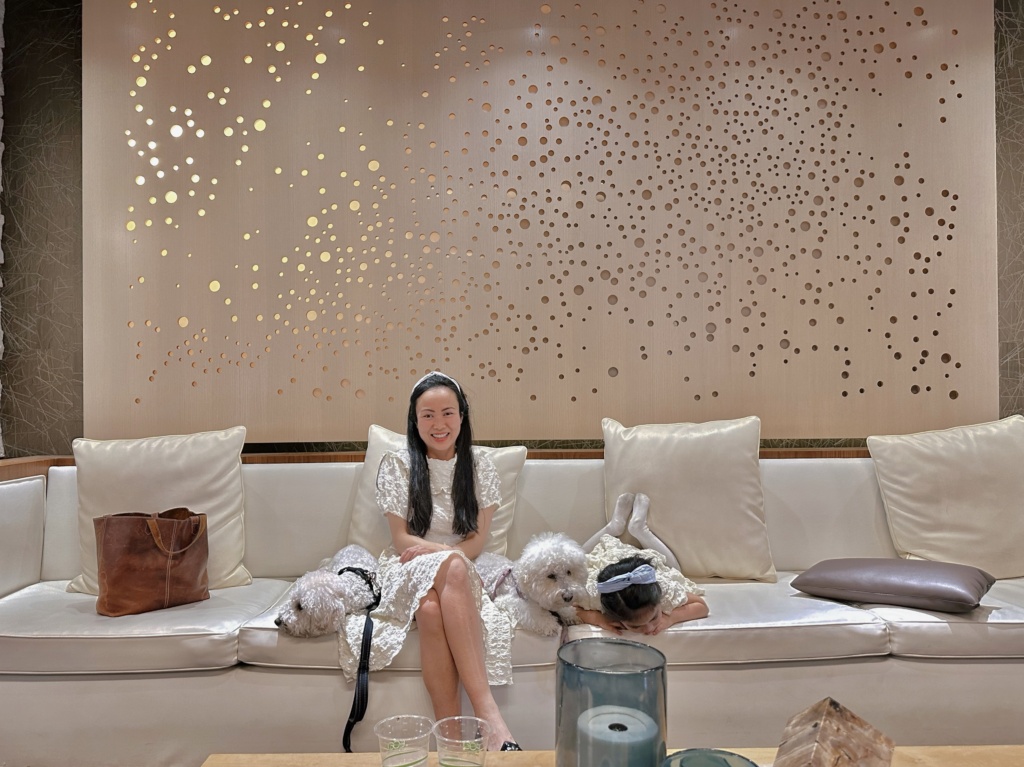 We stayed in a double queen room with a balcony overlooking Coast Highway and Carlsbad beach. This room was large enough for my family, including a 3-year-old toddler and 2 poodles.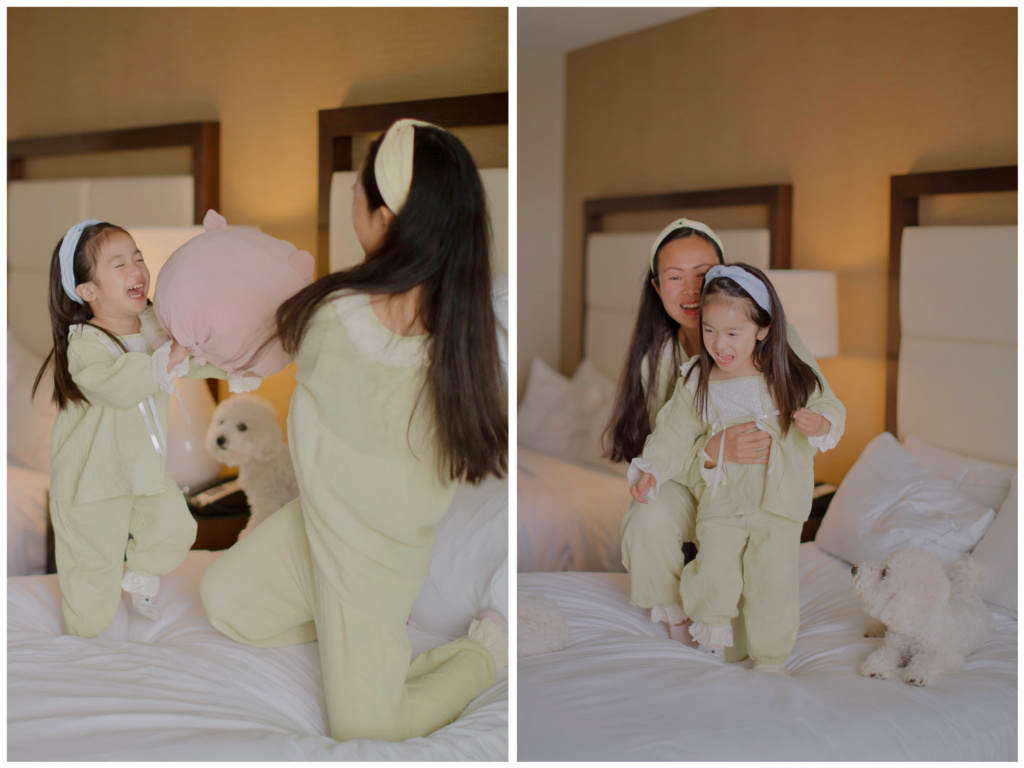 The room provides Hilton Serenity beds with luxe linens, and a balcony sliding door with two chairs and a small table. We loved leaving the sliding door open all day to enjoy the amazing view of the pool and towering palm trees and at night time to hear the waves crash on Ponto Beach.
Once we explored the exterior property we were delighted to find Cape Rey offer many family amenities. Our niece was delighted to find the pool positioned in the center of the resort. Overlooking the Pacific Ocean, the expansive heated pool area offers a beach sloping entrance, kid's splash pool and hot whirlpool. There are plenty of lounge chairs and a few cabanas for sun and shade.
Cassara Carlsbad, Tapestry Collection by Hilton
From the moment you walk into the lobby, you will feel like you are vacationing in a luxurious seaside European town. Since the Cassara Carlsbad is located in the heart of the Carlsbad Flower Fields, they incorporate the ranunculus flowers' shape into their architecture, interior decor, and color theme; thus creating Mediterranean vibes that originated in century old Spanish, Portuguese, and Italian architecture.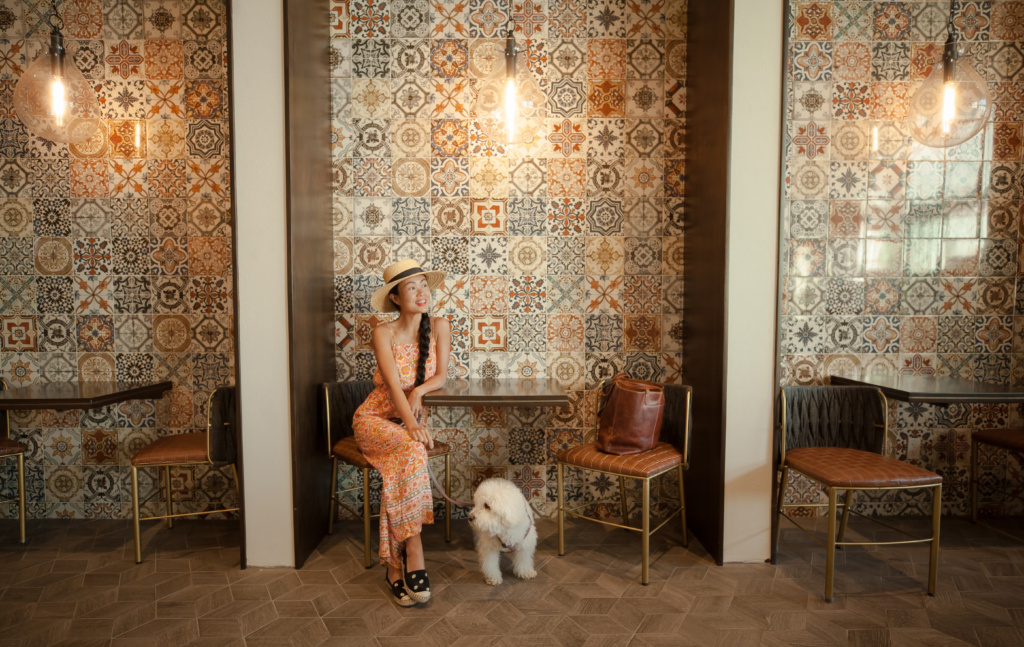 Our suite is carefully decorated with organic colors, natural sand, and ocean hues that reflect the beach-front, laid-back lifestyle that Carlsbad is known for. We felt like we were vacationing in a luxurious seaside European town, with the comforts and charm of Southern California in every detail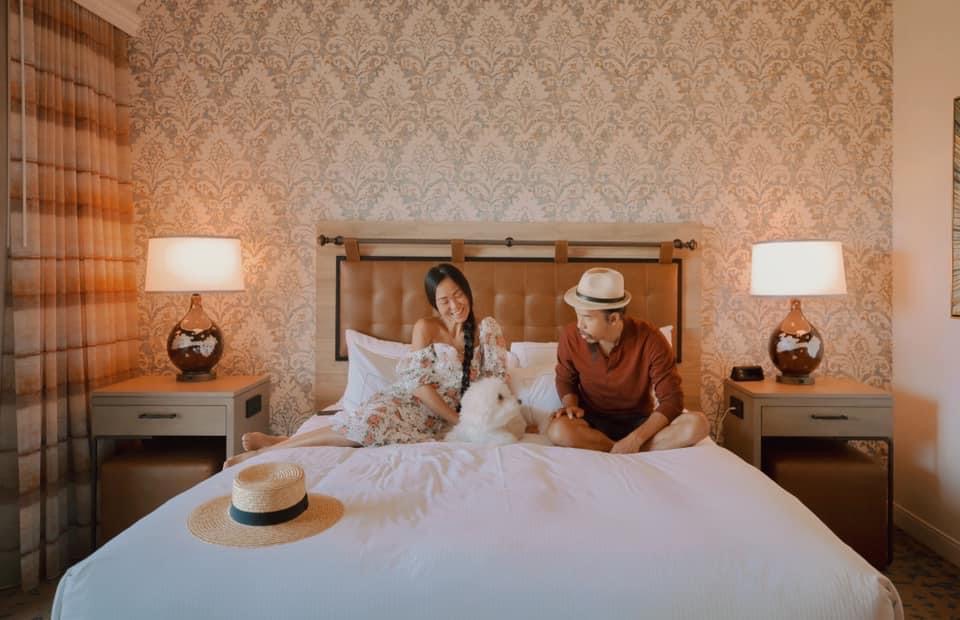 Spacious suites are designed with one bedroom offering twin beds, and another room with a king size bed. In between these two rooms is a relaxing sitting area with a sofa and flat screen television.
On-property amenities include access to two pools, a quiet pool and a family pool complete with a splash pad, BBQ grills and fire pits, and locally sourced libations and small bites available at The Cassara Kitchen and Bar (open Friday – Sunday).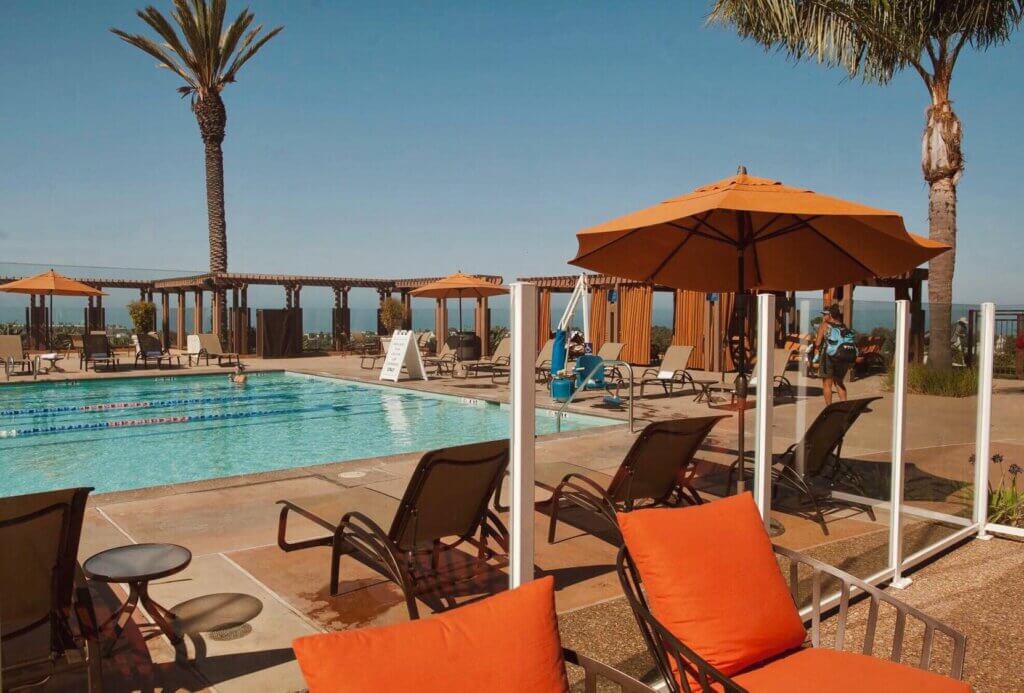 The Westin Carlsbad Resort and Spa
This family-friendly/dog-friendly property offers a private entrance to Legoland California. The resort is located near the best things to do in Carlsbad including The Crossings Carlsbad golf course, The Carlsbad Premium Outlets, The Carlsbad Flower Fields, Carlsbad State Beach, and downtown San Diego. It's wonderful to explore Carlsbad from the comfort of this luxurious hotel.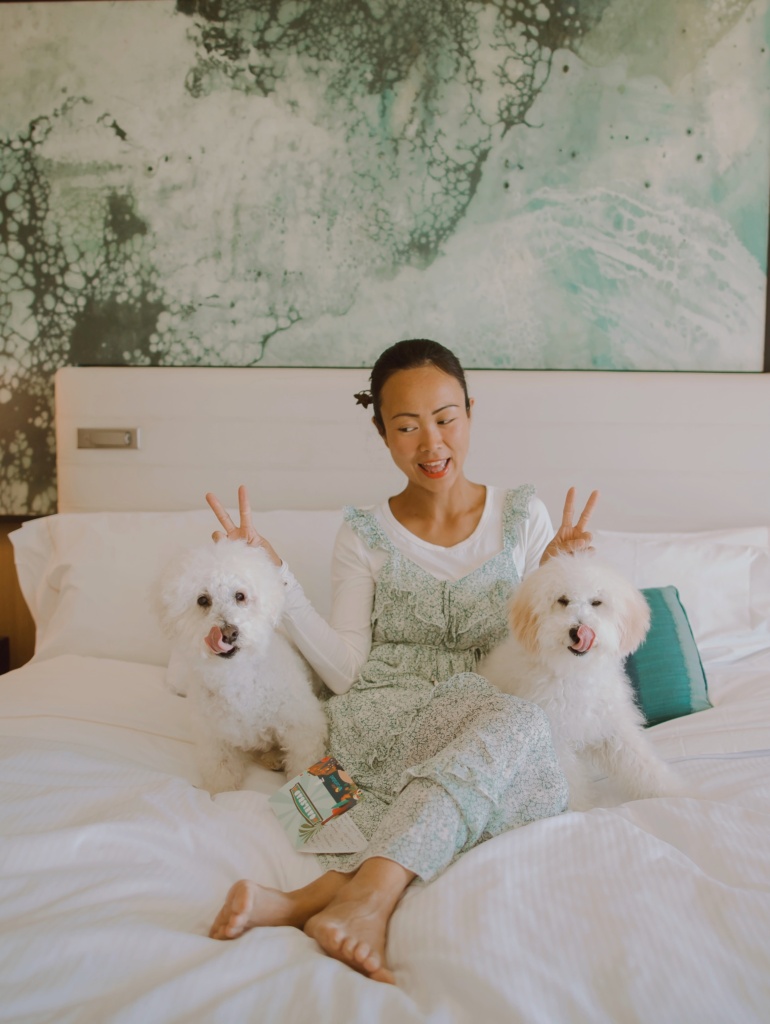 Perched above Legoland with views of the Pacific Ocean beyond, this luxury Mediterranean-inspired resort offers a tropical feel with mature palm trees around heated swimming pools and lush gardens.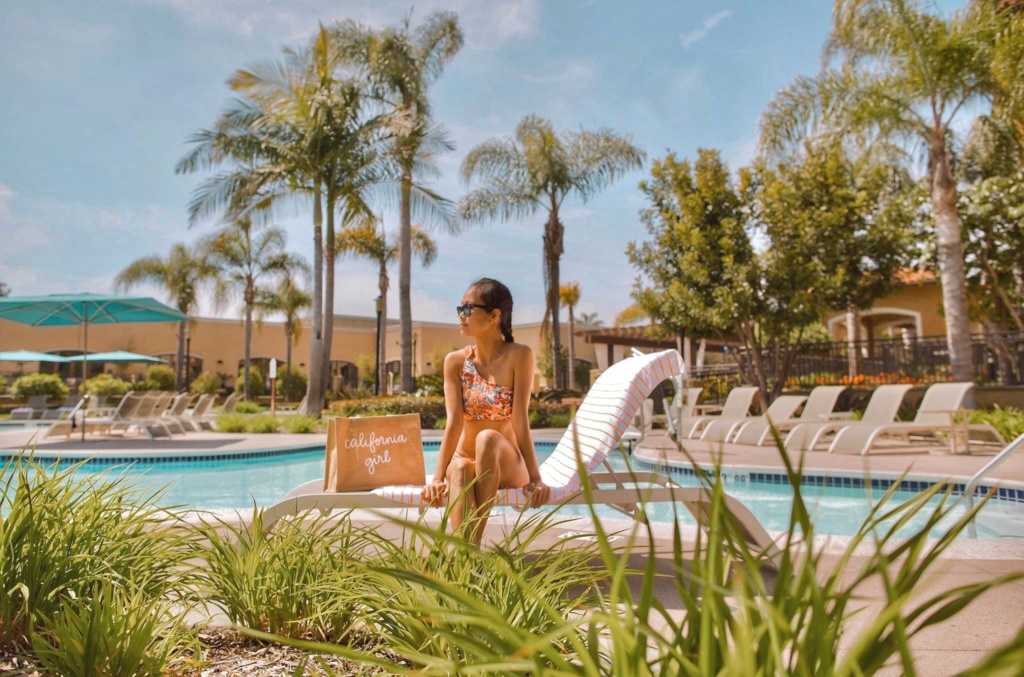 Our room is on the 4th floor of their newest building – the Grand View, offering a spectacular view of the pool and the ocean.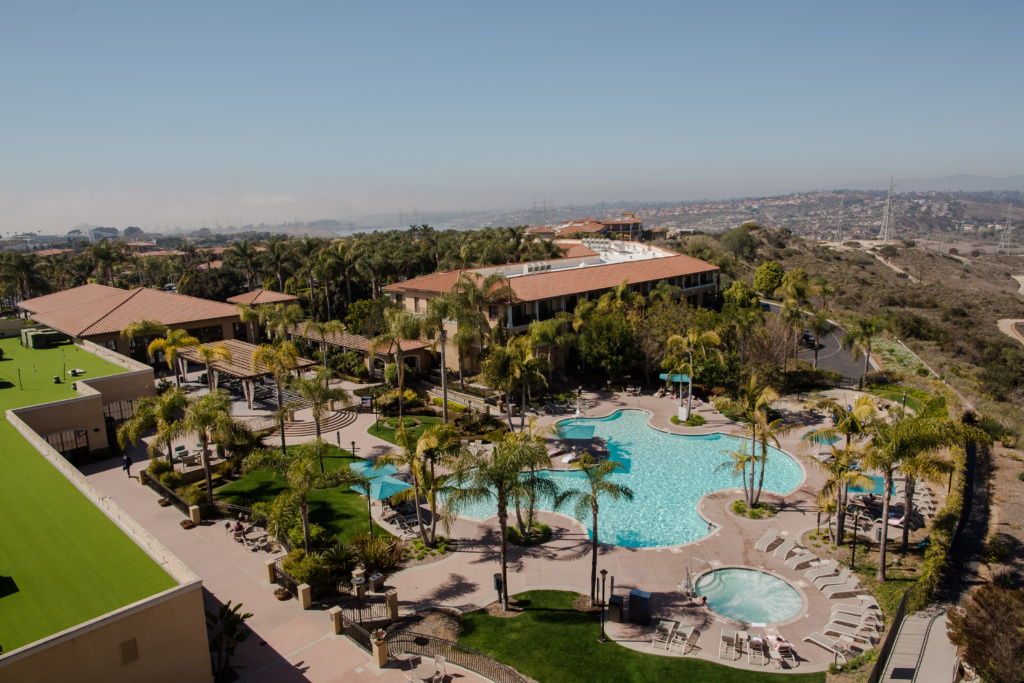 The Westin Carlsbad Resort & Spa offers a personalized hotel experience. We well rested and slept in the pure comfort of the Westin Heavenly® Bed, perfectly made with plush linens. At the Westin Carlsbad we really were slowing down, truly unplugging, and relaxing in a modern Mediterranean setting.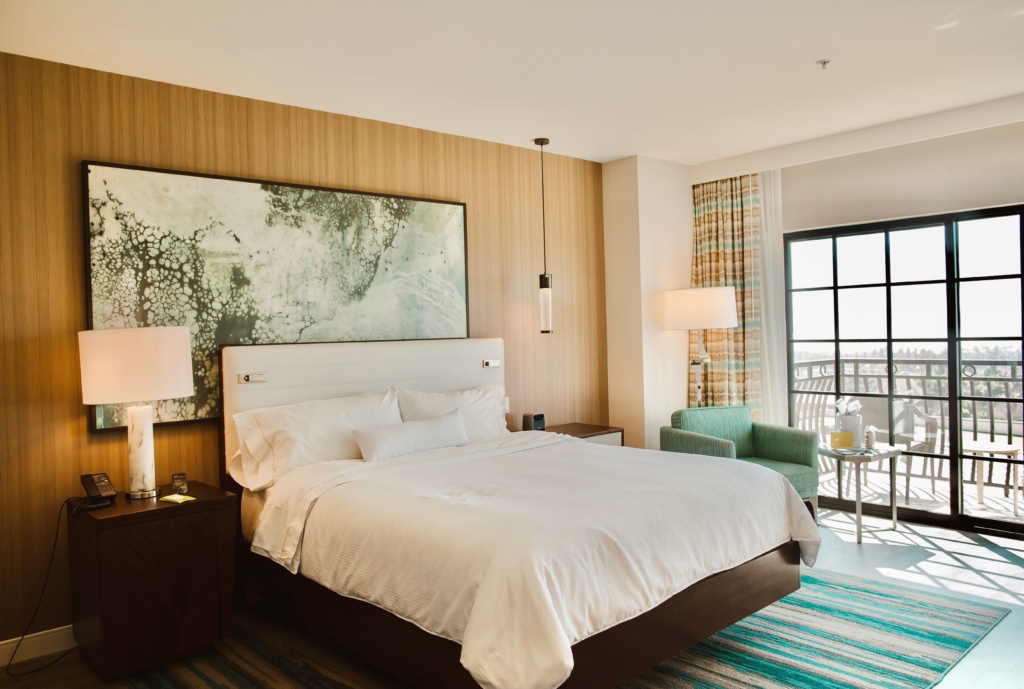 Where to Eat
Chandler's Oceanfront Dining
Chandler's Oceanfront Dining provides an innovative menu of California coastal cuisine handcrafted with a fresh and flavorful approach. You'll dine on tasty dishes made with only locally sourced, upgraded ingredients.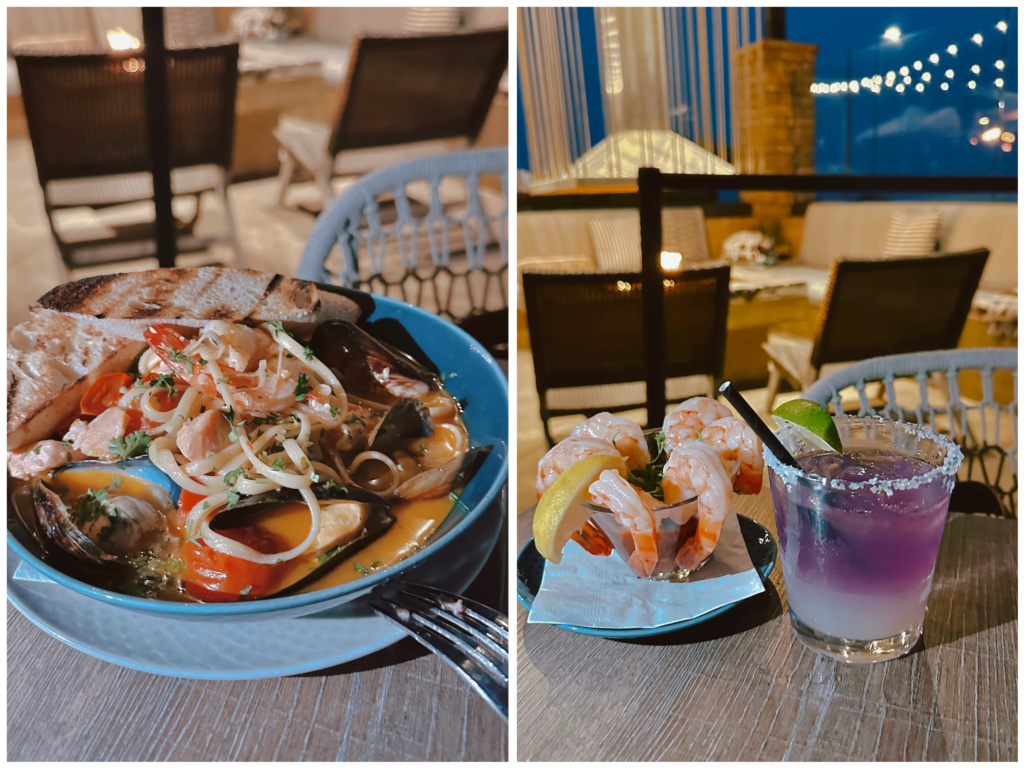 We had the opportunity to have dinner at Chandler's. We were happy to find our family favorites, as well as an artisanal menu. Our favorites were the Sourdough Boule, Shrimp Cocktail, Seafood Scampi Linguini, and Filet Mignon.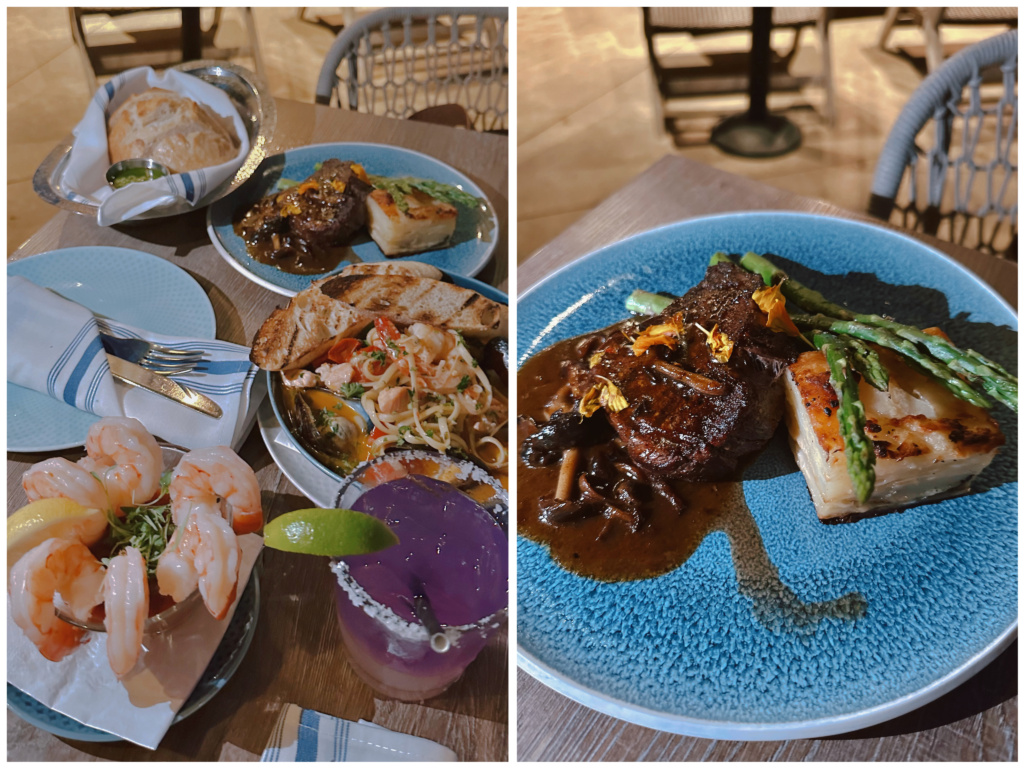 Chandler's also provide an extensive breakfast buffet with an à la carte menu, a weekend brunch menu, a tempting dessert menu, and a wide variety of specialty cocktails, gourmet wines, and select beers.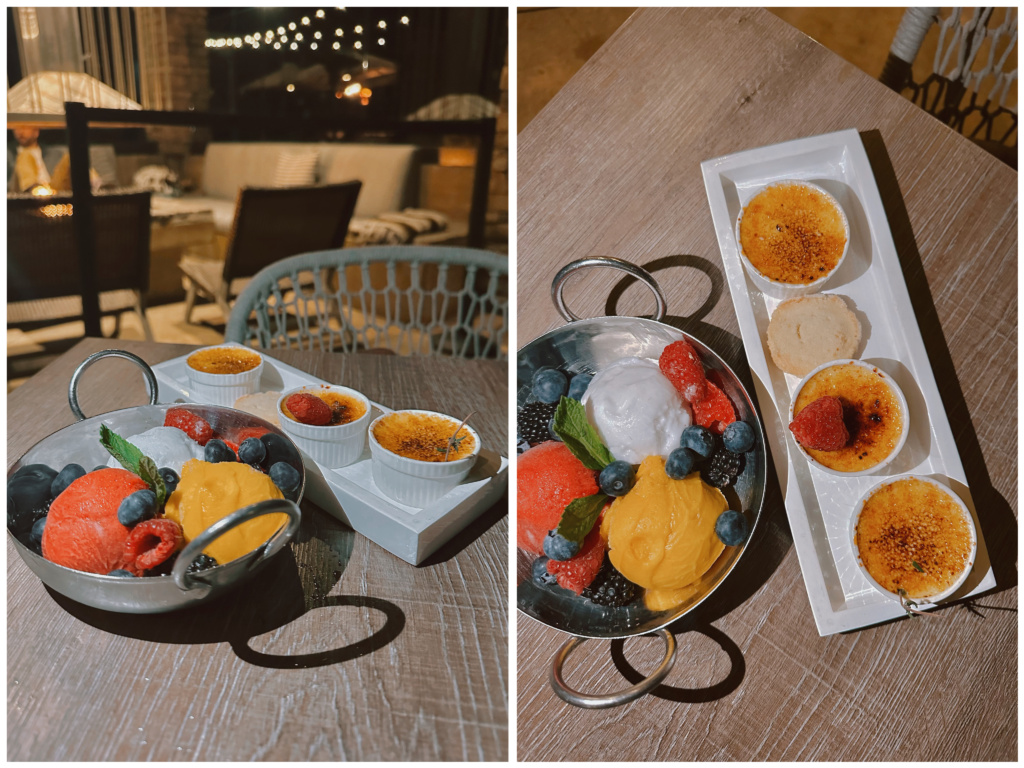 Moreover, the restaurant also provides a chef crafted gourmet Puppy Chow Menu. Pepper and Chloe loved the Bacon Infused Water and the Chonk Monster – braised beef bourguignon with carrot and roasted sweet potatoes.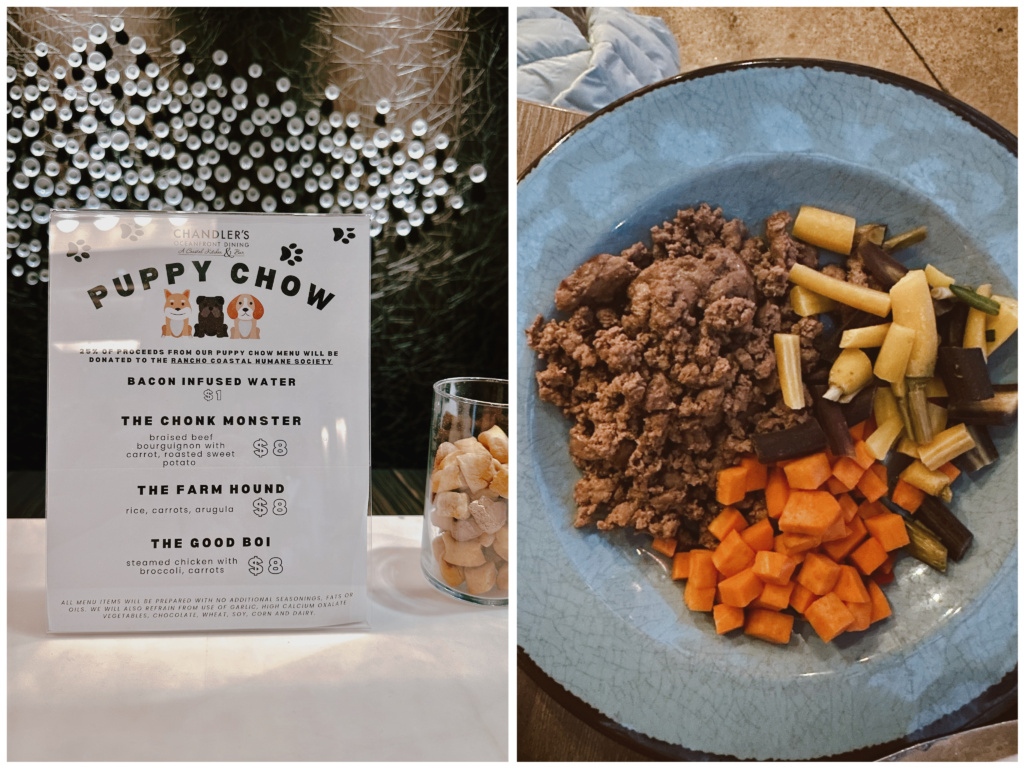 20|Twenty Restaurant
20|Twenty offers cuisine with locally sourced seasonal ingredients from farms around Southern California. We really enjoyed their decadent thoughtful farm-to-table coastal cuisine complete with seascape views.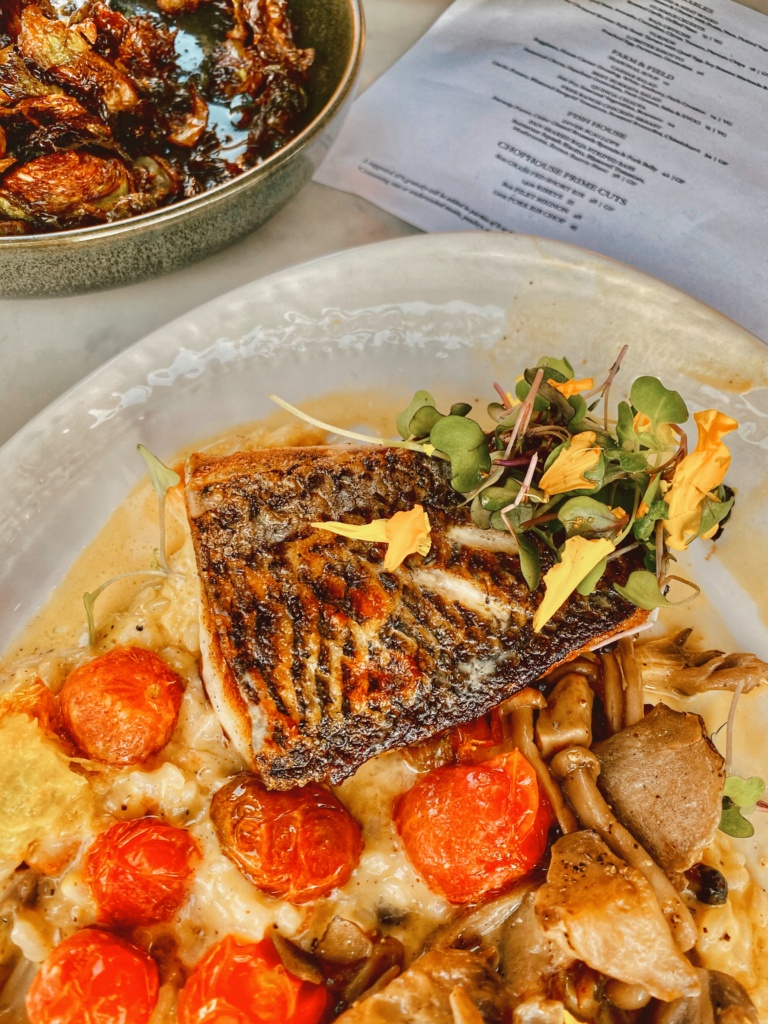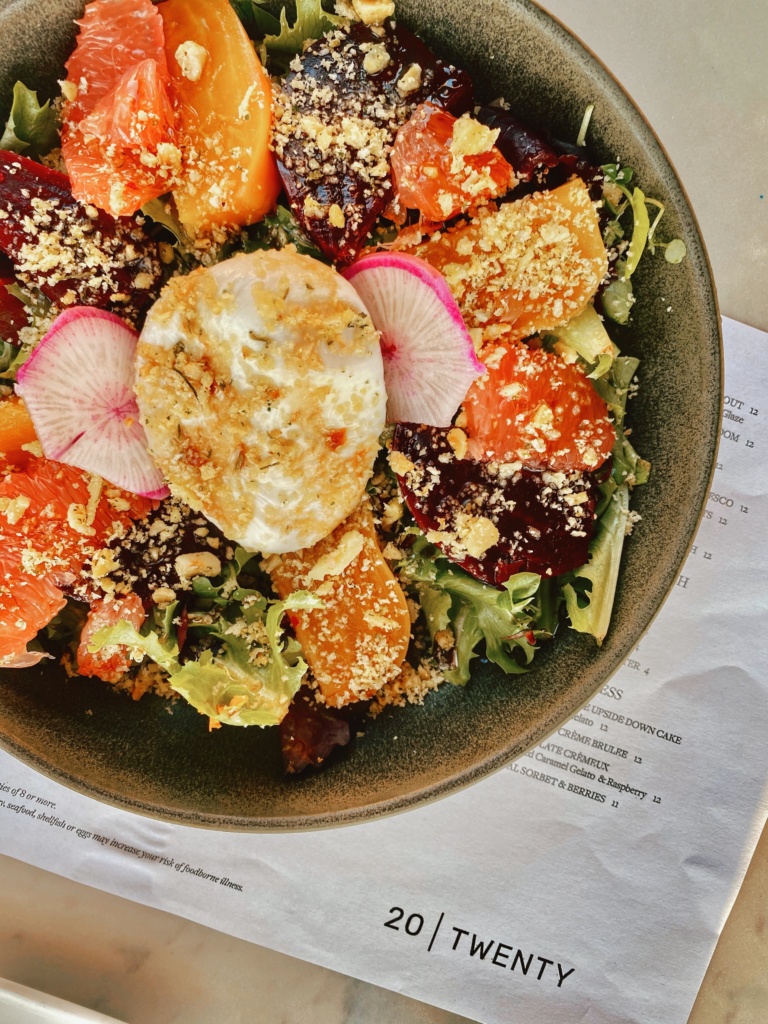 Harumama Noodles & Buns
The character buns were the main reason we went to Harumama Noodles & Buns and I must say, we weren't disappointed. Harumama offers playful takes on Asian steamed buns featuring cartoon-like pandas, koalas, Hello Kitty and Japanese animated characters (Totoro) in a variety of flavors including sweet potatoes, shiitake mushroom, chicken, and more Asian treats. We went for the Instagram-worthy character steamed buns, but fell in love with its absolutely delicious food and sweet atmosphere.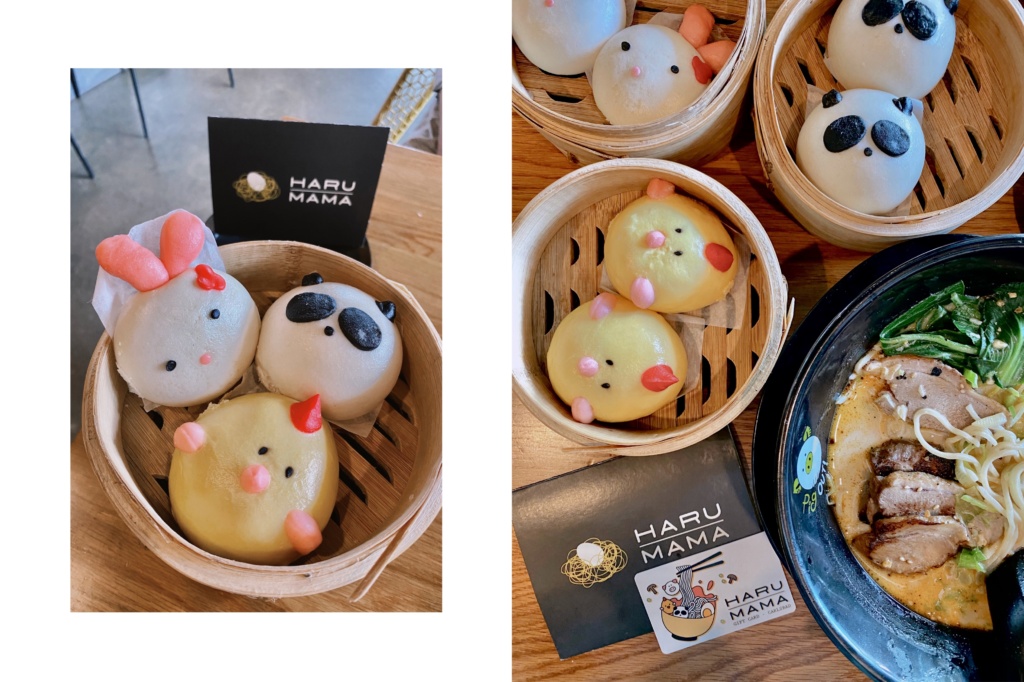 Along with buns, they also serve contemporary twists on traditional ramens, poke bowls, udons, noodles, baos and on offer are vegetarian, vegan, dairy free and gluten free options. We loved their Duck Fat Ramen (duck chashu topped with bok choy, fried garlic, miso) and Bulgogi Beef Udon (beef broth, bulgogi beef, caramelized onion, green onion)!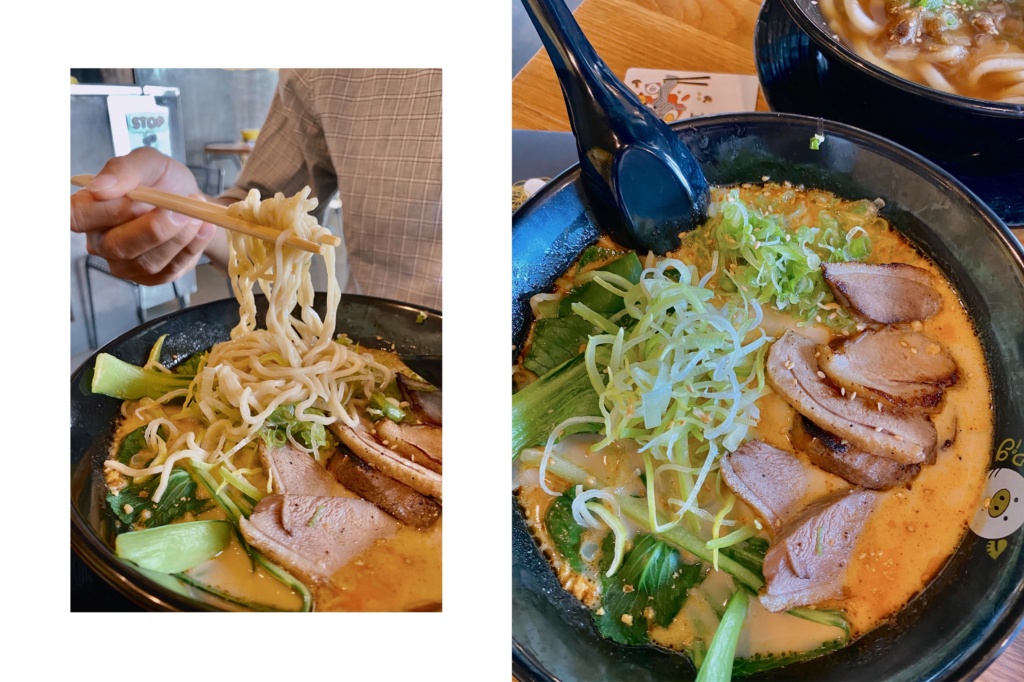 Just like the name suggested ( 'Haru' means 'a day,' and 'Mama' means 'mom,' so it actually translates to 'Mom's daily food') the restaurant strives to use the freshest, high quality and local ingredients to make their dishes just like how a mom cooks daily for her children! An amazing spot to stop by for lunch when you visit Carlsbad.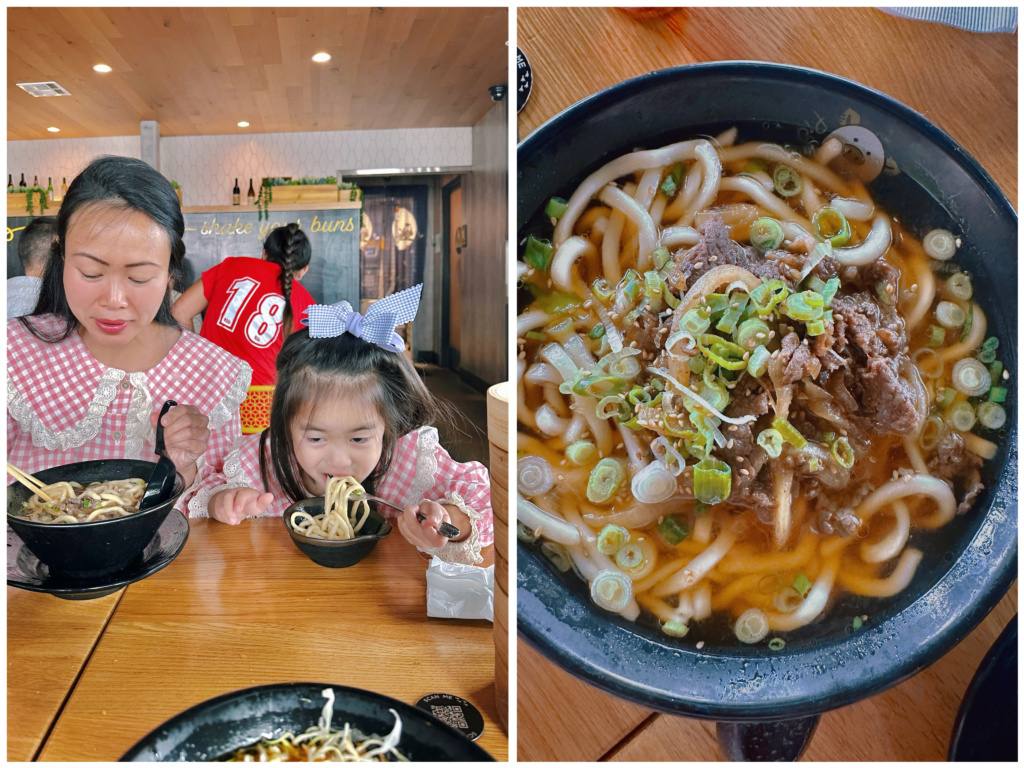 The Goods Donuts
Located in Carlsbad Village, The Goods is a purveyor of artisan doughnuts crafted with the finest locally sourced ingredients. Known for their vegan and gluten free friendly donuts, the Goods offers a place for customers of all kinds to enjoy their pastries that are served fresh every hour.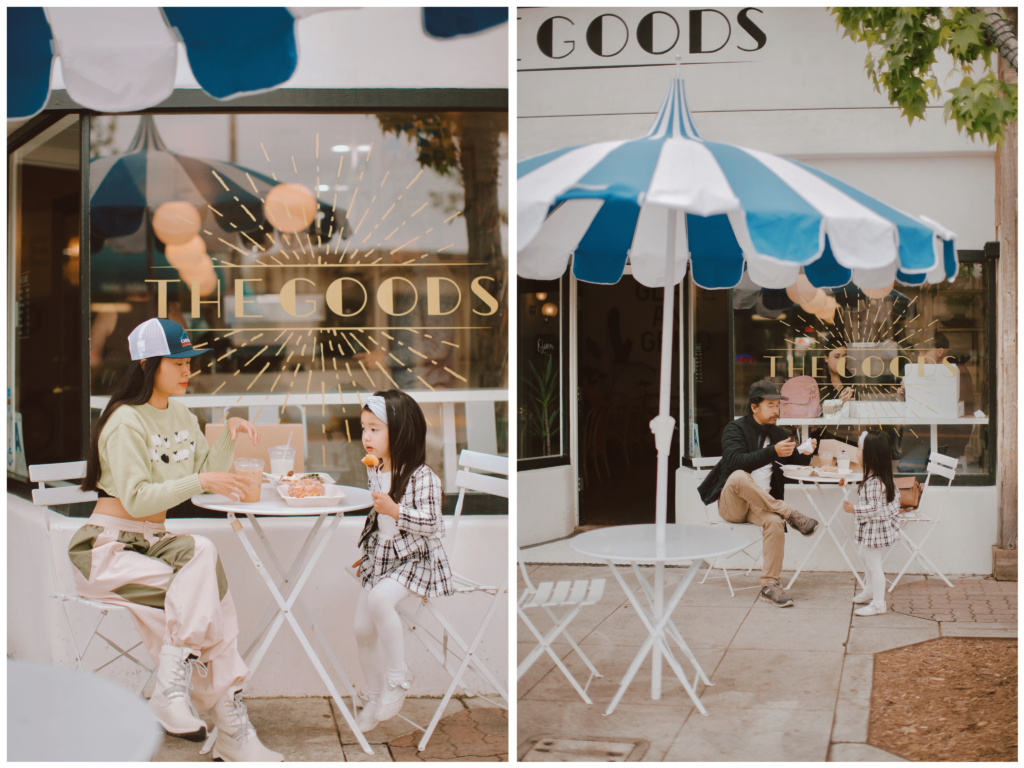 We loved their patio with the white-on-white tables blending into the white wall. As we stepped inside to this Instagrammable cafe our eyes settled on rows after rows of doughnuts. There are donuts covered in chocolate, sprinkles, nuts, and butter cream. There are donuts filled with jelly, citrus, and custard. It's so hard to decide which flavors that we want to try!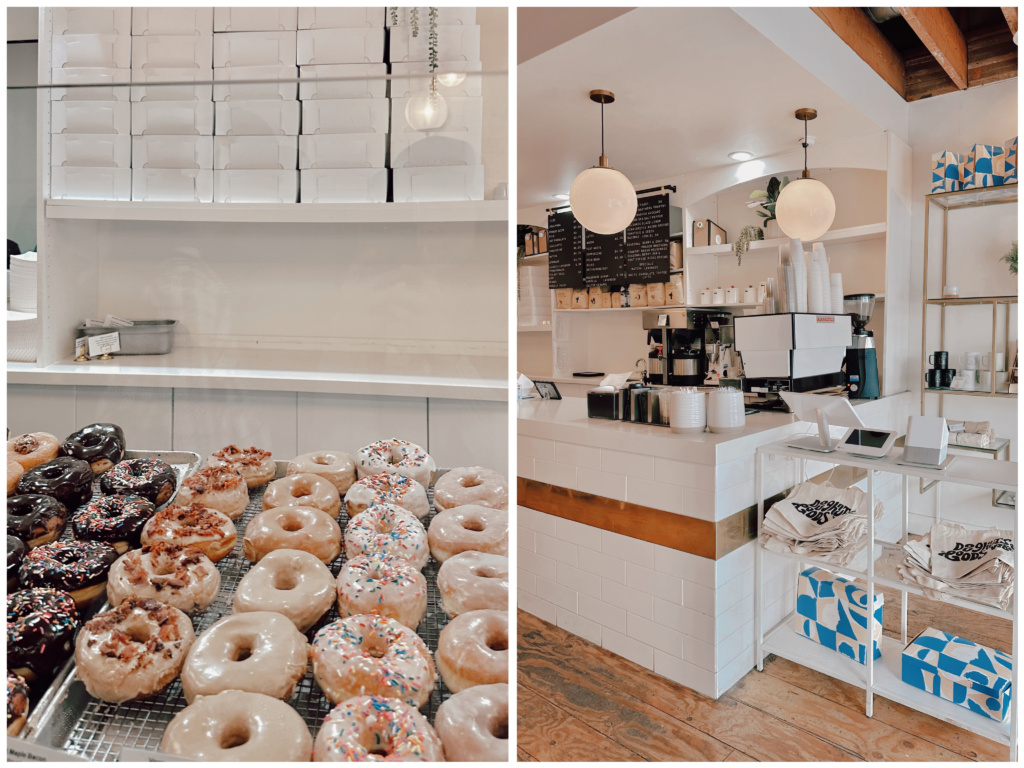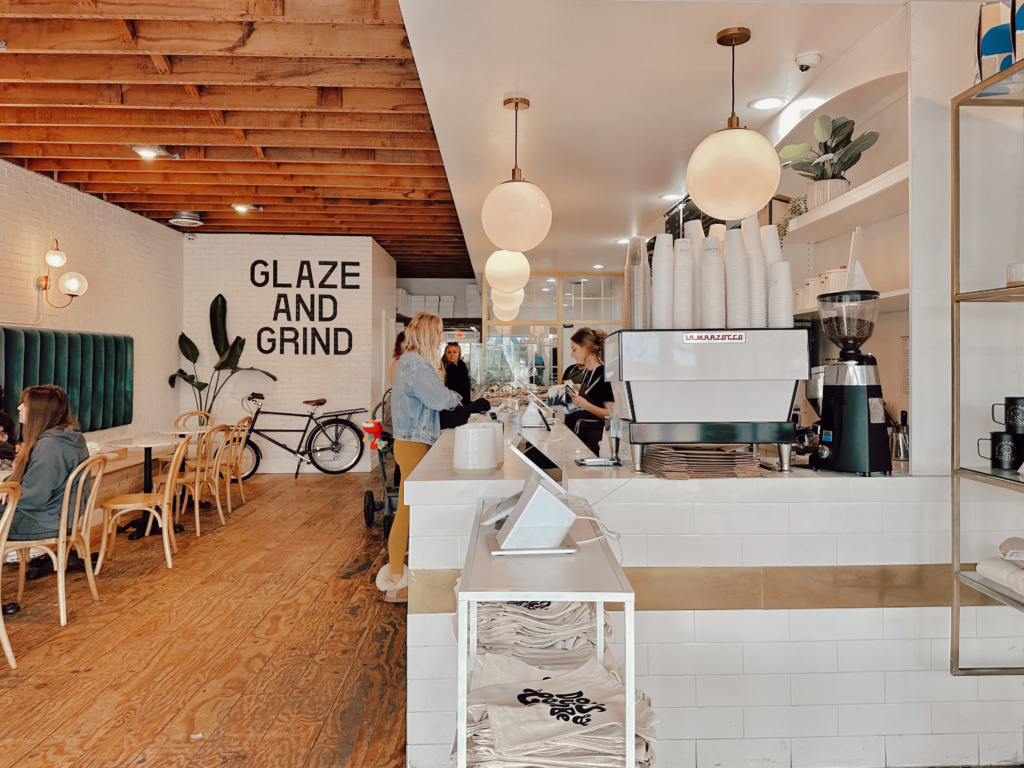 We ordered their signature classic glaze donuts, avocado toast, and iced latte. Even if you are not a big donut fan, The Goods has an array of tasty pastries for their guests to try out such as their homemade cookies and cinnamon rolls.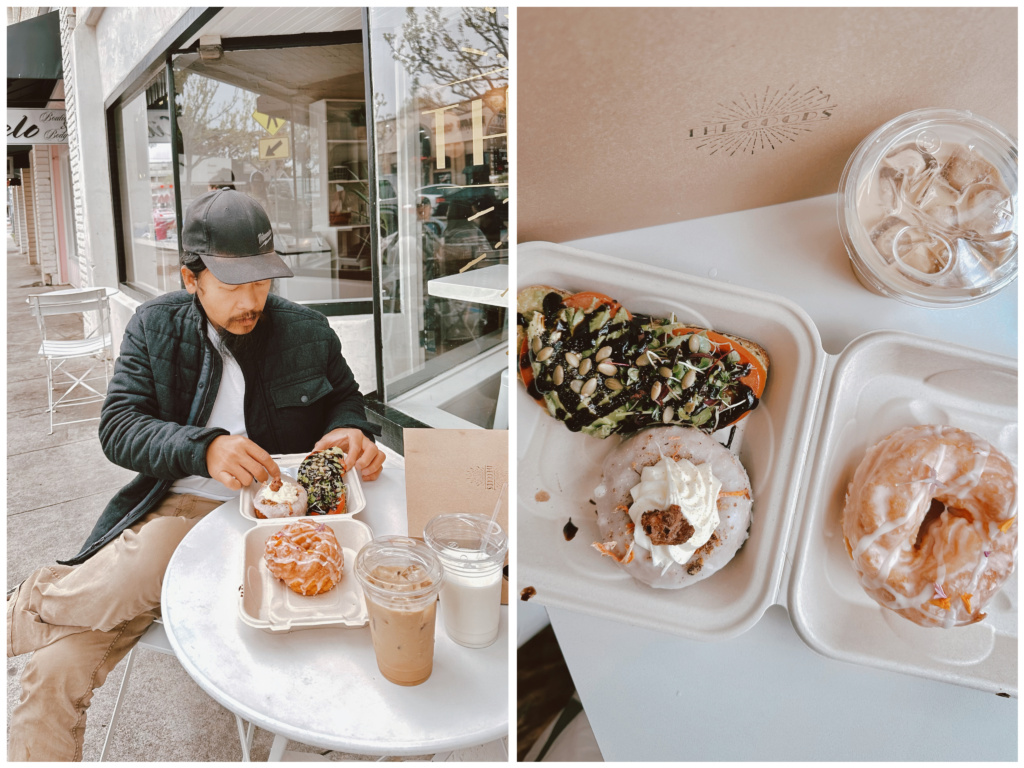 We moved outside to the patio, and while we enjoyed the light fluffy donuts and sipping the sweet bitter coffee the best part was gazing out and watching the flow of life on the streets with people passing by and listening to the hustle bustle of this charming town coming to life in the early morning. We just love the sidewalk cafe culture in this beautiful coastal town.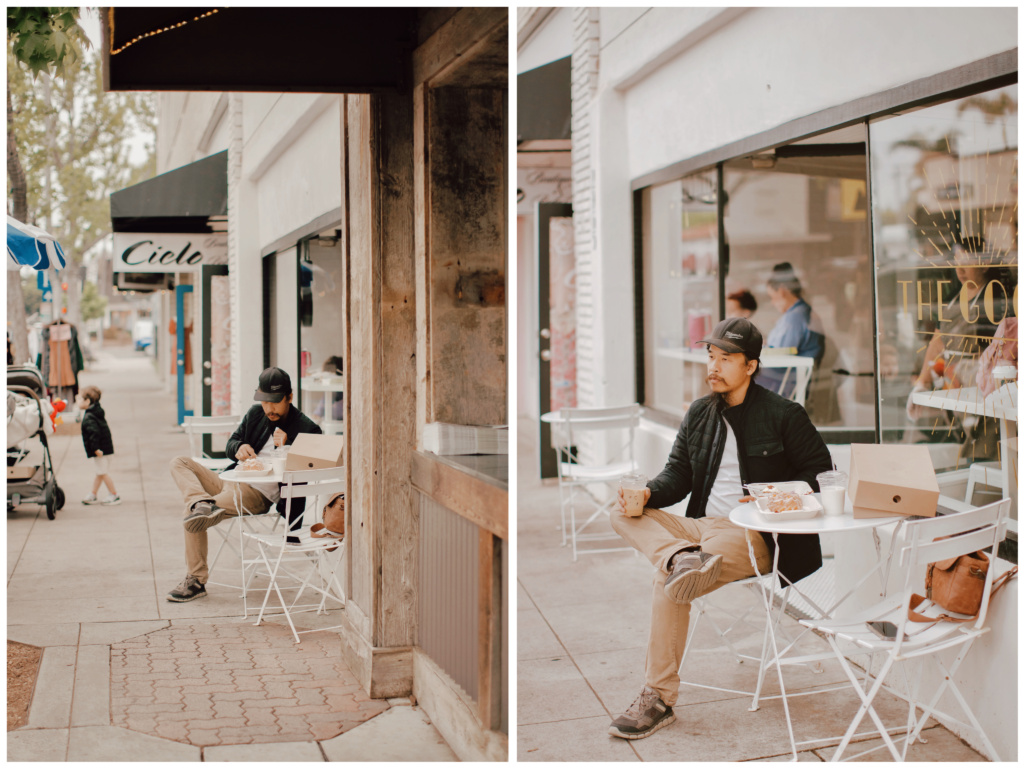 Pure Taco
Pure Taco is a global taco bar with hand pressed tortillas, specialty margaritas and local beers on tap with a radical, vintage yet contemporary vibe everyone will want to come back to time and time again! We loved their Baja Fish and Grilled Steak tacos.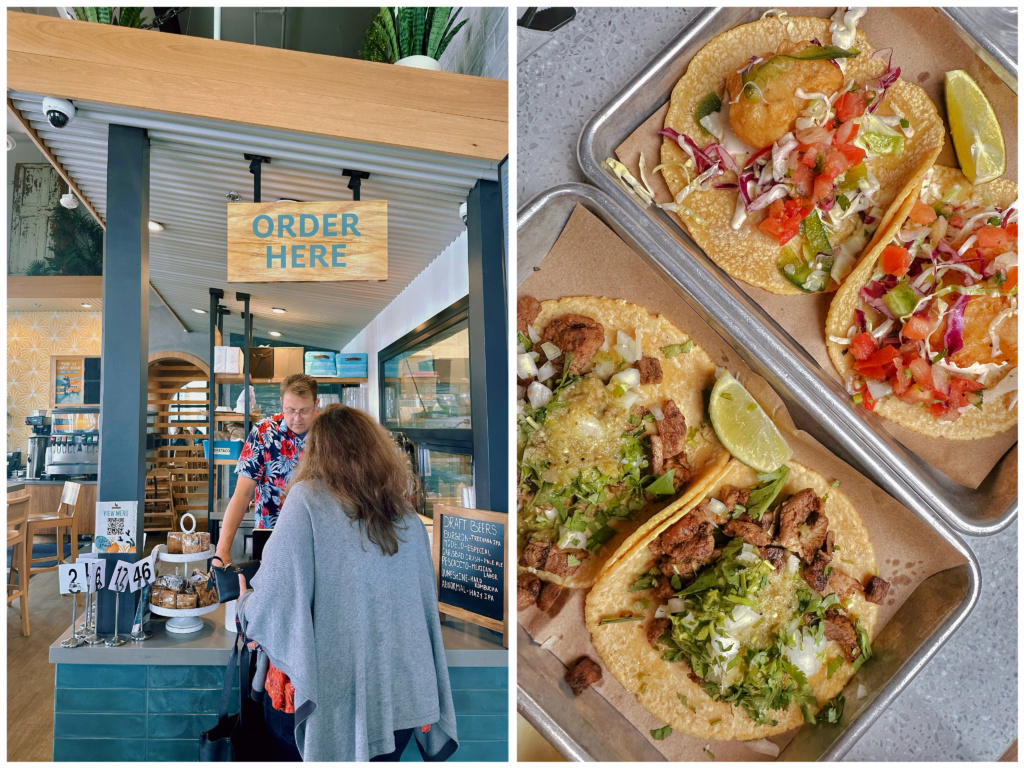 Gelato Love
If you love Italian gelato that tastes amazing and actually makes you feel good, this is the place! Their gelato is completely handmade and created with all natural and organic ingredients.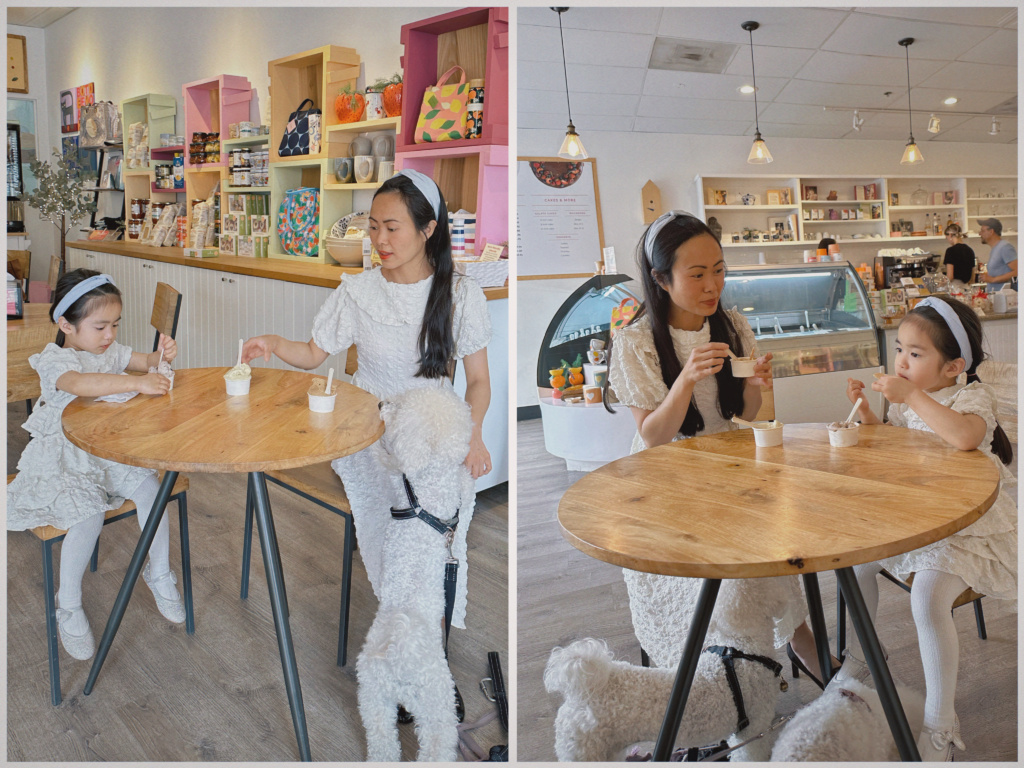 Handel's Homemade Ice Cream
Handel's Homemade Ice Cream has been made fresh daily at each store since 1945. They use the best ingredients and are proud to be recognized as the #1 ice cream in the world.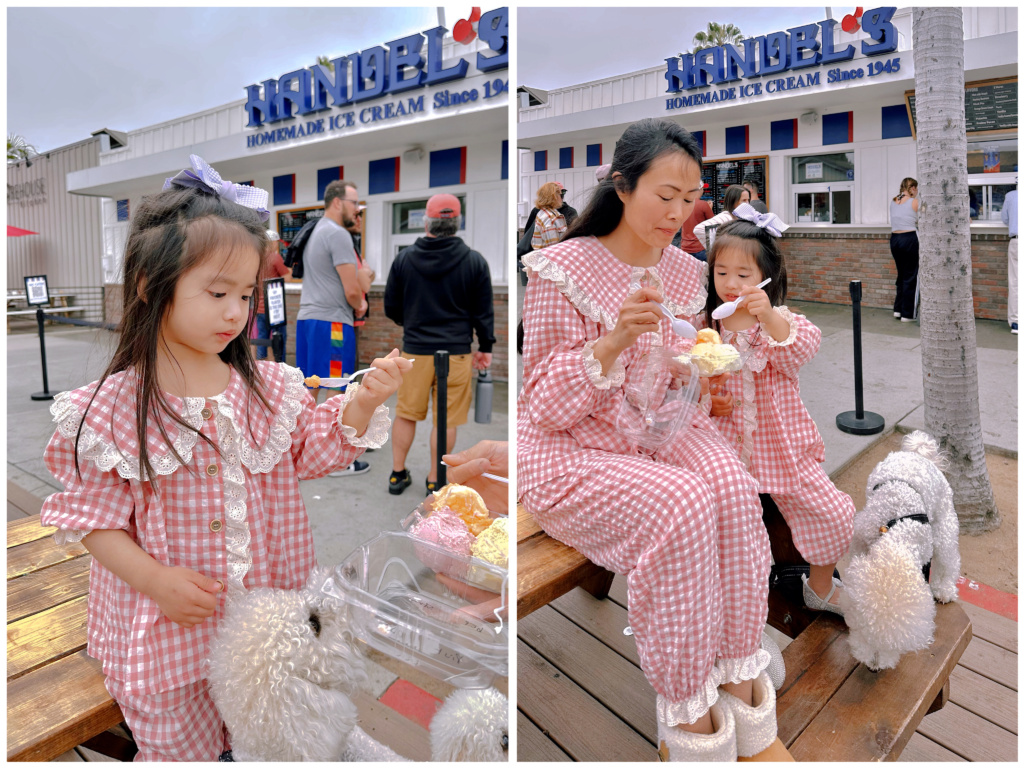 If you want to try different flavors, order their sample box and you can choose up to 4 different flavors. We chose Orange Cream Dream, Pistachio, Banana Cream Pie, and Strawberry. And they are all heavenly delicious! The best ice cream we have ever had!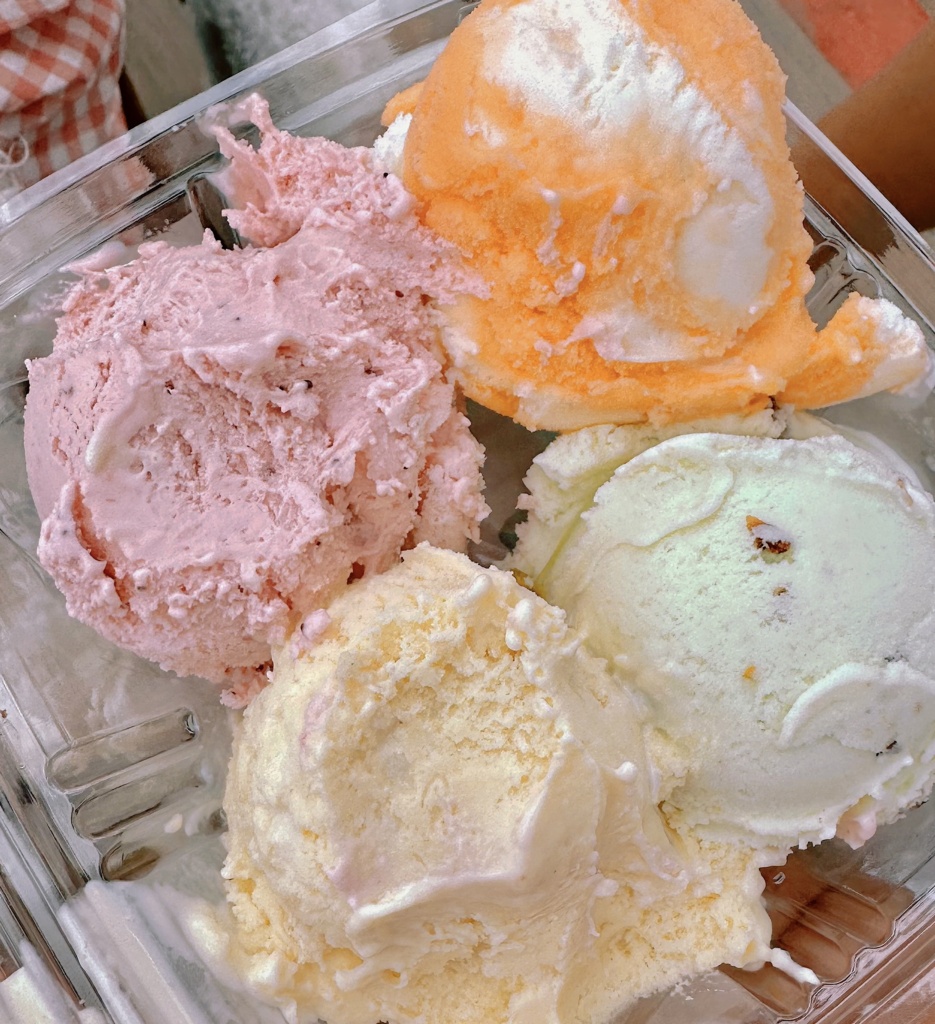 Vinaka Cafe
Grab an espresso or hang out while savoring specialty coffees at this sunny seaside cafe on the upper level of Carlsbad Village Faire. They serve 100 percent natural ice cream, made-to-order sandwiches (everything from turkey & avocado to fresh veggie wraps), smoothies, cakes and pies. We love their outdoor seating overlooking the quaint fountain courtyard below!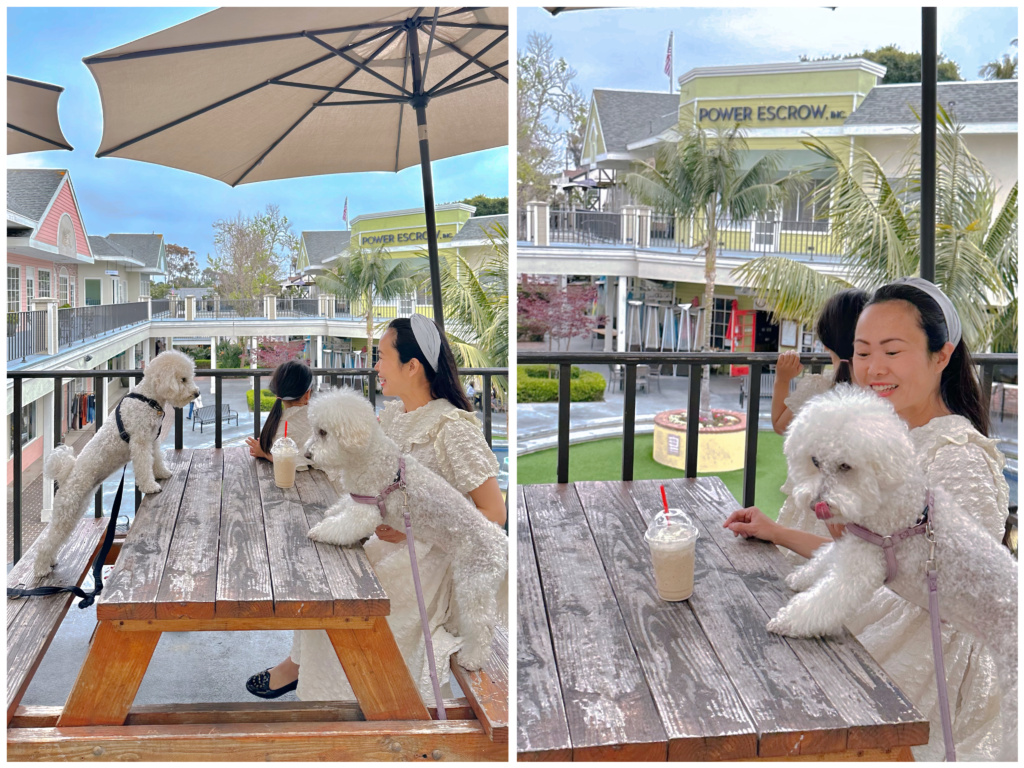 Make sure that you ask for a complimentary pup cup for your fur babies while you are here.
Choice Superfood Bar & Juicery
For those looking for a healthy option, Choice Superfood Bar & Juicery has you covered. The superfood banana bread, which is gluten-free, dairy-free, and vegan, is surprisingly delicious!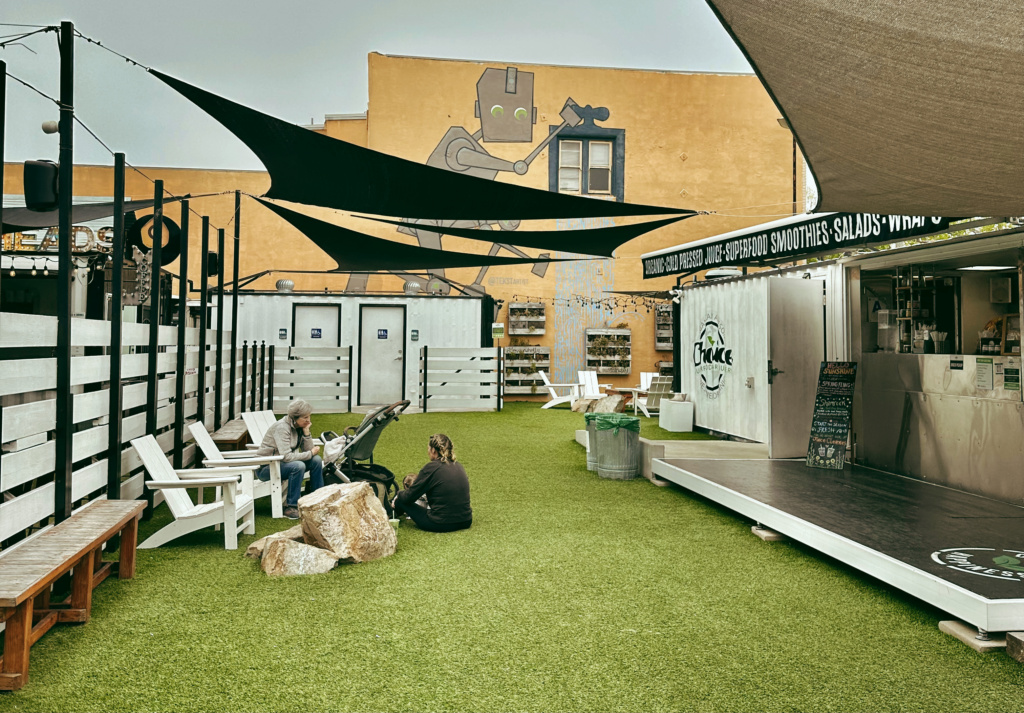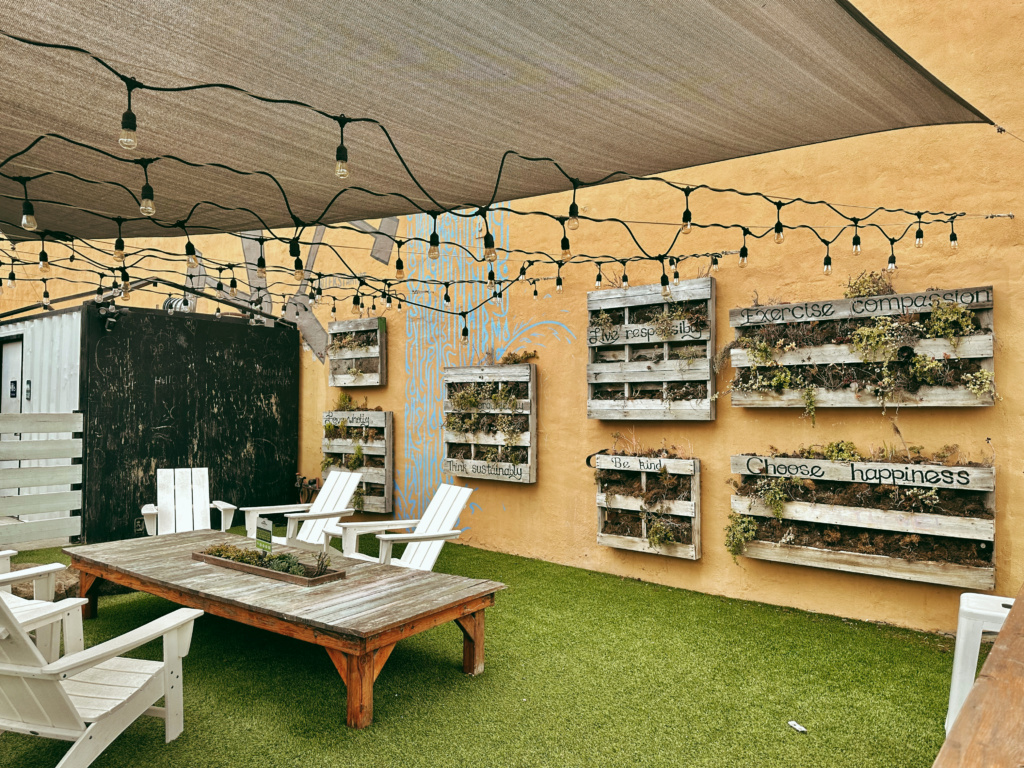 Things To Do
Spend a day at Legoland
This is definitely one of Carlsbad's best attractions for families with kids under 12. Grownup LEGO enthusiasts will find a lot to love here, too, and the park itself (which now has more than 60 rides and shows) can be done in just a half-day.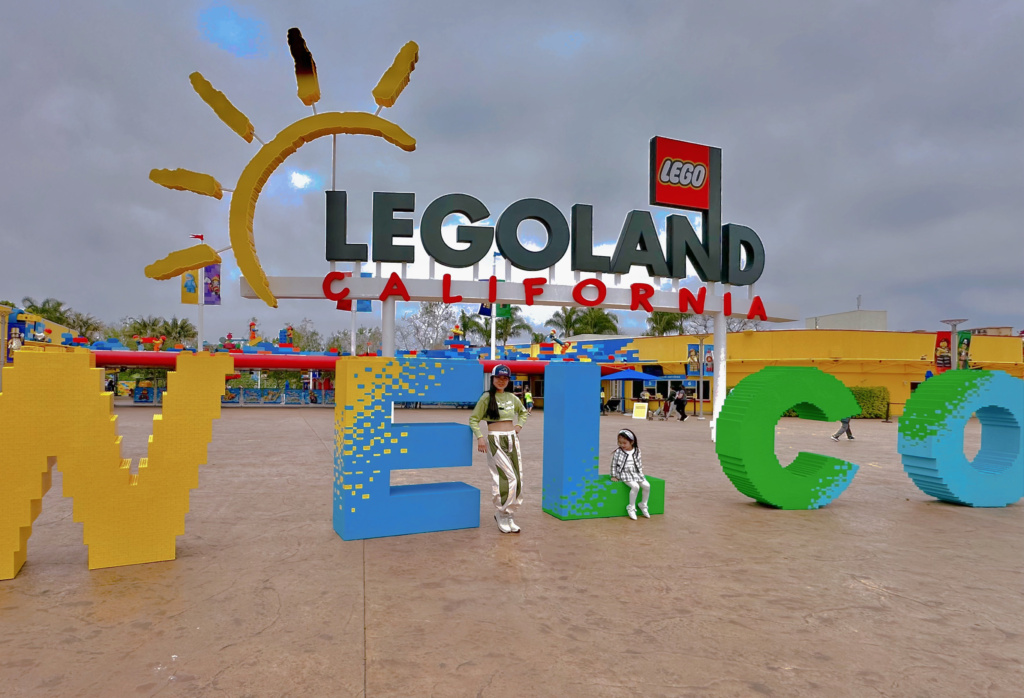 When we planned our recent trip to LEGOLAND with our 3-year-old niece, we were worried that there wouldn't be much for her to do. The theme park is known for being a great place to bring younger kids, but what about toddlers? However, we were pleasantly surprised to find that there was plenty to keep our niece entertained during this trip. So, is LEGOLAND worth it with toddlers? Absolutely!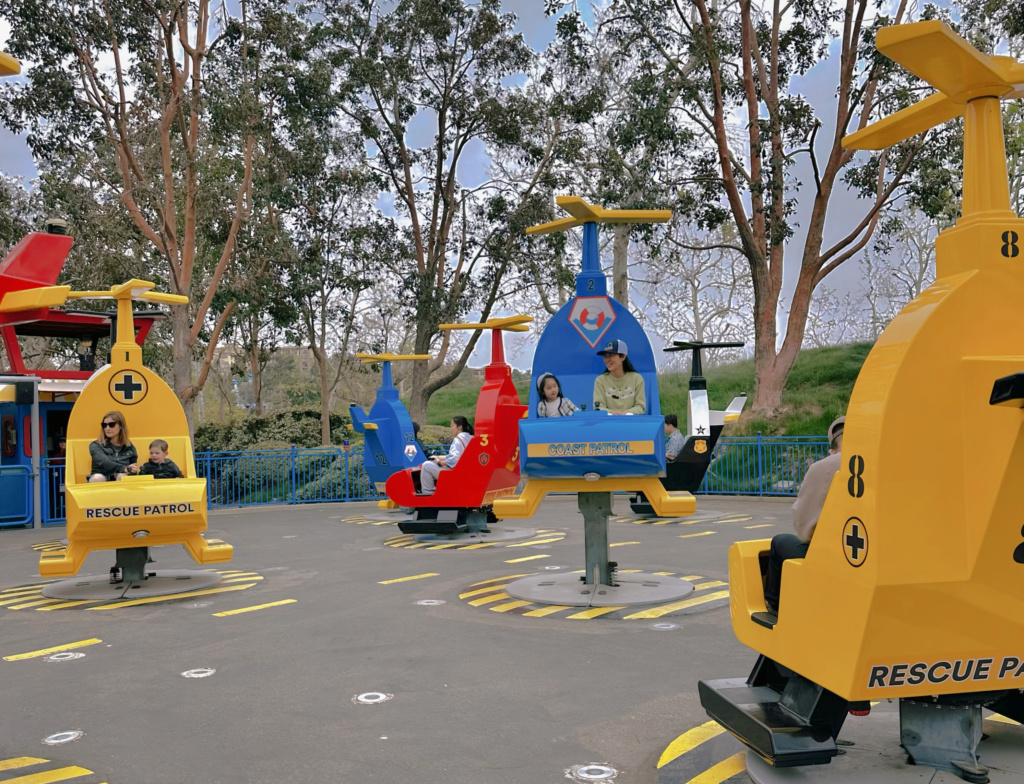 I wrote a separate blog about which activities are suitable for toddlers at Legoland. Click here to read!
Enjoy Sunset Wine Tasting at the Flowers Fields
If you're looking for things to do on your Carlsbad spring vacation, the answer is simple: The Flower Fields. Besides the gorgeous bloom, there is a variety of events The Flower Fields hosts throughout the season. Events cover all kinds of interests, from arts and crafts, yoga, zumba, photography day, and live music. Make sure that you check their activity calendar when booking your tickets.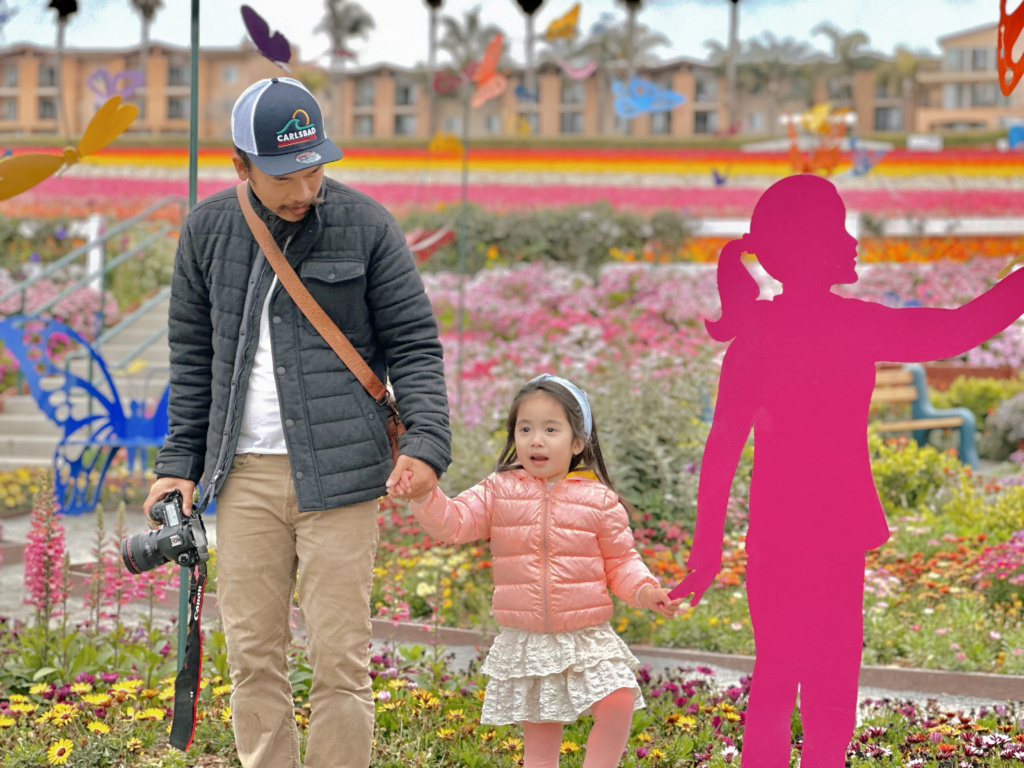 One of our favorite activities at the Flowers Fields is their Sunset Wine Tasting. This after-hours event is an intimate gathering among all of the blooming beauties during the idyllic golden hour. We had such a wonderful time sipping on premium wines procured from highly sought after wineries, snacking on delicious food bites, enjoying live music from local artists, and watching the sun as it set on 50 acres of ranunculus flowers varying in a myriad of colors.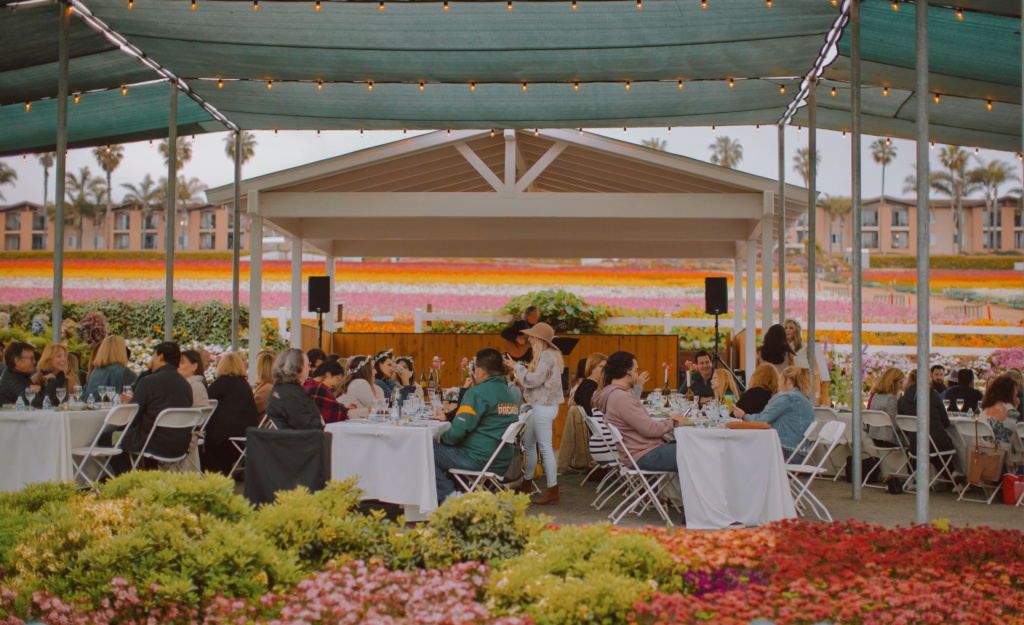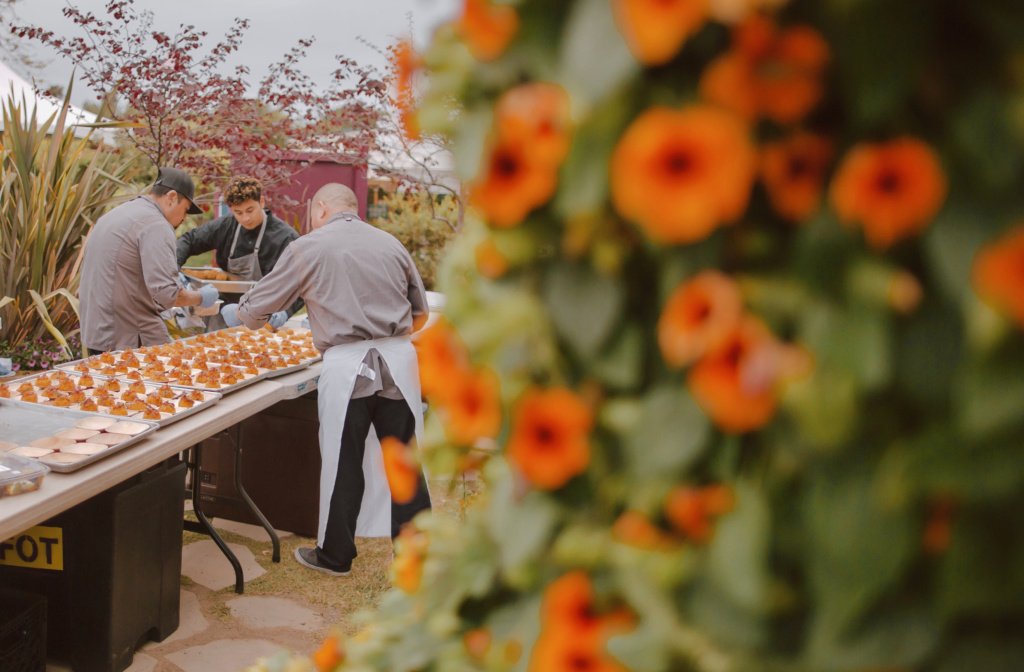 The evening included five wine tastings and wine education by Advanced Sommelier Lamar Engel from the Wine Militia. As we sat around the table and had lively conversation among dinner companions who share the same passion for wine, all eyes were on the backdrop of thousands of blooming, bold Tecolote Giant Ranunculus flowers!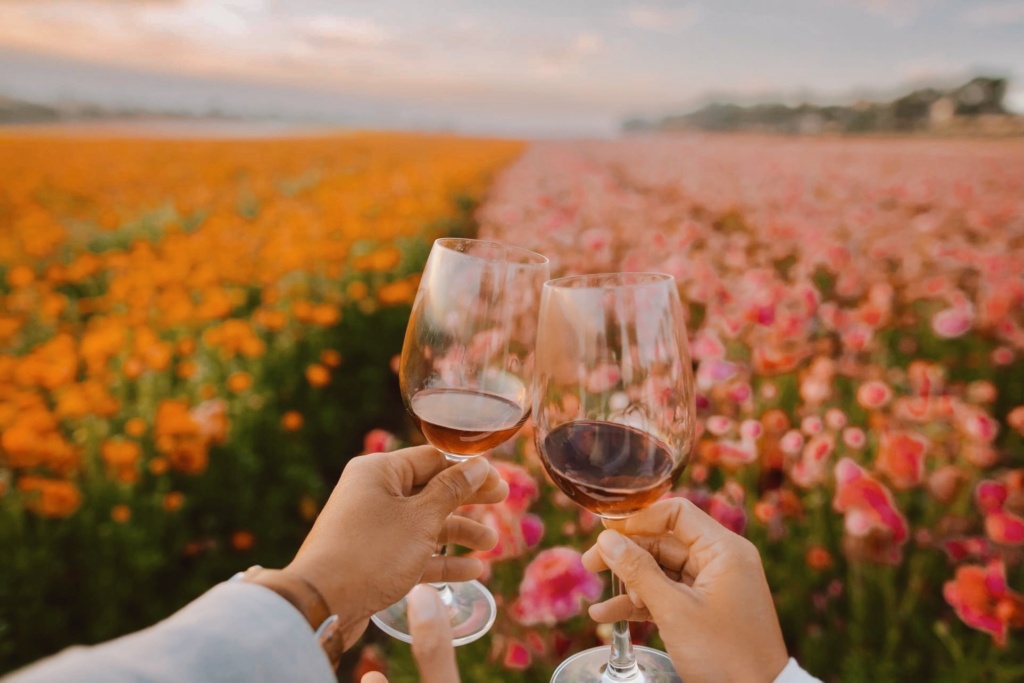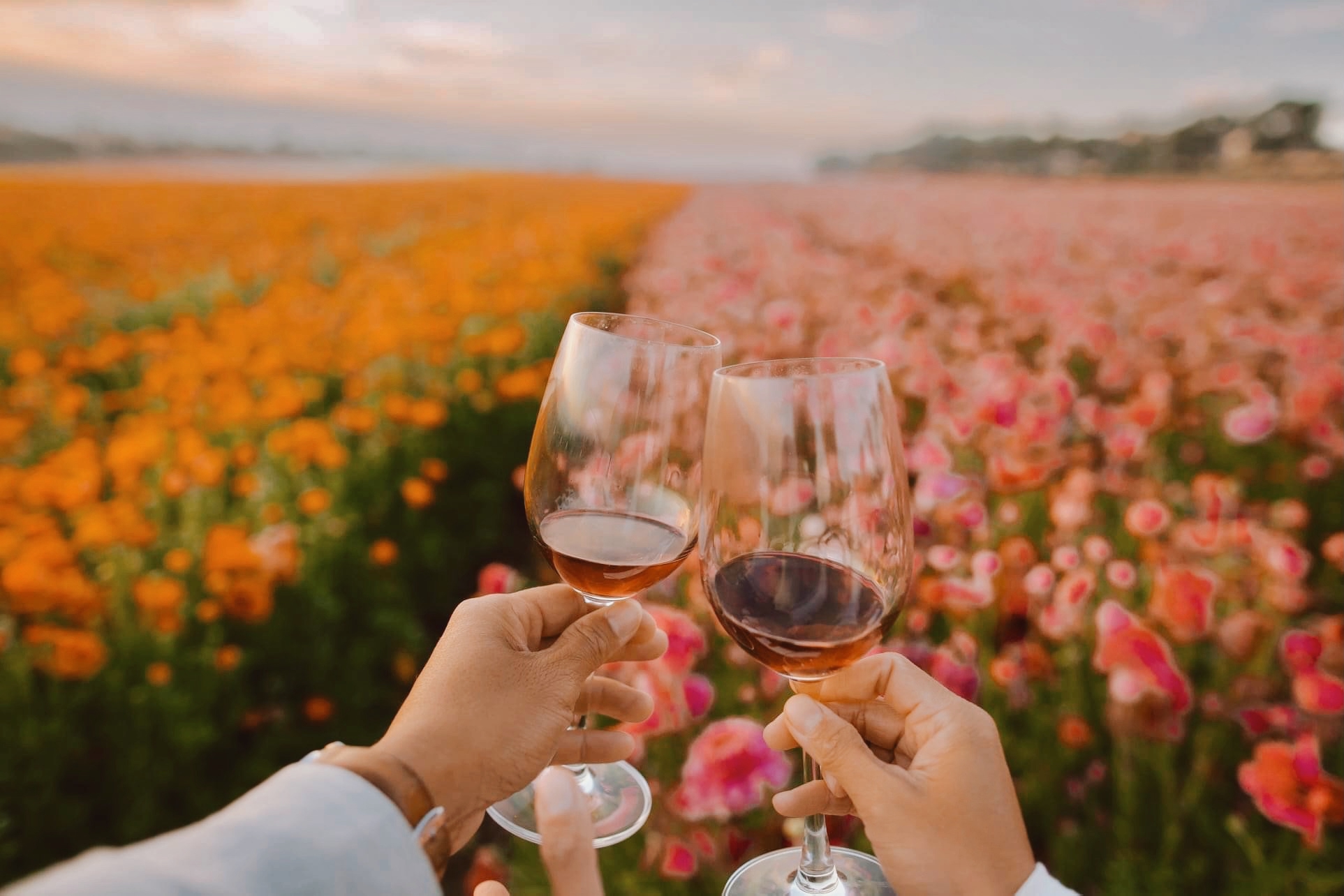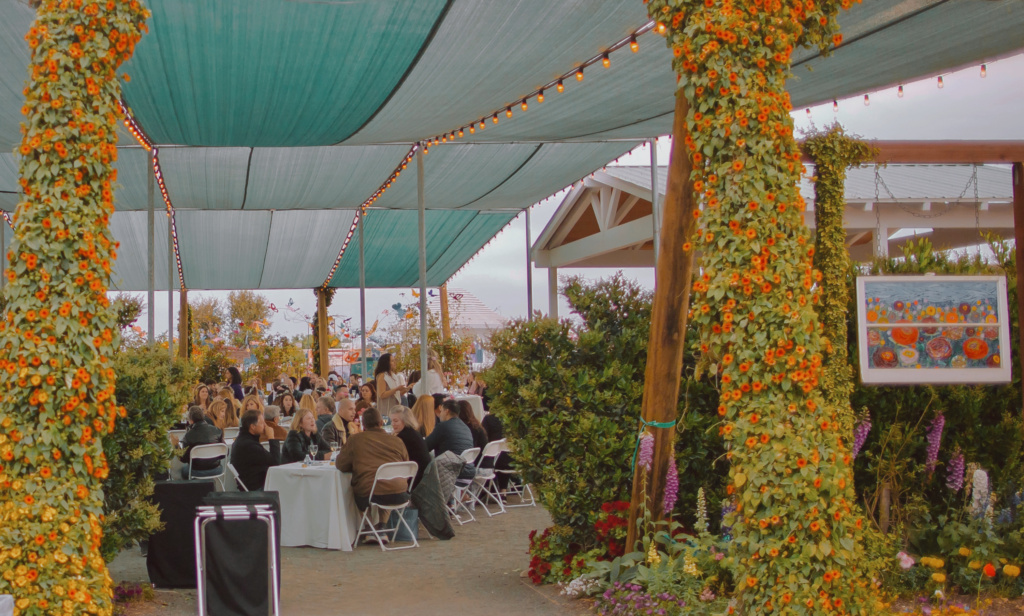 Explore Carlsbad Village
Carlsbad Village has all the charm of a small town with a foodie scene you would expect out of a much bigger city. Whether it's beaches, taco shops, fine dining, artisanal donuts, or cute coffee shops, culture, arts and activity are always brewing in this commercial downtown area.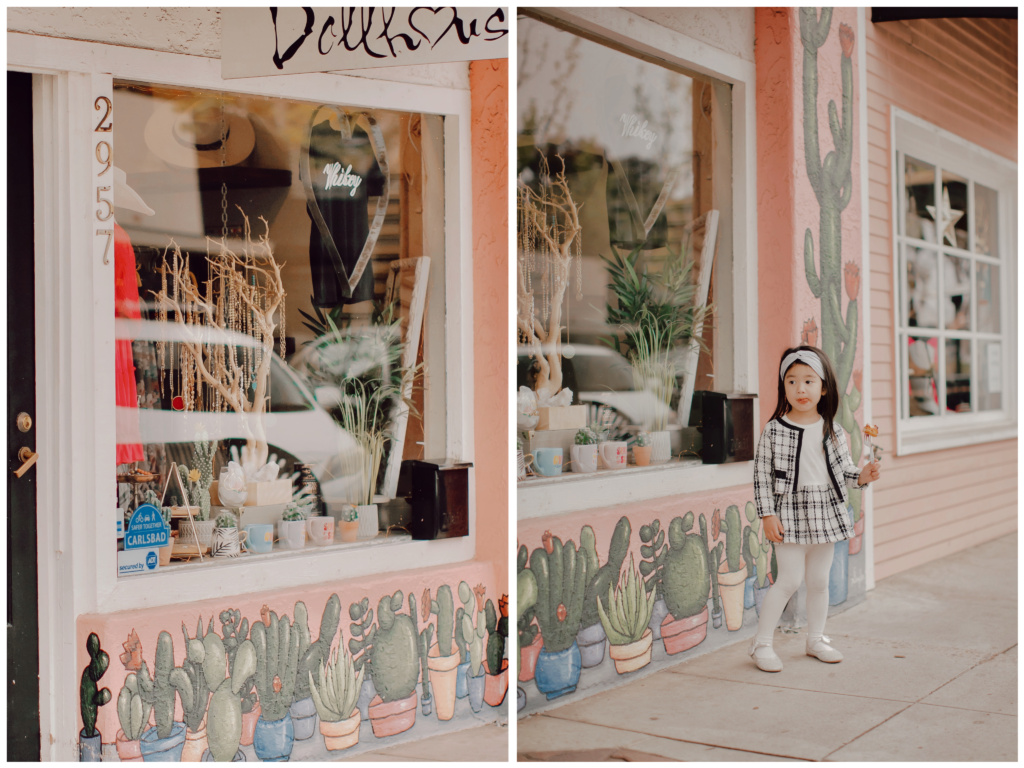 Perfect for all ages, Carlsbad Village offers visitors a great place to shop, sit down for a delicious meal, grab a snack, or a drink at a local bar or juicer. Many of the local restaurants offer patio seating so you can bring your pet.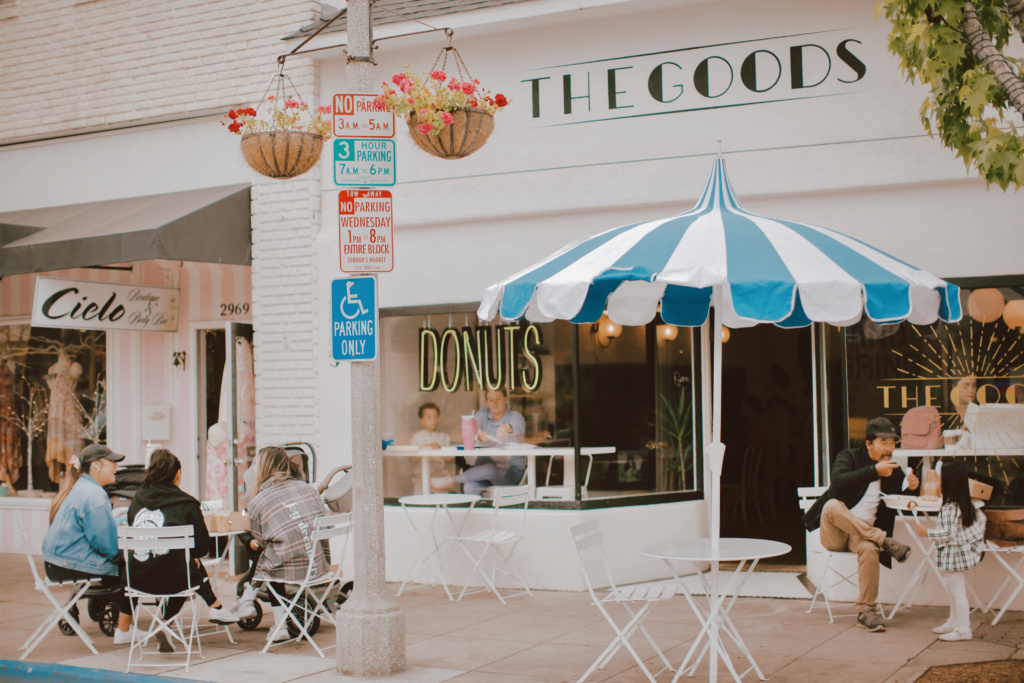 Carlsbad's art scene is thriving with new and exciting galleries, art fairs, musical performances, and public art displays. All around Carlsbad, you will find art installations, including several playful murals in Carlsbad Village.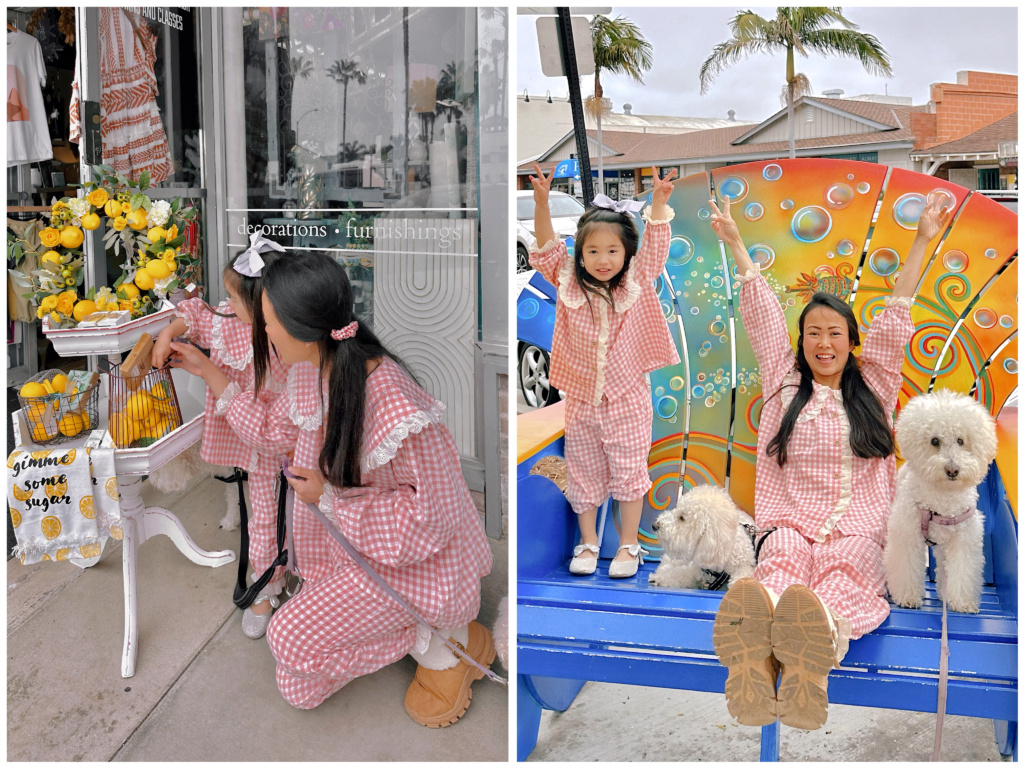 Go for a Nature Walk at South Carlsbad State Beach
If you've ever dreamed of camping near the beach, South Carlsbad State Beach is for you. The campground is located on a rugged bluff overlooking the ocean with access to the beach below. There are also several footpaths along the bluffs, perfect for a short walk.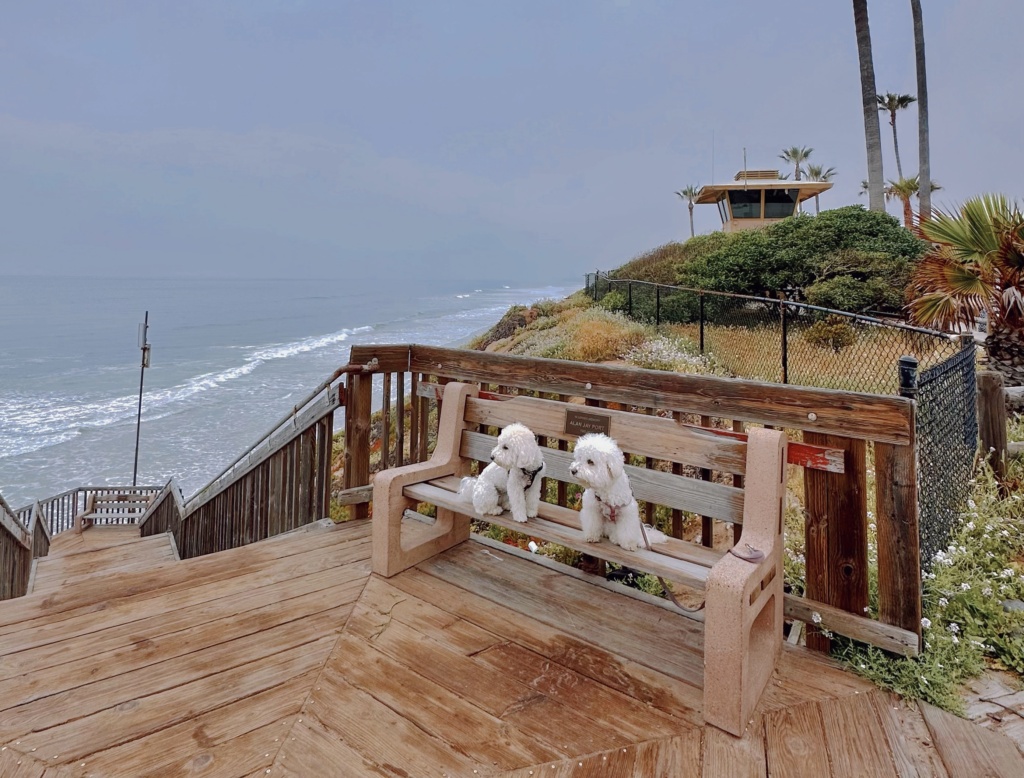 This is one of the most popular campgrounds in Southern California and they book up quick so make sure that you make camping reservations far in advance.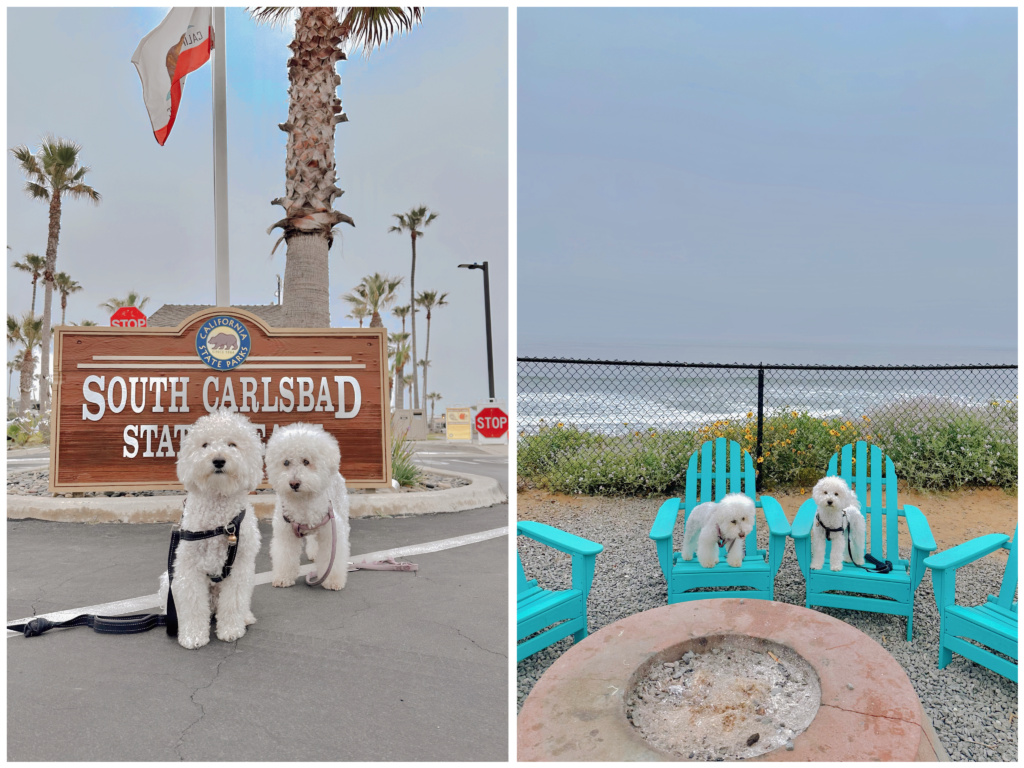 Hang out at the Camp Store
Located at the South Carlsbad Beach Campground, the Camp Store is a fun and unique local hangout, regardless of whether or not you are camping there. Here you'll find snacks, drinks, beer, wine, and some of the best pizza in town. They also have a shop selling provisions, camping supplies, and unique local souvenirs. They offer equipment rentals as well.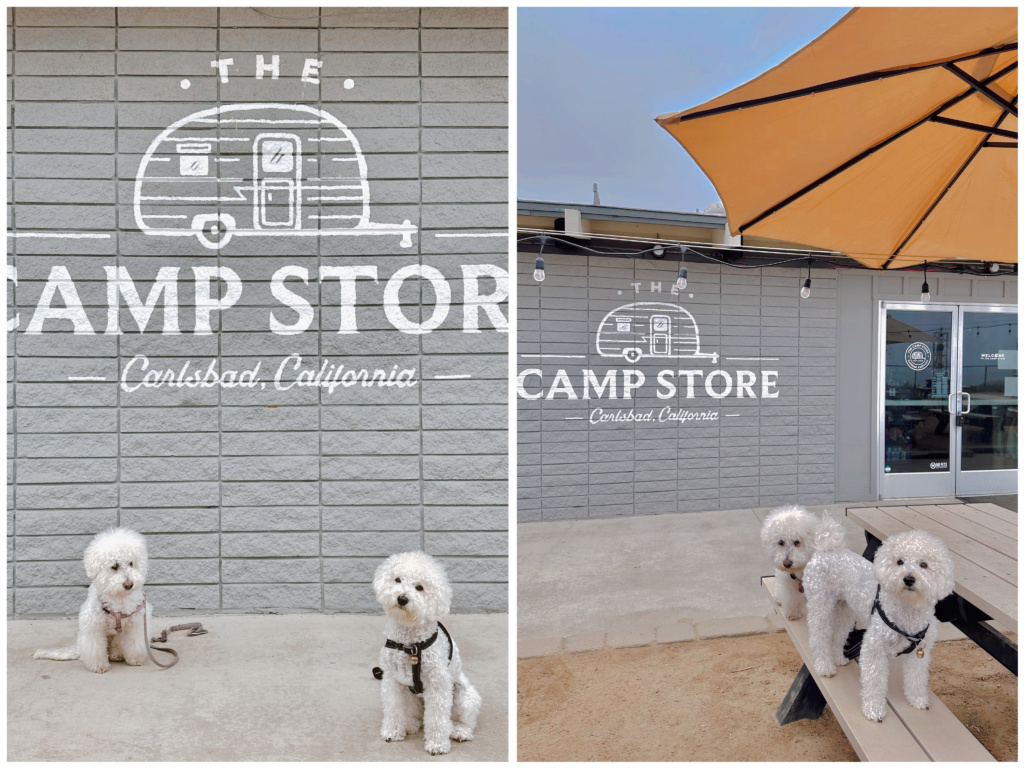 There's plenty of space to hang out, with picnic tables and chairs overlooking the beach. They also have live music on Wednesday-Sunday nights, and even special seasonal events, such as a light and music show during the holidays.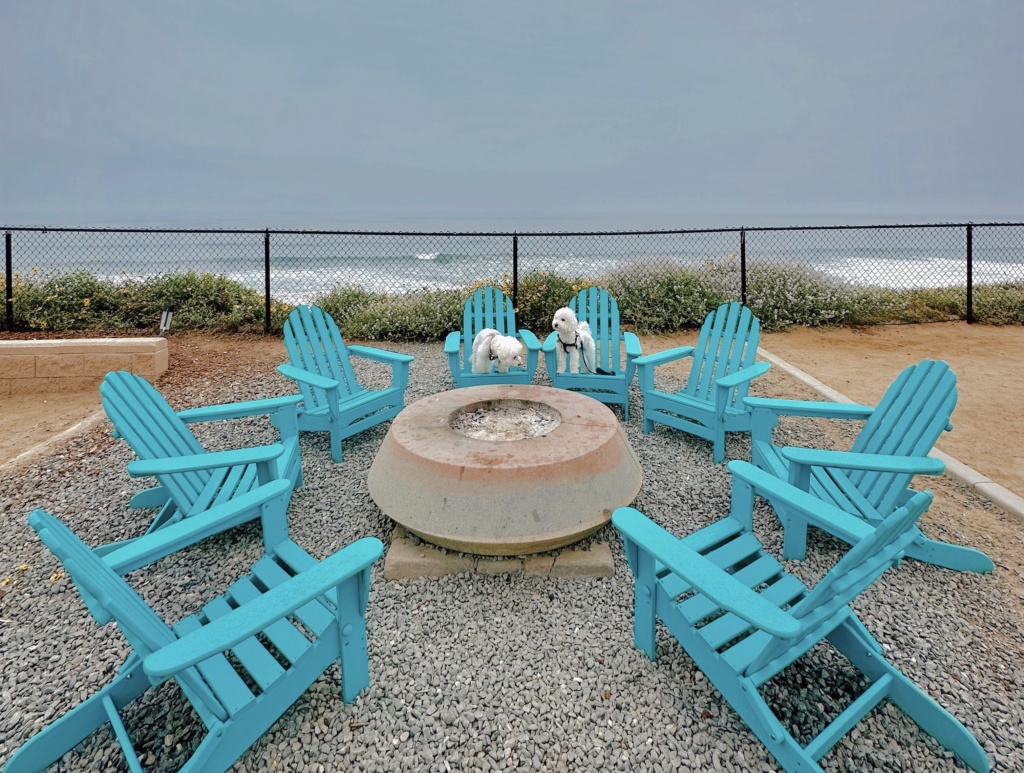 Enjoy a little retail therapy
If retail therapy is on your list of Carlsbad activities, then you're in luck! There are malls in the area such as the Forum, Carlsbad Premium Outlets and The Shoppes at Carlsbad. There are also several quaint boutique shops of all kinds in the Village.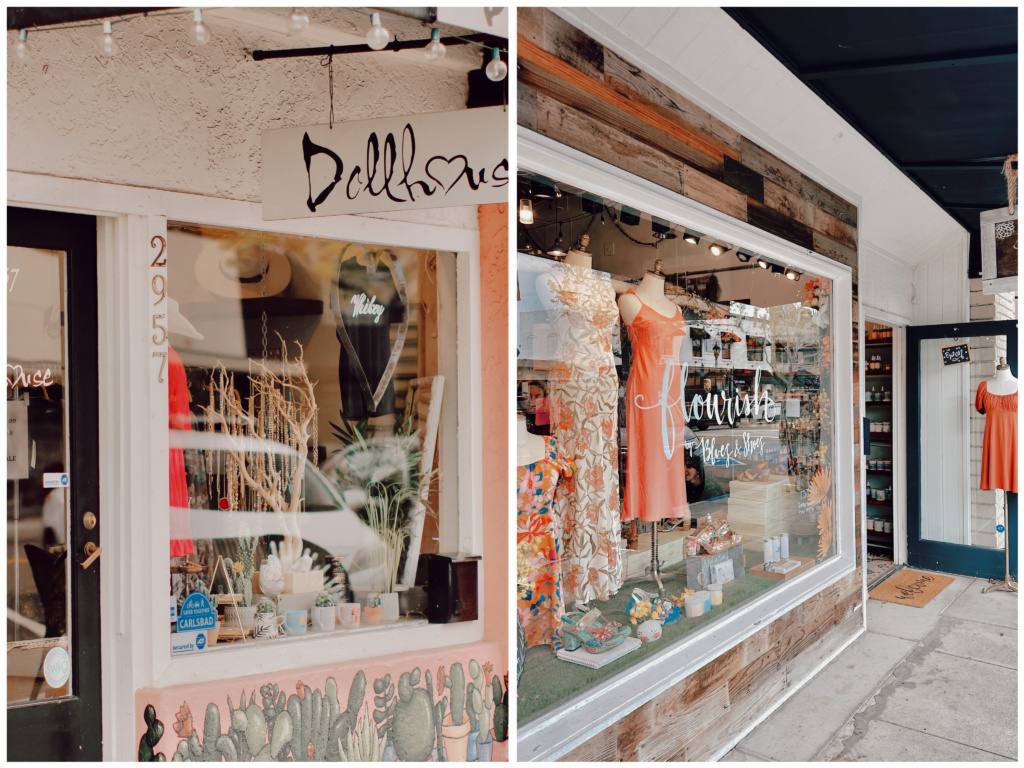 If shopping at independent boutiques is your thing, there are plenty of those around town! I loved browsing the shops in Carlsbad Village and finding a collection of unique and well-curated vintage merchandise.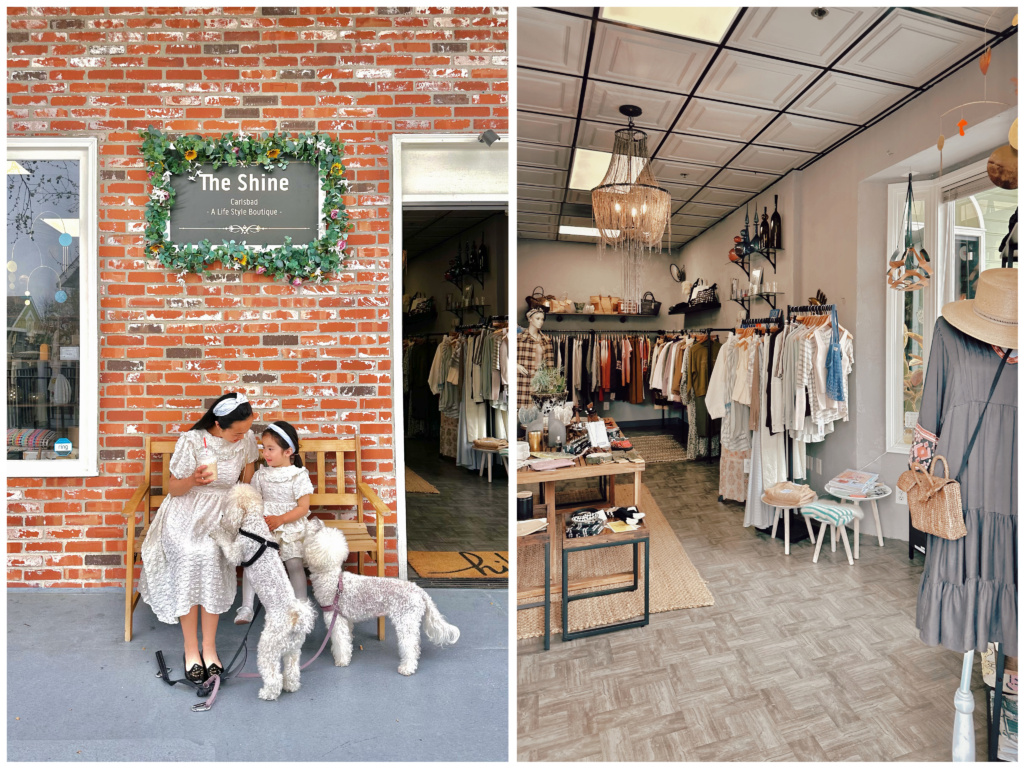 Also within Carlsbad Village is Village Faire, an outdoor shopping center featuring a collection of boutiques, dining, cafes, and more housed in the cutest pasted-colored storefronts.
Explore Mexican Food Scene
Another amazing food scene in Carlsbad Village on every Sunday is the authentic Mexican food stands taking place at Holiday Park in Carlsbad Village.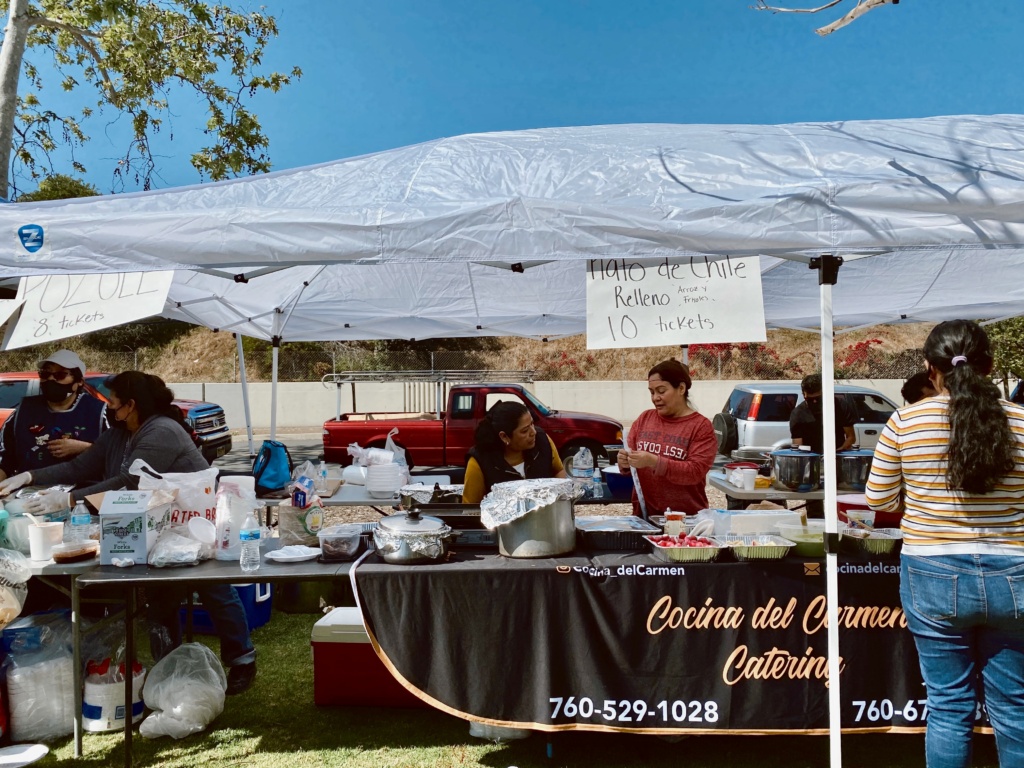 Carlsbad is blessed with a number of community parks, and Holiday Park near the Village, one of Carlsbad's oldest parks, is no exception. Located at Chestnut Avenue and Pio Pico just east of the freeway, Holiday Park covers almost 6 acres and offers a huge expanse of trees and green space to enjoy, along with playgrounds for the kids, a beautiful gazebo, horse shoe pits, and covered and uncovered picnic areas with barbecues.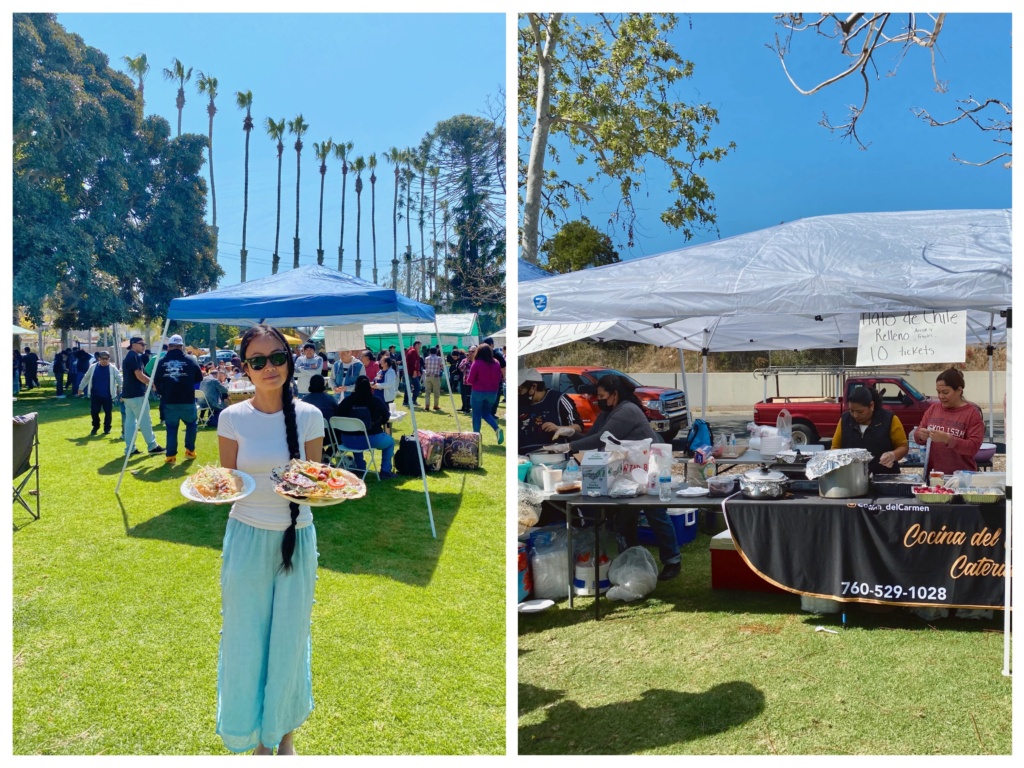 And if you visit the park on Sundays, you are in for a special treat. A real feast of Mexican authentic home-cooked dishes! Dishes that you won't see in a typical Mexican restaurant establishments. Here you will find a stand with traditional tlayudas -an iconic Oaxaca street food. It is sometimes called Mexican pizza or Oaxaca style pizza and generally consists of four ingredients: a crispy corn tortilla, black beans, quesillo or Oaxaca cheese, and strips of meat. It's absolutely wonderful to try this delightful tlayudas Oaxaca right in Carlsbad.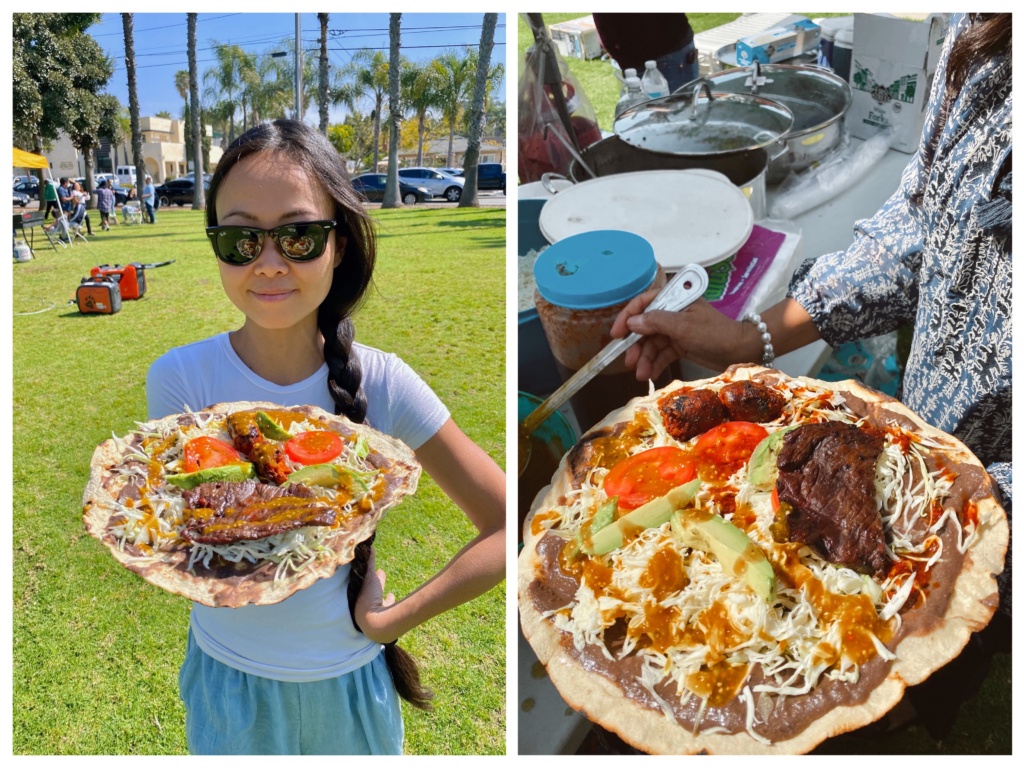 Visit Chuao Chocolatier
If you love chocolate and are familiar with Chuao Chocolatier then you will be excited to know they are based in Carlsbad! Not only is Chuao's chocolate unbelievably delicious but they make fun chocolate-flavored combinations. Before you realize it, you will find yourself buying multiple packages to samples. Some of my favorite flavors are Firecracker and Honeycomb.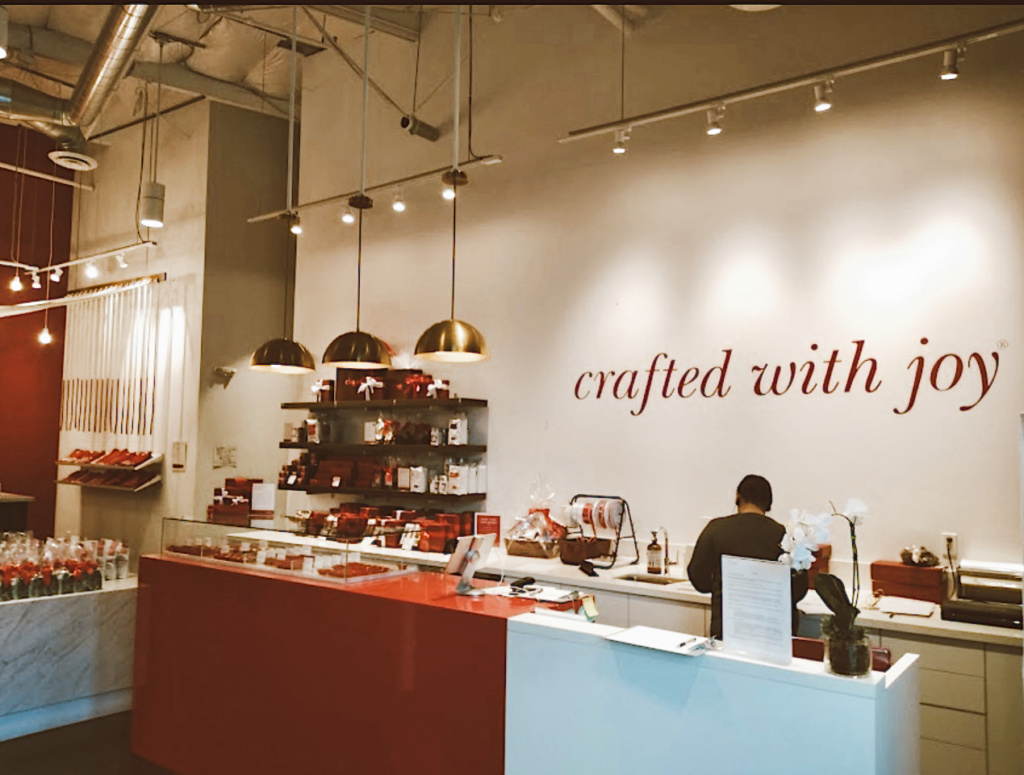 Visit Strawberry U-Pick Company
You can find these strawberry fields on the 25-acres of land located just off the Interstate-5 in Carlsbad. U pick strawberries are daily from 9am-5pm (Address: 1050 Cannon Rd, Carlsbad, CA 92008). There are many other fun activities for your whole family here like tractor rides and sunflower maze.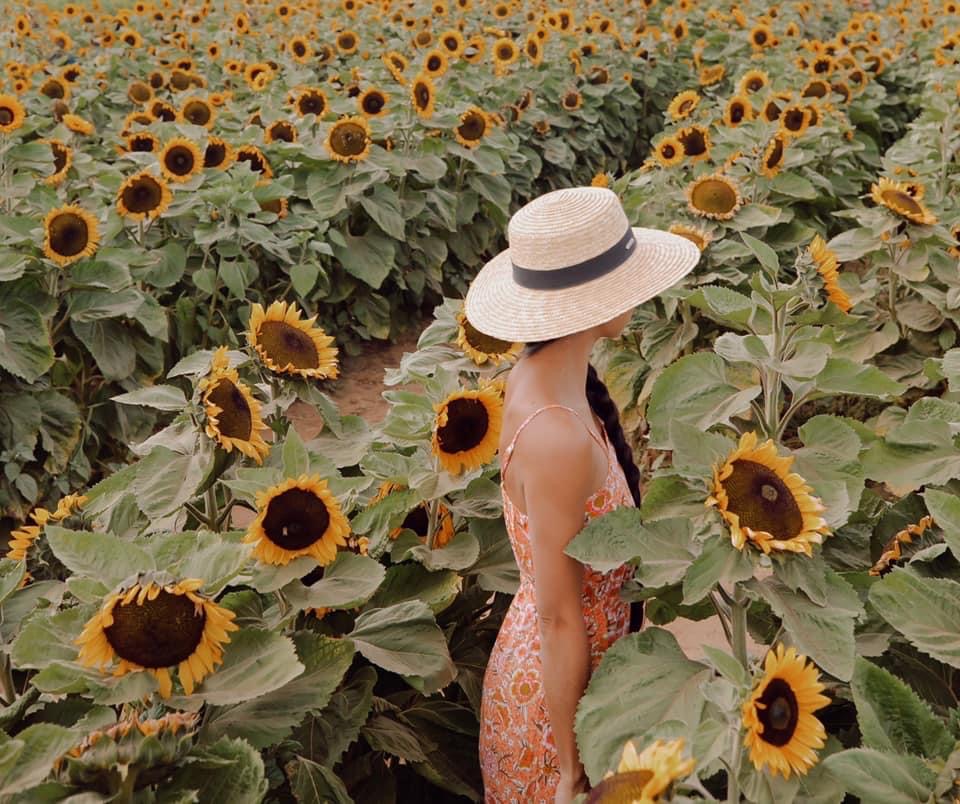 You should definitely check out their local produce stand to shop for fresh produce, milk and eggs! Here we found a variety of fresh produce (grown with organic methods) at more affordable prices than those certified organics from a supermarket.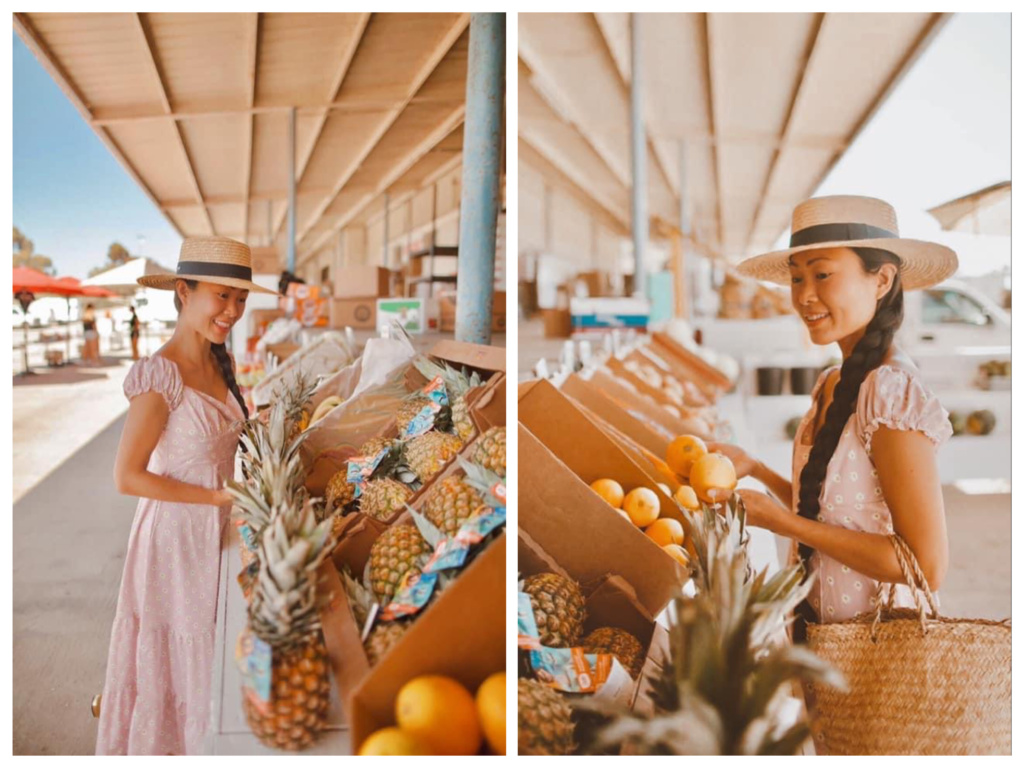 Wrapping Up
If you're looking for a fun place to visit in California, we highly recommend Carlsbad. Overall, Carlsbad is an ideal place to travel for families who want to enjoy a balanced lifestyle that includes both outdoor activities and cultural experiences. With its beautiful beaches, lush parks, rich cultural heritage, and excellent schools, Carlsbad offers the perfect blend of natural beauty, culture, and family fun that will make you feel right at home.
If you have kids, they'll love all the rides at Legoland or fun days at the beach. Adults can golf, shop, go wine tasting or enjoy ocean-view dining at local restaurants afterward. Pets can enjoy nature hikes, special puppy chow menu and pet-friendly amenities at 5-star hotels. All in all, Carlsbad has everything for everyone. Start packing your bags and plan the ultimate, beachy escape to Carlsbad with your family, your significant other, and even the family dog too!
***Thank you to Carlsbad for kindly sponsoring this post. All opinions are 100% honest & completely my own.
Spring getaways are more fun with furry friends. Throughout Carlsbad's #AllPawsLeadtoCarlsbad promotion, there are PAW-some activities and special packages at local hotels, restaurants, and attractions for pets and their humans to enjoy from now til end of May (2023)! Come to Carlsbad and enjoy the good vibes with your fur babies this spring!
So, have you been to Carlsbad? If so, what did you think of this list? Would you add anything else? Share your thoughts with us below and be sure to pin this post for future reference!