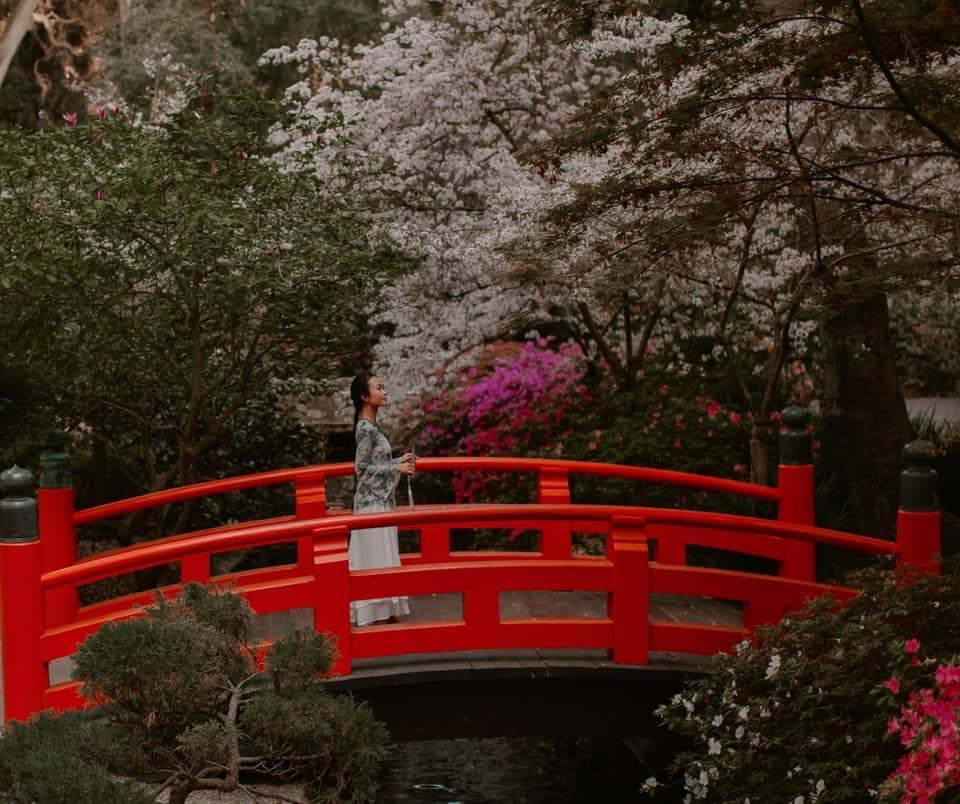 Where to See Stunning Spring Bloom in and around LA
Spring is my favorite time of year in Southern California. Everything is blooming and it's time to burst out those sandals and floral dresses and get ready to smell the flowers. My friends often tell me how much they want to see spring blooms but they always plan it too late. Every year is different and you'll need to watch for bloom forecasts and live reports. When you see that the blooms are starting to peak, you should definitely head out to see them because they don't last too long. February is for almond blossom, March is for tulips, April is for cherry blossom, and May is for wild flowers. In this blog I'm sharing with you some of my "secret" spring bloom spots in and around LA so you can save it to plan for your next year's spring bloom chase.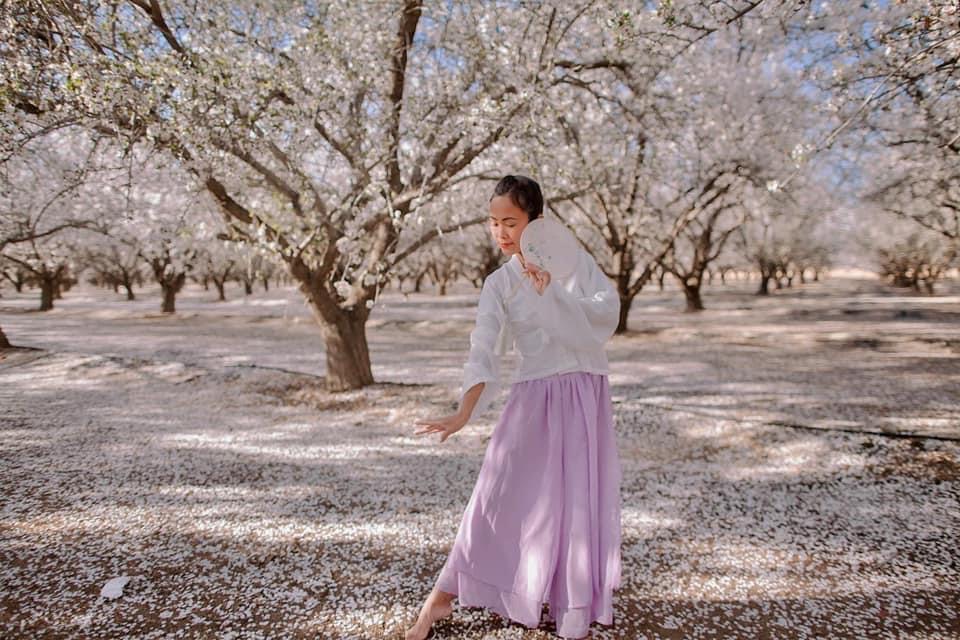 February: Almond Blossom
I've seen them on Instagram. I had to find where the best almond blossoms in southern California. And I was thrilled to find that every spring thousands of acres of almond orchards around Bakersfield burst into incredible displays of pale pink of white blooms. And it's only 3 hours from LA. That makes such a lovely day trip.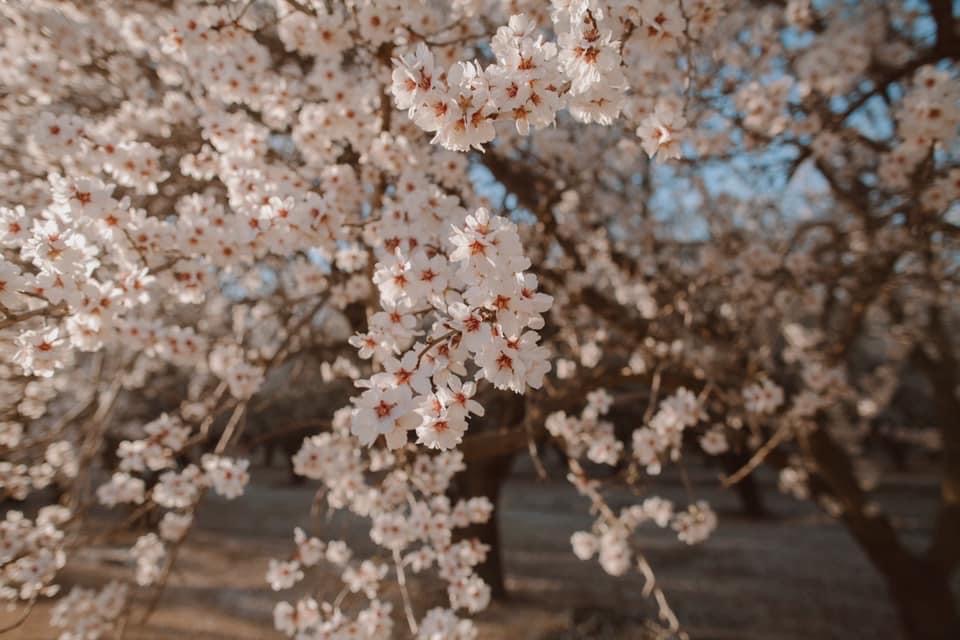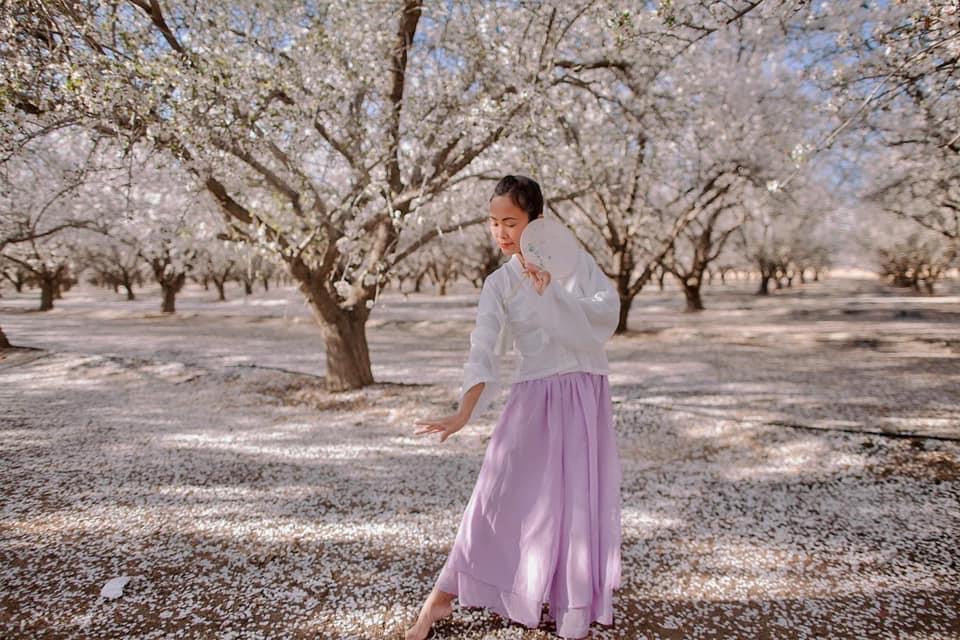 Almond trees in Bakersfield only bloom once a year and as luck would have it, that time of year is usually mid-February to mid-March. But they vary from year to year depend on the weather. They don't last long, usually 7-10 days. If you neglect to check on the bloom time, you could miss them entirely. So around the middle of February, you should start doing some Instagram stalking and ask the locals, "Any bloom yet?" (That's what I did and lucky me, I caught it just in time!)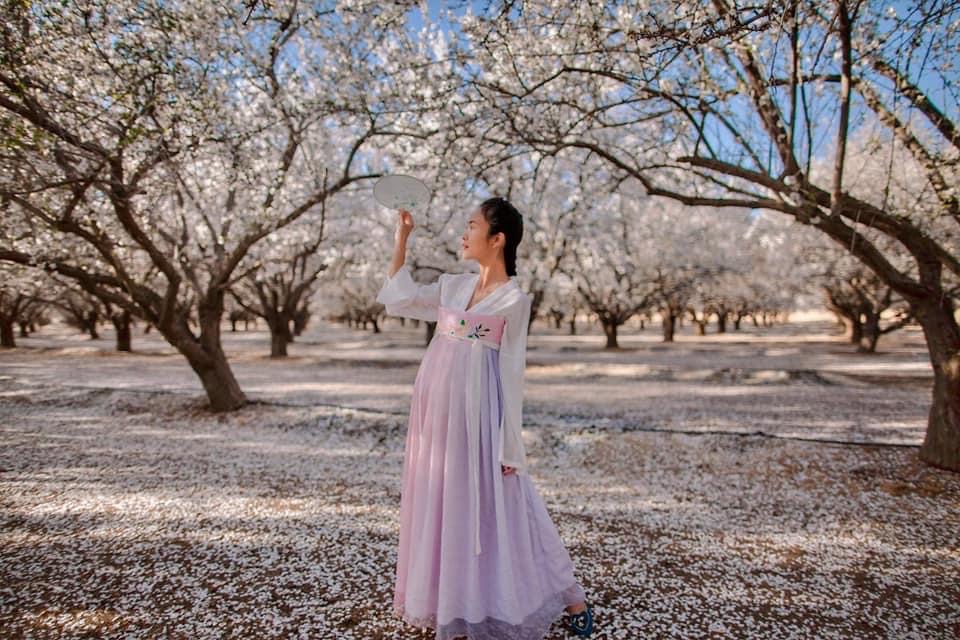 The best time to photograph almond blossoms fields is around sunrise or sunset to get that soft dreamy light. There was space alongside the orchard off the road to park our car, so it was easy to hop out and snap some pics!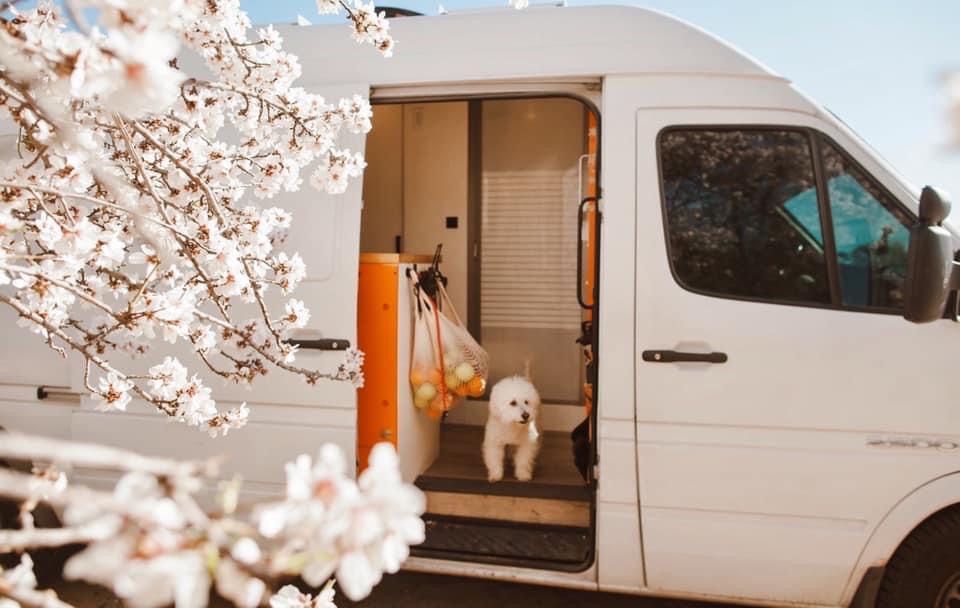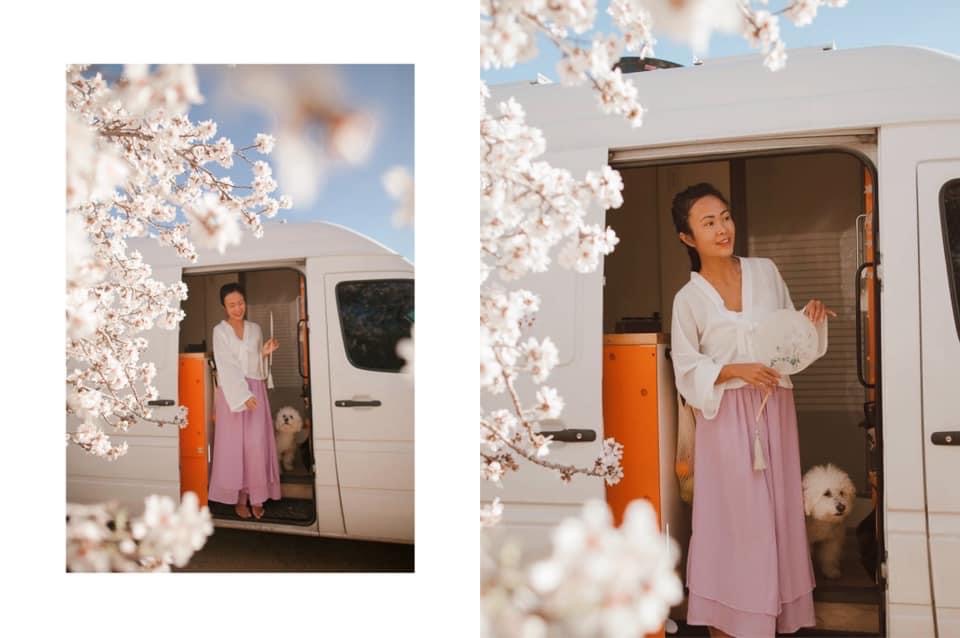 Many photo enthusiasts flock to these orchards to take advantage of the beautiful views, but also may be causing problems for the growers. Local growers say this is the most critical time of year for their crop. If the blossoms are disrupted during this time, this can decrease the yield the final harvest. So please Be Polite! If you plan on taking photos, stick to the edge or first lane and remember to not wander up and down the orchards. Remember that you are trespassing. If you are interested in an extended photography session (engagement/weddding/..) you should contact the landowners ahead of time!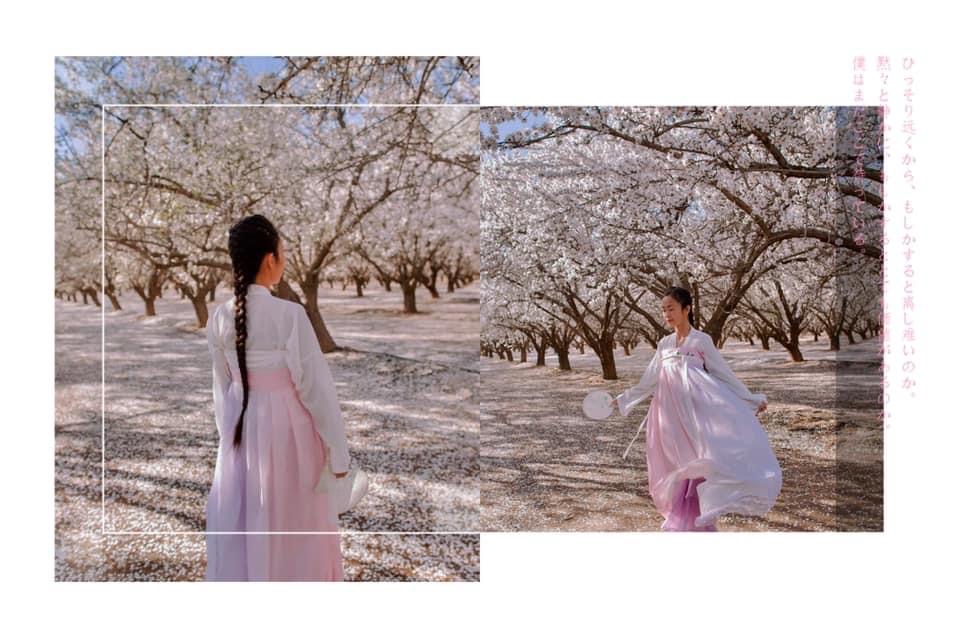 March: Tulip Bloom
Every March the South Coast Botanical Garden comes alive with tulip bloom.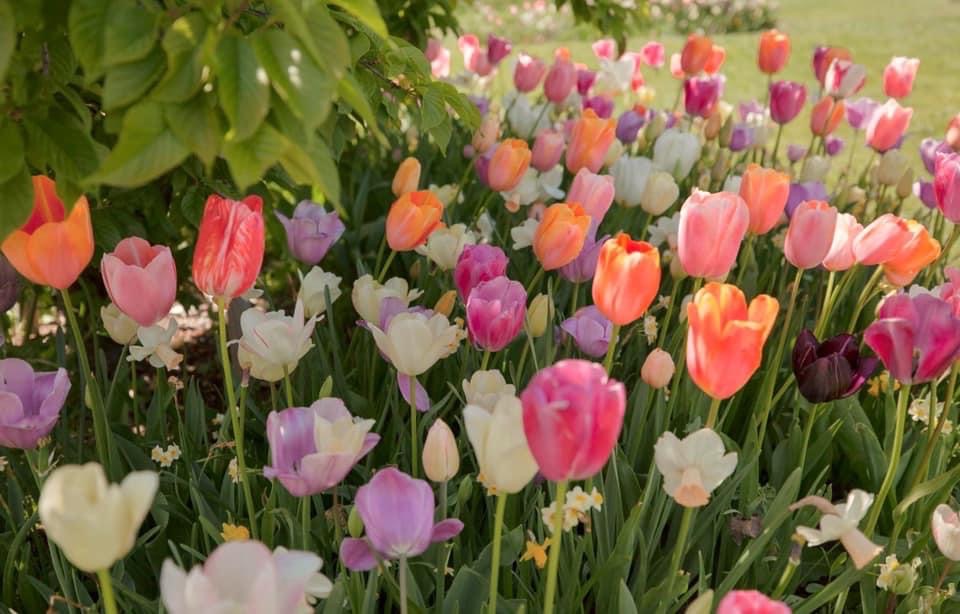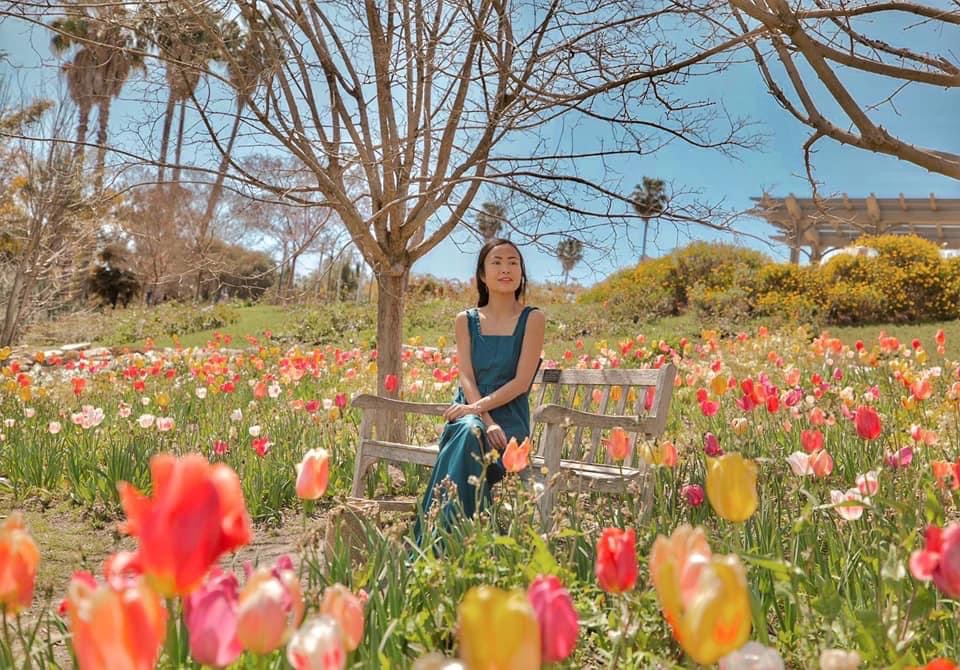 Located on the Palos Verdes Peninsula, The South Coast Botanic Garden is a lesser-known botanic garden that is quite the hidden gem. The 87-acre property with 2,500 species of plants from all over the world particularly excels in California native plants, many of which have colorful blooms year-round. The most notable highlight of this garden is their tulips.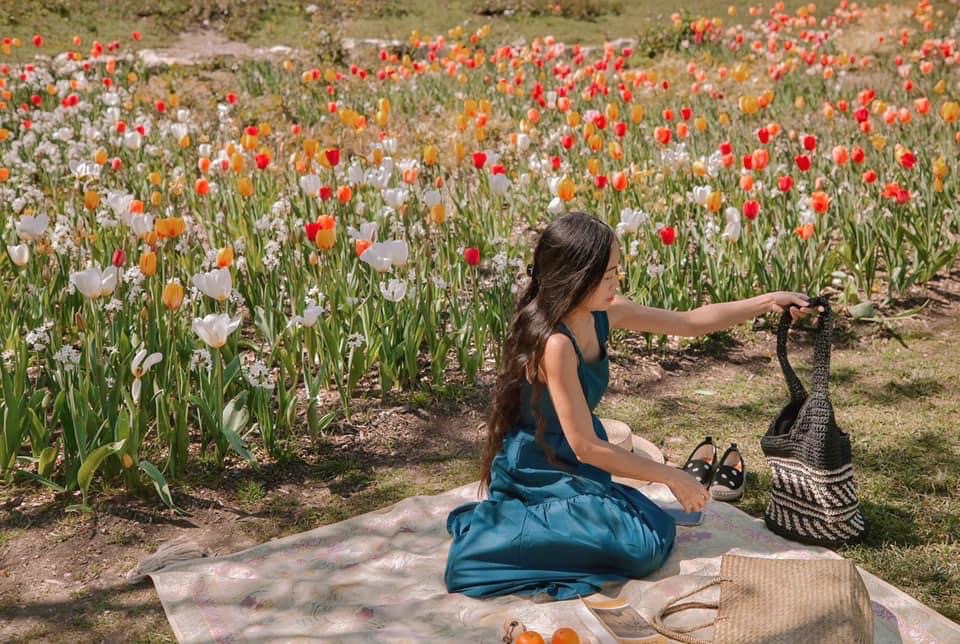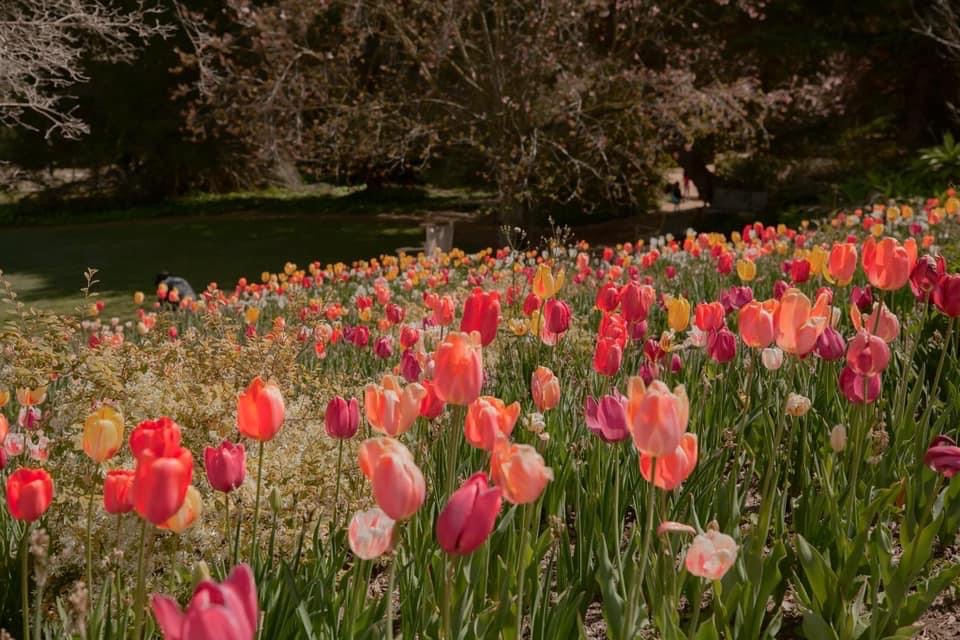 There were tulips beds everywhere. How thrilling to stroll from color to color!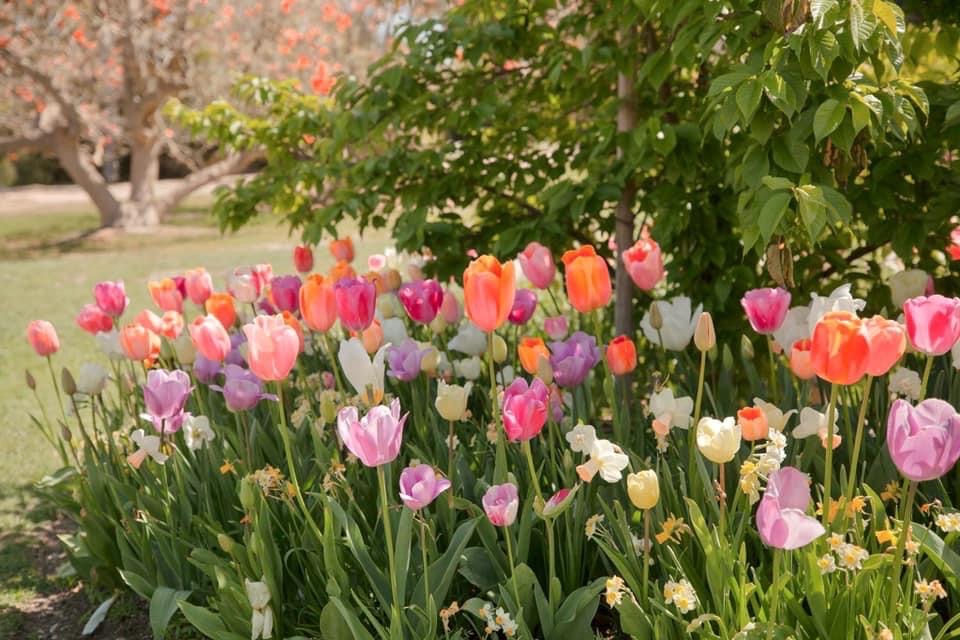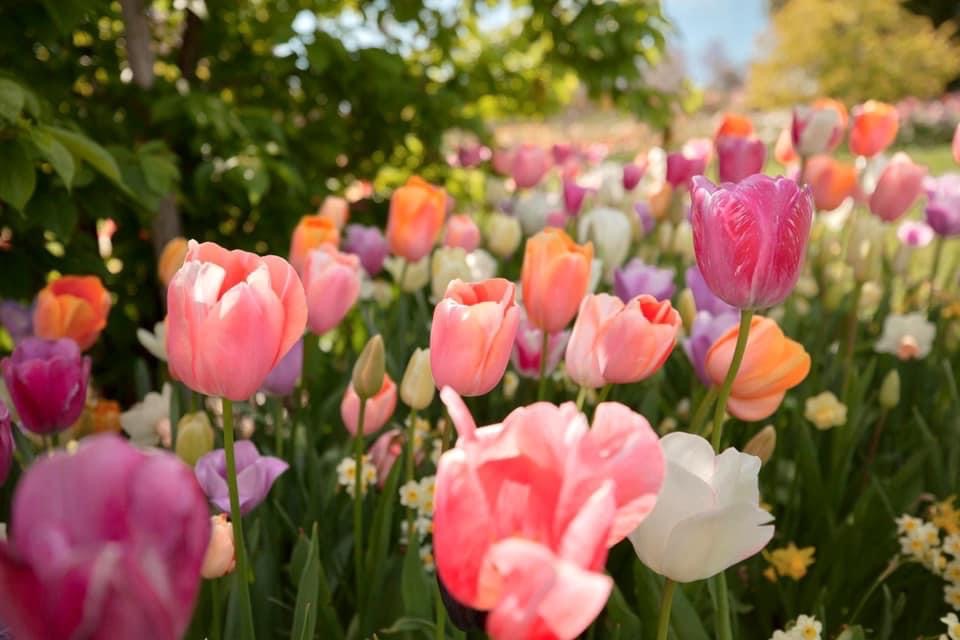 There are four areas planted with tulip bulbs: near the sculpture, the Amphitheatre Lawn below the Rose Garden, the Grass Garden, and the Phoebe's Meadow. Each area will bloom at its own pace and will only last a few weeks. Make sure to keep checking their website and blog for additional updates when planning your visit.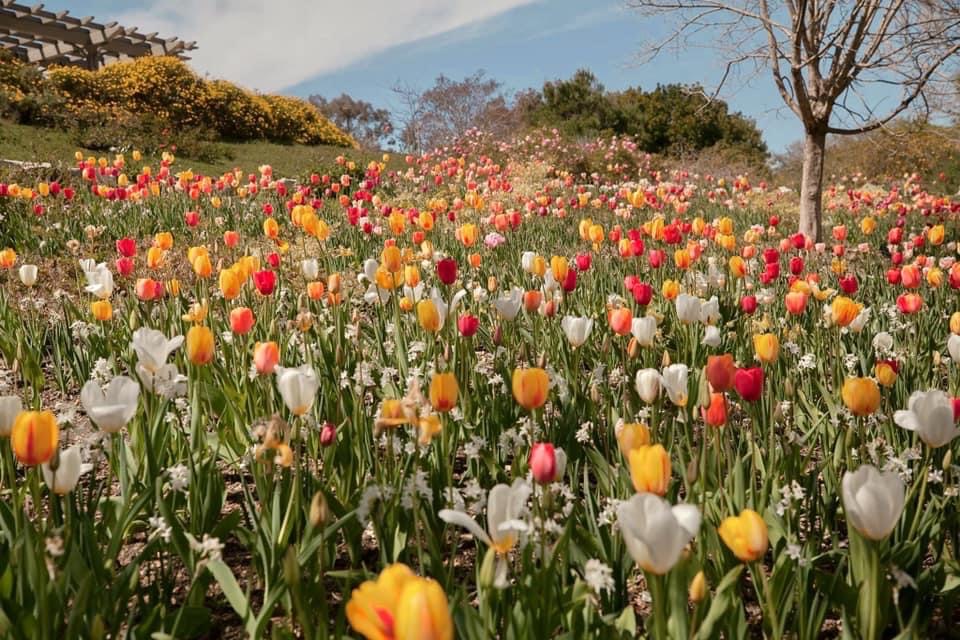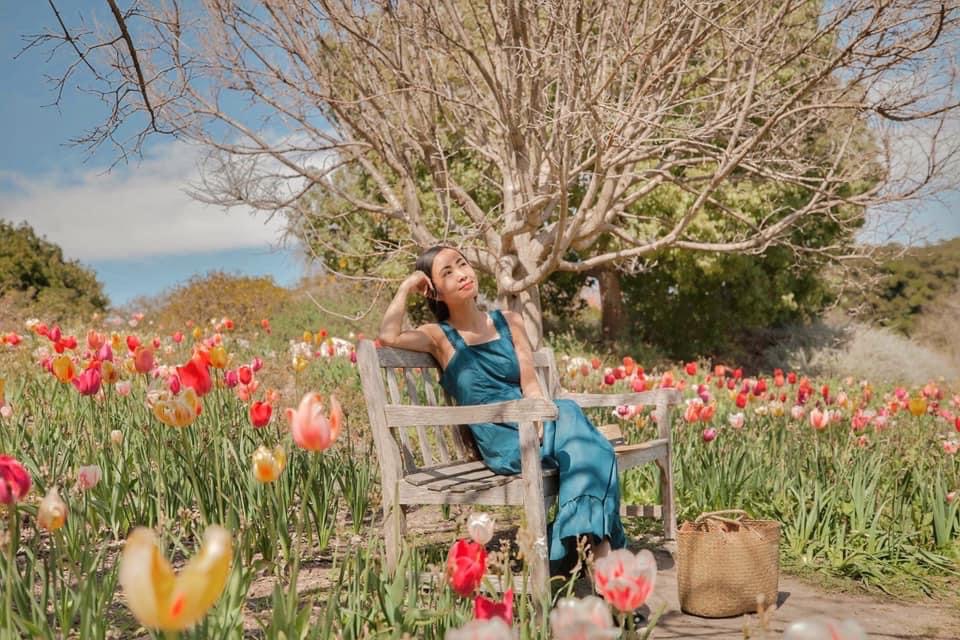 April: Cherry Blossom
Guess what? Cherry blossoms don't exclusively grow in Japan. You can see them bloom in Los Angeles, too!
Cherry blossoms are expected to peak March 19-25 in Japan and March 27-30 in Washington, D.C. But you don't have to travel that far to see the delicate blossoms that define spring. Southern California already has trees in bloom in easily accessible areas.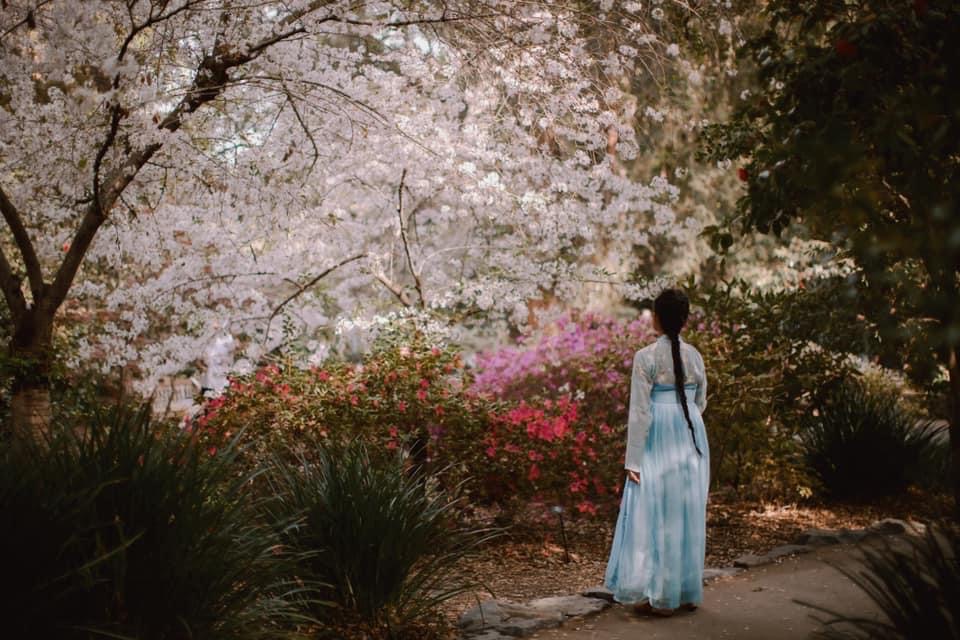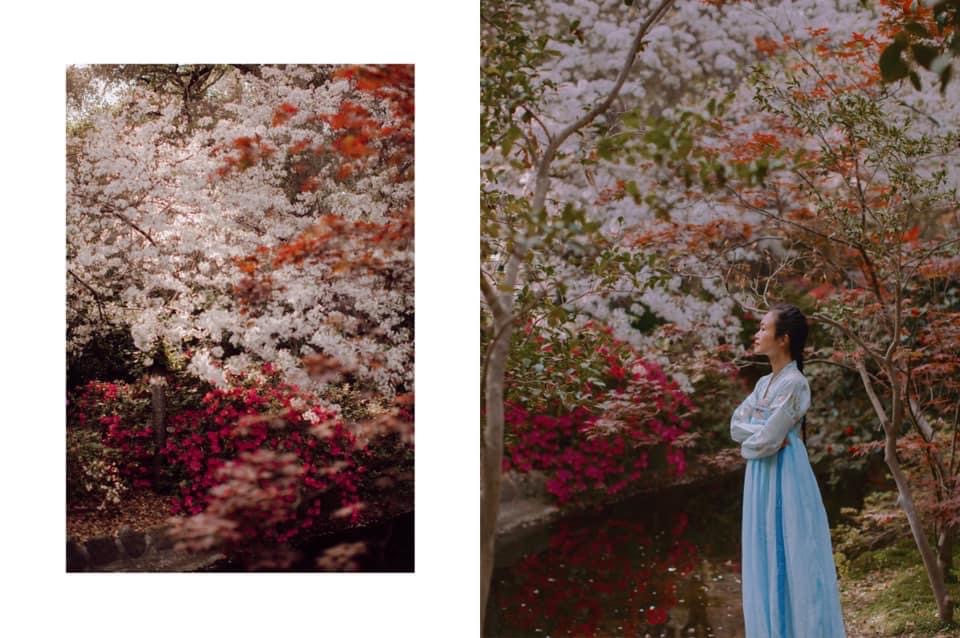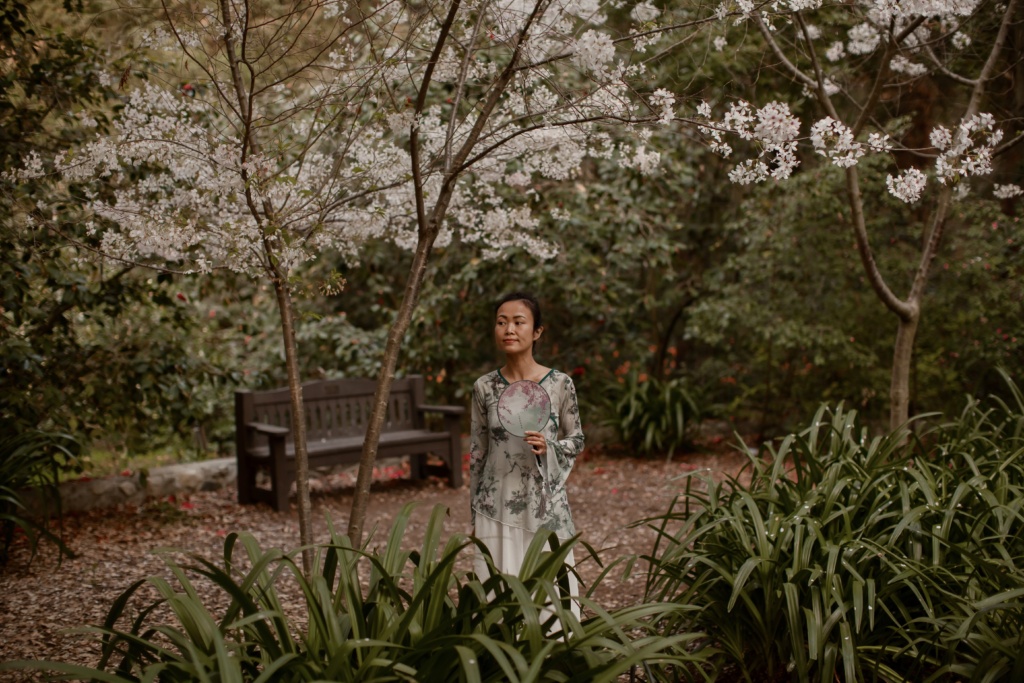 Located at 1418 Descanso Drive in La Cañada Flintridge, Descanso Gardens feels like it's tucked away from the hustle and bustle of the city. This garden takes pride in its authentic Japanese garden. Among the native Asian plants are the same types of cherry trees that thrill people throughout Japan this time of year: Okame, Pink Cloud, Akebono and Beni Hoshi.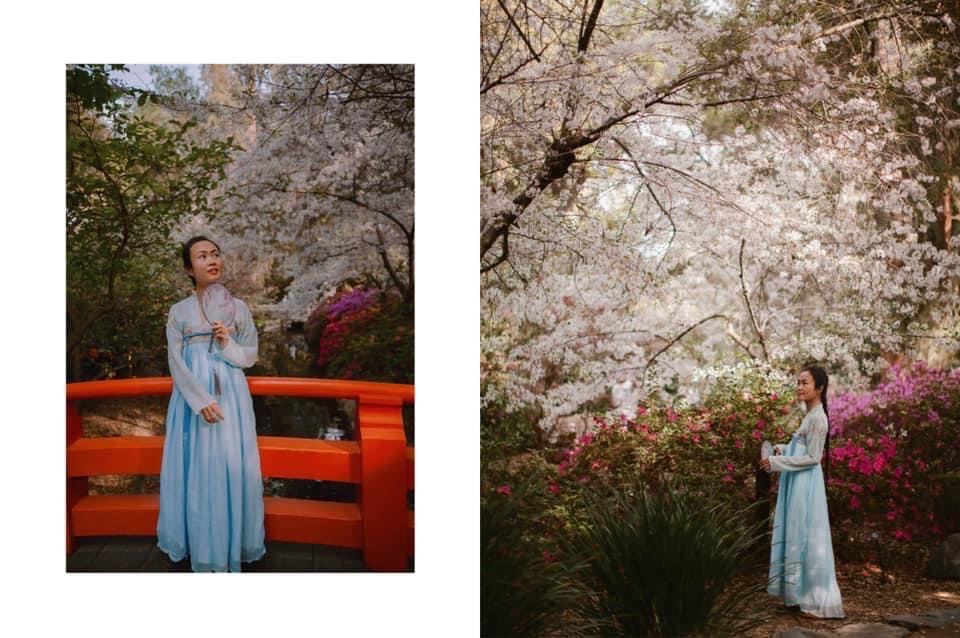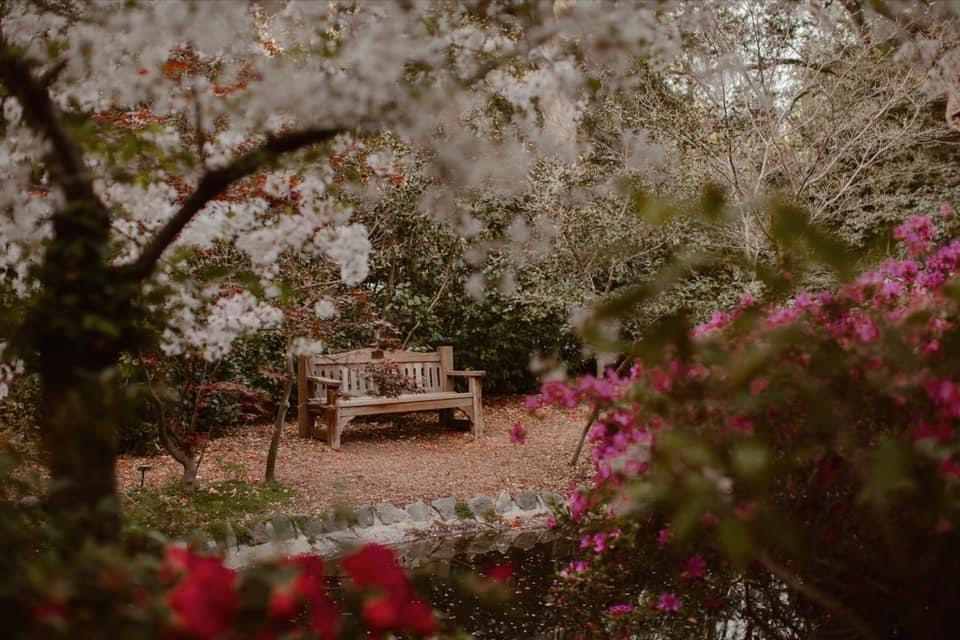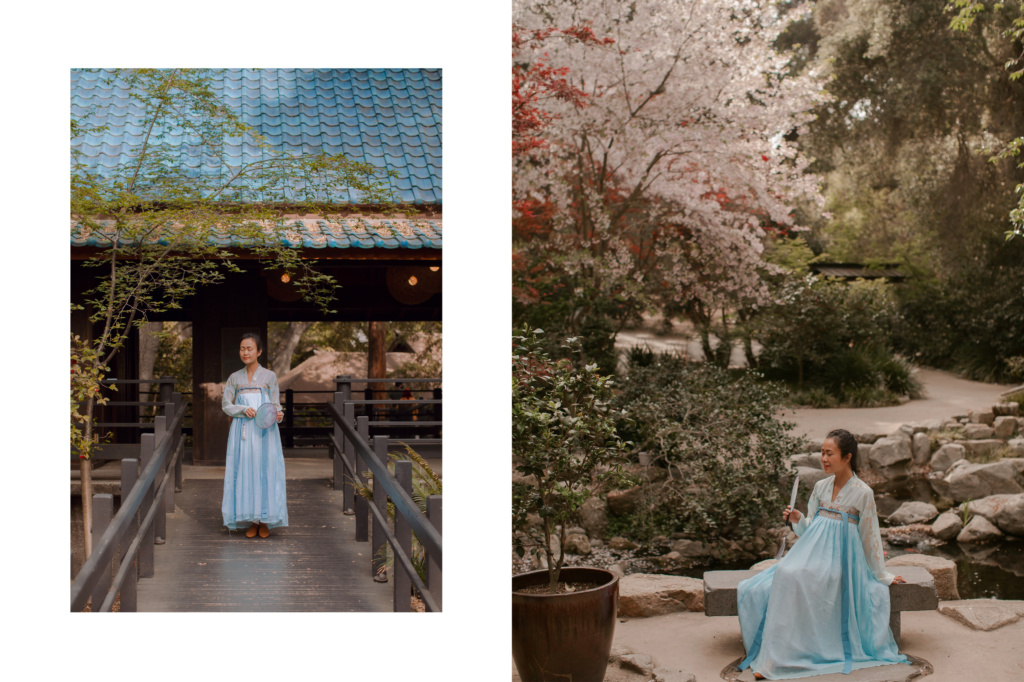 The Descanso Gardens features a beautiful Japanese garden, an arched bridge over a stream filled with swimming koi fish, and a rustic teahouse. All these structures are even made more authentic-looking with all plants native to Asia.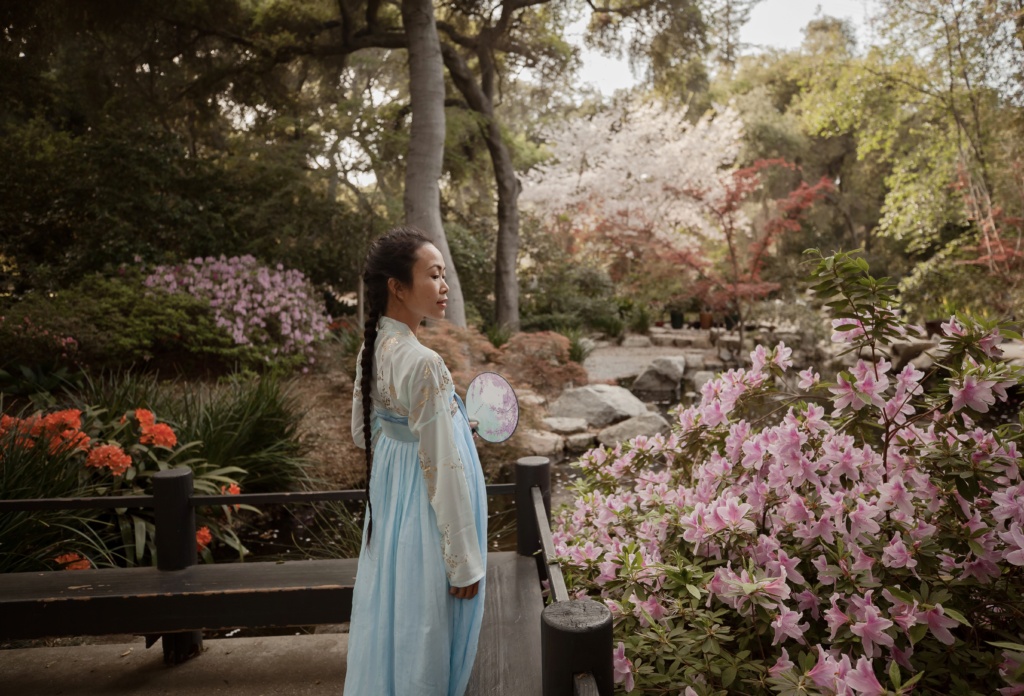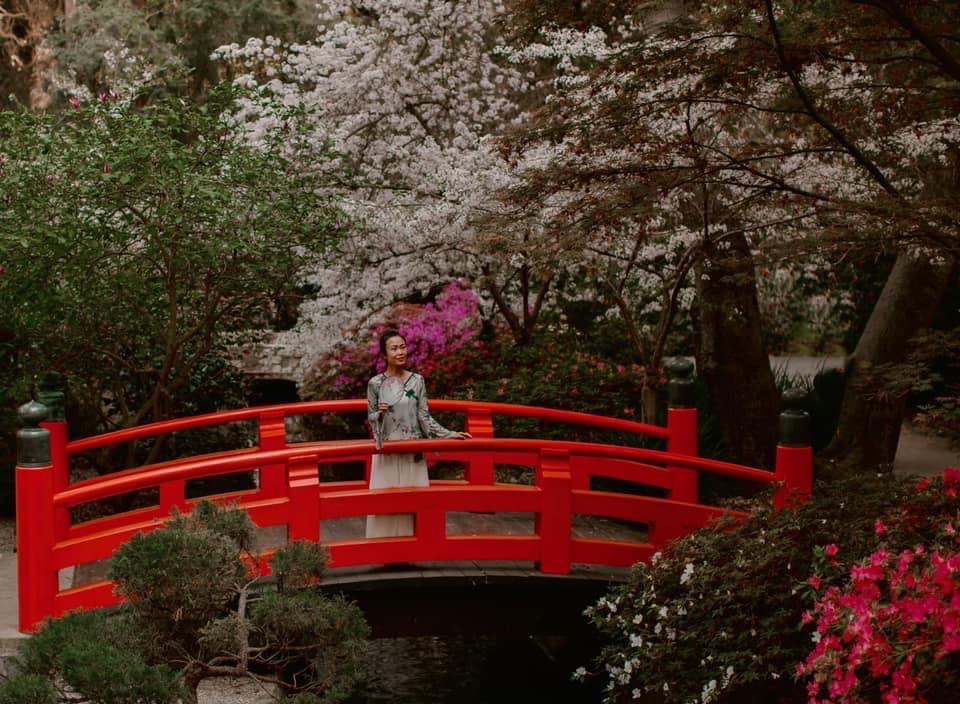 Enjoy them as you stroll over the arched bridge and around the koi-filled stream. You'll see trees with blossoms that range from pure white to soft pinks and vivid magentas; some are even a delicate yellow.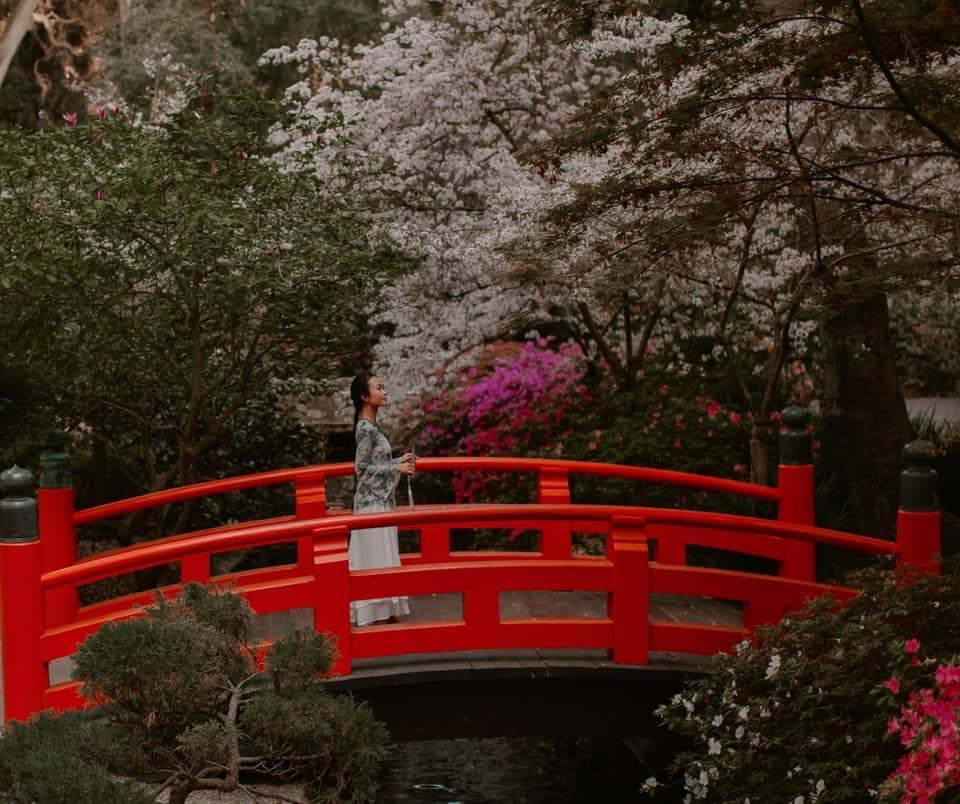 Descanso Garden is home not just to cherry trees, but to other beautiful blossom too! Take your time to explore this beautiful gem.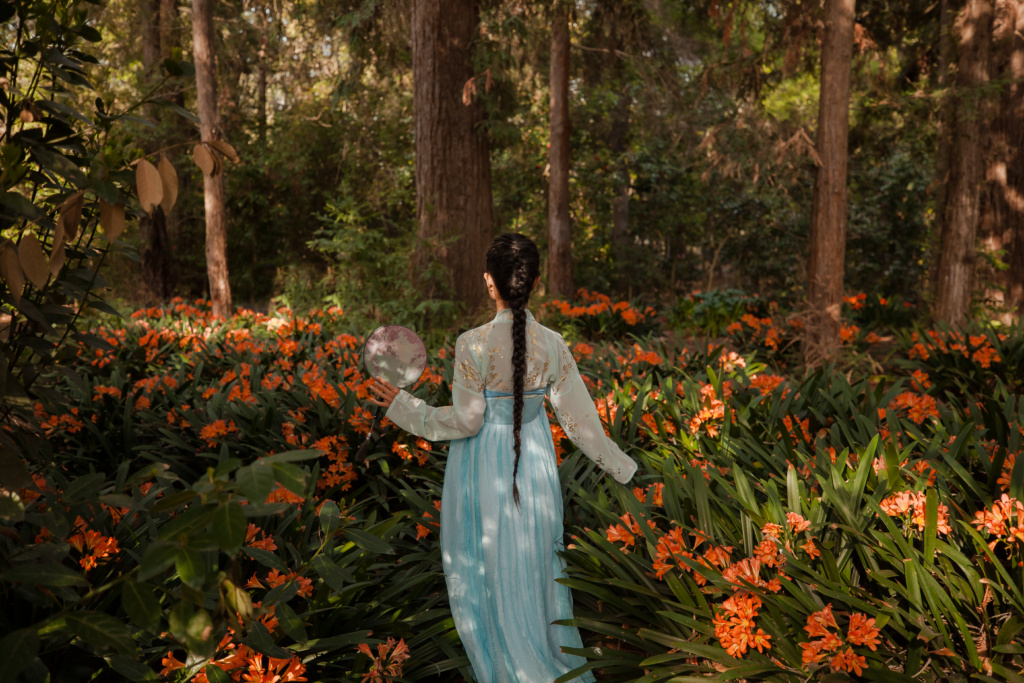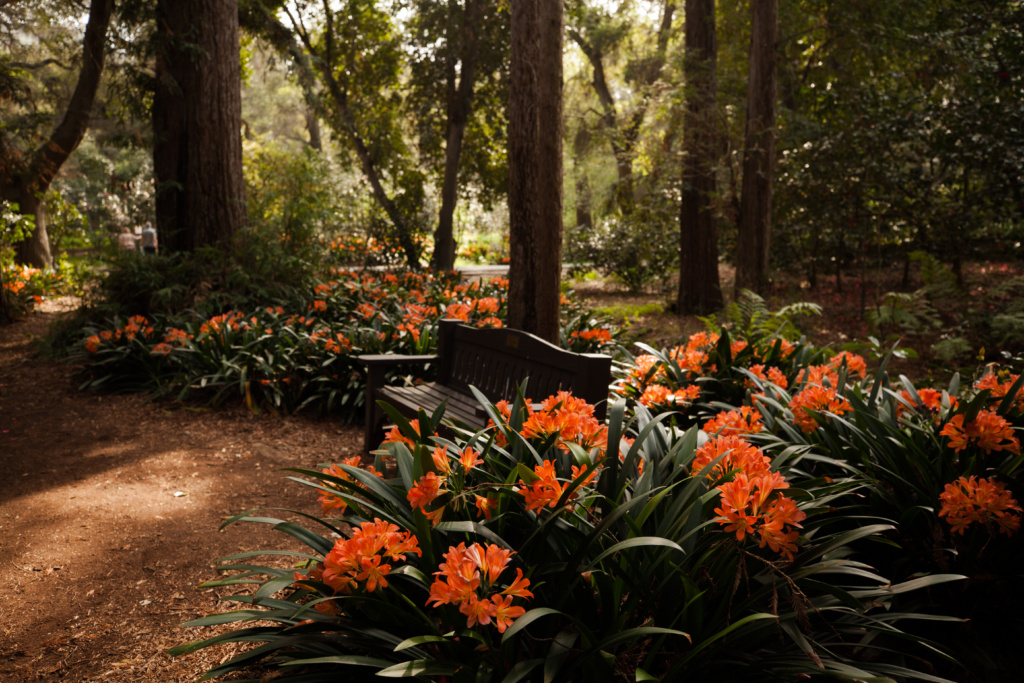 And even their parking lot is lined with pink cherry trees!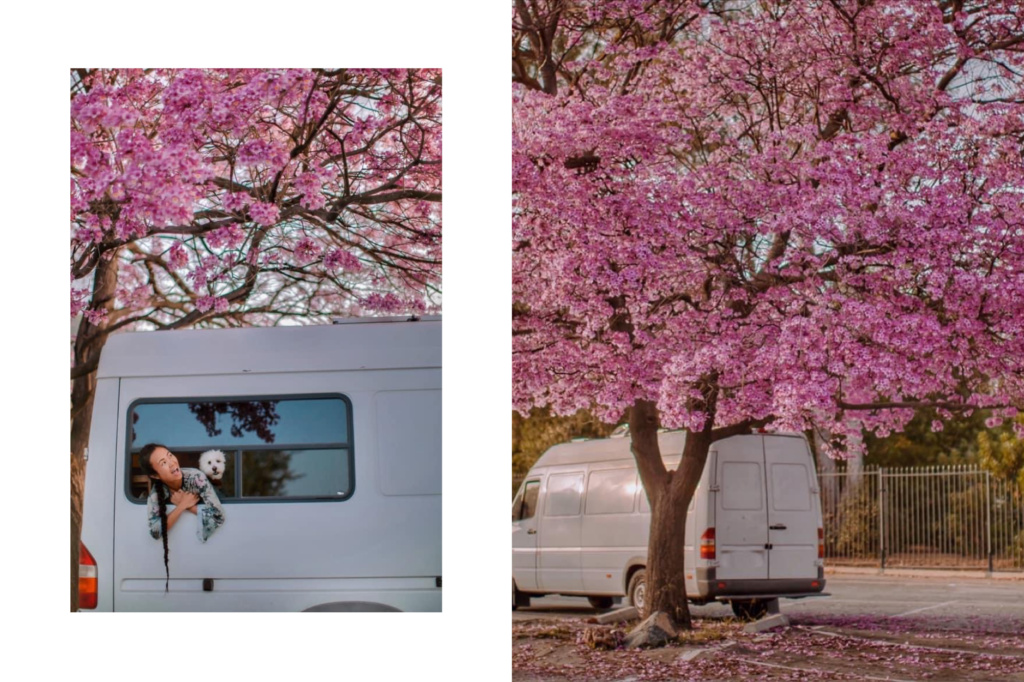 Once cherry trees blossom, their pink halo lasts only 10 days or so. And rains can dissolve the petals on the ground into pink puddles. So I suggest checking Descanso Garden's Instagram for up-to-the-minute photos before you visit.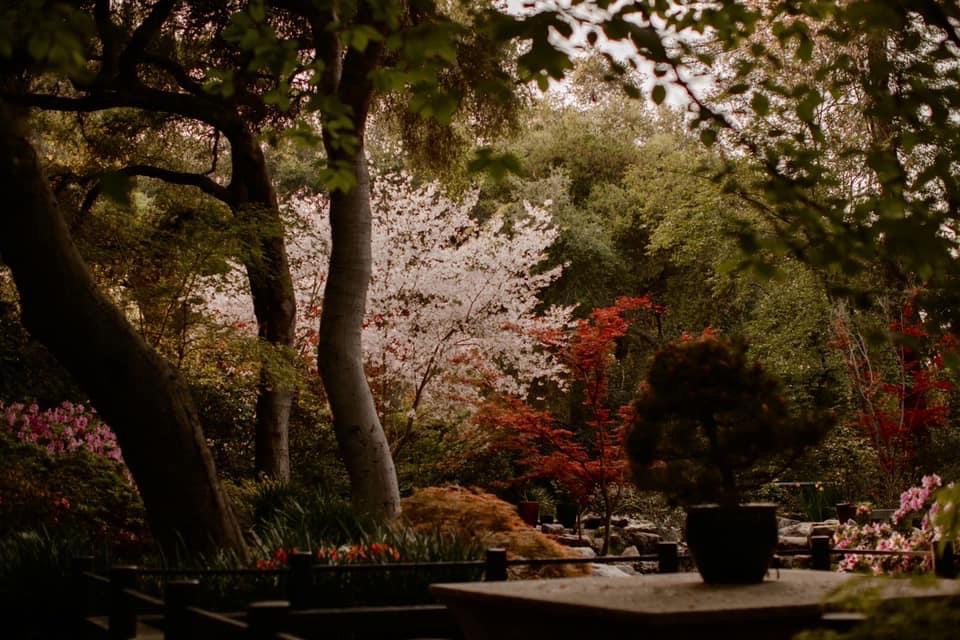 April – May: Ranunculus
Every year from March 1st to May 13th, 50 acres on the west side of Carlsbad come alive with the beauty of thousands of blooming Ranunculus flowers.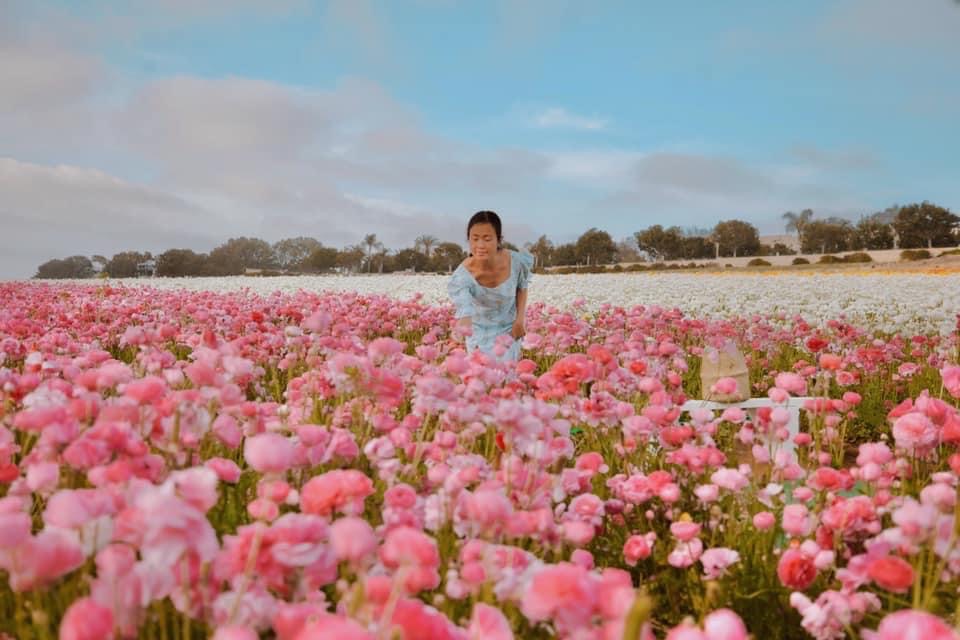 The flowers themselves are found in a variety of colors ranging from white and yellow to rich purples and oranges. You'll find roses, orchids, sweat pea blossoms, petunias, poinsettias, and more, but the main attraction is the nearly fifty acres of Giant Tecolote Ranunculus flowers.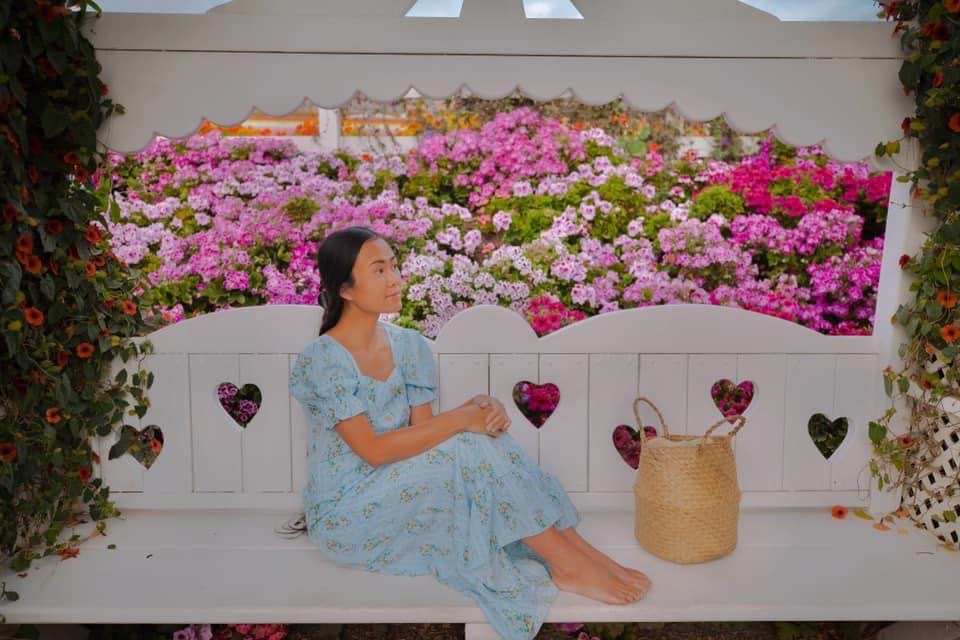 The fields are split into sections by color which gives you a unique view over the many different flowers that dot the hillside. It is an amazing view, seeing so many flowers blooming all in unison.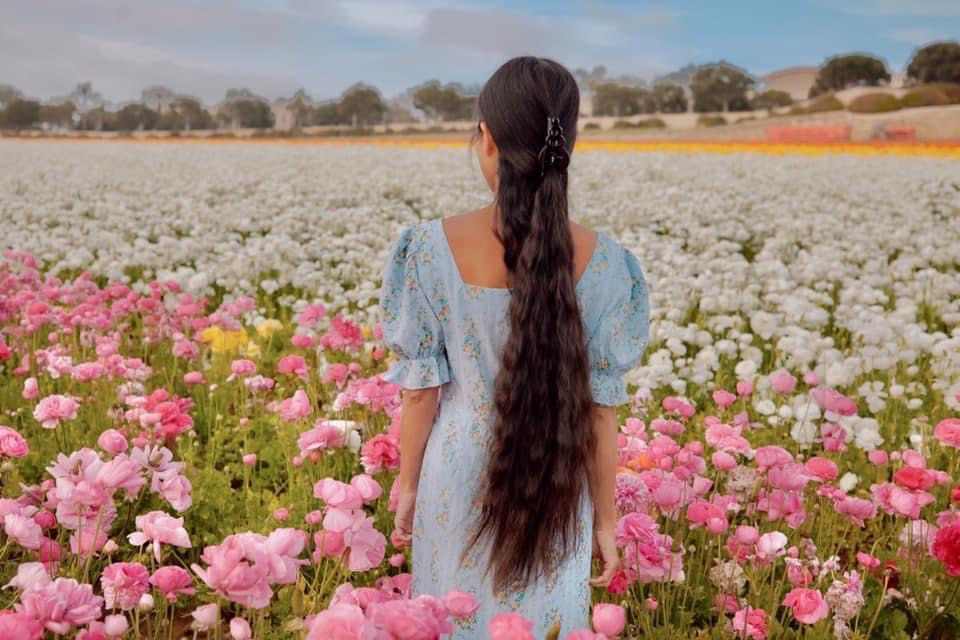 You could spend hours on the 50 acres of blooming hillsides which overlook the Pacific Ocean and Carlsbad Outlets. It's the perfect way to spend a weekend afternoon ~ walking through gorgeous colored flowers, lunch and a little shopping! Or you can even make a full day out of it and head to the beach before or after looking at the flowers.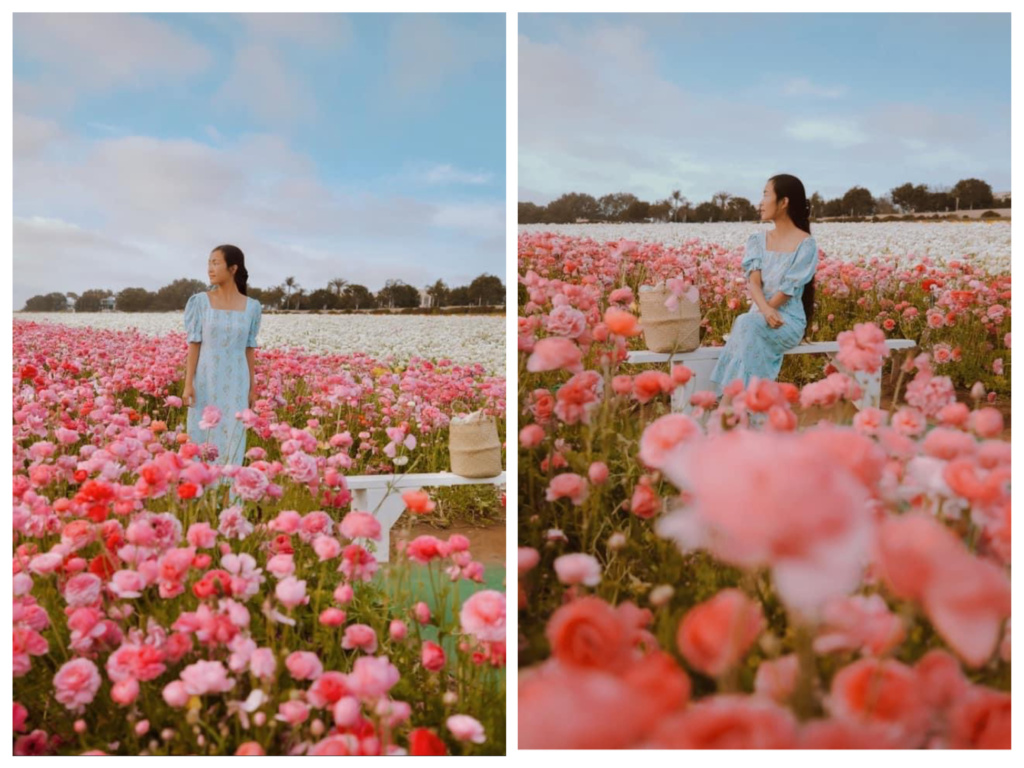 And right next to the Flower Fields you can find these beautiful sunflower maze. Open daily from 9am-5pm (Address: 1050 Cannon Rd, Carlsbad, CA 92008). The general admission fee is $5 to get you into the sunflower maze, games, and photo opportunities.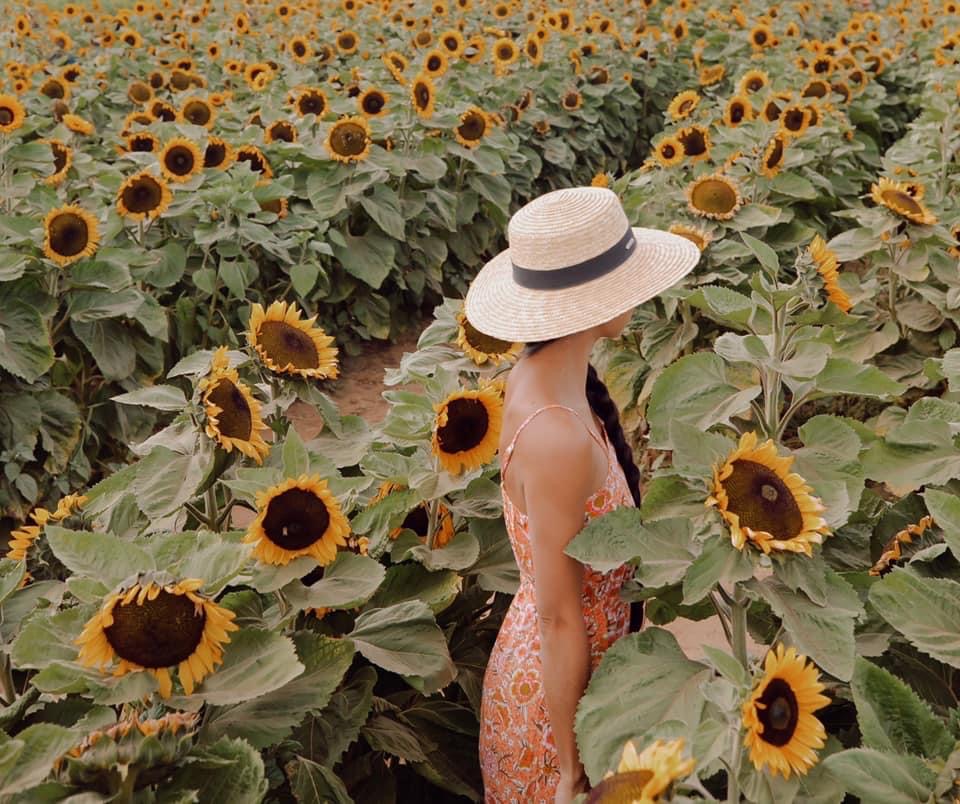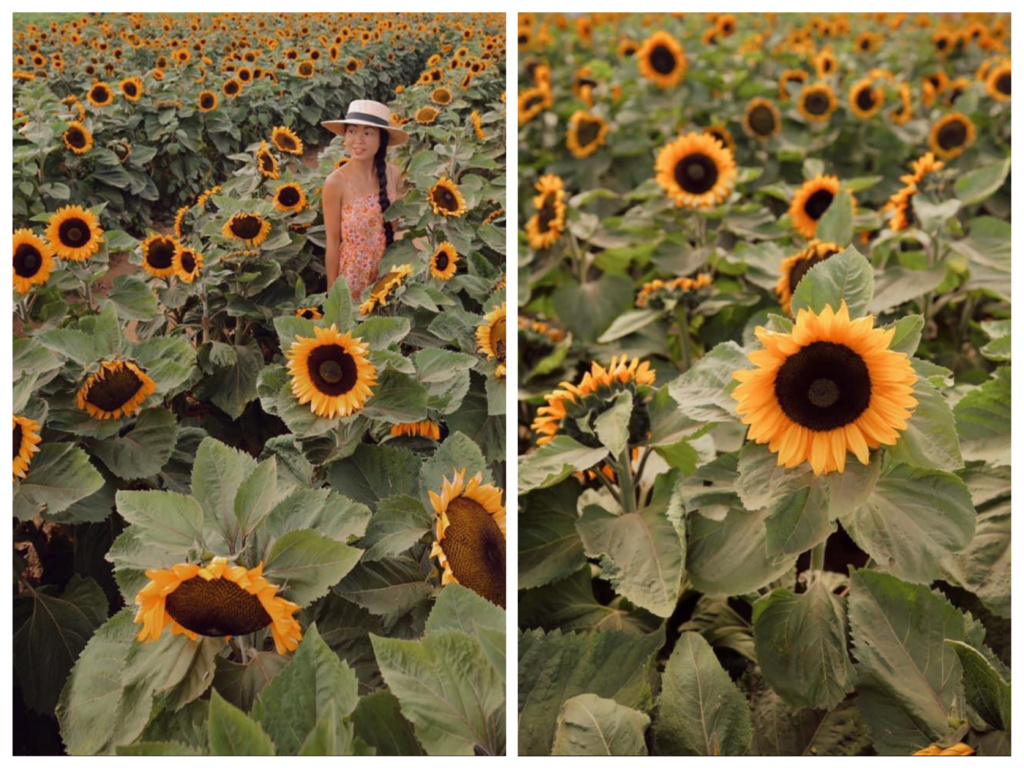 May: Mustard Bloom
Wild flower season in Southern California is a truly special time. There are many places to experience the season in Southern California and one of my favorites is the mustard bloom in Chino Hill State Park.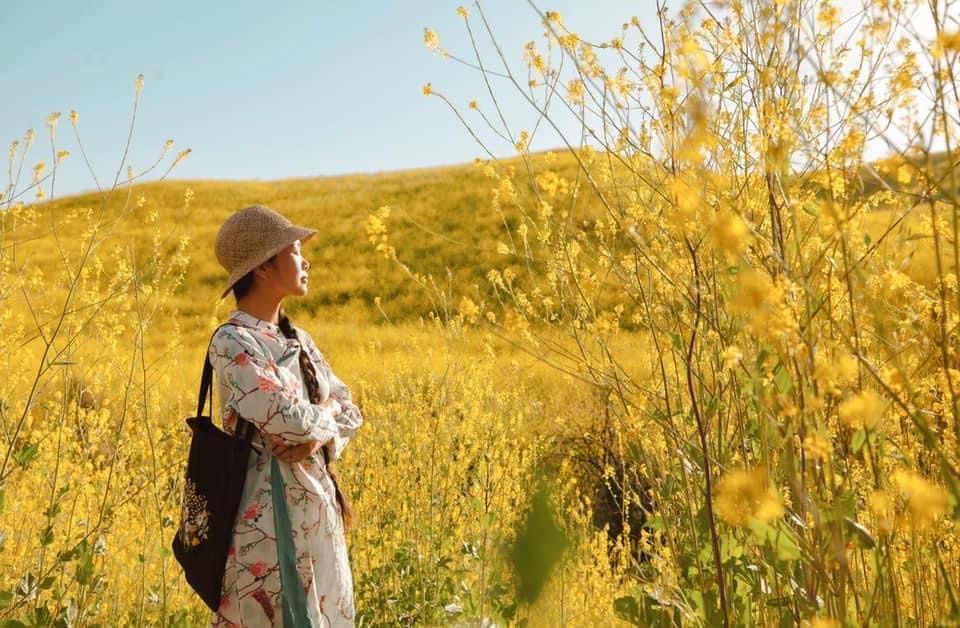 Chino Hills State Park is a 14,173 acre park located on the borders of Riverside and San Bernardino counties. The day use fee for Chino Hills State Park is $5; they limit the number of cars inside the park, and there may be a line to get in during busy times (especially on the weekends during the wildflower season).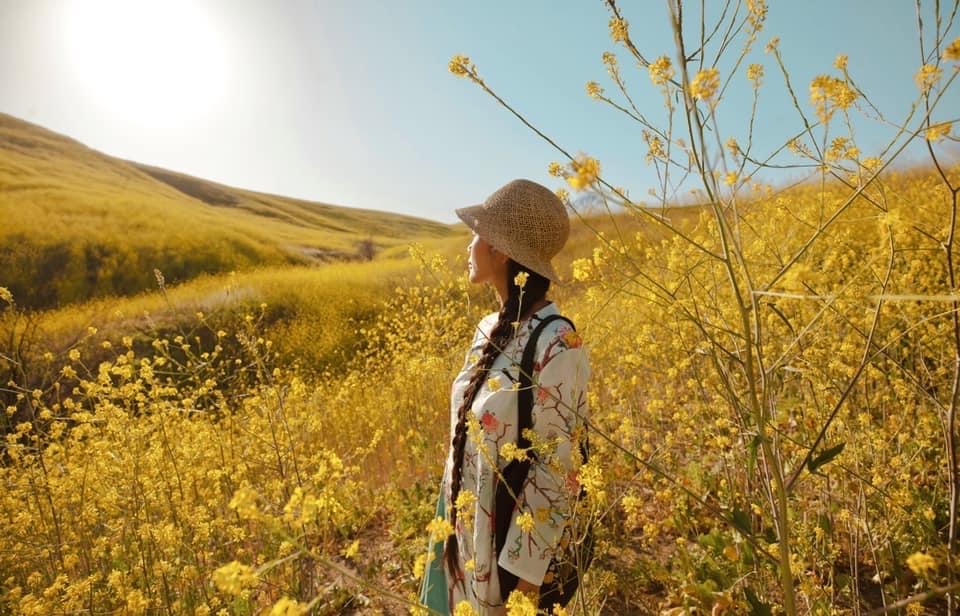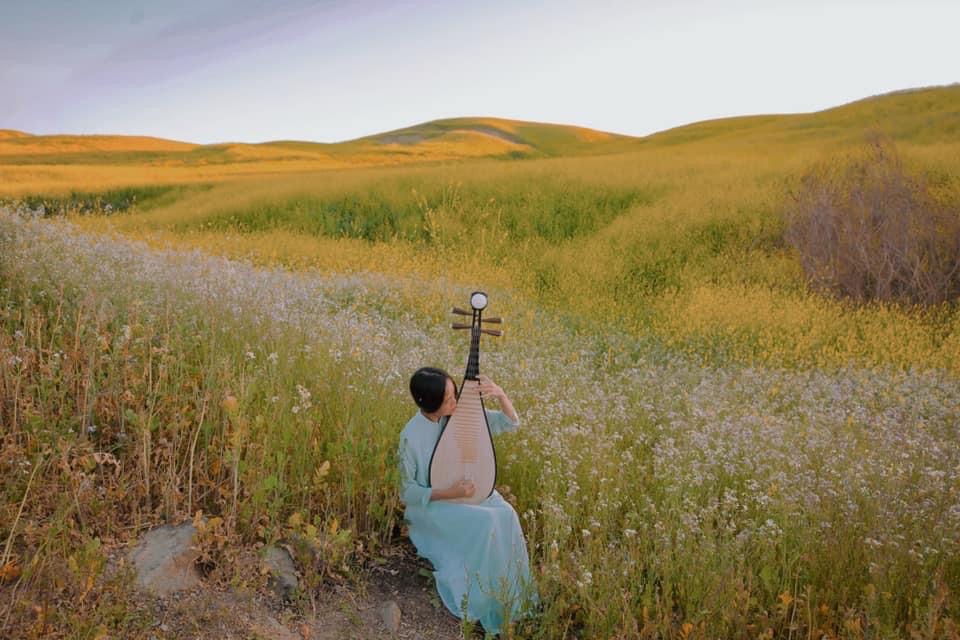 After arriving at the east entrance to Chino Hills State Park, which is off Highway 71, we proceeded through the payment booth and then go about 2 miles to a small dirt road on our right and parked at Horse Camp. This is where we parked our campervan and spent the day just enjoying the view. This lot is pretty quiet and not crowded compared to other overlook points.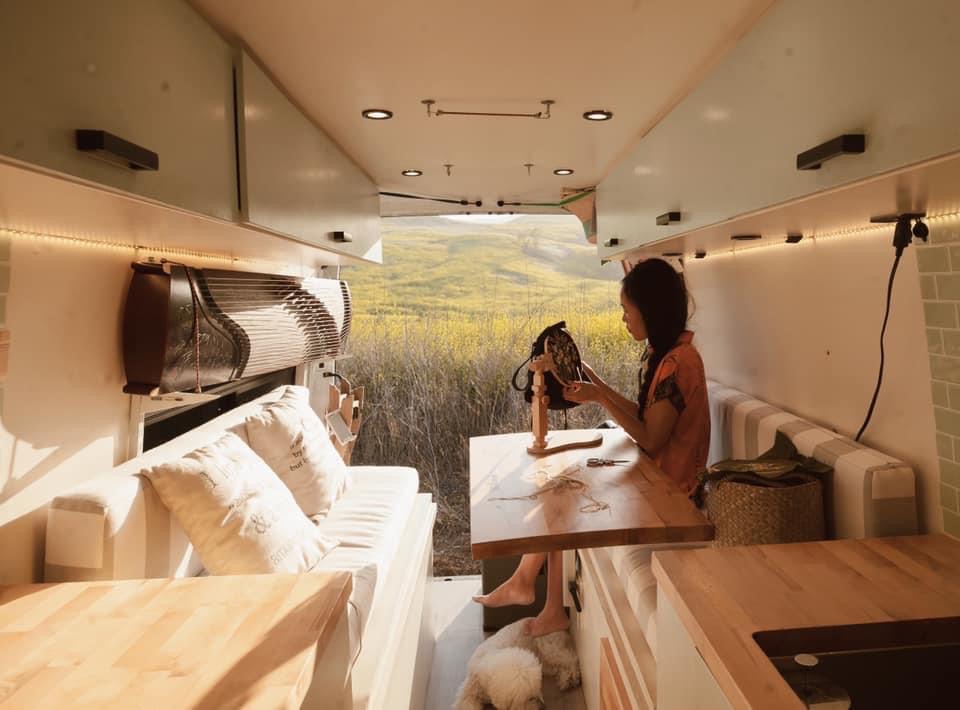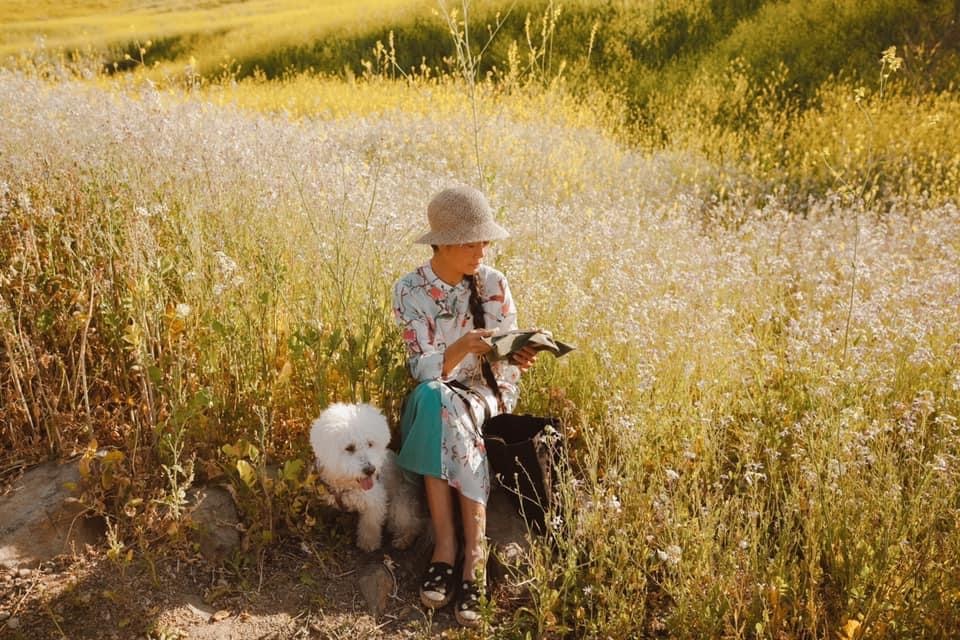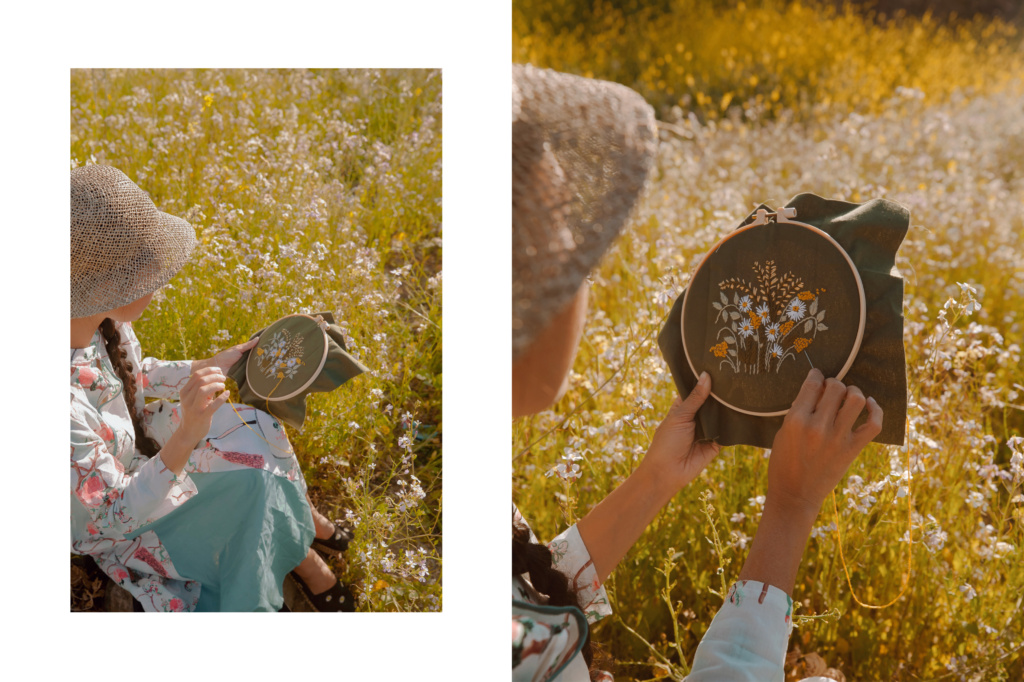 There were carpets of shoulder high mustard everywhere. Many of the trails are overgrown with thigh-high grass. The best trail seems to be Bane Ridge – almost at the end of the paved road as you enter from the CA Highway 71.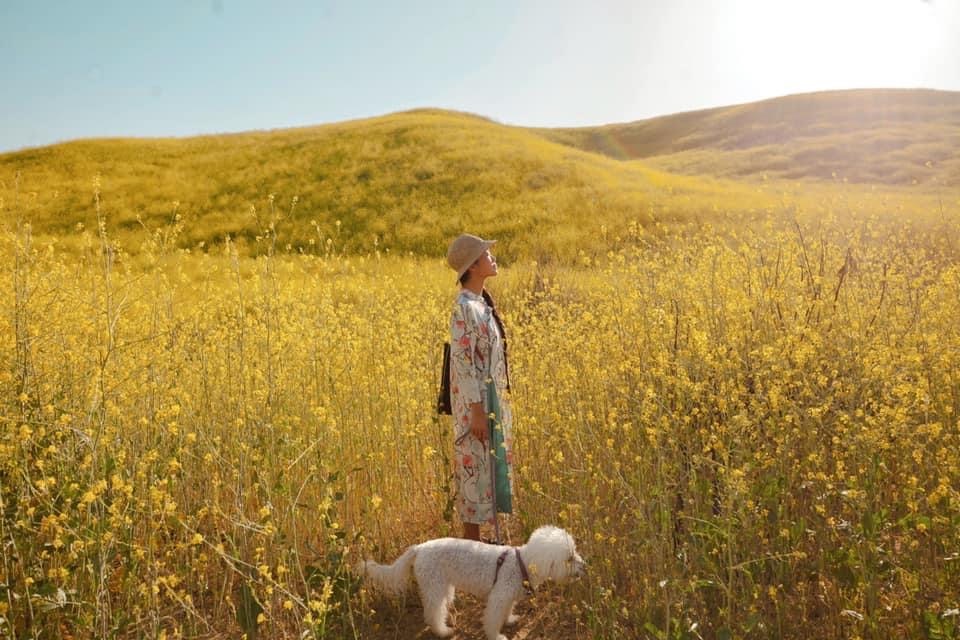 The park is very popular during these spring months, and can get crowded. Visit earlier in the day or closer to the end of the day (right before it closes) to get the magical golden hour light.
Do you have any favorite flower spots in LA? Share with us in the comment below!