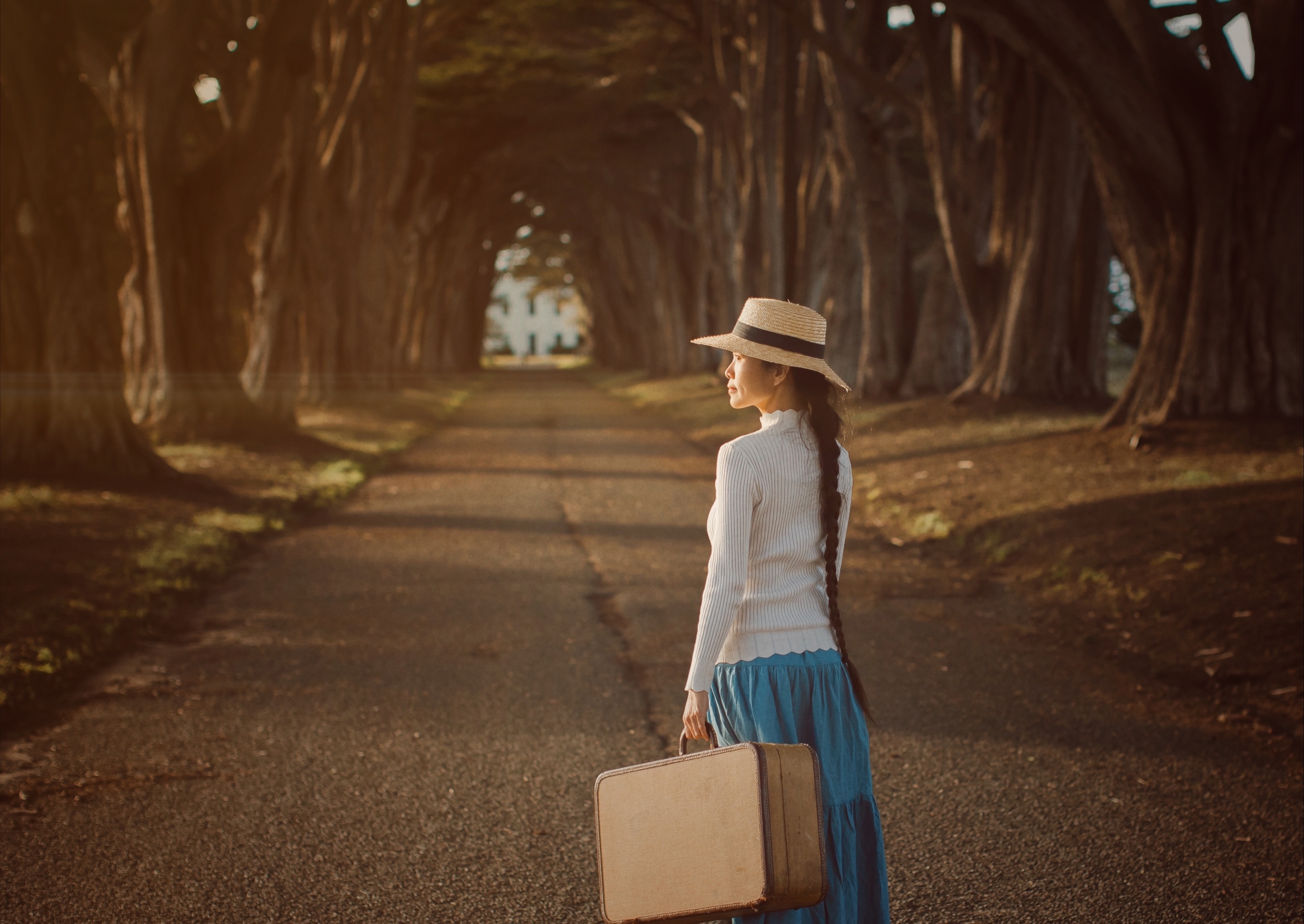 Your Complete Point Reyes Travel Guide
Point Reyes, located about 1 hour north of San Francisco, is a relatively hidden gem tucked away on the California Coast that feels like something out of a fairytale. Once you cross the Inverness Ridge toward the Point Reyes headlands, you'll enter a world of rolling hills, coastal grasslands dotted with cattle, scattered ranches. redwood forest, and charming small towns. The drive will make you feel like stepping into the Irish countryside! The Point Reyes National Seashore may be secluded, but with 150 miles of scenic hiking trails, thousands of species of plants and animals for wildlife viewing, and the unmissable chance to gorge on local cheeses and some of the best oysters on the West Coast, there are many things to do here for your whole family!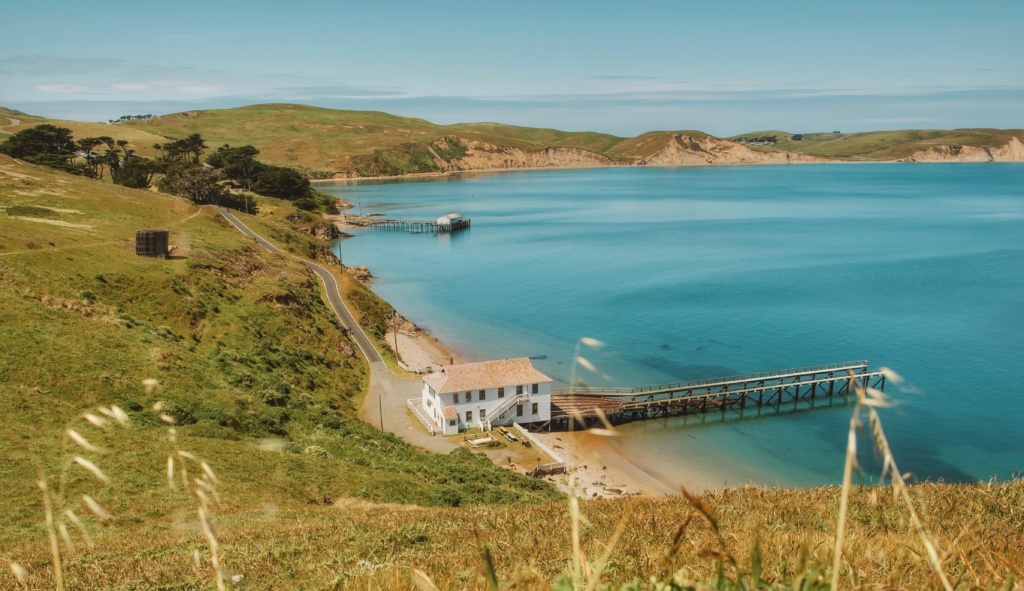 If you're wondering what to do in Point Reyes, you're in the right place. This Point Reyes Travel Guide has you covered from scenic hiking, historic lighthouses, to where to find the best cheese. Keep reading my Point Reyes travel guide and start planning your trip.
Chimney Rock Trail or Tomales Point Trail
One of the best things to do in Point Reyes National Seashore to really experience its natural beauty to the fullest is to go for a hike. The trails here are relaxing, scenic, and not too strenuous at all.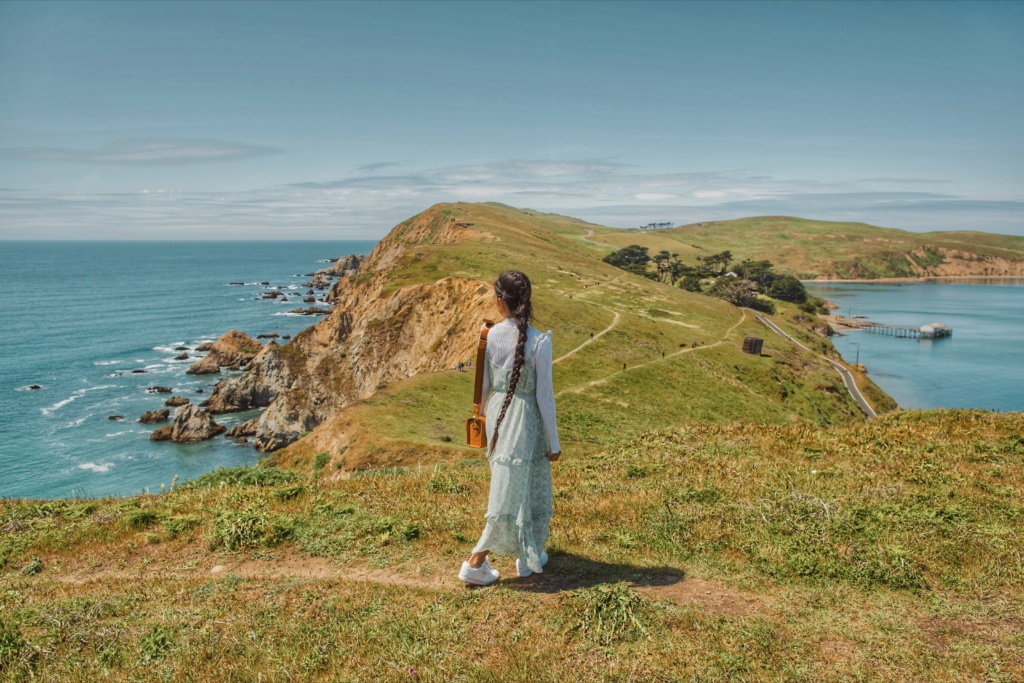 If you only have the time and energy to do one hike, I highly recommend one of two hikes – the Chimney Rock Trail or the Tomales Point Trail. Hiking in Point Reyes allows you to immerse yourself in the rugged atmosphere of the park, including its scenery and wildlife.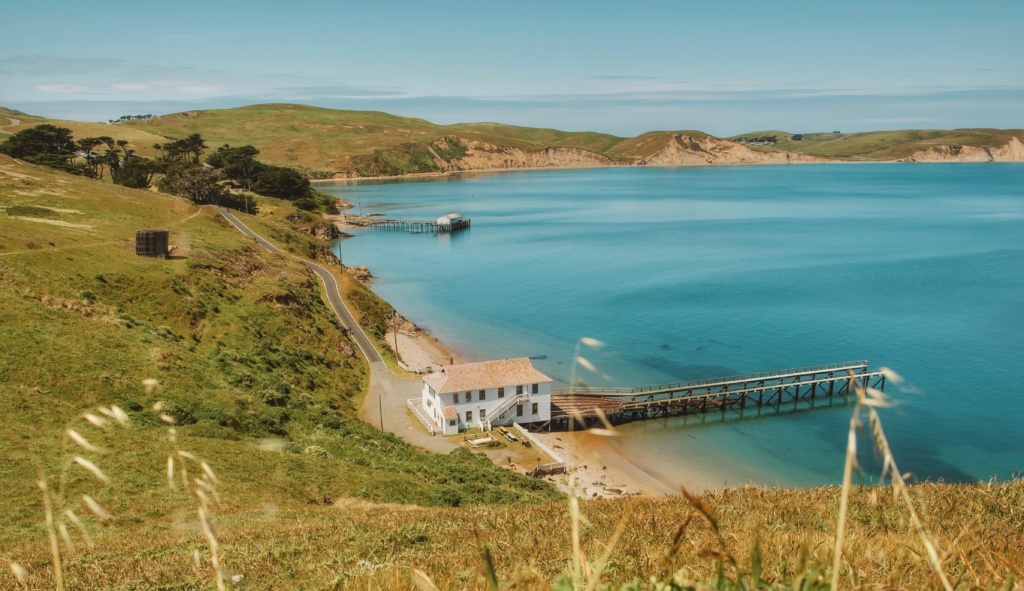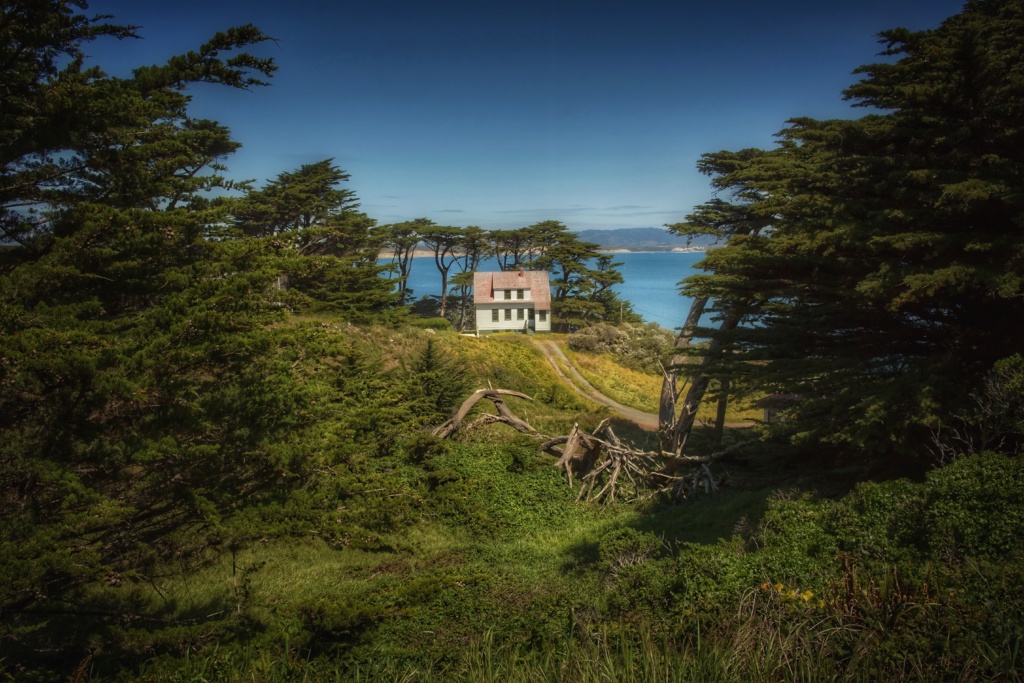 We visited the park around mid April (2022) and were blessed with sunny weather, clear skies, pleasant temperature, and less crowds. Spring brings beautiful wildflowers at hiking trails and I think it is one of the most lovely time to visit Point Reyes. On the days of our visit the skies were so clear and we were able to see miles and miles of pure open ocean.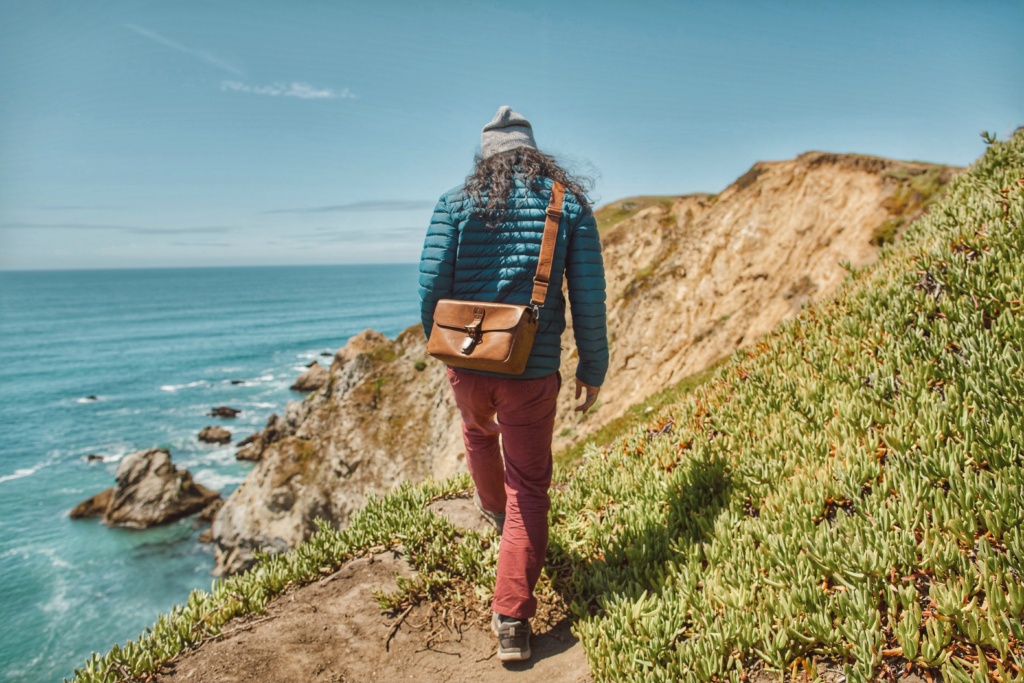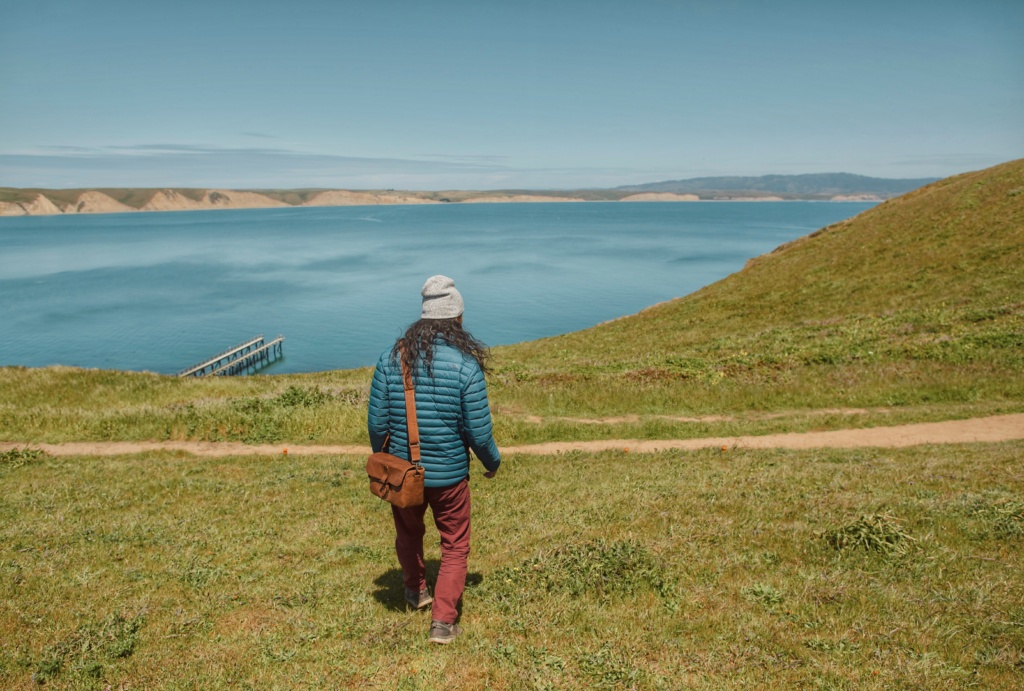 Chimney Rock Trail is my favorite trail. With stunning views over the Drake's Bay and the Pacific, this easy flat 2.5 mile hike is great for the whole family. Along the way, you'll walk by wildflowers and blooming meadows.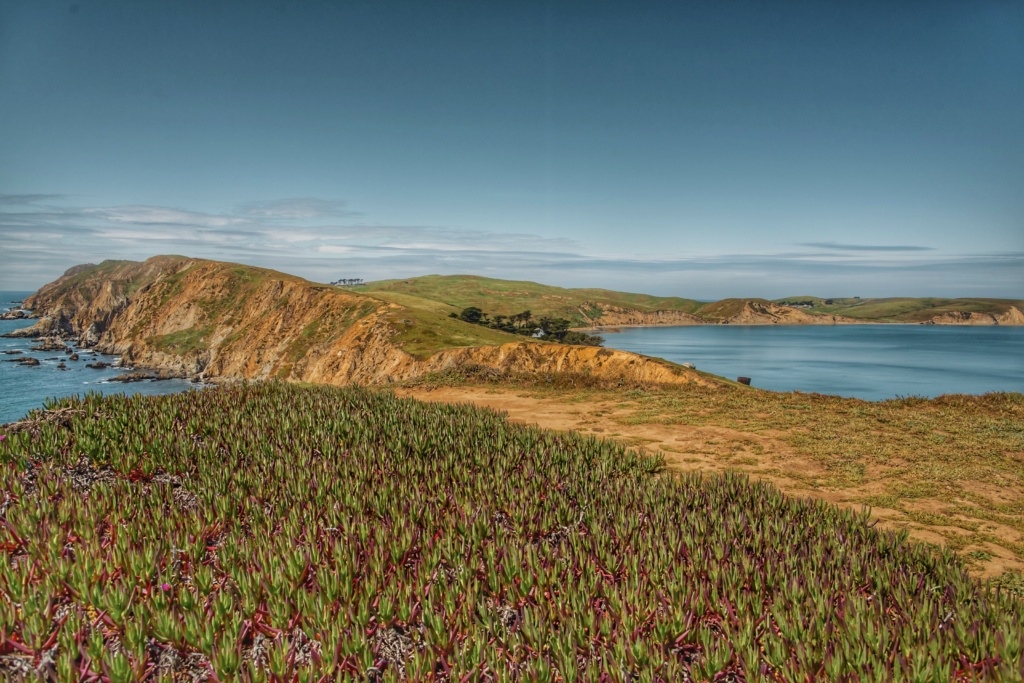 Elephant Seal Overlook
Spring is also the time to see the grey whales migration and elephant seal pupping. While some elephant seals may be present at Point Reyes on any given day of the year, the greatest number of seals haul out on beaches around the headlands from December through April for the birthing and mating season.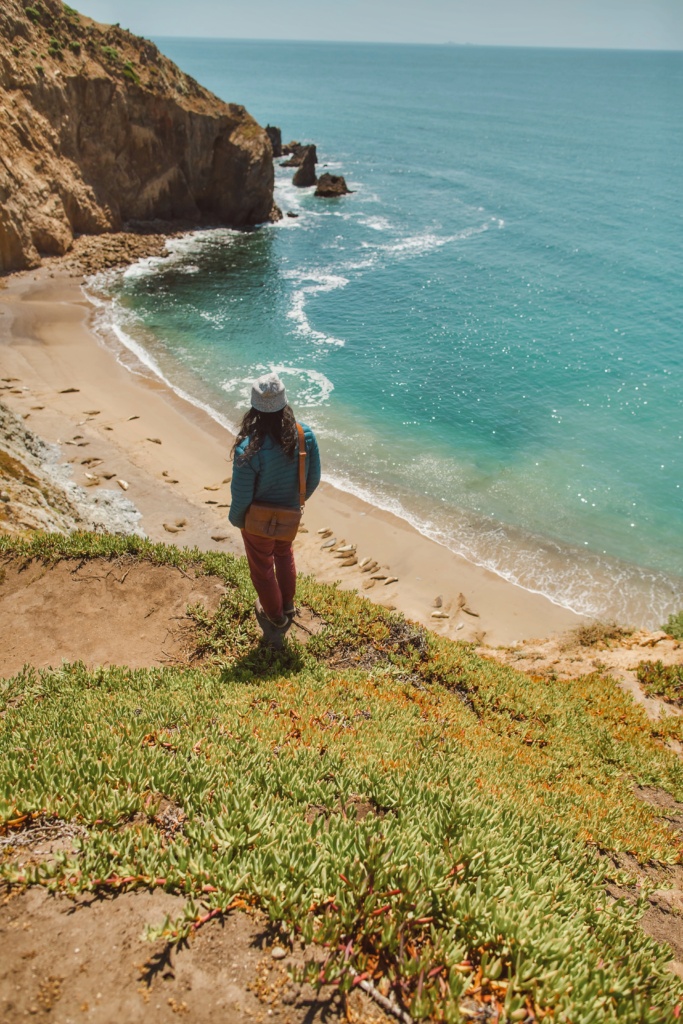 From the Elephant Seal Overlook at Chimney Rock Trail, you can witness the fascinating behavior of these animals, including male dominance contests, birthing of pups, and the interactions of mothers and pups. You will hear the distinctive vocalizations of females and pups, as well as the powerful trumpeting of the adult males (referred to as "bulls"), which can be heard for over a mile.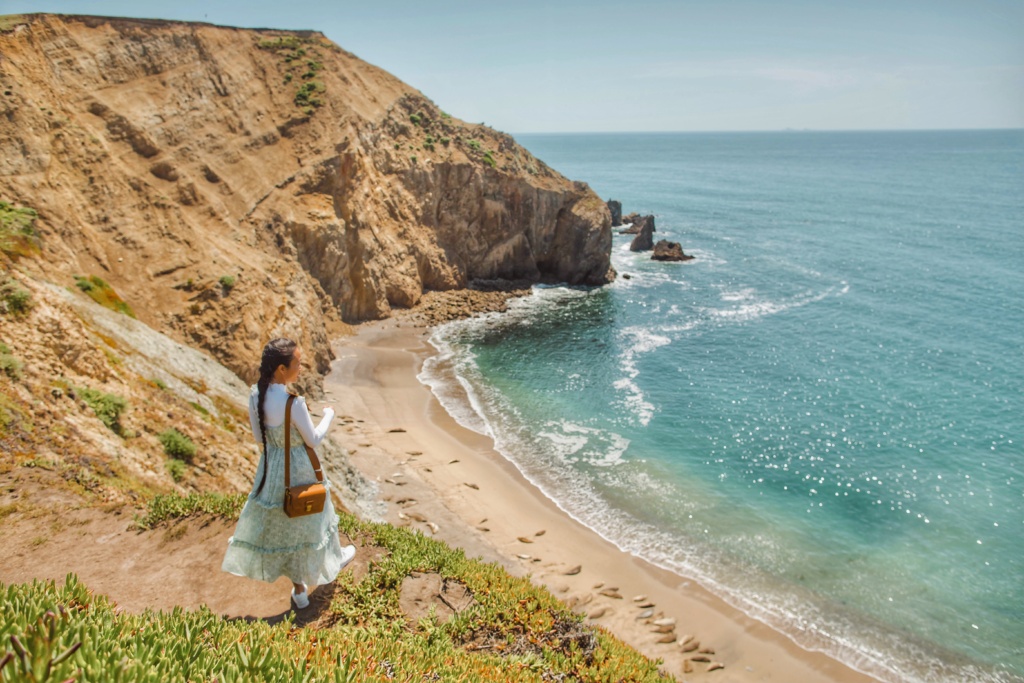 The Point Reyes Lighthouse
Point Reyes is particularly windy and foggy; in fact, it's the second foggiest place in the whole of the North American continent and the light house built in 1870 was a very necessary safety feature in the days before modern maritime technology. The lighthouse and its visitor center are the main attractions in Point Reyes.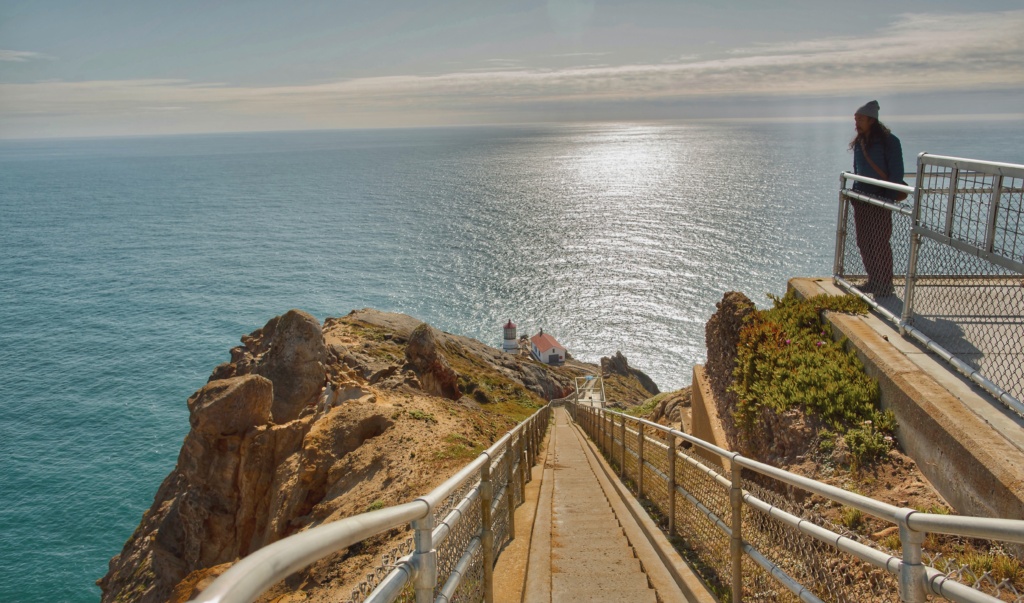 From the parking area, it is a 0.5-mile walk to the visitor center. It's a light and gradual uphill, but a very doable walk. Along the way be sure to stop and soak in the panoramic coastal views.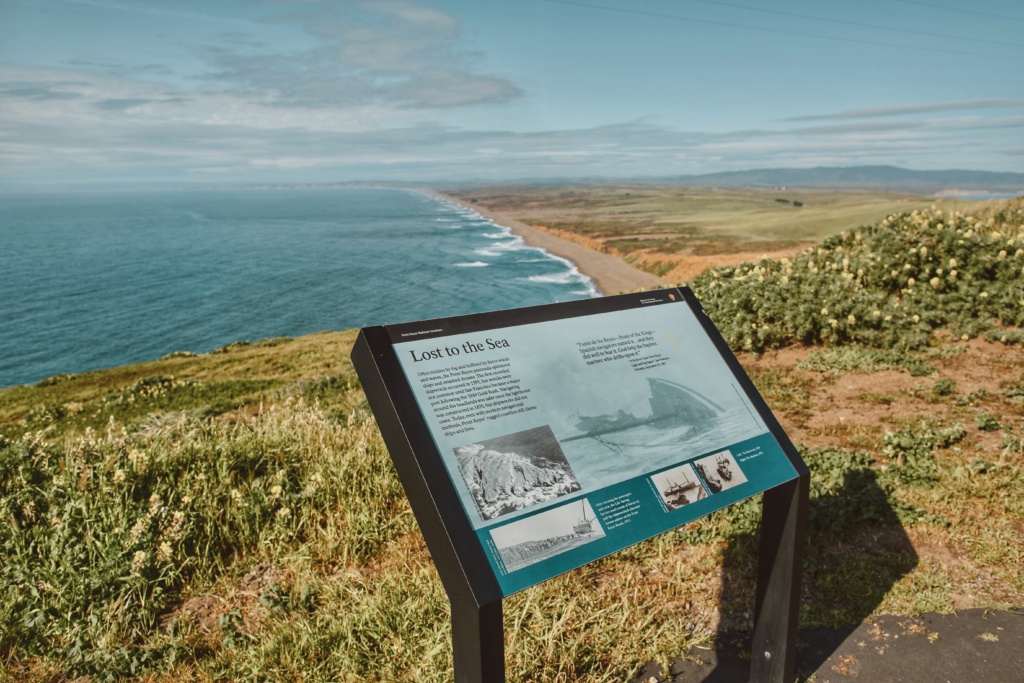 The Famous Leaning Trees
Since Point Reyes is known for its seasonal heavy winds, a few of the trees in the area have actually started growing sideways! Take time to be in awe of the leaning trees along the side of the road. They truly tell the story of the constant winds and wetness of this area.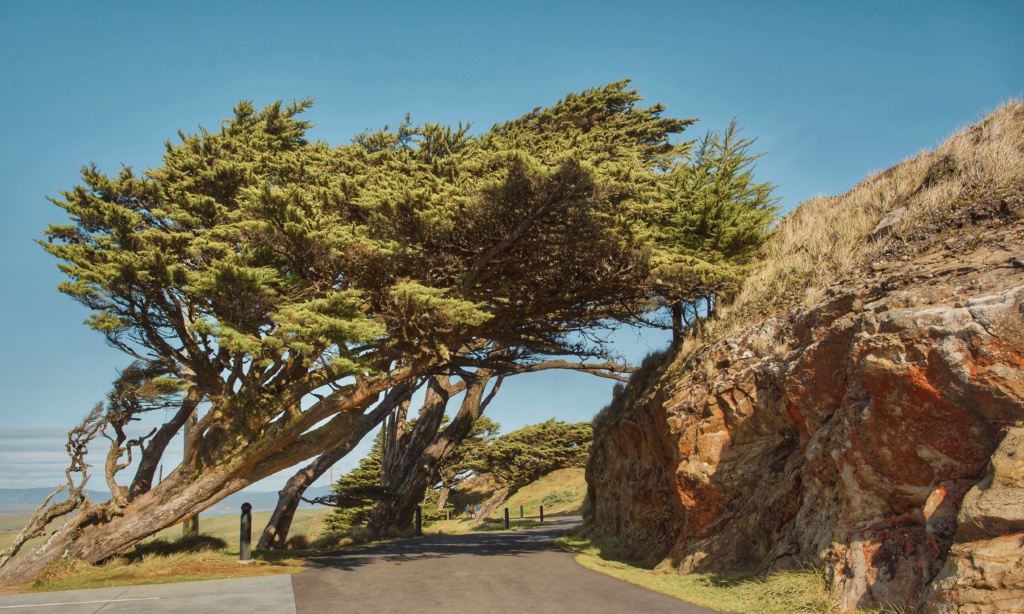 On your walk from the parking lot to the Lighthouse Visitor Center you can catch the sight of these famous leaning trees!
Point Reyes Cypress Tree Tunnel
Most likely you've seen photos of this famous Cypress Tree Tunnel on Instagram. It's a tucked away spot in the Point Reyes National Seashore where the giant Monterey cypress trees grow into a tunnel over the road. It's a perfect spot for photographers to capture early morning sun rays, or for anyone to get some moments of solitude.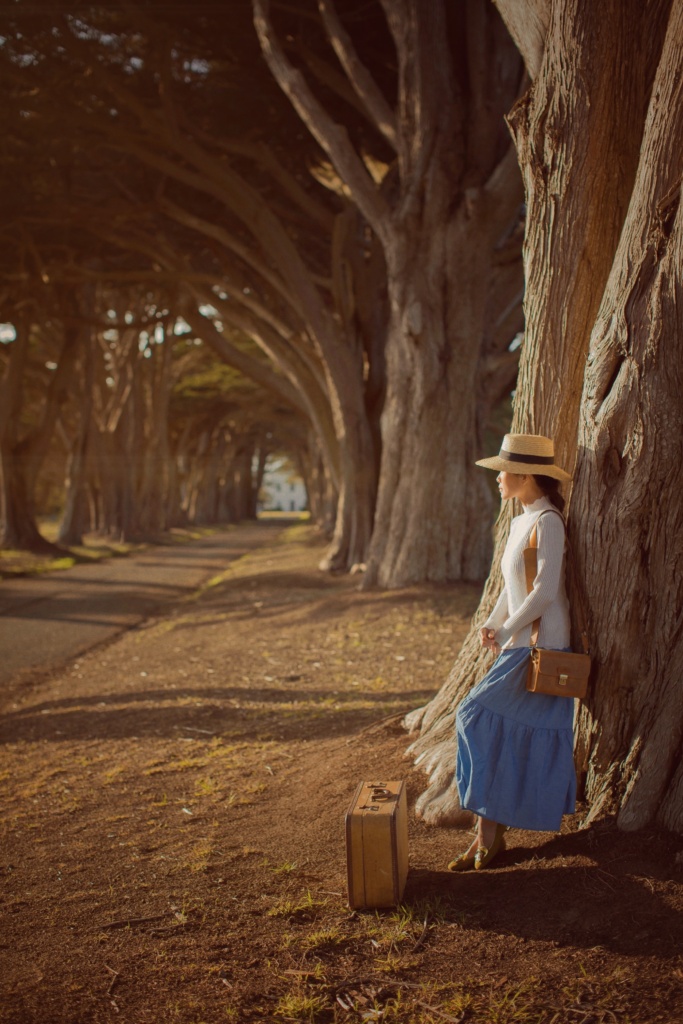 At the end of the tunnel, you'll find the historic RCA/Marconi Station. In the early 1900s, this was a wireless telegraph station where operators would tap out Morse code messages from the ships to shore. With the decline of Morse code and new technology, the station was retired in the late 1990s, and is currently preserved and cared for by the National Park Service and volunteers from the Maritime Radio Historical Society.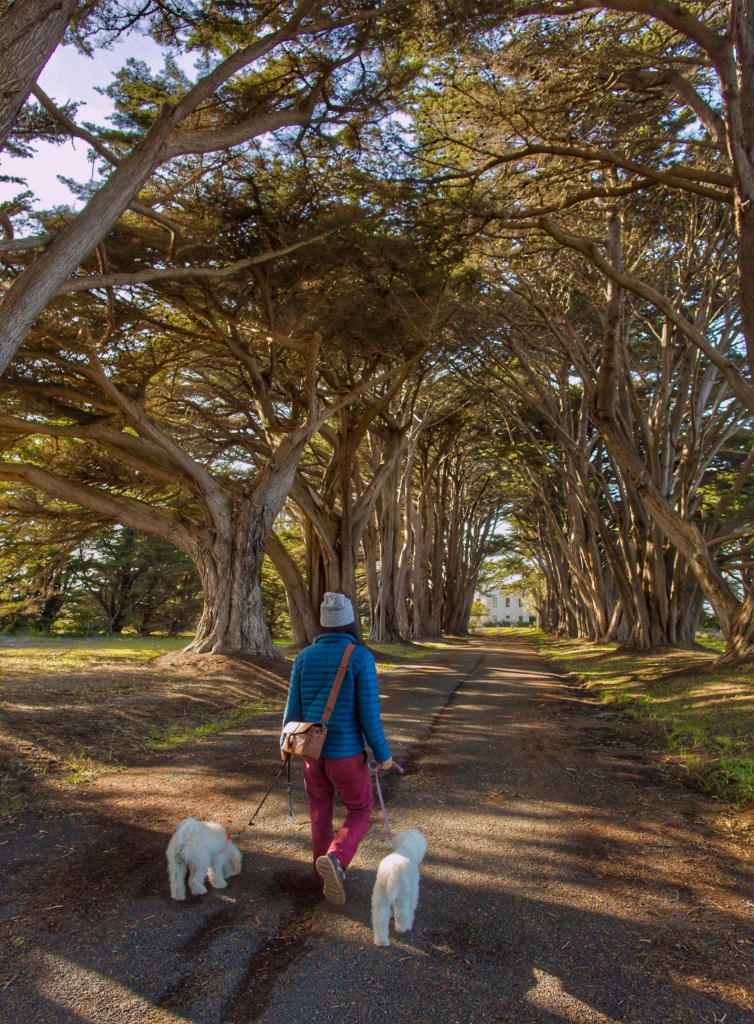 It is not on the park map, but they will tell you about it if you go to the visitor's center. It is located about halfway between the lighthouse and the visitors center. Or you know that you're in the right place if you see a sign with the North District Operations Center on it. It is hard to miss, as you can see the trees coming for about a mile before you get there.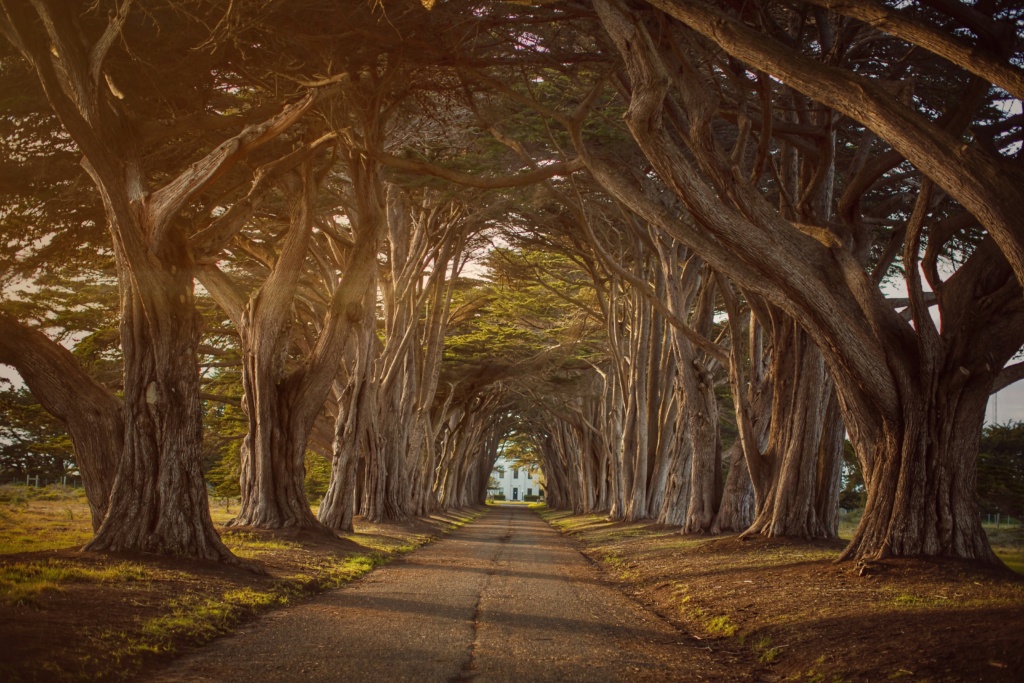 Photography tips: Since the tunnel is located in Point Reyes, it's incredibly difficult to time the weather as certain days are whiteout foggy and other days are clear and sunny. If you're looking for the best chance of good lighting, I'd recommend either right before sunrise or golden hour (sunset).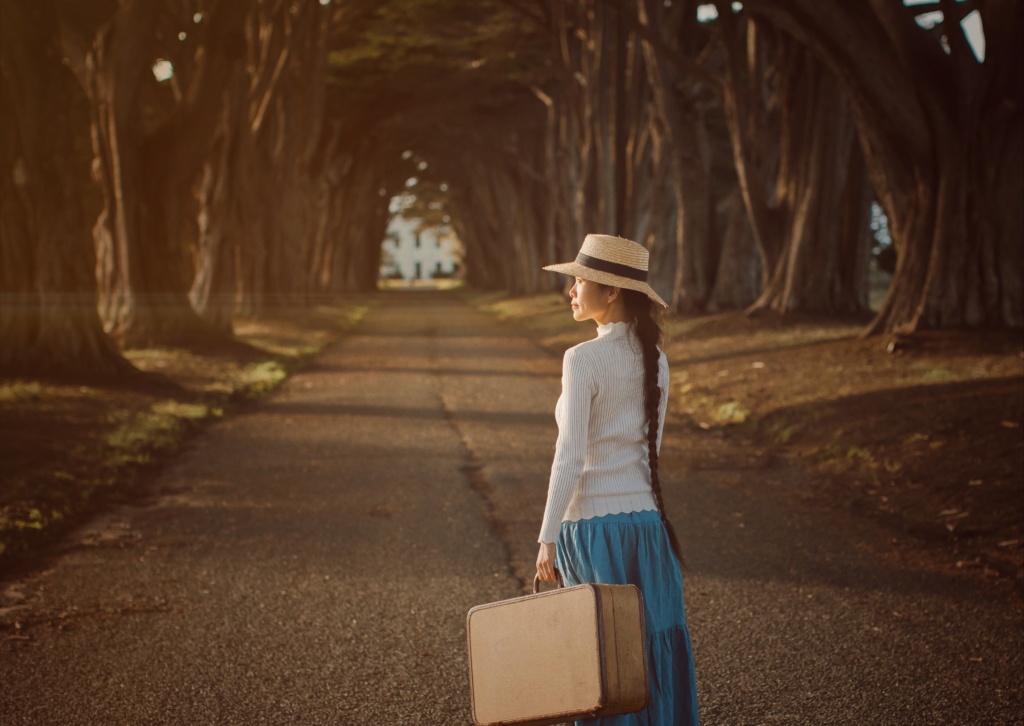 You'll have a better chance of getting that dreamy, golden light at sunset but also will have to jostle with other photographers. If you don't want to deal with people in your shots, being there right before the sun rises is a great option.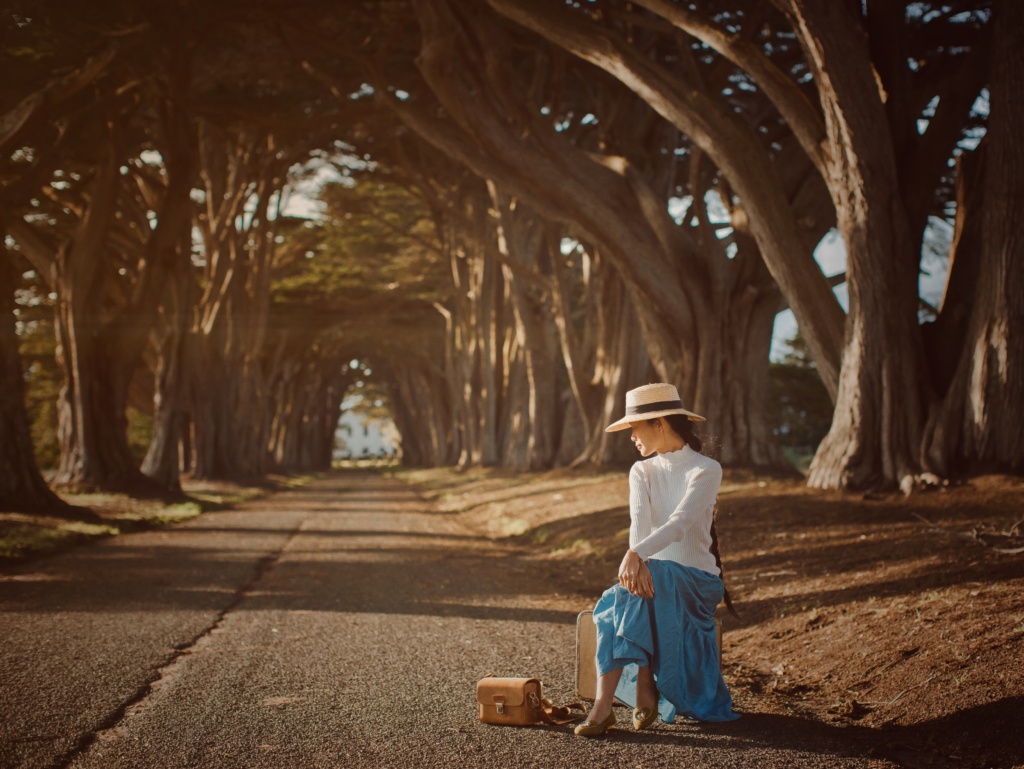 This is one of those rare spots that actually lives up to your expectations. I feel like a lot of places you see in people's photos have been heavily edited, but I was amazed by the cypress tree tunnel when I saw it in real life.
Point Reyes Shipwreck
Point Reyes is infamous for its treacherous coastlines, often shrouded by fog and amplified by fierce waves and even fiercer winds. The Point Reyes Peninsula has claimed many ships and lives over the past hundreds of years. So when in Point Reyes, it only makes sense to witness this history for yourself.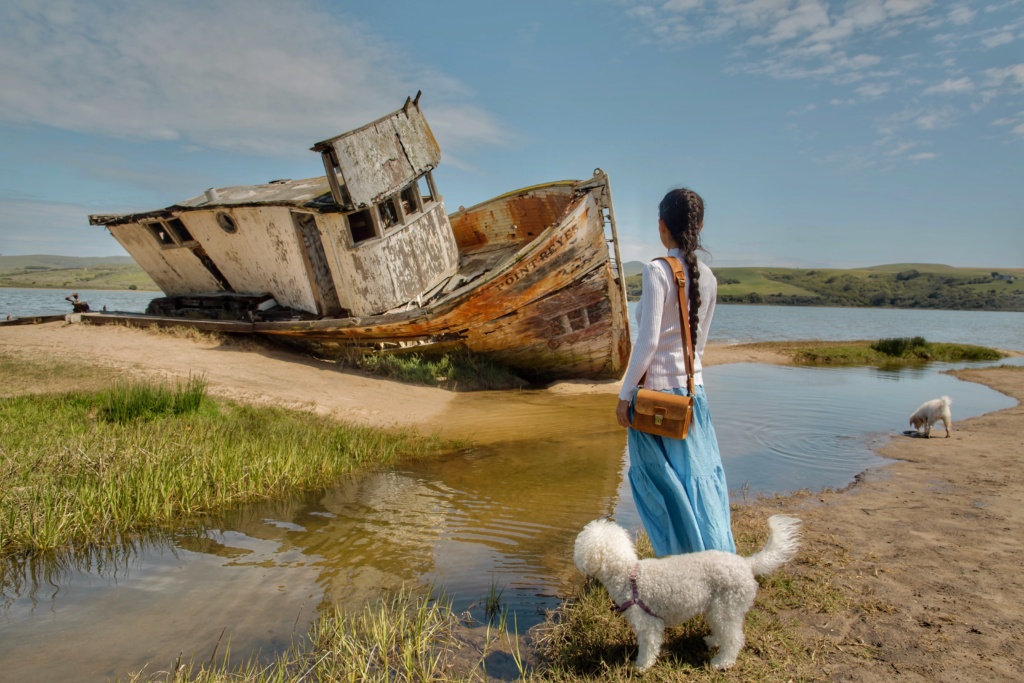 There is a popular stop at a shipwreck located on a sandbar in Tomales Bay. It is known as the Tomales Bay Shipwreck, the Inverness Shipwreck, or the S.S. Point Reyes Shipwreck, and it is a well-known place for photographers.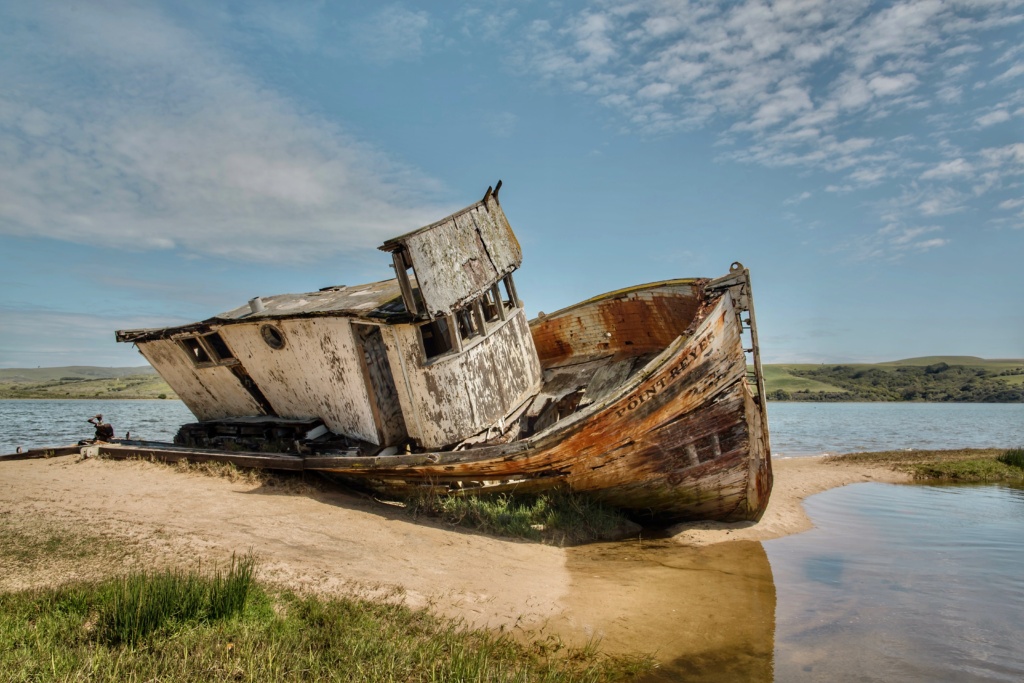 There is a little market called the Inverness Store on the right-hand side of Sir Francis Drake Blvd, park in their parking lot and take the small trail to the boat behind the shop.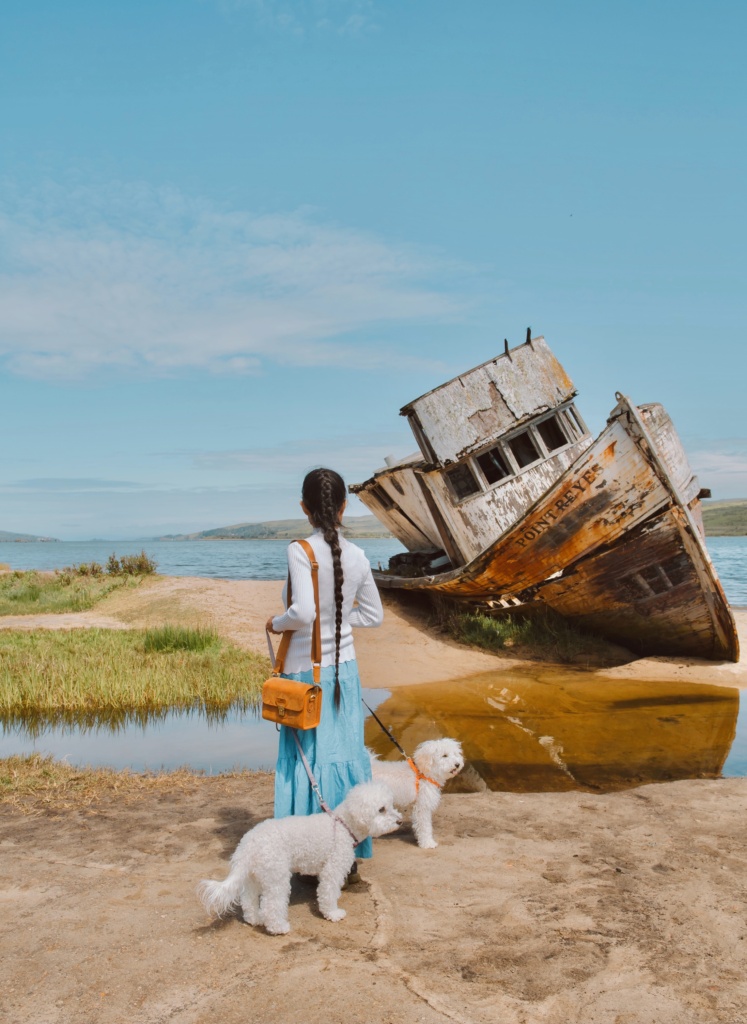 Point Reyes Station
Exploring the cute small town of Point Reyes Station is a must when you are in the area! It is just one main street that cuts through town, so just park at one end and work your way down. This town is the type of place where the locals seem to all know each other and there's a Main Street that serves as a community hub. Walk along the main street and visit the artisan galleries and local boutiques where you can shop art, knits, and everything in between.
Here are some of our favorite spots in the town:
*** Cowgirl Creamery: try some of the local cheese is a must when you are in the area! Head to Tomales Bay Foods to pick up some cheese from Cowgirl Creamery – a local brand of amazing artisanal cheeses crafted from local organic milk.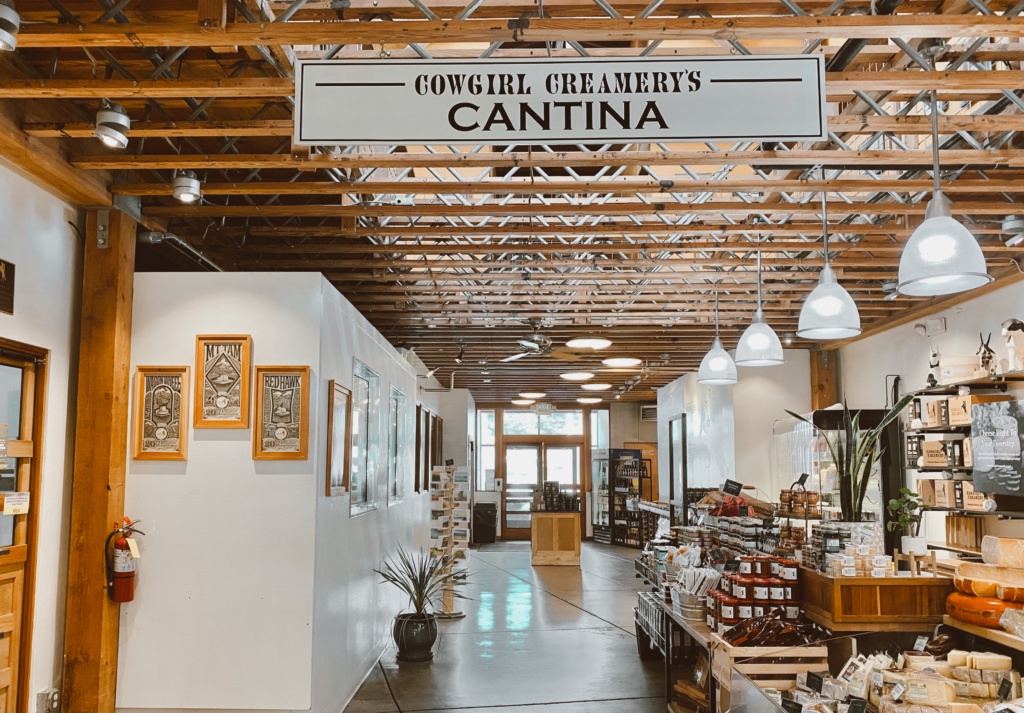 It's worth a stop to not only pick up some delicious locally produced foods, but to see how artisan and farmstead cheese is made as well.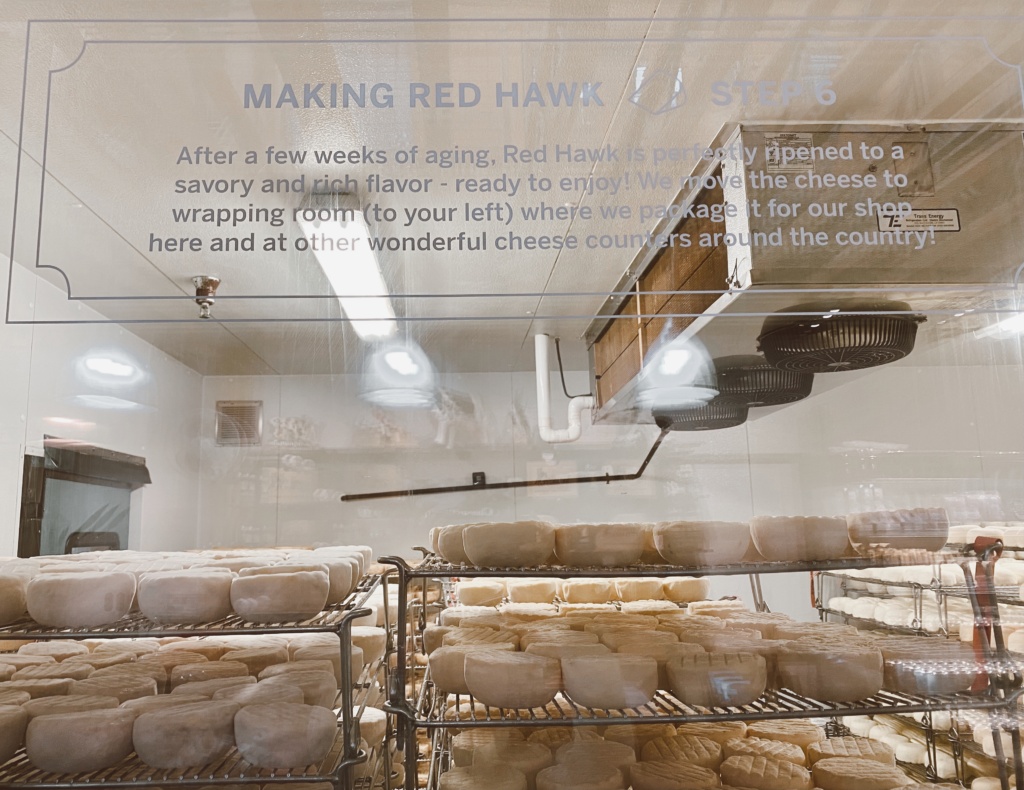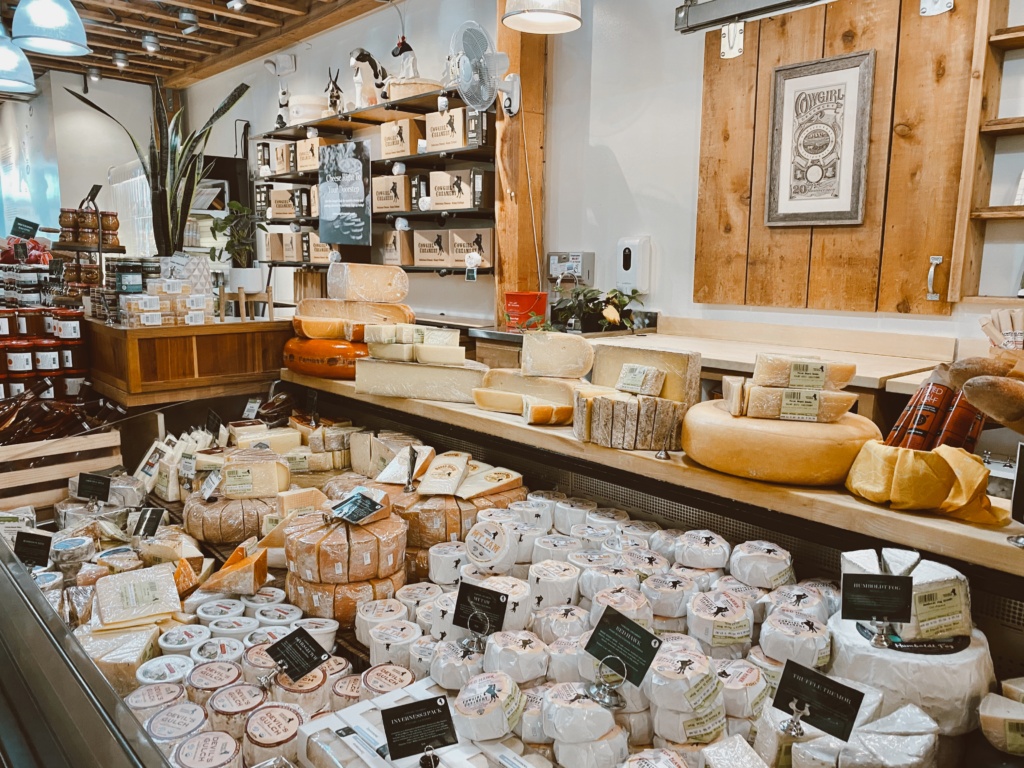 Step through the doors of the weathered wood Tomales Bay Foods building on Point Reyes Station's 4th Street and you'll be greeted by a cheese counter holding a bewildering variety of cheeses, many of which are the products of Cowgirl Creamery. Don't be afraid to ask for samples!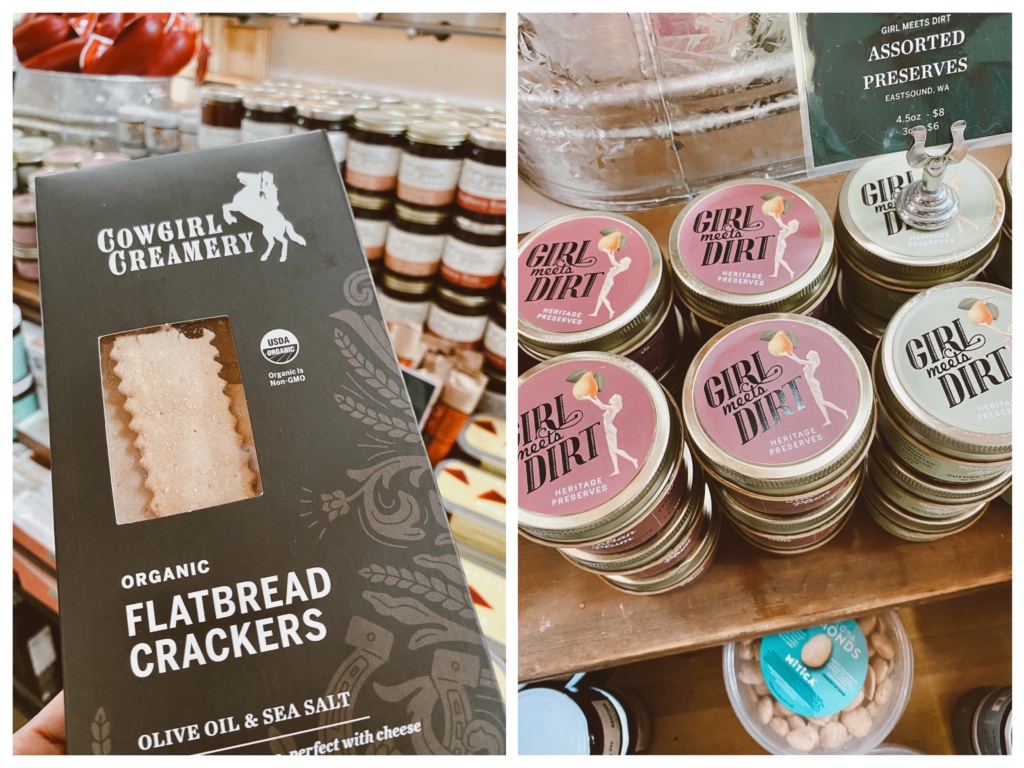 This is a cheese lovers paradise. Their cheeses are extremely popular in Northern California and known for their Red Hawk and Mt. Tam cheeses.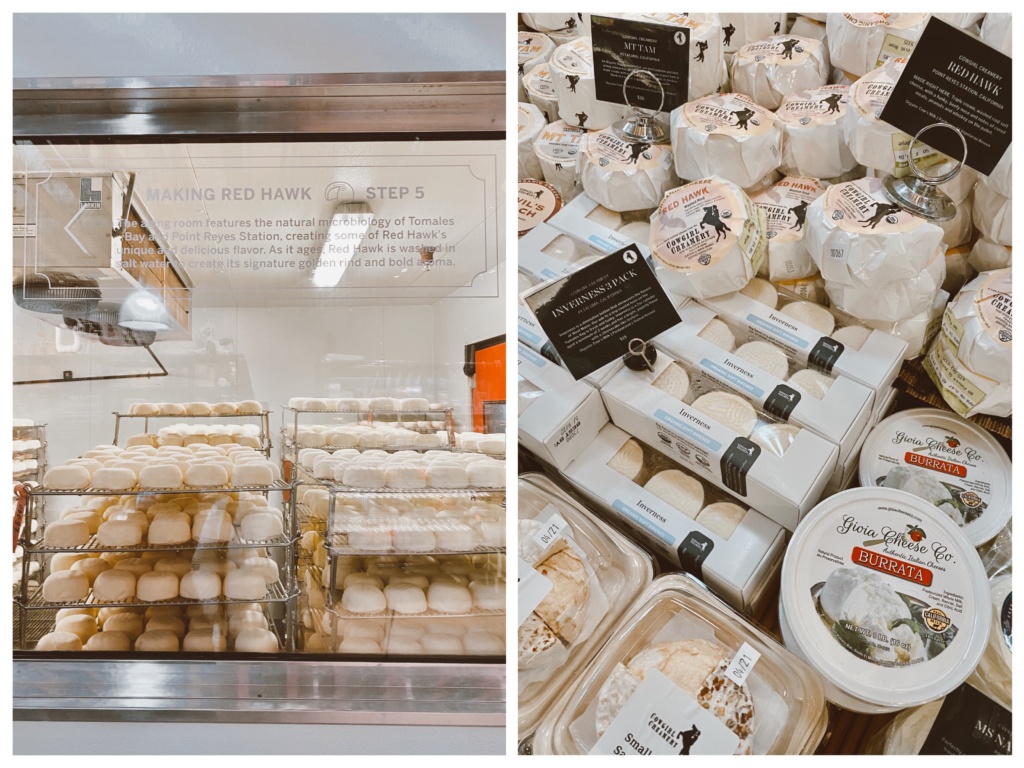 ***Brickmaiden Breads: If you enjoy visiting little bakeries during your road trips, you're going to want to make your first stop at Brickmaiden Breads. Their pastries are next level!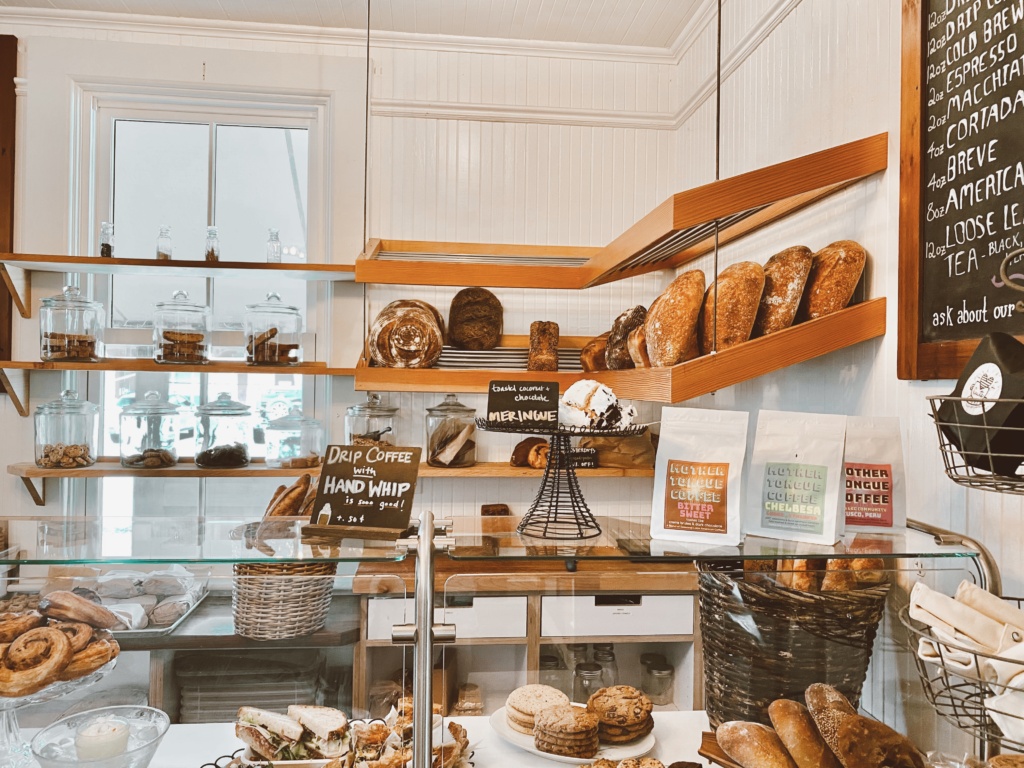 For 20 years, Brickmaiden Breads has been crafting organic, naturally leavened sourdough loaves in their small bake house. They are known for their quality and commitment to sustainability. They source organic ingredients directly from local and California farmers or from companies that use sustainable practices.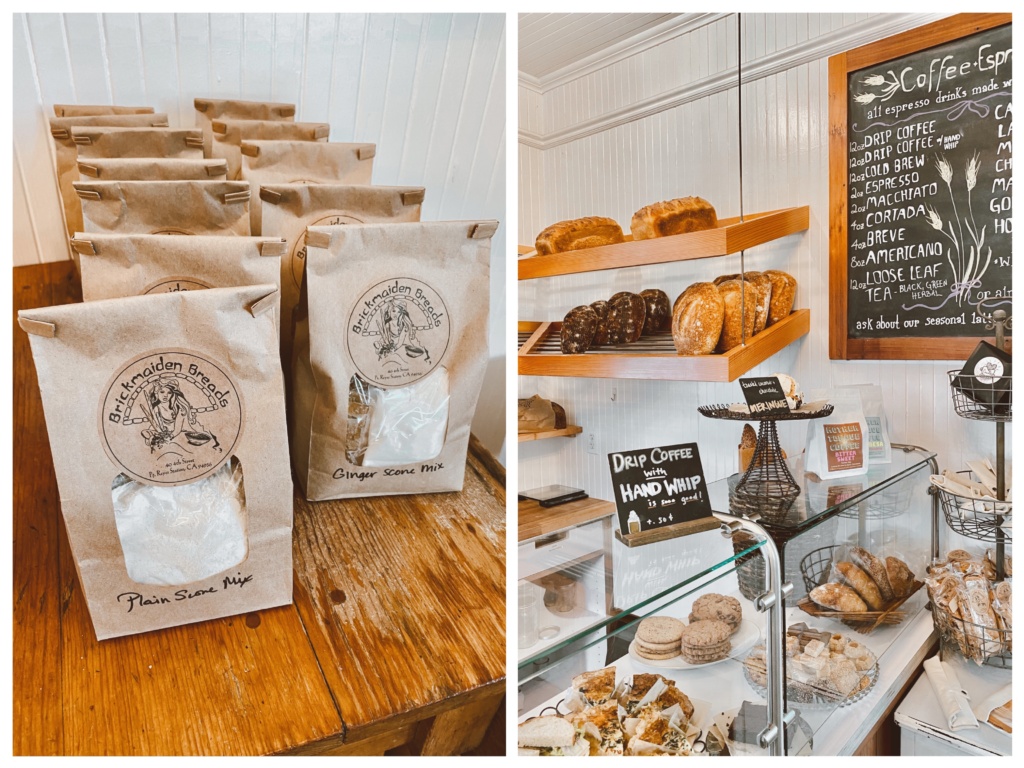 After grabbing a round of the creamy, dreamy, and mild Mt. Tam at Cowgirl Creamery, we stopped by Brickmaiden Breads to pick up a fresh baguette, still warm from the oven and headed outside for a lovely picnic. On the east side of the Tomales Bay Foods building you'll find an expansive green lawn, perfect for a family picnic. Find a table by the lawn or spread out your picnic blanket. It's a great place to relax, eat, and play.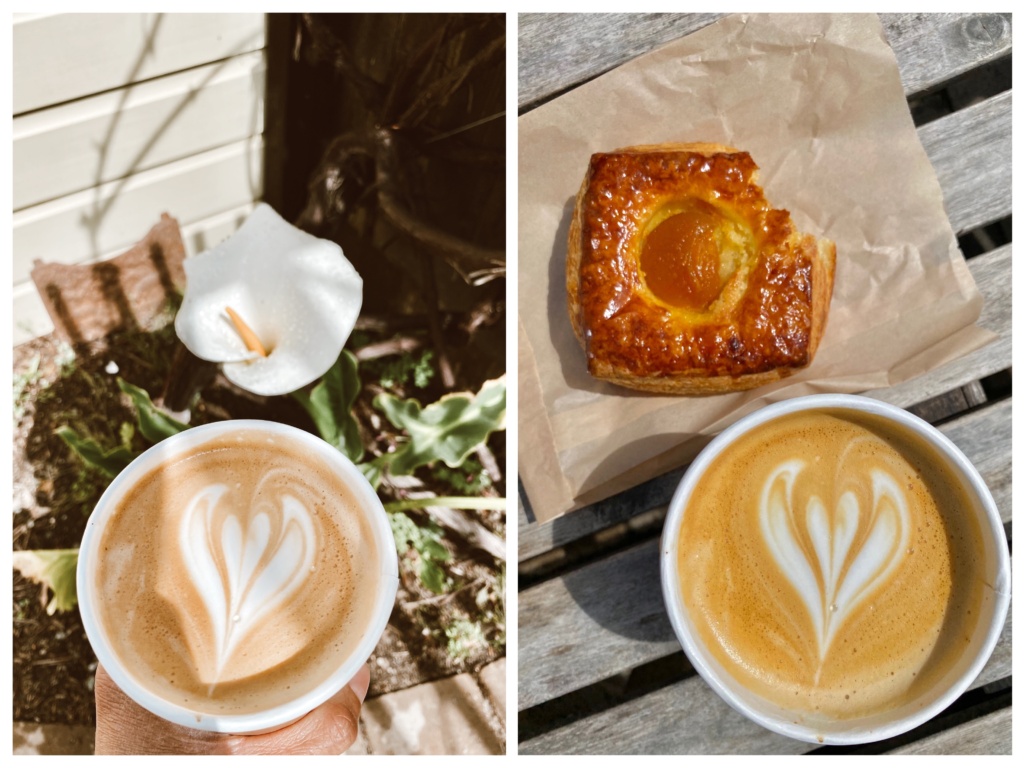 Hog Island Oyster Company
The Point Reyes area is a foodie destination, and there are some hot spots where you can treat yourself to some of the famous local delicacies. Drive out of the park and over to the Tomales Bay for some of the freshest oysters in the area.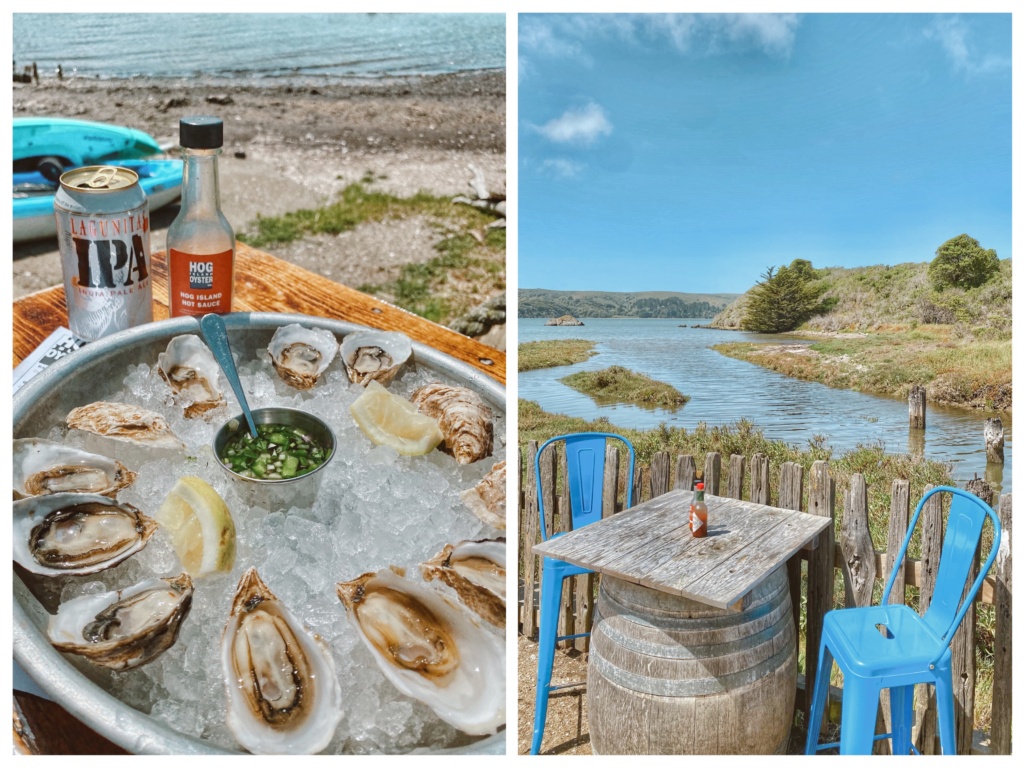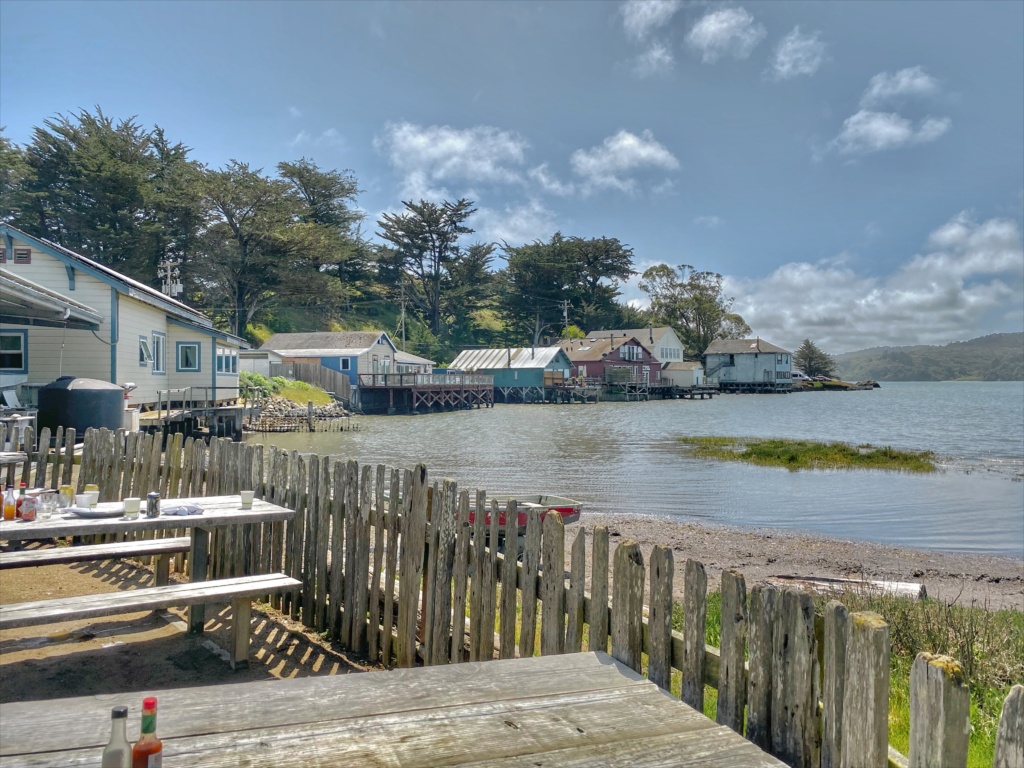 Oysters are the "thing" on this stretch of land, as they are harvested right there in the shallow waters of Tomales Bay. Tomales Bay is perfect for oyster farming due to the fact that it's an estuary, so you have brackish water and a good tide bringing in lots of food from the ocean and flushing out the bay. A little fresh water helps, too, adding that touch of sweetness – instead of too much salt, a flavor that's made Tomales Bay oysters known worldwide.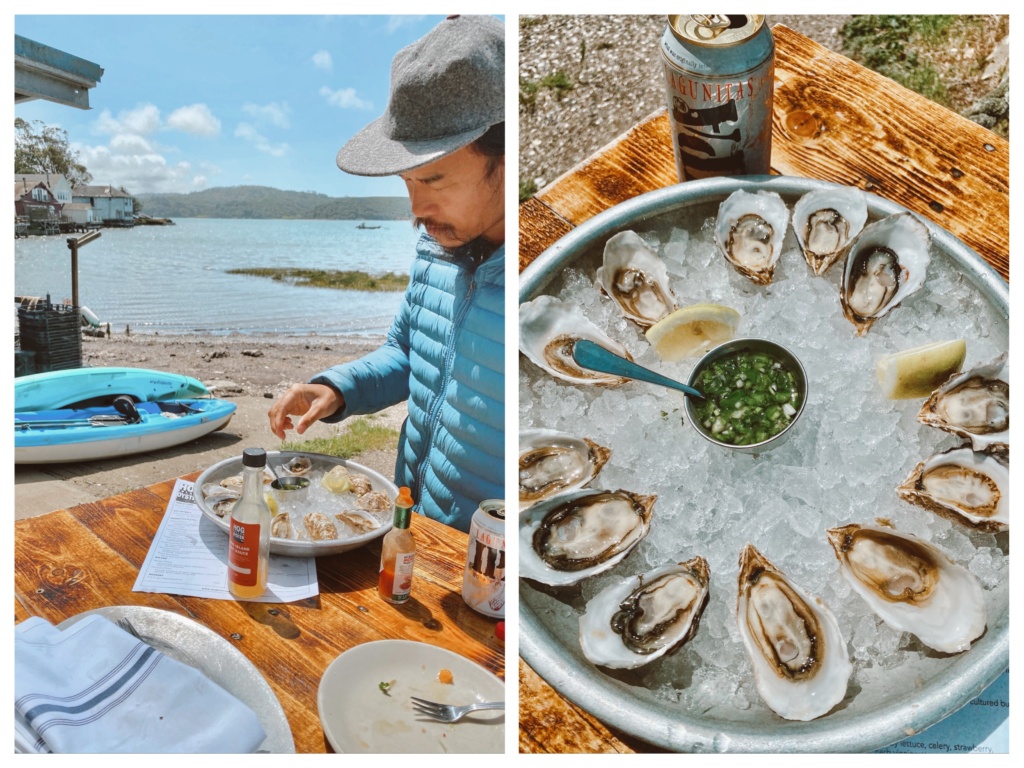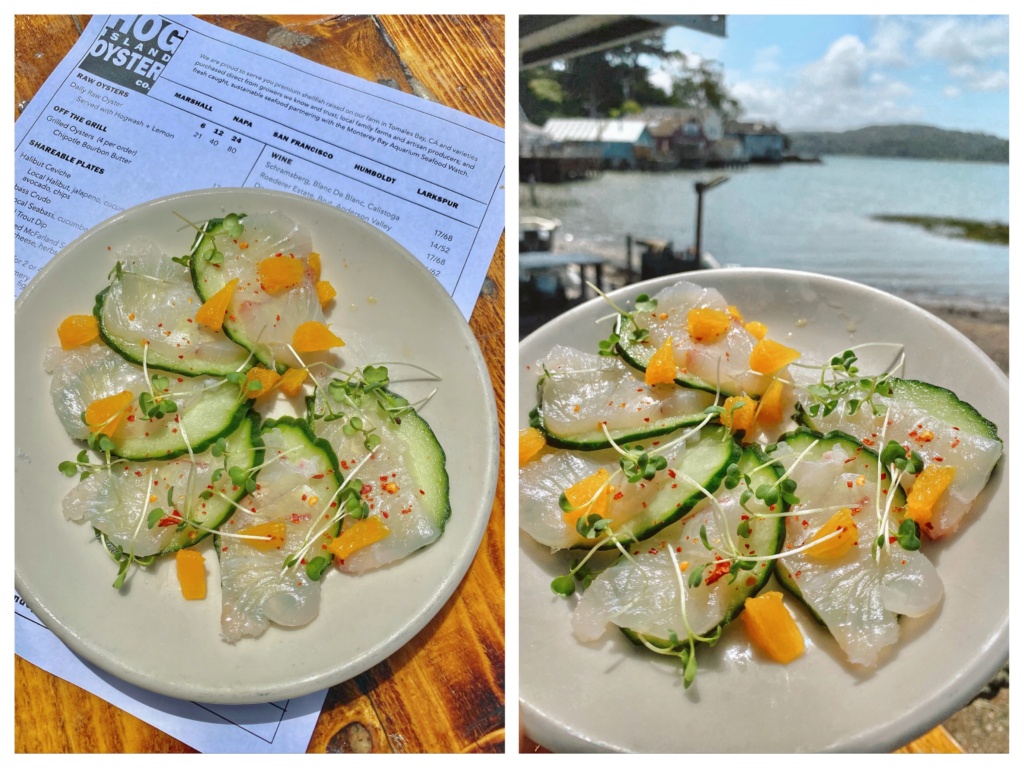 We stopped by the famous Hog Island Oyster to enjoy the iconic activity in the area–shucking and eating freshly-farmed oysters! Hog Island Oyster in Point Reyes is a quaint, calm and beautiful destination. It's a group of buildings, many which are used to harvest and process oysters. On working days you can watch them pull out nets full of oysters from the bay!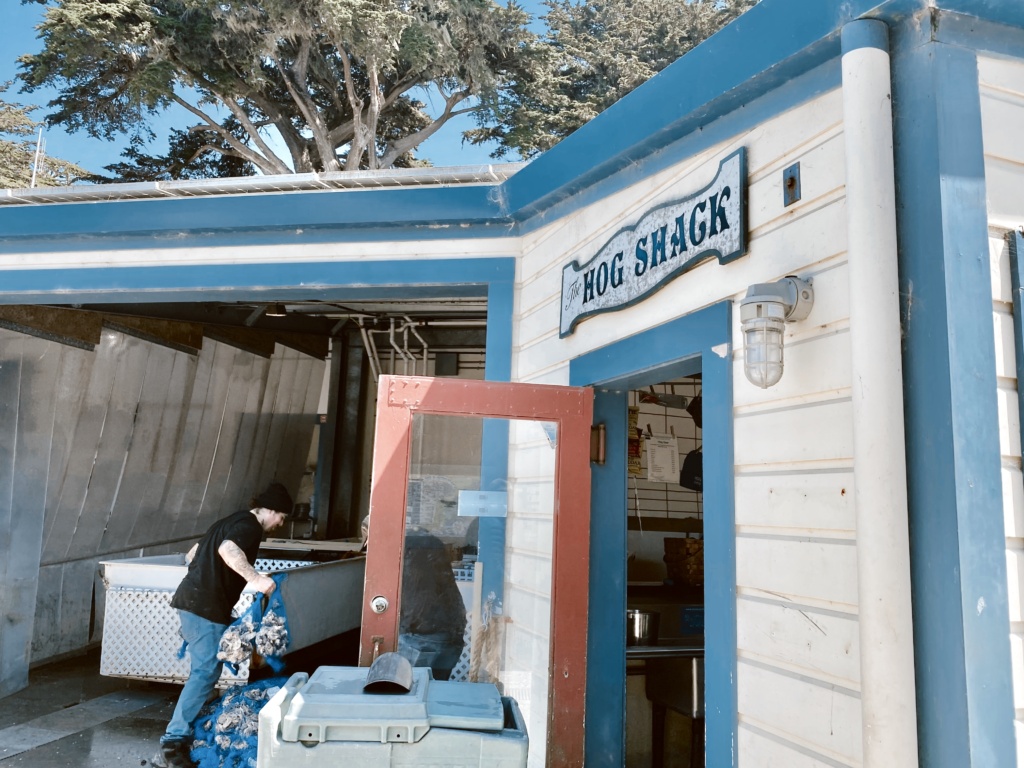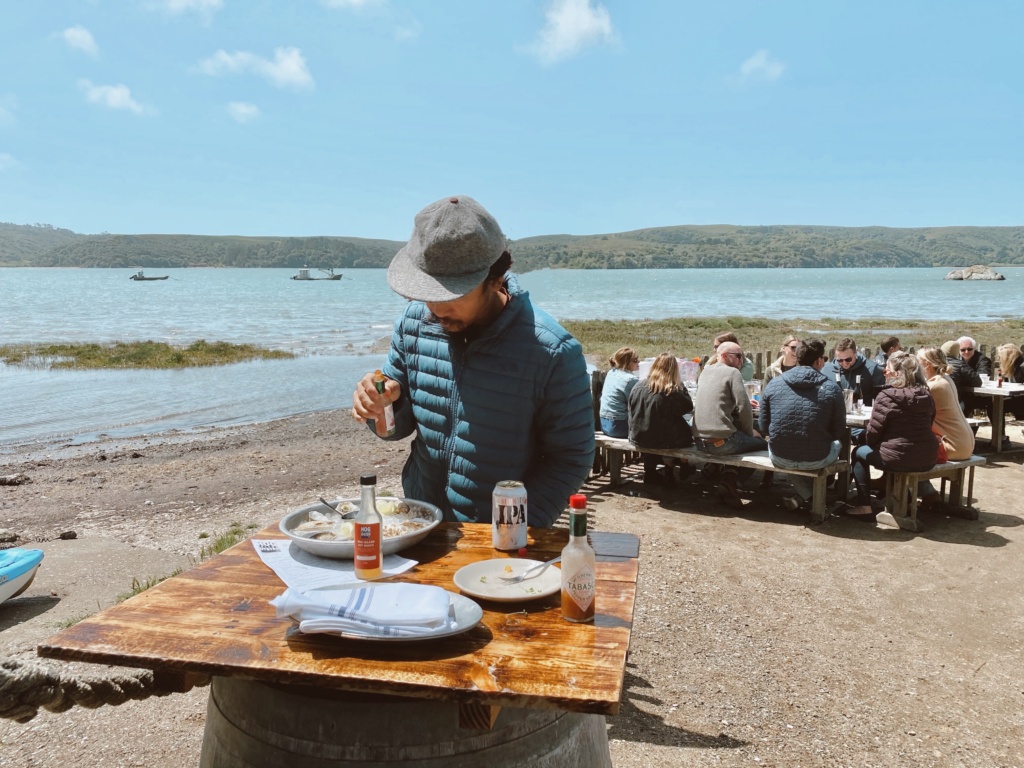 It has a stand where you can order oysters to-go to take them home and shuck/cook/not cook them yourself and a small, rustic outdoor cafe which serves raw oysters, barbecue oysters, salad, cheese, bread, wine, and beer.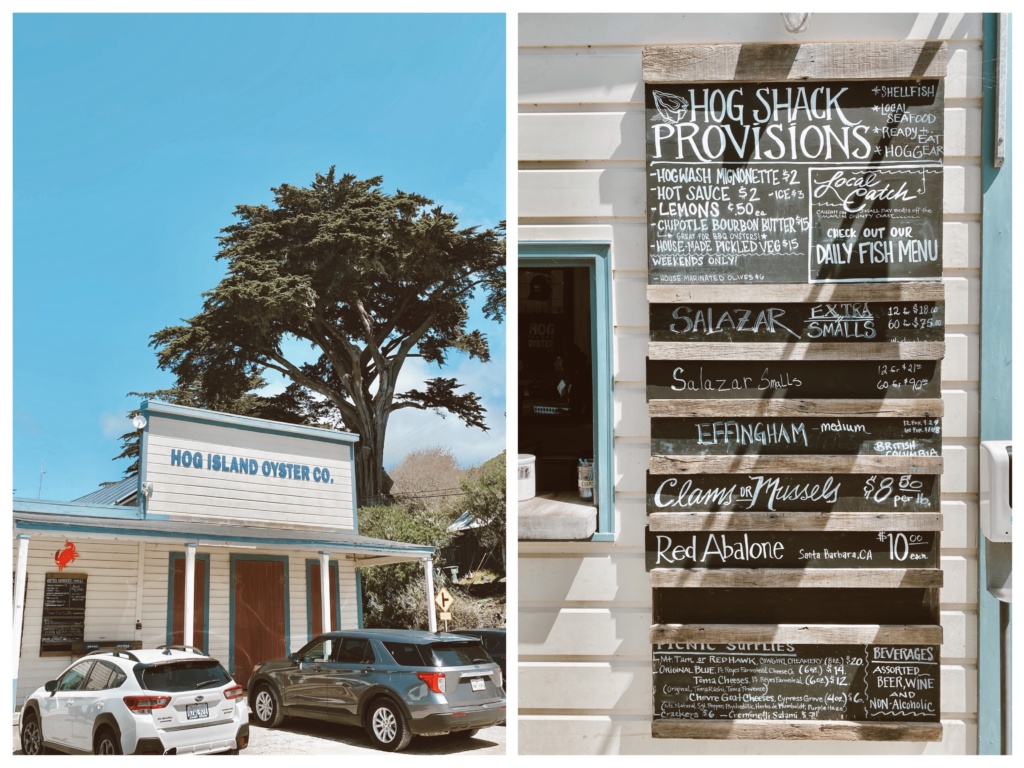 QUICK TIP:It's a general rule that the smaller the oyster is, the sweeter it tastes (which, to many people, means it's superior).
And that about wraps up our Point Reyes itinerary guide! I hope this helps you plan your road trip around Point Reyes! 
We truly enjoyed our trip to America's version of Irish countryside. It felt like we were transported to a different world. A day trip from SF is enough to cover most of the spots mentioned in this blog, but I highly recommend that if you could, give this place about 2-3 days.