Serenity Escape, Joshua Tree: My Weekend Getaway
Joshua Tree is a bohemian wilderness which has become the LA escape and is slowly changing to a hipster oasis welcoming those looking to escape the urban grind. Its spectacular landscape is filled with beautiful Joshua "trees," which aren't trees at all, but tree-like members of the yucca family. Barren landscape, magical starry sky, and spooky coyote howling all bring a sense of solitude and seclusion at the same time provide endless opportunities for adventures.
Artists, architects, and the design-enthusiasts are creating an array of stylish homes, many of which are available to rent on AirBnB. I bet that when you start looking into renting AirBnb in Joshua Tree, you will be completely overwhelmed by the many choices. So I'm here to help you narrow down the choices. About three years ago, while searching for the perfect desert oasis home we stumbled upon the Serenity Escape and we have been back to this lovely home every year ever since. There is something about the Serenity Escape that gave us an immediate home-away-from-home feel that we loved.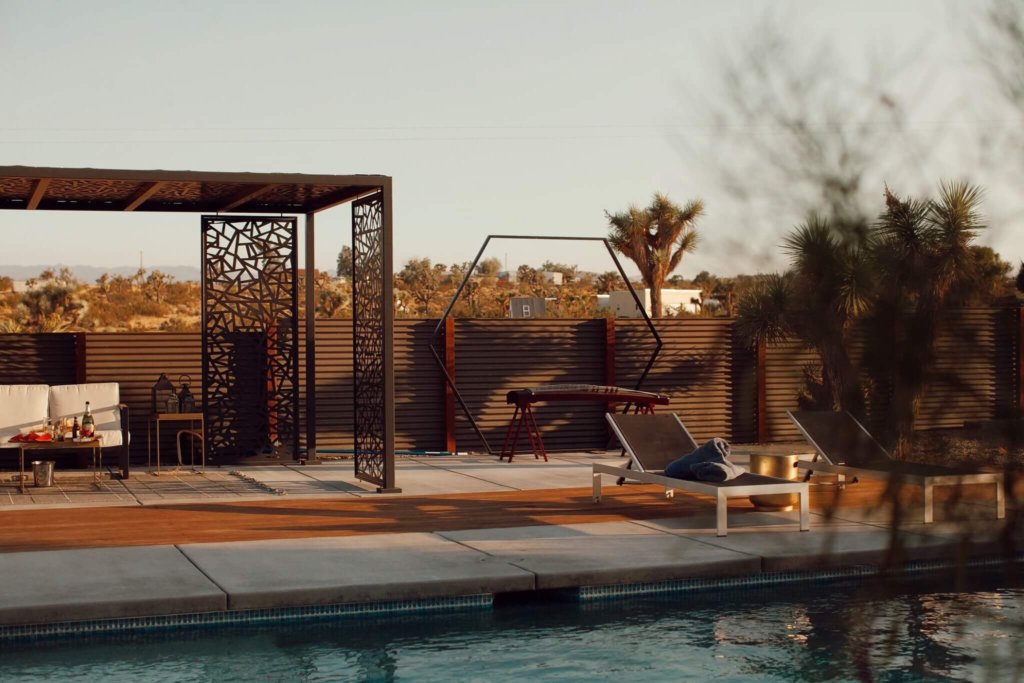 Located 15 mins from Joshua Tree National Park Visitor Center but only a few minutes to downtown restaurants and shops, the Serenity Escape is ideal in that it feels isolated and secluded, but everything is close by for whatever you need, allowing you to experience the desert at its best! We love that the house is located off the beaten path, on a quiet dirt road far enough away from the nearest neighbors. Very private! The secure surrounding gate made us feel like we were in our own little piece of paradise. Their state-of-the-art security system and surrounding gate made us feel very safe in seclusion!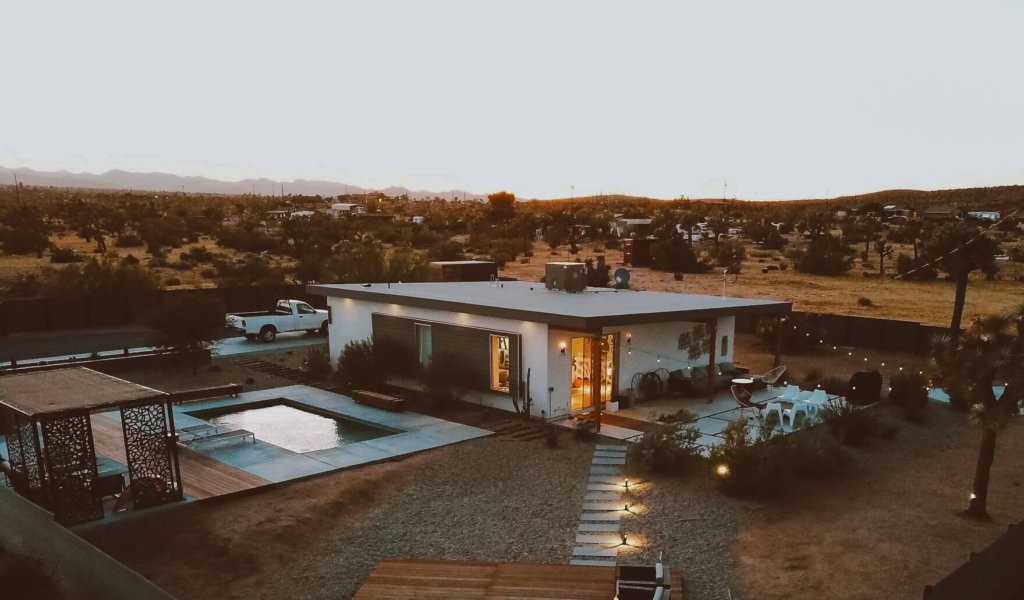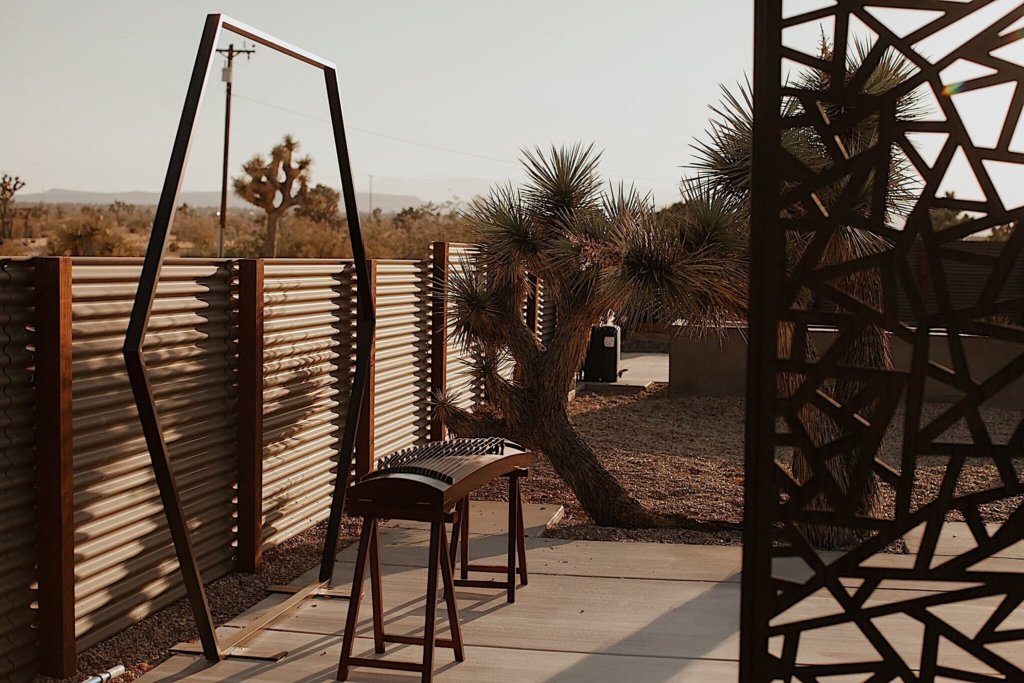 The Serenity Escape features all the comforts of city living while retaining a deep connection to the surrounding desert and all its natural beauty. What we love most about the Serenity Escape is the overall design concept – a balance between contemporary modern architecture and the comfort and inclusiveness. Just one quick walk throughout the Serenity Escape you would know the owners, Oded and Rachel, pay a great deal of attention into creating their masterpiece. During our stay we never felt we were in a rental; truly wishing that this house were ours!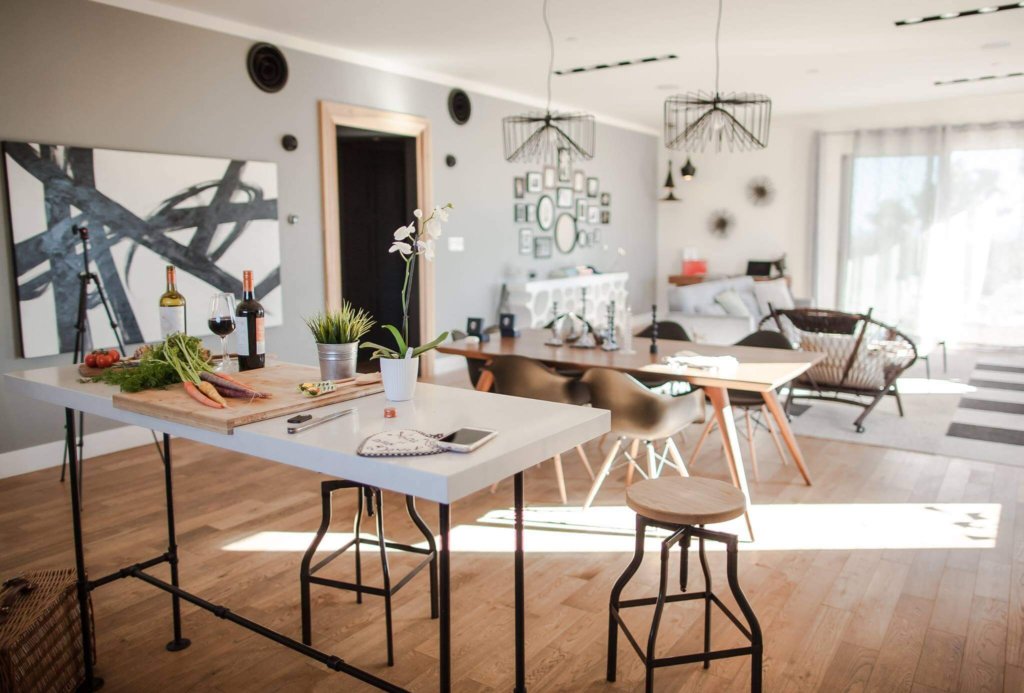 As soon as we entered the home, we opened up all of the doors and set up music on the indoor/outdoor surround sound so we could jam by the pool/cabana and the patio. Derek played his guitar and I played my guzheng as our three fur babies had so much fun exploring the spacious backyard. Joshua Tree has long been a haven for artists, writers, performers, and musicians so it just felt so good to be able to have our sunset concert right here with the beautiful outlooks across the Yucca valley with spectacular Joshua trees.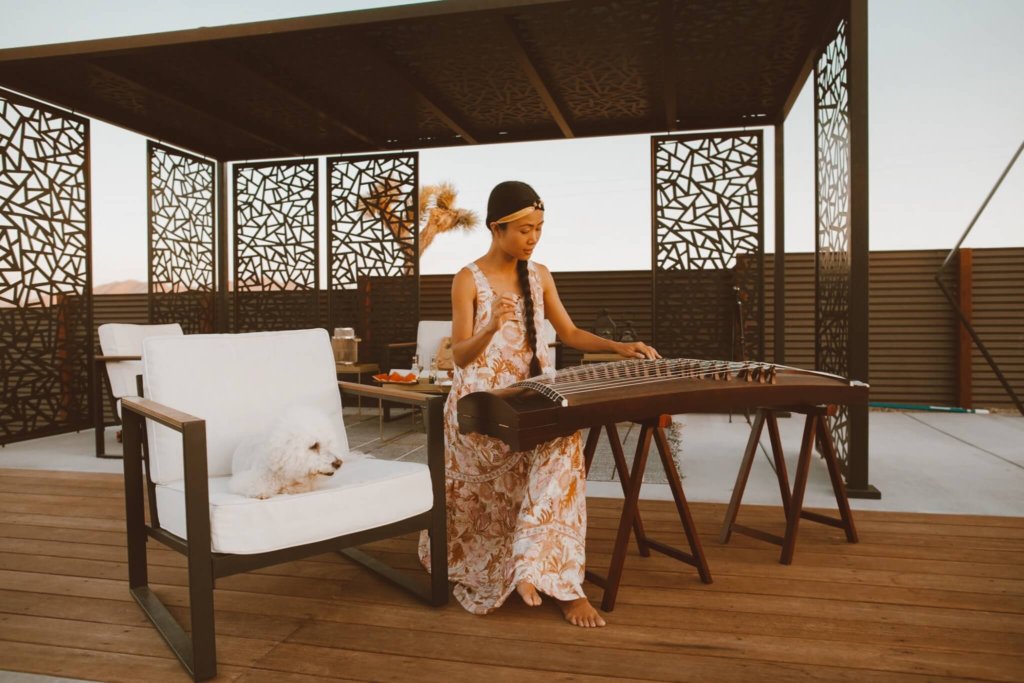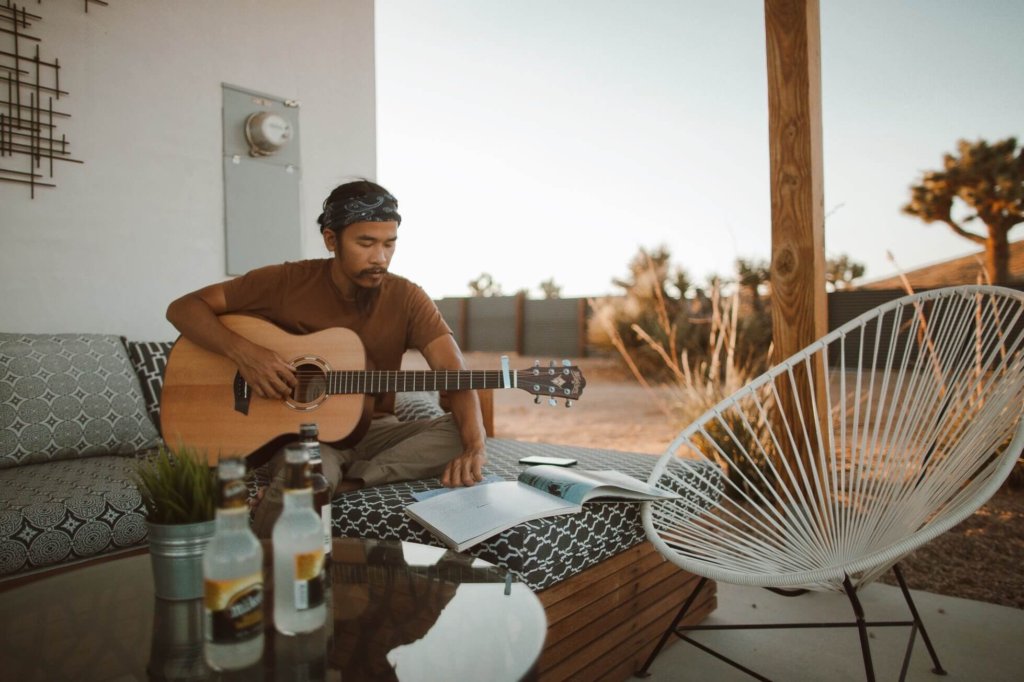 Oded and Rachel were kind and dedicated hosts. Their communications were prompt, clear, and very helpful. We arrived to a beautiful setting with a welcome bottle of champagne, beers, refreshing summer beverages and little surprises here and there (even found our favorite Nespresso coffee maker here)! We immediately unpacked and unwinded to a glass of champagne while watching sunset. During nightfall, it becomes all more magical as the pool lights up from the moon and bright stars.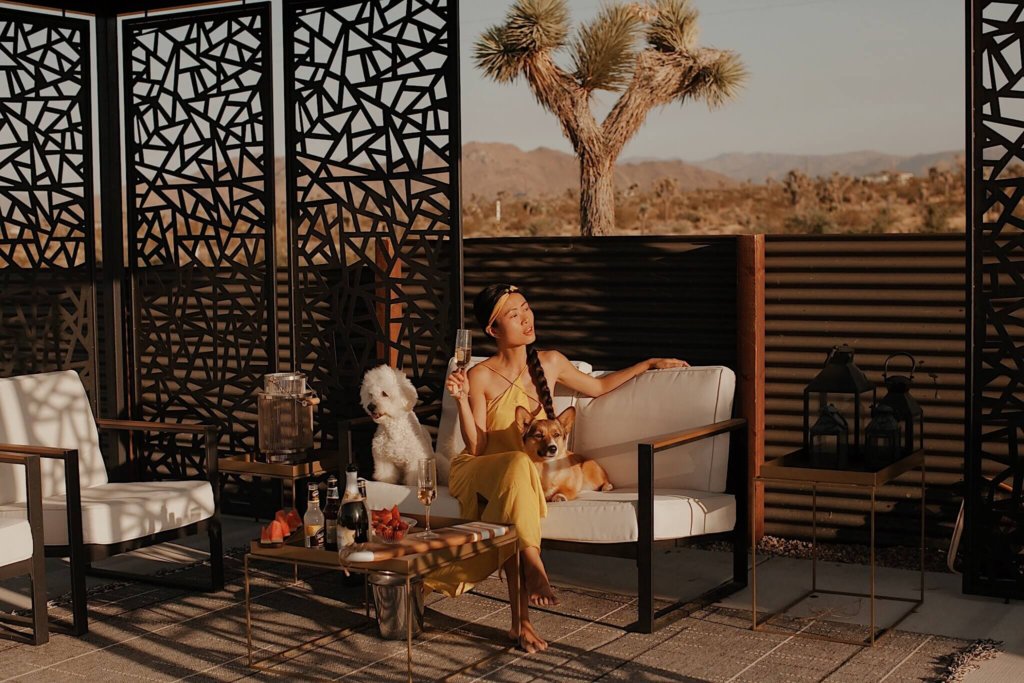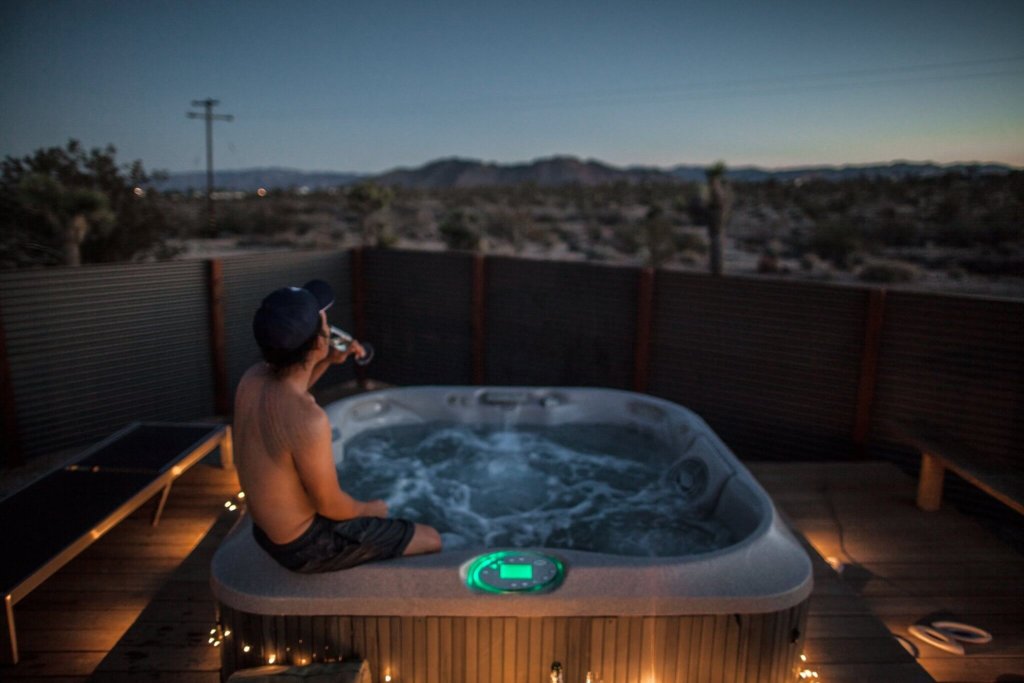 The expansive outdoor area features multiple integrated gardens and includes a pool, a heated jacuzzi, and a cabana. Additional decks on both sides of the house provide ample space suitable for intimate events like group yoga retreat or wedding reception.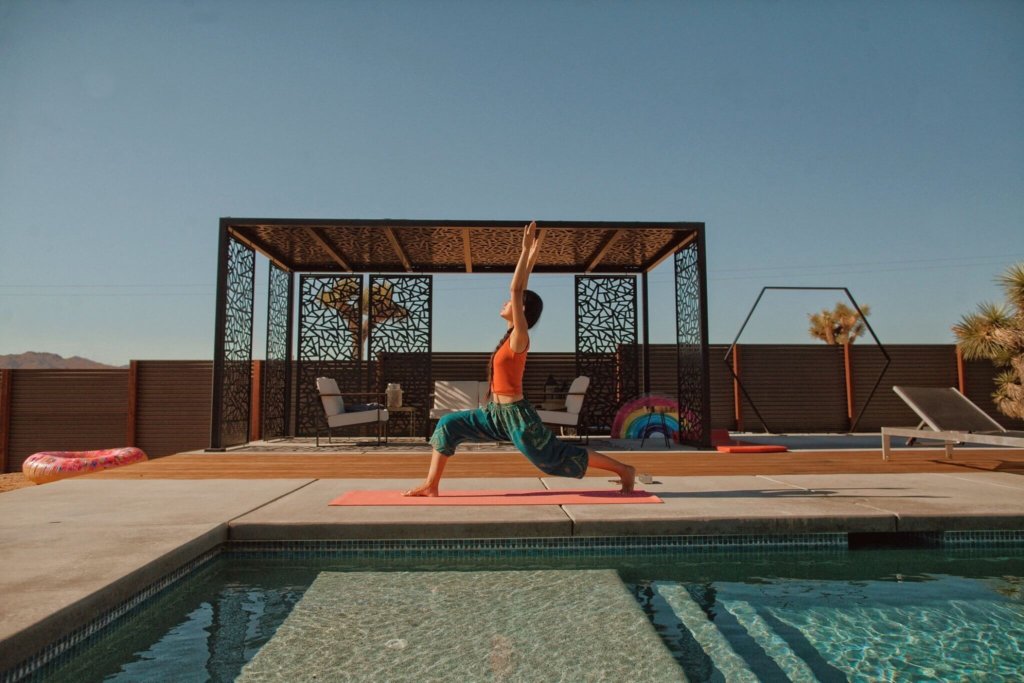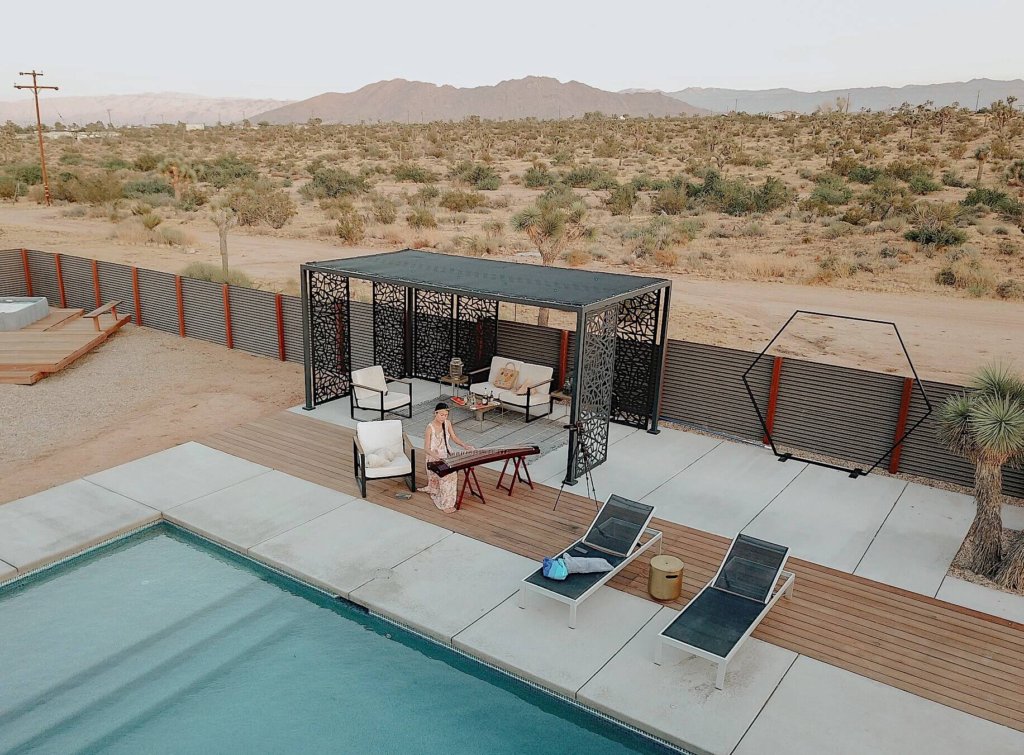 The patio area has comfortable couches and fire pit! We watched extraordinary sunsets and enjoyed morning sun streaming through the patio while listening to music on outdoor speakers! If you get a little cold at night while stargazing, you can heat up with the outdoor fire pit they have.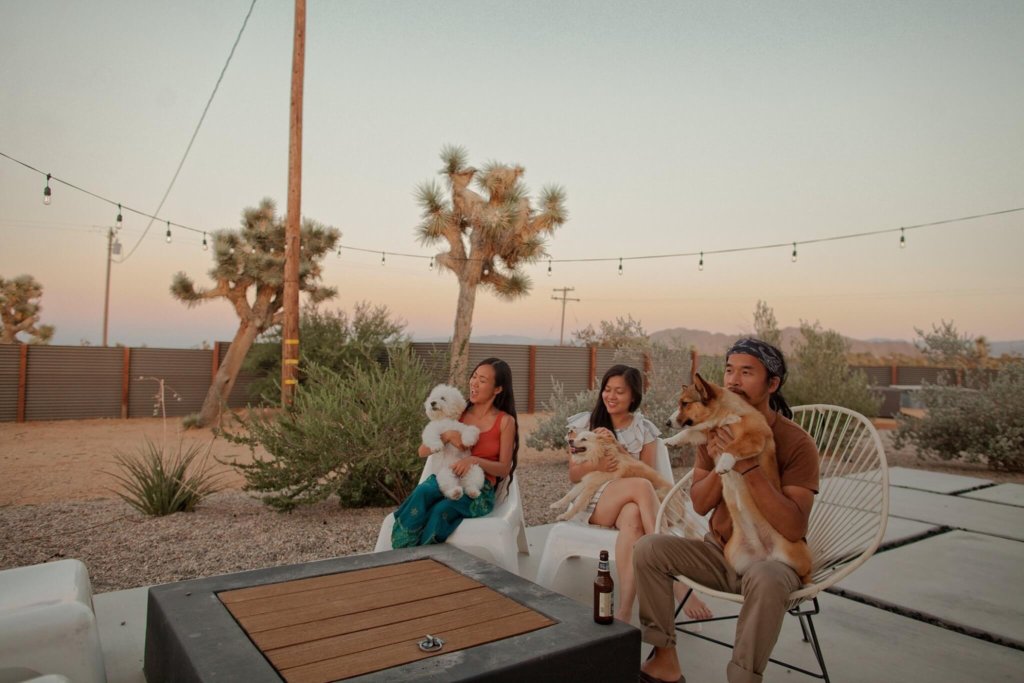 The front yard is the ultimate outdoor chill zone featuring a pool, lounge chairs, and a cabana. The home has everything that we need for every member of our family to enjoy a fun and meaningful desert escape.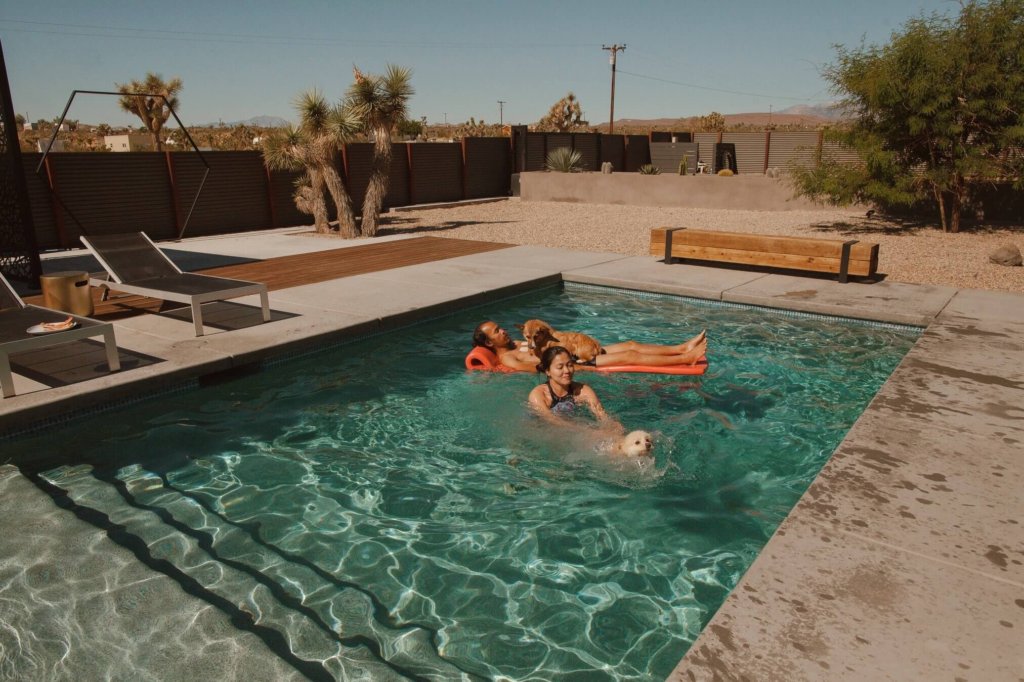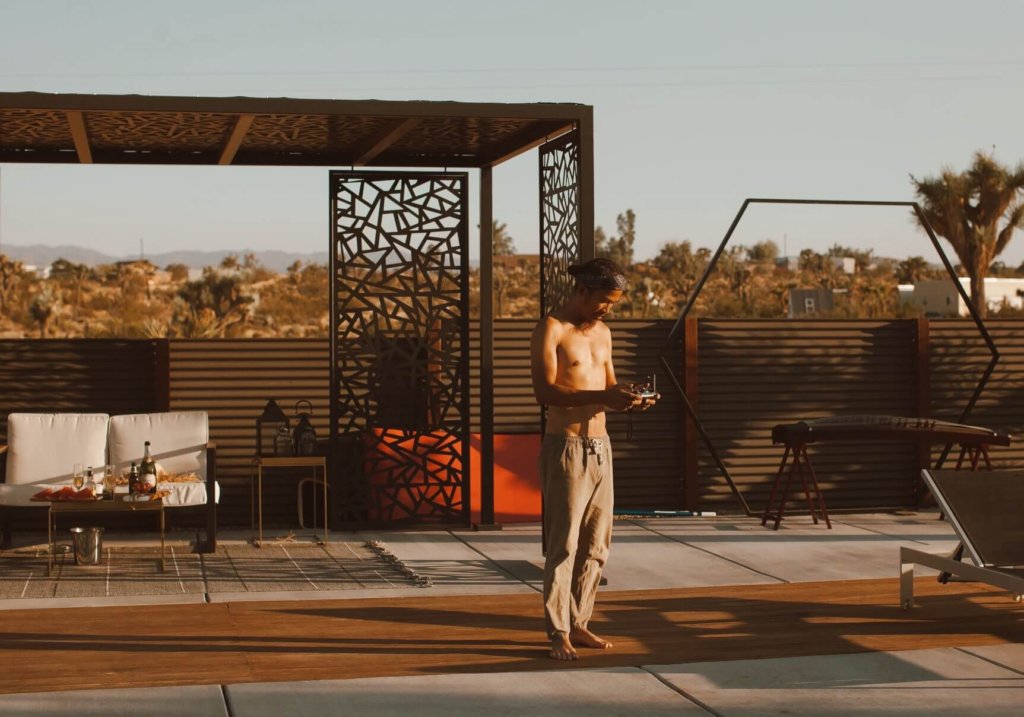 One of our favorite aspects of the home was their chef's dream kitchen which is fully stocked and equipped. This was perfect for cooking romantic dinners without having to worry about purchasing kitchen staples (salt & pepper, oil, sugar, sauces,…) or worrying about proper kitchenware! I was pleasantly surprised to find a wide arrays of carefully-selected premium spices and seasonings ranging from organic virgin olive oil to Vietnamese fish sauce. The open floor plan is so great for cooking and relaxing. There are windows throughout the house to let in natural light and dessert views.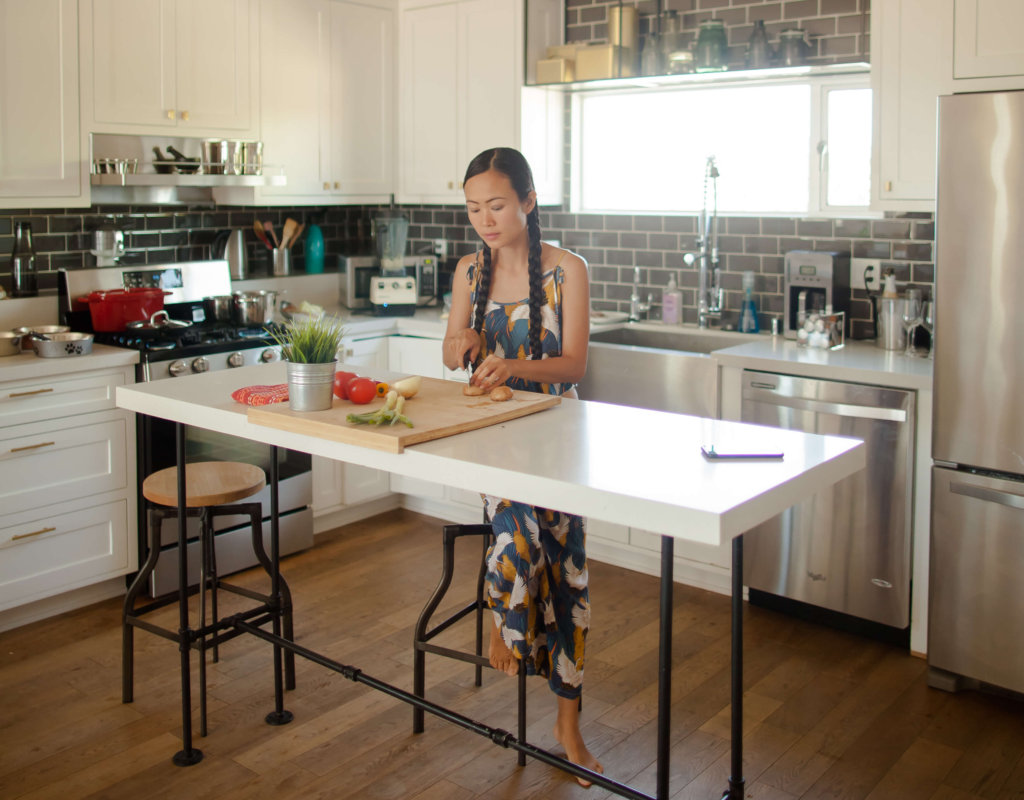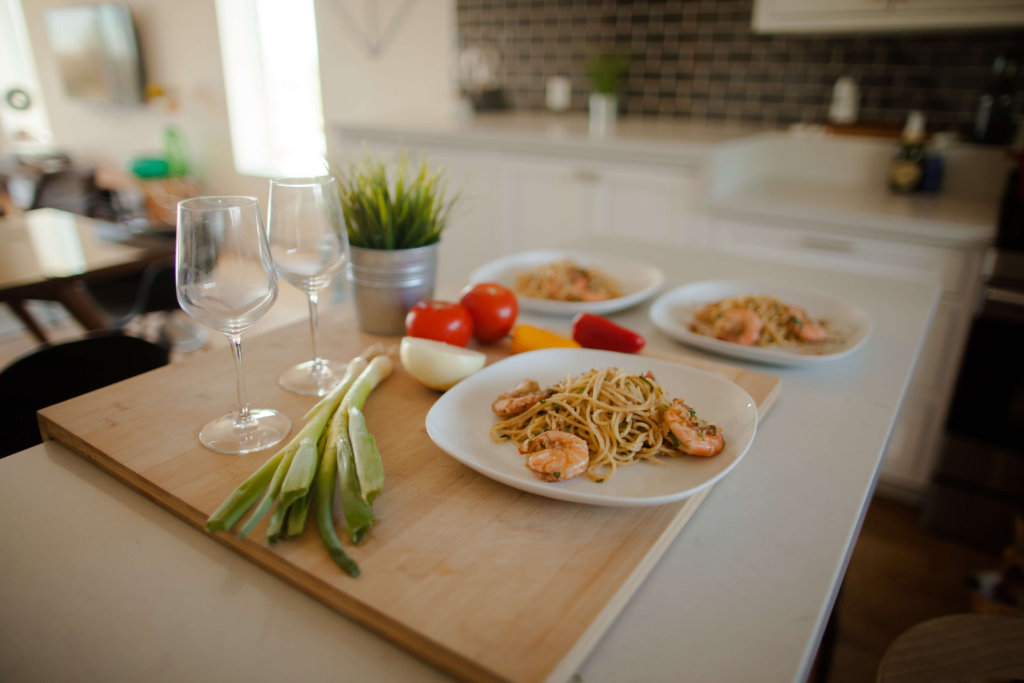 The home features 2 bedrooms. The two bedrooms with their own bathrooms is such a bonus. The bedrooms had comfortable mattresses and cozy but efficient closets! Each room has an eclectic design from midcentury modern decor to unique little Joshua Tree treasures scattered throughout the home.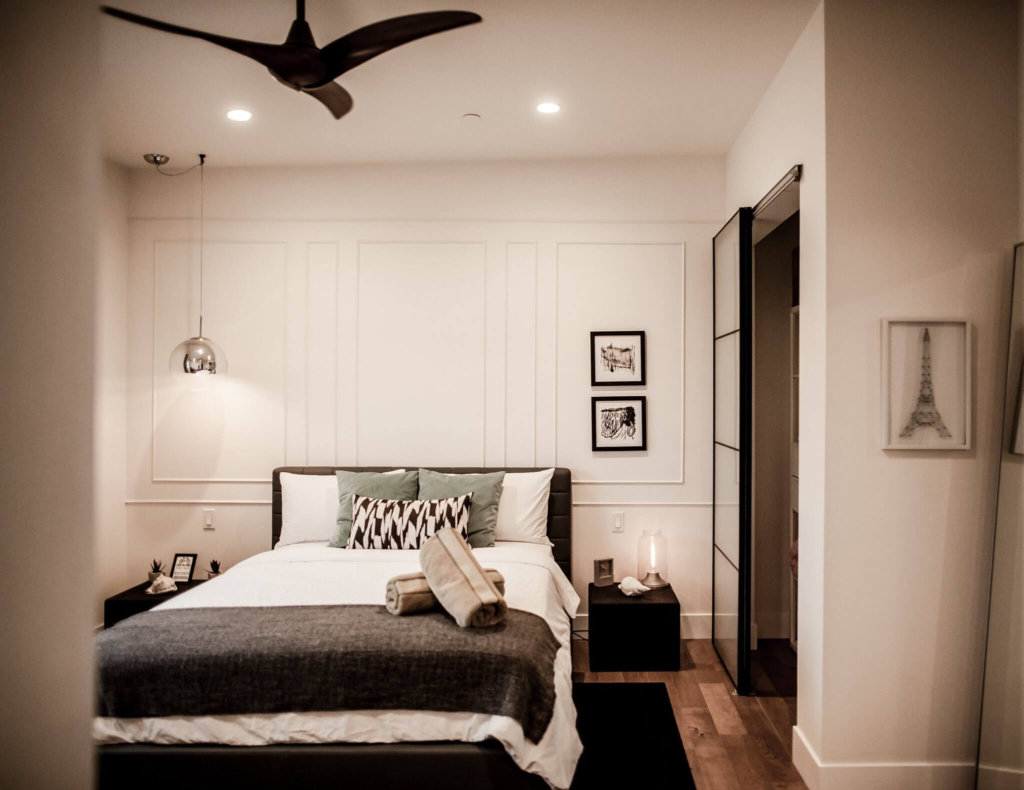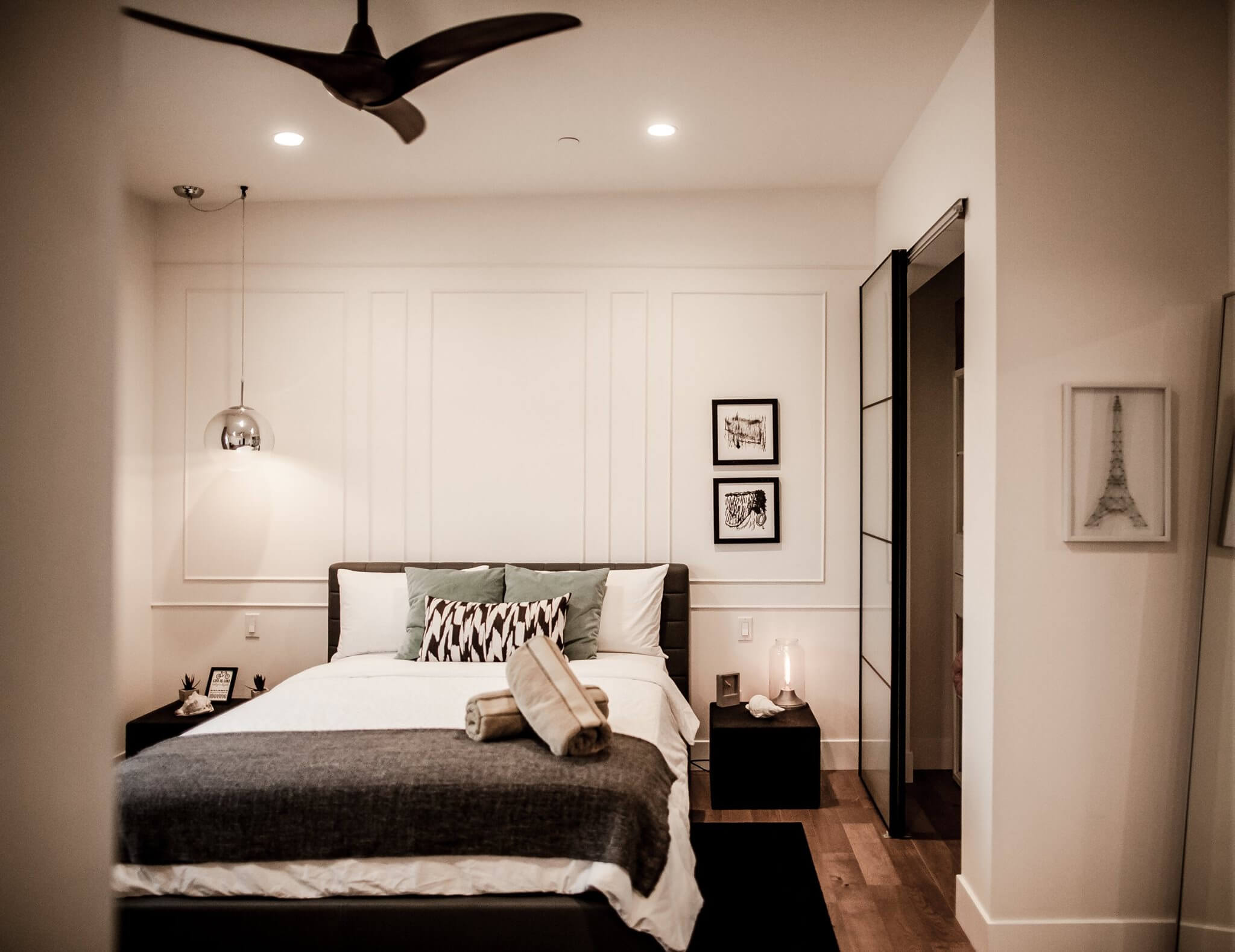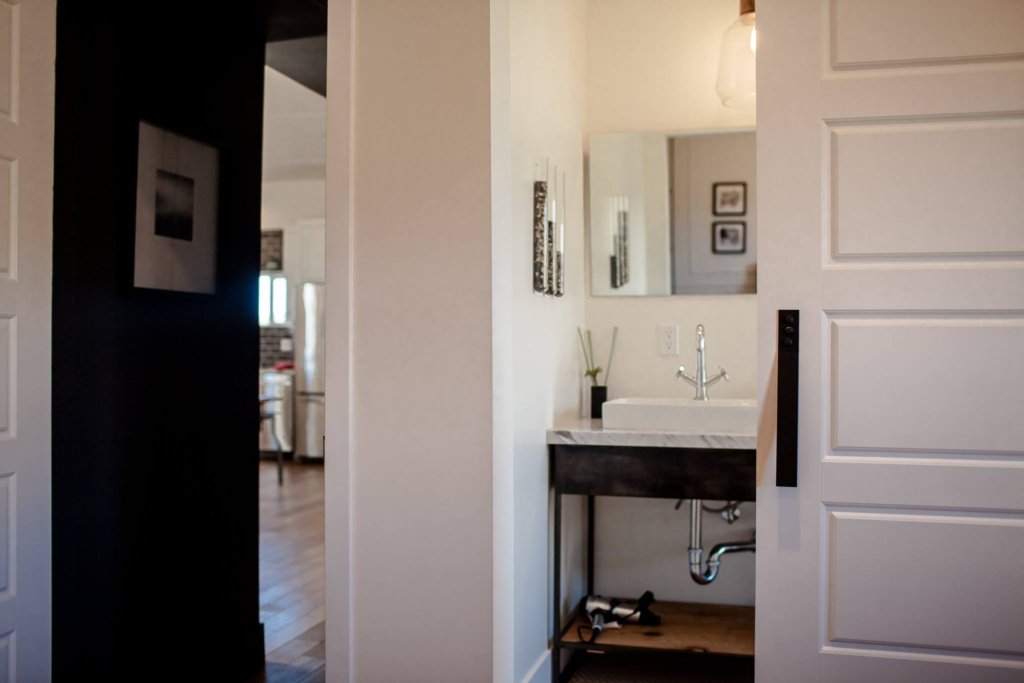 They provided games, a record player, towels for the jacuzzi rolled neatly and placed at the end of the beds, and shampoo/conditioner/body wash. They thought of everything to make it a stress free, relaxing and magical weekend in the desert.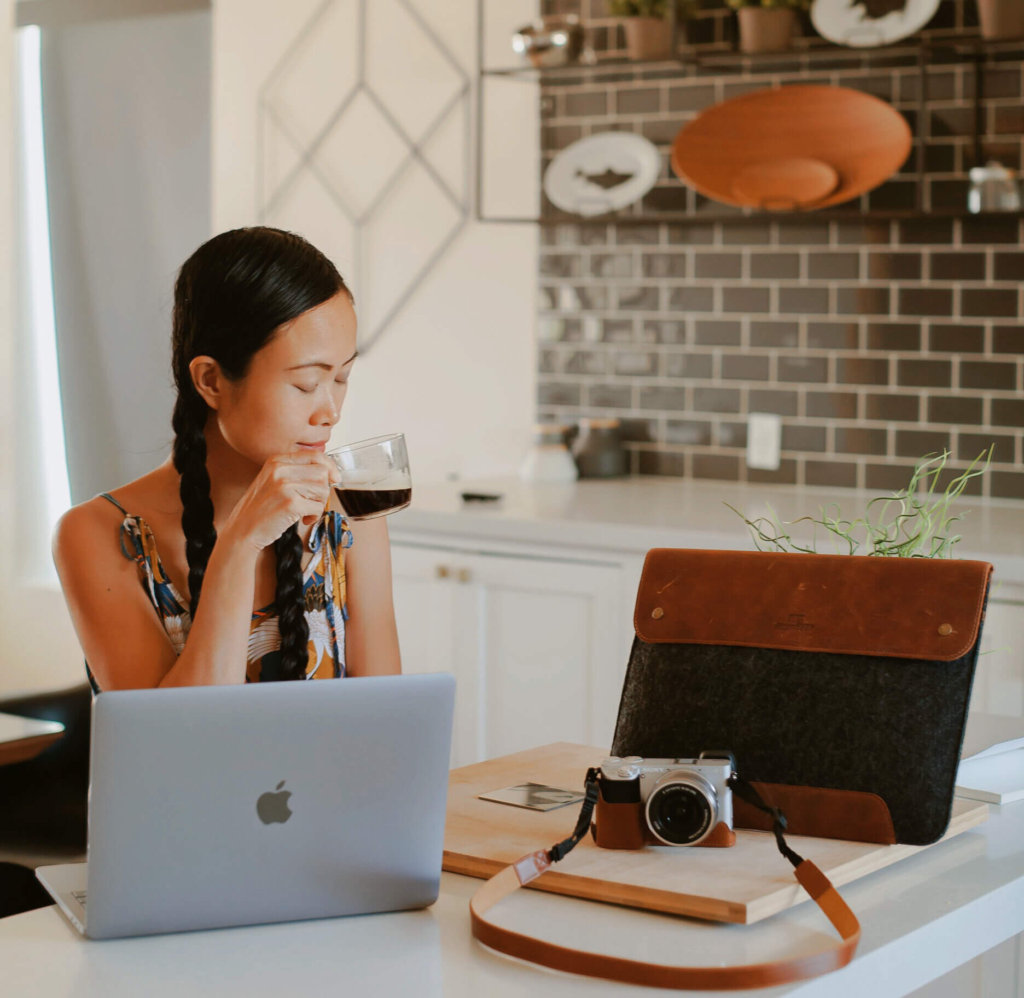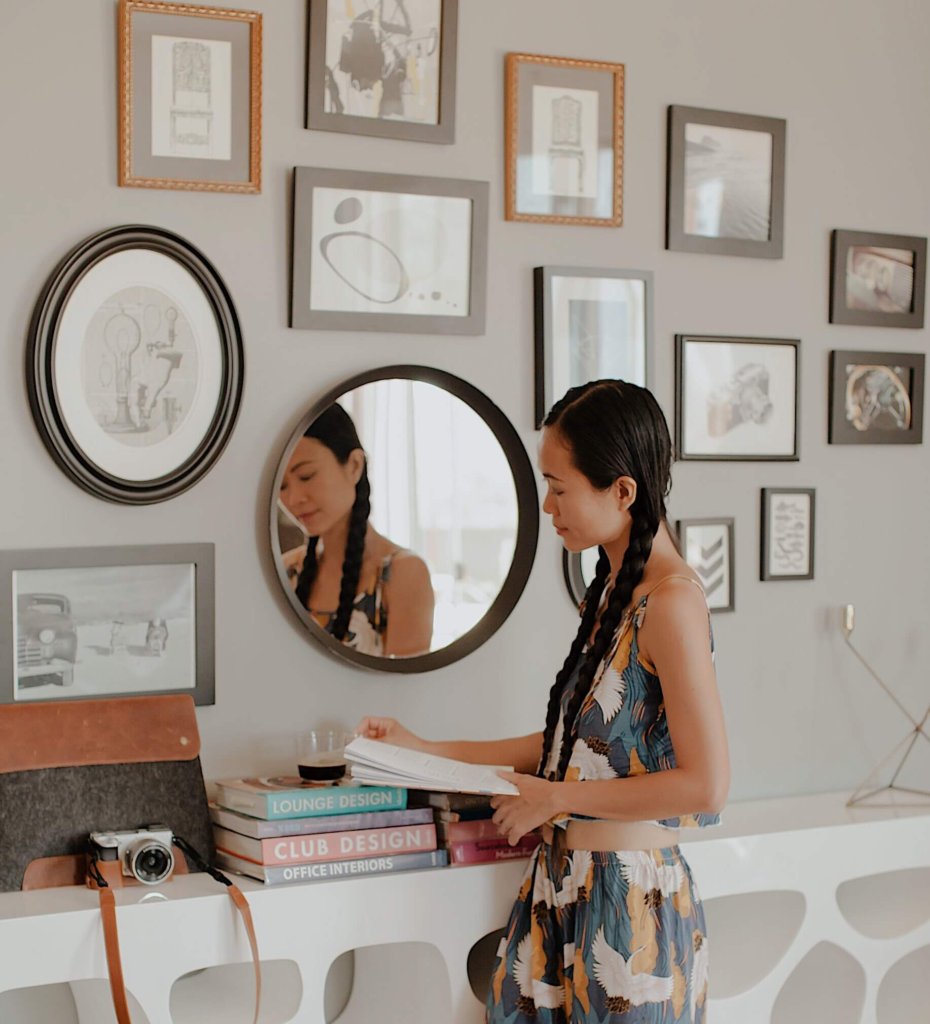 As night falls, we get the light show! With the pool lights and walkway lights the Serenity Escape is as beautiful at night as it is during the day. We were lucky enough to have two nights at the property to really soak in all it has to offer.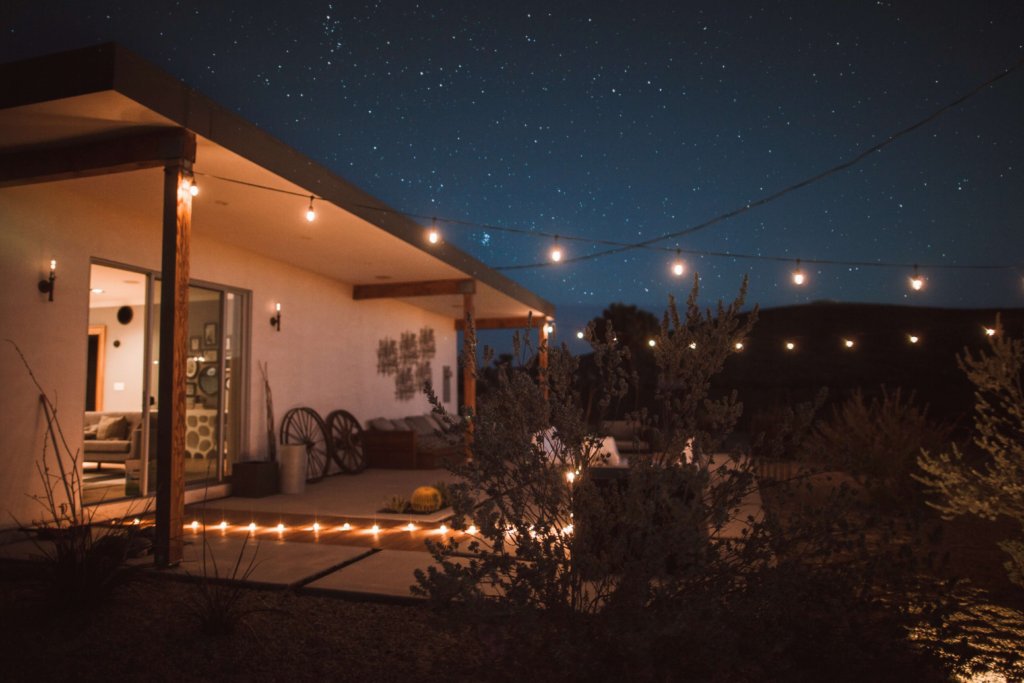 The Serenity Escape is a beautiful desert oasis that can take you from the chaos of Los Angeles to a relaxing calm getaway underneath night skies. It felt like you're entirely off the grid. If you're planning on eloping, having a wedding, or just a weekend getaway in Joshua Tree, the Serenity Escape has everything to offer. I highly recommend staying at the Serenity Escape, especially for those who truly appreciate beautifully designed homes.
Rental Information
• Property Type: 1,400 ft²/130 m² of high ceilings + open floor plan, 700 ft²/65 m² outdoor patio w. BBQ
• 2 Bedrooms, 2 queen beds, 2 baths, 2 air mattresses, 6 guests
• 2 nights minimum rental on weekends.
• Suitability: events allowed, family/kid friendly, non-smoking
• Chef's dream kitchen
• Outdoor Pool + Jacuzzi
• Indoor/outdoor sound system
• Multiple decks for dining / ceremonies / sunbathing
• Extreme Privacy
• Secured parking for 2 vehicles
• Onsite washer + dryer
Book your stay here
Use my exclusive discount code "DesertMay" for $75 off your stay when you book the Serenity Escape on Airbnb (expired 9/1/2019).
***Thank you to The Serenity Escape for kindly sponsoring this post. All opinions are 100% honest & completely my own.