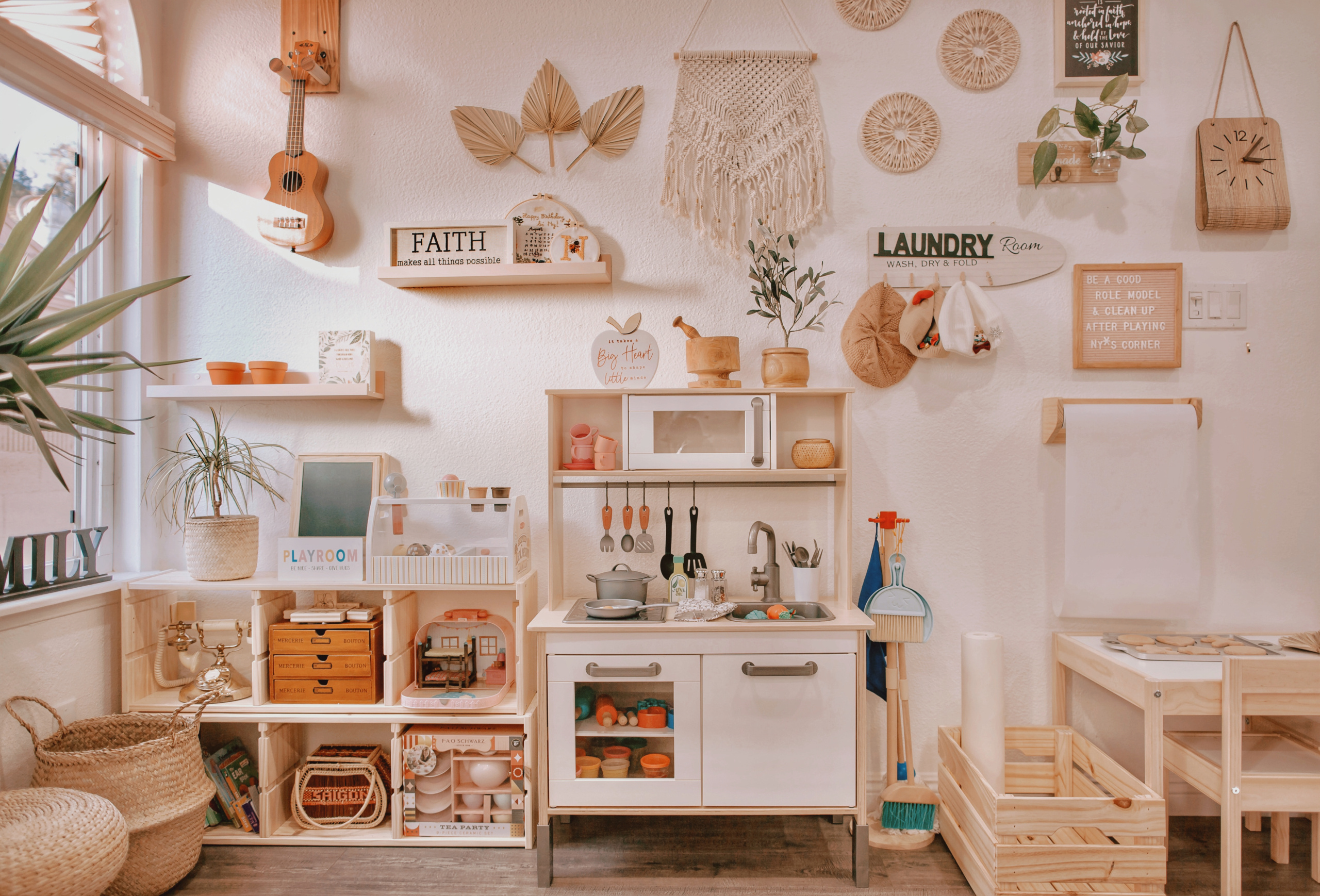 The toys are taking over your house? Kids toys can become an eyesore in your living space. For many parents, piles of colorful plastic toys and stuffed animals that overrun the house have become a nightmare. At the end of a long day when all you want to do is shut the door on the mess and leave it for tomorrow! But it doesn't have to be that way. By creating a dedicated play area, your busy toddlers will have a place to make all their creativity and curiosity come to life, but more importantly it fosters independence and problem-solving skills.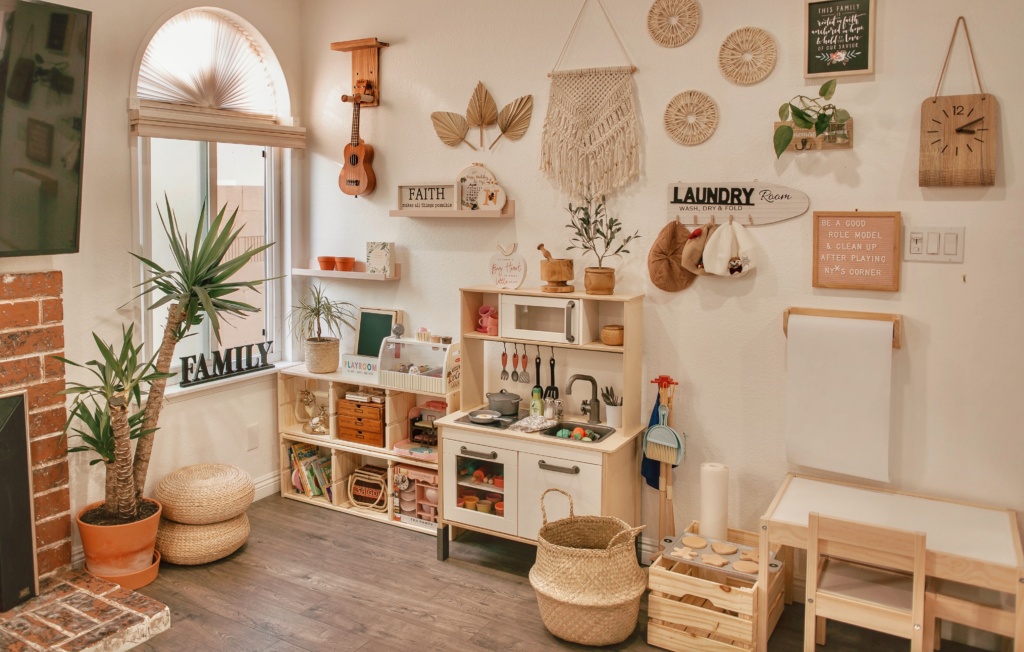 When coming up with a design for this playroom for NyNy (a 3-year old toddler) I had two design ideas in mind. I wanted it to be neutral and I wanted to take a minimalist approach. These neutral minimalist playroom concepts helped guide all the ideas and purchases for our playroom. If you're just starting in on your playroom design, here are some of our neutral minimalist playroom inspirations.
Choosing the Space for the Playroom
When you begin planning a playroom for your kids, the place you choose to have it is important! Choose a space that is near where your family gathers EVERY DAY. If you choose a space that is on a different level or far from where your family typically "lives", then the kids will never actually play in that space.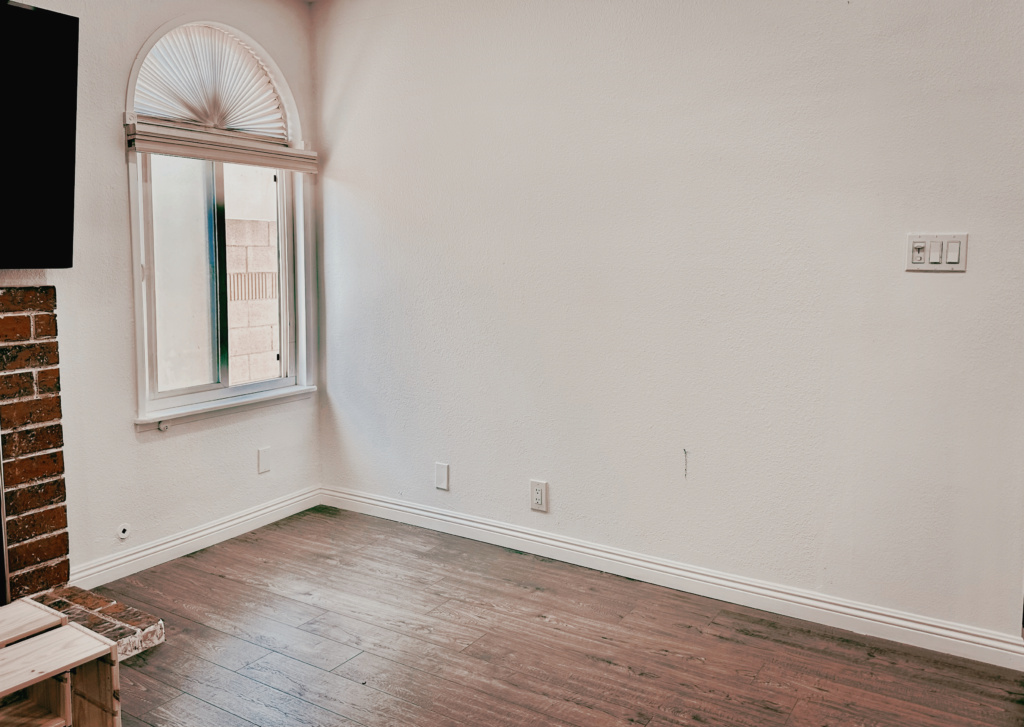 For us we converted a little corner in the living room into NyNy's playing corner. That's where our family hangs out the most and that's how NyNy will get the most out of her new play space.
Choosing a Color Theme for the Playroom
Color is key when designing a creative space that kids will love. Paint the walls with their favorite colors, an underwater theme, or a hand-drawn design for an eye-catching accent wall. But for those like me who are not ready to take a plunge with bold colors, neutral color is a great way to style a modern minimalist playroom.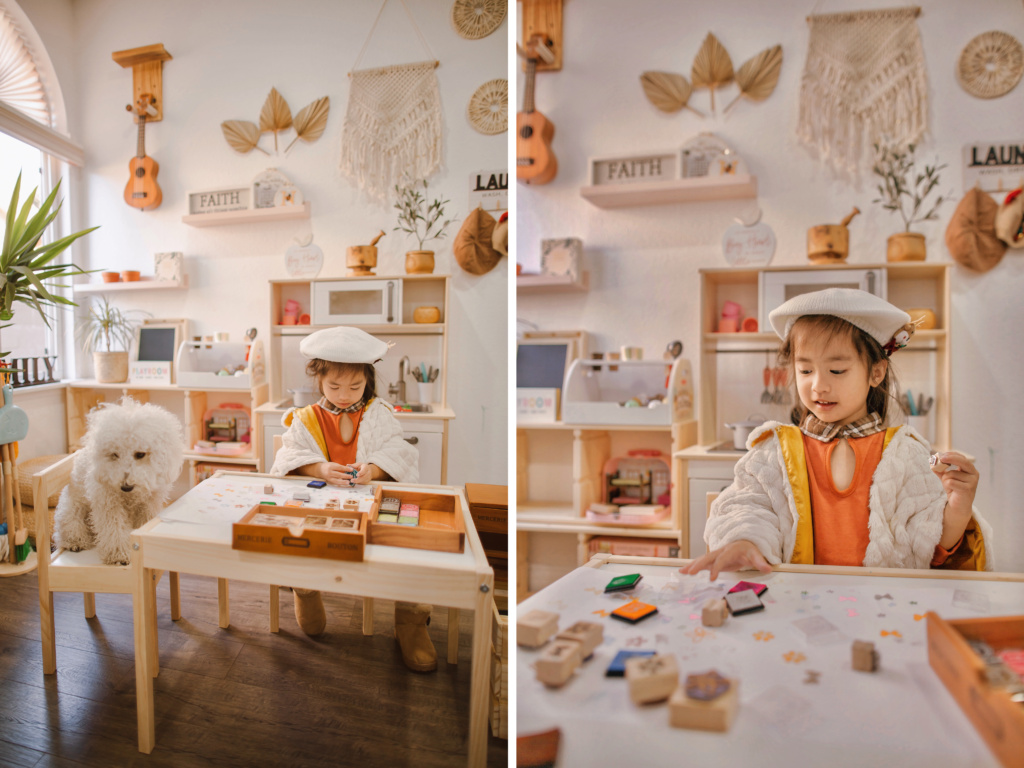 Playrooms by nature can be chaotic, often a storage room for overflowing toys, crafts, and mess. By choosing a neutral theme you are helping to create a more calm and relaxed atmosphere for this space, thus fostering concentration.
Toddler Playroom Wood Toys
Known for their impossibly bright colors and cheap plastic designs kids' toys tend to be an eyesore in adults' living space. Parents get used to constantly hiding toys when guests stop over. But it doesn't have to be that way. If you can find a few beautiful pieces for your kids that blend in with with your design aesthetic in the most seamless fashion, you would actually want to leave the toys out for guests to see.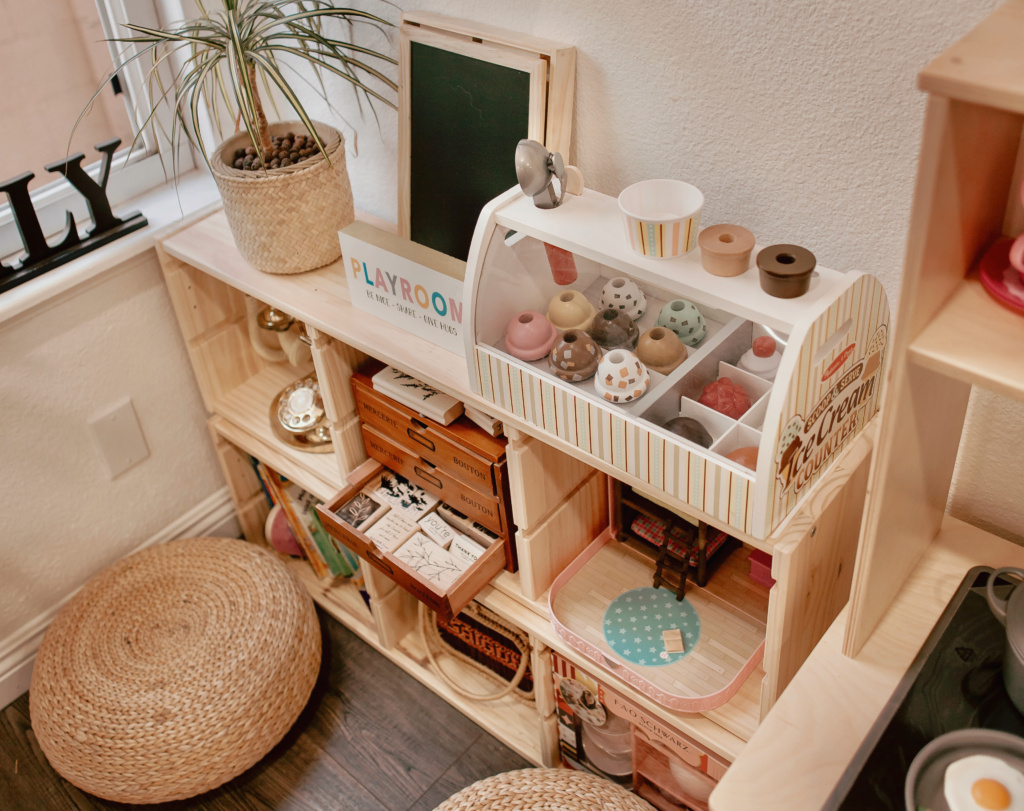 Note to all design-savvy parents: you can never go wrong with natural wood. In a world where colorful plastic reigns supreme, it's so important to remember to take things back to basics with little kids. Wooden toys are more environmentally conscious and more aesthetically pleasing. Whether it's an ice cream cart or kids' blocks wood tones complement any color palette and provide a timeless sense of style. You can pass these wood toys down for generations to come.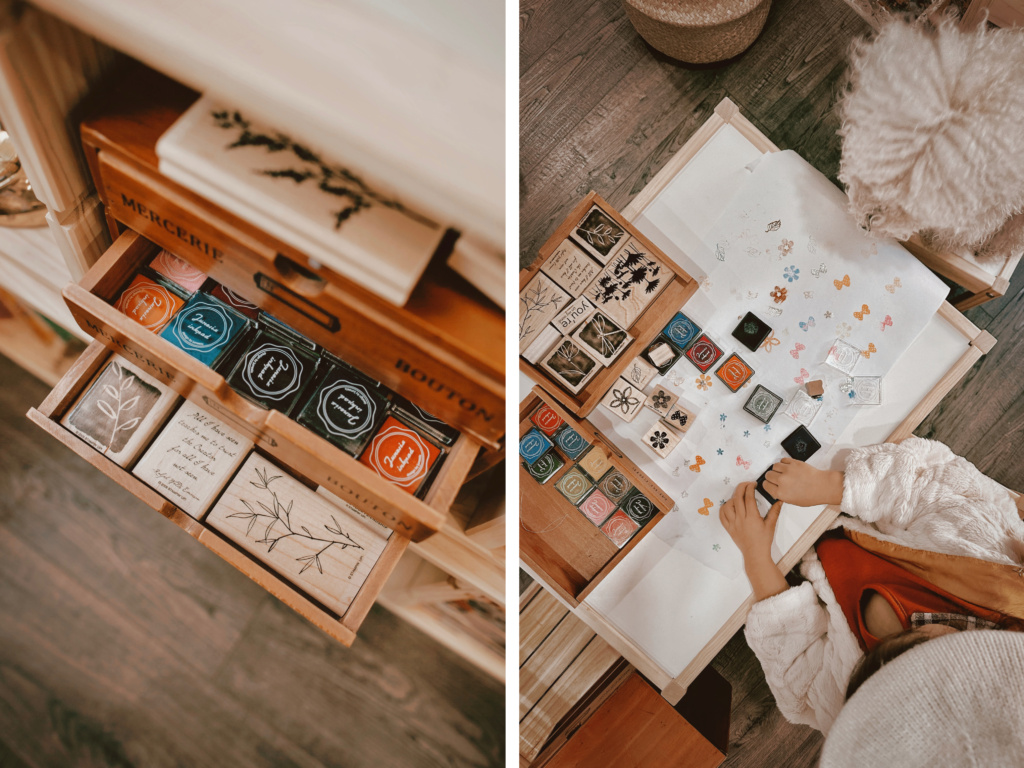 Neat and Tidy Storage Solution
Most parents have fears that their house will become overrun with toys and colorful plastic. And those fears are not unfounded. But if you play your décor cards right, you can keep the kid toy clutter to a minimum at the same time creating a balance of beauty and chaos.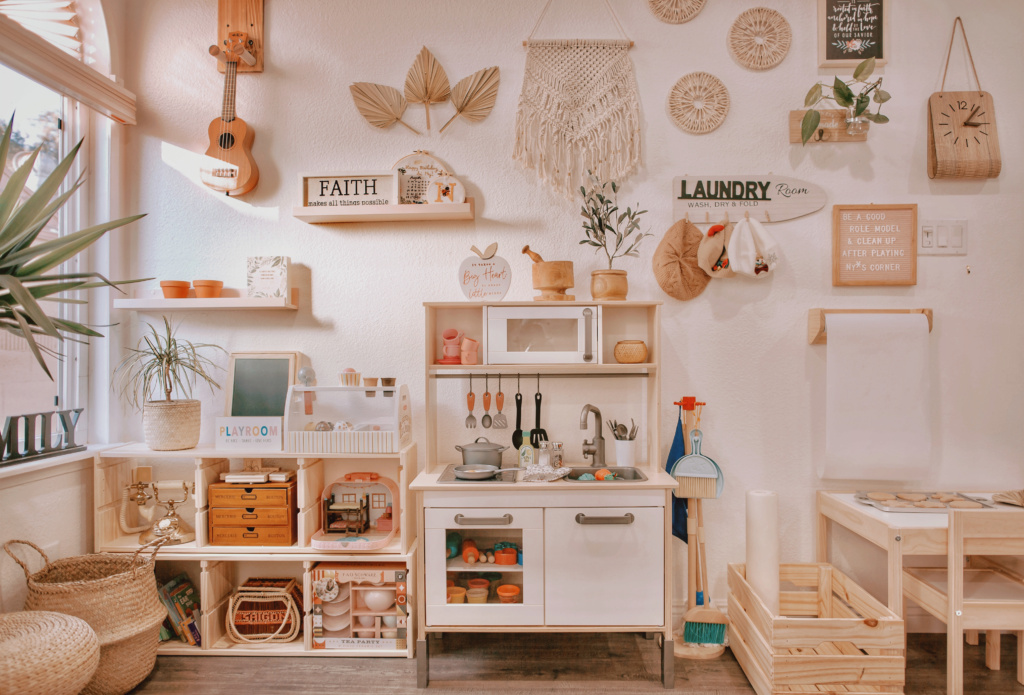 First, you can match your storage solutions to your child's room theme to create a seamless look. We used the Trofast toy storage shelves and cute wicker baskets/patterned totes to store NyNy's toys, art supplies, and books; with these you can get both fun designs and playroom storage.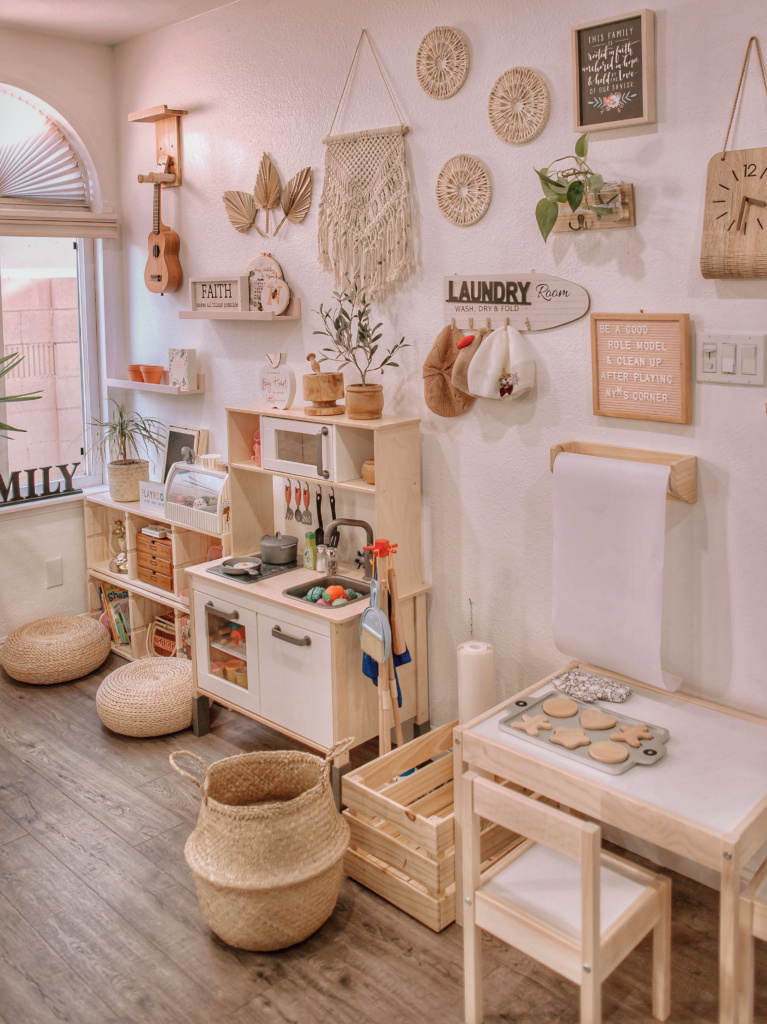 Secondly, in order to create an organized minimal playing space, I had to focus on limiting the number of toys/activities I chose to display. A playroom should be a clean and simple space with a carefully selected, limited number of age-appropriate toys.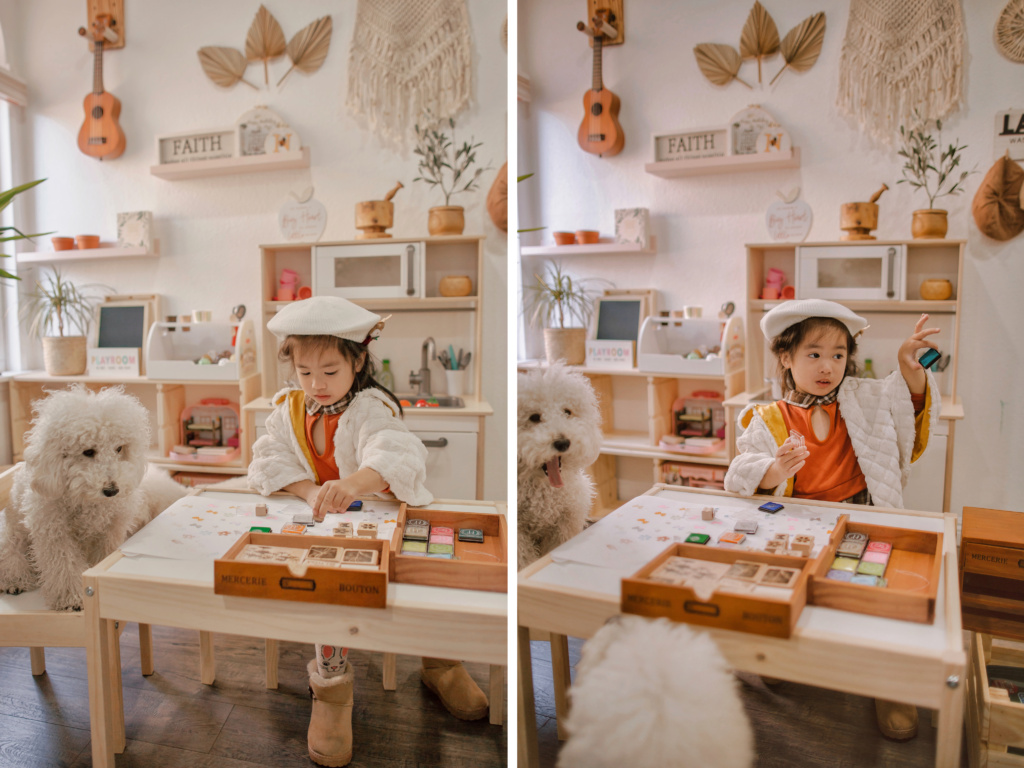 According to Montessori guides, the optimum number of activities to have in the playroom is 8-10. If you have more than 10 toys, creating a toy rotation about once per week will keep your little one engaged with all the activities. There shouldn't be an overwhelming excess of toys and activities in the playroom. We stored toys that are not currently in rotation in another part of the house and this has kept NyNy's playroom from feeling overwhelmed and allowed NyNy's to focus on a few toys.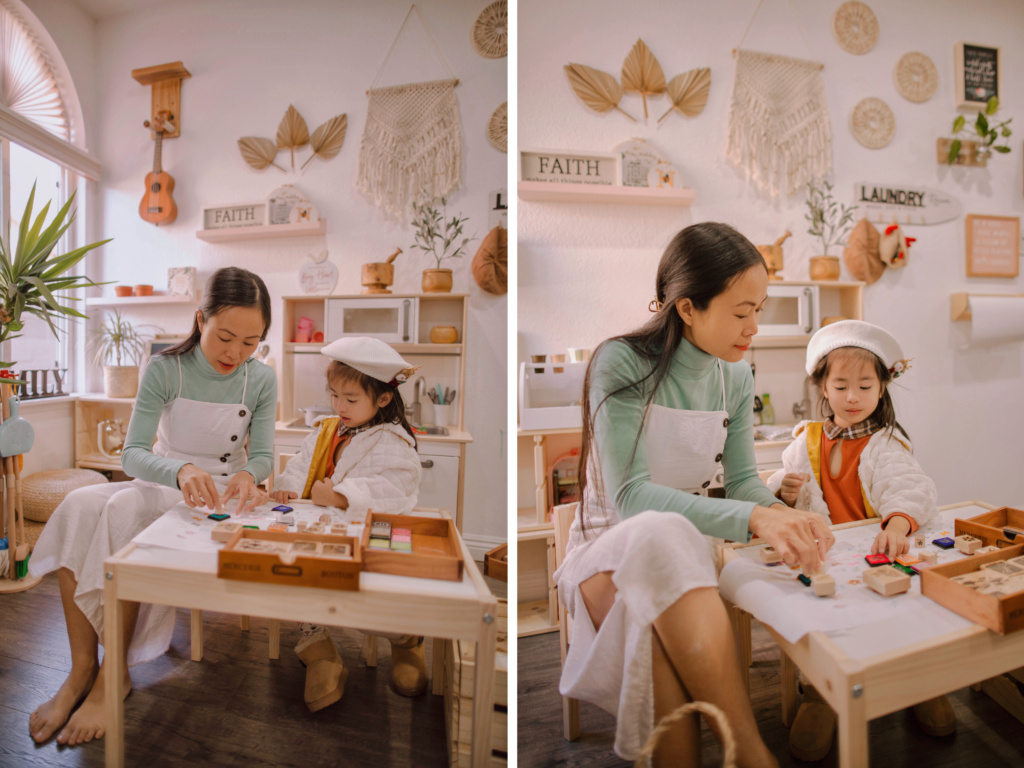 Thirdly, it is important to create an open play shelf. All toys should be stored carefully in their allocated shelving space. This makes the toys accessible and fosters independence. Apart from that, order and routine are a great way to teach your child how to clean up after themselves. When they know exactly where on the shelf every toy belongs, they will be more likely to put them back in the same spot once they are done, and possibly even enjoy doing so.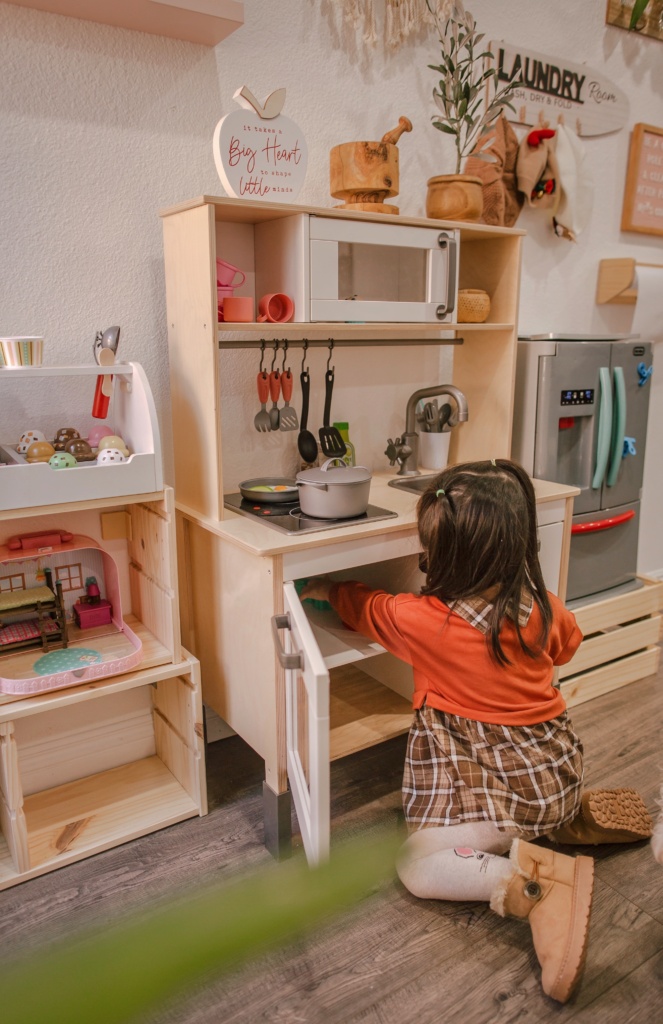 Playroom Furniture
Whether you're working with a large or small spare room, tables and chairs are a staple for any playroom. Kids can use them for craft projects and putting together puzzles. Not to mention, a playroom table is nice for having a place to enjoy an afternoon snack and juicebox! Functional and fun are necessary components when it comes to picking out kids playroom furniture.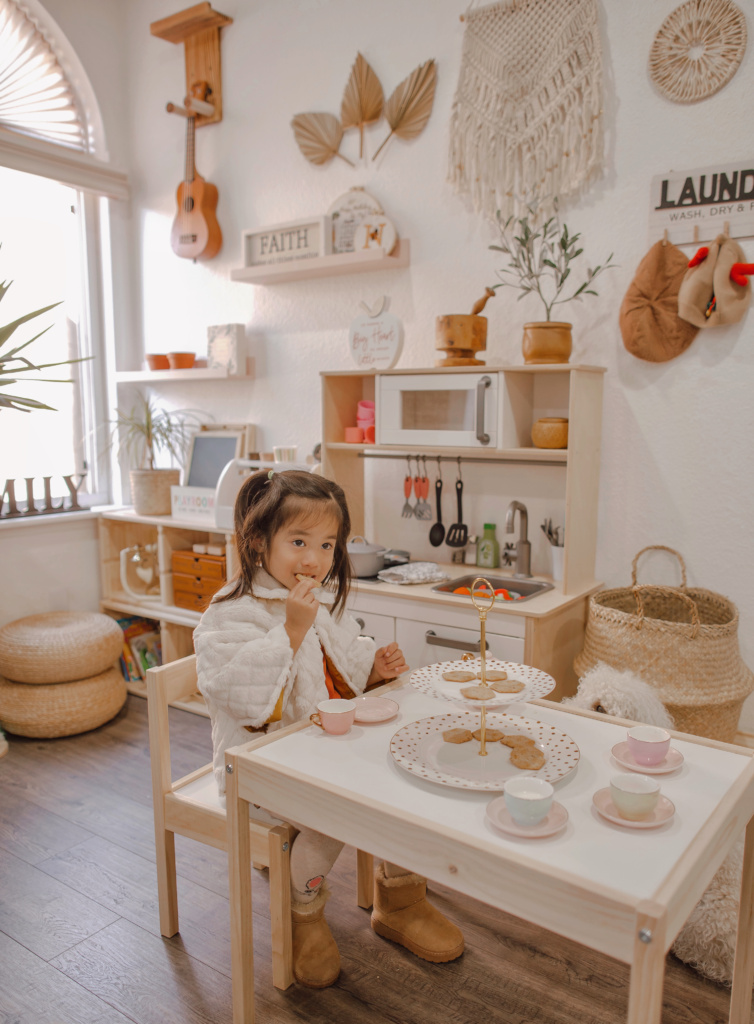 Add "Grownup" Elements to Your Toddler Playroom
One of the best parts of childhood is playing at adult behaviors and routines. Make sure to bring elements of your own world into the toy room for hours of fun, like a kitchen set that resembles a real kitchen. Kids love to copy their parents by pretending to cook their food.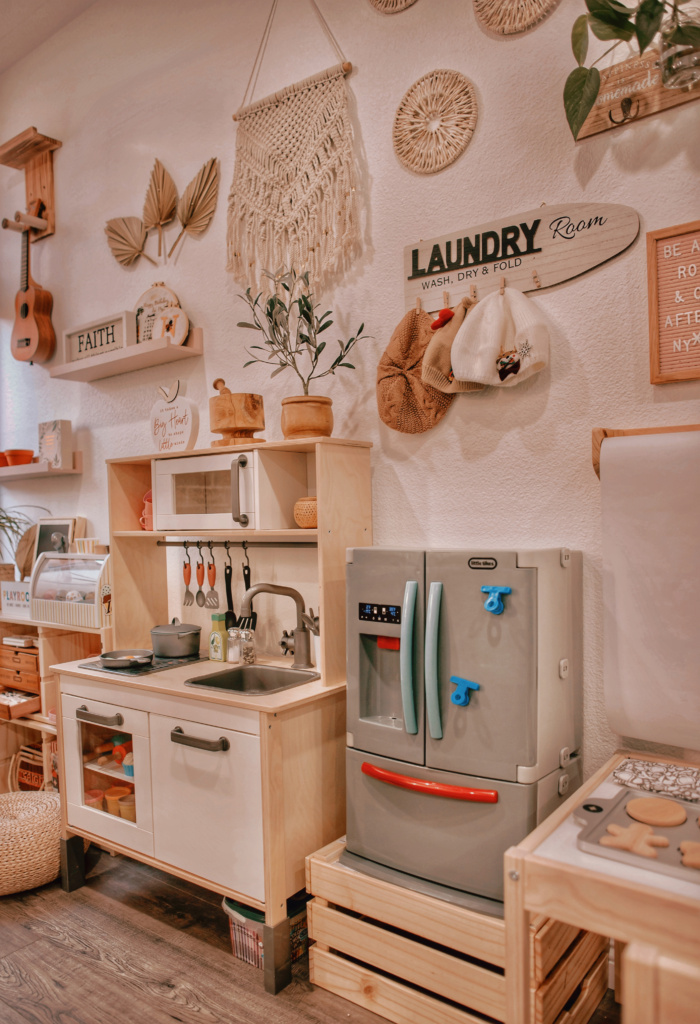 One of my favorite additions to our neutral minimalist playroom is the Ikea Duktig play kitchen. The Ikea Duktig kitchen is the perfect play kitchen for so many families because of its compact and minimalist design.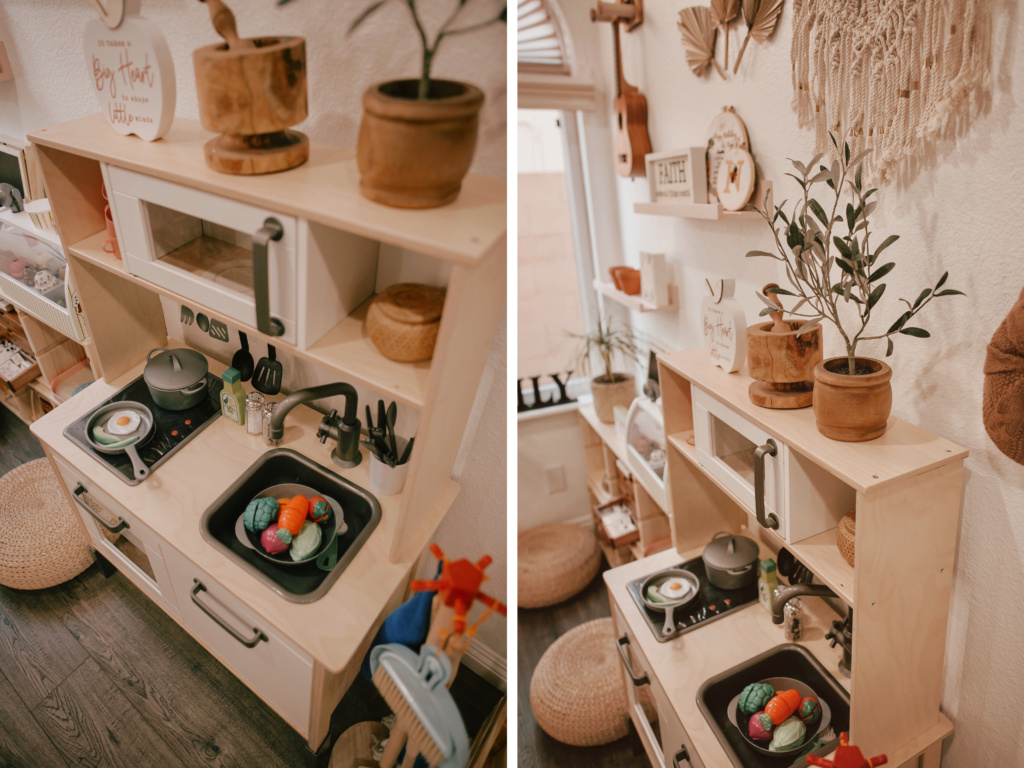 The neutral design also makes it the perfect addition to tie our minimal playroom together. Having their own miniature kitchen provides children with opportunities to role play, learn new skills, gain confidence and independence and improve their emotional wellbeing and social communication.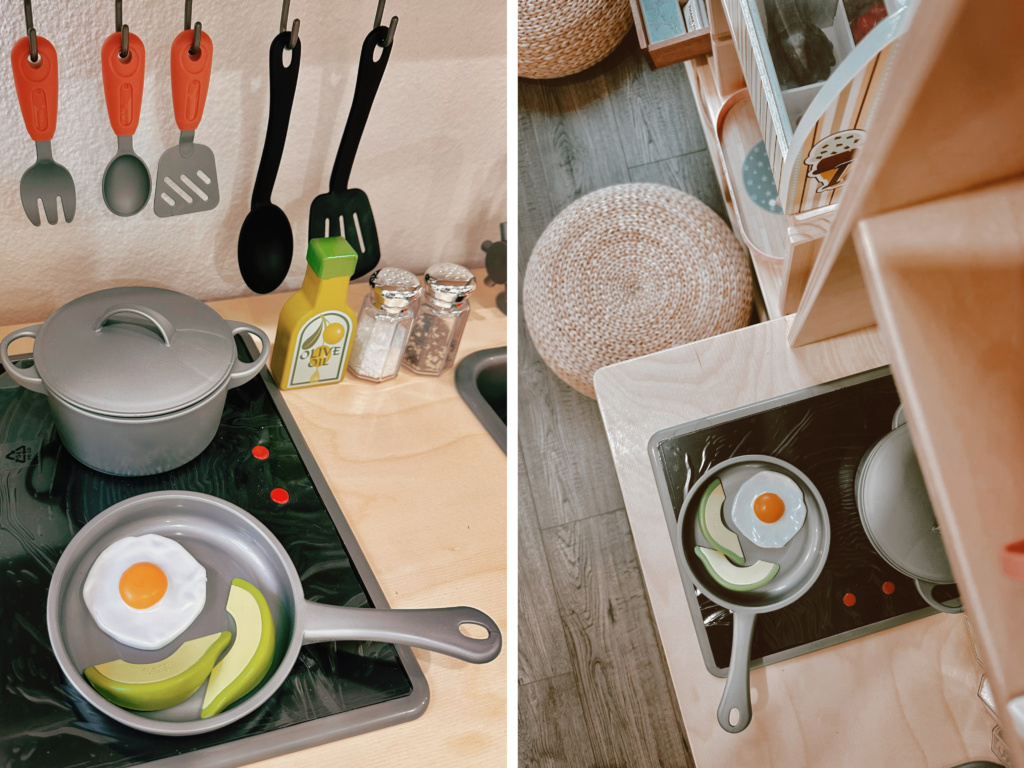 Tie Your Toddler Playroom Decor Together With Plants, Bulletin Boards, and Wall Arts
Some artwork and a few plants will also breathe life into the space. Elevating the playroom decor from a simple toy dump to a visibly pleasing room that you actually enjoy spending time in is going to make parenting more functional and fun!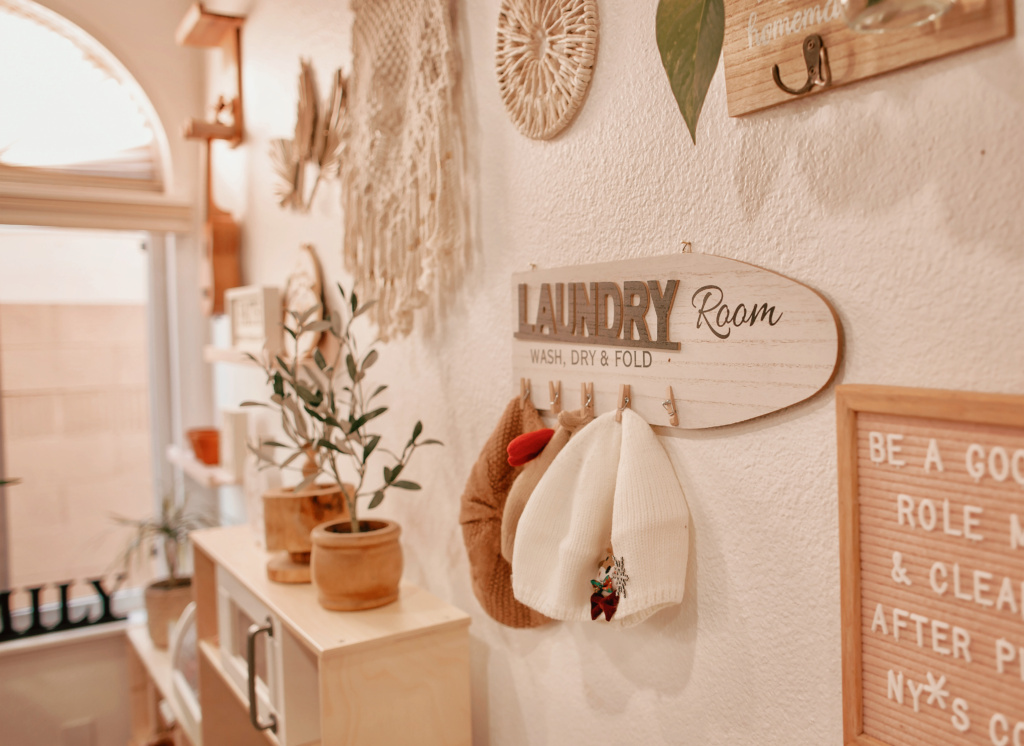 For just a few dollars you can transform a blank wall into a beautiful art gallery. Floating shelves and wall bookcases are also great playroom decorating ideas for changing up that spare wall. Use them for toy and book storage, or display cute decorations like a framed picture or vase of fake flowers.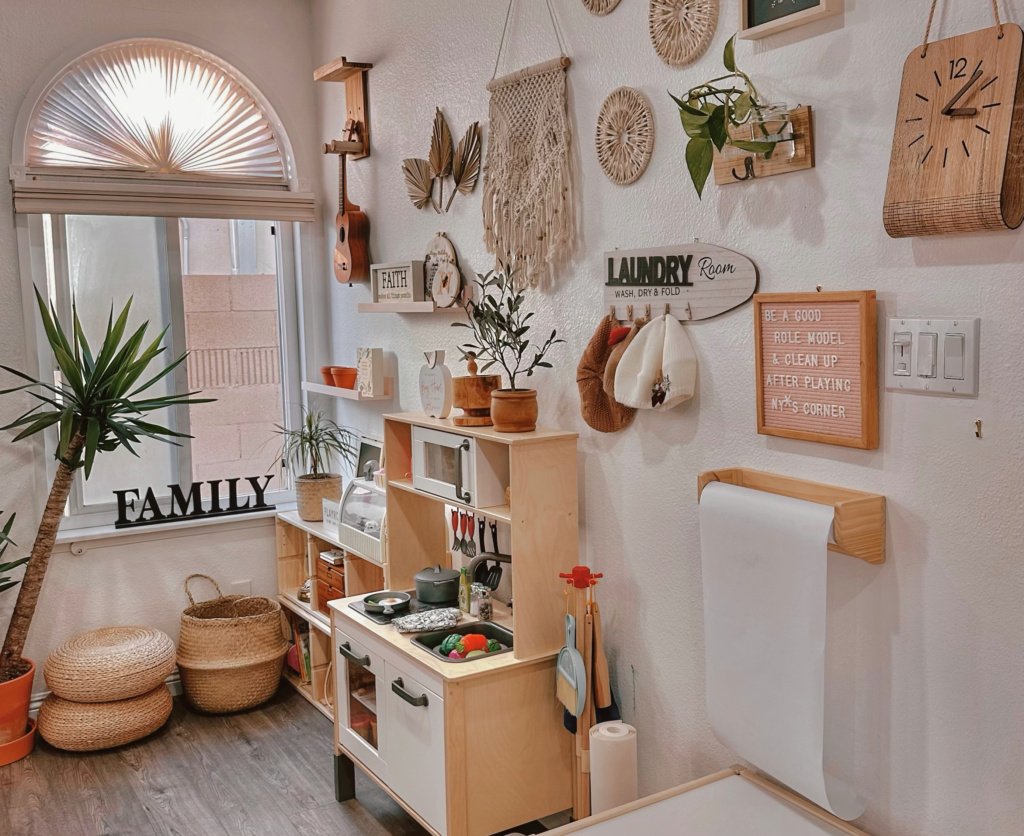 Pin up reminders, daily art projects, found objects, or anything that suits your little ones' fancy with an easy-to-update bulletin or pegboard on the wall. Post up those letters and numbers to promote early learning and also give a whimsical, child-like vibe to your toddler's playroom.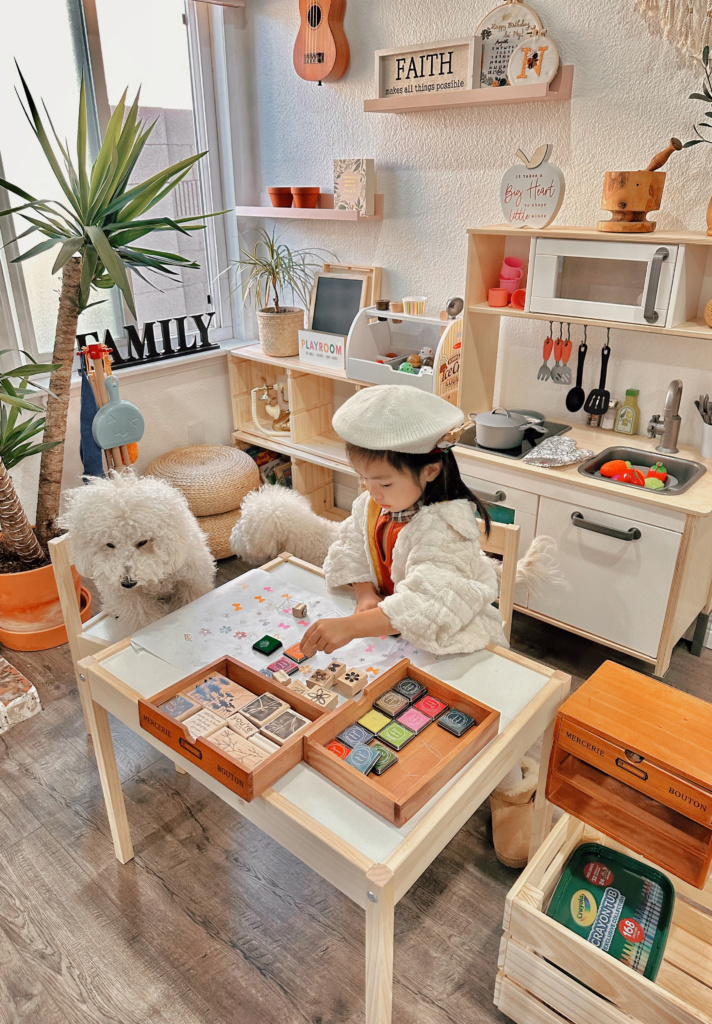 Busy toddlers need a place to make all their creativity and curiosity come to life. Creating a dedicated play area for your young children helps cutting down the messes, fostering independence, problem-solving, and of course promoting lots of fun for the littles. Whether you are looking for a modern playroom, whimsical fun space, or cool older kids play space, I hope you took away some ideas on how to decorate your kids' play space from our blog to help inspire imagination and fun!