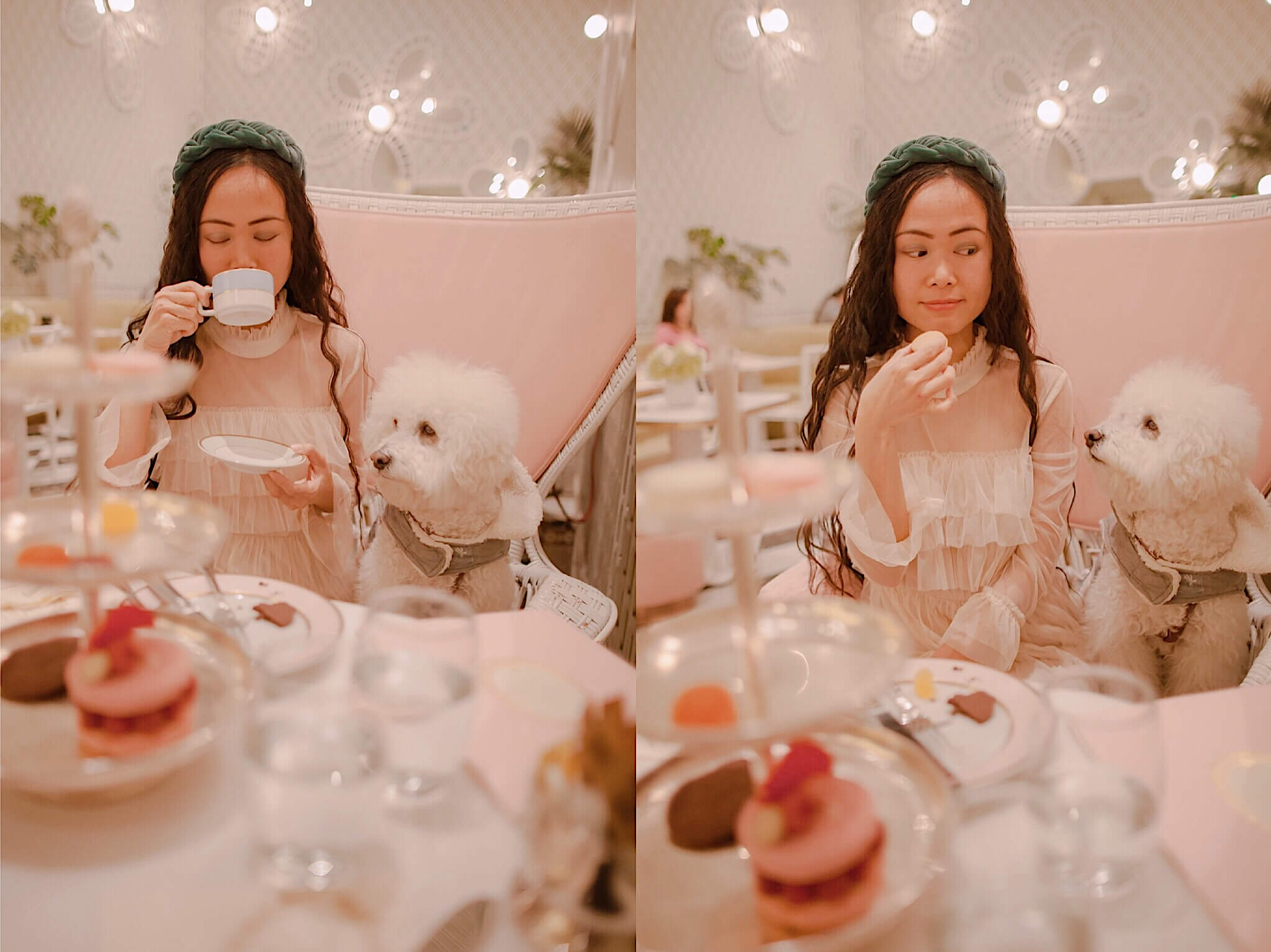 Best Places in and around L.A. for Festive New Year Afternoon Tea
What classier way to spend the first few days of the new year than by indulging in an afternoon tea? This timeless and elegant indulgence is the perfect excuse for a new year get-together with friends or a delightful seasonal celebration. It's a special occasion with tiered trays, porcelain pots, adorable miniature sandwiches, freshly baked scones topped with lemon curd, tiers of decadent delicacies and endless assortment of tea. You don't have to live in England to enjoy a proper tea! There are a surprising number of local spots in California that offer excellent afternoon tea! In this blog I curated a list of my favorite afternoon tea places in and around Los Angeles.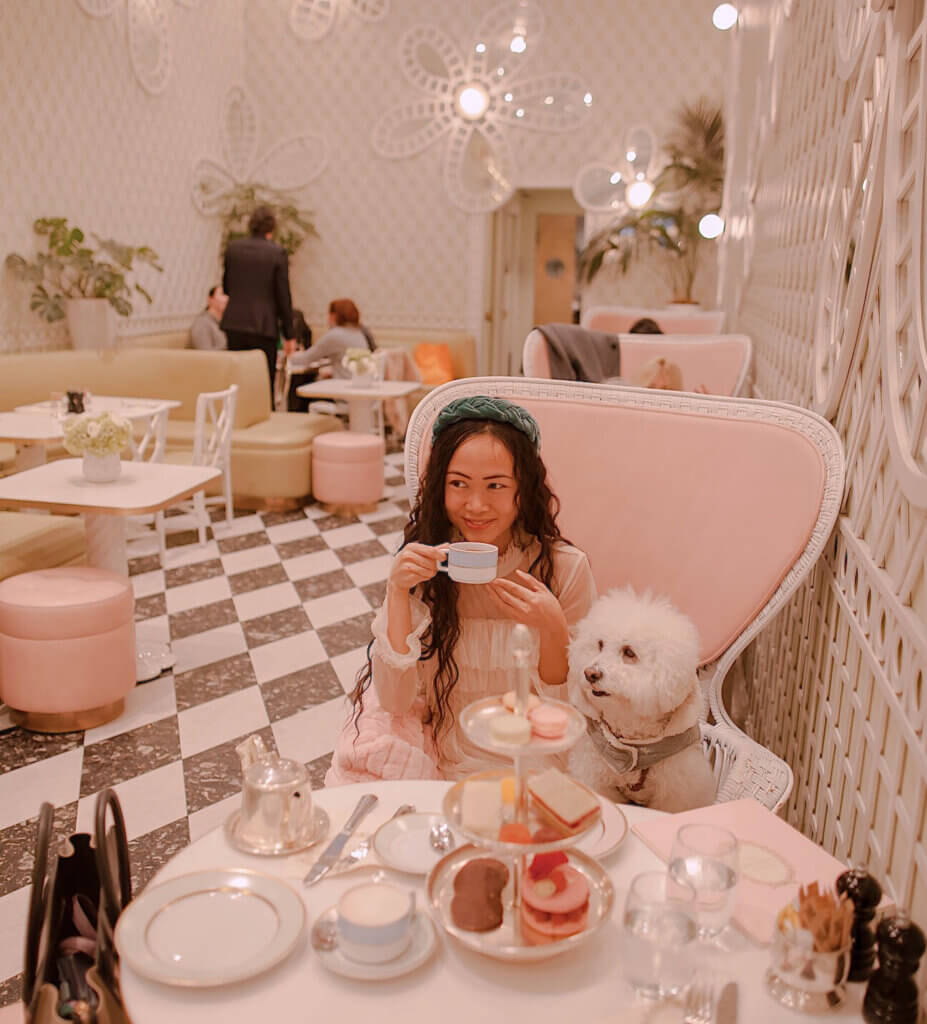 LADURÉE IN BEVERLY HILLS
Ladurée is my go-to pâtisserie whenever I'm in Paris. Imagine my surprise when a scaled-down version of the original 1862 establishment opened not only at The Grove, but, also in Beverly Hills!! Ladurée Beverly Hills is the newest addition to the Ladurée brand here in the US!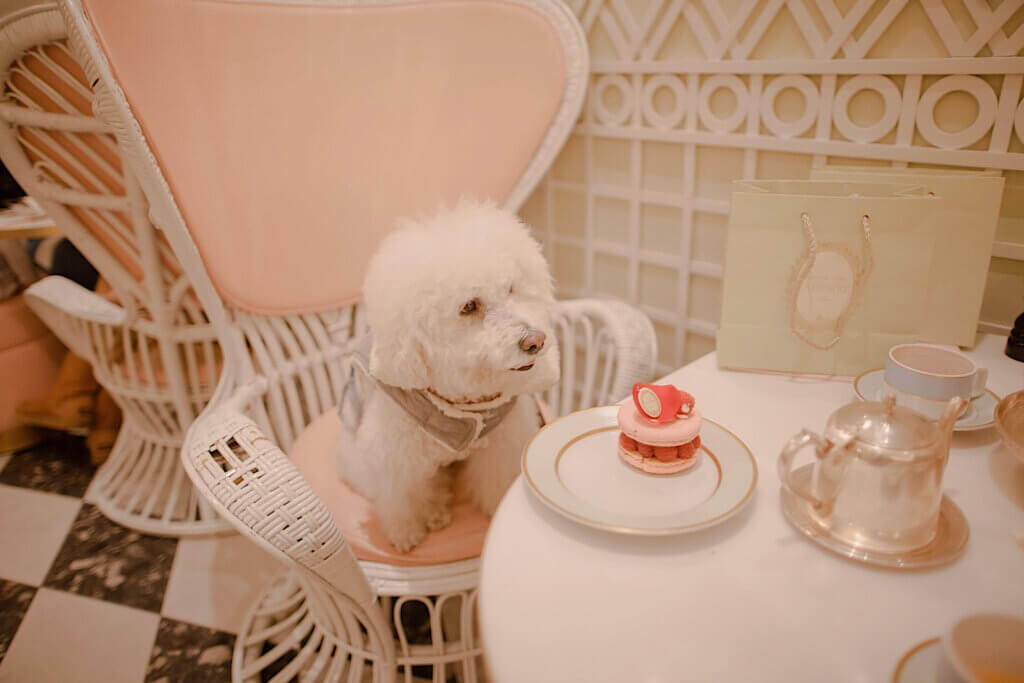 There's an alluring touch of 1970's retro which is both whimsical and elegant with mirrored daisy patterns on the ceilings and walls. Whether you are catching up with a friend or resting your sore feet after shopping on Rodeo, this is an ideal place to savor a charming moment of French tea culture.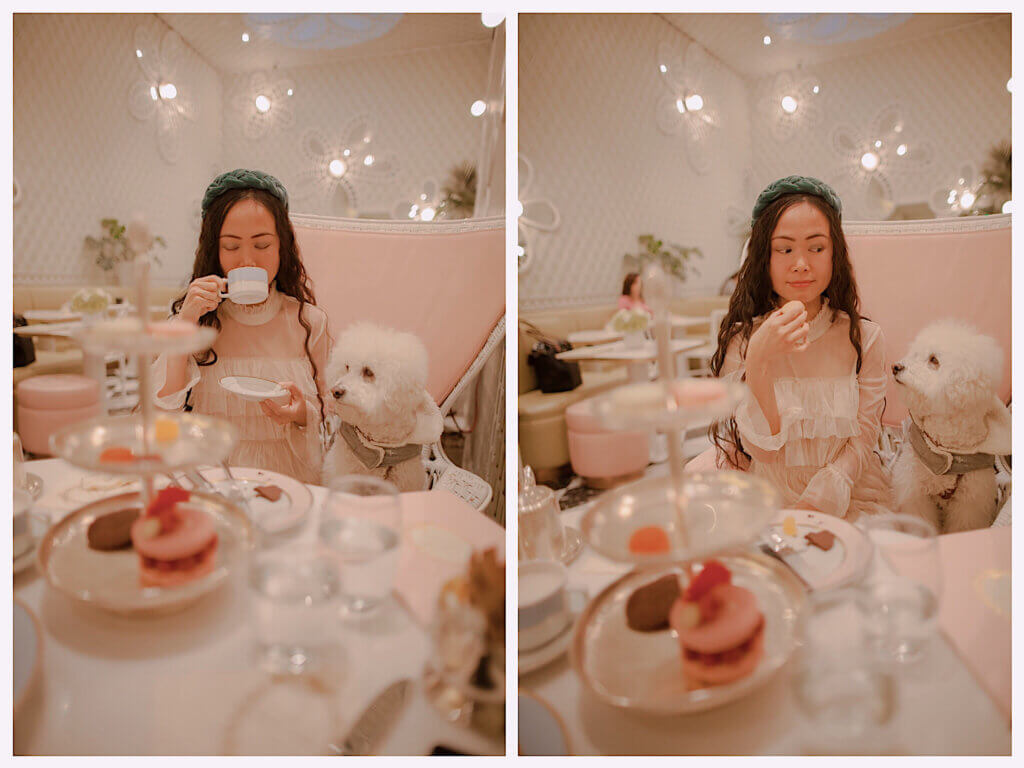 Chloe (my bichon fur baby) and I got the afternoon tea service and it came with chilled finger sandwiches, 3 macarons and 1 dessert along with your choice of tea or coffee. Simply put, Ladurée is so adorable and fun, and it's a must visit if you are a fan of French macarons.  Not to mention, it's a fully vegan bakery and restaurant. That means their omelets are completely egg-free, the finger sandwiches feature cashew cheese, and the paté is made of mushrooms, to name just a few cruelty-free treats. Of course, the brand's macarons are now also dairy-free, as are the rest of its fluffy pastries and viennoiseries.
MORNING LAVENDER CAFE, ORANGE COUNTY
Morning Lavender is such a perfect venue to enjoy your new year afternoon tea. The cafe looked great on Instagram, but it was even better in person!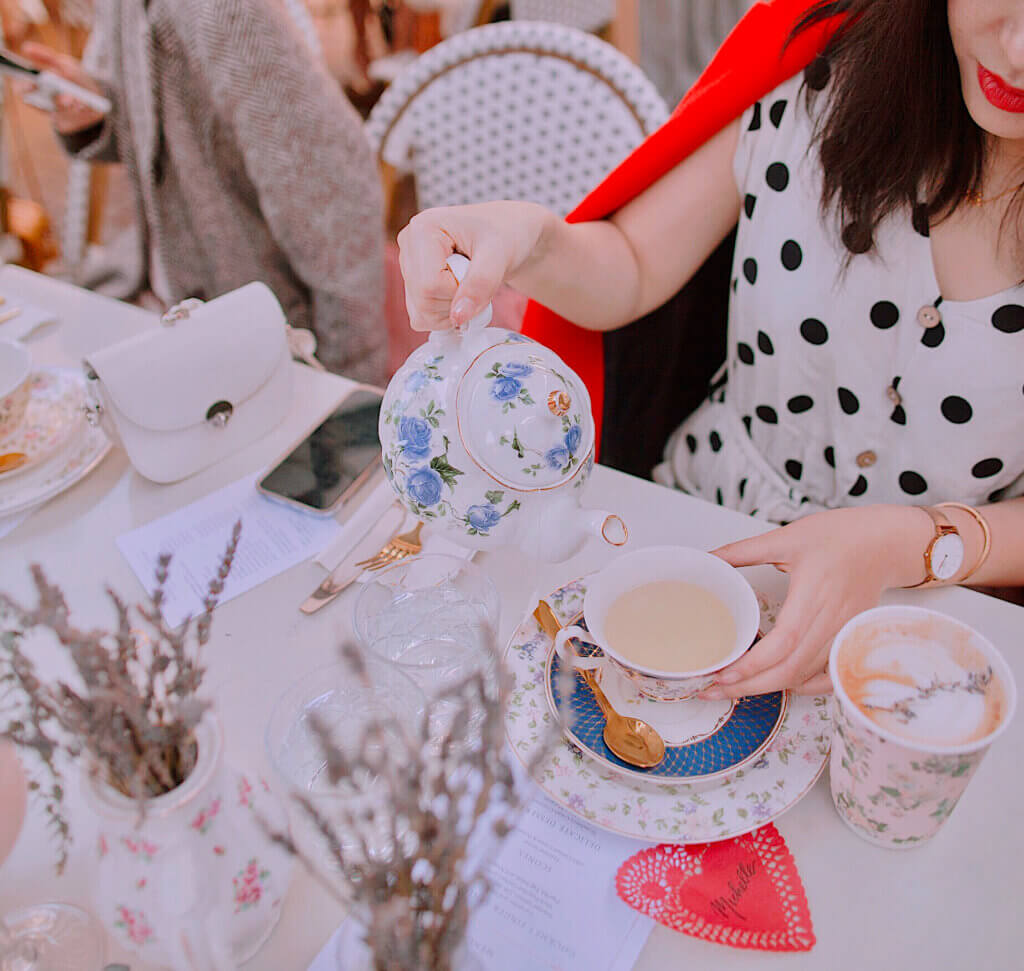 Pristine white marble countertops, fresh lavender in dainty vases, a flower wall….It's a girly heaven with chic and trendy vibes
The owners decided to open a cafe to go along with its boutique and it worked out perfectly! Half of the building is the cafe and the other half is the clothing boutique. Perfect for a fun shopping and tea day for ladies! They also have an outdoor seating area that's amazing and would be lovely on a warmer day. A perfect place to enjoy a conversation over coffee with close friends or soak up some rays with your fur baby.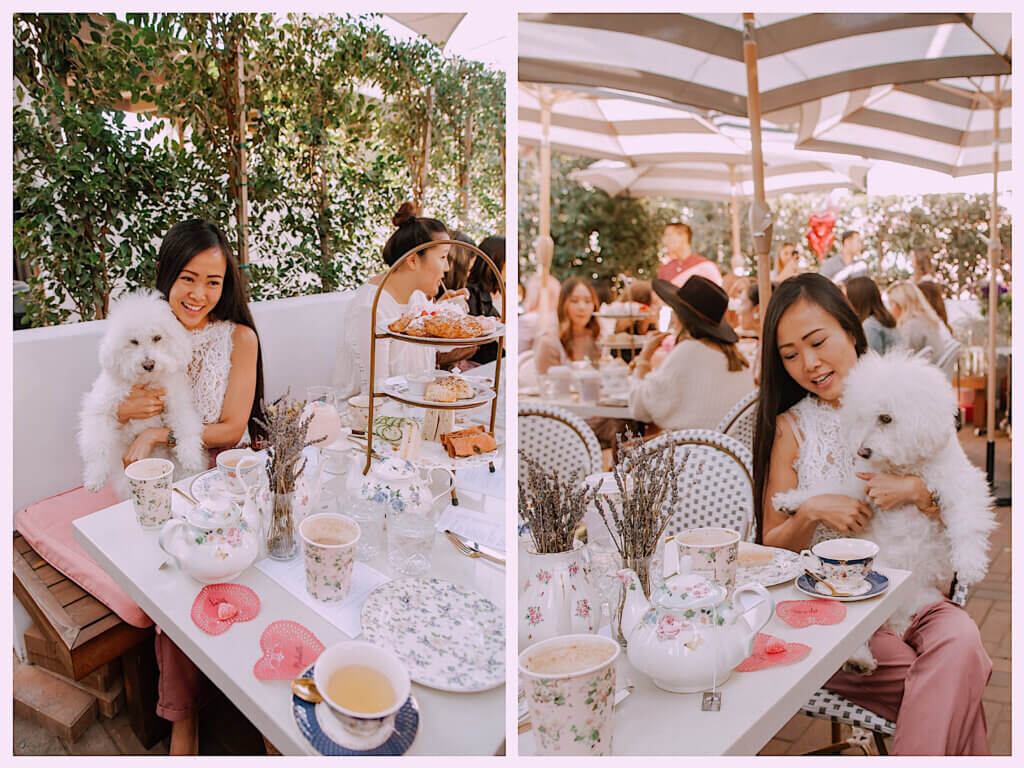 Being a lover of vintage decor, I was in awe with their vintage floral China tea sets. You really can see the attention to detail!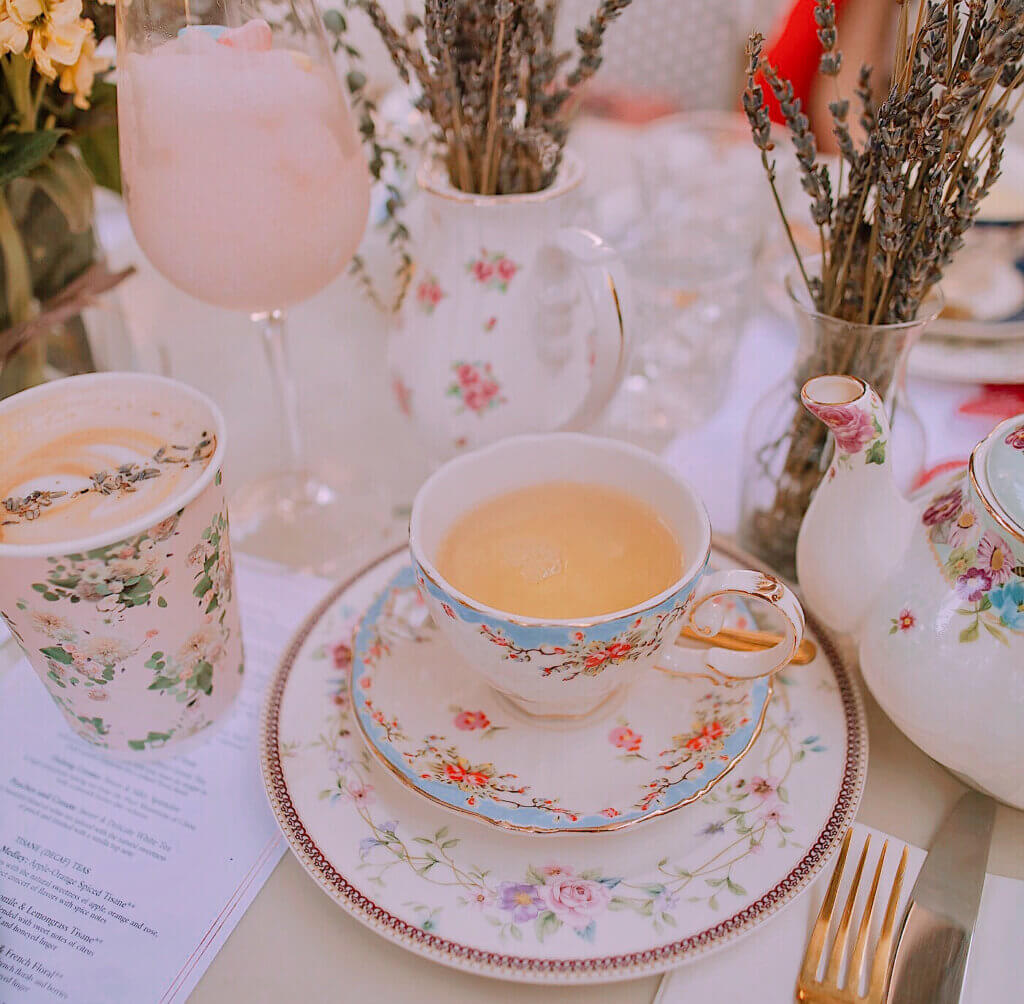 Their Lavender Afternoon Tea is the modern take on traditional British Afternoon Tea. Saturday and Sunday by reservation only. Each reservation is for 2 hours and they begin at 10am, 12:30pm, and 3pm.
DOTS CAFE & BAKERY, PASADENA
Dots Cafe is the new kid on the block and they are known for their cupcakes but also have a ton of delicious food. The inside of Dots has the most beautiful floral mural – an Instagrammer's paradise. You'll feel as though you've stepped into the pages of a fairy tale, of a sweet wonderland of sorts.
Cupcakeries are known for their sleek design and cutesy decor, and Dots Cupcakes is no exception. Dots Cupcakes are precious, with their creamy frosting swirls and sugary decal adornments.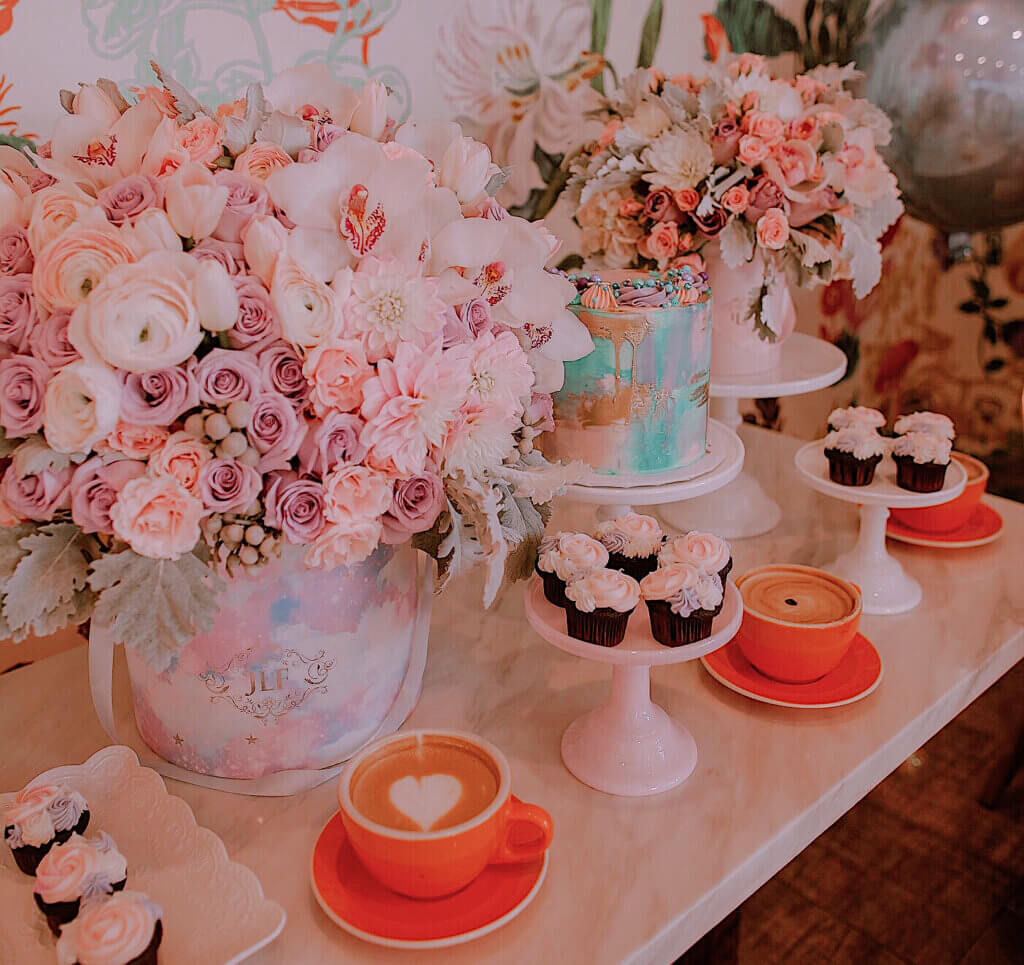 The cupcakes tasted as good as they looked. The cake had a firm but delicate crumb, while the frosting was just sweet enough. The ratio of frosting to cake was satisfying. Baked fresh daily, Dots Cupcakes uses quality, natural ingredients.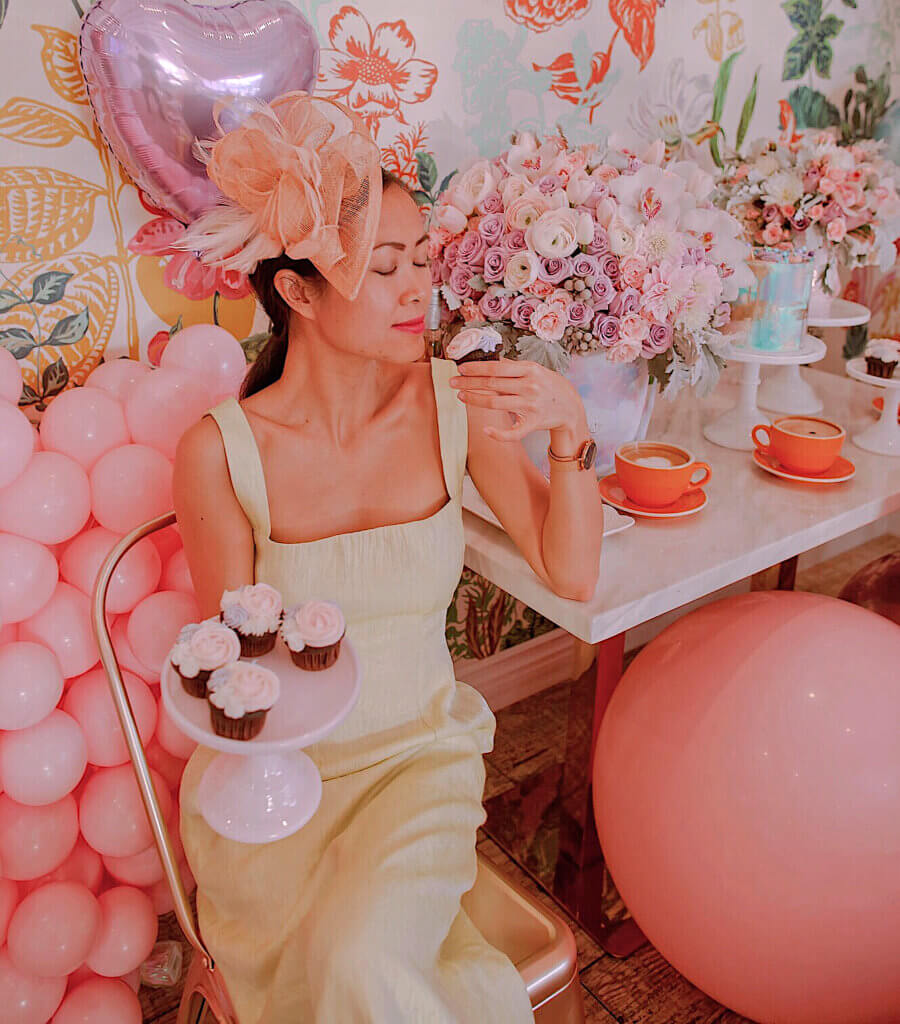 THE LIVING ROOM AT THE PENINSULA BEVERLY HILLS
The Living Room at the Peninsula Hotel in Beverly Hills is my absolute favorite so far in Los Angeles for their traditional and inclusive high tea experience.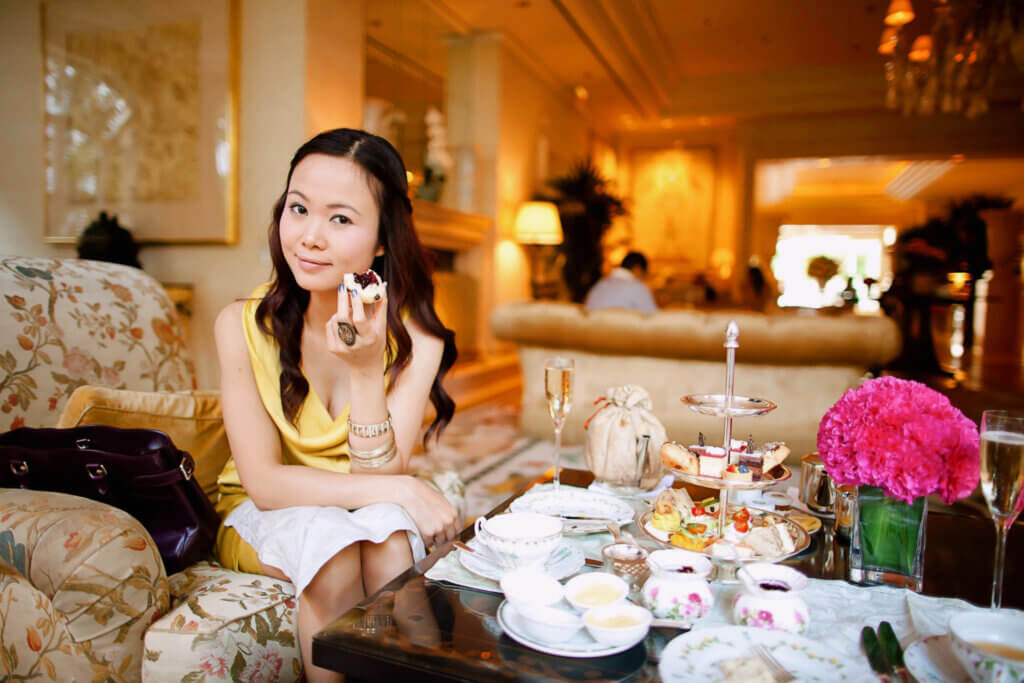 Enjoy the sounds of a live harp being played while lounging on comfortable couches in the Living Room at the Peninsula Beverly Hills. It's like sitting in the comfort of your own home, plus a harpist.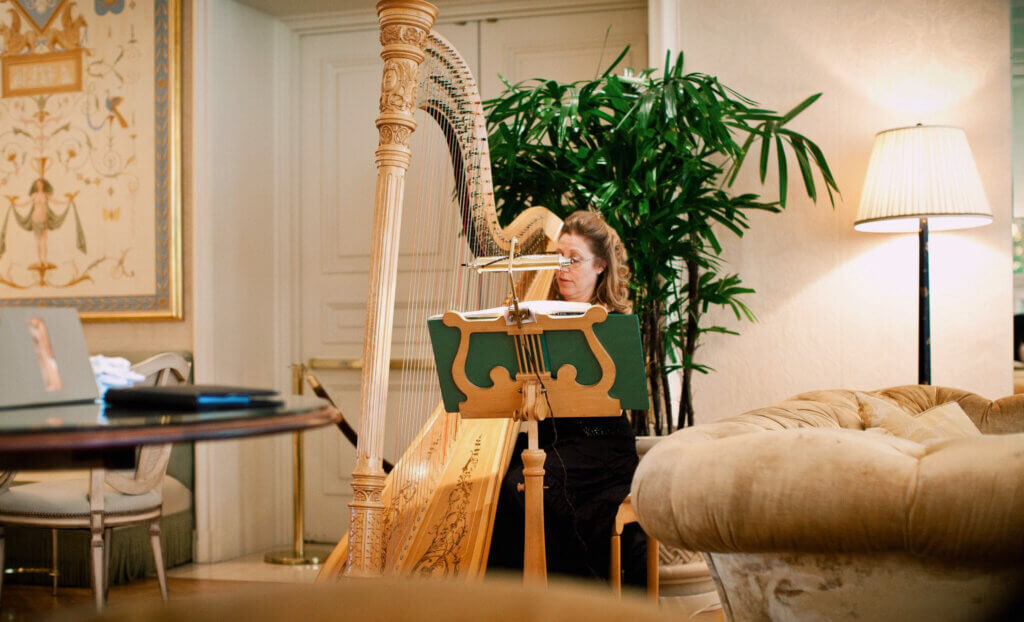 The Living Room's Traditional Afternoon Tea includes a tower of traditional finger sandwiches and petite pastries, and your choice of tea served in a classic, decorated tea pot with a silk warmer.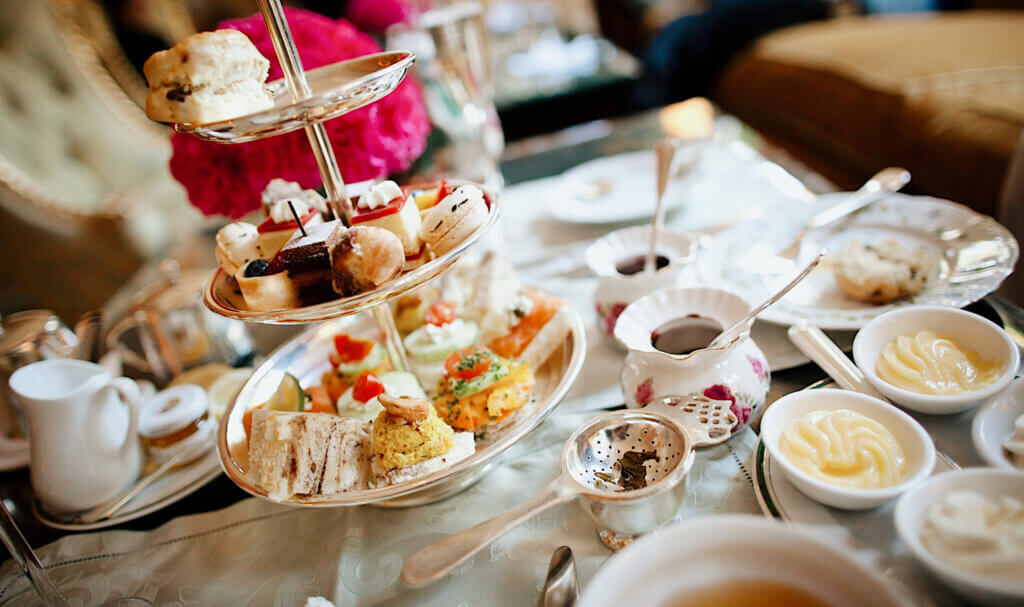 Opt for the Royal Tea, with highlights such as a glass of champagne, strawberries and whipped cream, and a menu of 19 loose-leaf teas; or the more extravagant Imperial Tea, which includes a serving of caviar cake and a take-home sponge and passion-fruit mousse Cap cake.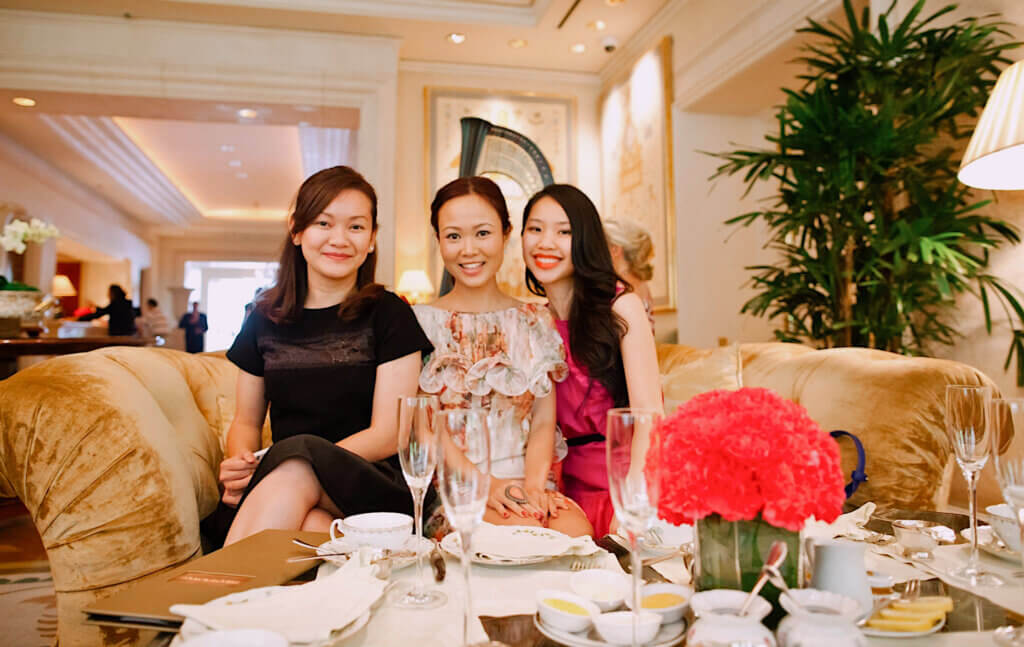 WOLFGANG PUCK AT HOTEL BEL-AIR
The Hotel Bel Air has grounds that are beyond stunning with their signature swans, lush foliage and romantic wooden bridge which provides the most magical venue to host an afternoon tea!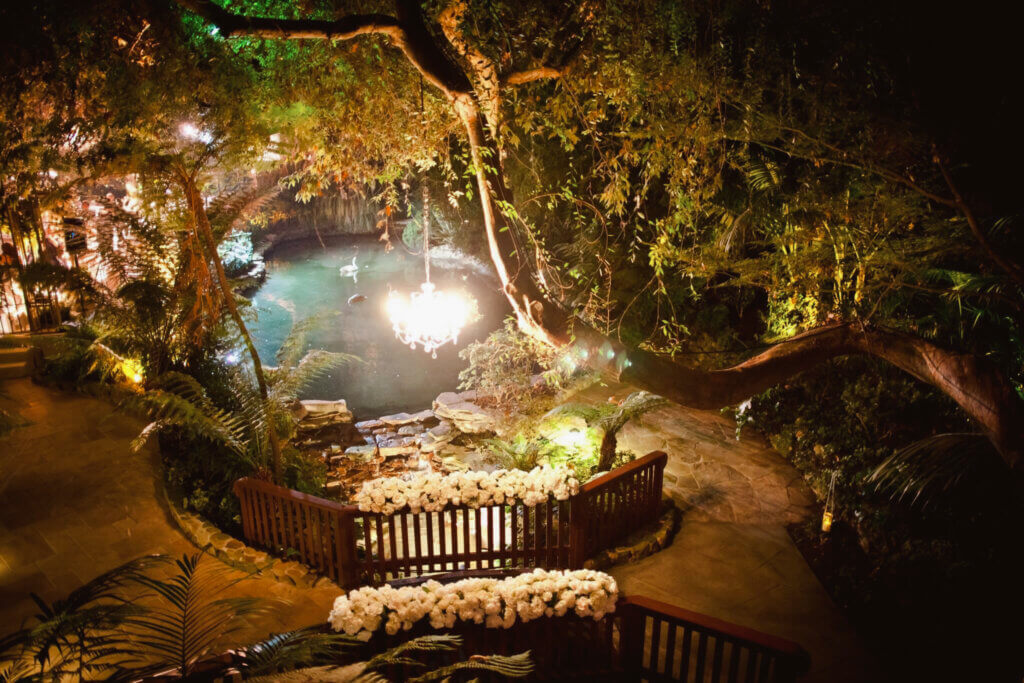 Afternoon tea at the Hotel Bel-Air may seem pricey at $60, it actually delivers a relatively fair value with one of the most exquisite teas in town. Highlights include a blue crab roll, house-cured smoked salmon on brioche, and a beautiful plate of sweets.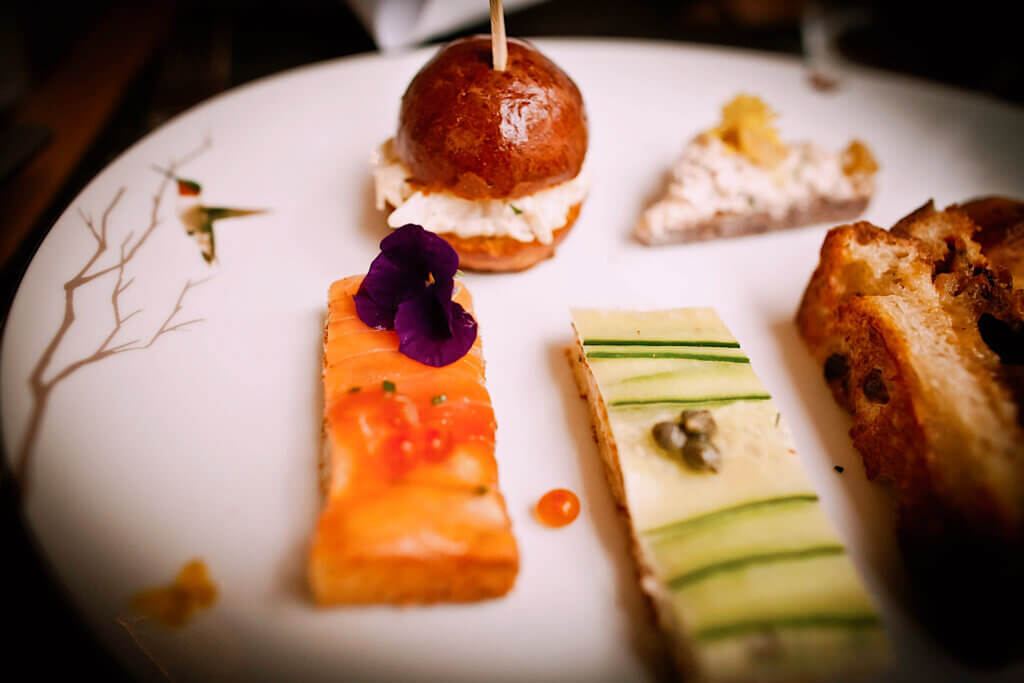 Good news for those with special dietary requirements: you can order their recently launched "healthy" afternoon tea with gluten-free and sugar-free options.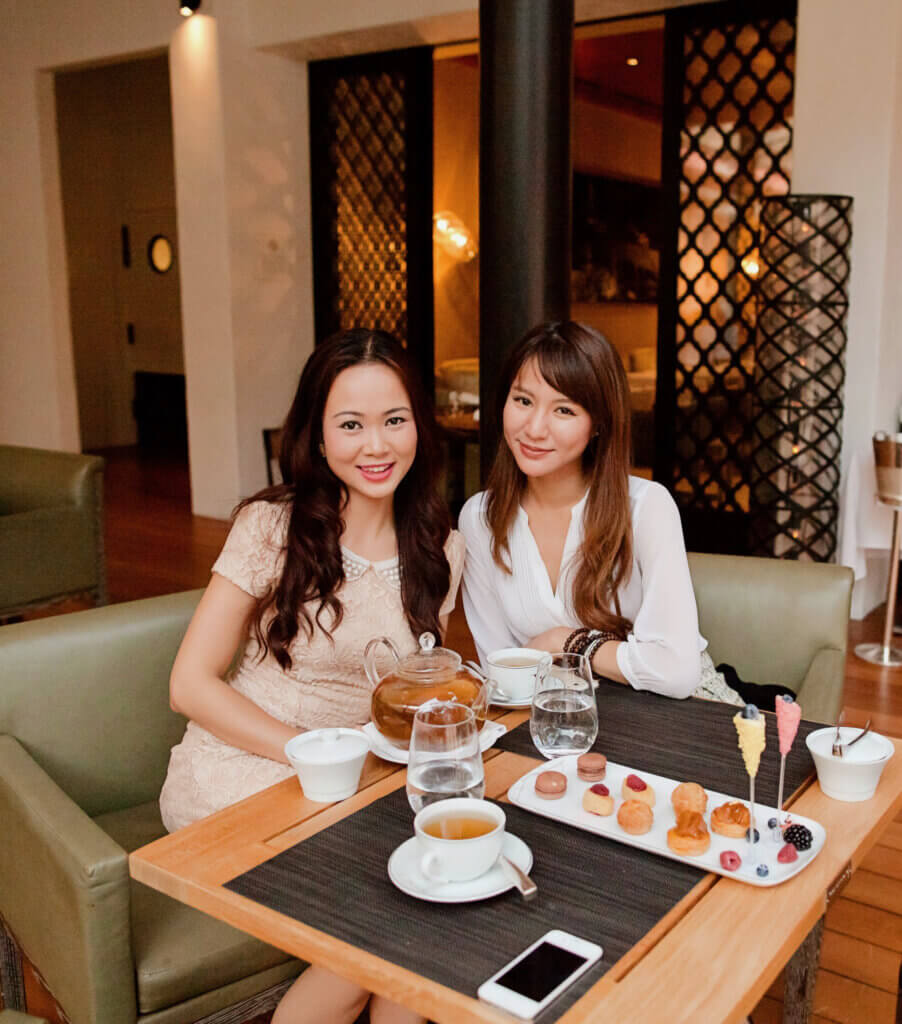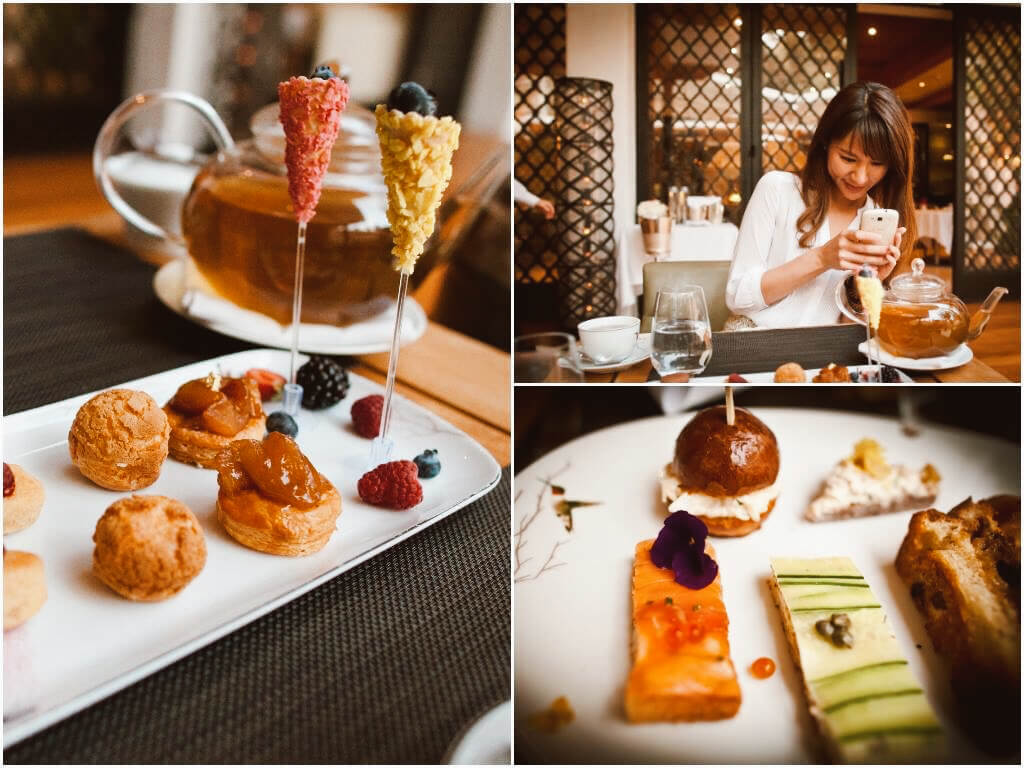 PELICAN HILL, NEWPORT BEACH
Tea is held in the Great Room, conveniently located just off the lobby of the main entrance. The airy space is decorated in neutrals and awash in natural light from the glass windows overlooking the ocean.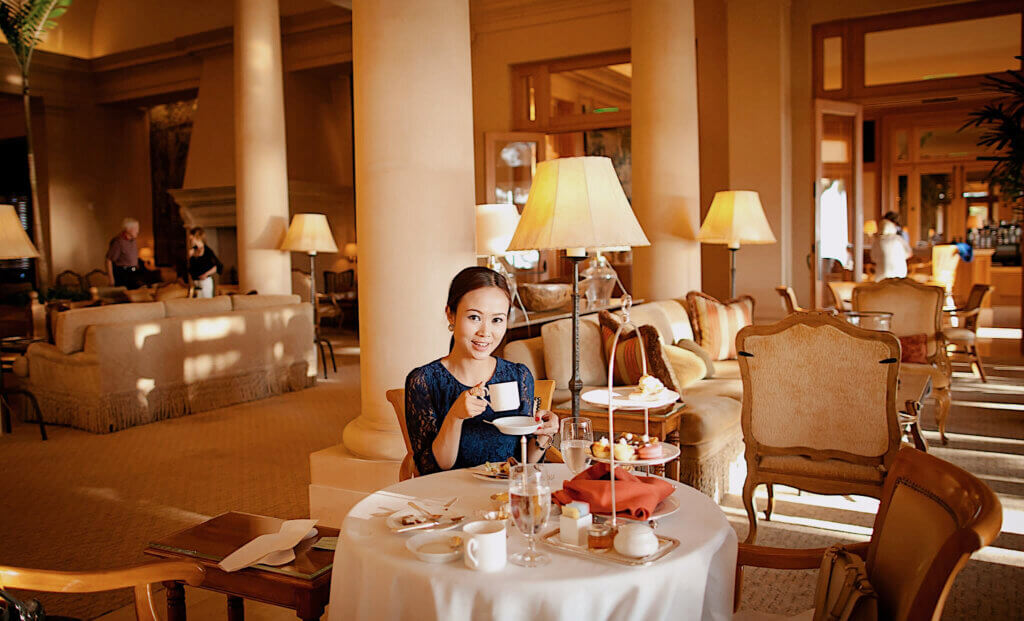 Taking place Friday through Sunday from 2-4 p.m., it is the perfect way to celebrate a birthday, anniversary, or girls' day out.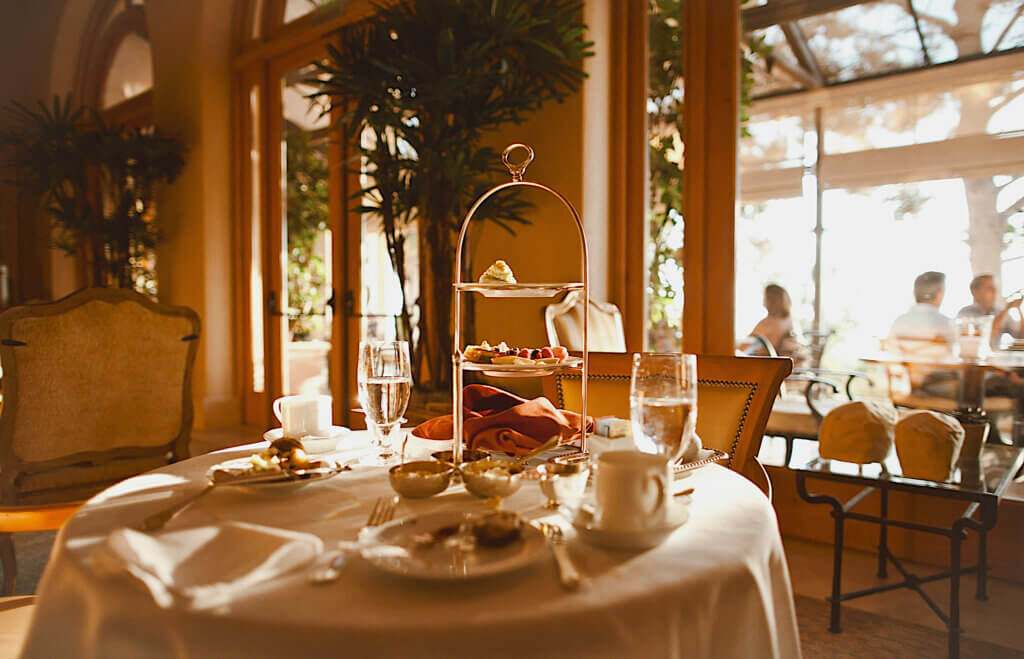 Artisan sandwiches, beautifully crafted, are as visually pleasing as they are delicious: included are Smoked Salmon and Black Caviar on Squaw, Cucumber with Tomato Marmalade on White Bread, Prosciutto Ham and Persian Melon Balls on White Bread and Egg Salad with Tomato Concasse.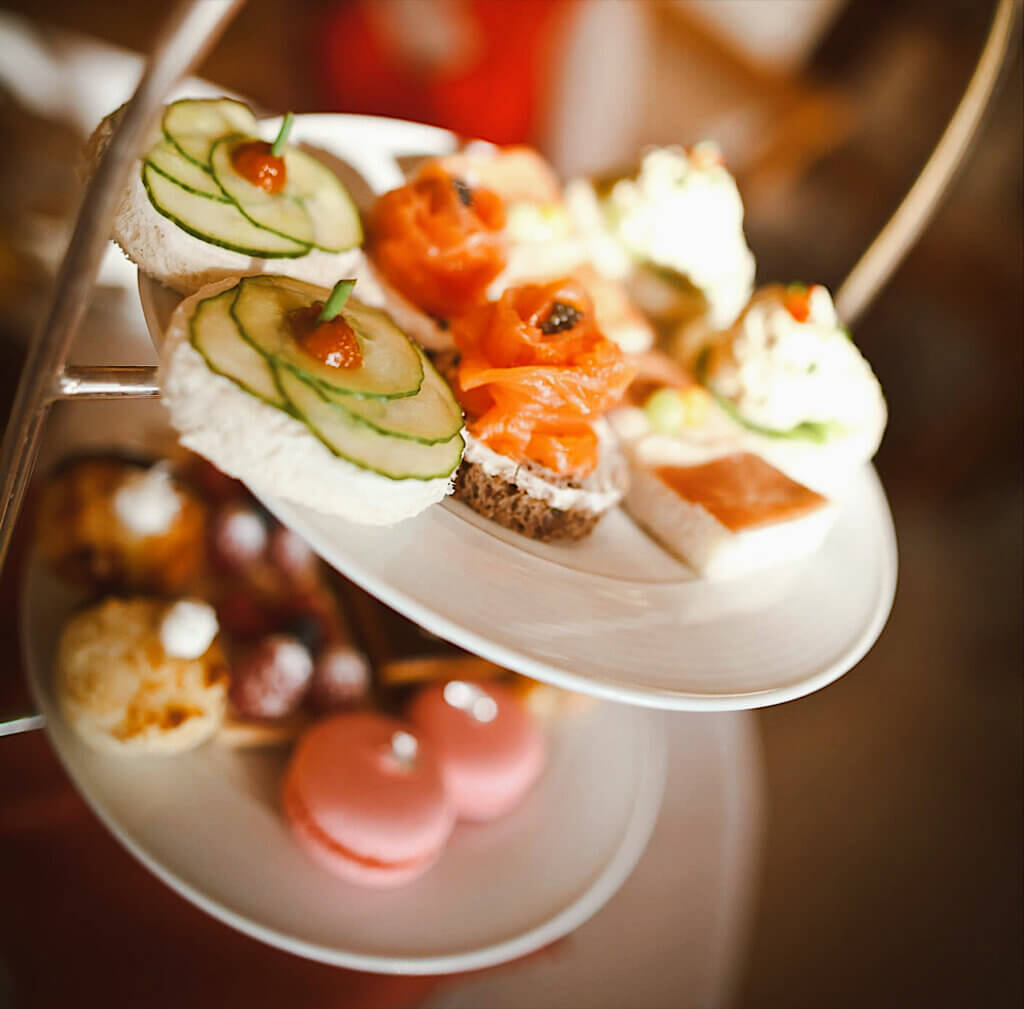 MILLENNIUM BILTMORE HOTEL LOS ANGELES – RENDEZVOUS COURT
At the Millennium Biltmore, afternoon tea is served in the Rendezvous Court, one of the city's most spectacular rooms.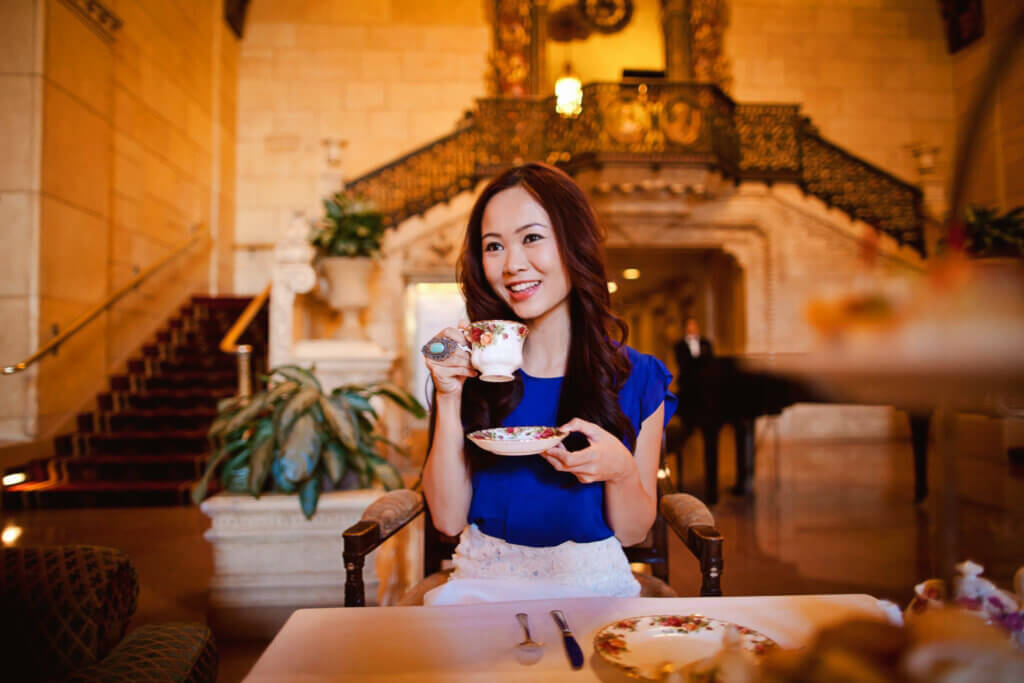 Have your afternoon tea in the most Victorian surroundings: elaborately carved wood ceilings, gold-leaf accents, a rose marble fountain, and an enormous Baroque stairwell.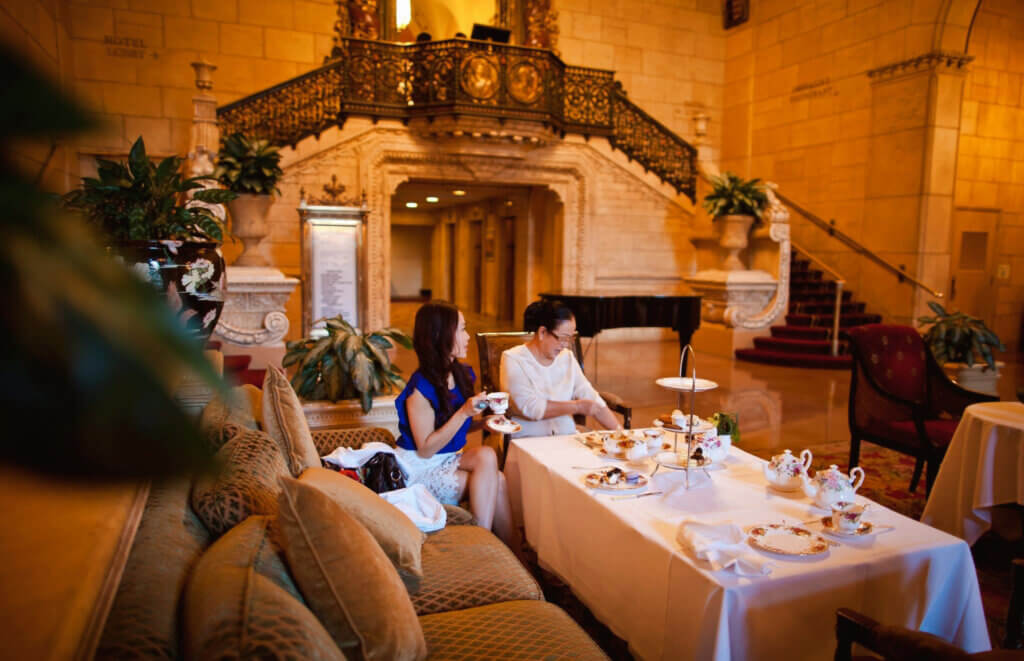 Guests can enjoy the Victorian Tea, which includes a pot of tea from their selection of finely blended custom teas, an assortment of elegant tea sandwiches, freshly baked Pistachio and Currant Scones and a selection of French Macaroons, Caramel Tart and Chocolate Ganache, Madeleines and Cream Puffs.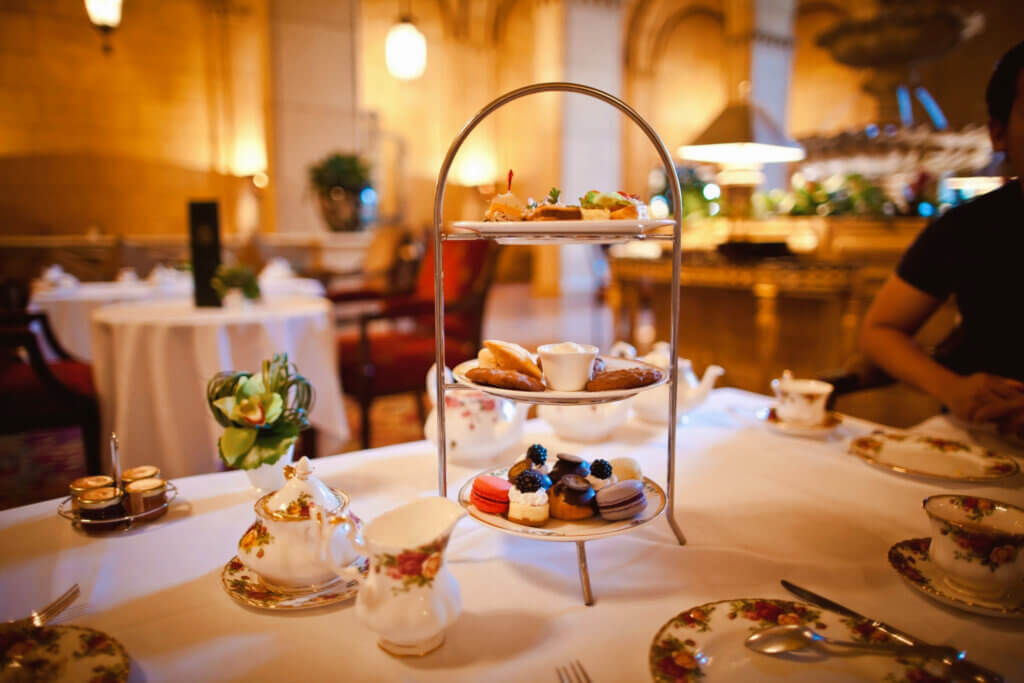 MADELINE GARDEN BISTRO AND VENUE, PASADENA
Located inside the old Caltech French building, this European restaurant offers tea service in the morning, afternoon, and evening. Madeline Garden is a feast for the eyes as well as the palate – admire the French Quarter style architecture and luscious decor as you sip on rose tea and dine on blueberry scones.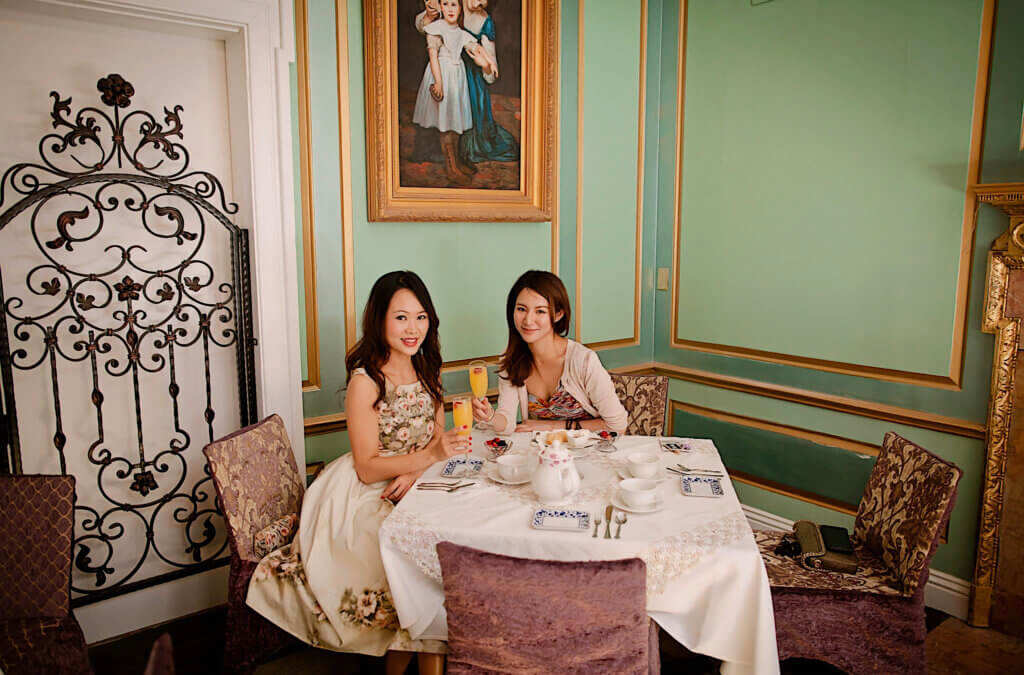 With detailed décor that includes brightly painted walls, chandeliers, and murals Madeline Garden is a hidden gem in Pasadena.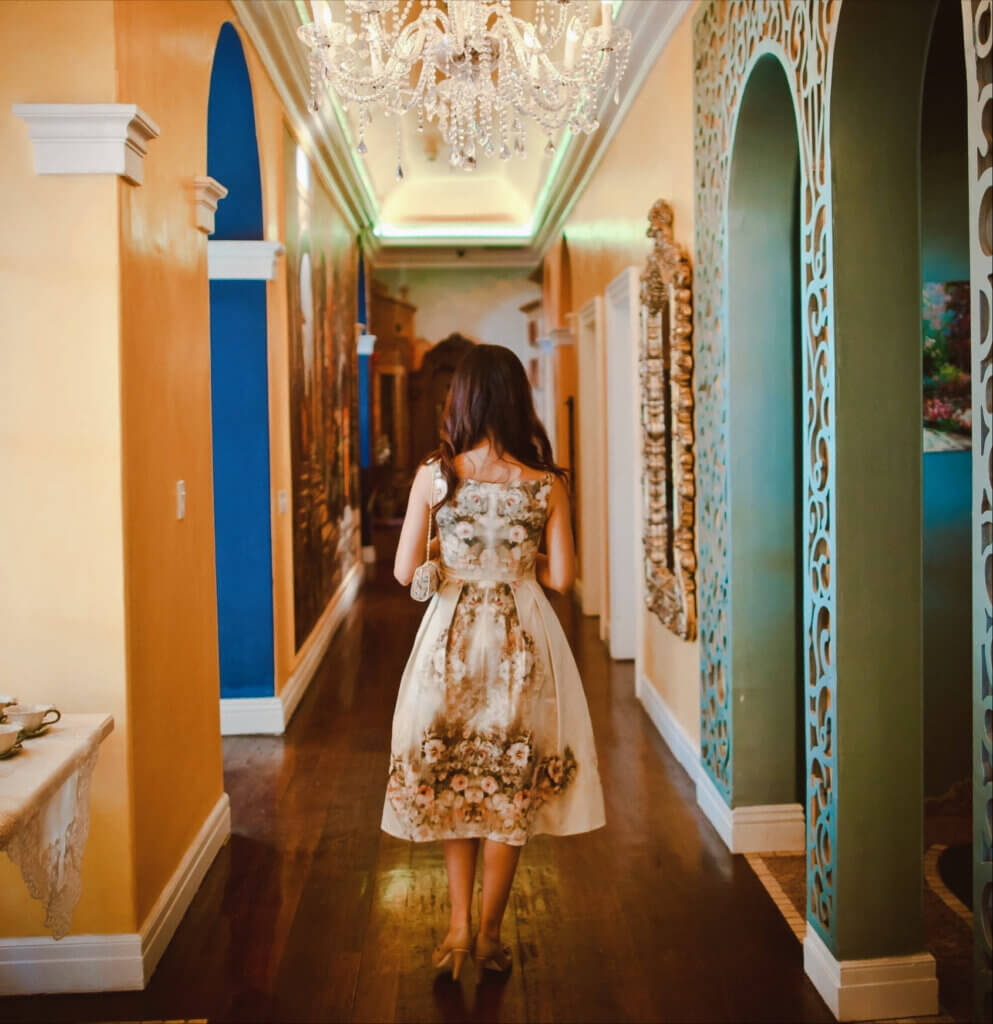 Madeline Garden is a maze of a venue; each room offers a distinct personality from the stately VIP Room to the stunning Grand Room.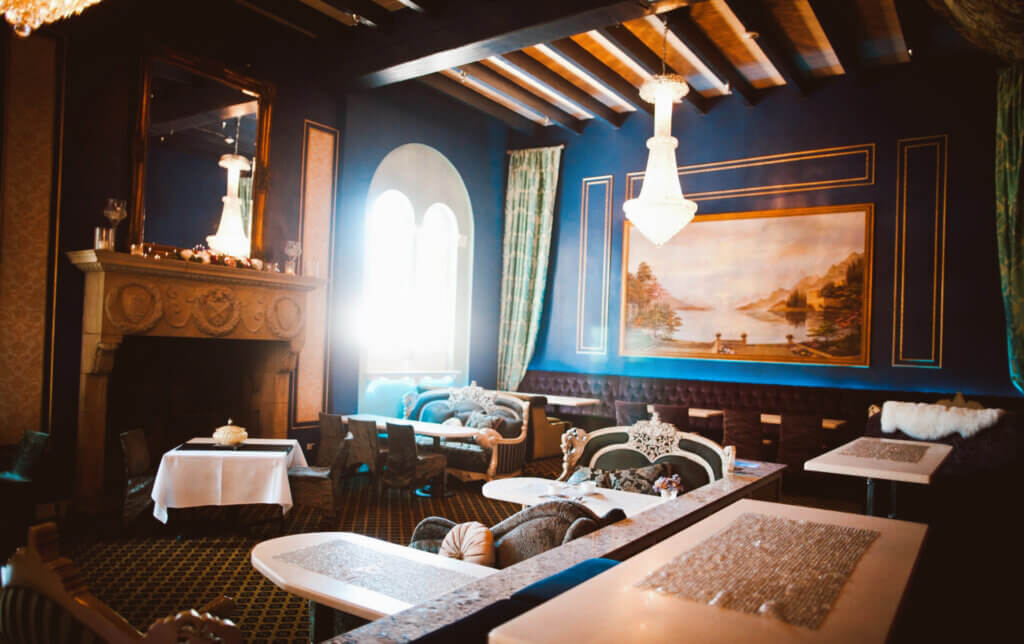 Their high tea includes a tiered assortment of cold bites, warm snacks and miniature desserts. Madeline Garden offers a high class tea experience, complete with artfully arranged canapes and darling dishes of clotted cream, but without the fuss of other tea rooms.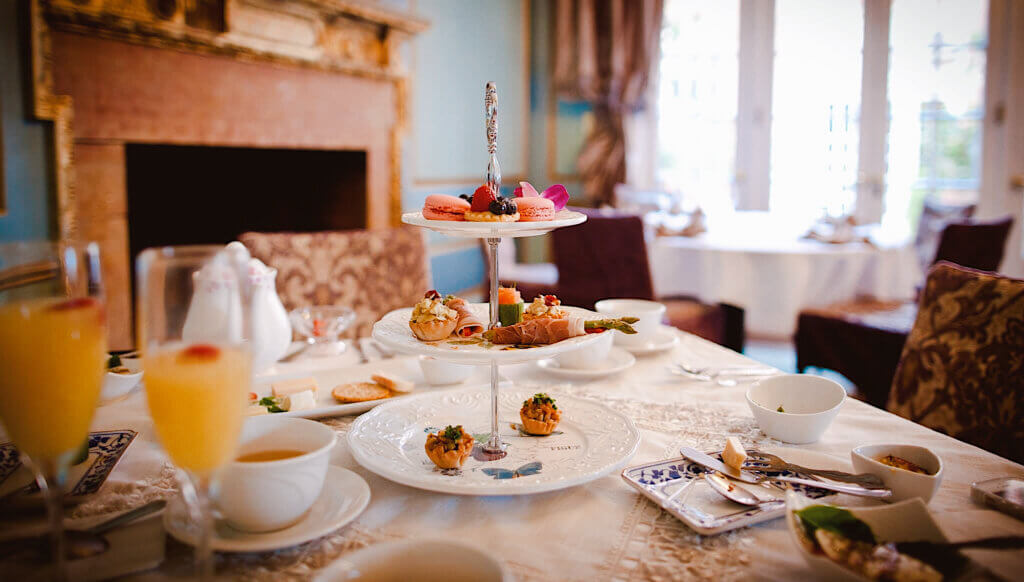 "Another novelty is the tea-party, an extraordinary meal in that, being offered to persons that have already dined well, it supposes neither appetite nor thirst, and has no object but distraction, no basis but delicate enjoyment."
-The Physiology of Taste