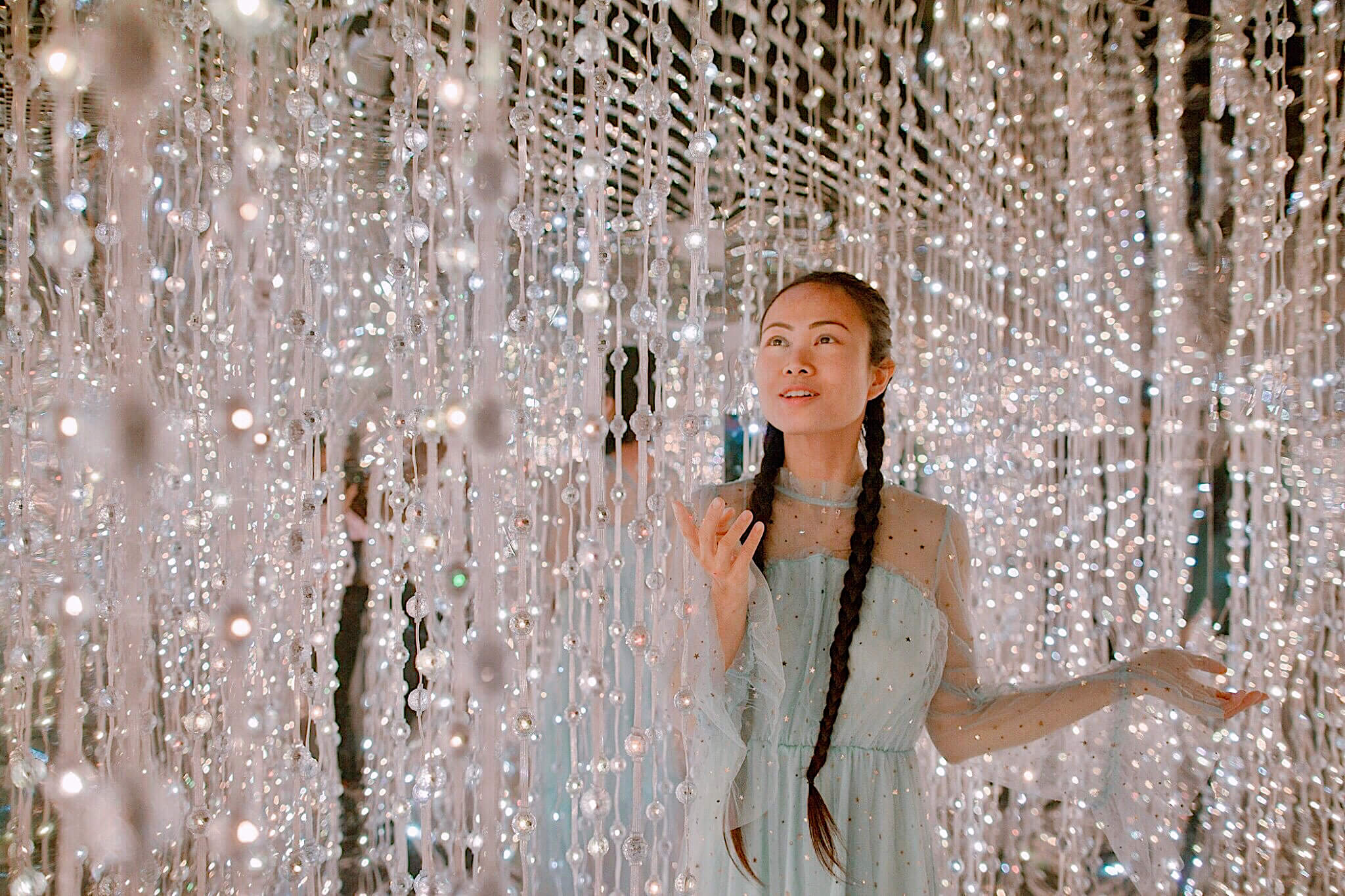 How to Maximize Your Museum of Dream Space Experience
Since it's often so hectic around the holidays (traffic, crowds,…) and the weather hasn't been at its best lately, we decided to stay in town, scout out places within LA, and spend time indoors as much as possible. Lucky us, LA is home to some incredible indoor museums and art exhibits. One that's worth the hype is the Museum of Dream Space, located in West Hollywood at the Beverly Center. This museum is definitely a fun way to spend an afternoon with friends snapping selfies, and will elevate your social media feed with instagrammble shots.
Imagine stepping into a room lit with hanging lanterns or chandeliers that change colors every time you blink your eyes. And when you step out of this room, you enter one where the walls are made up of projected images that dance playfully across your face and make you feel like you've stepped into a fairy world. In this post, I will walk you through my MODS experience, with important tips for Instagram enthusiasts. Because let's be honest, we are all here to take some fresh shots for the 'gram.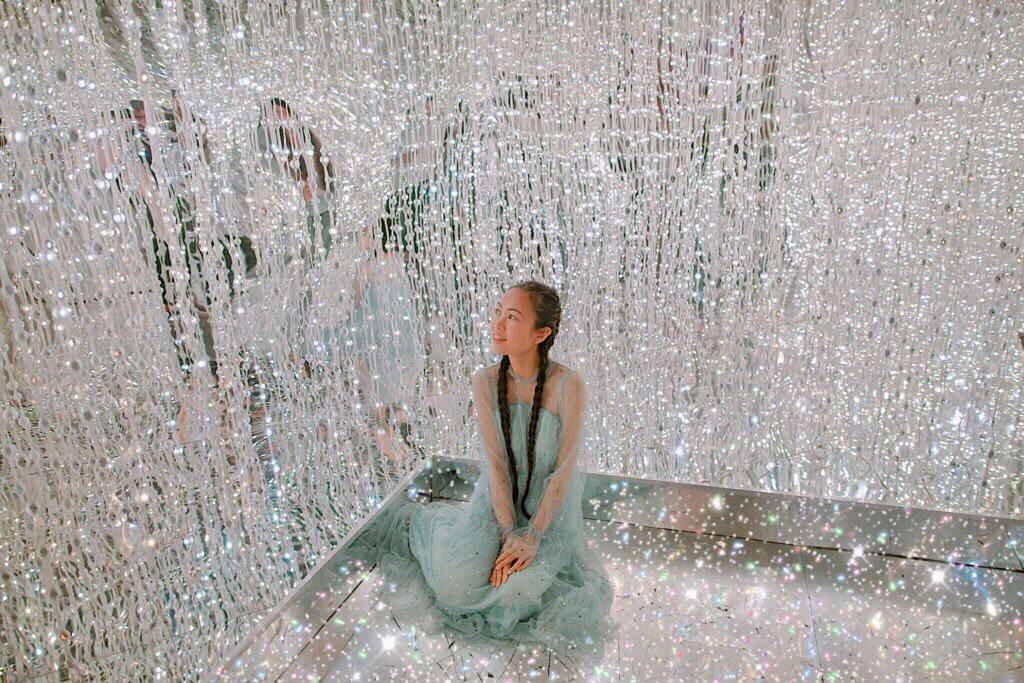 What is MODS?
Museum of Dream Space (MODS) is the first museum exhibiting digital art in the United States. Inspired by the famous Infinity rooms of Yayoi Kusama, the Museum of Dream Space takes visitors inside different digital art worlds, offering a magical experience. You will have a chance to visit a fascinated place with extraordinary illusions supported by unique technology.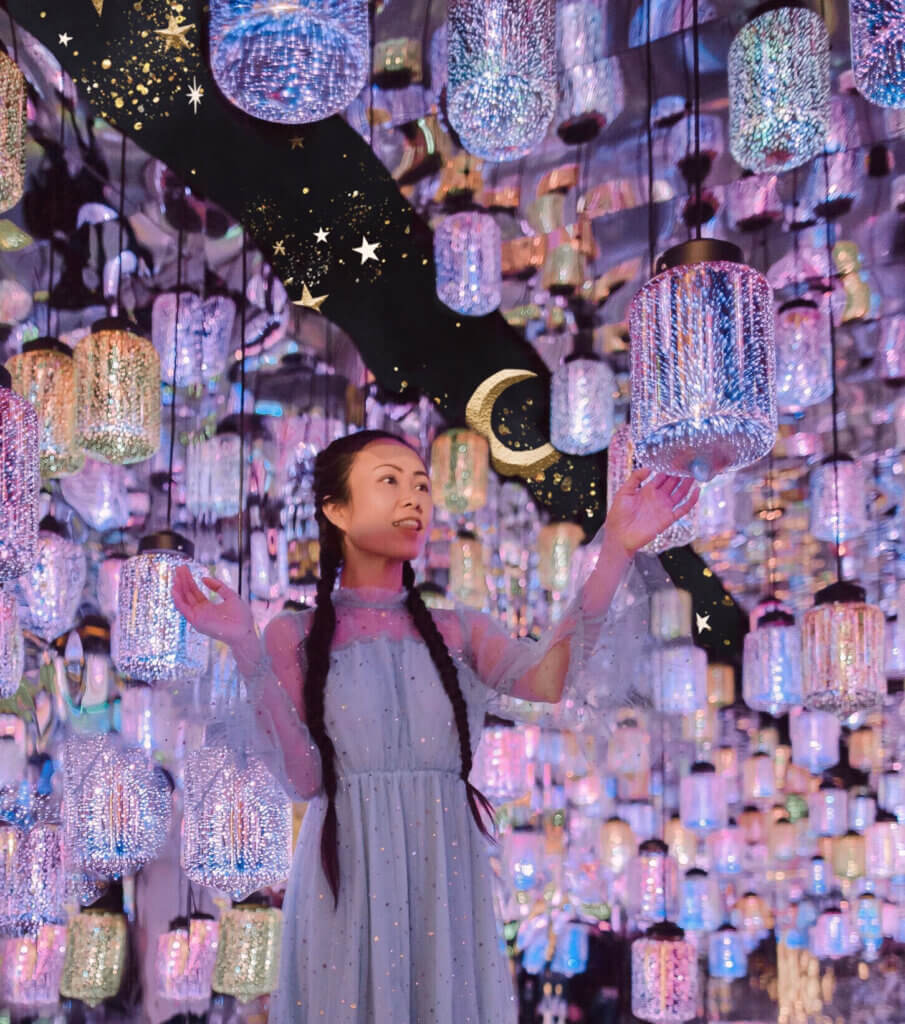 I have always wanted to visit TeamLab Borderless in Tokyo and visiting MODS provided me with a similar experience (in a smaller scale). MODS is comprised of six rooms all with their own aesthetic experience, relying heavily on the use of lights, projection, and reflection. The exhibits were designed with Instagram in mind!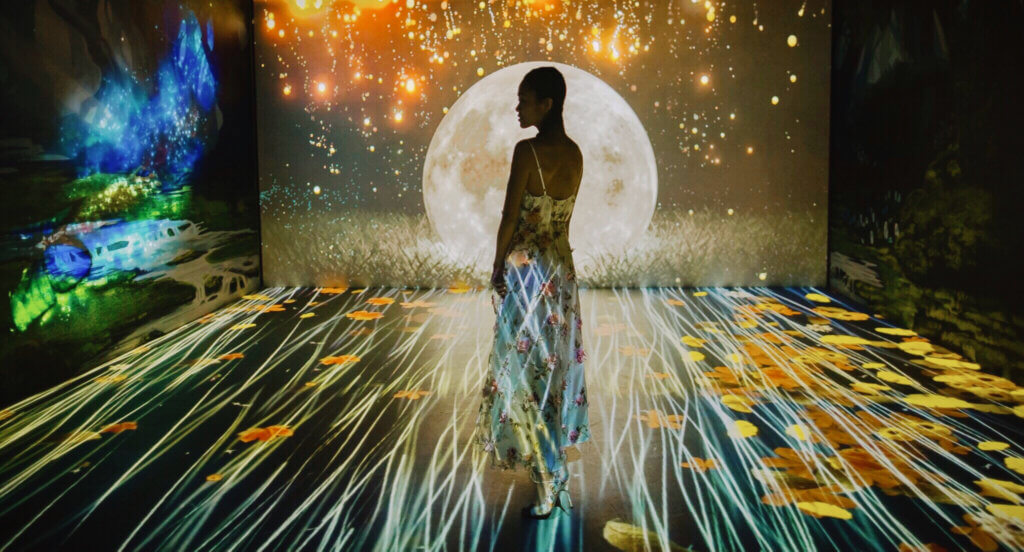 Buy Tickets Ahead of Time
Tickets can be purchased at the door, but it can be sold out fast. It would be the most disappointing thing to show up on the day and not be able to enter. Definitely plan your visit in advance! You can purchase your tickets on their website, and the process is pretty simple. Just select your date and time slot (this can't be changed once you book) and reserve your ticket(s). You'll instantly receive an email with your voucher. This can be used directly from your phone to enter.
When you buy a VIP ticket ($60 for one, $100 for two) to MODS, photos by a professional photography are included! You'll also receive your own personal tour guide of each installation, and your photographer will make sure to capture you at your best angles.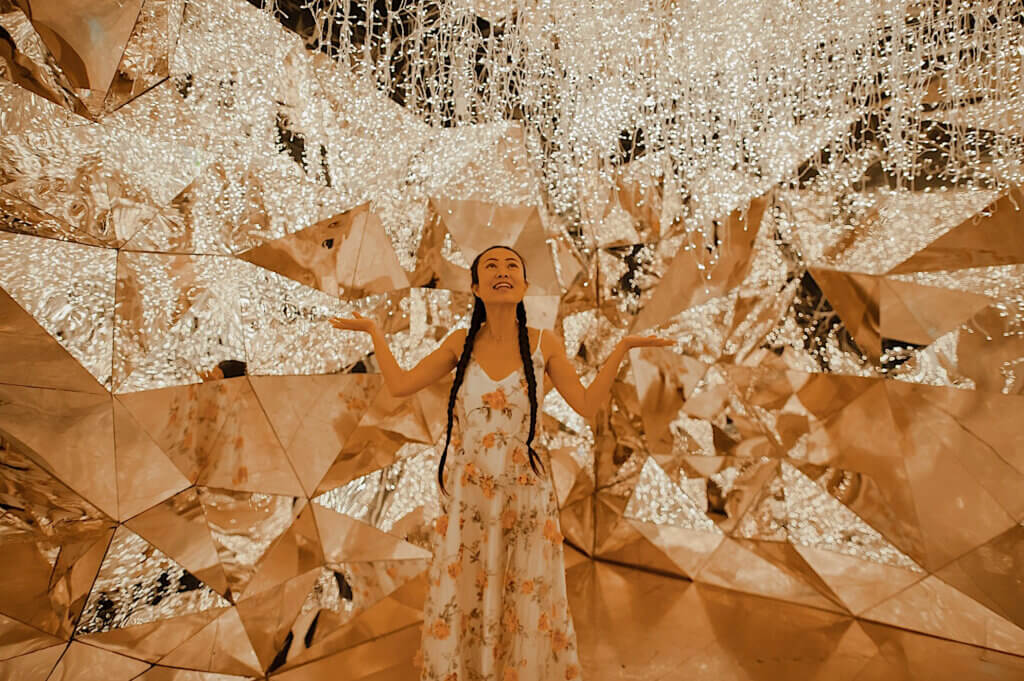 No extra photography equipment is allowed
Cameras are welcomed, however no other professional equipment such as tripods, umbrellas, lights, etc. is allowed. Because no tripods is allowed, it is a little difficult to get nice photos on your own. I recommend going with a friend or bringing your Instagram husband. It is such a cool experience to share with somebody.
Is MODS crowded?
Yes, it can be crowded. I highly recommend visiting the museum first thing in the morning or late afternoon. A weekday is ideal as the crowds are less. We visited first thing in the morning when the museum opened on Friday. On arrival, it was relatively quiet but got extremely busy later. Luckily, we had the chance to enjoy the more popular exhibitions before it got too busy.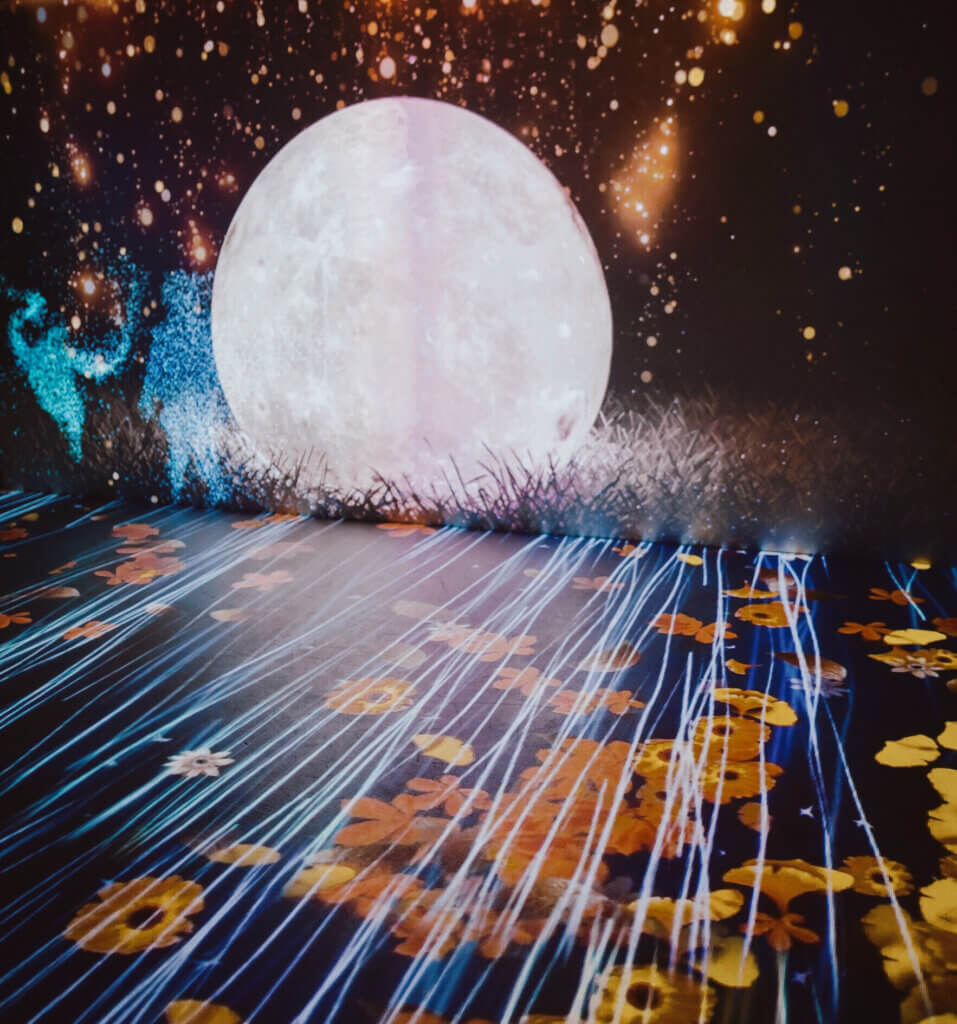 When encountered with a lot of visitors at once, the museum limits the amount of people inside which can result in a line. I can appreciate this because, for the money, you're going to want pictures without a bunch of strangers photobombing.
How much time do you need?
This will vary person to person. To give you an idea, we finished in about 45-50 minutes and were the only ones in each room. There were a few visitors following us but far enough behind that we weren't overlapping. We took a LOT of pictures, and visited some rooms twice. If you're not much on photos, maybe you won't need quite so much time.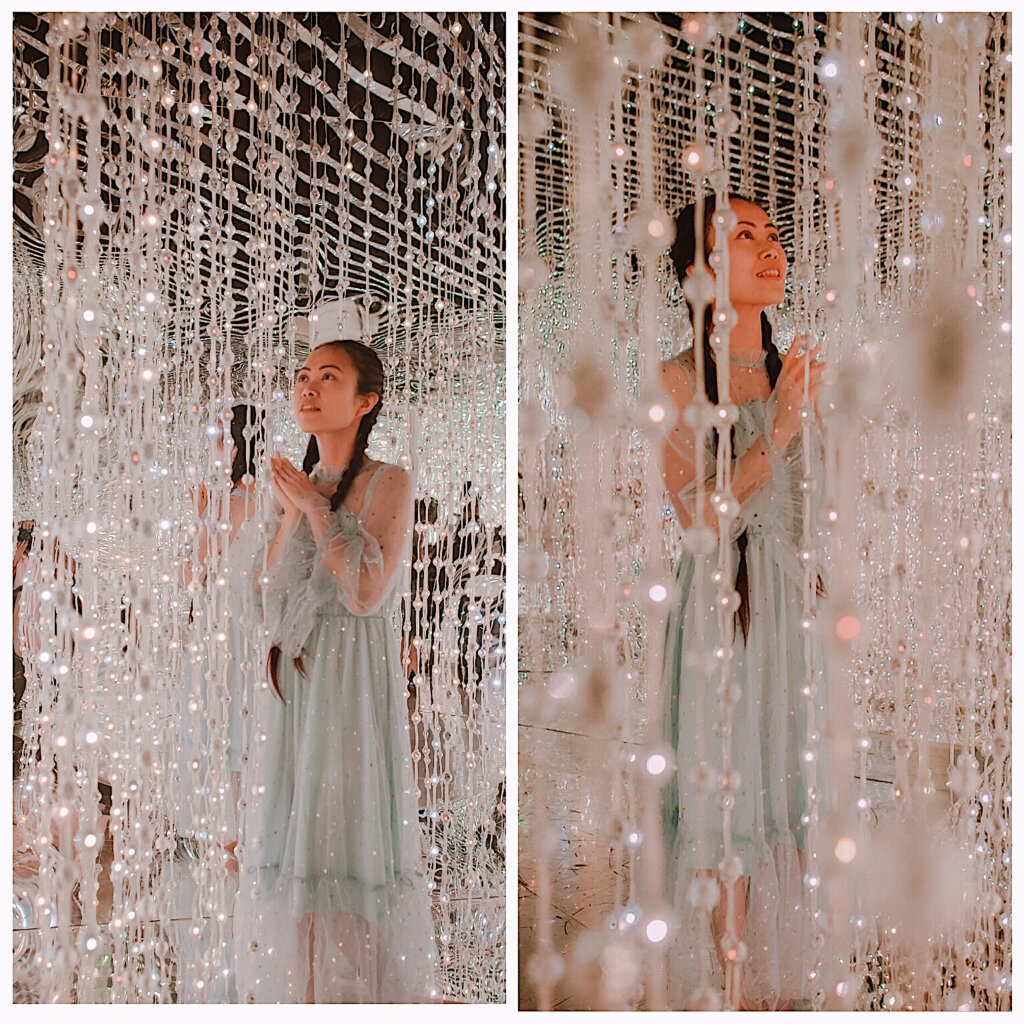 Go straight to your priority room
It's a good idea to come with a plan of which rooms you want to visit first. Some of the more popular ones fill up very quickly, and before long, lines are formed and you'll find yourself spending lots of time waiting.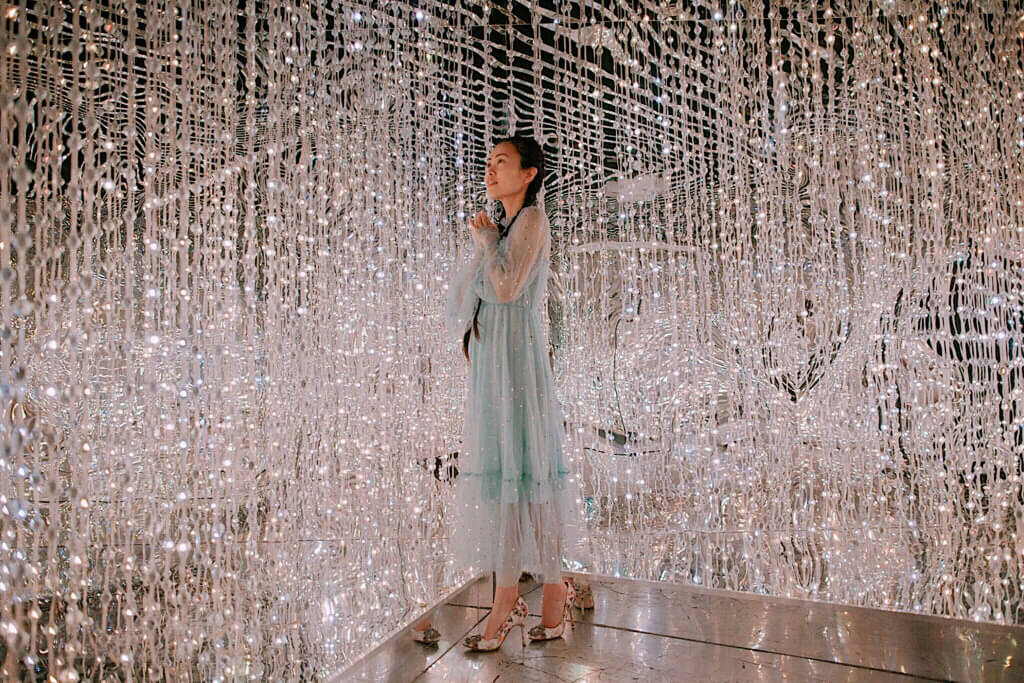 The most Instagrammable spots in the museum, in my opinion, are the Lantern Room and the Hanging Chandelier Room. As they are so pretty, they are of course very popular. The Lantern Room is especially hard to get a photo with no one else in it, so try to get there as soon as you can.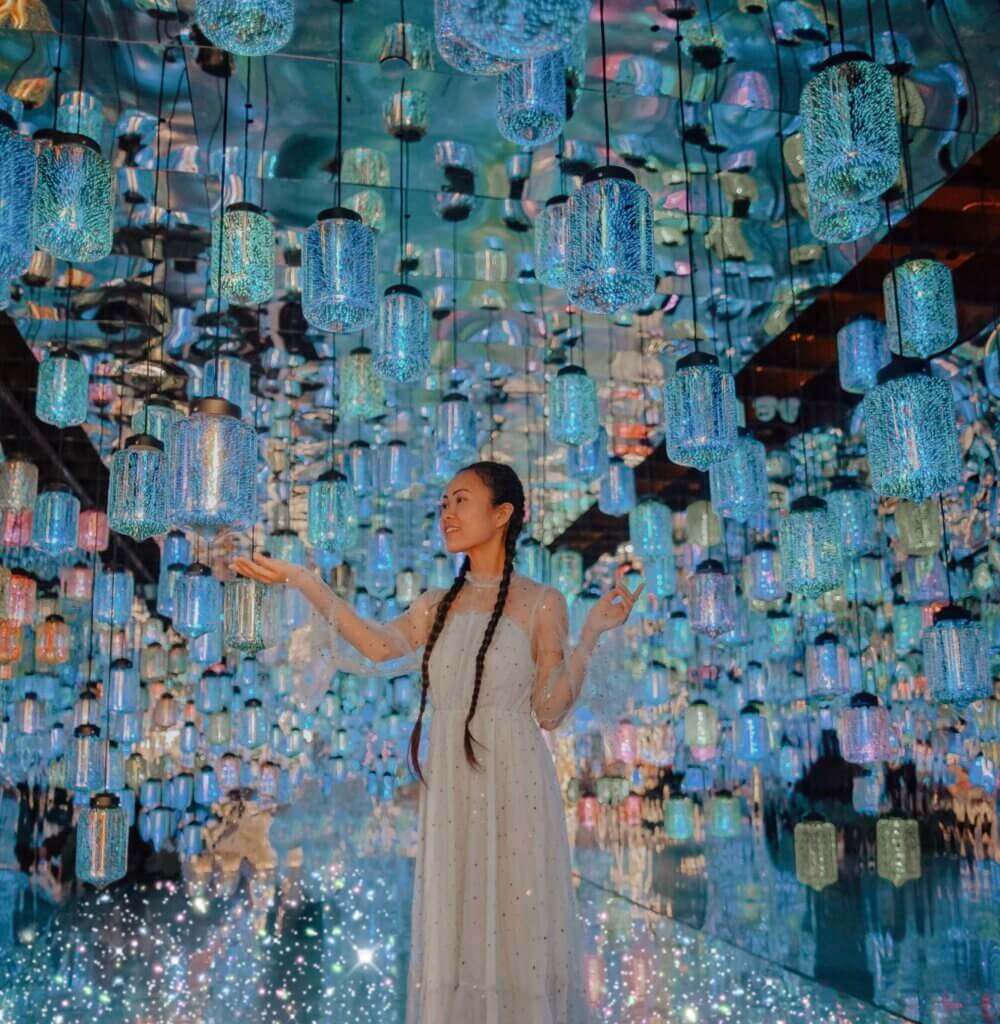 Photography Tips
Camera vs. Smartphone: I would not really recommend relying on a smartphone camera, as the exhibit as a whole is mostly low-light situations that won't translate as well with auto settings. Bring a wide aperture lens. Not only will these take better shots in low-light situations, but you can get a dreamier effect with the blurry backgrounds that result from shooting in a low aperture.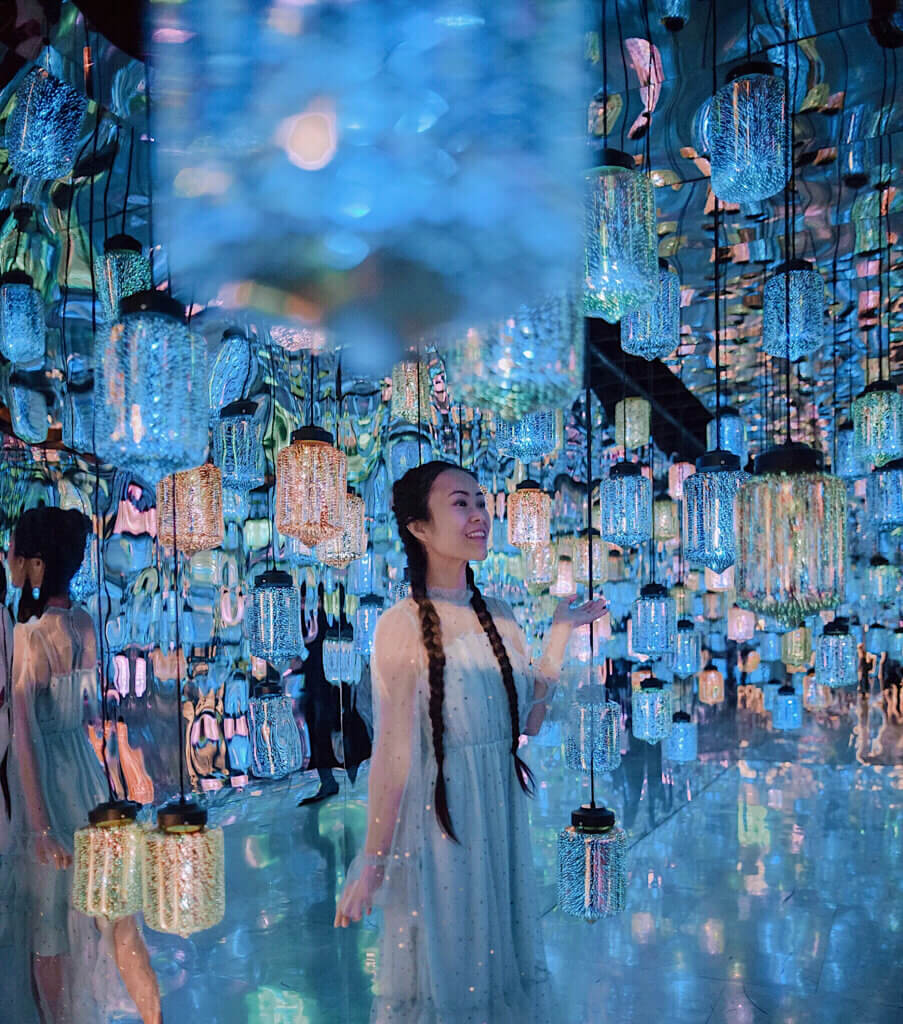 Wear light clothes: if you wear white clothes the projected lights will make you look part of the exhibition. Because many of the rooms are dark, it would be hard to stand out as the subject in a photo if your clothing is also dark. Definitely avoid wearing black on the day. A light color like white is great, as you kind of becomes the canvas for the projections. Fabulous for some artistic shots!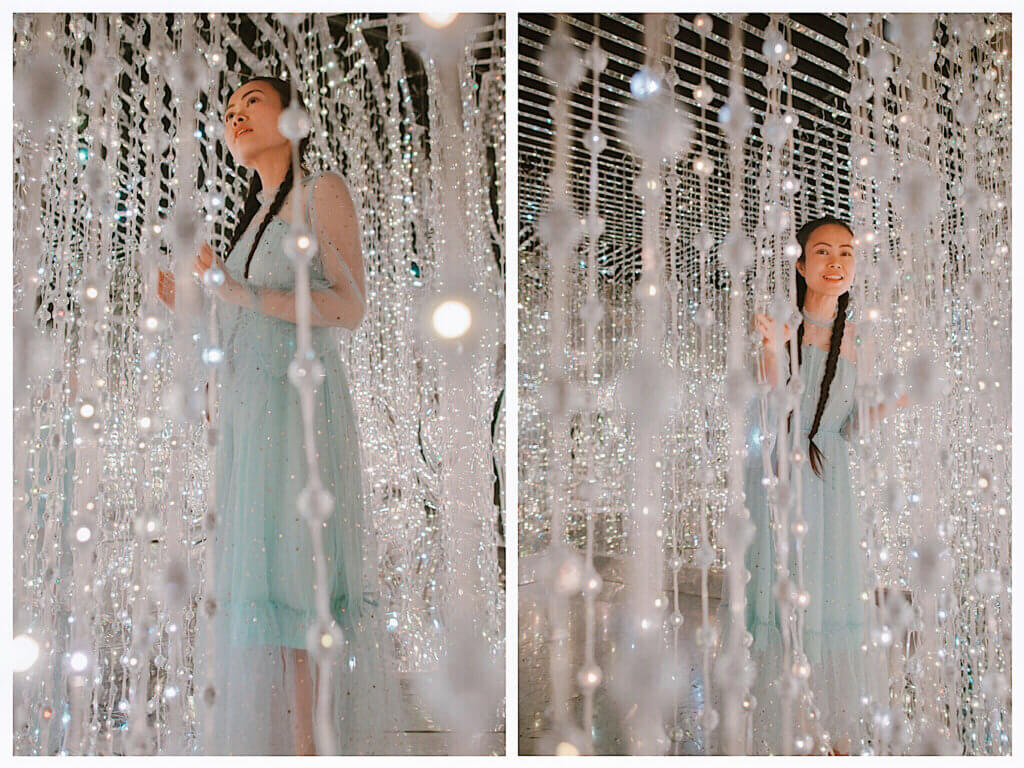 Clothes change/Restroom: One thing I like about the MODS is that we are allowed to leave the exhibits to change clothes (I brought 2 dresses) and come back after. Just make sure that you tell the front desk staff before exiting the museum to ensure your readmittance.
Be patient: Don't expect to get in a room and get the perfect shot right away. Take your time, and be sure you're respectful of other visitors' space!
Go back to your favorite exhibits if you have the chance!
Get creative with your angles: Get low on the ground, shoot the corners of the rooms, and don't forget to look up at the ceiling.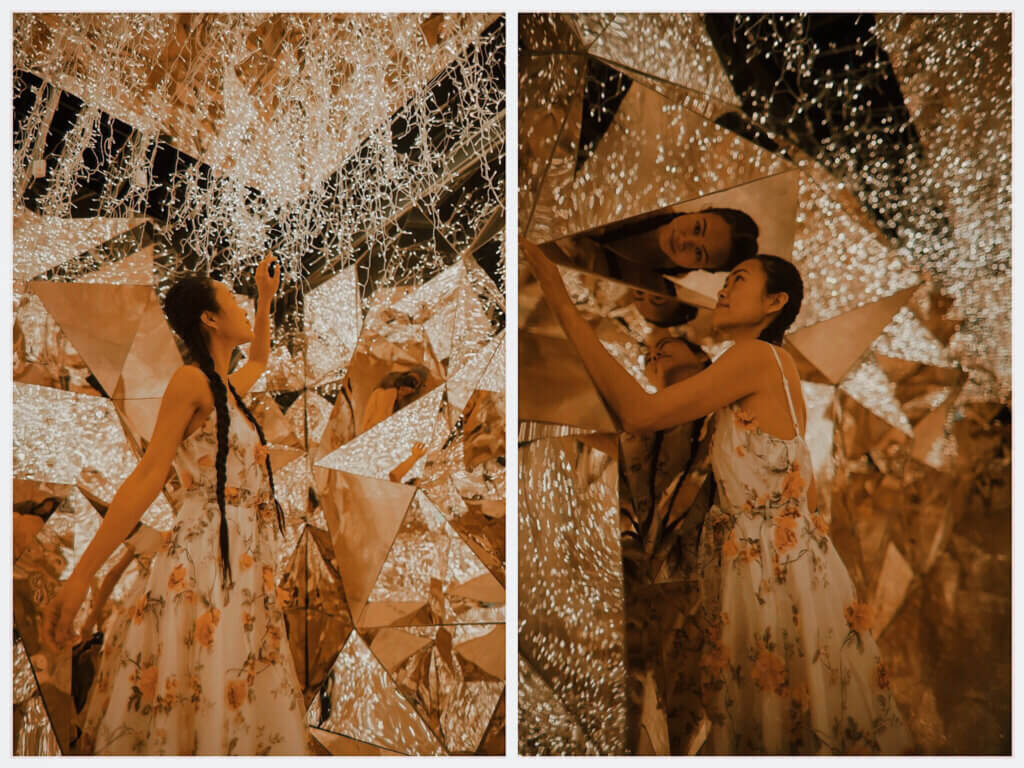 There is never a dull moment here in MODS. It was a really fun experience that's worth checking out if you're interested in capturing some mesmerizing photos.