After a long day, almost all of us want to end up in a bedroom that's relaxing and a restful place. Your bedroom should be a serene oasis where you can escape all the hustle bustle. When the room is clean, organized, and full of things you love, you're more likely to enjoy the time you spend there. Decorating your bedroom does not have to cost a lot of money! There are many ways you can instantly update a bedroom without breaking the bank. Today in my blog I'm sharing with you some of my favorite budget- friendly ideas to help transform your bedrooms into rooms that say something about who you are and what you love!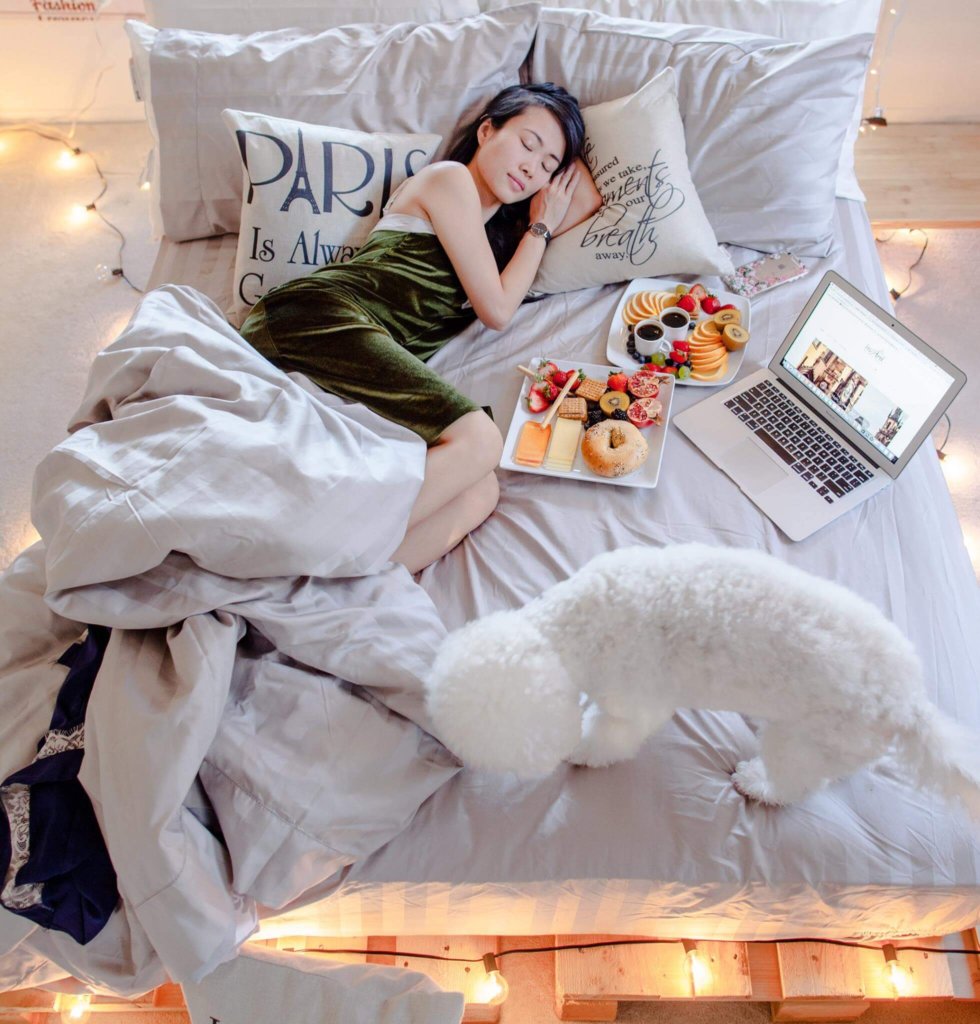 1. Bed
The bed is the centerpiece and focal point of a bedroom. Bed frame is one of the most expensive furnitures in every house. I had spent lots of money on a new mattress so I didn't want to spend another couple hundred bucks on a bed frame. Renovating and decorating a room on a budget can force you to be creative sometimes.I had seen various images online of wood pallet bed frames and really liked the look for my bedroom space. We had several pallets in our garage and we decided to use a little creativity to bring these pallets into life and make a low-profile rustic-modern bed. As a base for mattresses they have lots of advantages. They are green recycled elements, affordable and operating with them is a piece of cake. I was going for a totally relaxed, somewhat rustic and bohemian vibe, and the final setting with the pallet bed turned out to be exactly what I was envisioning!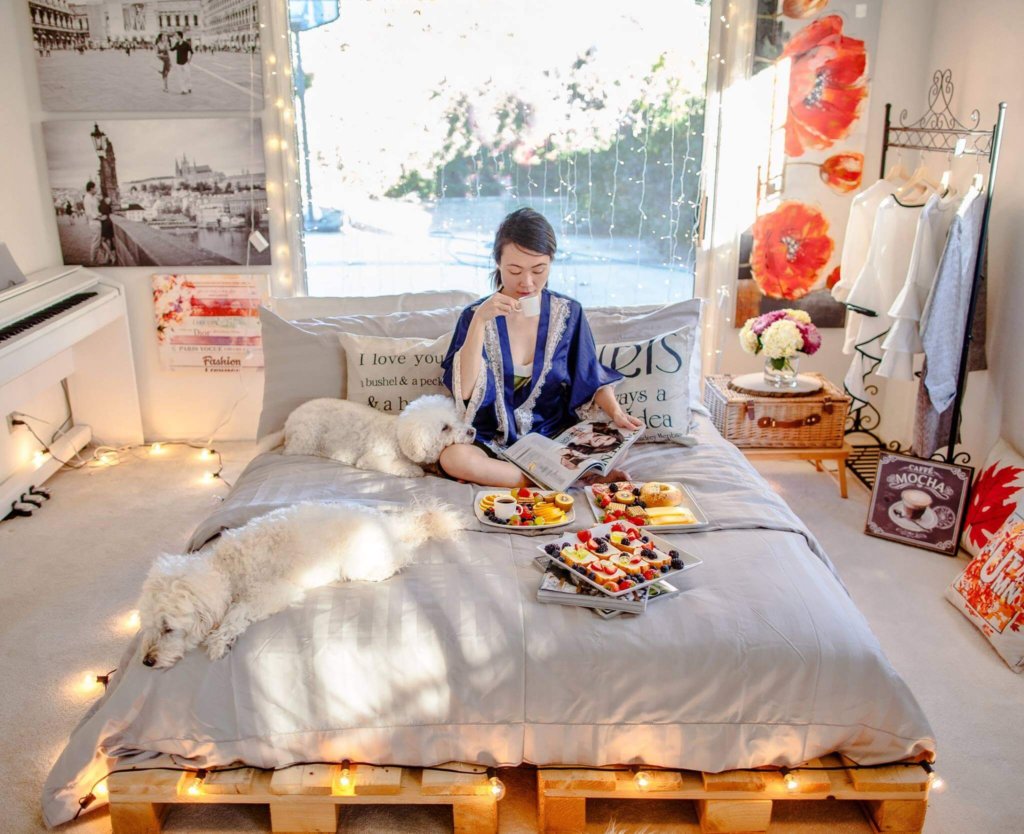 2. Bedding Sheet Set
You can totally change the look of your bedroom by simply replacing your bedding set. These are the small details that bring your bedroom together. They bring texture, color, and interesting patterns into the room! The bed covering and pillow shams make the largest difference, so I'd suggest starting with those.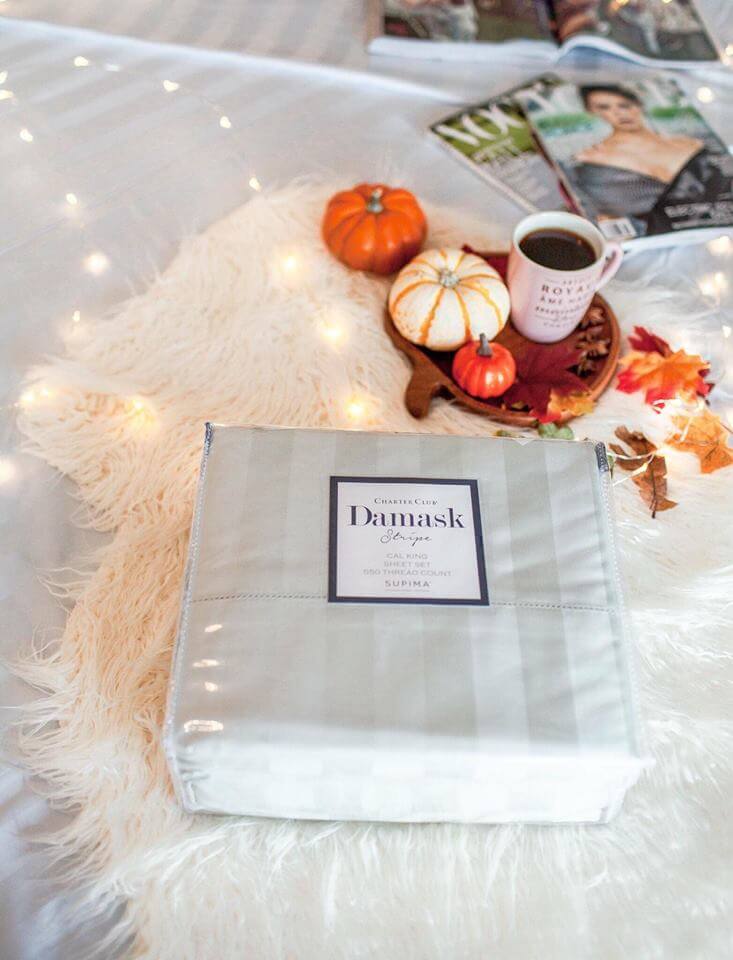 You can instantly elevate any bedding ensemble to a whole new level of sleep style and comfort with the irresistibly soft Supima cotton and lustrous stripes of Macy's Damask extra-deep sheet set from Charter Club. They have a wide variety of beautiful colors that you can choose from: mulberry, lemonade, rouge, lavender, cotton candy, glacier,…Since my bedroom is going for a simple minimalist relaxing look, I chose their gray set!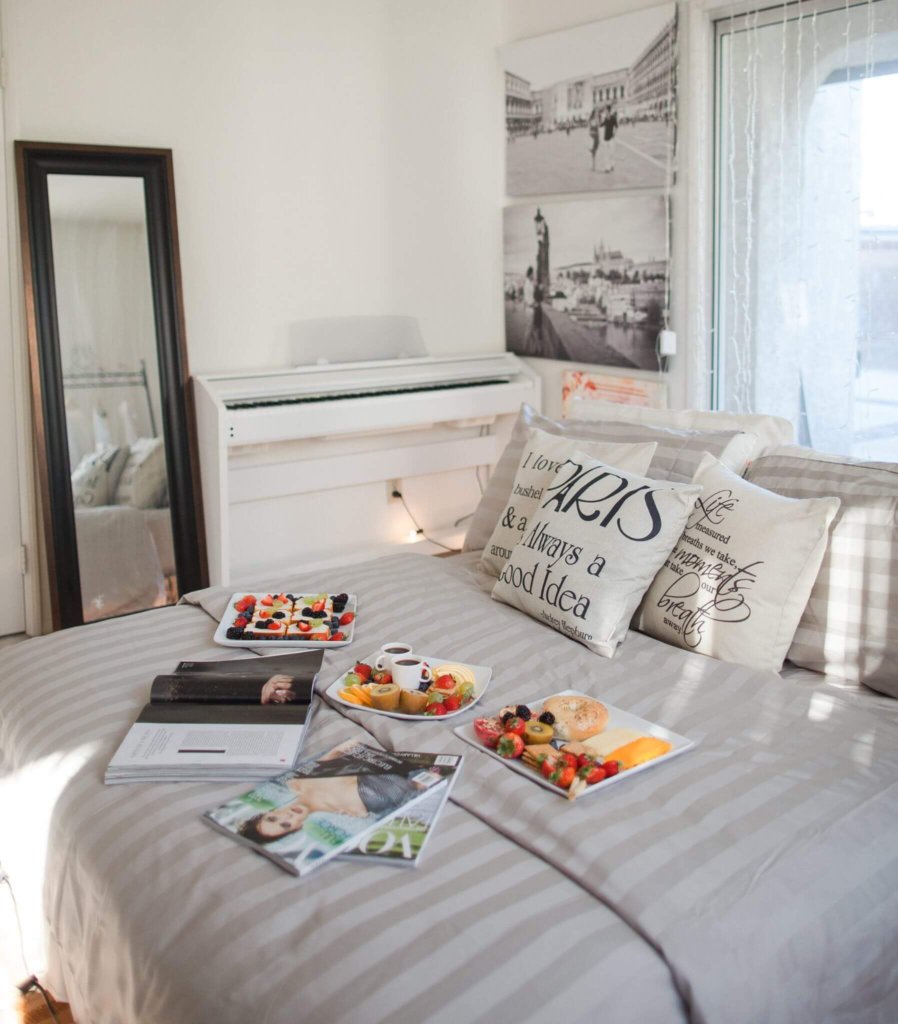 We spend up to a third of our lives sleeping, so it's important to choose great bed sheets that are comfortable and durable. Your linens should be comfortable first and foremost, with style coming in second! There are three main factors to consider when buying sheets: thread count, material, and weave. These together will dictate the final look and feel, from warm and soft to cool and sleek. When it comes to the sheets, splurge!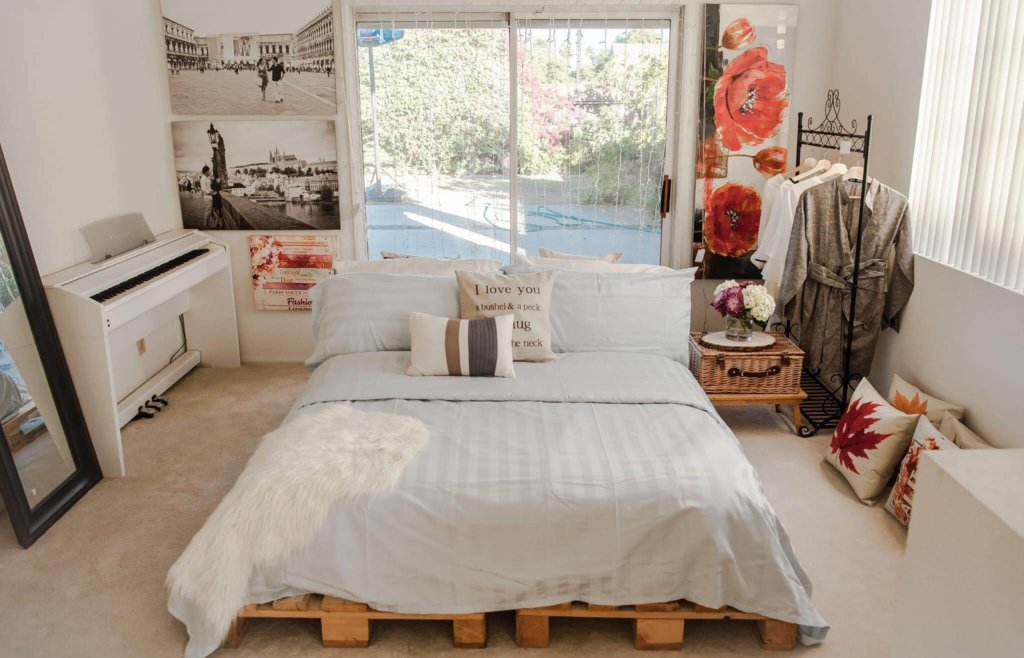 I highly recommend Macy's Charter Club Damask Solid Sheet Sets, 550 Thread Count 100% Supima. Supima and Pima cottons are related to Egyptian cotton. Supima and Pima cotton are grown in California and Arizona while Egyptian cotton is mostly grown in China & India. Supima cotton is the only cotton that is actually monitored and verified for quality. These sheets are the best I have ever had! They offer a superior, soft, and luxurious feel at such a great price!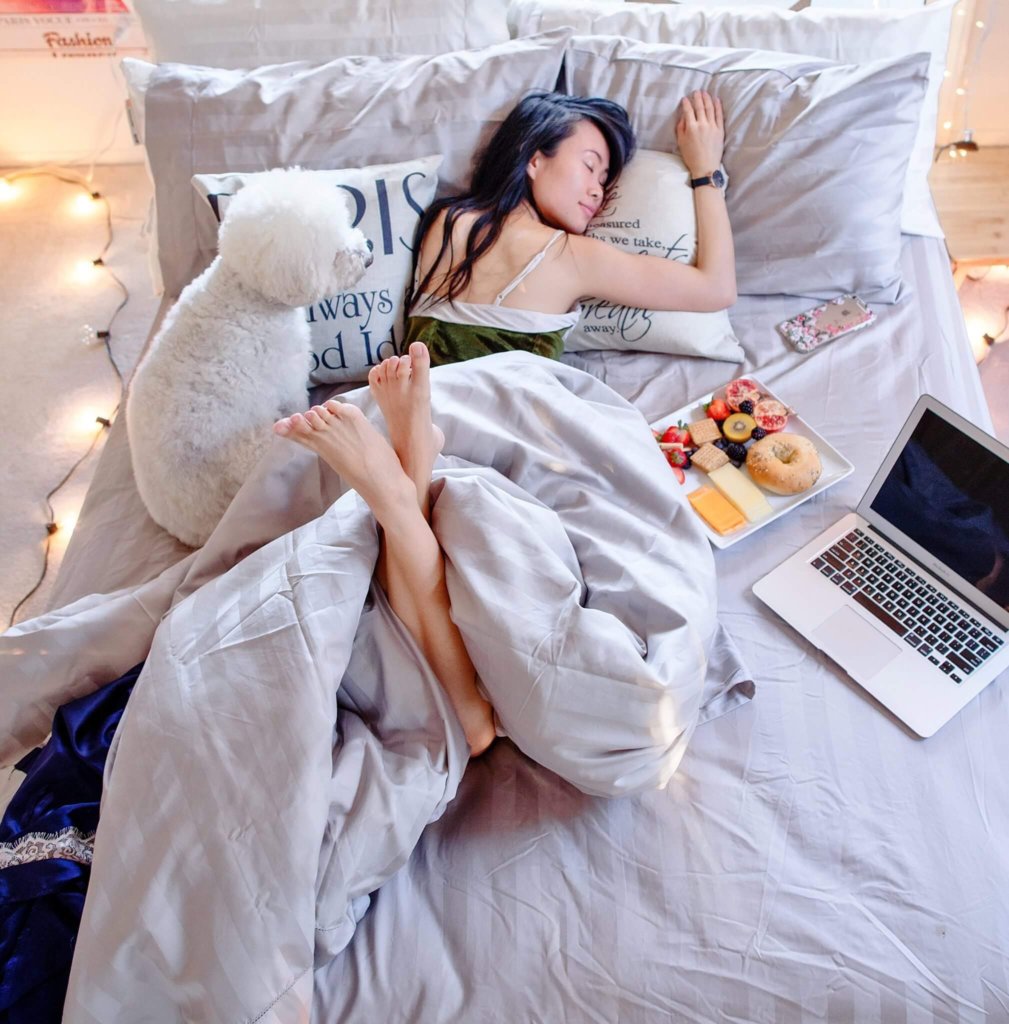 After determining the fiber and weave, you should always check the thread count, which refers to the number of threads woven per inch. In general, a sheet with a higher thread count will be more durable and feel softer. A thread count of 200 is a good standard; a count of 300 will be noticeably softer. And Macy's Damask extra-deep sheet set from Charter Club with 550-thread count promises a luxurious feel to your skin!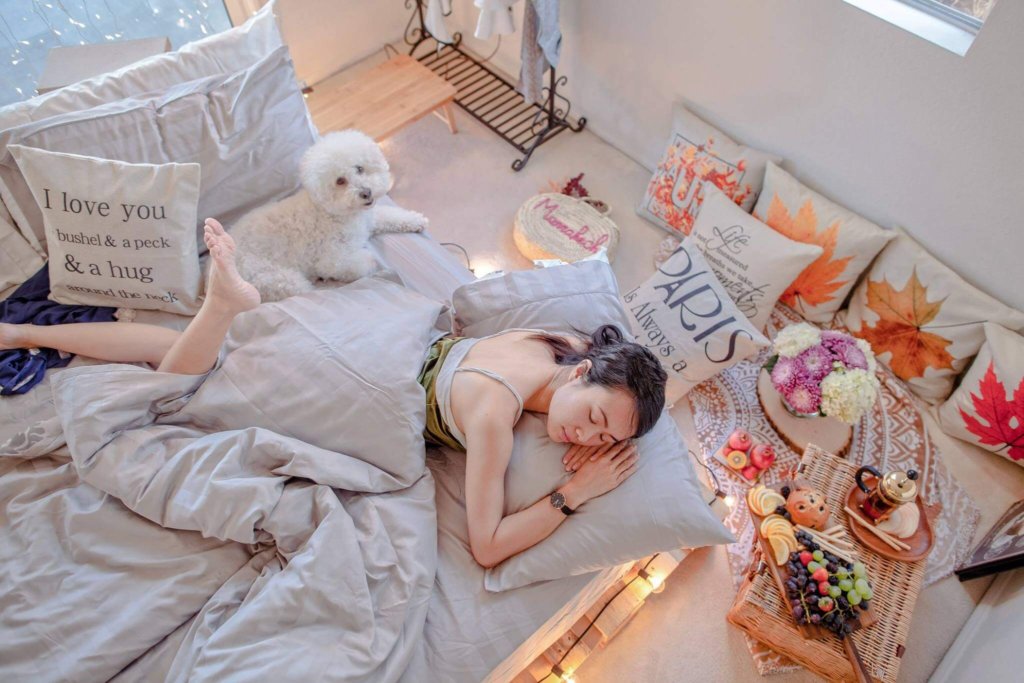 3. Lighting
You can usually identify a well-designed room by the type of lighting used! Special lighting effects always add magic, coziness, and dreamy vibes to your bedroom. To create a romantic vibe for your bedroom, it's all about setting the right mood. Lighting is key, but that doesn't mean you have to purchase an expensive chandelier! For an instant and inexpensive fix, throw in some string lights , bulb strings, or lanterns to your room! These unique and creative lighting alternatives will really brighten up your place! Hang them on your walls, furniture, and fixtures to give a nice warm and cozy look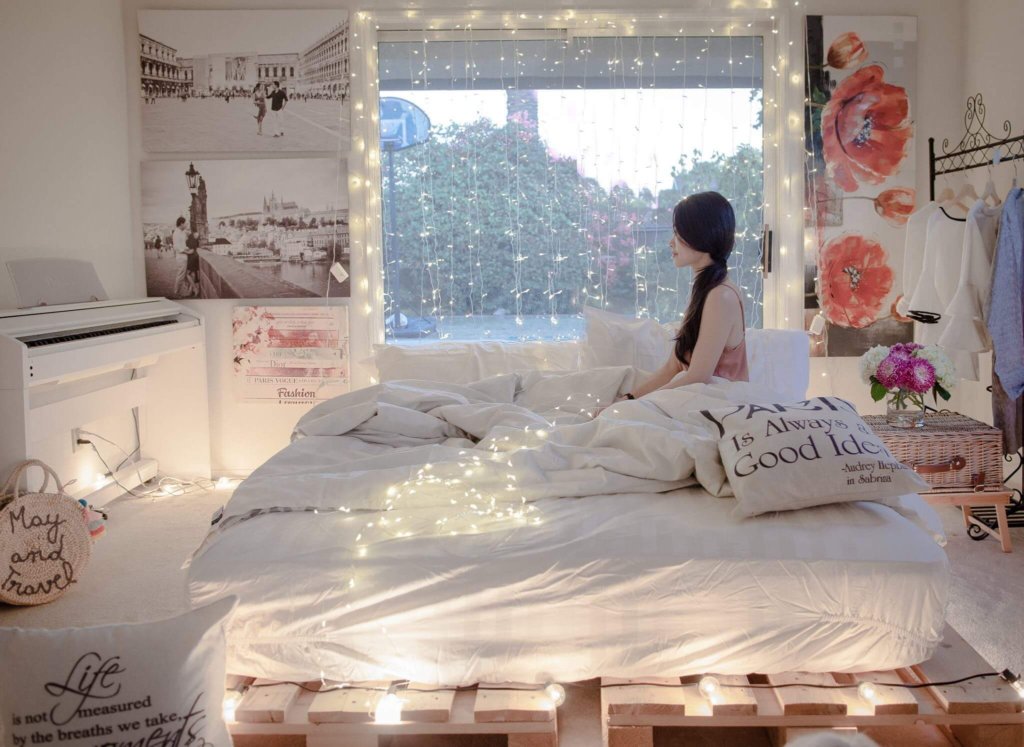 4. Walls
The bedroom is a great place to display the works of art that mean the most to you. The walls provide a lot of scope and space for decoration! Whether it's paintings or hanging rugs, sculptures or kid's drawings, make the most of whatever wall space you have.
Art is the most important aspect to any room and the bedroom is no different. Art should reflect your personal interests and passions! Consider a gallery wall! Adding arts that are meaningful to you is a wonderful way to add character to your bedroom. Instead of buying expensive artworks for your bedroom, create a romantic look by personalizing your wall hangings. Create a wall collage with your wedding photos or other shots of you and your significant other. For an elegant, artsy look, print them in black and white or sepia tone to give the display a more romantic look.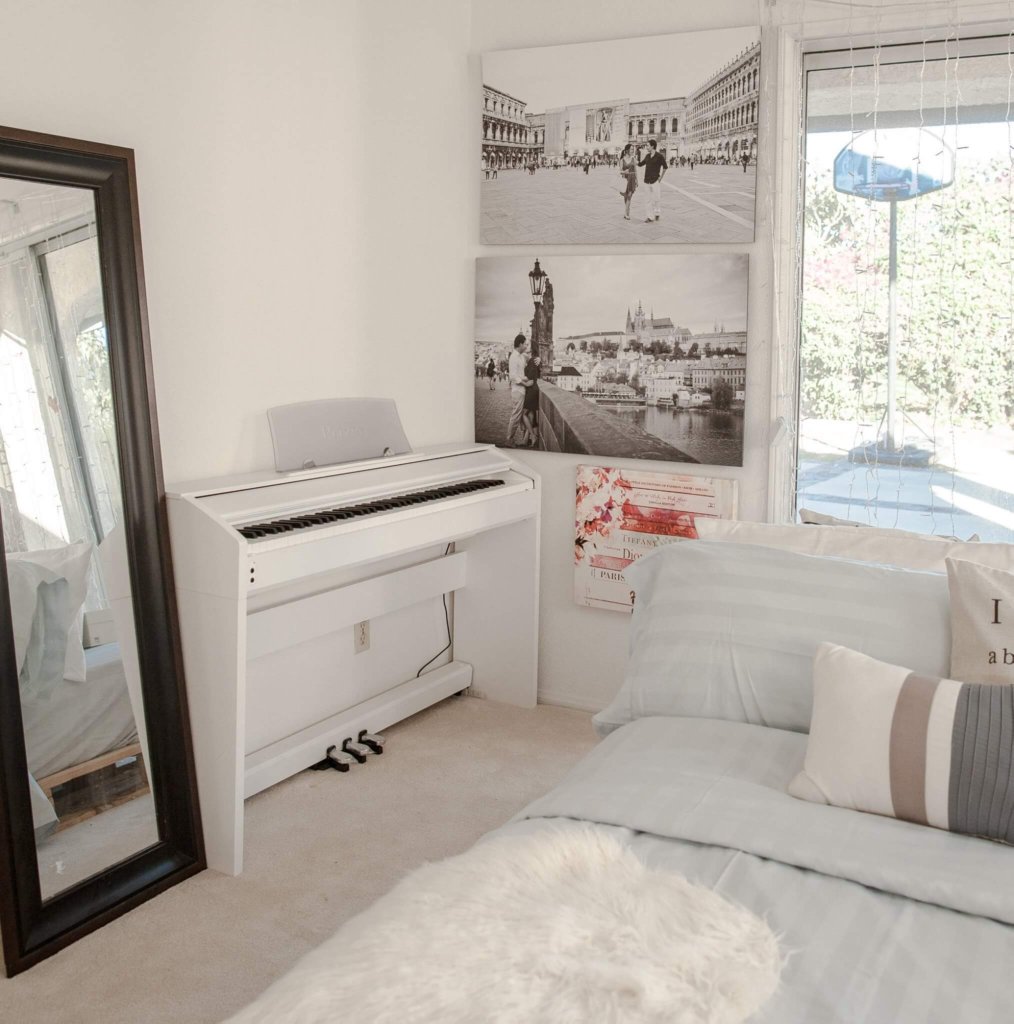 5. Throw Pillows
Decorative pillows (aka accent or throw pillows) are a quick yet impactful finishing touch—injecting a dash of style and comfort that's easy to change at any time. This easy decor idea works like magic for both beds and sofas. Use a soft mountain of throw pillows to add contrast and colorful highlights, without sacrificing space or comfort!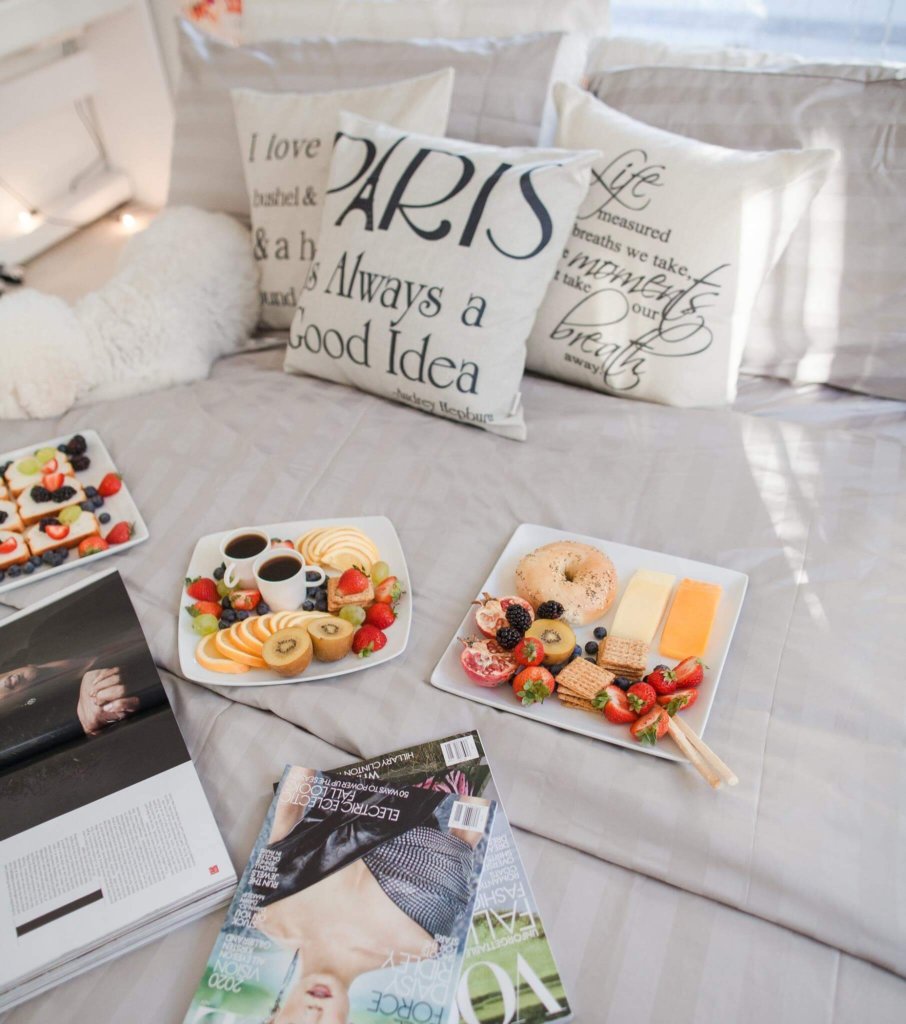 6. Think Outside the Box
Be creative when decorating your bedroom! For example, in my room I use a picnic basket and a mini table for an instant nightstand. Not only is this inexpensive, but it also adds a unique element and personality to a bedroom! Or you can make a creative statement by hanging clothes on a rack instead of in your closet. Buy some pipes from Home Depot and bolt them together; you'll have a super cool industrial clothes rack to display your more interesting pieces.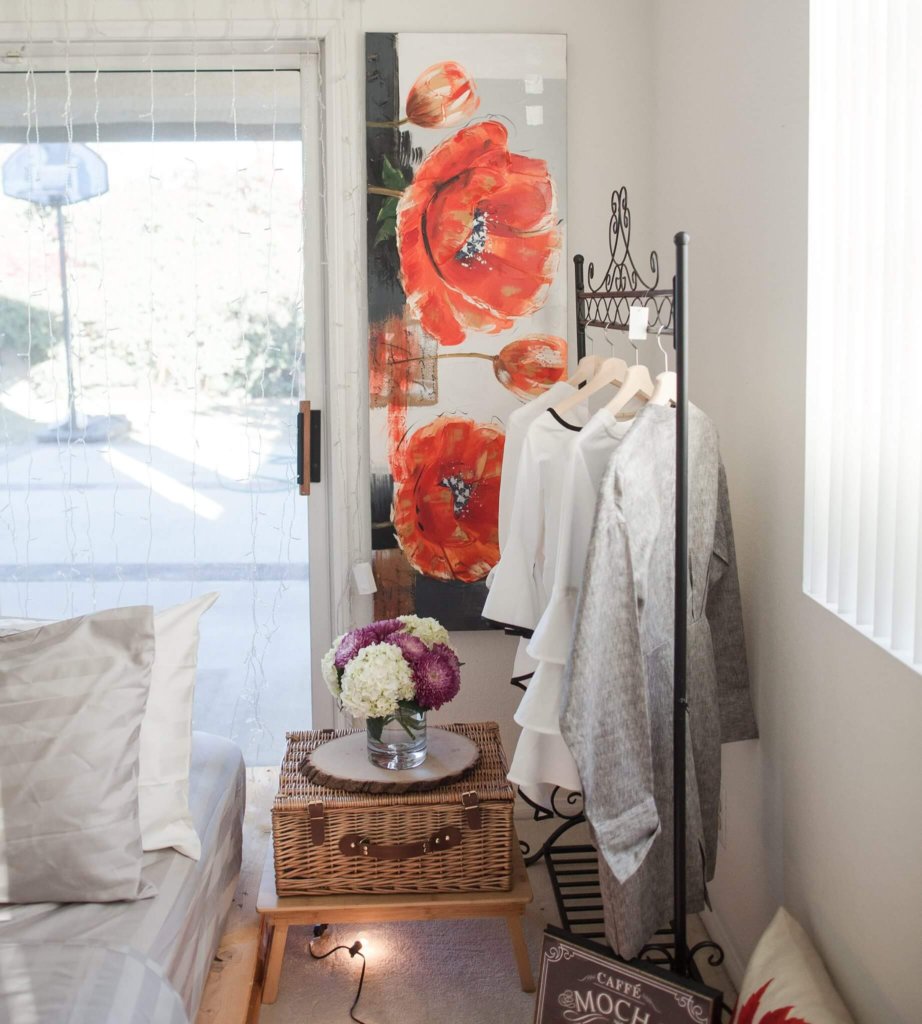 There are plenty of budget-friendly decor ideas that give your room the instant update. You just have to use your creativity, invest a small amount of money, and discover a better way to beautify the things you already own.
What is your favorite way to give your bedroom a makeover? Share in the comments!
***Thank you to Macy's for kindly sponsoring this post. All opinions are 100% honest & completely my own.
SHOP MY FINDS
RELATED POSTS