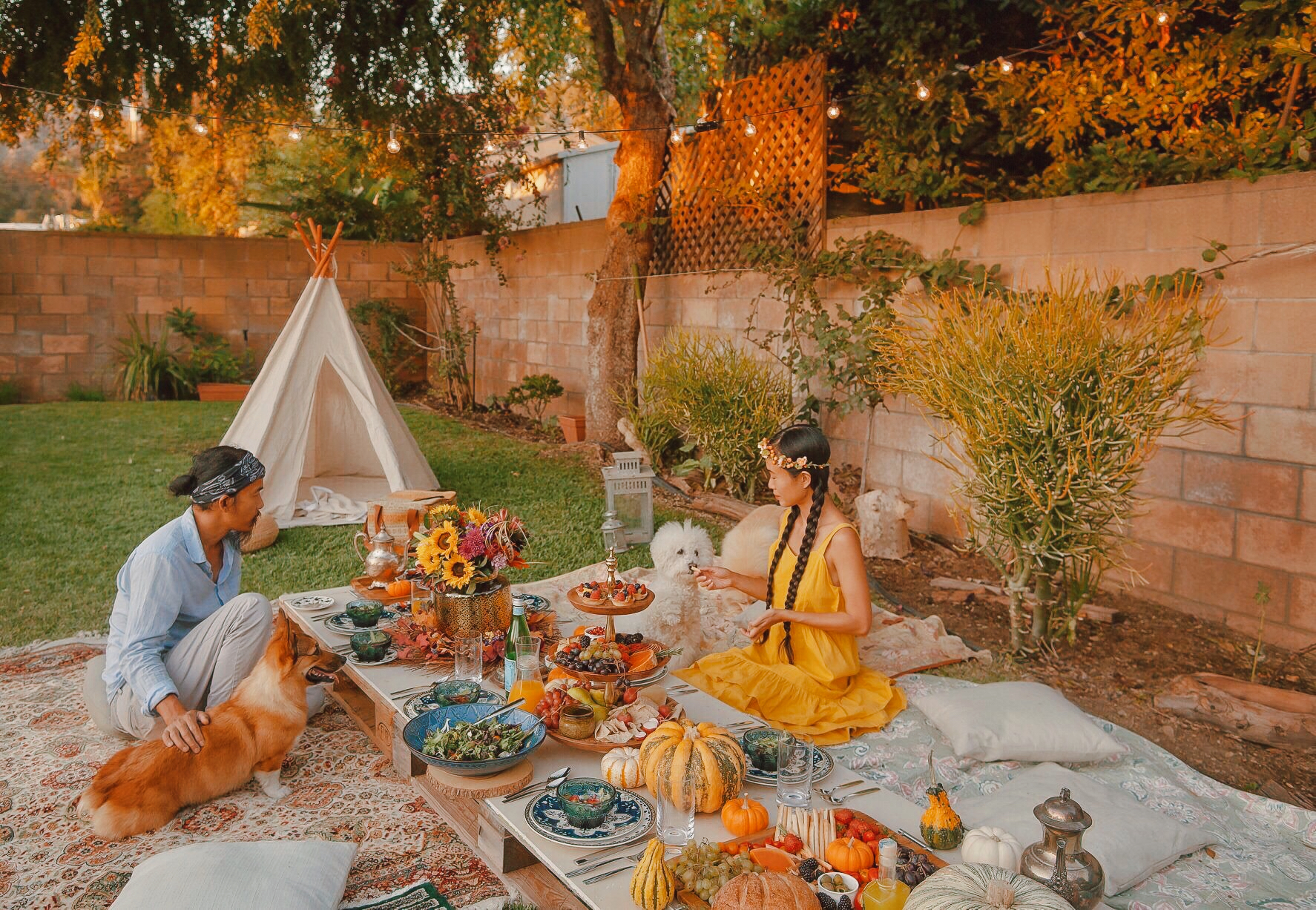 How to Throw the Dreamy Boho Fall Gathering in Your Backyard
Before the weather shifts from crisp to cold, there are only a few weeks of beautiful fall weather to be enjoyed. Wanting to take advantage of the still-warm days of early fall, I decided to host an intimate fall gathering in the company of good friends and loved ones. There are many different concepts out there for fall gatherings but Boho style is always my favorite. Why? Because it is highly versatile and exciting. In this blog, I'm partnering with Lenox to pull off the complete guide to help you plan a memorable boho outdoor fall gathering that will certainly impress your guests! Creating a stunning autumn table for your guests is never easier with Lenox dinnerware and serving accessories. Feel free to steal these ideas and create your own memorable fall table that both you and your guests will love!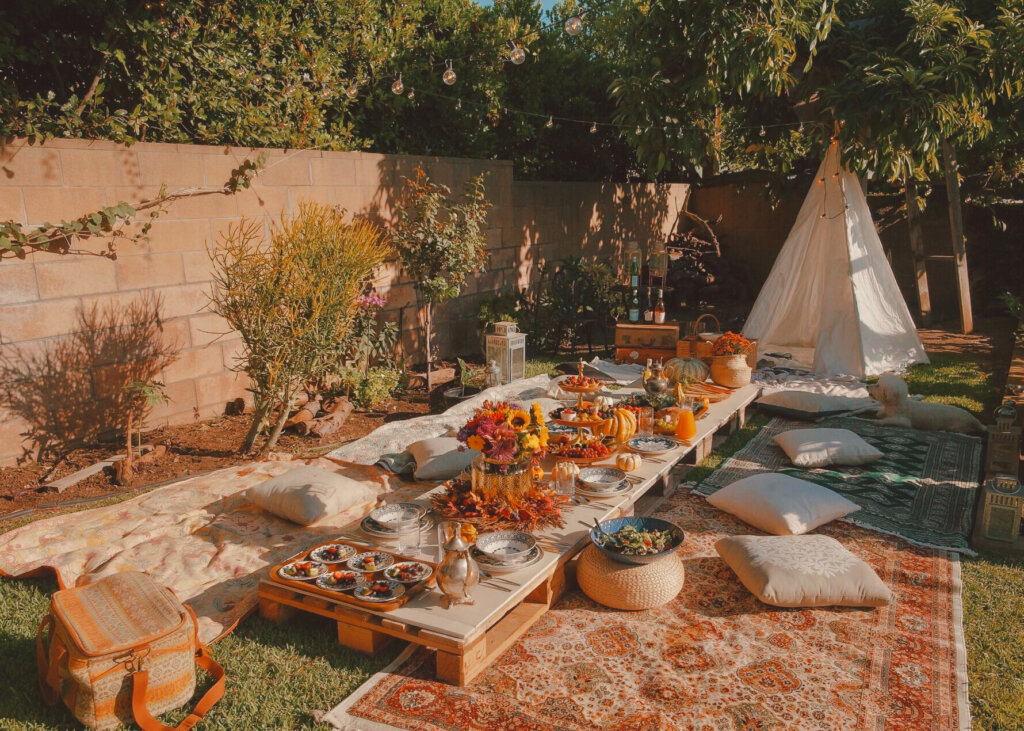 Venue
Boho themes are mostly done outdoors because of how it is about connecting to nature and the earth as a whole. Ideally, you might want to put up a big tent to shelter your dinner table and guests. I put up two teepees that give my party a more boho look and a private space for my guests to lie down and relax.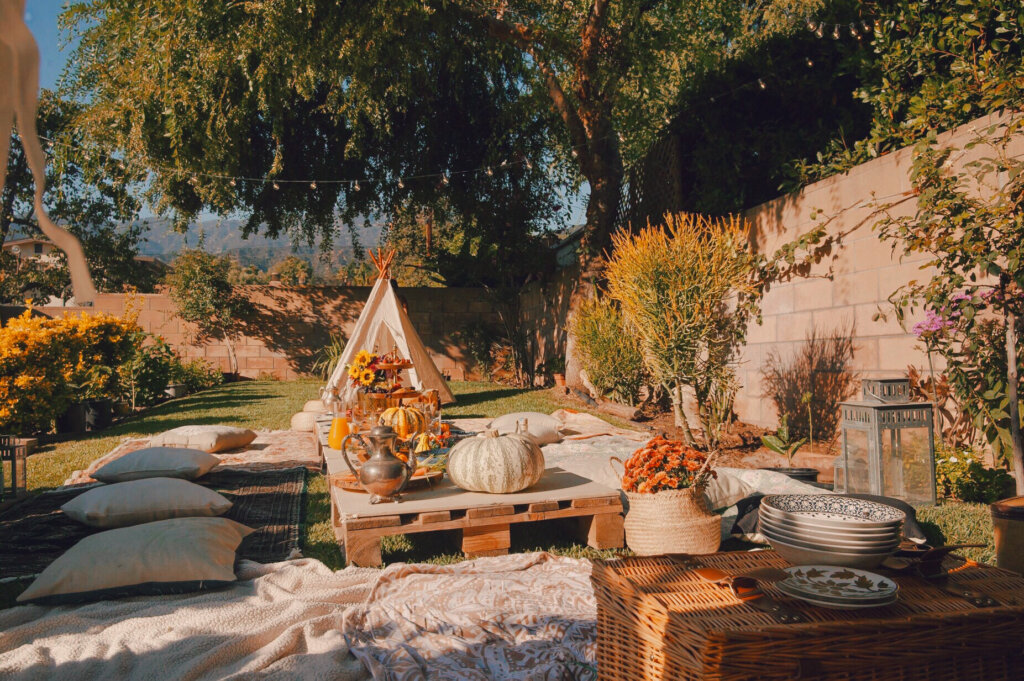 Table
Also, forget about chairs! Instead, choose a really low table because low tables make for a casual and relaxed dinner vibe. Nowadays, DIY is the trend anywhere! Gone are the days when anything handmade are considered cheap or low-class. Now, the perfect words to describe it are practical and creative. And you can literally make your own dining table! My husband constructed wood table tops which were then placed on wooden crates.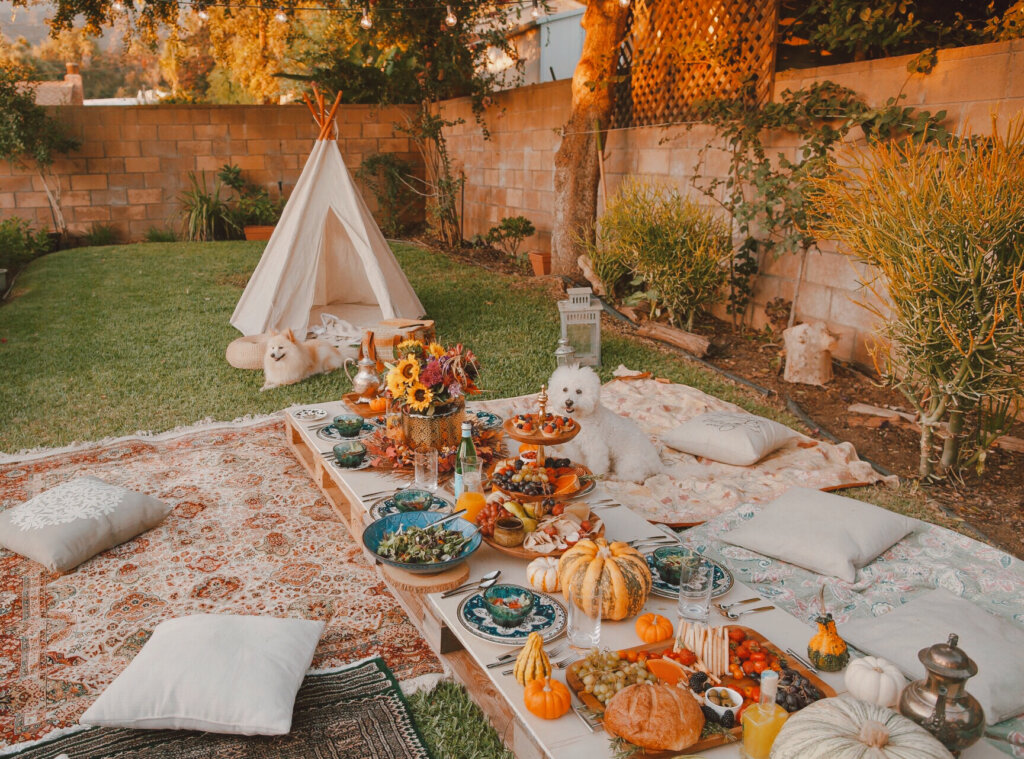 Create a Cozy Setting
The key to throwing a cozy boho fall dinner party is layering. Make guests feel comfortable and warm by layering up on blankets. Simply add throw pillows to make a cozy and relaxed atmosphere. Add a few rugs for extra comfort too. Exquisite carpets don't just belong over hardwood… they add an elegant and cozy touch to your outdoor event!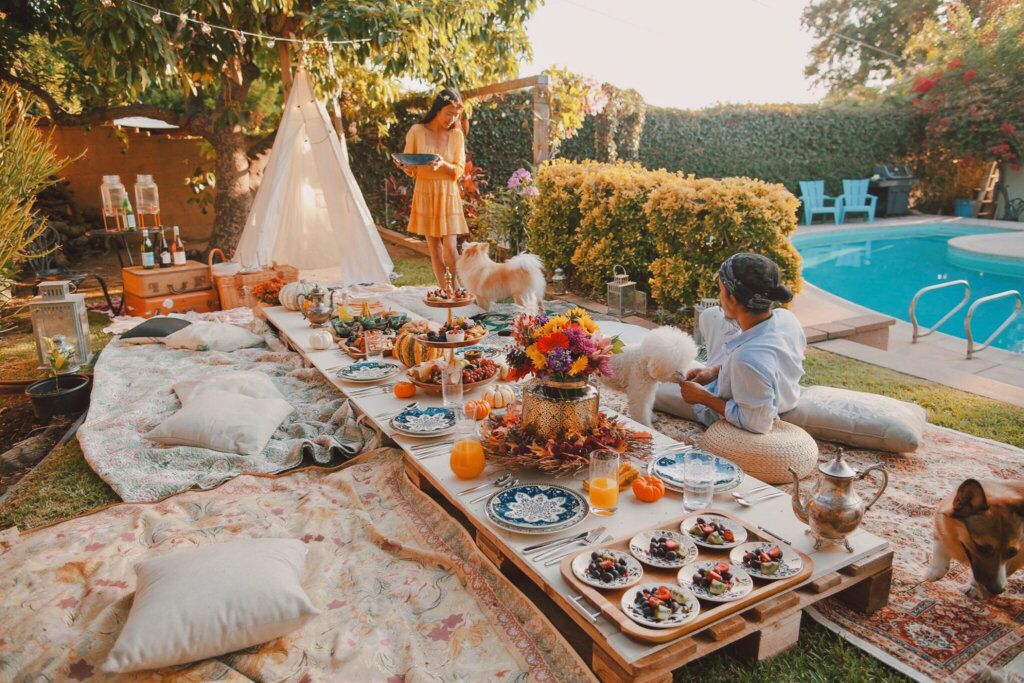 Fall Tablescape
Budget-friendly decor items
A beautiful fall table setting can come together so easily with just a few simple elements. Take a walk around your yard in search of fall grasses or twigs with fall colored leaves. Buy a few mini white or orange pumpkins from the market and use them as your centerpiece. These are all easy, inexpensive and accessible ways to decorate!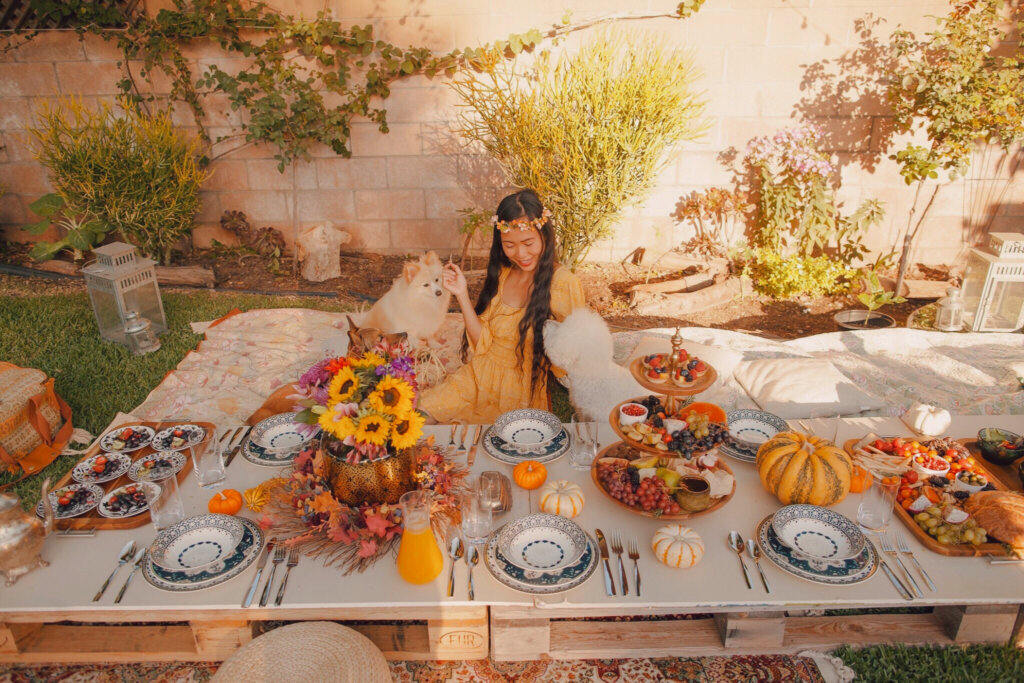 Color Palette
Your fall festivity won't be complete without some autumn-themed décor or seasonal plants. Whenever I design a tablescape, I like to pick a color palette first. It helps me define the mood of the table and narrow down the materials I want to use. This year I used traditional fall colors like oranges and yellows for my flower centerpiece and I dressed up the table top with miniature gourds and pumpkins.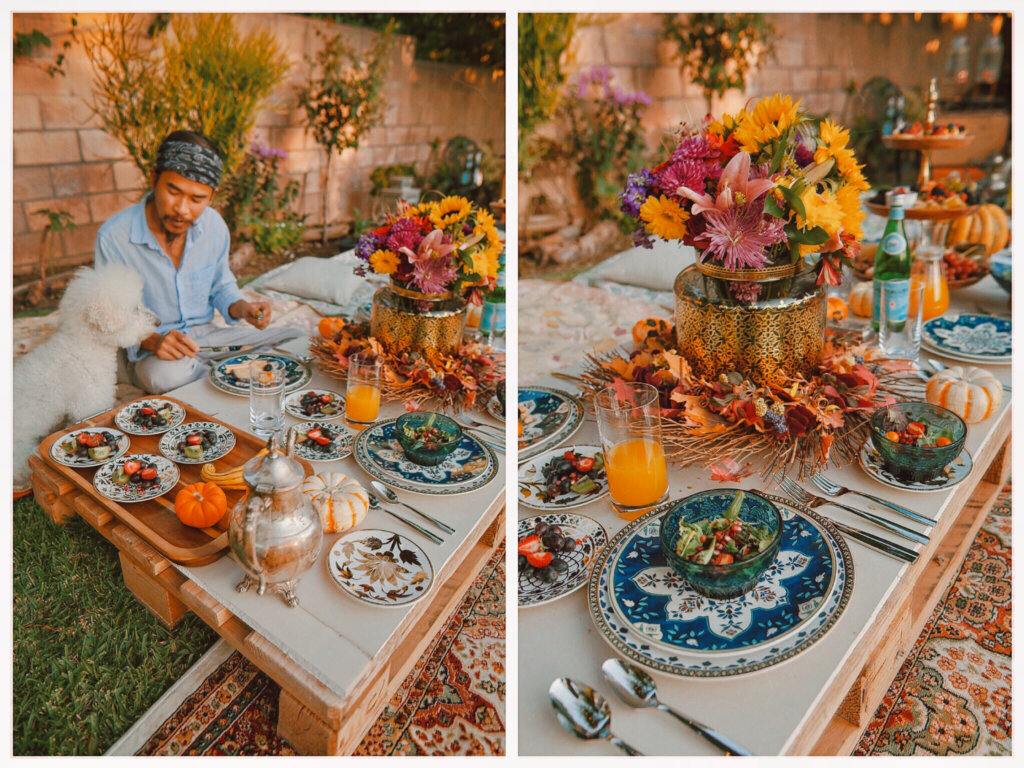 Dinnerware
A good set of dinnerware will bring a touch of class to any dinner table and remain in style for years while withstanding the rigors of daily use. That's why I chose Lenox Global Tapestry Collection. Lenox Global Tapestry is a great way to add some exotic touches to your next Boho gathering. This collection features an exotic motif inspired by hand-painted mosaics and rustic textiles.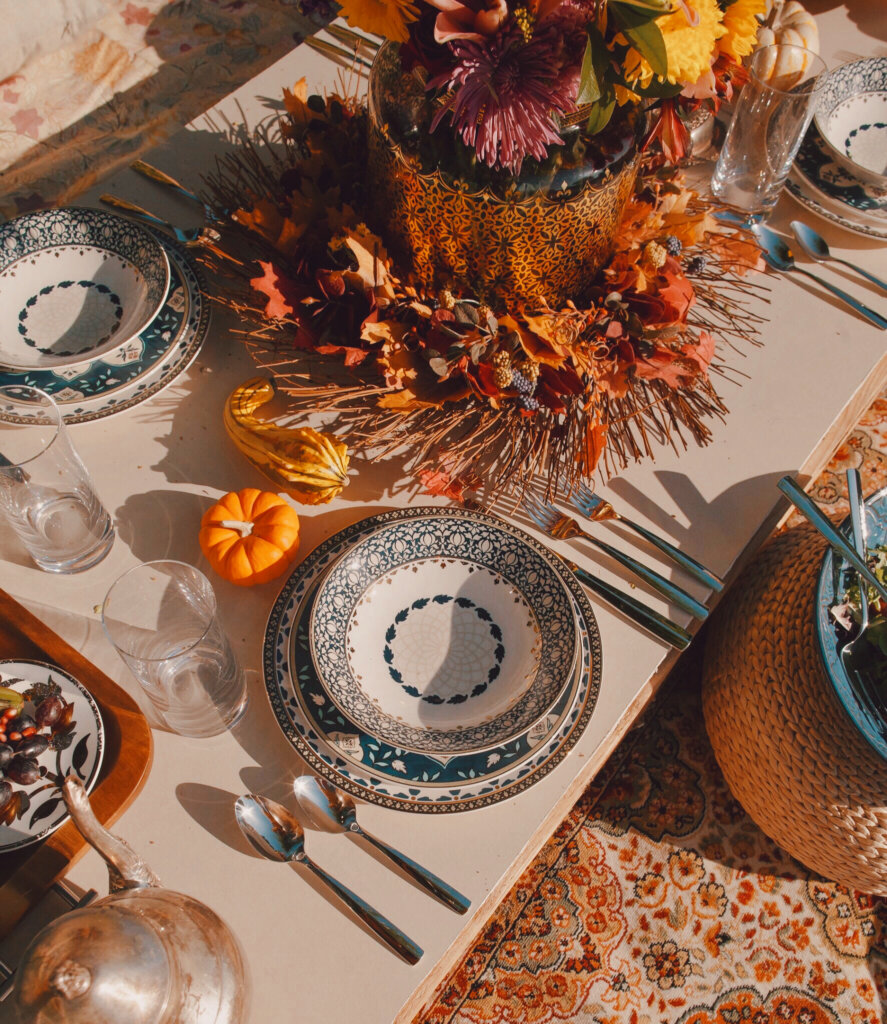 I chose their sapphire mandala accent dinner set of 6 for my gathering. Each plate is unique and truly a work of art. This set of 6 features beautiful designs in a deep, dark blue shade that will wow your most sophisticated guests and have them admiring your decorating skill.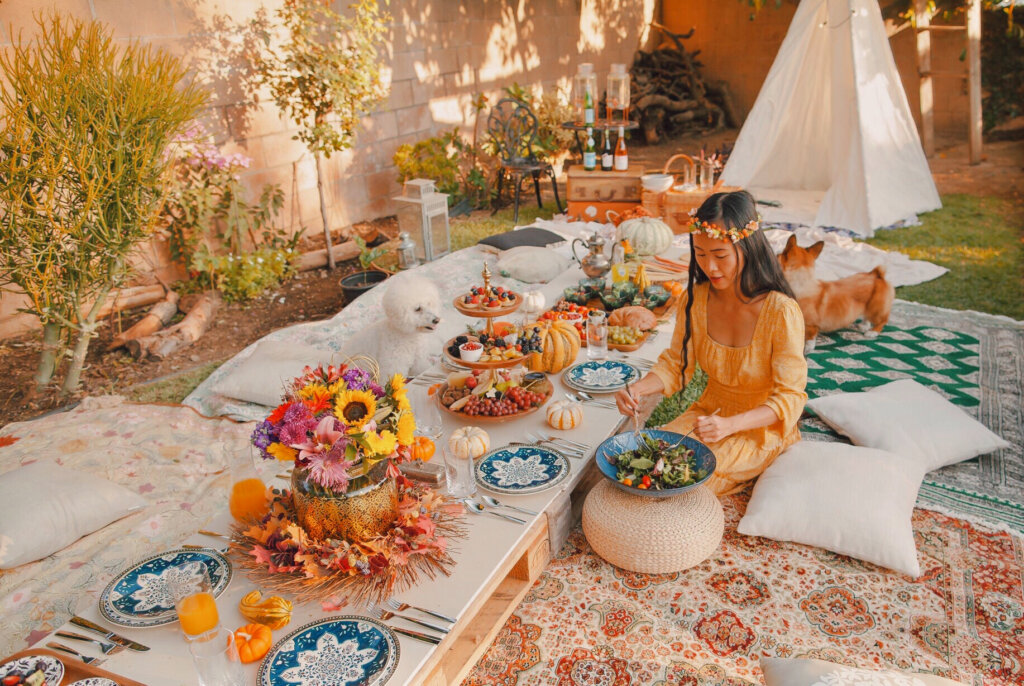 And I love love Lenox Global Tapestry 3-tiered server. Crafted of handsome, stained Acacia wood with a metal inlayed design inspired by global cultures, this server is ideal for serving small treats. And it coordinates so well with my boho fall theme.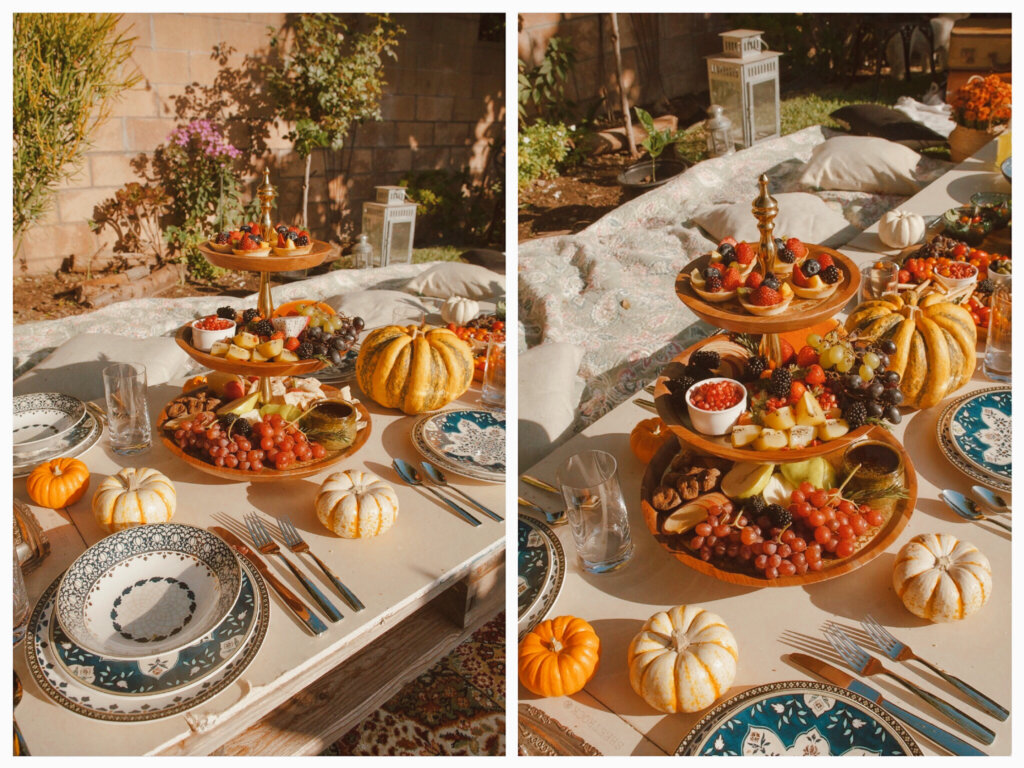 Food
Put out trays with a wide selection of finger food like cheese and bread. Finger foods and small bites are ideal for this sort of outdoor event. I used lots of fruits to give it a touch of color, and layered it all together. The more colors and flavors you can introduce the better. Layers and different textures are key to create a visually appealing food arrangement. It tickles the senses!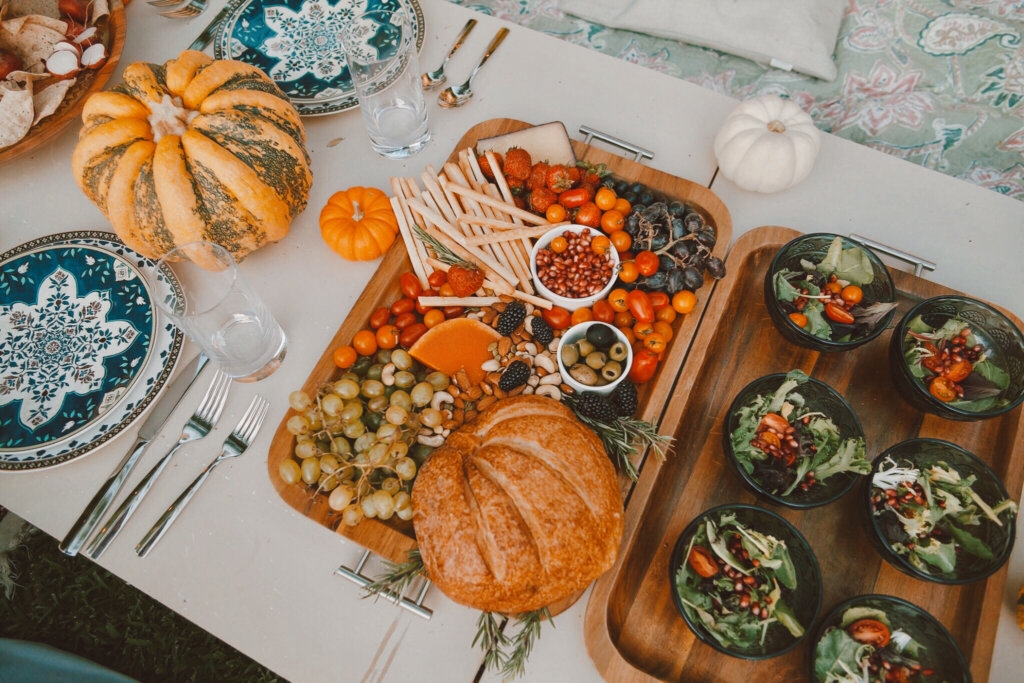 I really love how my fall boho table setting came together. It's simple, yet it has all of the rustic fall elements that I was looking for. I hope these simple autumn table tips on how to set a table for fall inspire you to entertain this season!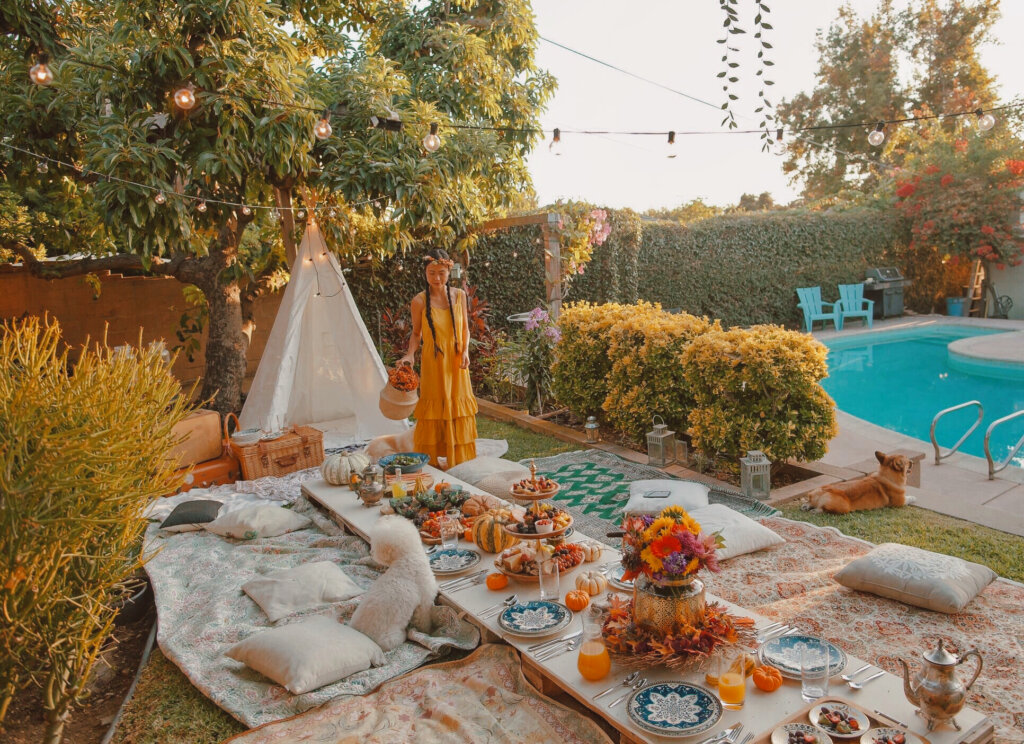 ***Thank you to Lenox for kindly sponsoring this post. All opinions are 100% honest & completely my own.