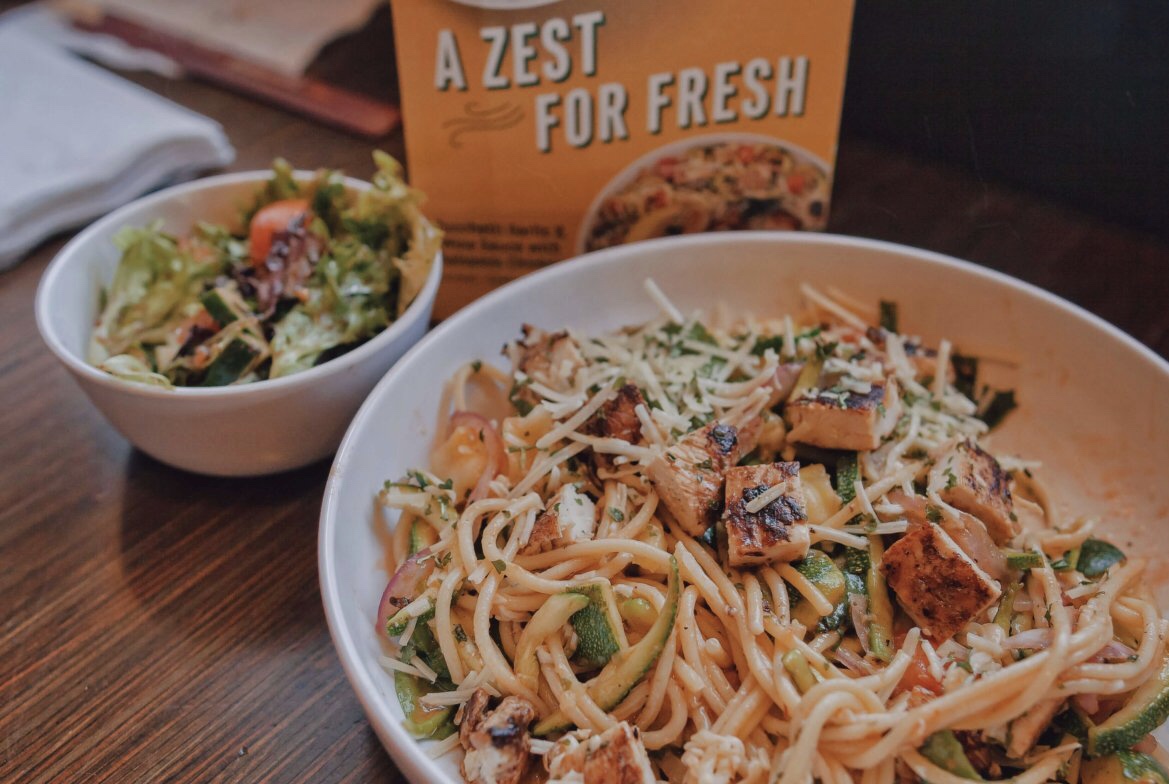 Noodles & Company: A Zest for Fresh!
***Thank you to Noodles and Company for kindly sponsoring this post. All opinions are 100% honest & completely my own.
My husband and I have made a commitment to make better decisions for our health and focus on a better diet every day. We cook at home all the times now, but sometimes we just want to relax and dine out. But sadly, the consequences of eating out is always food coma (we all experience it!). It's hard to find a healthy restaurant to just have a good meal without falling into a sluggish and uncomfortable fatigue. That's why I'm so happy to find Noodles & Company! This family-friendly, fast-casual joint allows you to explore the world through noodle dishes. Sounds tasty, right? It offers the perfect balance of a delicious meal with fresh ingredients. They have been expanding their zoodle menu to bring in new flavors and options for every diet, preference, and lifestyle.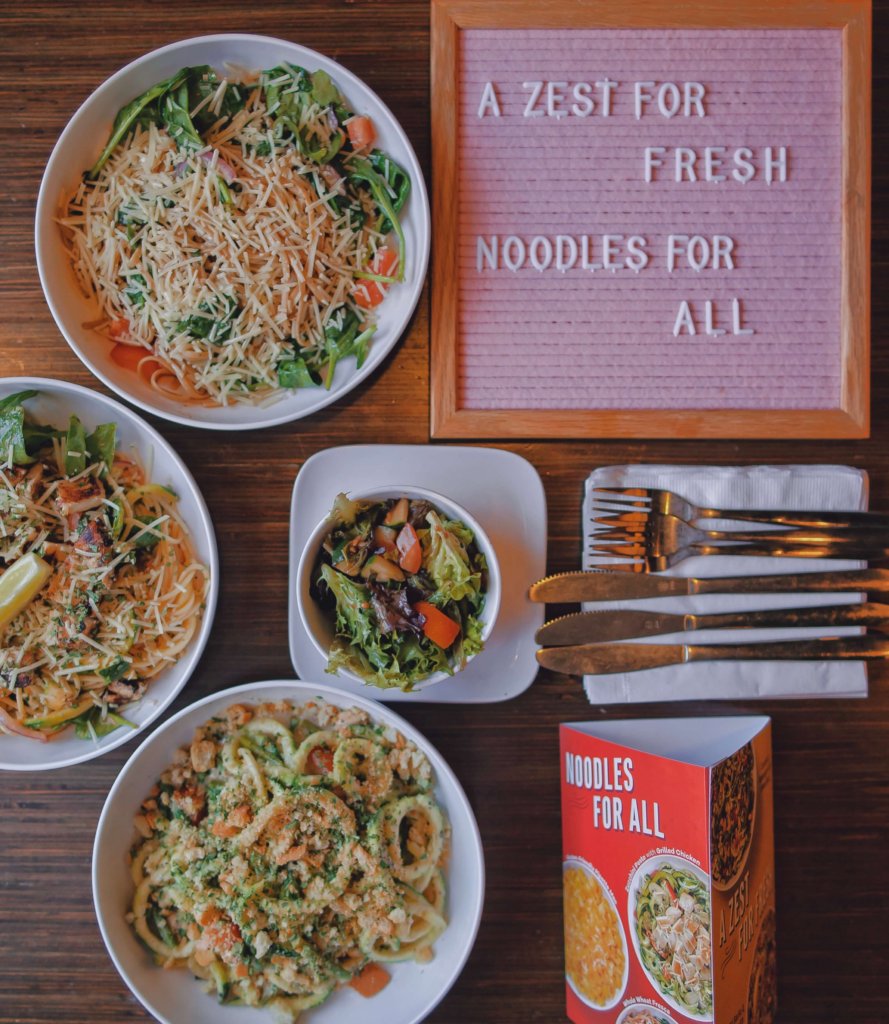 I got such a fun invite from Noodles & Company to try out their new zoodles recipes at their Orange, CA branch (2214 North Tustin in Orange, CA). Before this invitation I have never heard of Noodles & Company which made the invite and experience much more exciting! From the moment we walked in, I was impressed. The look of the restaurant is bright and welcoming. The staff greeted us with kind smiles, and they were accommodating and friendly.
Noodles & Company serves soups, salads, and of course noodles & pasta! This restaurant is such a great alternative to the typical fast food when we are dining out. Their menu features up to 120 combinations. They literally have something for everyone including the picky eater and most dietary restrictions. Their noodle dishes are created with internationl culinary inspiration. A visit to their restaurant is such an exciting adventure around the world for our taste buds!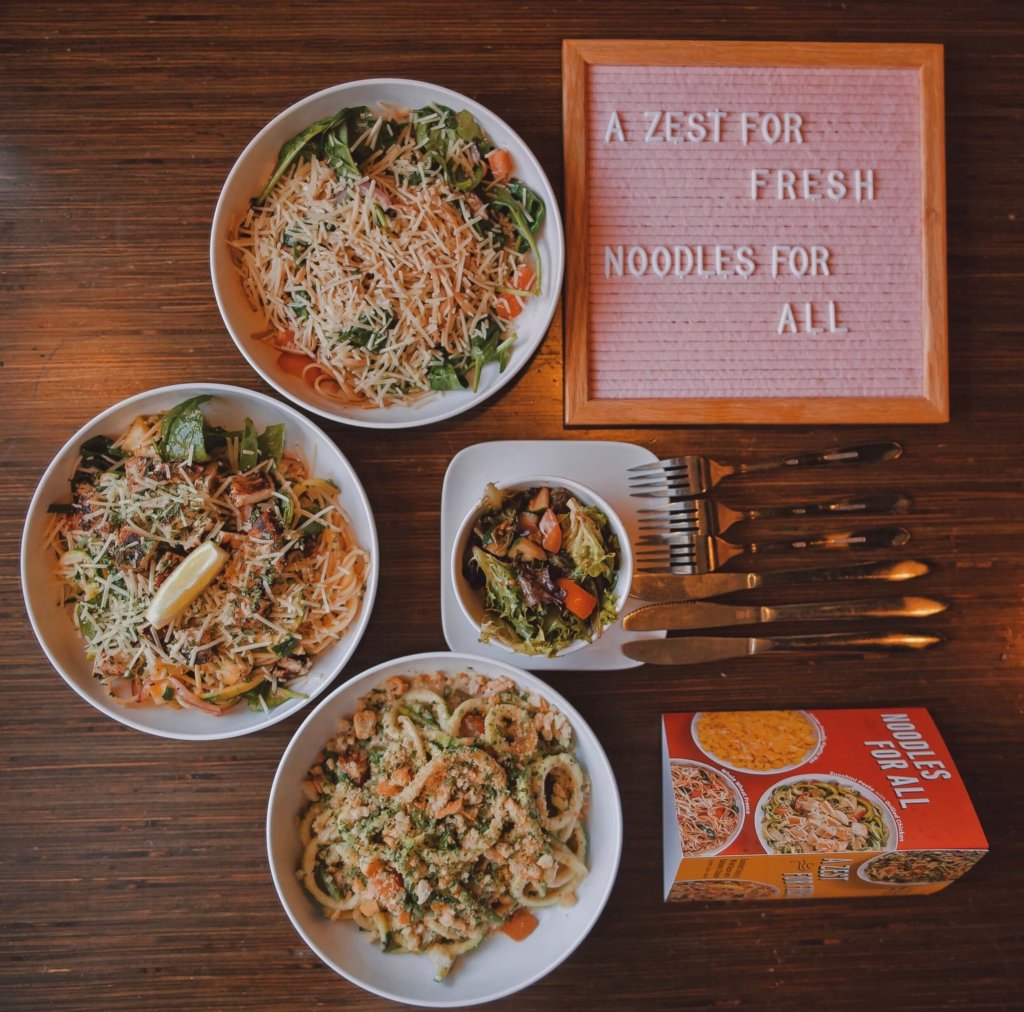 The first thing that I loved about this place is that fresh and from-scratch seem to be the theme. They use 14 different fresh vegetables prepped daily, zucchinis spiralized by hand, organic tofu, cage-free eggs, and antibiotic-free, hormone-free pork and bacon.
We chatted with the manager here and we learned that Noodles & Company uses only fresh ingredients and that they dispose of everything after a 24 hour period if it is not used. They don't own a microwave OR a freezer. A fact that seems nearly impossible but when you realize that everything is fresh, you understand.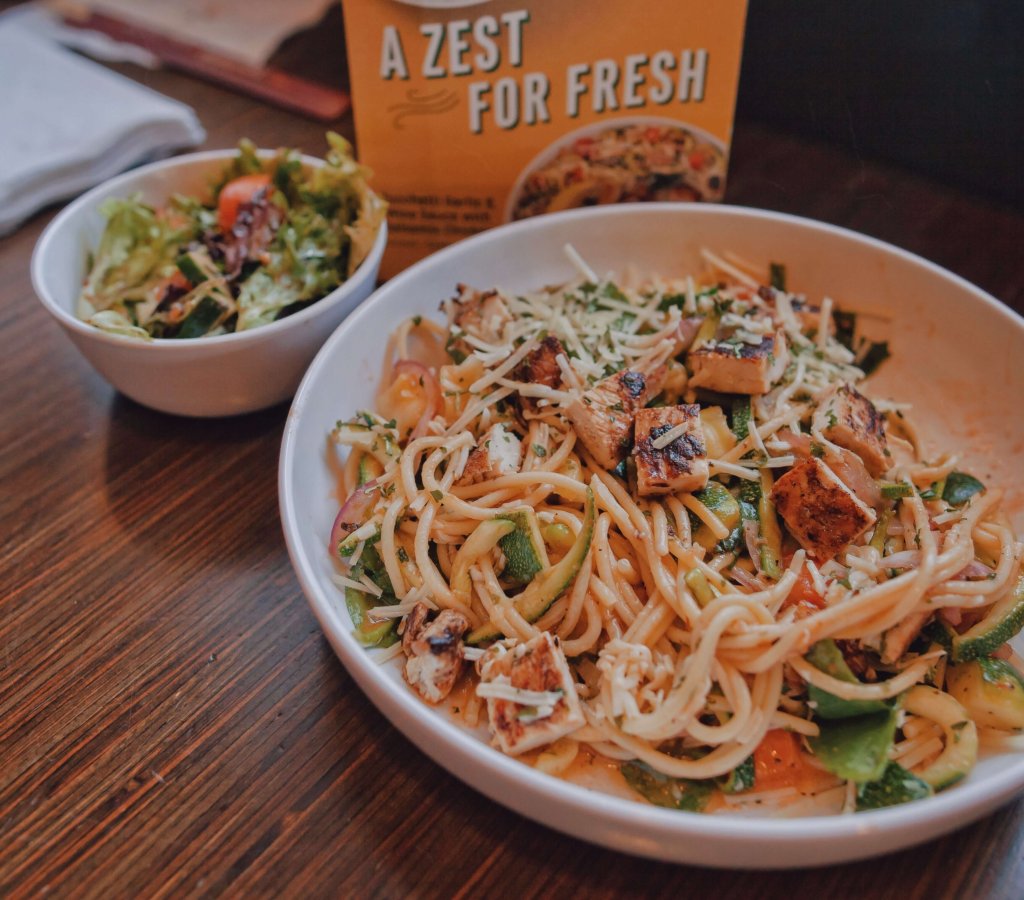 My husband and I decided to go with their two new, seasonal, "plant-forward" dishes: Zucchini & Asparagus with Lemon Sauce and Zuccheti Garlic & Wine Sauce with Balsamic Chicken. Their Zucchini & Asparagus with Lemon Sauce features in-house freshly-spiral zucchini noodles (known as "zoodles"), fresh asparagus, Roma tomatoes, roasted zucchini in a tangy lemon cream sauce, topped with toasted breadcrumbs and parsley.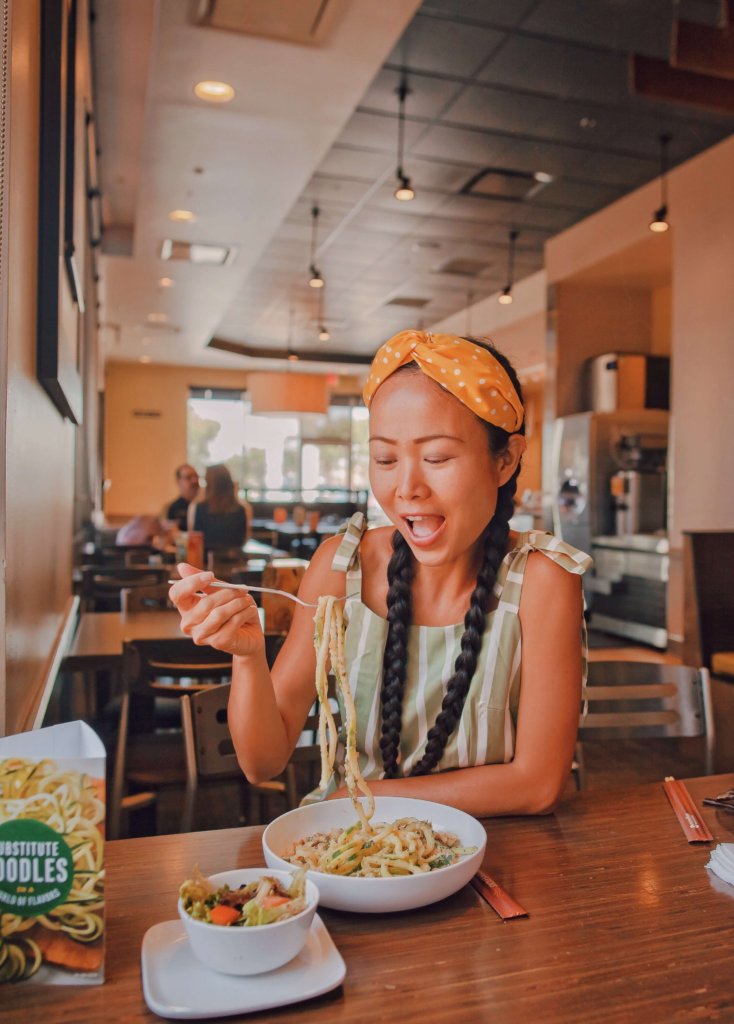 The only word I can use to describe my first bite: Whoa. My husband and I both gobbled up our bowls. The zoodles were just perfect, the delicious not-too-overwhelming lemony sauce was the perfect pairing, and the veggies were fresh and crisp. This was definitely a dish we'd go back for!!!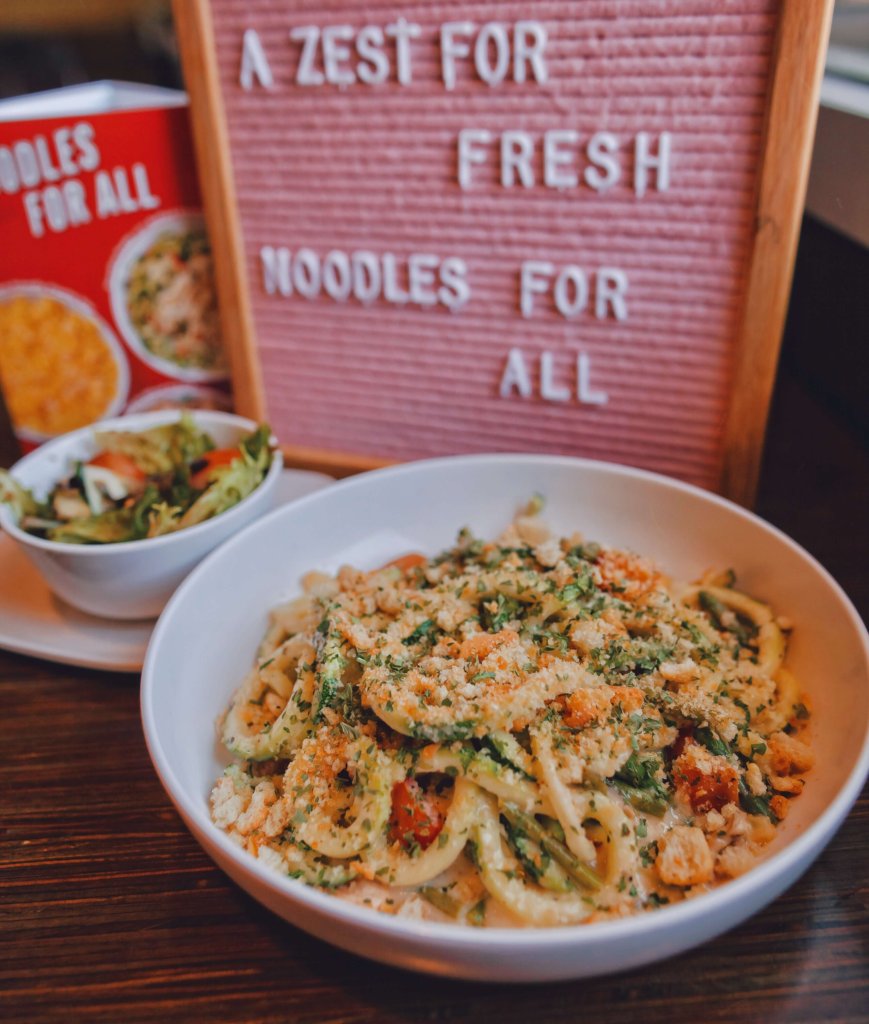 This dish is truly satisfying and super tasty. Why is it so satisfying? Well for one, it's veggie on veggie. It's packed with fiber! The first level of veggie is the spiralized zucchini noodles. And the tomatoes, asparagus, and parsley are the second level of veggies. Could it be healthier? It was light, fresh and the perfect dish for summer.
Their Zuccheti in Garlic & White Wine Sauce with Balsamic Chicken includes a half and half combination of zucchini noodles and spaghetti noodles in a white wine garlic sauce along with balsamic chicken, roasted zucchini, Roma tomatoes, spinach, onion, and basil. The dish is topped with Parmesan cheese and lemon. The noodles were cooked perfectly, the sauce delicious but not over powering, and that chicken, yup a real chicken breast! This is an indulgence right here, definitely a sharing dish.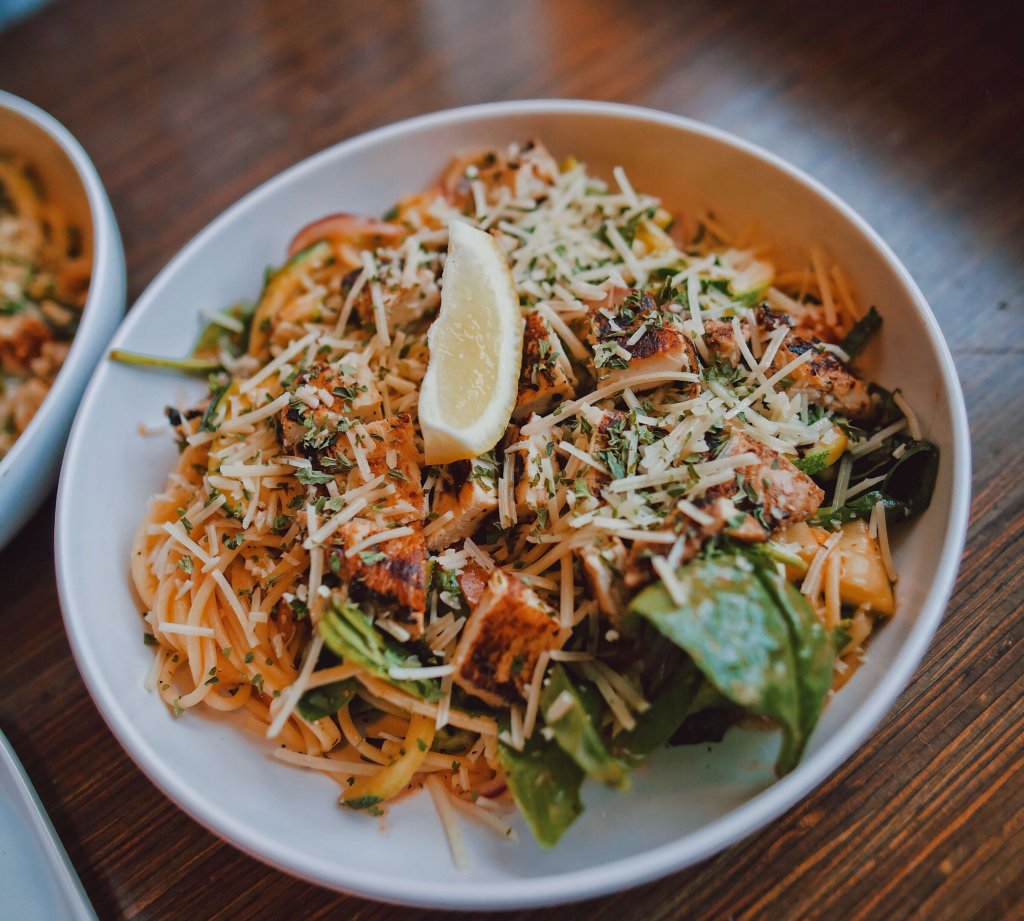 What I love most about Noodles & Company is that they are really trying their best to make it even tastier to eat healthy without sacrificing the sauces, the noodles, and the flavors that people crave. Noodles just introduced a new gluten-friendly pipette shell, which can be substituted into any dish on the menu for $1. Noodles also just launched a new personalized nutrition calculator available on Noodles website and app where users can create dishes to meet their dietary lifestyles. So whether you are a super vegan or just super hungry, you will find your favorite dishes here. After all, they are not just Noodles, they are Noodles for ALL.
Have you eaten at Noodles & Company? If so, I would love to hear what your favorite dish is?