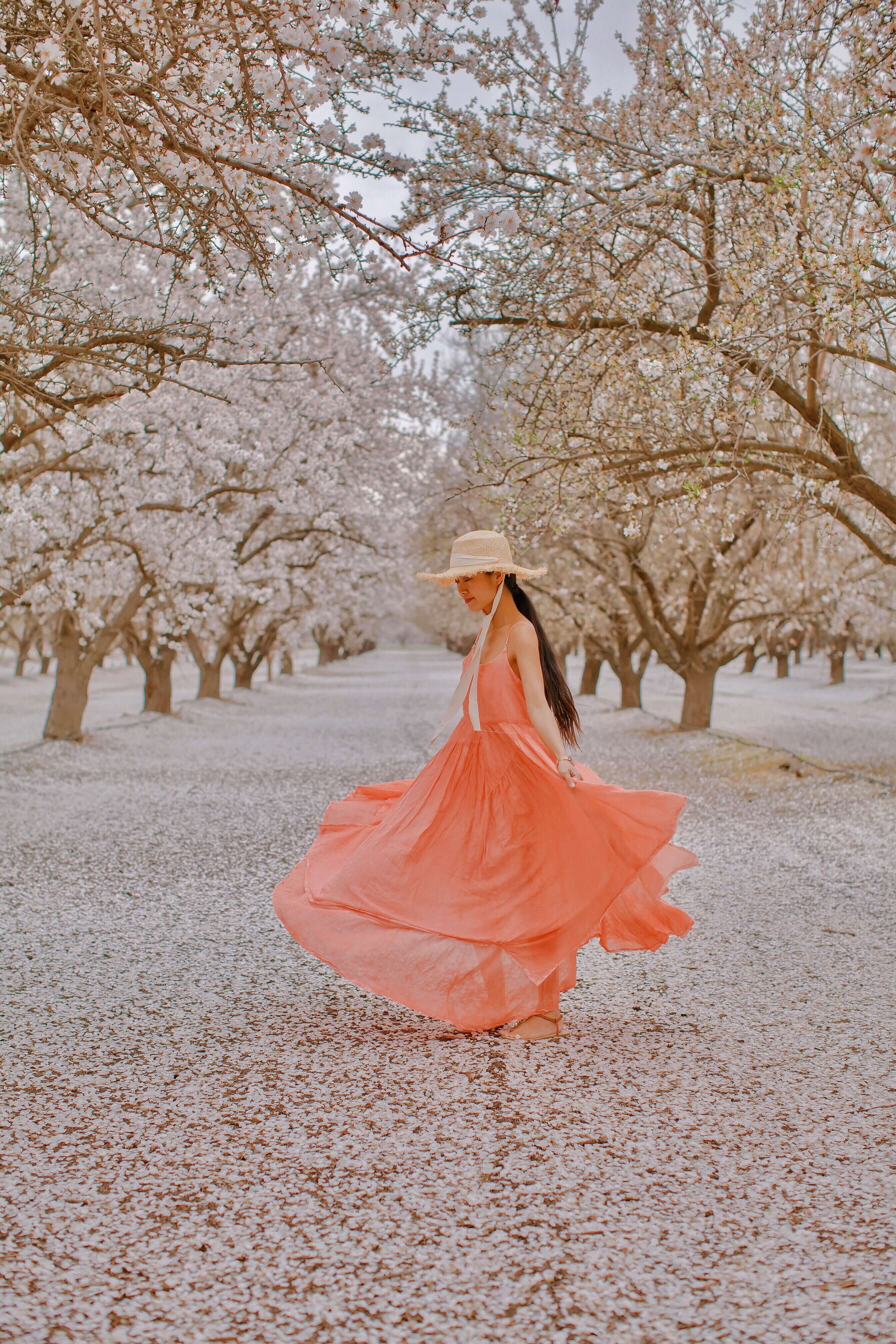 Where to See Stunning Spring Bloom in LA
In case you haven't noticed in your social media feeds, Spring has officially "sprung" in LA. There's still a bit of chill in the air and a few lingering raindrops on the ground, but spring is starting to burst out all around us. All the rain we complained about in January and February has brought us the most amazing spring bloom. It's time to bust out those sandals, those picnic spreads, and those floral dresses and get ready to smell the flowers.
My inbox has been flooded with questions since I posted on my Instagram pictures taken with wild flowers and almond blossom. So I decided to spill all of my "secret" spring bloom spots in and around LA. In this blog I'm sharing with you my top favorite spots to catch the first glimpse of spring blooms!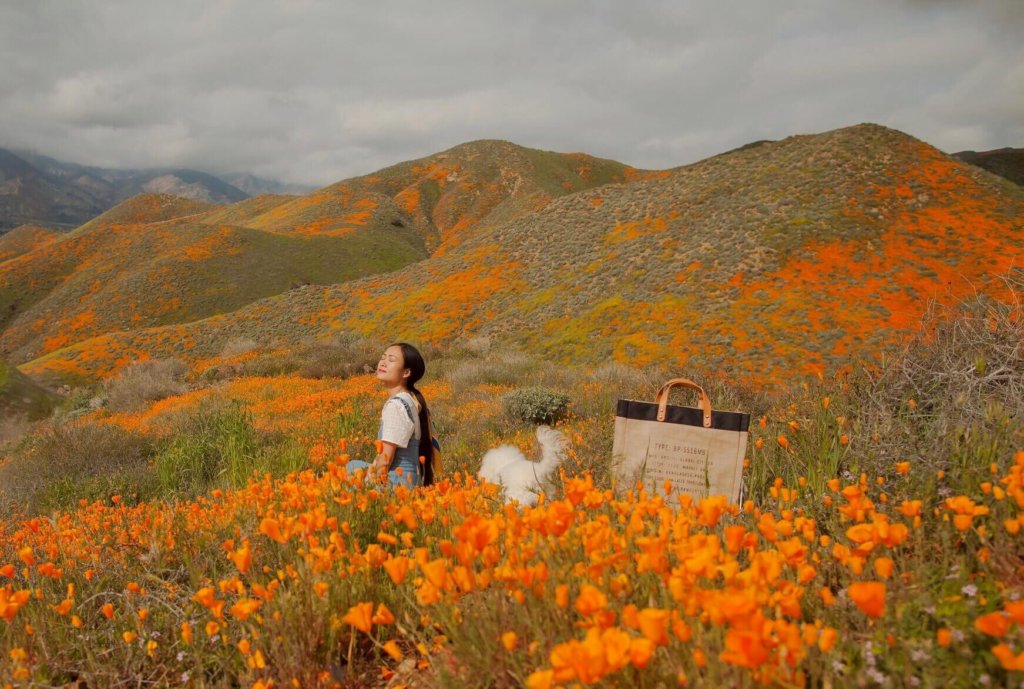 Poppies Fields in Lake Elsinore
After an especially wet winter fields of golden poppies are once again popping up in the Lake Elsinore area. Super Bloom is coming back after 2 years! The bright orange California poppies are concentrated in the hills around Walker Canyon, and are already brilliantly in bloom. Back in 2017, the region was transformed into a golden tourist attraction, causing traffic along the 15, so do plan ahead if you're planning to make an excursion.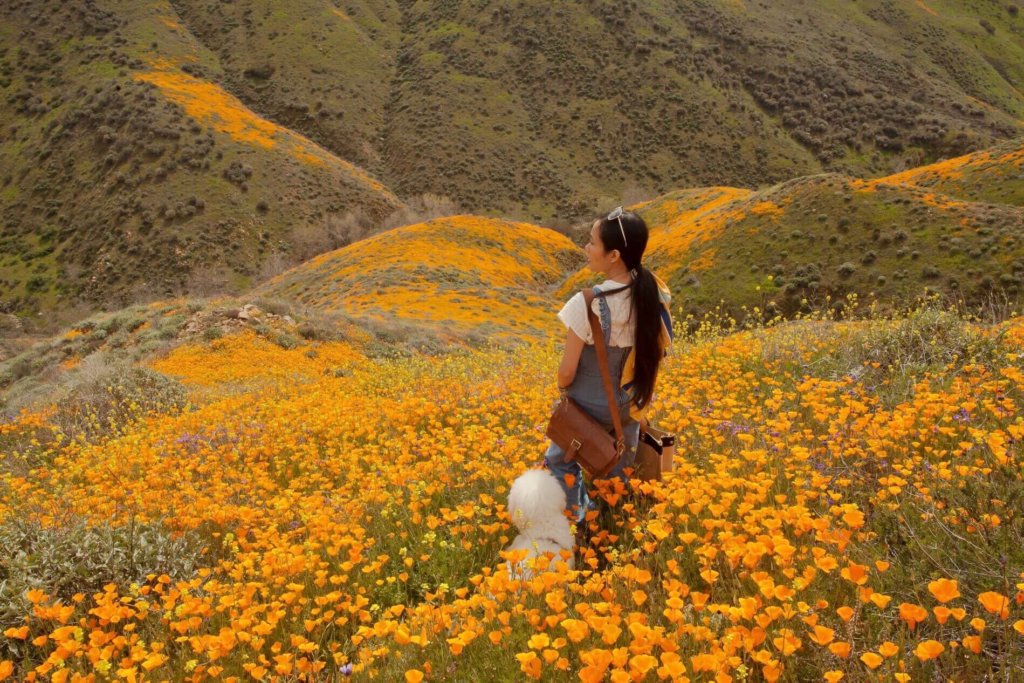 I would recommend heading to Walker Canyon where you'll find a series of easy trails. Park along Walker Canyon Road and then begin up the main trail head. After several minutes the trail will begin to split off in different directions. There are huge fields of orange poppies in every direction!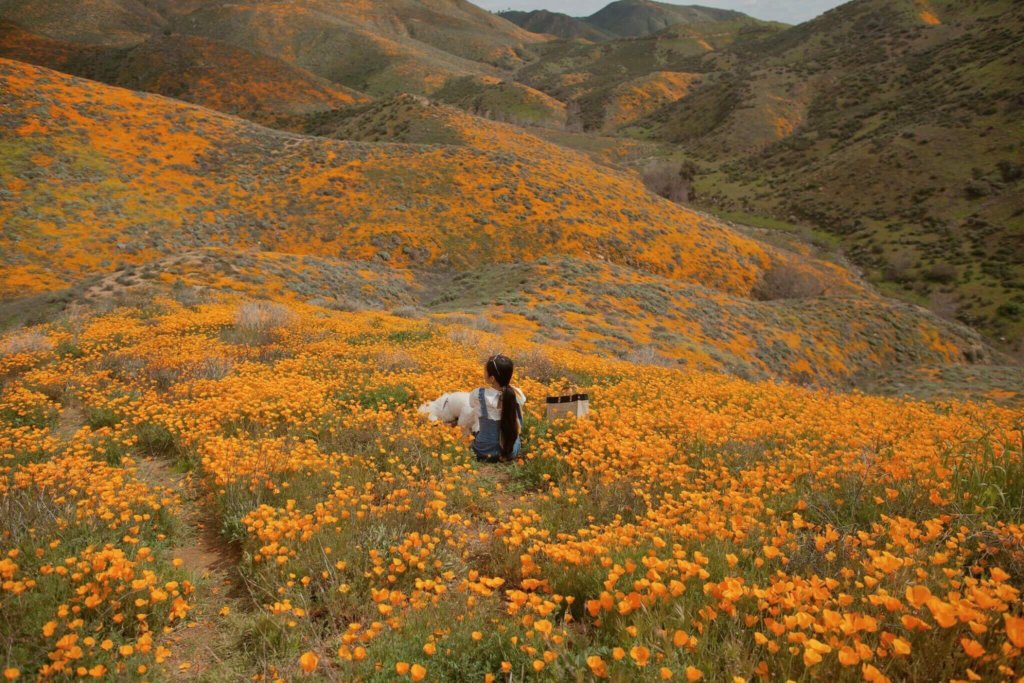 The only downside to this trail is lots of crowds. I went around 9am on a Monday morning and there were several hundred people there. But if you continue hiking up for around 30 minutes, the crowds begin to dissipate.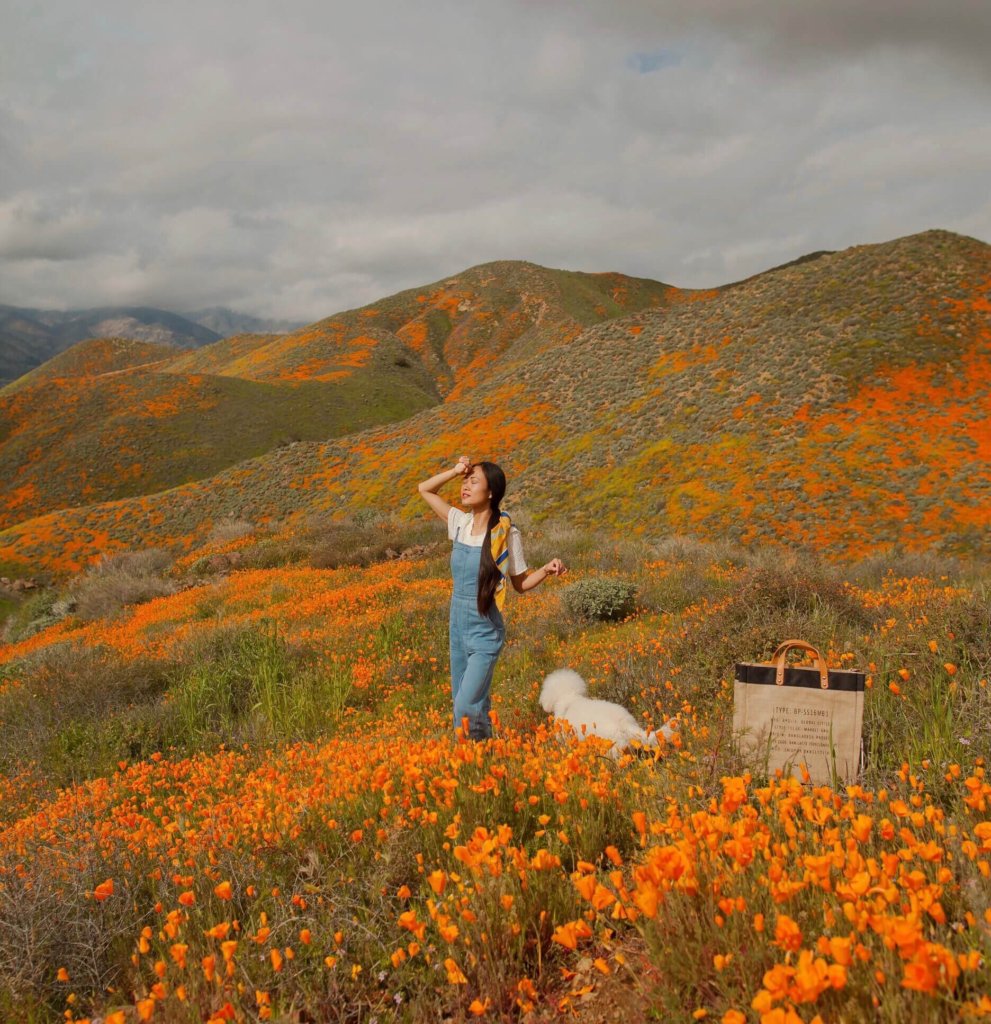 It's important to treat the delicate flowers with care and respect. The city officials encourage visitors to preserve these beautiful hillsides for many years to come by staying on established trails and avoiding walking, laying or standing on the flowers. That said, we did wander off the main trail a little bit, but I did NOT trample or pick any flowers. I followed some narrow paths branching off the main trail and treaded very lightly around the poppies patches.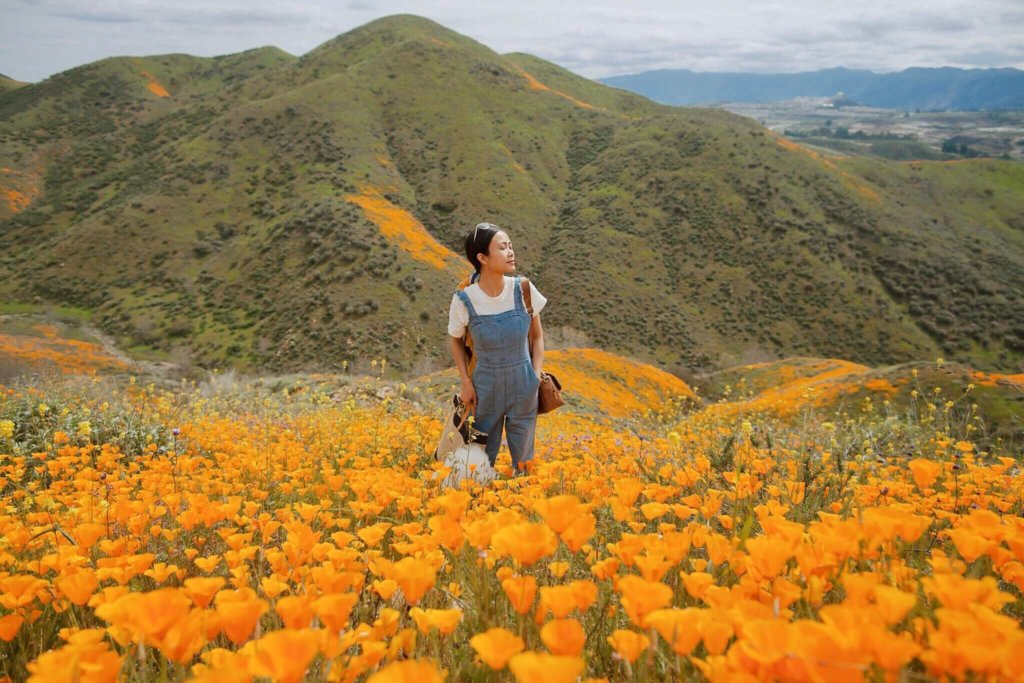 If you're looking to head out to see these gorgeous flowers, here's some info from the city's website regarding viewing areas:
"The recommended viewing area is Walker Canyon Trail located off of Lake Street on Interstate 15 (I-15). Parking is available along Walker Canyon Road. For safety and compliance, a Lake Elsinore Sheriff Station Community Services Officer (CSO) will be on site Saturdays and Sundays from 9:00 a.m. – 5:00 p.m. to assist with traffic. Parking will be available seven (7) days per week. All available parking is parallel parking only. No parking is allowed along Lake Street and no stopping is allowed on the roadways at anytime. Turn Around Areas are established in certain areas on Walker Canyon Road (no in these areas). Parking is at your own risk. For questions or concerns, please contact the City at 951-674-3124."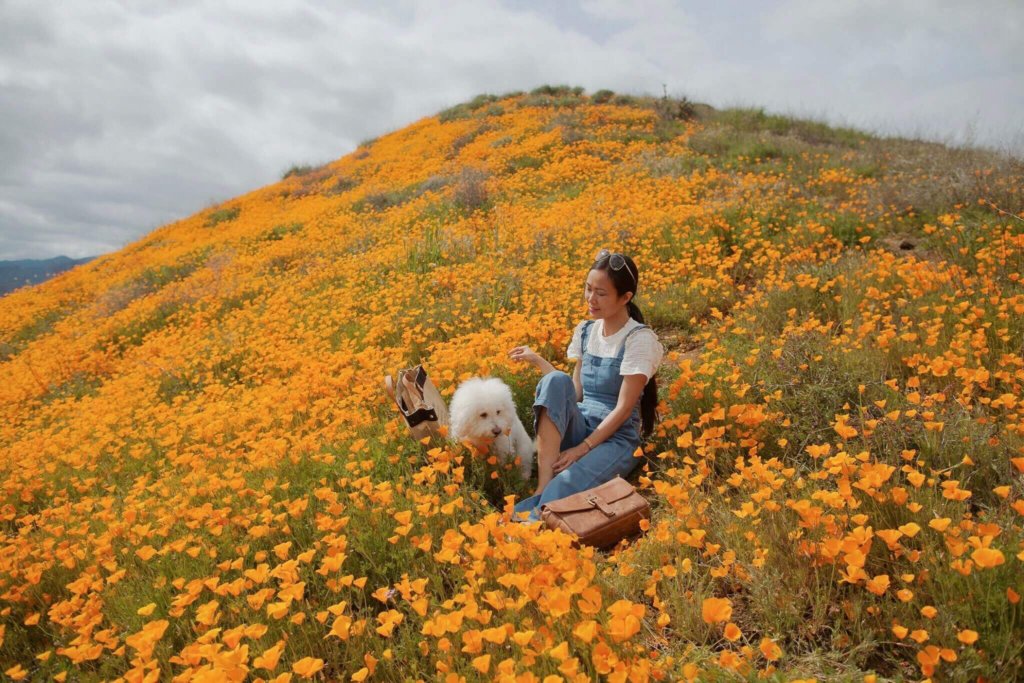 Make sure to get out there in the next week or two to catch the flowers while they're still at their peak!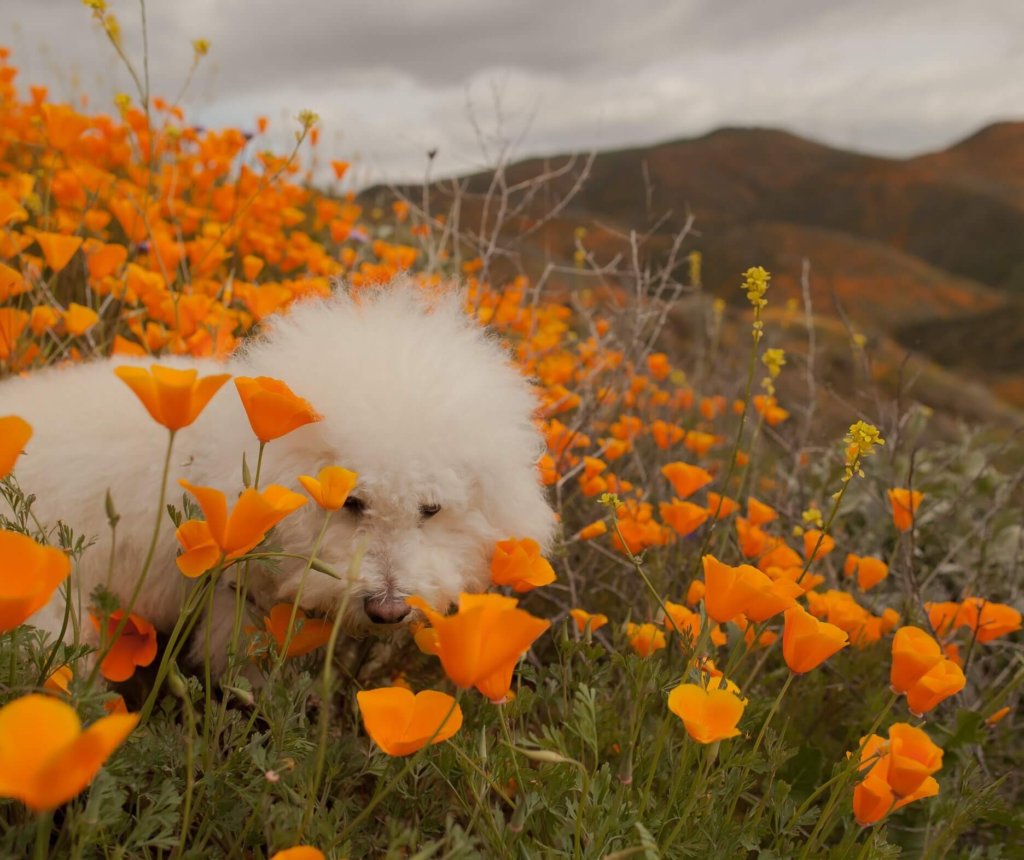 Almond Blossom Orchards in Bakersfield
I've seen them on Instagram. I had to find where the best almond blossoms in southern California. And I was thrilled to find that every spring thousands of acres of almond orchards around Bakersfield burst into incredible displays of pale pink of white blooms. And it's only 3 hours from LA. That makes such a lovely day trip.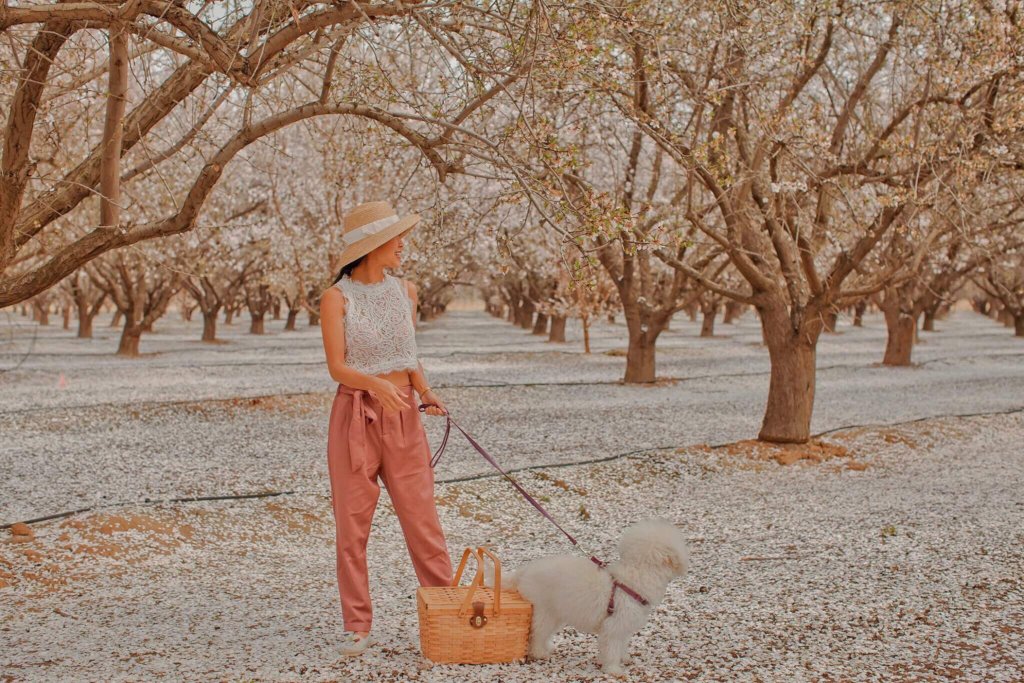 We woke up around 6am and arrived in Bakersfield around 9am so we could photograph the almond orchards with the soft morning light!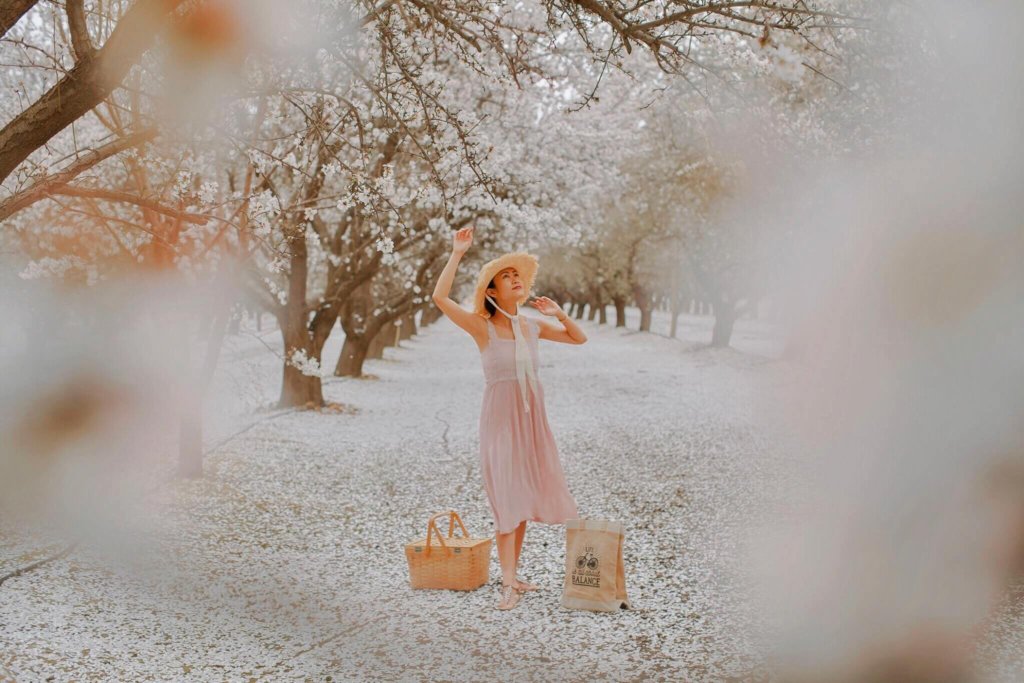 Almond trees in Bakersfield only bloom once a year and as luck would have it, that time of year is usually mid-February to mid-March. But they vary from year to year depend on the weather. They don't last long, usually 7-10 days. If you neglect to check on the bloom time, you could miss them entirely. So around the middle of February, you should start doing some Instagram stalking and ask the locals, "Any bloom yet?" (That's what I did and lucky me, I caught it just in time!)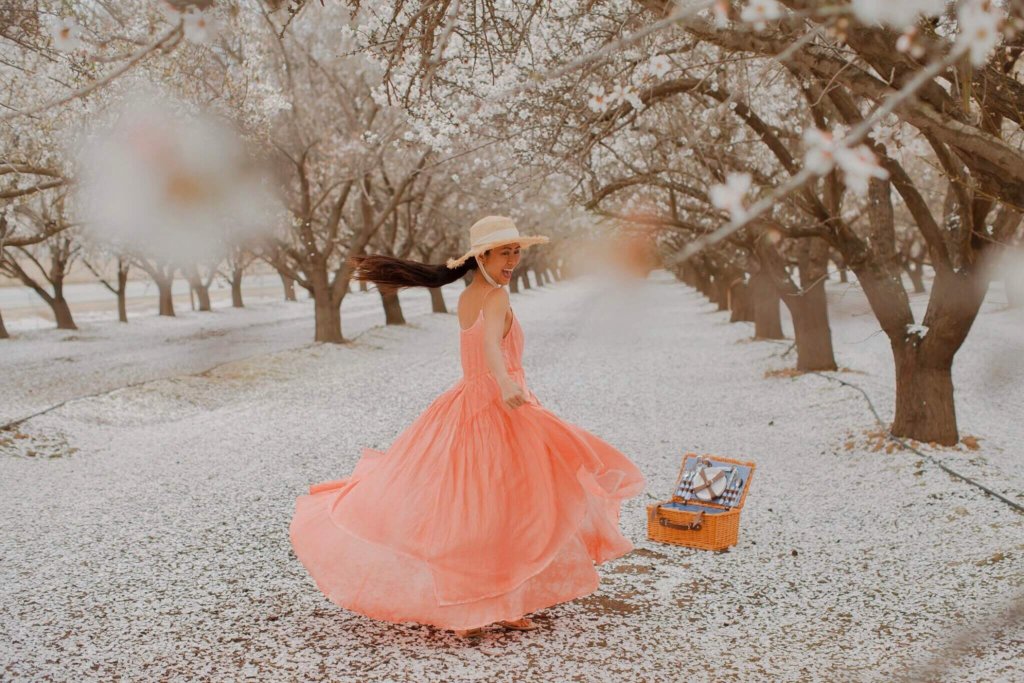 The best time to photograph almond blossoms fields is at sunrise or sunset to get that soft dreamy light. There was space alongside the orchard off the road to park our car, so it was easy to hop out and snap some pics!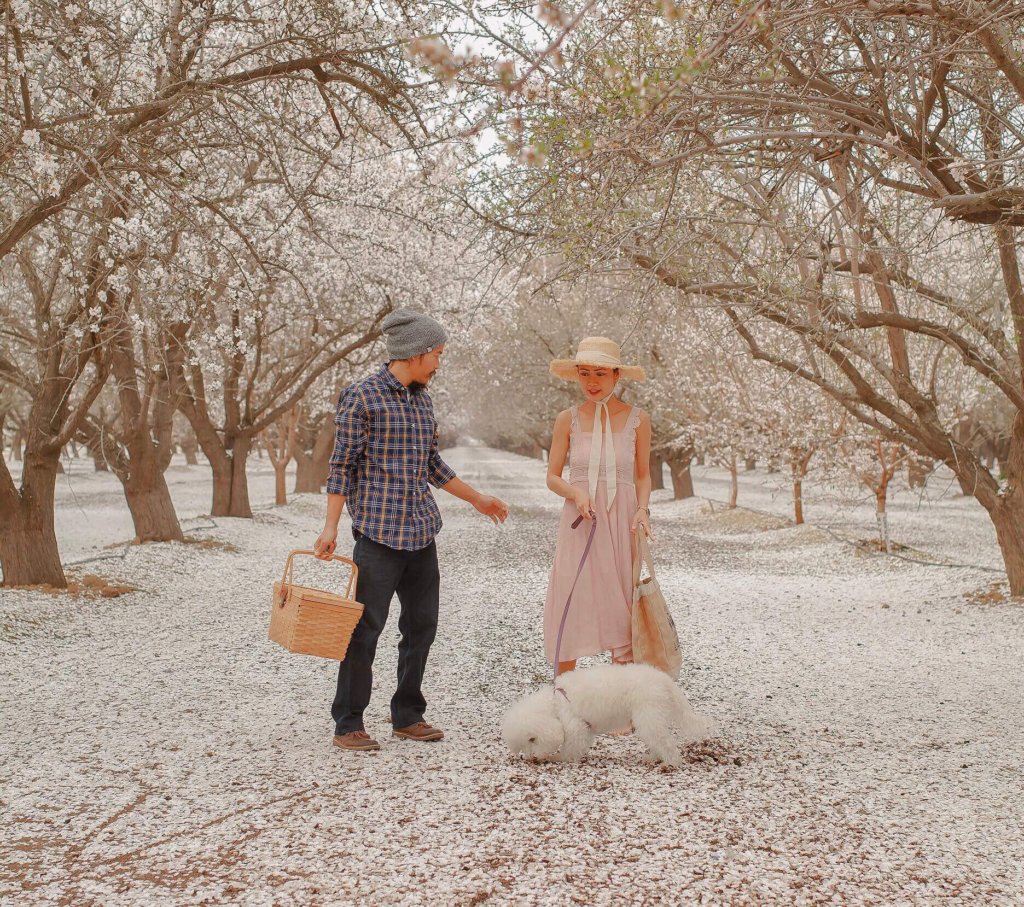 Many photo enthusiasts flock to these orchards to take advantage of the beautiful views, but also may be causing problems for the growers. Local growers say this is the most critical time of year for their crop. If the blossoms are disrupted during this time, this can decrease the yield the final harvest. So please Be Polite! If you plan on taking photos, stick to the edge or first lane and remember to not wander up and down the orchards. Remember that you are trespassing. If you are interested in an extended photography session (engagement/weddding/..) you should contact the landowners ahead of time!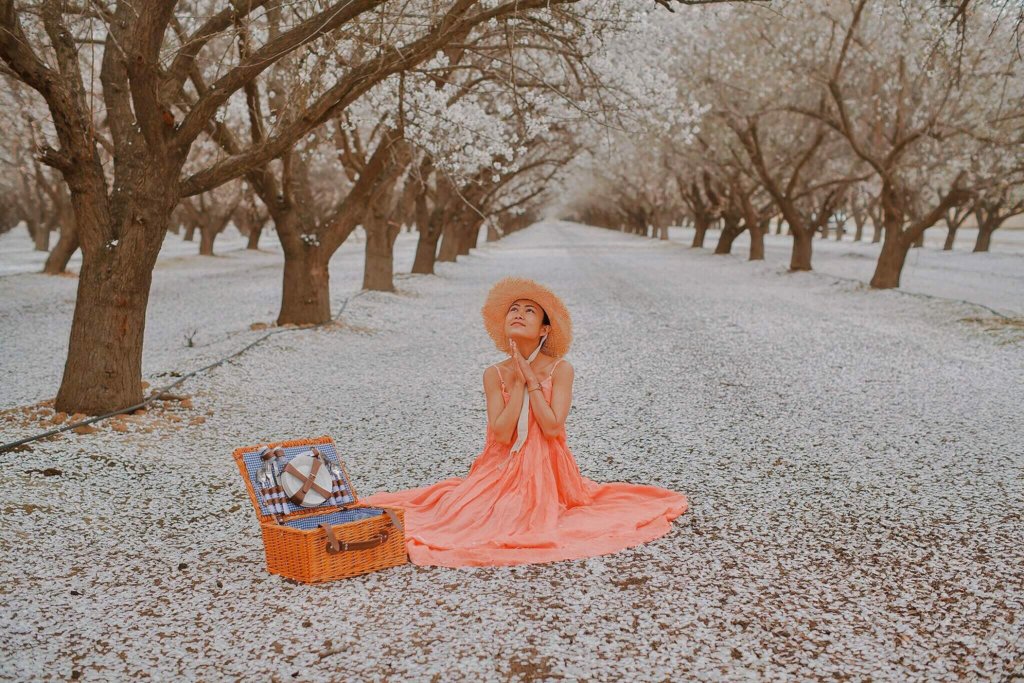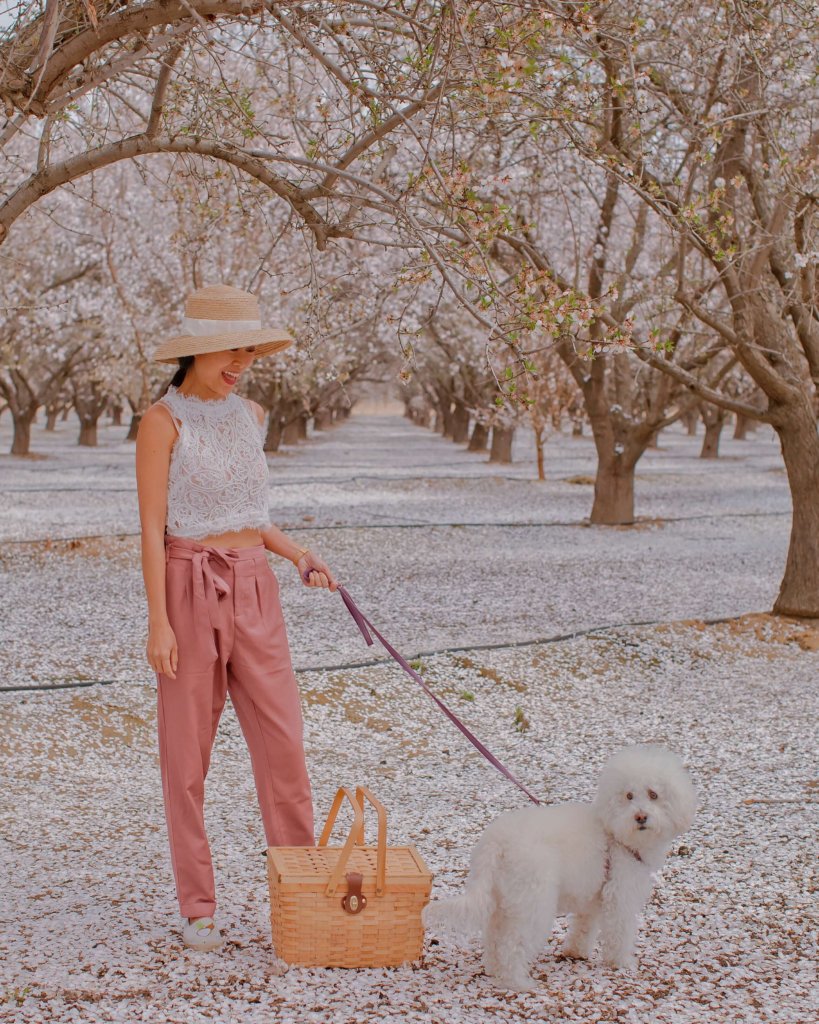 The Carlsbad Flower Fields
Having always wanted to see the tulip festivals in Europe or lavender fields in Provence I felt like the Flower Fields in Carlsbad helped satisfy my wanderlust dreams until I could fulfill them. Every year from March 1st to May 13th, 50 acres on the west side of Carlsbad come alive with the beauty of thousands of blooming Ranunculus flowers.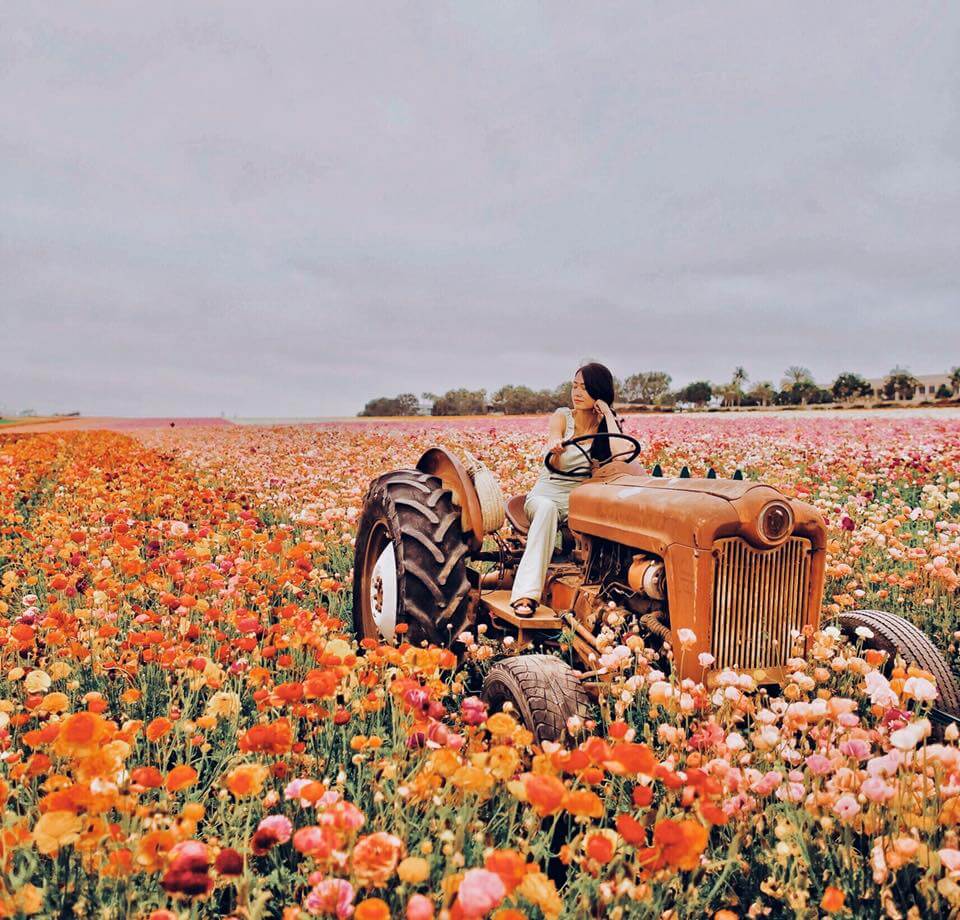 The flowers themselves are found in a variety of colors ranging from white and yellow to rich purples and oranges. You'll find roses, orchids, sweat pea blossoms, petunias, poinsettias, and more, but the main attraction is the nearly fifty acres of Giant Tecolote Ranunculus flowers.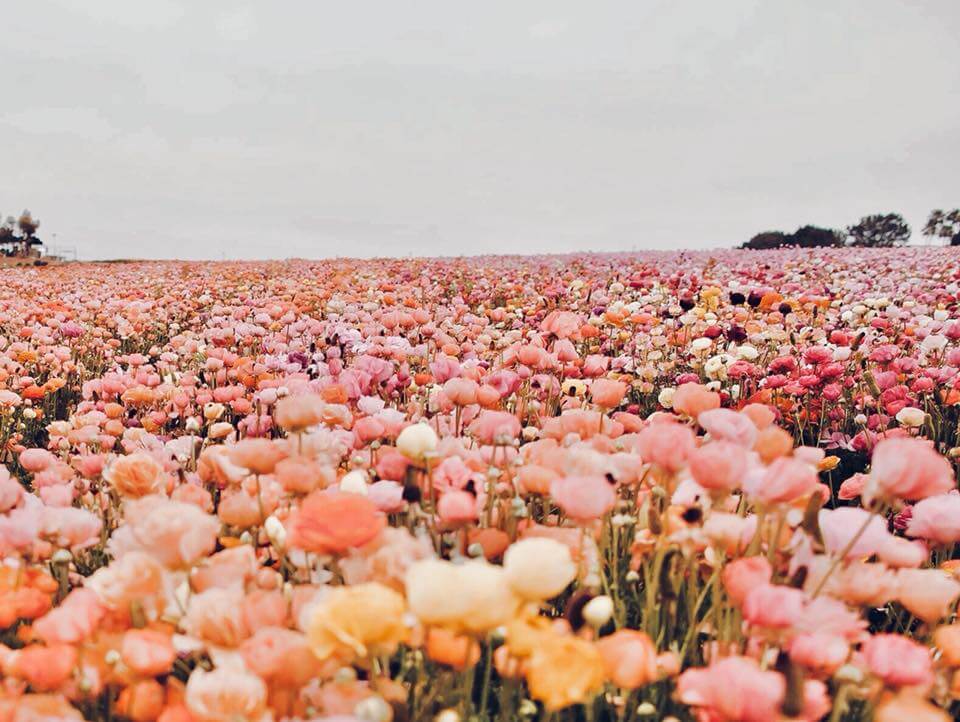 The fields are split into sections by color which gives you a unique view over the many different flowers that dot the hillside. It is an amazing view, seeing so many flowers blooming all in unison.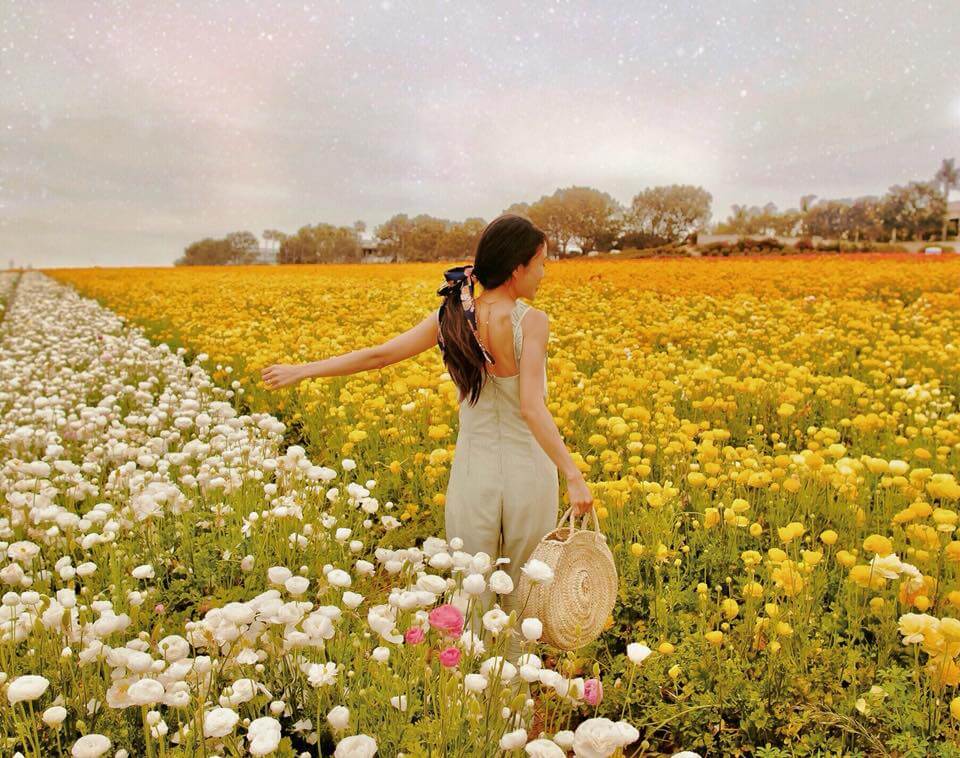 You could spend hours on the 50 acres of blooming hillsides which overlook the Pacific Ocean and Carlsbad Outlets. It's the perfect way to spend a weekend afternoon ~ walking through gorgeous colored flowers, lunch and a little shopping! Or you can even make a full day out of it and head to the beach before or after looking at the flowers.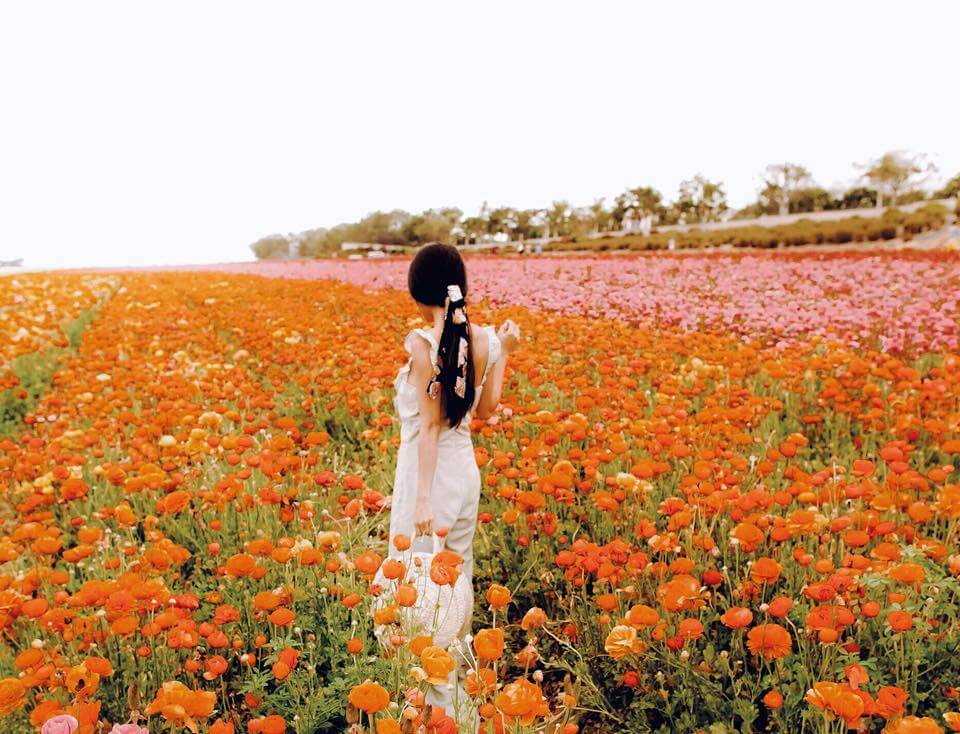 Descanso Gardens
Guess what? Cherry blossoms don't exclusively grow in Japan. You can see them bloom in Los Angeles, too!
Located at 1418 Descanso Drive in La Cañada Flintridge, Descanso Gardens feels like it's tucked away from the hustle and bustle of the city.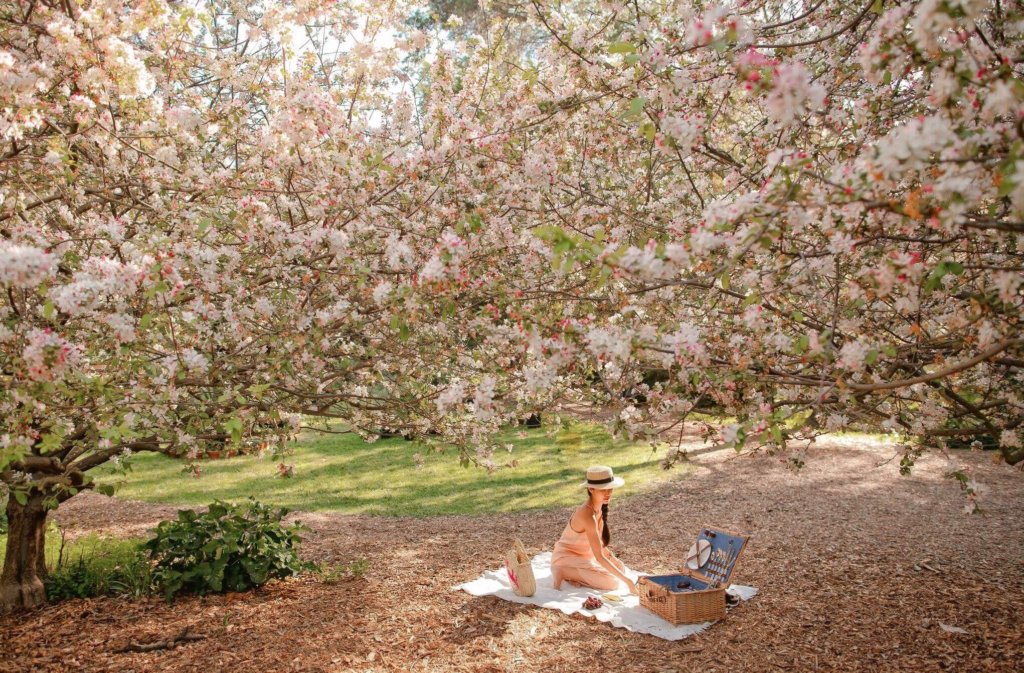 The Descanso Gardens features a beautiful Japanese garden, an arched bridge over a stream filled with swimming koi fish, and a rustic teahouse. All these structures are even made more authentic-looking with all plants native to Asia including camellias, azaleas, mondo grass and Japanese maples.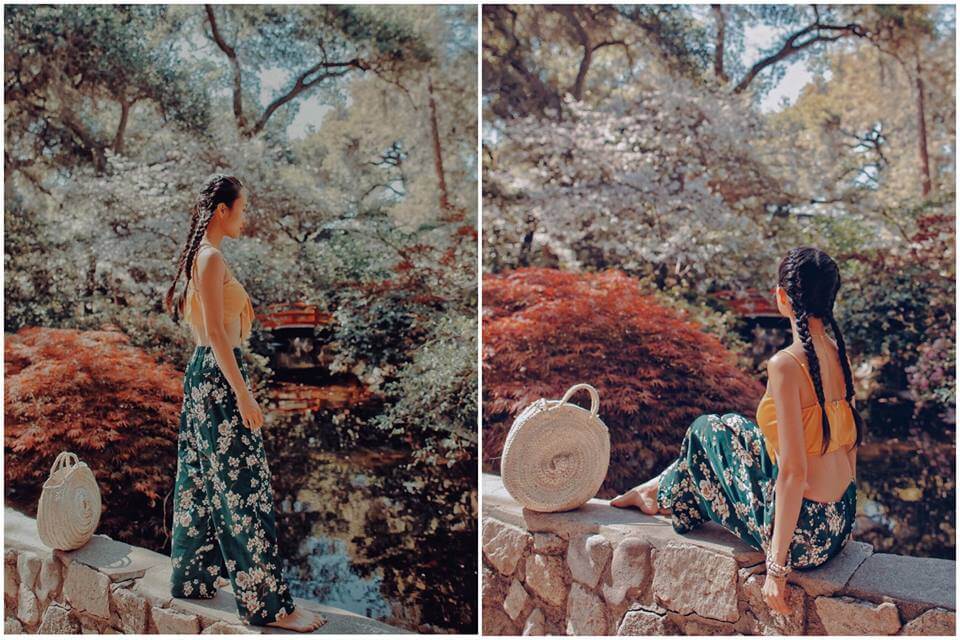 Descanso Gardens is even more stunning in spring when tulips are in bloom!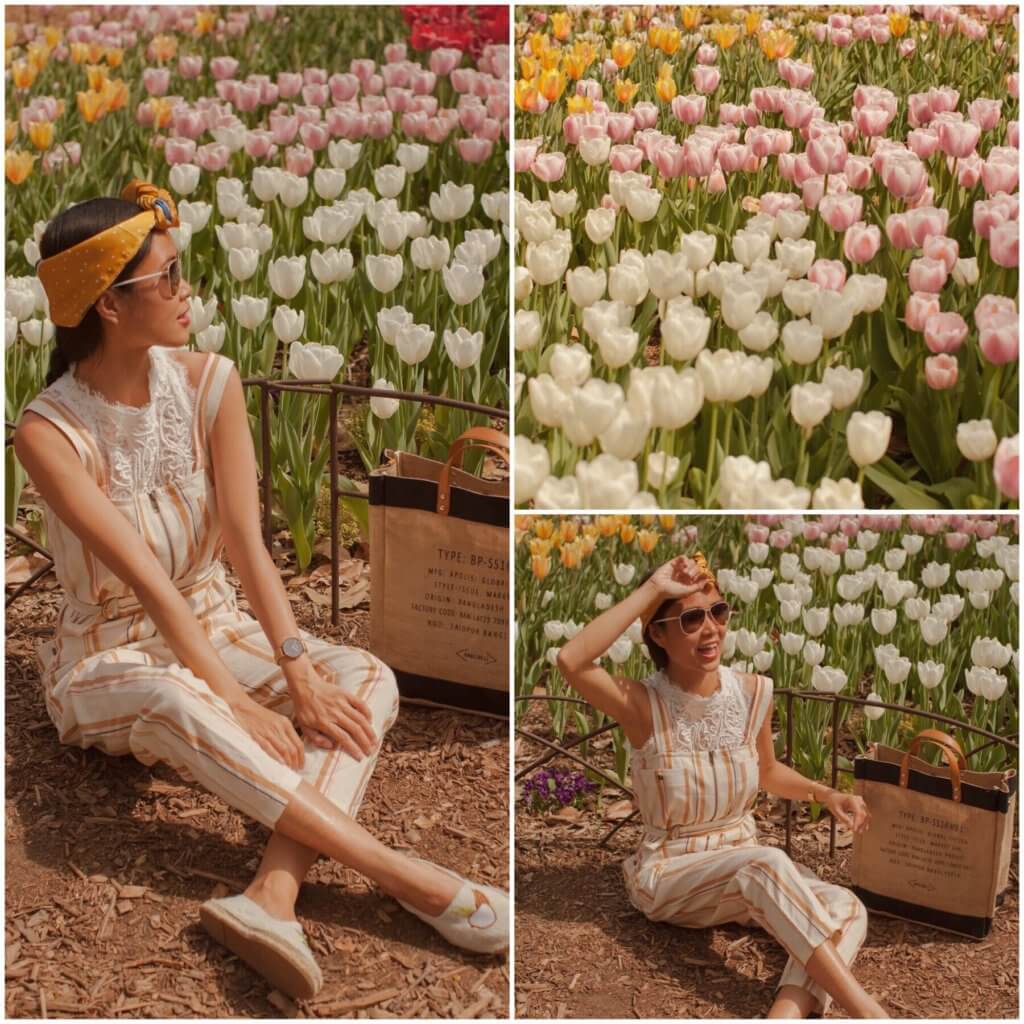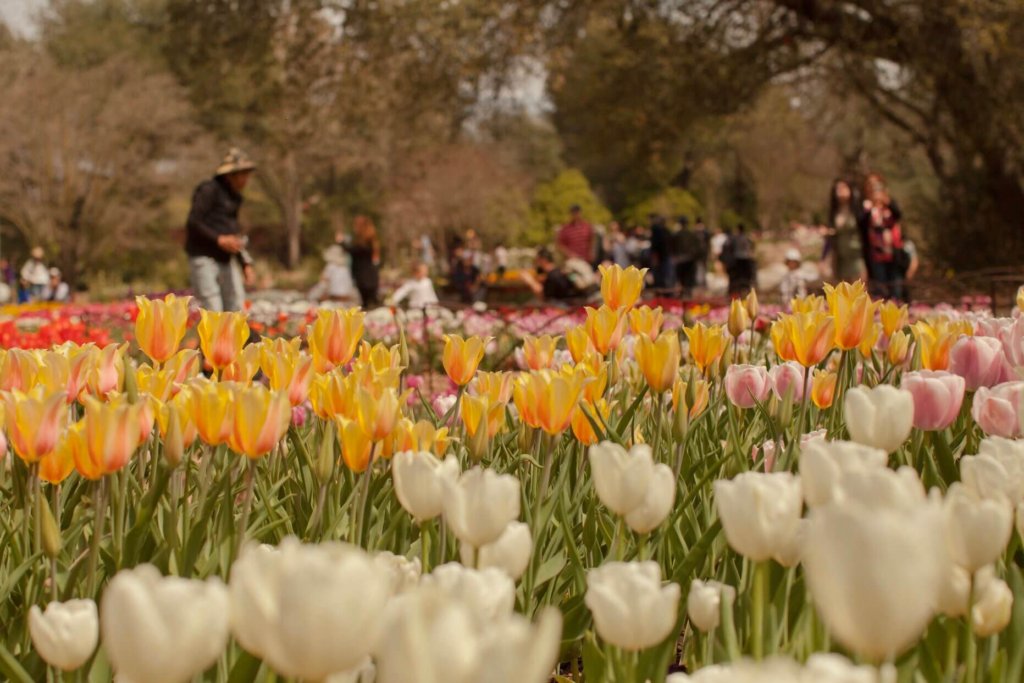 There were tulips beds everywhere. How thrilling to stroll from color to color!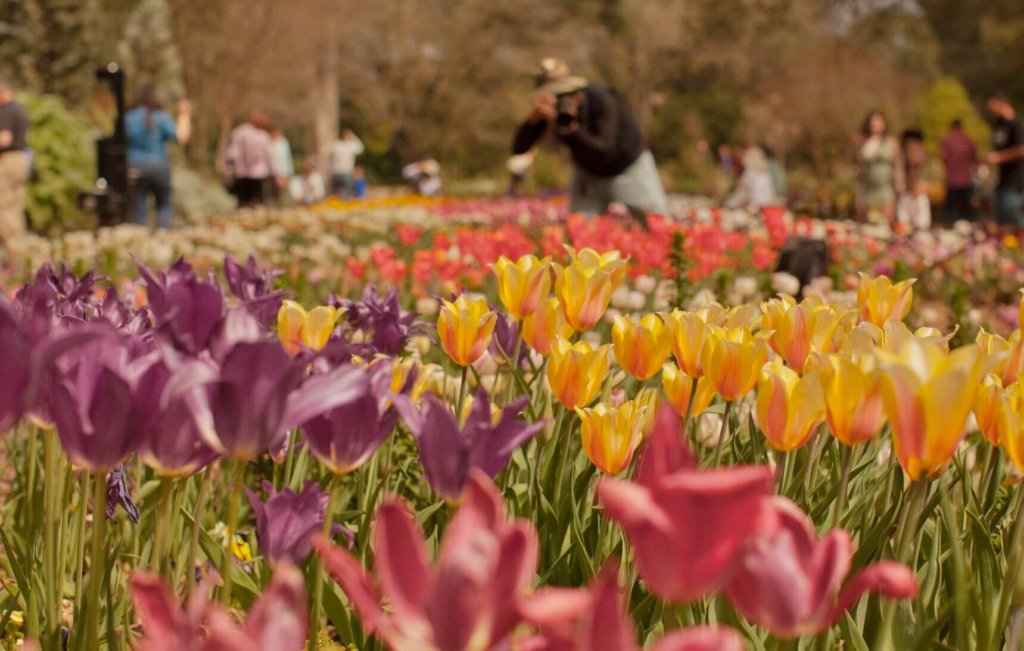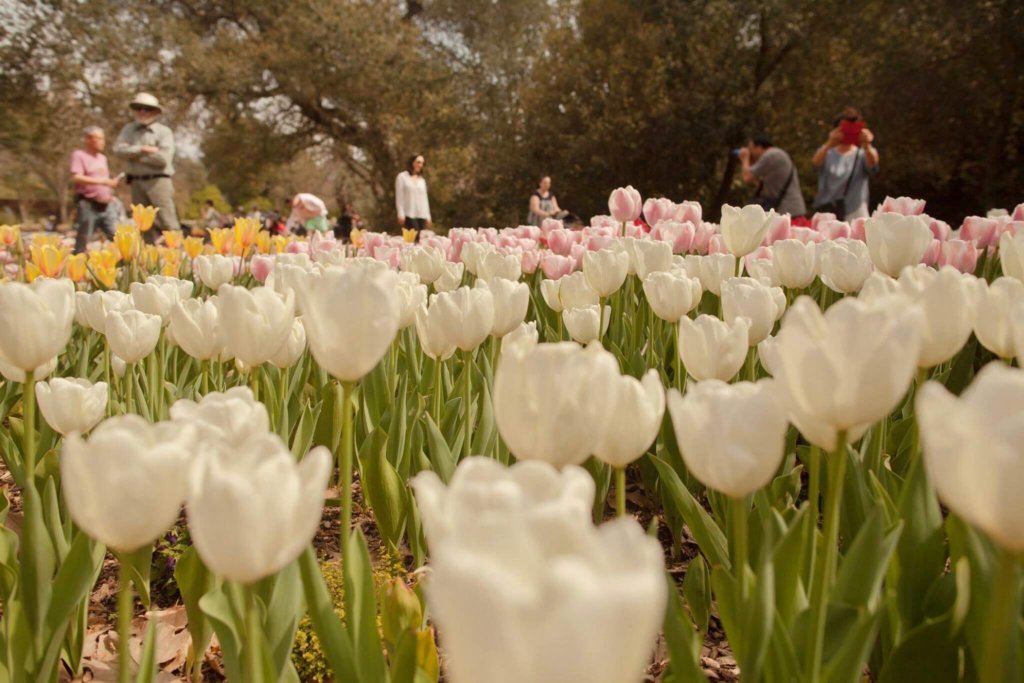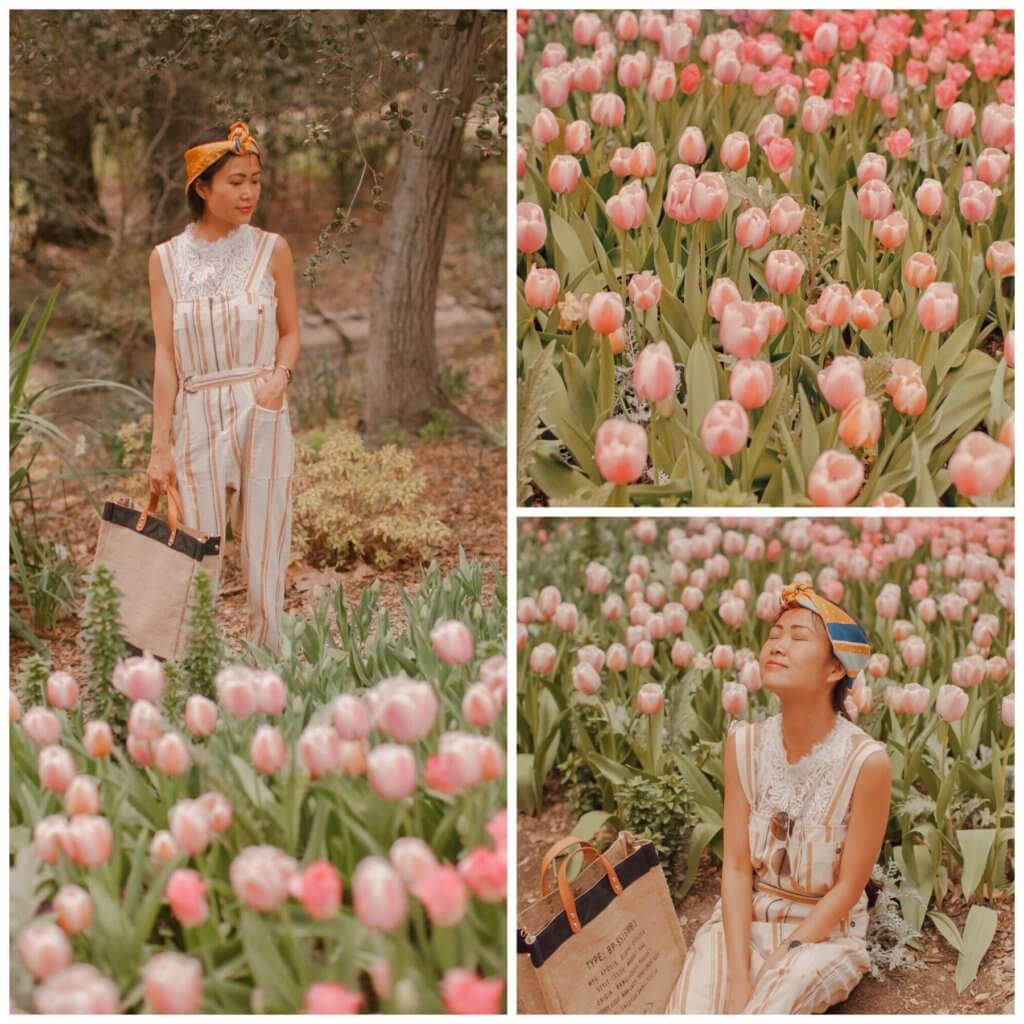 Things you need to know before your visit:
Location:
1418 Descanso Drive
La Cañada Flintridge, CA 91011
Ph. (818) 949-4200
Hours: Descanso Gardens is open daily except for December 25. Hours are 9am to 5pm (last entry is 4:30pm). There is ample free parking.
Admission:
General $9
Seniors 65 and over/Students with ID $6
Children (5 to 12 years) $4
Descanso members and children under 5 are free.
General Admission tickets can now be purchased in advance. Just present your printed ticket or show your email on a device at the bridge for entry. There is no processing fee for online tickets.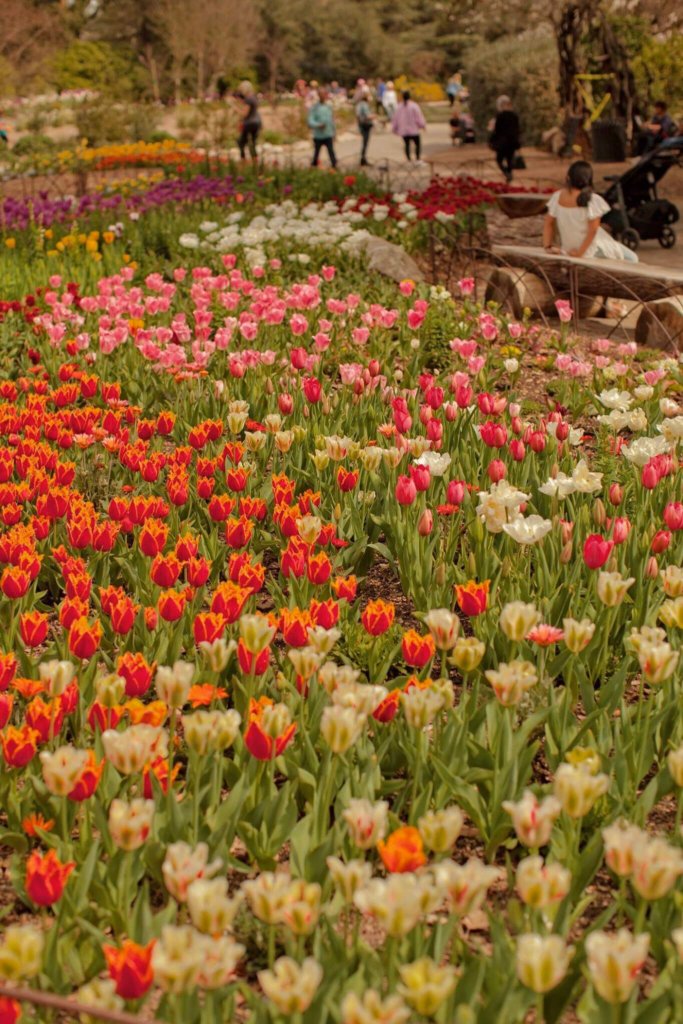 Do you have any favorite flower spots in LA?