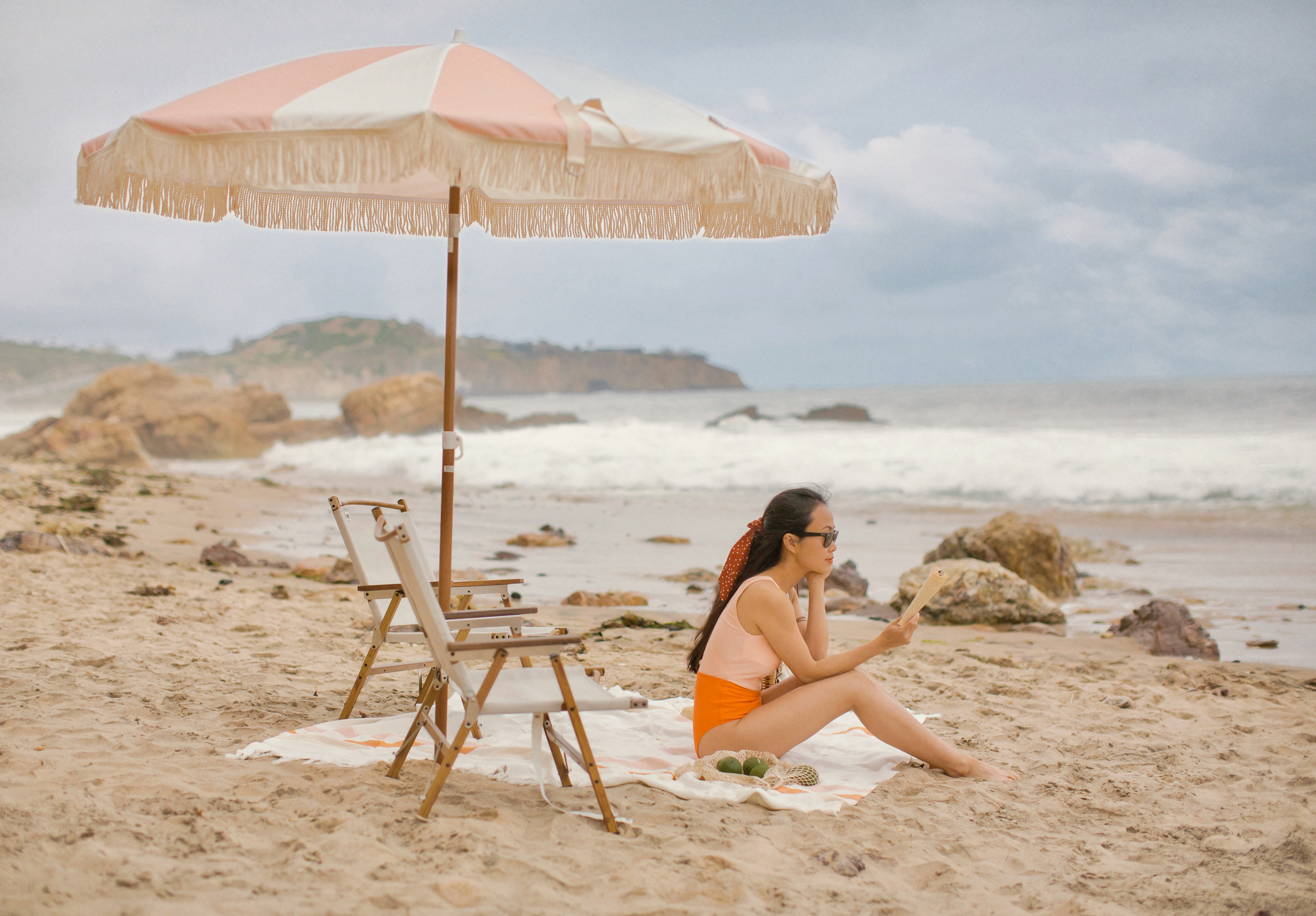 If you have been scrolling through Instagram or Pinterest, you will notice that things are looking distinctly retro – from fashion to social media editing style. It seems like what's new is old, and what's old is new! And the world of beach gear is no exception; this season's beach gear is taking inspiration from summers' long past.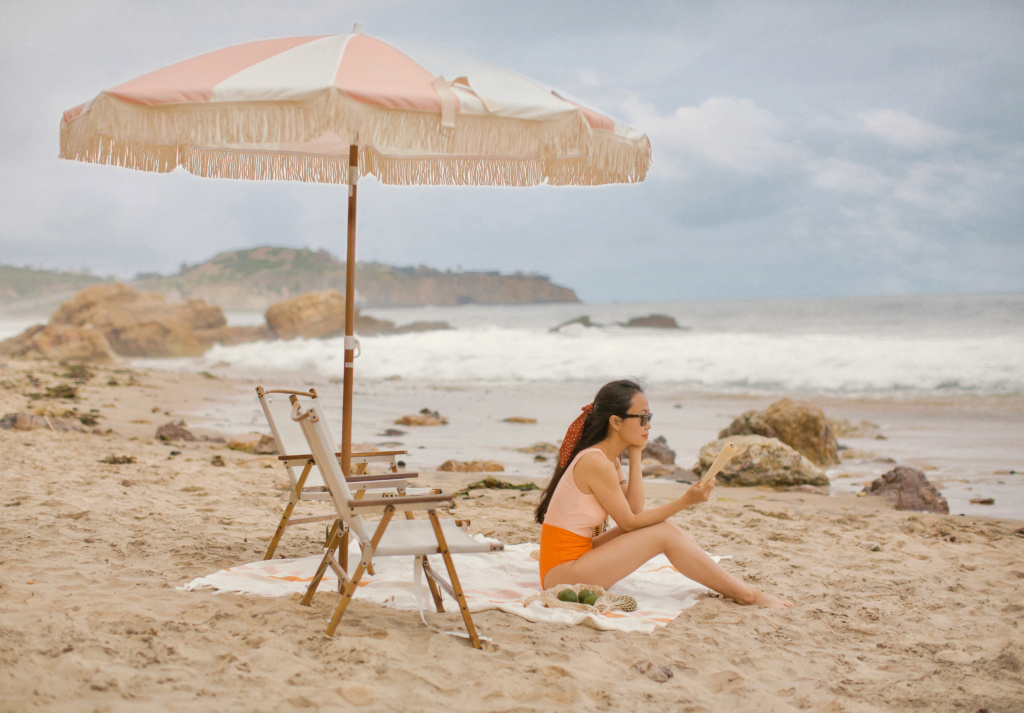 Beach State Shop has you covered from vintage beach umbrellas, retro looking beach chairs to beach blankets. My favorite beach gear from their shop are the Pink Salt Stripe Umbrella, the Las Palmas Beach Chair, and the Ocean Side Beach Blanket!
Beach Umbrella
There are always two beaches—the one you imagine and the one you end up on. Somehow the beach gear is always duller, the colors and patterns feel plain, and the blankets/towels less inviting than you remember them being. But with State Beach 70s' vintage-inspired premium beach umbrella and chair, you can close that gap between fantasy and reality.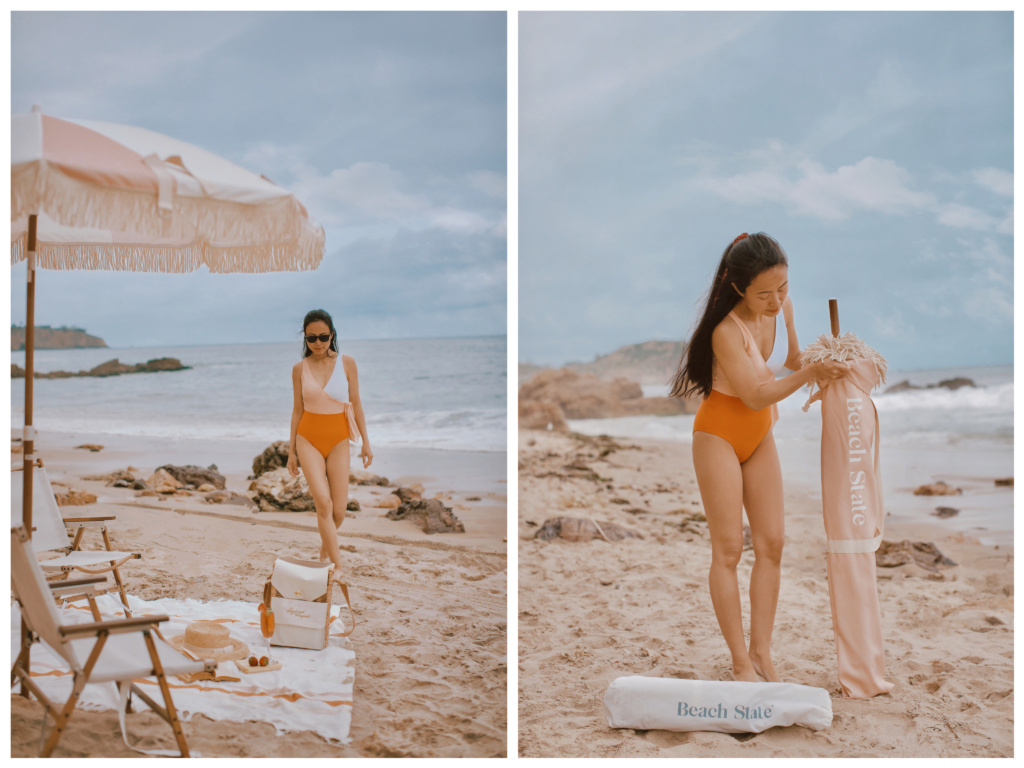 Since I saw State Beach Shop on Instagram, I have been falling in love with their Pink Salt Stripe Summerland Beach Umbrella. The vintage-inspired style of the rosy pink stripes with cream cotton fringe makes our beach days feel like we are in a holiday destination. If looking chic while you're at the beach is a priority, this vintage-inspired umbrella is for you.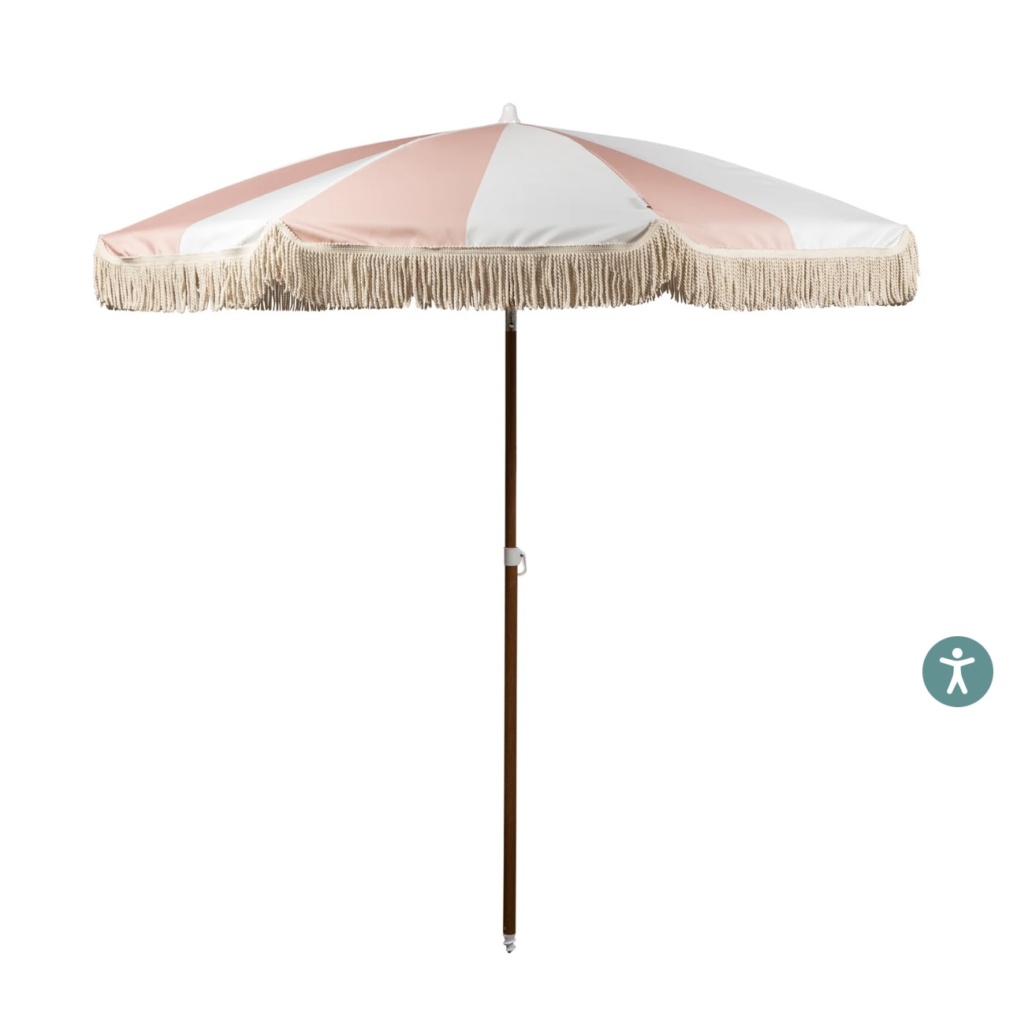 This one of a kind luxury beach umbrella is light weight, height adjustable, and super easy to carry and assemble on the beach! In addition, these beach sunshades are crafted from UV- and water-resistant durable canvas with cotton fringe. State Beach umbrellas are some of the best beach umbrellas on the market to use this summer and beyond (because they are also built to last!).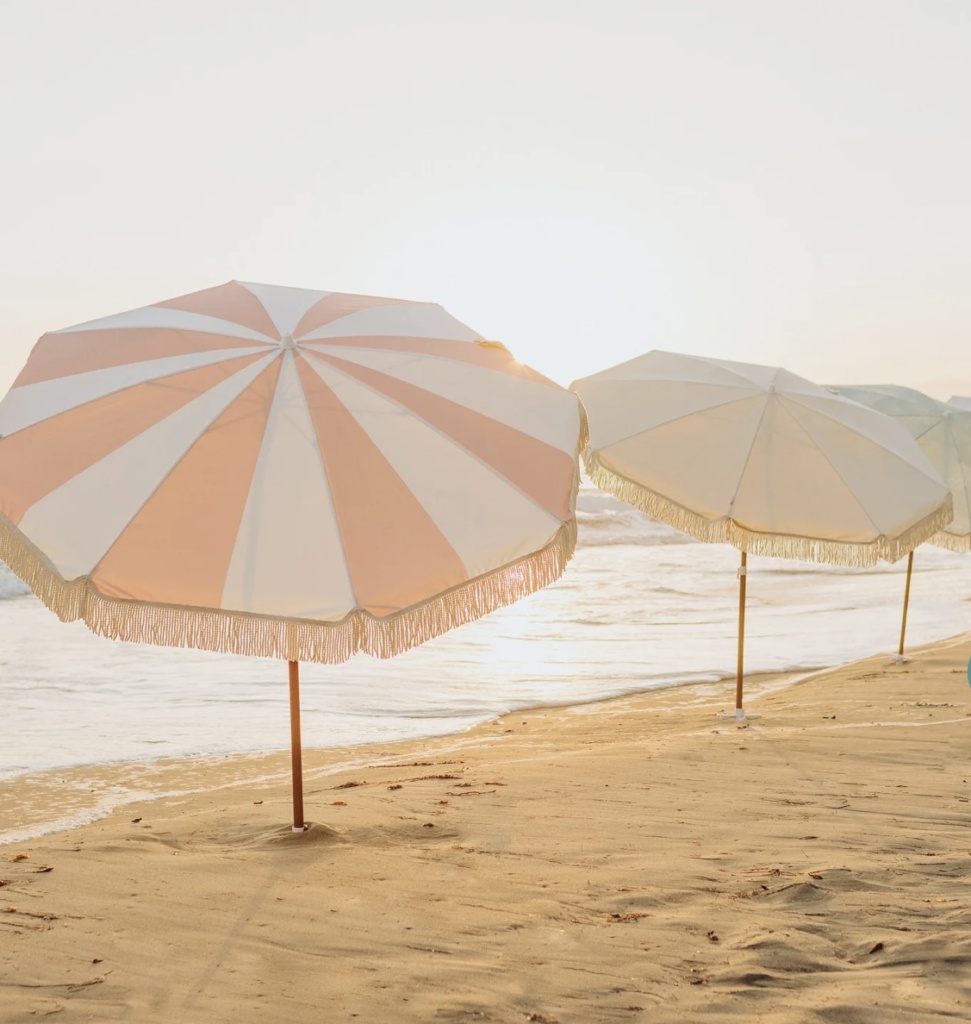 Each beach umbrella comes with its own lightweight, beach savvy, carrying bag. The carrying bag is exceptional for beach travels offering a comfortable shoulder strap and adjustable draw string. These fabulous carry bags make for easy transport to and from the beach, the park, or anywhere your travels take you!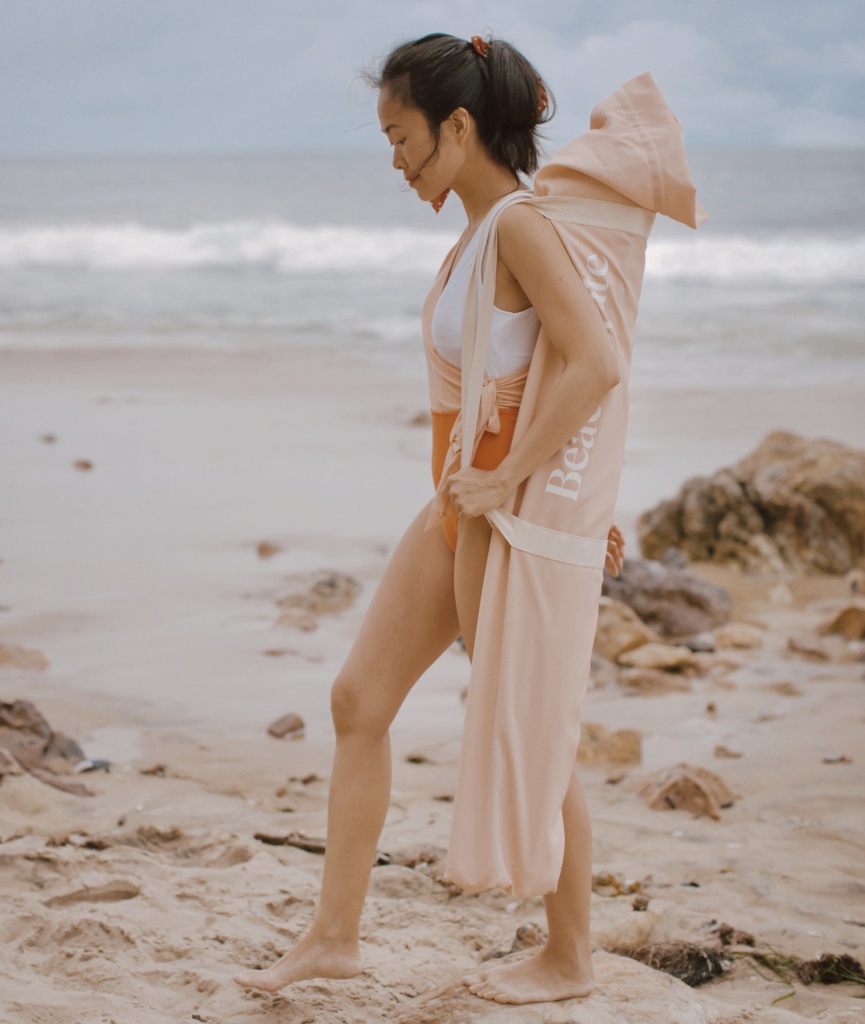 State Beach outdoor umbrellas are just as gorgeous on the beach as it is on the patio. This hang loose vibe is strong from the sand to the pool. Set up your beach picnic with the gentle crashing of waves in the background or your fabulous pool party with a fruity cocktail in reach, glam up for your picture perfect moments with Beach State Vintage Retro Beach Umbrella.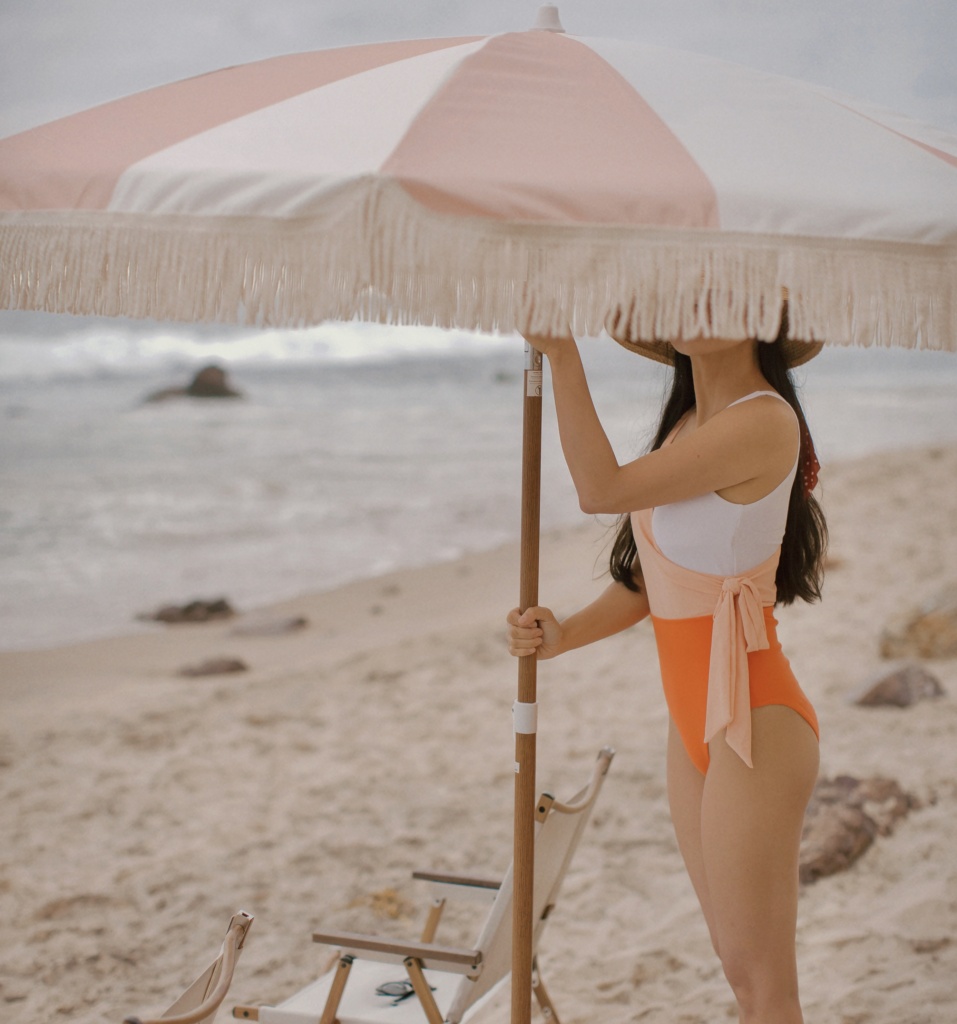 Beach Chair
So you've got a beach umbrella. Now you're going to need a beach chair as well. Just like beach umbrellas, a lot of the offerings you'll find at the local department store are somewhat lacking in visual appeal. A lot of them look flimsy and use dull colors.
Sturdy yet lightweight and oh-so-stylish, Las Palmas Beach Chair from the State Beach Shop will have you yearning for long summer days spent by the water! Whether tanning, napping, sitting up, reclining, or reading, you can lounge in style with this beach chair.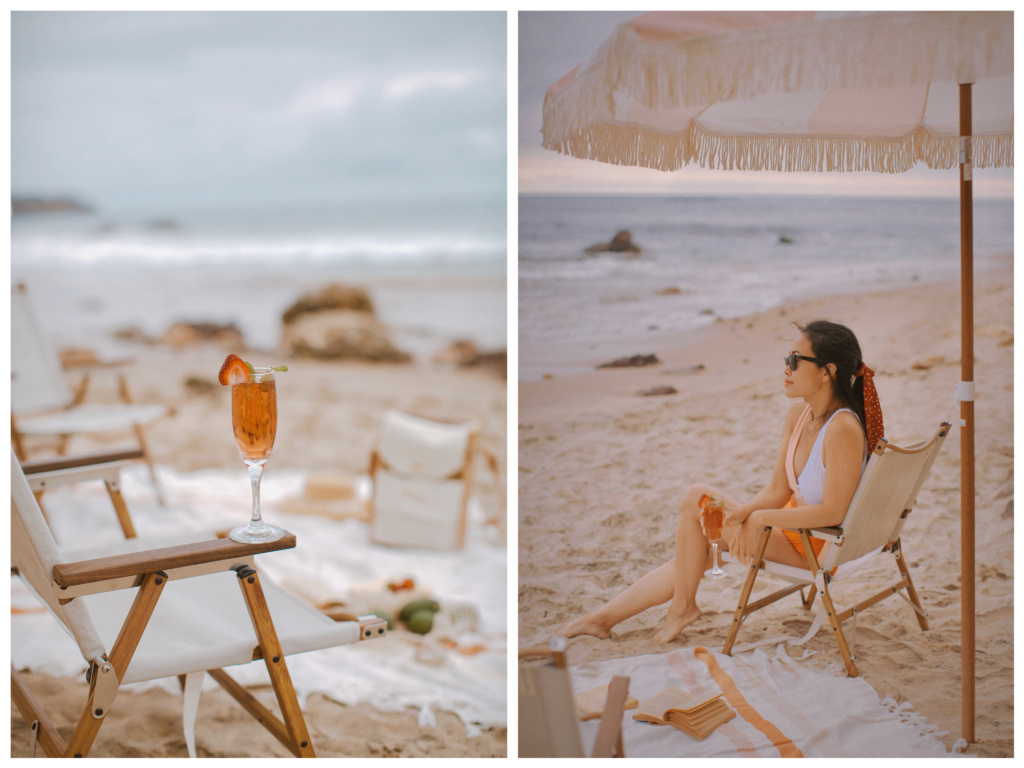 Obviously, you're going to want your beach chair to look fantastic – just remember however that you're going to be sitting on the thing for long stretches of time. A lot of beach chairs use synthetic materials that aren't comfortable to sit on for long. Las Palmas Beach Chairs are made of high-quality, UV-resistant canvas that are naturally soft, and also wrapping the fabric more loosely so that your chair has a more buoyant feel to it. After all, comfort should never come at the expense of style.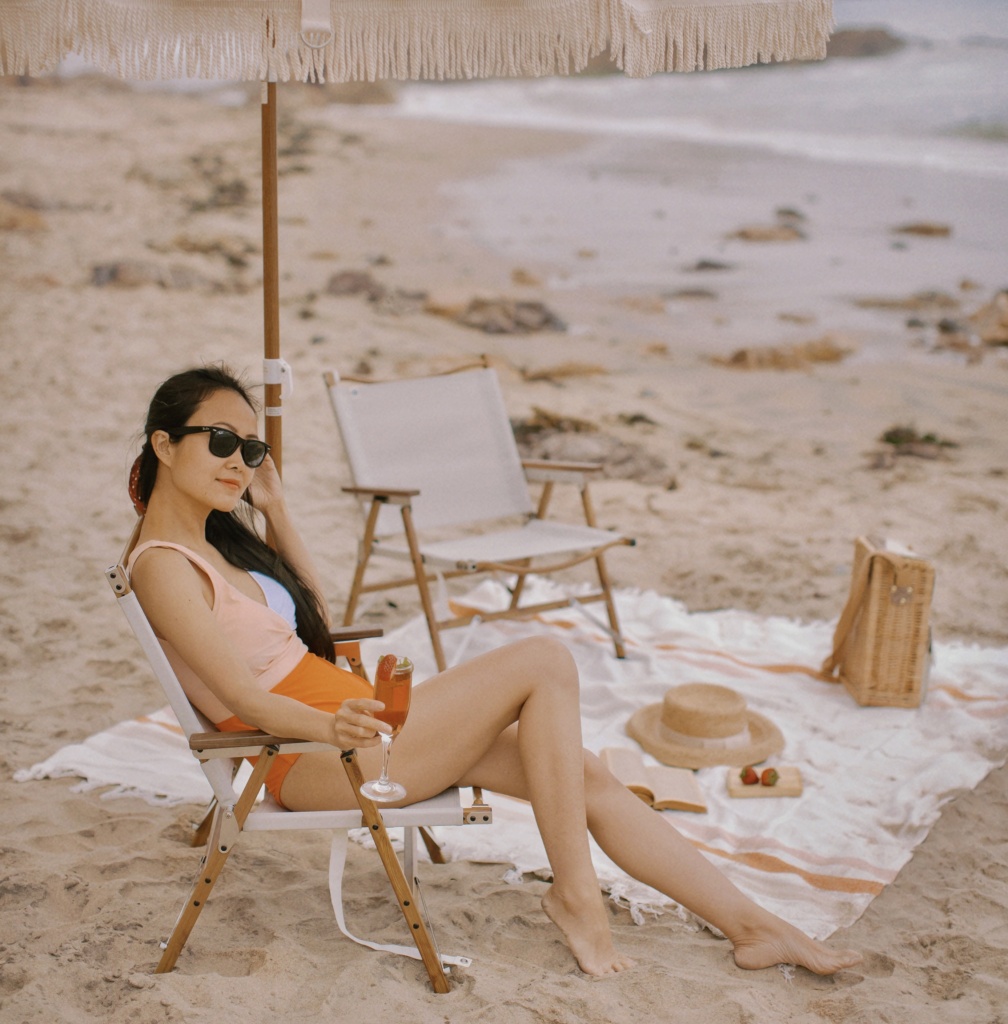 This beach chair is durable with lightweight (6lbs) aluminum frame and is collapsible for easy storage and transportation. It's perfect for the beach, lake days, camping and concerts. I love how easy it was to put together and that I can carry it folded or take it apart to store in the carry bag. The neutral colors make it easy to match with all of my beach outfits.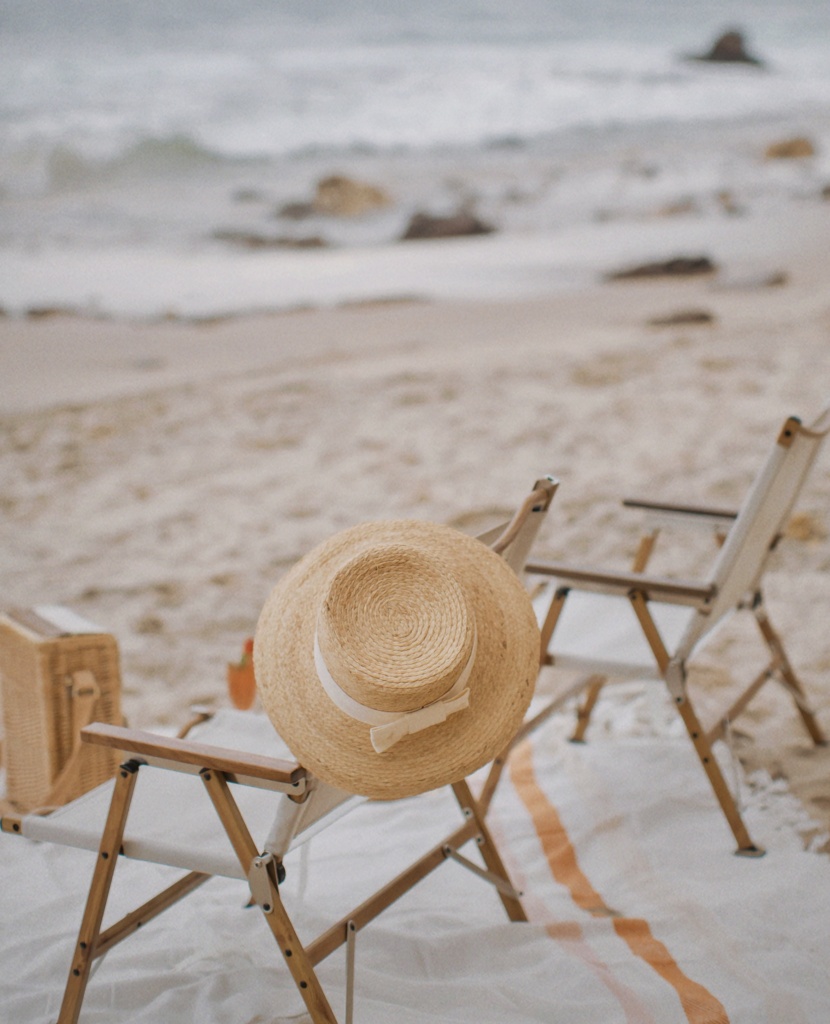 Beach Blanket
Imagine: you're having the most stylish set of retro inspired beach umbrella and chair, but you arrive at the beach with a regular old towel? Luckily for you, Beach State Shop has everything you need for a summer in the sand and sun. Looking for beach towels with a unique retro style to it? Simply want something that'll stand out from the rest of the crowd? The Oceanside Beach Blanket is your answer.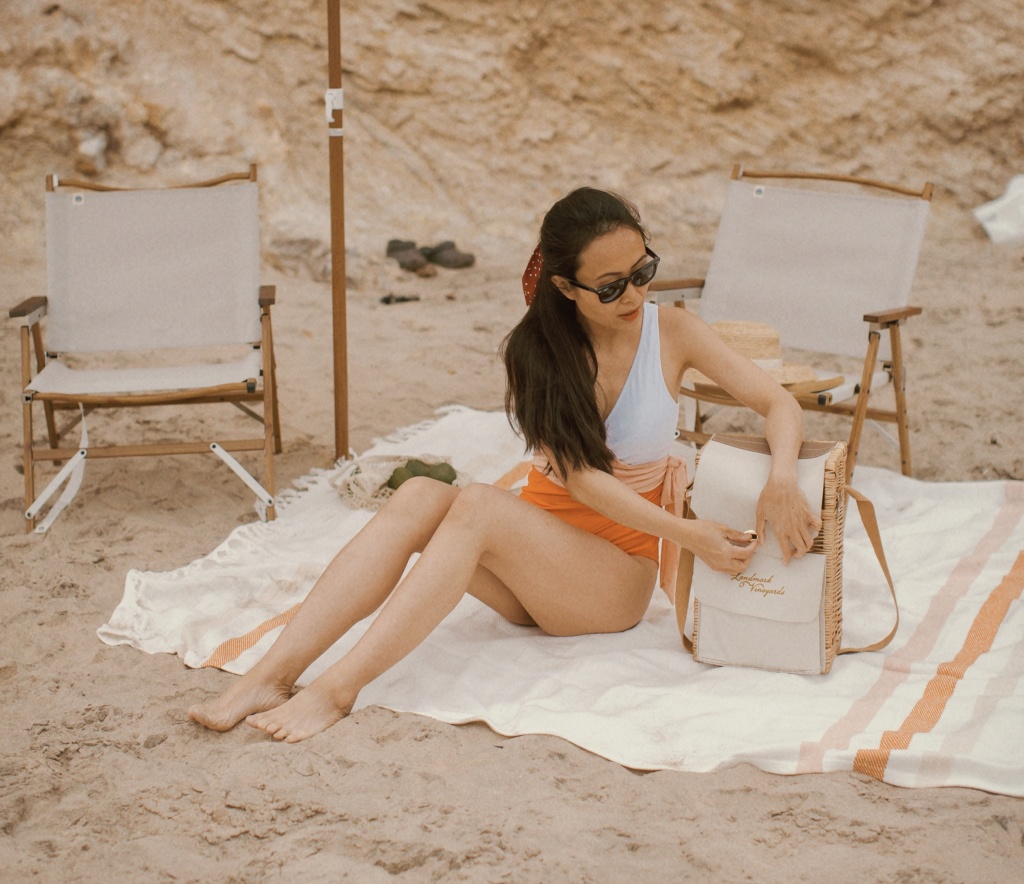 This beach blanket will bring style to any of your beach beach attire and daily routine. They are generously sized at 66 by 80 inches, leaving plenty of room for tasteful picnics, impromptu photoshoots, travel-minded friends, or just stretching out to enjoy dreams of your next exotic locale.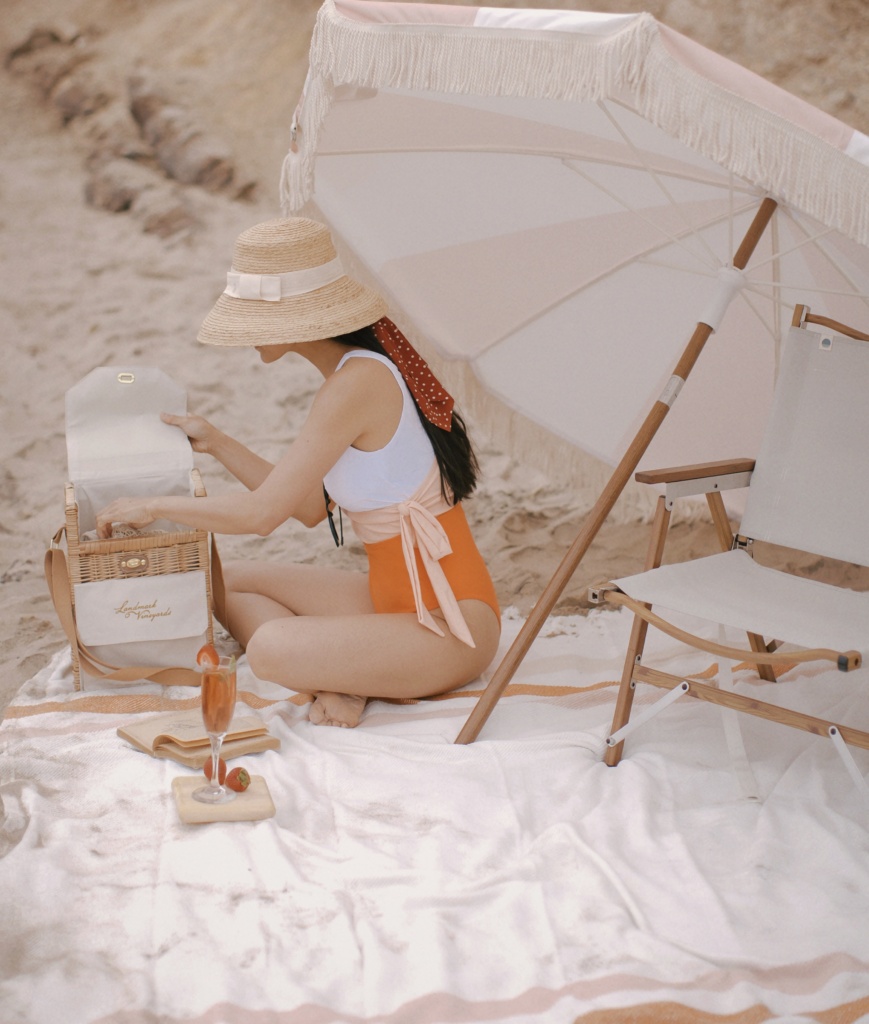 Made of ultra-soft 100% cotton, this beach/picnic blanket is fast drying, durable and breathable. Simply machine wash and hang dry to prep for the next adventure.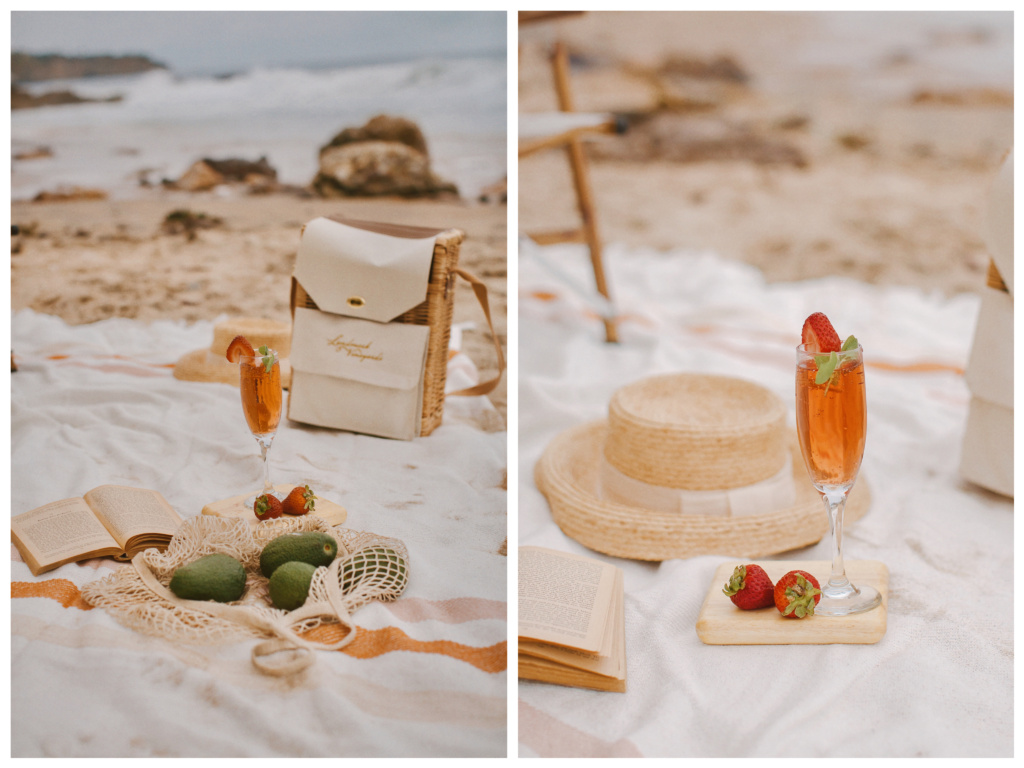 Final Thoughts
Vintage is in! Keep with the trends this summer and make a statement on the beach with Beach State Gear. Do not settle for the boring, strictly functional ones you'll find in your local department store. Choose a premium beach umbrella, beach chair, and beach towel from the Beach State Shop and bring the nostalgic retro romance to your beach days. Each of Beach State Shop products has a unique sense of style, drawing from the best that past time periods have to offer. Built for both the beach and/or the backyard, these beach gear will stand the test of time. Whether you're lucky enough to live close to the water or plan on taking a seaside vacation, now is the perfect time to begin collecting the gear you'll use all season long. Let's kick off your summer with this vintage look!
***Thank you to Beach State Shop for kindly sponsoring this post. All opinions are 100% honest & completely my own.
PIN THIS POST FOR LATER