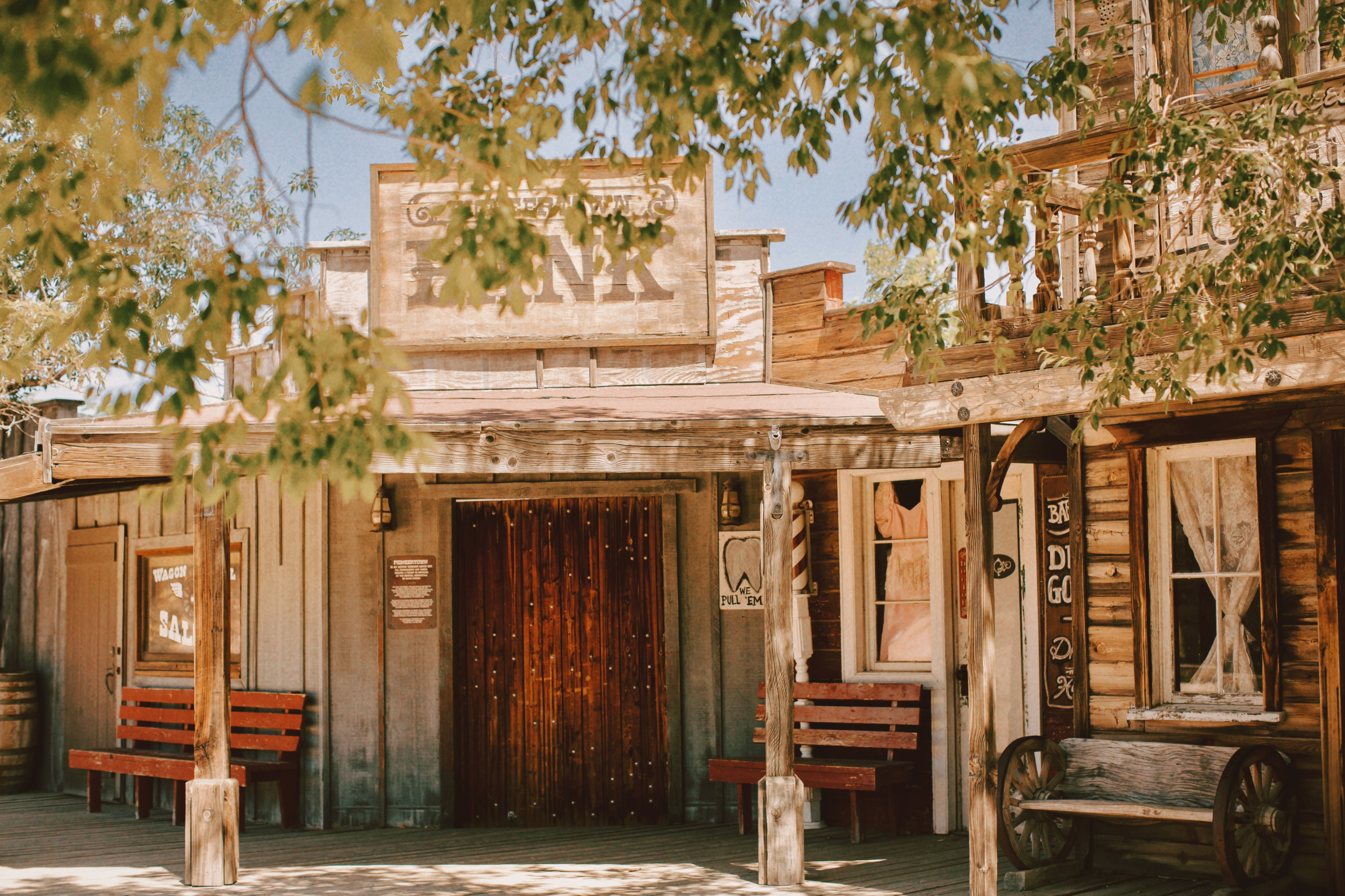 A Complete Guide To Visiting Pioneertown, Joshua Tree
If you're looking for an off-the-beaten-path destination in Joshua Tree, look no further than Pioneertown. While Pioneertown has existed for decades, it remained largely unknown for many years. The town recently got its claim to fame thanks to famous neighbors like the Joshua Tree National Park.
Walking down Mane Street in Pioneertown is like stepping into the Wild West. Pioneertown was first conceived as a movie set in 1940. It's fascinating to see how the set has been preserved and turned into a town. There are shops, restaurants, and even a hotel in Pioneertown, so you can easily spend a day or two exploring this unique spot. I have written this blog to include all up to date information, directions, advice, and tips to help you make the most of your trip to Pioneertown.
History of Pioneertown
Pioneertown was originally founded in the 1940s as a movie set with the special feature that all the buildings had to be functional and not just for show. That's why the place was immediately conceived as a real living city in the middle of the desert in California. This town was used for many commercials, movies, and music videos over the years.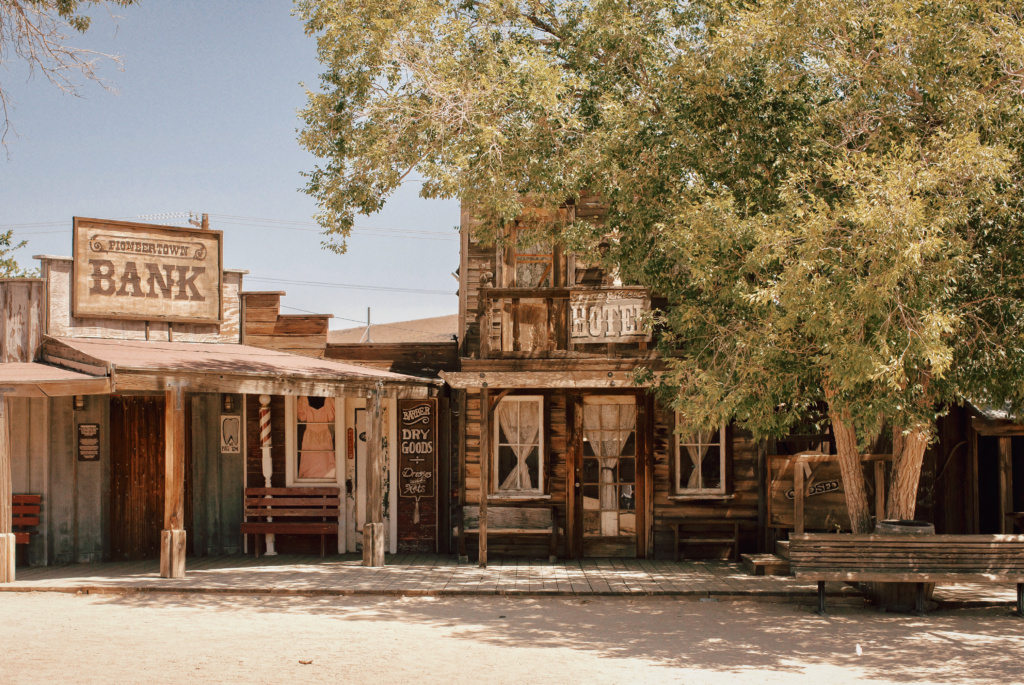 Today there are just over 300 people living here. This town is no longer used to make Old West movies. Instead, it's a real town with a few houses, restaurants and all the remains of the movie set that you actually walk around.
Where is Pioneer Town?
Pioneertown is located just 15 minutes from Joshua Tree, 32 miles from Palm Springs, and about a two and half hours drive from downtown Los Angeles. Pioneertown can be reached via Interstate 10 to Highway 62, with clear signs along the way pointing travelers in the direction of the town.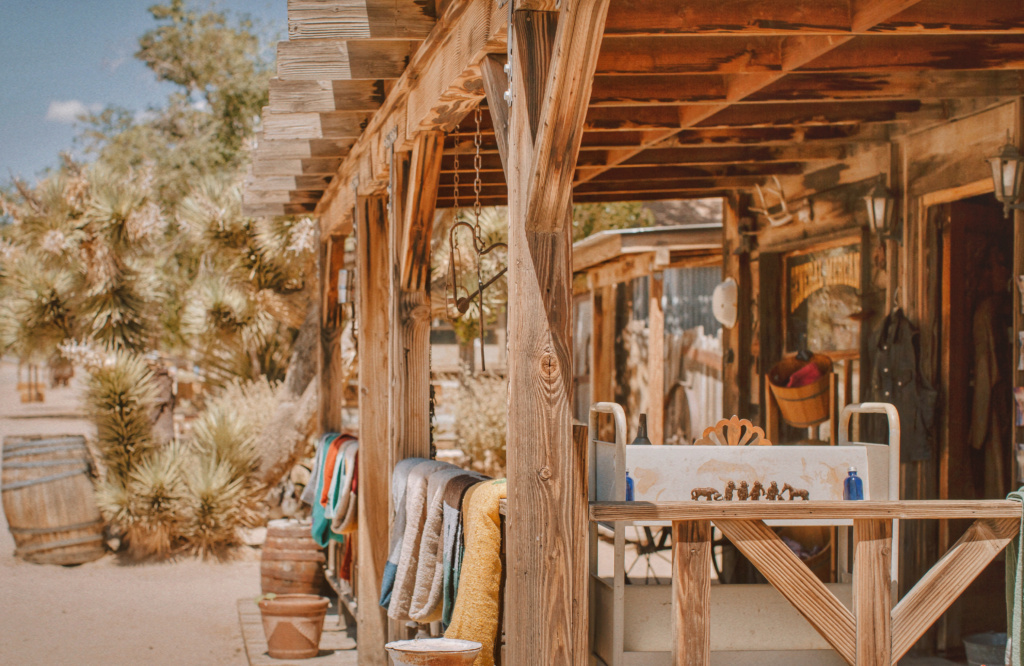 Whether you're coming from the east or the west, you will have to drive along Twentynine Palms Highway until you reach the small town called Yucca Valley, where you'll take Pioneertown Rd and continue for a little over 4 miles.
When Should You Visit Pioneertown?
Pioneertown is open 365 days a year and is also free of charge to visit. If visiting Pioneertown in the summer months be aware that it will be very hot so come prepared with lots of water. Spring and fall are by far the best times to visit Pioneertown and enjoy its rustic vibes.
I highly recommend to visit places early in the day to avoid crowds and on weekdays. It seems that the town gets busy on weekends when the shops are open and there is entertainment along Mane Street.
What to Do
As Pioneertown is so small it can easily be visited in a very short space of time. We spent just under an hour slowly walking around and exploring the town by foot. One of my favorite things about Pioneertown, is that animals are welcome everywhere. As long as they are on a leash. So bring your pup and enjoy everything Pioneertown has to offer.
Don't expect to find a multitude of attractions in Pioneertown. In fact, its strong point is its main street, Mane Street. After so many years, this street still remains the main attraction, keeping its old west image intact.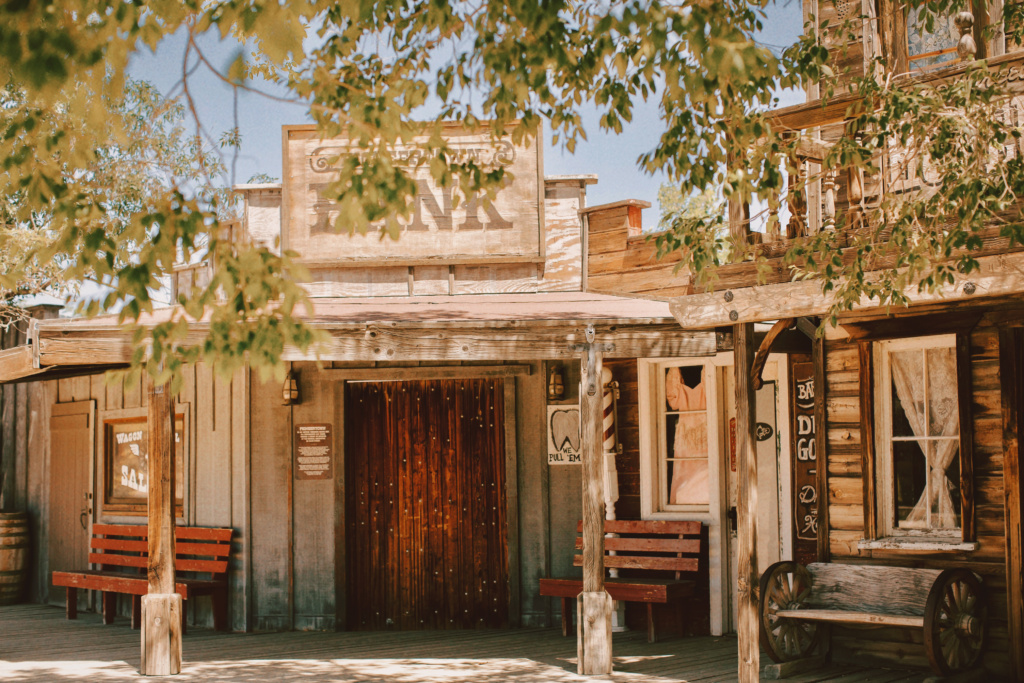 Once you've parked your car in the large parking lot (free parking in Pioneertown with many signposted parking lots and plenty of spaces available), walk down Mane St, the unpaved main street of the town lined with historic buildings.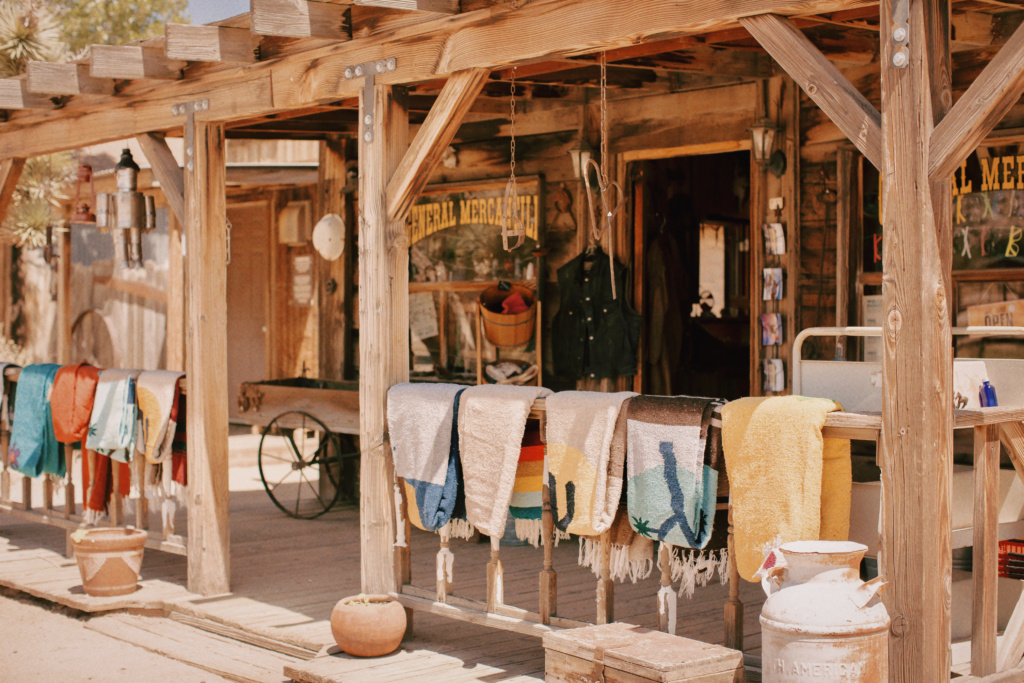 One of the most fun and historic things to do in Pioneertown is to simply walk past the shops and admire the wild western feel of the place. Dusty slatted cabins adorned with cactus, old fashioned barrels and rocking chairs on every porch, the actual tumbleweeds tumbling down the streets, the Wild West facades saloons, the trading posts, and other frontier storefronts all add to the photogenic charm of Pioneertown.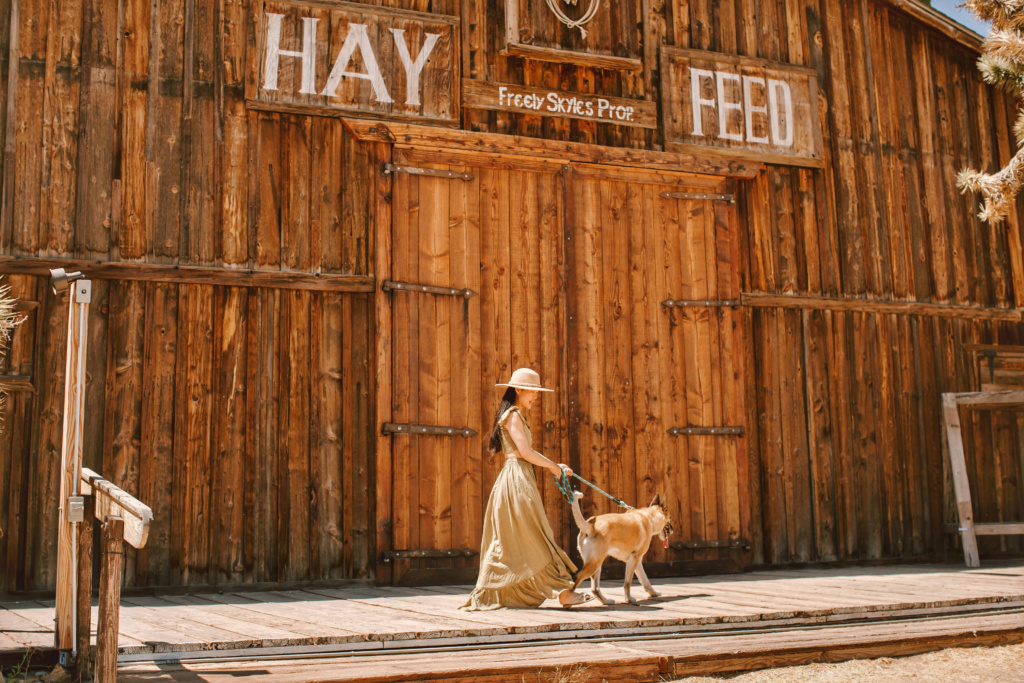 When walking along this dusty street, especially when there are not many tourists around, it feels like you are back in the Wild West. Depending on which day of the week you visit Pioneertown you may be completely alone (like I was when I went).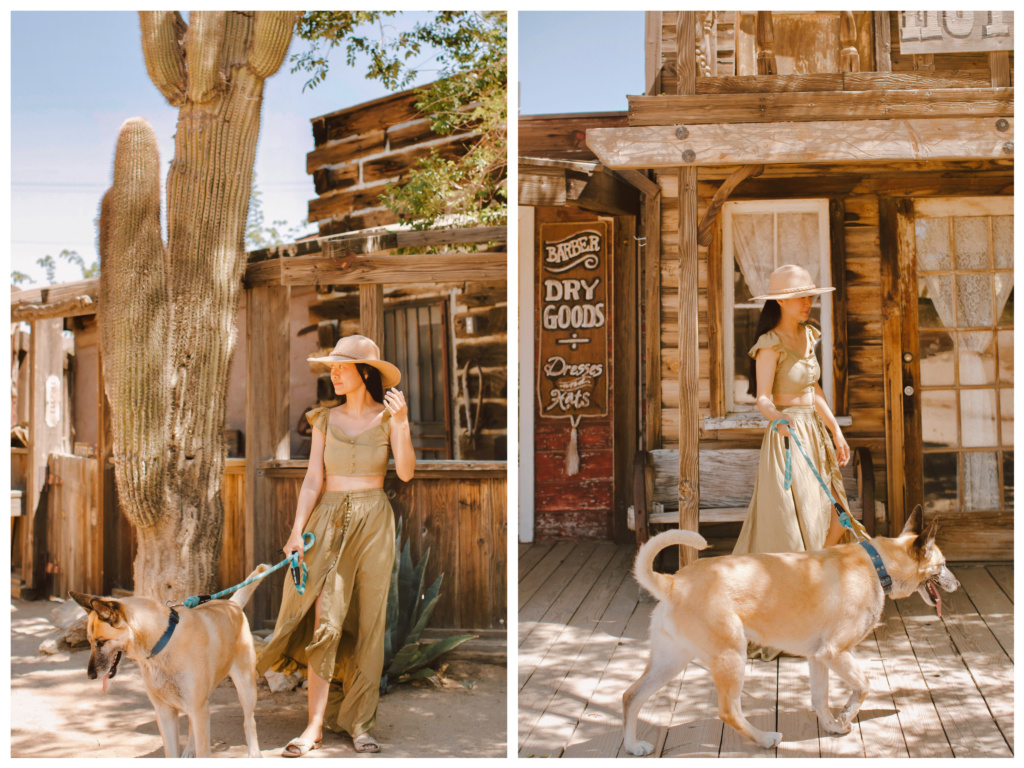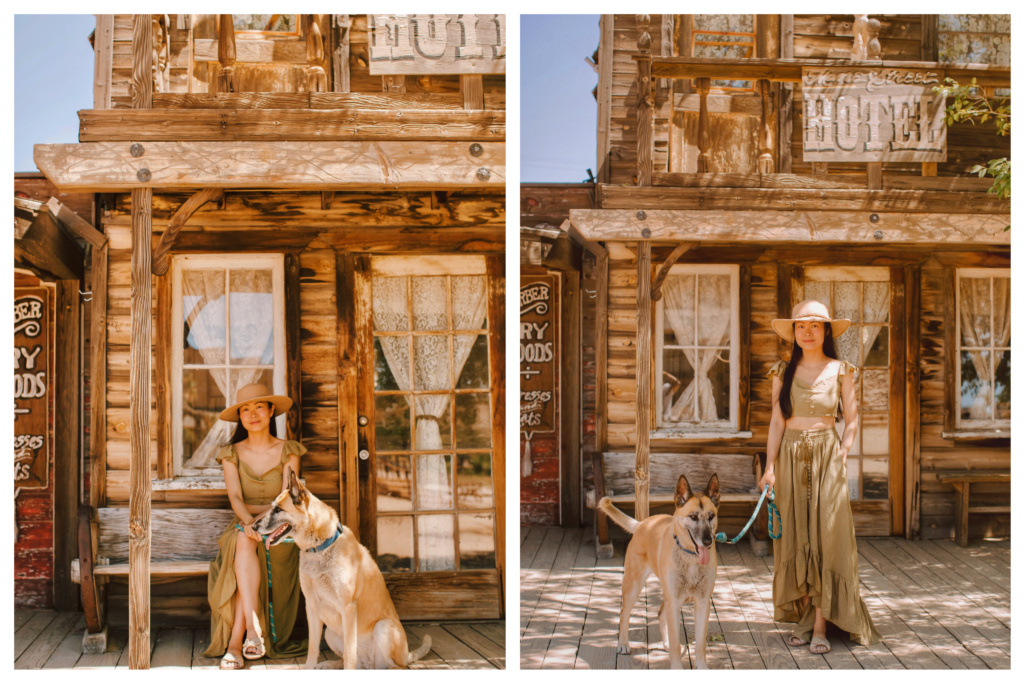 Stop by the cute little shops on Mane Street with clothes, jewelry, books, vintage gems, candles, etc. You can also find tinctures, lotions and palo santo here.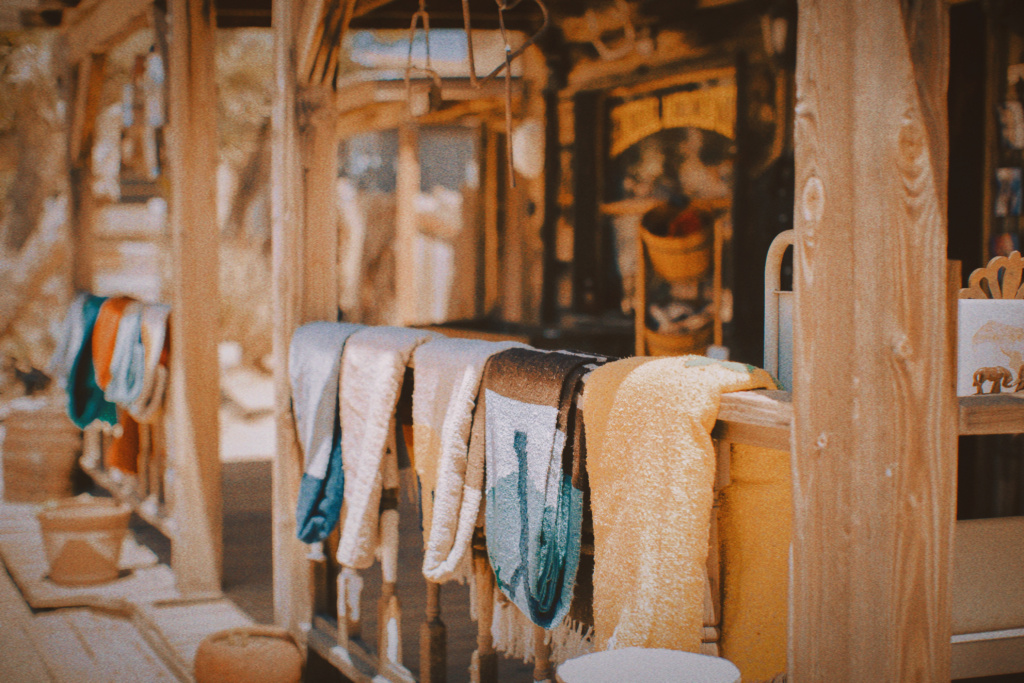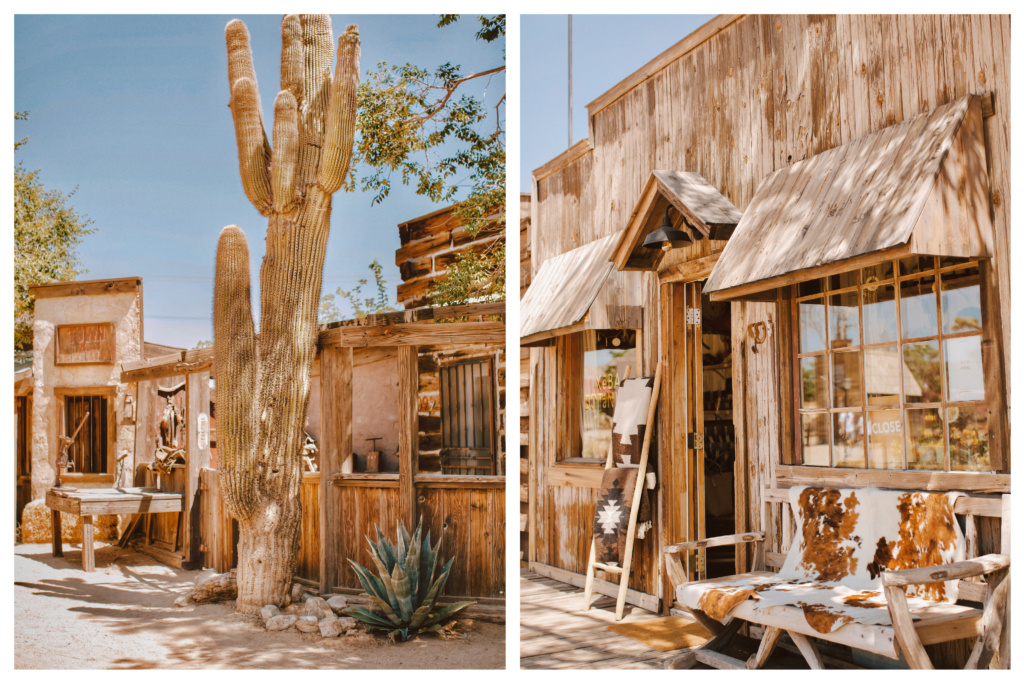 Come and pick up some local arts In the beautiful pottery building, a shop that sells handcrafted and functional pottery items including Joshua Tree mugs, pots, and tiles. They feature the work of local Pioneertown artists, and the pieces are absolutely stunning. If looking for things to do to do support local artists, don't pass up this chance to take home a creation from the high desert.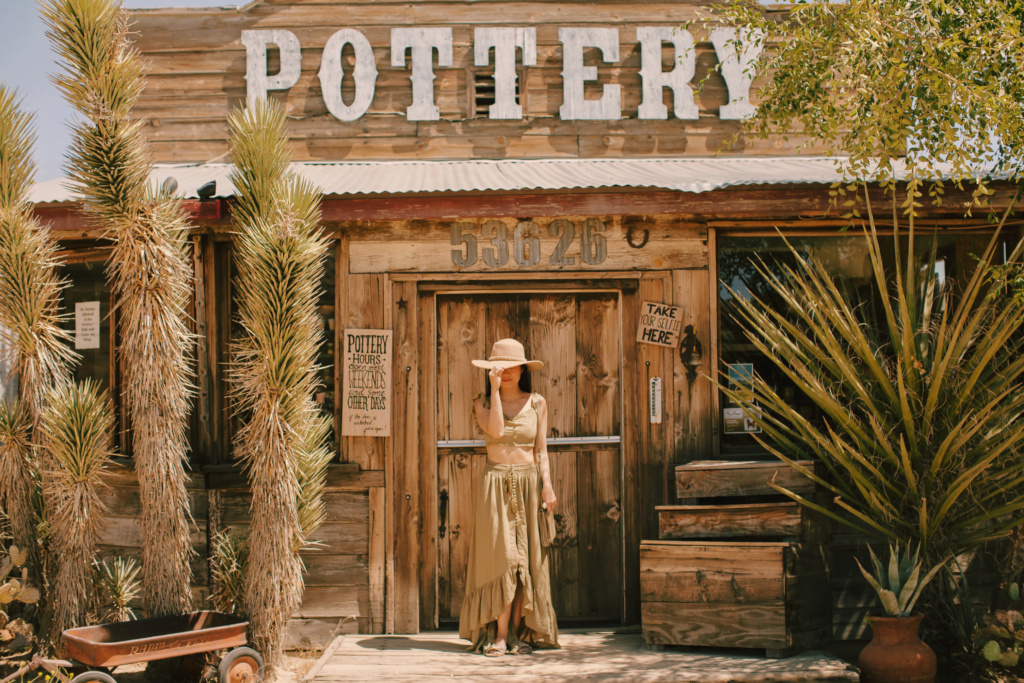 Where to Eat
If you're looking for a place to eat near Pioneertown, here is a list of some of the best options:
The Red Dog Saloon
The Frontier Cafe
Pappy and Harriet's
Natural Sisters Cafe
Crossroads Cafe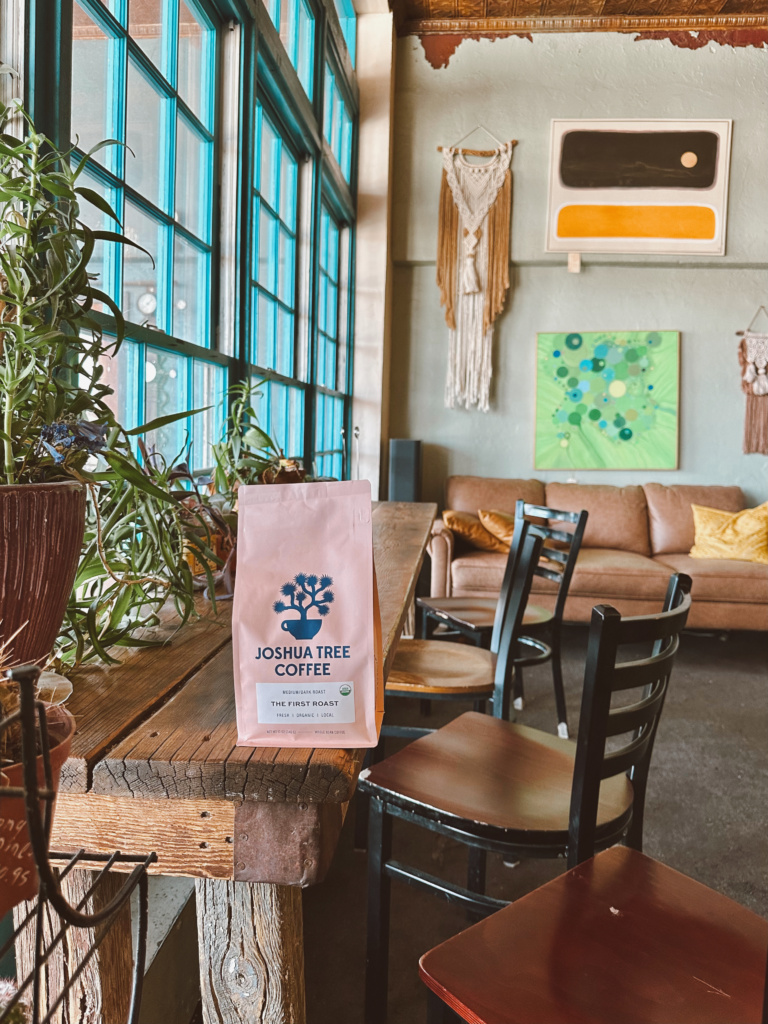 Where to Stay
Of course, there are a lot of cool airbnbs and glamping spots in the town of Joshua Tree and Yucca Valley if you're looking for someplace to stay overnight to explore Pioneertown and Joshua Tree
1. Serenity Escape
Located between 3 of the most significant sites in the Joshua Tree area – Joshua Tree National Park, The Integratron and Pappy & Harriet's (Pioneertown), Serenity Escape is ideal in that it feels isolated, yet just a few minutes drive from everything, allowing you to experience the desert at its best.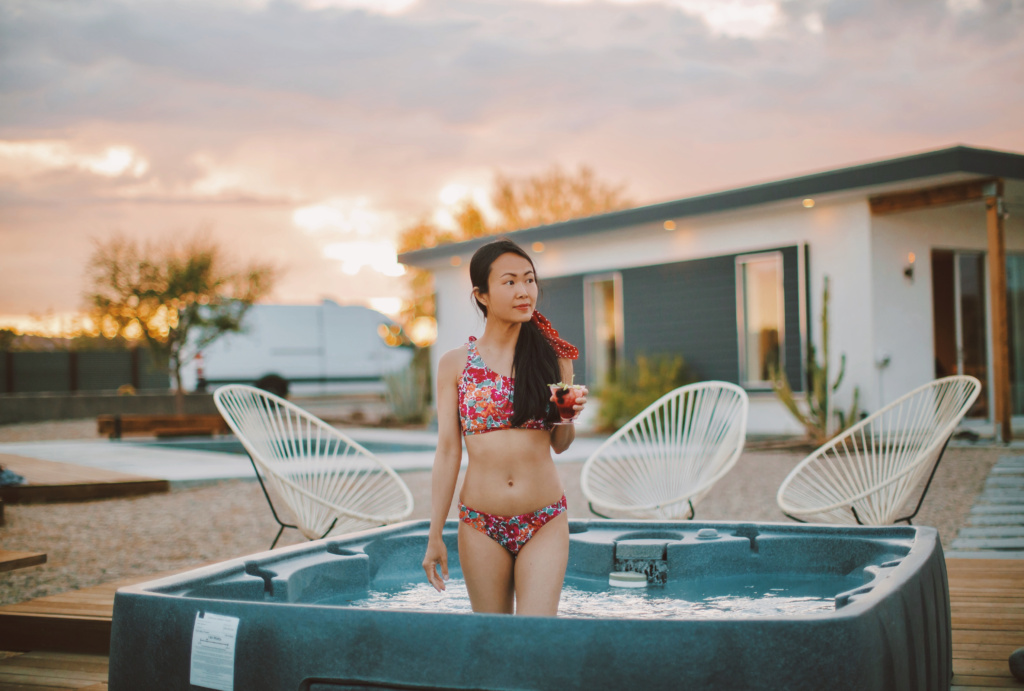 2. AutoCamp Joshua Tree
Autocamp Joshua Tree with the perfect mix of rustic campground vibes and the added bonus of some luxury modern amenities is an awesome accommodation for anyone that wants something a bit more in tune with nature but not quite as "roughing it". AutoCamp redefined the American campground when combining outdoor adventure with modern luxury at their glamping resorts with stylish accommodations in sleek Airstreams, luxurious tents, and vista X suites.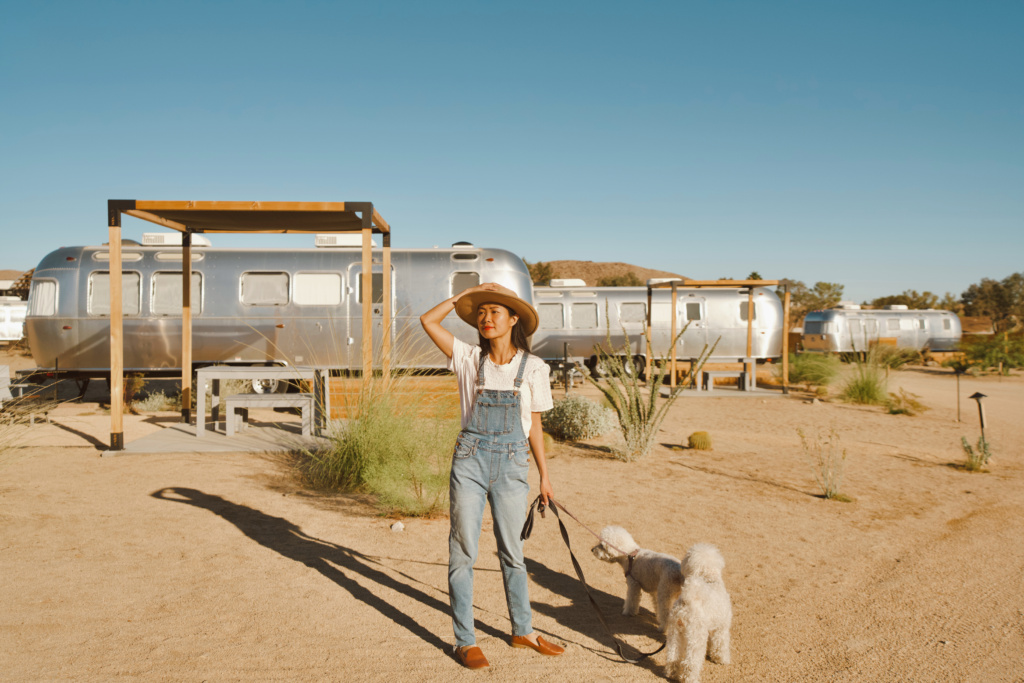 3. Luna Cabin
Perched on a hillside with wide-open views, Luna Cabin is a private getaway with easy access to the Joshua Tree National Park and the town center.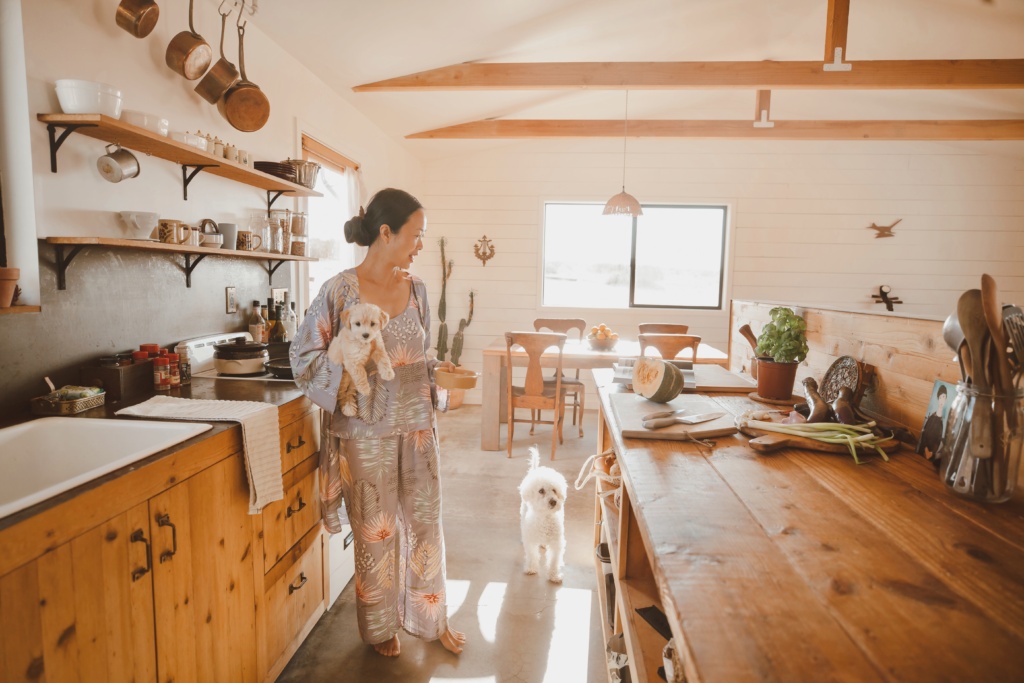 At Luna Cabin, a rustic meets modern getaway positioned on a hillside where the views are wide-open, providing the perfect amount of seclusion and unobstructed views of the sweeping desert landscape.
4. Casa Fauda
If you are in search of an experience that reflects the breathtaking natural surroundings in Joshua Tree, look no further than Casa Fauda. You'll feel completely secluded on four acres of desert with 360-degree sweeping mountain and desert views.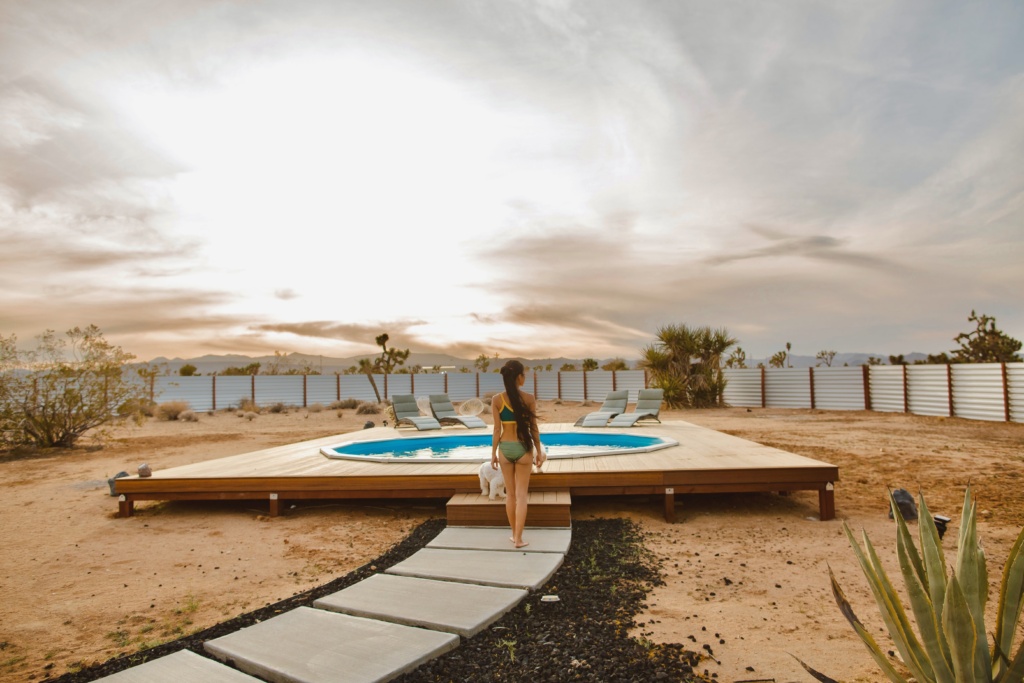 5. Joshua Tree Acres
Joshua Tree Acres Airstreams are surrounded by beautiful whimsical joshua trees on 5 private acres of desert land! Conveniently located 10 minutes from the village, Joshua Tree Acres is a a desert oasis that offers travelers a chance to reconnect spiritually with the beautiful natural world from majestic sunsets to enchanting starry sky!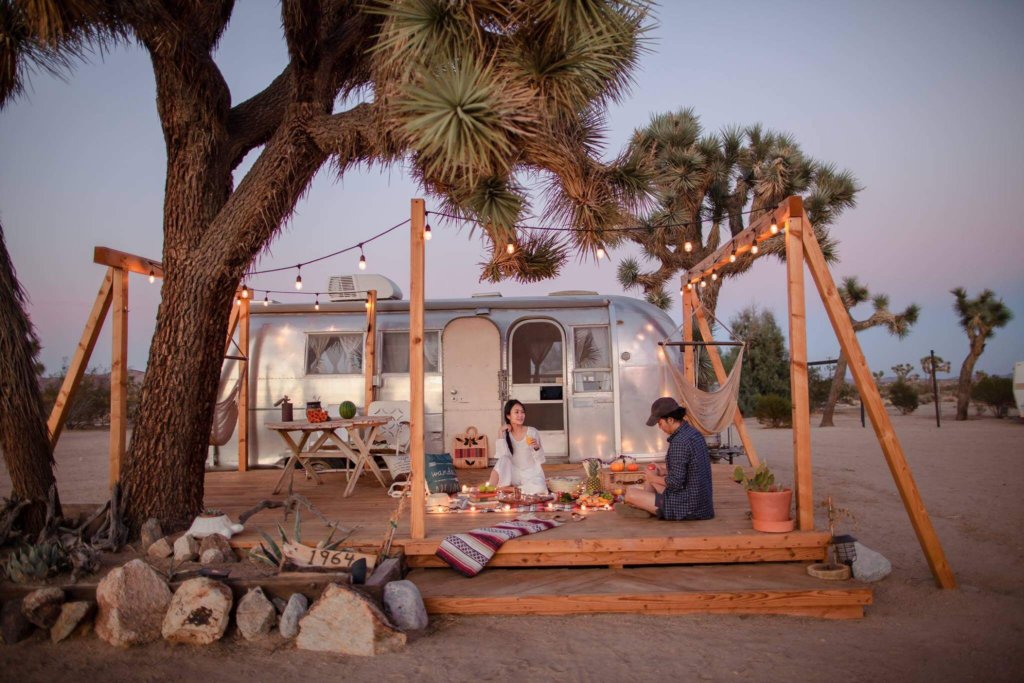 Things to Do near Pioneertown
1. Joshua Tree National Park
Just 15 minutes outside Pioneertown is one of California's most famous national parks – Joshua Tree National Park. This ecological terrain is most famous for its Joshua Tree (hence the name) which attracts tourists from all over the world. While the park is mostly known for its flora and fauna, you can explore its surroundings on different hiking trails that take you across valleys and plains. So while you are in Pioneertown, it can definitely be a perfect opportunity to include this national park on your itinerary. Check out my Joshua Tree Guide here!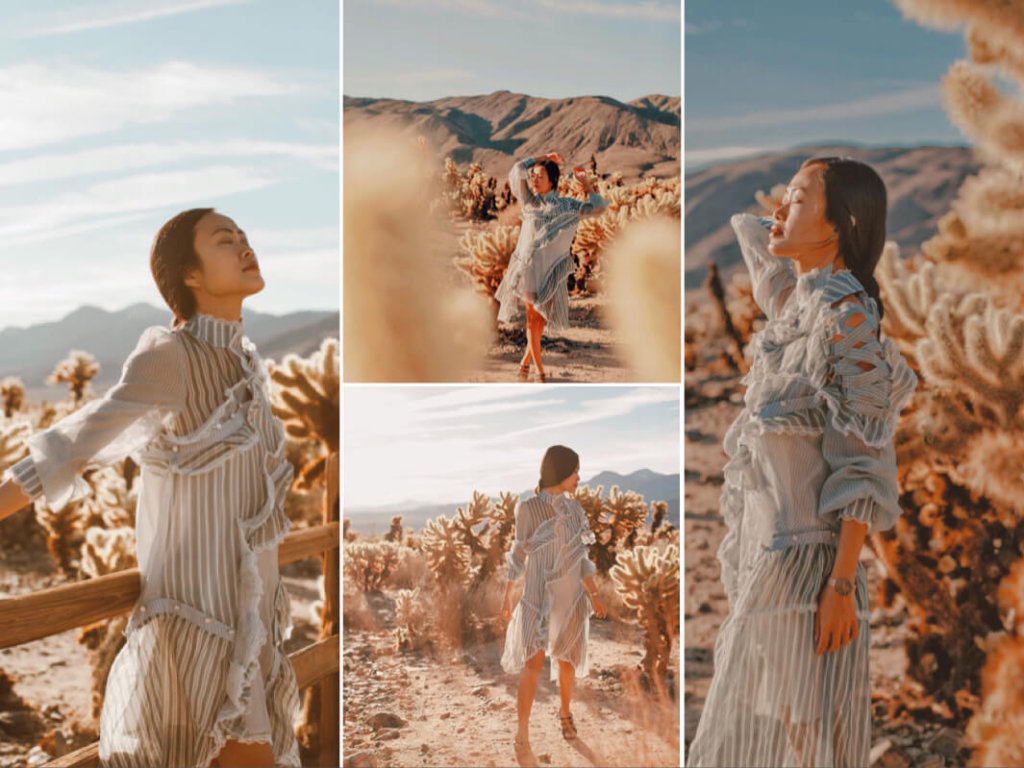 2. Palm Springs
For years Palm Springs has been a California desert retreat, known for its modern and chic style. Palm Springs is one of the best places to visit all year long, whether you're stopping by on the way to Pioneertown or just want to relax by the pool in the sunshine. It's a lifestyle photographer's dream location with so many Insta-worthy photo spots, restaurants, and neighborhoods. Also, you absolutely must visit Indian Canyons. Check out my Palm Springs Guide here!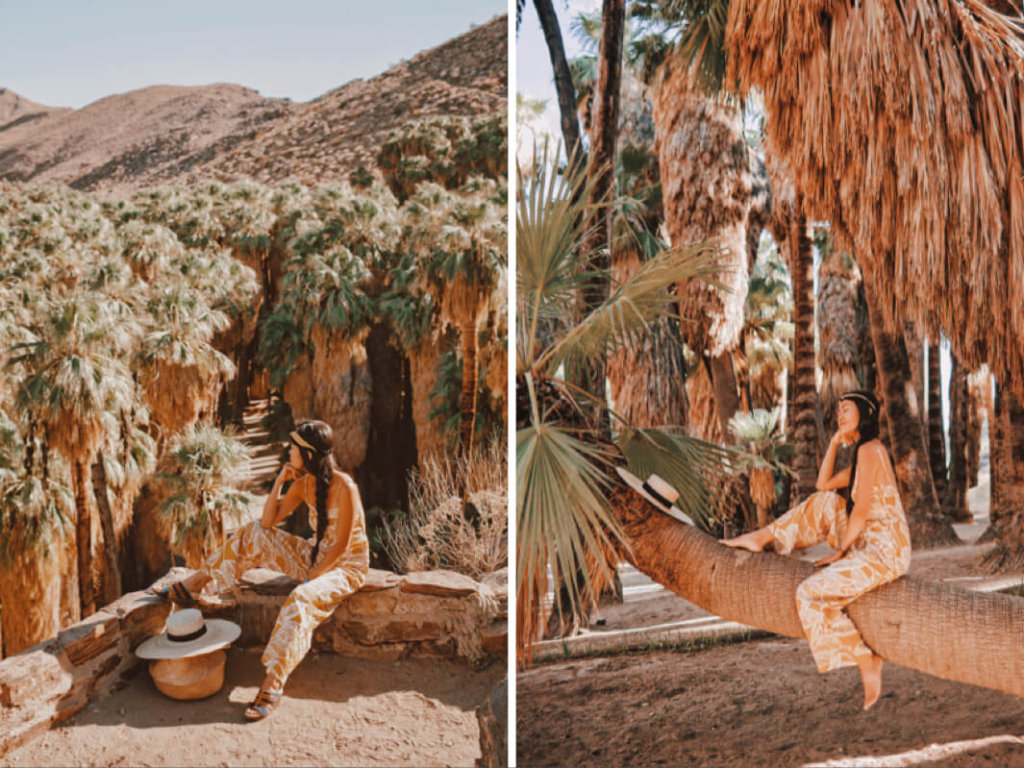 Final Thoughts
Is Pioneertown worth a visit? Pioneertown is definitely worth visiting – it's a great place to explore the charming Western architecture and beautiful desert scenery of California. Its proximity to Joshua Tree and Palm Springs makes it incredibly easy to visit and a perfect side trip when visiting the area. This tranquil region in Yucca Valley offers the perfect respite for wandering souls!
Pin this Post for Later!