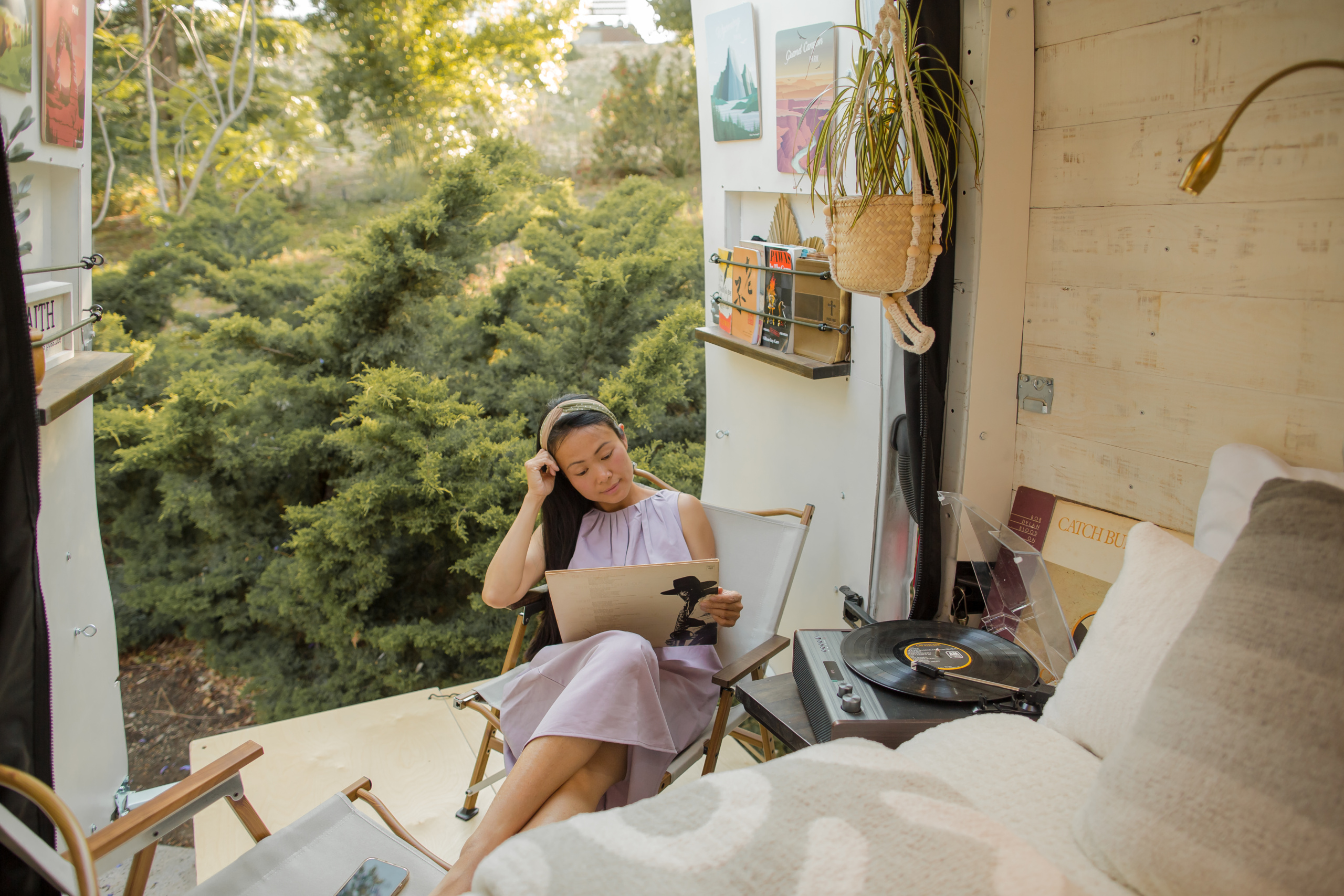 Despite the rise of digital music, vinyl records remain a popular medium for music lovers. Not only does vinyl produce some of the crispest, highest-quality sounds you'll ever hear, but it also brings back feelings of nostalgia that can be hard to find these days. The sound from a vinyl record is unmatched by any digital audio you'll ever hear. It's more immersive, more intimate, and simply more enjoyable. If you are looking for a blast from the past that will take you back to the good old days, look no further than Victrola.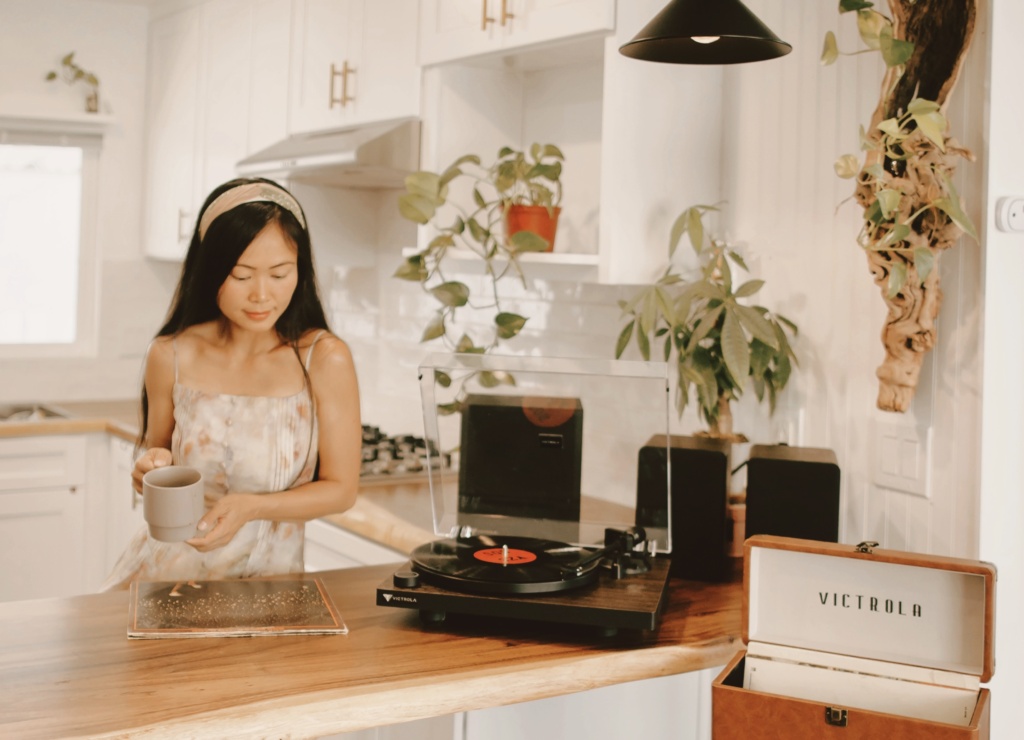 While Victrola offers a wide range of record players for all types of listeners, it is especially a good record player brand for beginners. The audio quality is mid-range, whereas the prices range drastically. Modern Victrola record players are affordable, while old-school ones are much more expensive and sought-after for their nostalgic collector's value. In this blog is my review of three different Victrola turntables (the Premiere T1/S1, the Eastwood Signature, the Journey) and Victrola accessories.
The Victrola Premiere Turntable & S1 Subwoofer System
Looking for an all-in-one turntable system that can handle both the vinyl world and the demands of a modern-day music system? The Victrola Premiere Turntable & S1 Subwoofer System is a fantastic all-in-one record player that amps up the sound quality with impressive stereo clarity and hearty bass from the subwoofer.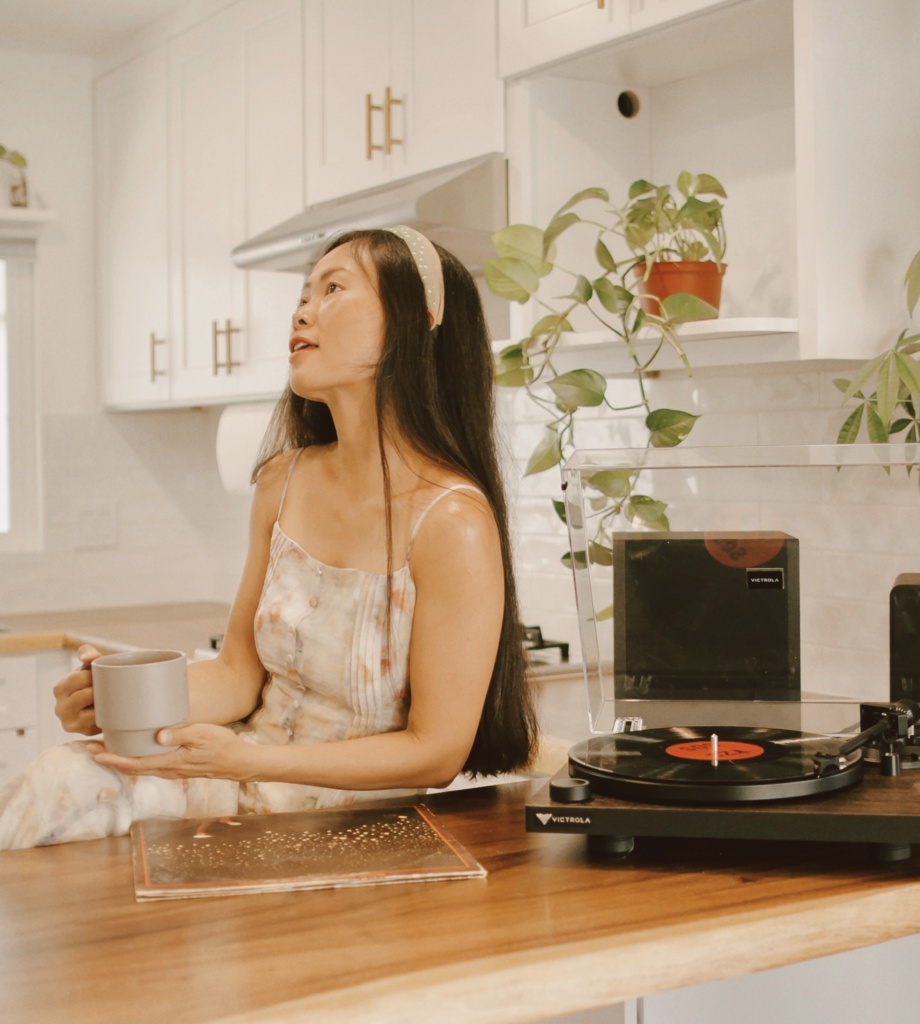 The classy dark color scheme, wood accents, and contemporary design make this turnable system elegant enough to fit into and possibly dress up any home audio situation. This Victrola Premiere Turnable System is an all-in-one package that includes the T1 Turntable, the M1 Bookshelf Monitors, and the S1 Powered Subwoofer. With this all-in-one package you can listen to vinyl records right away without having to buy any cables, receivers, or speakers. For $500, this kit is a great gift and meets the need of those who are looking to get into vintage music and experience high quality vintage audio!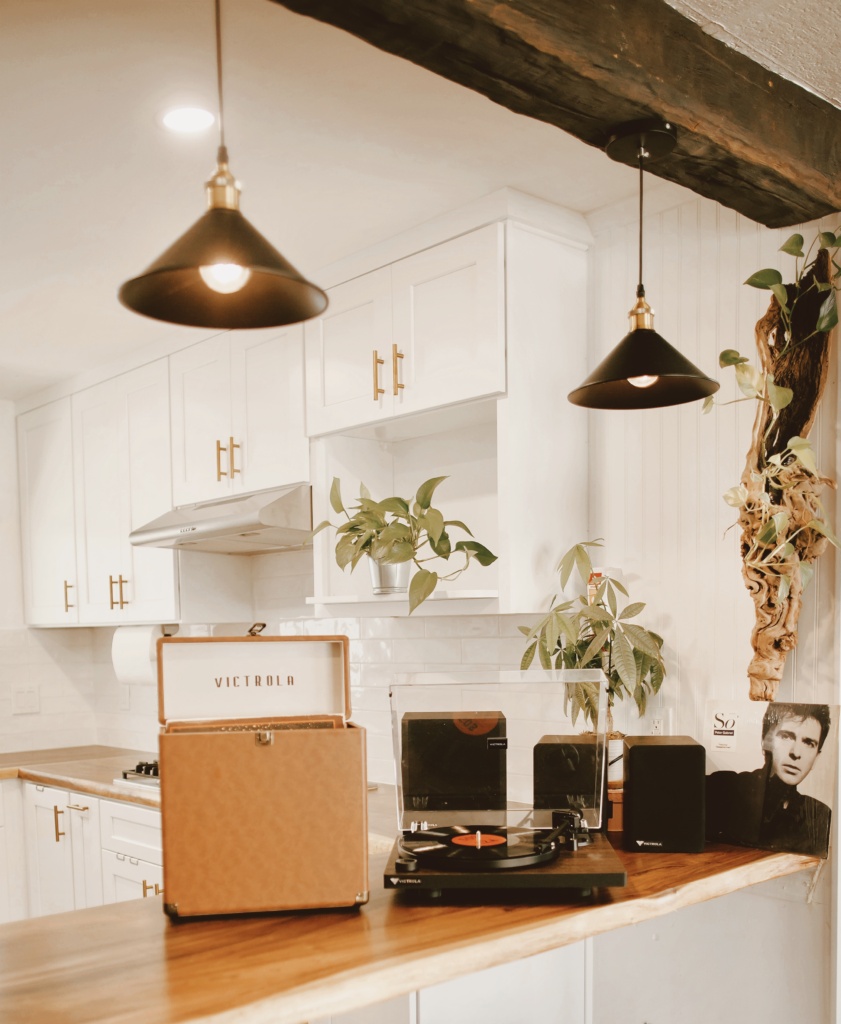 This system manages to retain an easy-to-use interface while still offering a full parade of features like Bluetooth streaming capabilities that let you stream music from your digital library, music apps, and Bluetooth-enabled devices. Crisp stereo output and the addition of a subwoofer make this system an ideal option for beginners and semi-experienced vinyl collectors alike.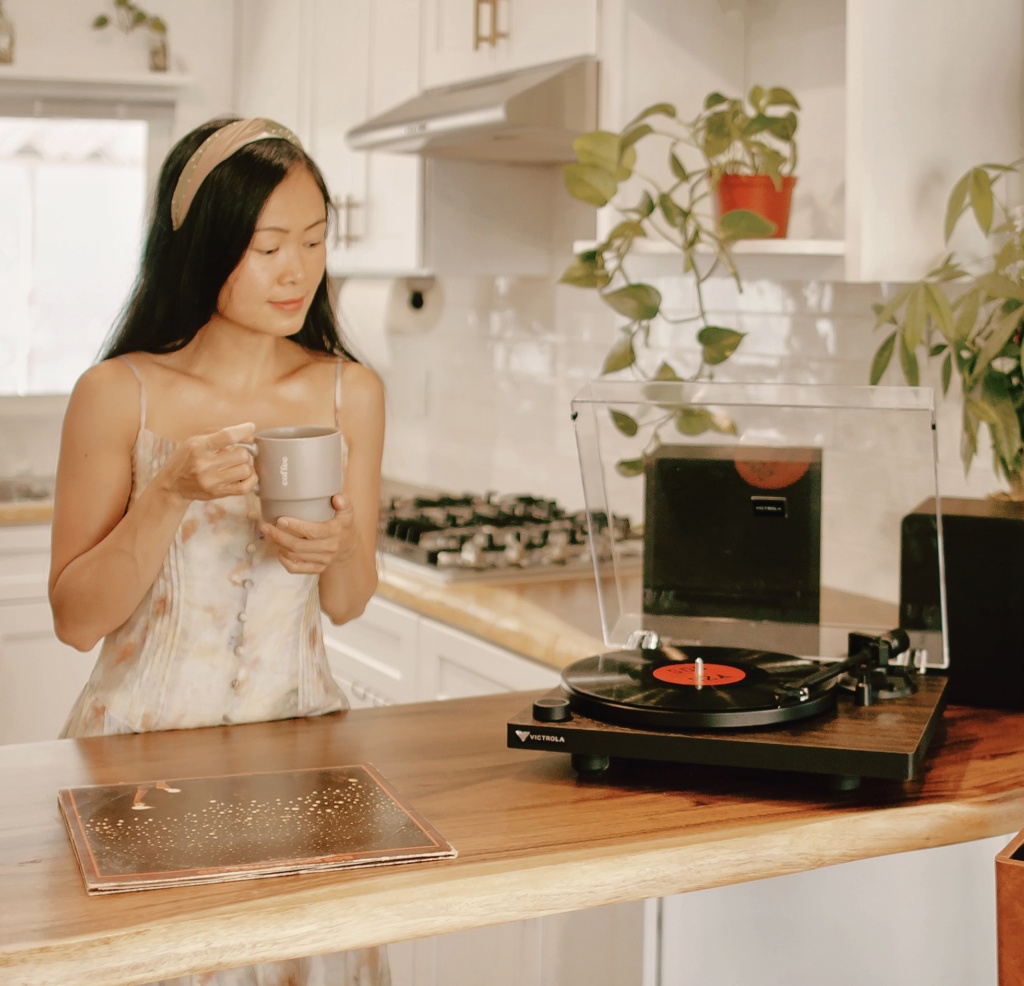 The setup is super quick and simple. The overall audio has a warm, inviting sound quality. You can hear the warmth on every track. I was also impressed with the volume output. The S1 subwoofer elevates the sound into the pretty good range.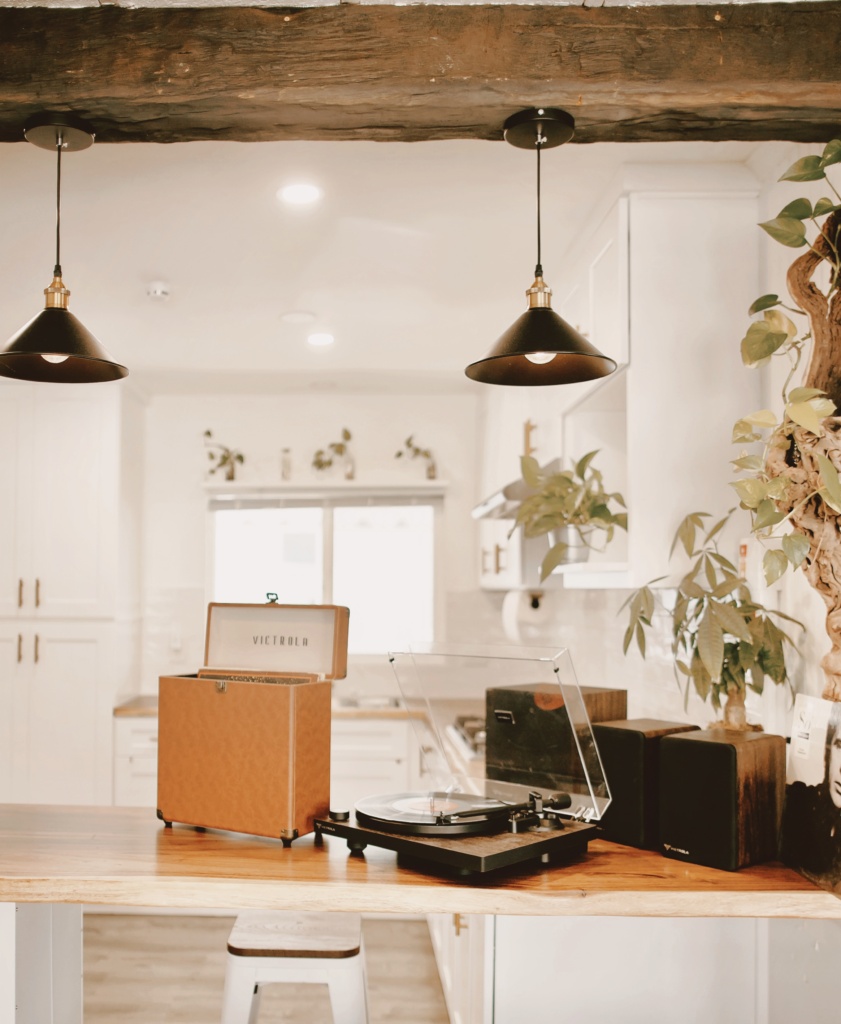 If you're looking for an easy-to-use all-in-one music system that offers the bonus of transporting you to the good old days and comes with many features that make home audio easier, look no further than the Victrola Premiere T1 Turnable and S1 Subwoofer System.
The Victrola Eastwood Signature
While the Victrola Premiere T1 Turnable System is perfect for a home setting, the Victrola Eastwood Signature is perfect for our campervan. I had researched several players but was limited to shelf size. I am not looking for a centerpiece but instead a player that will fit on the side table by our bed in our campervan. And the Victrola Eastwood Signature is just the perfect size for van living and completed the retro aesthetic I'd planned for the space.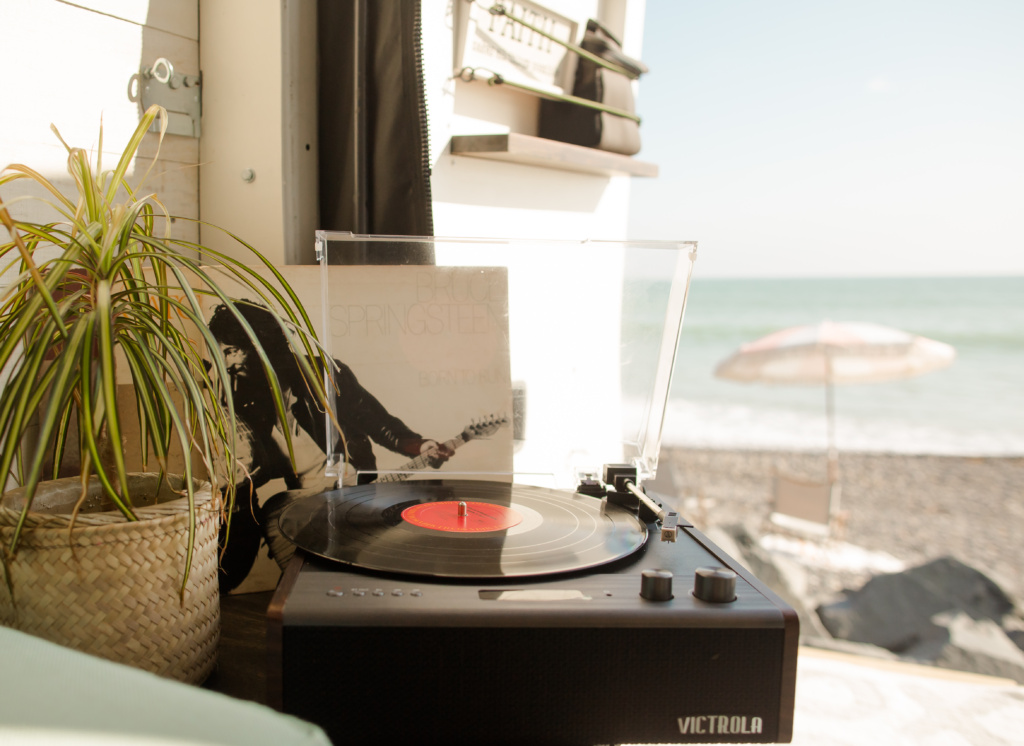 The Victrola Eastwood record player is truly one of our favorite electronics at the moment. It combines old-school technology with the modern world in unique and interesting ways. It produces some of the crispest, highest-quality sounds and is enhanced with 21st century technology features like built-in stereo speakers and Bluetooth streaming.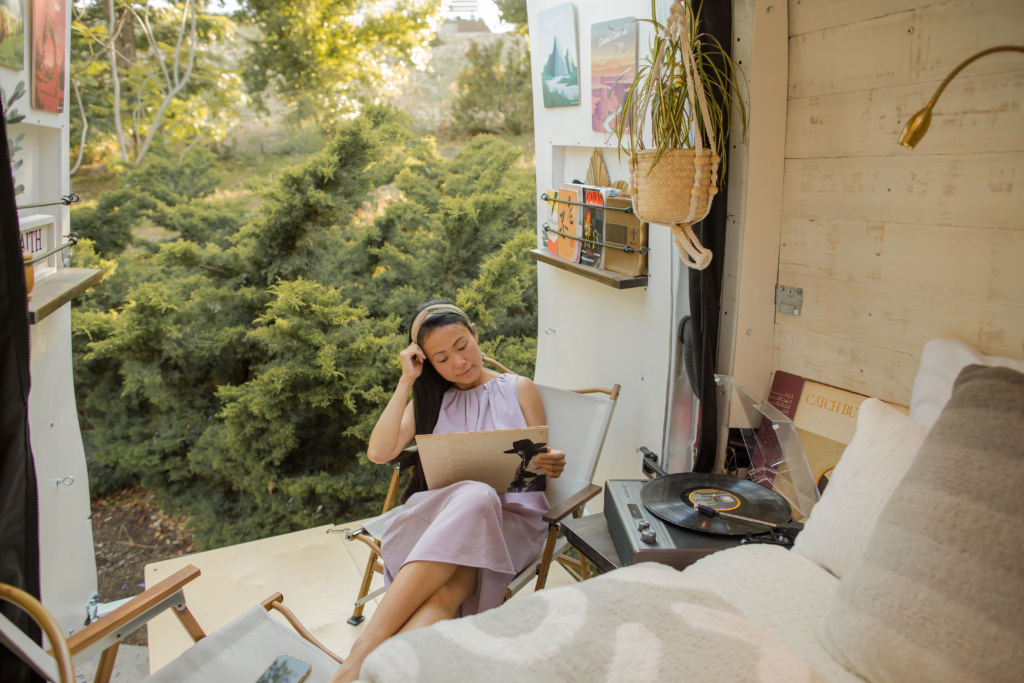 The dual Bluetooth connectivity gives you the ability to connect a phone, tablet, or MP3 player to the record player and use it to play your own MP3 audio tracks or streaming audio. It also lets you connect to a Bluetooth speaker, which is really amazing.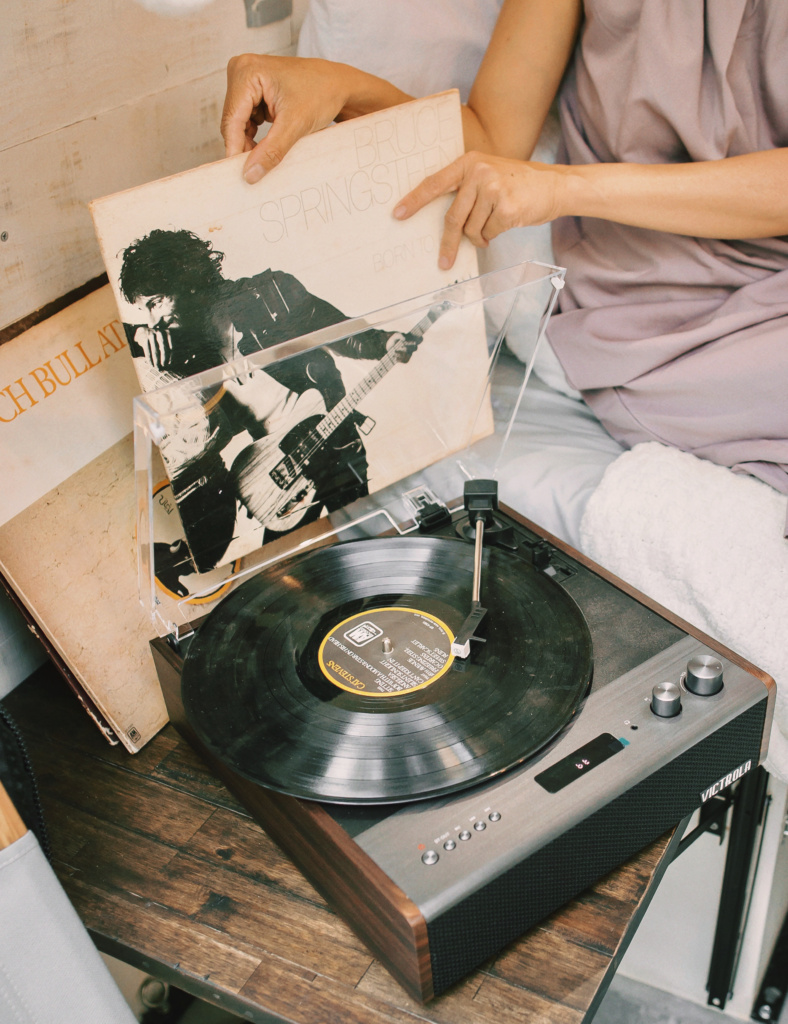 Plus, the Victrola Eastwood has a removable dust cover. Vinyl lovers want nothing but the absolute best for their record collections. In this case, they do not want dust accumulating on their records or record player. Victrola recognizes this fact and took steps to do something about it. Instead of leaving a wide-open turntable susceptible to unwanted dirt and dust, they added a crystal-clear yet removable dust cover to keep any and all records protected as they sit upon the turntable.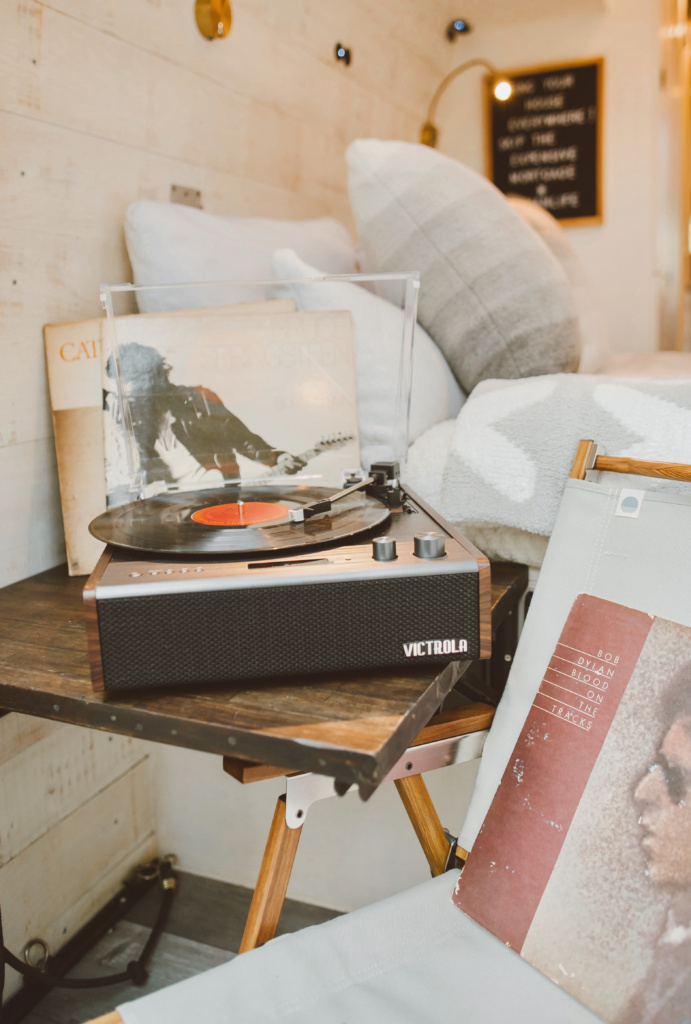 The Victrola Eastwood Signature allows us to bring vintage music everywhere on our adventures. From listening to my vinyl collection as watching sunset on the beach to putting on a record for my morning routine, the convenience of this record player in my tiny home on wheels was unmatched.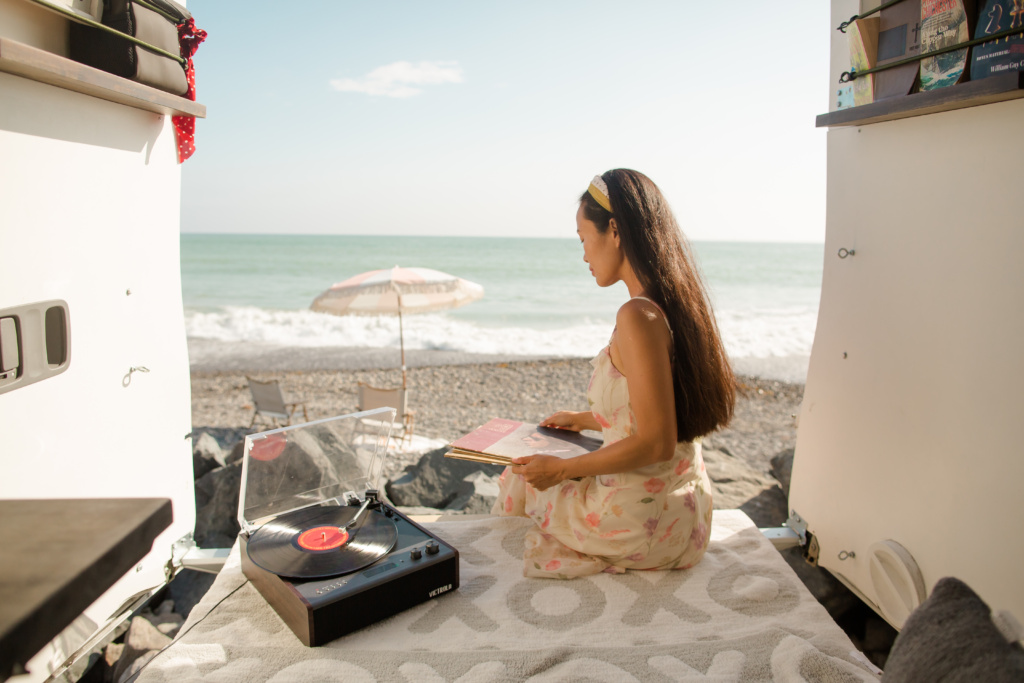 The Victrola Journey
Housed in a vintage suitcase with an easy carry handle, the Victrola Journey's blends of retro and contemporary design gives us the ultimate flexibility to listen to music where we want and how we want at a very affordable price.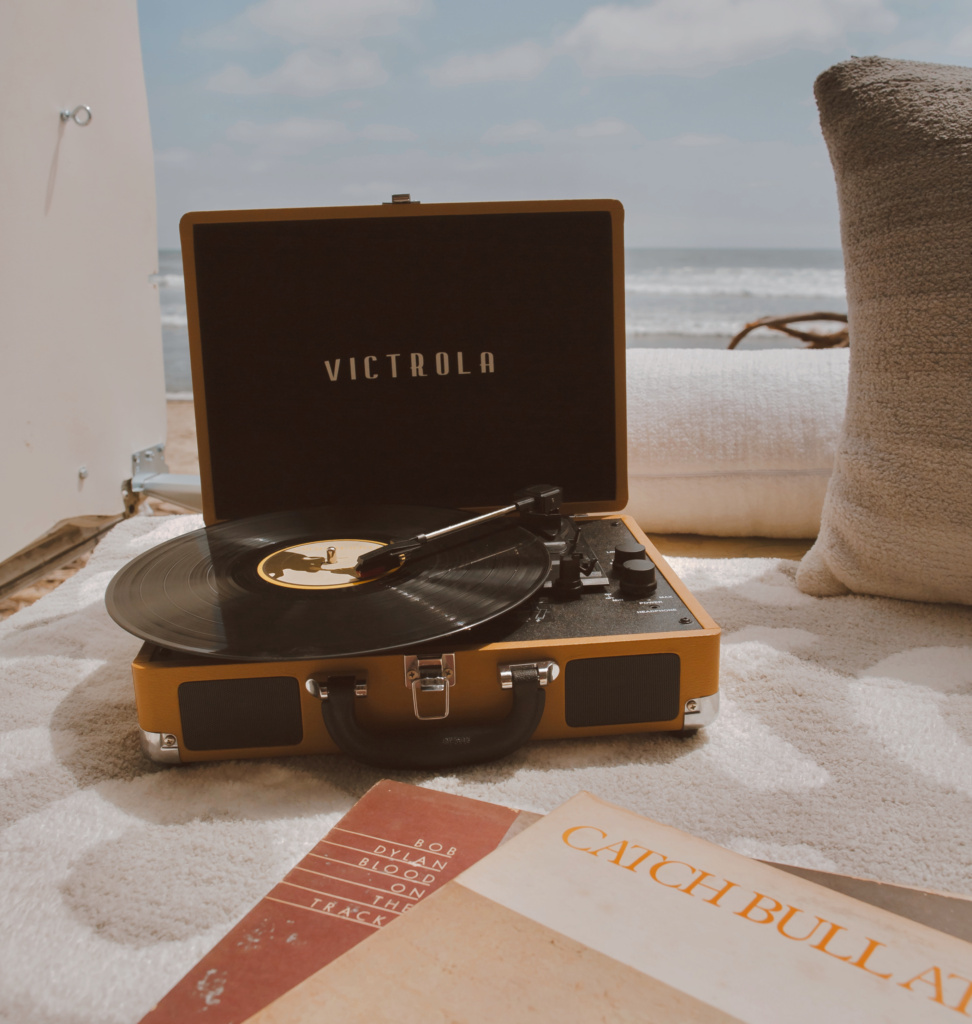 The whole turntable sits neatly inside a compact, durable suitcase, complete with snaps and a carry handle. This model is ideal for air travel, cross country trips, and much more.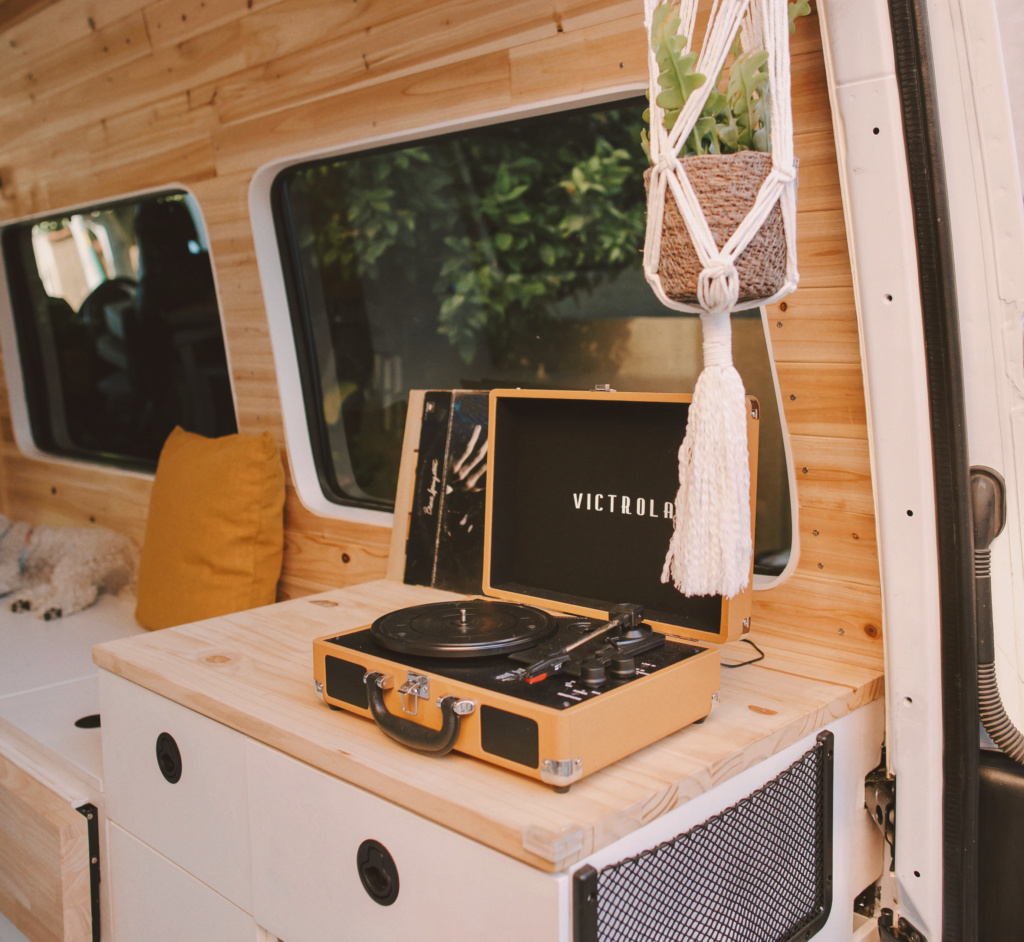 This model also comes equipped with Bluetooth connectivity, bringing the past into the present and taking both into the future. You can use this turntable to stream from any device that's Bluetooth enabled. This includes tablets and any type of smartphone, and you can do so for up to thirty-three feet away.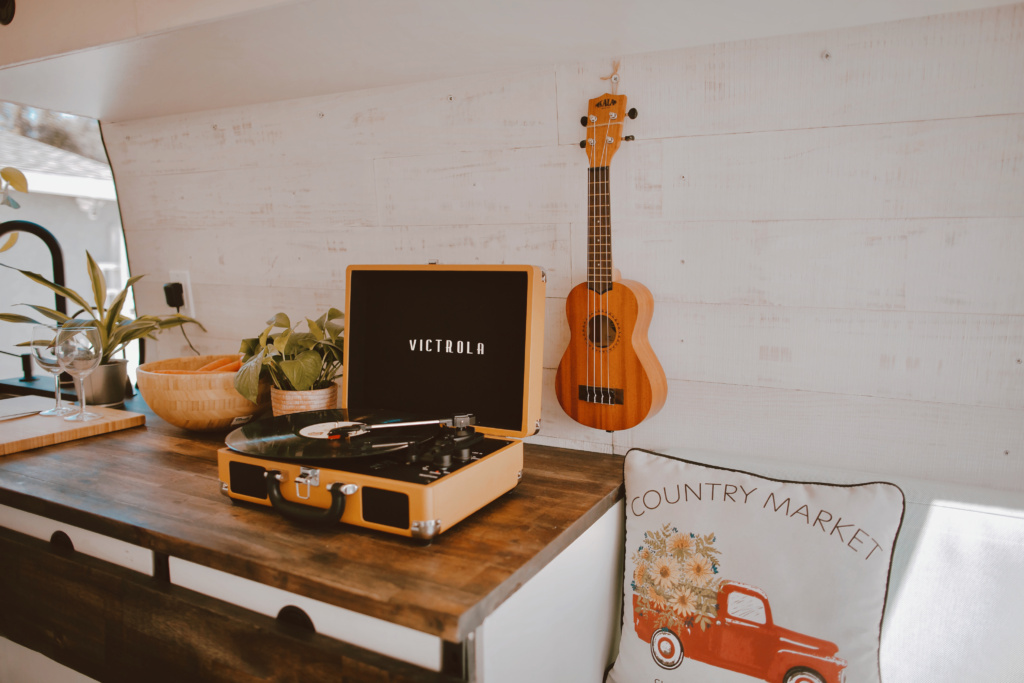 The audio quality is better than I expected, especially when you consider the price. If you're looking for a system that can provide a heavier bass response, then you'll either need to hook up some external speakers or look elsewhere. Aside from its good looks and color options, this model still manages to easily outperform many other higher-priced suitcase turntables. The customization options are one of its biggest selling points, next to the portable design.
Victrola Accessories: The Collector Storage Case
The Victrola Collector Vinyl Storage Case is a perfect complement to my Victrola record players, and can hold over 30 of my favorite vinyl records. As I was traveling a lot with records from one place to another, I need a sturdy and durable to protect my records from dirts and scratches.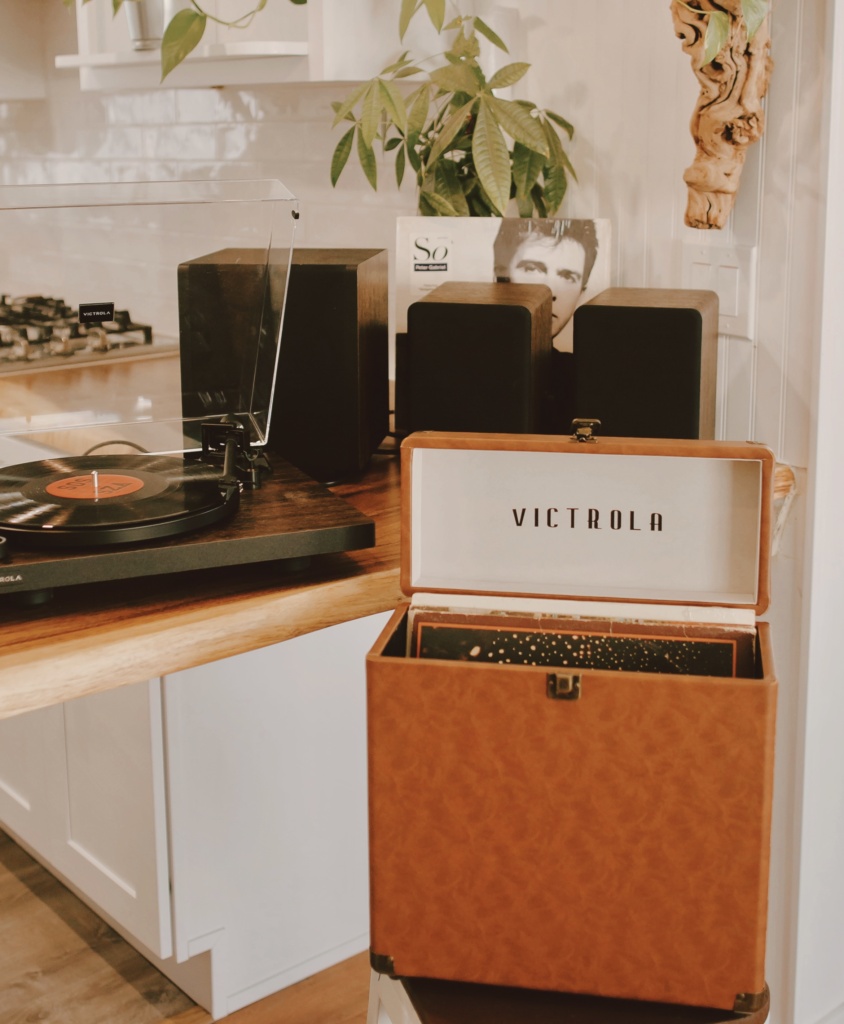 This classic looking case is fully protected with heavy duty hardware, corner guards and uses high quality hinges. It's available in a wide range of colors and patterns so you can choose a case that matches your style. With an easy-carry handle, you can take your favorite albums wherever you go!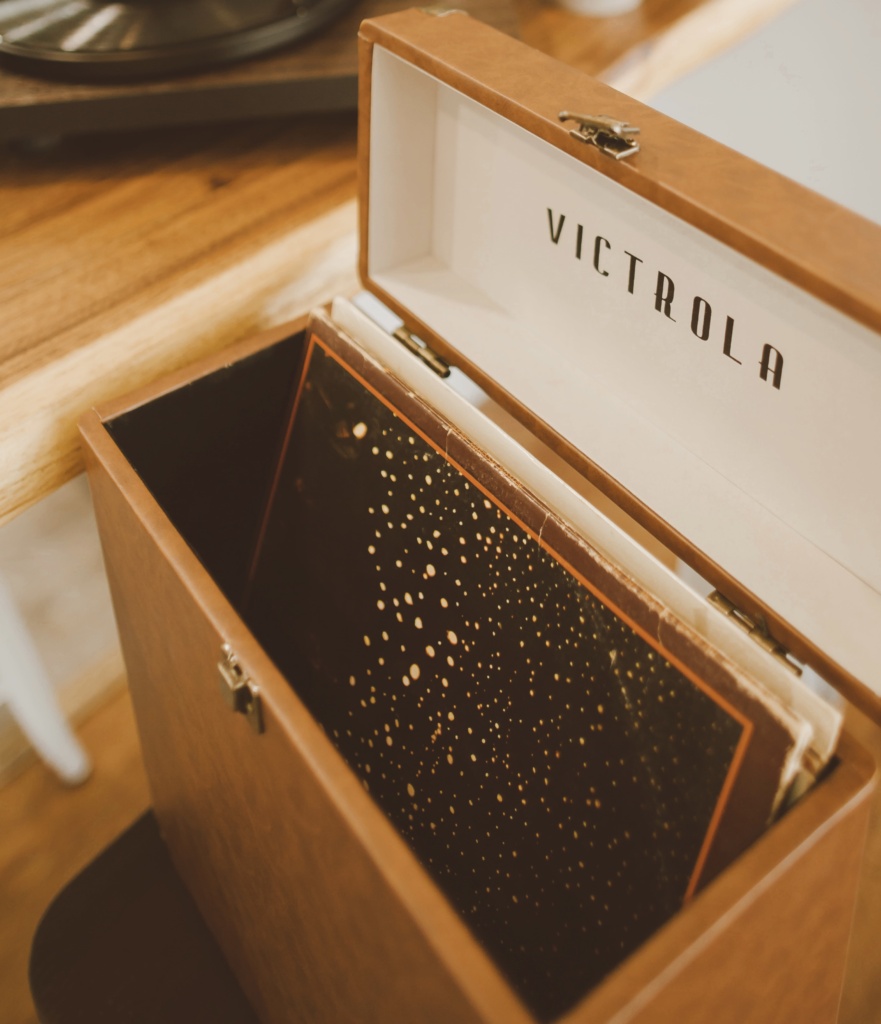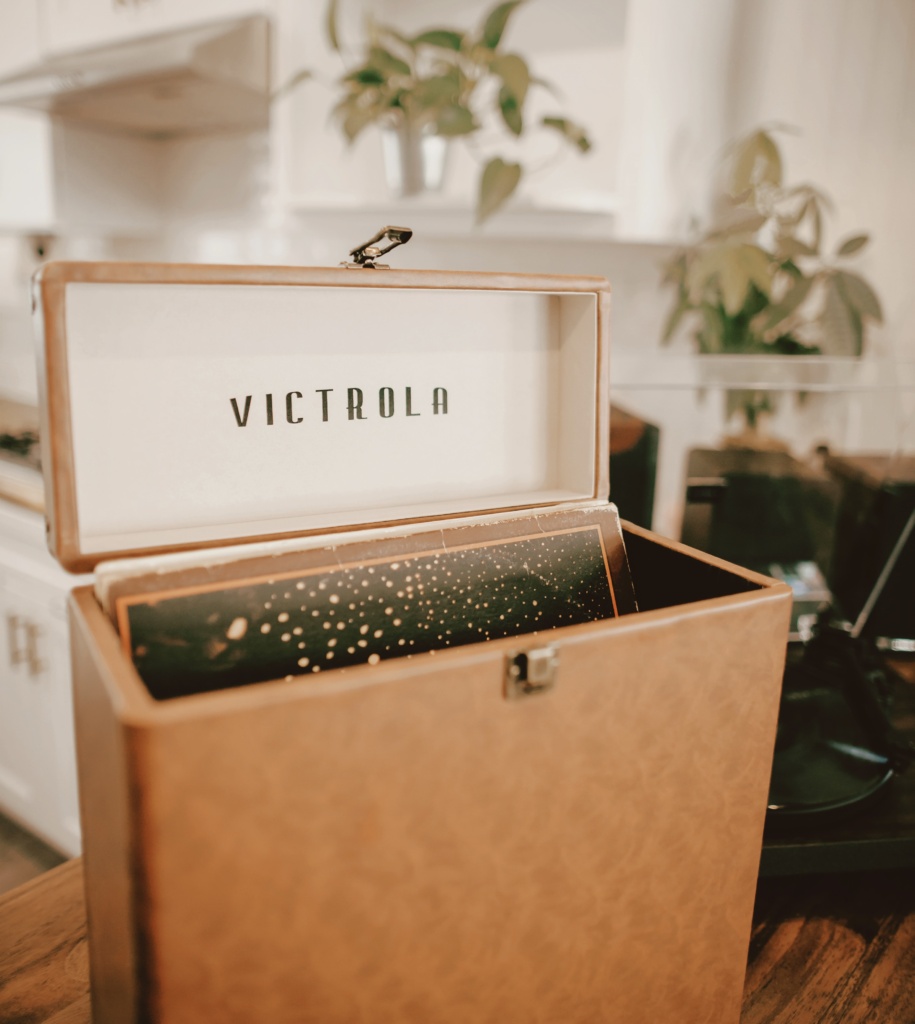 Final Verdict
With the resurgence of vinyl in recent years, more and more people are turning to vinyl record art as a way to showcase their love for music! Vinyl records offer a warmer, more authentic sound quality than digital recordings. Additionally, vinyl records have a nostalgic appeal that resonates with many people, evoking memories of browsing record stores and listening to music on turntables.
The Victrola brand has been in the recording industry and constructing record players for longer than our grandparents have been alive. It was there at the very beginning of the recording and phonographic technology. Being involved with the very first versions of the gramophone is no joke – this is the beginning of recording technology as we know it. The fact that this brand has been around for over a century is a testament to its reliability, quality, and overall performance. That's why I always trust Victrola to create lifelong music memories with my loved ones.
Thank you to Victrola for kindly sponsoring this post. All opinions are 100% honest & completely my own.