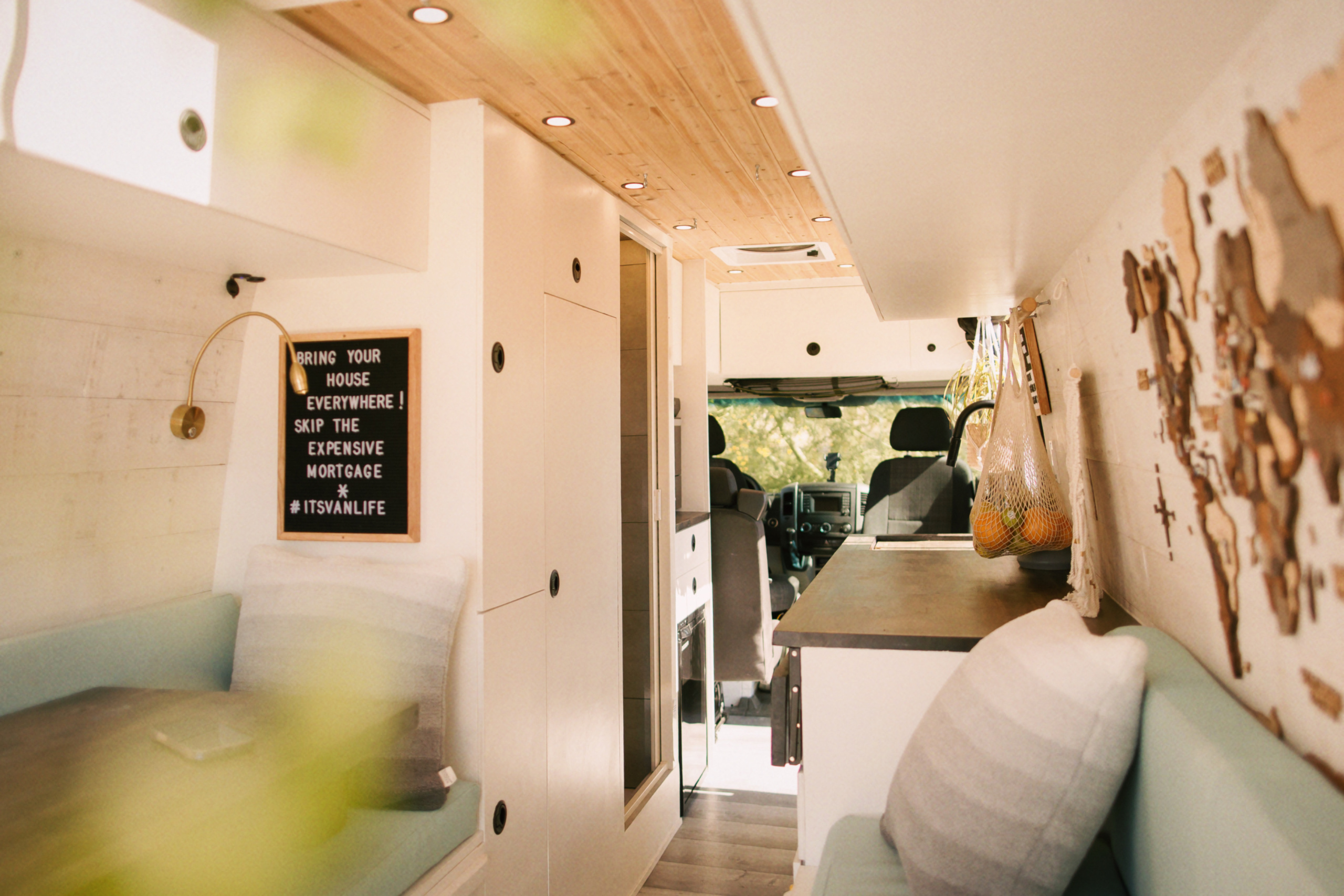 Sprinter Converted Vans: High Mileage! High Price Tag! Why?
It all comes down to "If you know, you know!" If you don't do your homework about the converted Sprinter Van market, then you will never understand why it cost so much. I have many friends who are interested in this way of living but have unrealistic expectations when shopping for Sprinters and have spent years in Sprinter Marketplace browsing and searching and can't find anything that meets their needs and budget (that perfect-build cheap Sprinter van with low mileage simply doesn't exist!).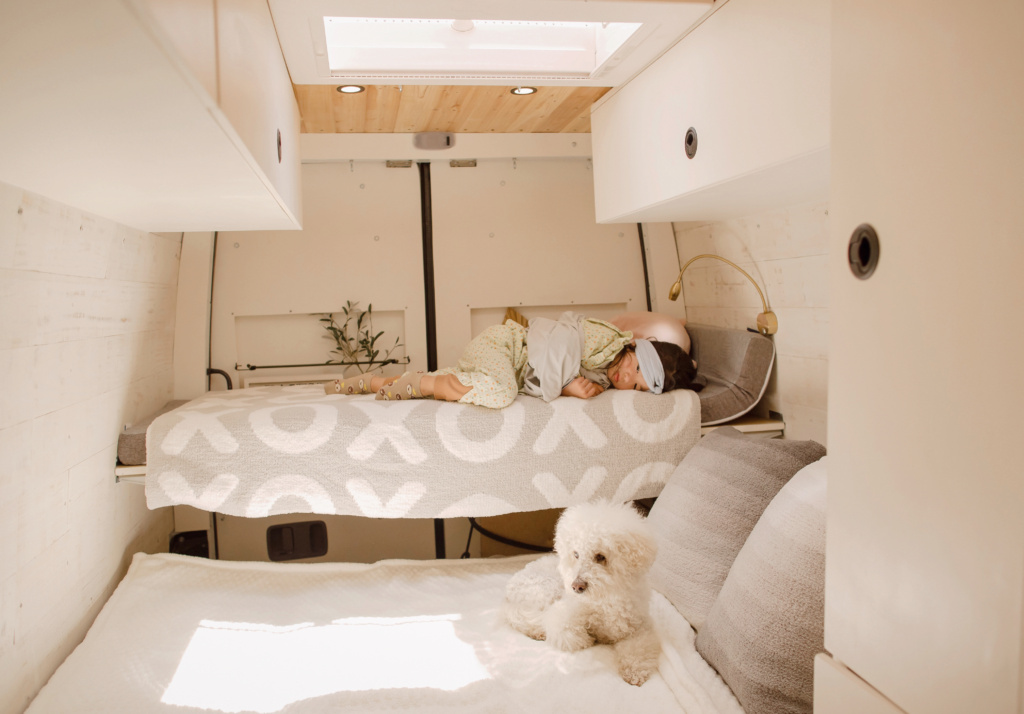 In this blog, I'm trying my best to explain about the high price tag associated with Sprinter converted vans and answer the question, ""How many miles is too much for a campervan?"
The legend of 1-million-mile diesel engine
In the camper van conversion world the most notorious vehicle known for racking up considerable mileage while being reliable is the Mercedes Sprinter Van. The Sprinter has been around since 1995 under different manufacturers; and many individuals have successfully covered hundreds of thousands of miles, thanks to its legendary a million miles Mercedes diesel engine!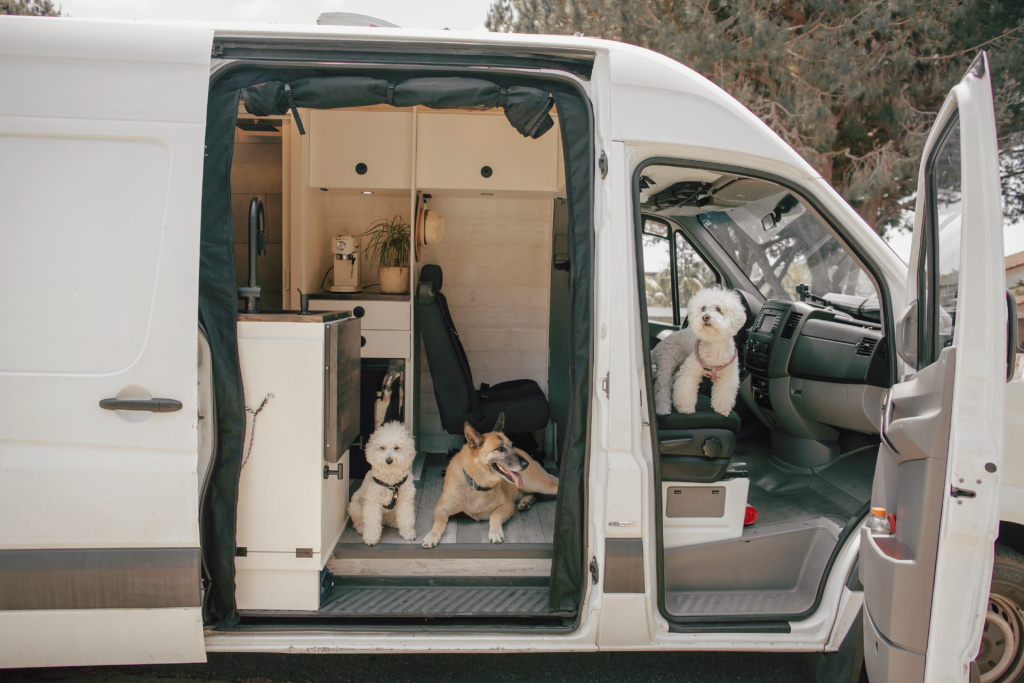 Mercedes-Benz makes vehicles that are built to last. The longest running Mercedes-Benz vehicle (and the second longest running vehicle ever) was the 1976 Mercedes-Benz 240D, owned by Gregorios Sachinidis. He put 2,850,000 miles on that 1976 240D before Mercedes-Benz contacted him in 2004, trading him a brand-new C-Class for his piece of history. Another driver and his family own a 1966 Mercedes-Benz 250SE that topped 1,280,000 miles back 2014. The car was purchased new in 1966 and was kept in the family since then.
Engine life = How Well a Vehicle is Maintained
Any purchase is a gamble to some extent. You could purchase a camper van with low mileage and it could develop all sorts of issues due to lack of maintenance. Or you could purchase an old camper with high mileage that runs smoothly without any troubles. In our opinion, there is no such thing as a camper doing too many or few miles. As long as the vehicle runs without problems you will be able to use it and that's why you buy one in the first place. Purchasing a more reputable vehicle such as a Mercedes Sprinter can improve the car's chances of being reliable. Ultimately how well the car has been looked after over its lifetime will determine how well it runs and how long it will run for. 
Sprinter vans are known for their reliability and versatility, making them the most popular choice for van conversion. The Mercedes-Benz Sprinter is considered a dependable workhorse that runs on a diesel engine and it's very common for Sprinters to be going strong at 450,000+ miles. From our personal experience, we have been full time van lifers for 4+ years now and our van (T1N 2006) is going strong at 340,000 miles. 
Regular maintenance and care can help a Sprinter van reach impressive mileage numbers. Are you mechanically inclined? If you can change your own oil, clean EGR's, and do simple problem-solving the Sprinter is a great choice for you.
Diesel Engine = Fuel Efficient
The diesel engine is typically going to be an advantage when it comes to mileage and durability. Diesel engines are generally more fuel-efficient than gas engines, making them ideal for long-distance travel. Diesel engines also give your van more torque, which means you have more power for heavy towing. Additionally, diesel engines tend to have a longer life expectancy than gasoline engines. The average life of a diesel engine varies based on how driving habits and how well maintained your vehicle is, but the typical diesel engine can run for significantly more miles than its gas counterpart. 
The Mercedes Sprinter van boasts an impressive 15-20 MPG. For years, the Mercedes Sprinter has been an industry leader for high-roof cargo vans – setting the standard for fuel efficiency. The Mercedes Sprinter van may not get the mileage of a Prius, but you also cannot fit a queen bed and many of the comforts of home in a Prius. Larger RVs typically manage between 6-10 MPG. With current gas prices, that means that some RVs are burning more than one dollar's worth of gas, per mile! 
Why the high price tag?
It's worth bearing in mind that Sprinters have become the number one choice for van conversions. This is partly because they are good for the job, but it also means that you are paying a premium compared to other vans of a similar specification. The high cost of a Sprinter van to camper conversion is due to the base vehicle acquisition expense, hundreds of hours of skilled labor, client customization requests, use of the highest quality finishes and the very best third party components to build out the ultimate adventure vehicle. On the high end of Sprinter van conversions you will easily see prices approaching $200K and beyond.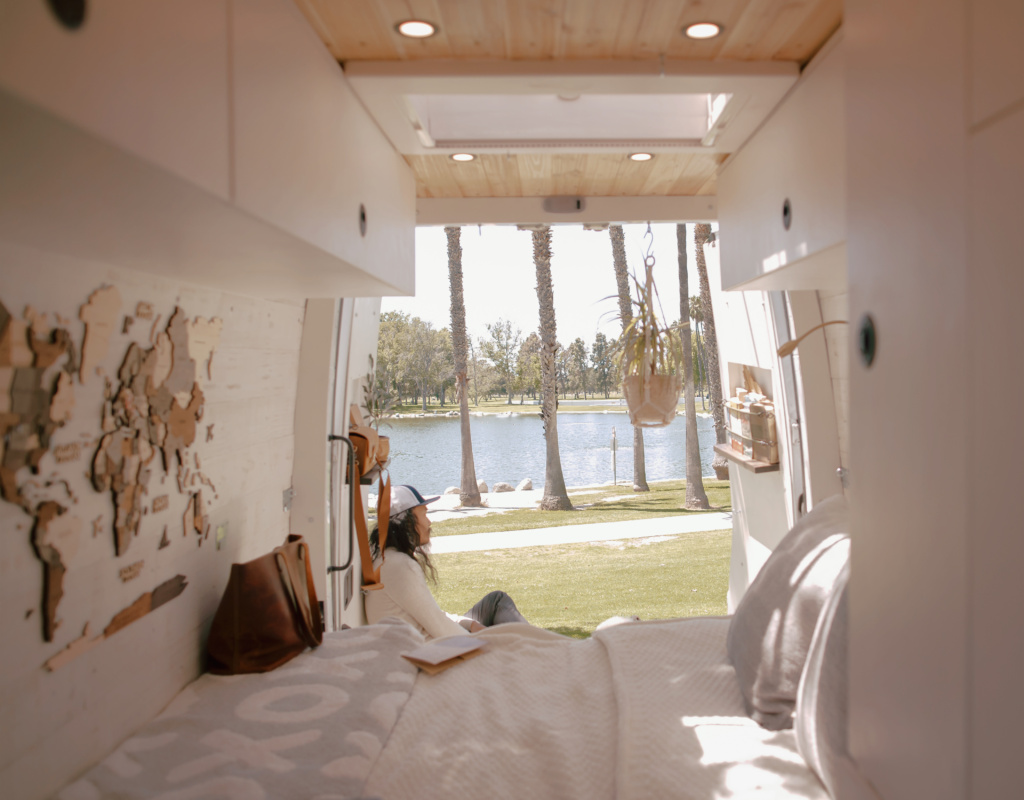 The base price of a new, empty Sprinter van hovers around $50,000 for the smallest and shortest models to upwards of $70,000 for a longer wheelbase and stronger engine. A used cargo Sprinter retails for $30,000 while opting for a high-roof version will increase that bottom line to around $50,000, and that's before adding any customizations. When it comes to the actual conversion costs, the sky is the limit – or more like, your wallet is the limit. Converting a Sprinter is no easy or inexpensive task. If you have a professional do it, it can cost anywhere from $40,000 for a standard build to upwards of $100,000. You will save money by DIY but you'll still spend around $20,000 on materials depending on your floor plan and features.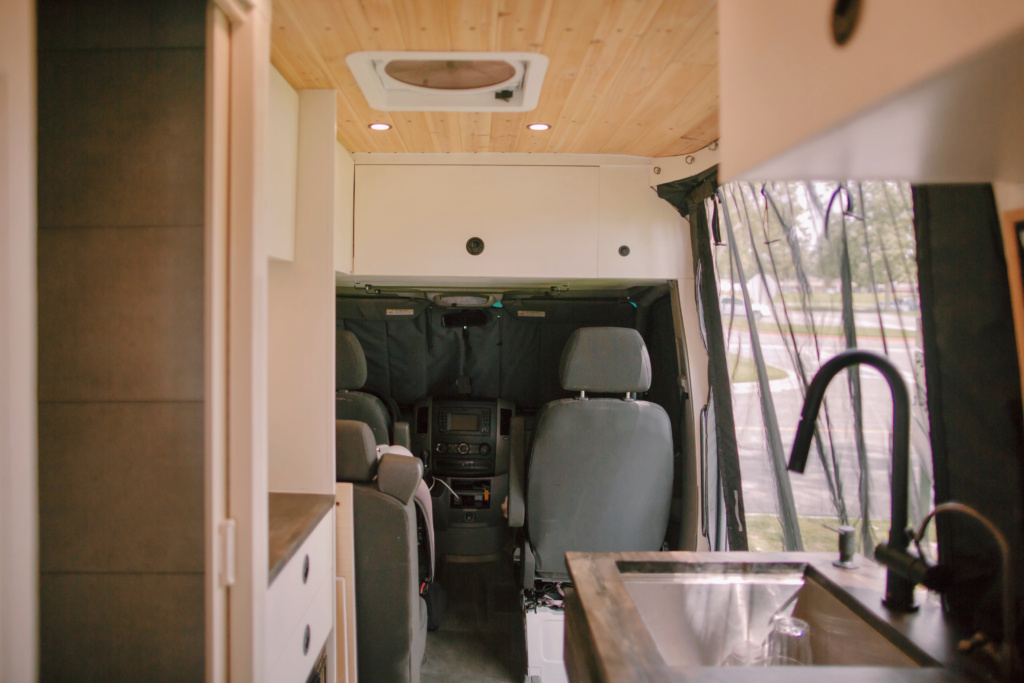 From our experience, a current market price for a professional van conversion is around $50,000 and this package just gives you the basics (AGM battery, fixed bed, no enclosed bathroom, cassette toilet, no household plumbing). Our friend just had a brand new van conversion (model 144" short wheel base) from a reputable company that cost her $65,000 and with that much money invested, in our opinion, this van is still not suitable for vanlife (especially full time travelers like us). The setup of a fixed bed while the cassette toilet stowed in the garage has prevented her from using the toilet frequently. In order for her to access the toilet, she needs to step outside of her van, open the back, carry the toilet to the front and then use it. Her van's solar power is so weak (400ah AGM Battery and 1000 Watt Inverter) that she can't run basic household appliances. It has no practical plumbing system (no gray water tank and the water from the sink drained straight to the outside). Her van has two small tanks: one for the sink and one for shower (outdoor shower only). After spending $70,000 for the new van itself and another $65,000 conversion cost (total $135K), our friend is still unable to camp off grid or do van life full time or urban living. She still needs to arrange her adventures around campgrounds and can't enjoy the vanlife to its fullest.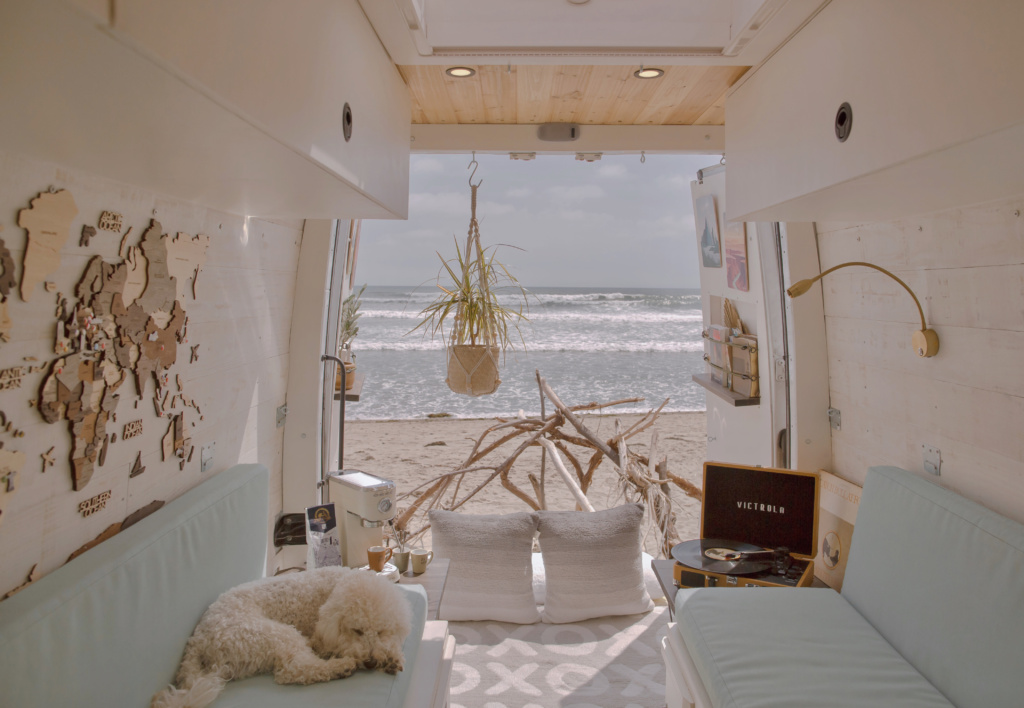 Another reason for the high price tag is a Sprinter campervan isn't for everyone. This has created a bit of a niche market, which makes them more of a specialty item. With the demand at an all-time high (remote workers, travelers who don't want to deal with a large RV) this certainly drives up the price. What if you see a vanbuild that is perfect for your family within your budget but the high mileage really scares you? That brings us to the next topic: Engine Swap!
How Much a Sprinter Van Engine Replacement Costs
If you have the budget, you should definitely go for the high end (low mileage + custom conversion works) that will cost anywhere from $150K-$200k but will give you some peace of mine when traveling. But the reality is that most families are on a tight budget when shopping for a campervan. The most common scenario you will encounter when shopping for a converted sprinter van is that the build is perfect for your family but the mileage is too high. When it comes to the time to prioritize, remember to factor in the possibility that you can always swap out the engine for a new one. After adding the cost of engine swap to the price of the converted van of your interest, if the price is still within your range then it's a good buy. 
A replacement engine is $8000-$12,000 if you use a remanufactured (rebuilt) unit. The labor is around $2000 depending on the repair shop. So the total average engine replacement cost is $10K-$14K. After buying a well serviced high-mileage Sprinter, you will surely have many more years driving it. And when it runs its course, then give it a new engine. Problem solved! The van can be in your family for generations.
Our Van Listing: Why $79,000 for such high mileage 227,000?
Check out our campervan for sale listing here: https://vanlifetrader.com/listing/2015-mercedes-sprinter-2wd-6/
After 4+ year traveling full time in our T1N 2006 Sprinter van, we understand what a full time van needs to have. No matter how instagrammable and epic it is to see vanlifers taking shower outdoor, the truth is daily showers are the most comfortable taken indoor. No matter how convenient it looks to pull in and out the cassette toilet from the drawer, we all need privacy when doing number 1 and 2 business. And to build an enclosed bathroom with shower, toilet and practical household sink/shower plumbing for a van is very costly. As mentioned about our friend's van above, even after spending $60K+ she still didn't get a bathroom. Why? The truth is that It's less costly and less time consuming for van builders to do cassette toilet + outdoor shower.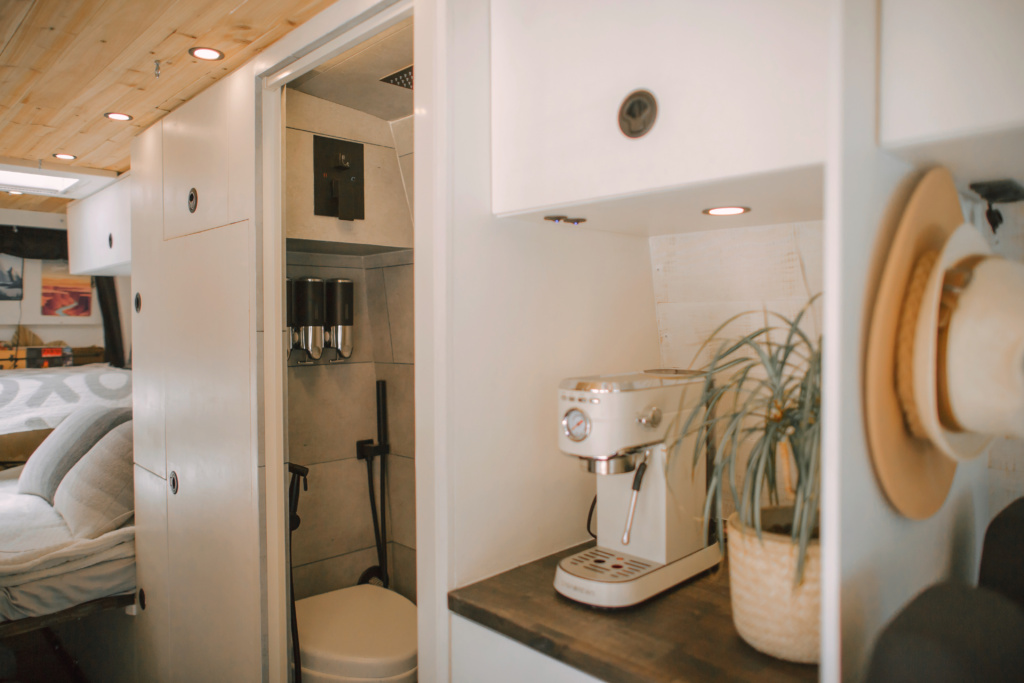 We have 5-6 year experiences researching in all Sprinter forums/marketplaces and we don't see that many vans are designed for "seat 4 sleep 4". Even if there's one, it was not really practical because all of "seat 4 sleep 4" that we saw didn't have a full bathroom. Imagine….if daddy wants to do number 2 (tricky…at midnight), where does the rest of the family go? That means these "sleep 4 seat 4" vans still have to park in campgrounds to have access to restrooms. 
We totally get it that there are adventurous souls who are OK with cassette toilets or just a shovel (easier when you are doing it solo or couple). But let's face it…..not all families are that adventurous. Many families are vanlife enthusiasts who want to explore and do roadtrips in a more comfortable and convenient way.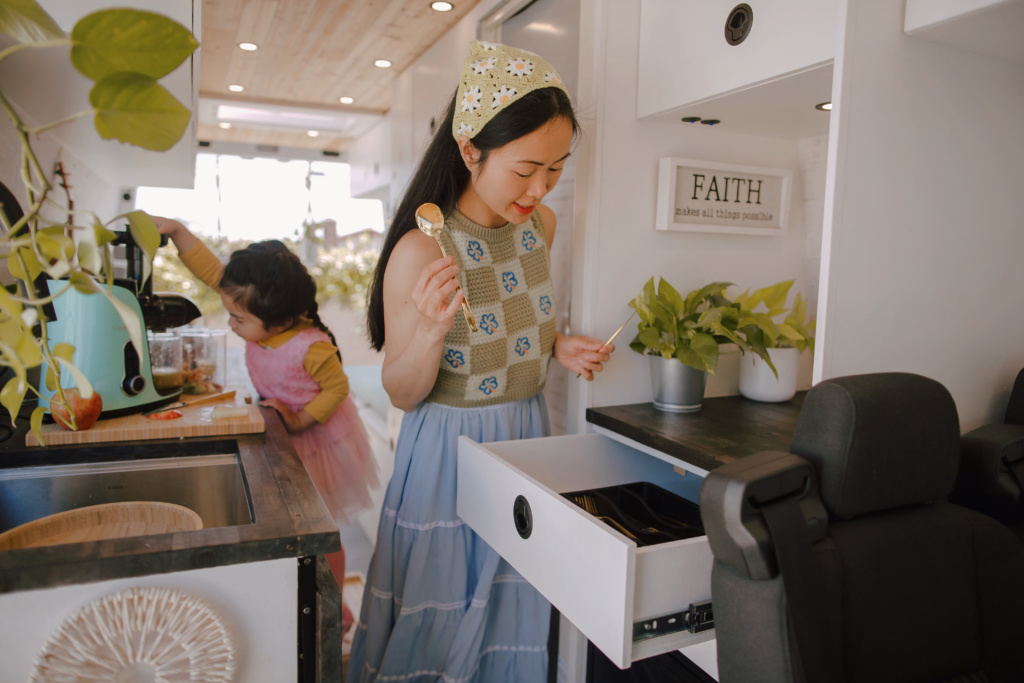 Our van is truly meant to "sleep 4" with a queen size bed, a removable bunk bed, and an expandable kitchen countertop for an additional sleeping area. When we see a "seat 4 sleep 4" on sale with only one fixed bed, we wonder where the other 2 members are sleeping?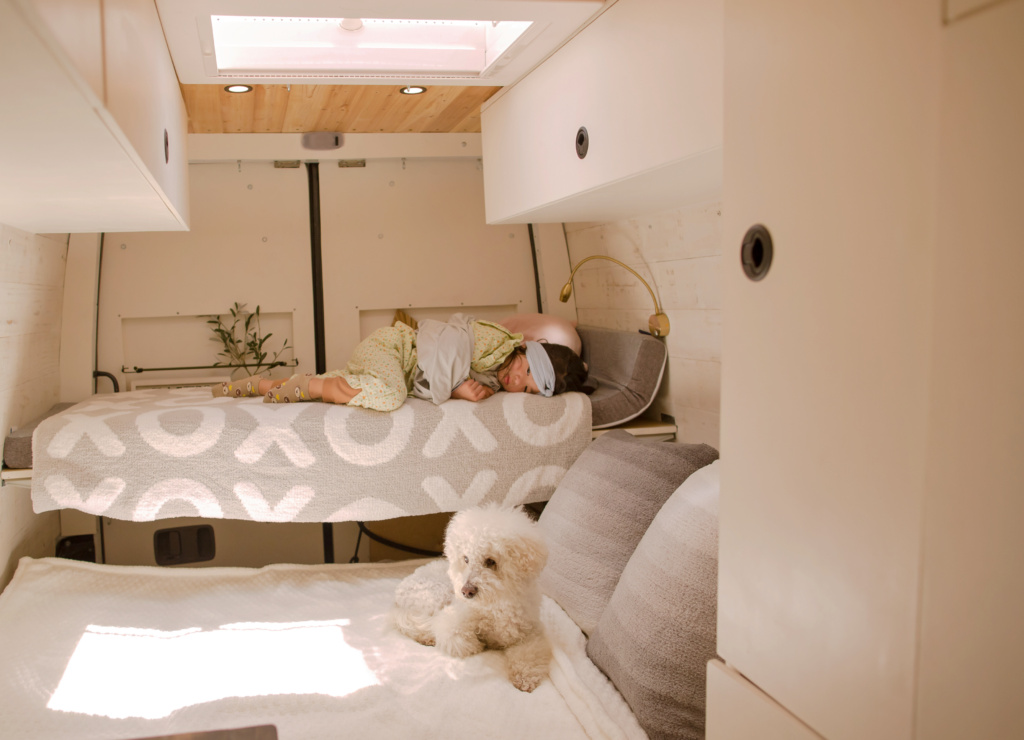 And to be able to live full time in a van, the solar system has to be top notch to run basic household appliances like water heater, electric stove, kettle, rice cooker, oven, fridge, and more. Our van's solar system is loaded with high quality and expensive components including Renogy Lithium Battery 400 Amp Hours, 3000 Watt Inverter, and 6 Solar Panels (600Watt) that will meet all the tolls of daily household needs. In comparison, our friend's conversion $65K package (mentioned above) only gives her 400ah AGM Battery and 1000 Watt Inverter; for us, that's not enough to support a van life day-to-day household needs.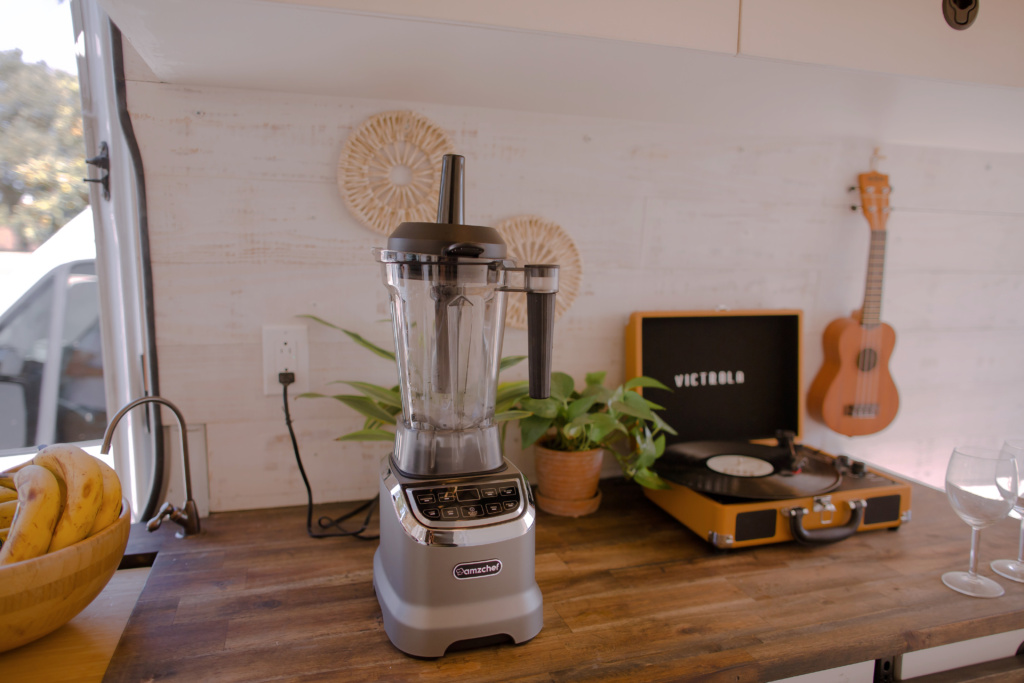 If you're considering buying our Sprinter van, you're curious about the engine life and wonder with 227,000 miles on the odometer how long you can expect it to last. Engine life is primarily determined by how well a vehicle is maintained. And our van is in excellent condition. With regular maintenance this Sprinter van can reach well above 400,000 miles. And you can have it thoroughly checked by your qualified mechanic to help determine whether this high-mileage Sprinter is a good buy. About our build, we are confident that our van is the only sprinter on the market that is truly "seat 4 sleep 4"! About the aesthetics, the pictures say it all.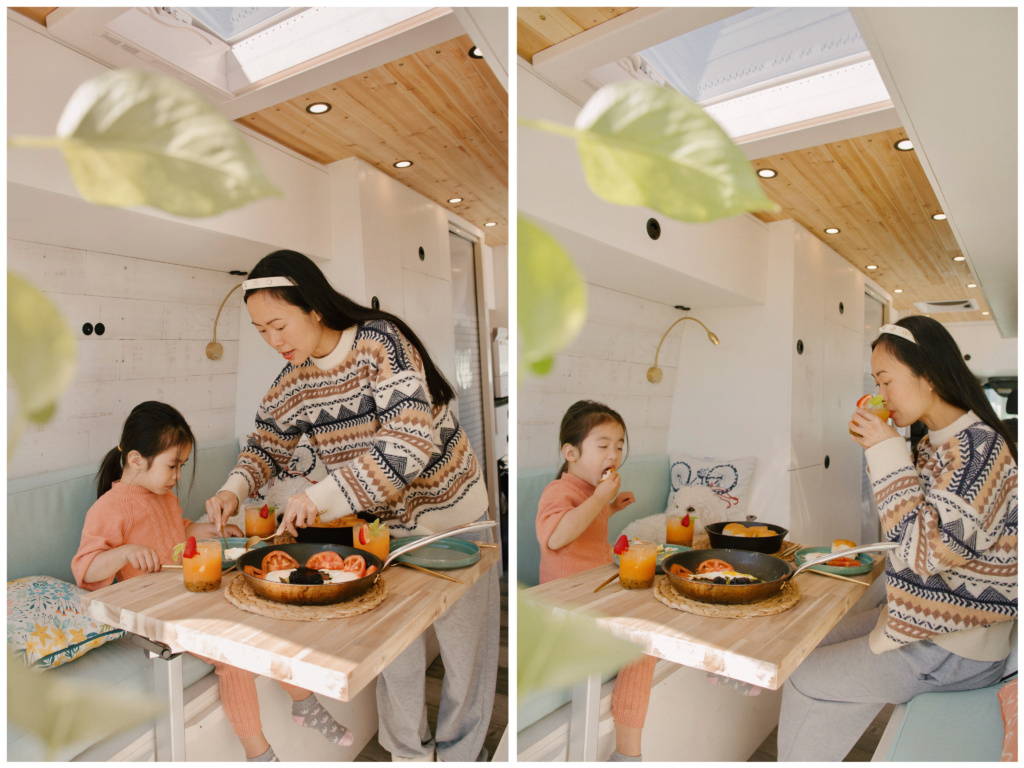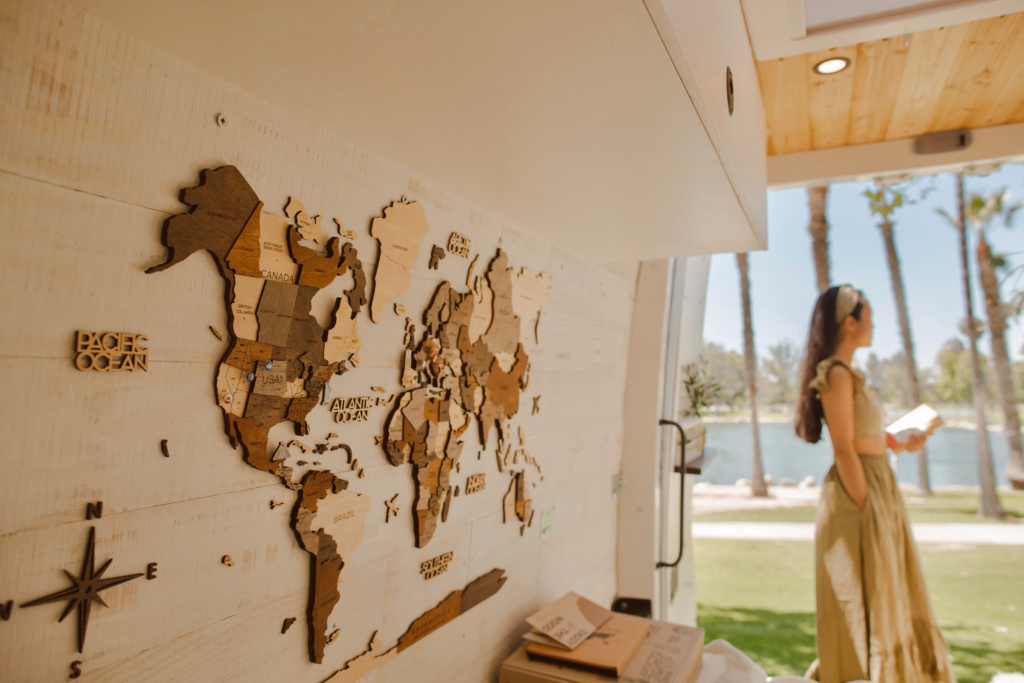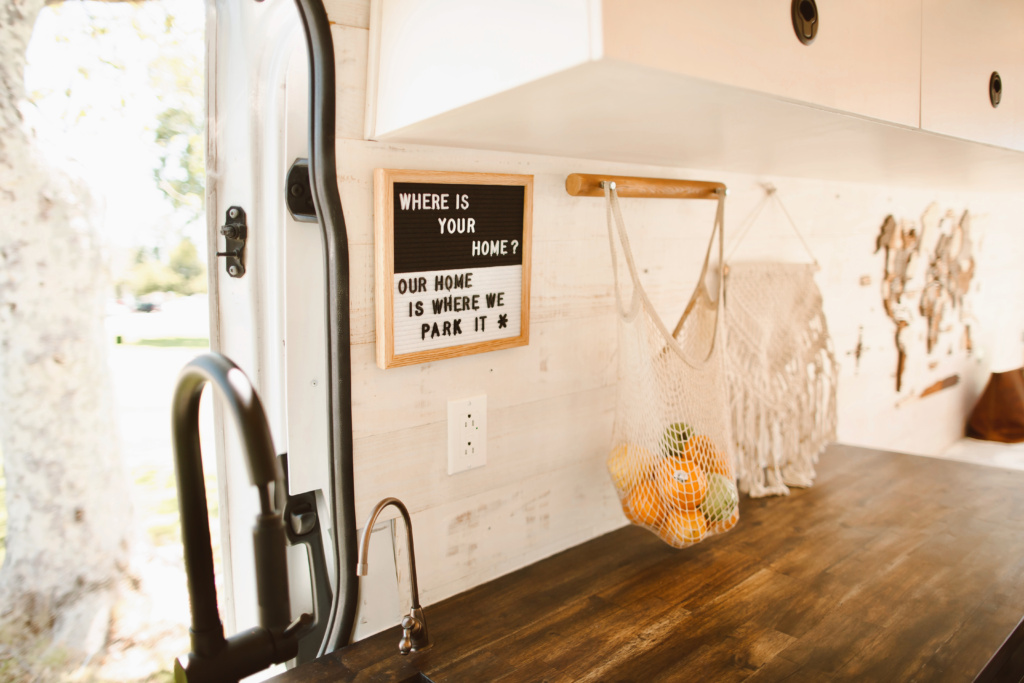 After posting our van for sale for 48 hours, we got many inquiries and they all have the same concerns about the mileage. I hope this blog is helpful in answering some of your questions.