7-Day Itinerary | Grand Teton-Yellowstone-Glacier National Park Campervan Roadtrip
There's no better way to see the United States than by taking to the road. Since we started our vanlife we have realized that there is so much of our own country that we have never seen before. Certain US road trip routes are more popular than others; we've all heard of Route 66 and California's Highway 1. But what about the states that tend to be overlooked? Montana and Wyoming. So this time we decided to focus on the northern states that never seem to get enough love like Wyoming and Montana. These states are some of the least-populated in the US, and yet they're home to some of the most stunning national parks.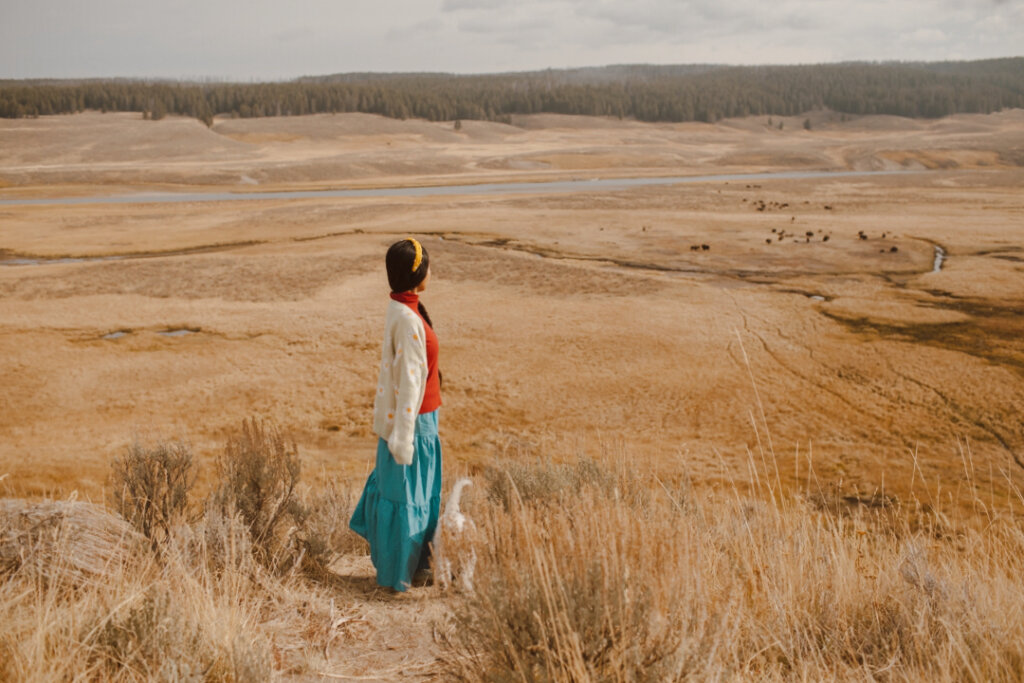 The best time for this road-trip is July through September when all the roads in Grand Teton – Yellowstone- Glacier National Parks will be open. This 7-Day itinerary assumes you are traveling in the summer months and all the park roads are open.
Day 1: From Los Angeles to Las Vegas (270 miles – 4 hours)
We arrived in Las Vegas just in time to see Bellagio unveiled their autumn display "In the Woods" by Edd Libby. After 4 hours of driving, we just wanted to take a day to relax and walk around the strip. Amidst of Covid-19, Las Vegas was quiet and empty; there was no line for valets, hotel check-ins, and buffets. It was a totally different Las Vegas.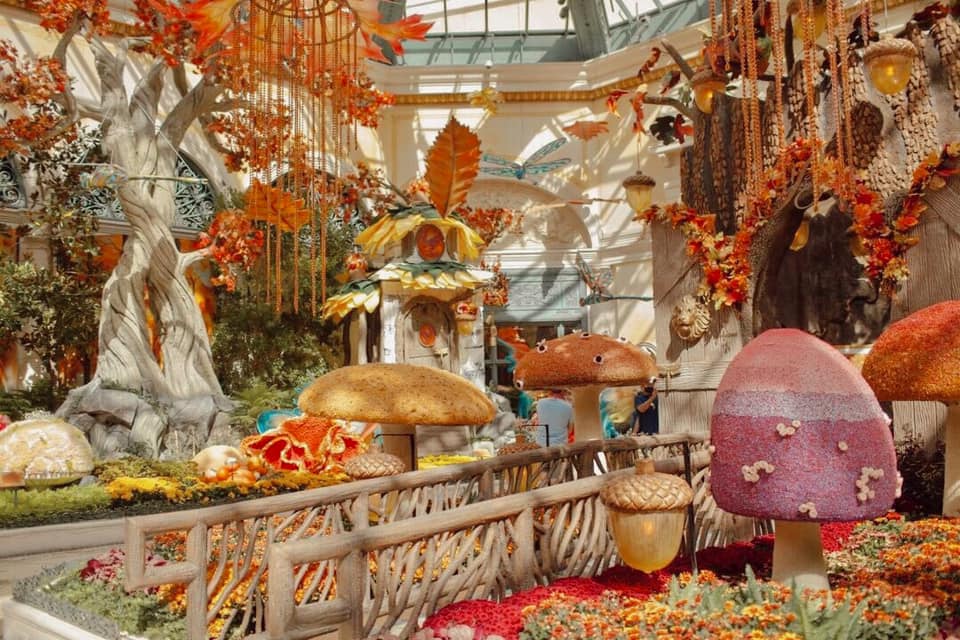 We enjoyed our walk through the fall display at Bellagio Conservatory & Botanical Garden. This beautiful work of art features festive foliage, floral mushrooms, a canopy of oversized oak leaves, and beautiful dragonflies! They used real colorful flowers and natural embellishments like different kinds of grains, real pumpkins/squash and botanical ingredients that are symbols of the harvest season.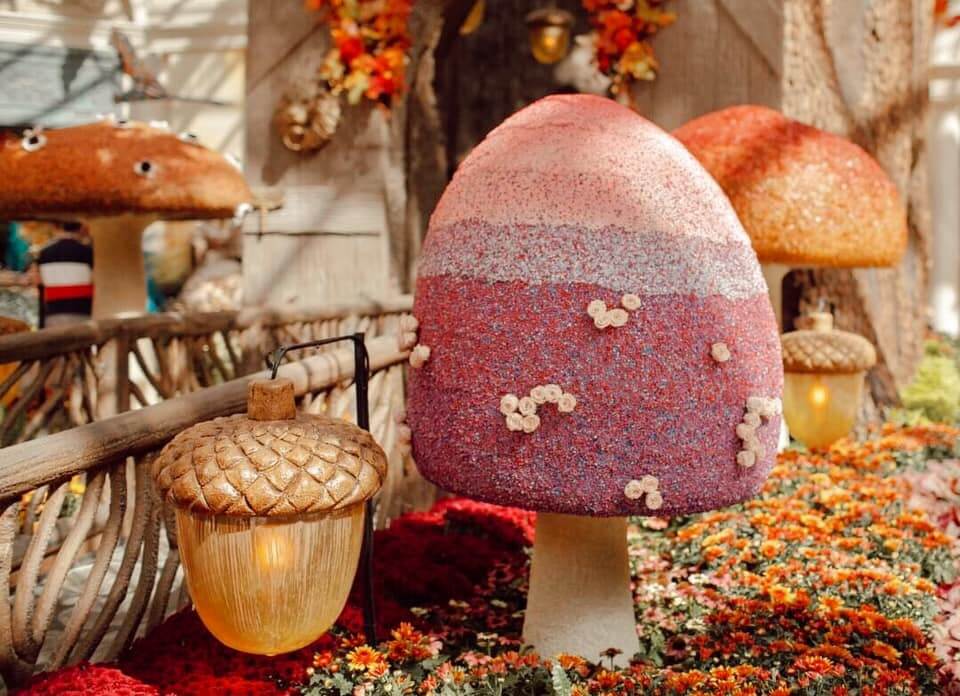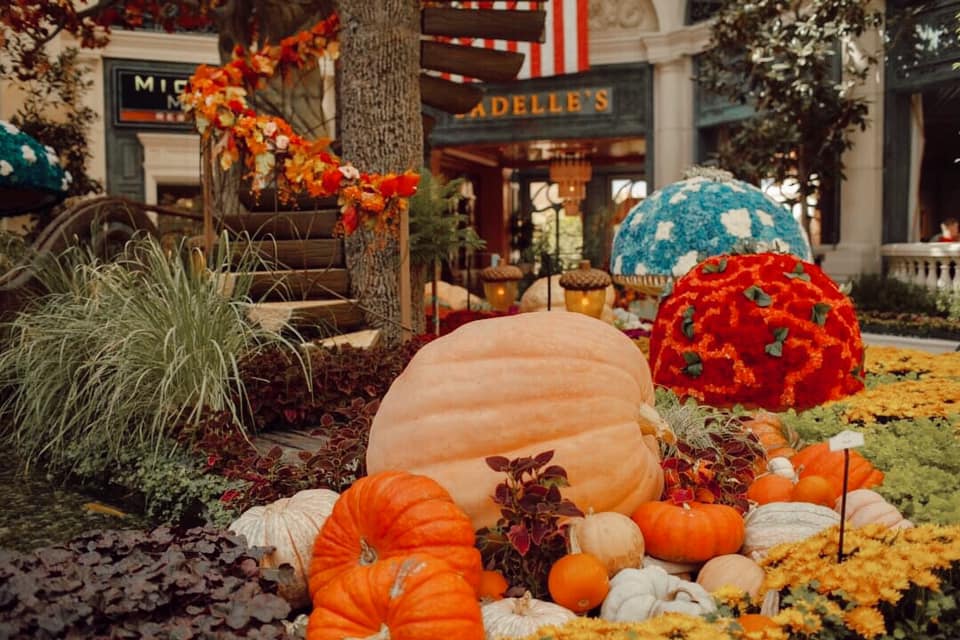 Such a great way to start our road trip and greet fall season.
Day 2: From Las Vegas to Kanarraville (171 miles – 2 hours)
Hiking Kanarra Canyon Creek Trail was forever on our bucket list. While this trail is not as well known as Zion's "The Narrows" it's equally beautiful. You need to obtain a permit to hike this trail ($12 per person). Tickets are limited to 150 hikers per day so advance purchase is strongly recommended.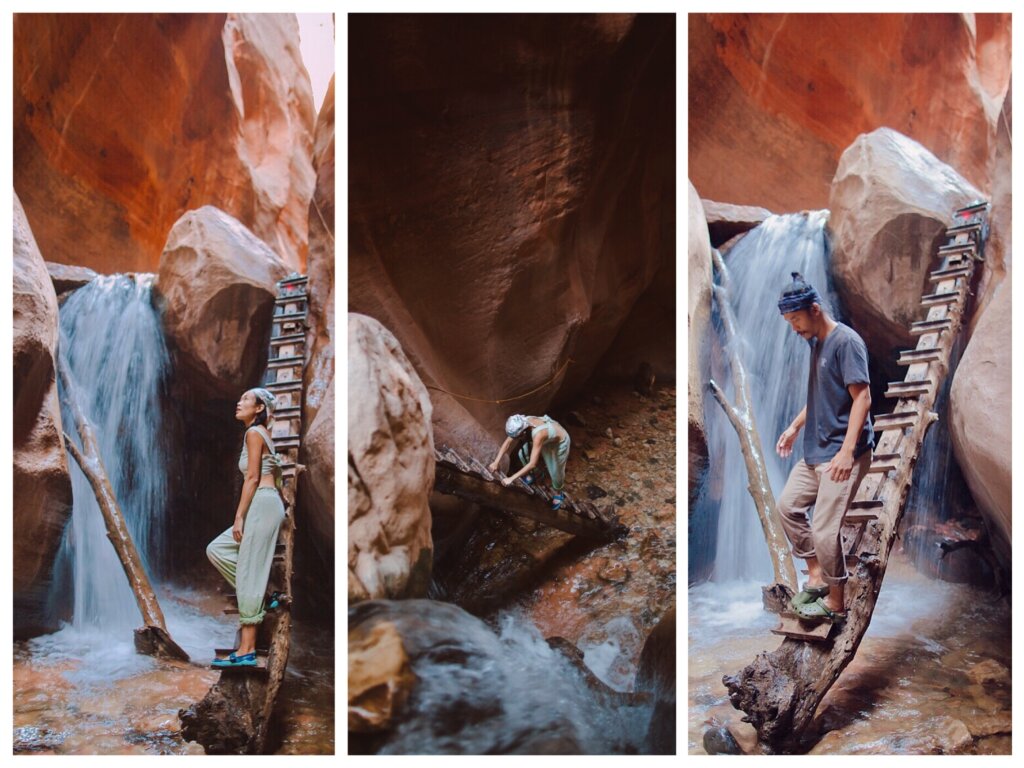 This is one of our favorite hikes in Utah; it's one of those rare occurrences where you show up to an Insta-famous spot and it looks completely identical to the photos online.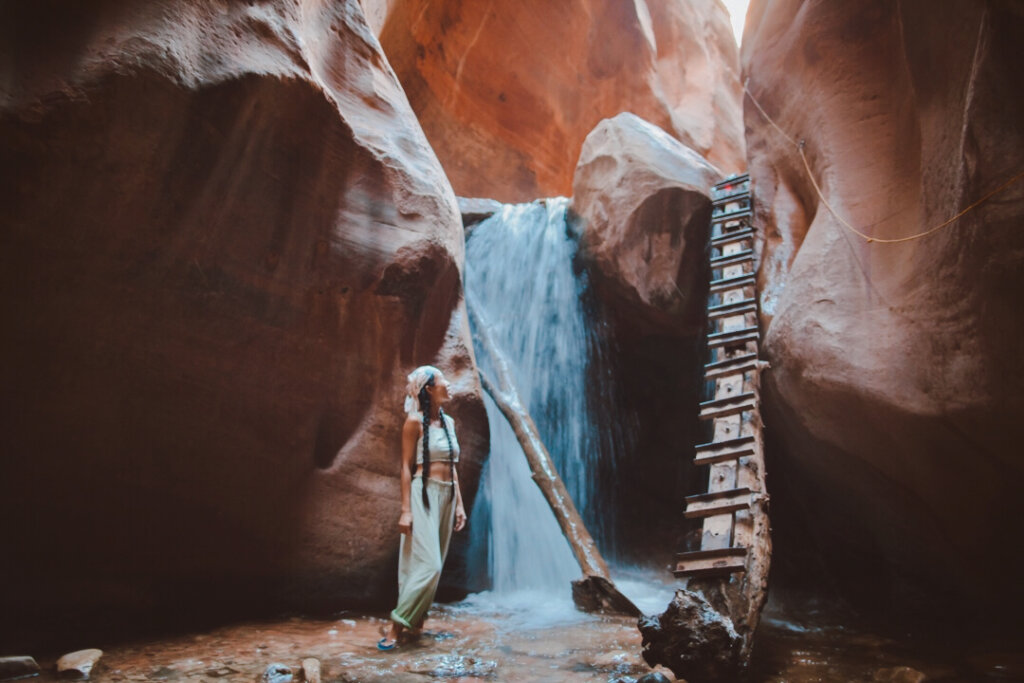 We hiked in icy cold water for 3 hours but it felt refreshing. About 1.7 miles from the trailhead, the canyon walls will slowly rise and the most beautiful scenic part of the Kanarra Creek starts. We plunged into the tall, narrow, shaded slot canyon carved over millennia by the forces of Kanarra Creek.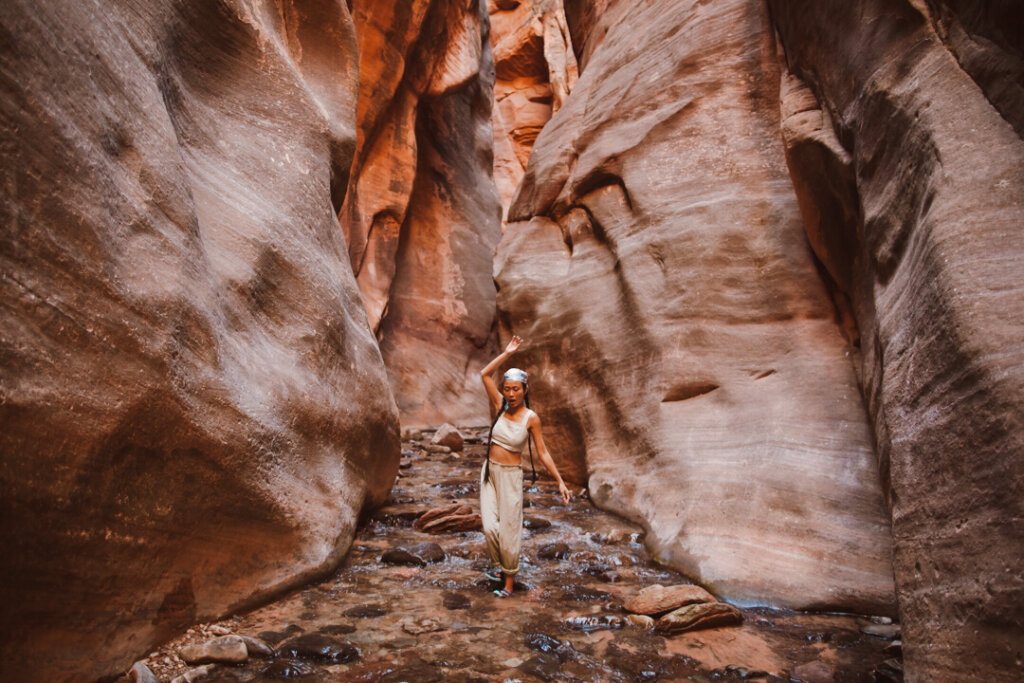 Just another short 0.1 miles into the narrow section we came to the first waterfall (the most photogenic); there is a large tree trunk that has metal rings bolted sturdy enough (remember "Hike at your own risk" sign at the beginning of the trail!) to help us climb up to bypass the waterfall.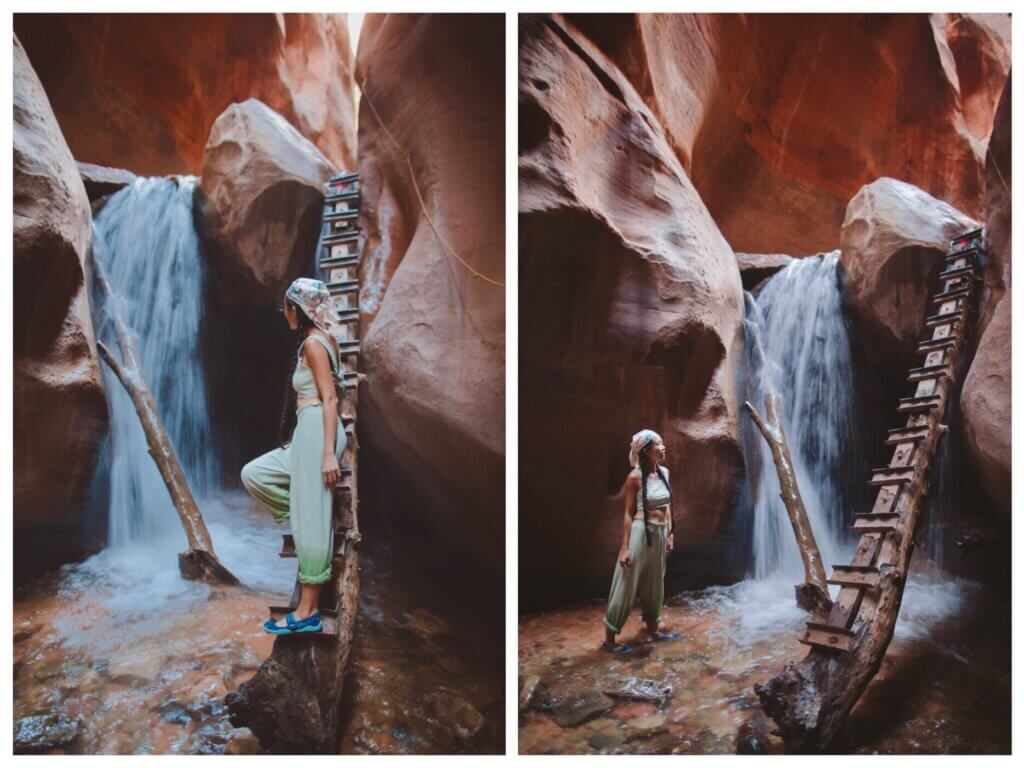 Most hikers/photographers are happy with just taking the photos at this spot and skipping the other 2 waterfalls. But we were determined to make it to the last waterfall.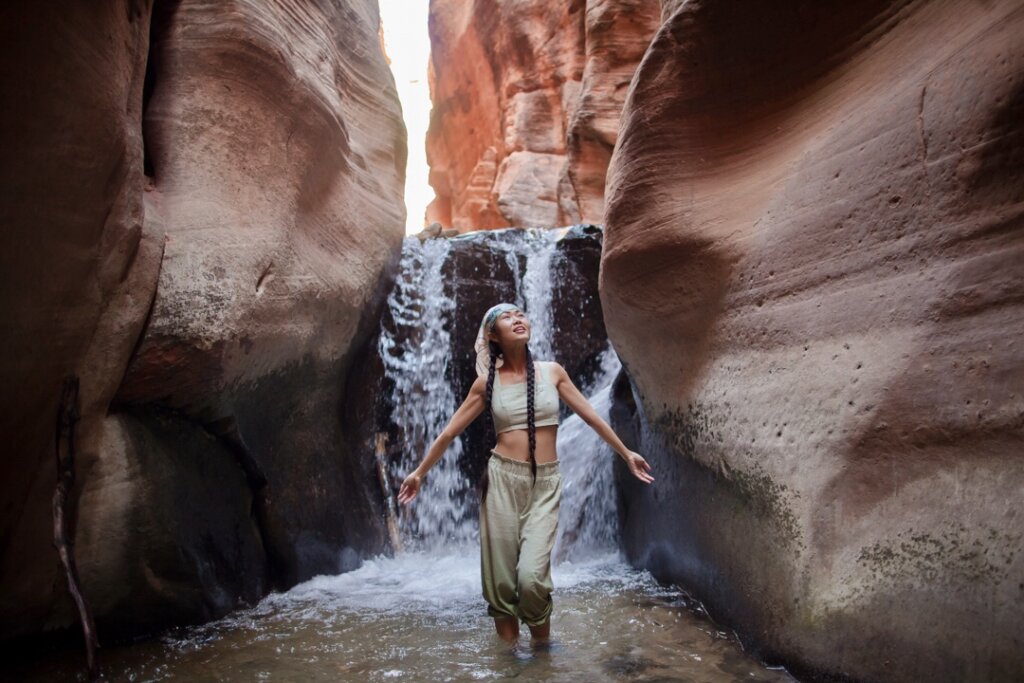 Day 3: From Kanarraville to Provo (219 miles – 3 hours)
On the way to Provo we stopped by Fillmore to explore some of the local hot springs.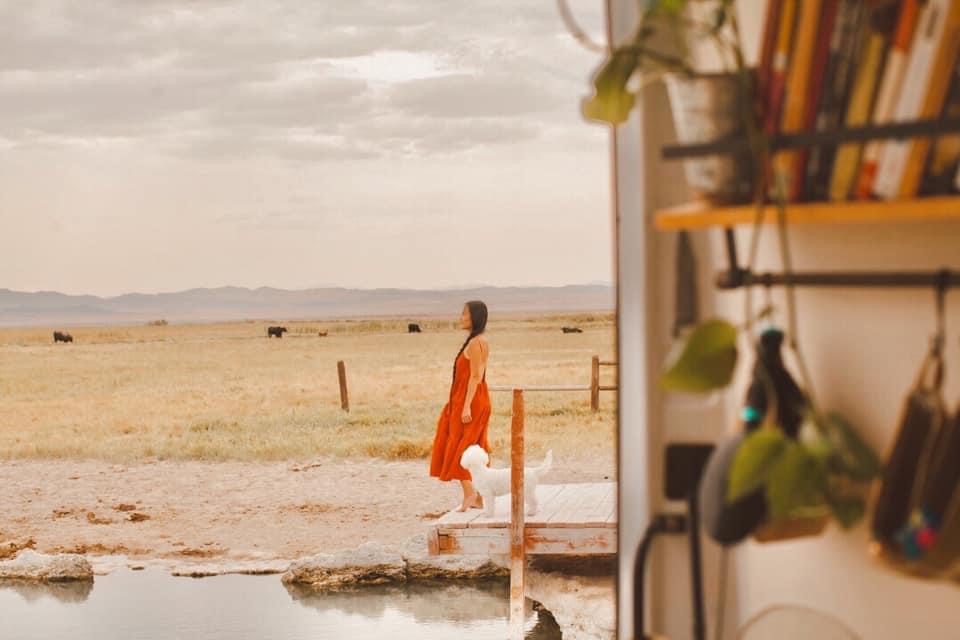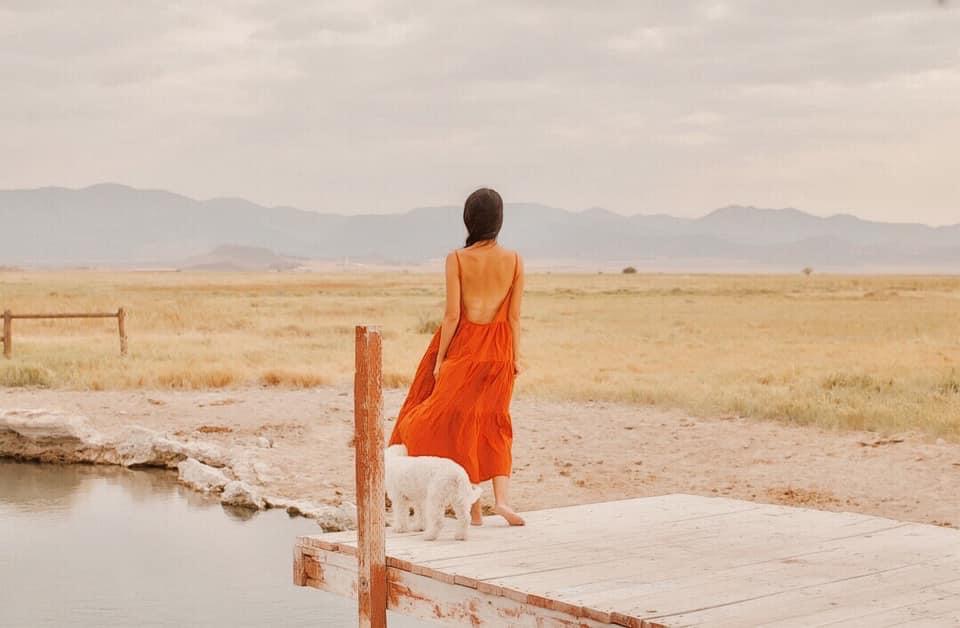 These hot springs are located in a private property; although the owners are nice enough to let locals/tourists enjoy these hot springs without charging any fee, I feel compelled not to share the name of this location on my social media channels. With the existing number of visitors to these hot springs, the owners already had their hands full with cleaning up trash (the place was super clean when we got there); I just don't want to add on to their burden by sharing this hidden gem on my social media.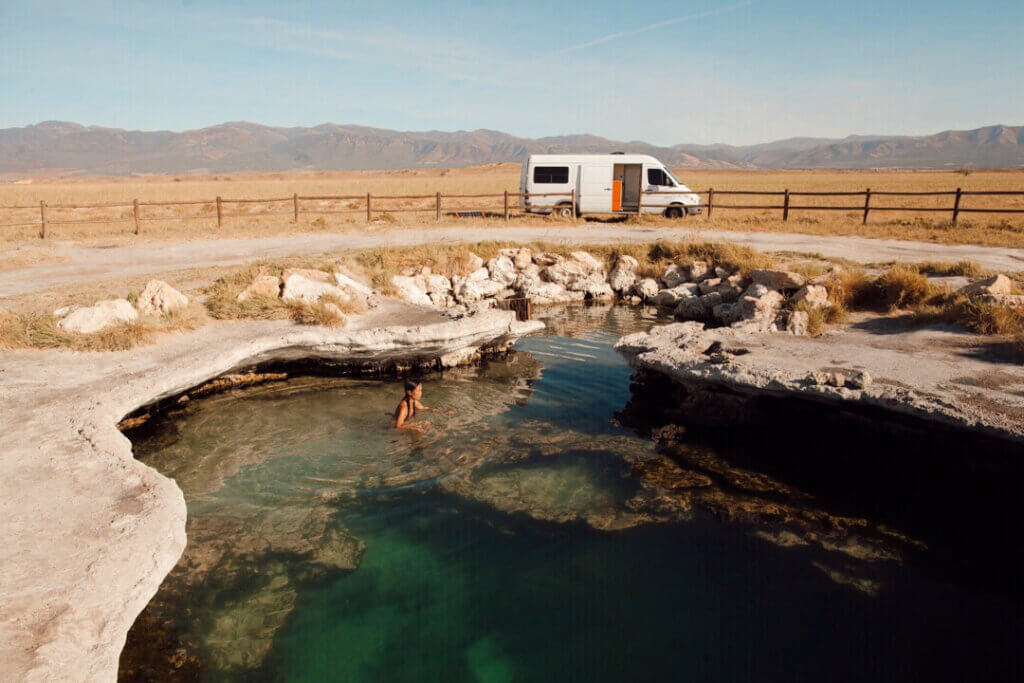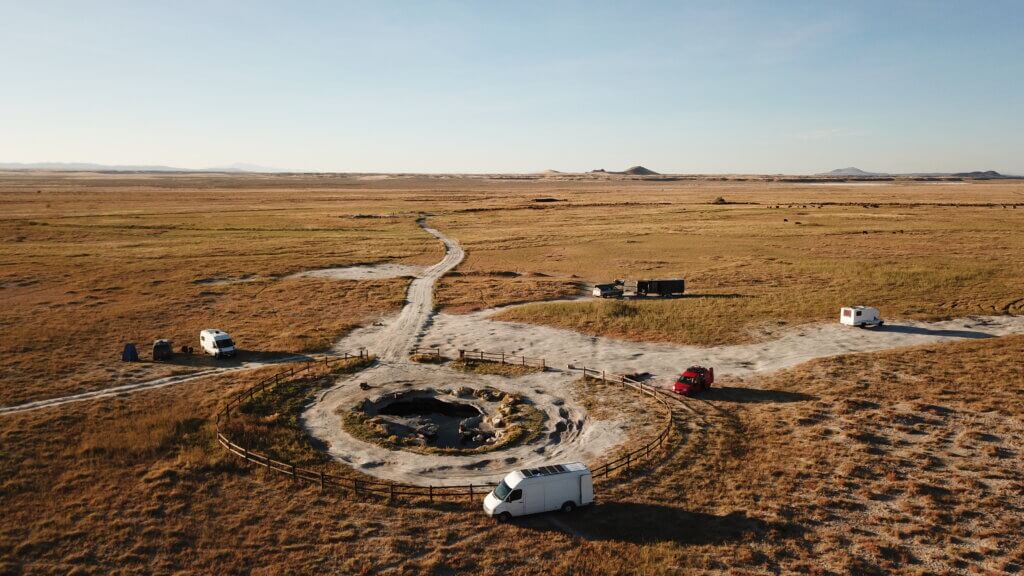 After dipping in these hot springs, we continued our journey to Provo. When the leaves in Utah start to turn, the Wasatch mountain turns into a blaze of rich color. And Bridal Veil Falls in Provo Canyon is a perfect stop to observe the fall palette of red, orange, and yellow that Utah is famous for.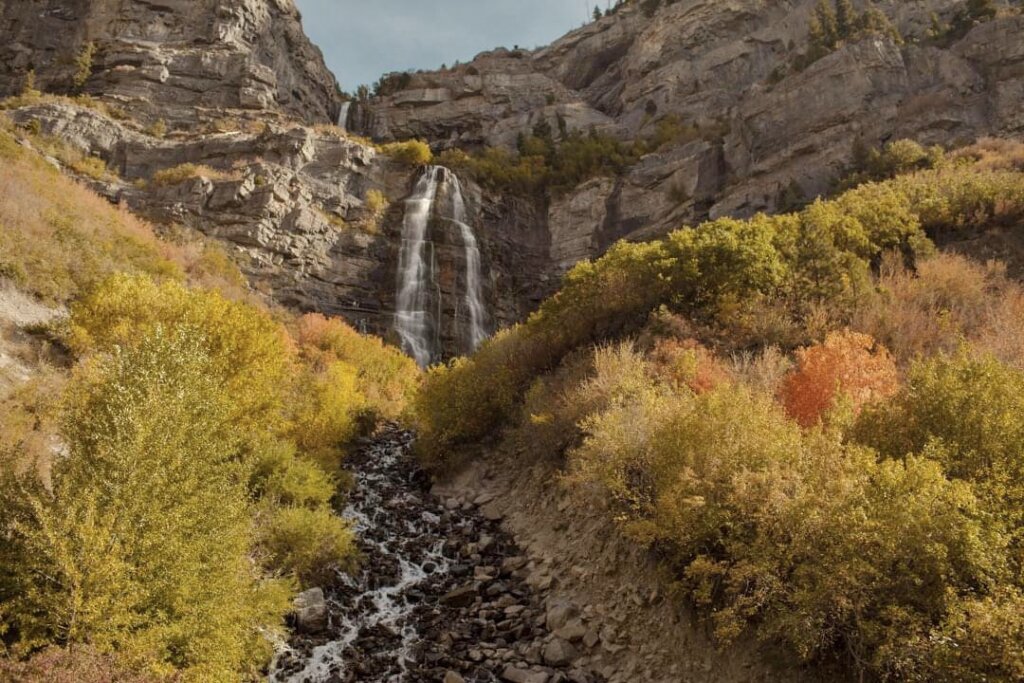 Day 4: From Provo – Grand Teton National Park (311 miles – 6 hours)
We were so glad that we visited Grand Teton in late September. The crowds have dispersed, making it easier to fully take in the beauty of this gem.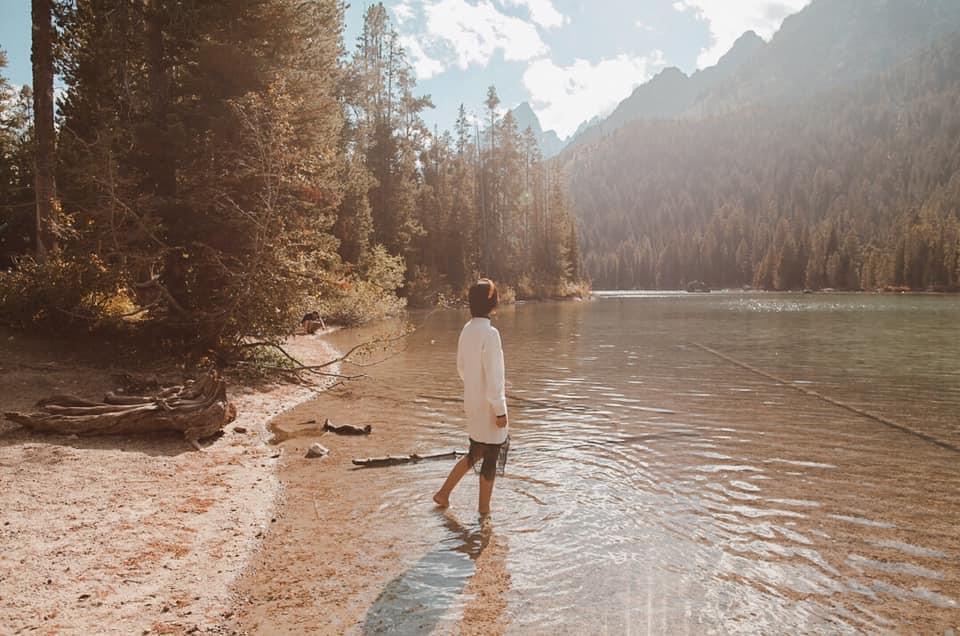 One of the best ways to experience the fall colors in Grand Teton is to get outside and explore by foot. There are several excellent trails to choose from that are suitable for all abilities. Two of our favorite trails here are Jenny Lake and String Lake.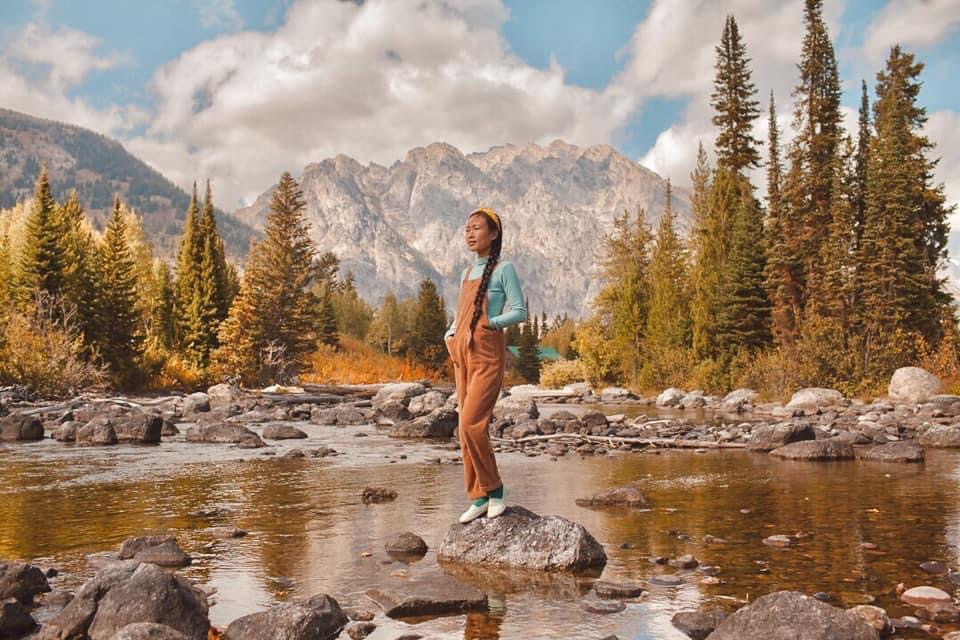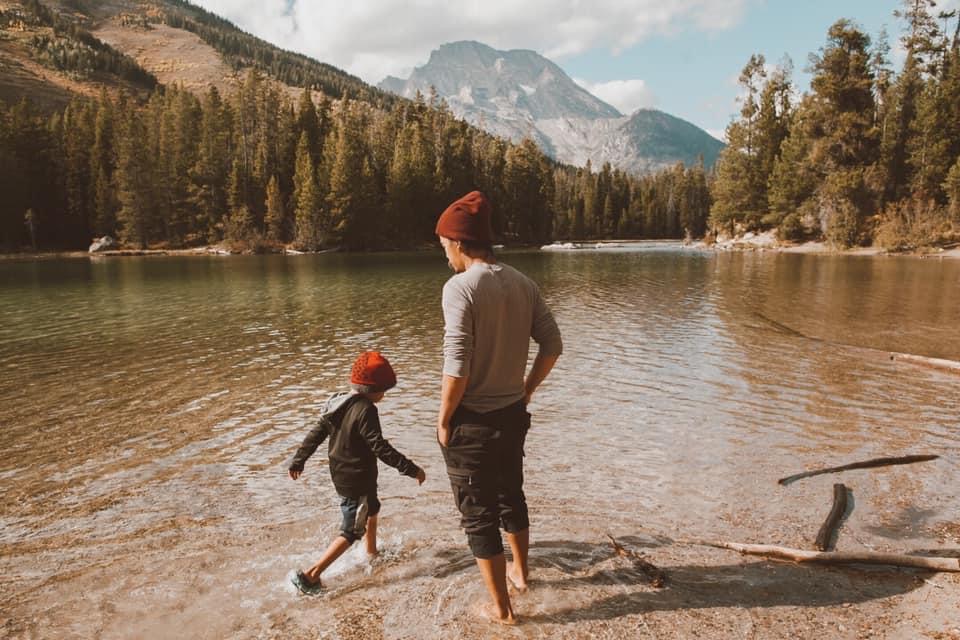 Day 5: From Grand Teton – Yellowstone National Park (80 miles – 2 hours)
One of the best parts of Yellowstone is that the main road is a loop, so you basically just keep working around the circle. On our first day, we stopped by Old Faithful and getting this tourist-packed attraction checked off the list. The geyser erupts every 90 minutes; there are signs everywhere in the area informing you of the next eruption. The viewing area is big, but it does get super crowded. So, I suggest arriving about 15 minutes before the eruption to secure a good viewing spot.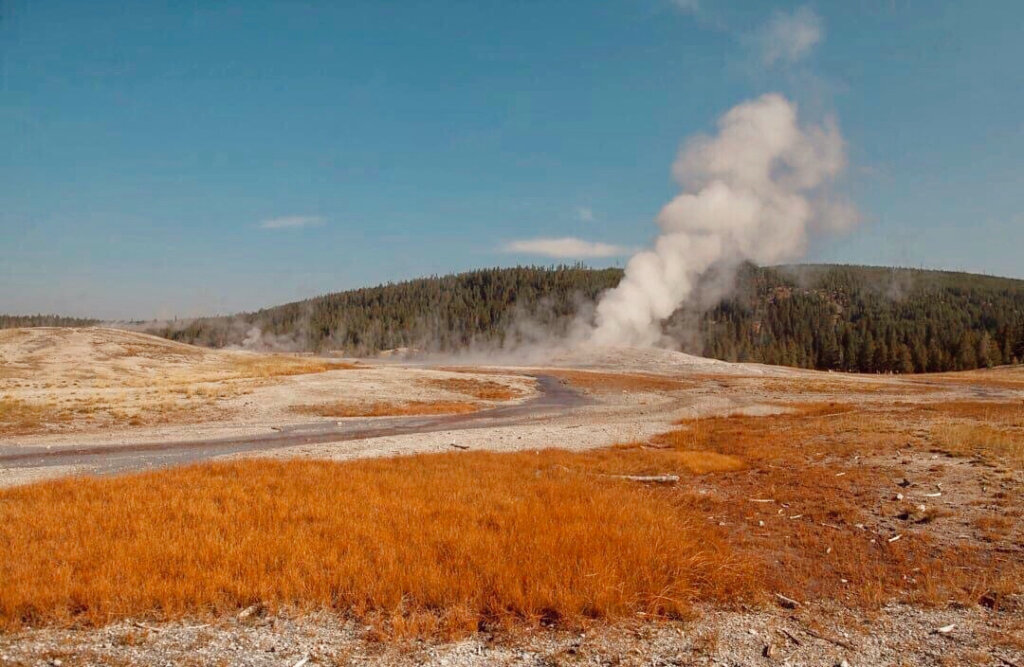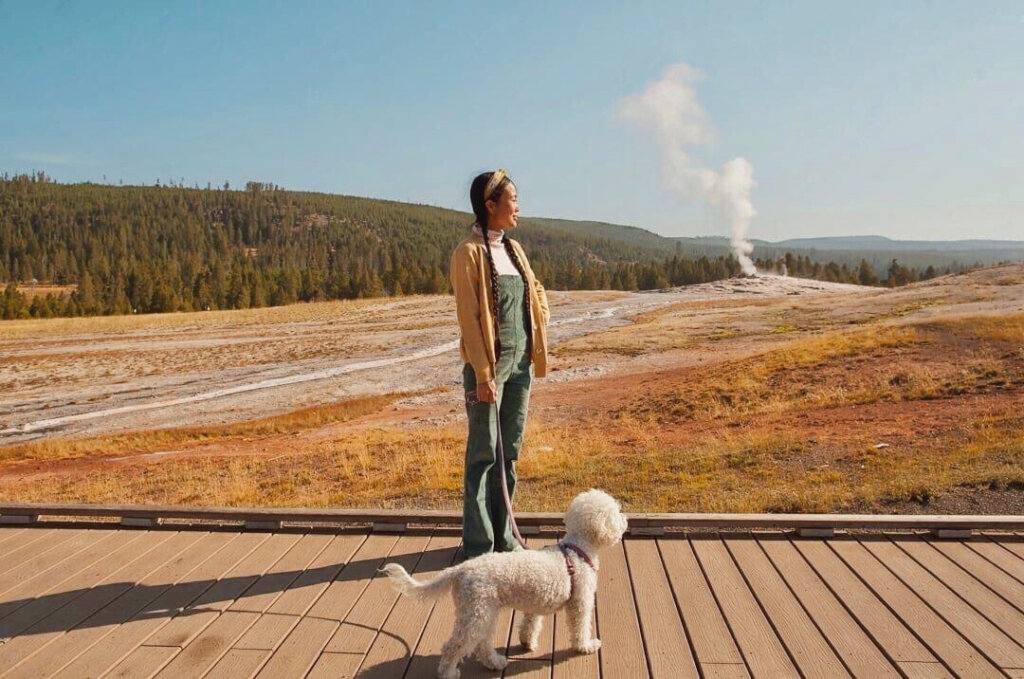 Once you've seen Old Faithful erupt, follow the boardwalk around to explore the Upper Geyser Basin, which has the largest concentration of colorful hot pools in the world.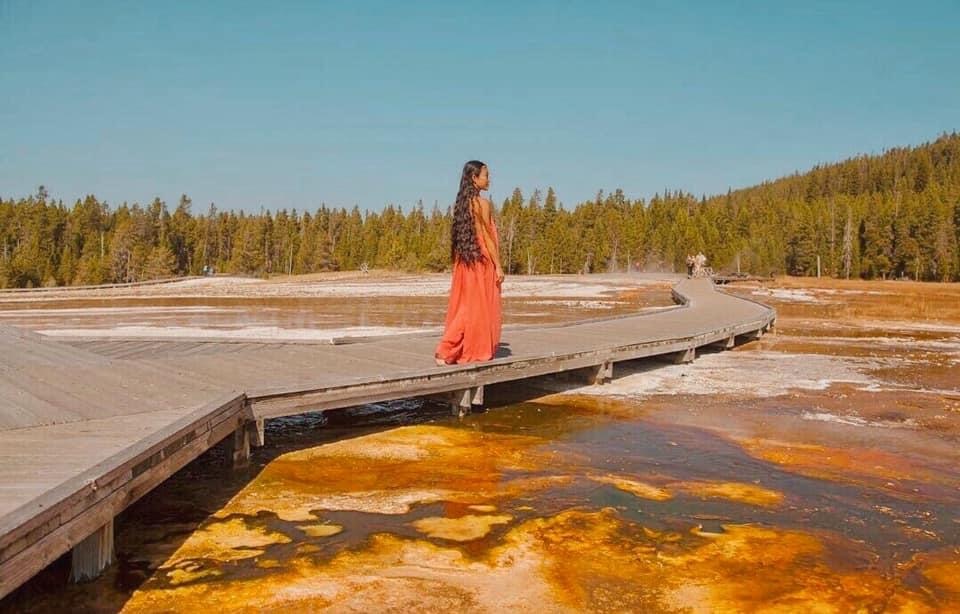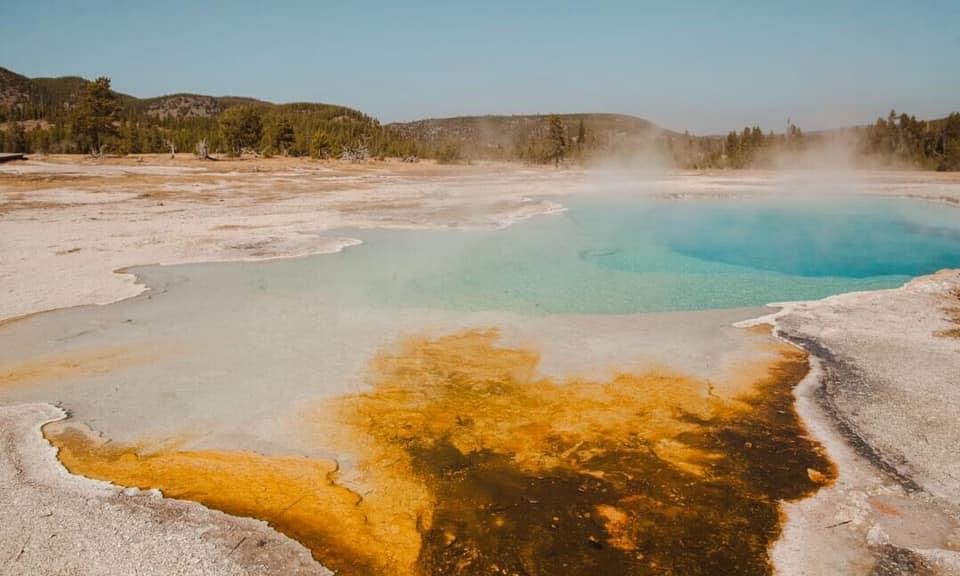 Yellowstone possesses close to 60% of the world's geysers and the Upper Geyser Basin is home to the largest numbers of geysers in the park. Within one square mile there are at least 150 of these hydrothermal wonders.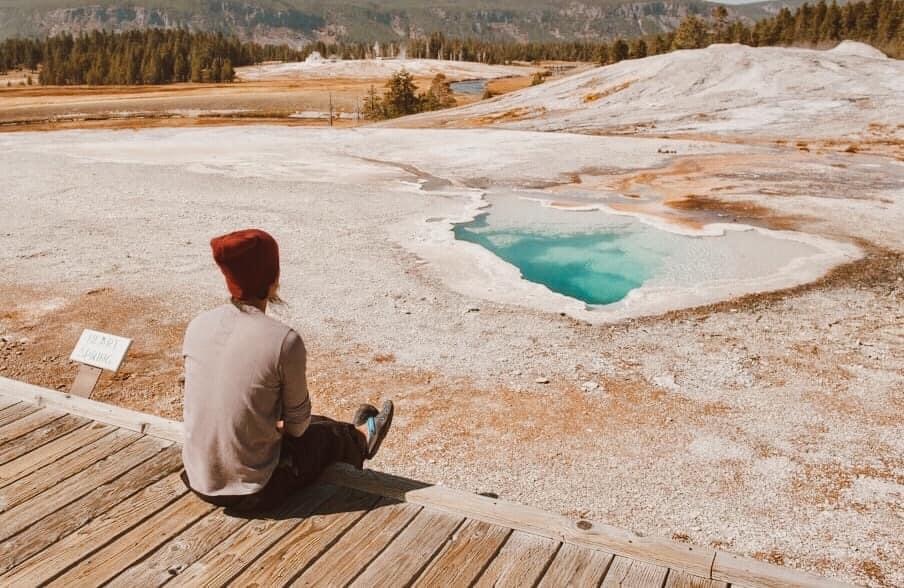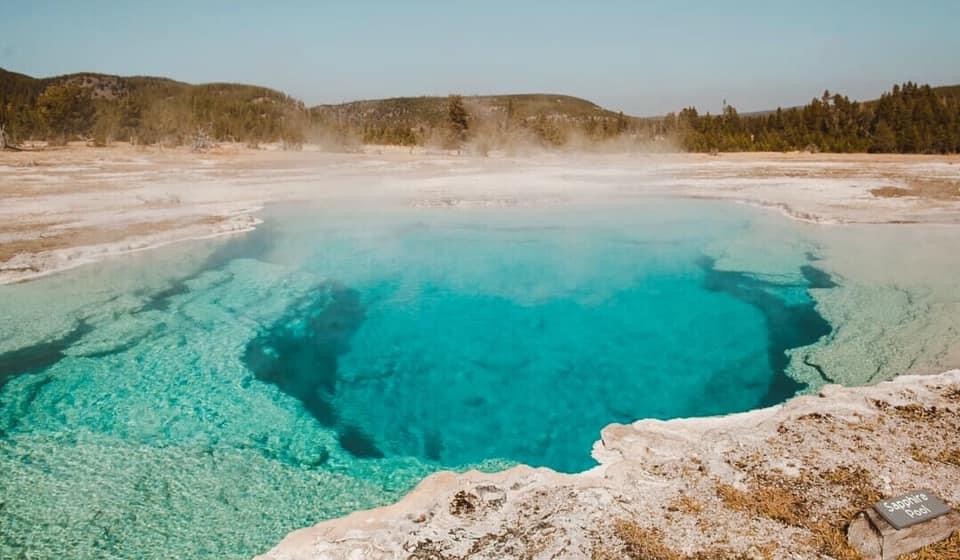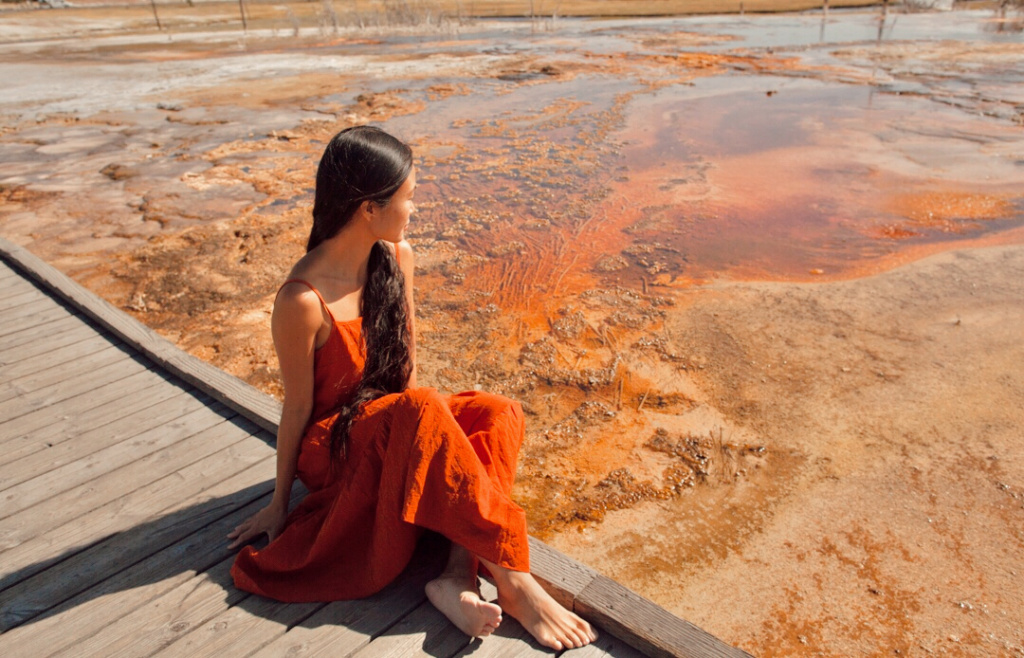 After we were done in the Old Faithful Area, we hopped back in the car and drove 5 miles up the road to the Midway Geyser Basin – home to the Park's most colorful geyser – Grand Prismatic Spring.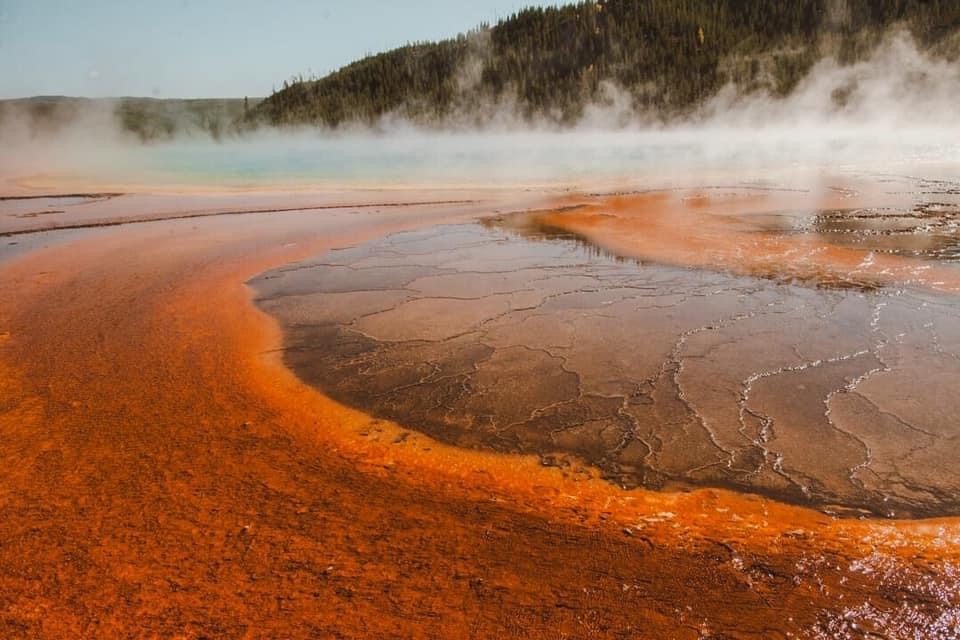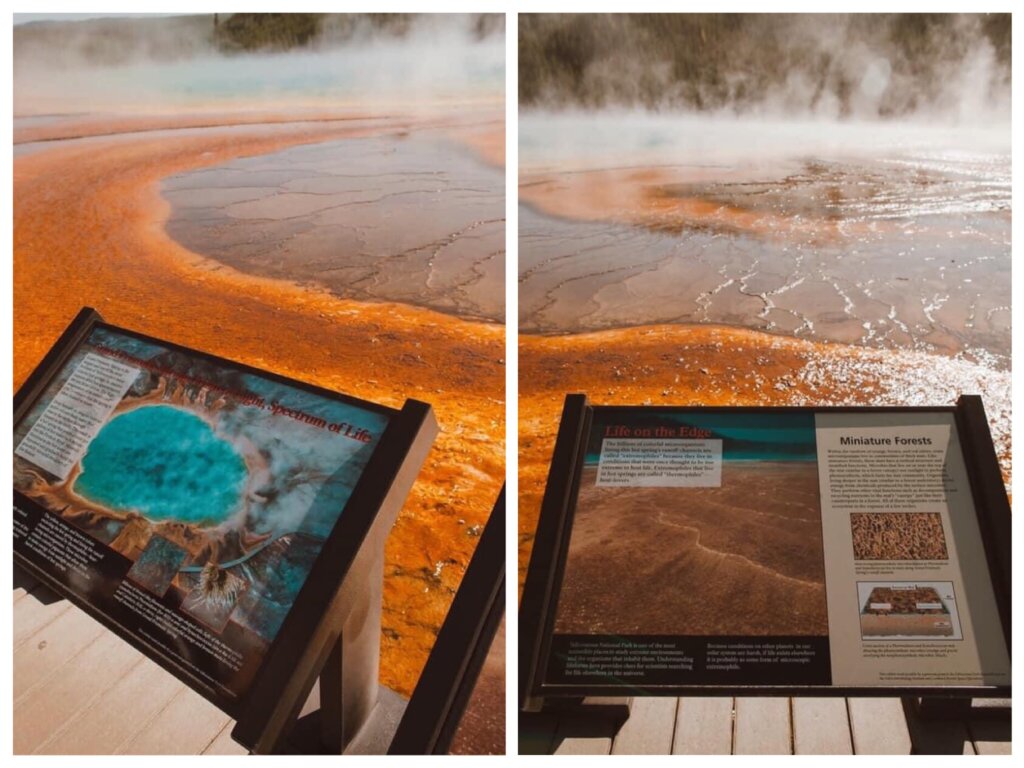 Although this is the largest and most famous spring, several of its nearby neighbors are no less stunning.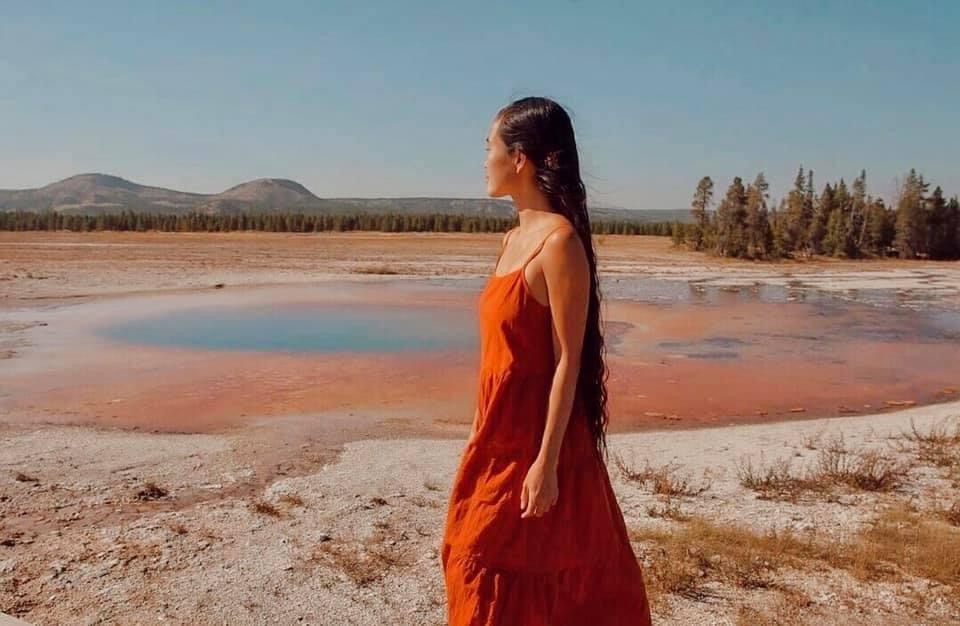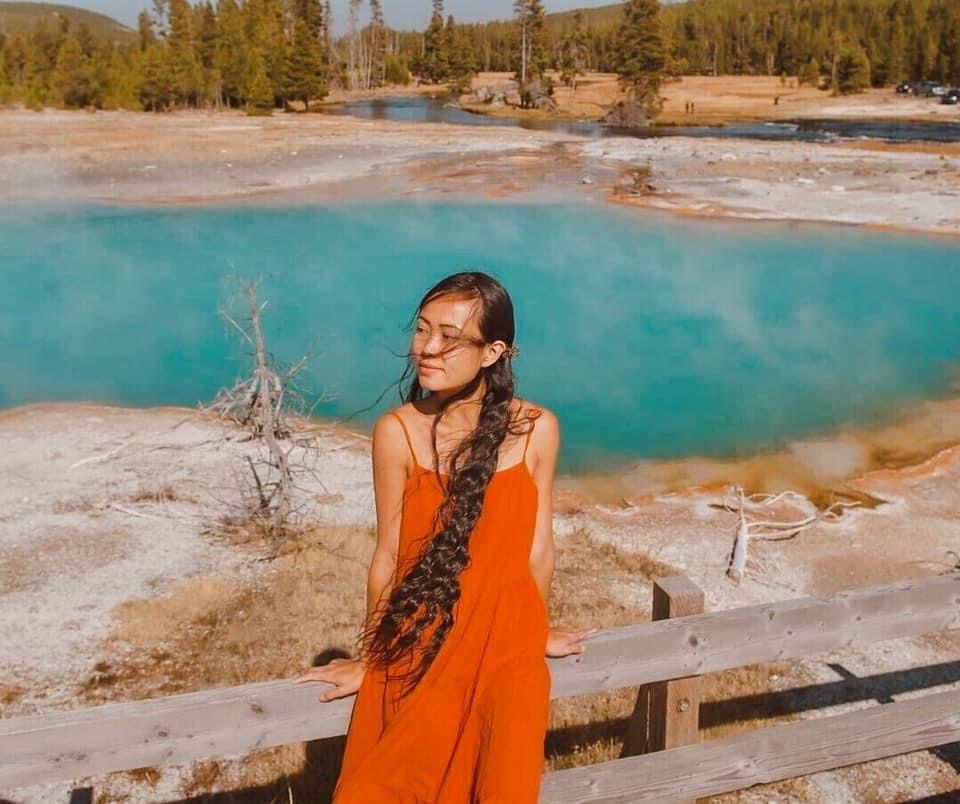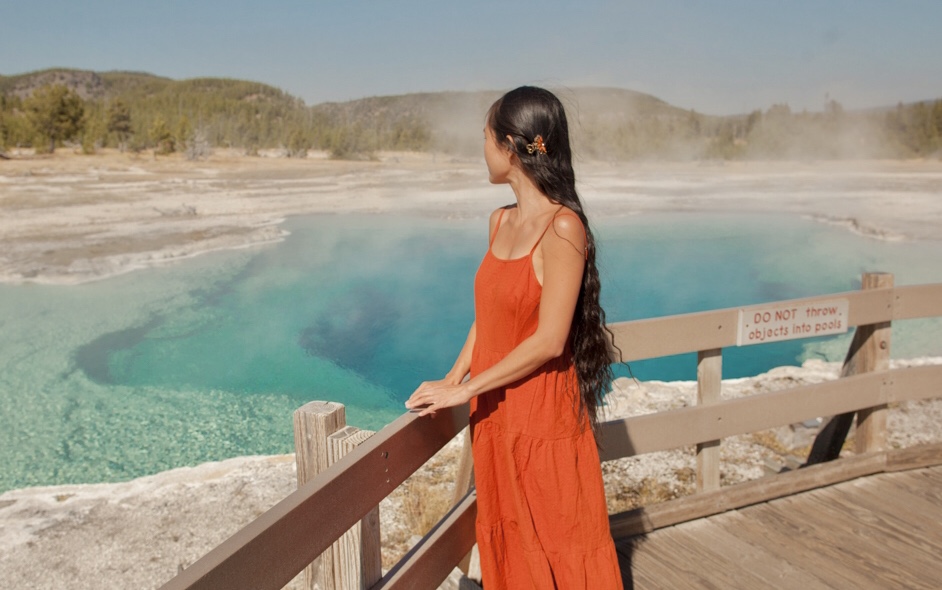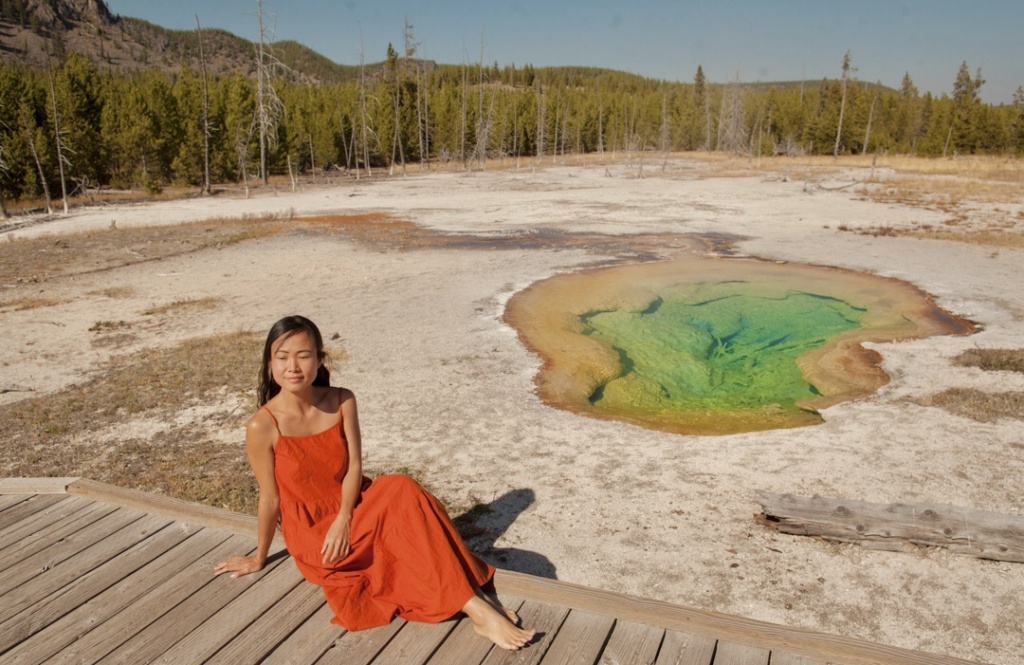 Day 6: Exploring Yellowstone National Park
We continued our drive up north to Norris Geyser Basin to visit the tallest geyser in the world – the Steamboat. Its eruption can exceed 300ft. Norris Basin is also home to the Emerald Spring.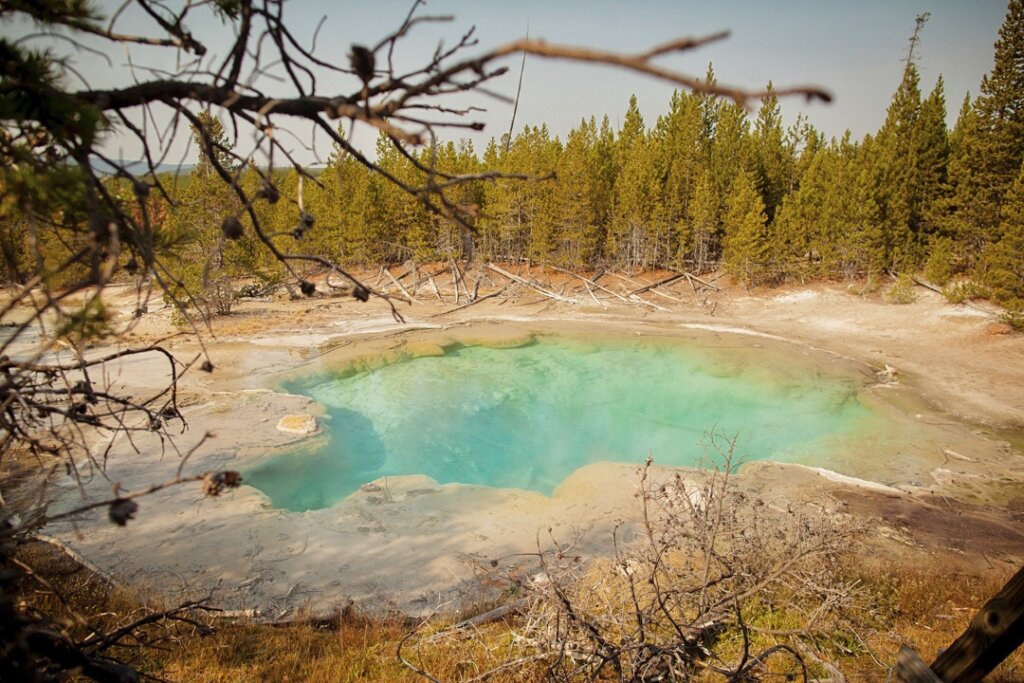 After Norris we kept heading north towards Mammoth Hot Springs. Mammoth is very different from everything we had seen so far. The water that pours over the hot springs has been in the ground for over 1,000 years and is responsible for all of the formations in the area as it cascades down.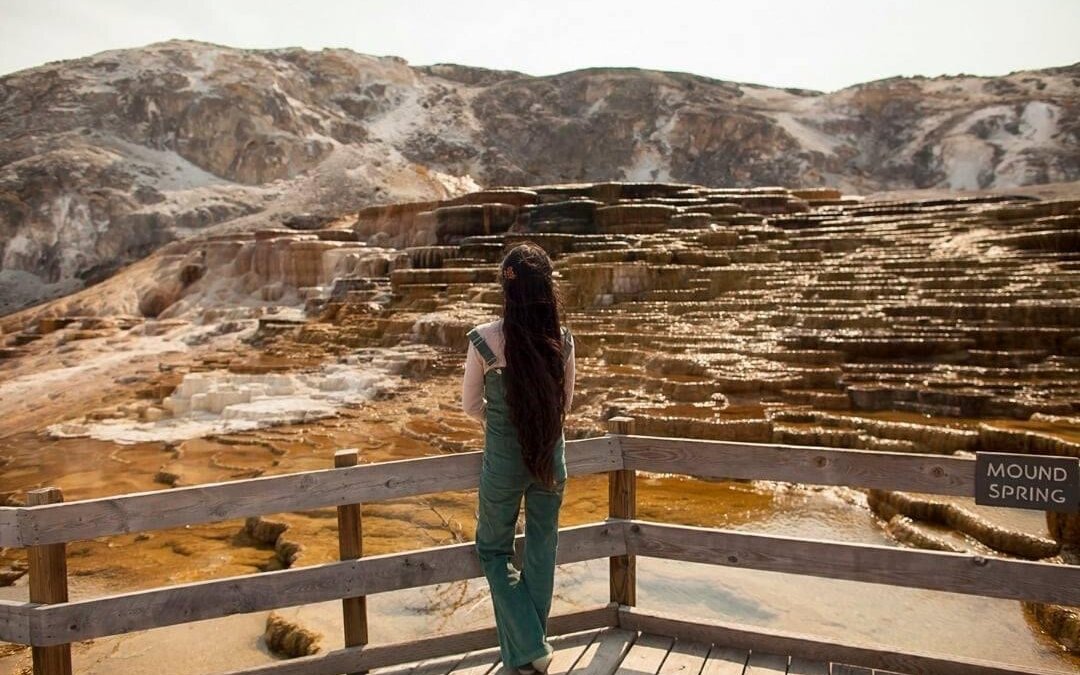 The drive from south to north is the most scenic drives. Along this route we saw bison, elk, pronghorn deer, bear, and wild horses.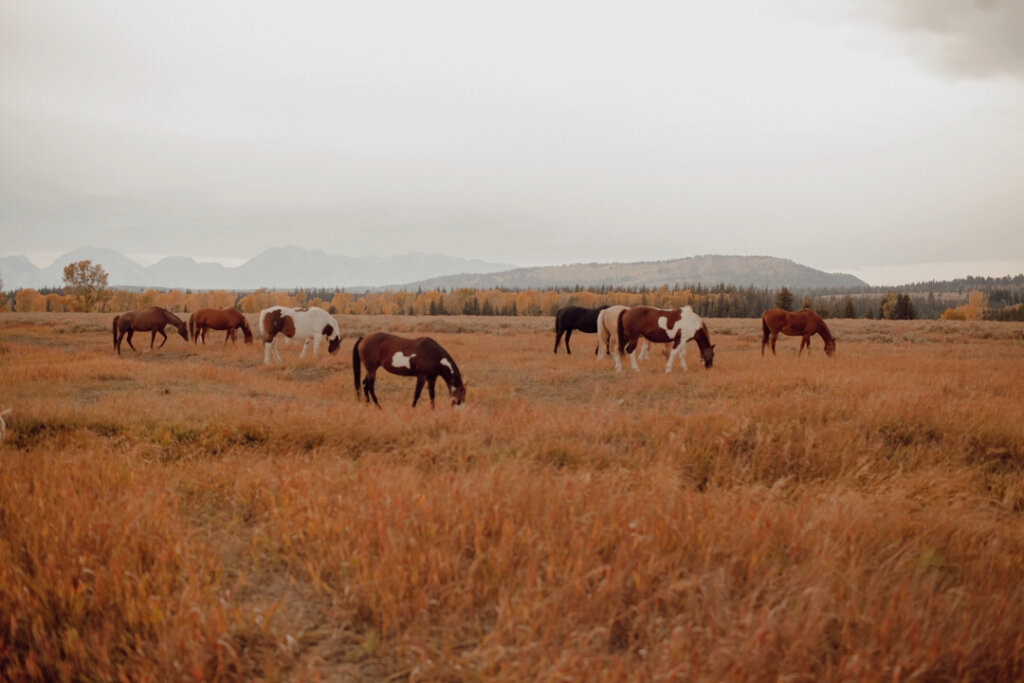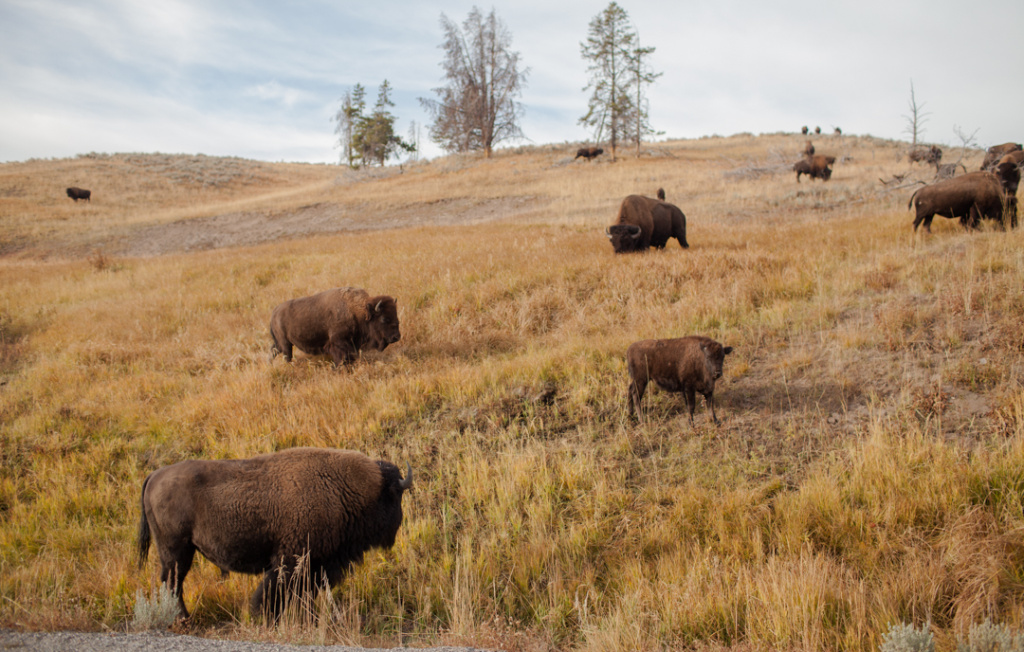 The best time for wildlife viewing is in the early morning or late in the afternoon.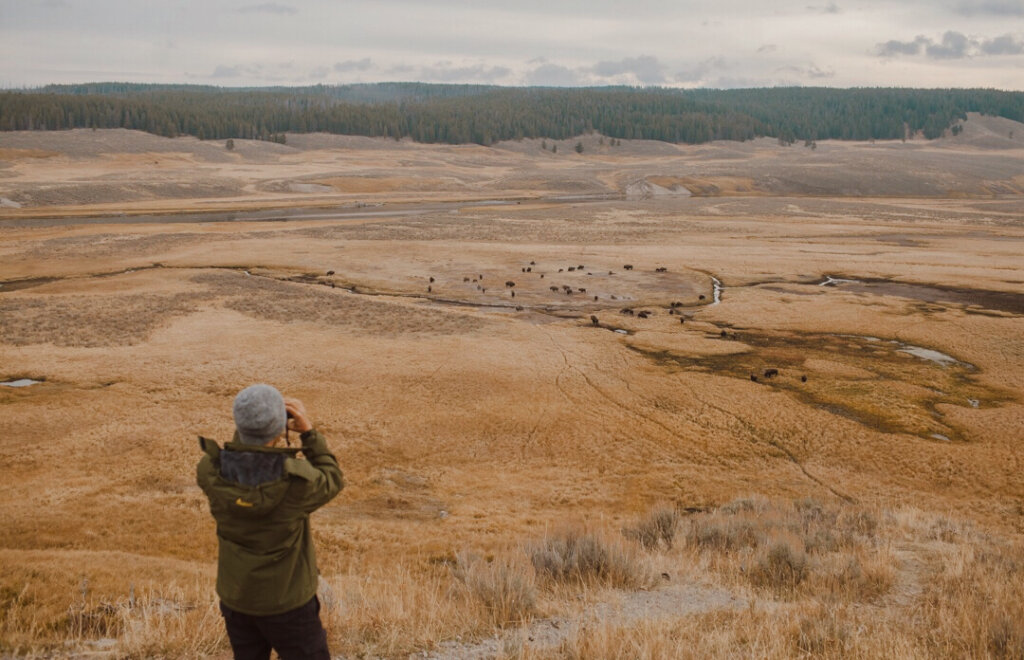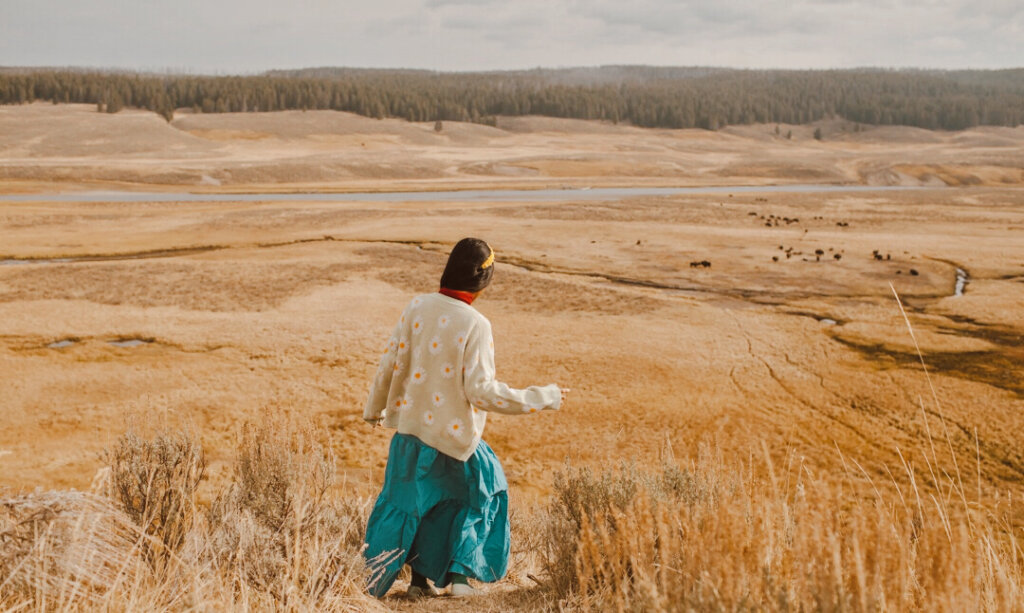 We were fortunate to visit Yellowstone during fall season as the park's landscape was dazzled with orange grasses, golden aspens, and red-leafed shrubs.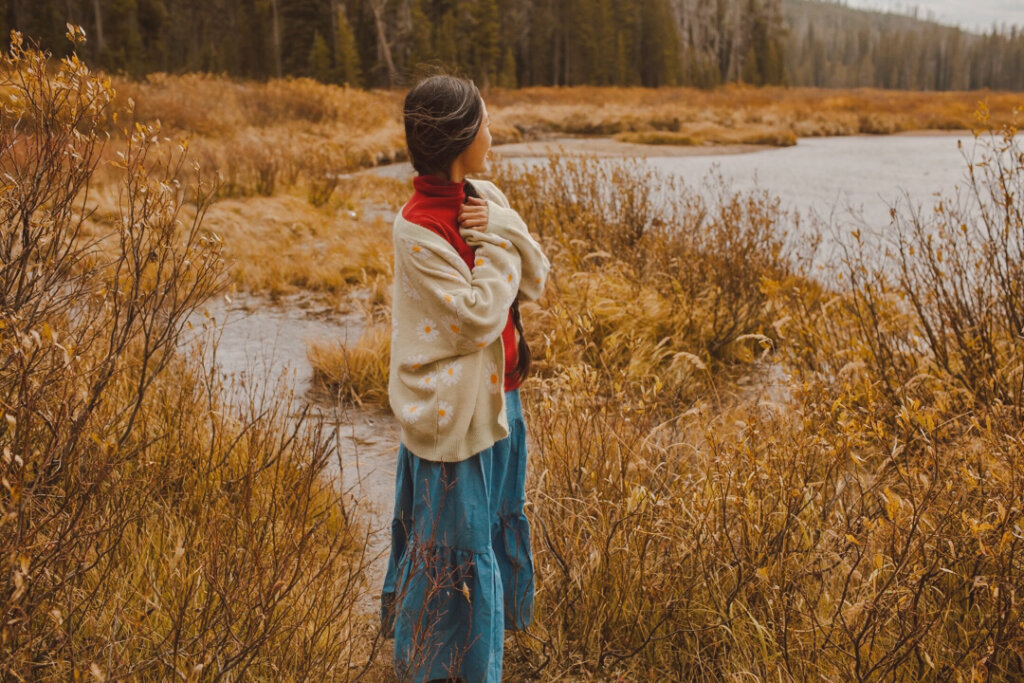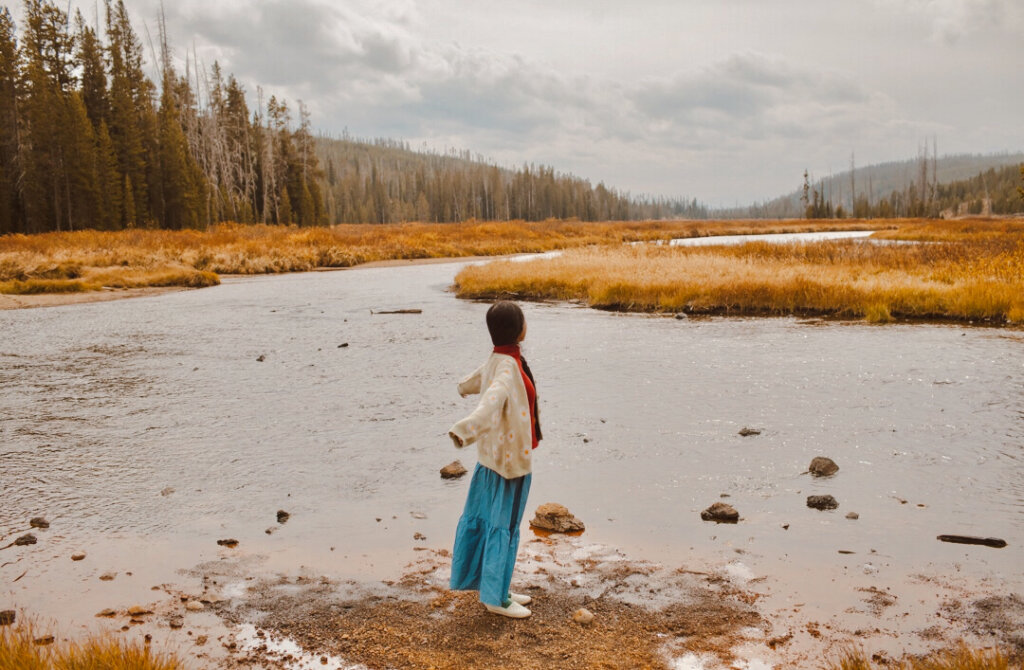 The peak time for viewing color in the park is from the last week of September through the first week of October. Some of the most colorful spots are Lewis River near the falls and Lewis River Canyon.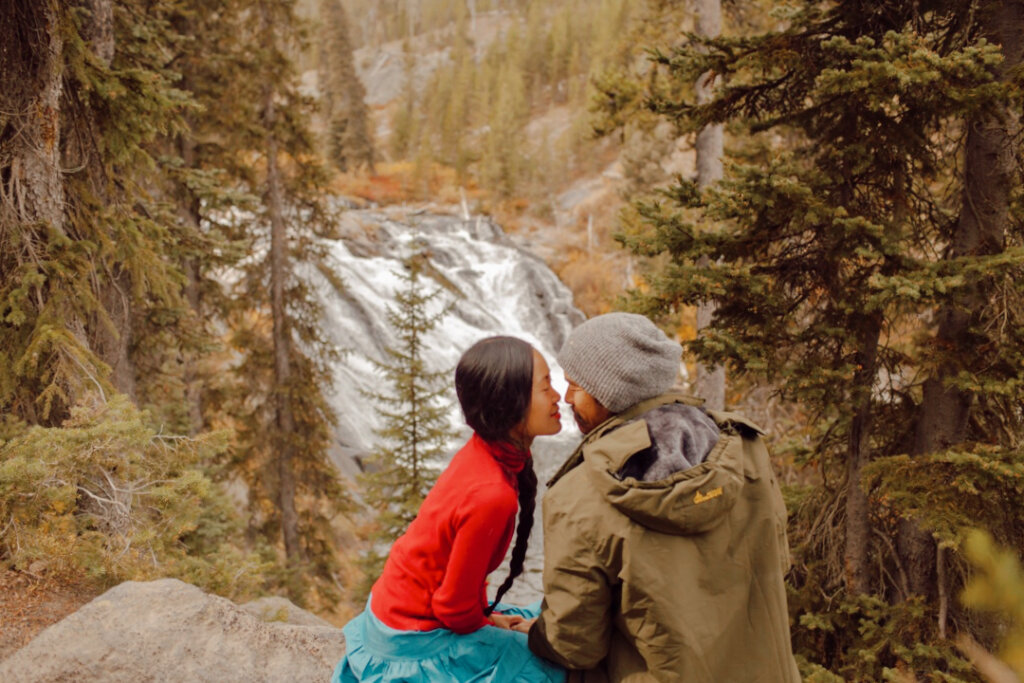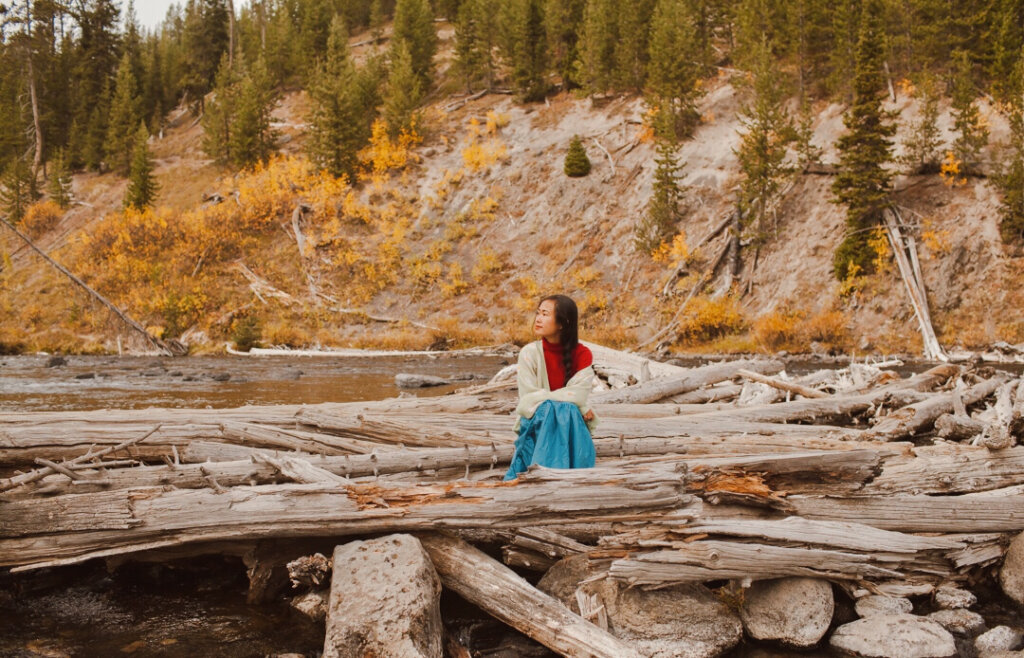 Day 7:  From Yellowstone to Glacier National Park (400 miles – 7 hours)
By mid-September, Glacier begins to shut down and by October 1 all of the lodging inside the park is closed for the season. When we were here, the upper portion of Going-to-the-Sun road started to close. It can be tough to plan outdoor adventures if you visit in October.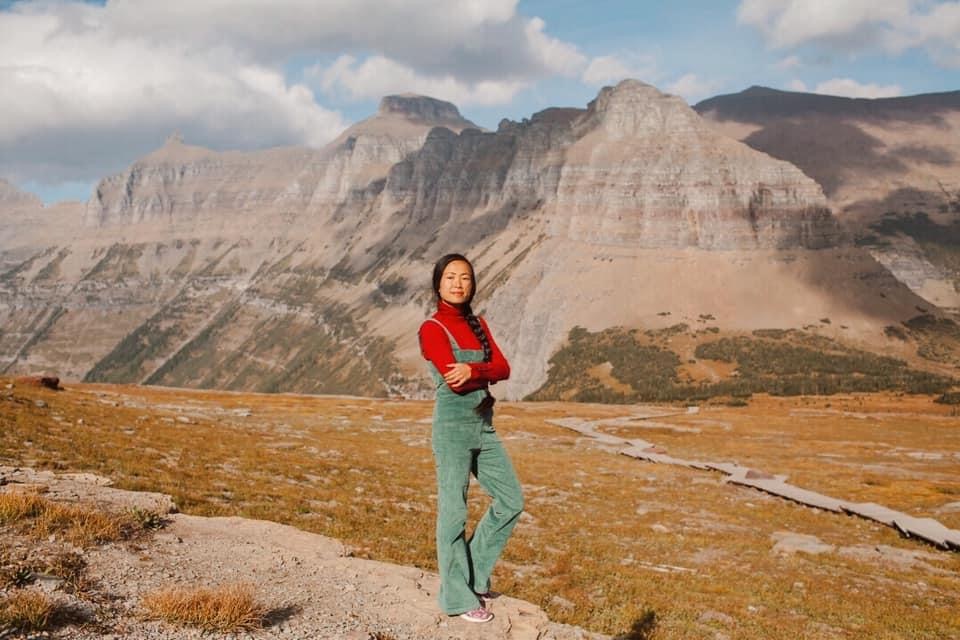 But fall time is the perfect time to experience Glacier in solitude, just driving around, photographing wildlife from a respectful distance, and enjoying empty hiking trails.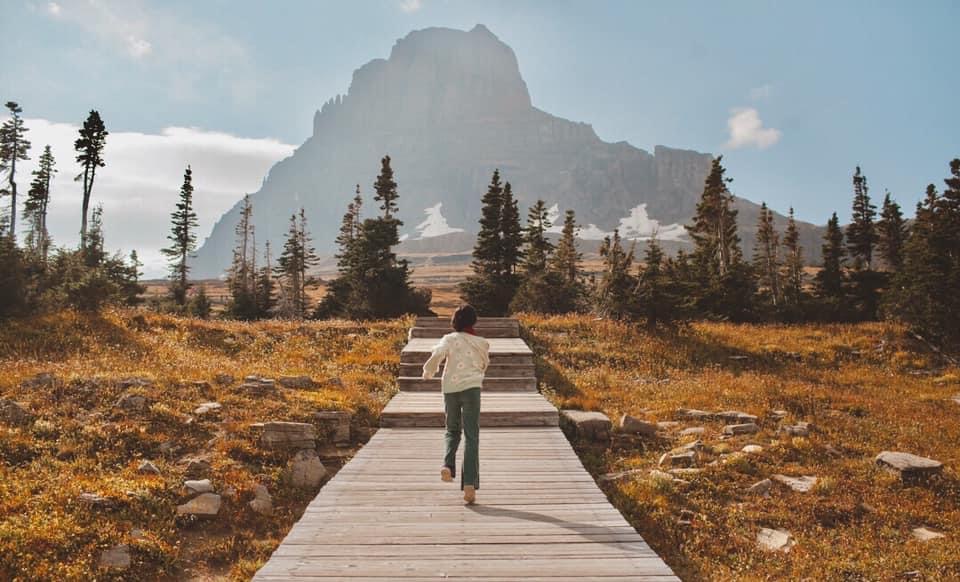 One of our favorite hikes in Glacier is the Hidden Lake Trail. It's an easy hike with an incredible view (3 mile round trip, 540ft elevation).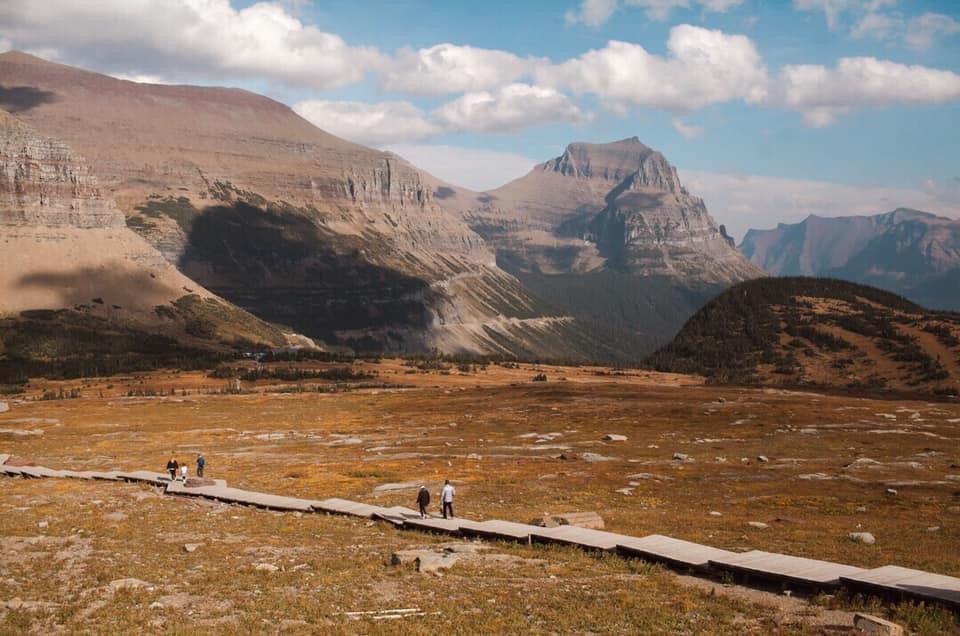 The majority of the trail is on a wide boardwalk, with stairs climbing up (ascending pretty rapidly). The entire of the trail is open and exposed as we proceeded through the alpine meadows known as the Hanging Gardens.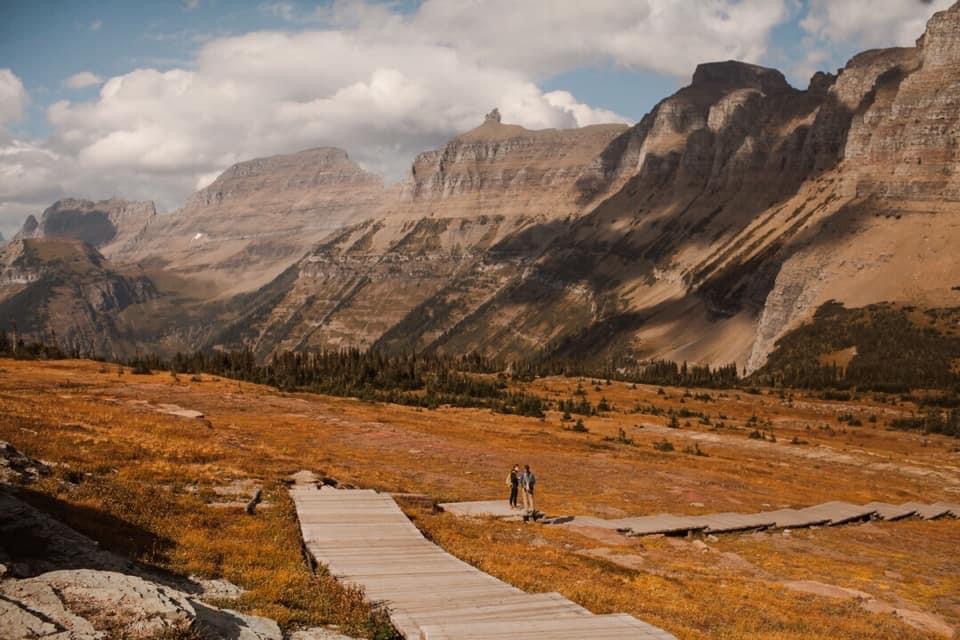 On either side of the board walk is the view of wild flowers and towering mountains. We felt truly like we were in the center of it all!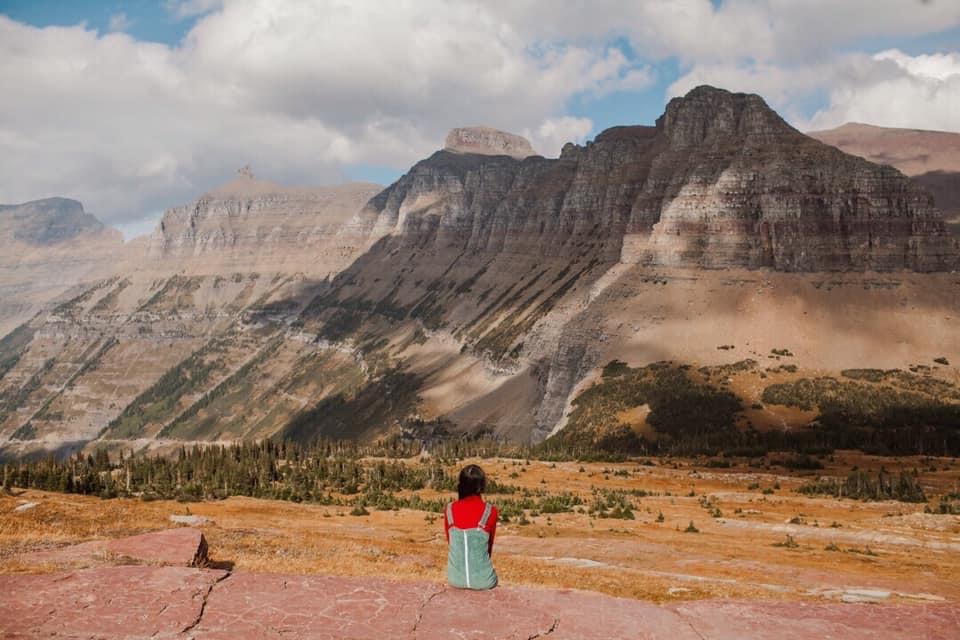 If you found this itinerary useful, bookmark this post for future reference and share it with your friends. Are you on Pinterest? Pin these images!